There are a ton of ways to style medium length hair for a stress-free adorable look, and one popular way is using layers and bangs. Regardless of your hair color, layering your medium length hair and adding bangs will can never go wrong.
If your goal is to achieve the best layered haircuts for medium length hair with bangs, you're at the right place. In this compilation, we'll provide you with 50 ideas—enough for you to keep getting alluring hairstyles for the next couple of months.
Layered Haircuts for Medium Length Hair with Bangs
Here are the most alluring layered haircuts for medium length hair with bangs.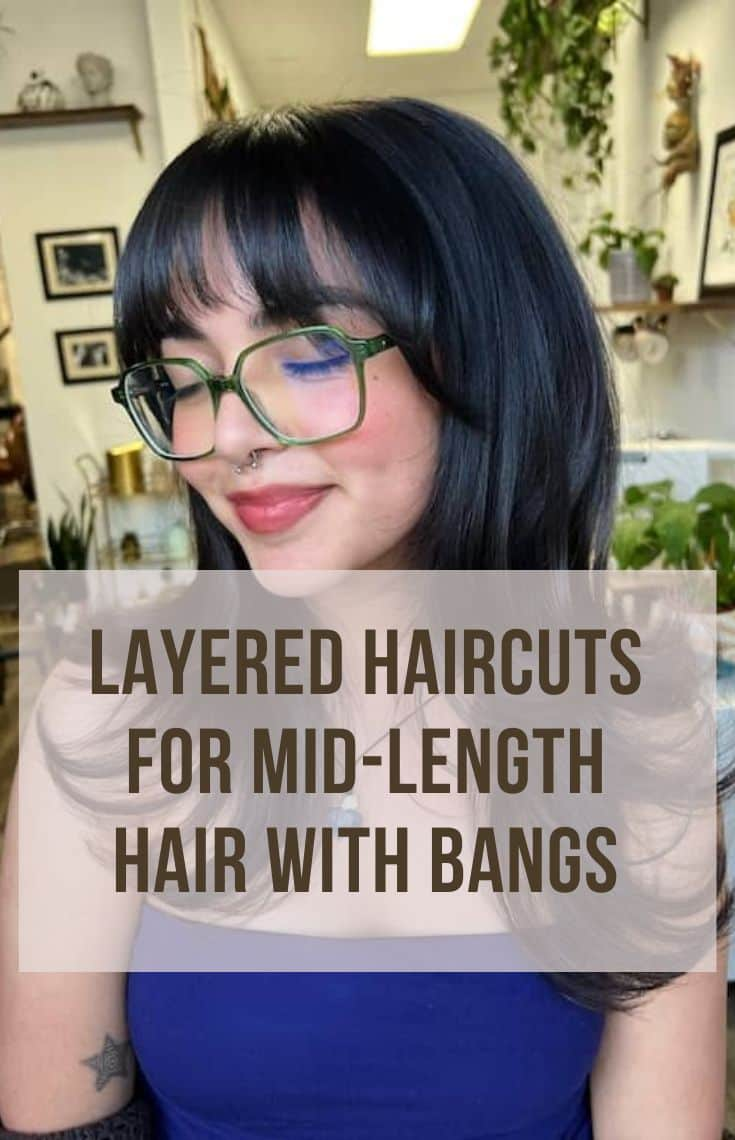 1. Multiple Layered Brunette Haircuts with Banga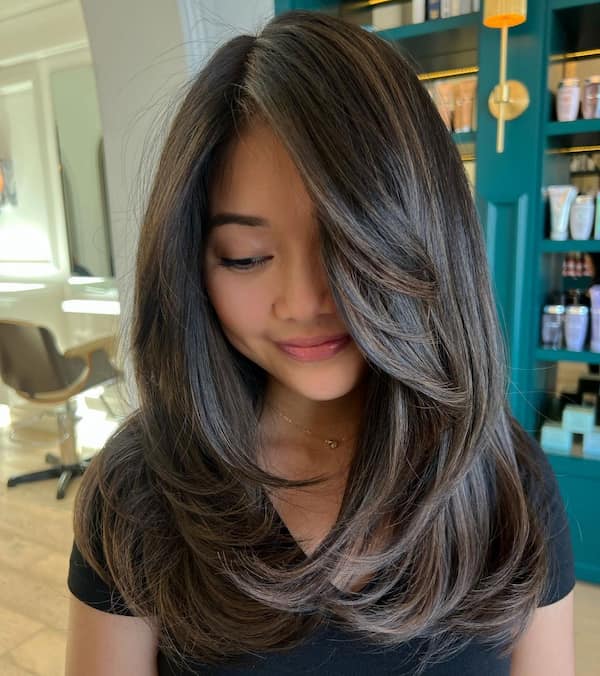 When your hair has insane volume, you can make your layers insanely aggressive with no consequences. That's exactly what's going on here, and instead of consequences, we're seeing an alluring haircut with side-swept bangs.
2. Bouncy Layered Haircut with Bangs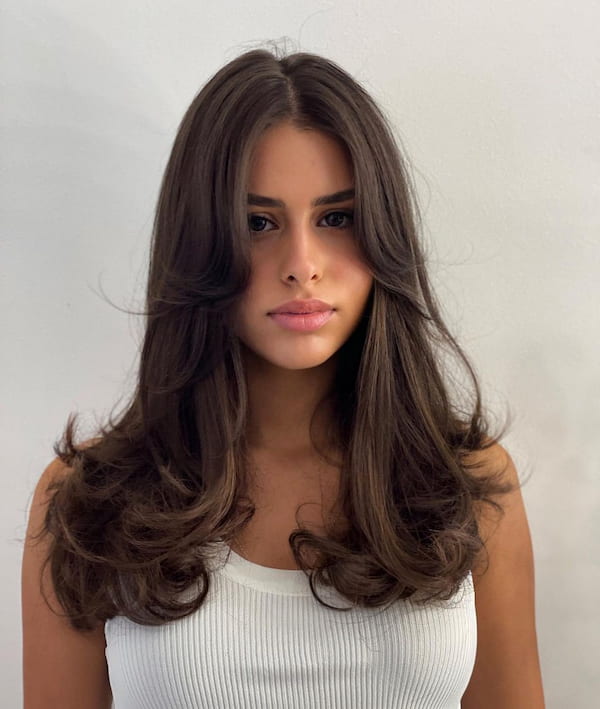 Symmetrical hairstyles have this special kind of look to them that makes them so much better. When you accentuate the symmetry with a center parting and adorn the style with layers and bangs, you have this masterpiece.
3. Voluminous Layered Medium Length Hair with Bangs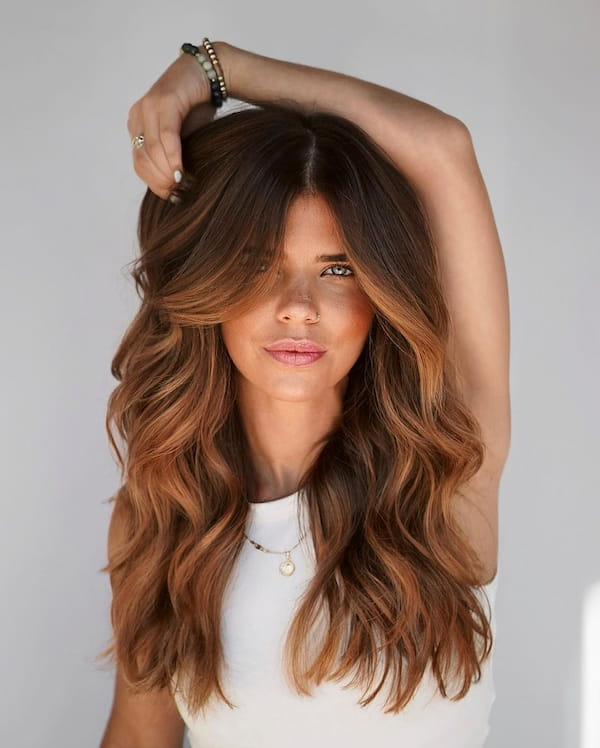 What's better than layered hair with volume? Wavy layered hair with volume! Consider adding that charming center parting and the bangs and see how many compliments you get.
4. Simple Butterfly Haircut with Bangs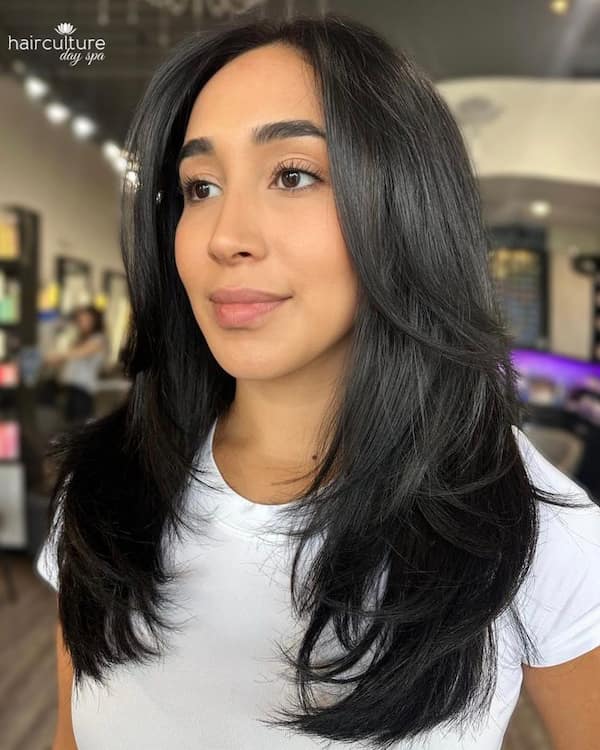 Butterfly haircuts have layers by default, and all you have to do here is to adorn the style with bangs. Follow those two simple steps and you'll have one of the best layered haircuts for medium length hair with bangs.
5. Brown Mid-Length Hair with Layers and Bangs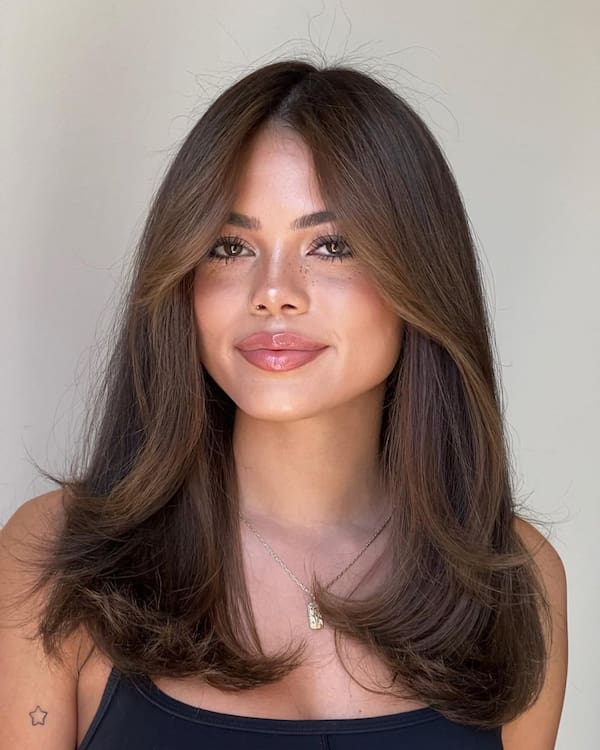 Brown layered styles never disappoint, and that's not going to change with this style. While the parting is not exactly symmetrical, it's gorgeous, and don't doubt the beautifying effect of those curved ends.
6. Signature Layers Haircut with Bangs and Spiky Ends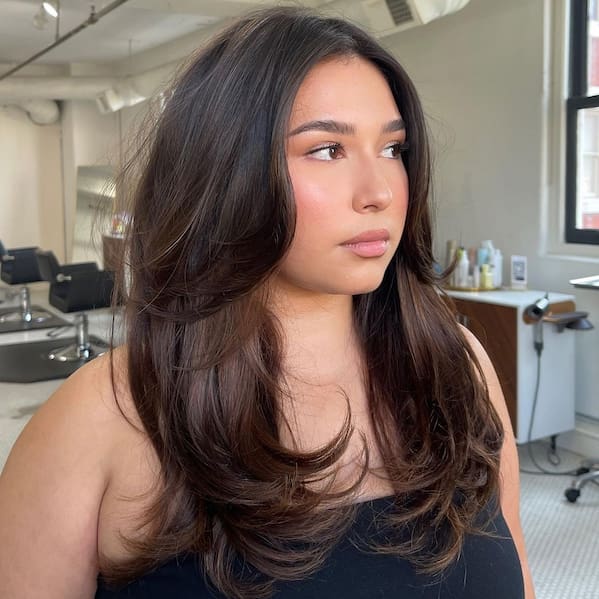 This style uses layers with lengthy bangs to create a beautiful, almost unique two-stepped style. With the center parting and the spiky ends, I might just consider getting this style next.
7. Long Layered Haircut and Curtain Bangs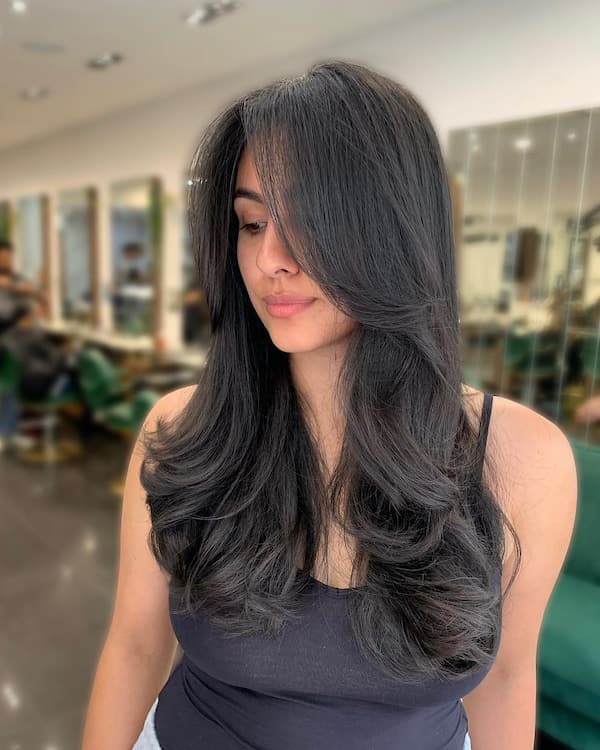 I'm not sure if this still qualifies as medium-length, but I'm sure it qualifies as adorable. The long bangs also work well with the length to make a charming style.
8. Layered Shag Haircut with Bangs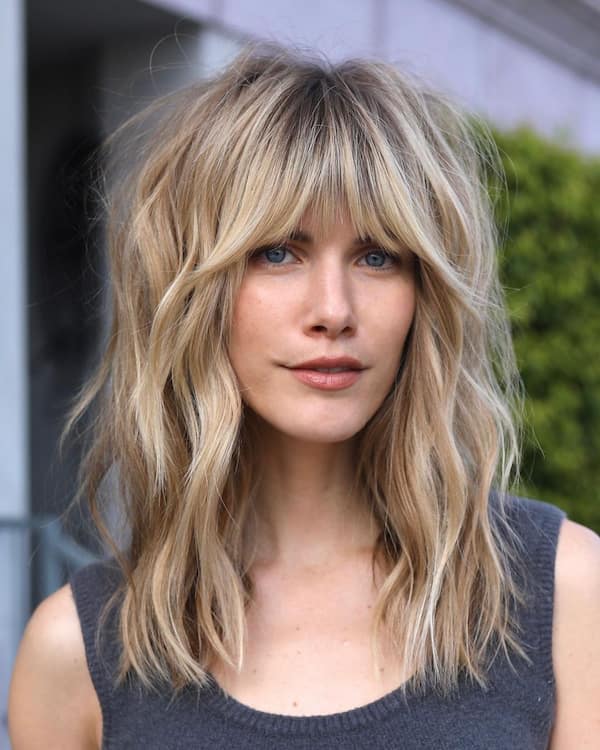 A blonde mid-length shag is an elegant way to wear a layered haircut with bangs. The shaggy look is not for everyone, but fans will find it adorable, and that full fringe only adds to the magnificent look.
9. Layered Bob with Curtain Bangs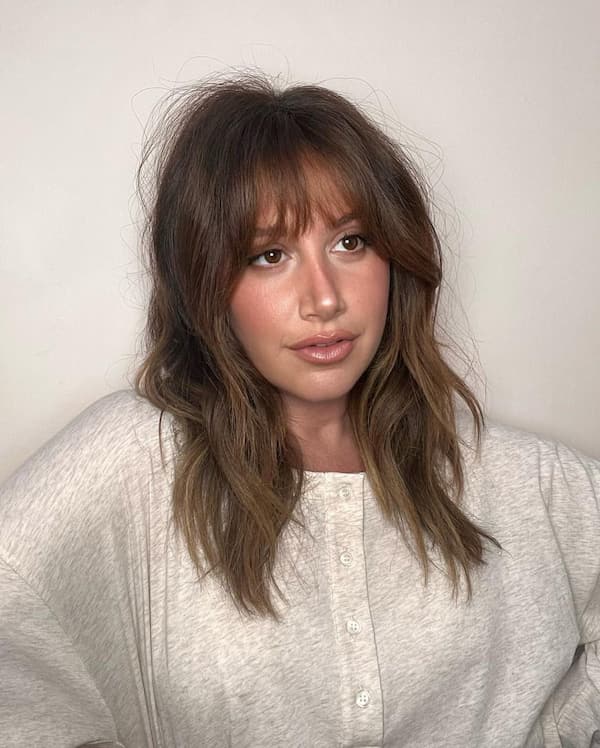 Layered brunette bobs have a distinct adorable look that's noticeable in this style. Pair the look with curtain bangs and you'll have this charming look; easily one of the best layered haircuts for medium length hair
10. Brown Thick Butterfly Haircut with Bangs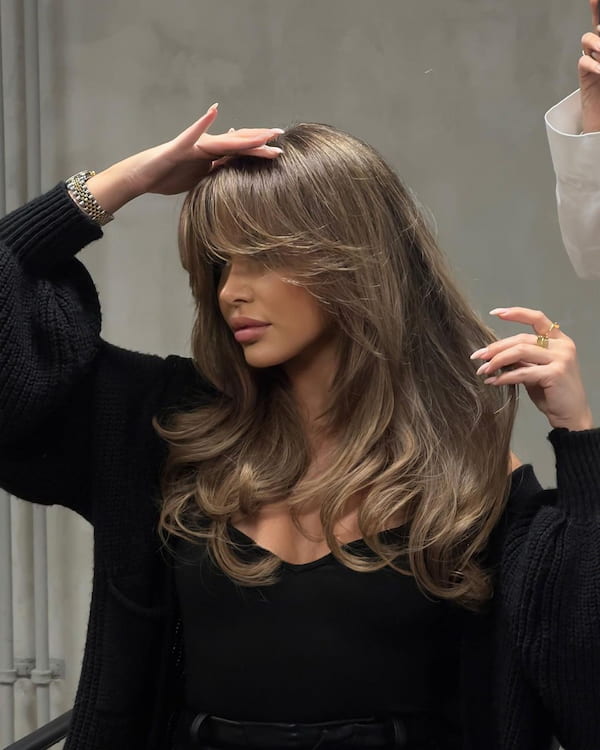 Here's another glamorous layered haircut for brunettes with curtain bangs. The bouncy look created by the layers creates an exquisite look, and her matching curved bangs are just glorious.
11. Layered Brown Medium Length Haircut with Bottleneck Bangs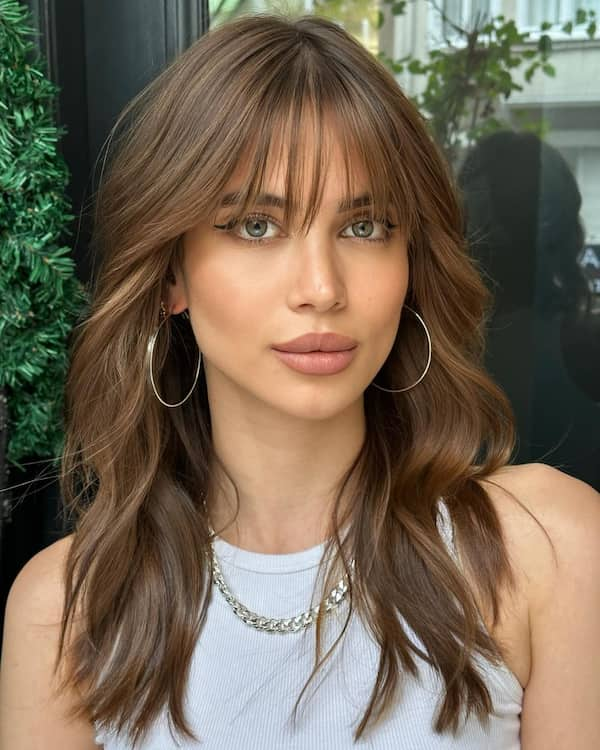 This brunette layered style is a recurring theme in this compilation, and its allure is probably to blame for that. The wispy "bottleneck" bangs also perfectly match the hairstyle, creating an exquisite look.
12. Face Framing Layered Haircut with Curtain Bangs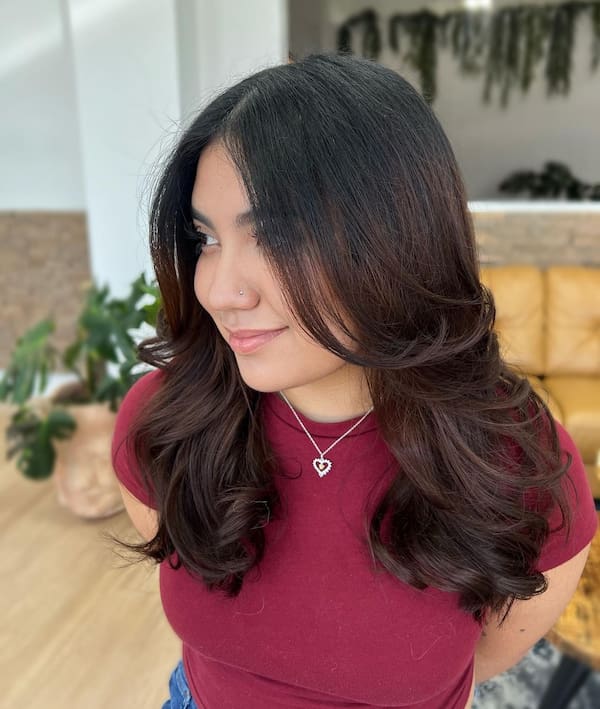 As if the face-framing look of this haircut isn't adorable enough, the model went ahead to add bounciness using layers. The adorable center parting also works well with the curtain bangs to create a near-perfect look.
13. Symmetrical Layered Haircut with Bangs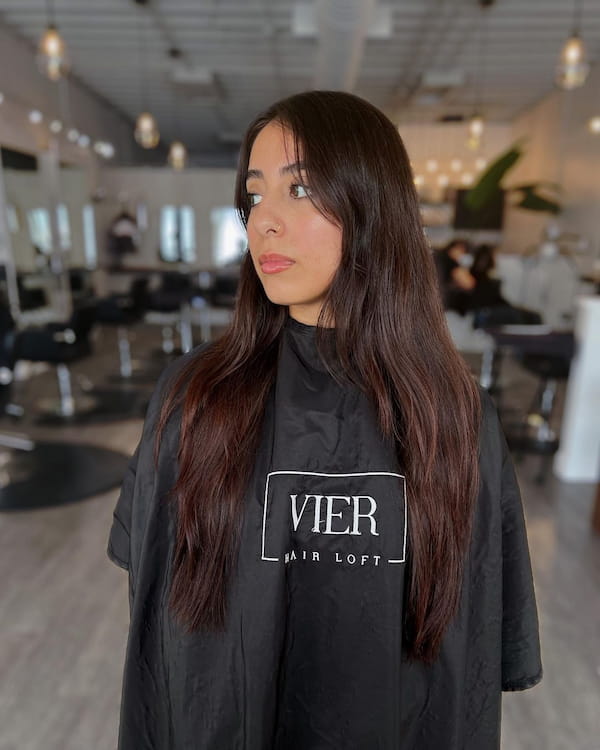 I'd think twice before getting layers this aggressive, but they surprisingly turned out alluring. When you combine those bouncy layers with curved curtain bangs, there's almost no room for failure.
14. Bouncy Bombshell Blowout with Bangs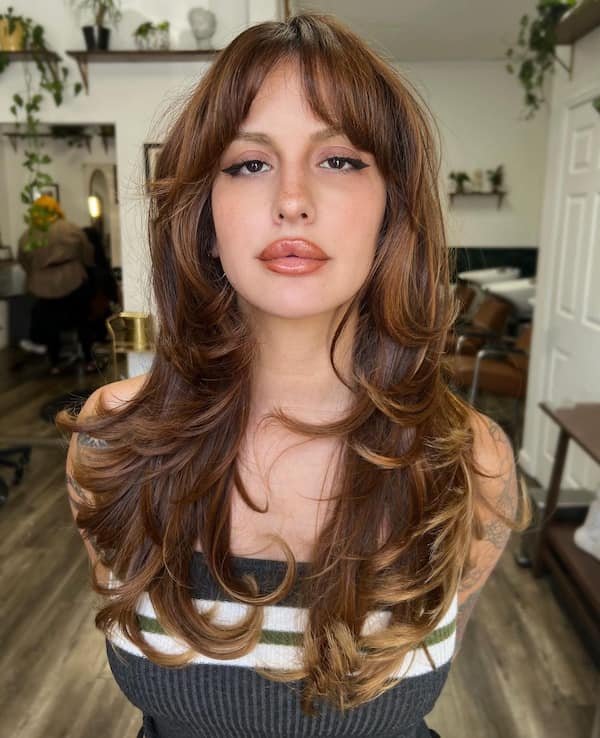 If you loved the bouncy look from the preceding style, this one is an excellent idea to consider. It uses a blowout to achieve its desired bouncy look, before adding curtain bangs as extra flair;10/10 hairstyle.
15. Mid-Parted Haircut with Bangs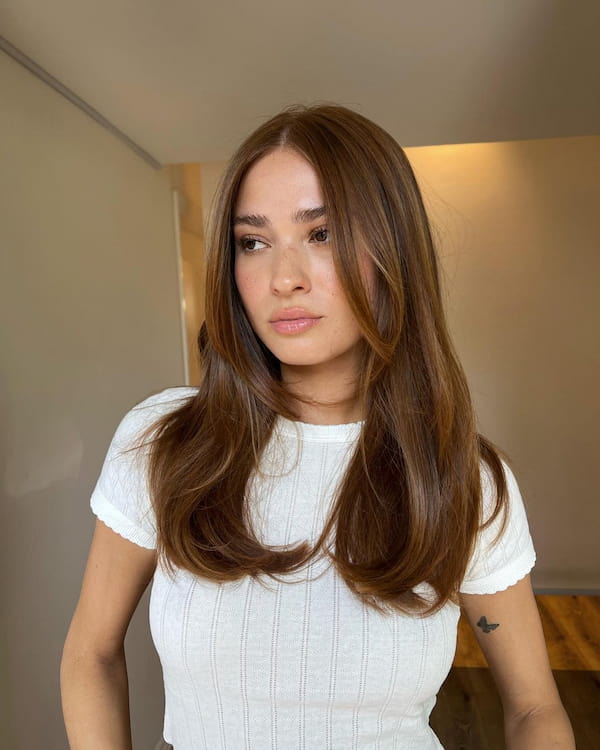 Here's one of the best layered haircuts for medium length hair with bangs if you're after something relatively conventional. With unaggressive layers, subtle bangs, and a half-center parting, everything about this style just looks right.
16. Shoulder-Length Shag Haircut with Fringe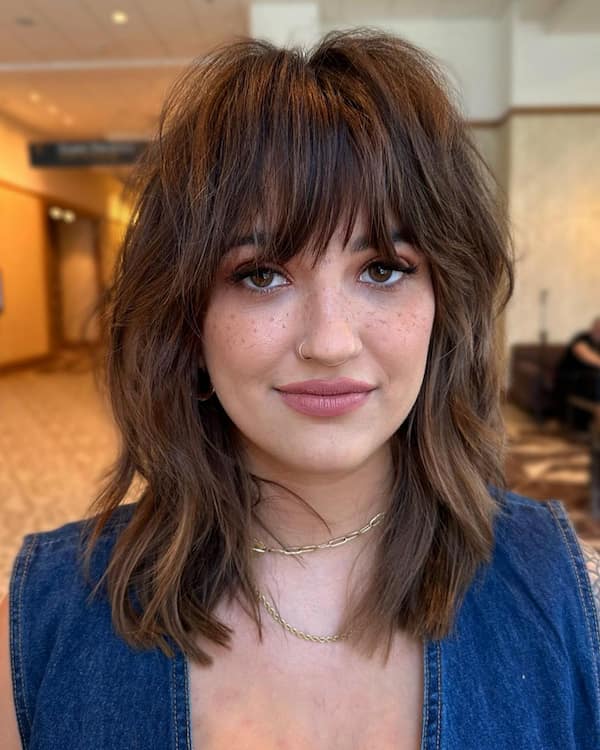 What's the fun about conventional styles? If you want to turn heads, this shoulder-length shag with a full fringe is the style to get, plus it looks prime for compliments too!
17. Medium Length Haircut with Bouncy Layers and Fringe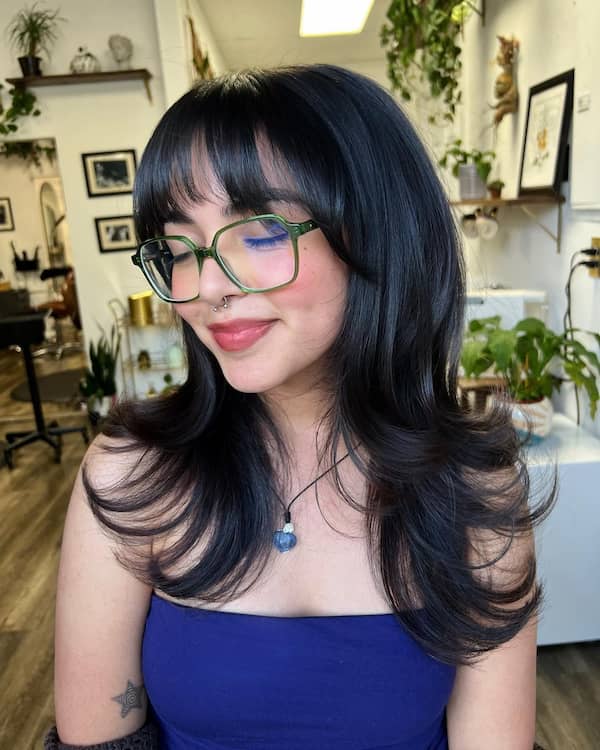 This isn't quite a shag, but it exudes a similar level of gracefulness, thanks to the bouncy layers and well-done fringe. Throw in the model's smile and the sunglasses and you have a captivating look already.
18. Copper Brown Layered Haircut with Bangs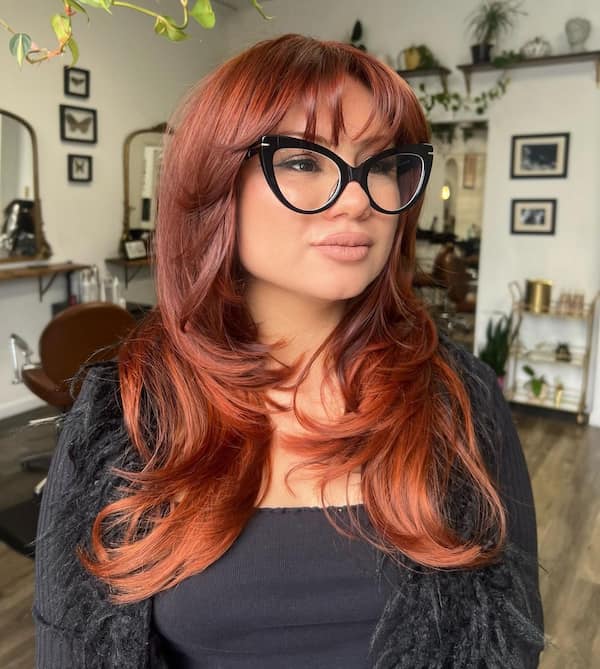 Models with a knack for hair coloring will find this hairstyle interesting; the copper color is similar to brown, so not entirely unconventional, but it also inherits the beautifying properties of a flashy style; and look at those bangs!
19. Layered Straight Haircut with Swooshy Chopped Curtain Bangs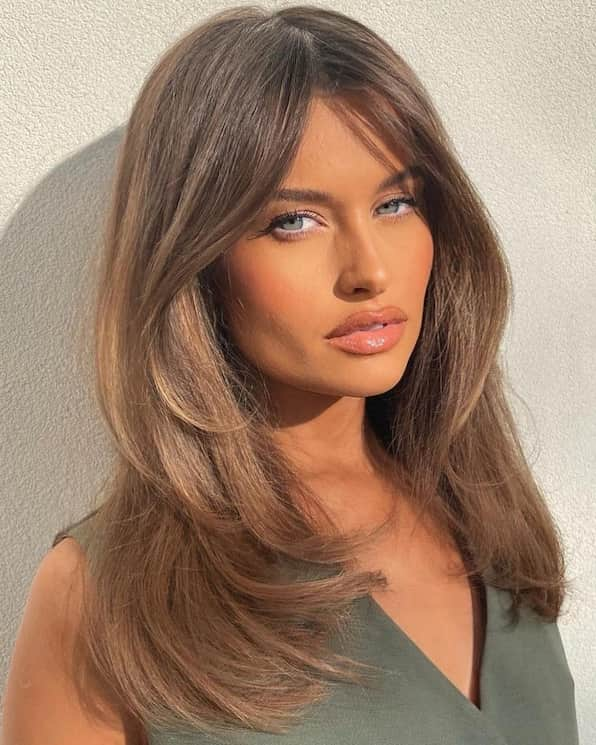 Achieving a plain straight look after layering your hair is a bit challenging, but doable. Throw in chopped swooshy curtain bangs and a subtle parting and you have an excellent mid-length cut.
20. Classic Neck-Length Butterfly Haircut with Bangs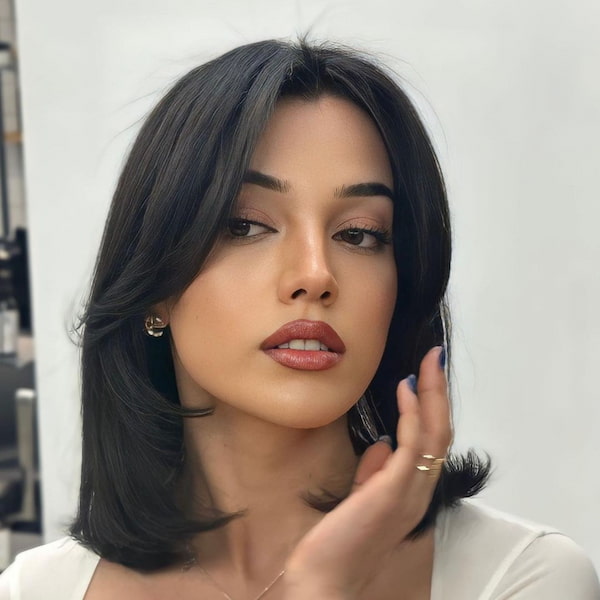 Wearing the classic butterfly cut in black is adorable enough, but you can improve it by simply adding curtain bangs. I'd suggest a center parting, but why fix what doesn't look broken?
21. Blonde Layered Haircut with Feathered Curtain Bangs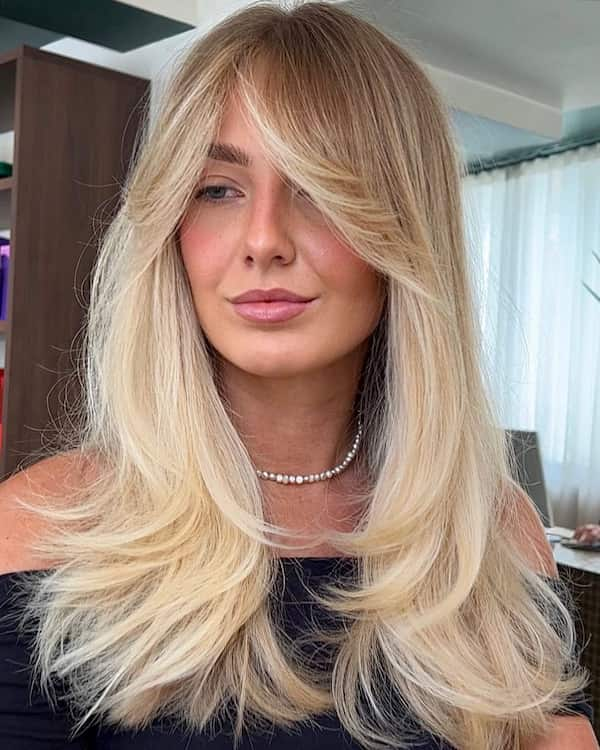 A voluminous soft blonde almost can't go wrong, especially when you pair it with feathered curtain bangs that create a glorious look. Throw in those curved bouncy ends and you're on this list in no time.
22. Dark Chic Layered Haircut with Fringe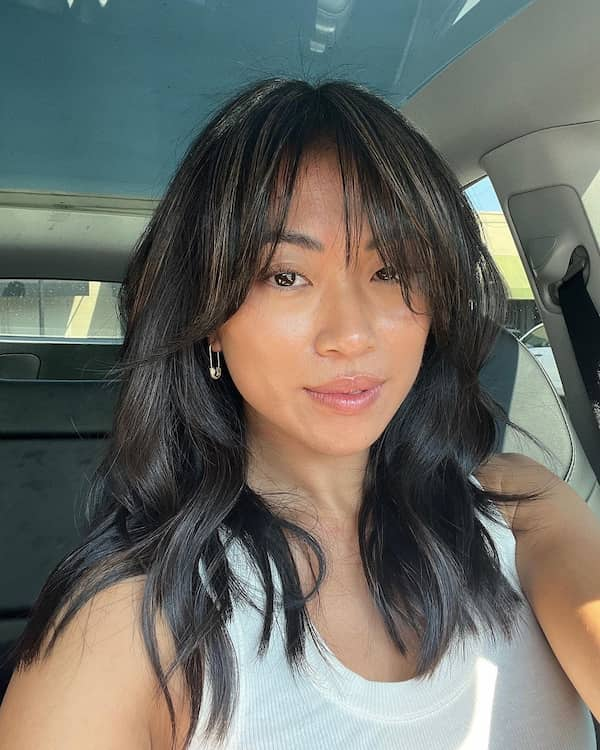 This dark layered cut may not have the volume of the preceding style, but it looks nearly as stunning. I'm also a fan of the brown highlights and the wispy fringe; an easy 10/10 hairstyle.
23. Bouncy Layered Haircut with Curvy Ends and Bangs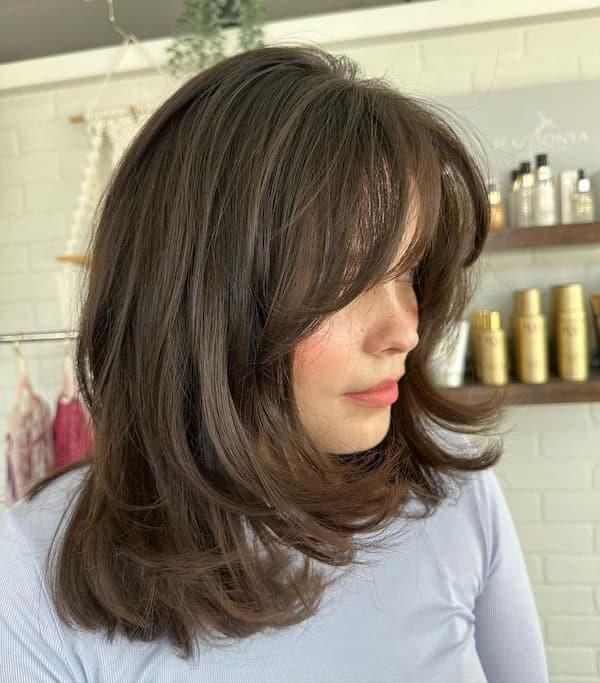 Bouncy layers have this unique thing to them that makes them gorgeous with bangs and curved ends. I'd have loved to see this with a center parting, but it looks quite all right without it.
24. Featured Razor Haircut with Bangs for Thick Hair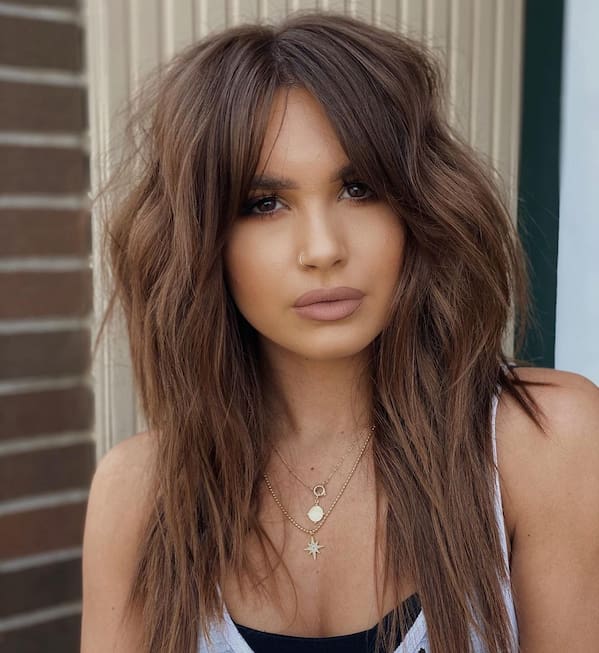 If you'd also love to see a center-parted brunette hairstyle, here's an excellent one that'd work for ladies with thick hair. You can notice the slightly wavy look and the razor texture; two qualities that combine to form an outstanding hairstyle.
25. Light Red Wispy Layered Haircut with Bangs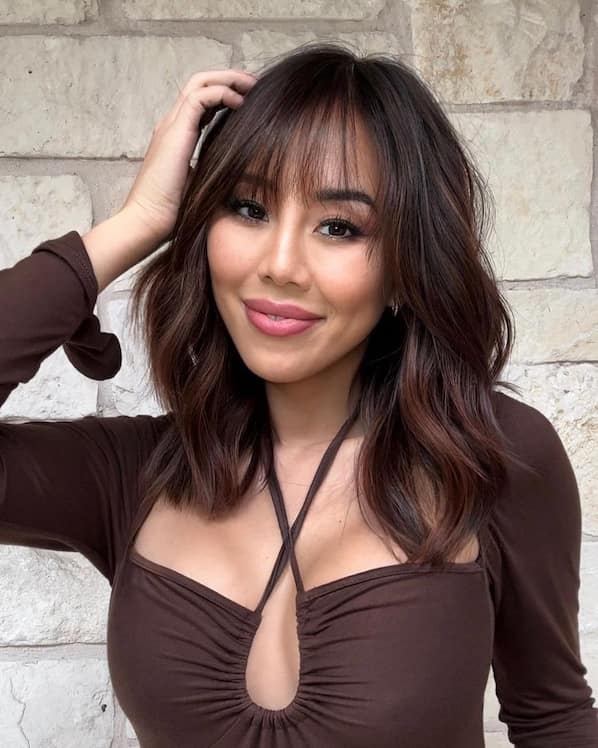 This slightly wavy layered haircut with bangs is the kind of picture I show to my stylist whenever I'm getting a haircut. If you're after adorable layered haircuts for medium length hair with bangs, you'll do the same.
26. Face Framing Medium Length Haircut with Side View Bangs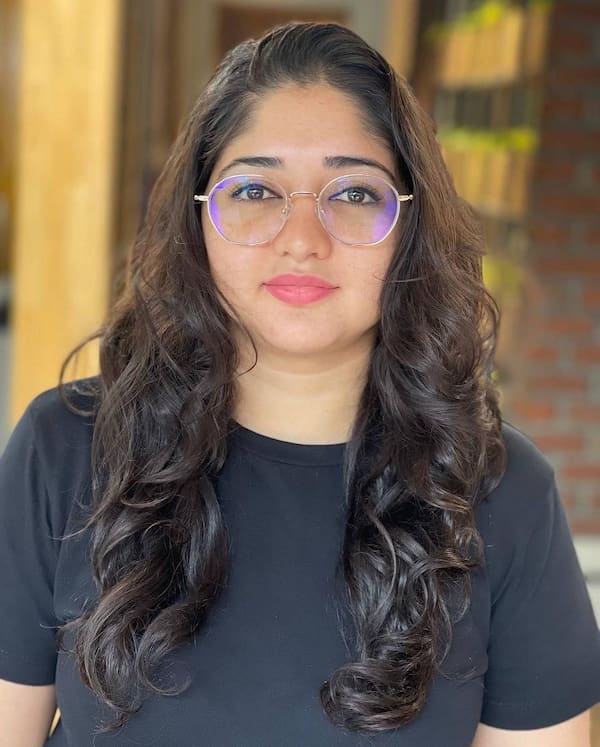 Black-haired ladies with round faces will love this face-framing medium length haircut, thanks to its adorable, bouncy look. The side-swept bangs and the subtle side parting are another excellent touch, making it stand out.
27. Natural Chocolate Layered Haircut with Bangs and Curved Ends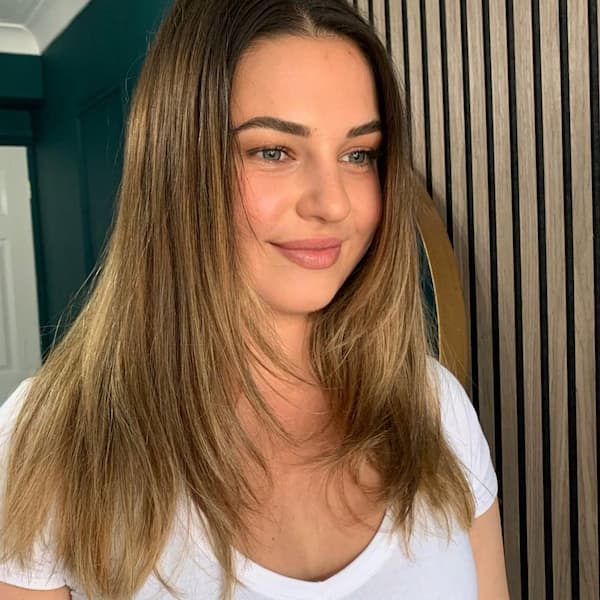 Depending on how you're looking at it, this hairstyle can either be black or brown, but I'll stick to chocolate. With its half-parting and the curved ends, it's hard to go wrong with it.
28. Blunt Layered Blonde with Curtain Bangs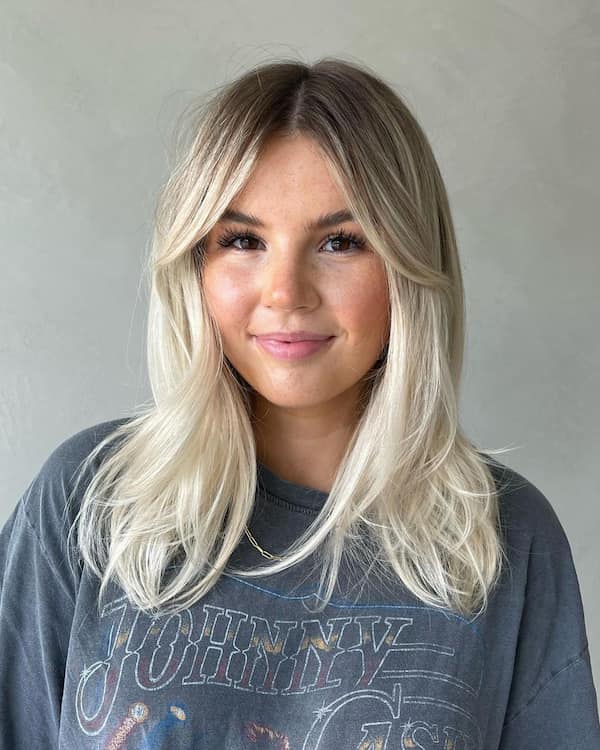 The term 'layered bob' almost feels ironic, but here we are. Those elegant curtain bangs made the idea look a bit more valid, and I just can't think of a better color to get this style, especially with the highlights.
29. Stepped Layered Bob with Bangs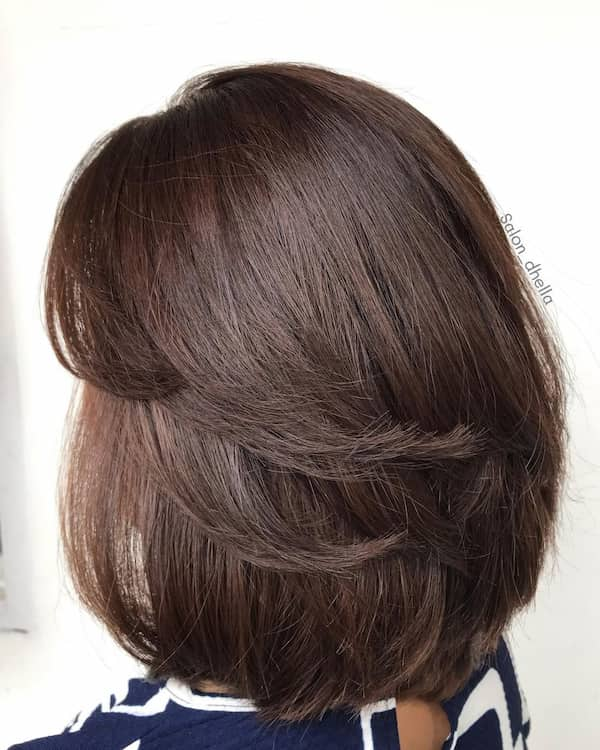 Who says layered bobs only look great in blonde? You're not referring to this exquisite stepped-layered bob that's every inch beautiful. Throw in curtain bangs and you'll have an unbeatable style.
30. Butterfly Shag Haircut with Bangs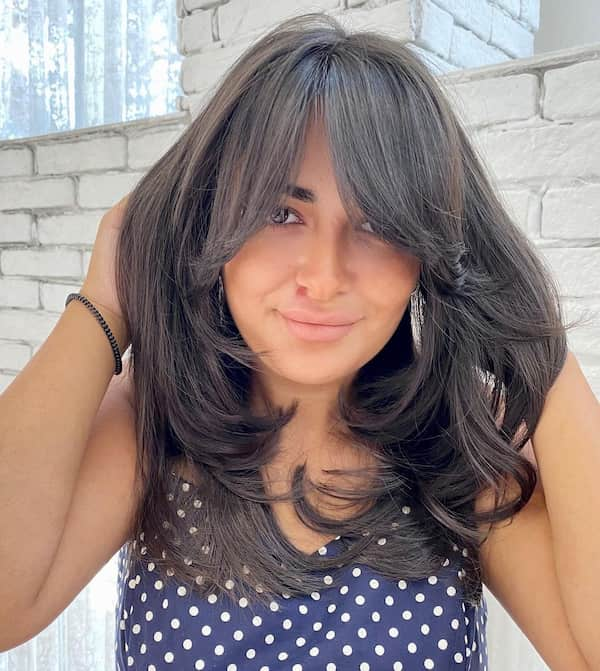 Trying to achieve a shaggy look with a butterfly haircut, all without making your hairstyle look out of place is a bit difficult. However, this model managed to pull it off, even making the layers bouncy for extra flair.
31. Layered Shag Haircut with Curtain Bangs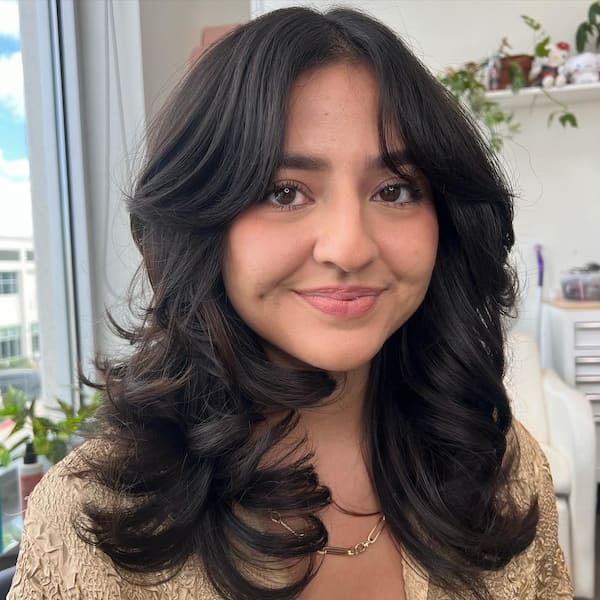 This style is quite not as shaggy as the preceding one, but it's following. Thanks to its bouncier, more natural layers, and the center parting, I'd say I prefer this to the style we saw earlier.
32. Dimensional Blonde Butterfly Haircut with Bangs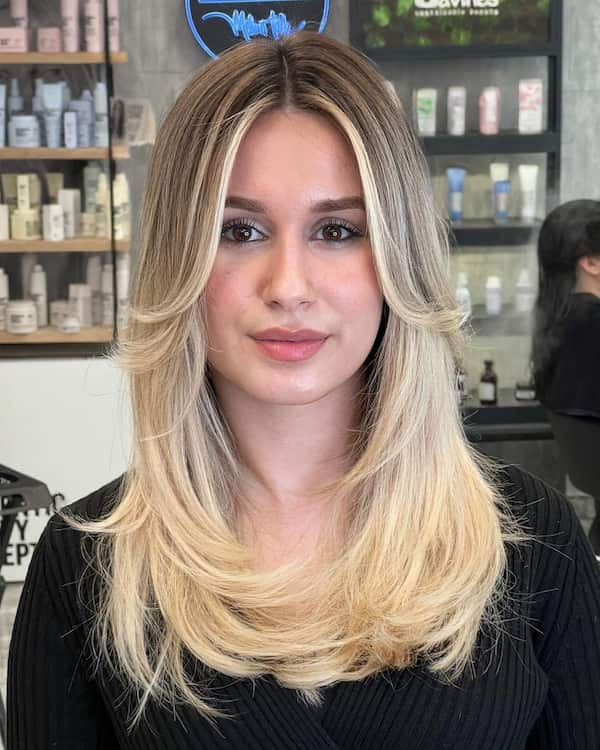 Blonde is an excellent color for a layered hairstyle, as we've established earlier, but why limit yourself to it? Add some traces of brown for a chic, dimensional look, and don't forget to throw in curtain bangs and a center parting for added effect.
33. Textured Shoulder-Length Shag Haircut for Autumn
This nearly perfect shoulder-length symmetrical shag is one of the most adorable haircuts I've seen in this compilation, probably for its proper layers and brown highlights. Brunettes after an autumn style will find this one compelling.
34. Split Bleach and Black Layered Haircut with Bangs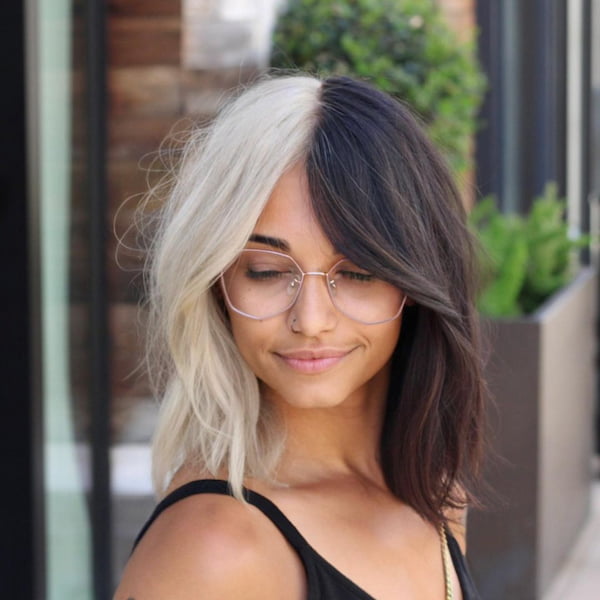 I've seen many color combinations, but I'm yet to see one this creative, and I'm here for it. With the gray and black parts clearly defined, there's no need for a center parting, and the bangs make the entire style irresistible.
35. Stepped Layered Haircut with Bangs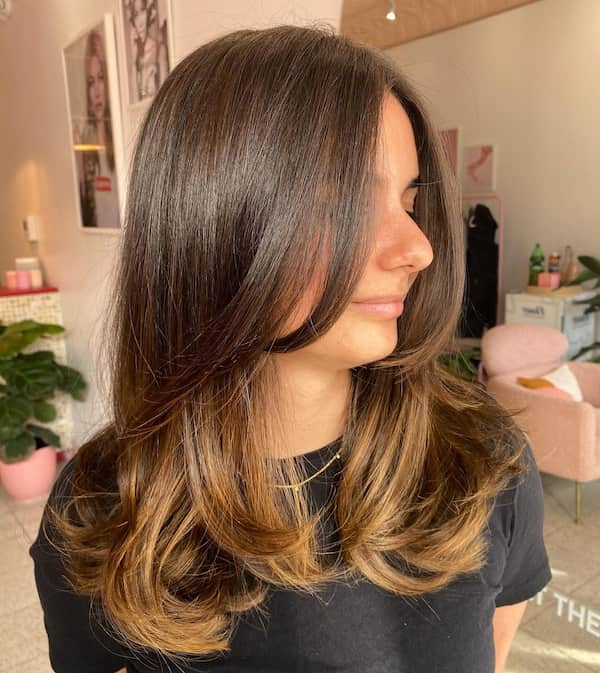 I'm in love with the layers on this stepped haircut, but the lengthy curtain bangs are also sweeping me off my feet. A center parting will also be an excellent addition to that hairstyle, but is it really necessary?
36. Bouncy Blowdry Haircut with Bangs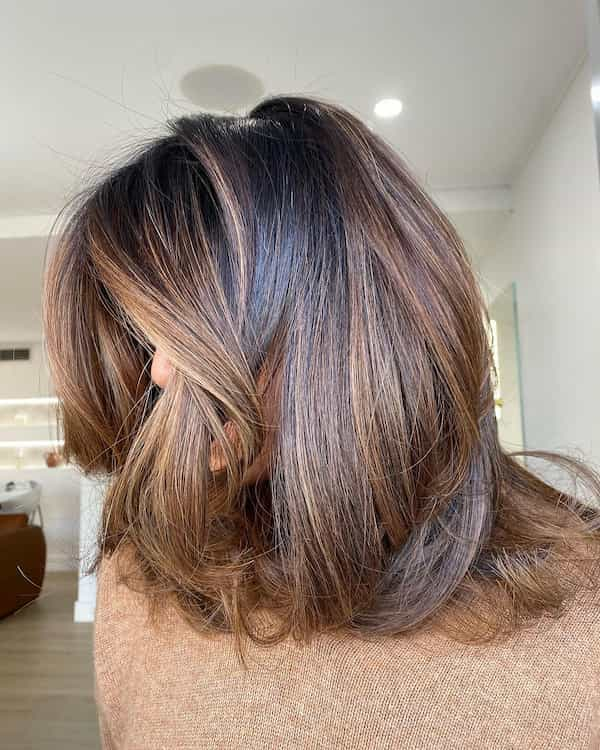 This bouncy haircut manages to incorporate brown and black without making it look out of place, which is an achievement on its own. The bouncy layers and the bangs then add to the allure, making this one of my favorites.
37. Layered Midlength Haircut with Bangs and Highlights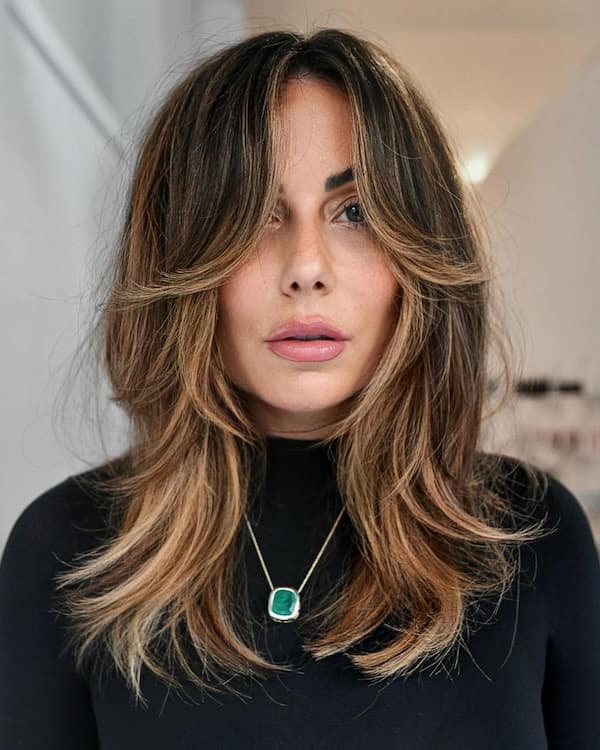 That a dimensional layered haircut with curved bangs and symmetry would look adorable isn't a surprise; what's surprising is how good it looks. For sure, I'm saving this for future use.
38. Chic Sleek Layered Haircut with Bangs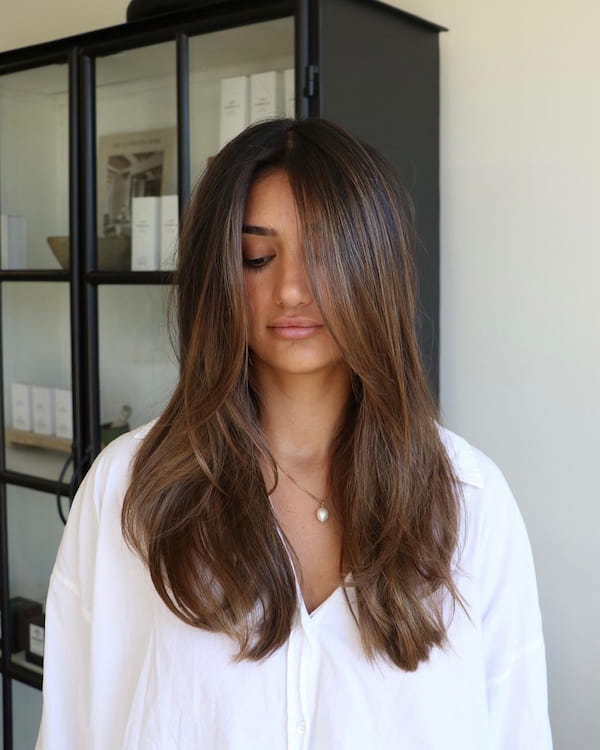 Sometimes, all you need is a sleek, straight cut with subtle layers and long bangs to stand out. Maybe her hair's extraordinary length plays a role, but I don't see this style looking too bad without it.
39. Modern Layered Razor Haircut with Bangs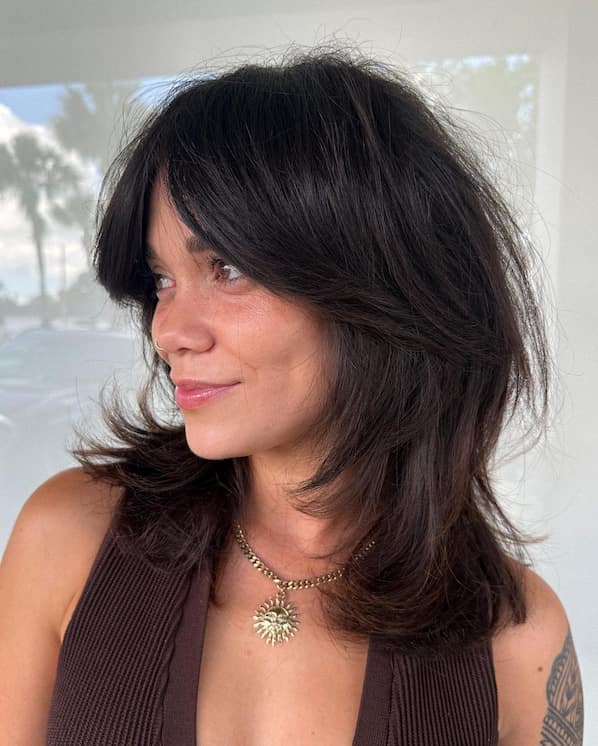 Layered razor cuts have this shaggy look that makes them endearing, especially to shag lovers. Adding those swept bangs and the bouncy layers is very intentional to create the best look possible.
40. Layered Medium Haircut with Sleek Edges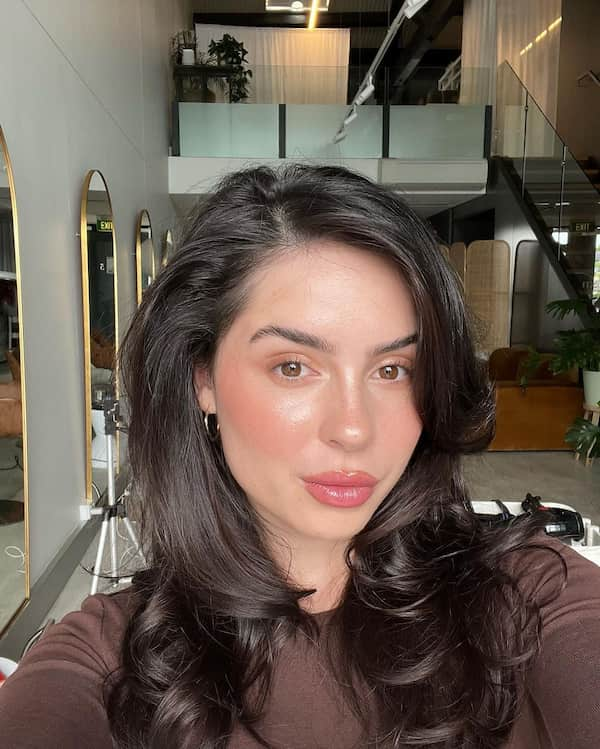 It's no news that I love bounciness at this point, but the sleekness of this style makes the bouncy look almost unnoticeable. The side parting is strategically awesome, making for one of my favorite layered haircuts for medium length hair with bangs.
41. Spread Out Cute Haircut with Fringe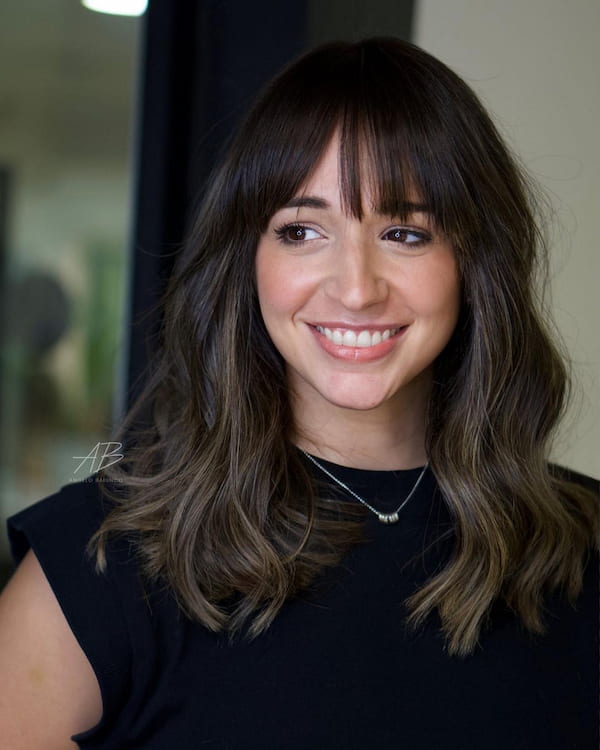 A simple spread out with bangs can do wonders, as you can see on our model of this style. Even without a center parting, the chic layers and the model's adorable smile both ensure the hairstyle is not lacking in the looks department.
42. Mid-length Haircut with Feathered Layers and Bangs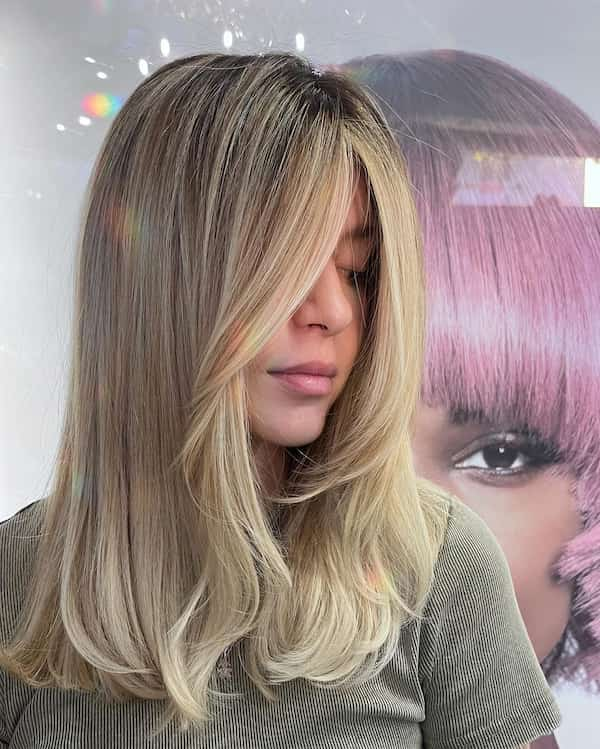 Getting a mid-length haircut and throwing in layers and bangs can give you an unbeatable look, as you can see in this example. The long bangs are also chic; easily one of the best blonde ideas in this compilation.
43. Swoopy Layered Haircut with Cropped Fringe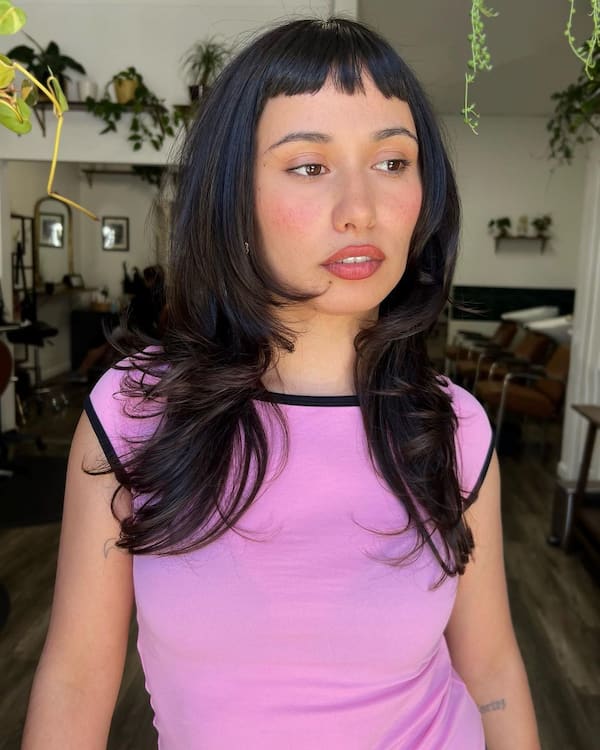 For the black-haired ladies, this aggressively layered cut should work wonders, especially at that length. Replicating that cropped fringe is difficult and risky, but is also a literal game-changer.
44. Voluminous Blonde Haircut with Bangs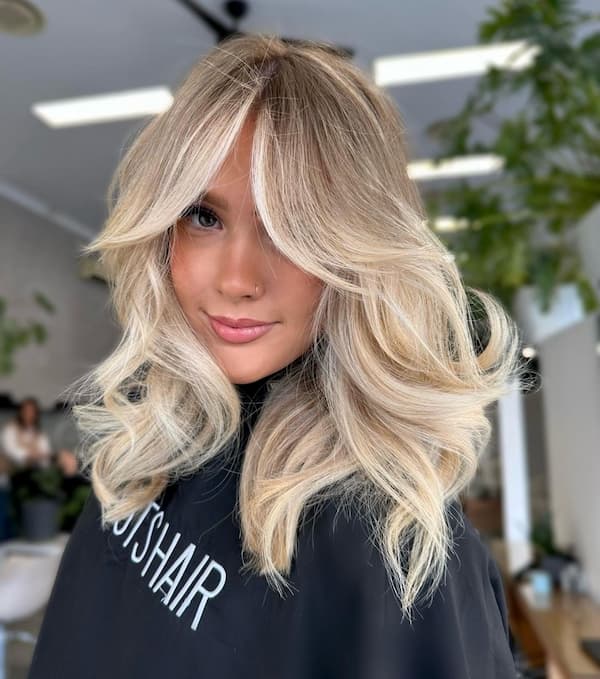 This model manages to make her style look fuller with layers, and it's one of the best blonde implementations I've seen. The unnoticeable center parting also creates a sense of symmetry that beautifies the style.
45. Feathered Medium Length Hair with Bangs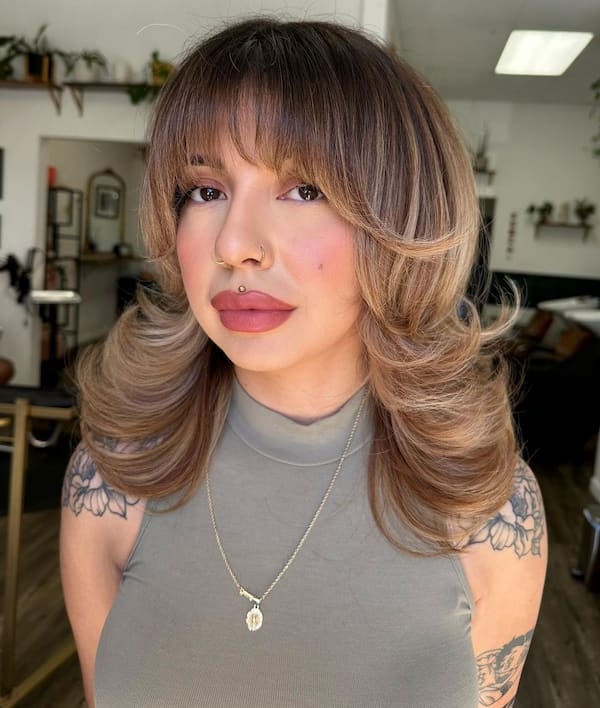 This feathered bouncy haircut with a full fringe is one of the best brunette layered haircuts for medium length hair with bangs I've seen. It's not the easiest to replicate, but the result is worth the effort.
46. Mid-length Haircut with Full Overlapping Fringe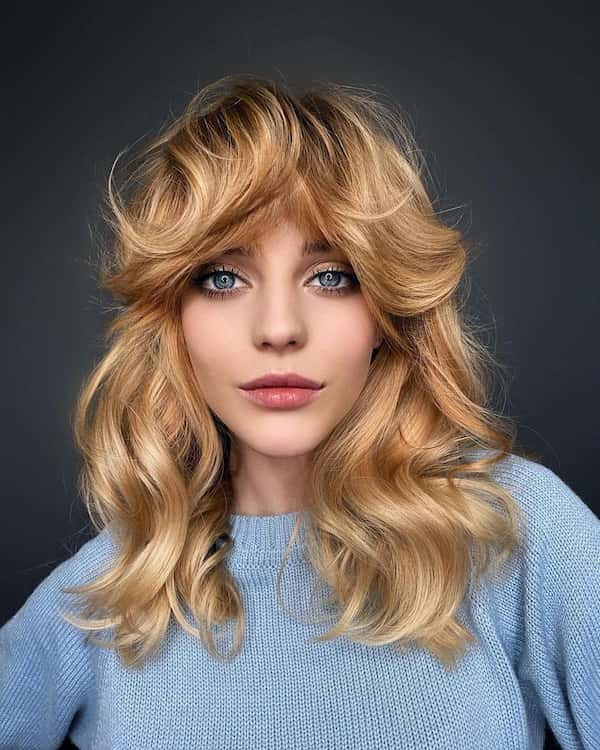 I wasn't expecting this curly look, but it jumped to me as a pleasant surprise. The overlapping fringe would be difficult without tons of volume, but you can ignore it and work with the waves alone instead.
47. Cute Brown Haircut with Long Curtain Bangs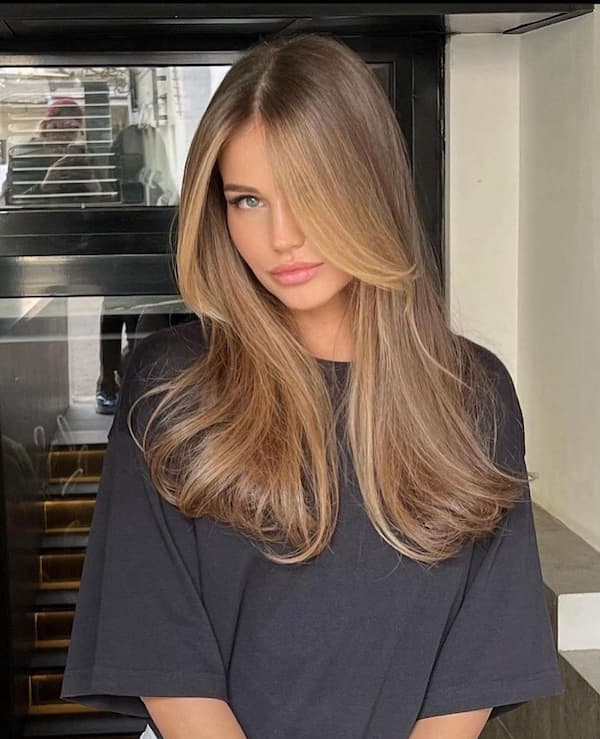 If you're not a fan of those extreme curls and overlapping bangs, this plain straight brown cut with long curtain bangs should work for you. It's not aggressively layered, but the layers are at least noticeable and the center parting is beautiful.
48. Textured Wavy Hair with Curtain Bangs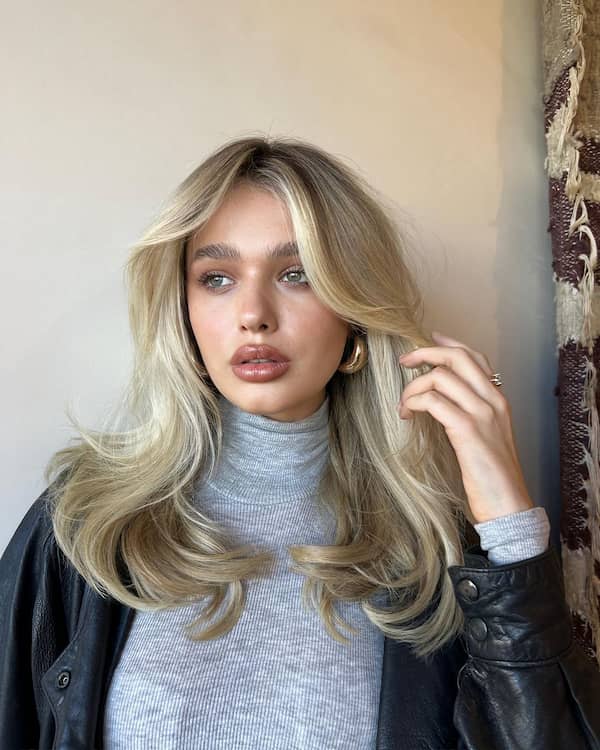 Textured wavy styles are always uniquely adorable, especially when they come in blonde. The bouncy look from the texture is nothing short of adorable, and the black highlights make the hairstyle look just right.
49. Extra-thick Shoulder Length Haircut with Curtain Bangs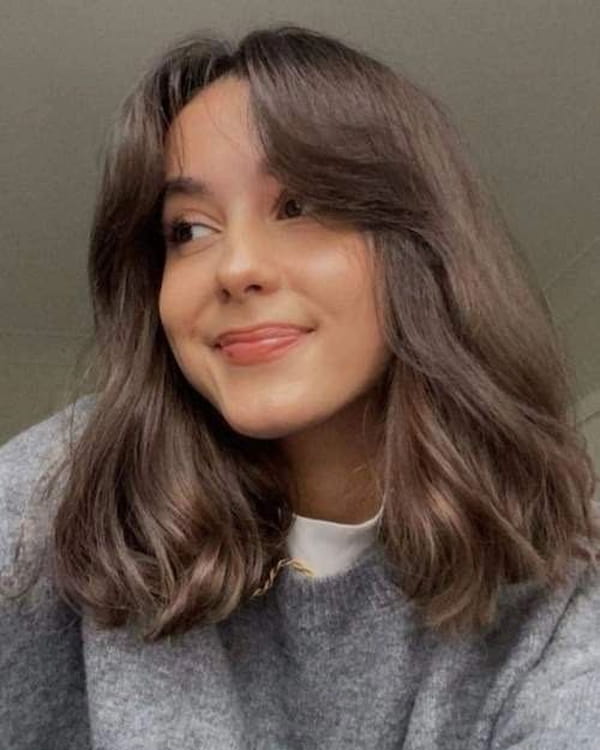 If you have some volume to your hair, you can replicate this thick haircut with curtain bangs. Not everyone has voluminous hair, so this style already excludes a lot of people.
50. Face Framing Layered Haircut with Layers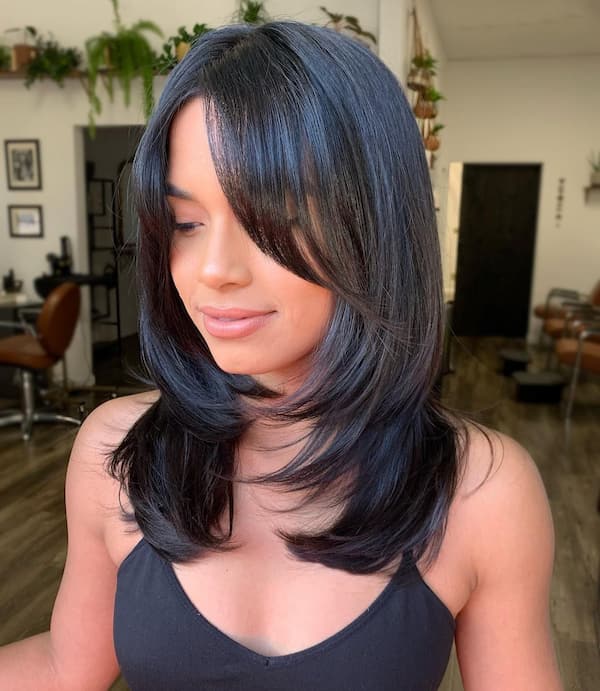 To end with a style that doesn't exclude lots of people, this face-framing black layered haircut seems like a good idea. With the bouncy layers and center parting, this style would look good in black, white, or any color whatsoever.
Conclusion
Here are our 50 layered haircuts for medium length hair with bangs picks, while being as inclusive as possible. Regardless of your hair color, texture, or volume, you should find something adorable in this compilation.
If you found this post helpful, you may want to check out some of our other posts:
Pin for Later.