The wolf cut is a trendy new hairstyle, and like most hairstyles that fit that description, it's also adorable. One common trend now is getting a wolf cut with curtain bangs, and you can probably already imagine how adorable it looks.
This compilation will take out the imagination factor and show you real-life wolf cut hairstyles with curtain bangs you can't resist. You can also use this as a list of recommendations for your next hairstyle, who cares?
50 Charming Wolf Cut with Curtain Bangs for Ladies
Here's a list of the prettiest wolf cuts we could find, for ladies.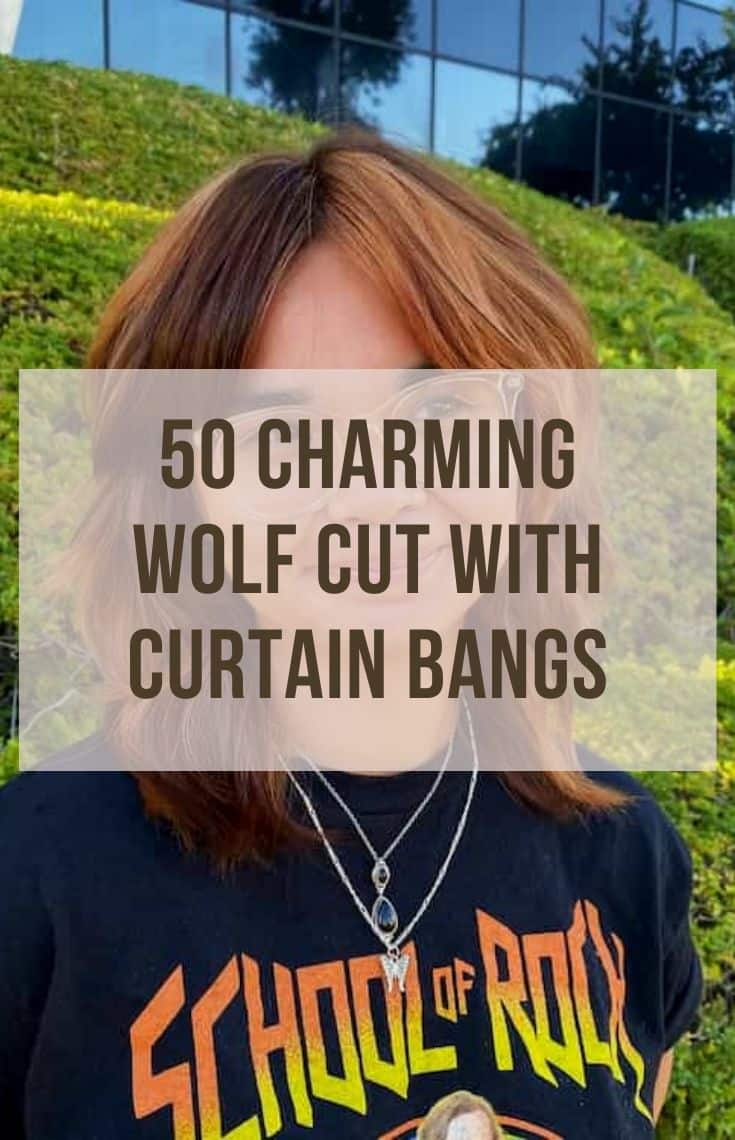 1. Hot Grungy Shaggy Haircut with Curtain Bangs
What's a wolf cut that's not grungy and shaggy? And how would this hairstyle look if it's not blonde? Thankfully, the answers to those questions will remain in the figment of our imaginations, as this model seems to have gotten them all right.
2. Wolf Shaggy Cut with Curtain Bangs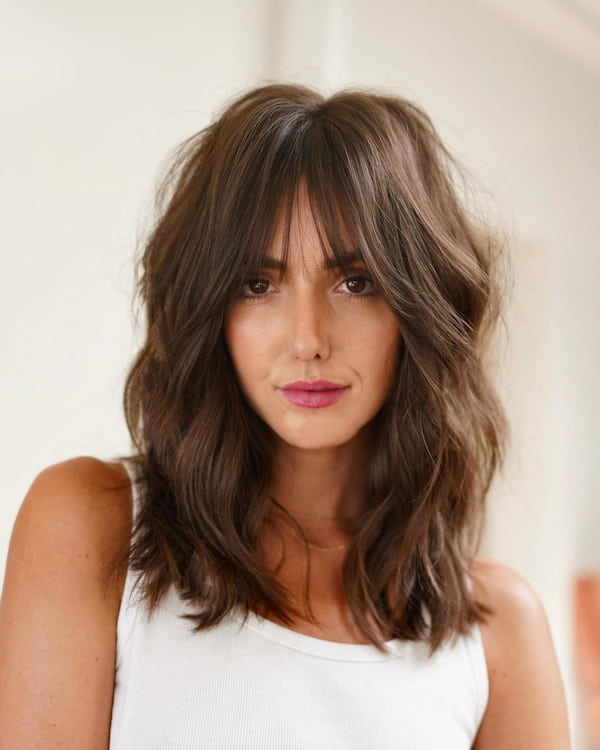 Blonde shaggy haircuts may look adorable, but there's no denying that brown seems like a more natural colour for it. With voluminous brown hair and a symmetrical centre parting, you end up looking exactly like her.
3. Blonde Shaggy Haircut with Layers and Curtain Bangs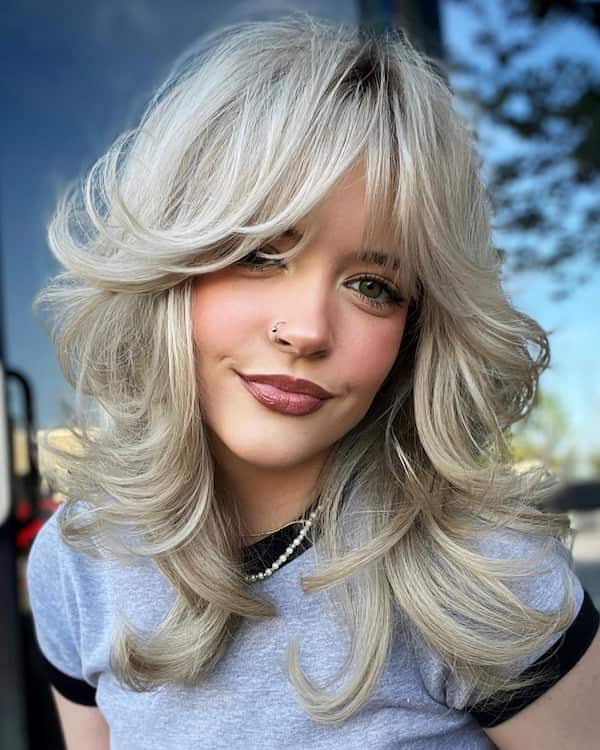 I apologize for saying brown looks cooler on wolf cuts; it definitely was because I hadn't seen this style then. The layers here are nothing short of amazing, the colour is spot-on, and the model's smile accentuates everything; easily a 10/10 hairstyle.
4. Subtle Wolf Cut with Bangs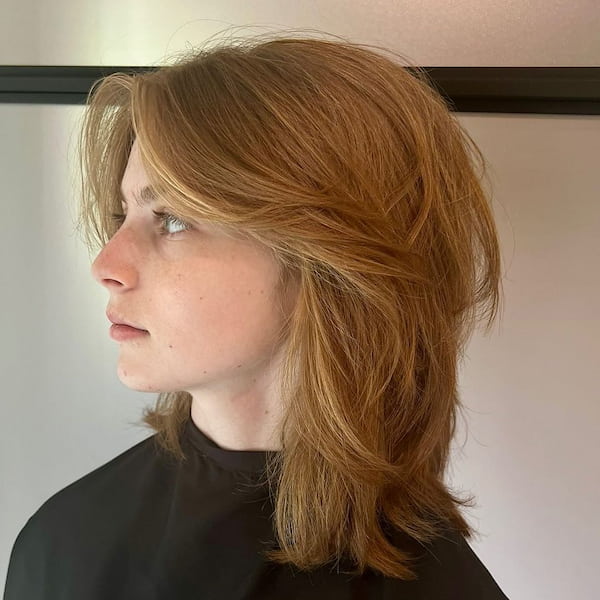 This hairstyle is what you get when you want a wolf cut that doesn't look very much like one. It tries to look as organized as it can, but when you look through it, the peculiar 'messy' DNA becomes very apparent.
5. Wolf Cut with Layers and Curtain Bangs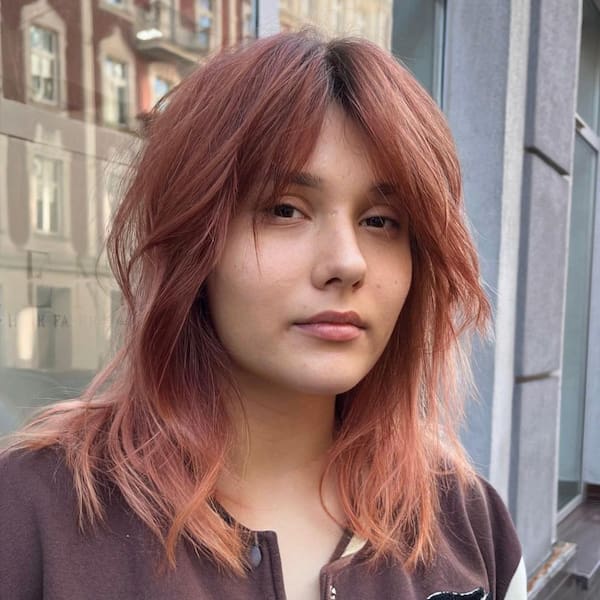 Most of what we've seen so far has been run-of-the-mill, so how about we try something a bit more radical? This wolf cut uses a peculiar brown color with subtle black highlights that makes it look ever so slightly different from every other thing out there.
6. Simple Brunette Wolf Cut with Curtain Bangs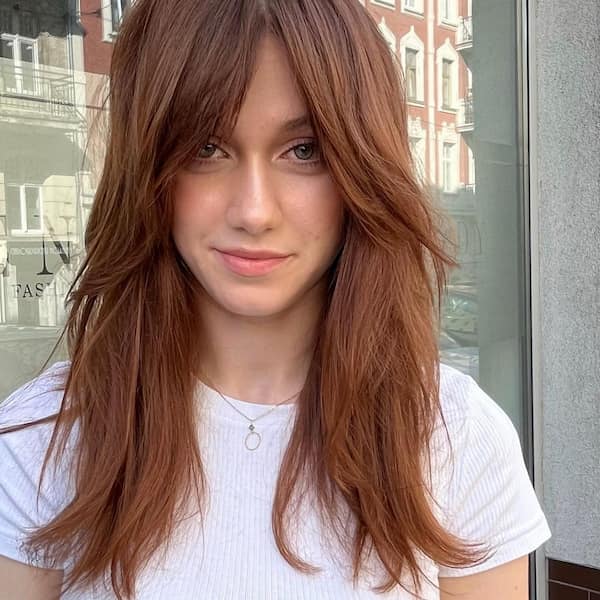 Nobody has it easy in hairstyling, except brunettes, as this hairstyle and many others so far has shown. Only on brown hair do shag haircuts look effortlessly beautiful, even without any genius styling peculiarities or weird color combos.
7. Thick Wolf Haircut with Curtain Bangs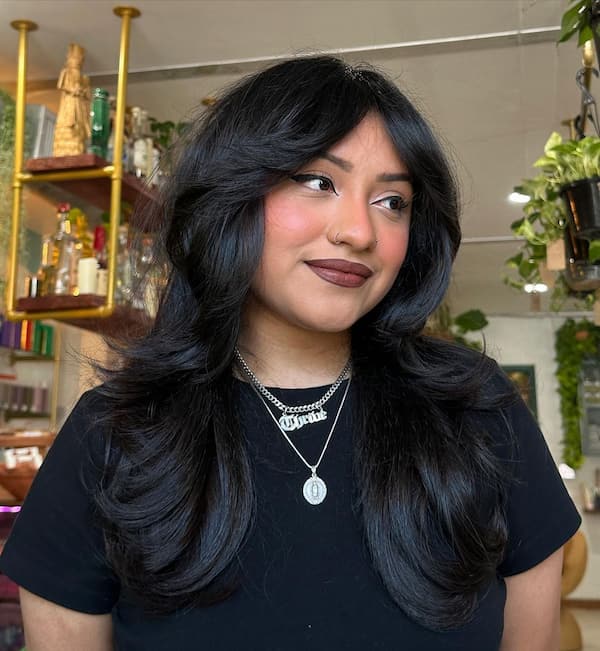 If you've read some of my other compilations, you should know I'm a big fan of thick haircuts. However, when you wear them wavy, in black, and with that adorable center parting, I just feel like ripping it off your head and putting it on mine.
8. Modern Shaggy Haircut with Layers and Curtain Bangs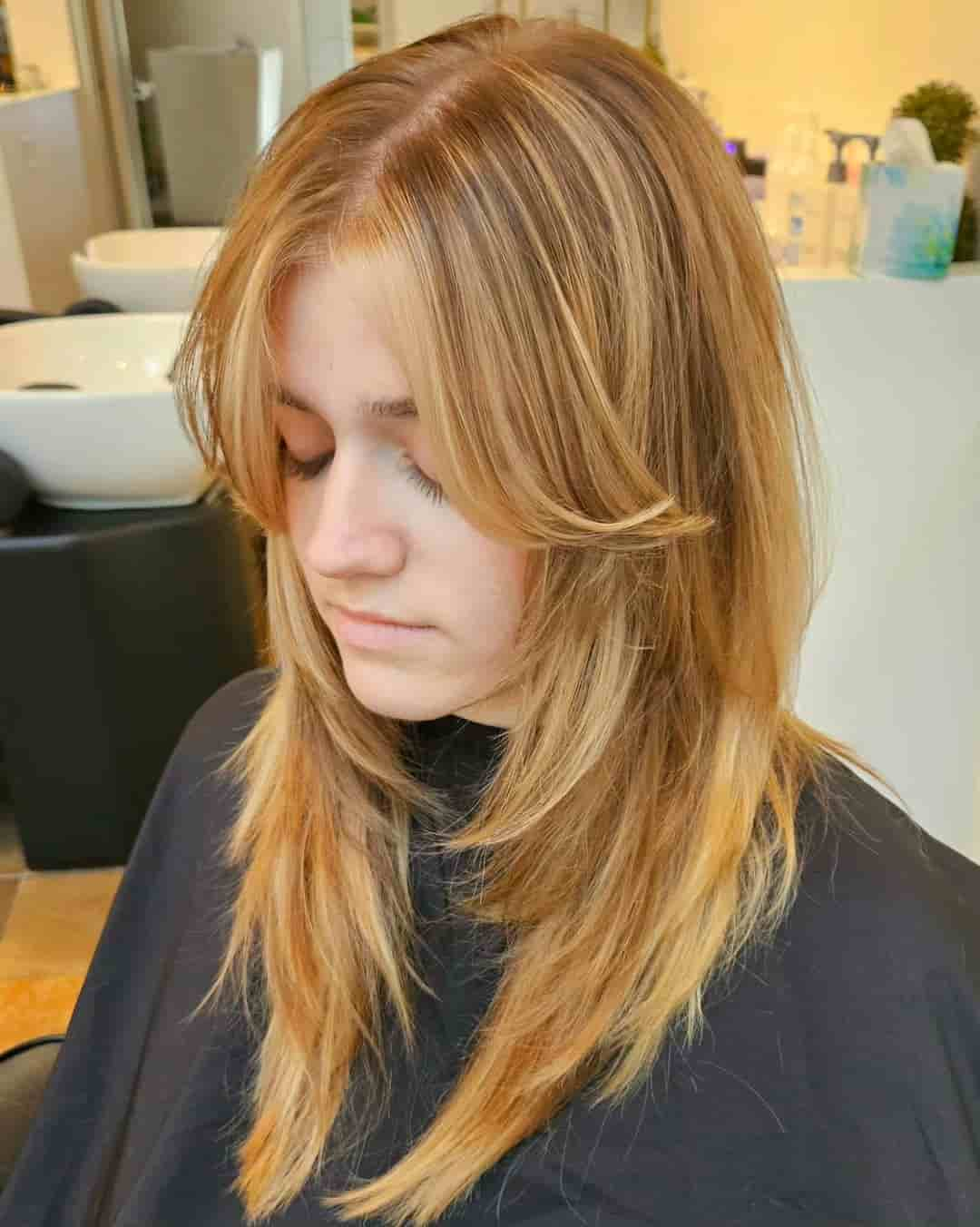 This hairstyle has the shaggy feel of a wolf cut, but you can feel it's trying to look very conventional. For me, the symmetrical parting and the inverted curtain bangs are the highlights of this hairstyle.
9. Shaggy Haircut with Curtain Bangs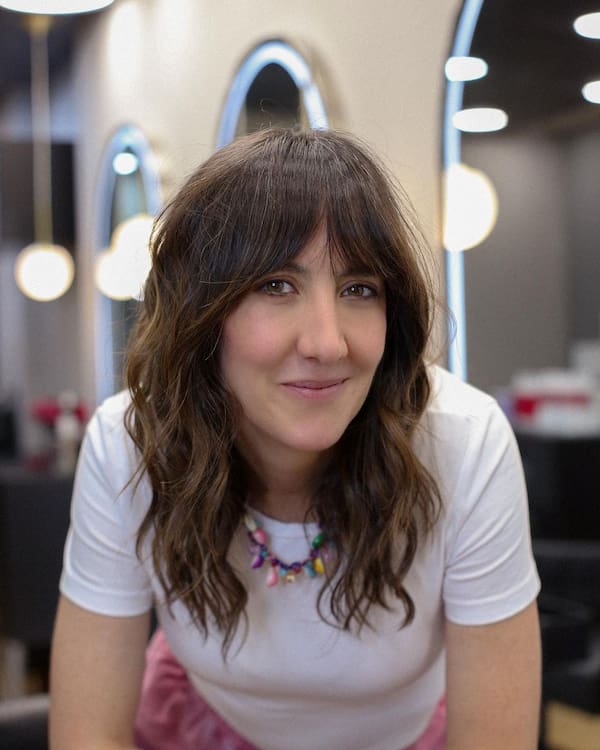 The wavy nature of this model's hair made the shaggy look of her haircut even more pronounced, making it a bona fide wolf cut. The center parting is another touch I admire, and the almost unnoticeable curtain bangs seem to work well for her.
10. Short Blonde Wolf Cut with Curtain Bangs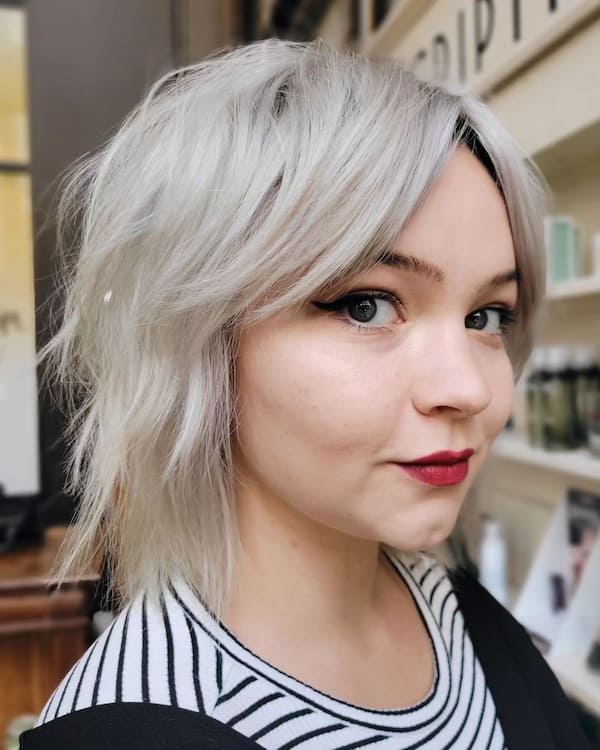 We've seen a whitish blonde wolf cut earlier, and you can attest it was adorable. Here's another that follows in its footsteps, with the almost irresistible color and the tiny inverted curtain bangs.
11. Long Pink Wolf Haircut with Curtain Bangs
If you're into flashy colors, this long pink wolf haircut might be all you're looking for. It's not the most complicated I've seen so far; just long and slightly wavy pink hair, an alluring center parting, and a model to match; definitely a hairstyle to copy.
12. Wolf Cut with Shaggy Layers and Curtain Bangs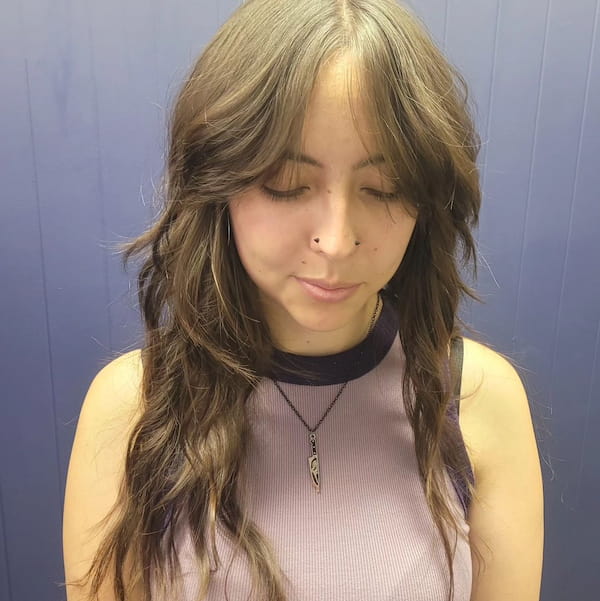 If that pink style isn't exactly your idea of the perfect color, you may want to check this out. It's brown, but in a shade that looks more adorable than most you see around. Wear it with that center parting and the curtain bangs and see how much more compliments you get.
13. Layered Wolf Cut with Curtain Bangs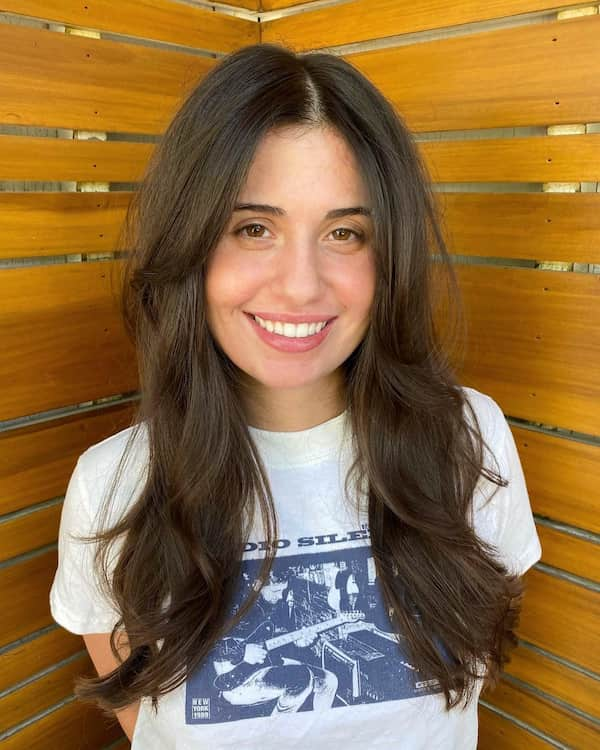 Your hairstyle doesn't need a flashy color or an extraordinary styling technique to look lovable. Sometimes, all you need to look alluring is a generic layered wolf cut with barely noticeable curtain bangs and a bright smile.
14. Butterfly Haircut with Curtain Bangs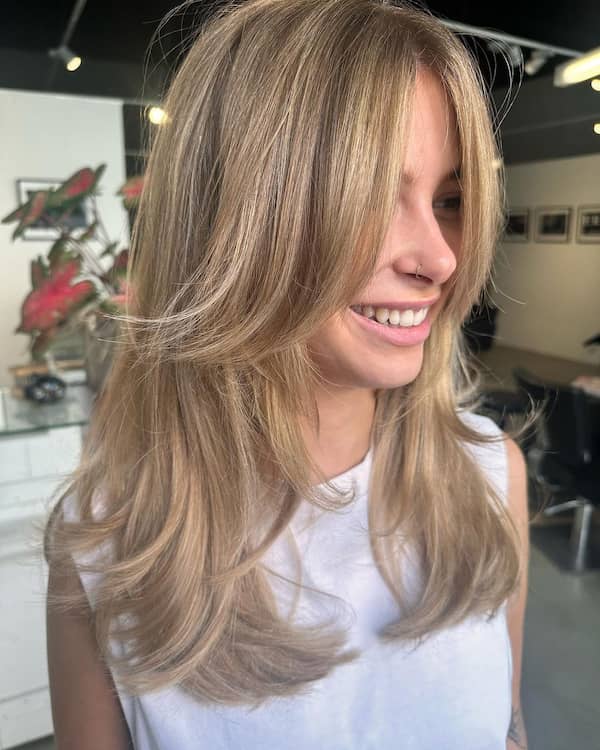 A clever way to wear a wolf cut is getting a slightly shaggy butterfly cut. That way, you get the best of both worlds and with a smile like hers, you're getting the best of three worlds, not two. And don't forget the curtain bangs.
15. Chunky Wolf Haircut with Curtain Bangs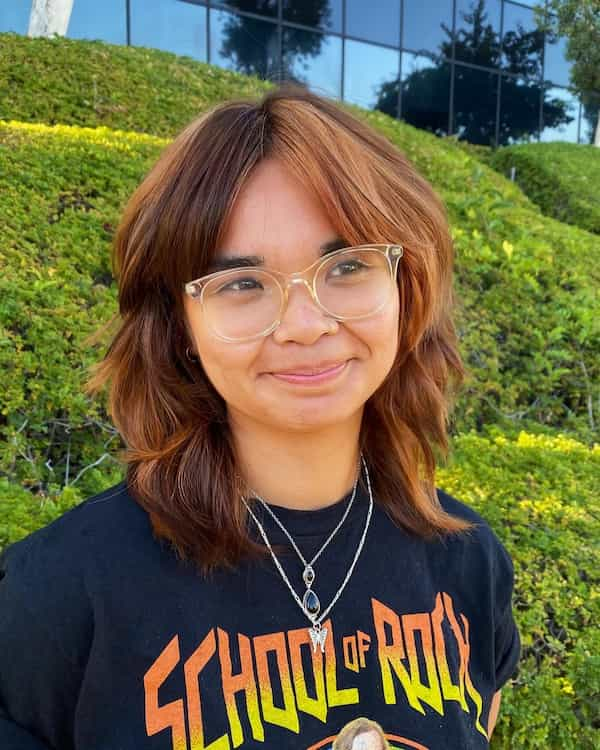 It seems like wearing a bright smile is a surefire way to make your wolf cut look insanely adorable. However, you may want to add different shades of brown to either side of your hair's symmetrical halves while you're at it.
16. Long Layered Haircut with Curtain Bangs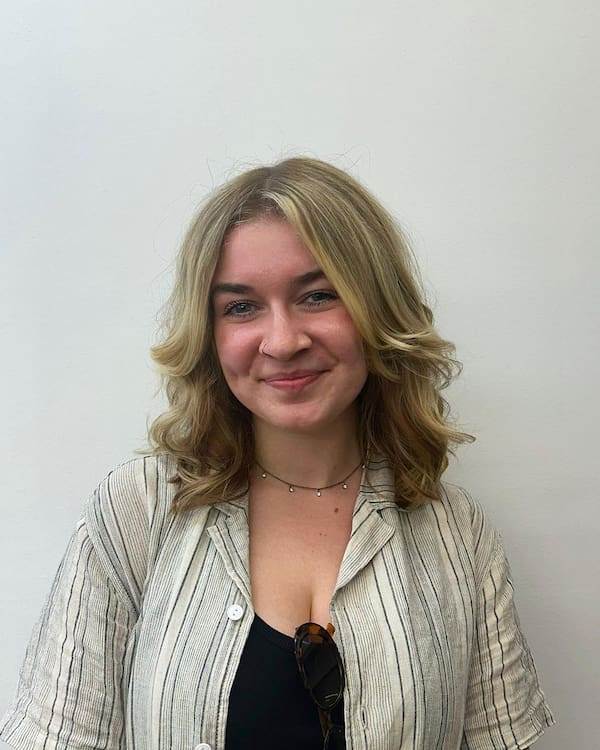 I'm not sure what this hairstyle's color is called, or why it seems to have perfect symmetry with equal bounciness on either side, but one thing I'm sure of is that I love this long layered cut and its curtain bangs.
17. Light Wavy Shag Haircut with Curtain Bangs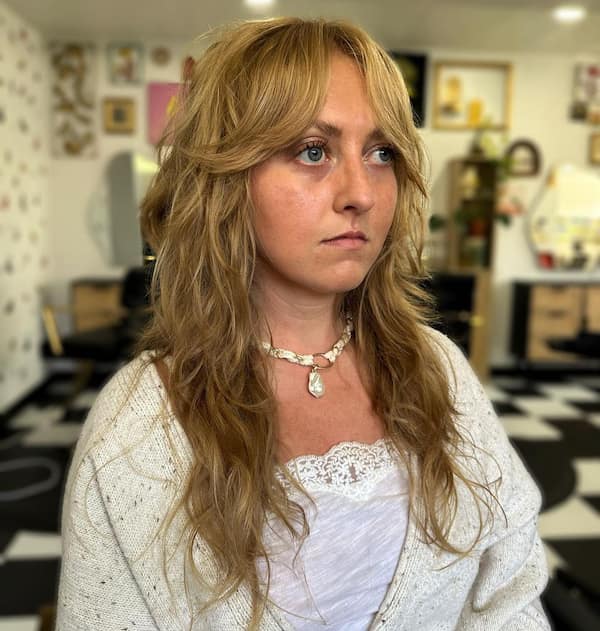 This deep blonde, almost copper color is a godsend for shag haircuts, as you can see yourself in the picture. It does a good job of highlighting the good about the shaggy look, and the adorable curtain bangs also didn't disappoint.
18. Light Curly Shag with Curtain Bangs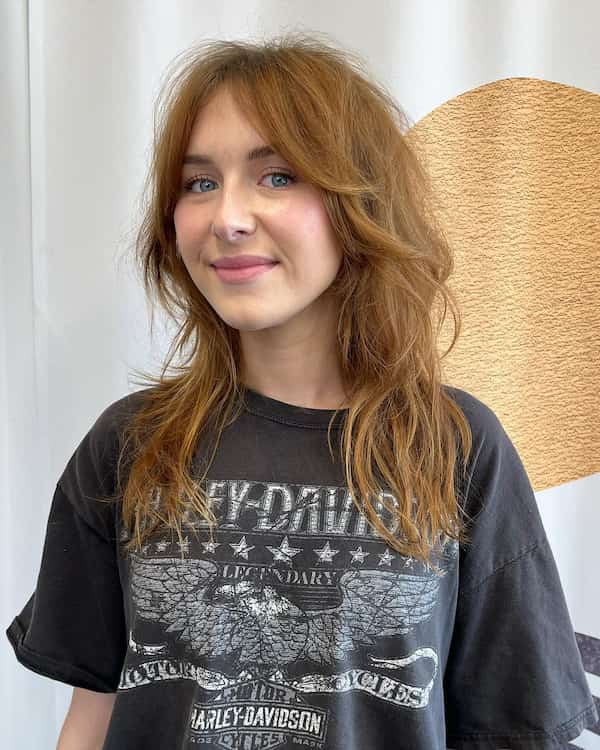 Here's an excellent hairstyle idea if all you want is an adorable wolf cut for fine hair. It has some curliness to it, and the nearly symmetrical parting is nothing short of alluring, but you can easily tell it's trying to make fine hair better.
19. Voluminous Wolf Cut with Natural Curls and Curtain Bangs
https://www.instagram.com/p/CvvxPedtW5H/?igshid=NTc4MTIwNjQ2YQ==
If you already have brown hair, I don't see what's stopping you from getting this hairstyle. If there actually was anything, I'm confident it wouldn't be the looks, as the curly hair, the symmetrical parting, and the curtain bangs all combine to ensure you won't be getting one less compliment.
20. Straight Wolf Cut with Curtain Bangs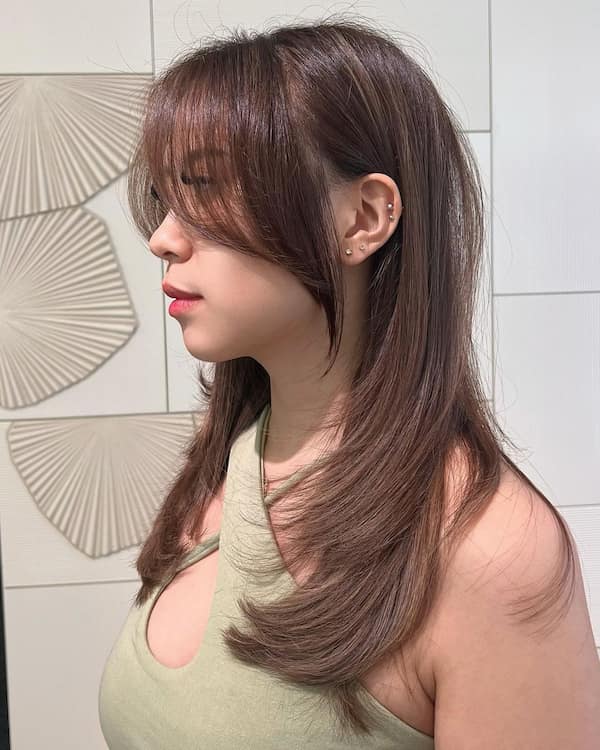 Straight and wolf cut are two I never imagined I'd come across in the same sentence, yet, here we are. While it looks somewhat out-of-place, the curtain bangs and the natural curve pushed me to include it in this compilation.
21. Wolf Cut with Blowout and Curtain Bangs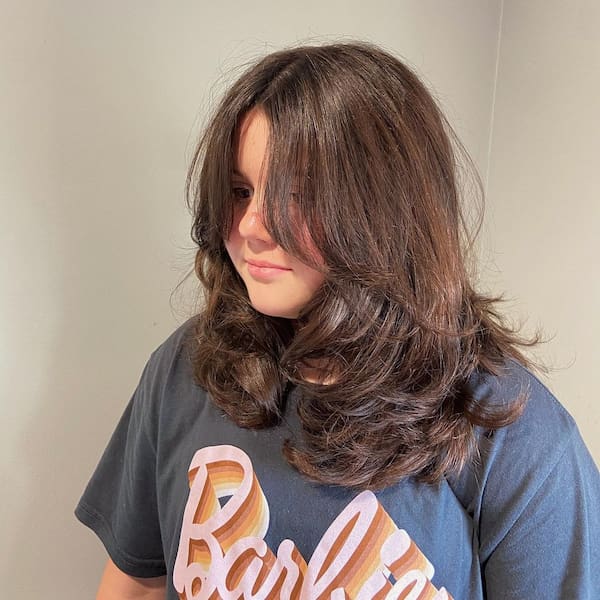 You can combine your wolf cut with a blowout to create a style that will be the cynosure of all eyes. Throw curtain bangs into the mix, and you may find yourself on this list in a matter of months.
22. Peach Butterfly Cut with Curtain Bangs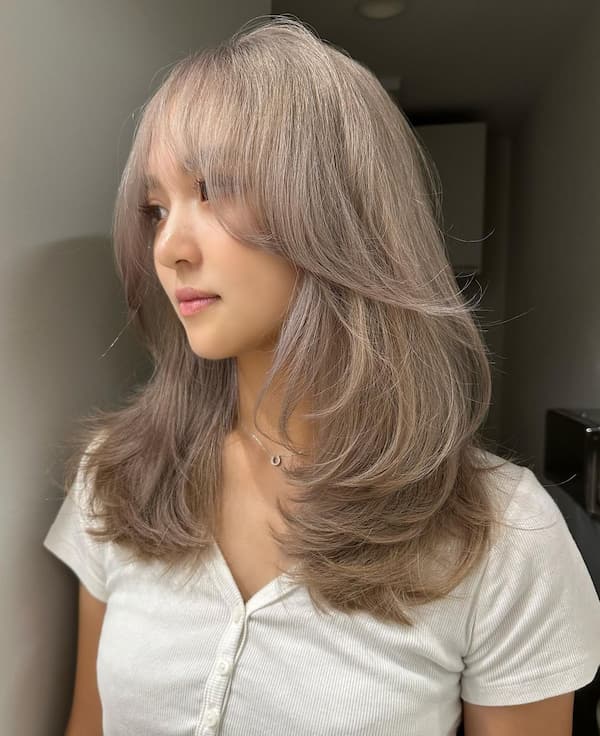 Fans of exotic hair colors will find this peach butterfly cut with curtain bangs adorable, especially with those curtain bangs. I'm not fan of exotic hair colors, but I still can find no fault in this hairstyle.
23. Long Wolf Haircut with Curtain Bangs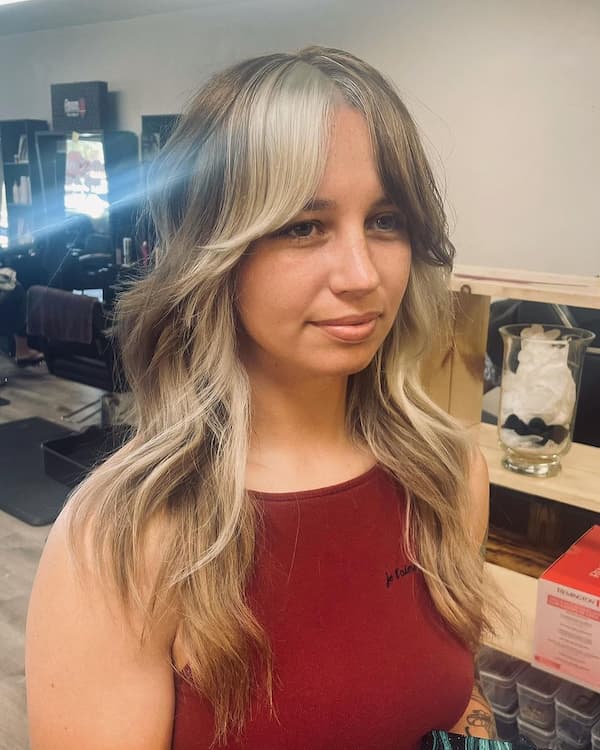 We've looked at plenty of hairstyles, but surprisingly only few with highlights. If you're looking to dive into the multi-colored hairstyles game, this brown and blonde try at a long wolf haircut is an excellent place to start.
24. Sun-kissed Balayage Wolf Cut with Curtain Bangs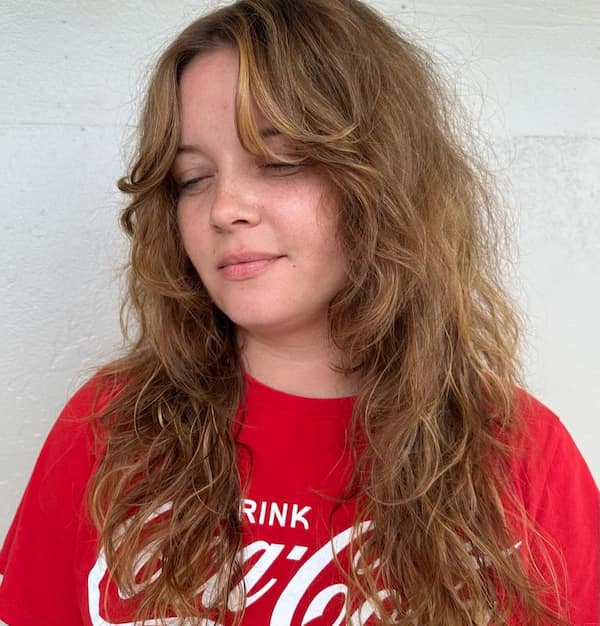 Wearing a balayage is another smart way to style a wolf cut for a truly unique but alluring style. A symmetrical parting at the middle gives the style even more balance, and throwing in curtain bangs makes it one of the best wolf cut with curtain bangs.
25. Classic Black Wolf Haircut with Curtain Bangs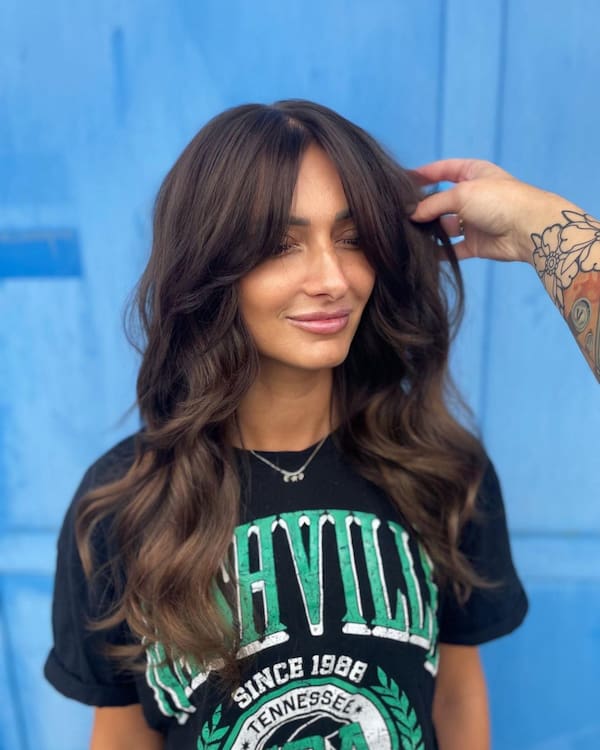 There are many similarities between this haircut and the preceding one, but what's more important to point out is the color. Black is beautiful, they say, and with how adorable this style looks, I can't really say they're wrong.
26. Shaggy Wolf with Layers and Curtain Bangs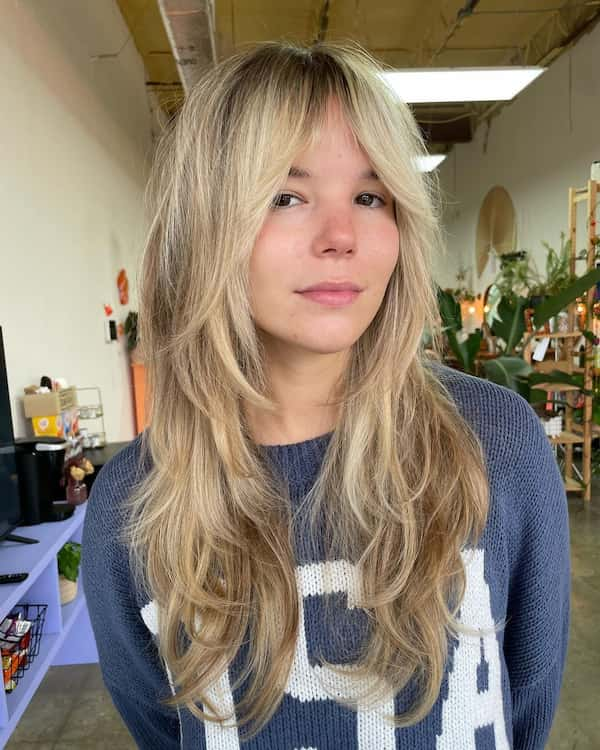 if you're blonde or willing to transition, this hairstyle is one you should seriously consider getting. It's not the insanely glamorous entry you might be expecting, but it's undoubtedly an excellent style for day-to-day casual wear.
27. Cute Medium-Length Shag with Bangs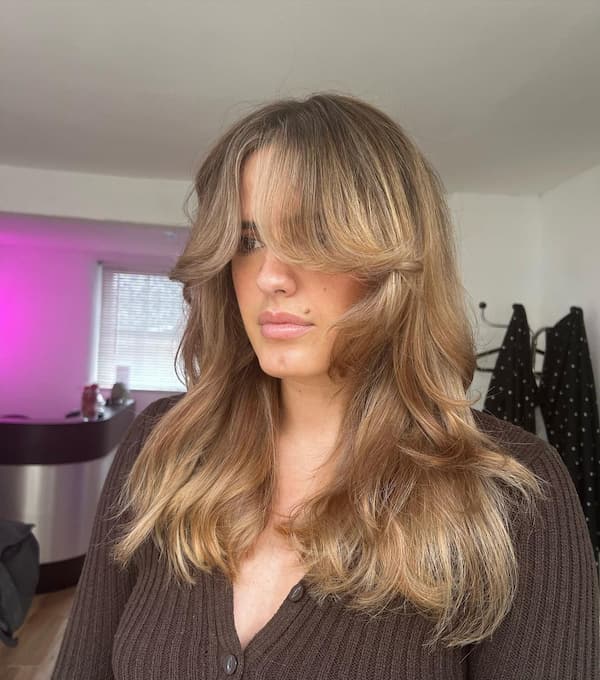 I'm clearly a fan of blonde as you can tell from the preceding illustration, but when a brunette hairstyle looks this good, you just have to weigh your options. And let's be frank, the well-done bangs and the straight layered hair here are both better than what the preceding idea offers.
28. Short Wolf Cut with Curtain Bangs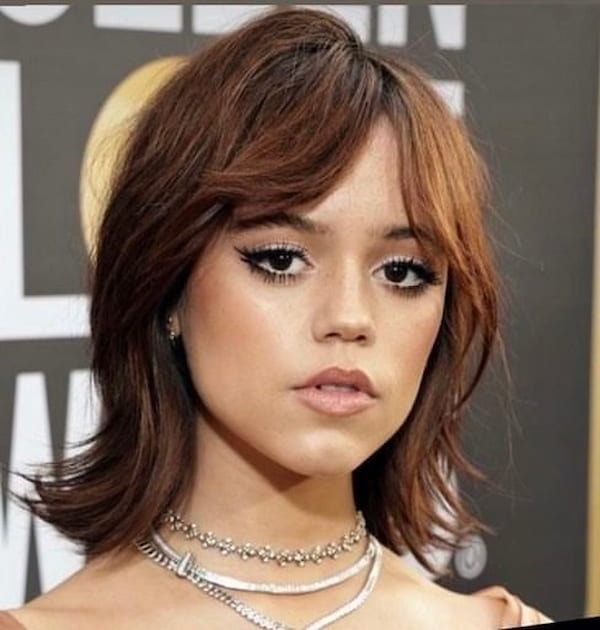 If you're not really after something that glamorous, here's a simpler and more casual alternative you might want to consider. You may be able to see the tiny curtain bangs if you look closely enough, and I'm also a fan of the slightly different shades of brown on either side.
29. Wolf Haircut with Curtain Bangs for Thick Hair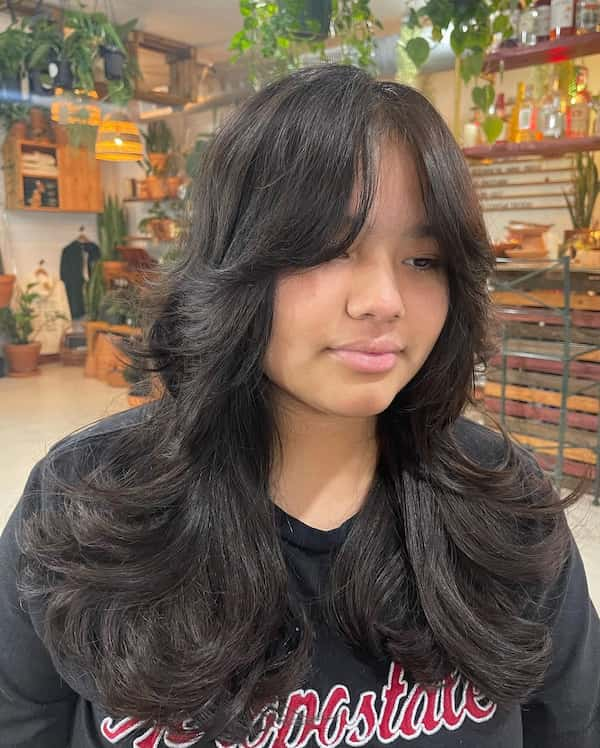 Anyone blessed enough to have this much and this long black hair deserves this adorable wolf cut. When they have the near-perfect curtain bangs and the admirable bounciness, it becomes unfair if their style doesn't turn out this good.
30. Red Haircut with Wolfy Layers and Bangs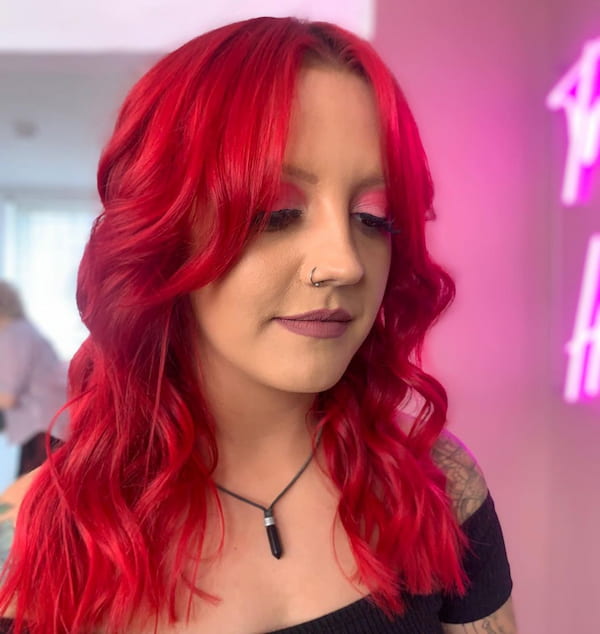 If flashy colors are your thing, this reddish shag wolf haircut is one style to consider. Even if you can't wear it in that color, the wavy look, the heavy bang, and her attractive makeup are aspects you should consider copying.
31. Cute Wolf Haircut with Curtain Bangs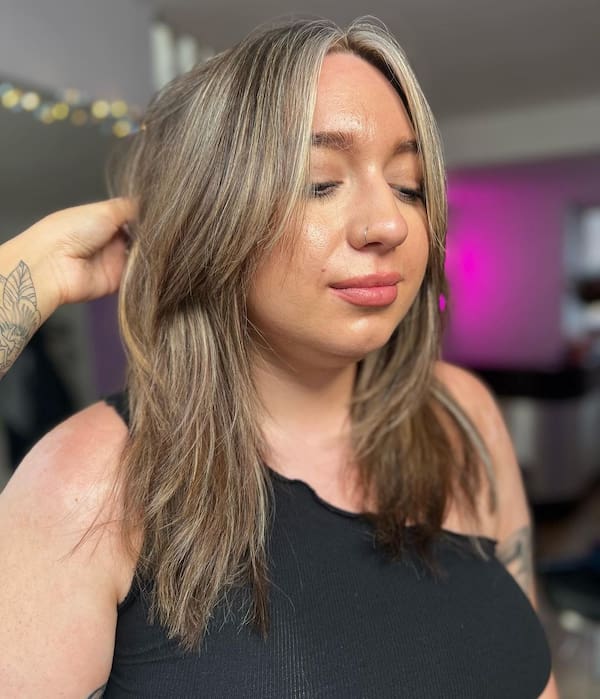 With how this style looks, it's easy to guess that a lot of work has gone into getting it, but it all seems very worthwhile. Thanks to the faultless layers and the adorable curtain bangs, this hairstyle is one of my favorites in this compilation.
32. Copper Balayage Hair with Curtain Bangs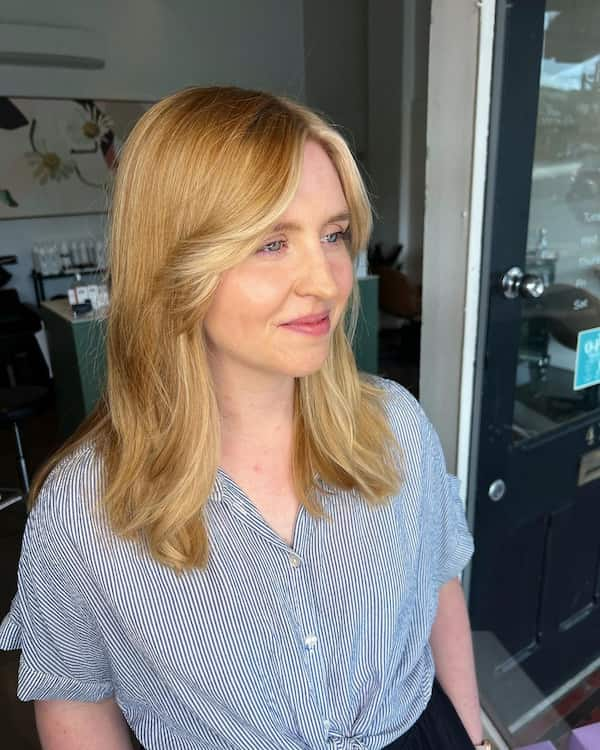 People change their hair colors all the time, and sometimes, you want to take it easy and slow. That seems to be what this model's doing with the blonde highlights things, and to be honest, it looks way more adorable than I expected.
33. Wolf Haircut with Bouncy Curls and Curtain Bangs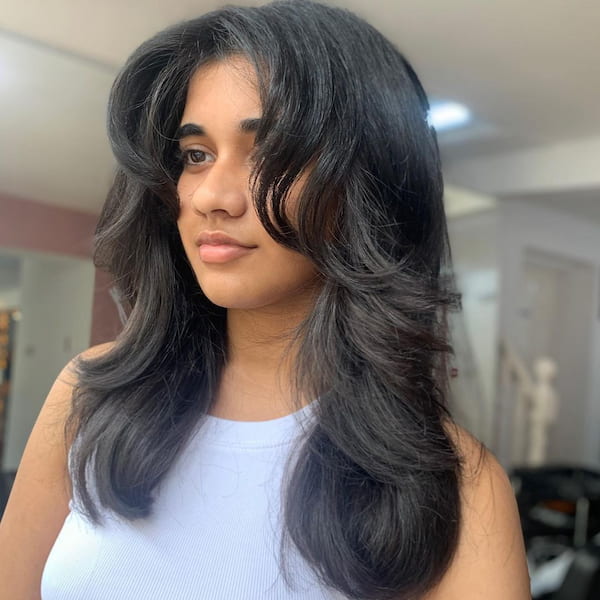 Copper and blonde aren't bad hair colors, but when the contender for black is this hairstyle, I'm afraid I'm going with black. If I had black hair, however, I'm not sure I have the same volume and length to replicate this alluring bounciness and curtain bangs; easily a 10/10 hairstyle.
34. Short Wolf Bob Cut with Curtain Bangs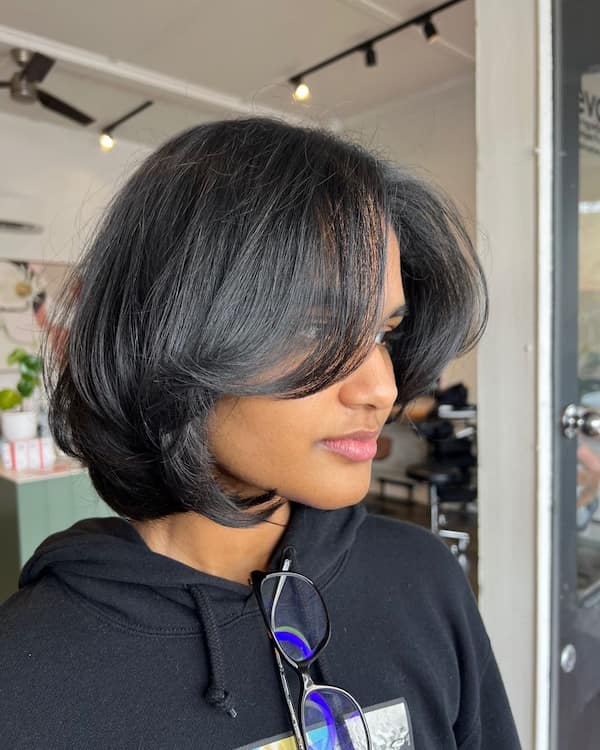 If the preceding hairstyle didn't do enough to convert you to team black, this wolf bob cut should be a slightly different story. At the cost of length and volume, it looks sleeker than the preceding style, making it the perfect choice if that's what you seek in hairstyles.
35. Messy Layered Long with Curtain Bangs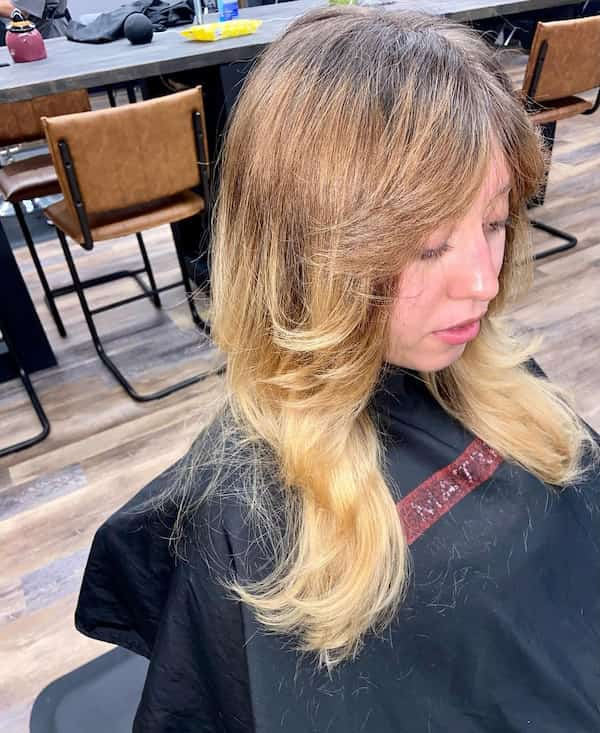 If sleekness isn't very high on your priority list, this messy layered cut with curtain bangs should. It's more of the same with the 'sleeker' alternatives we've seen so far, only that this one has a bit of messiness to it.
36. Simple Shoulder-Length Shaggy Haircut with Curtain Bangs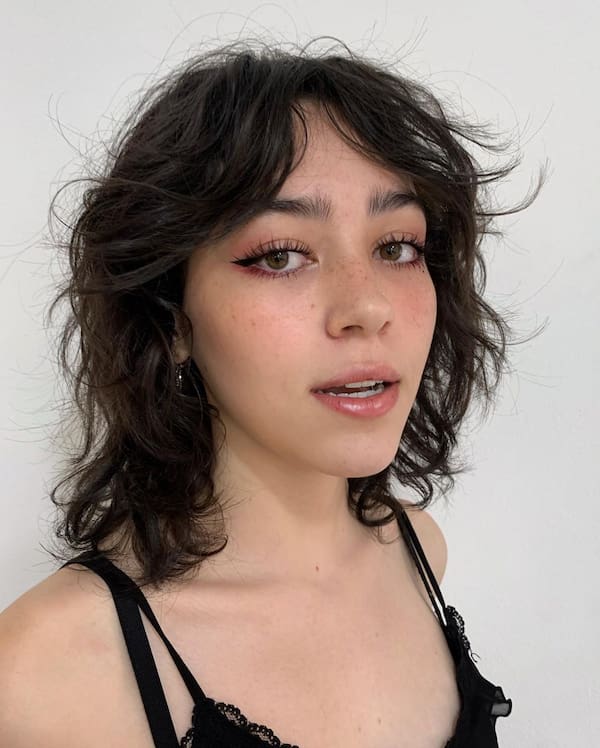 Ladies without plenty of length to their hair will appreciate the appeal of this hairstyle, as it uses shoulder-length tresses to create one of the best shaggy haircuts I've seen. Let's also not pretend not to see those perfect curtain bangs; easily a 10/10 style.
37. Wolf Haircut with Curtain Bangs for Older Women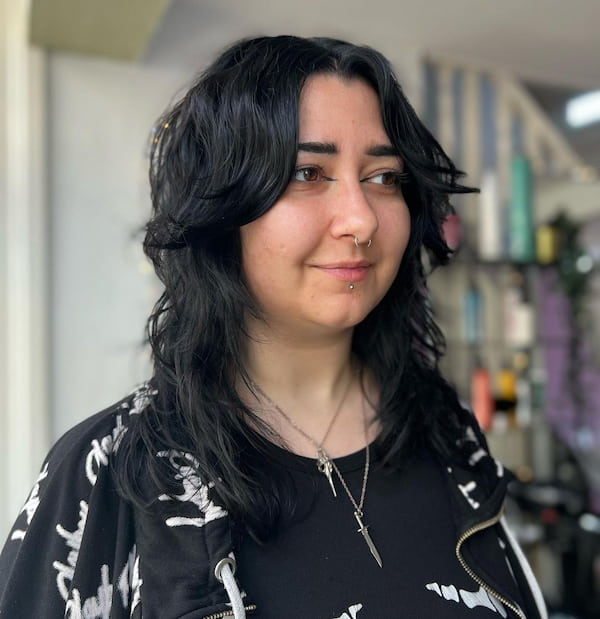 Sometimes, you simply don't want that messiness, and that's fine; there are wolf cuts that look equally as adorable with less than half the messiness. This one is a great example, and I specifically chose it for the similar length and the alluring layered look.
38. Double Colored Haircut with Curtain Bangs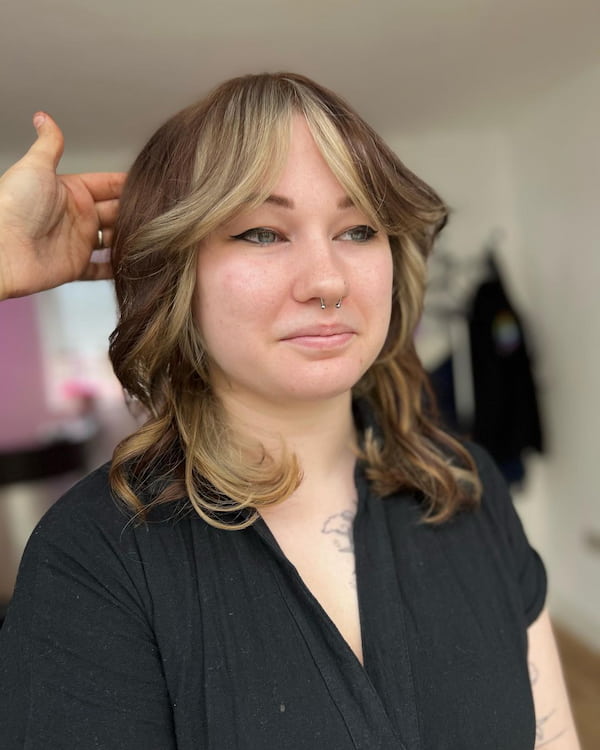 If you prefer a 'not black' hairstyle, this brown layered wolf cut with blonde highlights is the way to go. It's well layered, so I have no complaints on that front, and I also have pretty much no complaints about the nearly perfect curtain bangs.
39. Modern Shag Wolf Cut with Bangs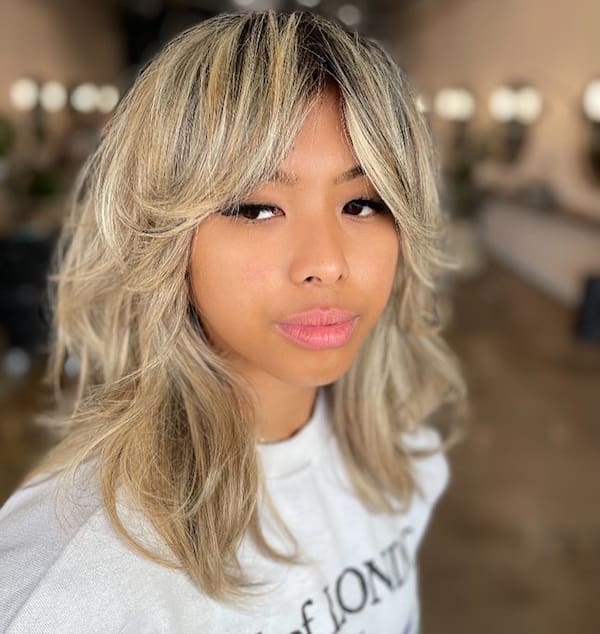 If you're blonde or considering going blonde, this hairstyle is a great way to get started. It's simple enough for casual everyday wear, while not compromising on that allure that gets you the compliments.
40. Scanty Wolf Haircut with See-Through Curtain Bangs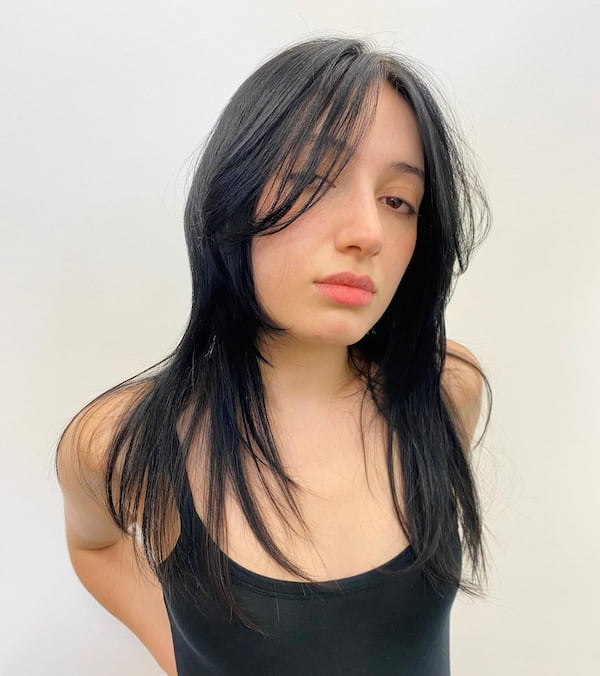 Volume is good for most hairstyles, but it's not entirely essential, as you can see with this inspiration. This model uses her hair's fineness, an "undesirable quality" to create a desirable see-through curtain bangs effect and a layered scanty cut.
41. Long Shag with Layers and Curtain Bang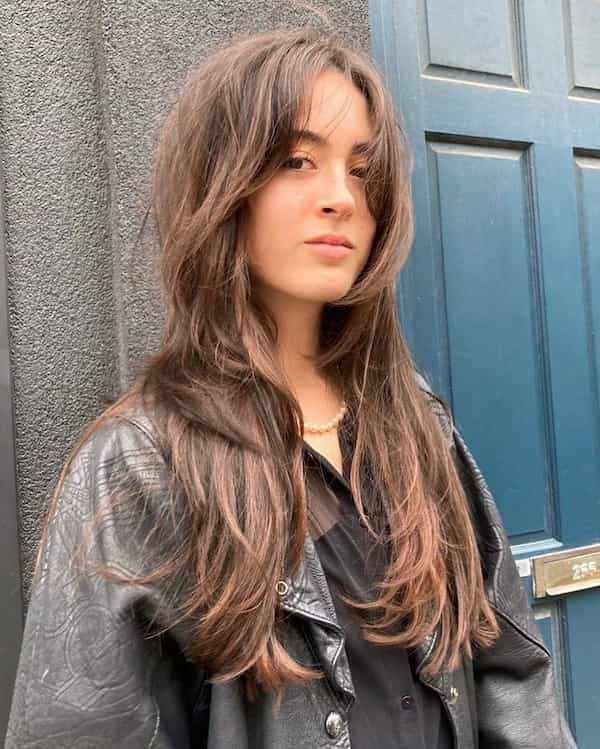 There's much debate about which is better: brown or long hair? While I can't give a verdict on that, I can authoritatively declare this hairstyle won't be deciding that debate, as it rocks both features extremely well.
42. Textured Shag Haircut with Curtain Bangs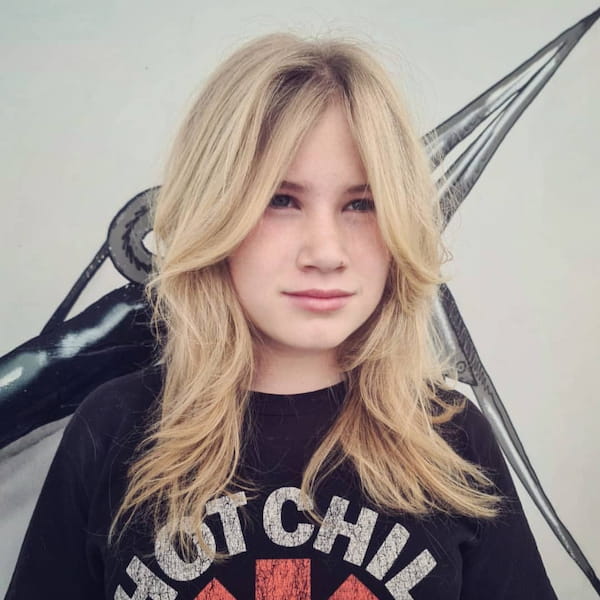 This hairstyle isn't exactly long, but it's not short either. The style's texture, curtain bangs, and blonde color also defines it uniquely, making it one of the most adorable shag haircuts in this compilation.
43. Pink Curly Shag with Curtain Bangs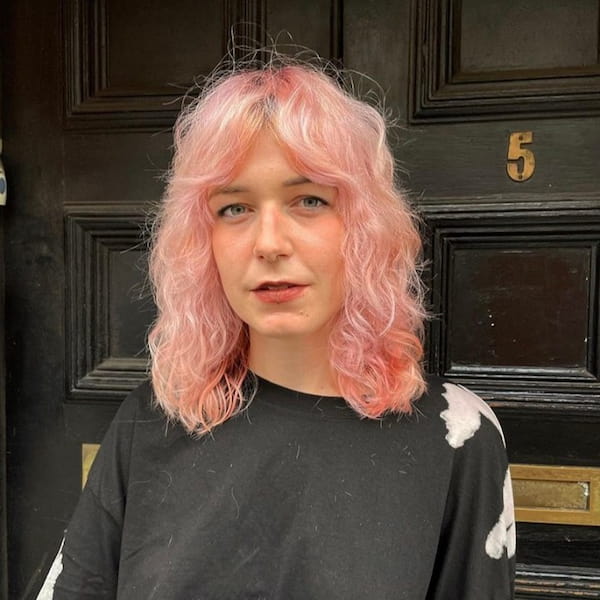 If a natural color like black or blonde isn't your cup of tea, you should definitely consider this pink curly wolf cut. Despite its flashy and unconventional color, it manages to look very conventional, and of course, beautiful.
44. Wolf Haircut for Oval Face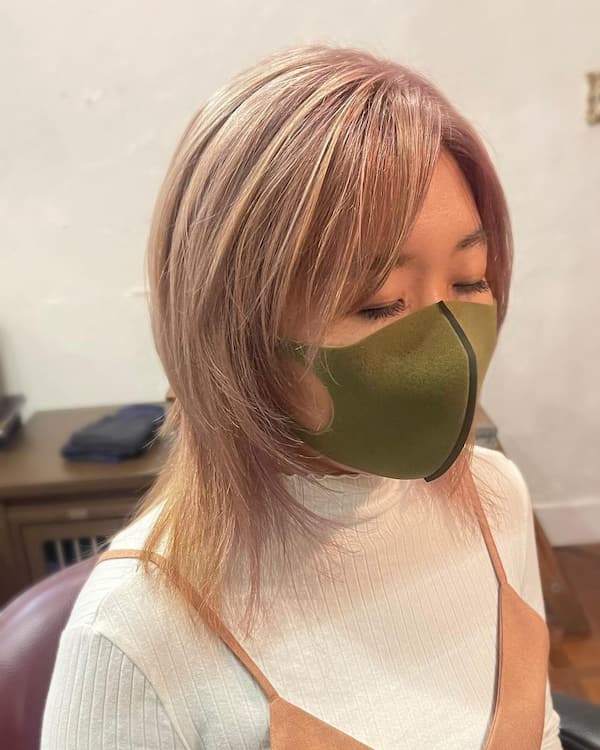 For times when you're not decided to go with either pink or brown, you can always use a mixture. The color gives a natural look to your hair without completely eliminating the distinct allure.
45. Double-Toned Wolf Cut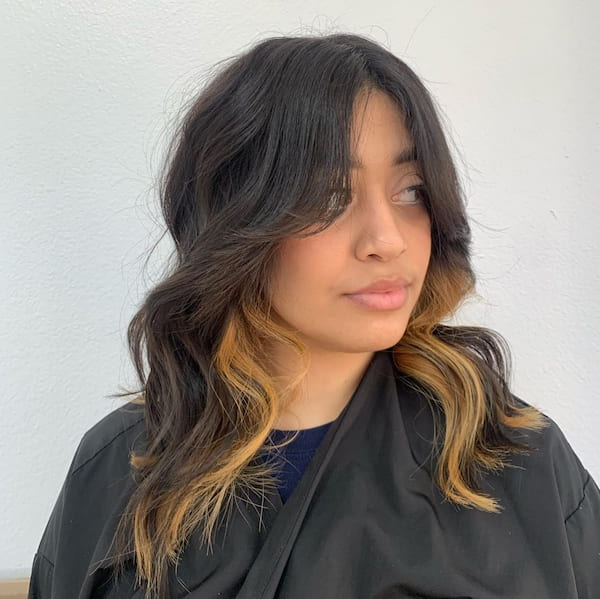 Mixing happens in different ways; if the preceding style looks somewhat unappealing to you, this highlights style should look a little better. Apart from the seamless amalgamation of colors, the waves and the curtain bangs also make for an alluring hairstyle.
46. Wolf Haircut with Layers and Bangs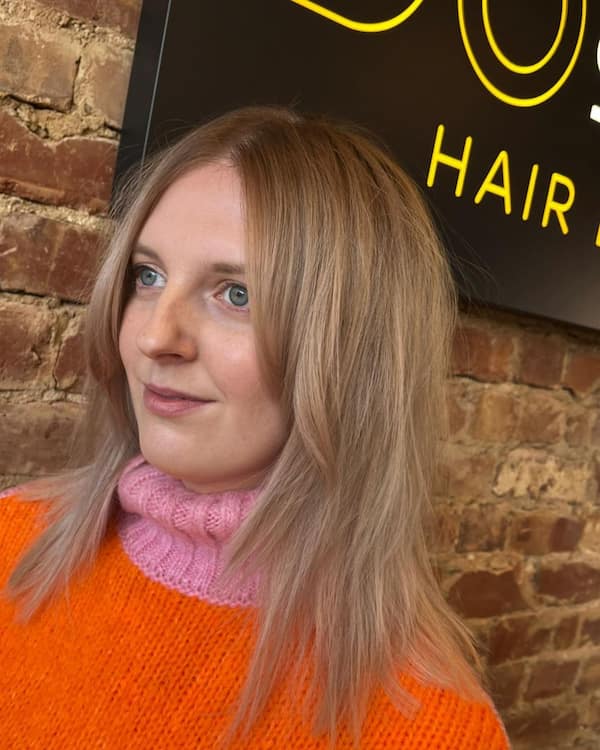 If you'd rather stick to one color, blonde is a great one to consider. When you make it into a wolf haircut as adorable as this with layers, a symmetrical parting, and gigantic curtain bangs, adding highlights becomes unnecessary.
47. Cute Wolf Haircut with Curtain Bangs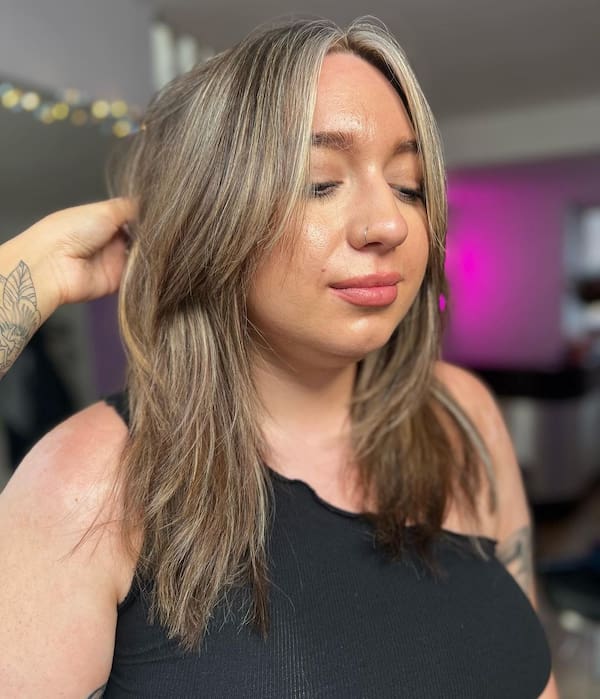 This adorable brunette style is another option is blonde isn't for you. Despite not being the longest hairstyle in this compilation, it radiates that kind of beauty you want in an everyday hairstyle.
48. Wolf Haircut with Face Framing Layers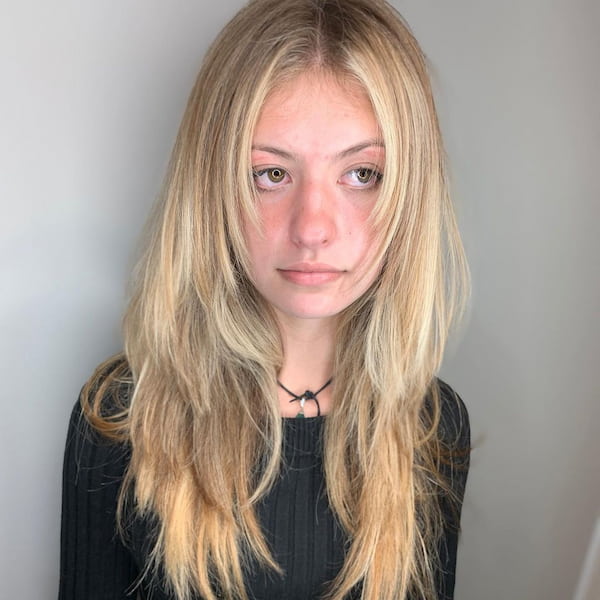 I'm not a big fan of wolf cuts with volume, but I have to admit this hairstyle is gorgeous, no less. The synergy of its peculiar bangs and the symmetrical parting makes it one of the more balance wolf cuts in this list.
49. Chic Wolf Haircut with Messy Curtain Bangs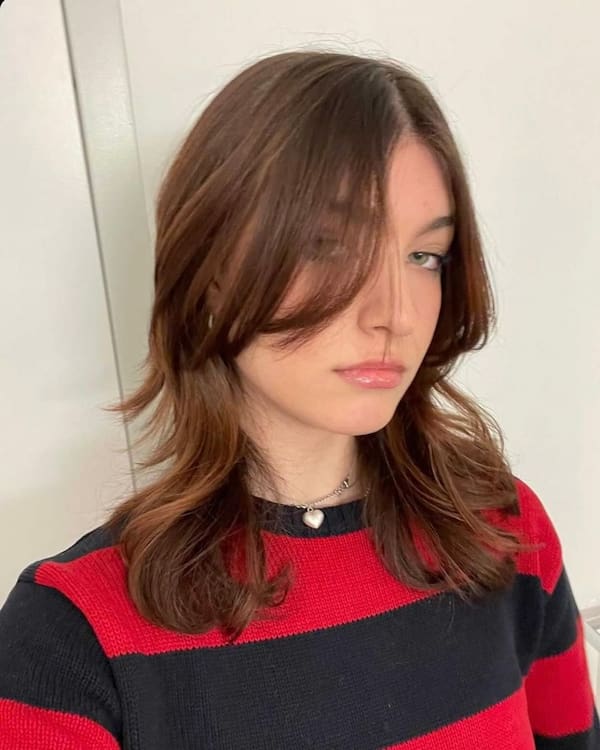 If the brunette styles you've seen resonate with your personality, here's one more adorable idea to make your choice even harder. Add that exquisite curtain bang and you have a model-type hairstyle.
50. Glam Wolf Haircut with Curtain Bangs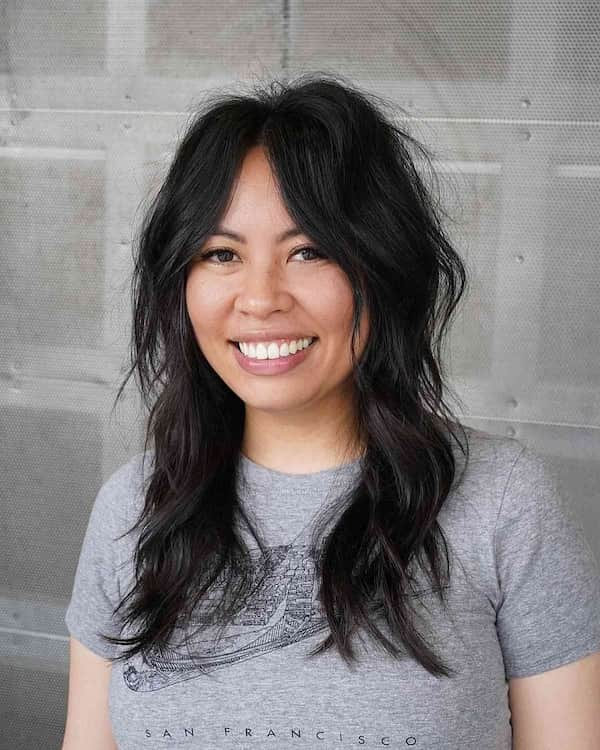 What's a better way to end this compilation than with a model so happy with her hairstyle that she's smiling? It turns out that wavy wolf cuts with perfect curtain bangs look adorable; who could've thought?
Conclusion
With 50 hairstyles analyzed so far, that seems about enough for this list. I believe you now have tons of options to make your hairstyle choice.
If you still need more hairstyle ideas to make your final choice, you can check some of our other compilations below.
Pin for Later