Are you looking for the best low maintenance medium length haircuts? Don't worry because I already got you covered here in this post.
Hey, a quick reminder: I recently wrote a post on the best low maintenance haircuts for frizzy hair; if it's something you're interested in, do well to check it out.
So in this post, I would be sharing some inspiring haircut ideas, styling tools plus products you might need to achieve your hair goals and some pieces of helpful information.
Before that, Let's answer some of the frequently asked questions about medium length haircuts.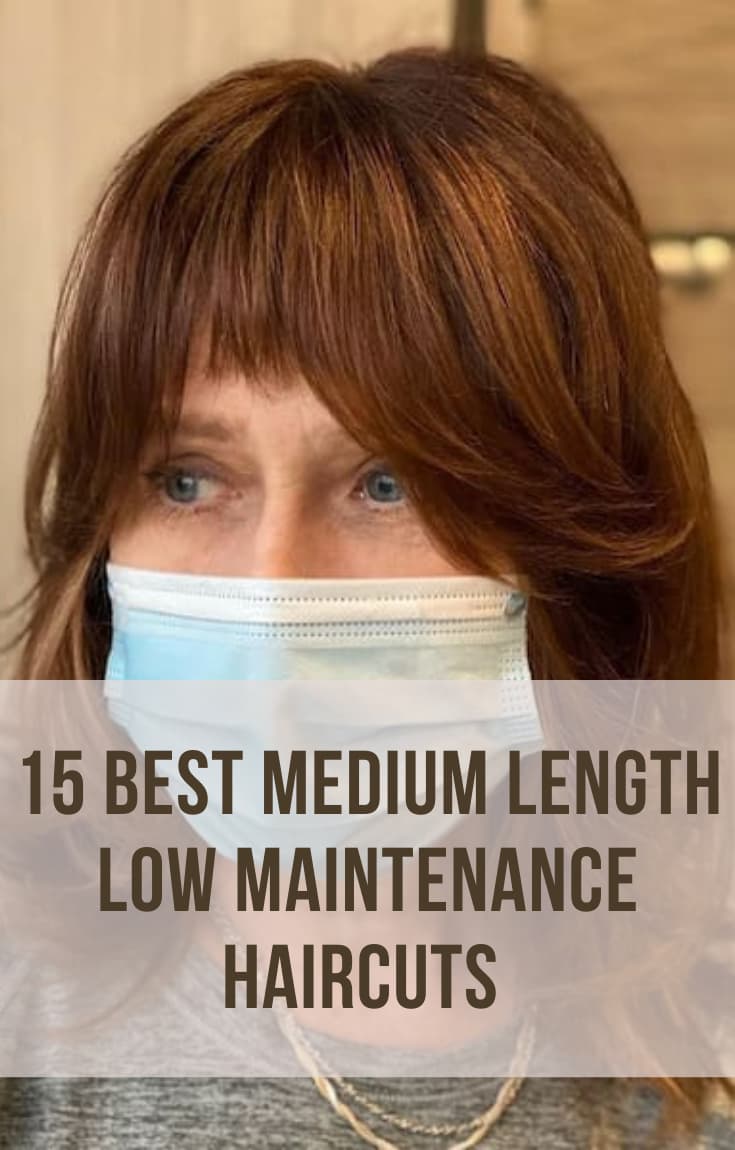 Best Low Maintenance Medium Length Haircuts
What is the most low maintenance haircut?
There is nothing like most low maintenance haircuts. It all depends on the level of your hair maintenance, tools available, humidity, and your hair type.
Does medium length haircut make you look older or younger?
Most times, Yes, but it also depends on how it is styled and how exposed and framed your full face is outside the hair. Bangs are very good at this.
Like I always say, different people have different style tastes, and it's essential you choose a style you rather like than the one that makes you younger or older (of course, doing both isn't a bad deal).
Without wasting much time, Let's dive inside the haircuts ideas I have to share with you today.
1. Wavy Medium Lenght Haircuts + Bangs
The first idea on my list is something you should consider if you have wavy hair. Remember I said earlier that styles with stylish bangs sometimes help your face look younger. That's very true.
And I like this style because it is styled in the simplest and best shape to frame out the full face. What do you think?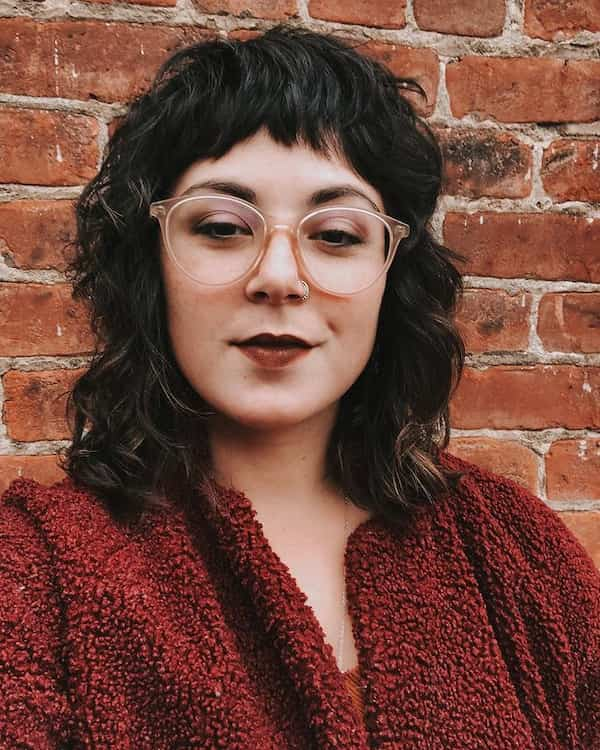 2. Medium Length Deva Cut for Curls
I wouldn't be happy with myself if I leave the amazing ladies with naturally curly hair with no inspiring idea. So I thought it would be nice to share this stunning style.
If you have curly hair and you haven't heard of "DEva cut hairstyle," then it is time you know and confirms what the Deva Cut hairstyle looks like.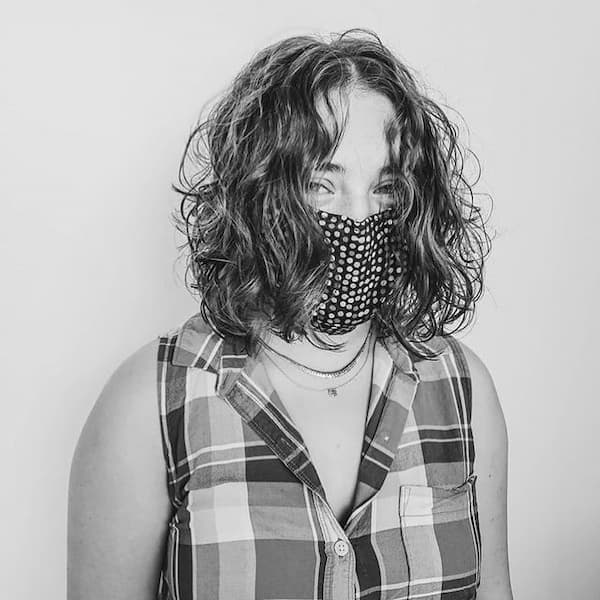 3. Curly Bang Haircut
Did you think bangs styling is only for straight hair? Well, this haircut proves that you can style curly hair in any way you desire as long your face and body shape accepts it.
Looking at the picture, you can easily tell how happy and satisfied this beautiful lady is with style.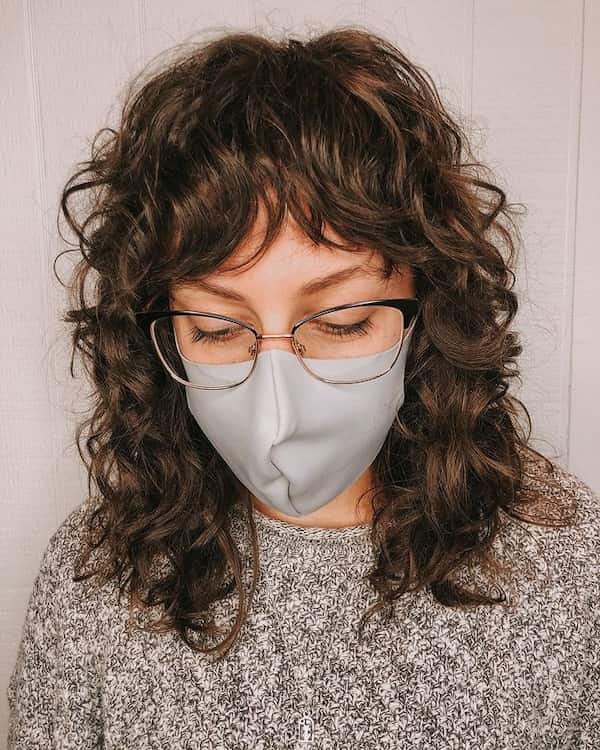 4. Medium Length Curtain Bang Haircut
You might be wondering why bang keeps repeating itself. Honestly, I don't know, or maybe I am obsessed with bangs style. Consider this one of the best medium length low maintenance haircuts for busy moms.
And I am quite sure that this style would go well on ladies of any age. So if you're thinking of something like this anytime soon, then do not be afraid to go for it.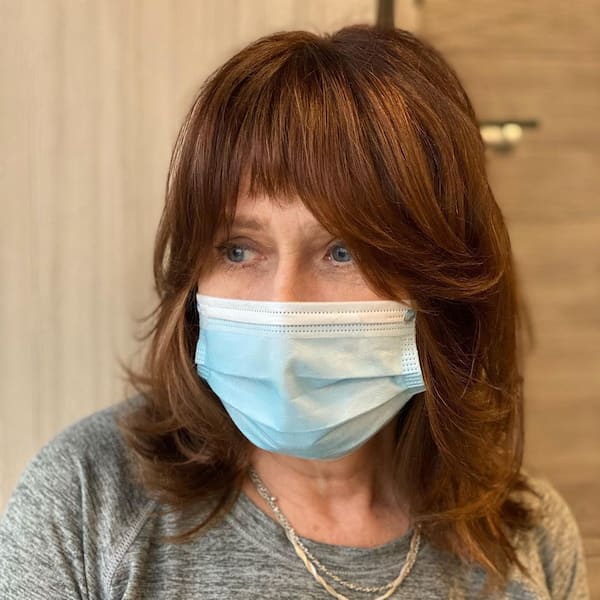 5. Medium-Lenght Bob Haircut
Bob haircut is now back again in the game. A little face-framing by your stylist can turn the whole style into something magical.
According to this haircut stylist, she used some affordable hair products like IGK Mistress Hydrating Hair Balm and IGK Good Behaviour Spirulina Protein Spray to achieve this brilliant look.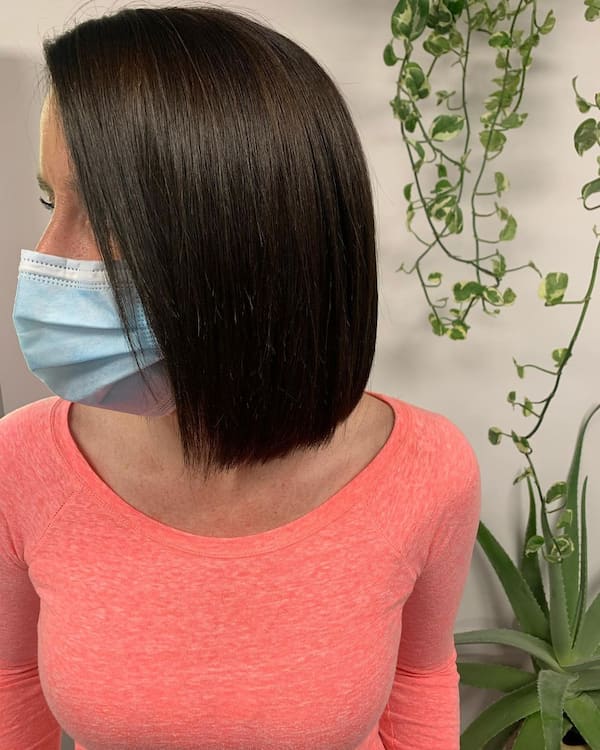 6. Shoulder-Length Haircut
Let's not forget that we are in the middle of the hunt for medium length low maintenance haircut, and this should-length bob haircut falls in between.
If you check this style, you would see some elements of stylish bangs. Did you notice at first?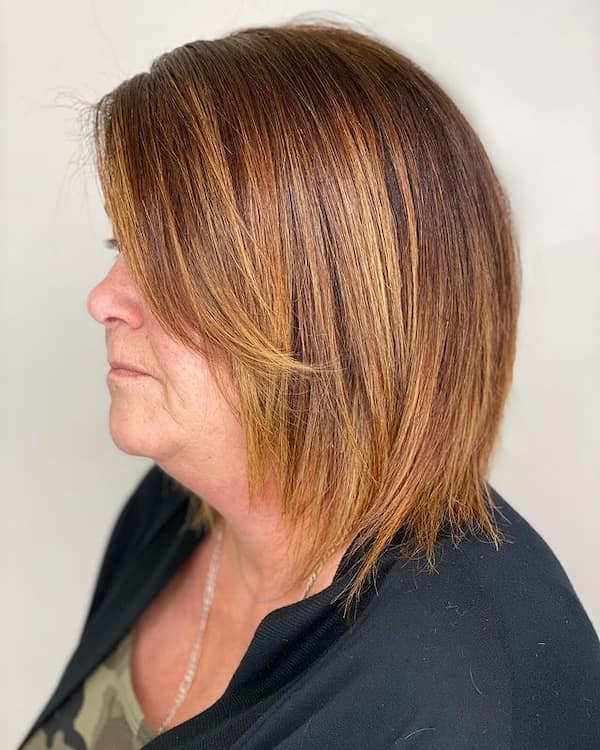 7. Low Maintenance Bob Haircut
If you're a big fan of Bob Haircut, I am sure you would be mad at me if I skipped it on my gallery. I thought it would be a great idea to add to the gallery.
Before I forget, This style you're viewing has curtain bangs in it. So if you're going for this style, don't skip the bangs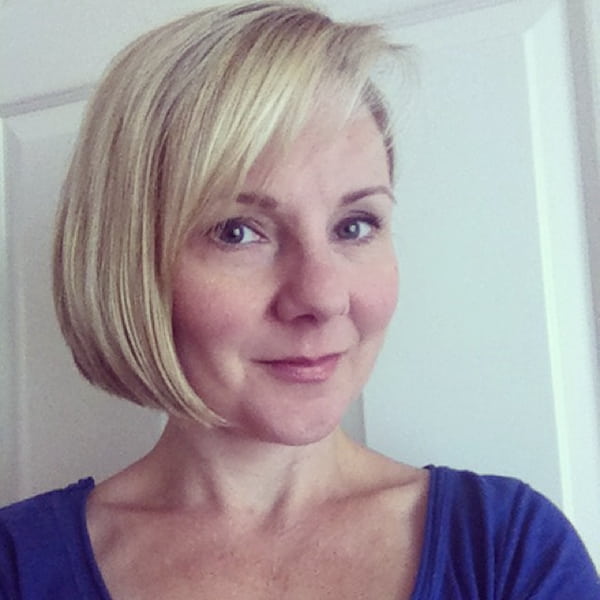 8. Stylish Neck Lenght Bob Haircut
The next on my gallery is the neck-length bob haircut that was styled stylishly to make it fit in with the lady's face. You can, however, see a mix of bang, which is also called fringe, in some parts of the world.
This style is for people who desire to show their full face. Depending on how it is styled, it can either make you look younger or older.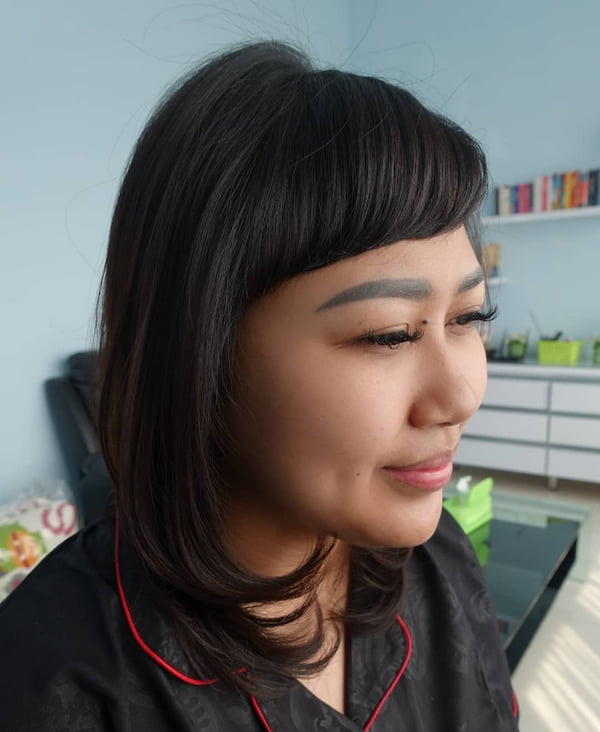 9. Medium Length Wavy Haircut
Some haircuts, when styled, can make you think that the haircut was specially designed for that person, and this is a good example. I should have added this to my number one list of low maintenance haircuts for women.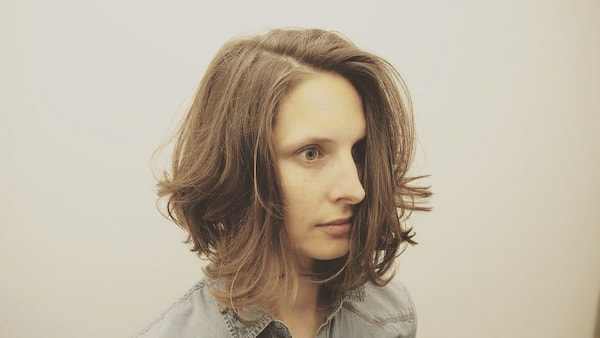 10. All Women Bob Haircut
You might be wondering why I called this All women. Well, as the name sounds to the ear, this type of haircut is suitable for any woman of any age.
The only thing that matters here is the stylist's ability when it comes to styling your type of hair.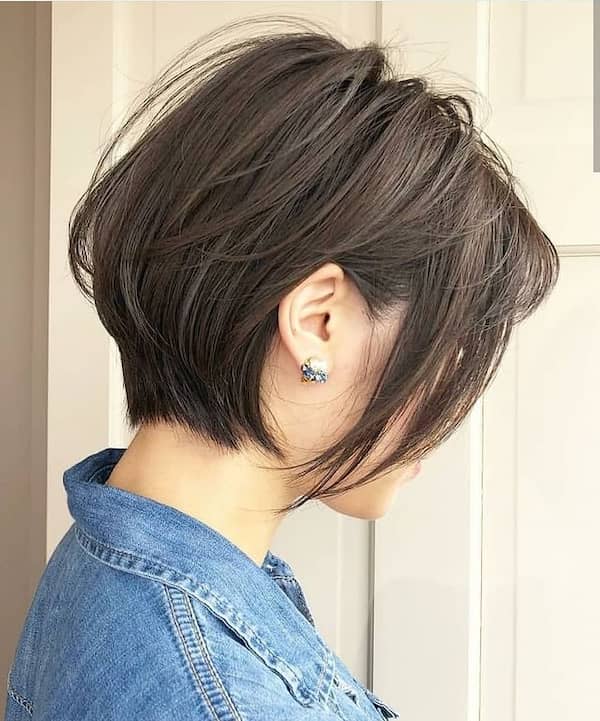 Tools You Should Own Today to Ease Hair Care
Running low maintenance won't be easy and fast as expected if you don't have the right styling tools. That's why I have to show you some tools you should consider adding to your cart today.
In fact, these are the four basic hair tools that every girl or woman needs.
1. The All-in-one Hair Dryer, Volumizer Brush
Check Price on Amazon (#ad)
2. Best Heat Protectant Spray
Check Price on Amazon (#ad)
3. Best Hair Straightener
Check Price on Amazon (#ad)
4. Best Automatic Curling Iron
Check Price on Amazon (#ad)
11. Wavy Medium Length Haircut
Sometimes if you don't know what to do with your long wavy hair, you either go short or medium length in style.
Choosing the best style to go for most times can be very challenging, but If you're comfortable trying out this kind of haircut, believe me, you won't regret it.
Are you going to try this out? You should save it on one of your Pinterest boards as a reminder.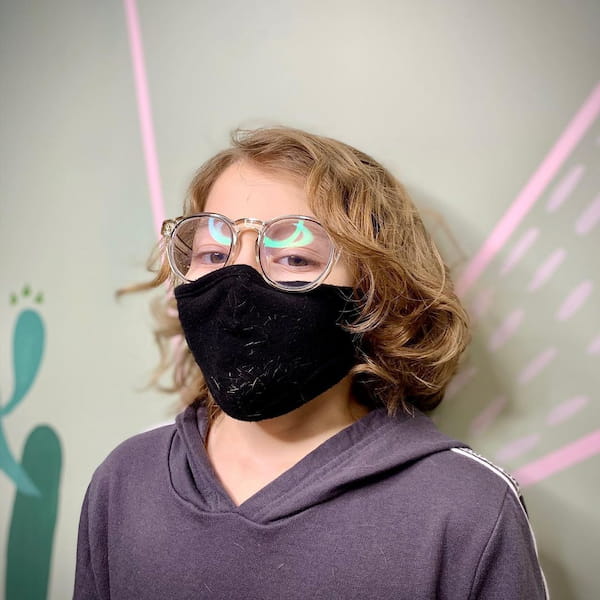 12. Older Women Medium Lenght Haircut
Low maintenance haircuts, especially those I suggested for women with thick hair and over 40, have made it to the trend board in the beauty and fashion trend early and late last year.
Why am I saying this? Very simple. Low maintenance haircuts are now the way, the beauty, and the time saver.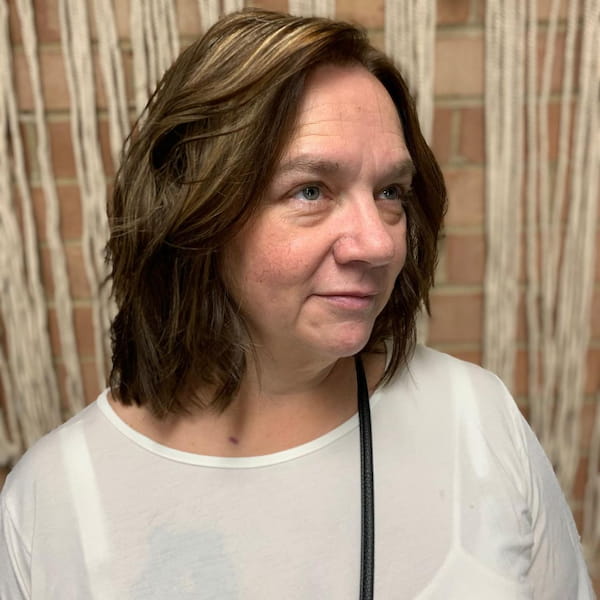 13. Low Maintenance Lob Haircut for Women
I have another amazing style here called the Lob haircut. The name is just what makes it somehow different from the regular haircuts we see daily on Pinterest and Instagram.
Suppose you feel like you want to try out something new on your fine hair. I think this haircut would worth your time and cash.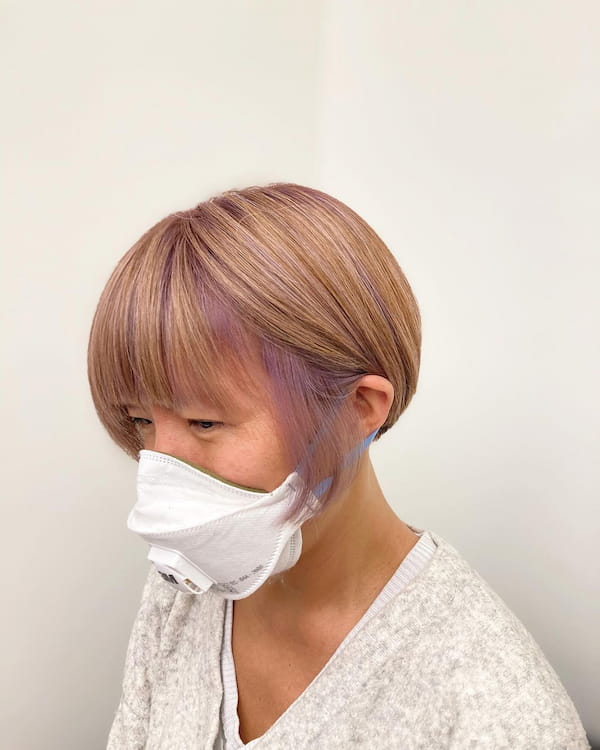 14. Shoulder Length Straight Haircut
I don't really know what to say about how this lady is showing off this 3D-placed haircut on top of her beauty. I can tell you that she's rocking the straight low maintenance shoulder-length haircut real hard.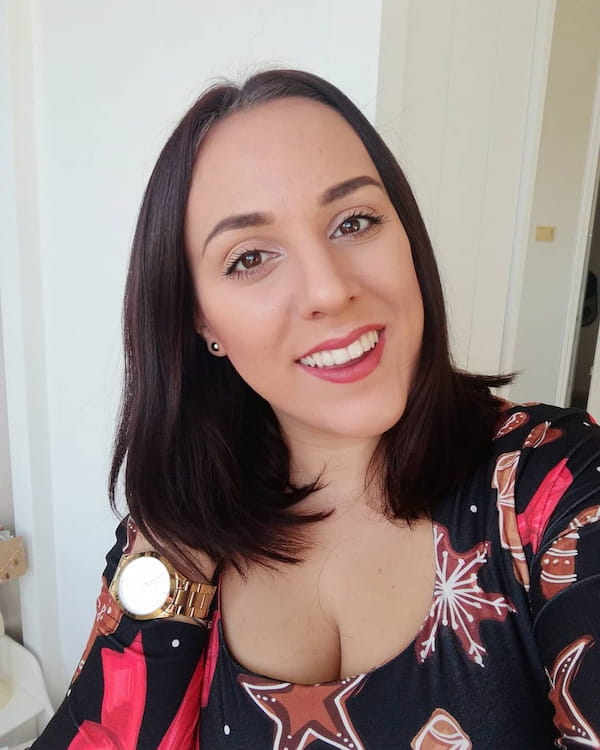 15. Medium Length Choppy Fringe
You remember I said Fringe is also called bangs, right? Yes. This haircut that I am about to show you would bring out your beauty and help you save some extra minutes for more important things in your daily regime.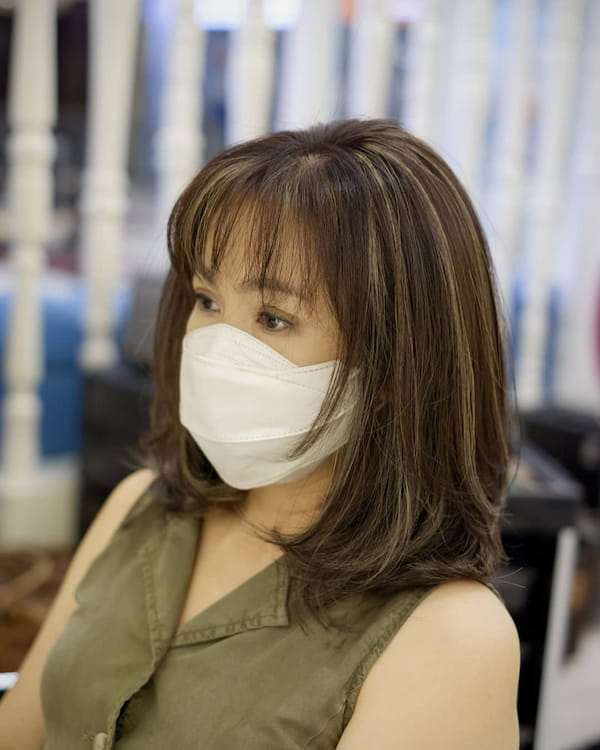 16. Low Maintenance Straight Cut
If you have been looking for something to get your straight hair in form and still be on the low maintenance scale, this simple medium length haircut is most likely something you need to give a try.
This haircut should give your face a mature but young look.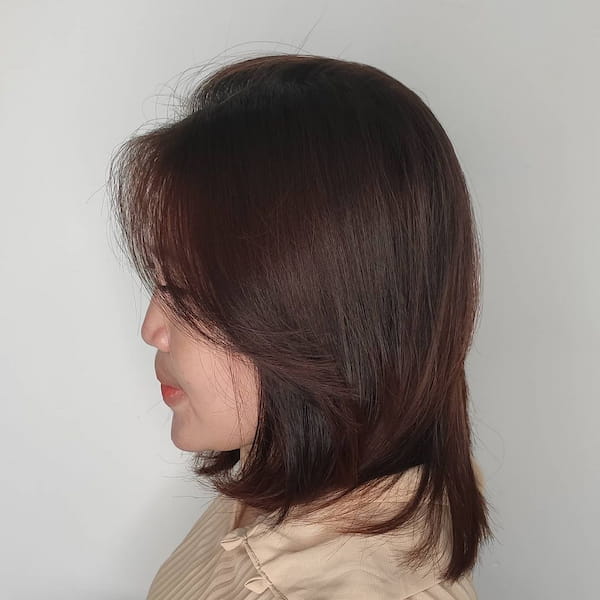 17. Medium Lenght Bob Haircut
You would probably not guess that I am adding this Bob haircut to my gallery. As you can see, it's already here looking at you.
All you need to do now is decide that you're going for this, and boom, the style would be yours. But you still need the help of a pro stylist.
Also, from the hair's look, I can see some signs of choppy fringe, or you call it bangs, and inwardly curled ends.
18. Low Maintenance Bob
If you don't like the one above, you can take your time and look into this style. It's just like the regular bob, but it is stylishly styled. Also, the length of the haircut fulfills our demand.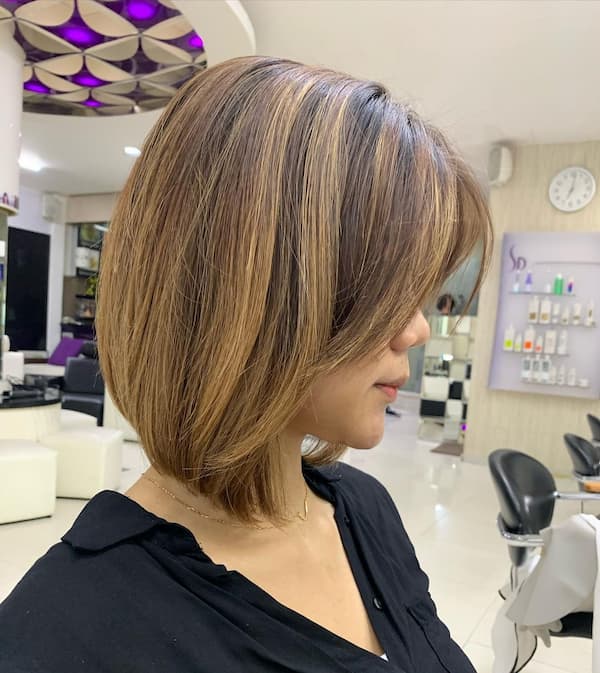 19. Lob Haircut
The Lob haircut is one of the simple-styled haircuts that frames your face and makes it look natural. It is one of the best and simple medium length low maintenance haircuts.
If you're thinking of trying out this style, be sure that your hair has good texture, thickness, and volume, I am sure this would save you from regrets.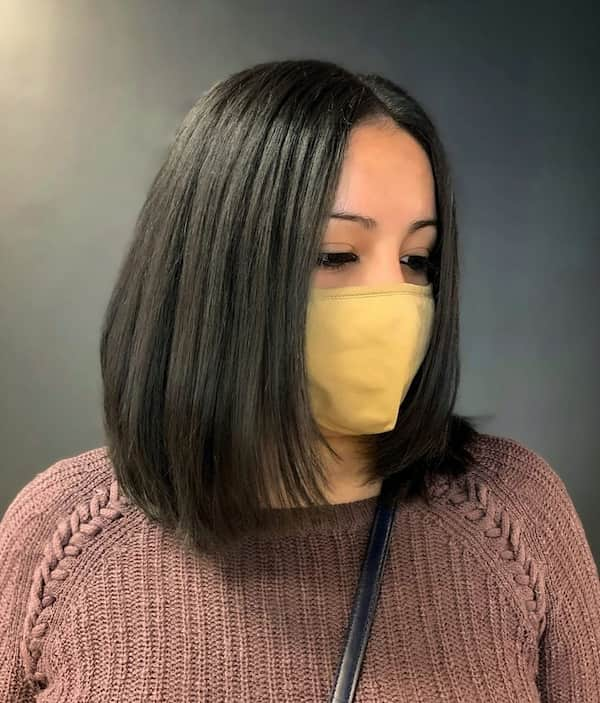 20. Layered Cut Bob
The easiest and the most popular textured haircut is the Layered Bob. Layered Bob gives your face a more stunning appearance. Besides, this particular style gives your hair more structure and frames your face naturally.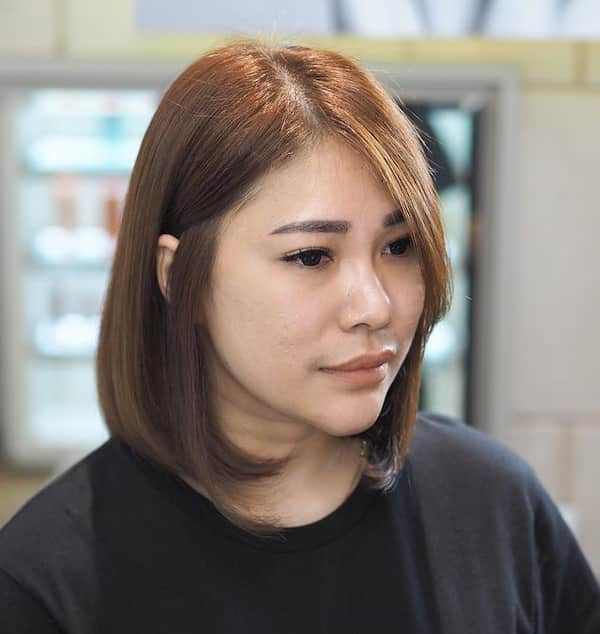 Still on the BOB haircut, If you want to try out something extra, you can try to color your bob the way this lady did. The name of the color is "Chocolate."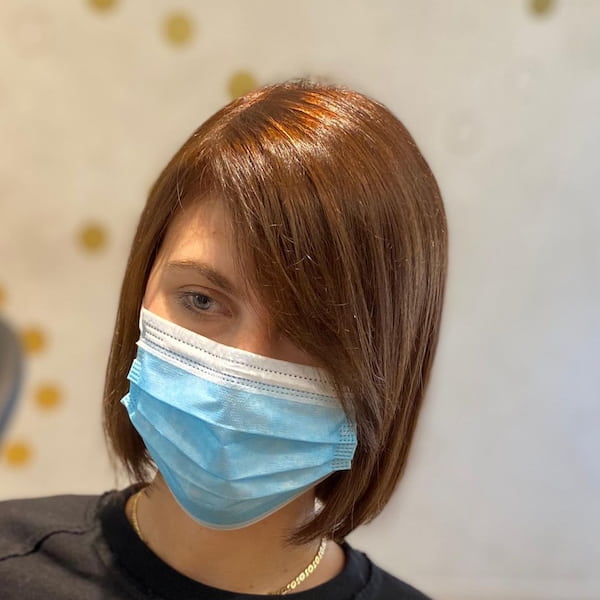 21. Wavy Textured Medium Length Haircut
Let's not forget the people with natural or self-made wavy hair. This textured cut is one of the best go-to haircuts for girls or women who have little or no time to work on their hair every morning.
All you need is are high-quality brush, a few hair products to style your hair for a few minutes every morning, and you're automatically ready for the day.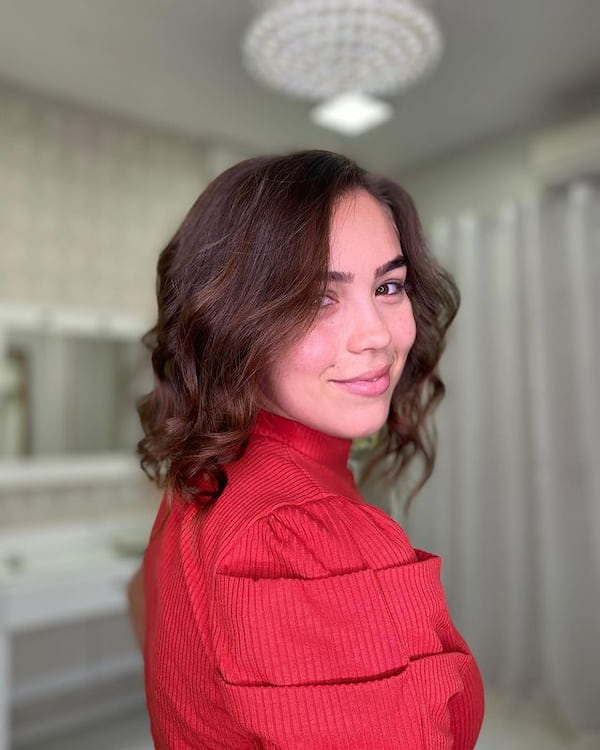 22. Piercy Fringe + Shaggy Layers
The above-mentioned name was given to this haircut by the stylist. Anyways, it still sounds nice to hear and pleasant to the face. What do you think about this one? Would you recommend this to a friend?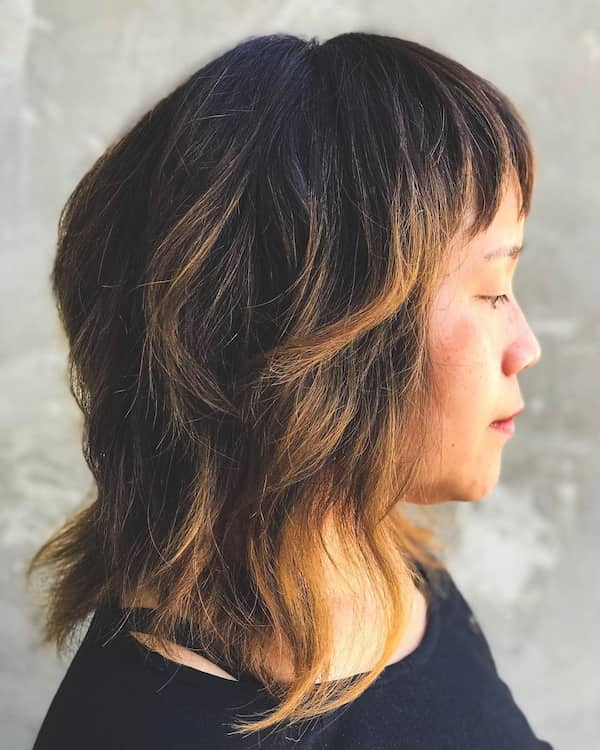 23. Thick Layered Bob Cut
Here's a super trendy way to transform your long thick hair into a medium length haircut if this is exactly what you want.
Feel free to play around and be creative with it. You can also try and create simple and short waves with your heat styling tools.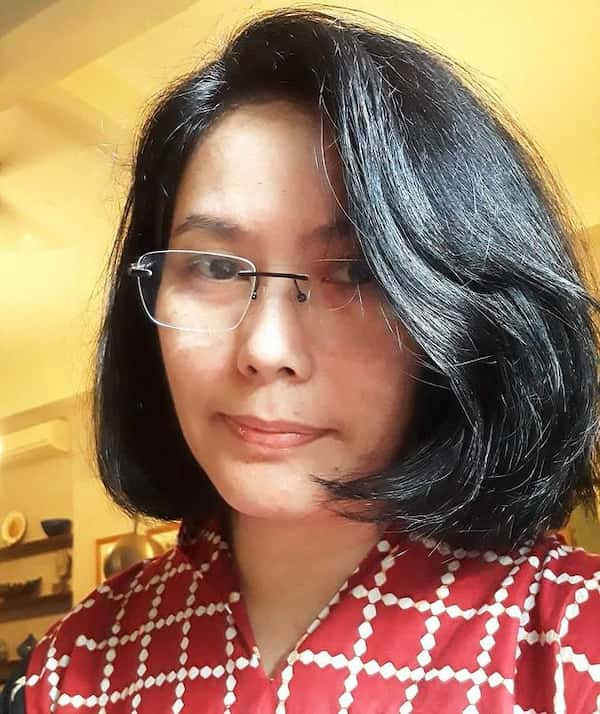 24. Low Maintenance Fine Hair Bob Cut
I know people with fine and straight hair would also want to try out something new; that's why I added this style to the list/gallery.
It would be best if you had your curling iron or straightener to achieve this level of inwardly curled edge, but it demands little experience and creativity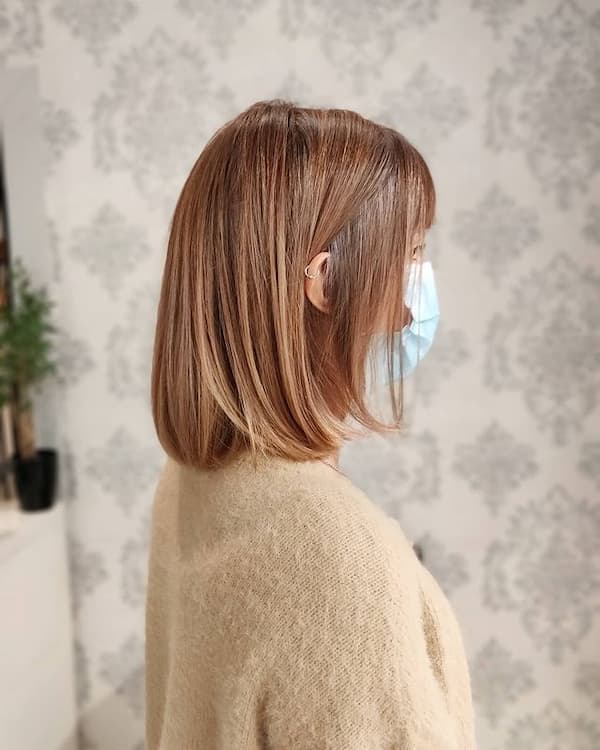 25. Curly Medium Length Cut + Bangs
If I leave anything behind, trust me, I won't forget this, especially for ladies who practice the curly girl method. Suppose you're one of them, thumbs up.
However, if you are interested in joining the crew, please check out my post on the curly girl method before and after transformation; I am sure this would help you know what to expect.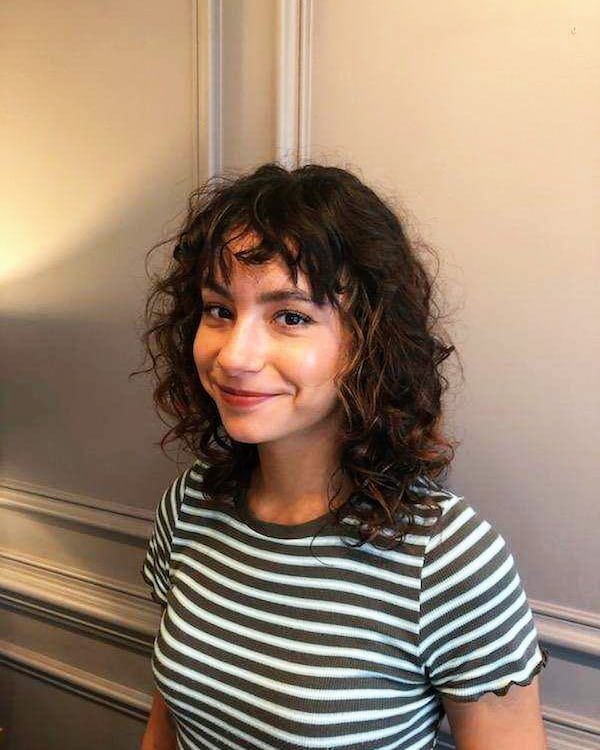 26. Blonde Medium Length Bob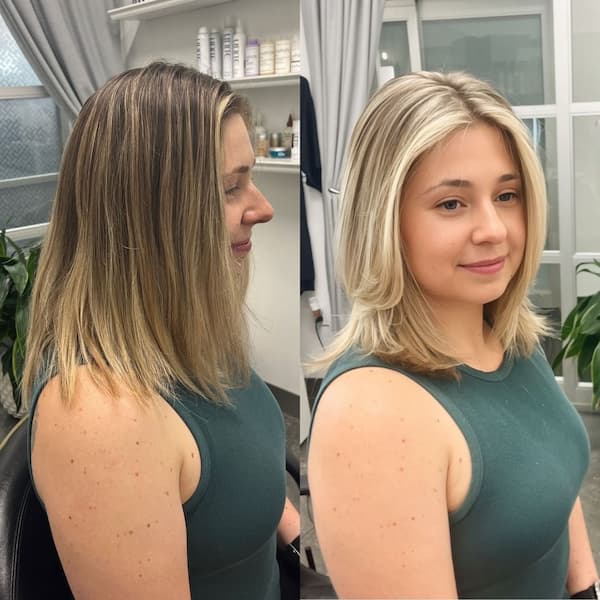 If you're here, that means you have reached the end of my ideas.
I want to leave you with a note that hairstyling is an art that requires creativity and imagination. When a pro stylist is in place, every imagination you got rolling on your head is possible to achieve.
Now, which of these medium length low maintenance haircuts do you think would be perfect for you?
If you have found it, waste no time, and book an appointment today with your favorite pro stylist.
If you found this post helpful and know someone who might be interested, then do me a favor by sharing this post with the person with any of the share buttons below.
Pin for Later