With length, all things are possible; with hairstyles that is. With long hair, there are almost no limits to the styles you can wear, but that still doesn't mean you can't wear your hair wrongly.
This compilation will show you our 50 favourite hairstyles for long curly hair to avoid wearing your long curly hair the wrong way.
Adorable Hairstyles for Long Curly Hair
Here are our top 50 adorable hairstyles for long curly hair picks.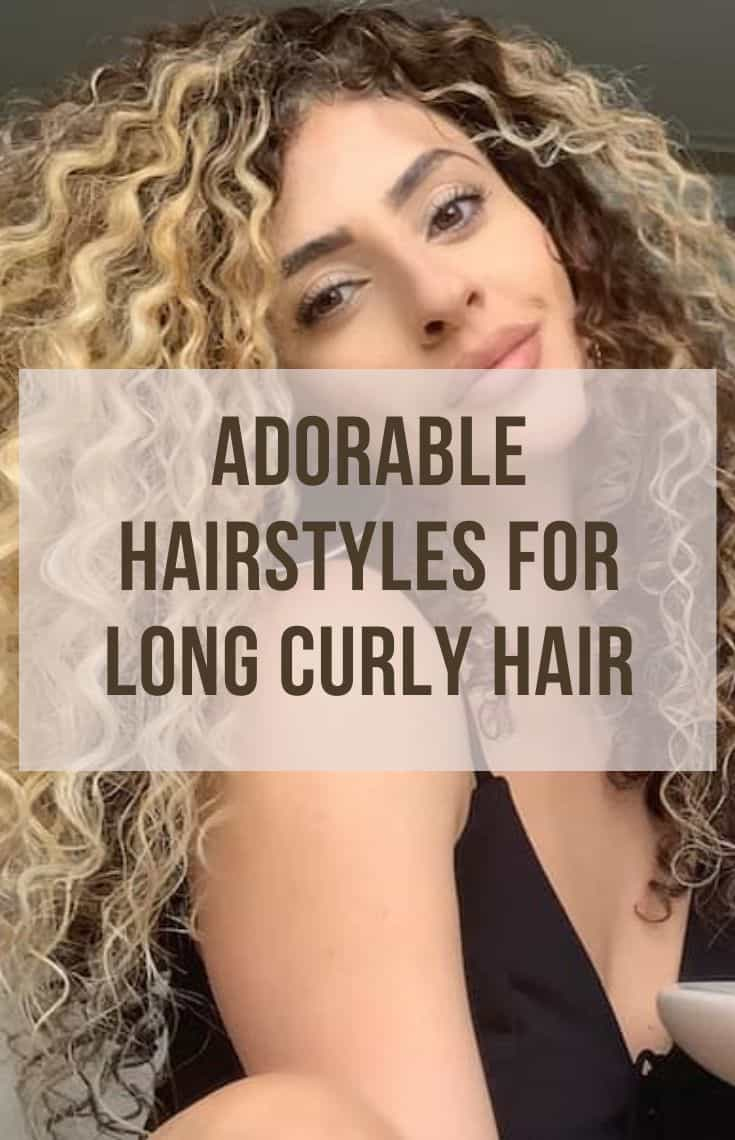 1. Extra Thick Curly Hair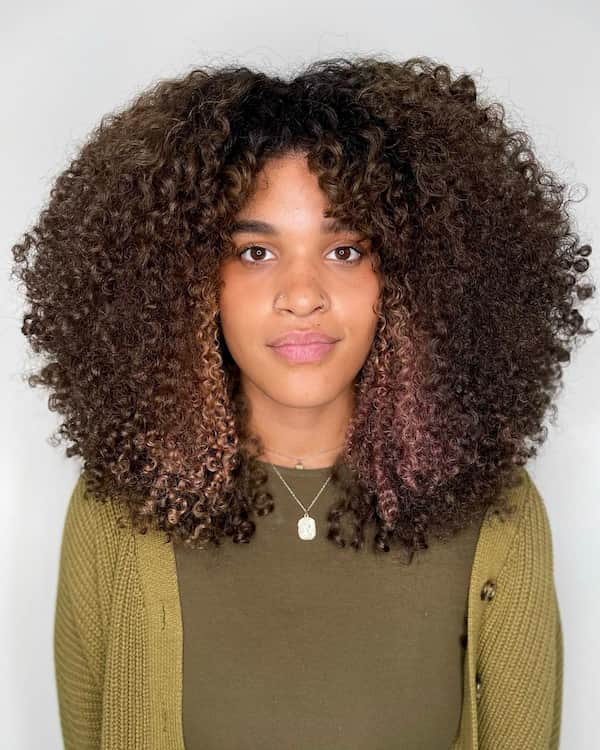 Curly hair looks best when it's thick and full, especially when you have brown hair. With the symmetrical parting in the middle, this extra thick curly hair is simply gorgeous.
2. Brunette Long Curly Hair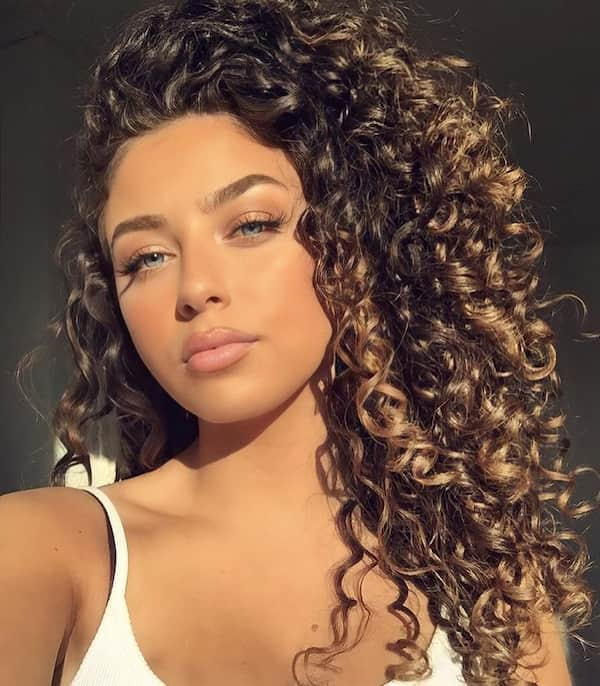 A symmetrical parting looks gorgeous, but that's not the only beautiful way to style curly brunette hair. As this model demonstrates, curly, side-swept hair looks just as good.
3. Chic Center-parted Long Curl Hair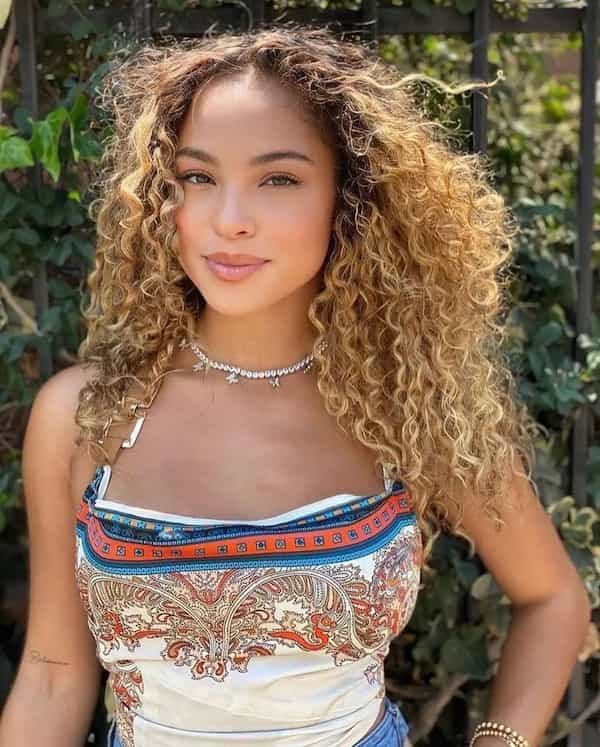 Your brunette hair doesn't have to be thick and full, especially if it's already long. With the sufficient length and a symmetrical parting, your curly brown hair should look perfect.
4. Cado Cut in Extra Long Curly Hair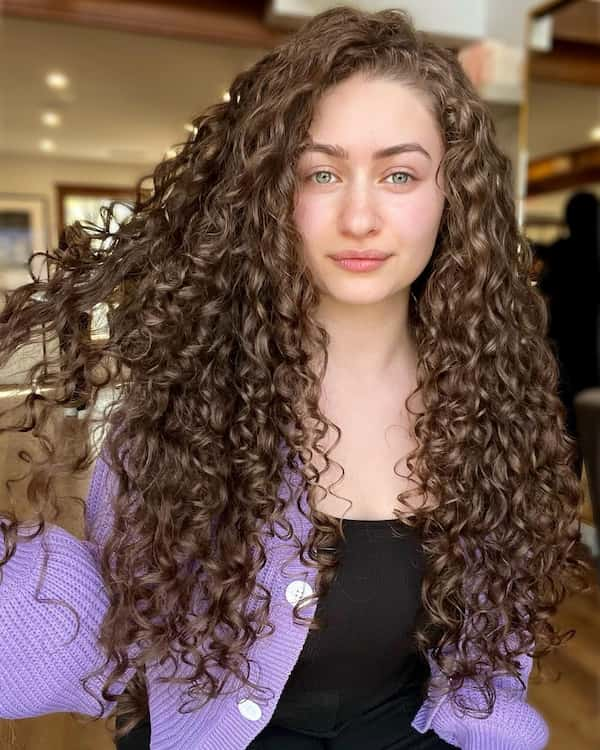 I'm not sure how to make the Cado cut in hairstyle, but one thing I'm sure of is that it looks more adorable than most curly hairstyles for long hair, as you can see.
5. Fancy Curls for Natural Hair
You can make your curls look fancier by copying this model. Apart from the added beauty, it also looks fuller, which is what you want with natural curls.
6. Neat Shoulder-Length Curls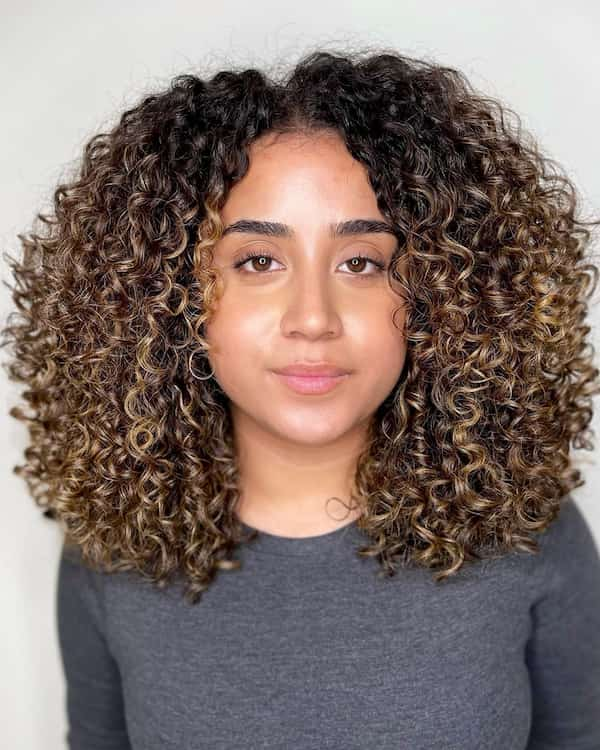 Cutting off your curly hairstyle at the shoulder abruptly gives a well-rounded look that's hard to replicate, but is undoubtedly beautiful.
7. Summer Curls for Long Blonde Hair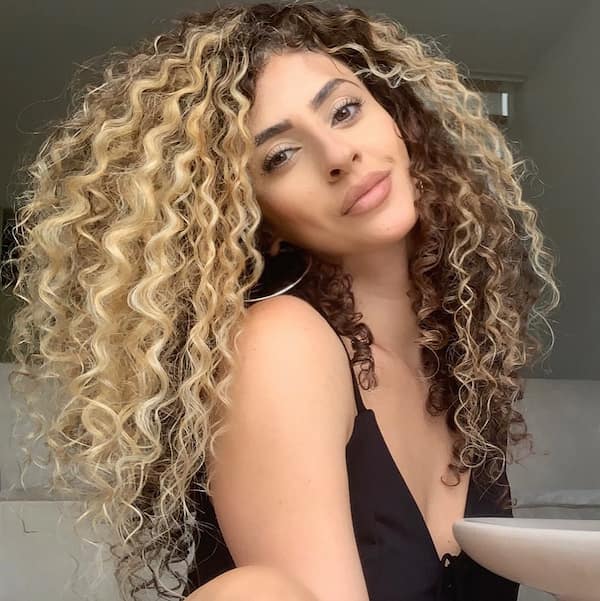 Summer curls don't only look great in the summer. If you can replicate this model's hairstyle properly, you'll quickly grow tired of compliments, even if it's during the winter.
8. Simple Extra Long Curly Hair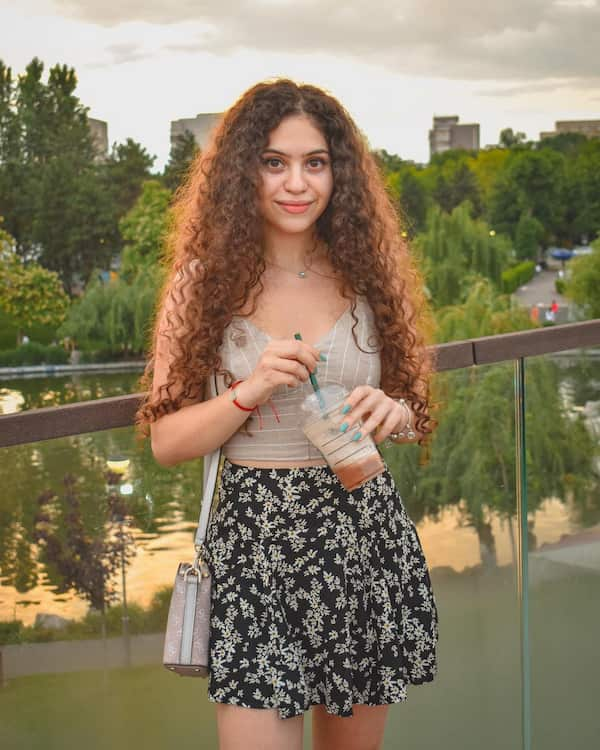 If your hair is long enough to reach down your waist, you don't need any bells and whistles; that alone is enough to make it an adorable style.
9. Pretty Half Up Half Down Curly Hair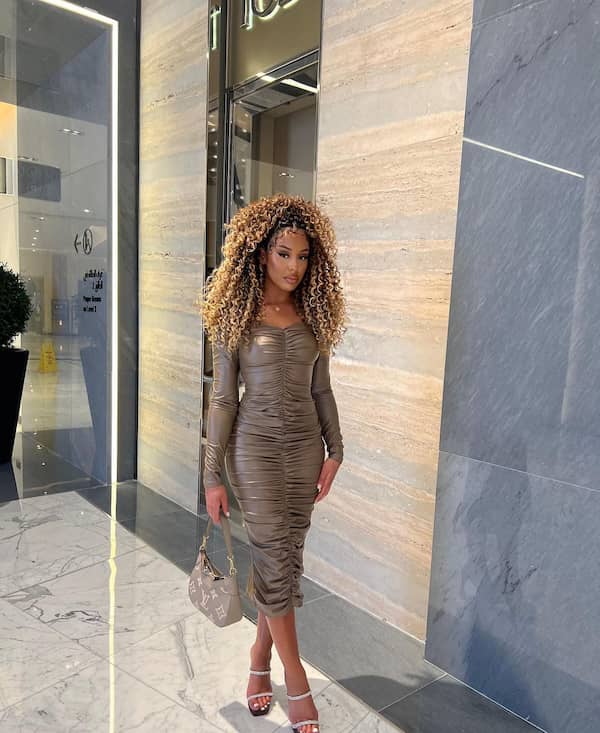 The half-up half-down style is insanely popular for a reason, and that reason isn't unrelated to how effortlessly beautiful the hairstyle looks.
10. Classic Black Bouncy Curly Hair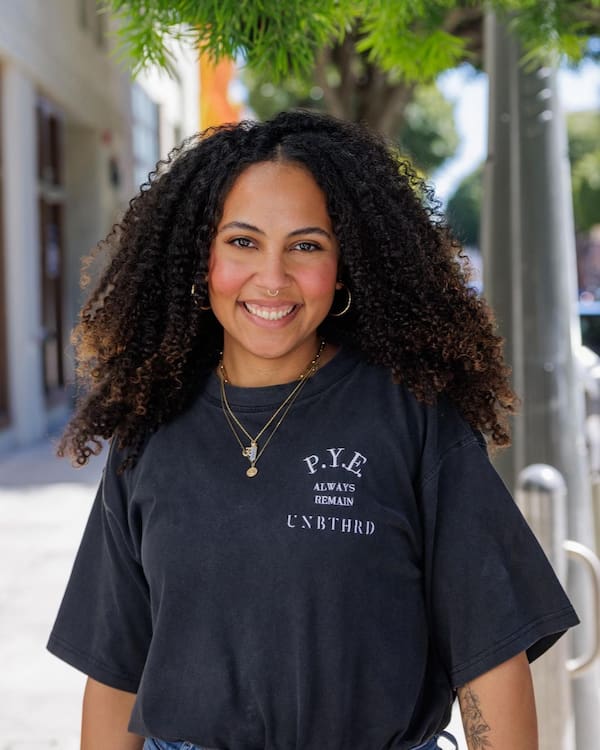 Black is beautiful by default, so you don't need more to achieve an exotic look. With these bouncy mini curls and an excellent smile, you've replicated one of the best hairstyles in this compilation.
11. Centre-parted Brown Curl Hair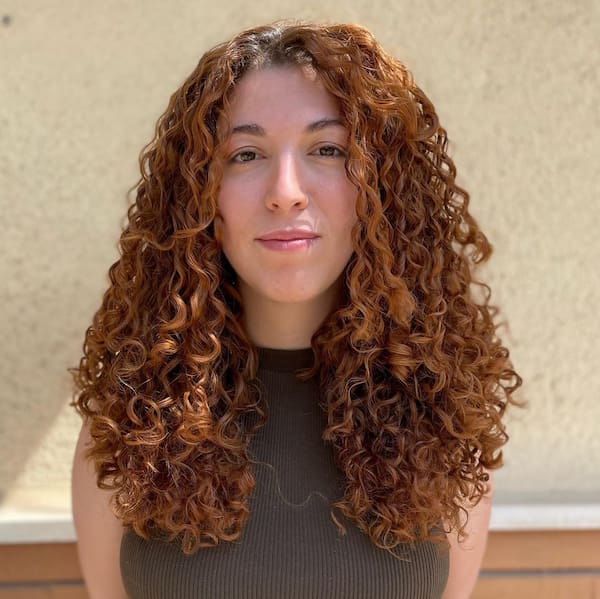 A center parting isn't only great for black hair; with voluminous brown hair, a symmetrical center parting with a bit of length will result in a style that will make you proud.
12. Messy Curls for Long Hair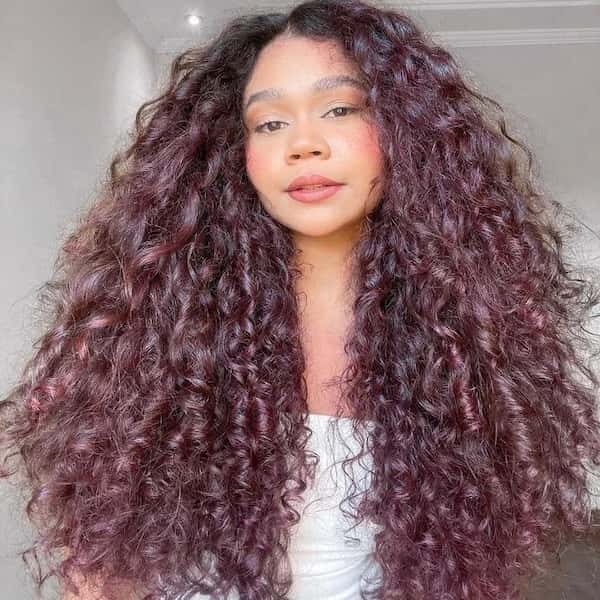 Sometimes, your hair just doesn't look as smooth as you want it to be, and that is no big deal. With the correct colour and style, that messy-looking hairstyle can turn out to be the style of the year.
13. Long Wavy Hair with Curls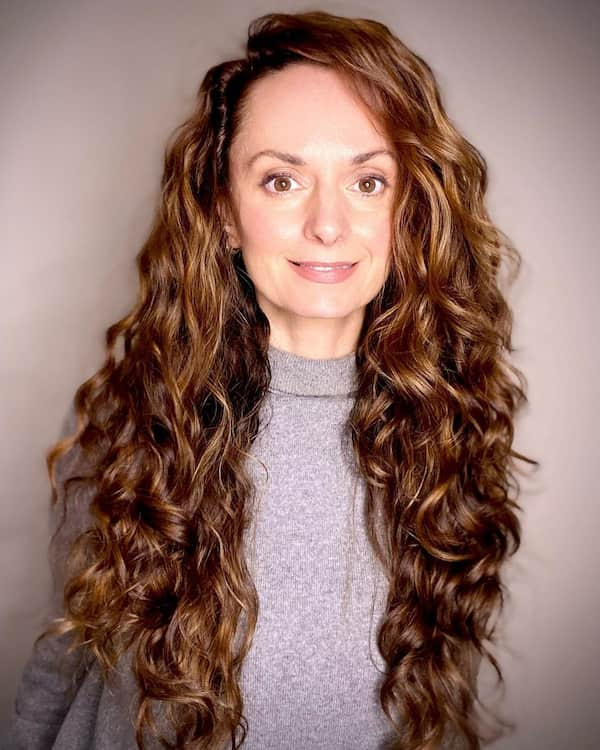 Length is everything, or nearly everything with brown curly hairstyles. This style, with what we've seen so far, is enough to convince you.
14. Long Black Curly Hair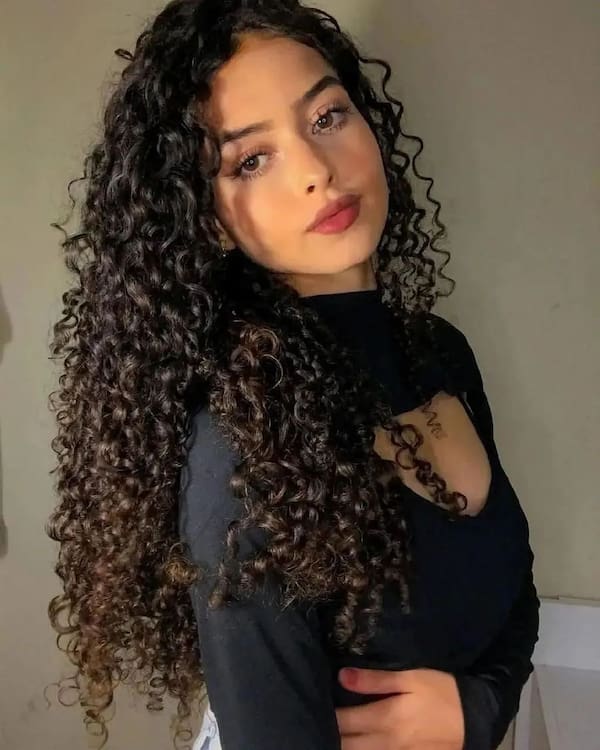 The length advantage doesn't only apply to brunettes; ladies with black hair can also look several times better by simply making their hair longer. I mean, just look at how adorable this model looks.
15. Long Hair with Soft Curls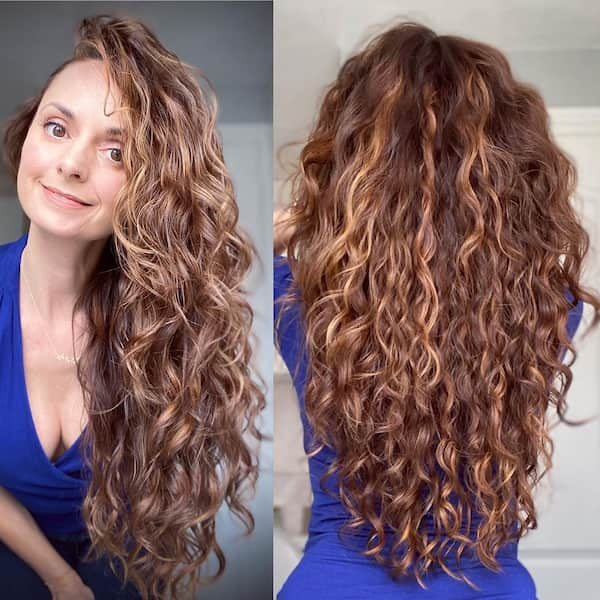 Still on long hairstyles, the soft curls may have stolen the show here, but you should also not underrate the appeal of the side-swept look.
16. Side-parted Long Bouncy Curly Hair
Bouncy curls don't only look good, but they also make your hair appear fuller. When you add their magical look to the appeal of a side-parting, you get this nearly-perfect hairstyle.
17. Long Curly Hair with Curly Fringe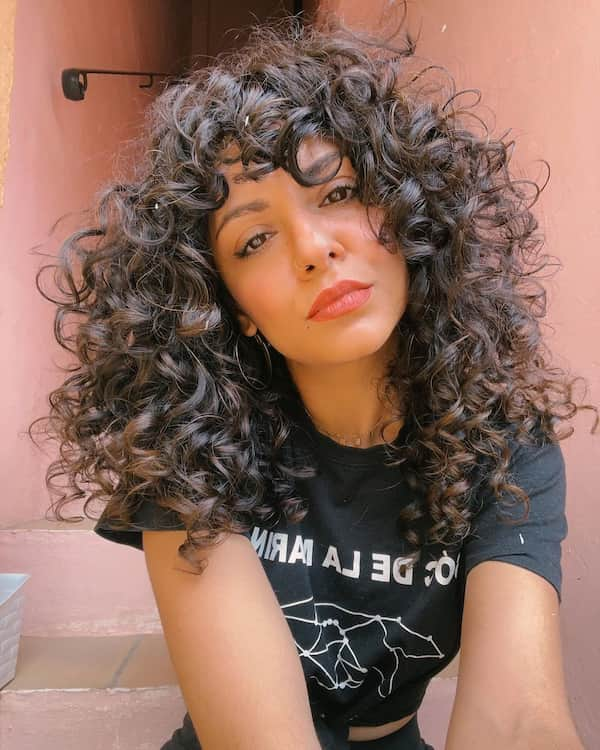 A fringe is easier to create when curls are already creeping into your forehead. Simply let the bangs be and you've created another brilliant hairstyle for long curly hair.
18. Spread-Out Curls Hair with Bonze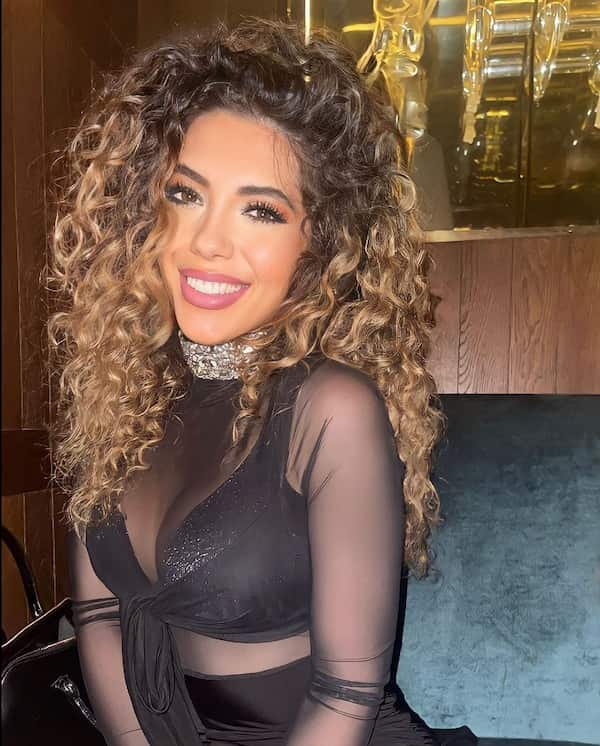 If you don't have waist-length hair, you can spread out the curls for an illusion of fullness, and the colours also play a crucial role in this style's glamorous look.
19. Dark Brown Curly Hair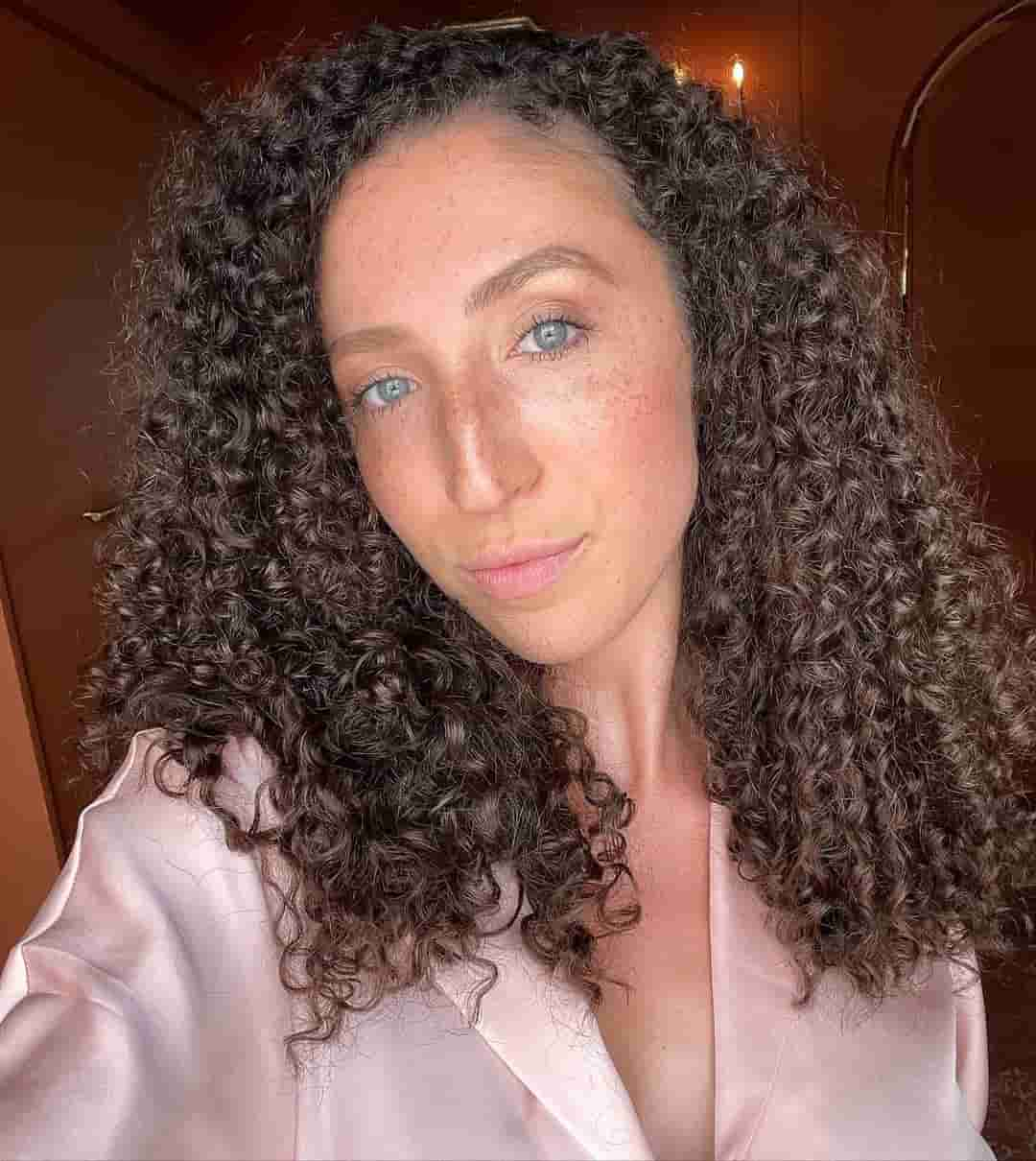 This hairstyle may look a little bland, but you don't need much more from a casual hairstyle. With no bells and whistles, it's probably the easiest long curly hairstyle to make.
20. Voluminous Curly Hair with Color Highlights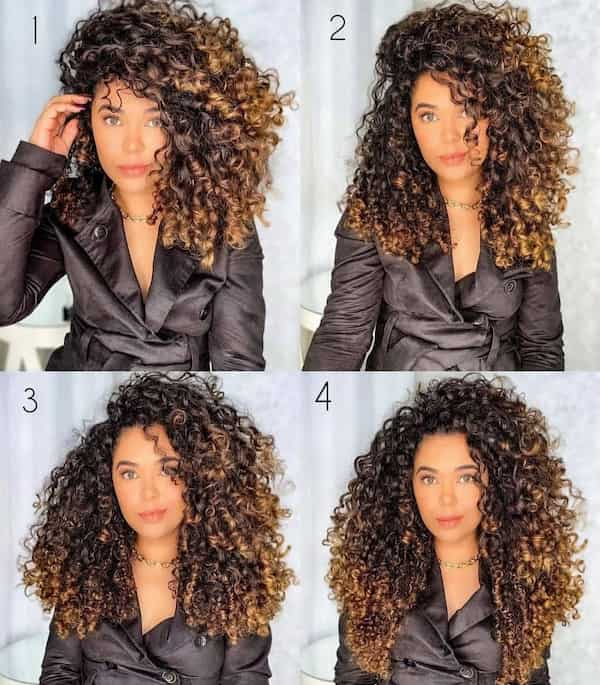 Achieving a side-swept look by piling your hair over is both genius and adorable. Add some brown highlights and you get one of the best hairstyles for long curly hair.
21. Shoulder-Length Curly Hair with Scanty Curly Fringe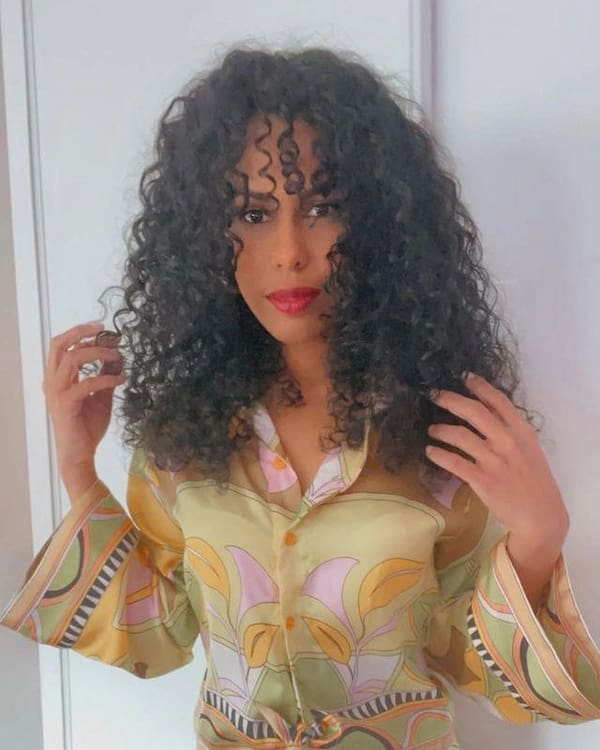 A shoulder-length curly hairstyle already looks pretty enough, but when you add those curly fringes, it's like pushing the limits of adorableness.
22. Extra Long Popping Loose Curls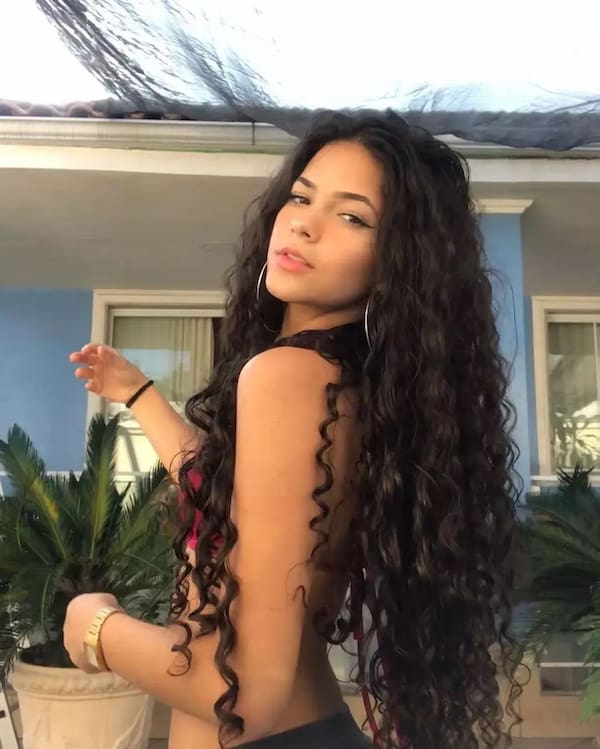 There's no limit to how long your curly hairstyle can be, and here's one milestone-setting example. When your hair is this long, you can get away with loose curls.
23. Chic Natural Long Curly Hair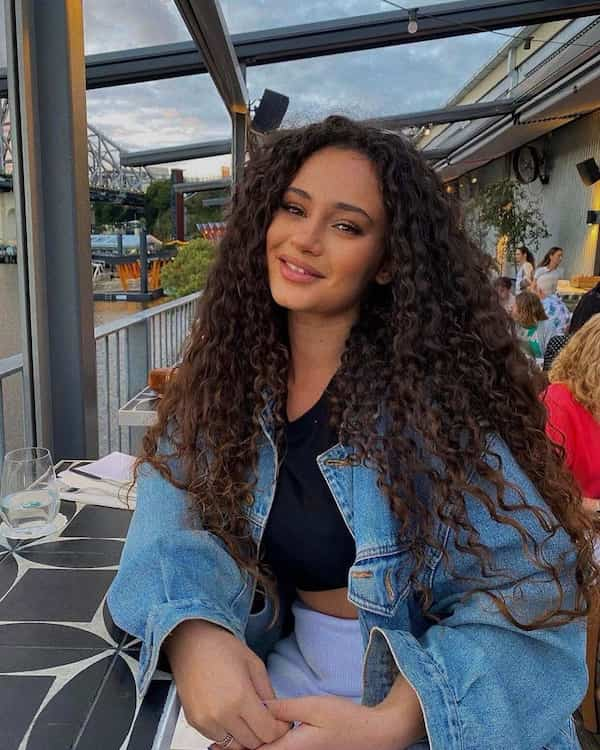 Hair extensions can make your hair look fuller or longer, but nothing beats the feel of a natural hairstyle. In addition to not feeling like a burden, it looks as natural as natural can be.
24. Warm Copper-Toned Hair with Bold Curls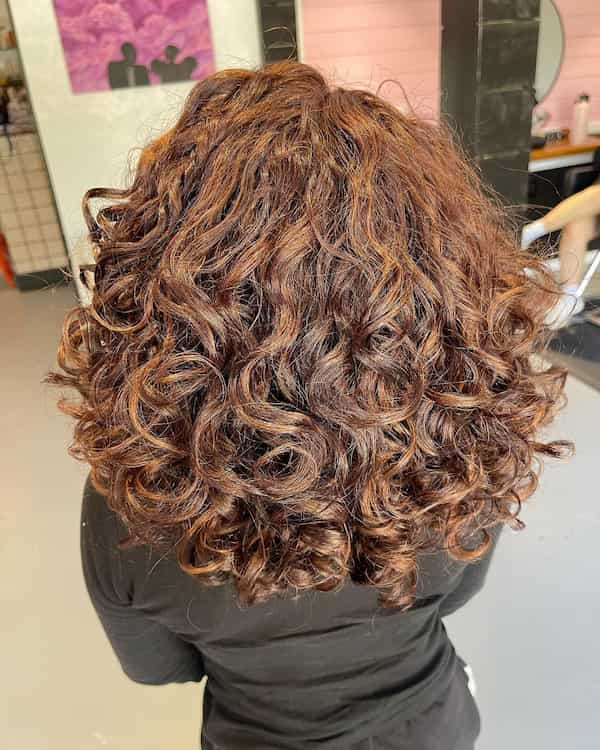 Anyone with hair this thick and full gets a free pass to wear any style and it will look impeccable. One excellent idea is toned hair with statement curls, like this model.
25. Neat and Spotless Long Curly Hair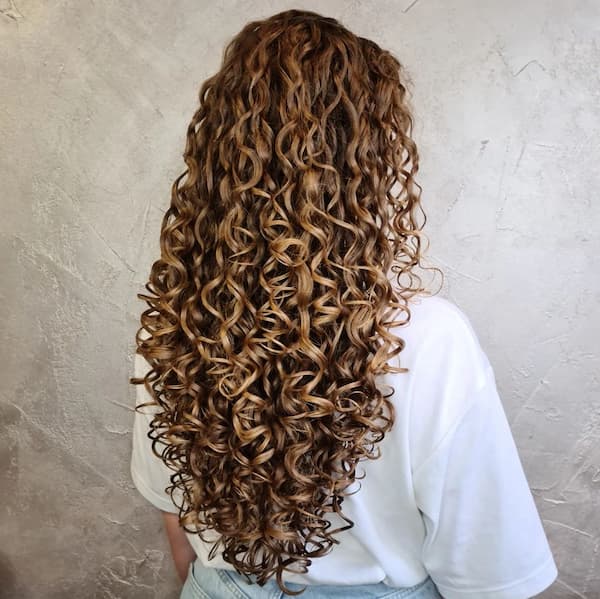 I'd only put this much effort into my hairstyle if I was prepping for an event. With such a neat and spotless look, it's difficult to not want this hairstyle.
26. Thigh-Length Hair with Extra Bold Curls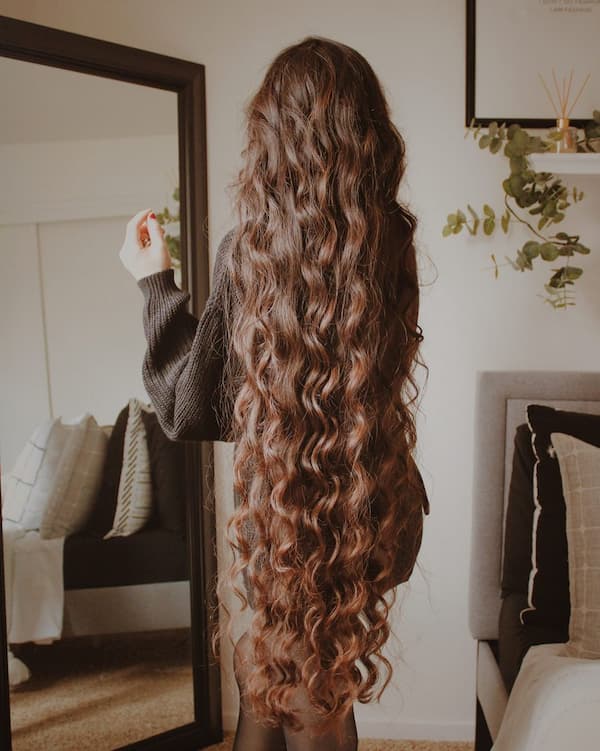 Again, here's another hairstyle demonstrating how extraordinary length gives you a free pass to wear loose curls. Despite not having the smoothest curls, it's hard to argue against this style being the best so far.
27. Chic Wavy Bouncy Curls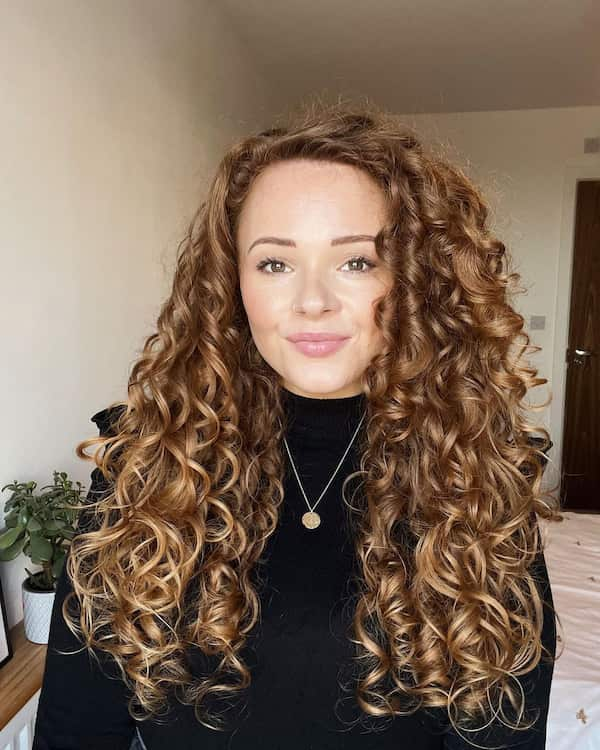 Wearing bouncy curls with thin isn't the easiest task, but it's completely doable. This model shows us how with her hairstyle, which happens to look alluring, no less.
28. Long Curly Hair for Women Over 50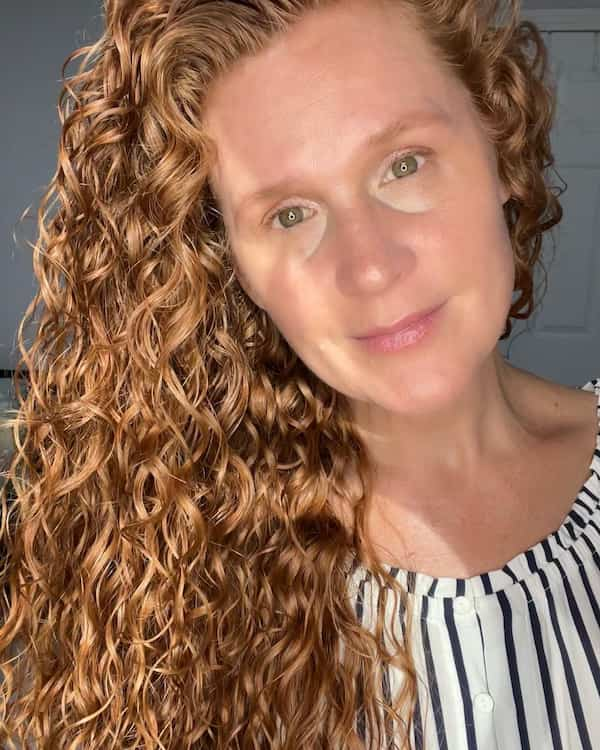 If you think you're too old to wear long curly hair, you'd be wrong. With this quinquagenarian rocking this hairstyle beautifully, only a few things can stop you, and age isn't one of them.
29. Long Curly Hair with Bangs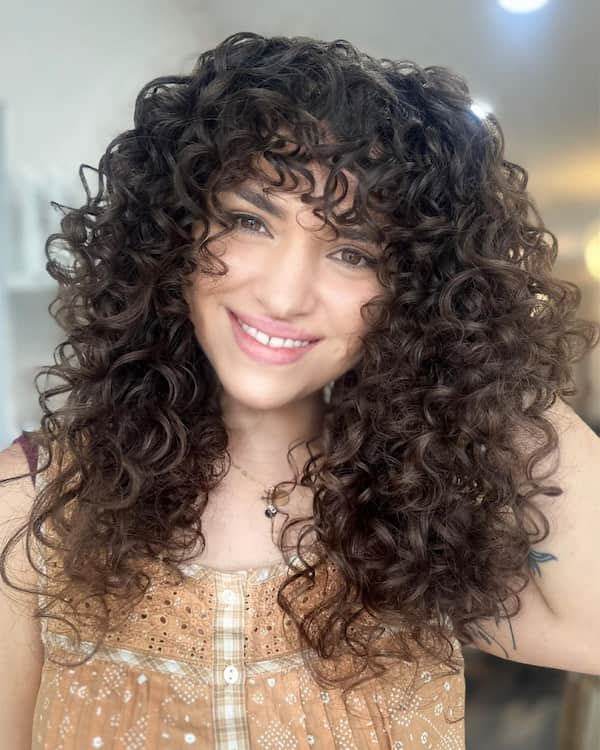 Bangs always appear to go perfectly with black curly hair, and here's another proof of that concept. If your hair is black, get a fringe; that's the secret!
30. Extra Long Gray Curly Hair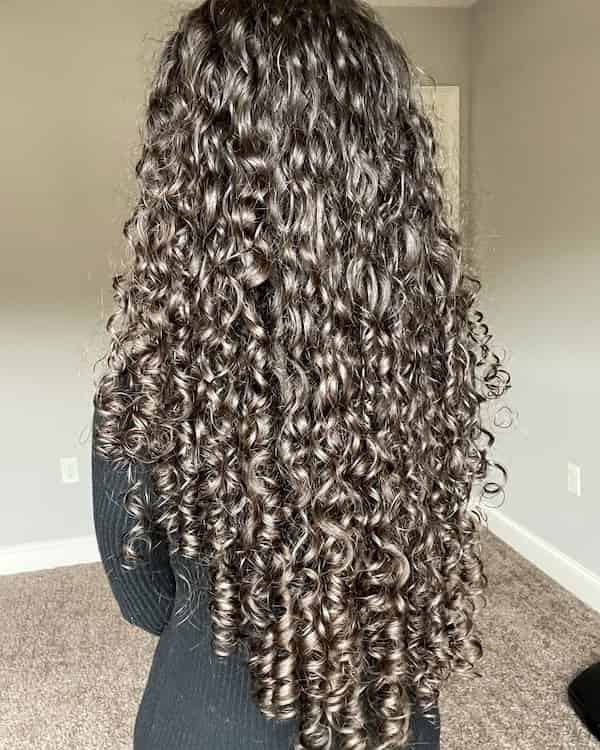 Do you know what's better than long hair? It's even longer hair. Here's how you can triple your curly hairstyle's allure by simply making your existing hairstyle slightly longer.
31. Long Blonde Hair with Defined Frizzy Curls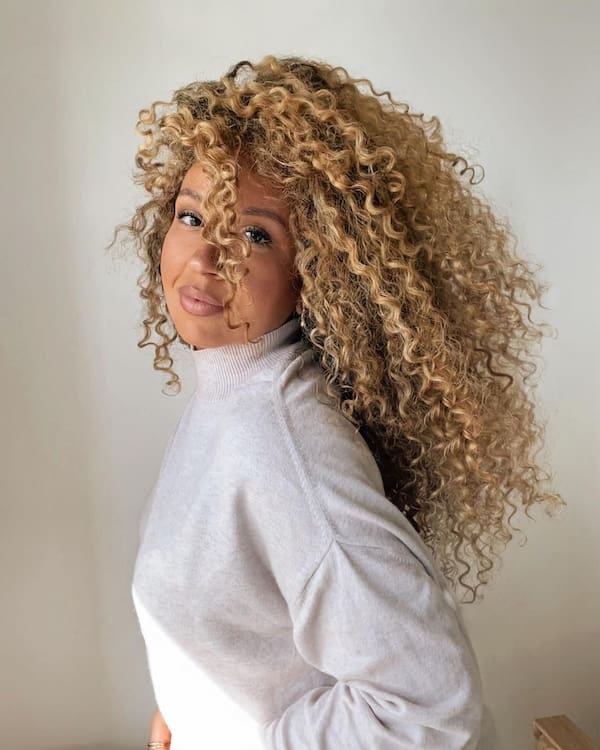 That characteristic frizzy look won't make your hair look worse if you know how to style it. Here's a model styling it so well that I'm considering getting my hair all frizzed up too.
32. Thick Hair with Stretched-out Curls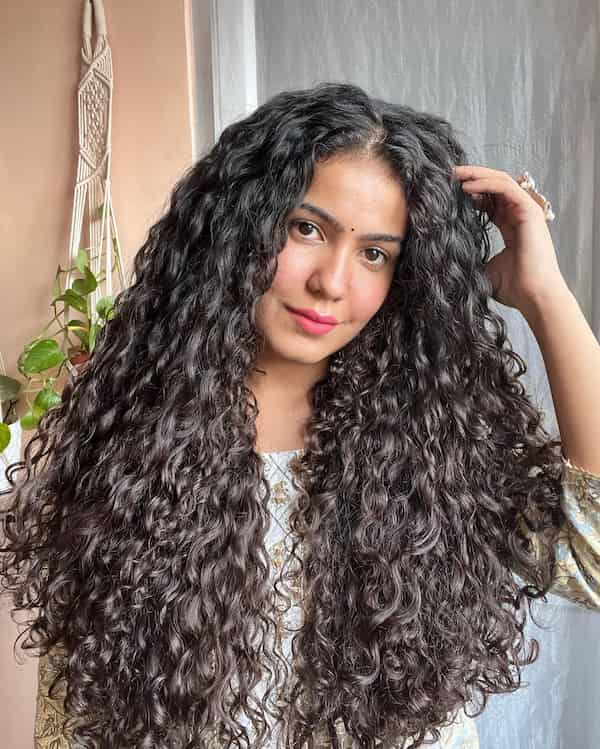 I know I said getting bangs with black curls is the secret, but there can be multiple secrets. Another secret is making your hair longer, getting stretched-out curls, and getting a side-parting, like this model.
33. Super Messy Loose Curls for Blonde Hair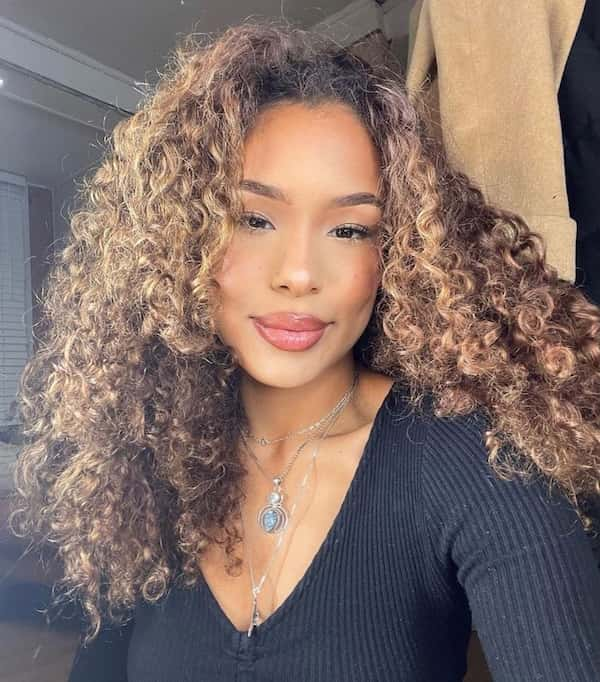 You can describe this hairstyle as messy, but I choose to describe it as alluring. While it certainly has some texture to it, they only make the style better, not worse.
34. Voluminous Curls for Round Face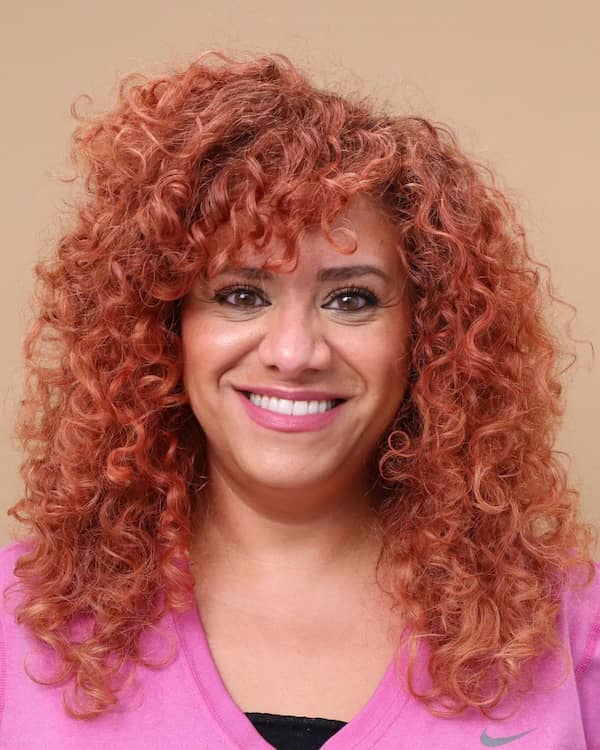 Round-faced ladies can surround their faces with curls, leaving some adorable curly bangs in the process. Wear this style with a smile and you'll get a charming look like our model.
35. Full Long Curls on Natural Hair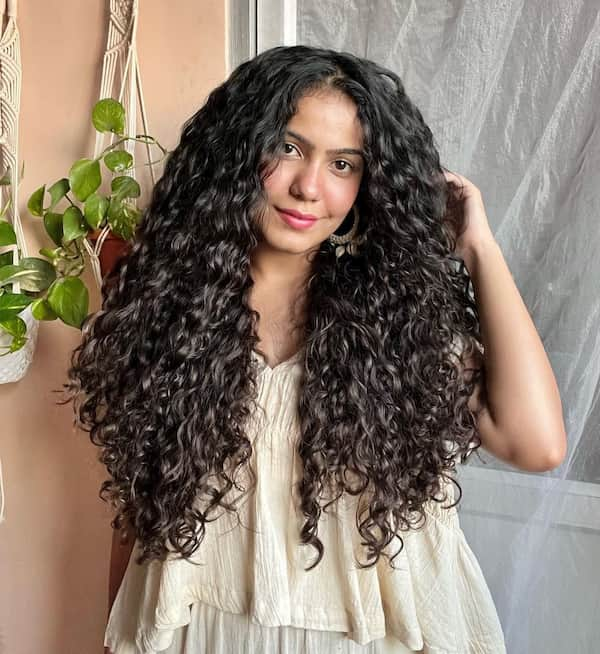 This full long curls hairstyle is as versatile as it is adorable. You can wear the default look with a centre parting or a custom side-parted look; your hair is long enough for you to deserve it.
36. Long Curly Side-cut Hair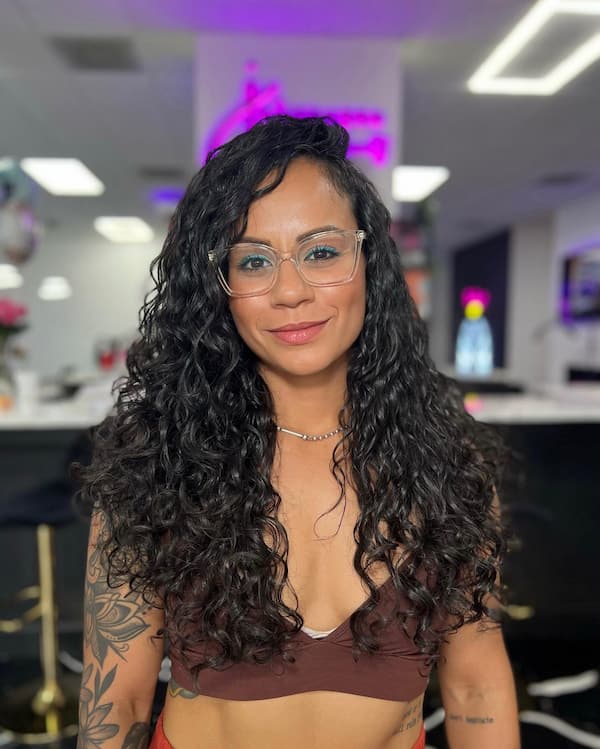 A long side-cut showcases the true beauty of your long curly hairstyle, especially when you're wearing it with a smile and a pair of sunglasses. The best part of this hairstyle is that it works on all hair colours.
37. Long Shag Curled Hair with Curly Fringe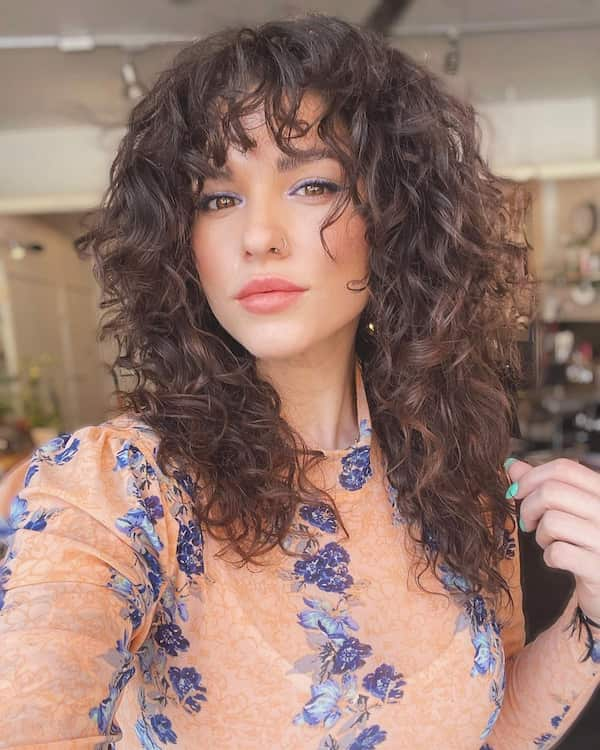 If you're only after something to wear casually, this style is more than sufficient. It lacks the pomp and pageantry of the average wedding hairstyle, but it's still effortlessly beautiful.
38. Finger Coiled Defined Curls for Long Hair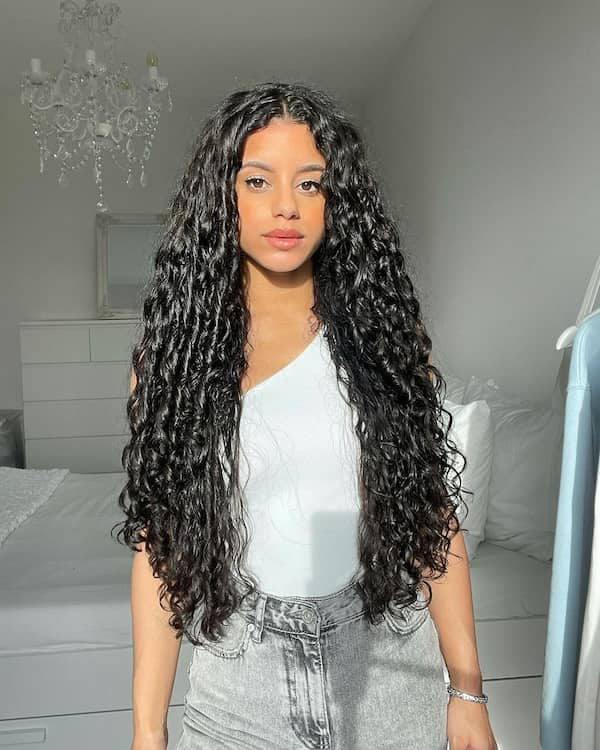 The side-cut from earlier looks great and all, but it's simply impossible to ignore this style's excellence. It looks like a simple finger-coiled hairstyle, but the symmetry from the centre parting and the spot-on black colour make it twice as beautiful.
39. Laid-down Curls for Long Black Hair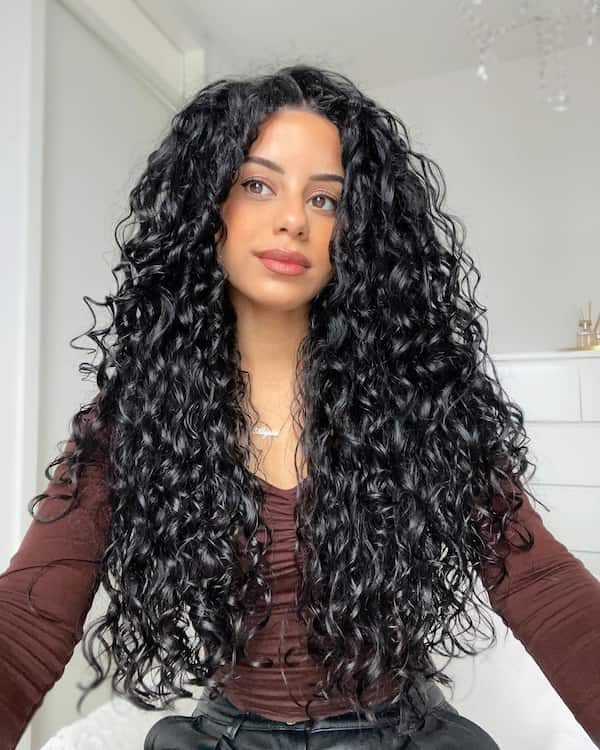 I shouldn't be describing this hairstyle's allure, as you can see just how great it looks on the model. If you have naturally long black hair, this style's step one is done for you.
40. Extra Long Thick Bouncy Curls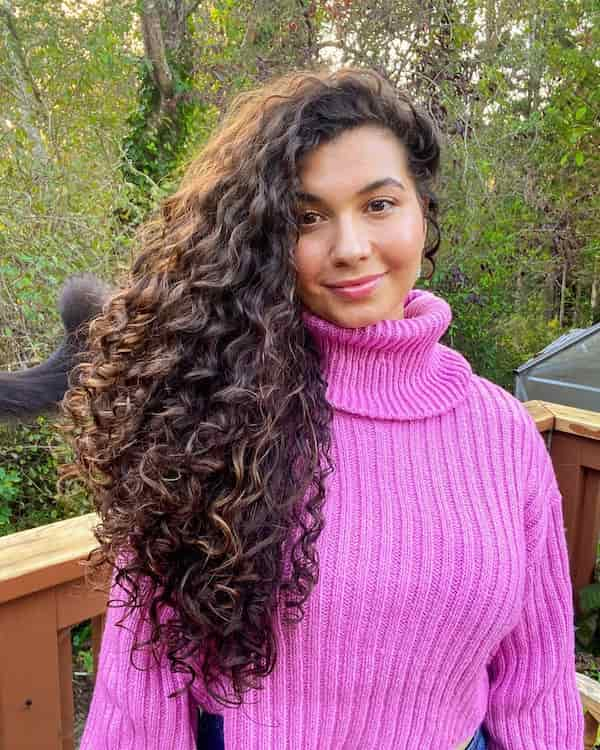 Sweeping the entire bulk of your hair to one side creates an extraordinarily thick bouncy look, and if you're after volume, there are only a few better ways to wear your hair.
41. Soft Curls with Curtain Bangs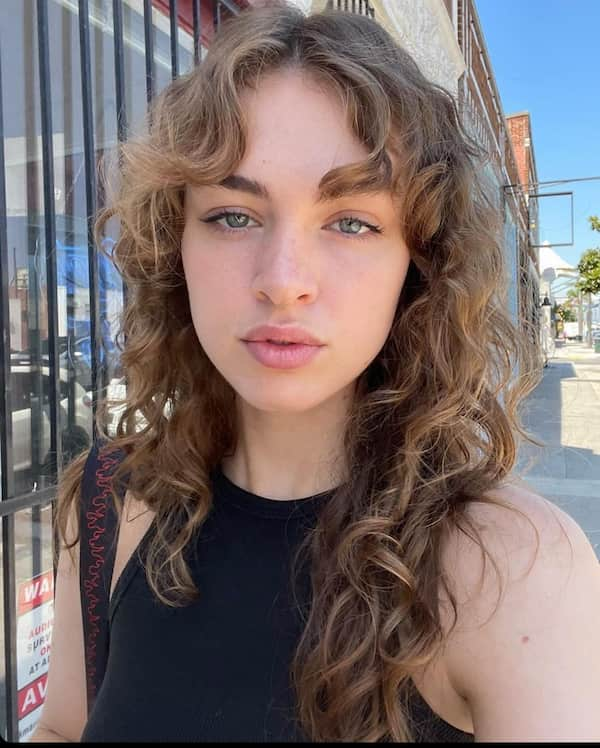 Thickness and bounciness can make your hair pop, but they're not exactly required for prettiness. Here's a way to wear curls with bangs; no thick or bouncy curls required.
42. Braids and Curls Combo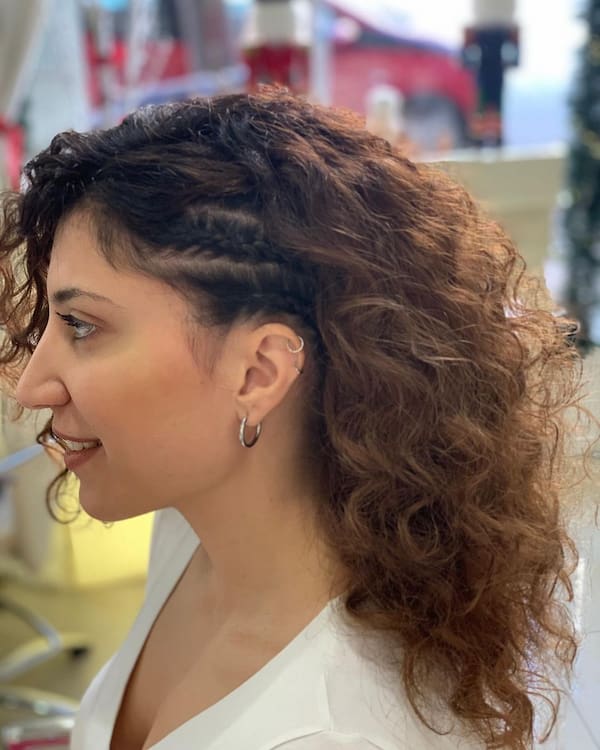 All the hairstyles we've seen so far have been exclusively curls, but yours doesn't have to be so. One way to be different is by combining braids and curls, like this model did, to achieve a style that turns heads.
43. Perfect Long Curly Hair with Middle Part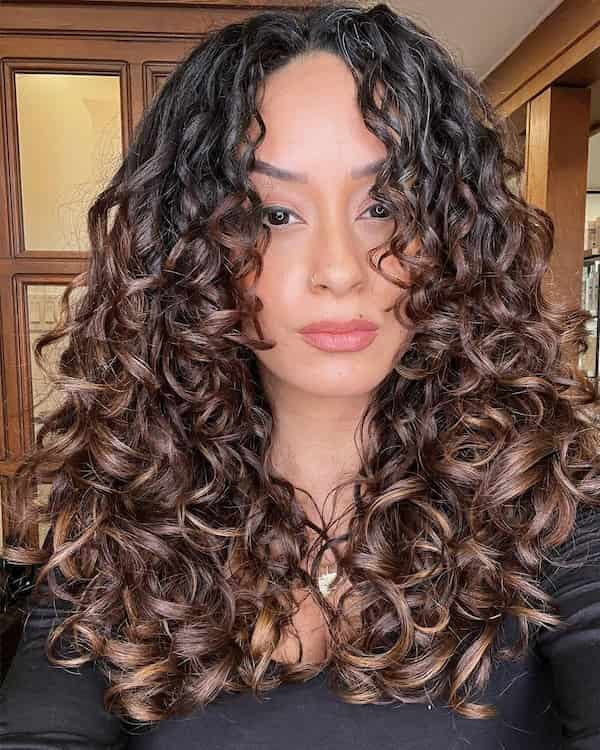 Long curly hair is great as is; you don't need any bells and whistles. Here's a model proving that right with perfect-looking curls and a centre parting that will make you go wow.
44. Beautiful Coppery Bold Curls for Long Blonde Hair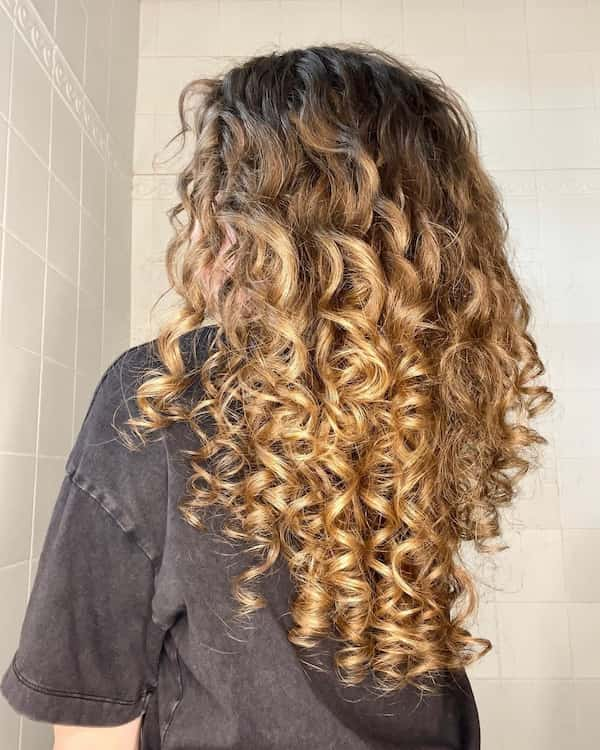 Your hair's colour can make or break it, especially when you're wearing curls. Here's an example showing how a copper tone can beautify your long curly hairstyle singlehandedly.
45. Extra Long Hair with Mix of Waves and Curls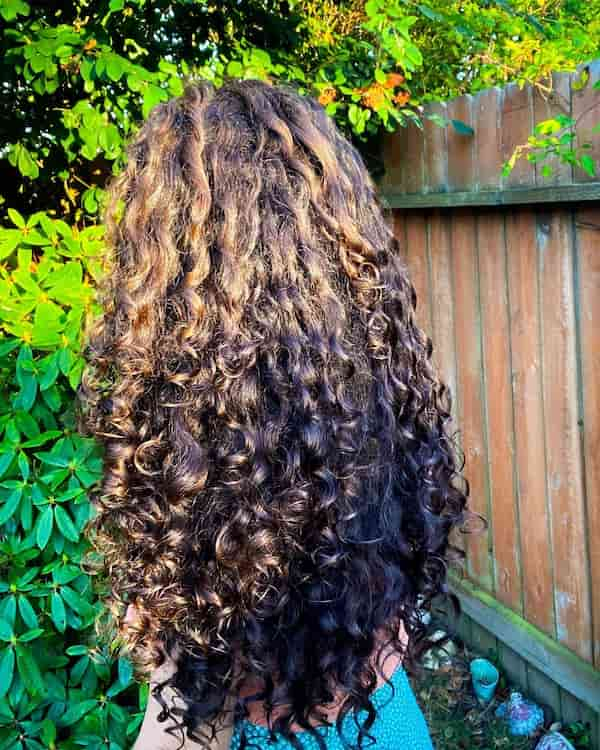 With a careful mix of waves and curls, you don't need a copper hue to achieve a glamorous look. You can even incorporate patterns like bangs or symmetrical partings to get an even better look.
46. Chic Long Black Hair with Waterfall Curls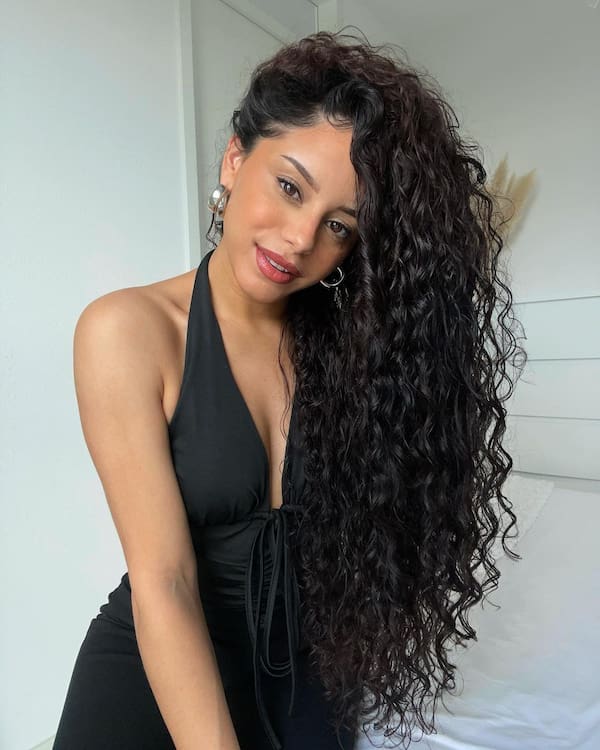 Here's another example of using a side sweep to create the illusion of volume (aka waterfall curls). This chic hairstyle prepares you for any adventure, including weddings and the like.
47. Statement Enhance Curly Blonde Hair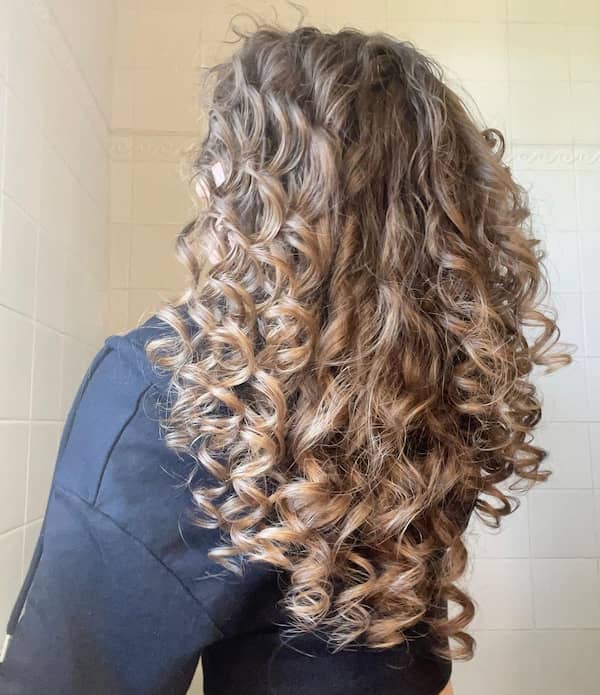 What's a better way to wear curls than by making them curlier? This hairstyle makes an alluring statement with the blonde curls, creating a hairstyle worthy of being in our elite compilation.
48. Textured Stretched-Out Long Curly Hair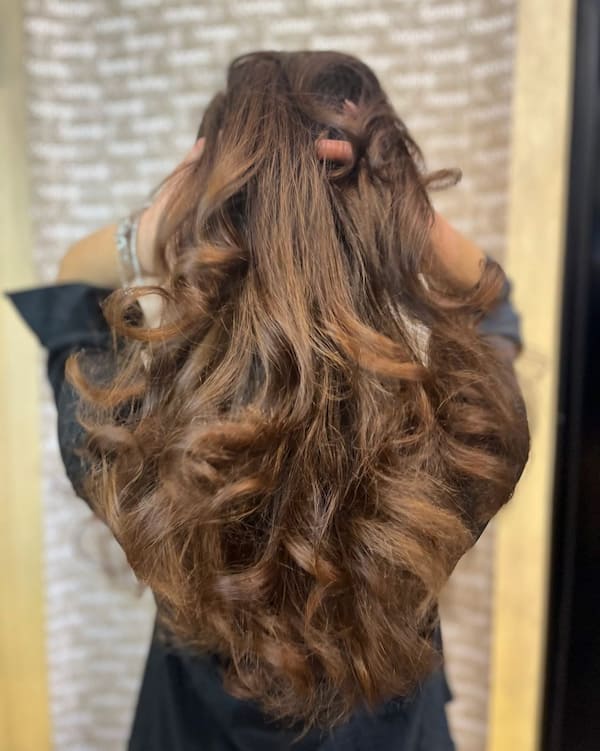 This style isn't exactly the curliest on this list, but it's certainly dabbling into the curly territory. Despite the messy outlook, it manages to look quite appealing, making it one of the best hairstyles for long curly hair.
49. Royal Long Curly Hair with Flower Pin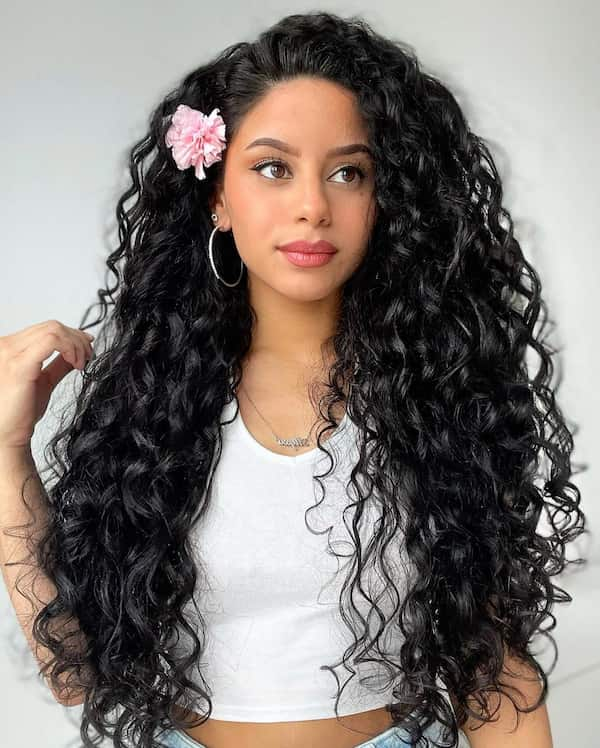 This hairstyle looks very simple, and maybe that's why it's also so adorable. I'm a big fan of the asymmetrical side parting, and that flower pin makes it fit right into a wedding.
50. Chic Summer Long Curly Hair with Bangs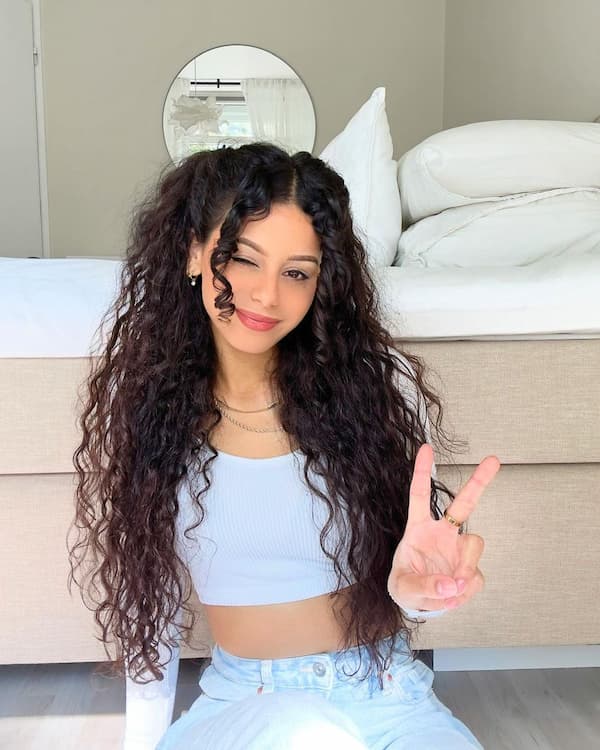 This is almost the same as the preceding hairstyle, but with bangs. You also get a centre parting, soft curls, and a look that's nearly impossible to match: easily a 10/10 curly hairstyle for me.
Conclusion
With curls, all hairstyles are beautiful. If you're wondering what to do with your long curly hair, we've done the hard part for you. Thanks to this compilation, all you have to worry about now is how you'll make your favourite long curly hairstyle from the compilation.
Want more hairstyle ideas like these? Here are some recommendations.
Pin for Later.