The assumption that bobs shouldn't have layers is, of course, wrong. You being on this article at this point is likely because you've seen an adorable layered bob hairstyle, and you're looking to replicate the allure.
To help you in your quest, I'll show you 50 of the most adorable layered bobs available in the public domain to help you choose just the perfect one for you.
50 No-Fail Layered Bob Hairstyles for Ladies
There's a template to getting layered bobs right, and we seem to have figured it out. Here are 50 no-fail bobs to prove it.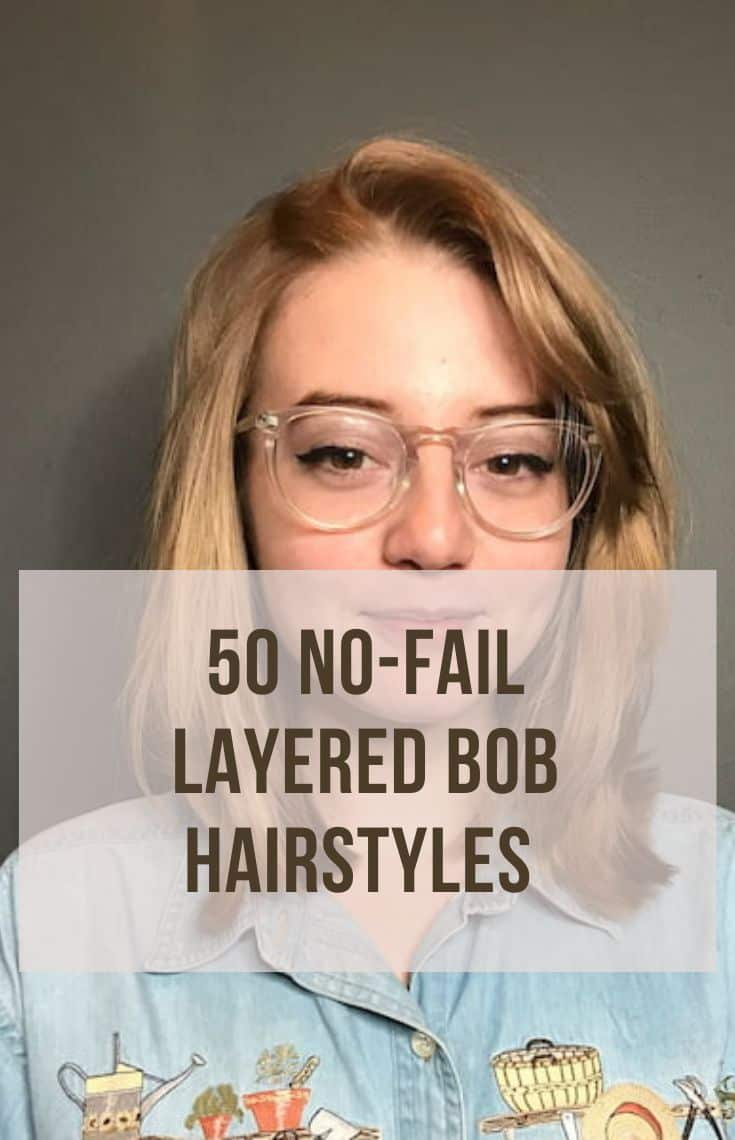 1. Chic Layered Bob with Bangs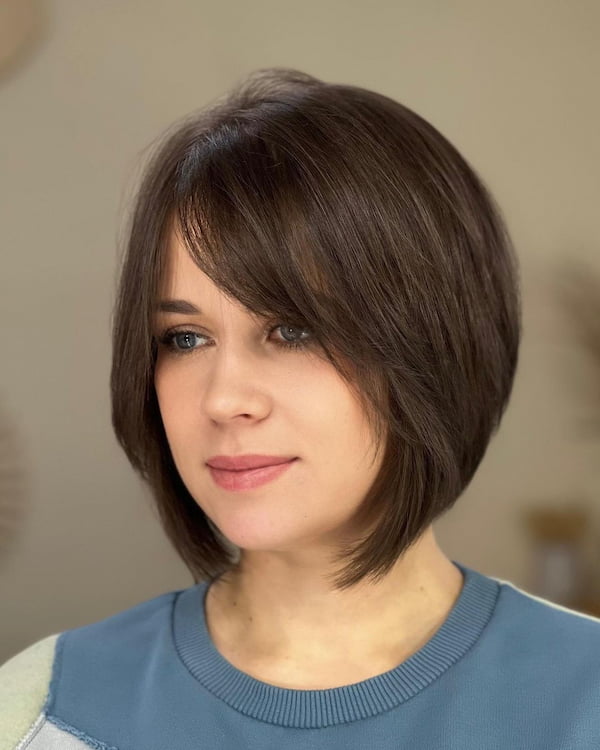 It seems like a good idea to start with something relatively uncomplicated, and this hairstyle meets that criterion for me. A simple layered bob with natural curtain bangs: what's there not to love?
2. Classy Blonde Layered Bob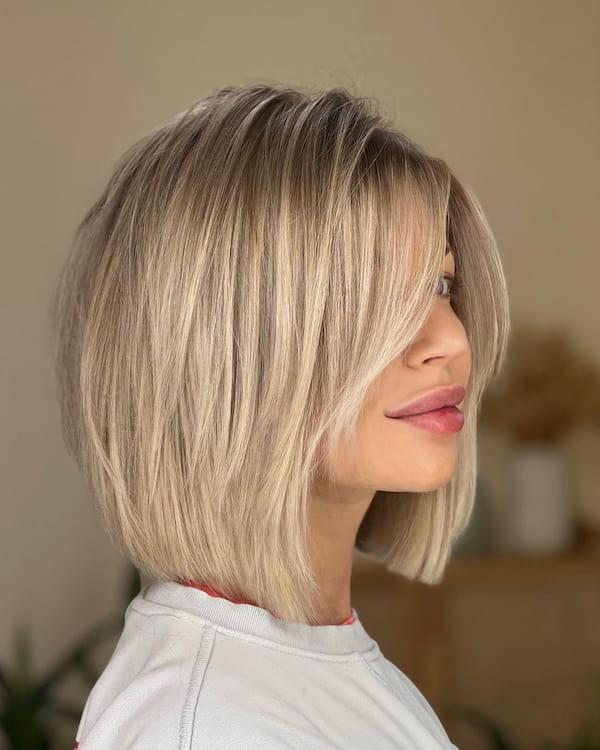 Blonde is one of the classiest hair colours out there, and it shows in this hairstyle idea. Throw layers into a blonde bob and you have this adorable specimen of a hairstyle.
3. Brown Perfectly Layered Bob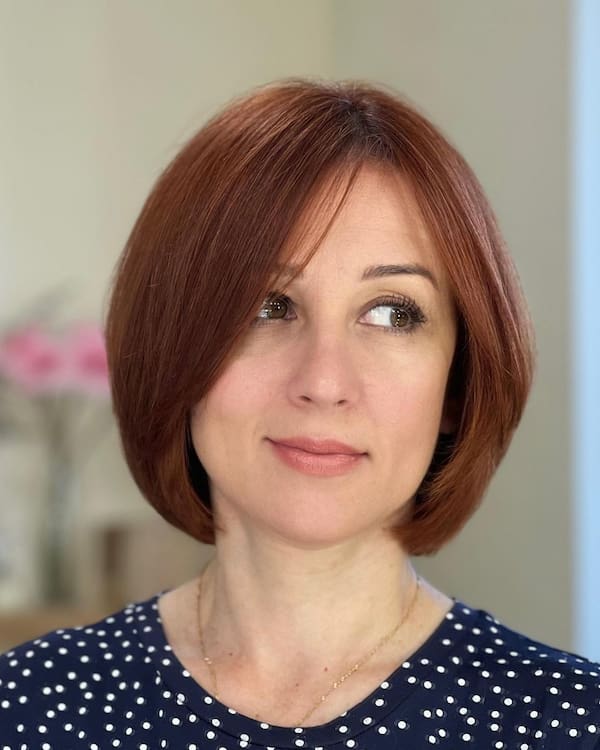 We've seen black and blonde, so it's only natural that the next idea is brown. It's pretty much the same as the initial hairstyle idea, but in brown, making it twice as pretty, in my opinion at least.
4. Copper Long Layered Bob
If you're looking for another adorable blonde-ish hairstyle this copper layered lob is for you. With its layers and the adorable centre parting, nothing can go wrong with the style.
5. Short Layered Bob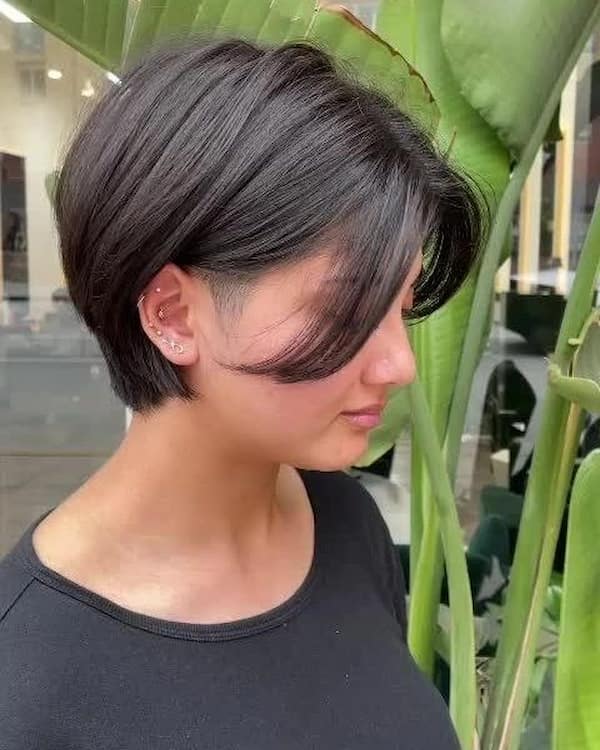 Black is an excellent hair colour, but it looks even better when you're getting a layered bob. You'd think the shortness is a disadvantage, but it turned out to be the perfect crop, making the style look even more alluring.
6. Centred-Parted Layered Lob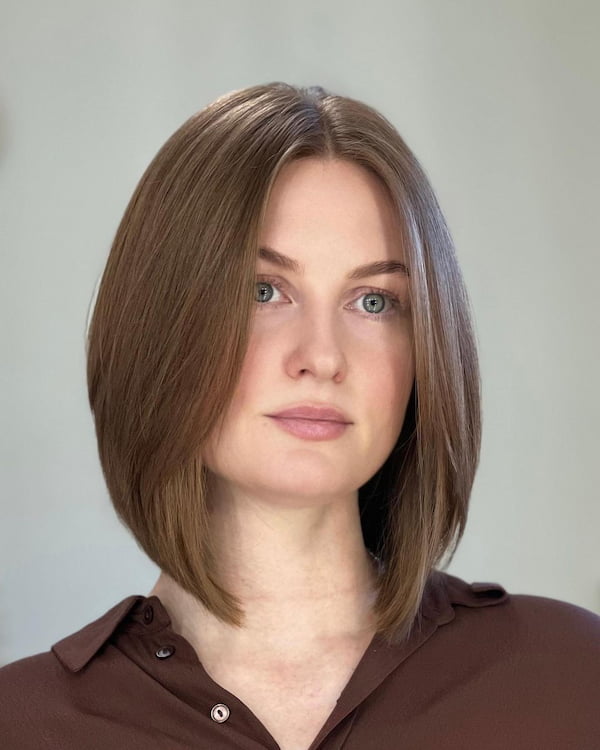 This brownish-layered lob walks the path of the initial hairstyle in this compilation, and I can tell you it's not a bad path from experience. The centre parting creates symmetry, giving the style a more balanced look overall.
7. Shaggy Bob Cut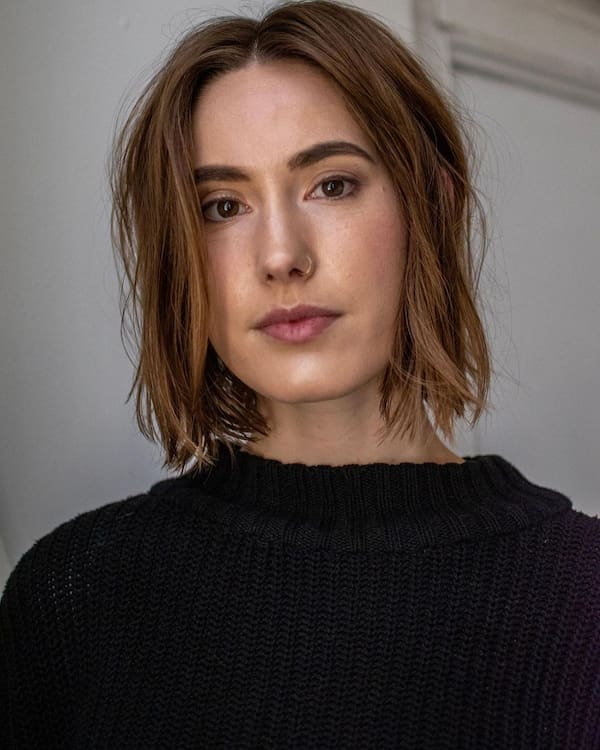 One way to make your bob more exciting is by adding a bit of shagginess to it, which is what this model has done. She also incorporated the centre-parting idea from the preceding style, making it an all-in-one beauty.
8. Long Bob with Smooth Swept Bangs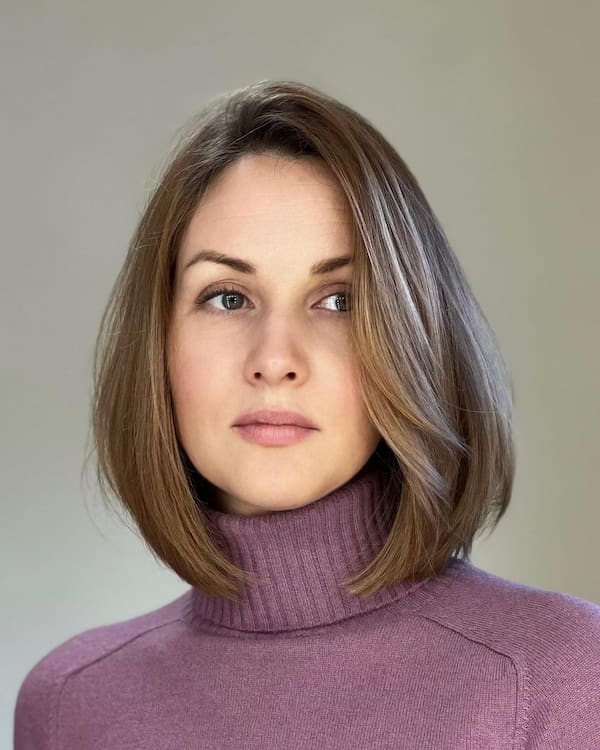 Lobs aren't for everyone, but if they're for you, you'd love this idea. The layers are amazing, but it has no centre-parting. However, the smooth bangs are pretty enough to ensure you don't need one.
9. Short Bob with Fringe and Angled Bang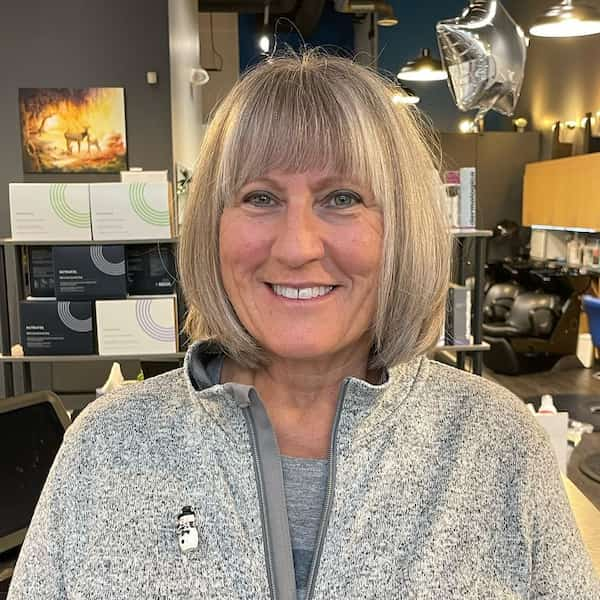 If you're into classic bob looks, you'll adore this hairstyle. It uses the classic bob design with a full fringe, using the model's smile as a catalyst to manifest its allure.
10. Chic Blonde Bob with Bangs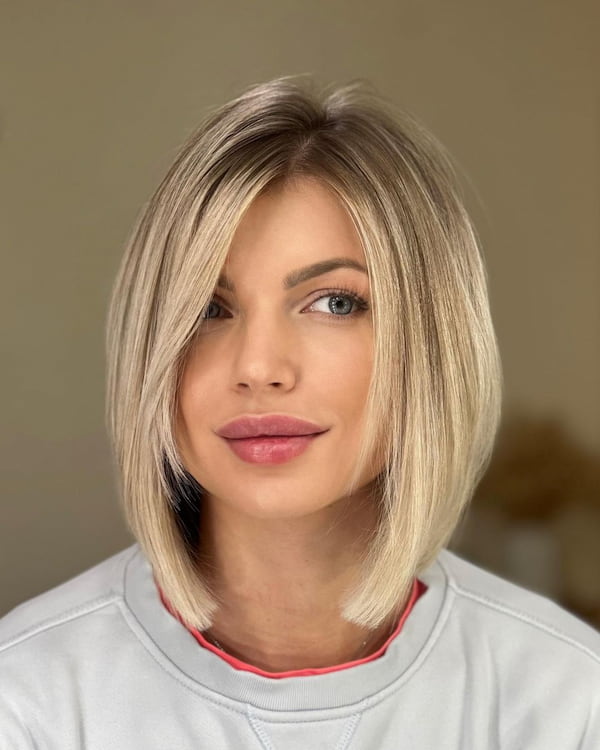 I'm not sure if the blonde colour is what I love most about this hairstyle or the black bangs. Maybe it's the bangs or even the centre parting. One thing I'm sure of, however, is that everything I just mentioned is insanely adorable.
11. Side-Parted Long Layered Bob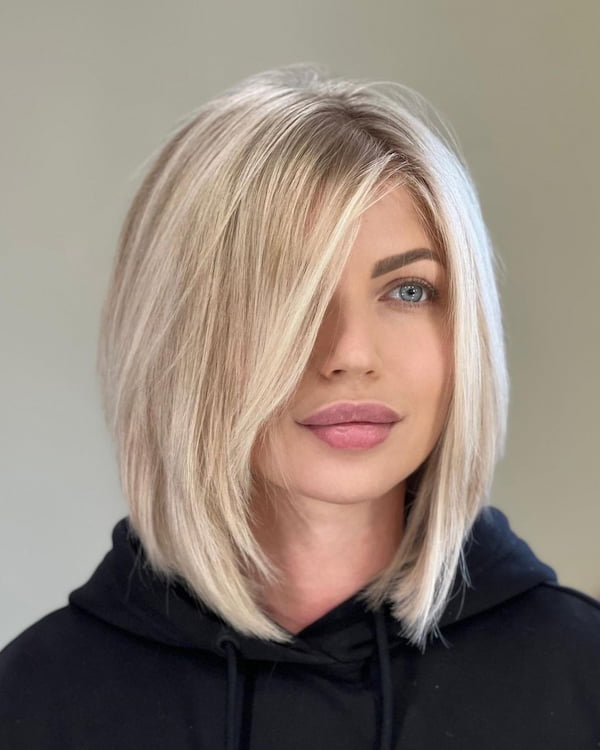 This is not the first blonde idea in this compilation, but one this long and alluring is a first. I'm a fan of the layered look and the unconventional shaping; it simply makes the underlying bob pop.
12. Messy Layered Bob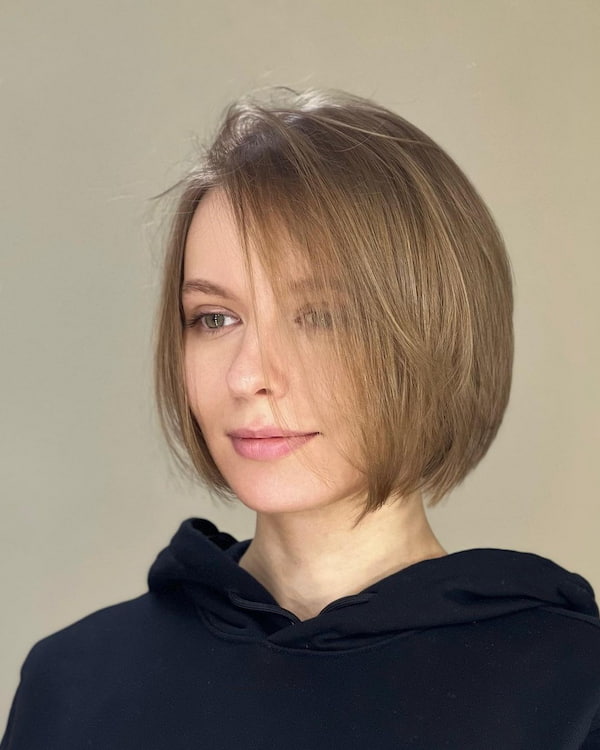 Some messiness does no harm to a bob, and in some cases like this model, it can do a lot of good. Just ensure the bob is well layered and side-swept, sit back, and watch the magic happen.
13. Layered Bob Cut for Women over 50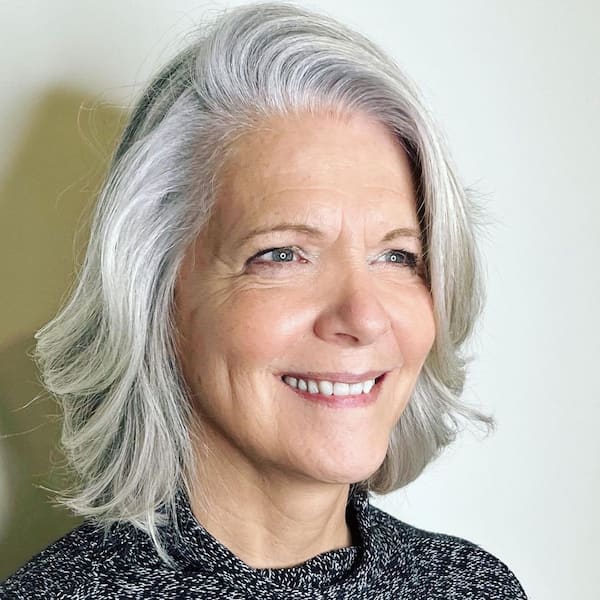 Adorable layered bobs don't discriminate based on age, as you can tell from this idea. if you wear it well enough, it will look as good on this 50-year-old model as it would on a 15-year-old.
14. Textured Layered Bob with Curtain Bangs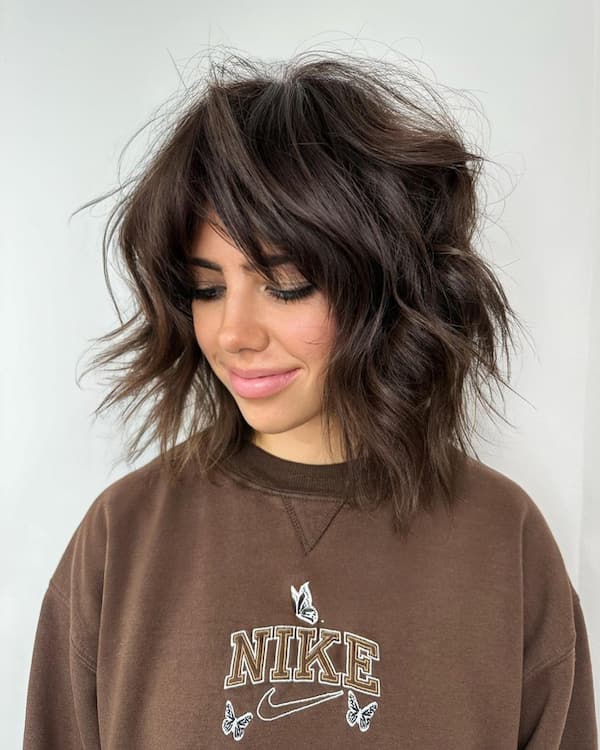 I'm not exactly a fan of messy bobs, but when you present it like this, it makes it difficult to say no. I've been reviewing hairstyles for years, and I've not seen something have a similar balance of shagginess and organization.
15. Chic Soft Layered Bob Haircut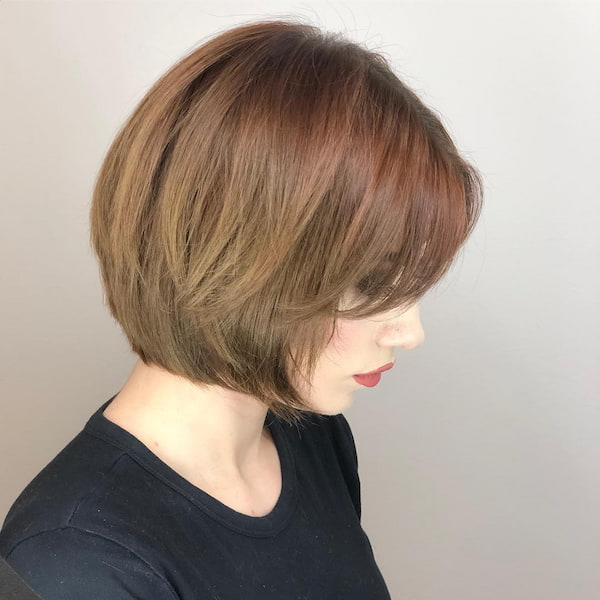 As far as brunette bobs go, this idea is as sleek as it gets without sacrificing the layers. I can imagine how much more adorable this style will look with a generous helping of curtain bangs!
16. Styled Layered Blonde with Dimensional Highs and Lows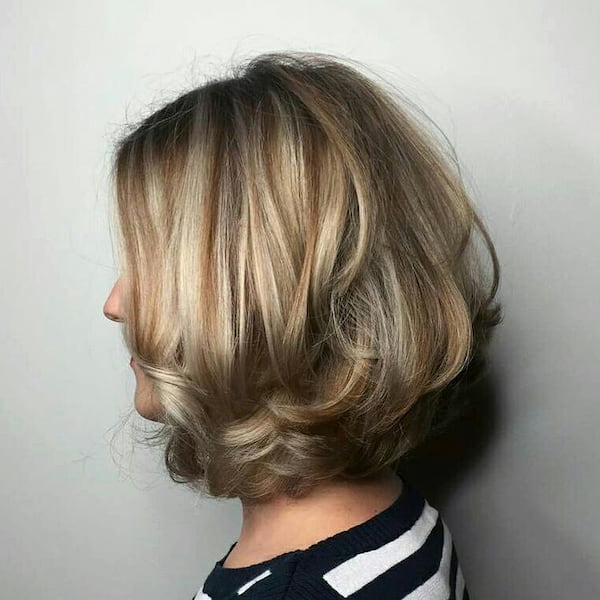 Why use brown or blonde in your hair when you can get both? This dimensional textured bob uses a cross-section of brown and blonde highlights, and nothing can prepare you for how adorable it looks.
17. Classy Layered Bob for Older Women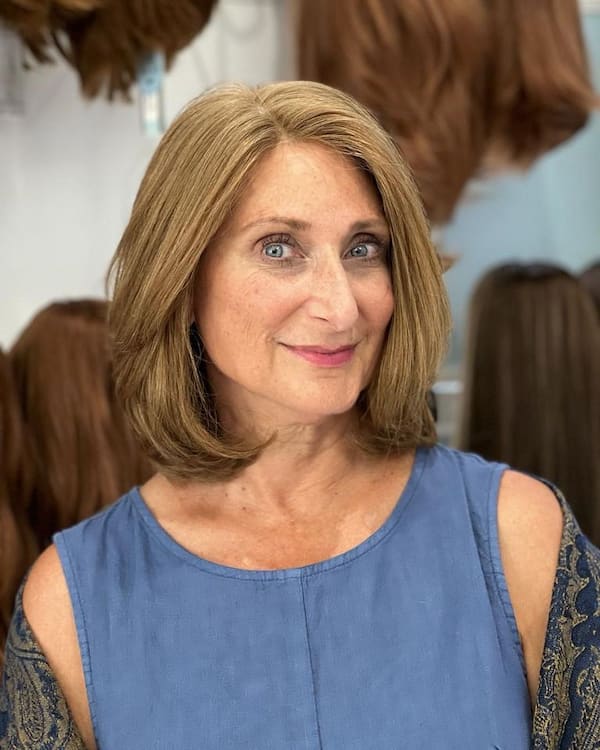 If you're after a classic layered lob you can wear to work every day, nothing beats this idea. While the model is an older lady, this hairstyle doesn't seem age-dependent.
18. Short Layered Bob with Bangs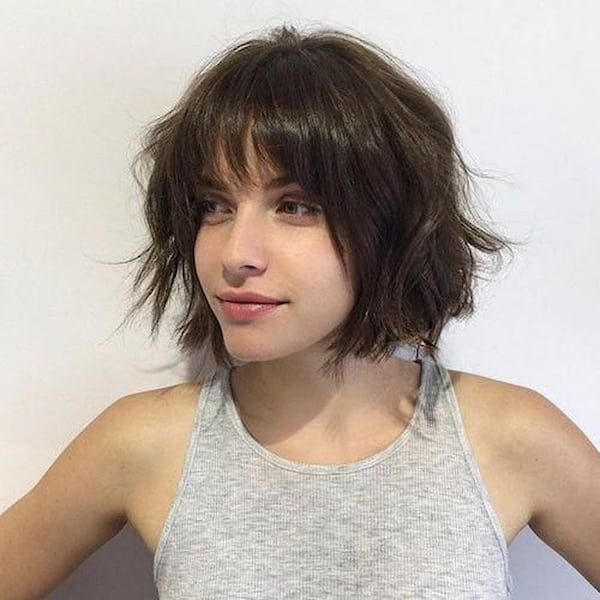 I'm not sure if it's something about the bobs or the length, but the layered shaggy styles in this compilation tend to look exceedingly beautiful, and now with flawless curtain bangs; what we have here is a 10/10 hairstyle.
19. Short Layered Bob Haircut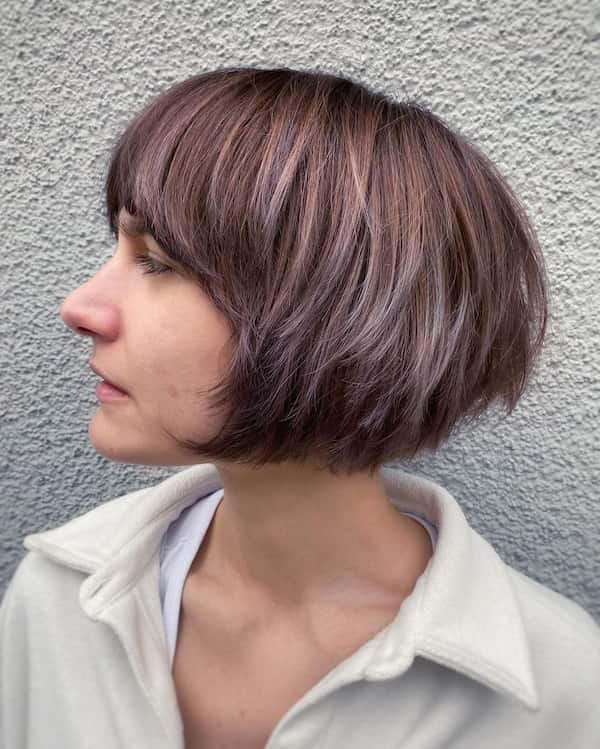 If you're not into short shaggy bobs with bangs, you should love short straight bobs with bangs. Why wouldn't you, when it's presented in an alluring purple colour with layers that make it irresistible?
20. Layered Bob with Versatile Fringe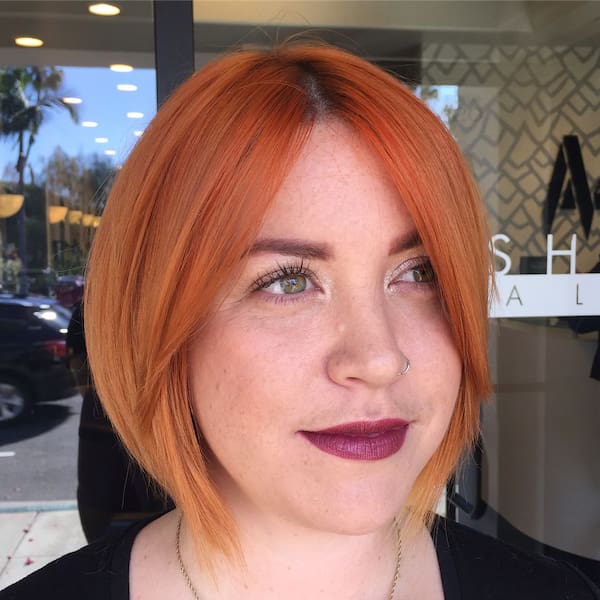 If you're not a fan of the purple colour from the preceding idea, this bright copper style should sweep you off your feet. With the matching fringe and the perfect crop, nobody says no to this hairstyle.
21. Blonde Bob Haircut with Long Curtain Bangs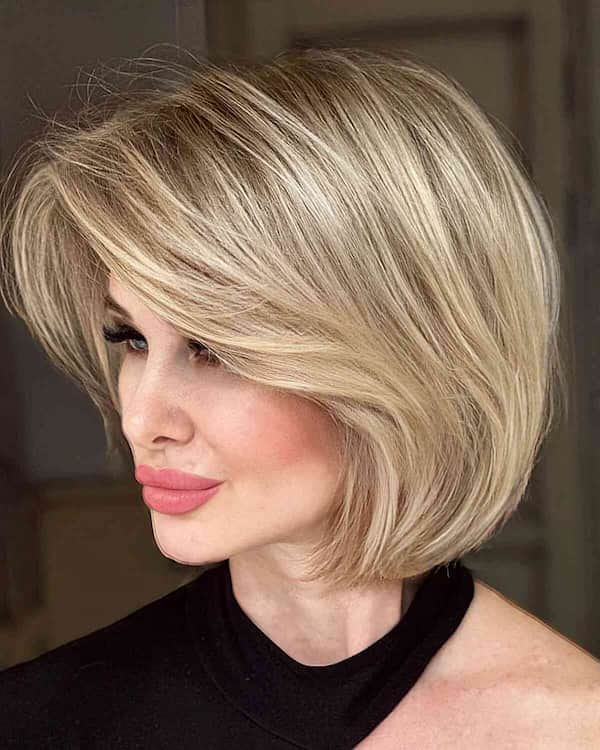 Blonde isn't everyone's cup of tea, but not when it's served with long curtain bangs and in the perfect crop. Even if you're a coffee person, you just have to admit this blonde bob is too delicious to pass on.
22. Soft Layered Bob with Highlights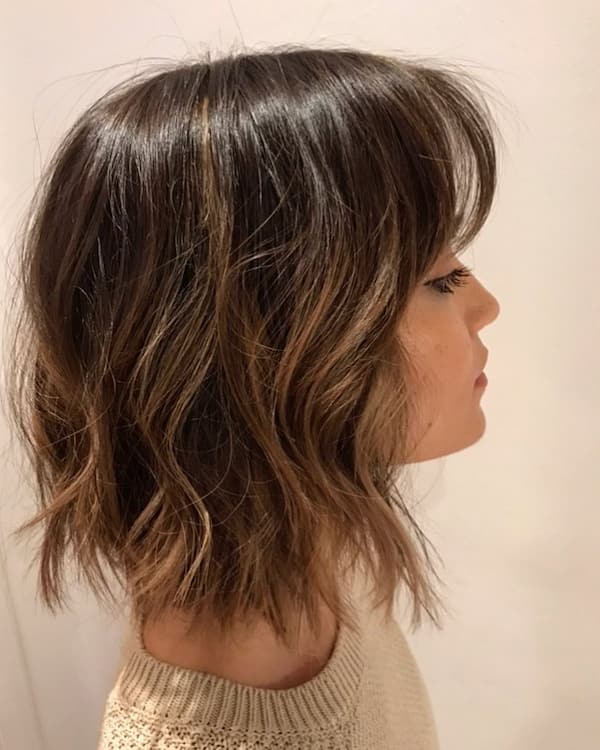 A black layered bob with brown highlights is the kind of combo I see myself getting, especially when I know it will look this good. The natural wavy texture also seems like it'll work well with curtain bangs, but we can't confirm that.
23. Gray Textured Layered Bob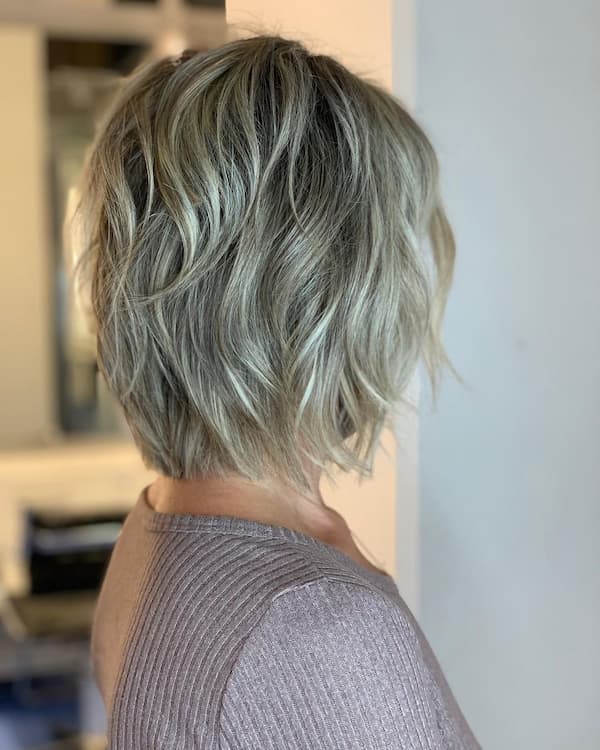 We've seen so many colours that I can't believe we've not seen a grey bob. Whether you're a senior going grey or a young lady who's into the colour, grey is an adorable way to wear the hairstyle.
24. Blonde Bob with Short Bangs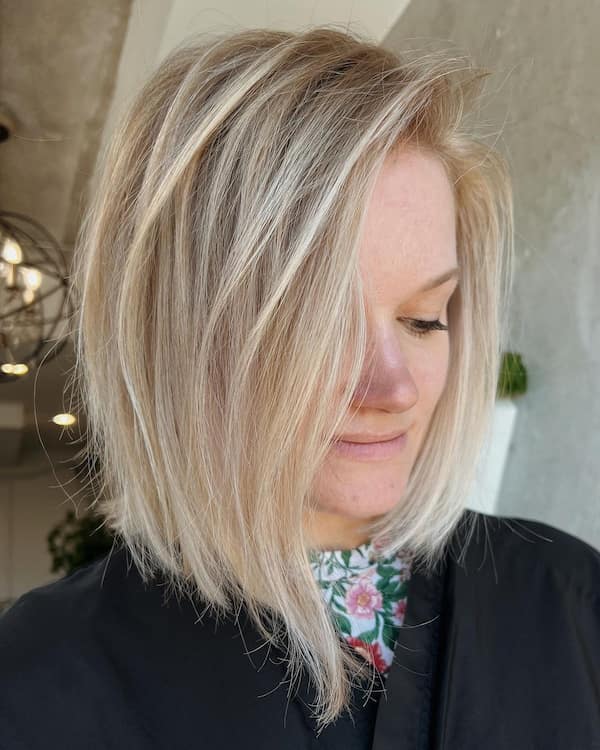 Blonde is one of the few recurrent colours in this compilation, but one more is never too much. The right proportion of messiness, short bangs, and a side parting are enough to make this style one of the most adorable on this list.
25. Simple Blonde Haircut for Oval Face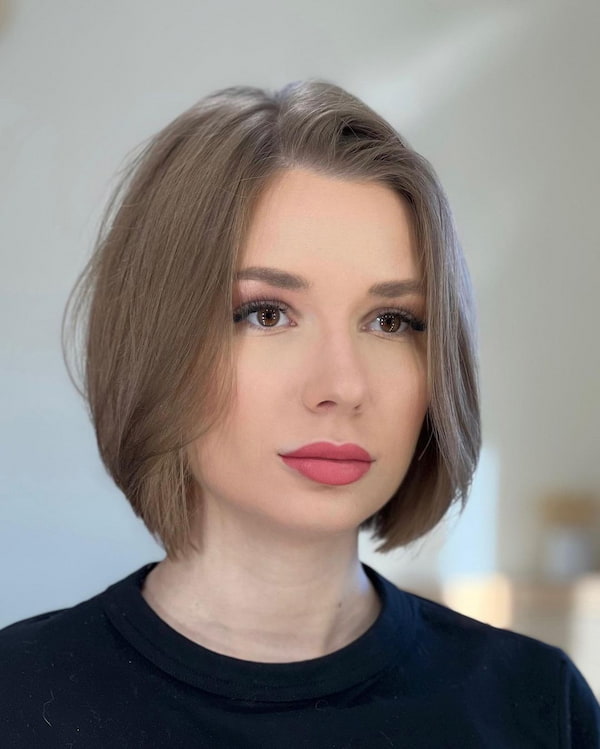 Ladies with a natural oval face will want something that accentuates their facial structure, and this is the thing. The layers and peculiar parting all work together to ensure the style is just as adorable as the face.
26. Layered Bob for Fine Hair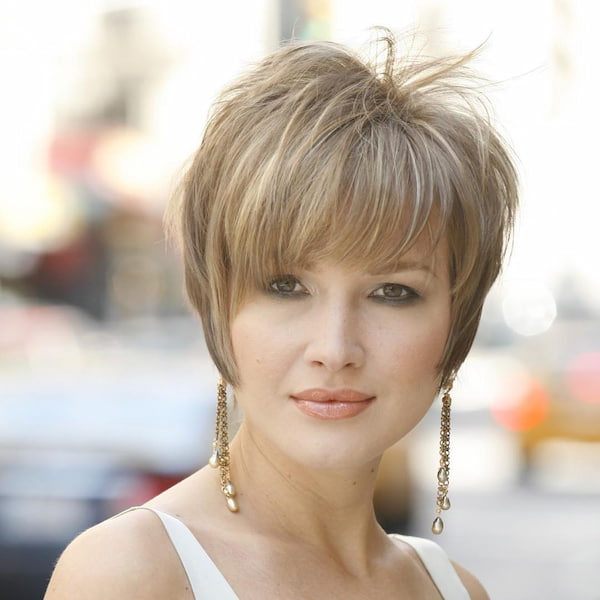 If you're looking to change things up a bit, this blonde bob should work wonders. From the perfect short crop to the amazing fringe, this hairstyle is a no-brainer for ladies with fine hair.
27. Textured Bob with Square Layers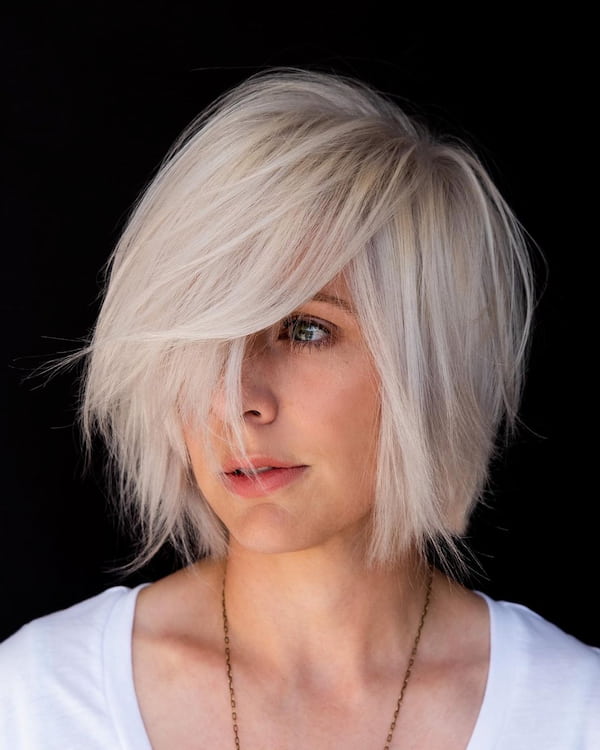 I'm not a big believer in the entire white hairstyles idea, but this idea has me rethinking my stance. You may think the layers are its biggest attraction, but I'm more interested in the overall structure.
28. Blonde Face Framing Lob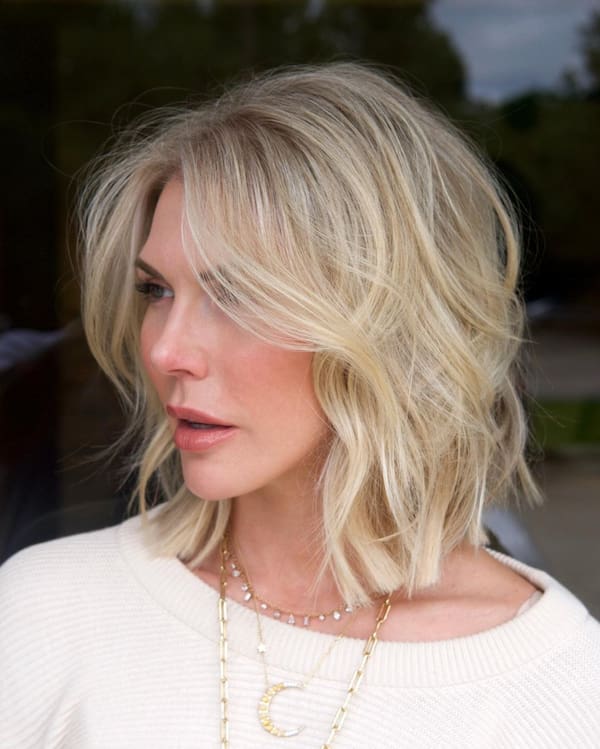 Lobs are pretty; we've decided that long ago, but who could tell wavy lobs are even prettier? If you have the length and the blonde, replicating this look is a no-brainer.
29. Cute Messy Black Layered Bob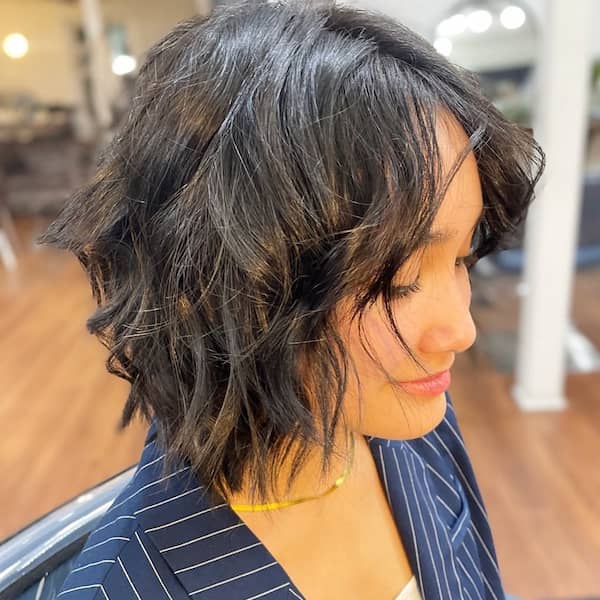 If you prefer black styles to blonde, this idea is the closest thing to the preceding one you'll find. It has some elements of a wavy lob, but at its core, it's another messy layered bob, and that's excellent too.
30. Short Layered Bob with Undercut for Women over 70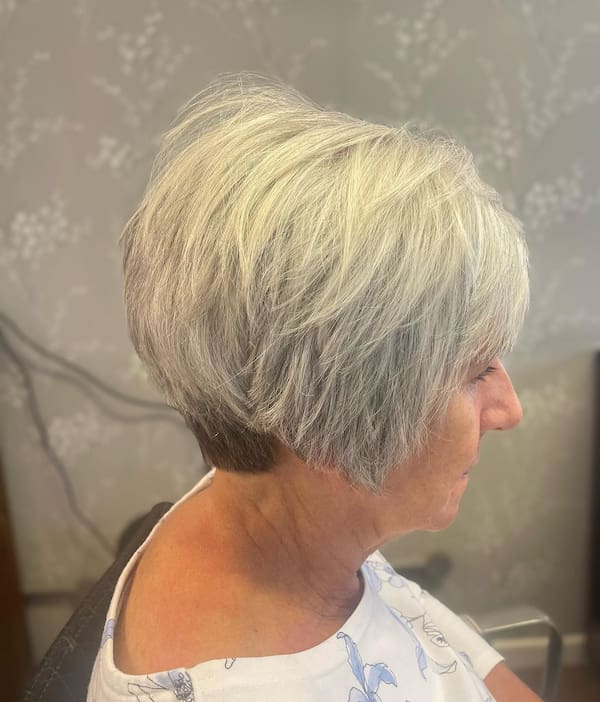 Nothing feels better than being able to look this good on a grey short layered bob at 70. The undercut effect adds some playfulness, making it ever so slightly prettier.
31. Brunette Short Bob with Stepped Layers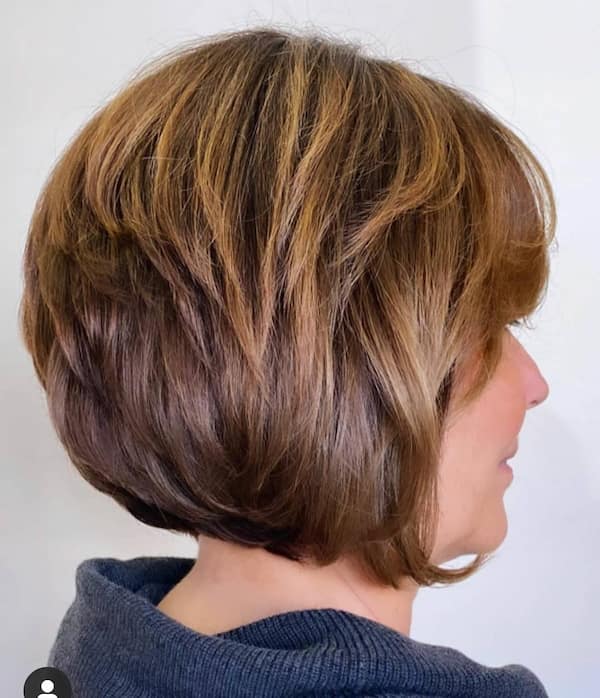 We've discussed layered bobs in black, blonde, white, and even purple, but brown continues to take the cake for me. When you present it in a package like this with stepped layers, who even wants any other colour?
32, Straight Layered Bob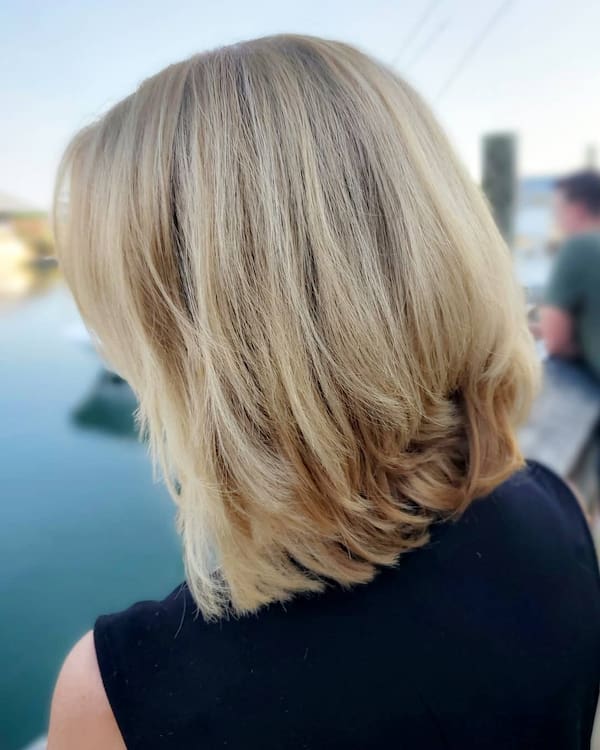 This is as straight of a layered lob as you'll get, and I'm all for it. The blonde hue seems like the perfect colour for this style, and I so much love the smooth crop at the ends.
33. Short Bob Haircut with Fringe for Older Women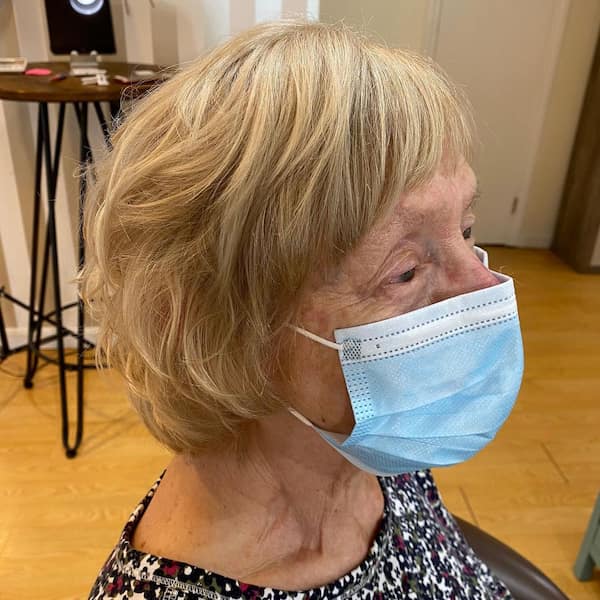 A bob doesn't have to be long to be adorable, especially when it's already layered and in brown. Add in the appeal of the minimal fringe and you'll see why it's on this list.
34. Sassy Short Bob with Highlights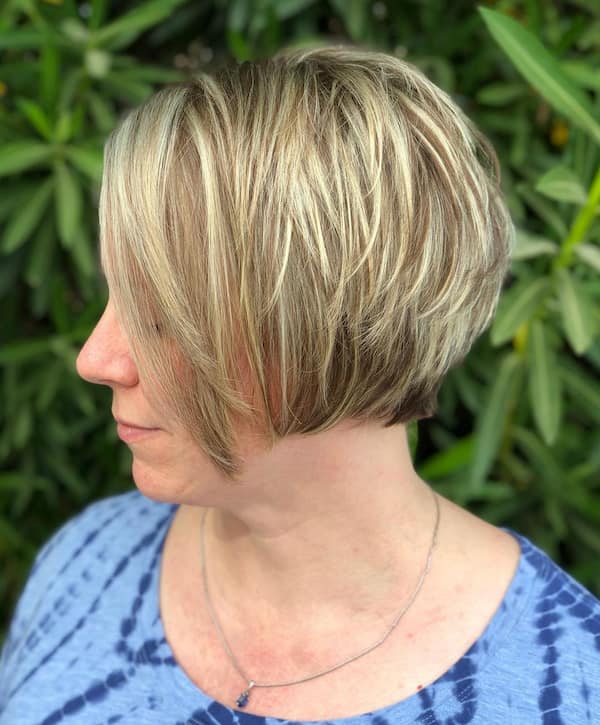 I'm not sure if this style is brown with blonde highlights or blonde with brown highlights, but whatever it is, it's surely making it onto my 'hairstyles to get' list.
35. Angled Layered Bob Haircut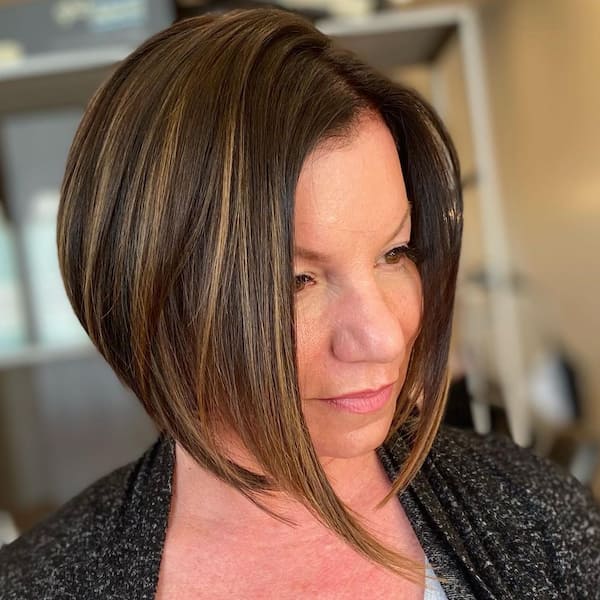 If you're into brown bobs like me, you'll instantly see why this angled layered bob is a must-get. Even if you don't fancy the brown colour, the angled style and the symmetrical parting are enough to win you over.0
36. Chic Shaggy Layered Bob Cut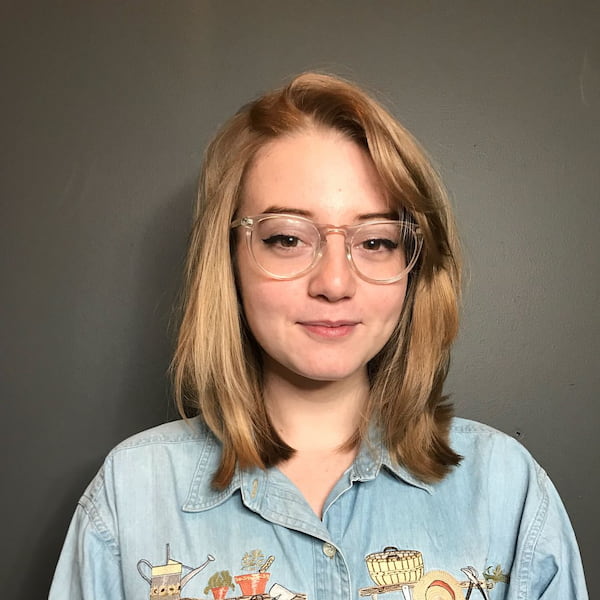 Adding some shagginess to your layered lob is pretty tempting, but it may not be so bad after all. Having it in brown and adding a pair of sunglasses makes it one of the prettiest on this compilation yet.
37. Layered Bob Haircut with Women with Glasses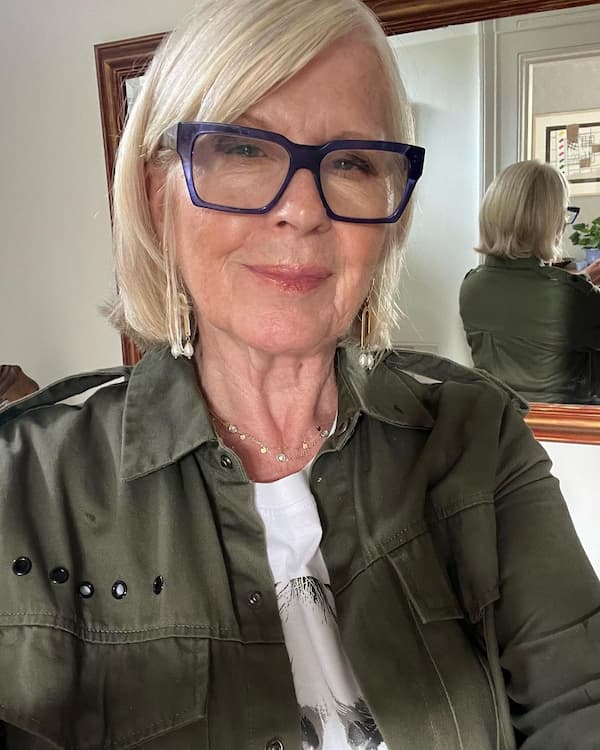 Never let old age hold you back from rocking an adorable layered blonde bob haircut with a side-sweeping half fringe. Throw in a pair of sunglasses and you're ready for a magazine cover.
38. Pink Blow Out Layered Lob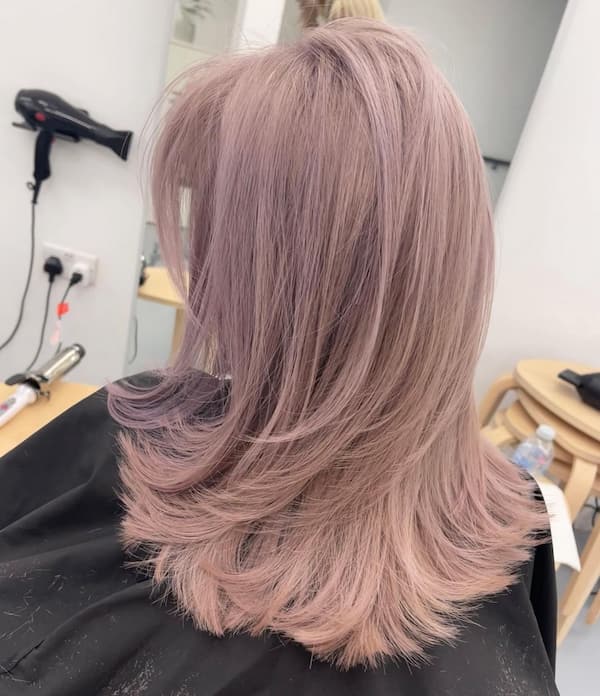 If unconventional colours are more your style, this pink-purple layered lob blowout should work for you. I won't normally colour my hair, but if I would, this colour would be top of my list.
39. Classic Black Bob Haircut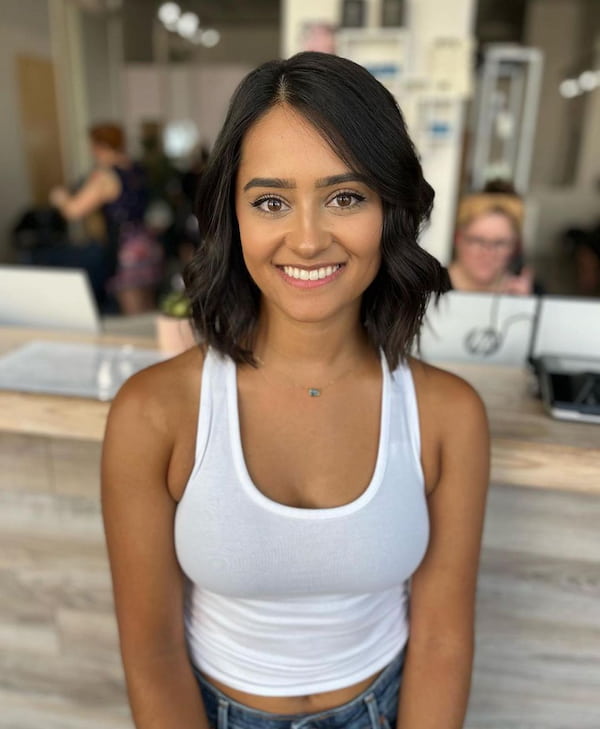 Why use some unconventional colours when you can simply get a prettier version of the same style in black? If you told me a simple wavy black bob with a parting can look this adorable, I'd argue, and maybe it's the model's smile.
40. Modern Angled Layered Bob Cut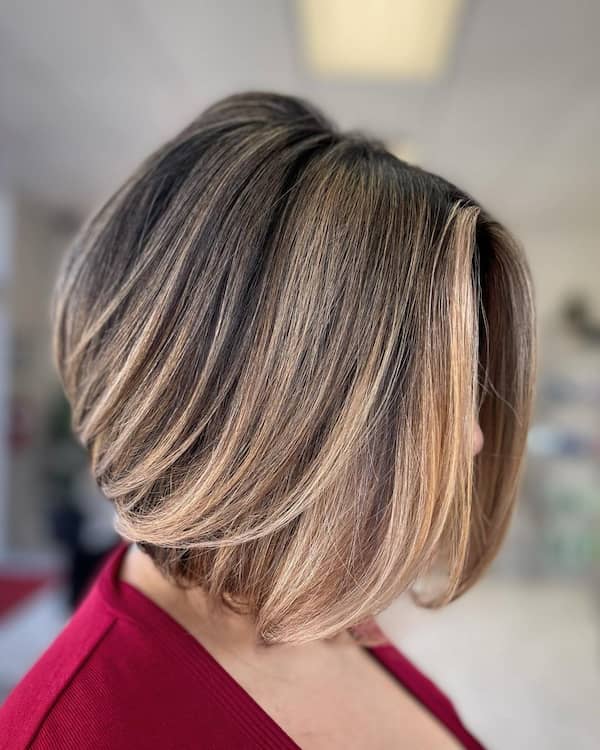 Colour combinations aren't very common, but who wouldn't get one if it's guaranteed to look this good? The angled, layered bob is already amazing as it is, but the colour takes it to another level.
41. Gray Layered Bob for Thin Hair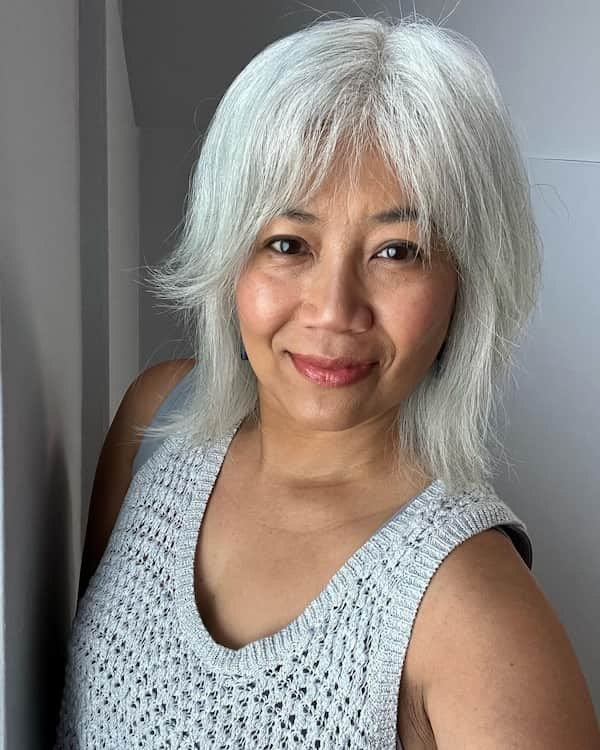 When your hair inevitably thins out due to old age, an adorable way to make it appear voluminous is getting a layered bob. Now, if you want it irresistible, throw in a centre parting with curtain bangs and watch yourself make this list next year.
42. Neck-length Bob with Highlighted Layers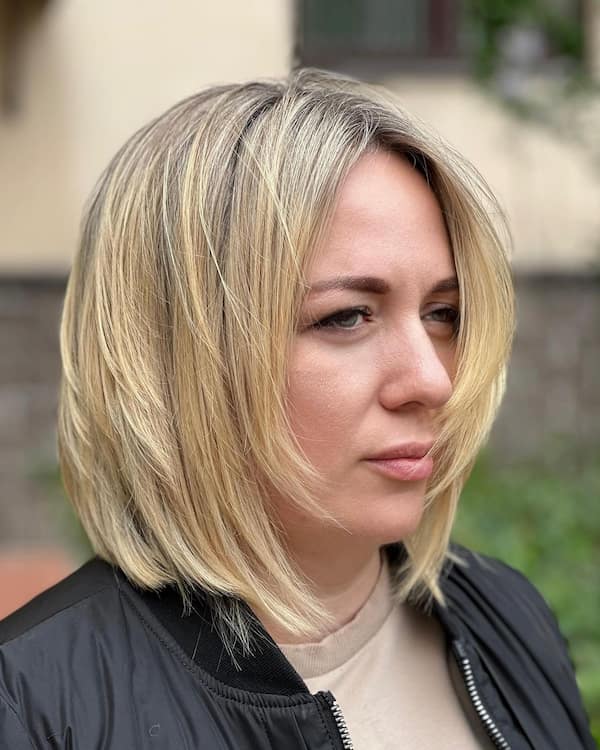 What's a more adorable style than a blonde bob with black layers? I'm particularly in awe of how it curves to form an oval that shapes the model's face; it's freaking adorable.
43. Red Layered Bob Haircut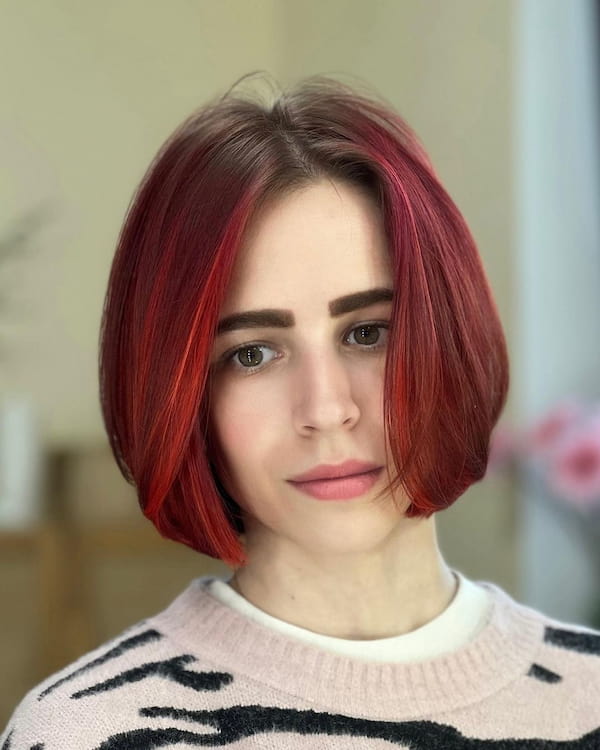 If you're after something flashy, it doesn't get any better than this red-layered bob haircut. From the adorable layers to the symmetrical parting and the beautiful crop; this style has it all.
44. Wolf Bob Haircut
While I'm a natural fan of wolf bobs, I still have to acknowledge this one's pretty special. Despite its layers, it managed to maintain a sleek look, framing the model's face with its mild curve and adding allure with the symmetrical parting.
45. Classic Old Hollywood Bob Haircut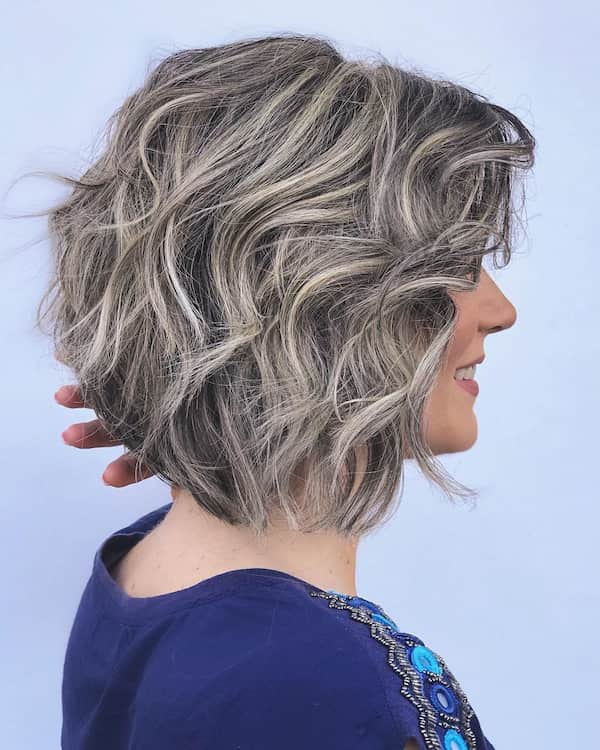 Getting something classic is easy, but making it classy can be challenging. This grey curly bob with layers is the perfect balance between classy and classic; an absolute masterclass.
46. Summer Bob Haircut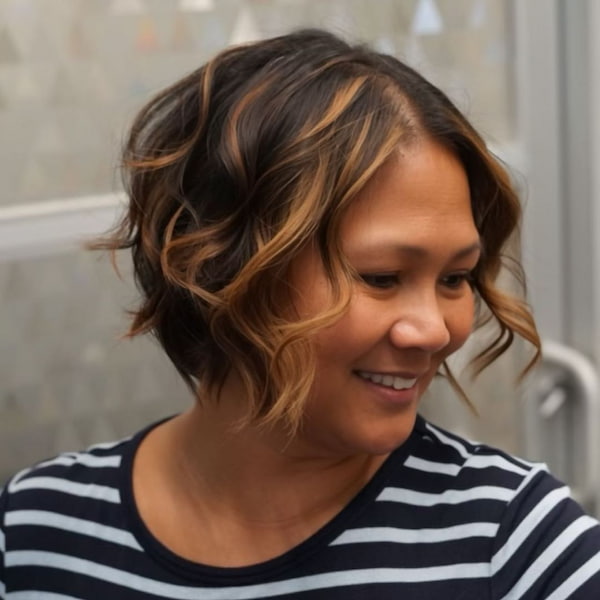 Short bobs can be tricky to get right, but this model unarguably gets it spot on. The black colour with brown highlights looks better than I expected, and the symmetrical parting completes the amazing look.
47. Layered Bob Haircut with Smooth Edges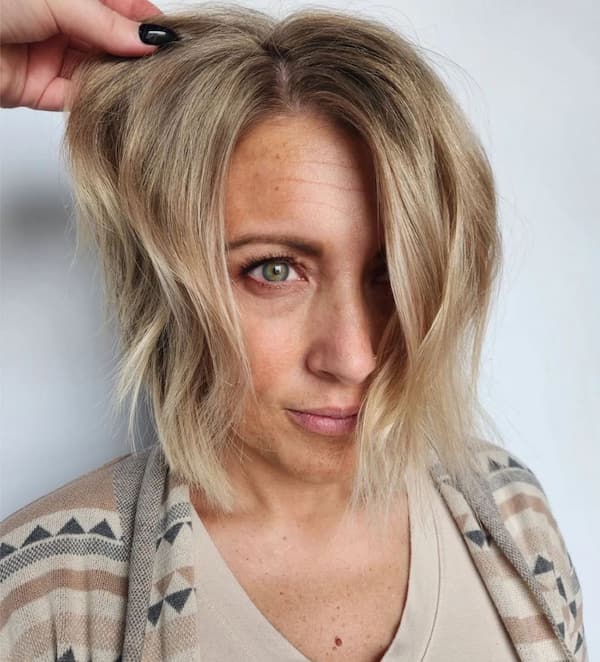 You can already tell how much I adore smooth-looking hairstyles, especially when they're layered. Try adding a centre parting to the mix and see how quickly I add you to this list.
48. Chocolate Brown Layered Bob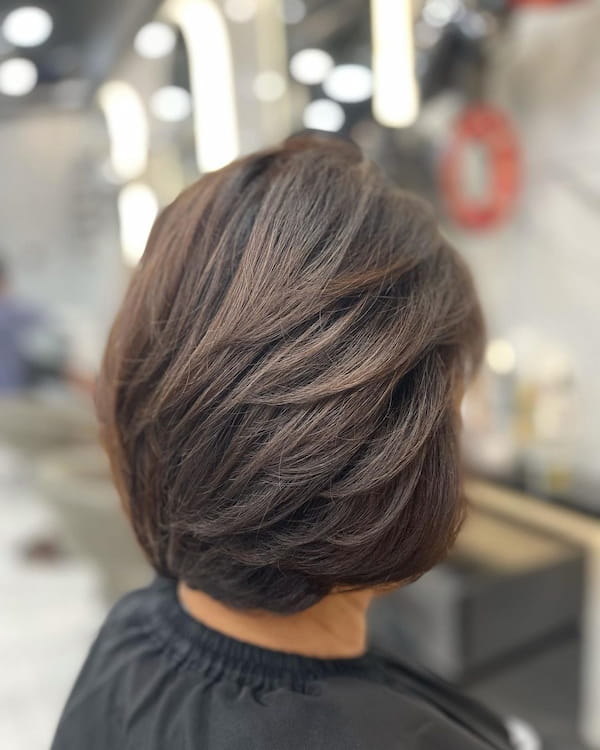 The most special thing about this bob is its colour: a dark chocolate brown that we can all agree is adorable. The well-defined layers are also amazing, and the perfect length makes it nothing short of adorable.
49. Textured Blow-Out Bob with Curtain Bangs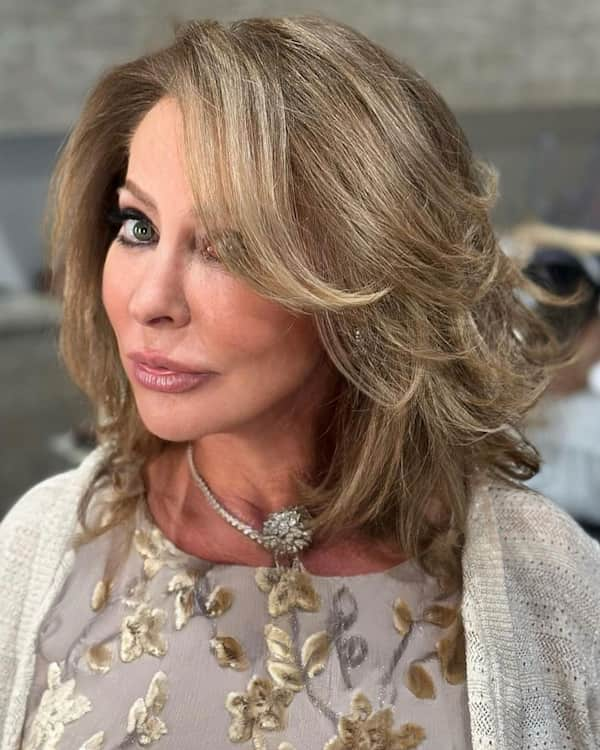 It's frankly hard to argue against a lob with such an adorable blowout and even more alluring curtain bangs. The blonde colour might be a nice touch too, and the hair's volume is low-key impressive.
50. Soft Shaggy Bob with Fringe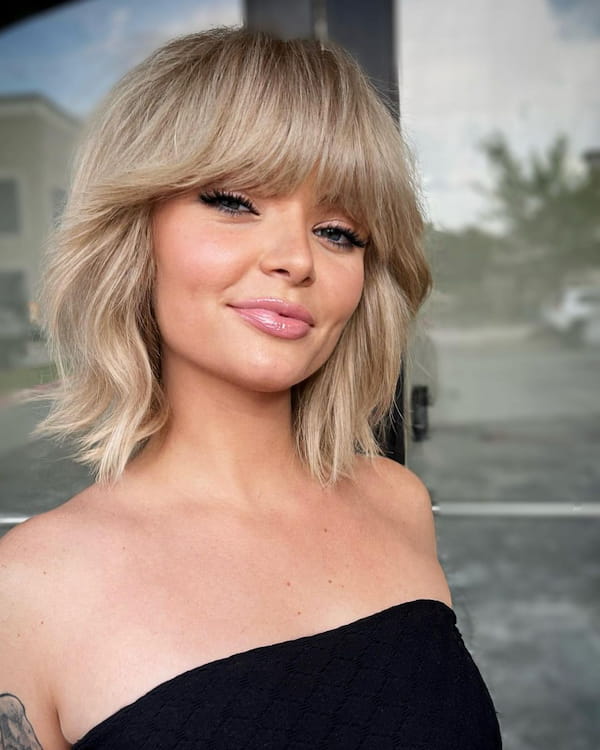 A full fringe only goes naturally with a layered bob, and the package becomes measurably better when it's in blonde. Add some shaggy texture and the amazing length, and you'll understand why this style is on this list.
Conclusion
A hairstyle previously thought to be unpopular turned out to be so common that we could find 50 pretty ideas for it. Feel free to copy any to your heart's content, or if you prefer, modify it until you form your unique adorable style.
If you found a few hairstyles you love here, you'll likely find even more in our other compilations below.
Pin for Later.