Curtain Bangs is one of 2023's biggest hairstyling trends so far, and it isn't dying down anytime soon. So we thought, why not combine the year's biggest trend with probably the trendiest hairstyle of all time: the bob?
And that's exactly what we did. In this compilation, you'll see the 50 best bobs with curtain bangs to inspire your next hairstyle.
50 Classy Bob Hairstyles with Curtain Bangs
If you're considering adding curtain bangs to your bob, here are some pretty hairstyles ideas to help you out.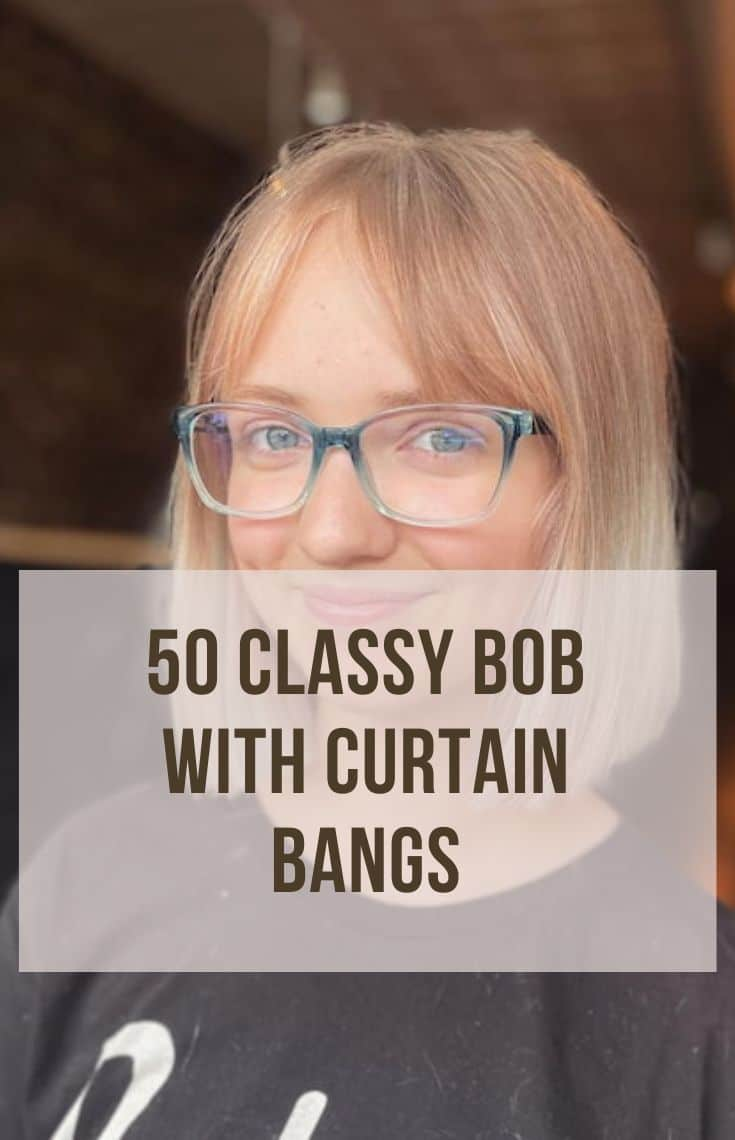 1. Classic Bob with Curtain Bangs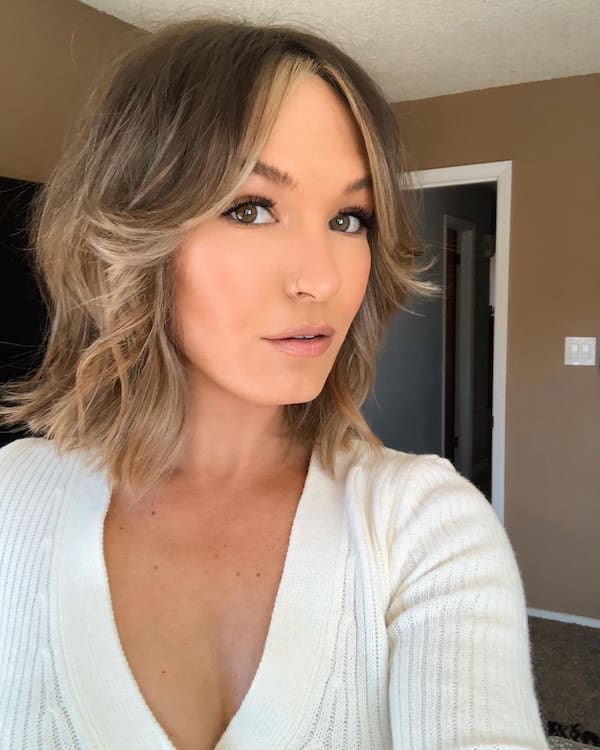 What's a better way to start a compilation like this than with a run-of-the-mill classic bob with curtain bangs for flair? While a bob with curtain bangs isn't exactly commonplace, I love how natural it looks here.
2. Beige Blonde Bob with Bangs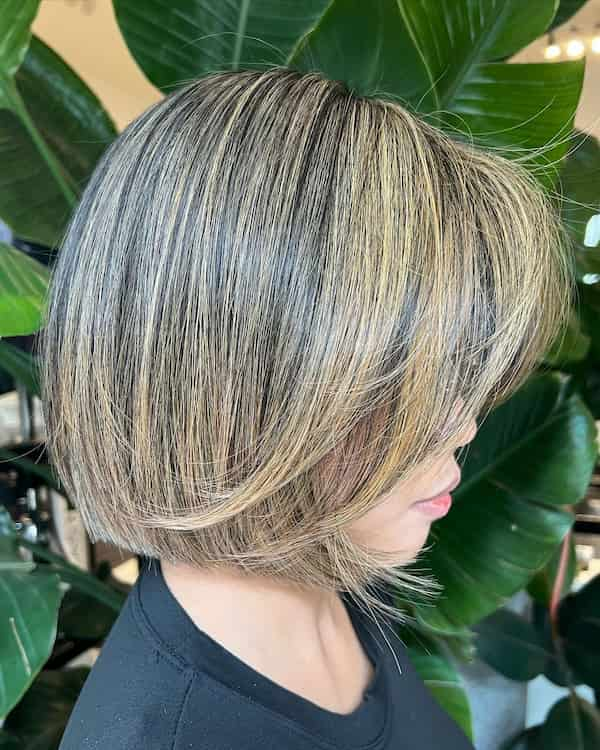 If you love your hairstyles to look unconventional, this beige blonde is an excellent idea for you. The combination looks pretty complex, but the complexity powers some of the style's beauty.
3. Dimensional Brunette Bob with Curtain Bangs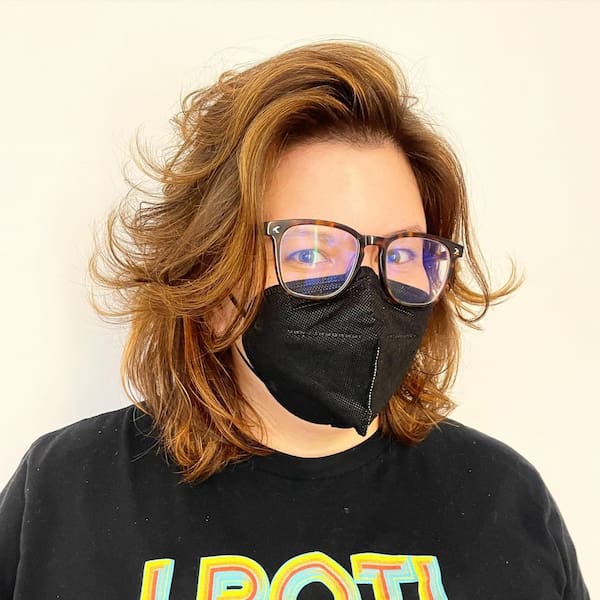 The symmetrical centre parting is the highlight of this hairstyle, but its alluring colour is something else to note. If you fancy brunette layered bobs, this is your pick.
4. Shoulder-Length Bob Haircut with Curtain Bangs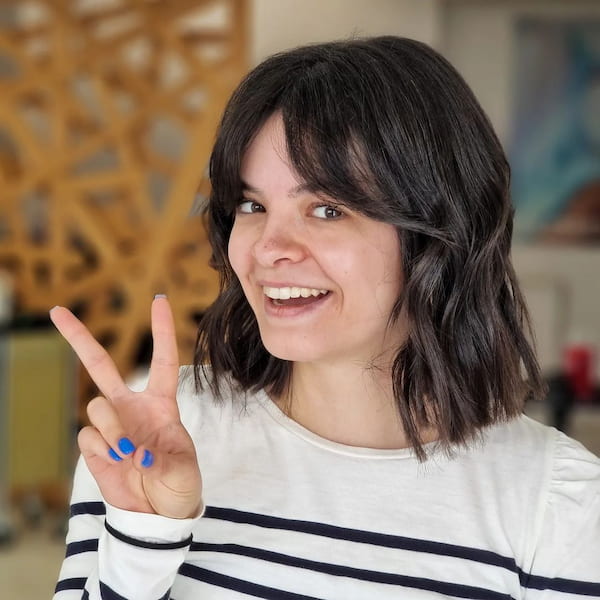 It's about time we introduce a black hairstyle, and how's a better way to do that than with this alluring idea? Despite being only shoulder length, it radiates a level of beauty some long styles struggle to.
5. Blonde Haircut with Soft Fringes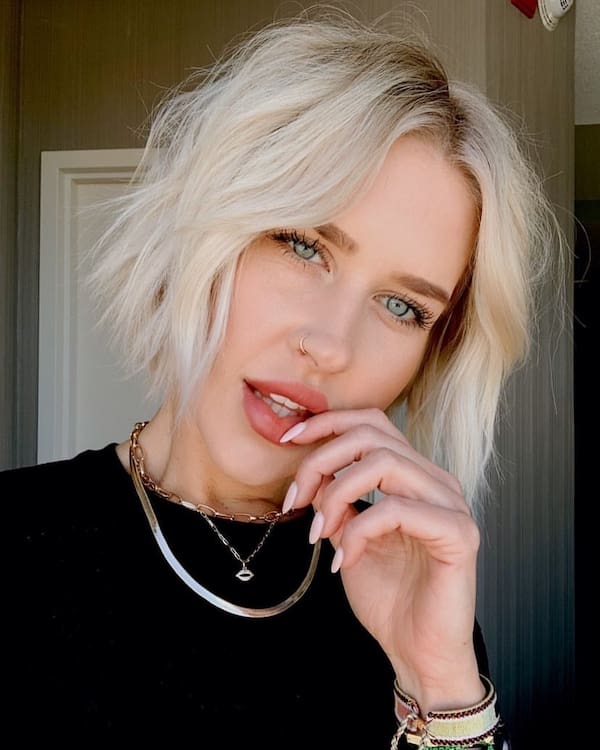 If black is not your thing, here's the stark opposite. This soft blonde cut instantly stands out anywhere, and the almost unnoticeable bangs only go naturally with it.
6. Red Bob Haircut with Bangs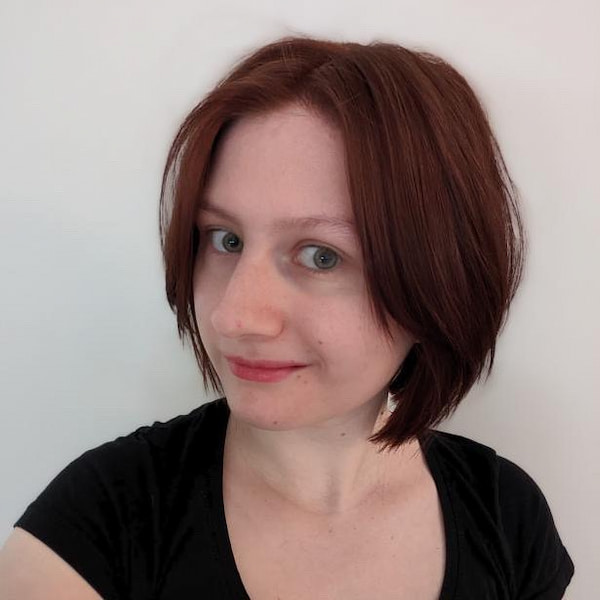 Blonde, black, and brown aren't the only hair colours available; if you're a fan of something more unconventional, you may want to try this adorable red bob. It's nothing special, but it's not unattractive either.
7. Blunt Bob with Curtain Bangs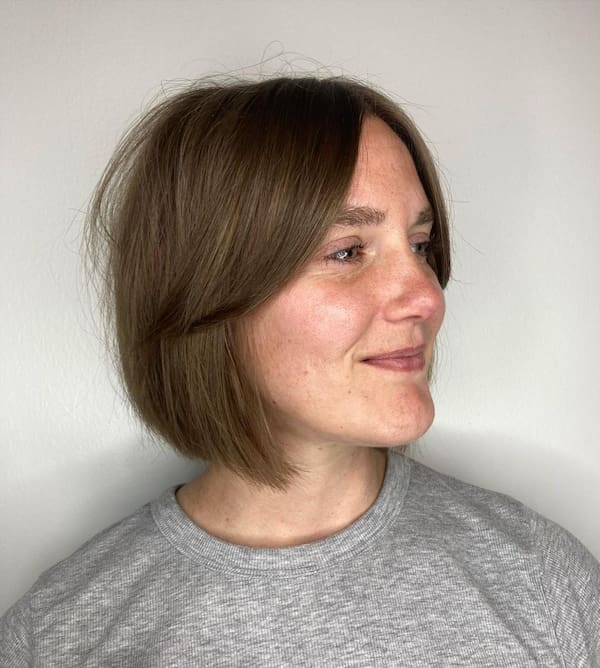 This isn't the most adorable thing I've seen this year, but I'll understand if it's this for you. One great thing about this hairstyle is that you can wear it casually with little maintenance.
8. Textured Bob with Curtain Bangs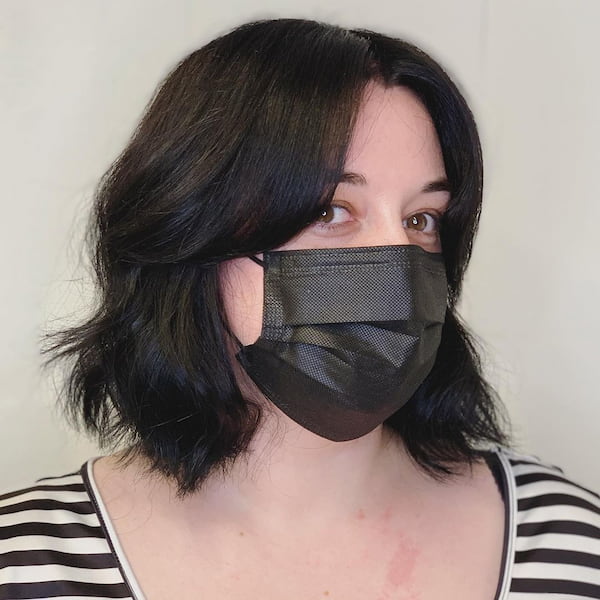 We've seen an adorable black bob with curtain bangs earlier, and here's more of the same. If this trend continues, it will become obvious that the black colour is a cheat code for adorable textured bobs.
9. Layered Textured Bob Haircut with Curtain Bangs
This is more of a lob than a bob, but you get the general idea. Even if the colour doesn't appeal to you, you just have to appreciate the general appeal; easily one of my favourites.
10. Straight Blonde with Curtain Bangs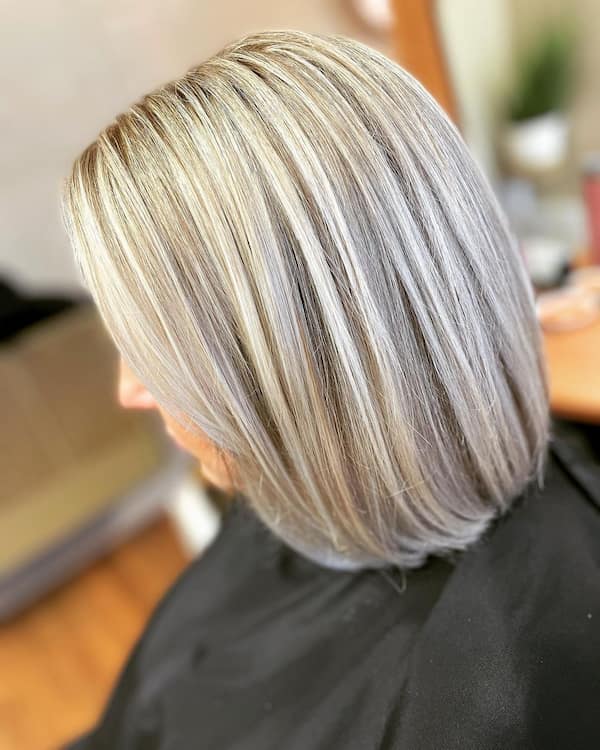 Adding some messiness to your black bob won't hurt, as is evidenced in this hairstyle. If your hair has a similar volume to hers, you can even pull off full-curtain bangs for more flair.
11. French Bob Haircut with Bangs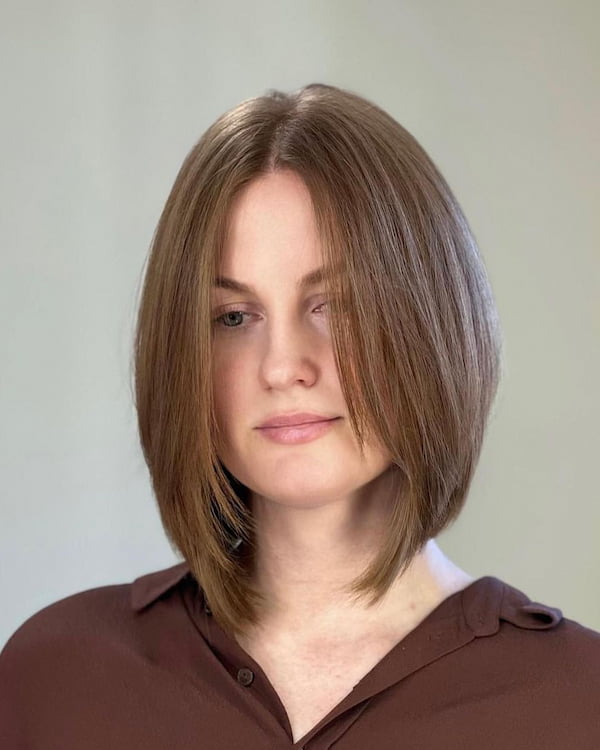 If layered bobs appeal to you, this French bob should hit the right spot. The smoothness and perfect symmetrical parting make it look quite unrealistic, but you can achieve something close.
12. Cute Brown Bob Haircut Bangs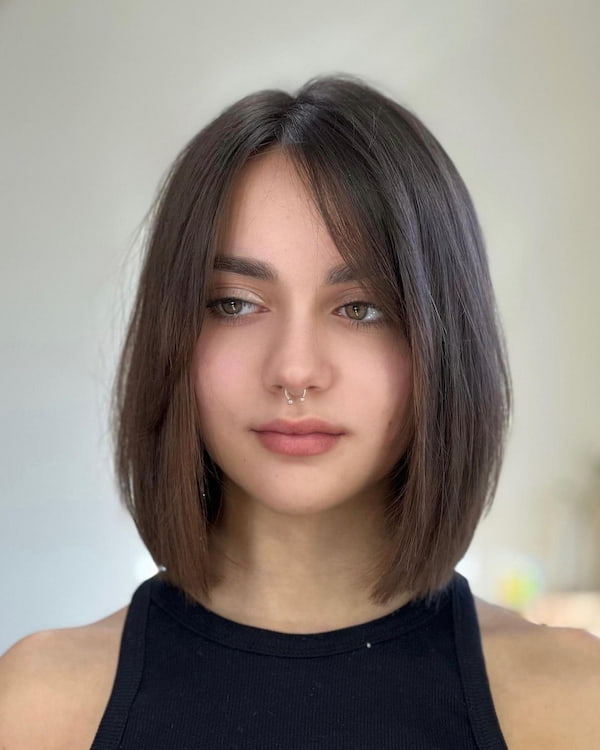 This style is not quite as perfect-looking as the preceding idea, but it's not any less adorable. Maybe it's the black colour, but if I had to choose between this and the last idea, I'd pick this.
13. Centre-Parted Layered Bob with Curtain Bangs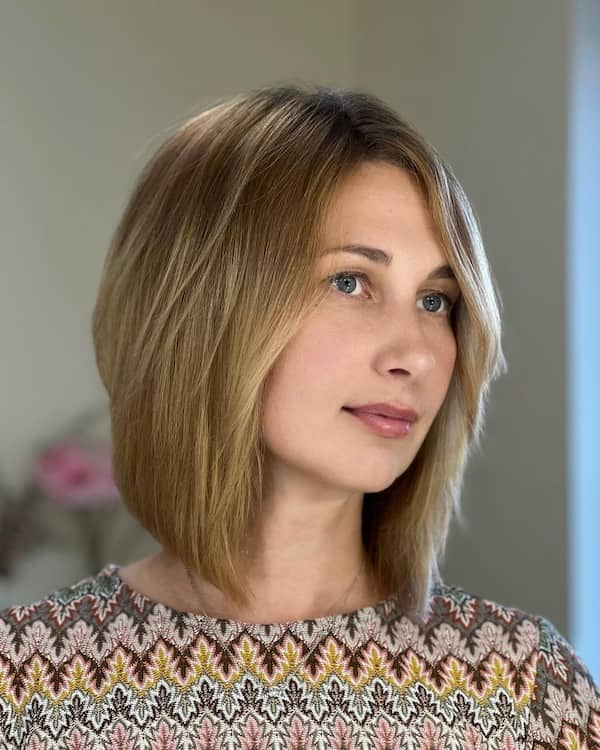 If you paid attention to the previous, it shouldn't surprise you that a centre parting made the bob this adorable. Still wondering why it looks so outstanding? Look no further than the bangs and the near-perfect length.
14. Copper Curvy Bob Haircut Curtain Bangs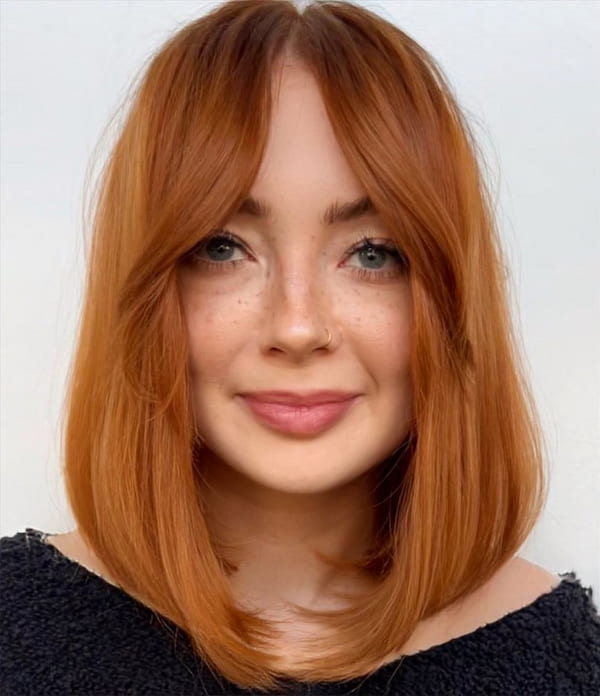 We didn't say much about colour in the preceding idea, but you may have noticed how brilliant the copper colour looked. Here's another more adorable copper hairstyle with curves and a perfect bang to match.
15. Casual Bob with Bangs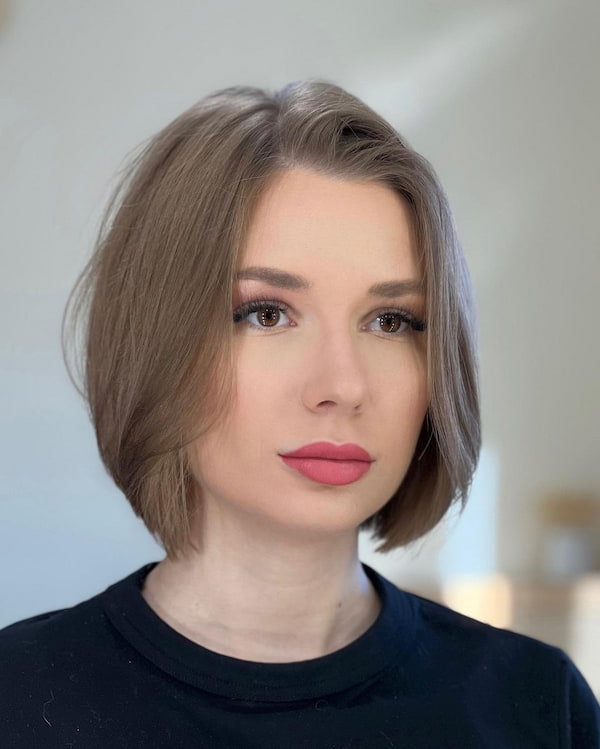 This colour is not the most common in this part of the world, but it seems to be perfect for a bob with curtain bangs. If you can access it, getting it would be a no-brainer.
16. Summer Bob Haircut with Bangs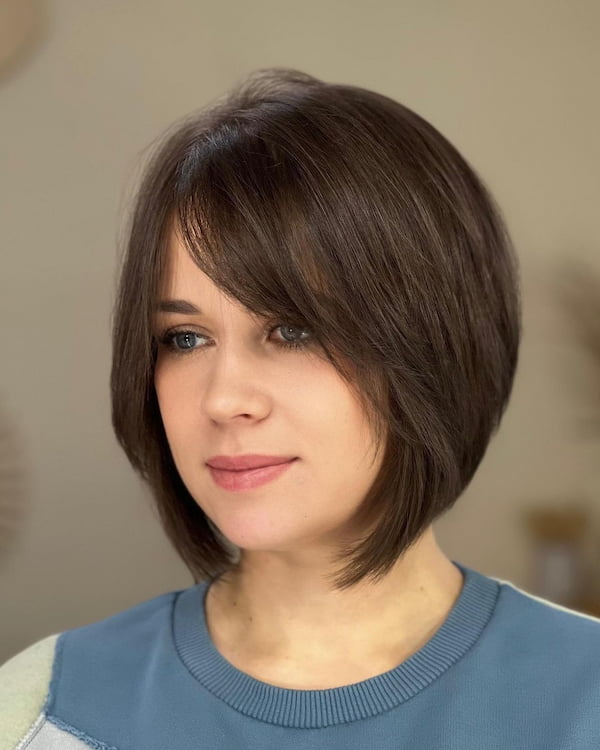 Despite this list being a compilation of adorable hairstyles, you'll still struggle to find something that looks this adorable. I'm not a fan of asymmetrical partings, but when they look this alluring, who am I to complain?
17. Bob Haircut with Wispy Bangs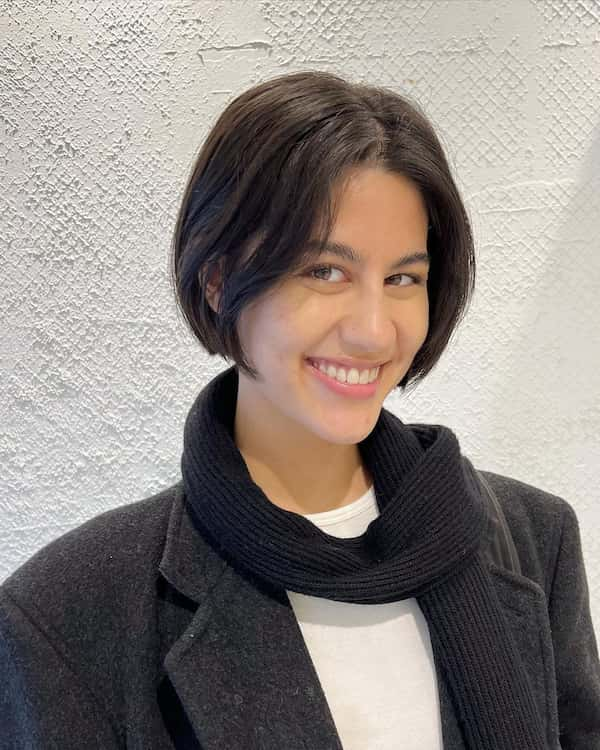 If you're after a more conventional hairstyle colour without compromising on beauty, here's your style. Thanks to her big smile and the wispy bangs, it's a hairstyle to get
18. Medium Thick Bob with Bangs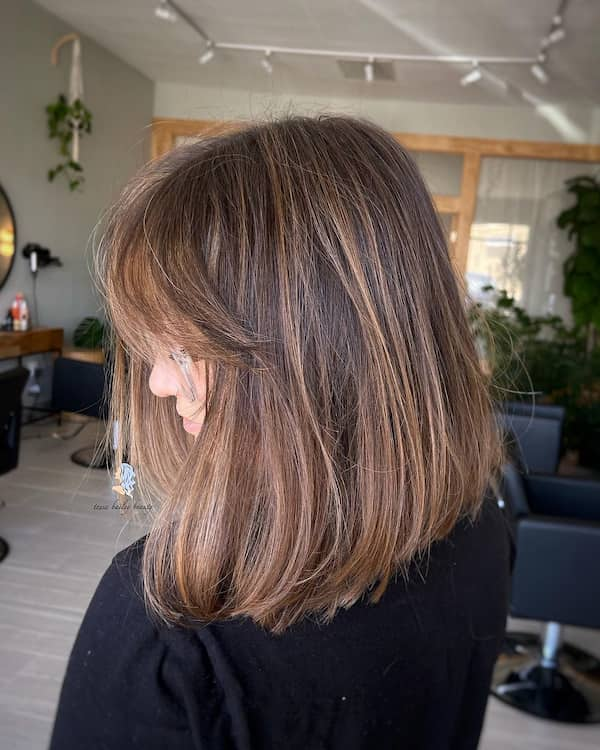 Getting this medium-thick bob is a no-brainer if you have the required volume to pull it off. Its subtle brown gradient is also endearing, and I can imagine how adorable the curtain bangs would look.
19. French Bob with Curtain Bangs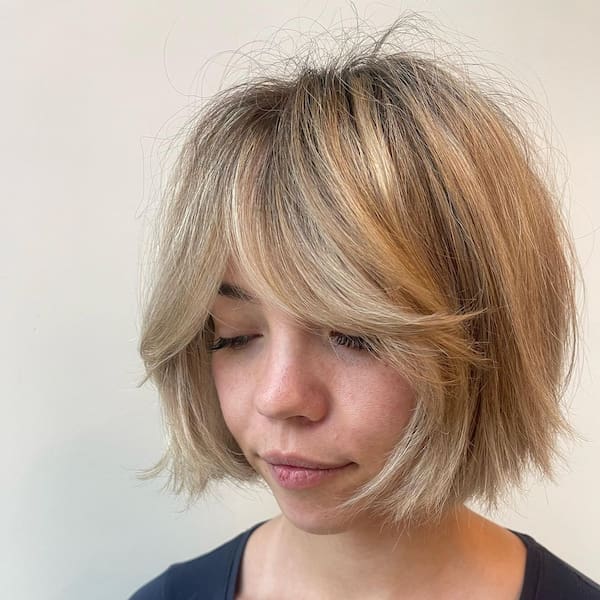 This French bob looks quite intense, and with those curtain bangs, it's the very definition of adorable. While it could use a centre parting, the volume and bangs make it look so amazing that it becomes unnecessary.
20. Caramel Bob Haircut with Curtain Bangs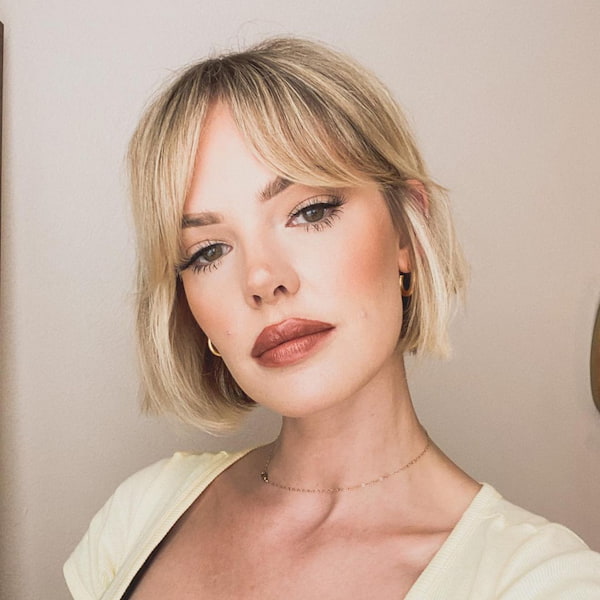 If you don't have enough volume to pull off that French bob, this caramel bob starts to look very endearing. It's not the most adorable thing in the world, but I wouldn't mind wearing this style every day for an entire year.
21. Short Bob with Curtain Bangs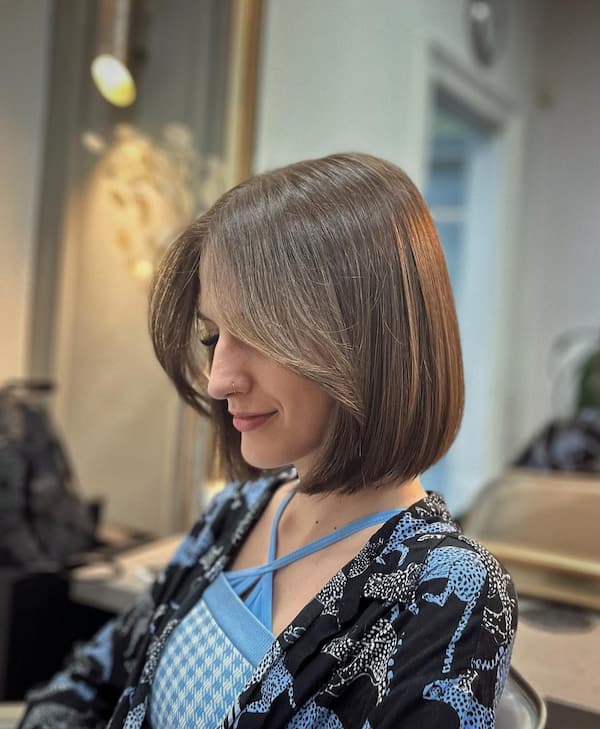 This is not the shortest bob I've seen today, but it's certainly one of the most adorable. The straight and sleek design coupled with the curtain bangs makes it look so adorable I'm actually considering getting it.
22. Short Caramel Bob with Curtain Bangs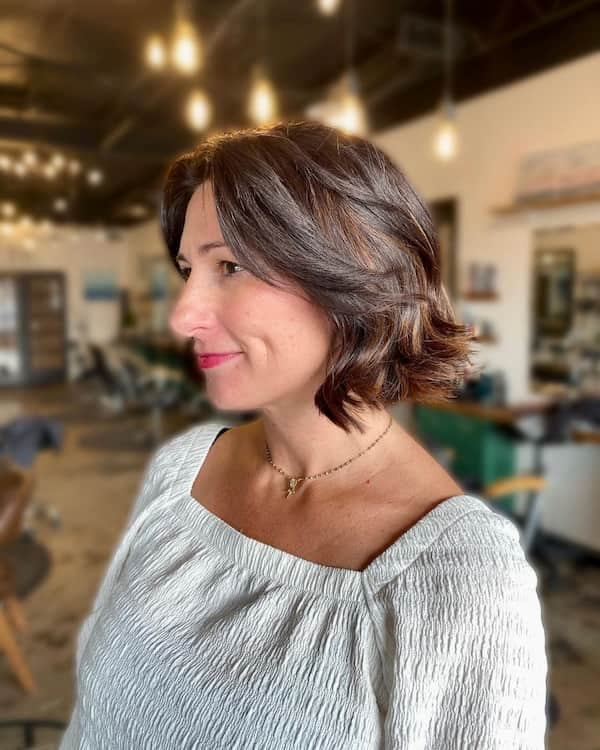 Here's another short bob idea, but this one's a bit more elaborate than the preceding idea. It's not exactly prettier, but it's more complex, and choosing between the two is a difficult decision.
23. Bob Haircut with Layers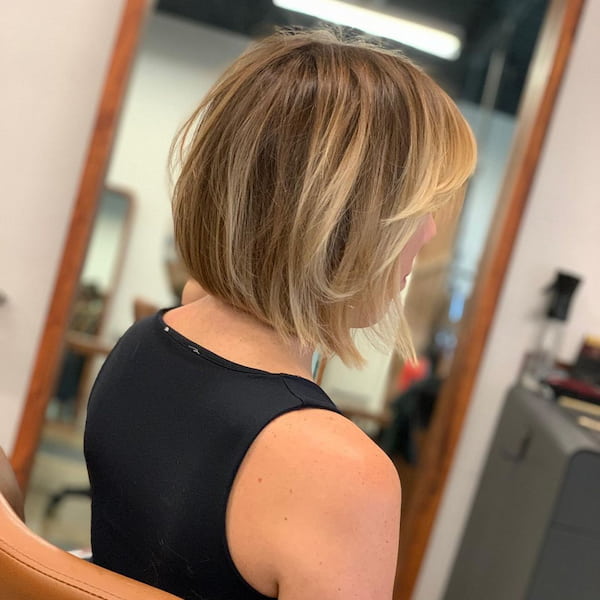 I'm not sure what I like better in this hairstyle: the subtle integration between the blonde and brown colours or the layered look with flawless curtain bangs. If I'm recreating it, however, I'll ensure I get both.
24. Cropped Bob Haircut with Curtain Bangs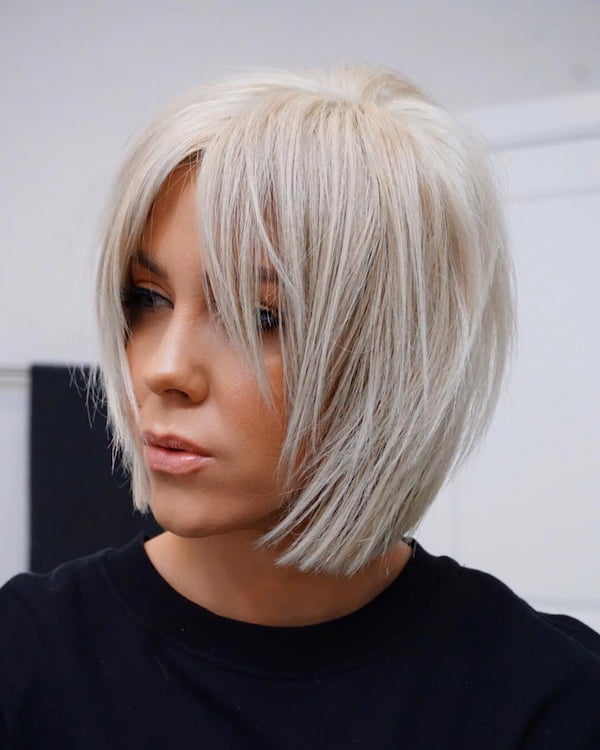 If you're not into black, brown, or even blonde, this white cropped bob may be for you. Despite the absence of a symmetrical parting, the cropped look ensures it's just as adorable as most styles in this collection.
25. Long Layered Bob with Curtain Bangs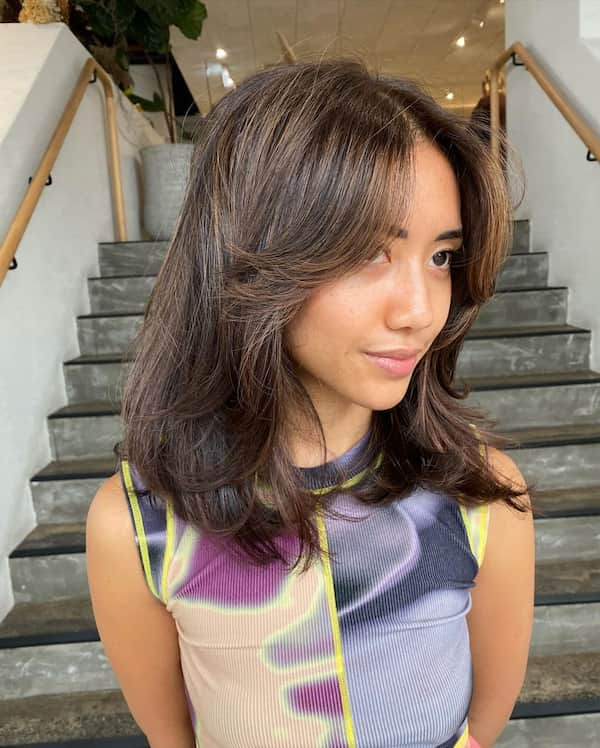 Lobs are just as good as bobs, sometimes even better, like in the idea here. The extra length makes for an easy way to incorporate layers, and the curtain bangs complete the allure.
26. Short Bob with Bangs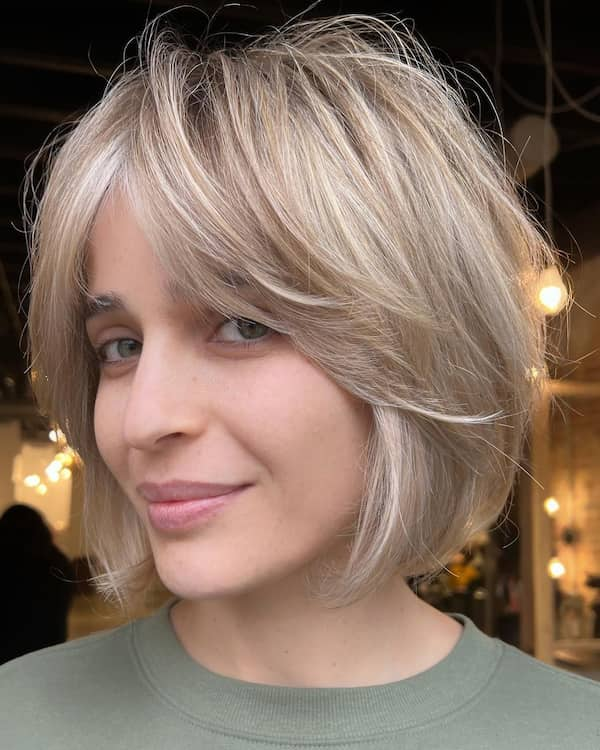 Long bobs make for an alluring hairstyle, but they're not required for it. This short bob proves that point; despite being deficient in length, the layers and bangs make it nearly perfect.
27. Flirty French Bob with Curtain Bangs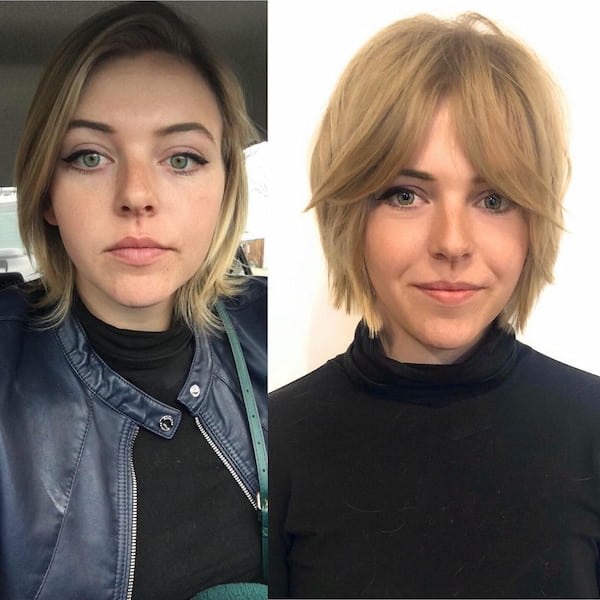 If you're not into something with the shaggy look of the preceding idea, this flirty French bob is a sleeker option. It's not blonde, but if you have nothing against brown hair, you can't manage to hate this style.
28. Shorter and Shaper Bob Haircut with Curtain Bangs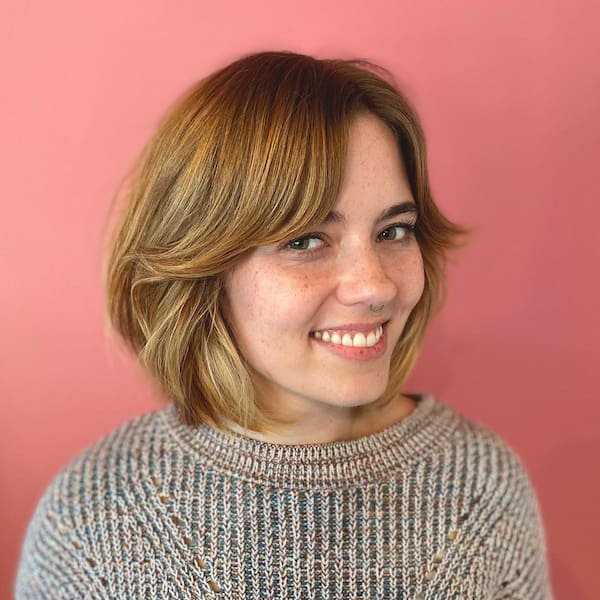 Here's another pretty brunette short bob idea with curtain bangs, and what can I say? It only keeps getting better. There's no way you're wearing such a perfect bob with such a bright smile without looking perfect.
29. Grey Bob Haircut with Curtain Bangs for Older Women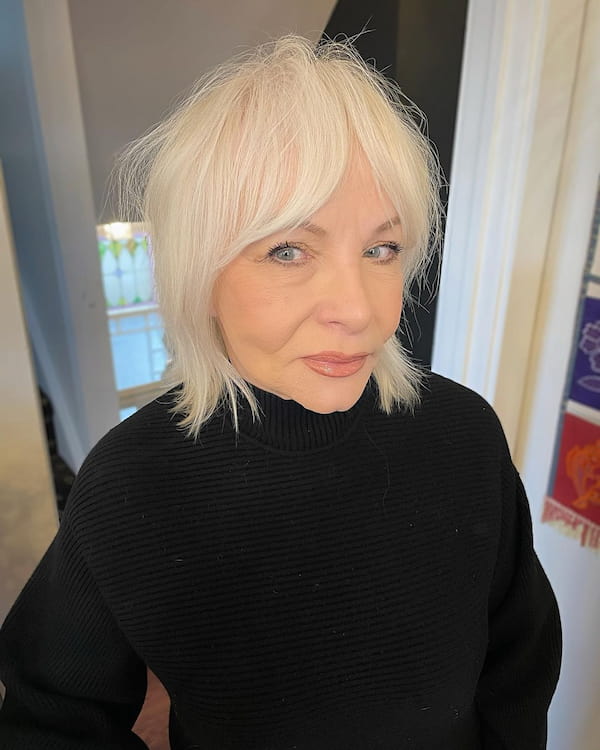 Making a grey hairstyle this pretty isn't easy, but that isn't even the highlight of this hairstyle. That nicely done curtain bang with almost no flaws, for me, is the highlight.
30. Bob Haircut with Long Curtain BangsCute Short Bob with Curtain Bangs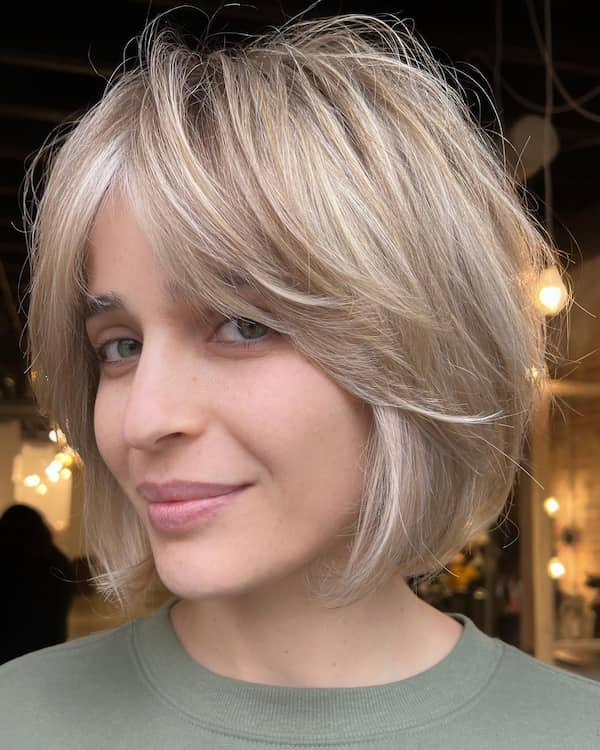 This is how I'd imagine a crossover between a bob and a lob looks, and it's not half bad. Pair it with the extraordinarily long curtain bangs and you have an irresistible bob with curtain bangs.
31. Blonde French Bob Haircut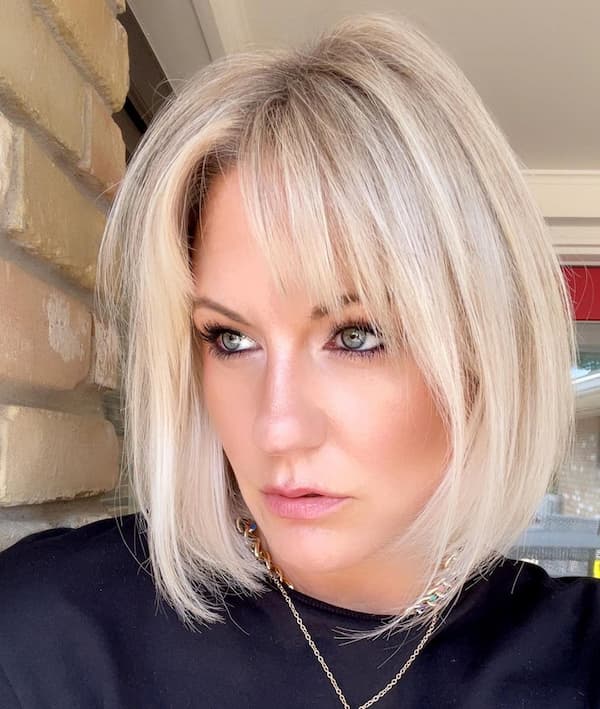 Blonde ladies after a casual hairstyle may want to evaluate the merits of this hairstyle. The curtain bangs aren't as long, but they're proof that the length isn't very necessary for the allure.
32. Smooth Blonde Bob Haircut with Curtain Bangs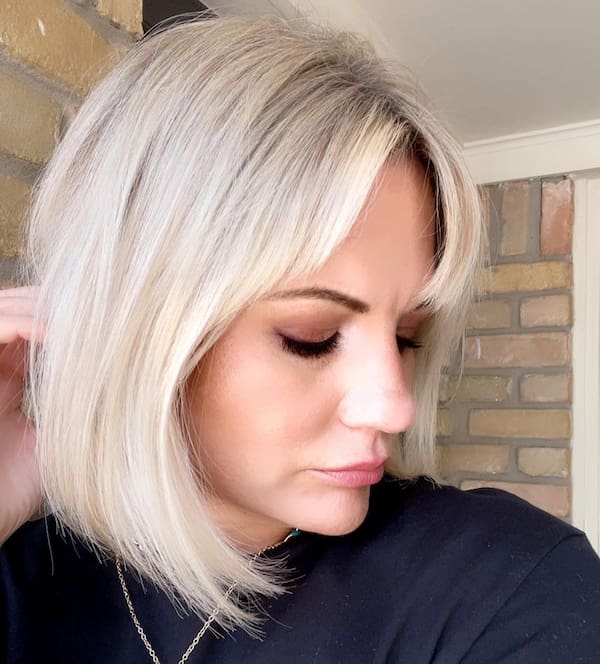 This style is similar to the preceding one, just a bit smoother and well-rounded. The curtain bang is more of the same and the colour is basically a replica; so if you loved the preceding style, you should adore this too.
33. Chin-Length Bob with Curtain Bangs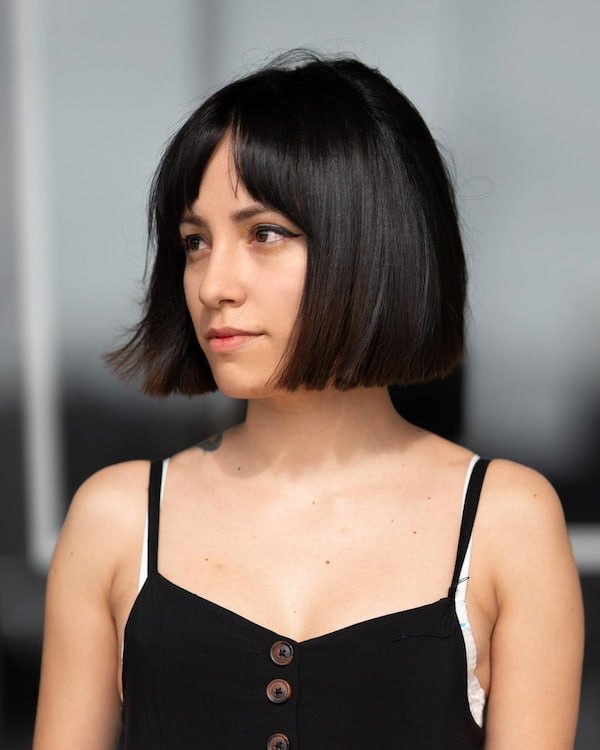 We've seen many short bobs but one that stops at the model's chin-length bob is pretty novel. The nearly full curtain bang is something else I love about the style, and its perfect integration with the chin crop makes its inclusion in this list a no-brainer.
34. Cute Short Bob with Curtain Bangs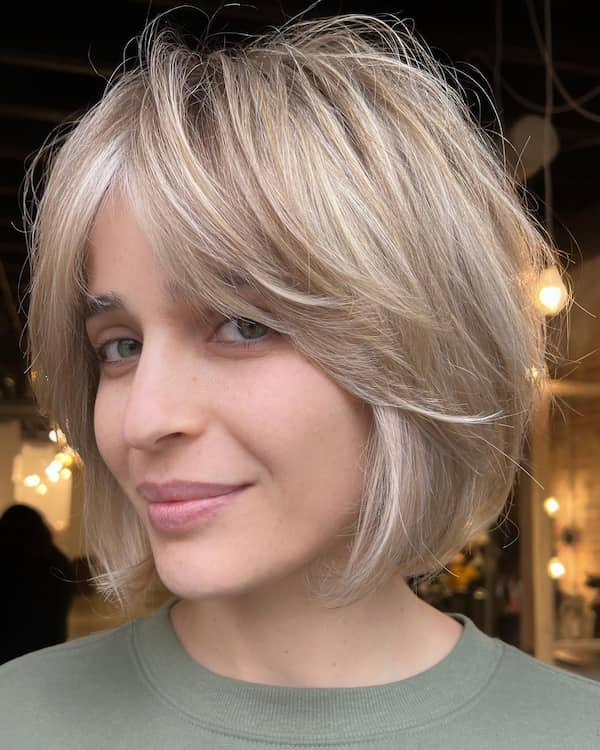 If you want a shaggy look to your short bob, look no further, as here's all you're after. The curtain bangs work seamlessly with the layered look, and the model's smile puts everything together.
35. Edgy Bob Haircut with Bangs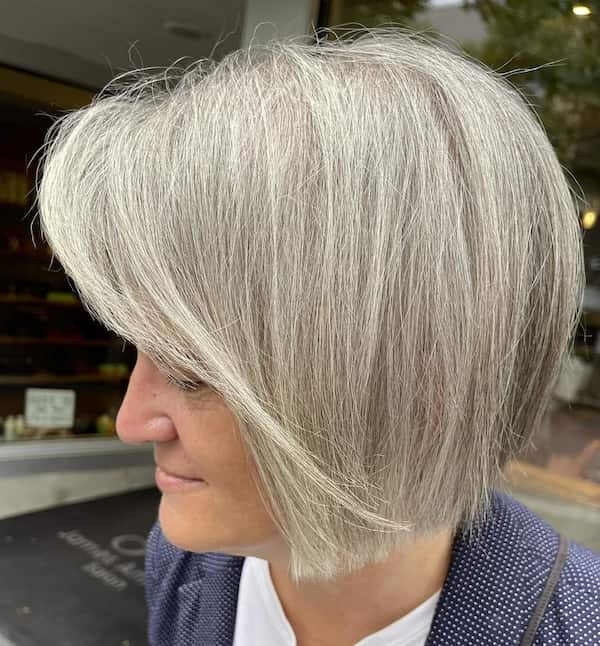 Getting an amazing hairstyle stops being difficult when you stop constraining yourself to specific colours. This model embraces her grey with an alluring edgy bob, and it's nothing short of amazing.
36. Classic Bob with Bangs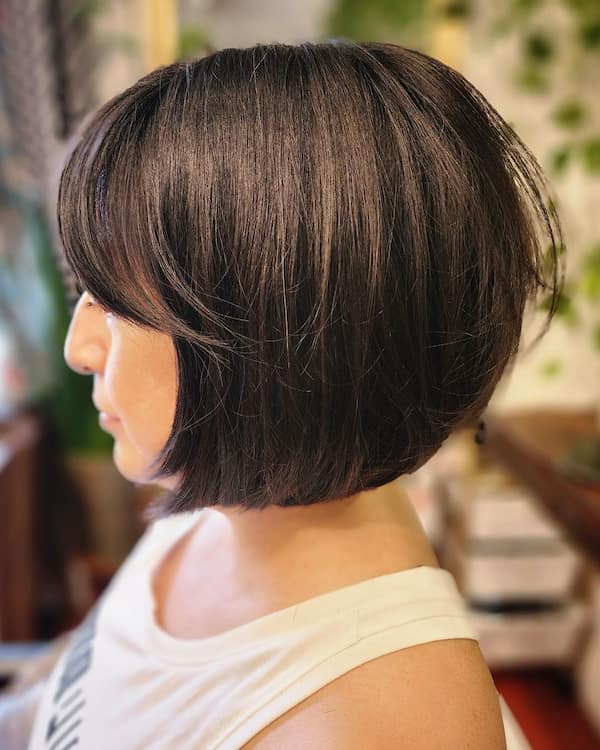 The classic bob is a thick, smooth bob style that stops right under your chin, and that's what we have here; except that you get curtain bangs in this package that makes it two times better.
37. Cute Bob with Bangs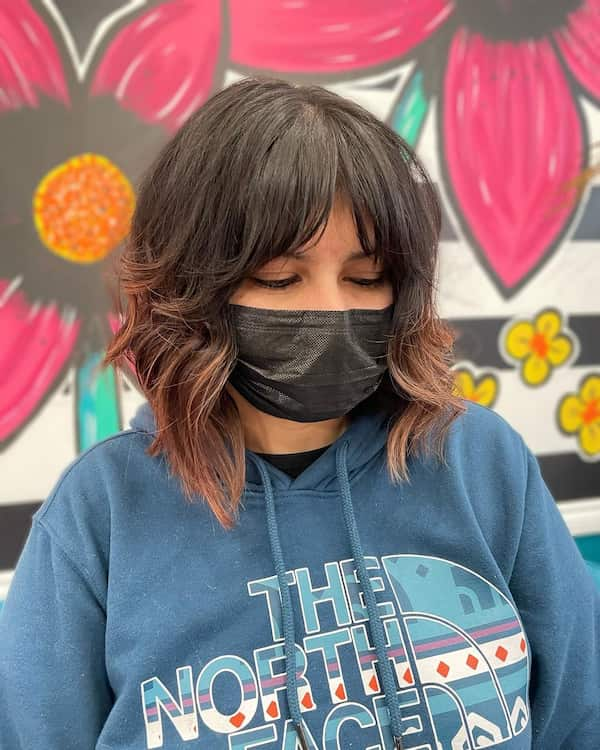 If you're more into progressive than classic hairstyling, this cute bob with curly ends is a hit. I love the brown highlights at the curly ends, and the nearly full curtain bangs isn't something I can pass on.
38. Face Framing Bob Haircut with Bangs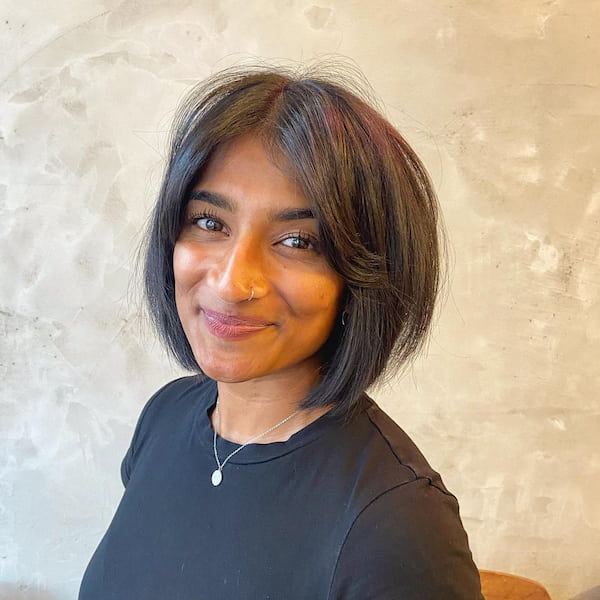 I'm certainly not the only person in love with face-framing hairstyle and nice little curtain bangs to match. Throw in that centre parting and her wonderful smile, and you have my hairstyle of the decade.
39. Shaggy Bob with Bangs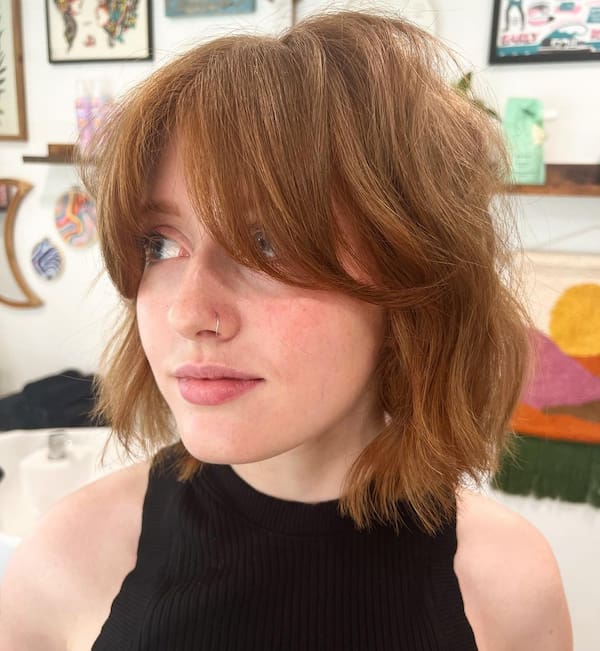 Fans of shaggy bobs would find this style very endearing, especially if they're already into brown hairstyles. It's not the most complex shaggy bob to make, but I'm confident it's one of the prettiest.
40. Chic Bob with Curtain Bangs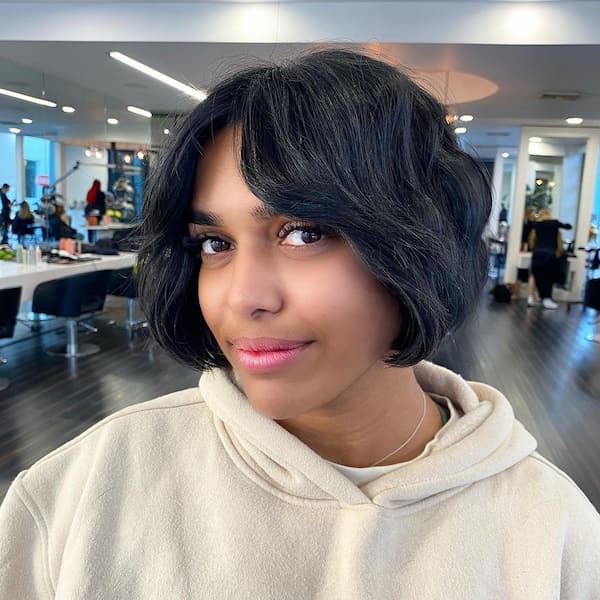 Brown is beautiful, but so is black, and this chic bob basically proves it. I'm surprised how better the waviness makes it look, but the curtain bangs easily make it a game-changer.
41. Curtain Bob with Bangs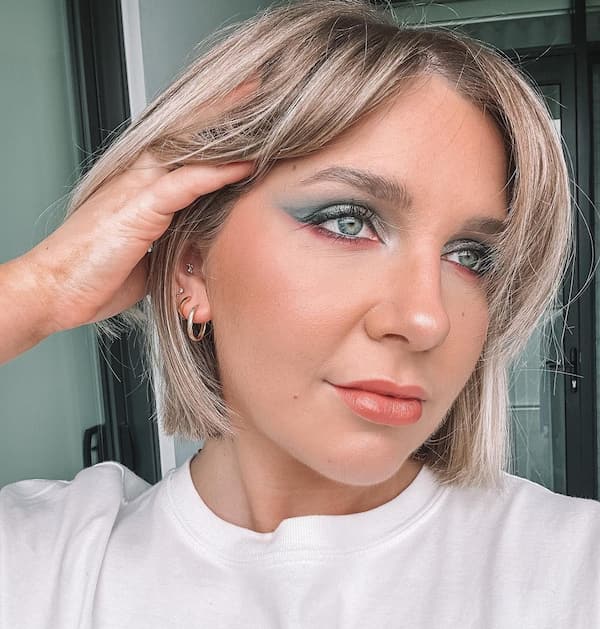 We've seen many elaborate styles so far, but this isn't one of them. This style is what's best described as a casual look that works everywhere; and I love the tiny bangs too, by the way.
42. Choppy Bob with Bangs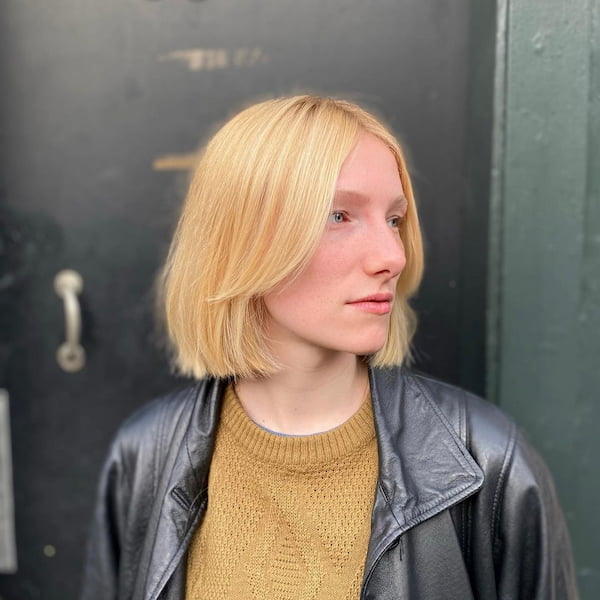 This 'strawberry blonde' choppy bob looks more like a yellow to me, and I think I'm not alone. If you're into flashy hair colours, the choppy lob is an excellent one to consider, and you generally want to throw in those extra-long bangs for flair.
43. Bright Blond Blonde with Bangs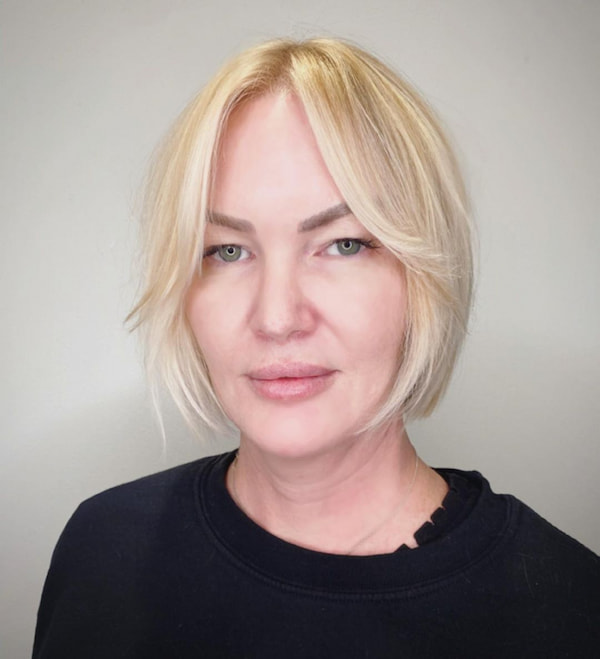 Now here's a bright blonde idea for ladies after the conventional colour, and I'll confess: I'm a fan. It's neither the most voluminous nor the longest style in this collection, but the bangs and the symmetry make it naturally alluring.
44. Blunt Bob with Curtain Bangs
Sometimes, you just want something clean without any unnecessary layers or shagginess, and this is exactly it. The clean, almost perfectly-done curtain bangs match the overall template of the hairstyle, making it one of the best lobs I've seen.
45. Classic Straight with Curtain Bangs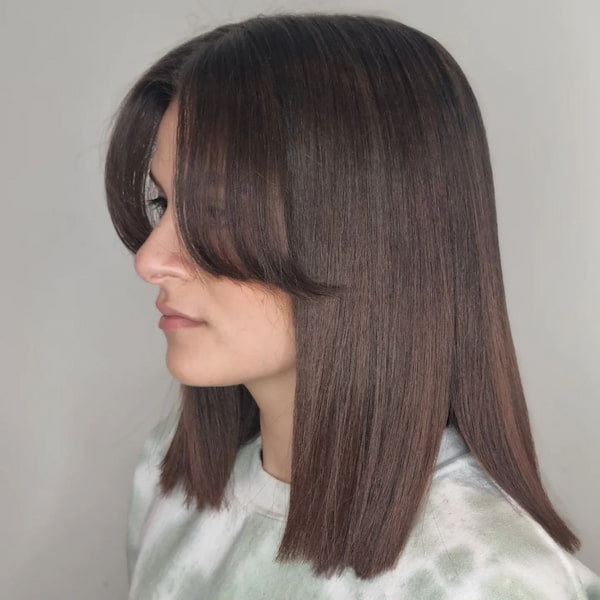 Here's basically the same hairstyle as the preceding one, but this time in brown, and with more pronounced bangs. I still can't get over the smoothness; maybe one day, I can get something this perfect.
46. Undone French Bob with Curtain Bangs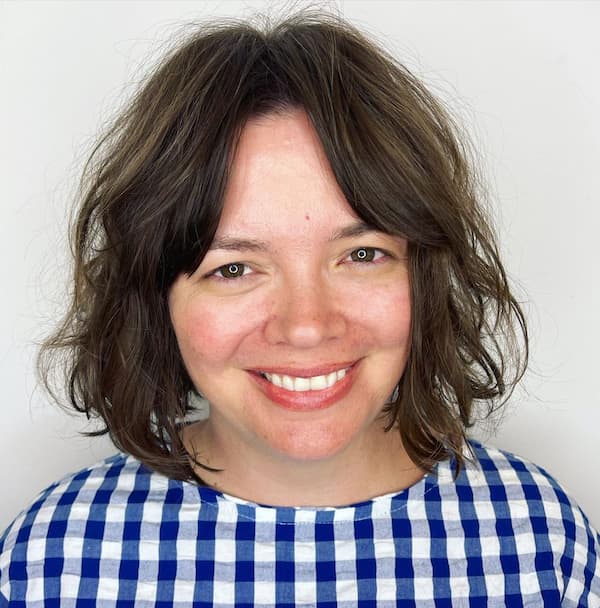 The wavy look of this French bob might be what you're into, and I certainly understand where you're coming from. I'd prefer for it to have a more pronounced, symmetrical parting, but what we get isn't half bad.
47. Long Bob with Curtain Bangs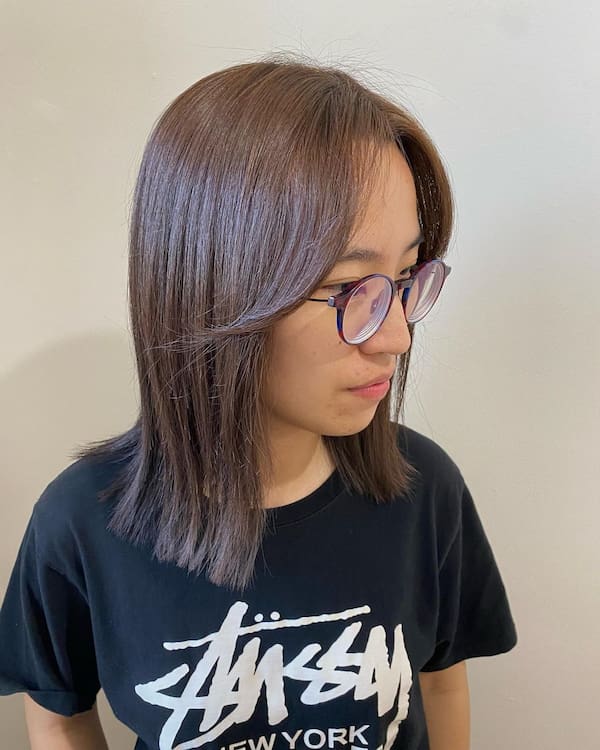 Here's another one of those sleek bob ideas, but this time with a lob. I'm a fan of the crop at the end for a uniform look, and I just don't see how you can make the curtain bangs better; easy 10/10 style for me.
48. Effortless Bob with Bangs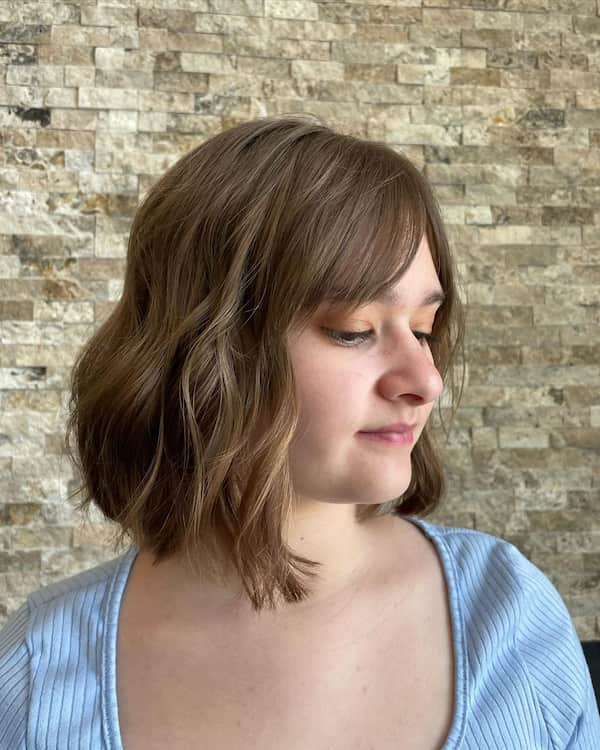 Making a basic bob without too many bells and whistles and having it look insanely adorable is a privilege, and it seems like this model got it. However, don't expect your copy effort to be as effortless, but I wish you well.
49. Double-Toned Bob with Curtain Bangs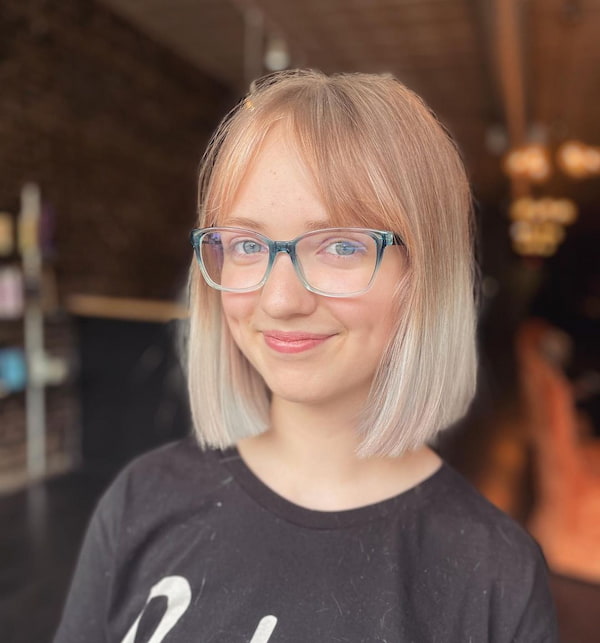 Blonde is good, but trying out a slew of colours at once is even better. This double-toned brown and blonde bob is a bit unconventional, but it looks so good that it's my new favourite.
50. Chic Short Bob with Curtain Bangs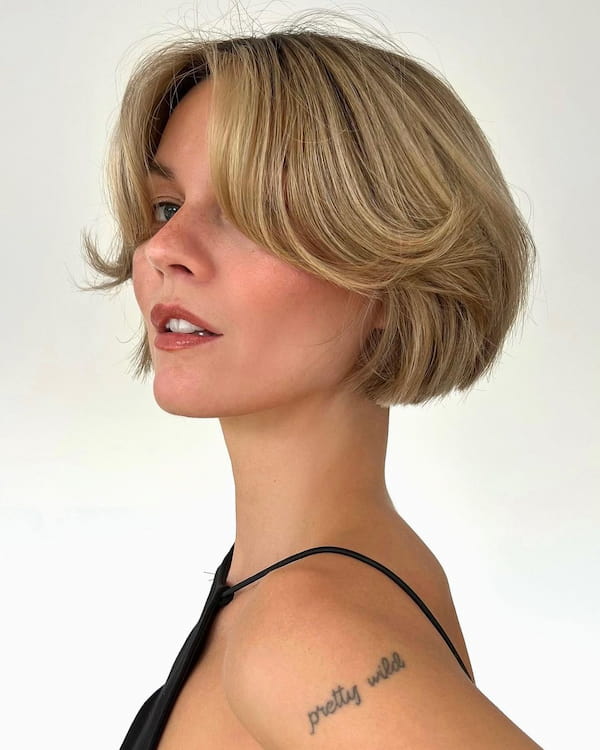 Conclusion
Bobs are classy hairstyles that should always look adorable, but they don't look pretty by default. This compilation shows you how to make them irresistible by simply adding curtain bangs correctly.
If you loved these hairstyles, you should also love our other bob compilations below.
Pin for Later.