Layered hairstyles all but beg for curtain bangs, as it makes it so much better that it's a bad idea to not get it. If you're getting curtain bangs with layered hair, however, you want to ensure you're doing it the correct way.
This compilation will list the top 50 ways to wear curtain bangs with layers, showing you adorable pictures of models rocking the hairstyle as we progress.
50 Classy Curtain Bangs with Layers
Here are the 50 classiest curtain bangs with layers for all ladies.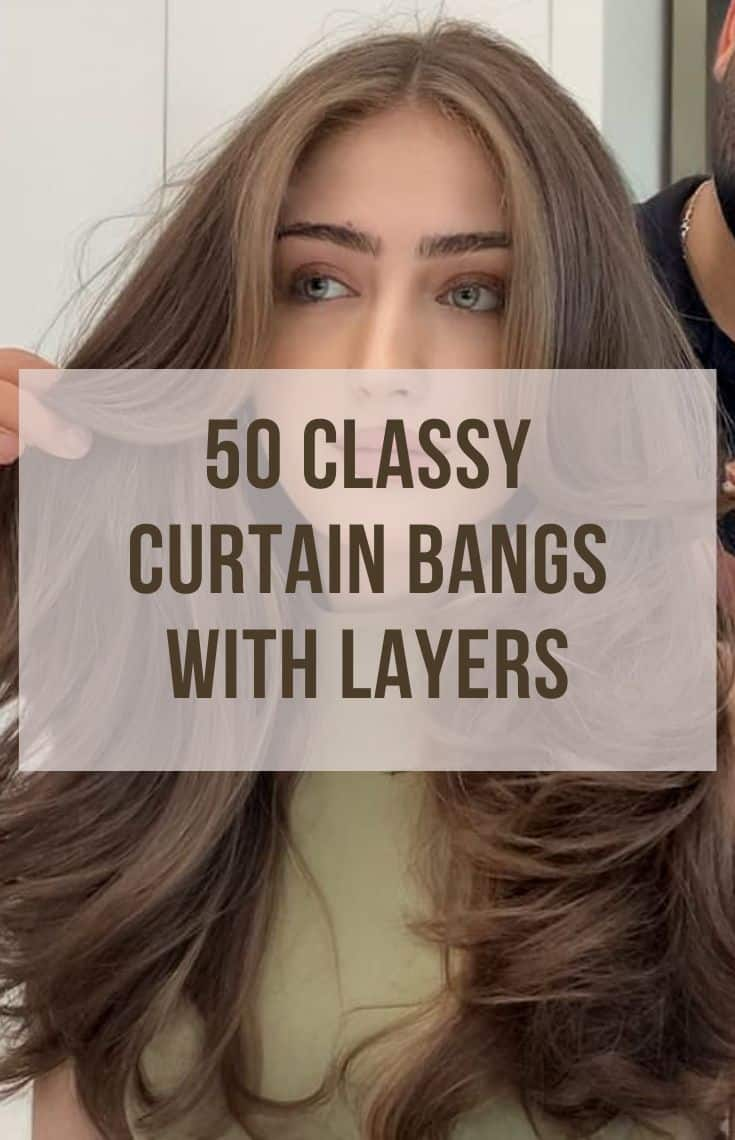 1. Soft Layered Long Hair with Curtain Bangs
There's no better way to start this list than with this soft layered long hairstyle with curtain bangs. Thanks to its balanced and average look, it's an excellent candidate for the face of the list.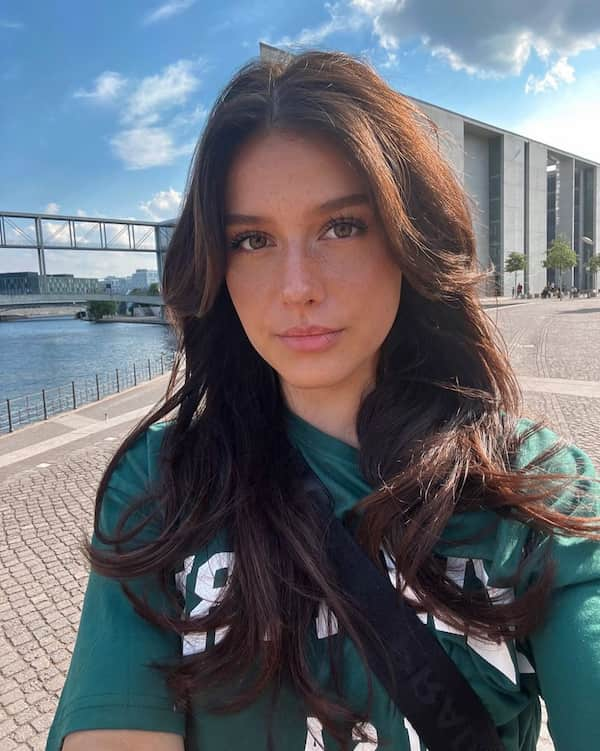 2. Shaggy Haircut with Curtain Bangs
Nothing goes more naturally with curtain bangs than a shag haircut, and this model spares to expense to drive that point home. Despite the style's relative casualness, it still manages an admirable look.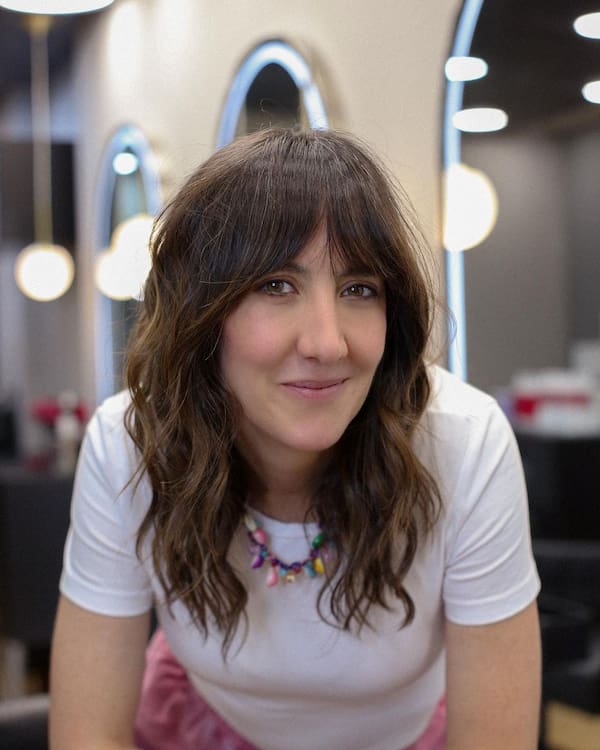 3. Shaggy Bob with Curtain Bangs
When talking shag haircuts and curtain bangs, shaggy bobs aren't excluded from the party. Thanks to the symmetrical parting and the more balanced look, I'll choose this style over the preceding one any day.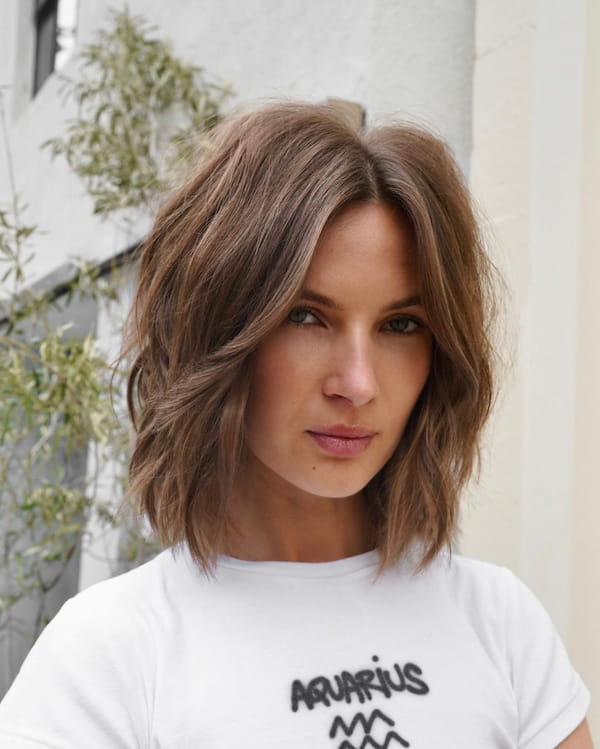 4. Blonde Layered Summer Hair with Curtain Bangs
How about we throw caution to the wind and get an extreme curtain bang? Curtain bangs don't get any bigger than this, and the blonde hair's innate beauty works with it to create a giant style of allure.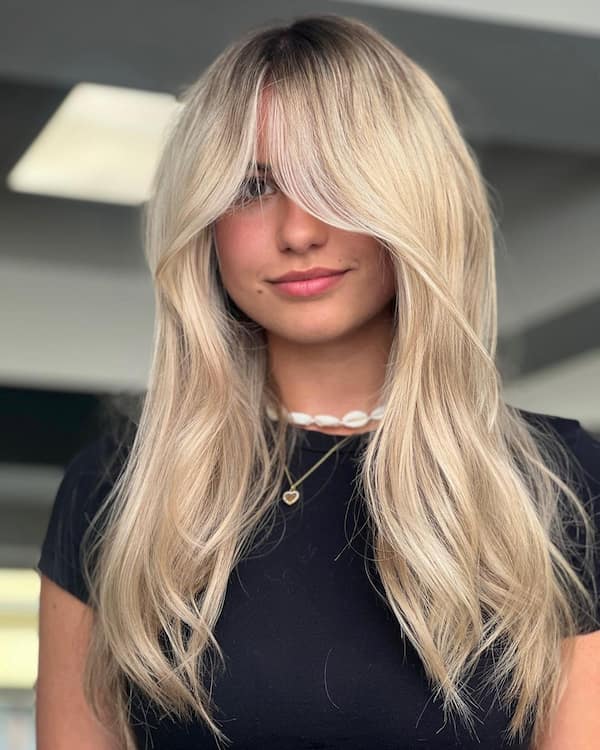 5. Copper and Blonde Short Hair with Curtain Bangs
If you have nothing against coloured hairstyles, this copper and blonde style should tick all the boxes for you. While colour mixes tend to look unnatural and out of place, this one's an example of a combo well done.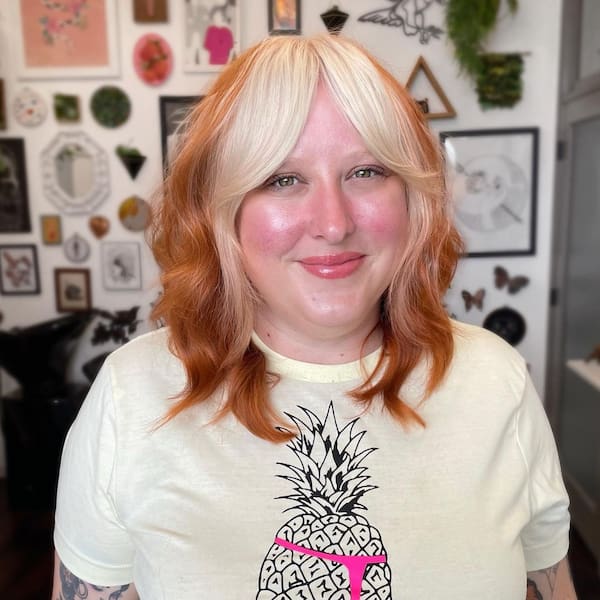 6. Caramel Highlights Short Bob with Curtain Bangs
You can never go wrong with a bob and curtain bangs, but since they say seeing is believing here's a caramel short bob that drives the point home beautifully.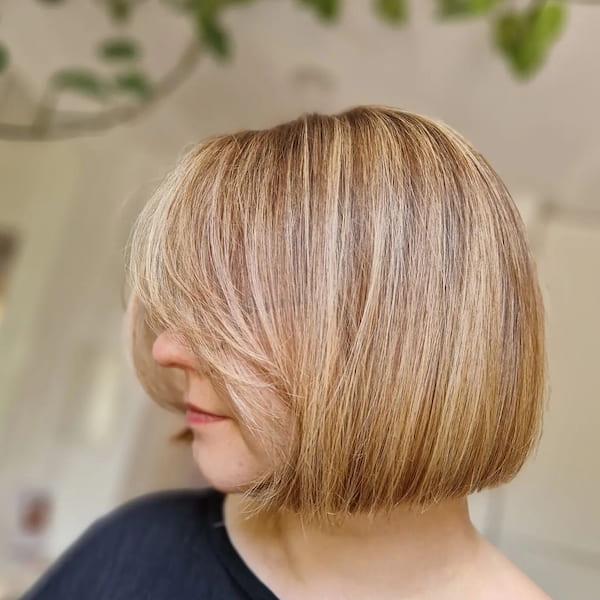 @looks.by.ronja
7. Double-Coloured Shoulder Length Hair with Curtain Bangs
Yellow isn't the most natural hair colour, but when it's in a style this adorable, who cares? This double-coloured shoulder-length shag haircut is another excellent idea for the coloured hair fanatic.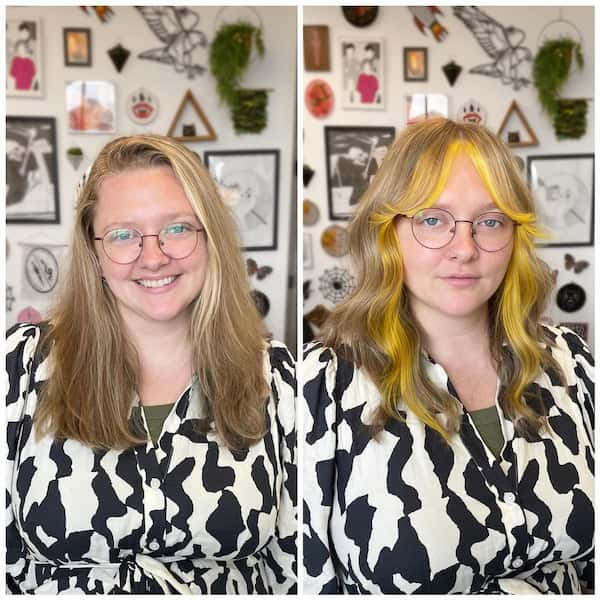 8. Butterfly Cut with Curtain Bangs
If you're looking to get a butterfly cut, you might as well accompany it with curtain bangs for extra flair. As you can see above, the result will be nothing short of alluring.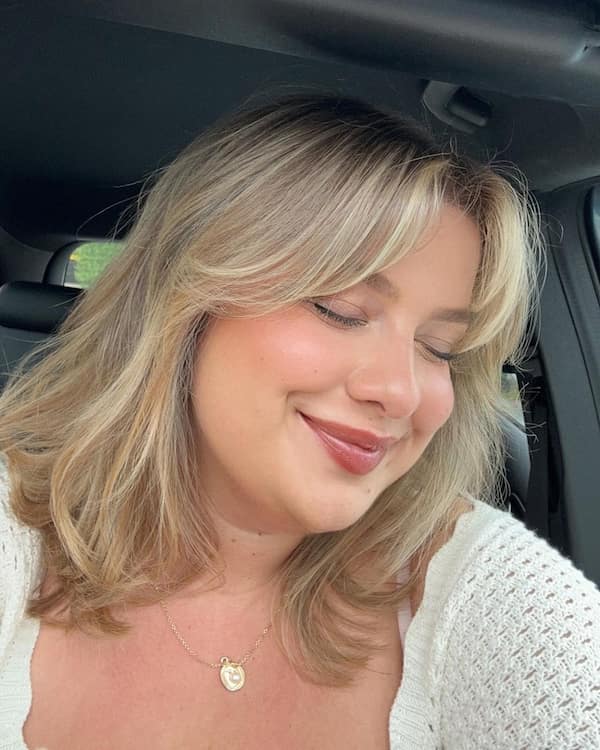 9. High Contrast Multi Color Hair with Curtain Bangs
If the colours you've been seeing since earlier don't appeal to you, this high-contrast multi-coloured style should work. It's not the easiest to make, but if you have the resources and time, I say go for it!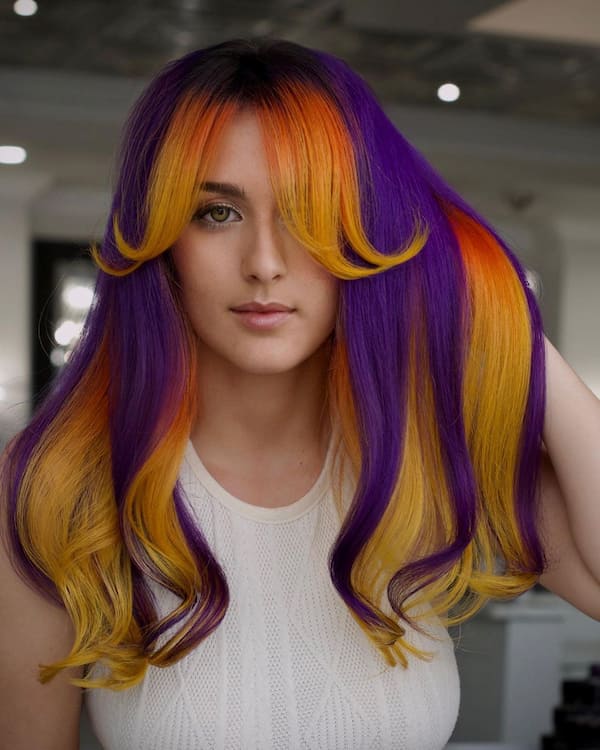 10. Voluminous Long Wavy Hair with Curtain Bangs
With volume, all things are possible. However, the volume isn't the only thing of note here: the symmetrical parting, the adorable curtain bangs, and the model's perfect makeup all contribute to the style's allure.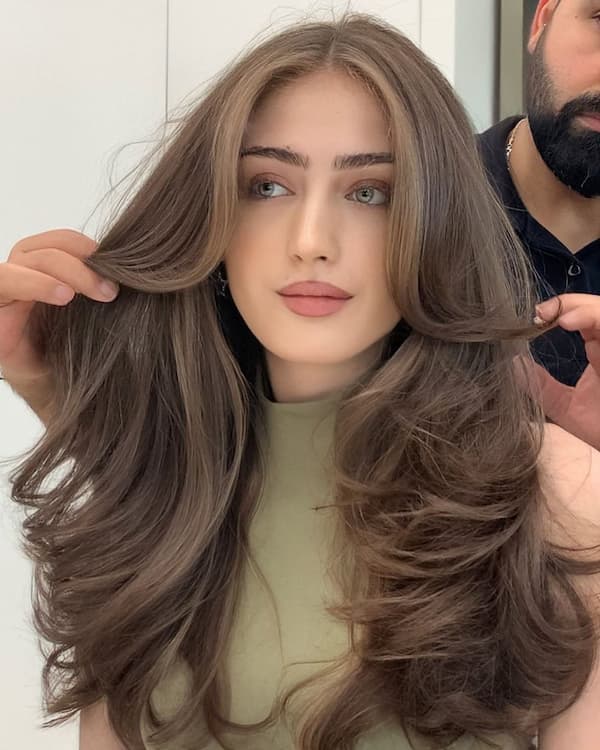 11. Dimensional Copper Hair with Curtain Bangs
The right colour can make your hairstyle pop, and we're not talking about black or blonde here: those are boring. Rather, try this dimensional copper style with the unique bangs and see how it pops.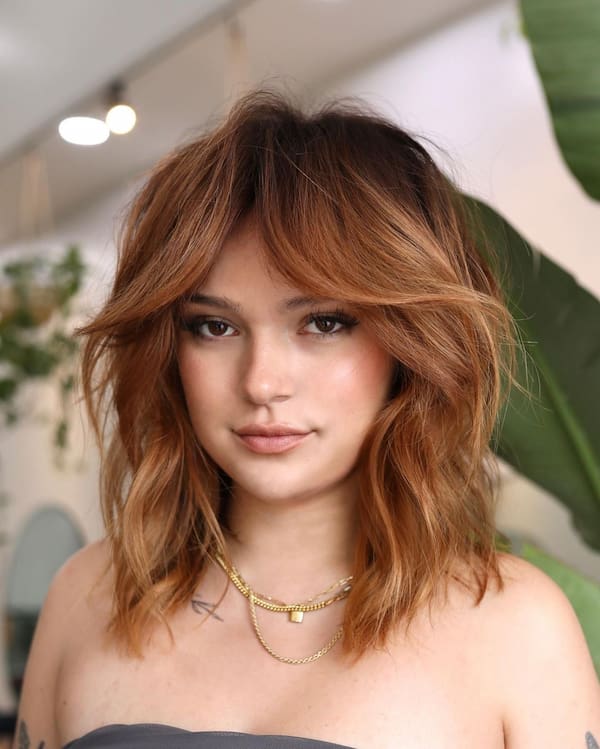 12. Textured Layered Shag
We've pretty much demonstrated earlier that shag haircuts look perfect with curtain bangs, but I think you should see it with layered shags with texture. As you can see for yourself, it's a new beauty level you shouldn't miss out on.
13. Curvy Long Hair with Curtain Bangs
A slight curvature can create an effect that goes well with curtain bangs. It's hard to put into words, but you can see for yourself the model in the image above.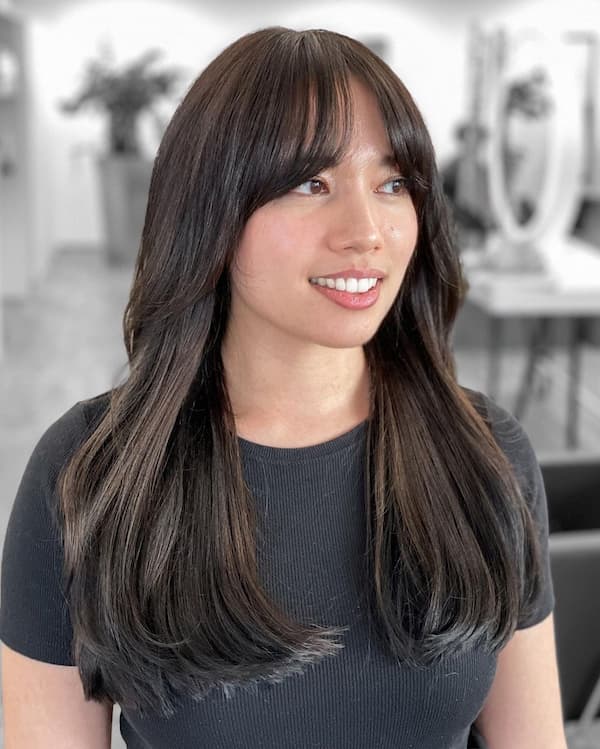 14. Blonde Scanty Hair Cut with Curtain
The blonde colour in this relatively scanty haircut makes it pop, and the length seems to look just right. If I had blonde hair and wanted curtain bangs, this is what I'd get.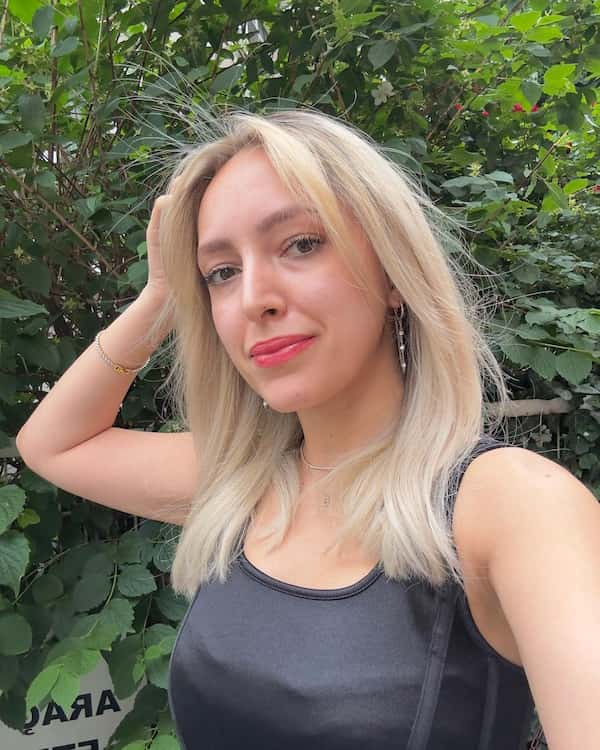 15. Textured Brunette Hair with Curtain Bangs
If a perfect hairstyle with curtain bangs existed, this would be it. The balance and symmetry are hard to put into words, and it couldn't have gone on a better model. It's impossible to replicate this style in its full glory, but you can try it.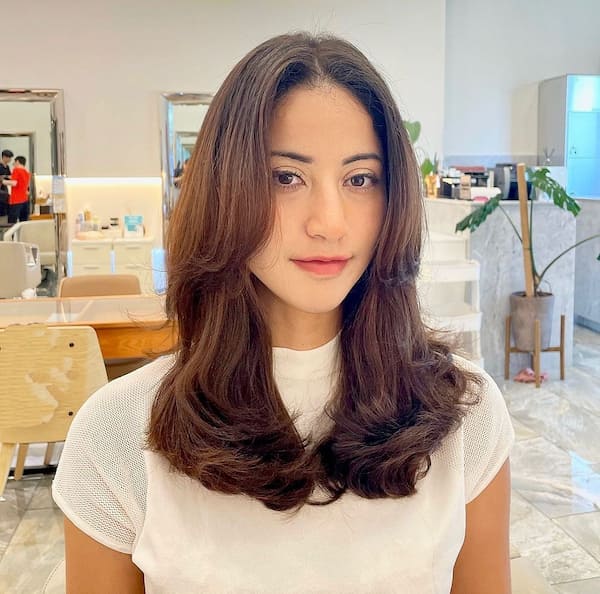 16. Reverse Balayage Blonde Shag
A blonde reverse balayage shag with black highlights is all this model needed to make the perfect background for curtain bangs. When they added the bangs to it, the style can't help but look perfect.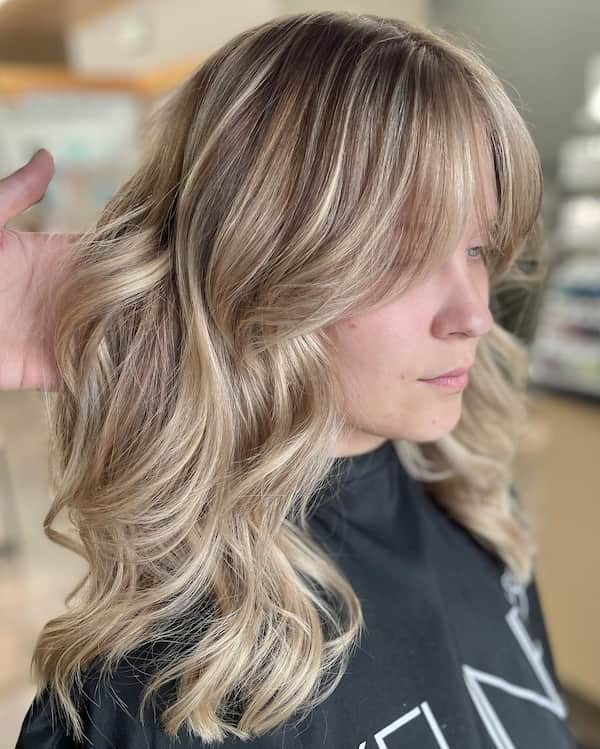 17. Barbie Layered Hair with Curtain Bangs
https://www.instagram.com/p/7Cuk4XoGLMBz/?igshid=NTc4MTIwNjQ2YQ==
We've seen many ideas for layered hair with curtain bangs, but that combination looks so good that we're going to see even more. Here's one alluring idea from that template that can inspire your next hairstyle.
18. Curtain Bangs with Chopped Straight Hair
If you wear straight hair like most modern women, you'd be doing yourself a great disservice by not adorning it with curtain bangs. Just take a look at how much more adorable this chopped straight hair looks, just for the bangs.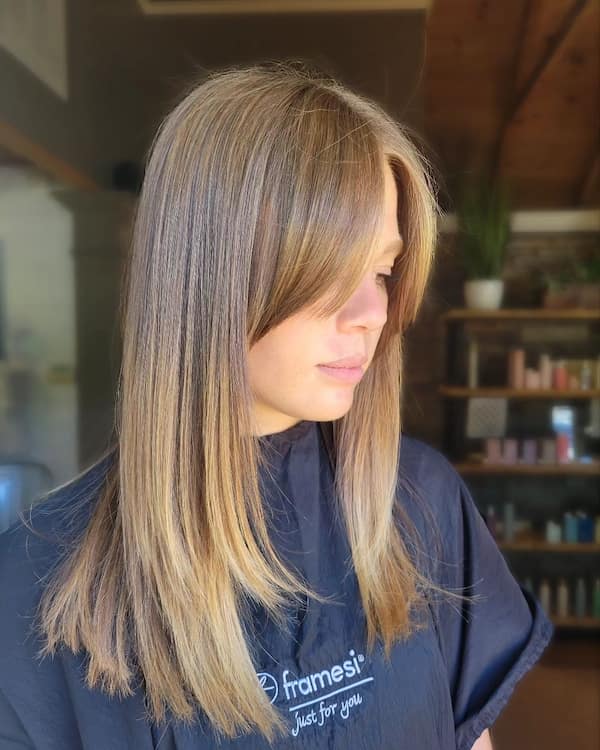 19. Long Layered Wolf Cut
If you're blessed with blonde, long hair, here's one of the most adorable ideas for you. While it's not the most glamorous entry on this list, it's good enough for work and casual events.
20. Blonde Bouncy Hair with Curtain Bangs
Bounciness is a controversial hair feature, but it becomes much less controversial with curtain bangs. Not that the bangs make it any less bouncy, but it turns that very trait into something admirable as the model illustrates.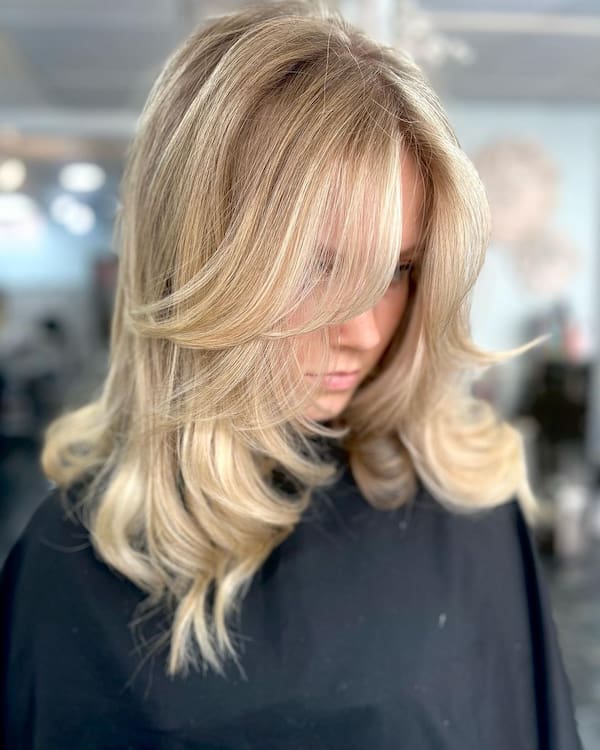 21. Classic Black Layered Straight Hair with Curtain Bangs
Black hair and curtain bangs isn't a common combination, but this hairstyle idea shows it can be an alluring one. As long as you're wearing the hair in layers, adding curtain bangs should.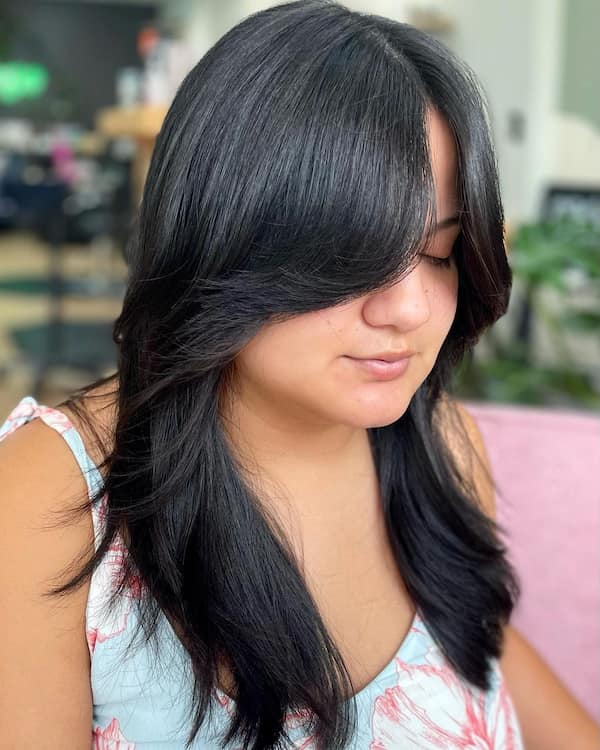 22. Gold Short Bob with Curtain Bangs
Colour can singlehandedly make your hairstyle better or worse, and in this case, the model used that to her advantage. With the gold-coloured short bob and curtain bangs, we can all agree this hairstyle is outstanding.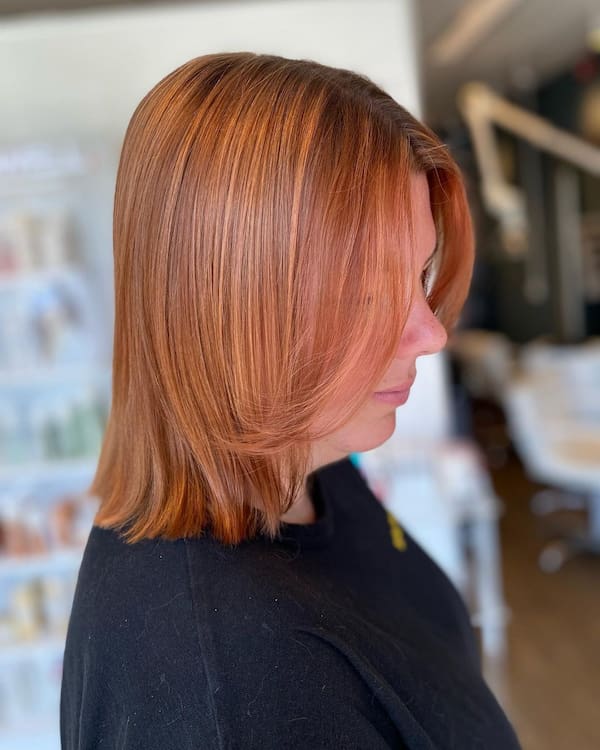 23. Brown Long Layered Haircut with Curtain Bangs
Not everyone can get their hair this long, but if you could, you should try this hairstyle. With the gigantic curtain bangs beautifully adorning the lengthy layered cut, it was always going to look amazing.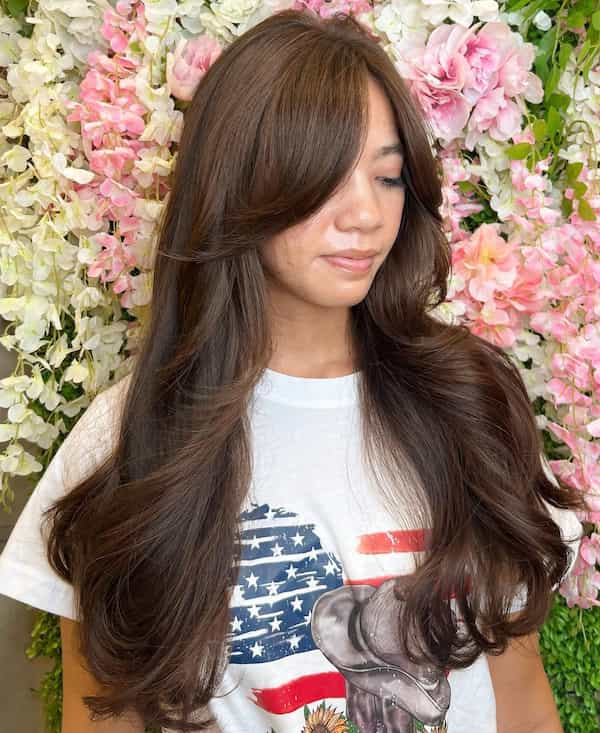 24. Light Short Layered Hair with Curtain Bangs
Curtain bangs aren't exclusive to blondes and brunettes; you can rock the hairstyle with black hair too! If you're wondering how, this short layered hairstyle should answer your question satisfactorily.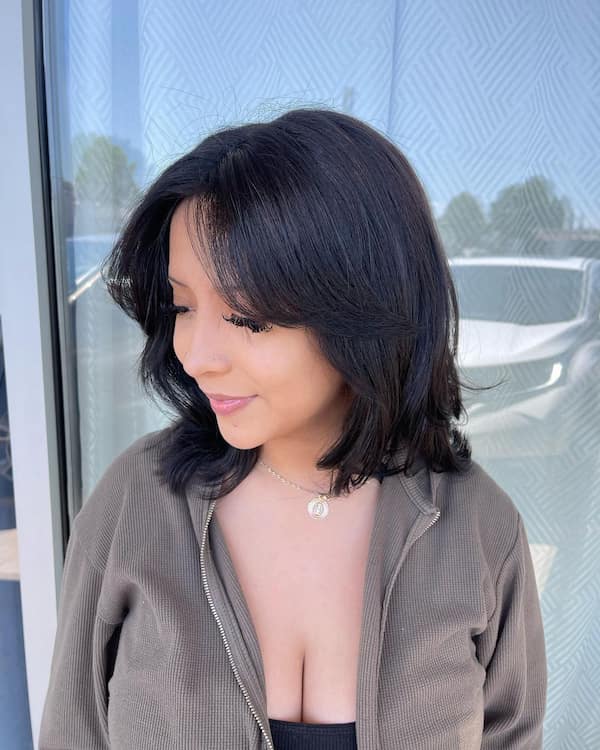 25. Shoulder Length Haircut with Curtain Bangs
Things rarely go wrong with straight and symmetrical hairstyles, as you can see from this hairstyle idea. Her symmetrical parting, more than the adorable curtain bangs, contributes to the style's impeccable allure.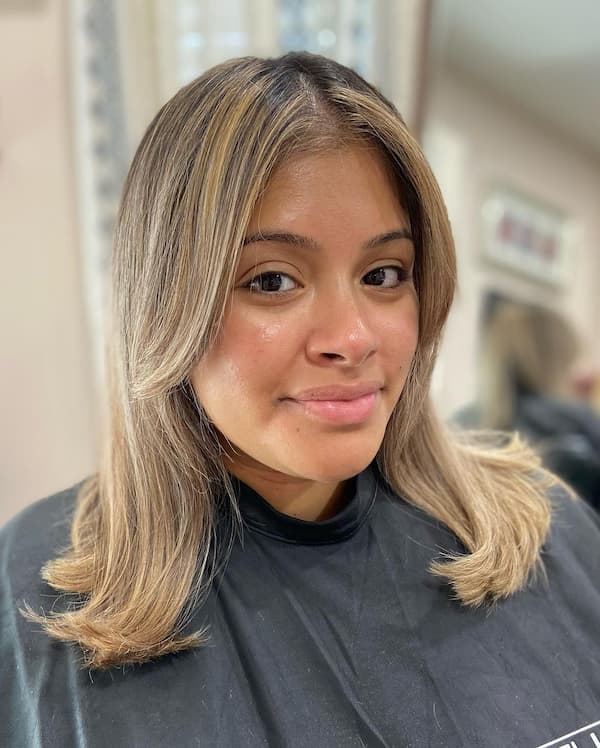 26. Mixed Tone Textured Hair with Curtain Bangs
Brown and blonde are two excellent hair colours for curtain bangs, but why do you have to choose? With this mixed-tone textured hairstyle, you can get the best of both worlds by combining both colours in the same style!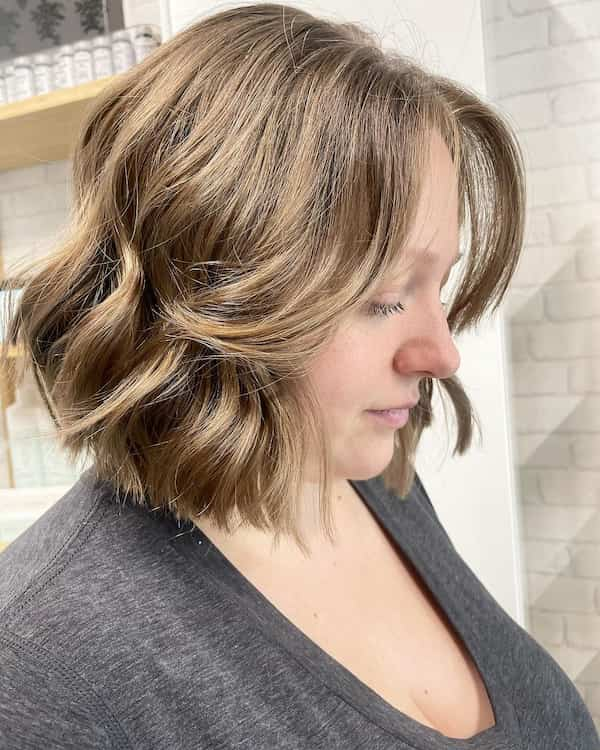 27. Highlights Balayage with Curtain Bangs
It's hard to agree on whether this hairstyle is blonde with black highlights or black with blonde highlights. What we can all agree on, however, is that it's stunning with the curtain bangs.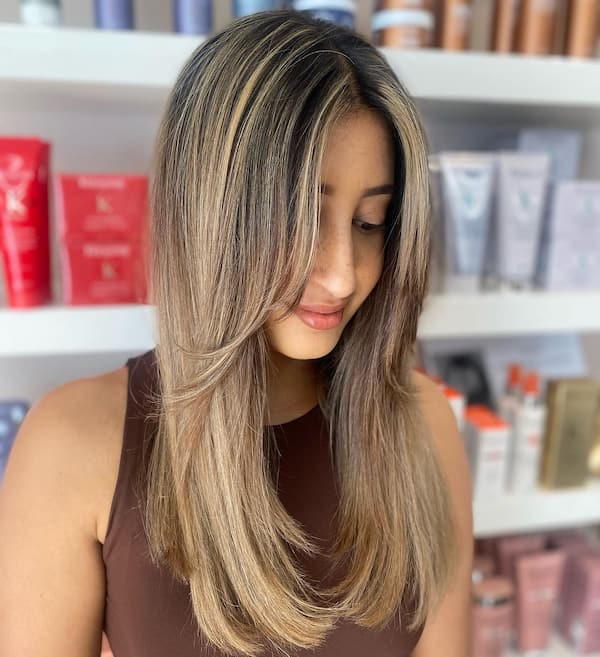 28. Blonde Wavy Haircut with Curtain Bangs
This wavy haircut's symmetrical look evokes a sense of beauty that's simply undeniable. The centre parting with black highlights is simply gorgeous, and the curtain bangs wrap up the glorious beauty. An easy 10/10 hairstyle.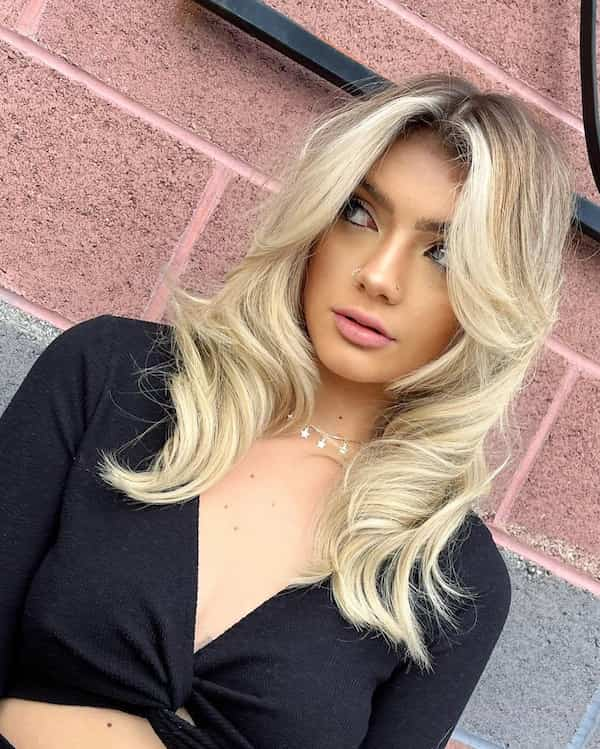 29. Butterfly Wavy Hair with Curtain Bangs
This balayage chopped haircut is the perfect host for curtain bangs and I don't need words to explain that. If I had blonde hair, I'd have tried this hairstyle.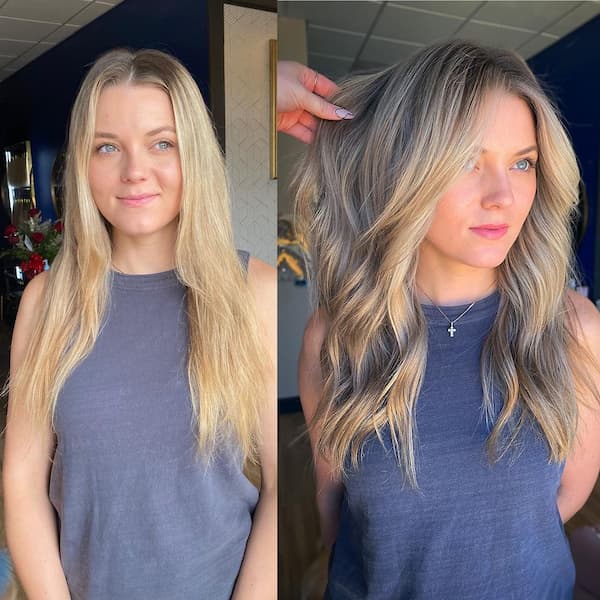 30. Summer Chopped Haircut with Curtain Bangs
The butterfly hairstyle is pretty decent, but decent quickly turns to charming when you adorn it with curtain bangs. You don't have to take my word for it: see the picture and decide for yourself.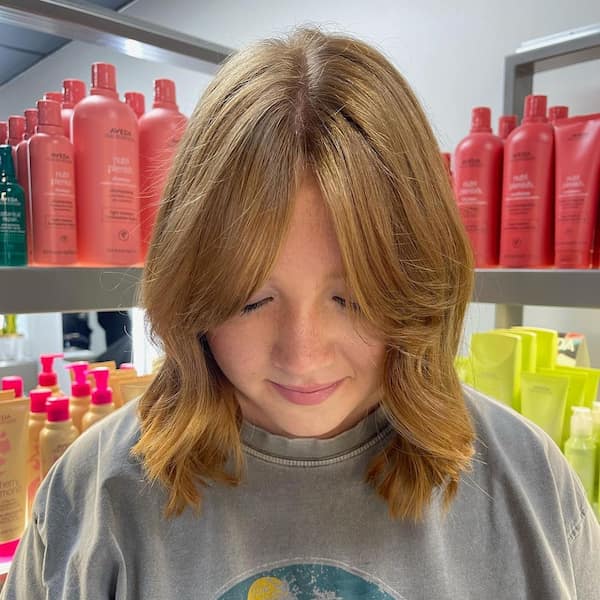 31. Light Baby Blonde with Curtain Bangs
I love hairstyles that look spotless, and this one appears to be one of them. There couldn't have been a better colour for it and the bangs couldn't have been any prettier. In short, it's a 10/10 hairstyle.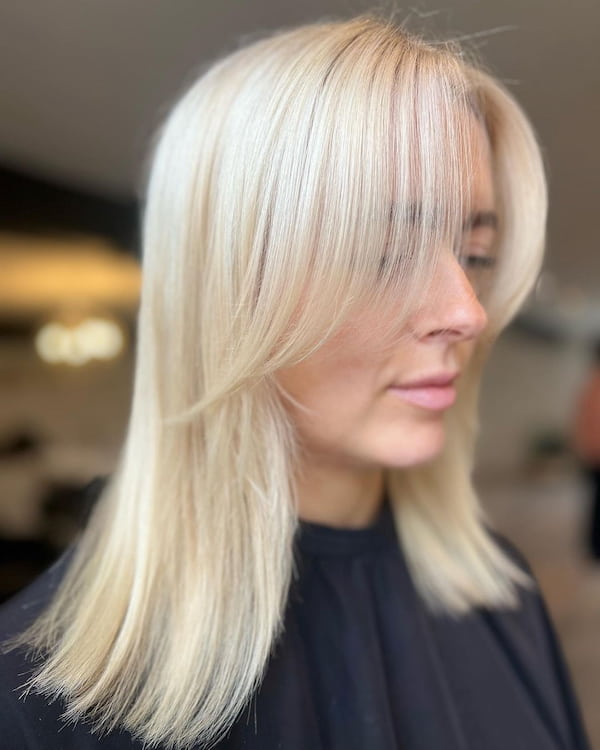 32. Long Layered Bob with Curtain Bangs
When it comes to hairstyles for curtain bangs, bobs never disappoint, especially when they're layered. Make it black with blonde highlights and you have one of the best hairstyles I've seen all year.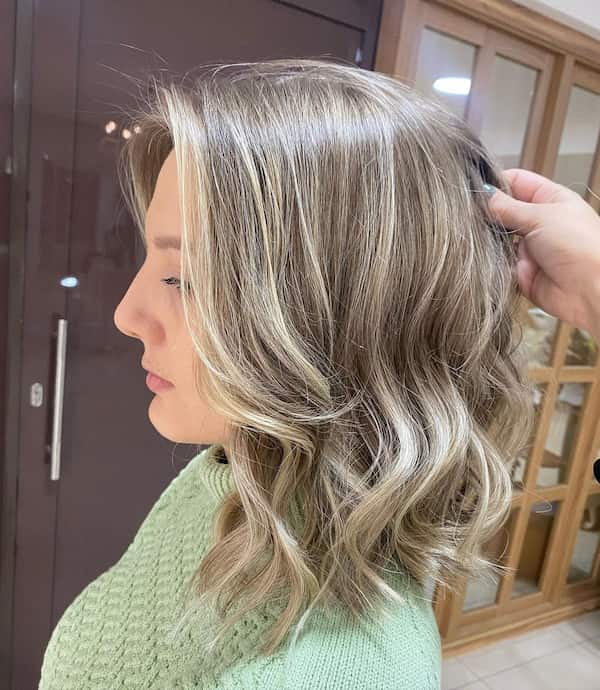 33. Split Colored Shag Haircut with Curtain Bangs
If you love more than one colour on your hair, this brown shag haircut with a second blonde colour is a no-brainer. It's not perfect, but I can't imagine anything with curtain bangs getting much better than this.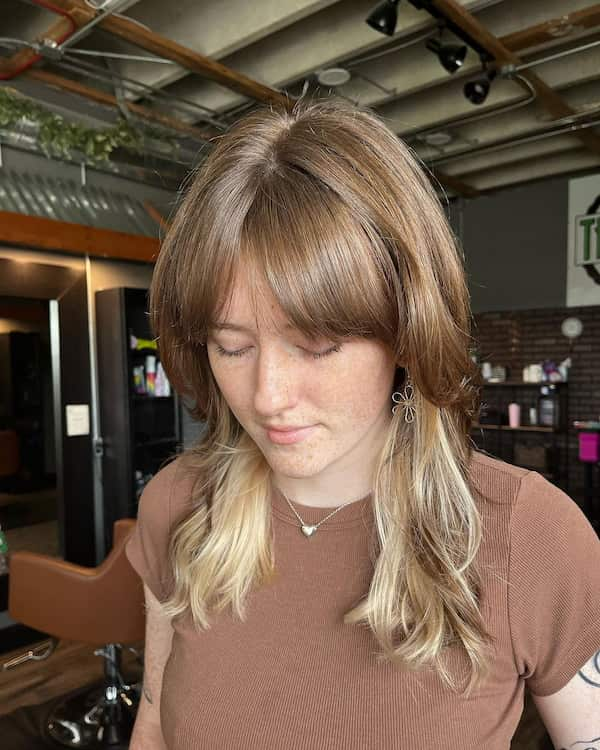 34. Chunky Weave with Ombre Ends
Nothing beats a weave with sufficient volume and curtain bangs to match, as you can see on the model. Add her ombre gradient effect and you have a style suitable for anything.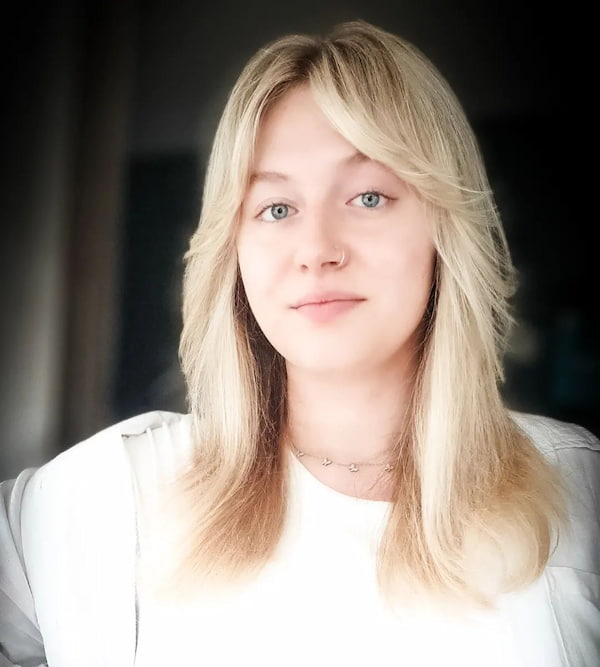 35. Milkshake Haircut with Curtain Bangs
This style's straightness gives it a uniquely sleek aesthetic, earning it a place on our list of the best-layered hairstyles with curtain bangs. The length is also a bonus; if you can get your hair that long, you can probably get onto this list!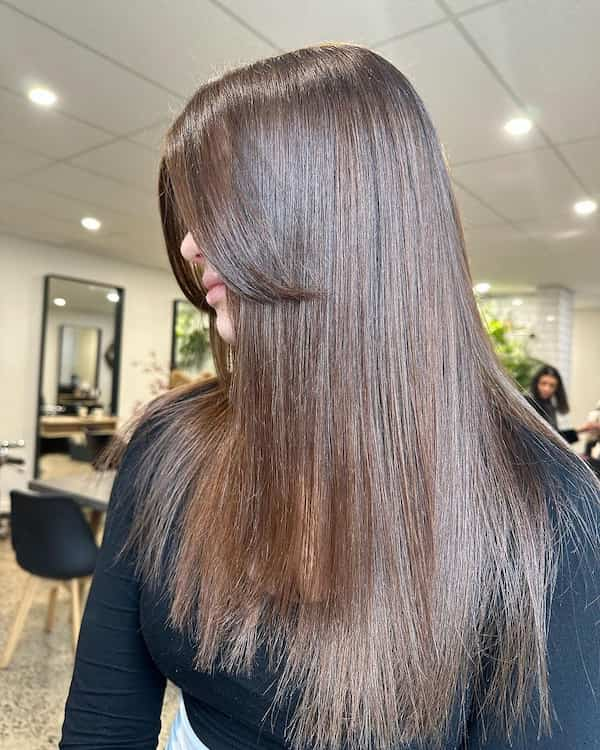 36. Beige Blonde Hair with Curtain Bangs
Colour gradients are pretty challenging to perfect, but when you do, you'll have a look that's difficult to match. Talking about 'difficult to match' hairstyles, this beige-blonde style is right up there on that list.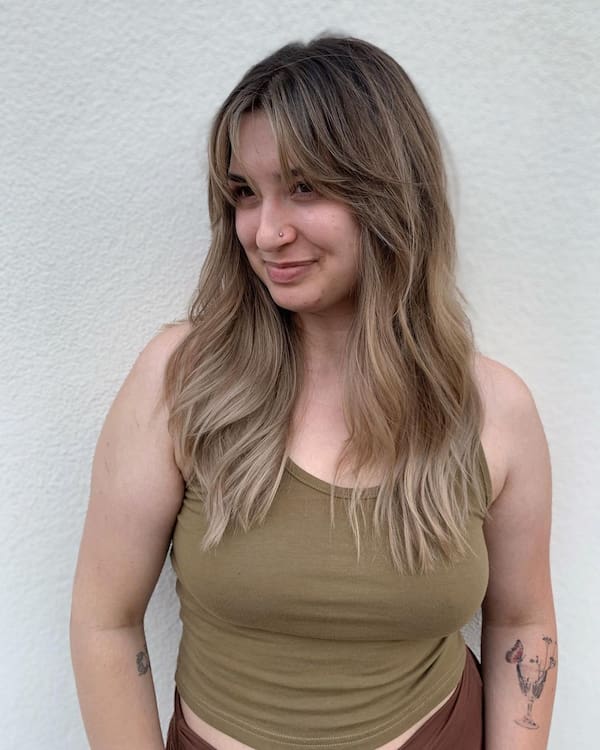 37. Sun Kissed Balayage with Curtain Bangs
I'm not sure if I liked the balayage style better or the hair's undeniably brown colour. Either way, getting this hairstyle with brunette hair can never go wrong, especially with those curtain bangs.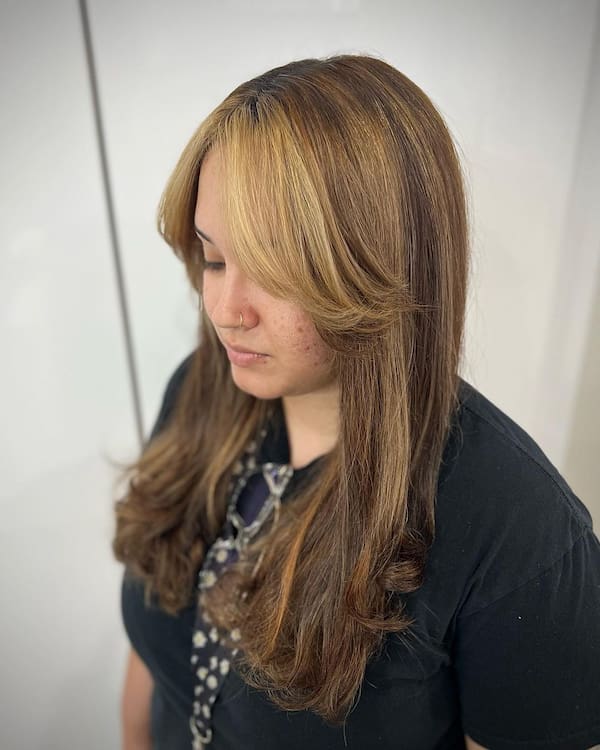 38. Short Blunt Hair with Curtain Bangs
Brown is pretty, but black is beautiful. While straight hair with a symmetrical parting and curtain bangs is already a recipe for allure, the impact of the hair colour is undeniable.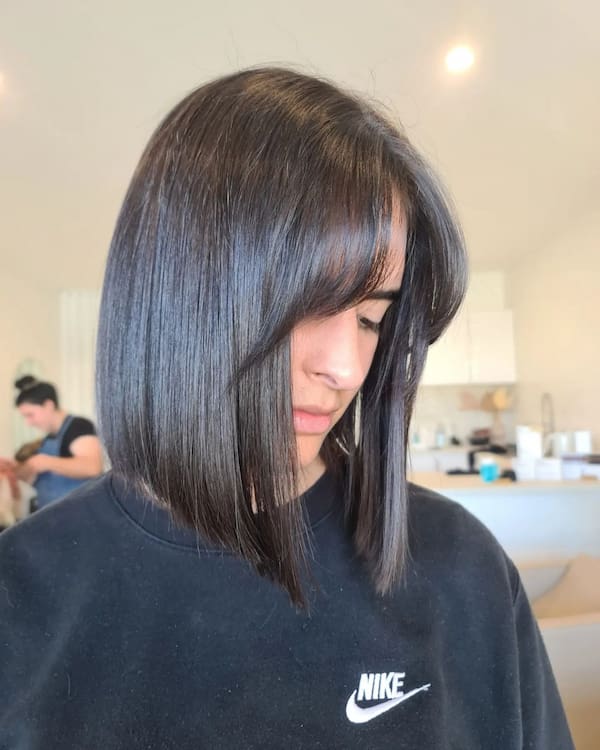 39. Medium Layered Haircut for Older Women
Old age shouldn't stop you from rocking your pretty curtain bangs with any hairstyle. If you're not sure how curtain bangs may look on older women, here's an older lady rocking it beautifully.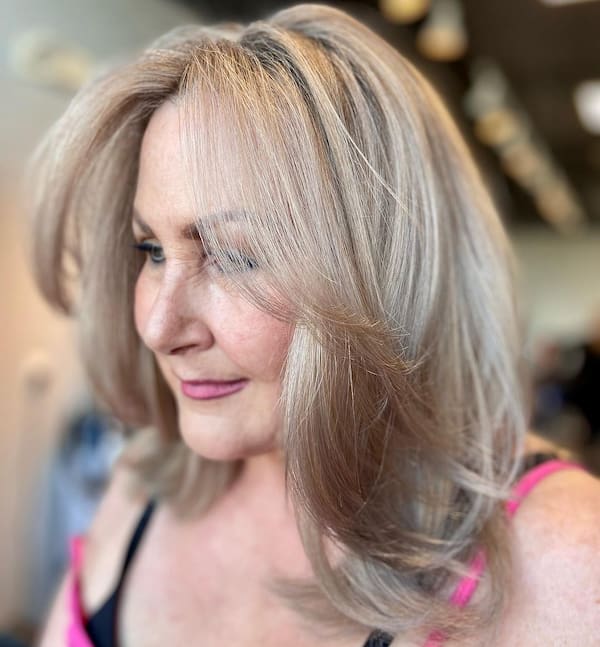 40. Classic Bob with Swept Curtain Bangs
We've seen a few bobs and they all have something in common: they're all pretty adorable. If you're a bob person, here's another classic bob idea with curtain bangs you wouldn't want to miss.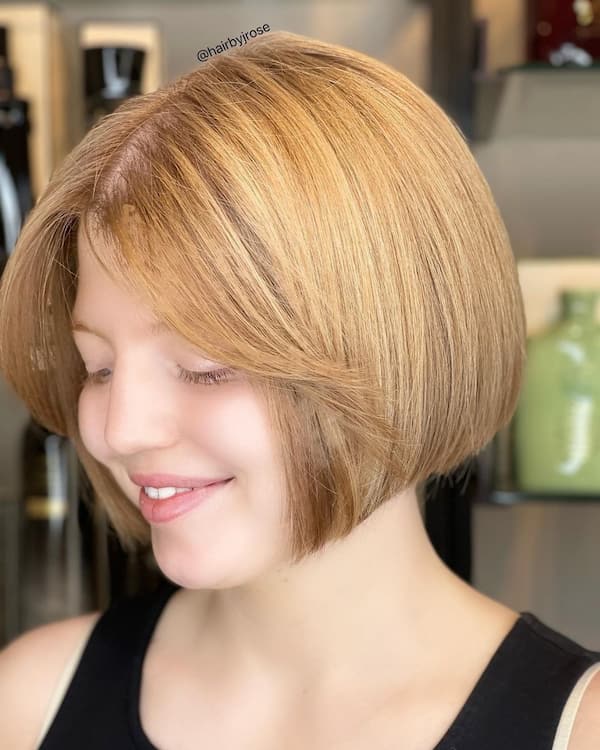 41. Tousled Wavy Bob with Curtain Bangs
There are just so many cute bobs with curtain bangs and we can't seem to get enough of them. Here's another pretty tousled wavy bob with curtain bangs that I'll certainly consider getting someday.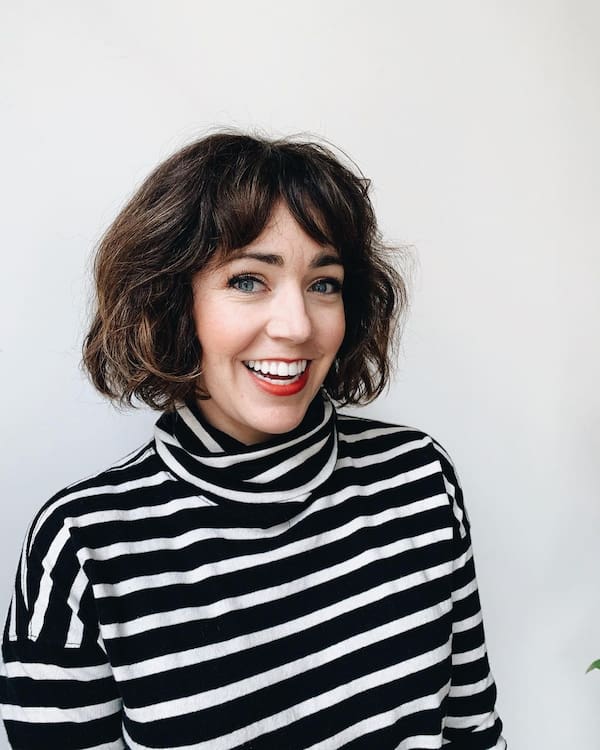 42. Textural Layered Bob Cut with Curtain Bangs
Not everyone appreciates this kind of texture on a bob, but for those who do, this hairstyle is a godsend. The layered messy look works well with the curtain bangs to create a literal masterpiece.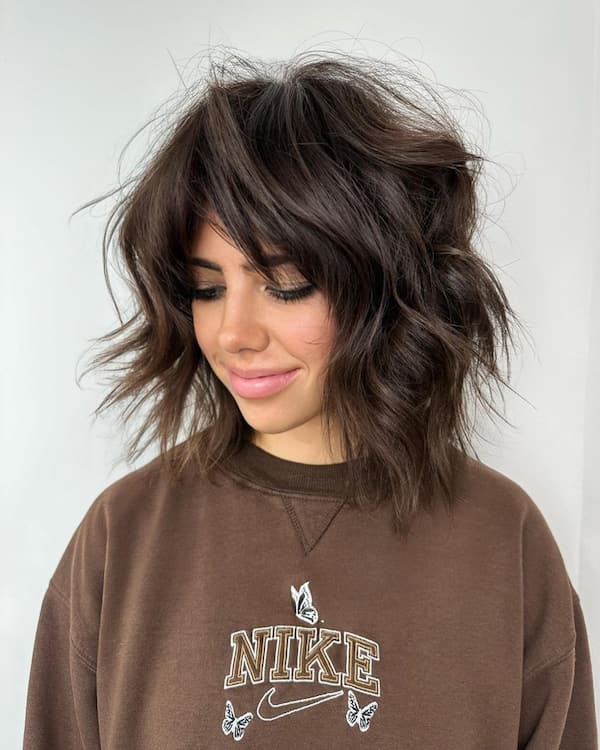 43. Razored Bob with Curtain Bangs
We've seen bobs in black and blonde, but what if you want to make some difference and get it in brown? From what you can see, it looks nothing short of adorable, especially with those wide curtain bangs.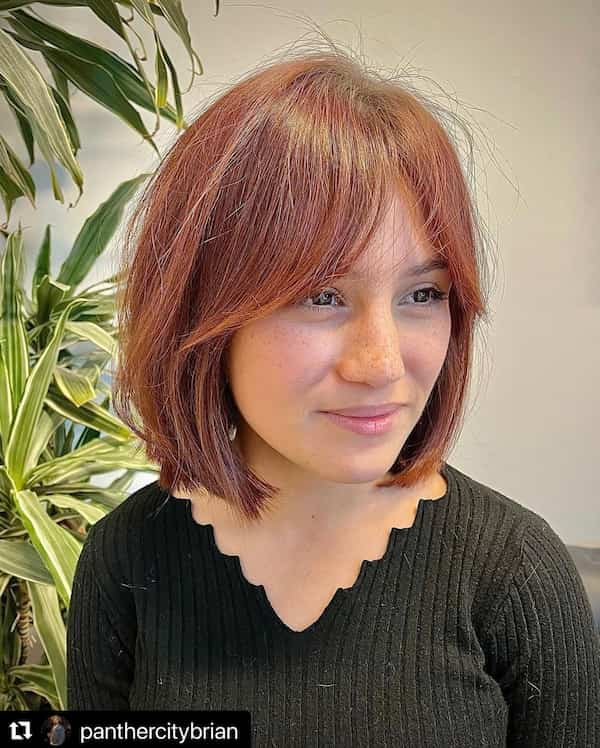 44. Face Flaming Layered with Curtain Bangs
Bobs are cool, but they aren't the only way to look your best with curtain bangs. Here's a generic layered wavy hairstyle that goes from average to outstanding once you introduce the bangs.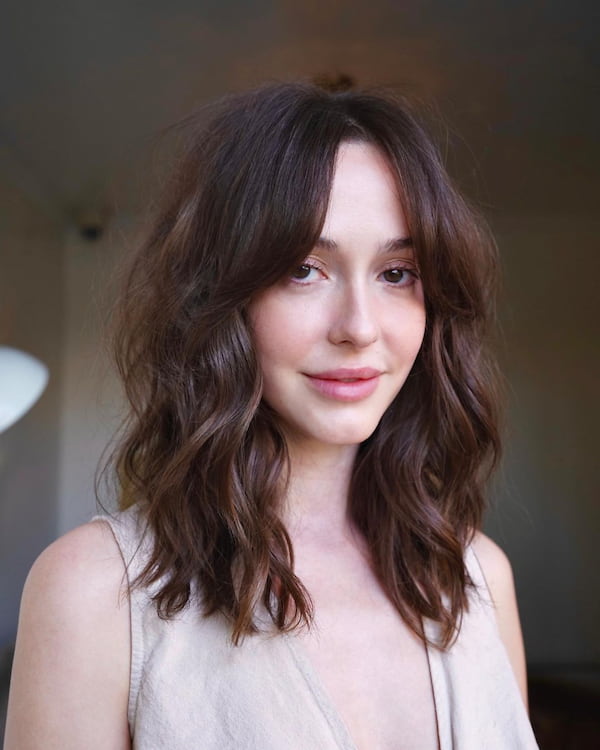 45. Messy Copper Haircut with Curtain Bangs
If generic sounds too boring for you, we have what you may like. This copper haircut takes an unconventional colour and slaps an unconventional haircut unto it, adding conventional bangs for flair. The result? A 10/10 hairstyle.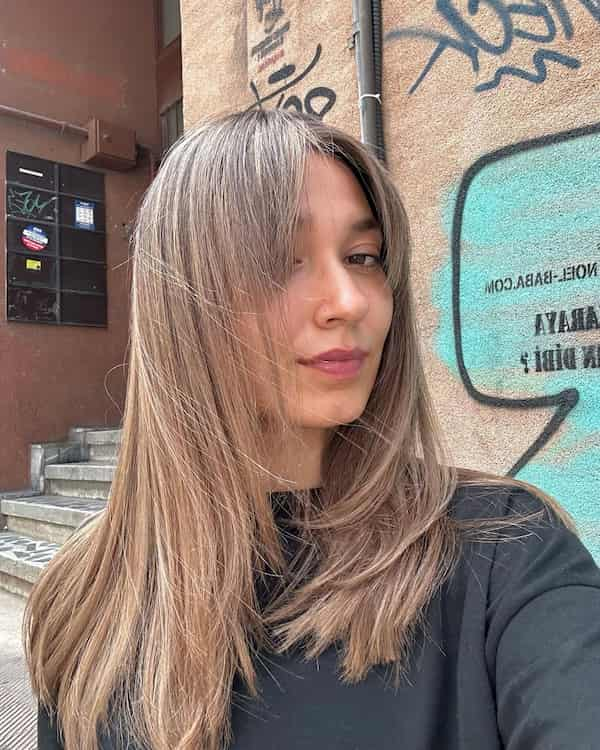 46. Messy Layered Haircut
A messy texture is typically not everyone's cup of tea, but when we're talking about something this adorable, I think we can make exceptions. If you're after something outstanding for fine brown hair, this is a no-brainer.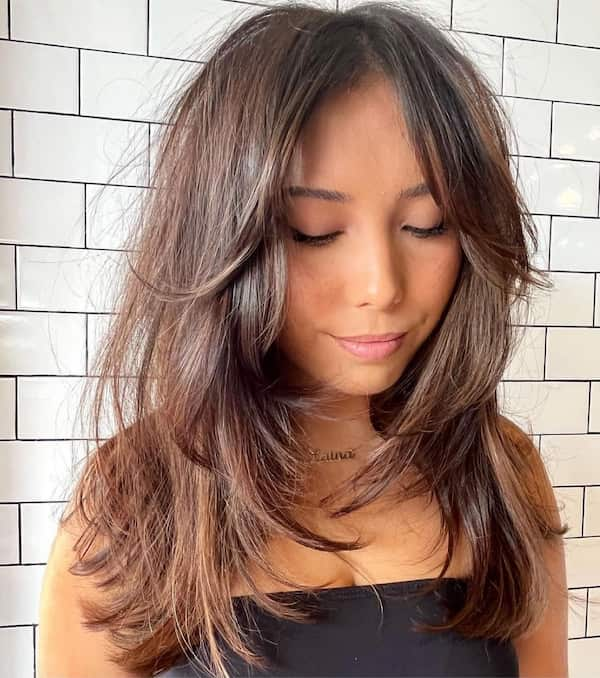 47. Curly Bob with Curtain Bangs
That wide smile makes it hard to judge any hairstyle fairly, but it doesn't distract from the fact that her curly bob with bangs hairstyle is one-of-a-kind. We've seen several bobs earlier, but this is the first curly bob, and for that, it's unique.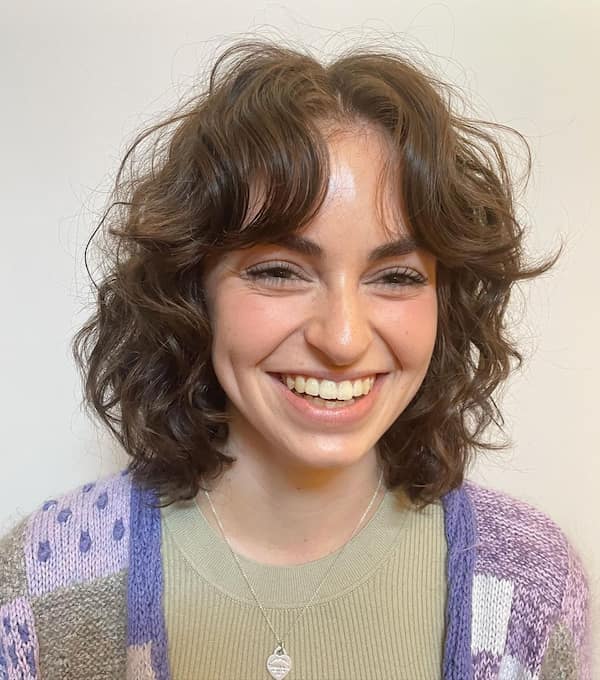 48. Soft Layered Centered-Parted Hair with Curtain Bangs
This hairstyle is proof that you can get something outstanding, even without the budget or time for all the bells and whistles. Some length and black highlights are all you need to recreate this 10/10 hairstyle.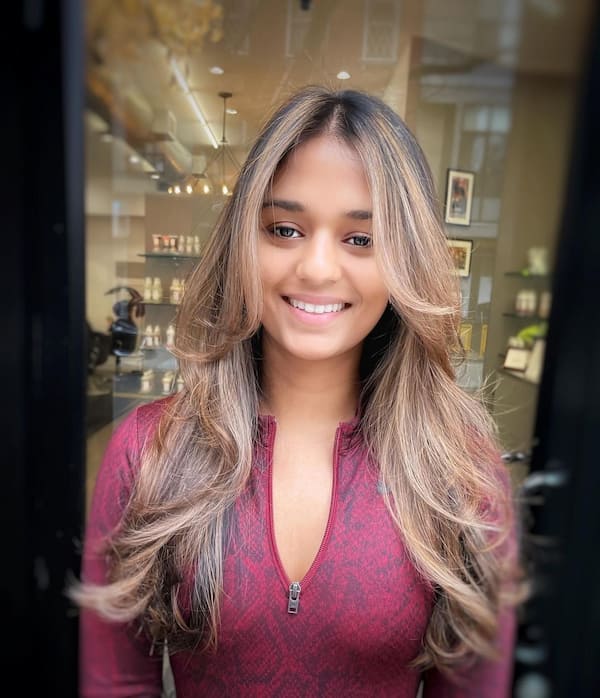 49. Stepped Layered Wolf Cut with Curtain Bangs
Copper is an excellent starting point for ladies looking to venture into flashy colours without straying too far away from conventional ones. If I'm getting my first copper hairstyle, I'm pretty sure it would look something like this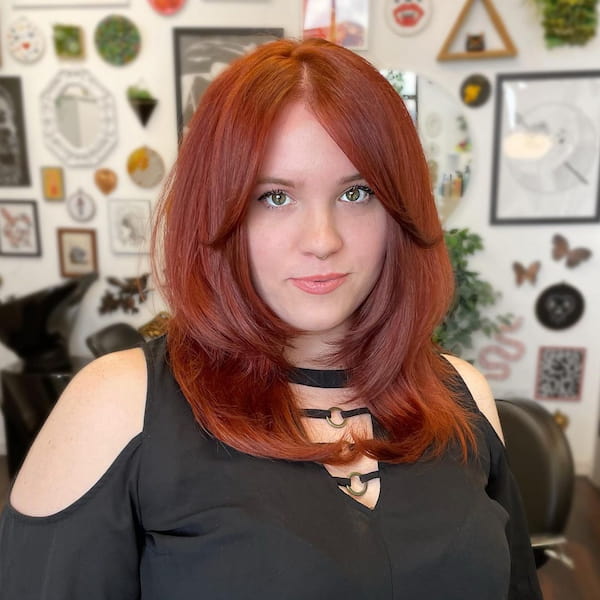 50. Blonde Simple Short Hair with Curtain Bangs
I can't think of a better way to end such an eventful compilation than with a simple generic and short hairstyle with curtain bangs. Its simple look gives it all the benefits of the style while cutting out the flaws; easily a classic placeholder style.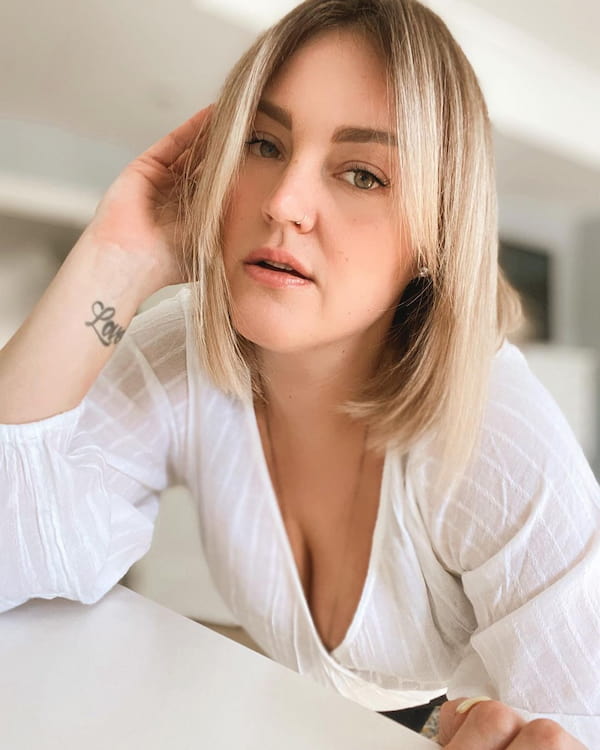 Conclusion
Layered styles have been around forever, but models have only recently started experimenting with them with curtain bangs. From what we've seen so far in this article, curtain bangs and layered hair is a match made in heaven.
Do you like this compilation? Then, you may want to check out some of our other posts.
Pin for Later.