The possibilities of what you can achieve with long hair are endless. You can make it into a ponytail that showcases the charm of the length or tie it into an updo to create an illusion of fullness.
If the latter is more of your thing, here are 50 glamorous updo hairstyles for long hair to inspire you.
Pretty Updo Hairstyles for Long Hair
Here are the 50 prettiest updo hairstyles for long hair.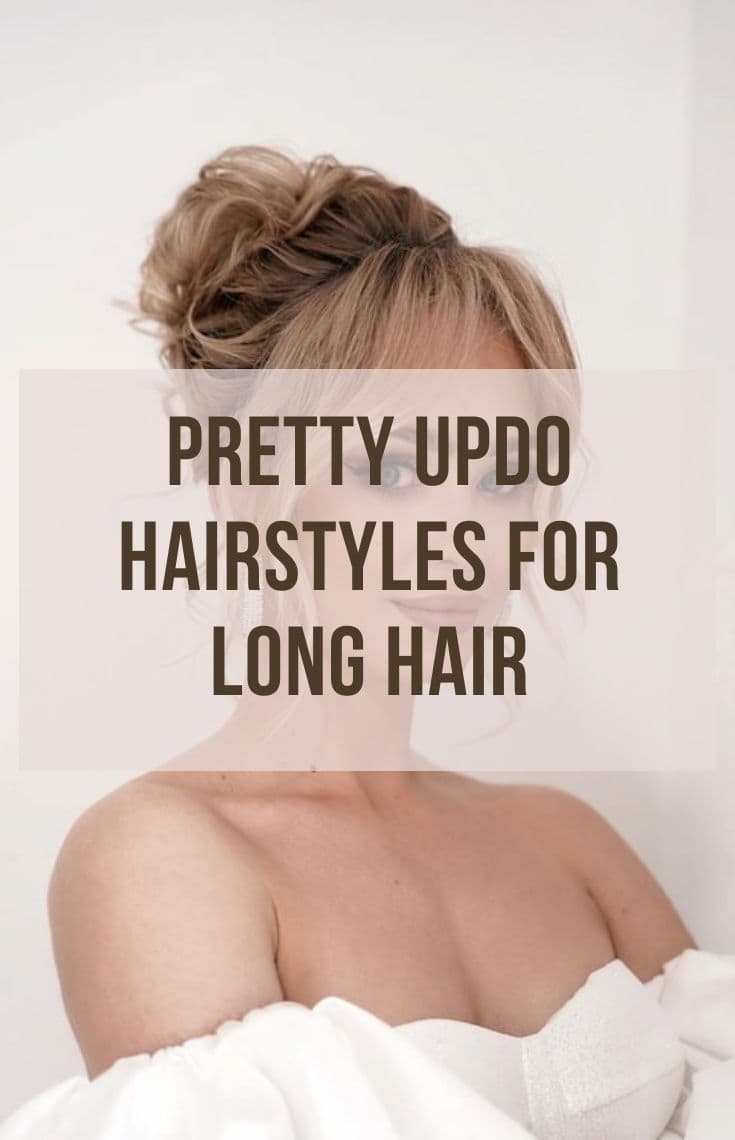 1. Formal Updo Bun for Long Hair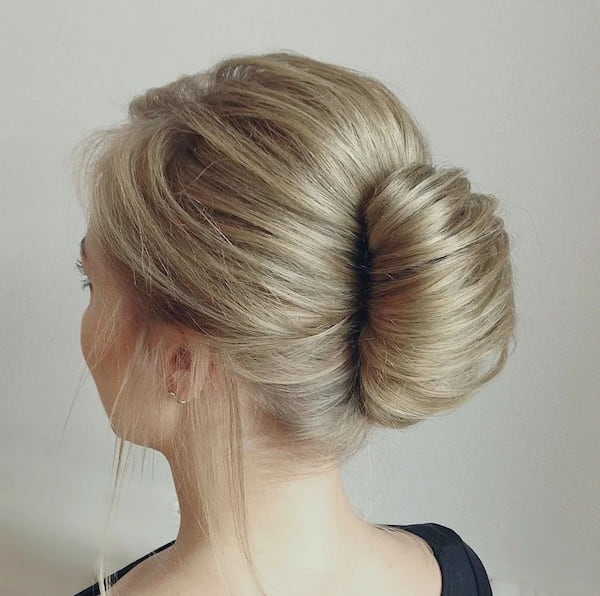 A clever way to prevent your long hair from getting in your way is tying it into a bun. If you're a natural blonde, here's one adorable way to go about it.
2. Textured Classic Twist Updo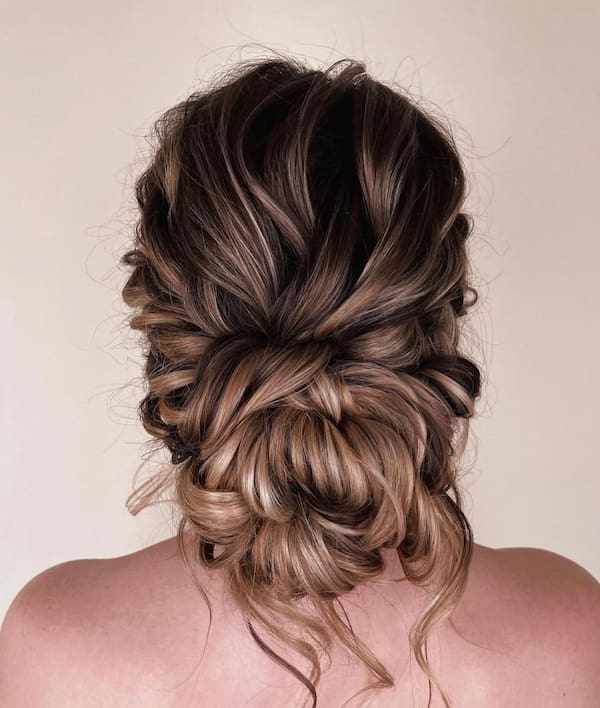 Whether you're the celebrant or not doesn't matter; with this hairstyle, you instantly become the center of attention, thanks to the sophisticated but glamorous twists.
3. Low Chignon with Front Bangs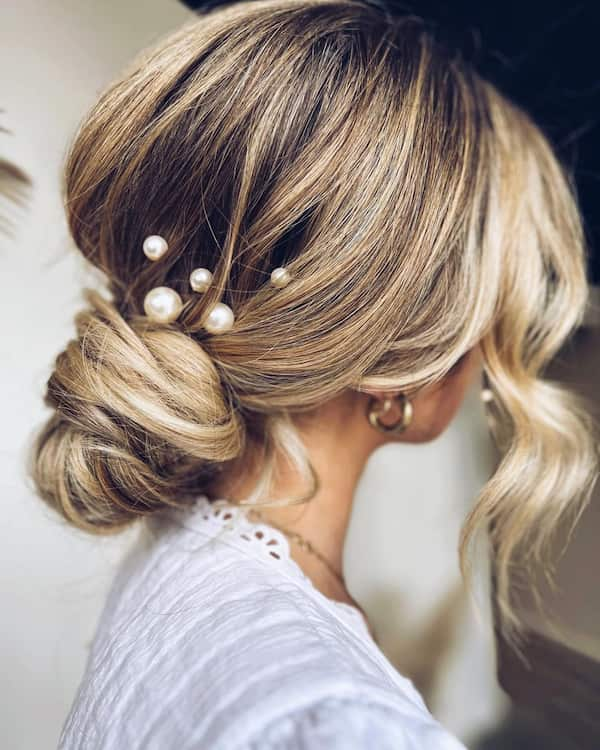 A chignon is another smart way to tuck in your hair when you don't need it to get in your way. With bangs to adore the hairstyle from the front, you get one of the most adorable all-around hairstyles on this list.
4. Low Wrapped Loop Bun for Long Hair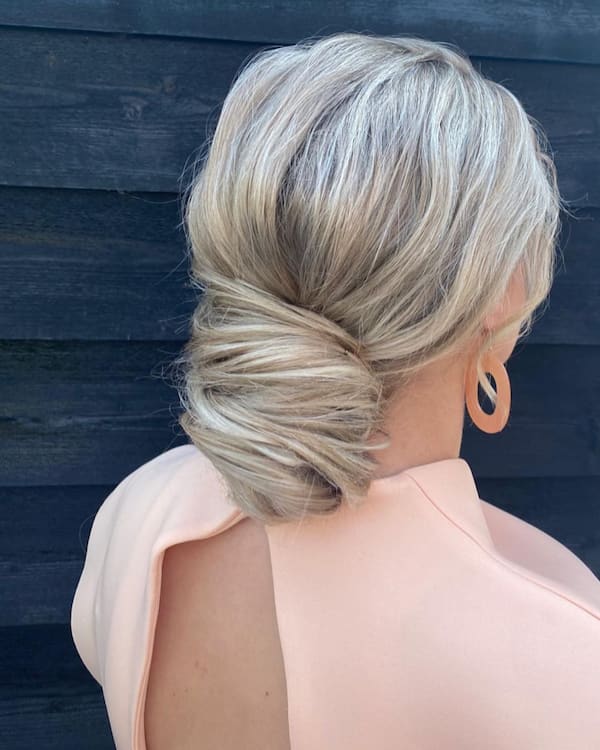 Another benefit of long hair is that it makes it possible to get a full loop bun like this to showcase your hair's full beauty. Now, try to replicate this with neck-length hair.
5. Dreamy Cascading Bridal Updo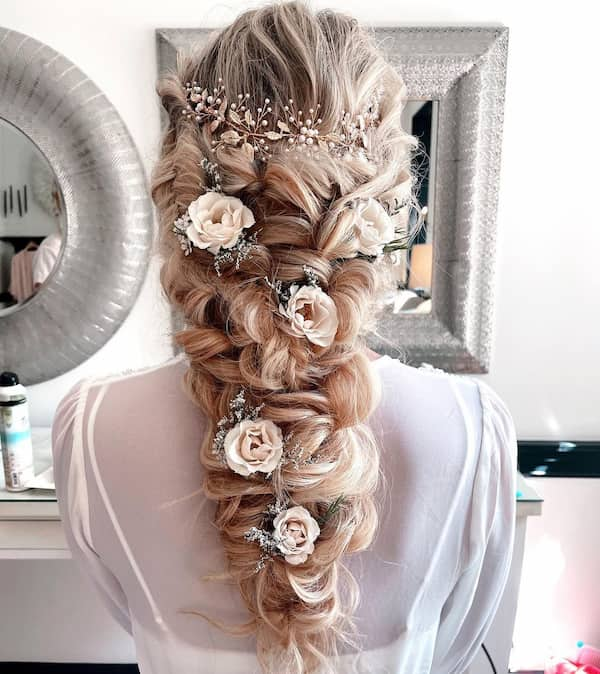 I wouldn't try this bridal updo if I weren't the celebrant, but if you were, it's absolutely one of the best hairstyles you can get. Before attempting it, be aware you're buying lots of adornments, as you can see.
6. Minimal Low Bun for Bridesmaid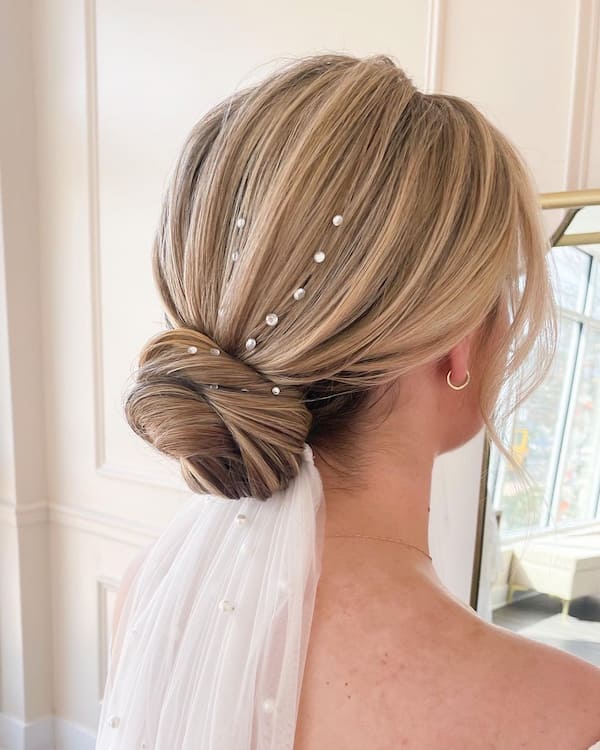 If you'd rather not carry that many items in your hair, here's a simpler but equally adorable look you can achieve with long hair. With a couple of tiny beads and basic tying skills, you can get yourself a chic bridesmaid hairstyle.
7. Messy Summer Updo with Curtain Bangs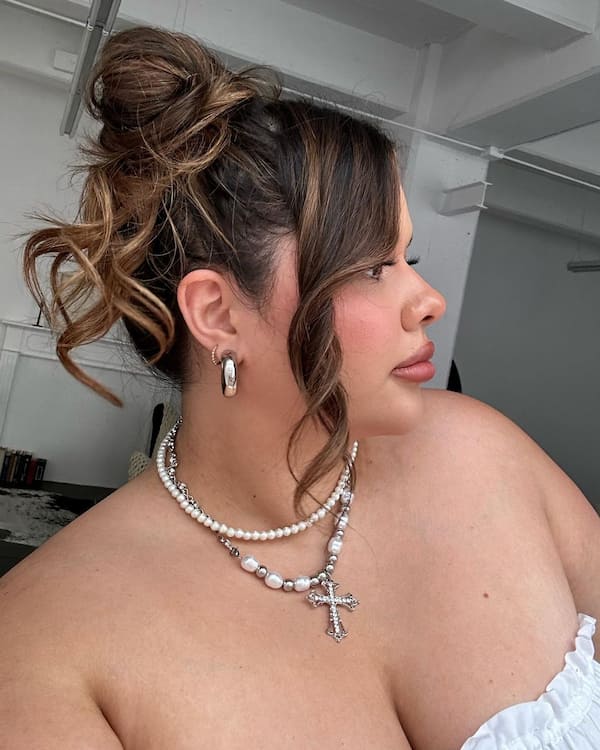 Your long updo doesn't have to look very smooth to be adorable. With curtain bangs and a little bit of messy texture, you can look as amazing as this model.
8. Bridal Updo with Flower Pins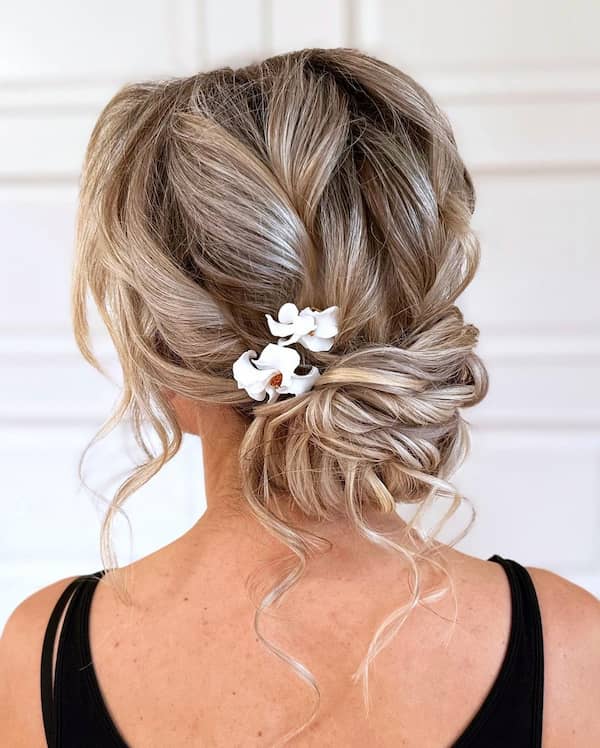 While a bridal updo can't look that messy, you can get away with some texture, and the flower pins add some extra flair that you shouldn't ignore.
9. Messy Mohawk-Like Updo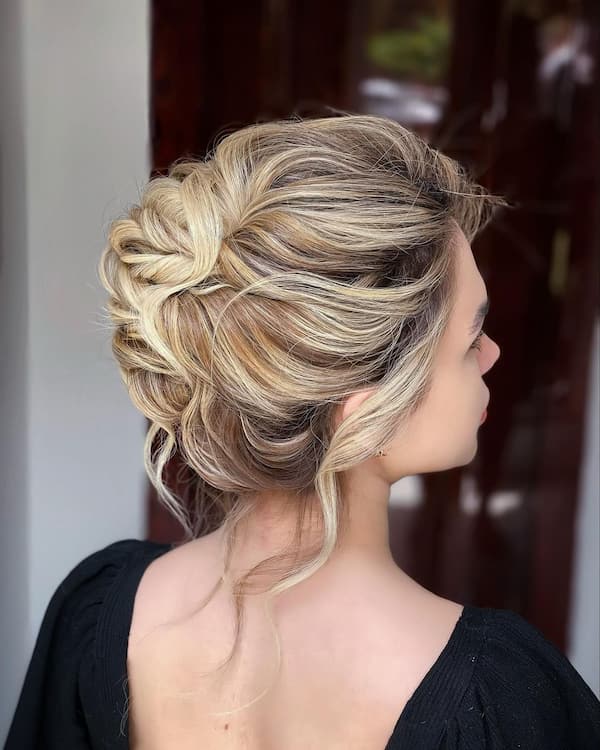 Tying your updo along the center creates a Mohawk-like look, which is what our model has here. The messy texture matches the Mohawk, and I'm a big fan of the color gradient.
10. Simple Updo Bun for Long Hair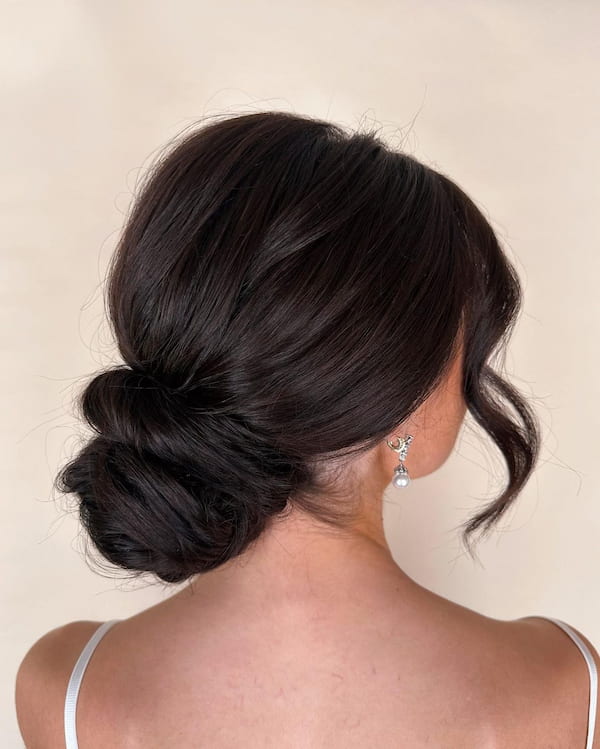 How good can a long hair updo hairstyle look on black hair? Here's an example that'd convince you to try it, and this isn't nearly all you can do with the hair color.
11. Cool Bridal Bun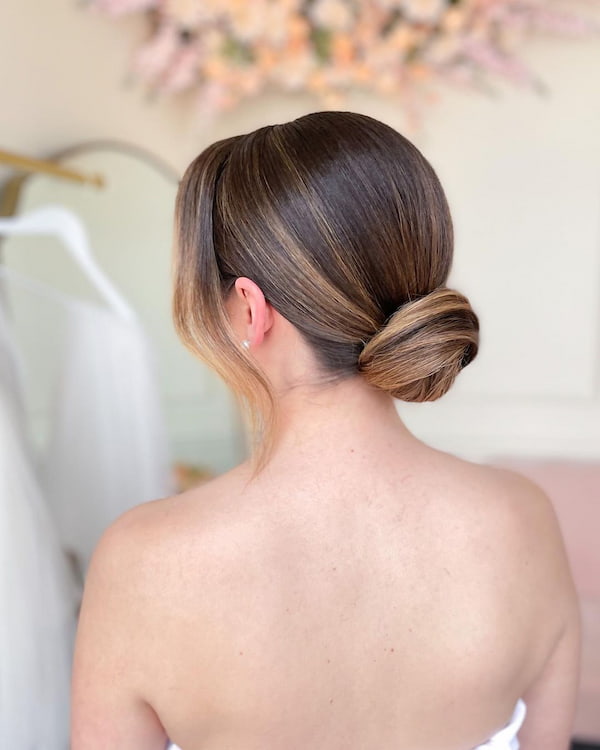 How about a cool brunette bridal bun with no bells and whistles? It doesn't get much better than this hairstyle idea, and you can even add fringes to the front for flair.
12. Glam Twisted Updo and Curtain Bangs for Thick Long Hair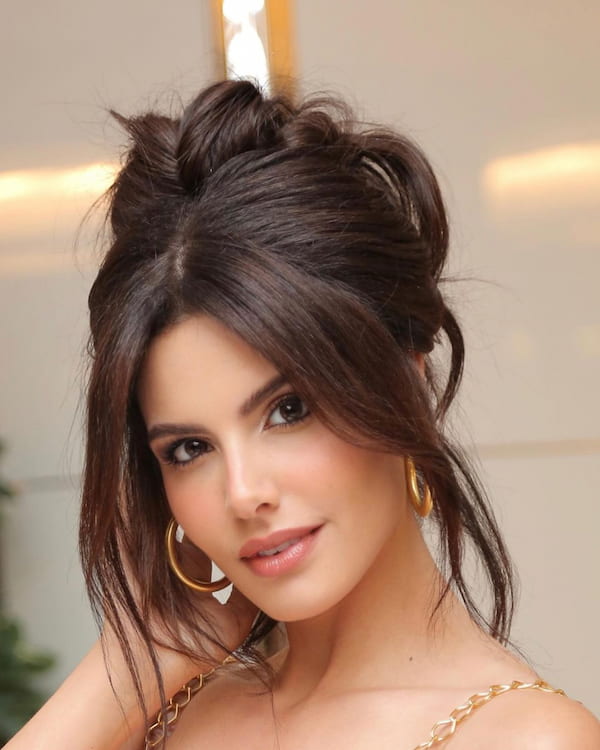 You don't want to miss the opportunity to try curtain bangs on your full hair, and the length makes it easy to install a glam twisted updo. Combine both and you get the masterpiece in this hairstyle idea.
13. Roll Up Bun for Layered Long Hair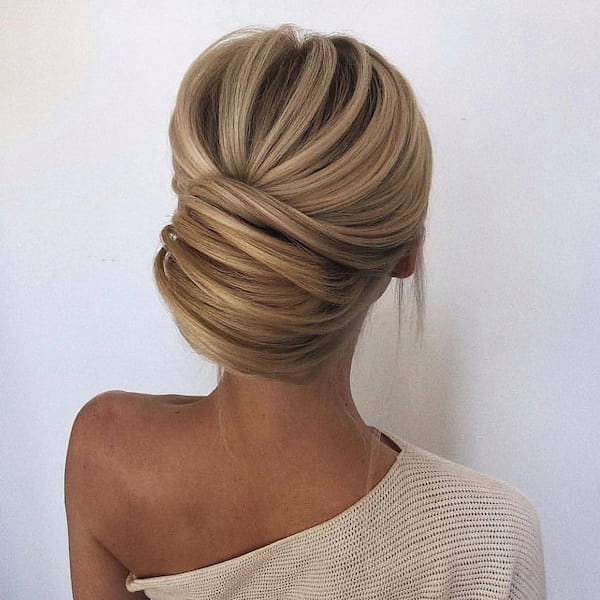 Layering your long hair and rolling it up achieves two objectives. Firstly, it gets it out of your way, and secondly, it gives you an irresistibly charming hairstyle like the model here.
14. Half Updo for Brides
This half-updo probably won't get out of your way as well as our roll-up bun, but it manages to look just as good. Plus with those beads for beautification, you'll hardly find a better bridal hairstyle in this collection.
15. Messy Knotted Updo for Long Hair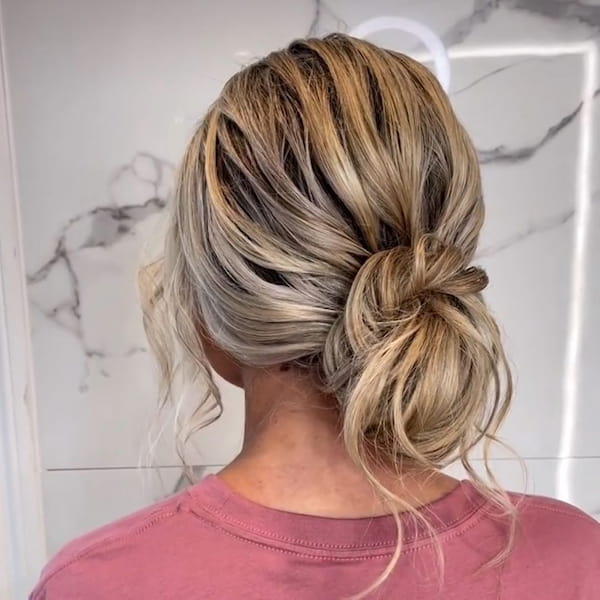 Your updo doesn't have to be insanely smooth, as long as you're not starring at a party. This messy knotted updo may not be bridal-standard, but it's great as a casual everyday style.
16. Voluminous Royal Updo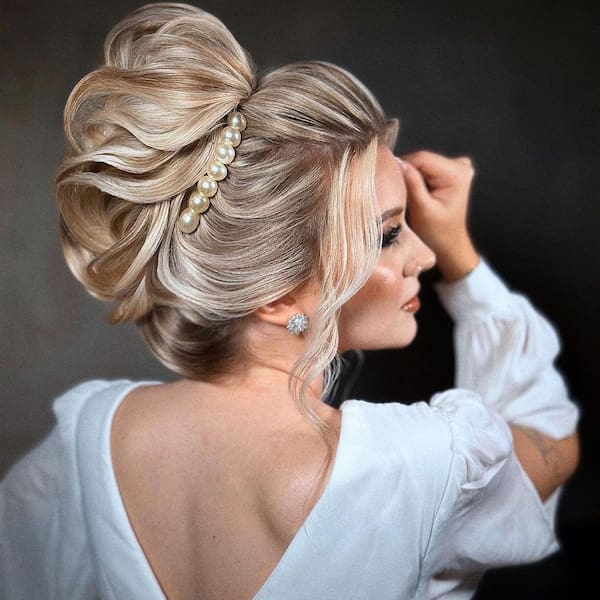 This style is one of the more difficult ones to install, but that's why it's royal. You don't want to wear this as a casual everyday style, as I doubt it can keep its charm for longer than a few hours.
17. High French Twist Bun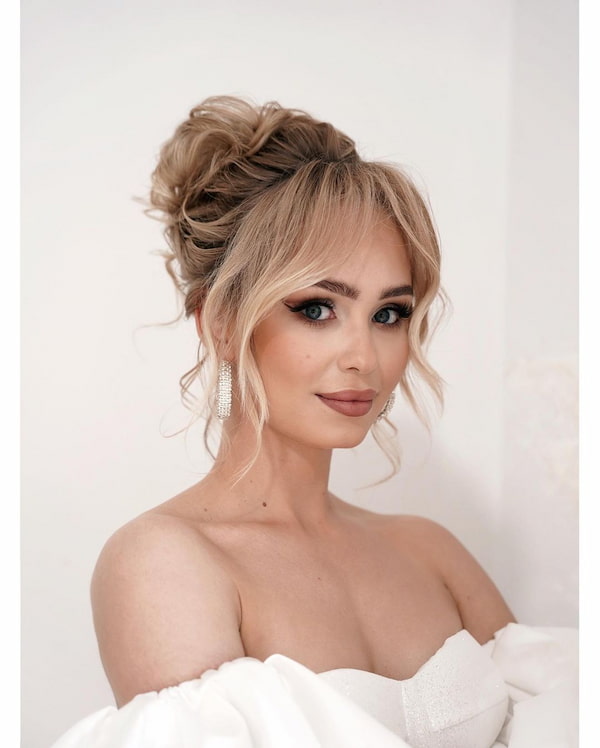 Speaking of excellent short-term hairstyles, this custom high French twist burn is unbeatable for parties. Wearing it with curtain bangs at the front easily makes it one of the best updos for long hair.
18. High Stepped Updo with Frontal Bangs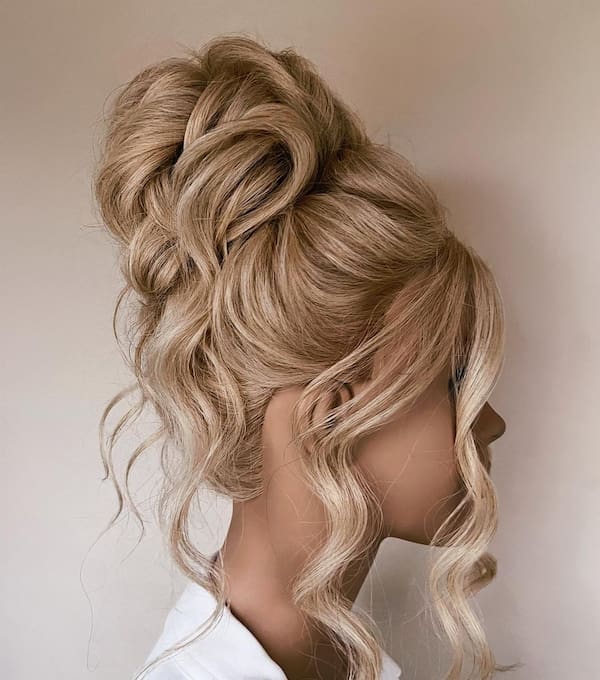 For the times when you want to star at any party, a high-stepped updo like this never disappoints. Add frontal curtain bangs and see how many compliments you get on your hair alone.
19. Ponytail Updo with Frontal Curls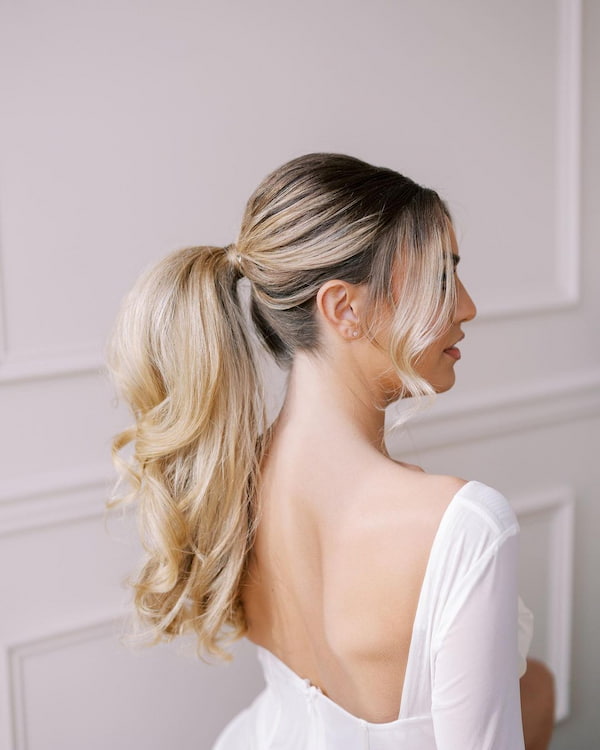 A clever way to showcase the full beauty of your long hair is using a ponytail instead of an old-fashioned updo or bun. It's not the most unobtrusive hairstyle ever, but it frankly looks better than most entries so far.
20. Glam Full Twisted Round Bun with Crown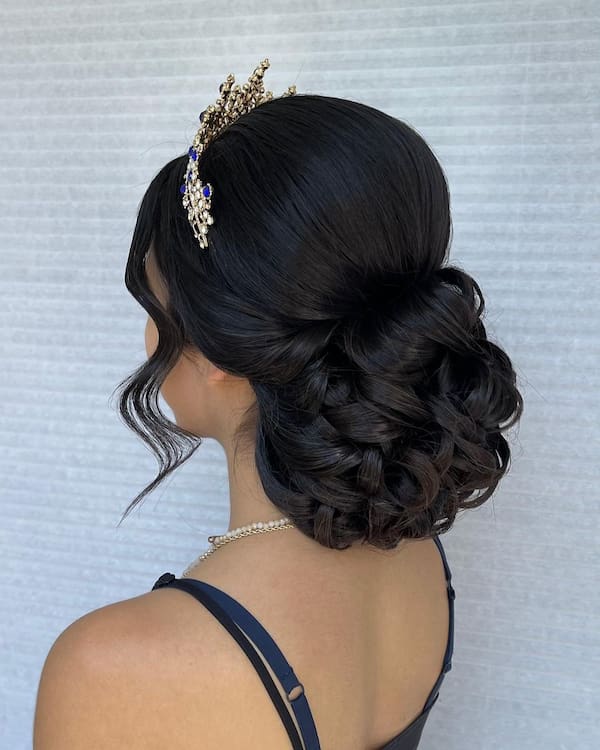 How about styling black long hair for a wedding? A full twisted round bun should do the trick, and with that crown, who wouldn't take a second to tell you how gorgeous you look?
21. Messy Interwoven Updo with Flower Pins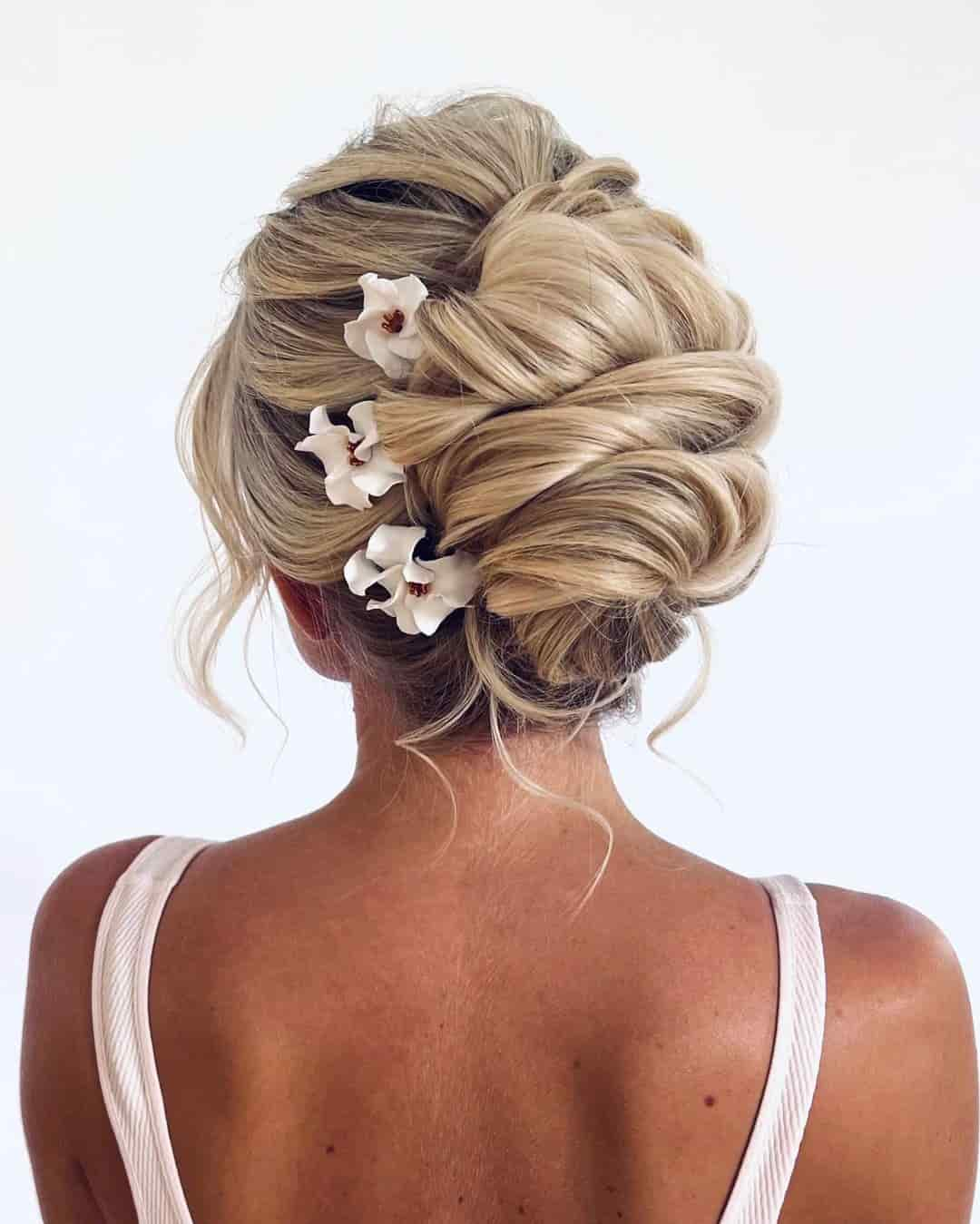 The crown in the preceding hairstyle idea sure looks great, but you don't need one for a charming hairstyle. With a few flower pins, you can make an equally adorable bridal hairstyle, as you can see.
22. Soft Undone Braid and Bun Combo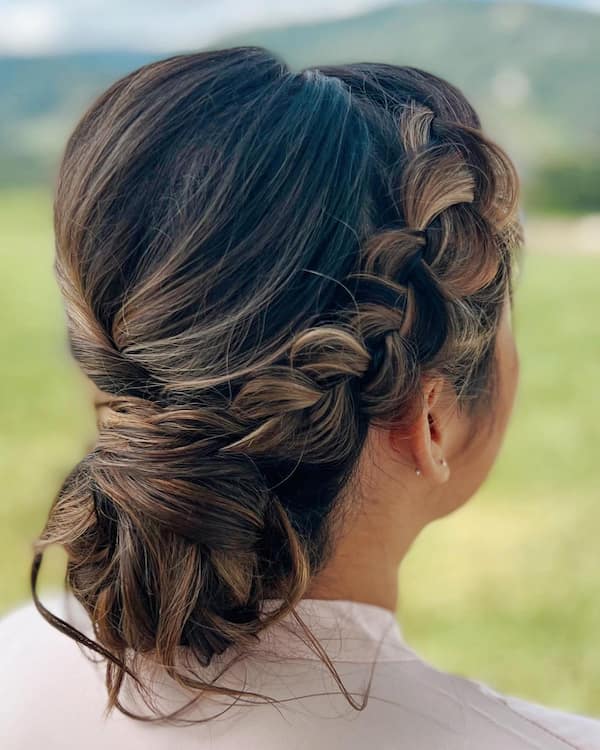 If you're not the bride in a wedding, a loosely done braid that ends as a messy bun should work for you. Despite being easy to make, it also manages to look decent.
23. Side Braided Half Updo for Long Hair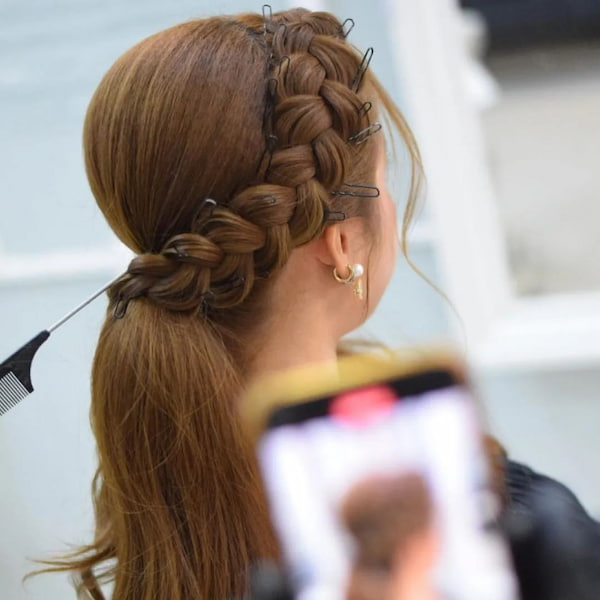 Your side braid doesn't have to look as messy as the preceding picture. Sacrifice a few minutes to smoothen it out and you'll have yourself an adorable bridal hairdo.
24. Messy Twisted Bun for Blonde Hair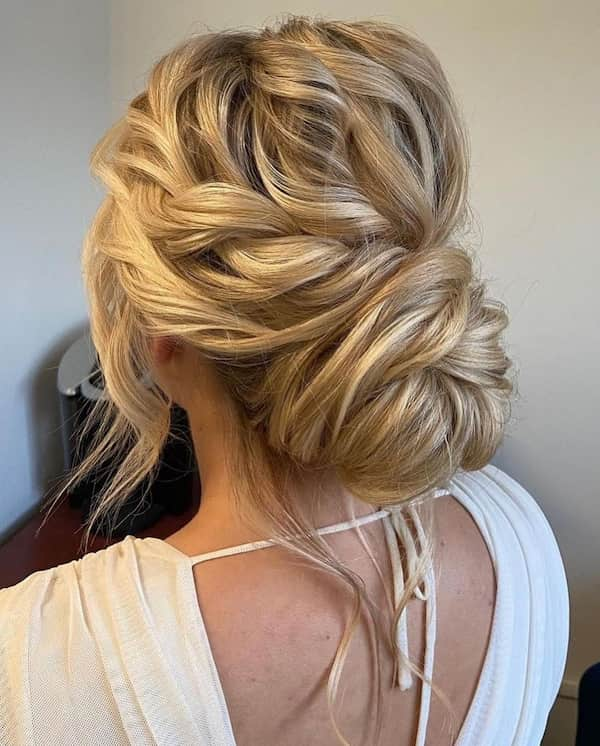 Back to the messier ways to manage long hair, this hairstyle idea turns a rough-textured style into something that works for a formal party; how adorable.
25. Stunning Crown Updo with Curtain Bangs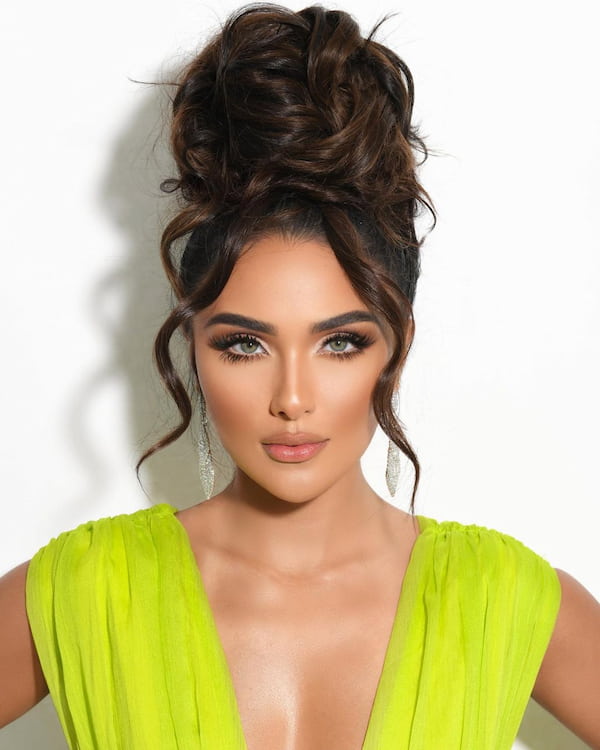 You don't need a physical crown for a crown updo (although the crown looked great). With this crown updo and the matching curtain bangs, you'll surely end up looking stunning, no less.
26. Middle Knotted Bun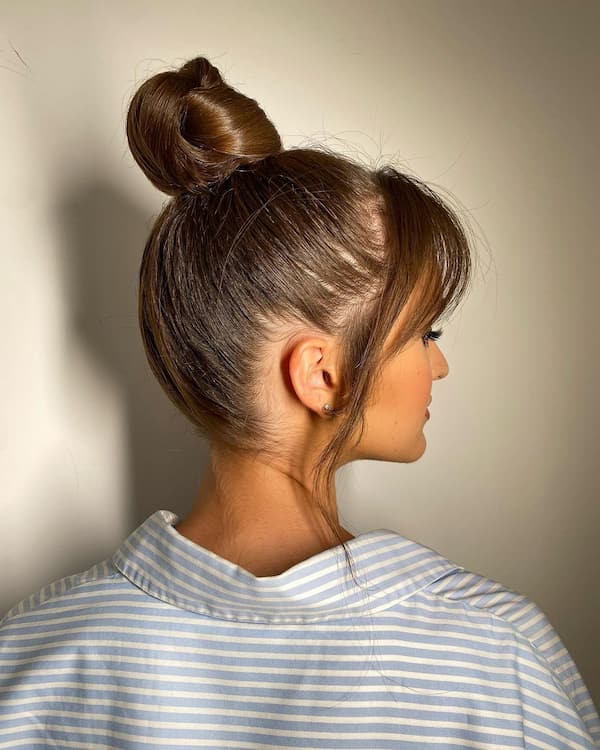 If your hair isn't long enough to make such a giant updo, this middle-knitted bun is a charming alternative, arguably a no-brainer for brunettes.
27. Low Bun for Full Long Hair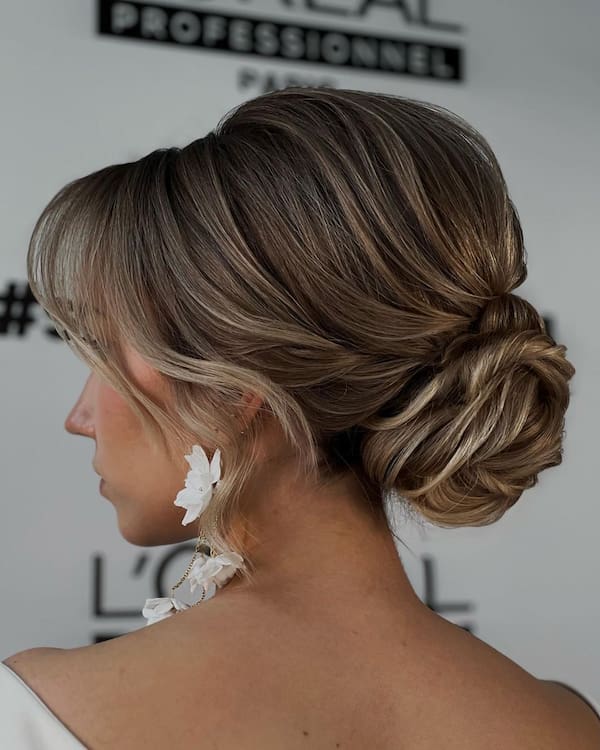 Getting your long hair into a low bun is a bit of a challenging task, but with how adorable this model looks, you just have to admit the challenges are pretty worthwhile.
28. Simple Updo with Flowers for Gray Hair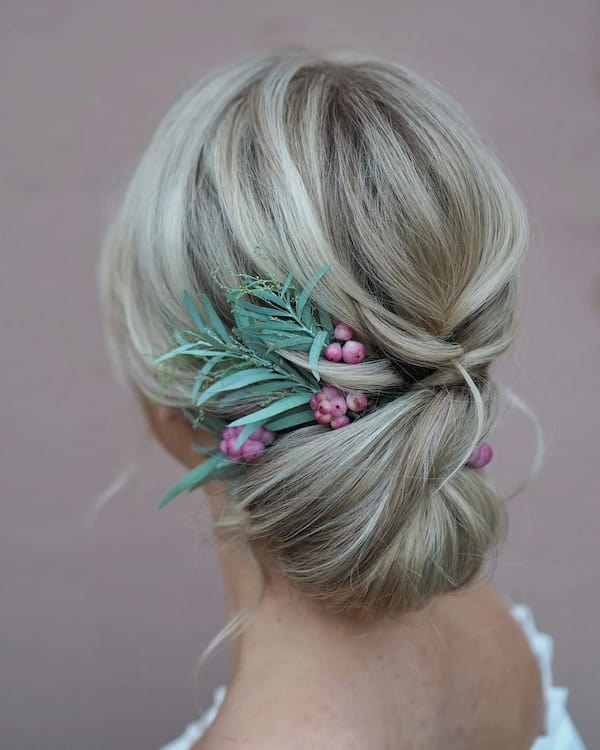 Even gray hair can look charming when tied smartly and adorned with flowers. Feel free to experiment with the flowers, but I'd rather stick to the model's tested-and-trued example.
29. Perfect Middle Large Bun with Curls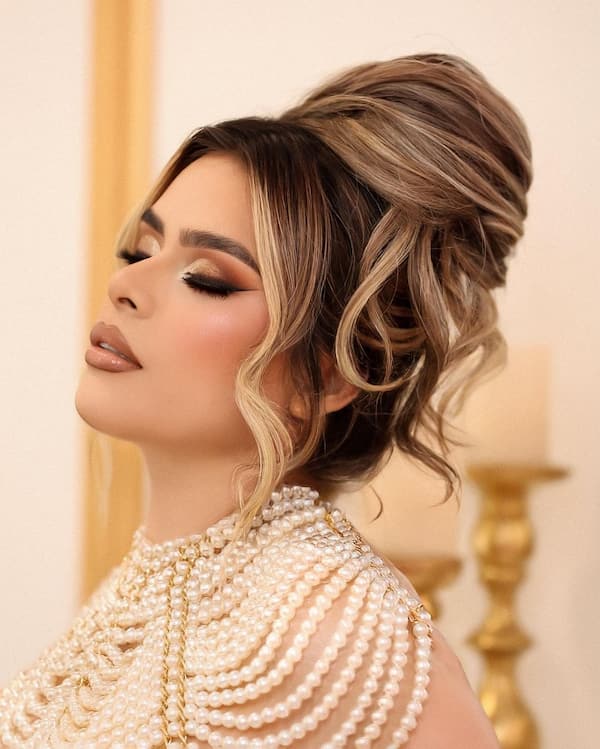 If a perfect hairstyle for long hair existed, this would be it. Everything here, from the hair's color gradient to the model's makeup all look right, but they don't look easy to do. In short, this is the kind of hairstyle you reserve for those big occasions.
30. Cute Updo with Falling Curls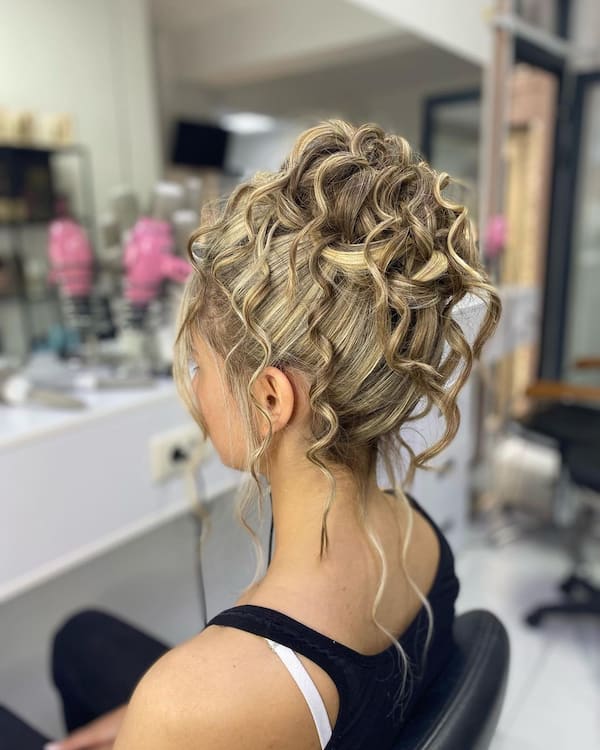 An updo with curls is a simple but adorable way to style long hair, and the model here pretty much proves that. While it's not as glamorous as the preceding hairstyle, it qualifies as a party hairstyle.
31. Classic Party Updo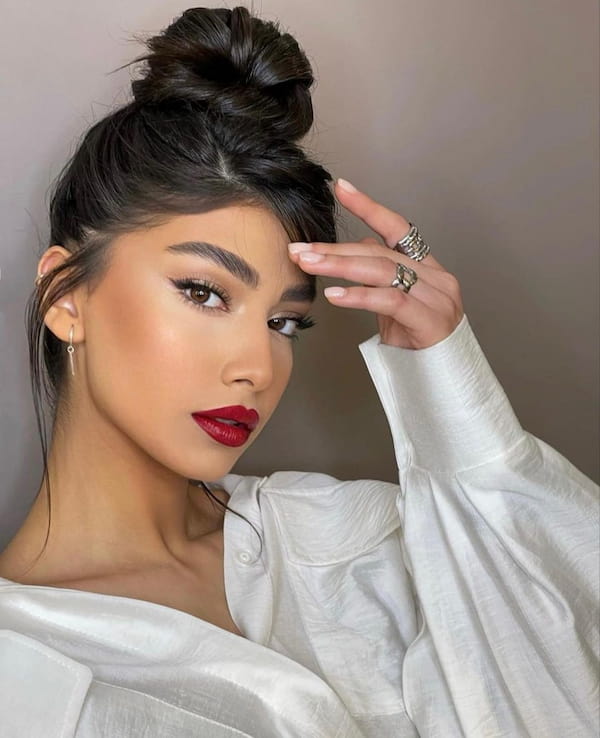 If you're after super casual party hairstyles, but for black hair, here's the best alternative to the preceding hairstyle. No curls, bells, or whistles; just a chic black updo with decent makeup.
32. Messy Loose Updo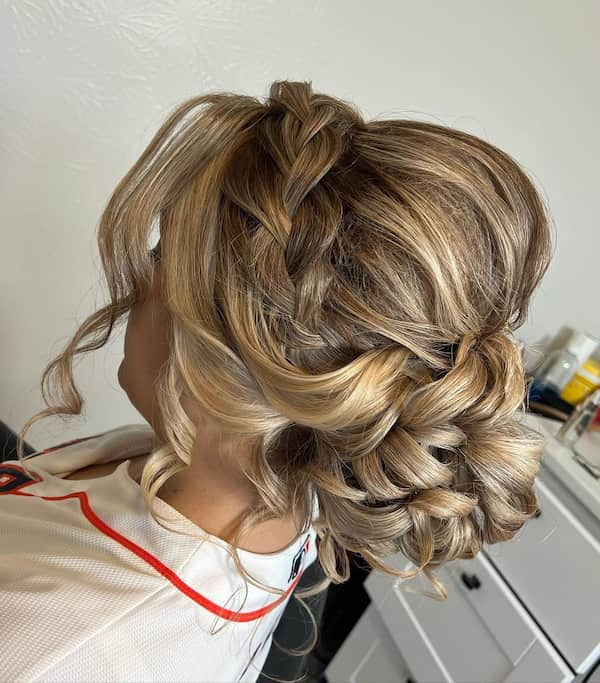 While this hairstyle seems somewhat messy, it has a pattern, explaining why the rough texture seems to look beautiful. You want to study and replicate the pattern to accurately capture the model's look.
33. Perfected Knitted Large Bun for Mother of the Bride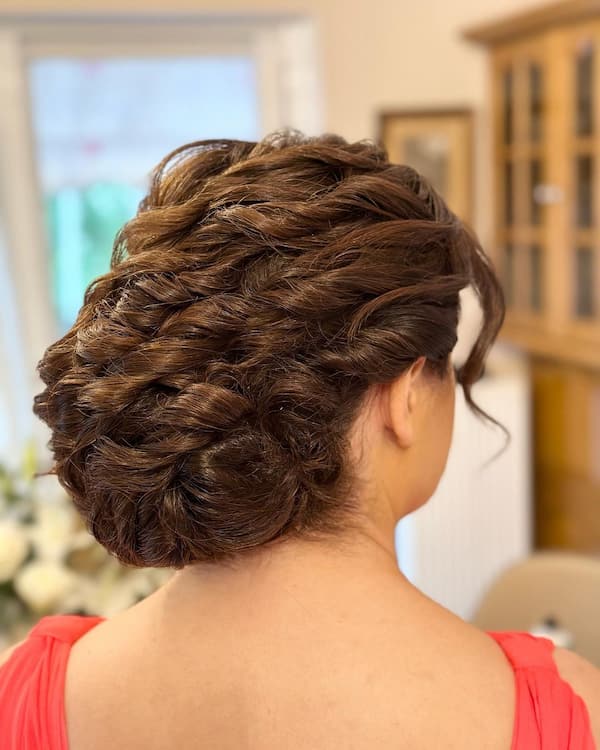 You'll need insanely long hair to replicate something like this, but that's not even the biggest challenge. The biggest challenge is how difficult it is to make, which is why you should only reserve it for big events.
34. Upfront Bun with Curtain Bangs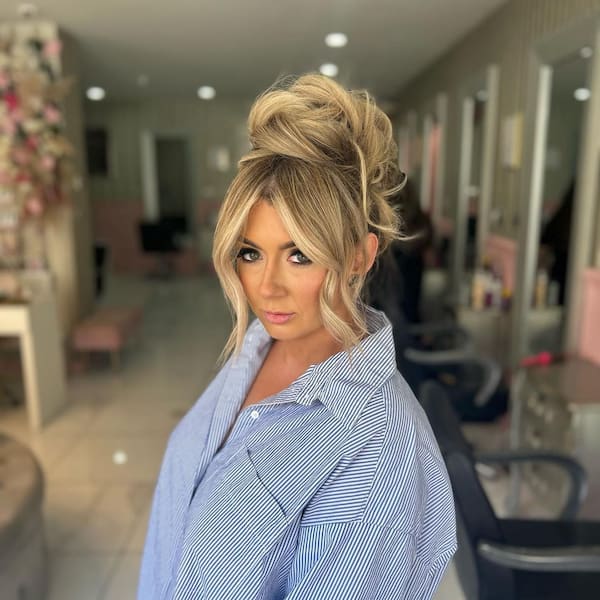 Something else you may want to reserve for big events is this hairstyle, if not for how challenging it can be to perfect the bun with curtain bangs, then for how effortlessly glamorous it looks.
35. Simple Cup Bun for Round Hair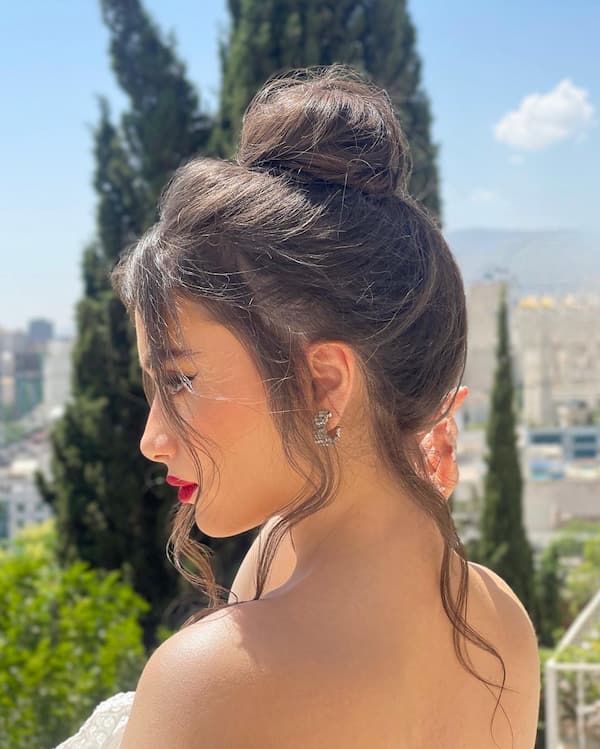 Despite having so much flyaway and frizz, this cup bun manages to retain an adorable look, but with a catch: it only seems to work on black hair. Anyway, I'd love to see it on blondes or brunettes.
36. Perfect Closed Edged Updo with Fringe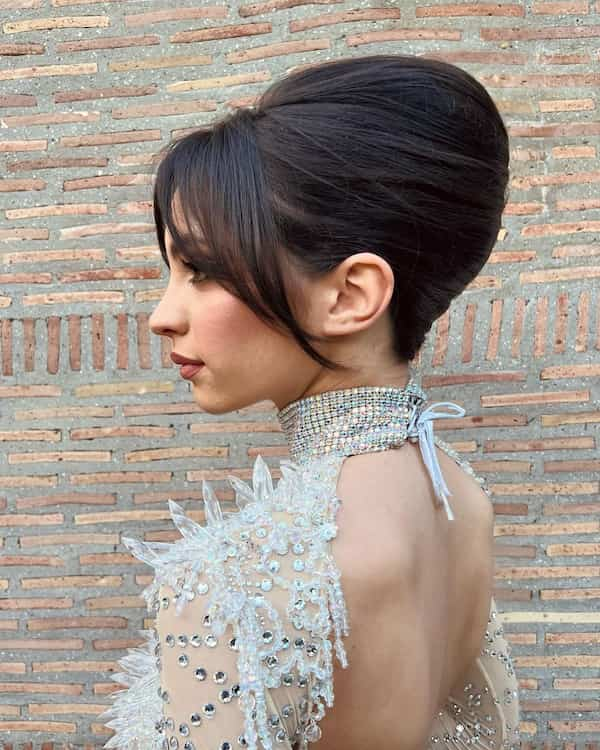 If you'd rather not have as much flyaway, this smooth perfectly closed-edge updo should work for you. Throw in the stunning curtain fringe and you'll struggle to find a better updo for long hair.
37. Fancy Summer Updo for Parties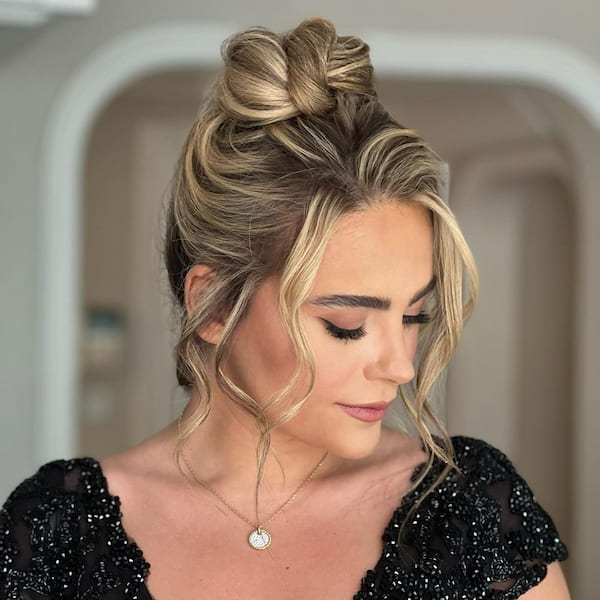 You don't need an extremely elaborate hairdo with tons of ornaments to make a party hairstyle. Sometimes, tying your hair into a simple updo makes an adorable hairstyle for a party night.
38. Big Fishtail Braided Updo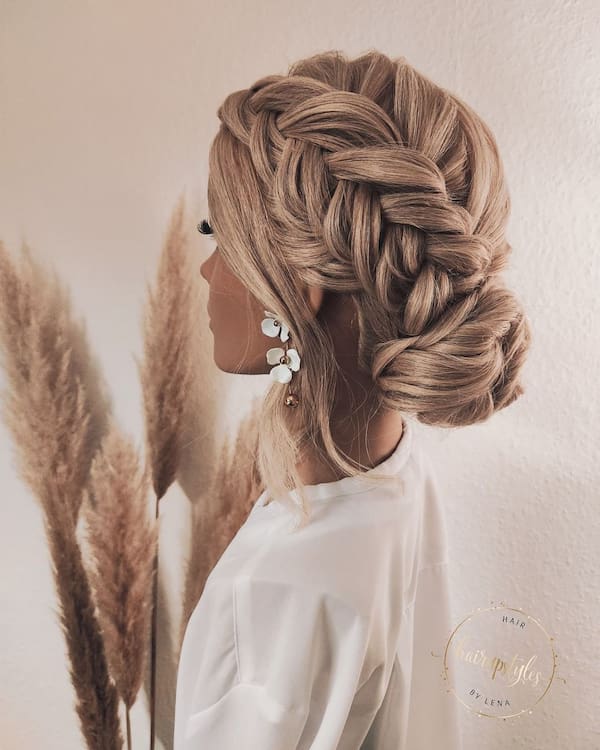 With a few more minutes of work, you can convert the fancy summer updo from the preceding idea into this fishtail braid, a style that looks better and more elaborate without spending an extra dollar.
39. Smooth Low Round Bun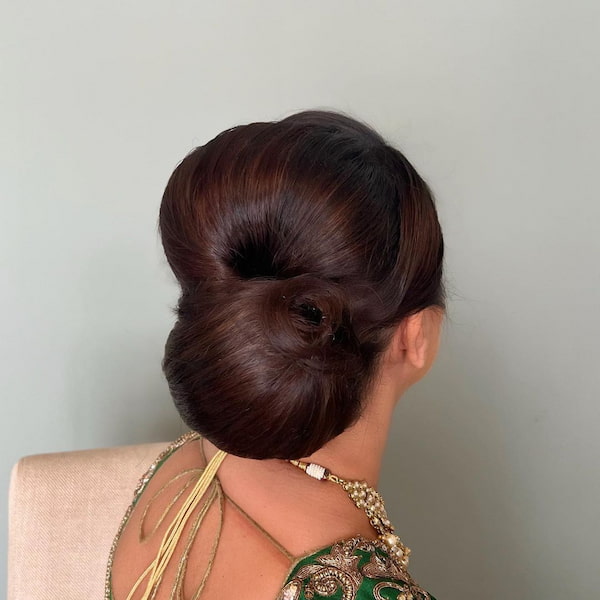 If you're all about looking as Indian as possible, a smooth low round bun on black hair should work, as you can see above. Unfortunately, this charming style only works on black hair.
40. Side Braid and Knitted Bun Combo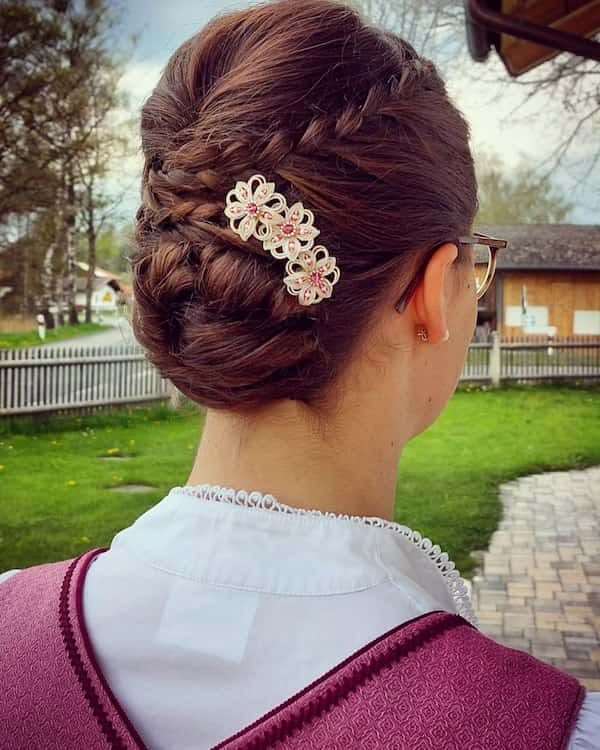 Here's another excellent hairstyle that works in fun events including weddings, graduations, and the like. It's not the easiest hairstyle to make, but it sure looks adorable.
41. Voluminous Updo with Curtain Bangs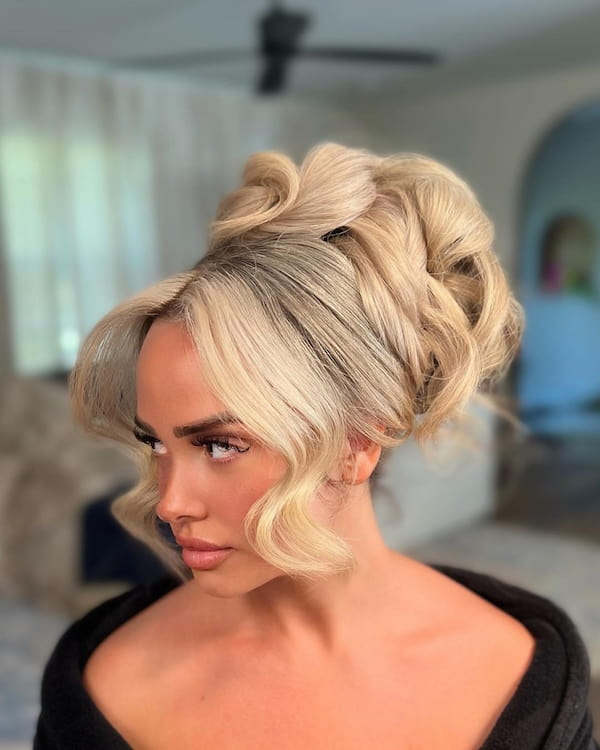 In addition to the length advantage, you can also make your hair appear voluminous when you tie it correctly. When you compare the voluminous hairstyle with curtain bangs, you get this model's glamorous look.
42. Simple Fishtail Braided Updo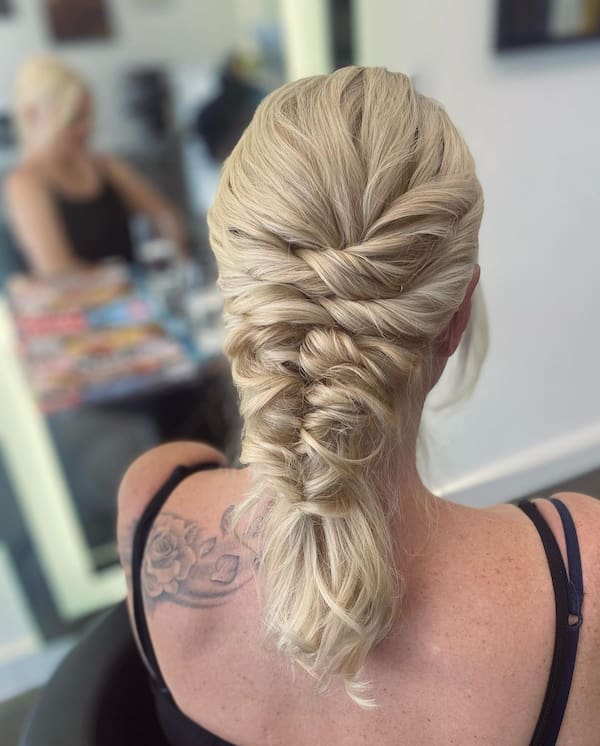 If you don't have the hours to sacrifice for an elaborate hairstyle, you can get this fishtail braid while you wait. Thanks to its simplicity, you can make it in a few minutes, and with how good it looks, it can work for any event.
43. Textured Interwoven Bun Updo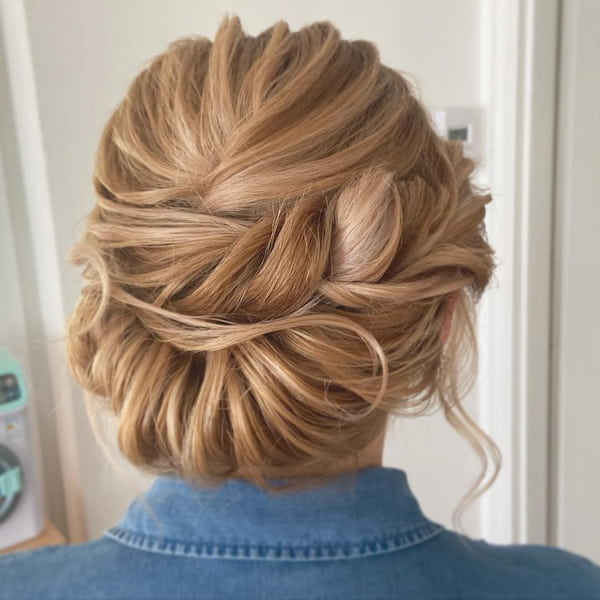 Here's an alternative to the preceding hairstyle if you're not a fan of fishtail braids. While it's not the best party hairstyle, it's not half-bad as a casual everyday style.
44. Closed Cover Bun with Bangs for Long Hair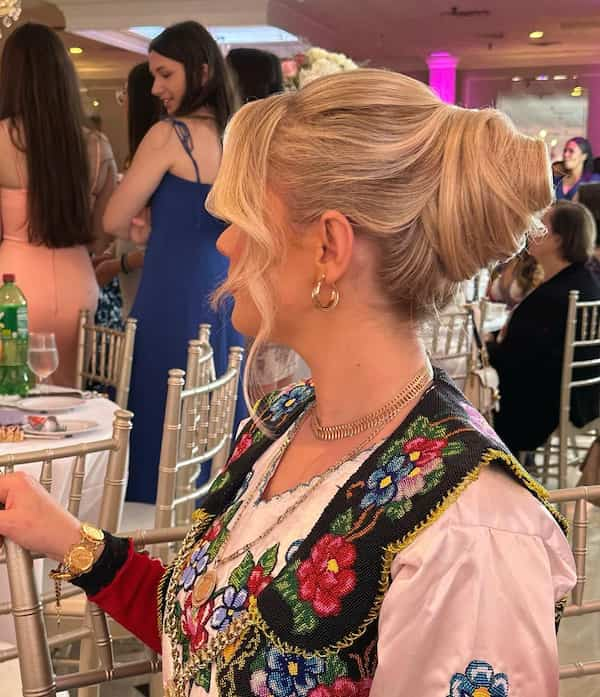 This unique closed-cover bun only works if you have long hair, but you can beautify it further with sharp bangs. I'm not sure about black hair, but for brunettes or blondes, this style is unbeatable.
45. Chinese High Ponytail Updo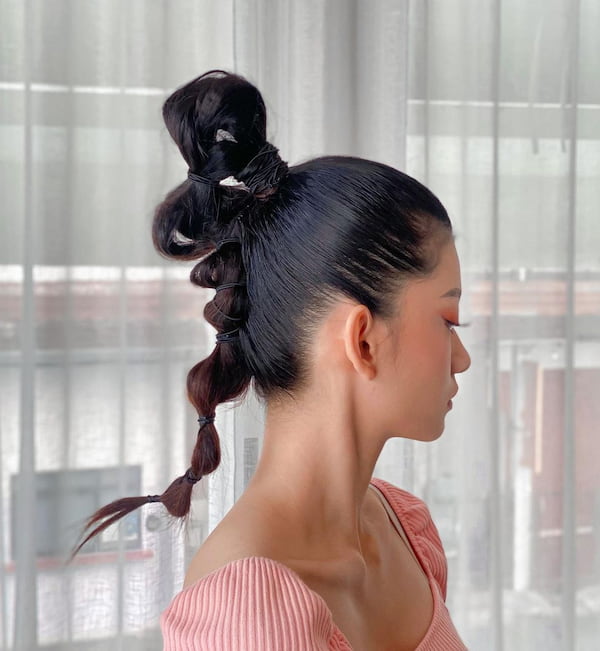 If you fancy some Asian heritage, this high ponytail updo should work for you. The tied sections add some complexity to the hairstyle without making it prohibitively difficult to make.
46. Fancy Messy Updo for Fine Hair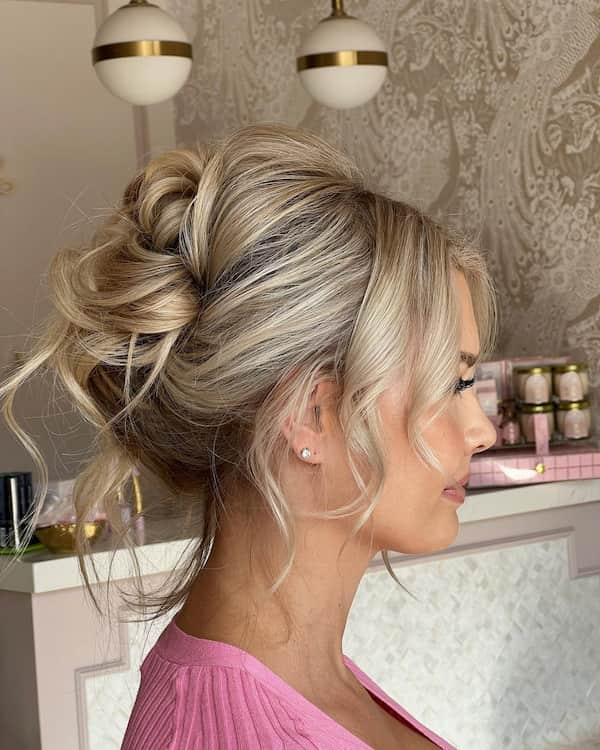 Fine hair shouldn't be left out of the long updo hairstyles fun; the thin texture makes it easy to achieve this messy look without compromising on beauty. Overall, a 10/10 hairstyle.
47. Wrapped Bun for Older Women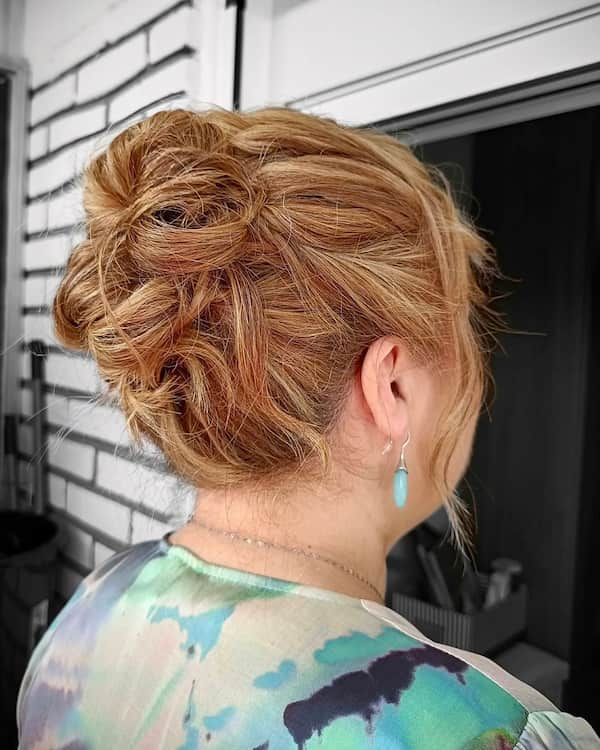 This style is a lot like the preceding one, but slightly rougher and less glamorous. While you don't want to wear this to a party, it's not half-bad as a casual everyday hairstyle.
48. Simple Rectangular Bun with Frontal Bangs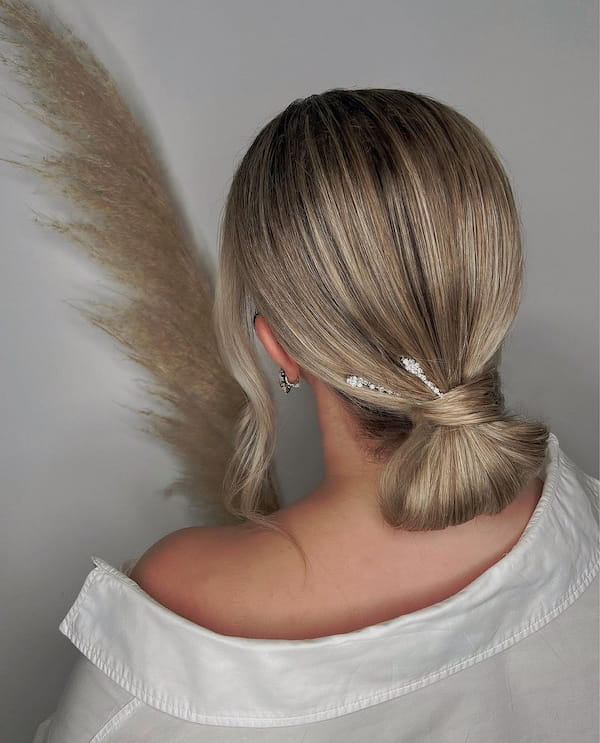 A bun this charming shouldn't be worn too casually. With the frontal bangs, the symmetrical parting, and the excellent rectangular bun, this hairstyle is the perfect style for high-level events.
49. Vintage Crafted Updo for Red Hair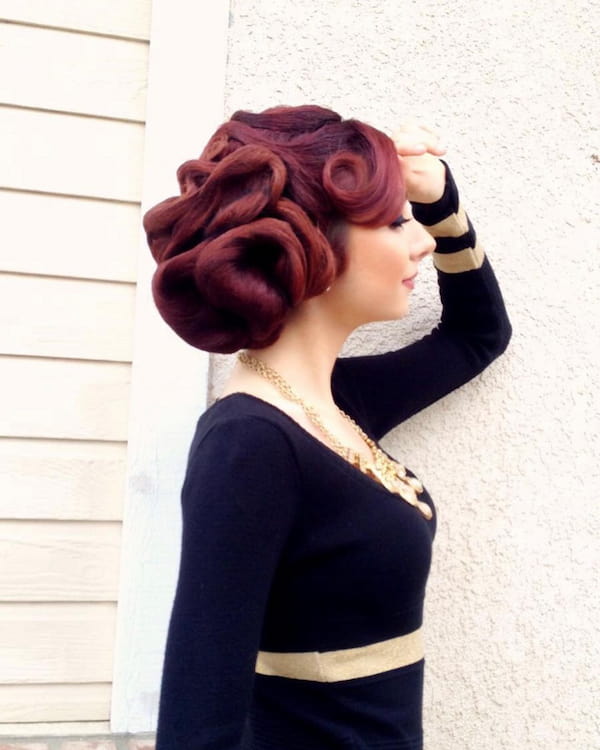 This red hairstyle is quite the thing; its red color is already pretty radical, but the style itself is quite eccentric. It also doesn't look easy to install, but if you can, you'll be getting more than a few compliments.
50. Simple Hair Updo for Brides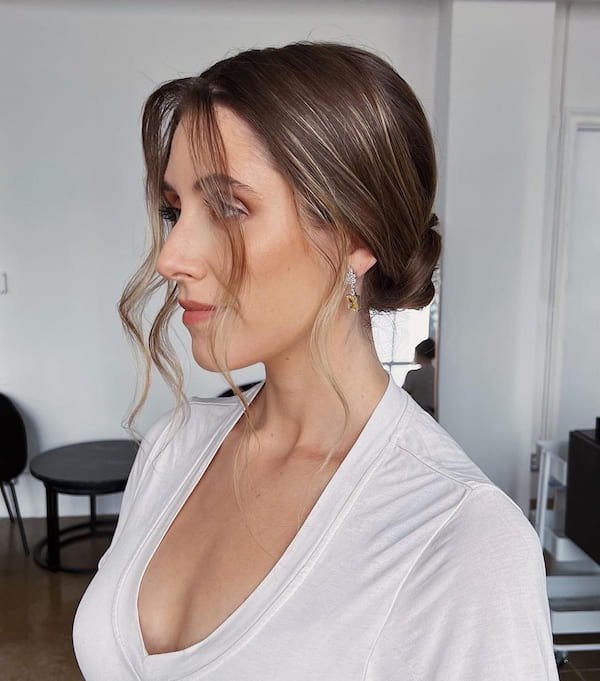 Choosing a good bridal hairstyle can be challenging, especially if you fancy simple hairstyles. Here's an excellent example that showcases how insanely simple hairstyles can look brilliant.
Conclusion
There you have the best updo hairstyles for long hair we could find around the internet. Feel free to copy and modify them as you see fit; the goal is to get the most adorable hairstyle possible anyway.
Did you enjoy this compilation? Then you should check out our other posts.
Pin for Later.