Lobs are short for long bobs, and the term refers to a relatively new category of bob hairstyles that are longer than normal. The extra length introduces extra charm that some ladies love, and if you're reading this, I can safely assume you're one of them.
If you're considering getting a lob haircut with bangs, this compilation will show you 50 excellent ideas to choose from.
50 Adorable Lob Haircuts with Bangs
Without further ado, here are the best lob haircuts with bangs.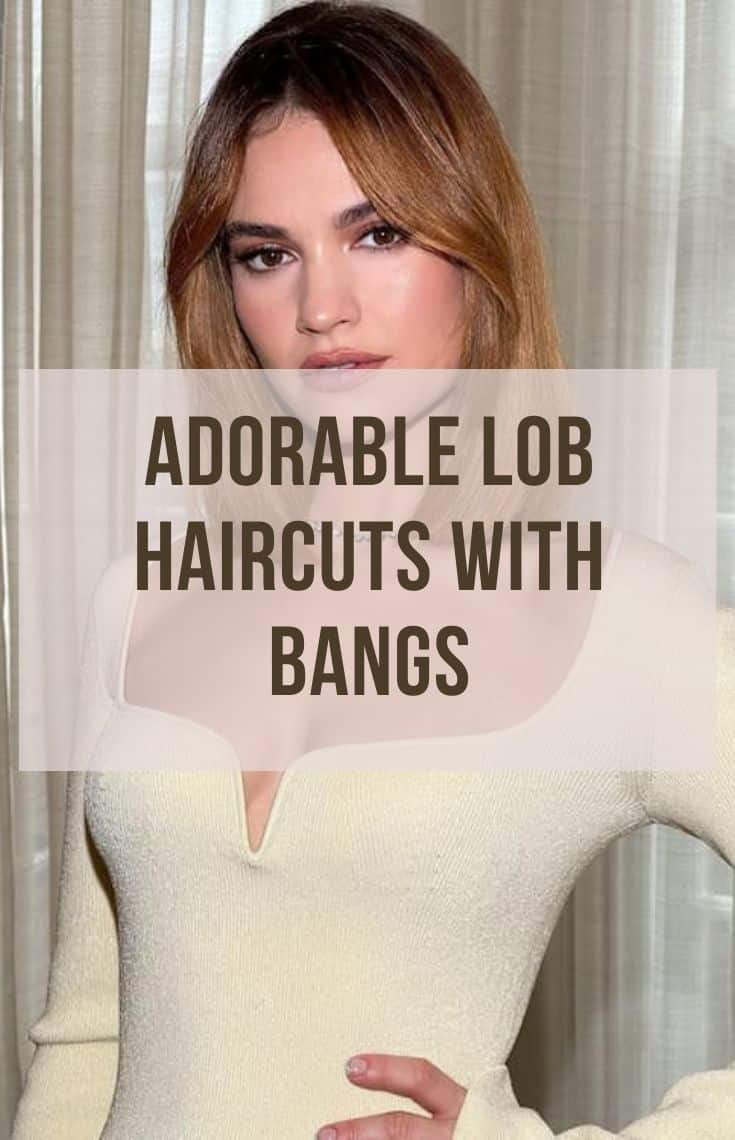 1. Classic Lob Haircut with Side Swept Bangs
There's no better way to start this compilation than with a simple lob cut with almost no bells and whistles. I also love how the model added the innocuous side-swept bangs to avoid making it look too bland.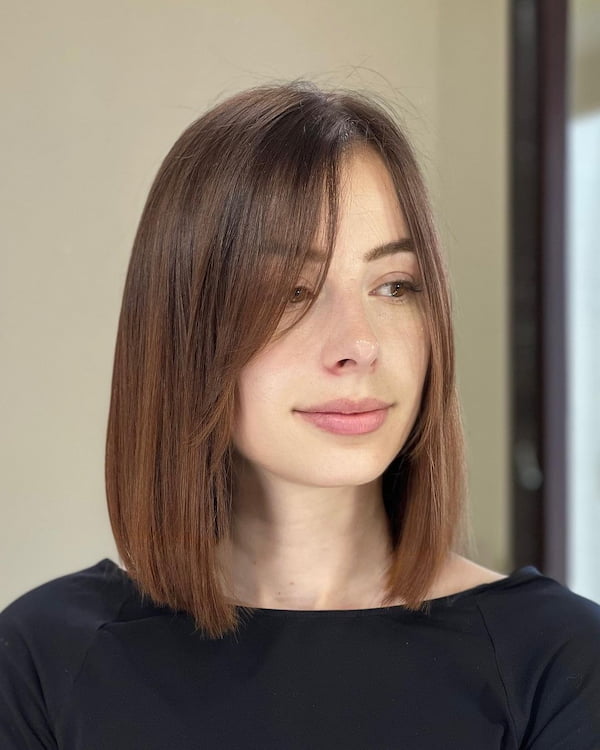 2. Blonde Layered Lob Haircut
Simple is good, but not everyone likes simple. If you're not a big fan of overly simple, this layered lob introduces some complexity that may sit well with you.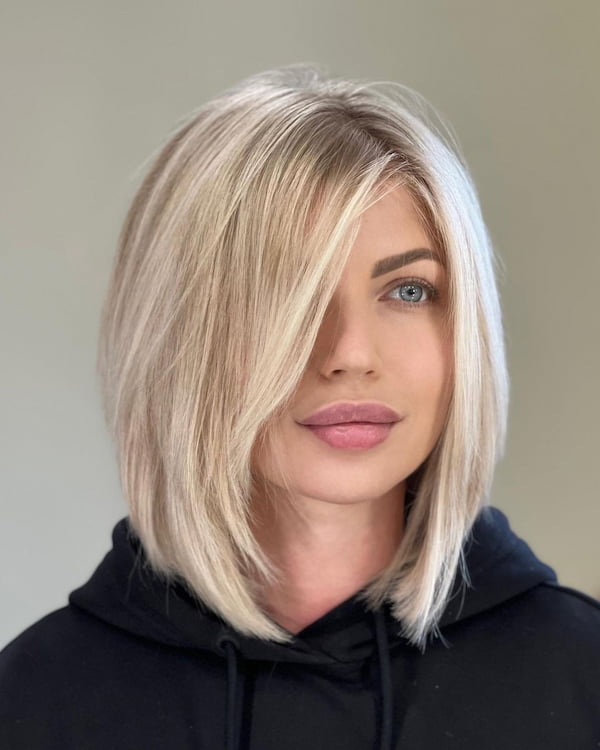 3. Simple Long Bob Haircut with Bangs
Making a lob adorable doesn't requires no extraordinary bells and whistles. As far as lob haircuts are concerned, a simple cut with bangs is good enough to turn heads.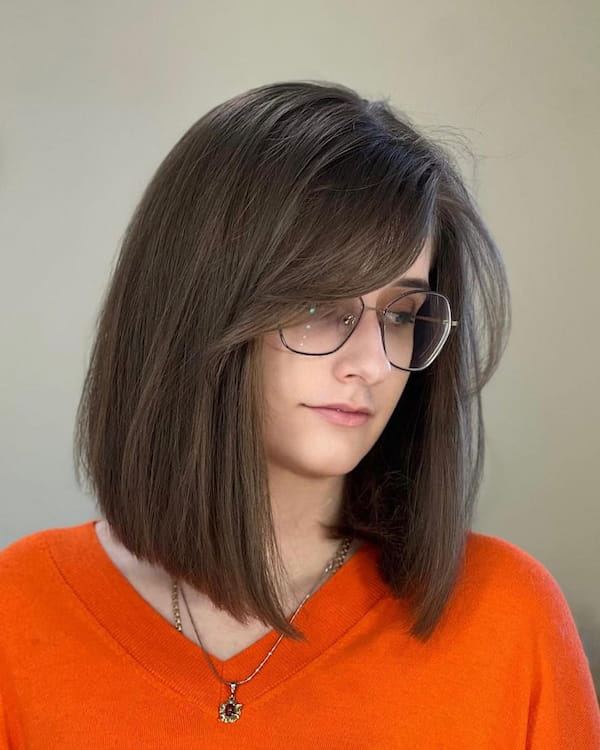 4. Lob Haircut with Scanty Fringe
If I'd be getting a lob haircut tomorrow, this would be it. The simplicity of the lob and the allure of the scanty fringe come together to create a look that's comparable to perfection.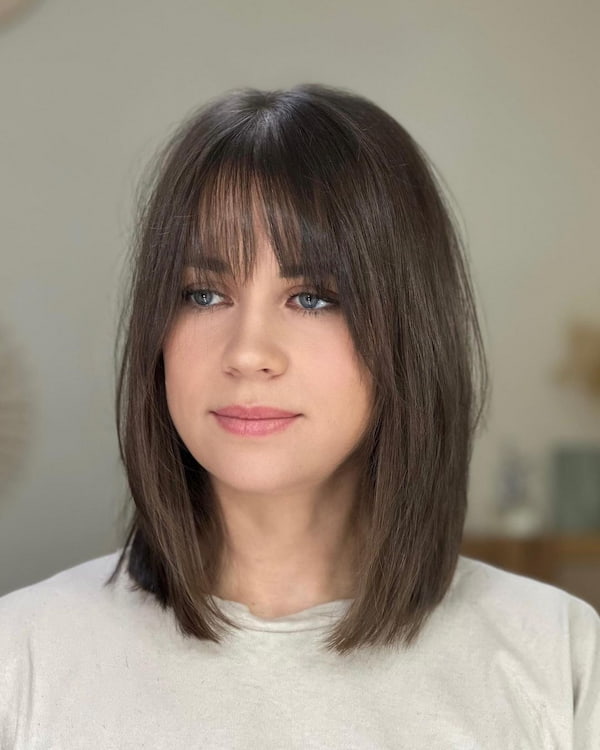 5. Textured Haircut with Bangs
Straight lobs are adorable, but it's understandable if you want yours wavy. This textured wavy lob with bangs sets such an adorable precedent that I think anyone after a wavy lob should copy it.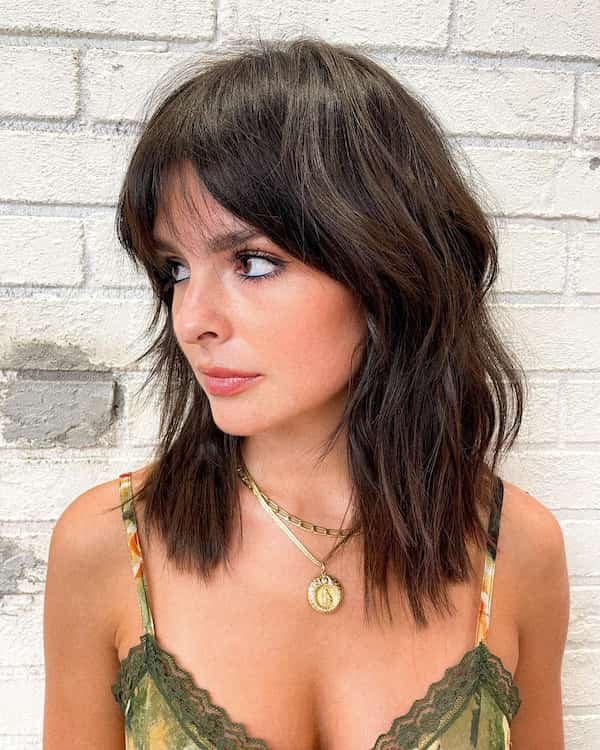 6. Glam Lob Haircut with Side Bangs
Lobs are naturally formal, but this glam lob takes that formality to the next level. The side bangs also ensure that the formal look doesn't impede any glamour.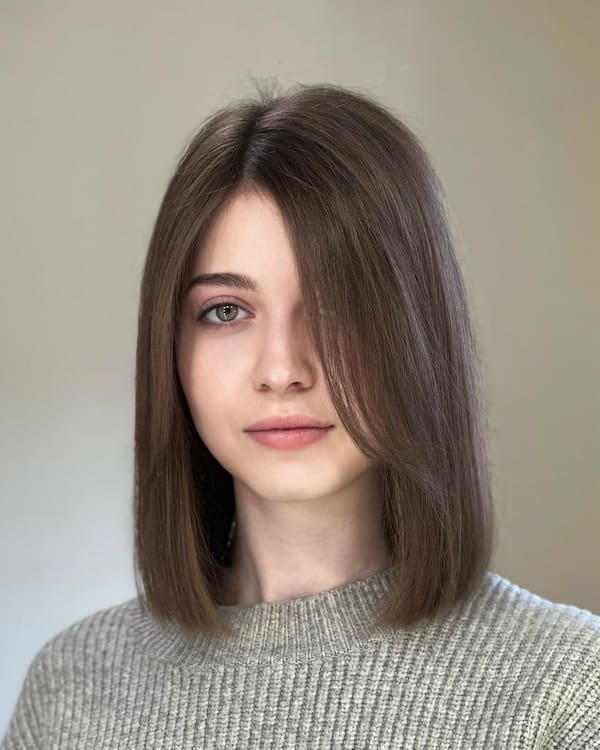 7. Summer Stacked Lob Haircut with Bangs
This stacked haircut might be my favourite hairstyle in this compilation, and we're not even nearly halfway done. The way the hair curves at the end to create an oval shape is perfection.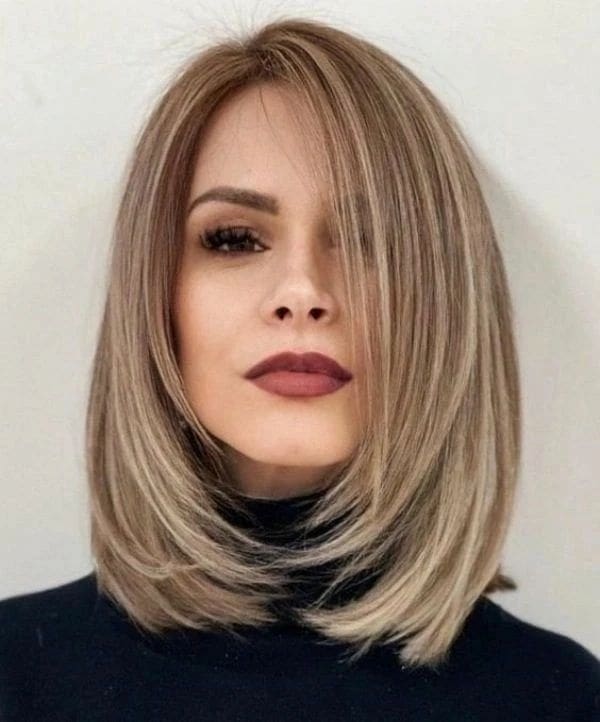 8. Brown Messy Lob
Sometimes, you want that slight messiness to make your hairstyle look somewhat busy. This brown messy lob is a charming way to achieve that.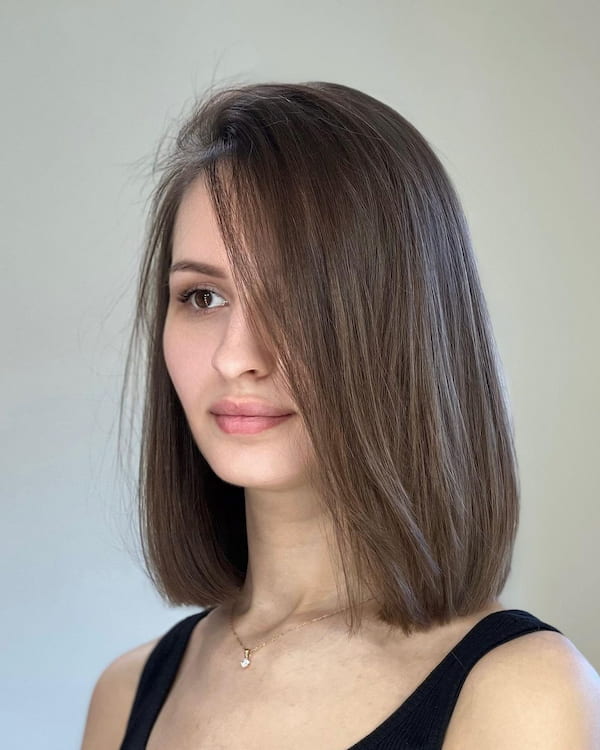 9. Textured Lob with Bangs
If that's not enough texture for you, this textured lob with bangs should work better. You can even go ahead to replicate the model's entire outfit for a better look.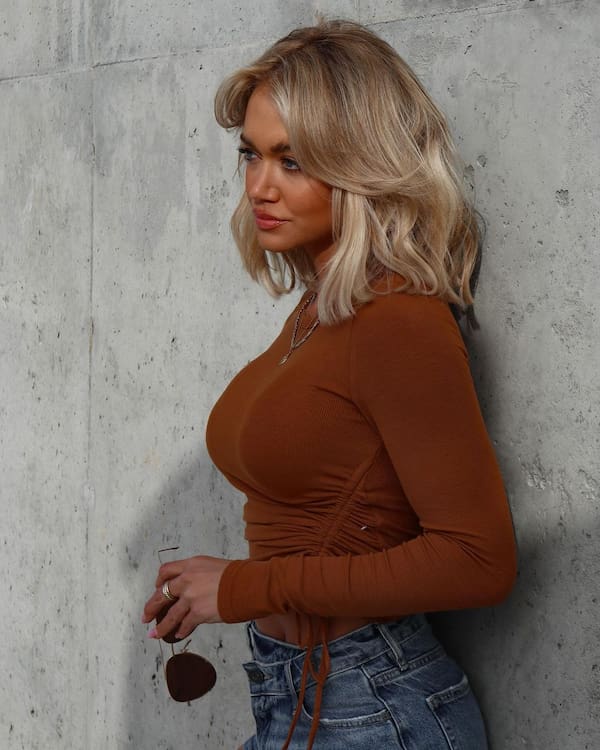 10. Winter Lob with Both Side Swept Bangs
This winter lob looks too good for ladies after a casual hairstyle. If you have brown and you love top-tier hairstyles, this winter lob with side-swept bangs is all you need.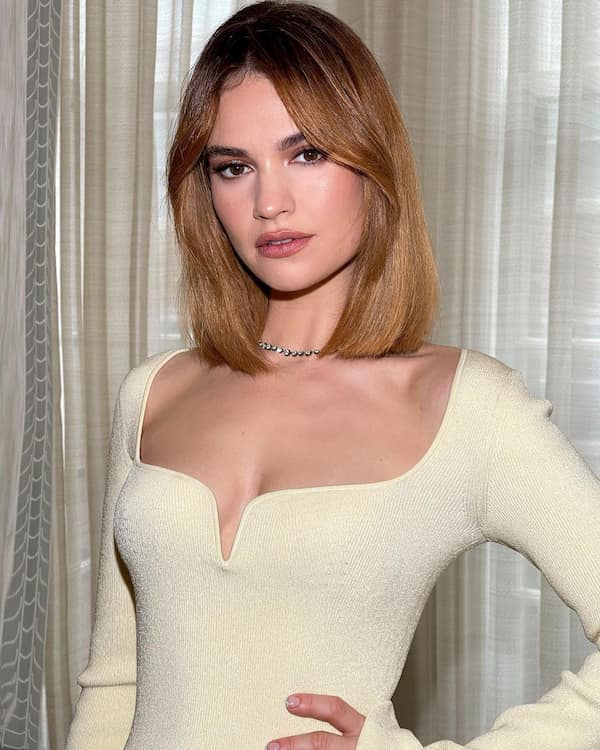 11. Simple Brown Lob Haircut with Bangs
We've seen some formal lobs earlier, but one more is never too much. This simple brown haircut looks particularly adorable on Asians, but who says you can't try it if you aren't?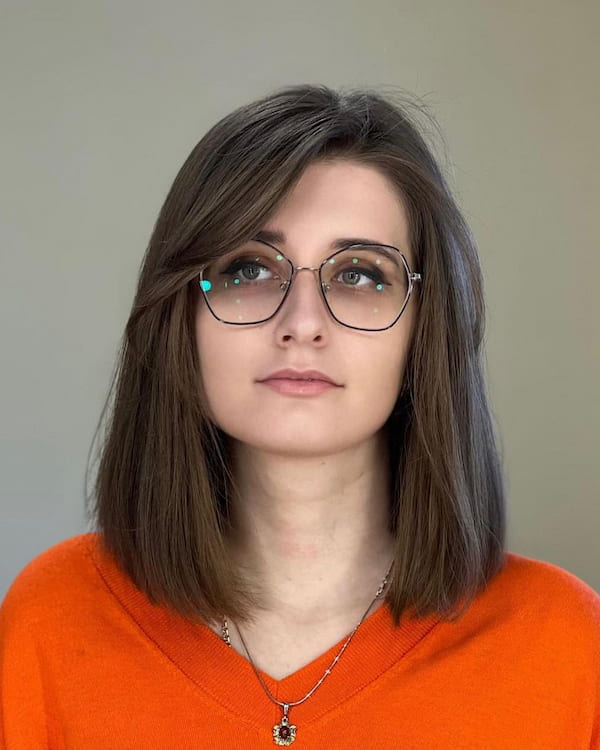 12. Brunette Special Wavy Lob Haircut
Brown hair just has its way of making all hairstyles look two times better, and it's displaying that unique trait here again. While this is not the longest of bobs, we can at least agree it's one of the prettiest.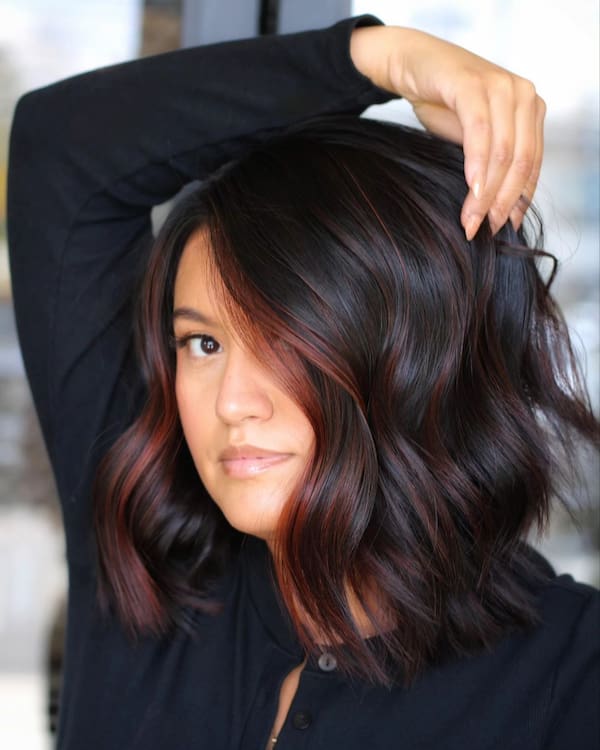 13. Beachy Lob Haircut with Thick Bangs
If beachy hairstyles are your kind, this one should work for you. Achieving the style and the thick bangs requires voluminous hair, but if you have it, this hairstyle's a no-brainer.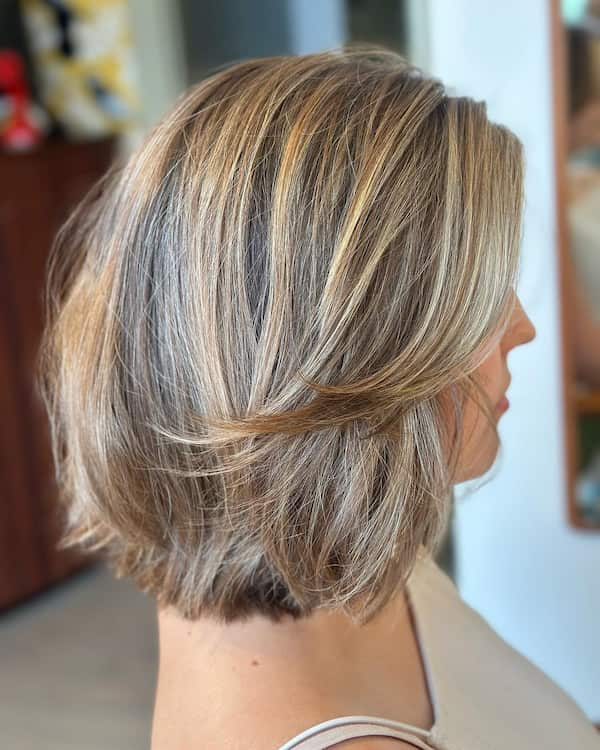 14. Blonde Lob Haircut with Fringe
Fans of nicely-done fringes will appreciate the allure of this lob. If you can manage to get it in its original blonde colour, you'll have a hairstyle that's only common among models.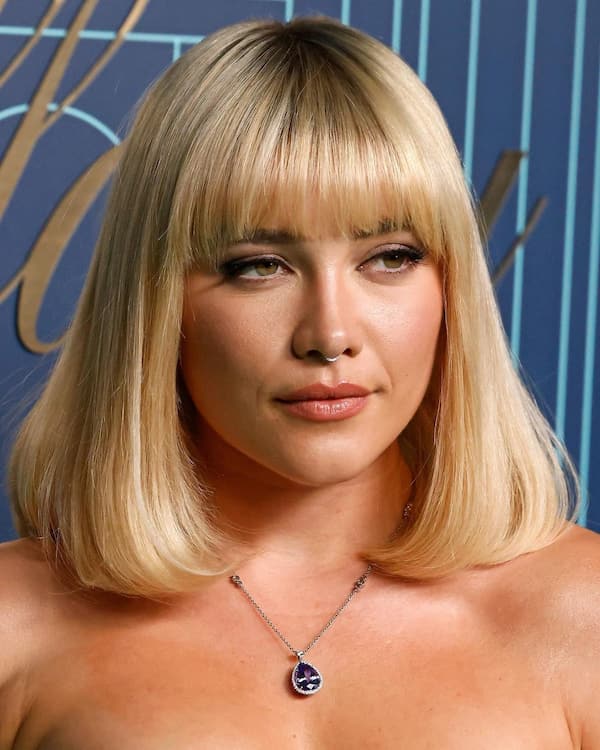 15. Long Bob with Overlapping Layers and Bangs
I know I've declared one style my favourite earlier, but I think this lob should supplant that. No, it's not because of the charming, one-of-a-kind bangs, but the overlapping layers that make the hairstyle both unusually long and undeniably attractive.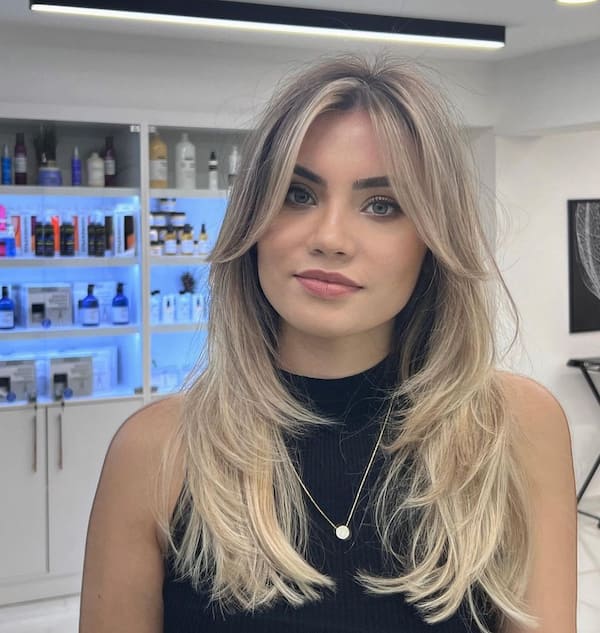 16. Minimal Lob Haircut with Bangs
If you don't have the most voluminous hair out there, you should be looking at a hairstyle like this. The minimal look doesn't require tons of hair, and the bangs adorn it beautifully.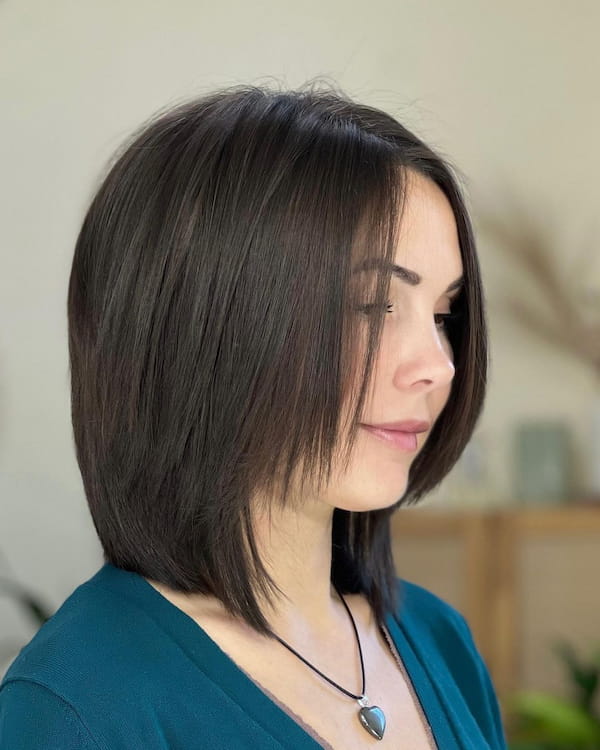 17. Textured Lob Haircut on a Natural Hair
Getting a bob on bountiful natural hair invariably makes the bob look great. Here's an example of an awesome textured bob made exclusively from the model's natural locs.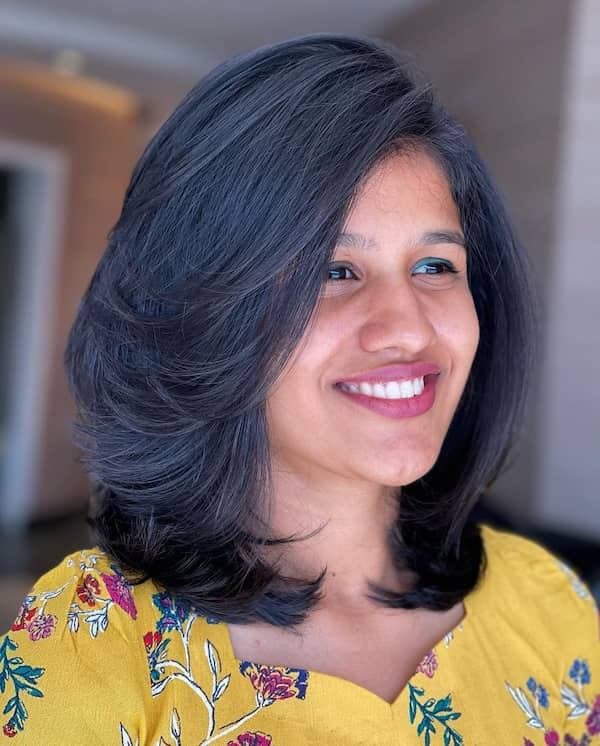 18. Summer Lob Haircut with Side Bangs
This summer lob haircut is the closest thing to a default bob look. However, default looks are typically boring, so the model added side bangs to spice things up, and I like it.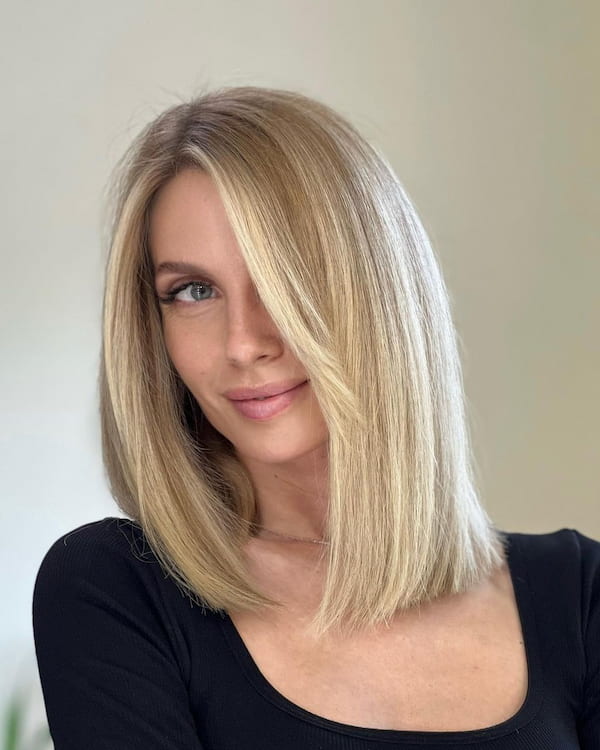 19. Layered Lob Haircut with Fringe
This fringe isn't as thick as some we've seen earlier, but it's every inch as adorable. Throw in the centre parting and the layered look and you'll understand why the style made this list.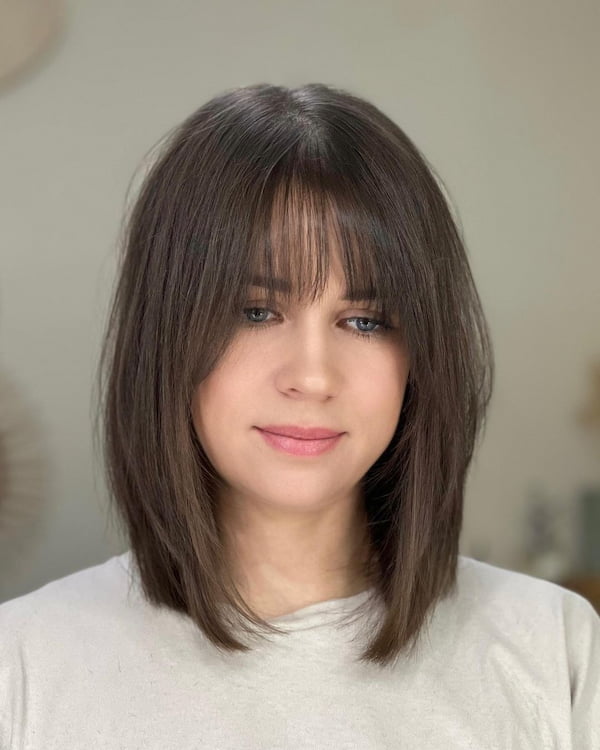 20. Black Lob Haircut with Layers and Bangs
If you love a bob that isn't boring, here's the ultimate style for you. The waves, bangs, and layers are undoubtedly adorable, but the real charm is in black; black is beautiful.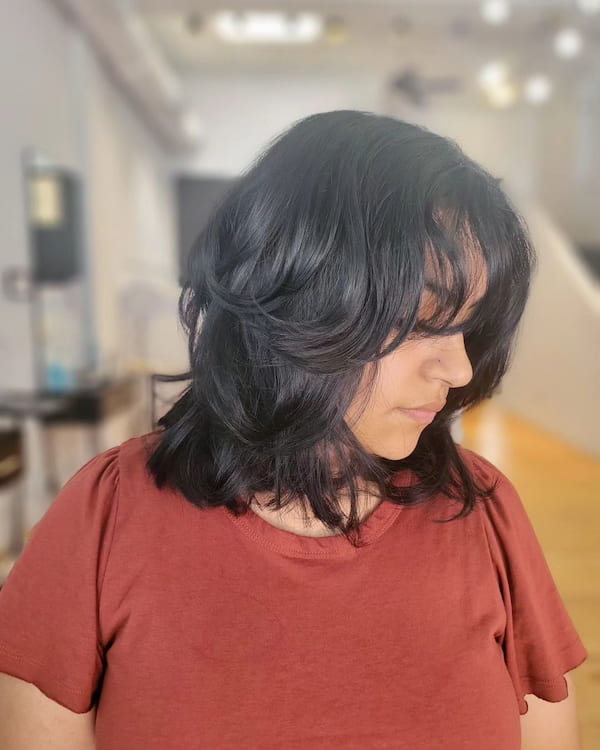 21. Shoulder-Length Curvy Lob Haircut with Bangs
While curly bobs are typically adorable, they don't look as sleek as straight ones. This curvy lob solves the dilemma by giving a curly end to a straight lob, combining the allure of both styles.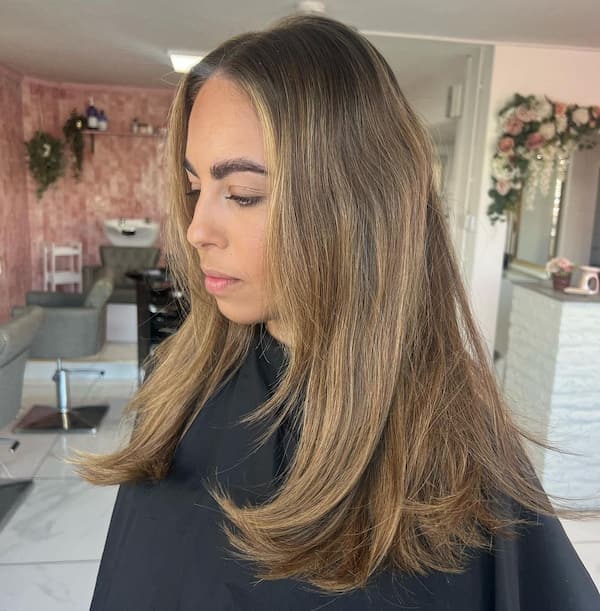 22. Messy Lob Haircut with Fringe
If the curvy lob idea is too 'straight' for you, here's a real wavy alternative with some texture. While there are several good parts to this hairstyle, I'll give the crown to its adorable fringe.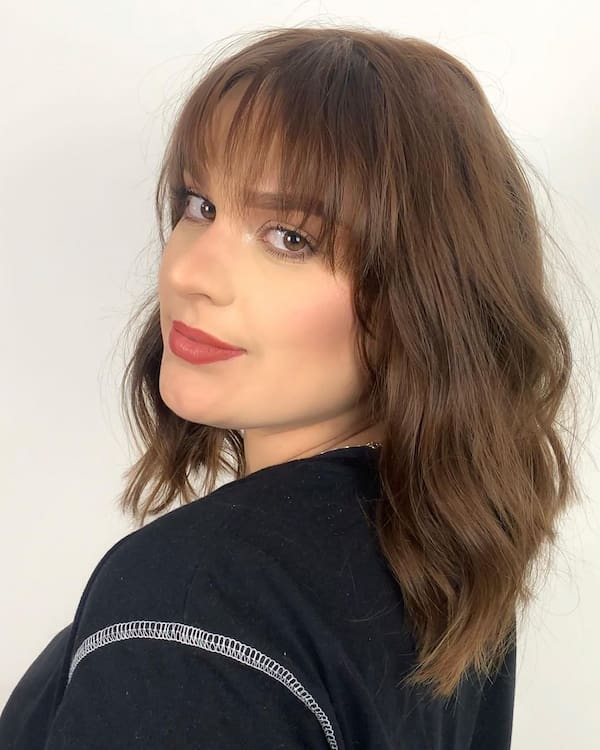 23. Blonde Lob Haircut for Older Women
Old age shouldn't stop you from rocking a beautiful lob. With that said, here's an adorable blonde lob cut that lets blondes rock this hairstyle into their seventies.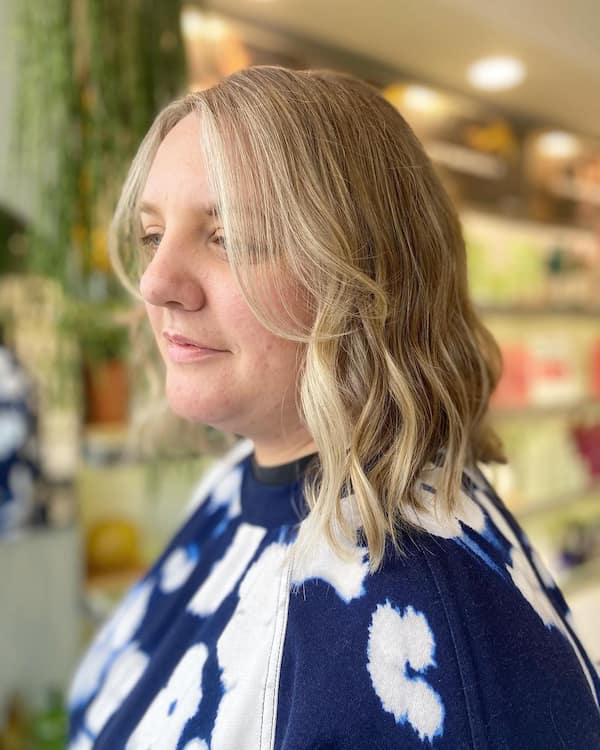 24. Tightly Layered Lob with Chopped Bangs
Adding bangs to a layered lob always shoots its allure to the roof, and that's exactly what's going on here. The tight layers offer it a sleeker and more professional look than most lobs.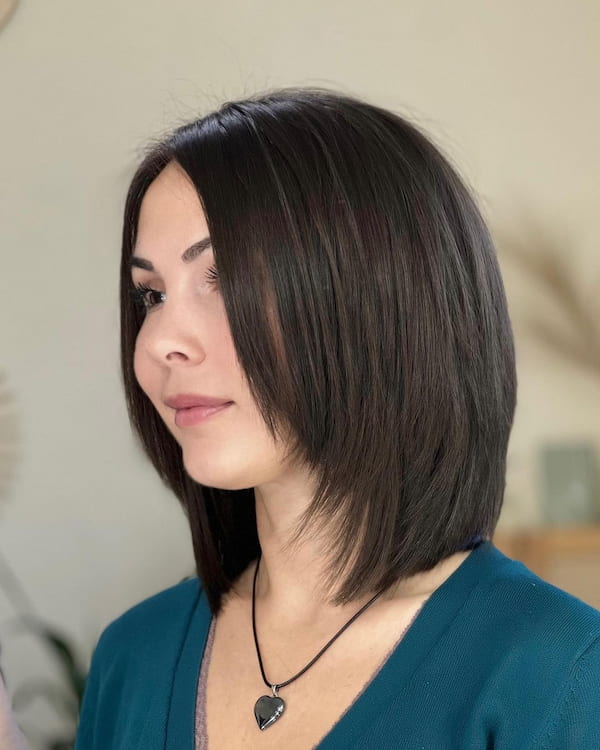 25. Wolf Lob Haircut with Bangs
If you're not attending a wedding or celebrating a birthday, this asymmetrical wolf lob should work excellently for you. However, I'd shift the parting slightly if I was getting this.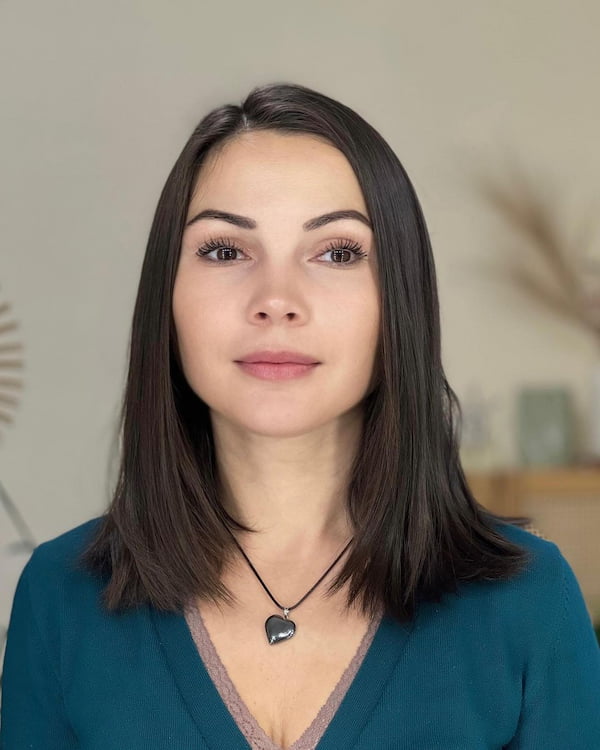 26. Light Purple Long Bob
Fans of flashily-coloured hairstyles will appreciate this purple bob, but even if you don't wear flashy colours, its sleek look and symmetrical pattern should also appeal to you.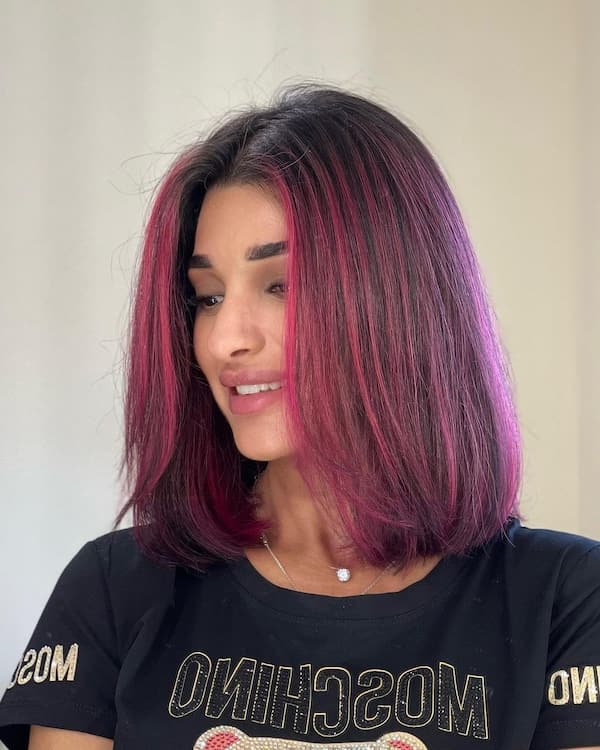 27. Perfectly Stacked Lob with Bangs
Most people don't give a thought to the symmetry of their lobs, but you can make yours so much better by simply doing that. I don't have to illustrate how much better a symmetrical bob looks; you can see for yourself.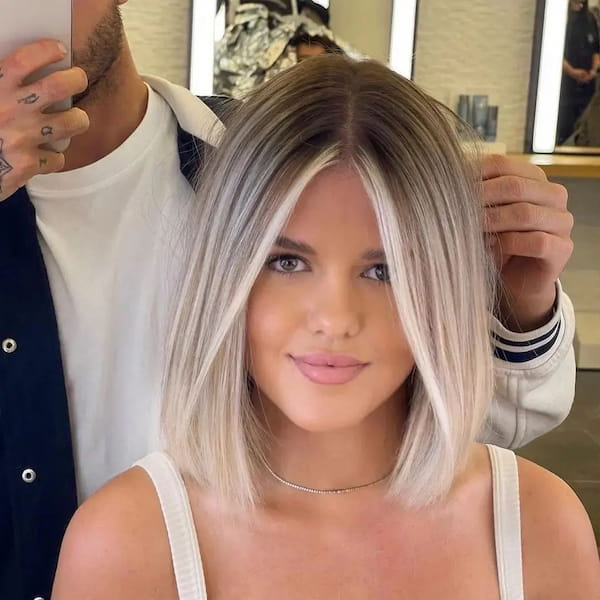 28. French Bob with Fringe
English bobs look great, but French hairstyles are not bad either. This simple French bob with fringe perfectly represents them, packing all the allure and aura of the average French lob.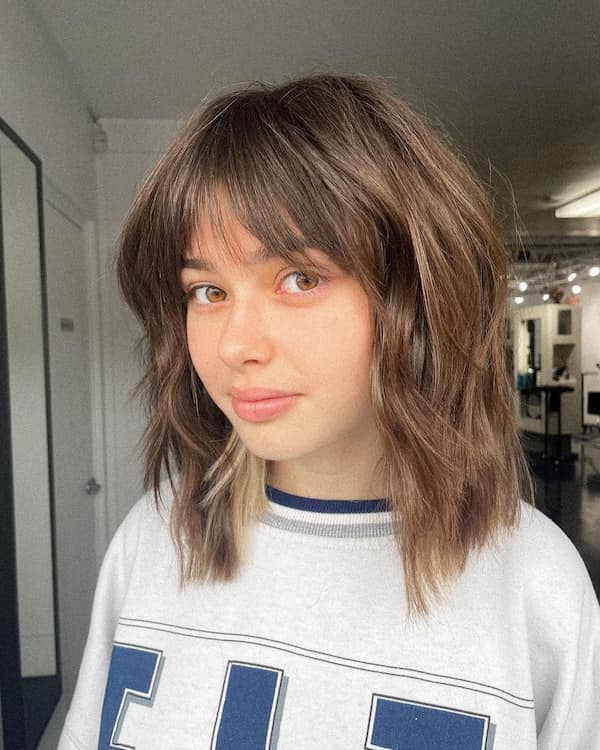 29. Wavy Lob Haircut with Bangs
We've seen quite a few wavy lobs, but here's yet another with a slight twist. This time, it's slightly longer than average and features bangs, making it pretty enough for a spot on this list.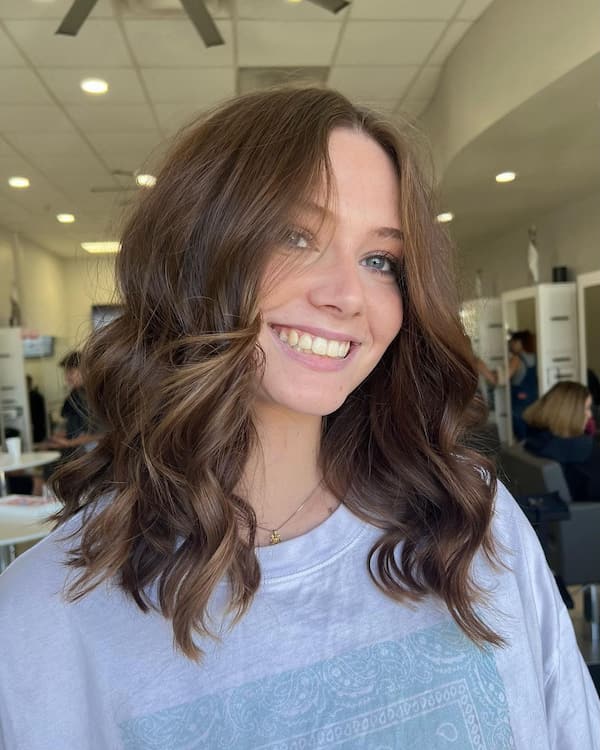 30. Straight Lob Haircut with Fringe
Why waste your time with layers and textures when you can simply get something straight that looks just as adorable? Just don't forget to add the fringe; even I have to admit that it's charming.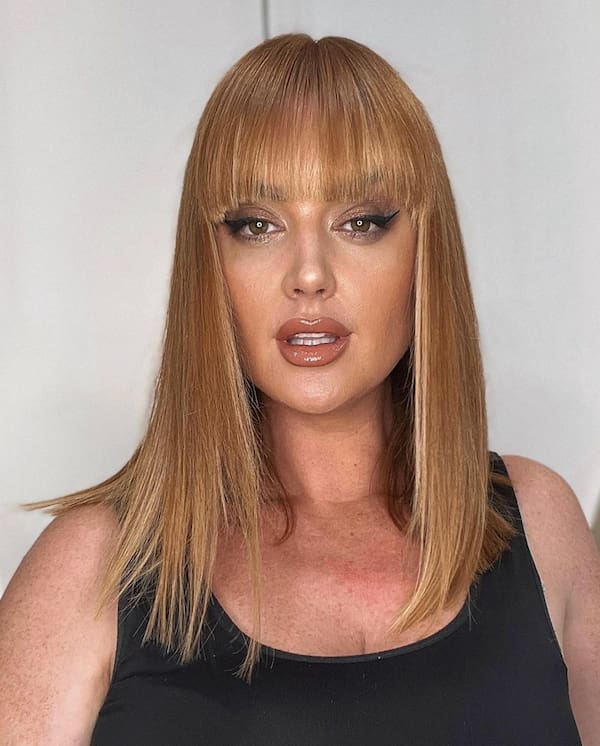 31. Blonde Bob with Layers and Open Fringe
Having blonde hair has its benefits, and one of them is that it makes a hairstyle like this possible. Thanks to the side parting and the open fringe, this style is easily one of the very best in this compilation.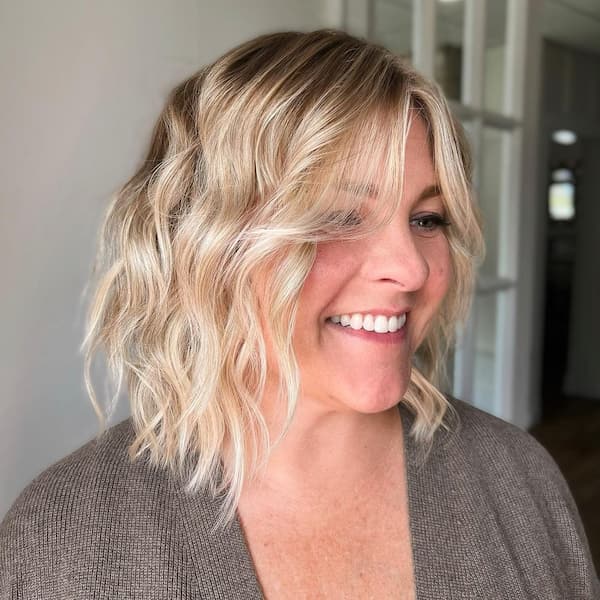 32. Perfectly Shaped Ginger Lob with Fringe
If you're attending a high-class event, you want an elite lob to go with it. Speaking of elite lobs, you don't get it better than this perfectly shaped hairstyle with its unmatchable fringe.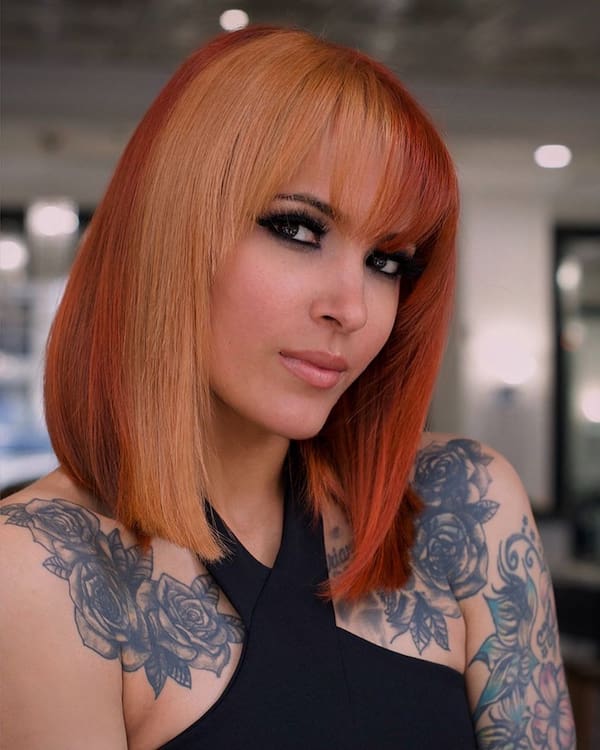 33. Wispy Choppy Lob with Layers
Fine hair limits your hairstyle options, but it leaves some truly excellent ones. This wispy bob with layers is an adorable hairstyle idea for ladies with thin hair.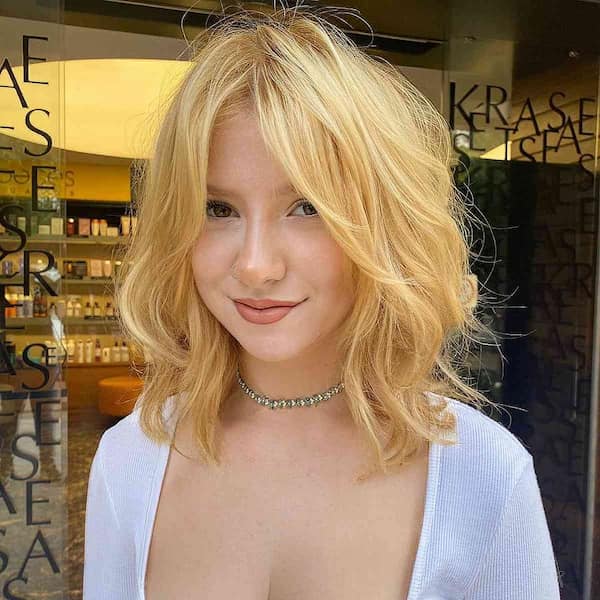 34. Centre-Parted Shaggy Lob
A centre parting creates a symmetry that adorns lobs, and this wavy centre-parted lob utilizes that strength excellently. The model's face and the hair colour all combine to make this style close to perfect.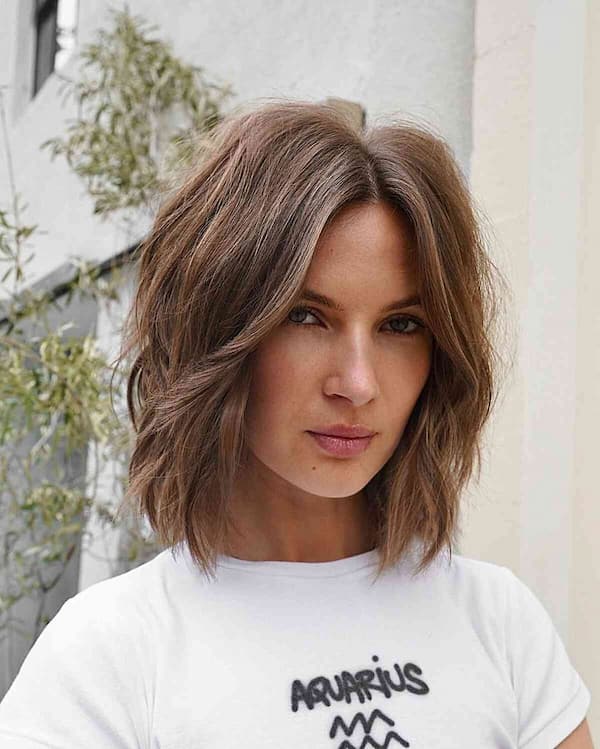 35. Mixed-Tone Lob with Bangs
If you're a fan of gradient-toned hairstyles, this mixed-tone lob should work for you. Its length and the adorable side bangs almost succeed in supplanting my favourite hairstyle from this compilation.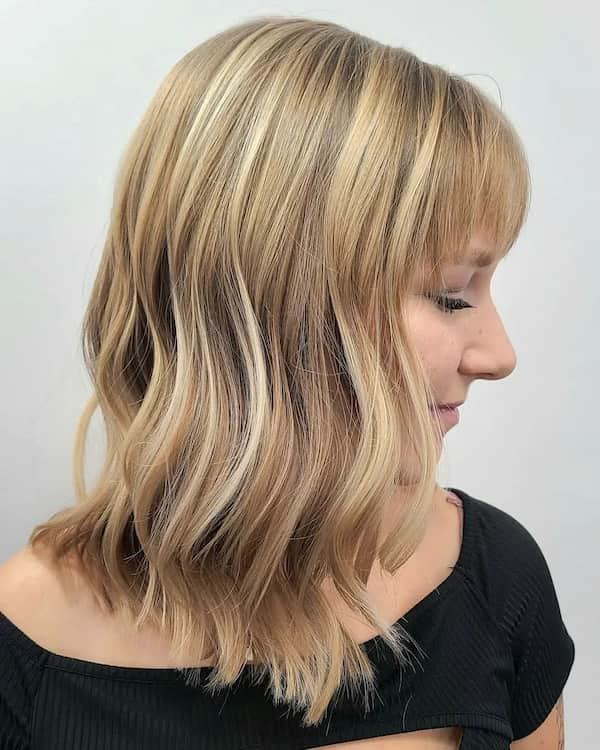 36. Big Chopped Lob with a Pop of Pink
We've seen several wavy lobs earlier, but it's hard to point at one that matches this style's allure. With the centre parting and that slight pink pop, this hairstyle is simply impeccable.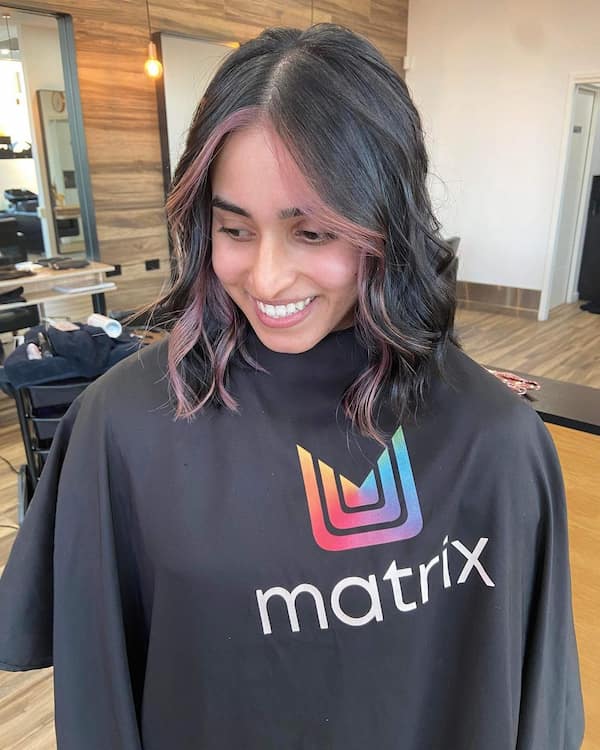 37. Tousled Lob Haircut
This tousled lob features thick layers that give it a rather distinctive yet adorable look. If you're after an innovative lob, here's an idea.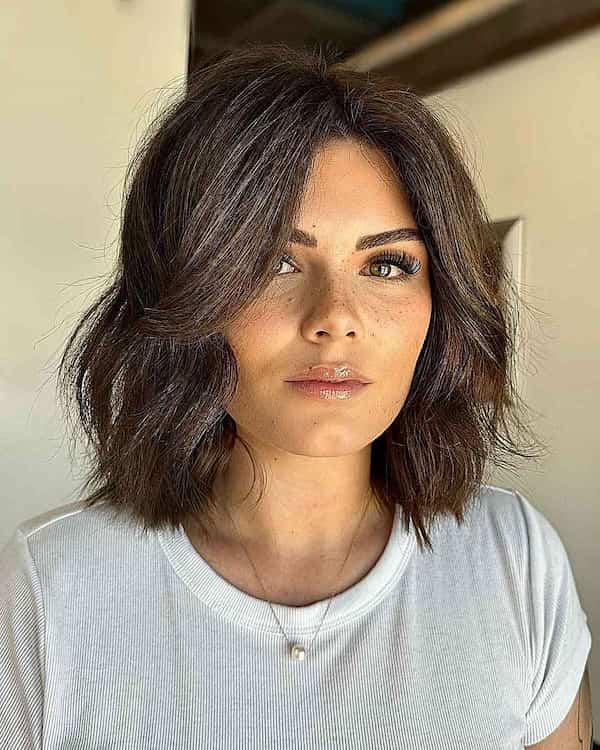 38. Statement Lob Haircut with Bangs
If you went to a stylist and asked to have a bob, you'll get something very close to this, and it's not half bad. It's incredibly simple, sleek, and adorable.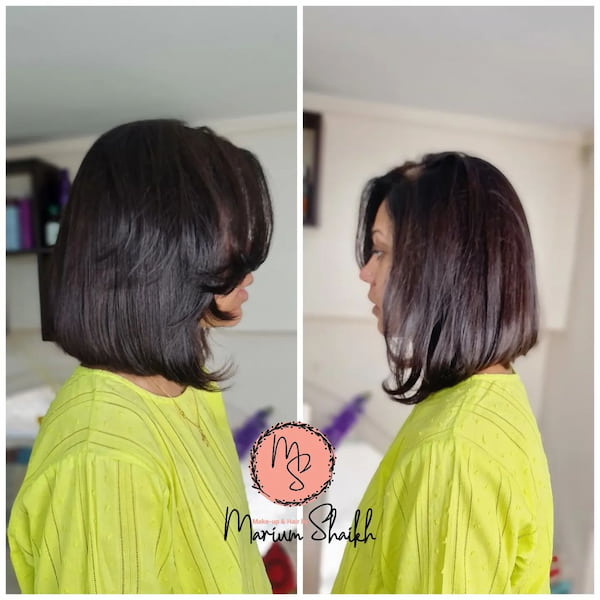 39. Natural Choppy Lob with Fringe
A fringe can beautify a lob without fail, 100% of the time, and this hairstyle idea is an example of that concept. While the natural choppy lob is nothing remarkable, the fringe brings out its glamour.
40. Layered Shaggy Lob with a Short Fringe
Fine hair shouldn't stop you from styling your lob beautifully. If you're out for ideas, this model's shaggy layered bob is an excellent one, and you may want to add the short fringe for allure.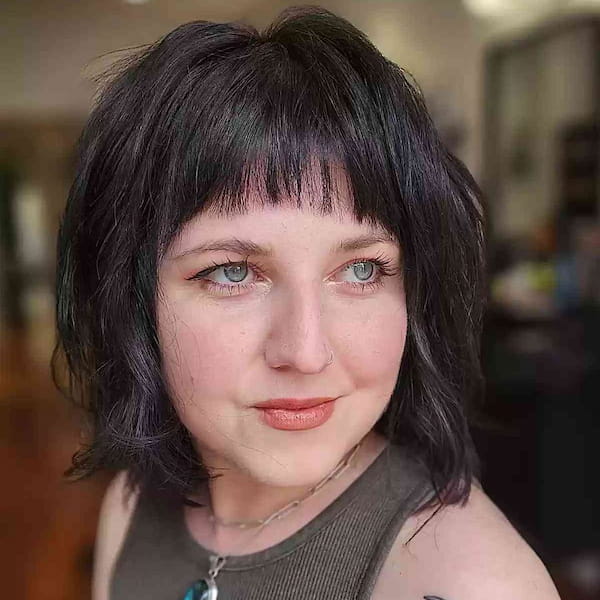 41. Violet Lob with Curtain Bangs
Coloured hair is a trend now, and a violet lob is a creative way to ease into the trend. It requires some bravery to wear, but if you're brave enough, you can easily see why it makes one of our favourite lob haircuts.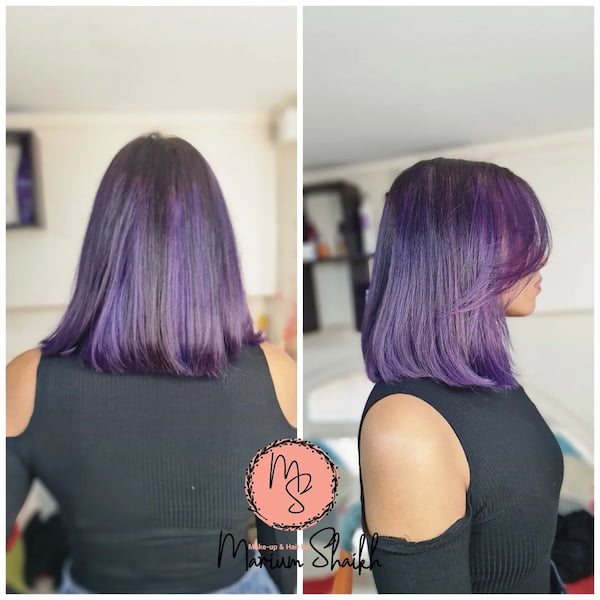 42. Simple Mixed-Tone Lob with Curtain Bangs
If the violet from the preceding hairstyle jumps out too much at you, this mixed-tone lob is a suitable alternative. It's clean, classy, and with the curtain bangs, undoubtedly adorable.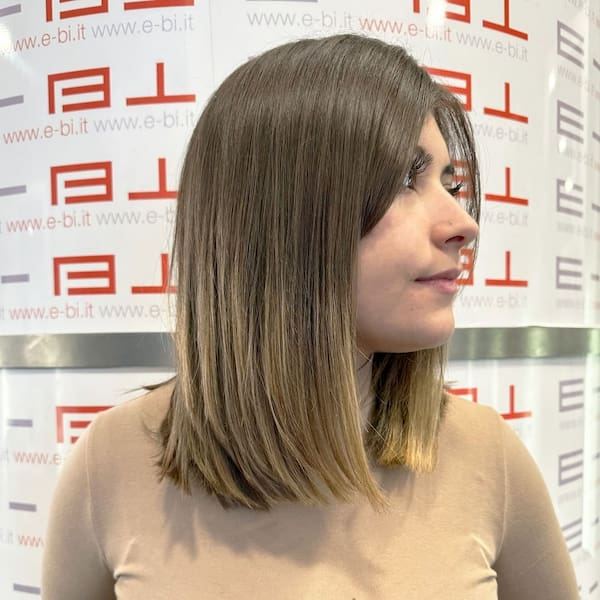 43. Cute Lob with Choppy Layers
I'm yet to see an unimpressive brunette lob, and I want to believe it's something to do with the hair colour. However, I also believe this hairstyle's wavy look and the choppy layers will look great on any hair colour, even yellow.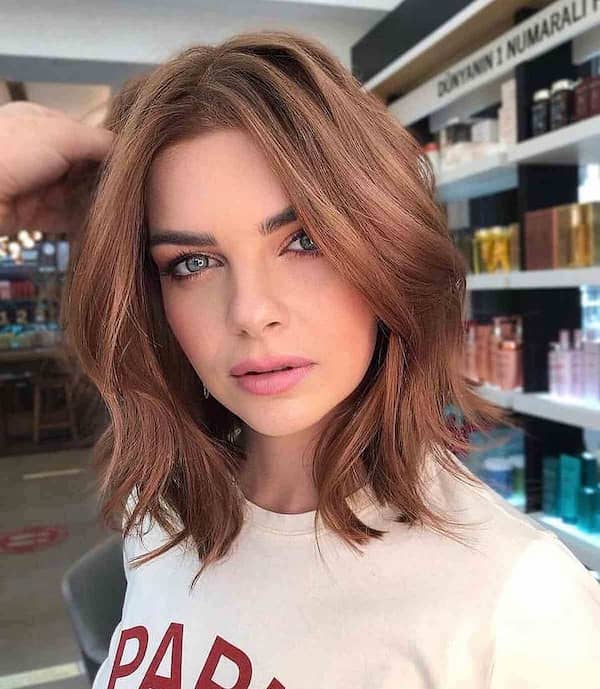 44. Soft Brown Lob with Bangs
Still on brunette excellence, this soft brown lob manages to mask the hair's thinness and lack of volume, replacing them instead with beauty and class; easily a 10/10 hairstyle.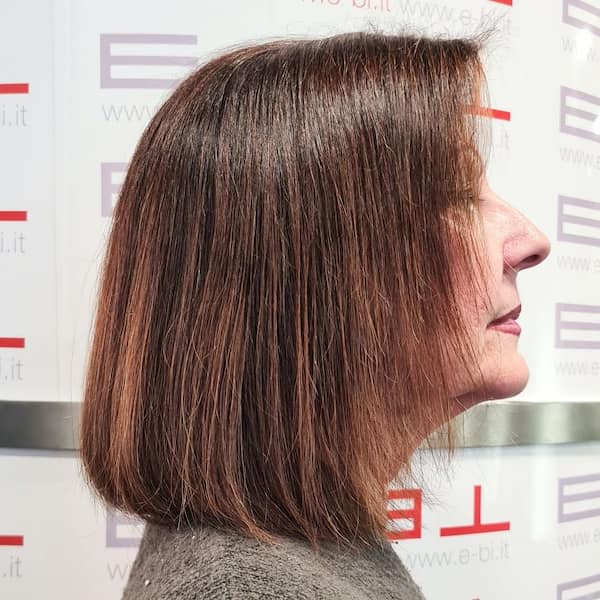 45. Blonde Beachy Lob with Curtain Bangs
This beachy lob with curtain bangs looks like the kind of hairstyle you see on Nollywood actresses. If you're blonde and willing to look your best, replicating this style is a no-brainer.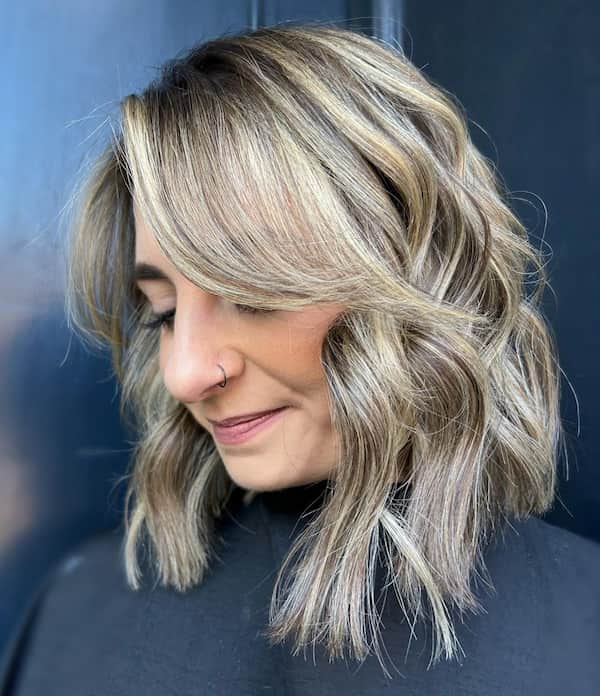 46. Brunette Textured Balayage
Having brown hair is already a cheat code, as it makes whatever hairstyle you choose to wear three times better. Our model then chose to wear this lob with a symmetrical centre parting and impeccable waves, giving her an irresistible look.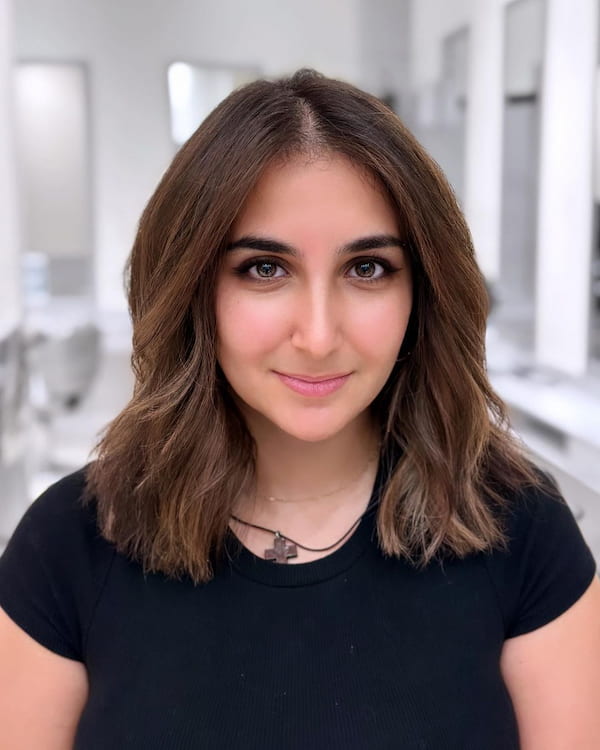 47. Sassy Lob Haircut with Bangs
This lob is adorable for many reasons. Firstly, it looks sleek and uniform; secondly, the colour choice is spot on; and thirdly, it's a lob with bangs: what do you expect?
48. Wolf Lob Haircut with Curtain Bangs
We've seen so many wavy lobs, but this one is adorable enough to deserve a mention nonetheless. Its messy look doesn't make it the prime recommendation for any high-profile event, but it's plenty charming for casual wear.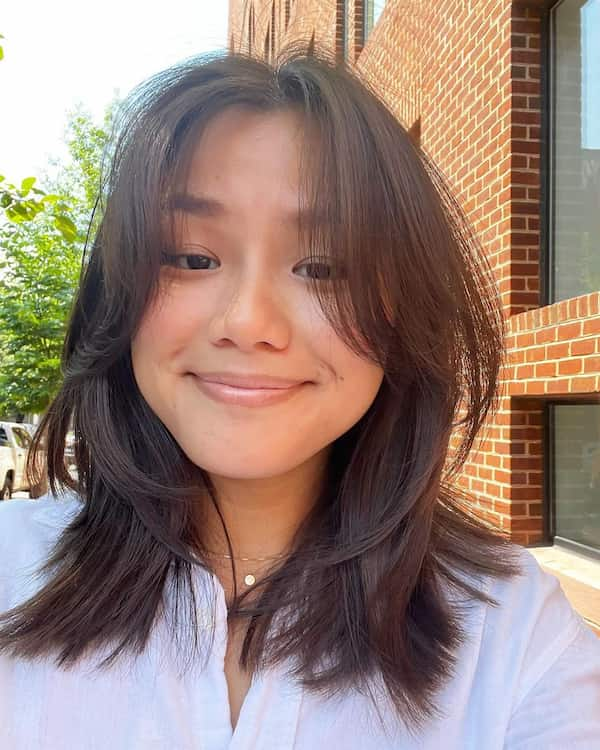 49. Layered Lob Cut for Women over 50
Some factors can stop you from wearing a lob, but age is certainly not one of them. With this model rocking a layered lob into her 50s', we don't see what's stopping you.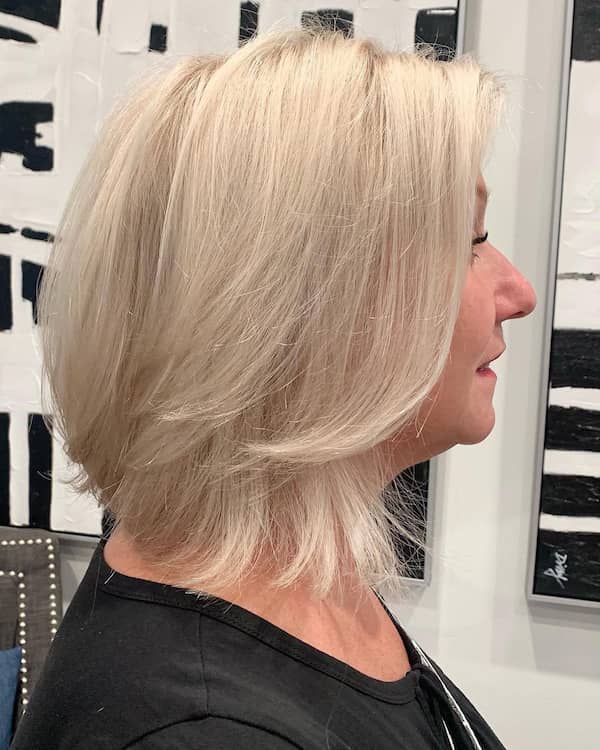 50. Symmetrical Lob Haircut with Bangs
What's a better way to end this compilation of adorable hairstyles than with this excellent cut with the bangs? If we're to find an average of all the charming hairstyles we've seen so far, it would be close to this.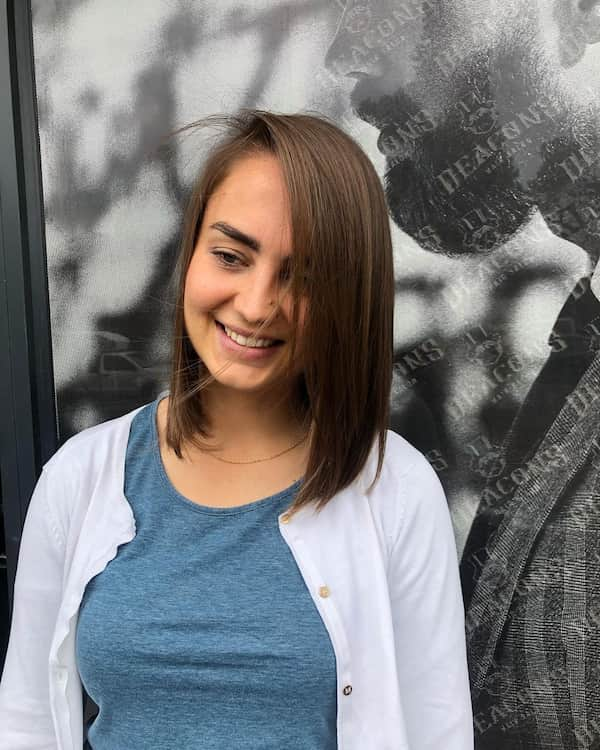 Conclusion
Lobs and bangs are two things I love to do with my hair, so I'm naturally a fan of joining them together. This compilation lists the 50 most outstanding lob haircuts with bangs we could find online.
If you liked this compilation, you may want to check out some of our other works below.
Pin for Later.