Getting layered haircuts without bangs is a significant fashion faux pas unless the hairstyle you're planning is really that good. However, getting with bags also doesn't necessarily mean it would look as adorable as a model's.
If you're after a model-level layered haircut style with bangs, you're at the right place. This compilation will show you not one, not two, but 50 different and adorable ways to style your layered haircuts with bangs.
50 Adorable Layered Haircuts with Bangs
Layered haircuts and bangs are a match made in heaven. Here are 50 adorable hairstyle ideas to prove that.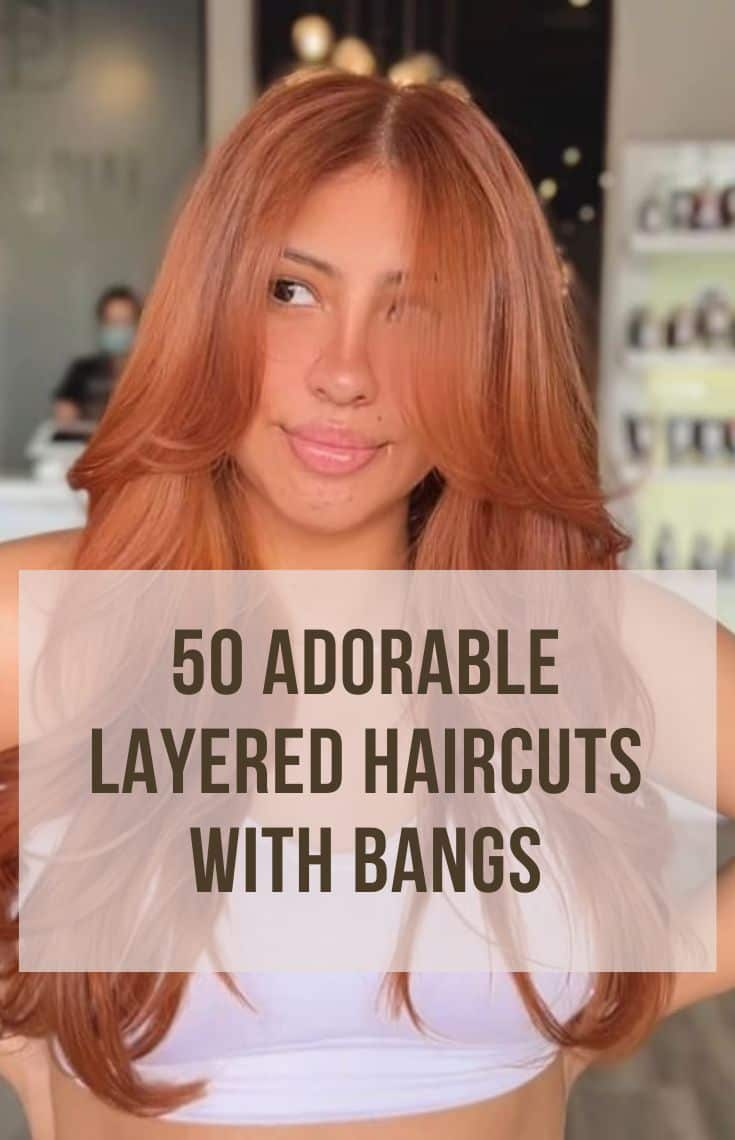 1. Shaggy Hair with Face Framing Layers and See Through Fringe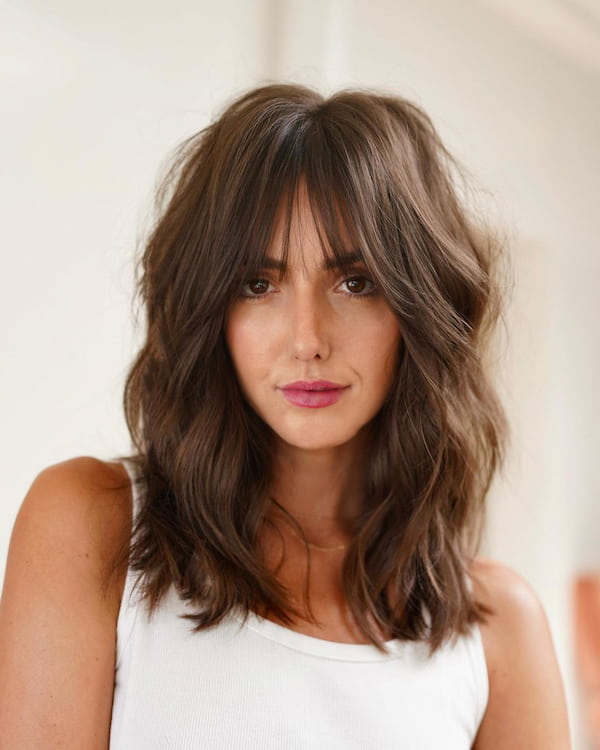 Starting this compilation on a rough note (no pun intended), why not take a look at this shaggy layered style? The sparse fringe also does a good job of accentuating the style, creating an adorable piece.
2. Blonde Shaggy with Overlapping Layers and Bangs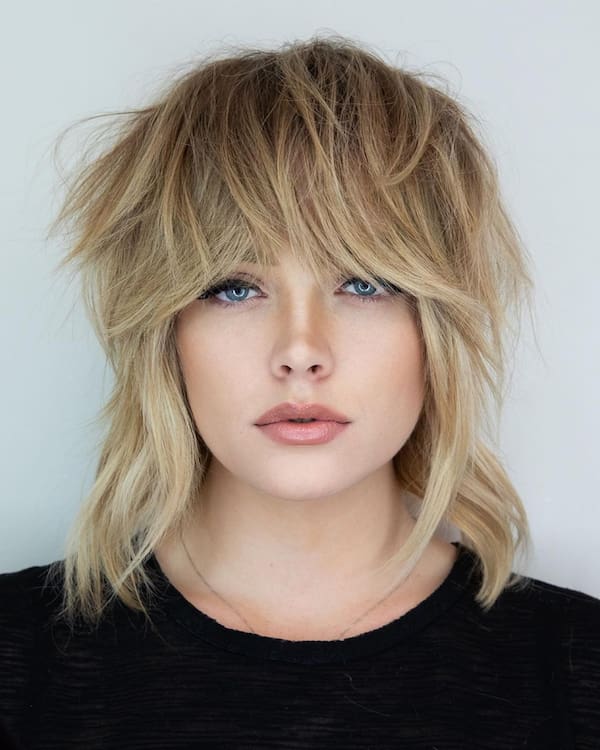 Still on shaggy layered styles, this blonde shaggy piece of art just has to make it into this compilation. The bangs are significantly more pronounced here, but the general idea is the same as the former.
3. Long Layered Haircut with Thin Bangs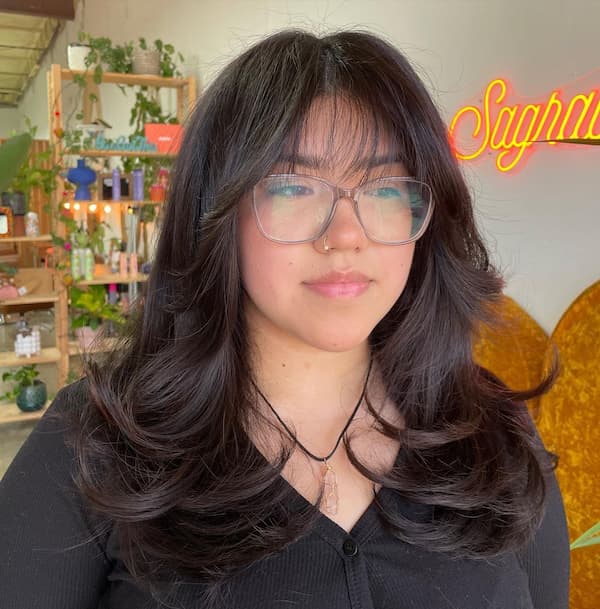 If you're not particularly into the shaggy style vibe, this adorable long and layered haircut should work for you. Other than the sparse bangs and the bouncy look, it's nothing out of the ordinary, but it's my favourite style on this list.
4. Thick Black Layered Haircut with Bangs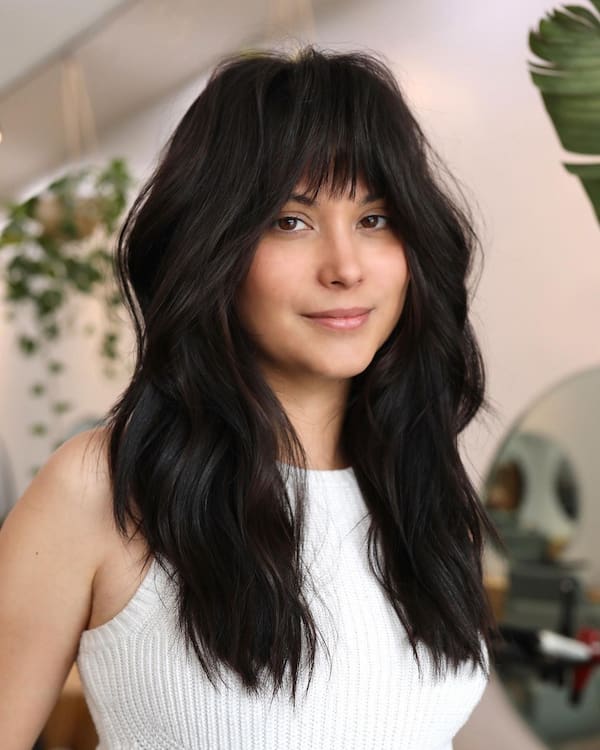 If you want the face-framing effect of the first hairstyle without the shaggy look, here's what you'll get. It's also a strong haircut to consider if you're generally a lover of black haircuts.
5. Long Ginger Layered Haircut with Curtain Bangs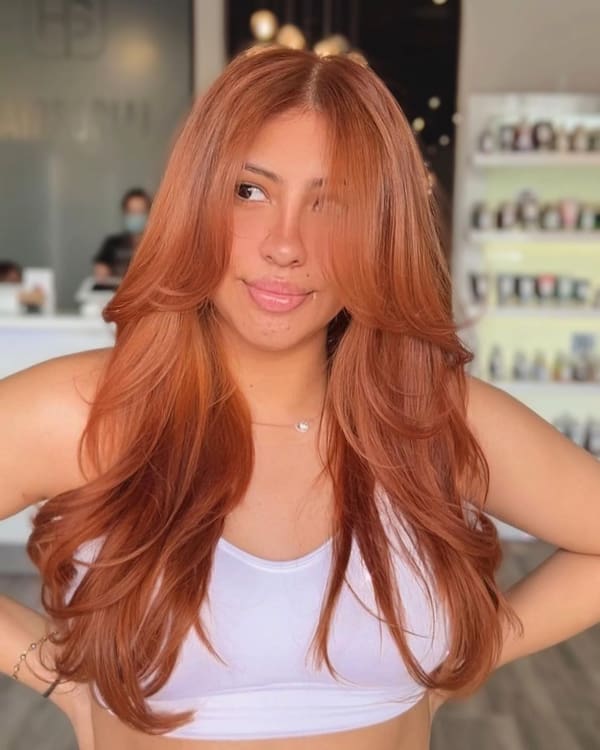 Black is beautiful no doubt, but have you seen this ginger layered cut? Ginger isn't a hair colour you see every day, but I speak for all of us when I say this is absolutely gorgeous.
6. Swoppy Layered Hair with Bangs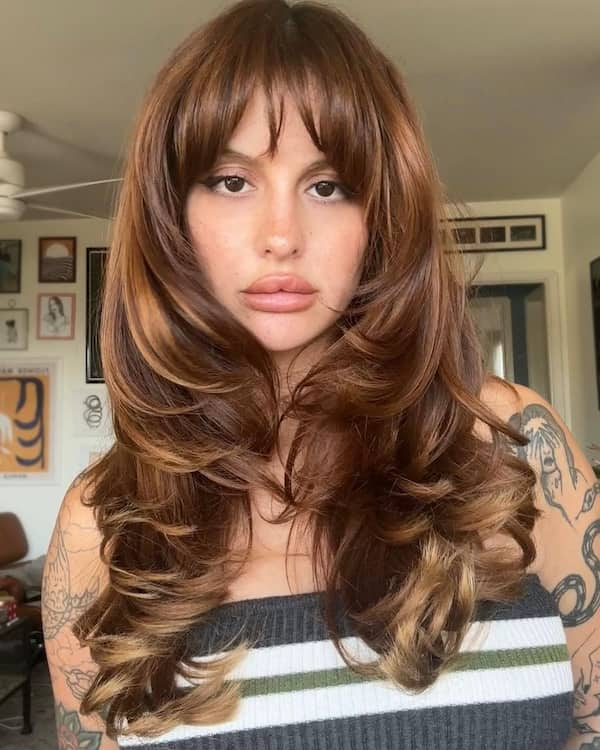 'Swoppy' isn't a term I commonly use for hairstyles, but it's the best way to describe this. You really can't get half of this; the highlights, sparse bangs, and bounciness are all part of the same package.
7. Classic Long Layered Hair with Bangs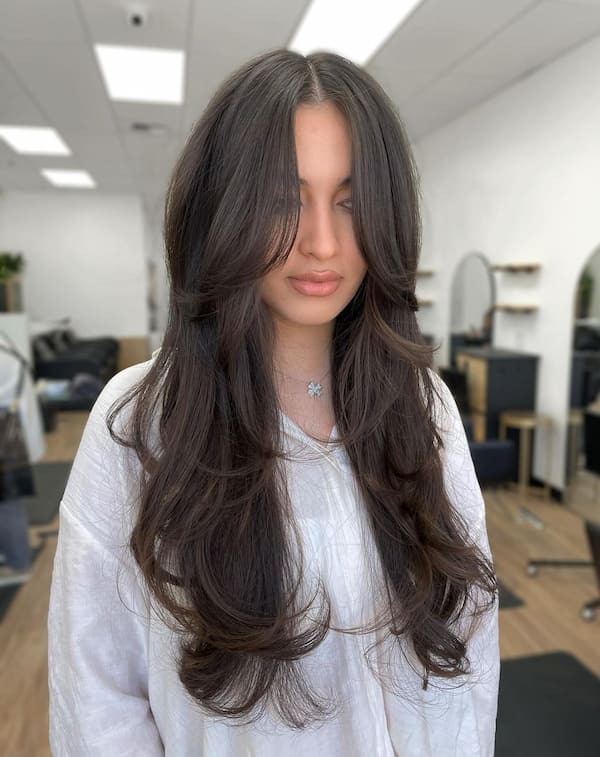 If you want the effect of the ginger hairstyle from earlier but not the colour, here's your hairstyle. It's not my favourite so far, but with the centre parting and the curtain bangs, it's only fair to acknowledge its beauty.
8. Wavy Layered Haircut with Bangs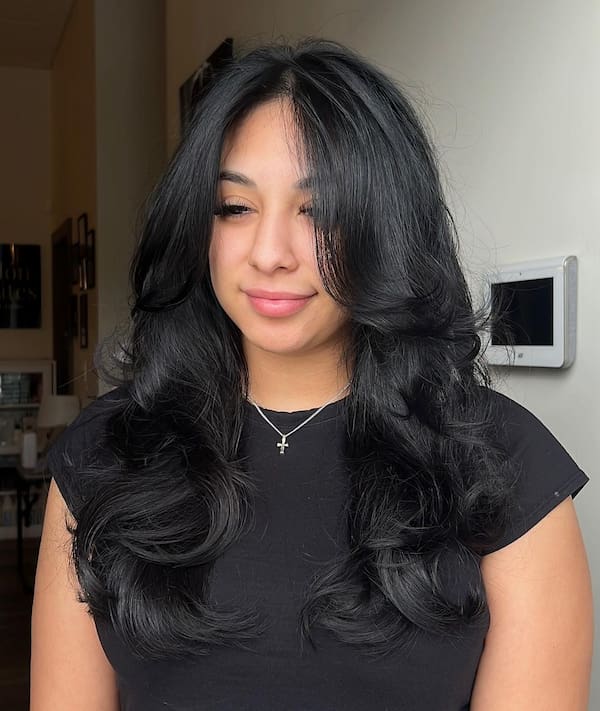 We've seen a lot of black hairstyles so far, but we're not nearly done with it. I understand beauty is in the eyes of the beholder, but when it comes to this hairstyle, I don't need a beholder to tell me it's beautiful.
9. Shaggy Lob with Long Curtain Bangs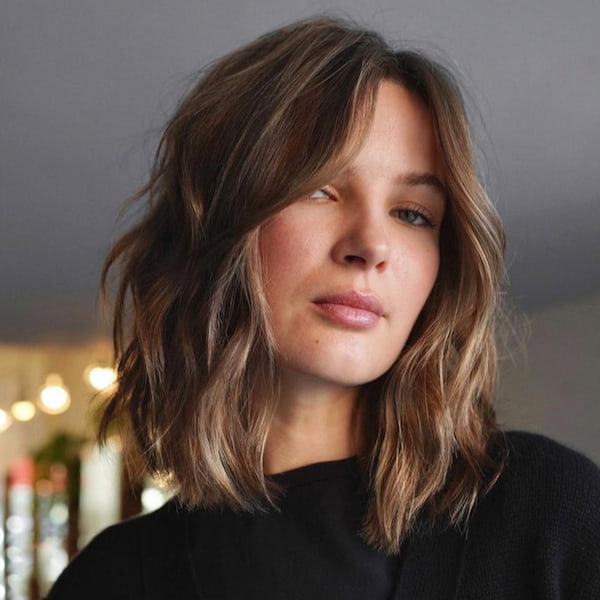 If you love bobs and the shaggy hairstyles from earlier, you don't have to choose, as you can combine them in this shaggy lob hairstyle. I'm also a fan of the significant curtain bangs, as it makes the style looks more dominant.
10. Textured Undone Shag with See-Through Bangs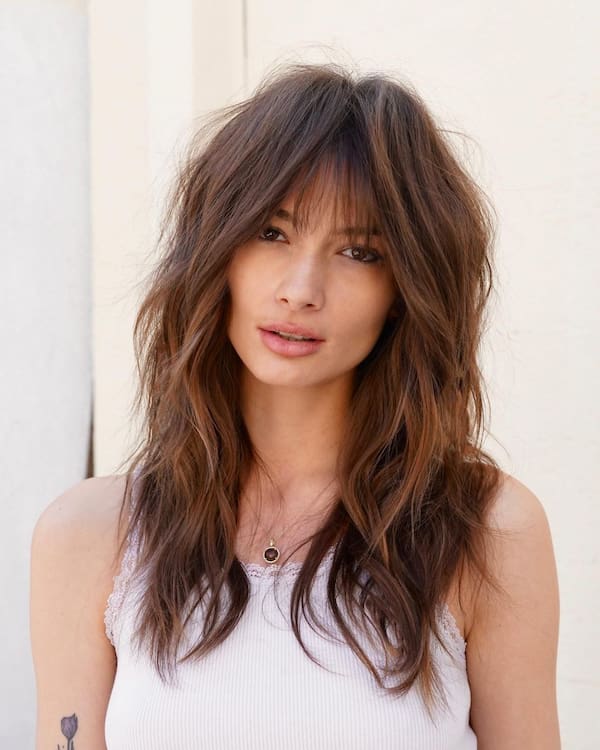 I understand our shaggy styles are effectively hijacking this compilation, but they keep coming in their undeniable allure. Here's another example with see-through bangs for brunettes.
11. Sassy Mid-Length Hair with Bangs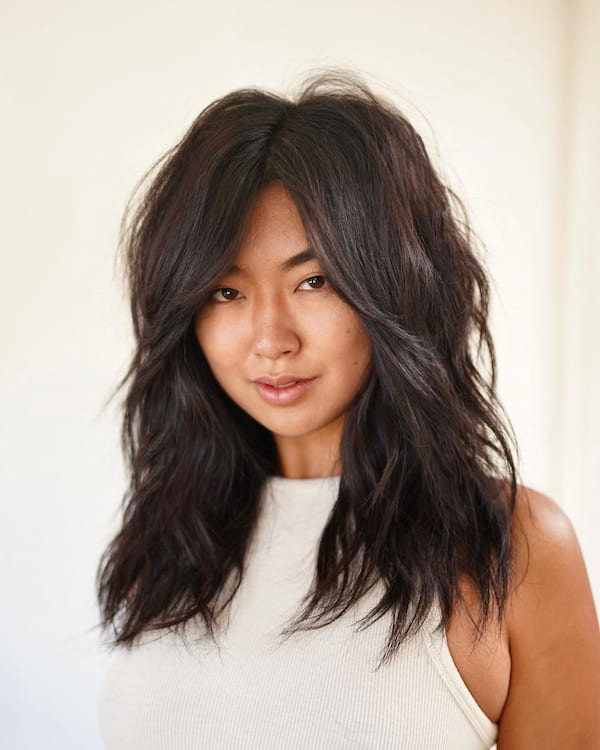 This style doesn't go too deep into the shaggy textured cut cesspool, but it's not straying too far either. The symmetrical centre parting and the alluring bangs are what caught my attention in this style.
12. Modern Blonde Shag with Curtain Bangs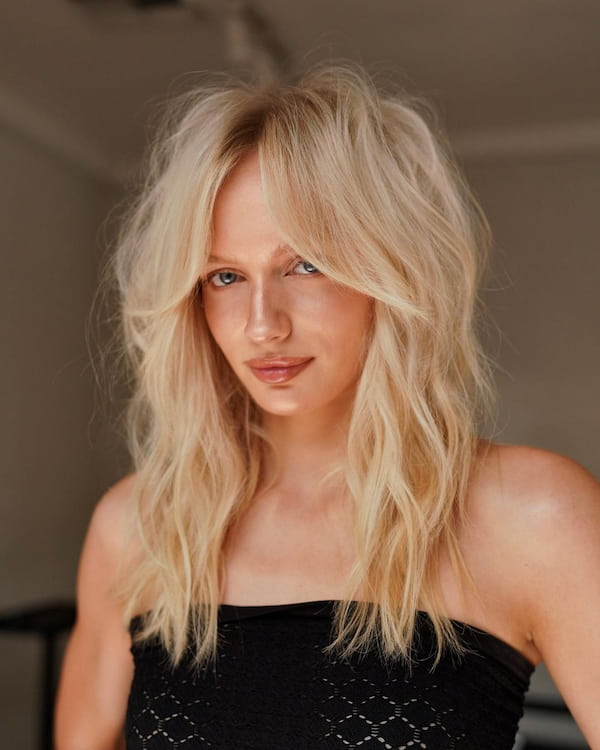 If you think you deserve a break from the endless black style recommendations, here's it. This blonde shaggy cut with textured bangs doesn't stray too far from this list's main theme while managing to look distinct.
13. Soft Blunt Bangs Hairdo with Shaggy Layers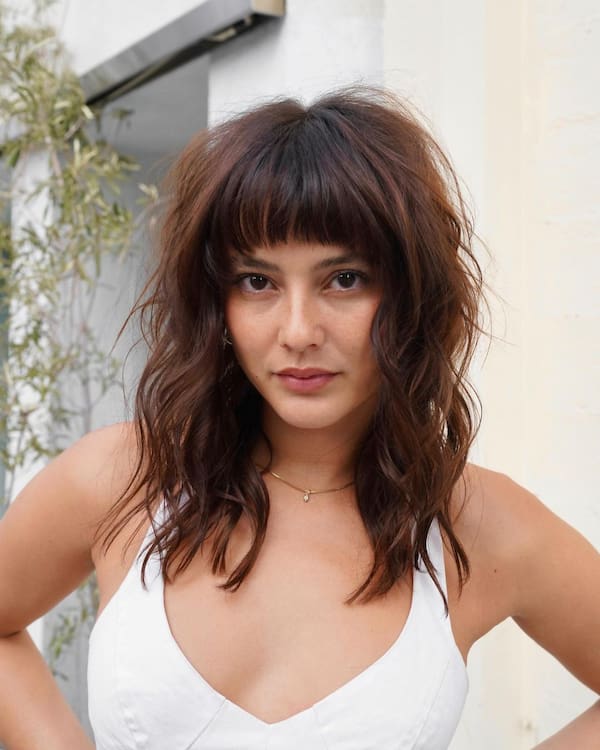 And if you're a brunette, this compilation won't exclude you either. Apart from the natural beauty that radiates from brown styles, the thick bangs on this hairstyle and the wavy look earn it a prime spot on this compilation.
14. Blonde Layered Bob with Choppy Bangs
Here's another blonde hairstyle option that works excellently with bangs. Apart from the blonde colour, the main highlight of this hairstyle is the sparse bangs, combining to create a faultless look.
15. Butterfly Hair Cut with Bangs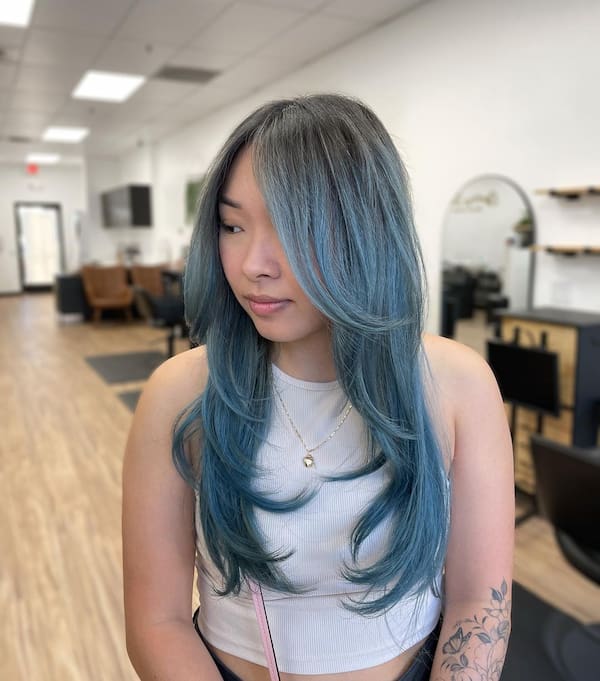 If you want a break from conventional hair colours, this blue-ish butterfly haircut with bangs should work for you. I'm also a fan of the gigantic curtain bangs, so if you're anything like me, you're getting that.
16. Centre-Parted Layered Haircut with Curtain Bangs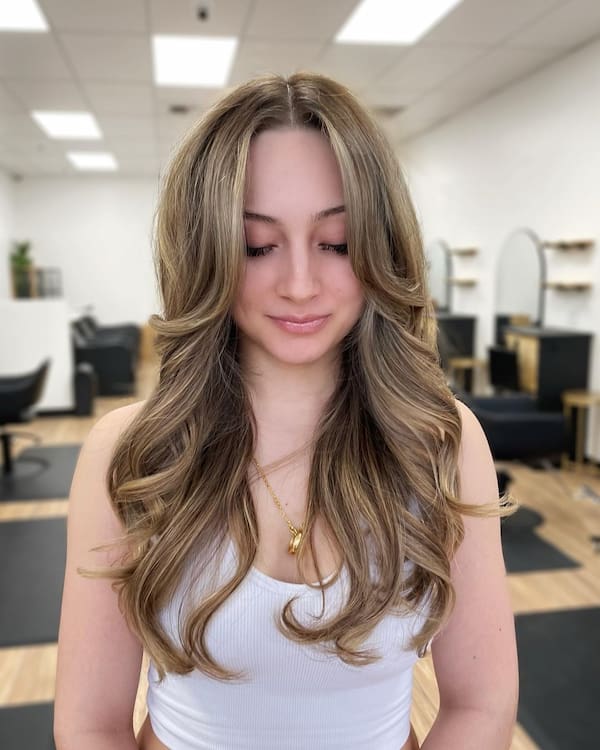 Being radical is good, but you really don't have to be. Sometimes, simply getting a plain blonde centre-parted balayage haircut with curtain bangs is all you need to stand out.
17. Cute Layered Haircut with Full Fringe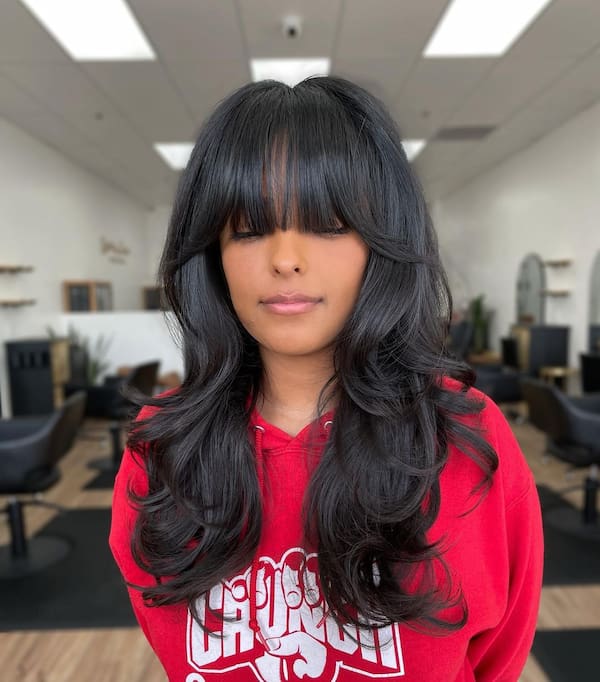 And talking about being different, here's a smart way to do it without going completely out of your way. The full fringe here is slightly out of the ordinary, but no stranger will be asking you weird questions about this style.
18. Mid-Length Blow-Out Layered Hair with Bangs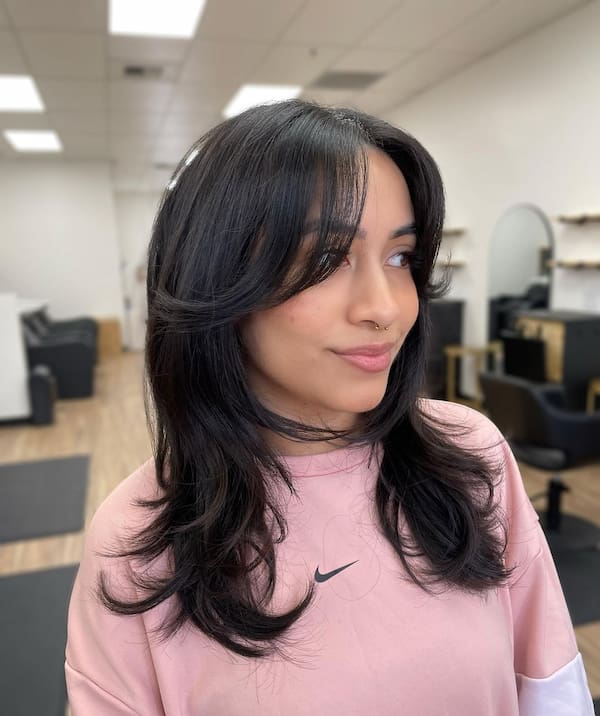 If you're someone like me, the radical styles, like getting a full fringe that ends just above your eyelashes won't matter much to you. Rather, you'll find yourself liking something like this mid-length layered blow-out better.
19. Summer Layered Haircut with Bangs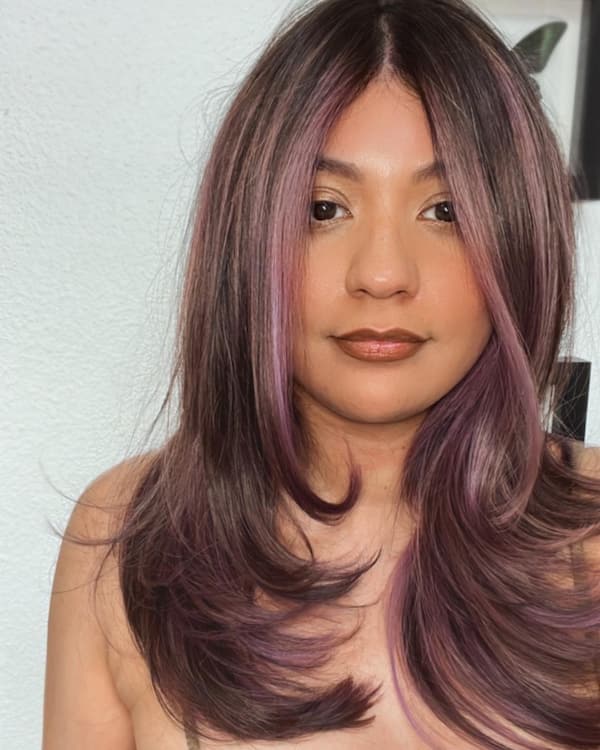 This is first a summer layered haircut, but you can't pretend not to notice the pretty obvious purple tint. With the centre parting and the face-framing look, I can imagine myself getting this style if I wanted anything purple.
20. Hairdo with Lots of Face Framing Layers and Ling Layers at the Back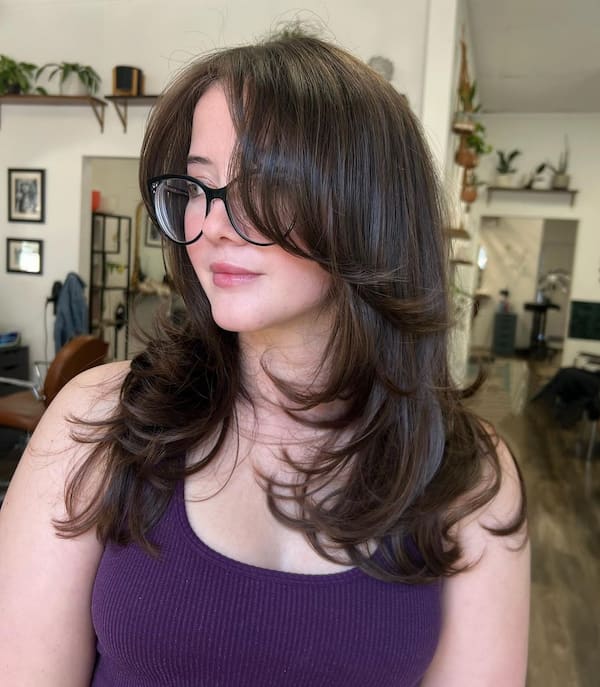 The seemingly endless layering on this hairstyle was the initial attraction, but it's more complicated than that. Its curtain bangs and symmetrical parting are other aspects of the style you'd want to copy.
21. Double Coloured Layered Hair with Bangs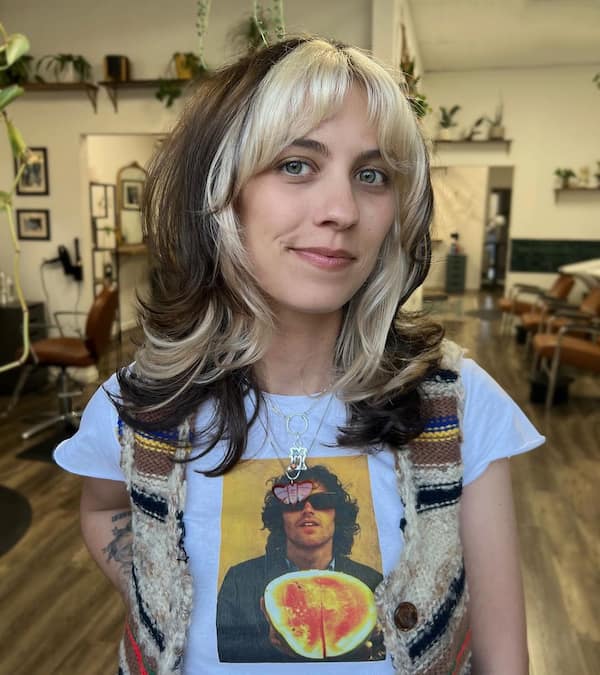 Colour is an excellent way to make a hairstyle pop, and this double-coloured hair seems to have mastered the secret sauce. I wouldn't get that generous blonde highlight myself, but I have to admit it's adorable.
22. Textured Shag Mullet with Bangs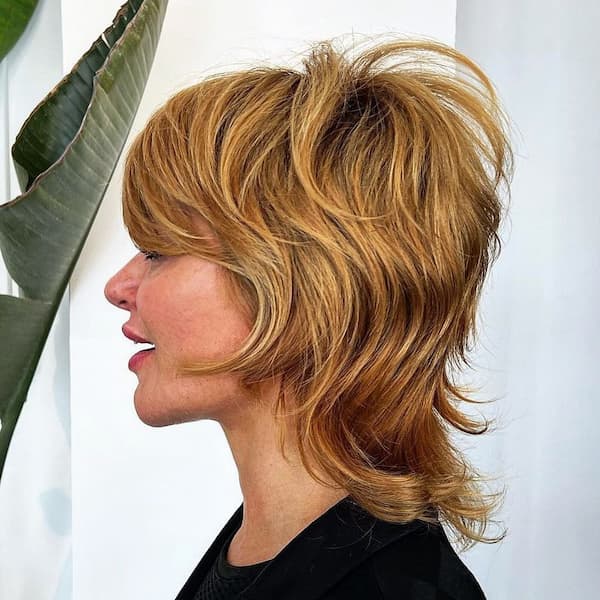 If you're not a fan of black and blonde, there are several other colours you can get with your hairstyle. For example, this textured shag mullet comes in brown, and there's no denying how just adorable it is.
23. Old Hollywood Hime Cut with V-Bangs and Layers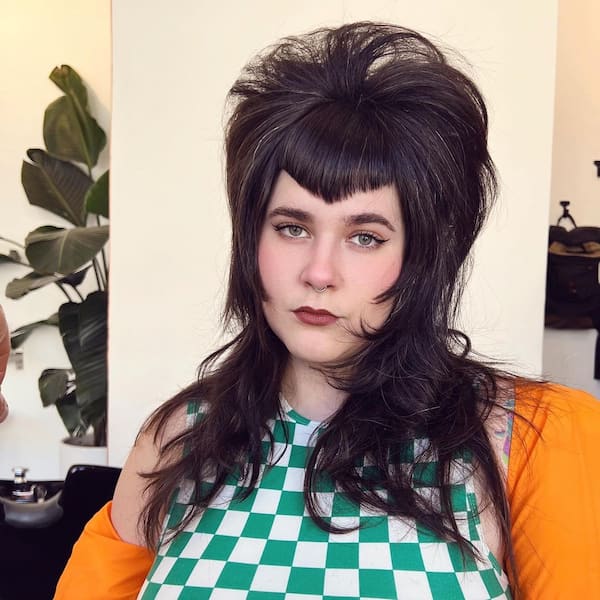 We've seen some out-of-the-ordinary haircuts so far, but this one takes the cake for me. The nicely-cut v-bang, the layered look, and the general radical design combine to form a highly adorable style.
24. Curly Layered Hair with Bangs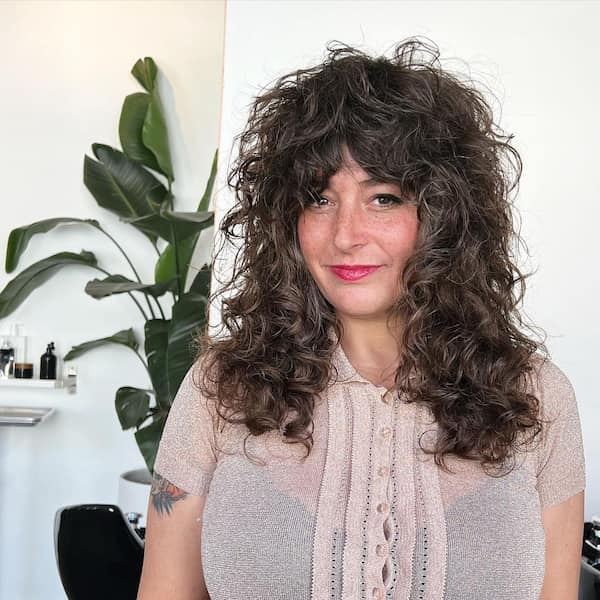 We've seen all kinds of hair here, from wavy to straight, and everything in between, except for curly! Well, that has changed with this style, and with the full look, it's something you want to get.
25. Extra Long Hair with Bangs and Roughedup Layers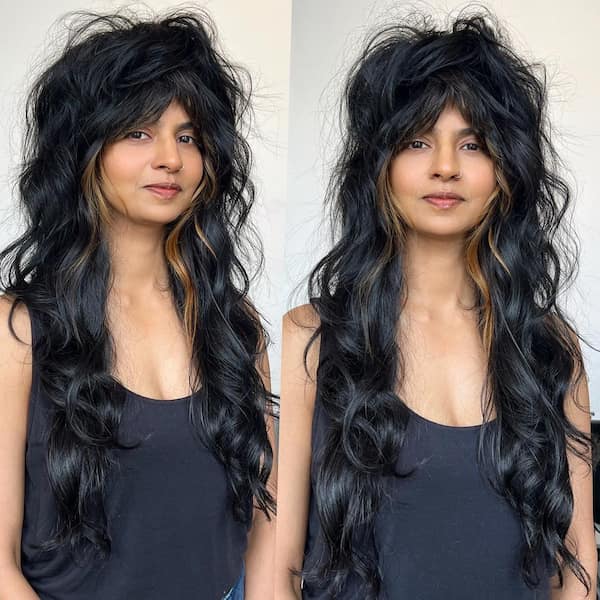 If you don't want your hair that curly, you may want to try wavy, which is more of the same idea. For extra flair, you may want to throw in that brown highlight, creating a truly alluring hairstyle.
26. Simple Curly Hair with Bangs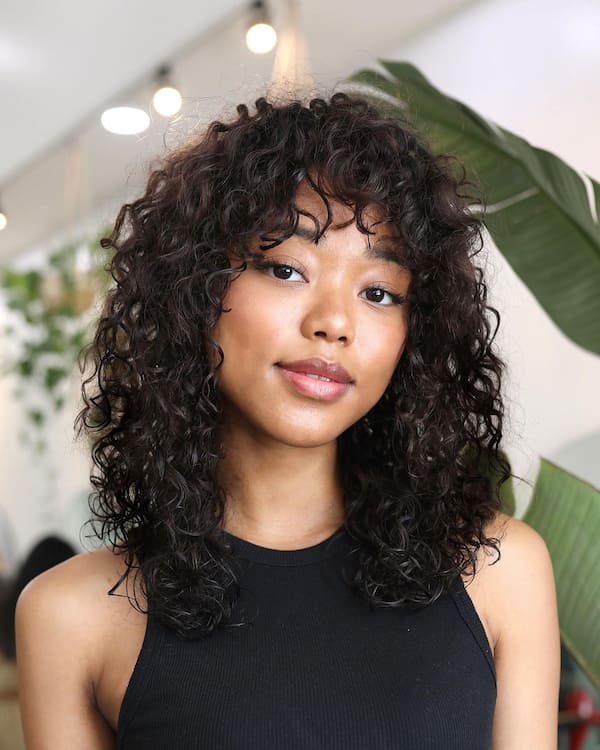 If those waves aren't doing it for you, I'm afraid you have to stick to curly. What's there not to love in this hairstyle? The voluminous look, length, and overall style create a look that's hard to resist.
27. Textured Bob with Dimensional Highlights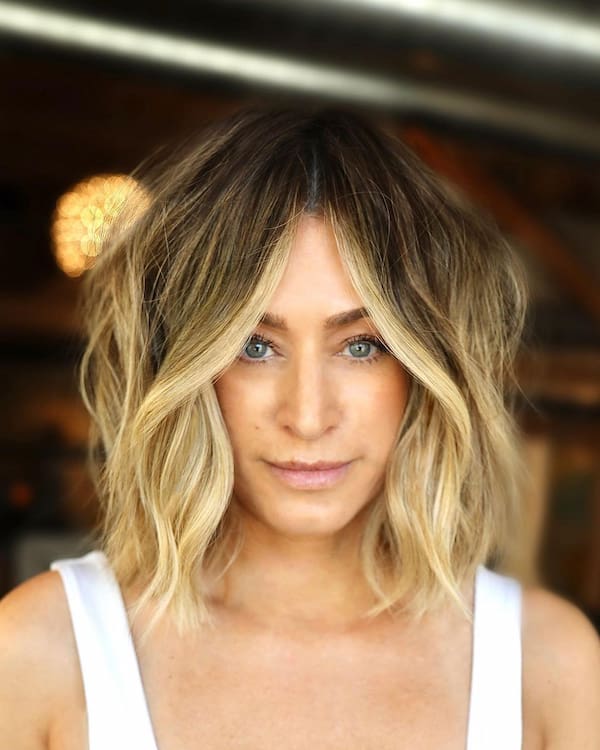 Sometimes, you want a healthy mix of colours in your hairstyle, and most times, it turns out pretty well. This model is an excellent example of when highlighting turns out well; you wouldn't even know.
28. Long Layered Pink Hair with Bangs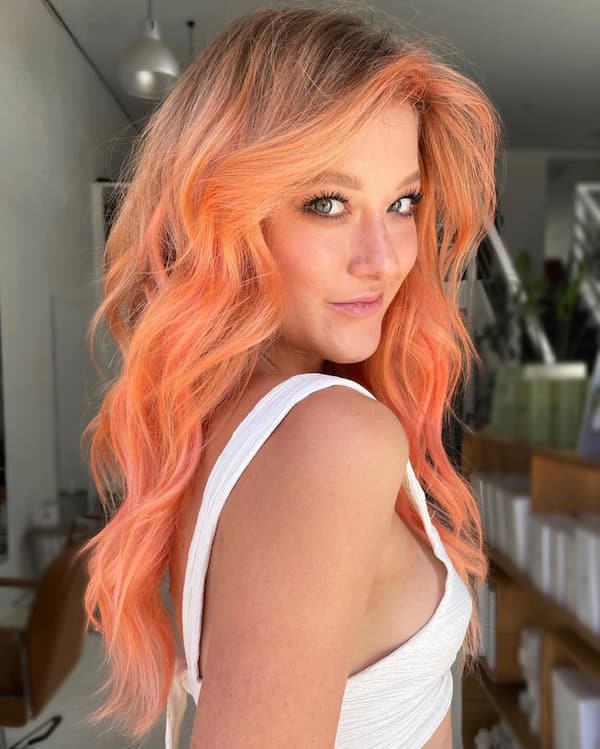 I'm not one to use flashy colours, but if you love pink so much you'd get a hairstyle in the colour, I'd understand. Apart from the colour, the length and the waviness are other things to love about this hairstyle.
29. Chic Layered Haircut with BlowOut Ends and Curtain Bangs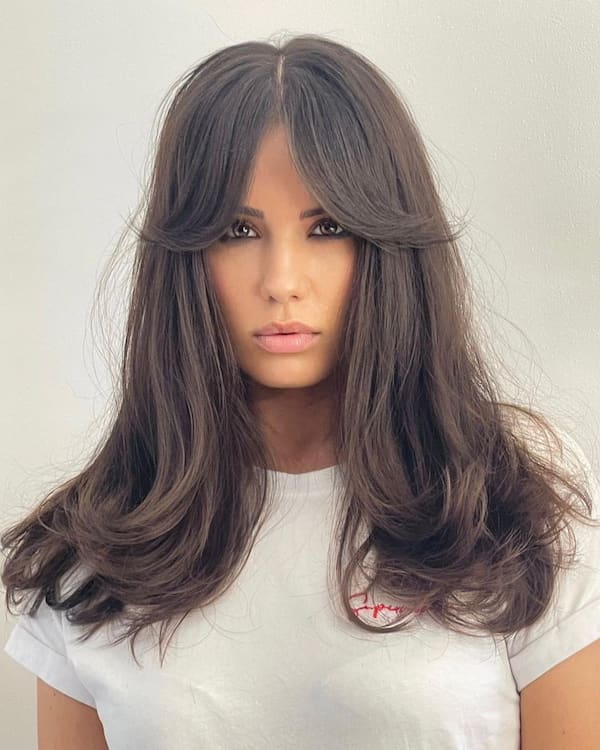 If you're the type that fancies hairstyles that look nearly perfect, this blow-out is for you. Boasting inverted curtain bangs and the alluring centre parting, this hairstyle is just good.
30. Blonde Wolf Haircut with Bangs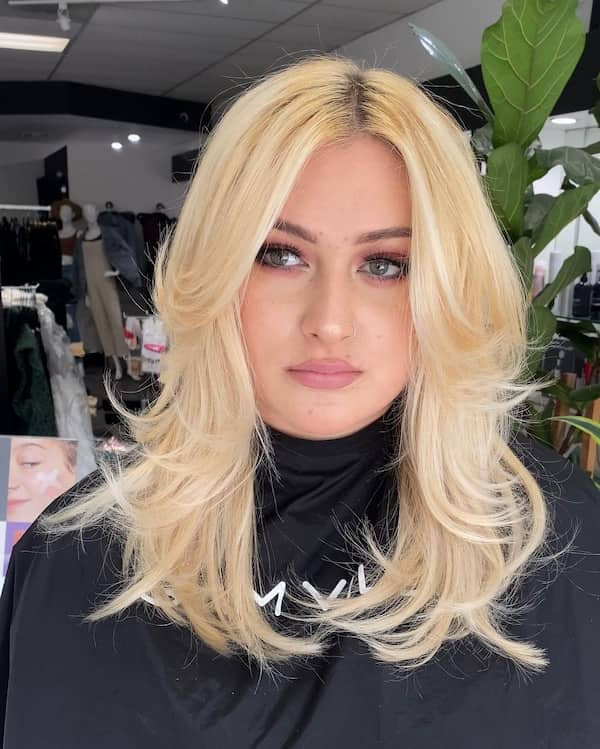 Taking another break from black hairstyles, this blonde wolf haircut is how I'd love to style my hair if I was blonde. With adorable layers, no bells or whistles, and a centre parting; it's basically the closest thing you'll get to a flawless blonde style.
31. Mid-Length Hair with Long Layers, Color Drenched Ends and Bangs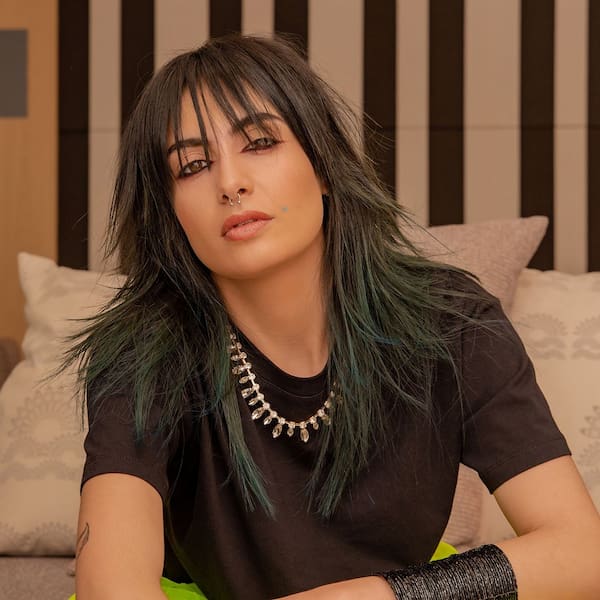 Blonde, black, and brown are all good, but sometimes you want more. More, is what you get with a mid-length layered cut with the scanty bangs. I'm not a fan of that green hue, but I must confess it's adorable.
32. Simple Medium Length Layered Haircut with Bangs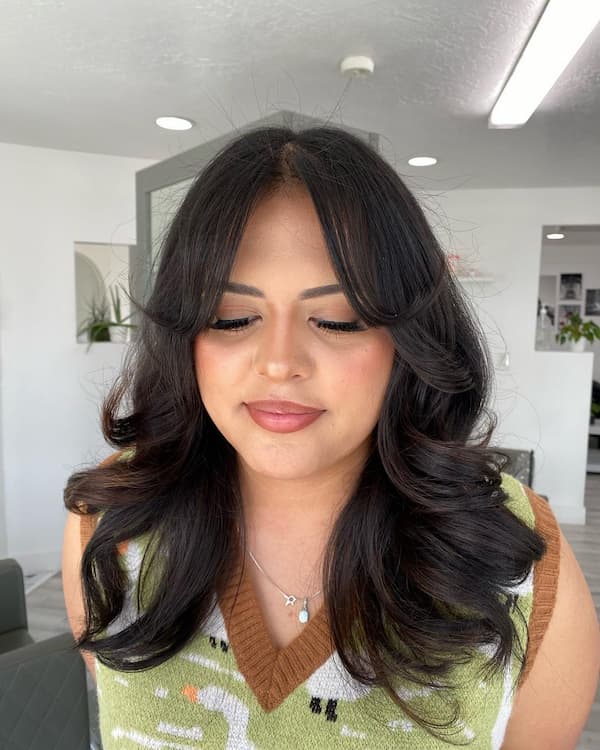 If you're not willing to go through the stress the preceding hairstyle requires, this medium-length layered haircut should do it for you. It has the symmetrical parting, the bounciness, the inverted curtain bangs; basically, everything you want in a layered cut.
33. Classic Straight Layered Haircut with Bangs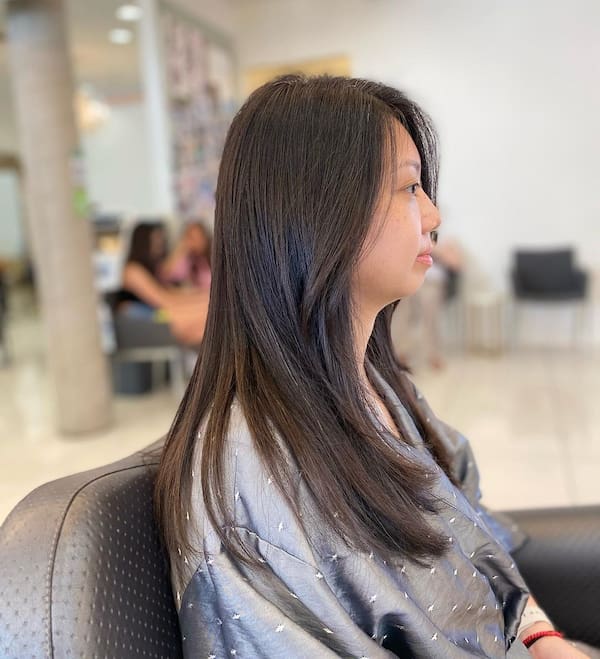 You don't need endless twists and turns to make an alluring style; a simple straight layered cut with minute curtain bangs may be all you need to stand out.
34. Shoulder-Length Layered Haircut with Fringe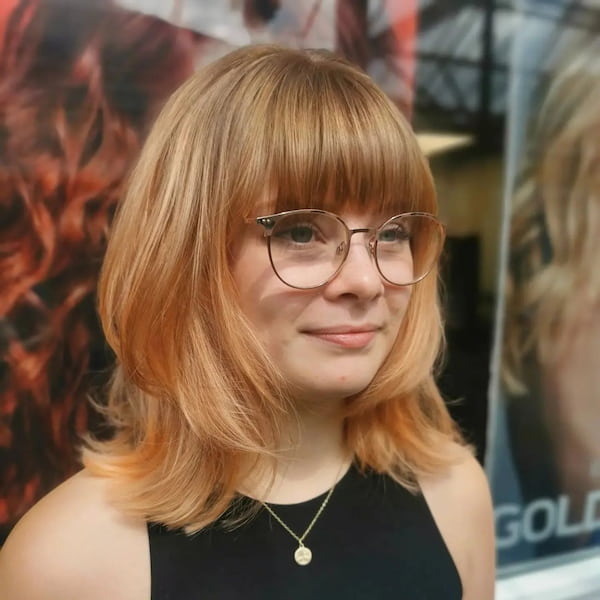 This is basically a bob with a full fringe, and I love it. While there's nothing really special about the style itself, its copper colour does enough to distinguish it, creating an undoubtedly adorable look.
35. Voluminous Butterfly Blonde Haircut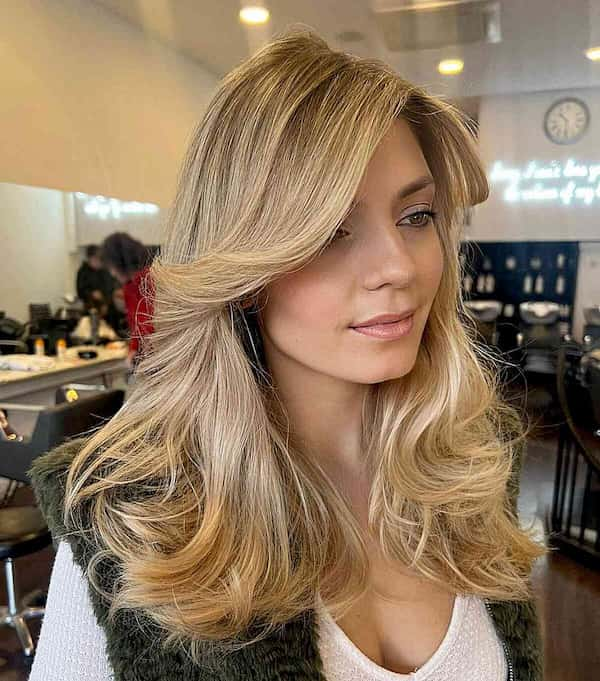 If creating the illusion of volume is your earthly goal, this hairstyle has you covered. While you'll need a healthy helping of hair to replicate this style, I feel like it puts your hair's volume at the forefront, making it beautiful.
36. Peach Blonde Hair with Butterfly Layers and Bangs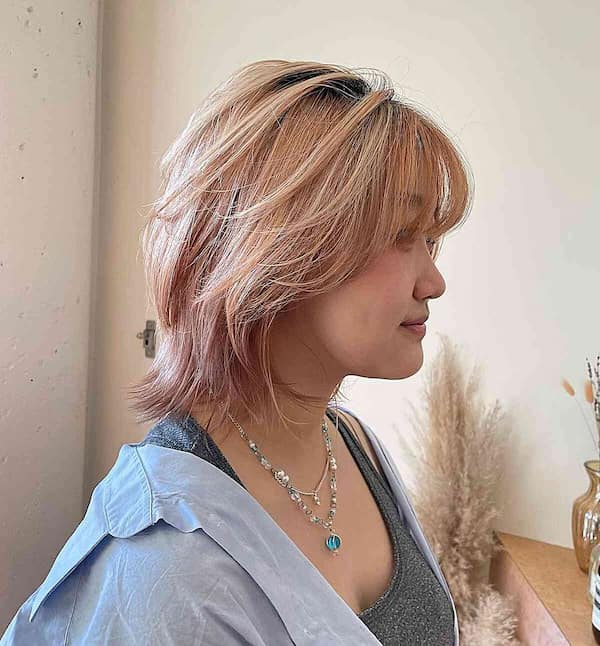 We've seen a variety of colours so far, but this peach blonde is one I can't remember talking about. If the colour is not an issue for you, I have only three words for you: "Go get it!"
37. Long Layered Wolf Cut for Thin Hair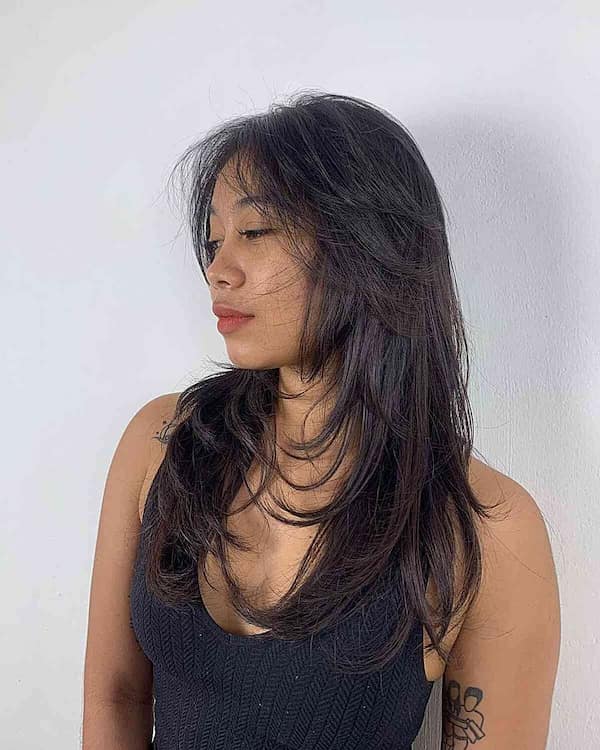 This wolf cut threads in the shaggy territory, and it seems to be an excellent option for ladies with fine hair. It's not the shaggiest hairstyle on this compilation, but it's definitely one of the most adorable.
38. Fluffy Butterfly Haircut with Flicked Ends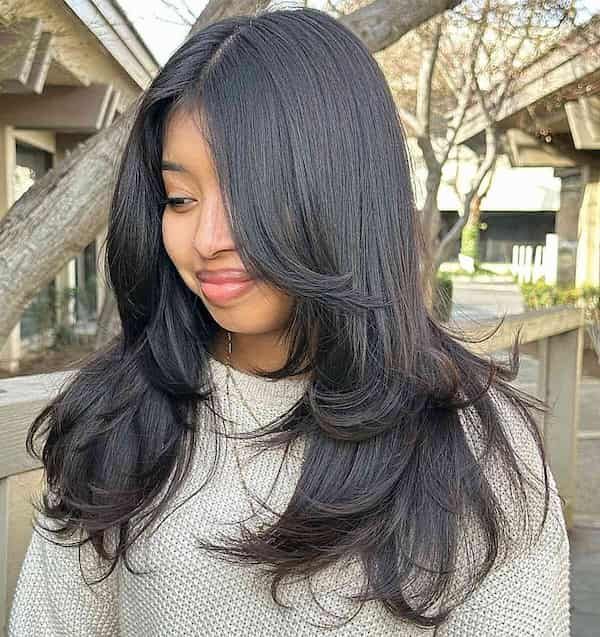 A butterfly cut is an excellent way to get a layered cut, and like the model, you can make it smooth too. I'm a big fan of the multiple layers, and the model's big smile and symmetrical parting also appeal to me.
39. Effortless Cute Layered Haircut with Bangs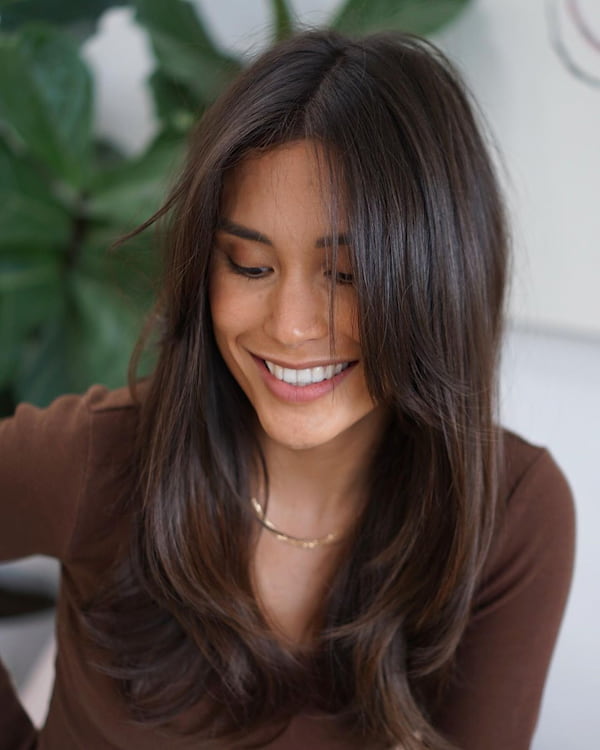 This hairstyle isn't trying to look insanely adorable; it just is. It has no fancy colours or extraordinary components, but the model styles it so well I want to get it.
40. Deep Copper Brown Hair with Long Layers and Bangs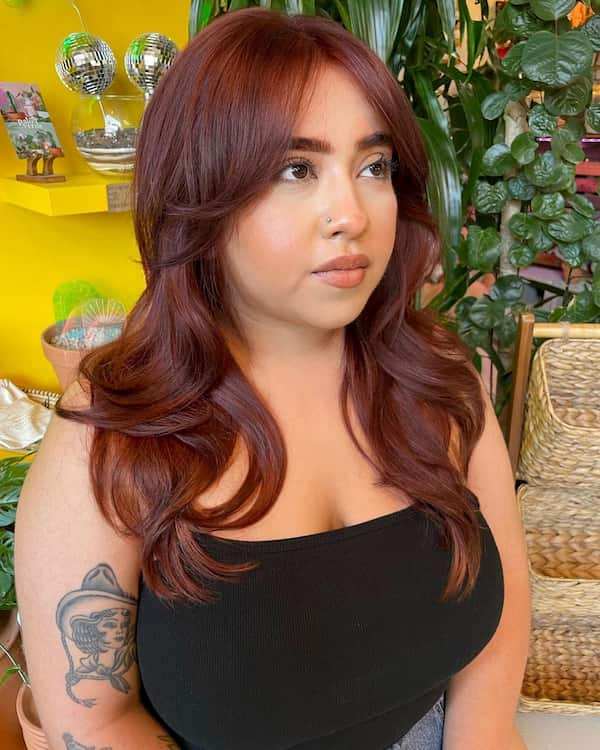 This deep copper hair with waves and layers isn't exactly 'effortless,' but it's cute. You also can't hate how easily it parts in the middle; easily a 10/10 hairstyle.
41. Medium-Length Layered Haircut with Wispy Bangs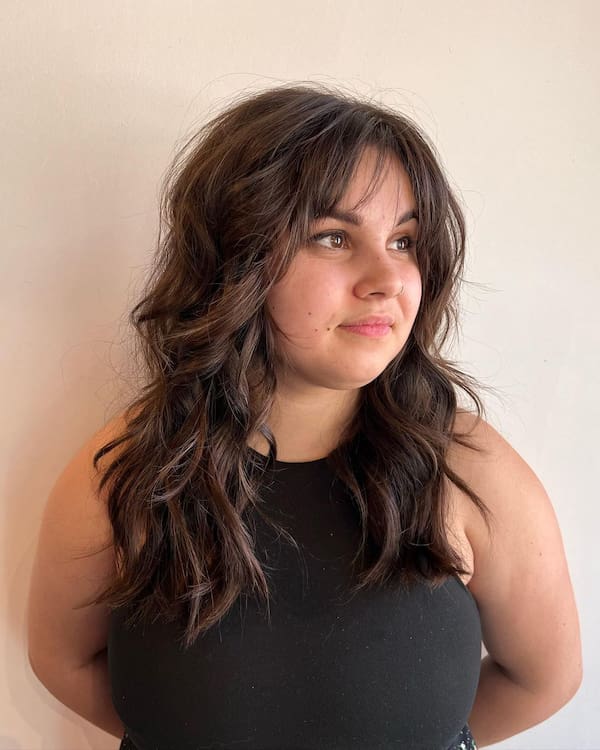 Having a smile that big can make any hairstyle look adorable, but I promise this one's genuinely good. It retains the wavy look of the preceding hairstyle while adding a bit of the shaggy vibes to make things look busier.
42. Thick Hair with Wispy Layers and Curtain Bangs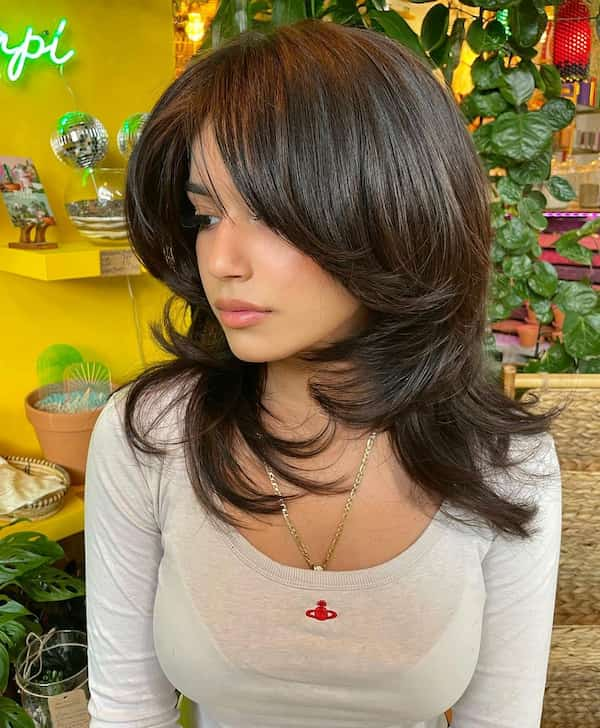 Fans of voluminous hairstyles will appreciate the thick look of this hairstyle, but someone like me will appreciate the wispy layers better. Where we can both agree is in the curtain bangs; we can all agree they're pretty.
43. Long Layered Golden Hair with Fringe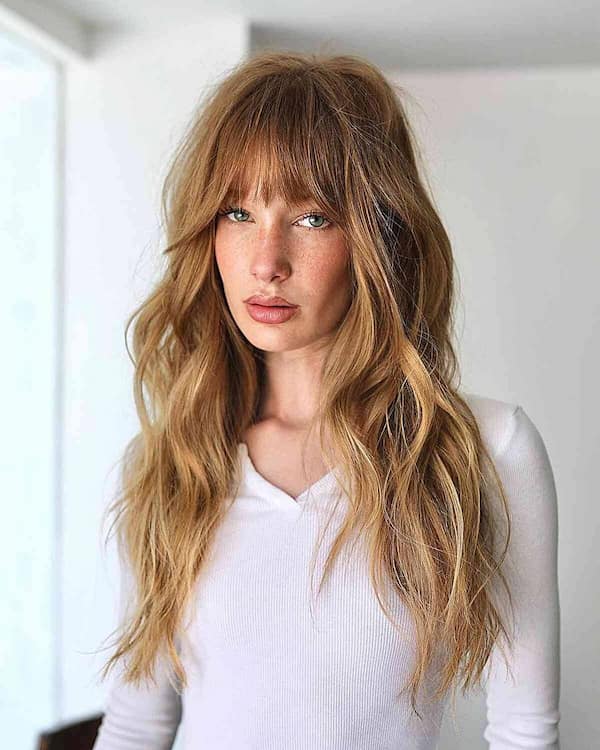 If you already have brown hair, this long, layered golden hairstyle will fit right into your hairstyling template. The only thing I love more than the impressive length is the fringe; it does make the style pop.
44. Black Hair with Lots of Layers and Blunt Bangs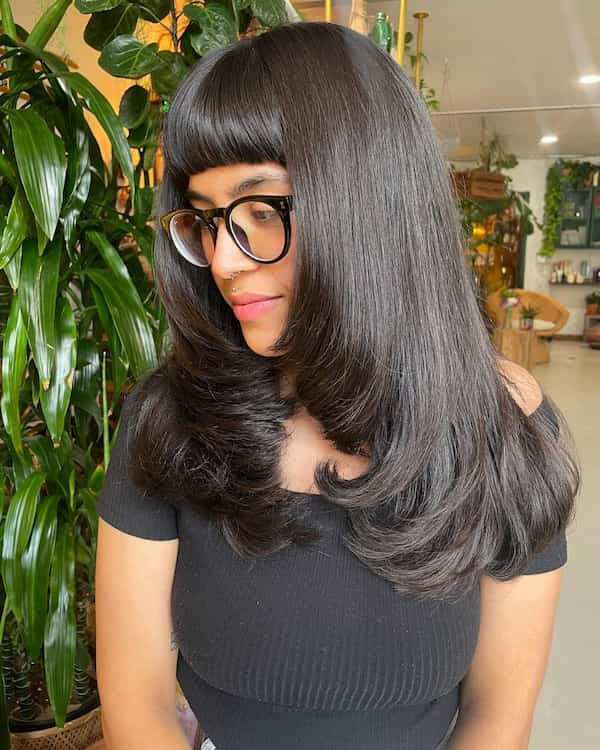 If the fringe from the preceding hairstyle looks adorable to you, maybe you'd like this one even better. The highlight here should be the thick, beautiful, black, bouncy hair, but the way the fringe fits right in brings all attention to it instantly.
45. Long Hair with Layers and Curtain Fringe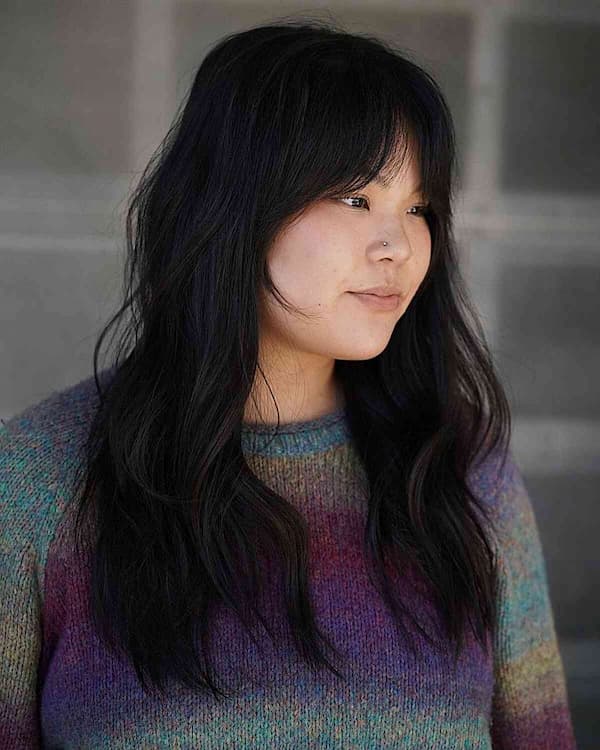 If you want clean layered long hair with curtain bangs and no bells or whistles, here's your style. The curtain fringe isn't the most noticeable, but it does its job: beautifying the hairstyle.
46. Simple Blonde Layered Haircut with Banga for Older Women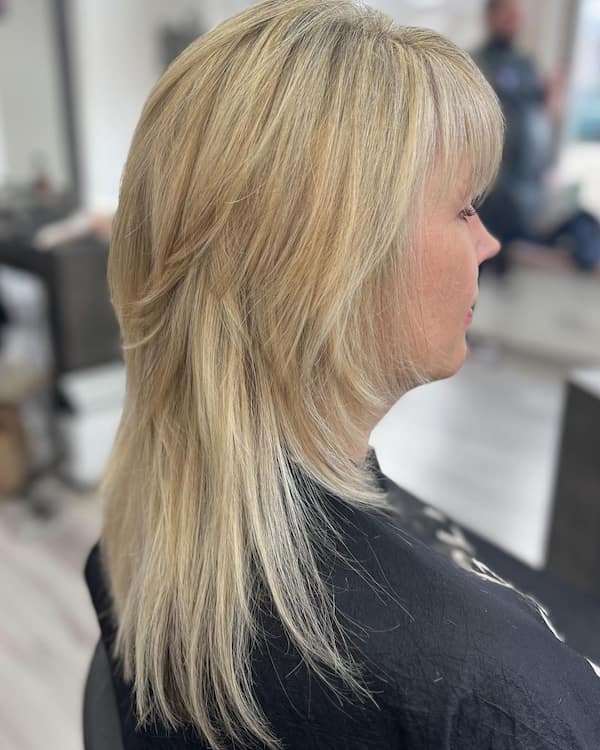 With the appeal of this hairstyle, I'm tempted to say blonde is the best colour to get a blonde layered haircut for an older lady. While it doesn't have the 'old' look of the colour white, it also retains enough beauty to earn you compliments.
47. Bouncy Layered Hair with Bangs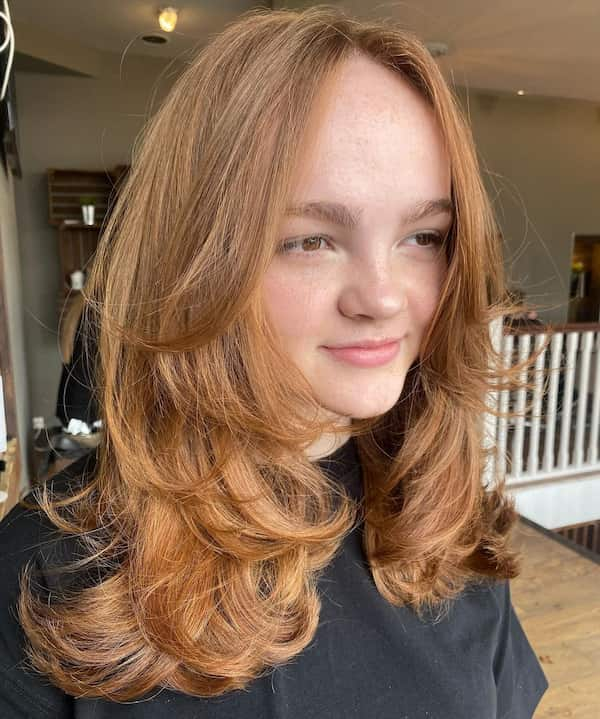 Blonde is undoubtedly an excellent colour, but brunette does the job as well, especially when you wear your hair in bouncy layered hair. Throw in those curtain bangs and you have a magazine-cover-type hairstyle.
48. Glam Blowout Layered Hair with Messy Bangs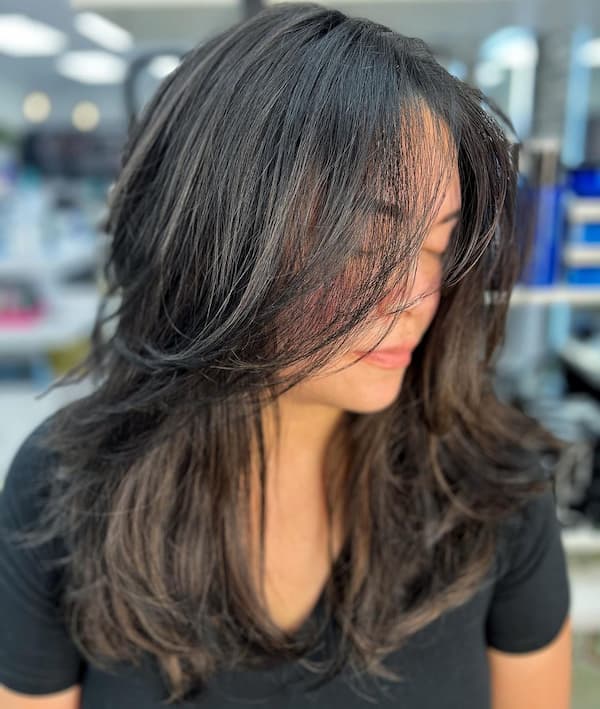 If you're a fan of layered glam blowouts, you just have to check out this hairstyle. While it has a bit of the shaggy DNA we've seen in earlier recommendations, it's not nearly enough to make it look messy.
49. Chocolate Brown Haircut with Highlight Layers and Long Bangs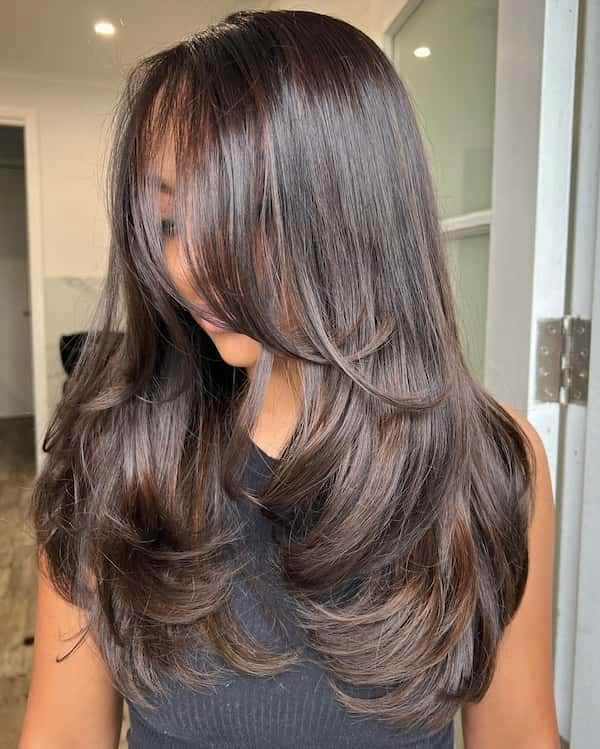 This hairstyle seems to define glamour itself. The subtle chocolate brown colour gives it an endearing look, while the face-covering long bangs made sure it had a place on this list.
50. Short Layered Haircut with Bangs for Women Over 50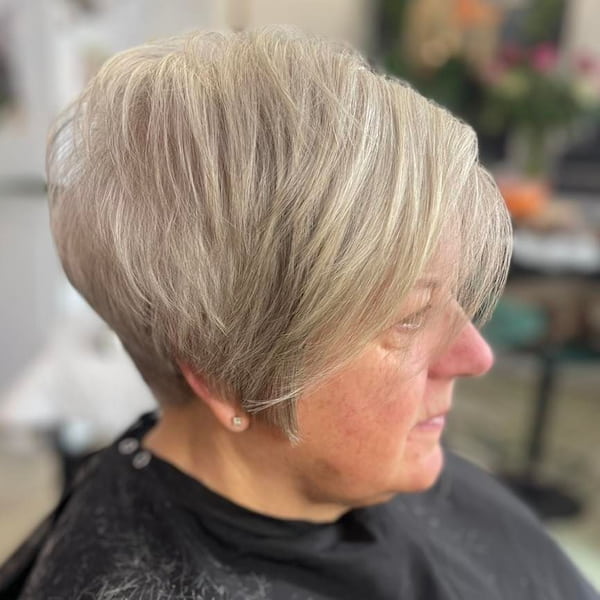 Most seniors don't care much about wearing adorable hairstyles, but you don't have to emulate them. By the time I'm 50, I'd love to be like this model, rocking a short grey layered haircut with bangs.
Conclusion
And those are the prettiest layered haircuts with bangs we could find after our pretty extensive search. If you liked any of them, feel free to copy them, make your modifications, and create the next masterpiece we'll tell the world about.
And while you're at it, you may want to check out our other compilations below for even more ideas.
Pin for Later.