The shag haircut is a recent innovation that varies the length of the hair at different points to make it fuller at the top and thinner down the hair's length. If you're reading this, you've probably seen a couple and decided you're getting it.
To help you with that choice, we'll show you our compilation of the 50 best shag haircuts with bangs to inspire your next hairstyle.
50 Youthful Shag Haircuts with Bangs
Want some lovely bangs with your shag haircut. Here are 50 hairstyle examples to inspire you.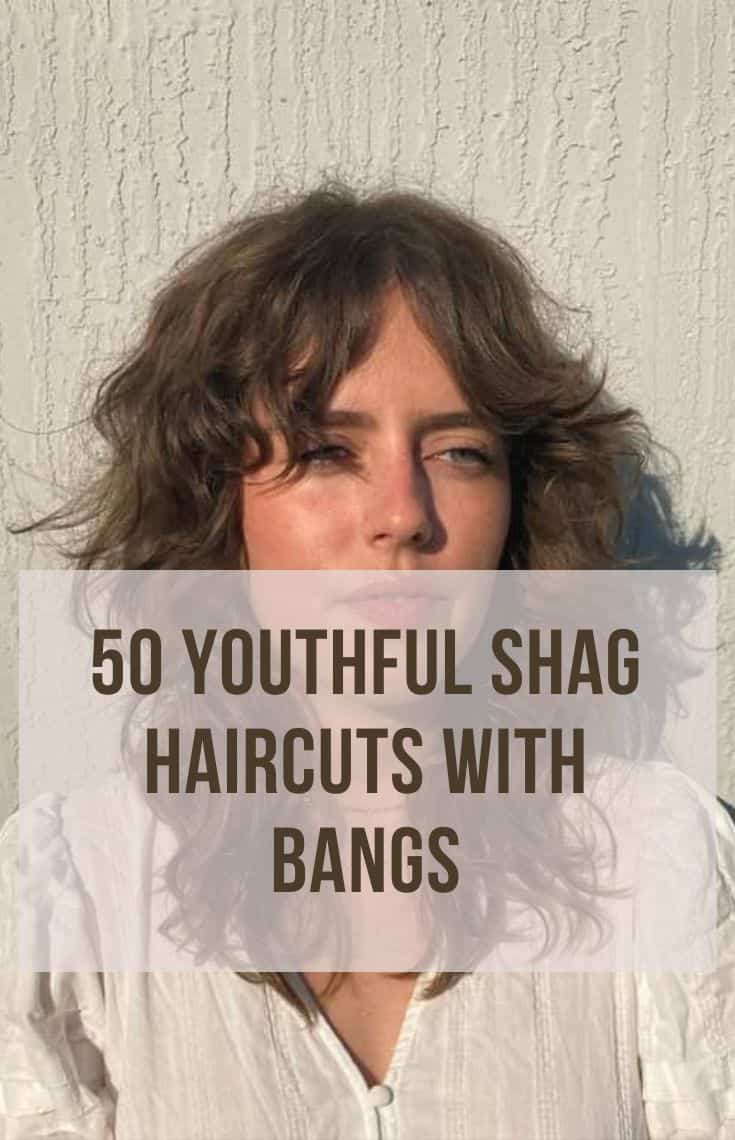 1. Shag Haircut for Fine Hair
Getting a decent shag haircut on fine hair is already difficult enough, but making it this good truly deserves accolades. In short, starting this compilation with this masterpiece is no mistake.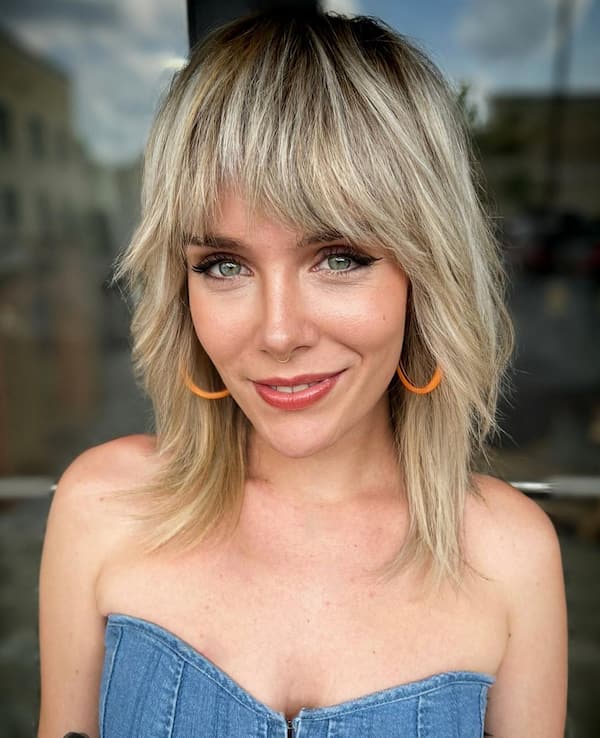 2. Feathery Shag Haircut with Bangs
Sometimes, you want to add some waviness to your shag haircut for extra flair, and this model has managed to perfect that. She also used bangs to add to the allure, and if I were replicating this hairstyle, I'd copy that too.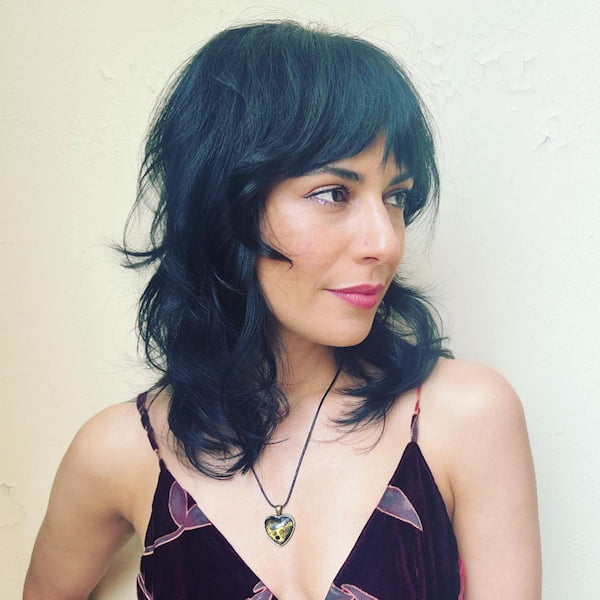 3. Pink Messy Shag Haircut
There's quite a lot to this hairstyle. Should I start by talking about its unconventional colour or its controversial texture? In any case, the package looks dope, especially with the model's impeccable eyes.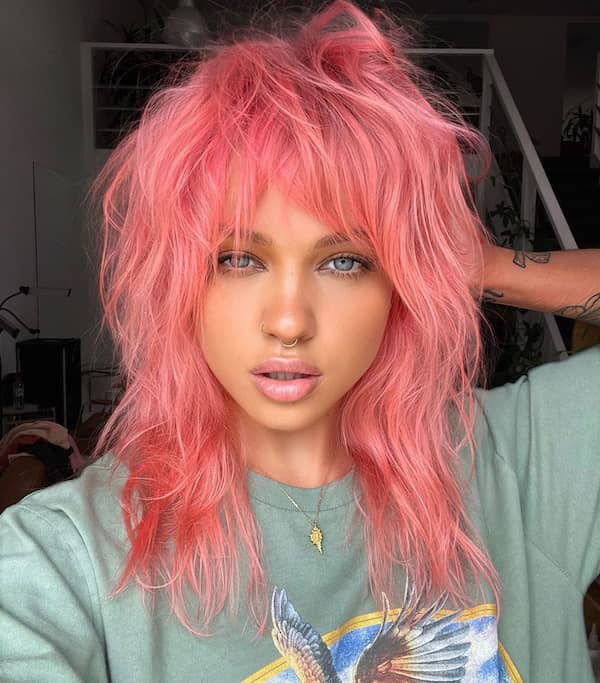 4. Blonde Shag Haircut with Long Fringe
Adding a fringe to your shag haircut is not a bad idea if you're a fan of fringes. However, if the haircut would have exceptional length, then the fringe should be long too, like the model.
5. Layered Shag Haircut with Full Fringe
I'm not a big fan of full fringes, but even I wouldn't say no when it's this good. The massive fringe does just enough to complement the haircut's several layers, creating a balanced look.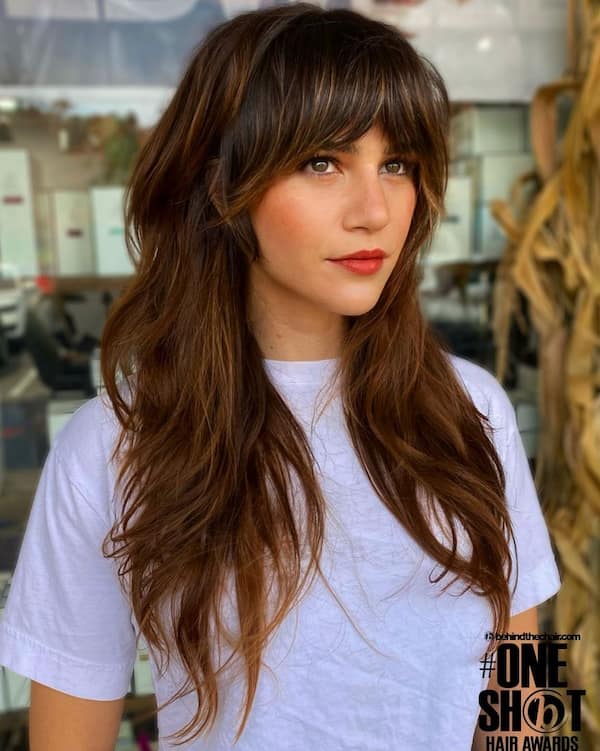 6. Shoulder-length Shag Haircut with Fringe
This fringe is not quite as full as the preceding one, but using a full fringe would be imbalanced. Thanks to the balance, this hairstyle manages to look adorable, despite not being big in length.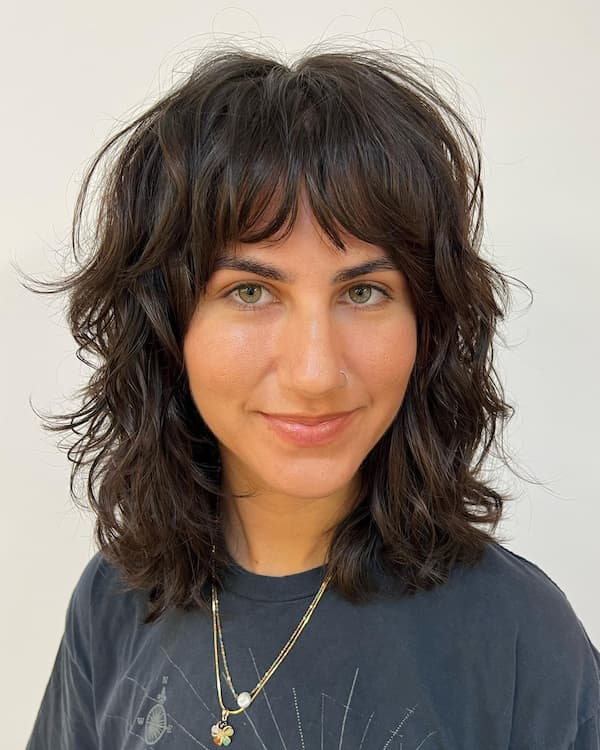 7. Shaggy Bob with Bangs
If you want to go even shorter, here's an excellent idea of a shaggy bob with what's probably the most balanced fringe ever. For some reason, I just love this hairstyle, and I'm sure you do too.
8. Classic Curly Shag with Bangs
If you're out for a truly exquisite hairstyle, this curly behemoth with bangs is your best bet. It's not something I'd recommend for someone after a casual hairstyle, but if you're prepping for a high-profile event, go for it.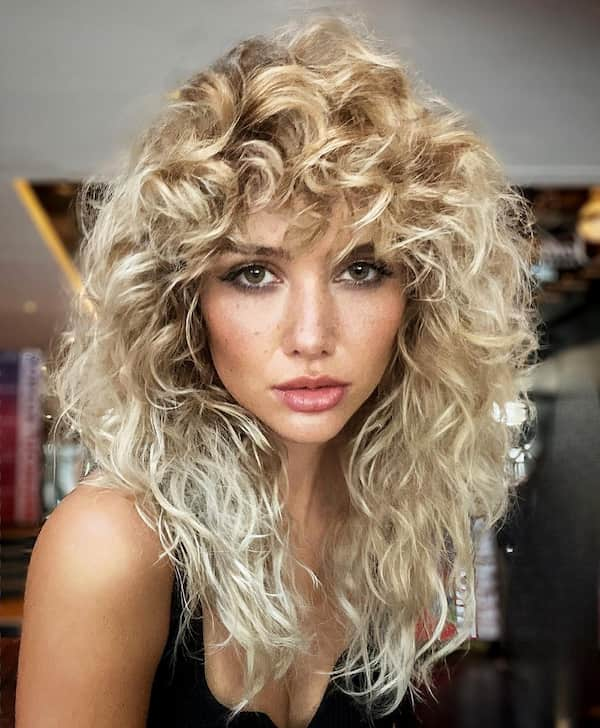 9. Modern Shag Haircut for Older Women
Shag haircuts aren't exclusive to younger women; it looks equally good on greying hair! When getting yours, ensure you add those adorable bangs and her wide smile and you'll have a similarly charming look.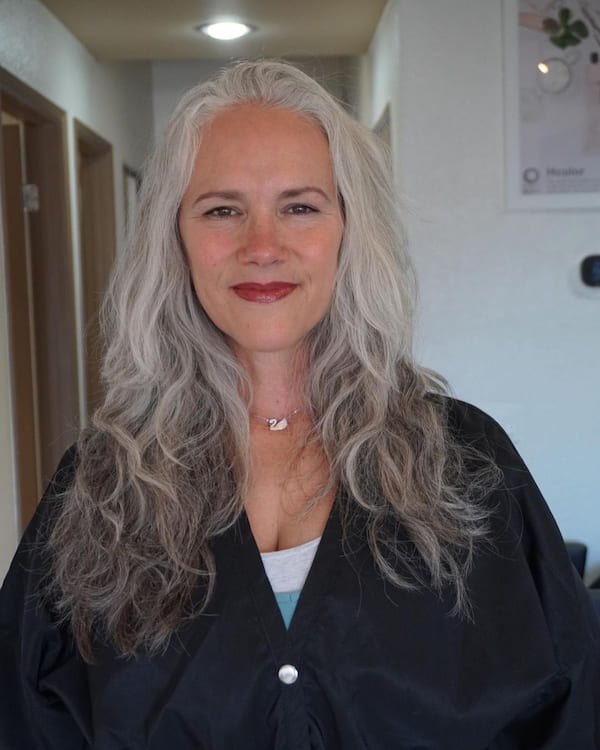 10. Double-coloured Shag Haircut
Grey and brown aren't the most matching hair colours out there, but this model managed to make them work together. The colour combination and the massive bangs do enough to explain how the style made this compilation.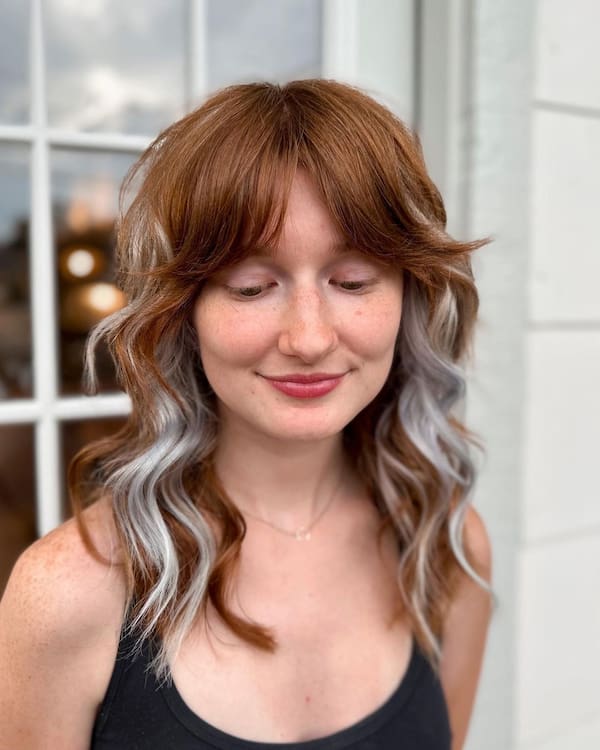 11. Long Shag Haircut with Long Bangs
With lengthy hair and a few salon hours, you can get something this adorable with long bangs too. However, the style already looks hard to manage and isn't something I'd risk.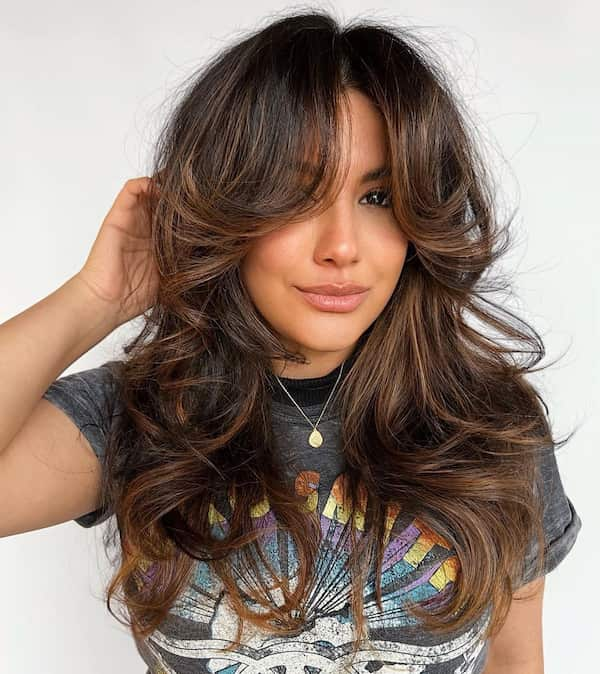 12. Pastel Pink Shag
Pastel pink isn't exactly a popular hair colour, but seeing it in such an adorable hairstyle makes me want it. Away from the colour, the symmetrical pattern and the hair's volume are two other crucial properties to copy for a similarly perfect look.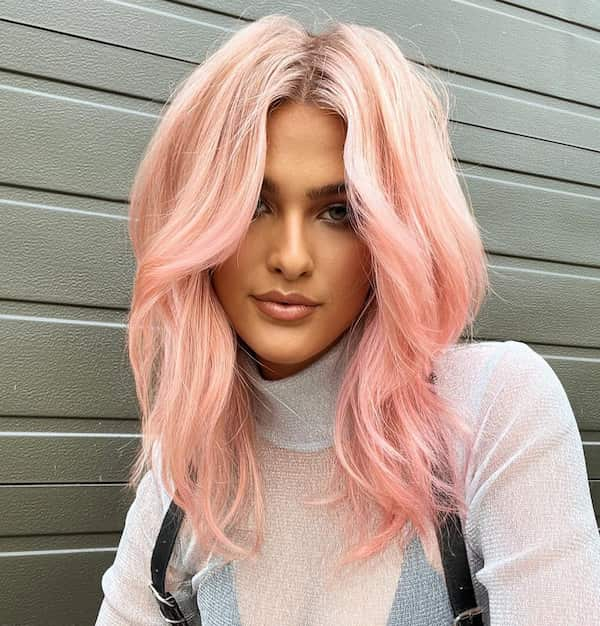 13. Purple Shag Haircut with Fringe
If you're considering transitioning to wearing flashy colours, purple is a pretty safe starting point. With bangs this good and a similarly adorable shag cut, everyone would start wearing purple hair.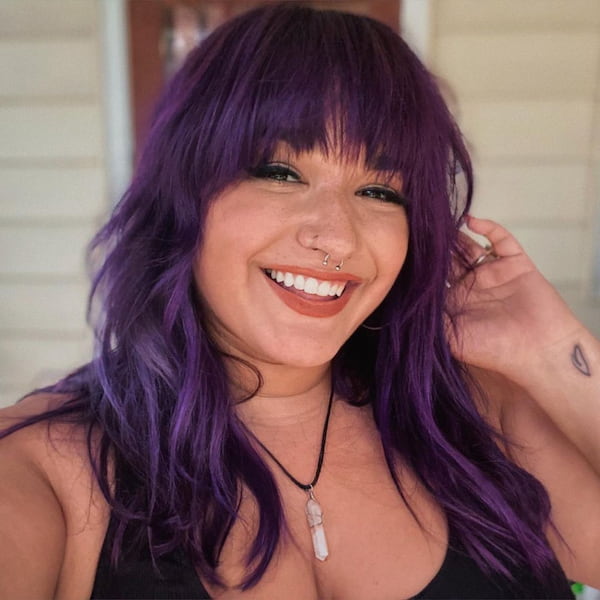 14. Layered Shag Haircut with Curtain Bangs
Purple might be good, but you just have to admit that nothing beats the allure of this brown shag haircut. With its alluring wavy look and the perfect curtain bangs, it might've just become my favourite style in this compilation.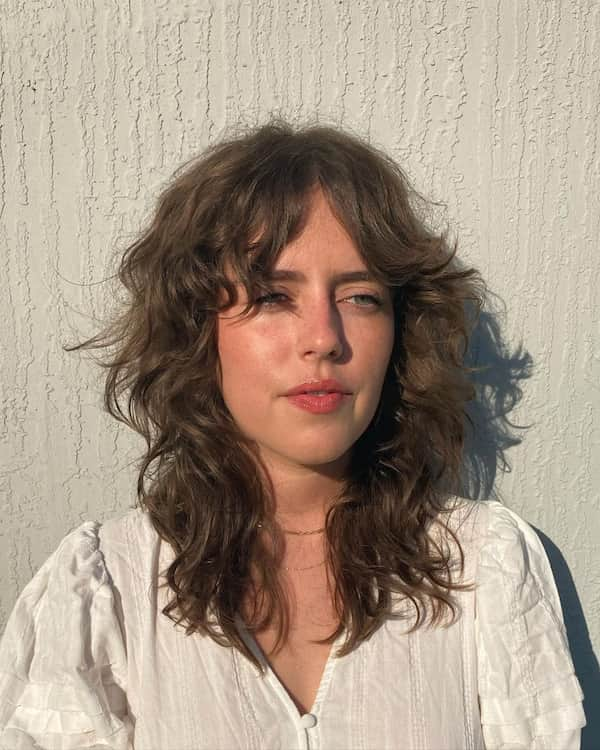 15. Glam Layered Shaggy Cut
Brown is great, but you also don't need brown to slay with a shag cut. This blonde queen manages to look charming in her layered shag cut without any bells or whistles.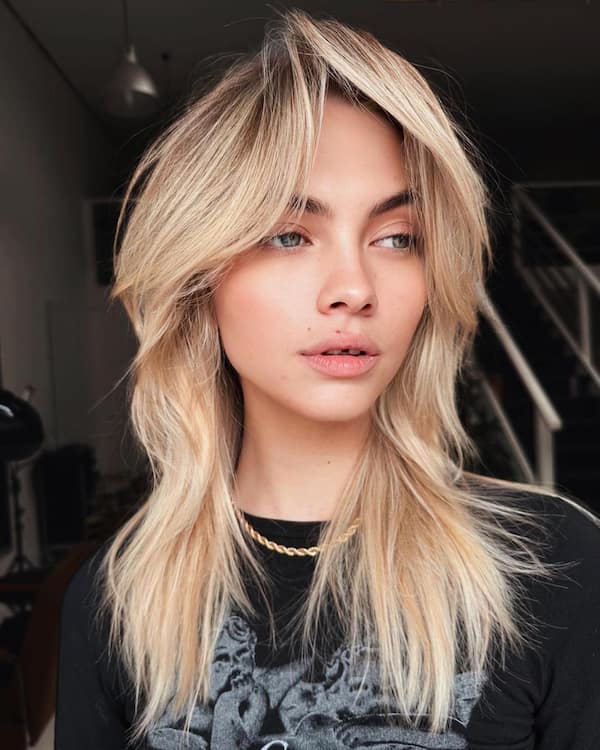 16. Thick Blonde Shag Haircut with Bangs
This thick shag haircut creates the impression of volume and is a no-brainer for fans of hairstyles with that effect. I'm also a fan of the full bangs, but if I could get it in another colour, I would.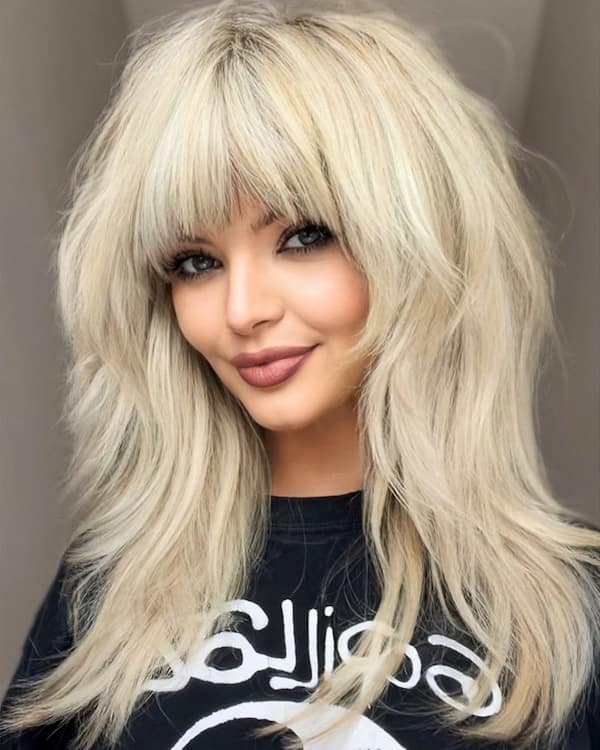 17. Soft Shag Cut with Curtain Bangs
This looks like how you'd wear your shag haircut when you want one but don't want others to know you're wearing one. It's not the most exquisite thing in the world, but I can comfortably attend a party in it.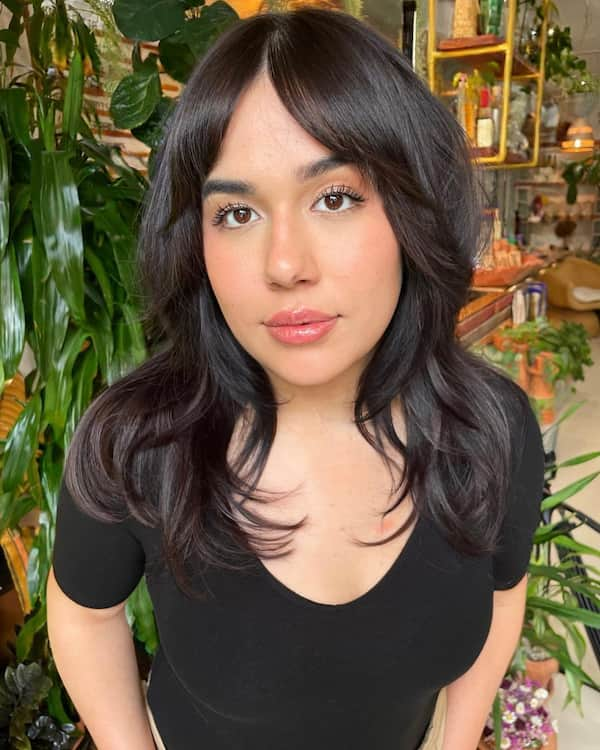 18. Blendy Blonde Shag Haircut with Short Fringe
This short but full fringe works well with the hairstyle it's meant to adorn, but it's not for everyone. If it's something that interests, you, then sure, but otherwise, there are other options.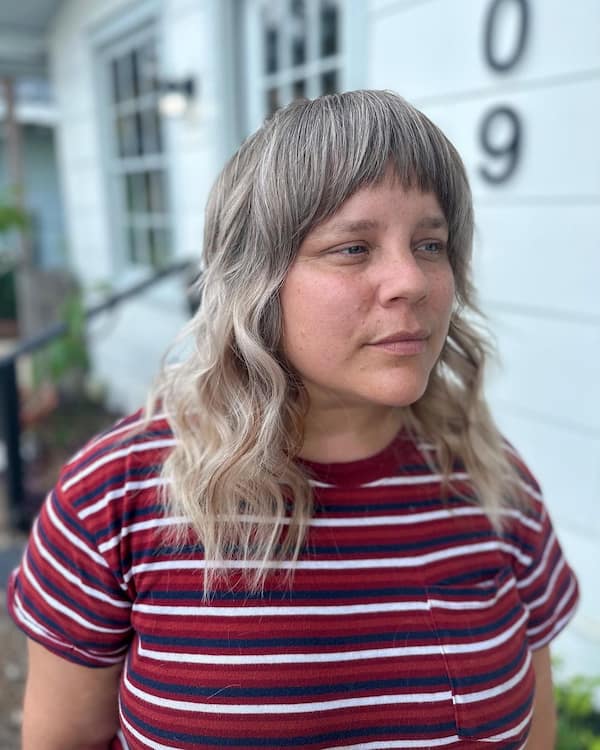 19. Purple and Black Shag Razor Cut with Bangs
Wearing an all-purple hairstyle requires a bit of bravery, but it won't require so much when you're combining that purple with a more popular black. The result is nothing short of impressive, as you can see yourself.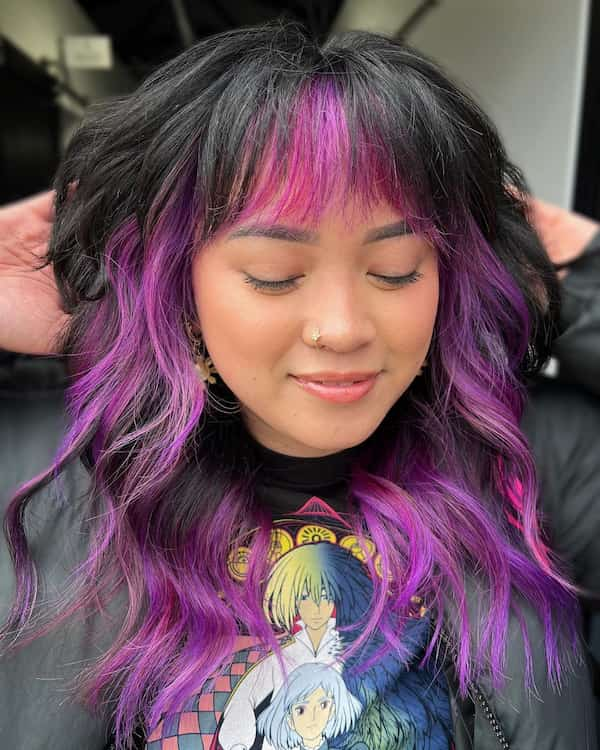 20. Voluminous Shag Wolf Cut
With a bit of volume and blonde hair, you can replicate this shag wolf cut, getting yourself a hairstyle that'd make it into our list. The bangs here aren't the most obvious but with a style this good, who needs bangs?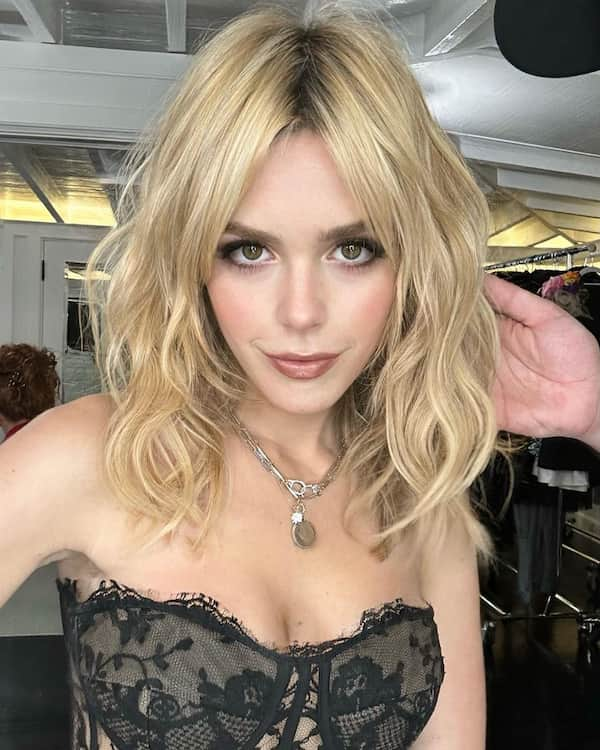 21. Red Summer Shag Haircut with Full Fringe
If you're into flashy colours, this style should do it for you. The red colour accentuates the otherwise unassuming hairstyle, and the full fringe further increases its allure, earning it a place on this list.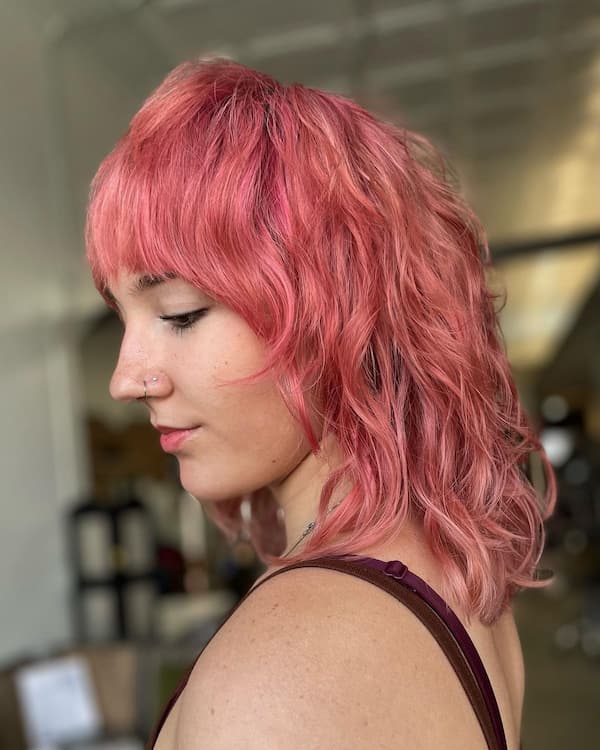 22. Brown and Blonde Long Shag Haircut
If you're after a shag haircut idea for an older lady, this one should work. It mixes brown and blonde beautifully, and the curtain bang is simply nothing short of breathtaking.
23. Sexy Brown Shag Haircut with Neat Bangs
Some hairstyles look pretty, and others, hot. This brown shag cut falls into the latter category, as it's an insanely simple cut that seems to look better on the model than even more complex styles.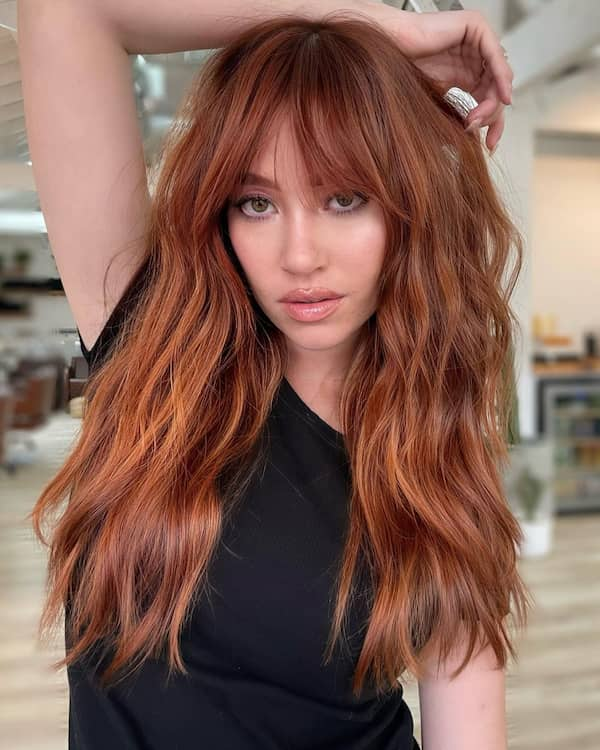 24. Dimensional Brunette Overlapping Layered Shag Haircut
This brunette shag haircut has a very particular look to it; probably because of the brown colour, the overlapping layer, or maybe the oversized bangs. Whatever it is, it's alluring.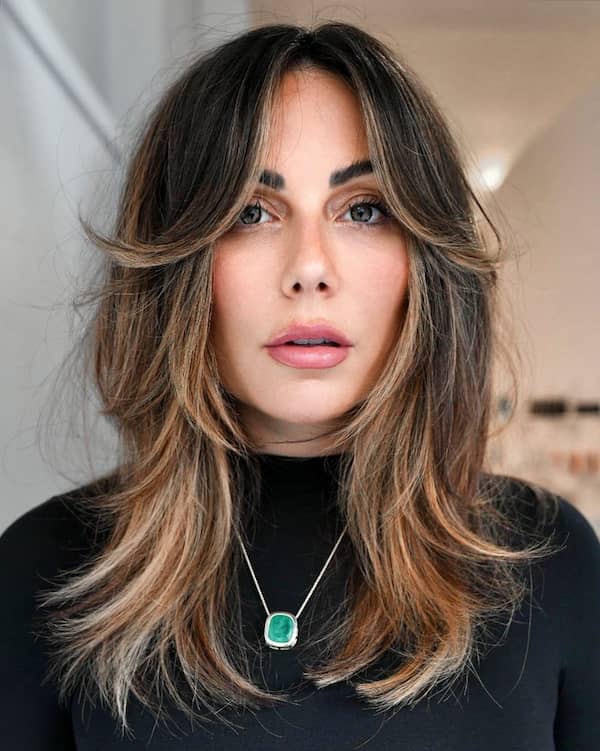 25. Shoulder-length Shaggy Wolf Cut
Balance is a quality I appreciate in hairstyles, and this one seems to have too much of it. The symmetrical parting and the similar twist on both the left and right sides all reinforce balance, and I can't get enough of it.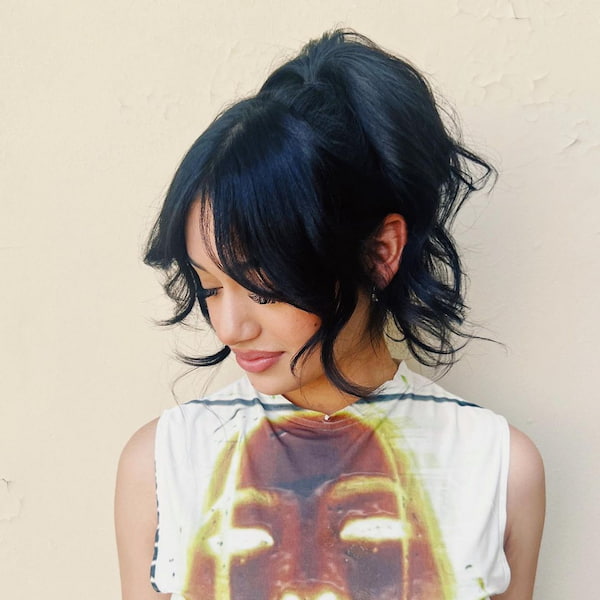 26. Messy Layered Shag Haircut with Bangs
The entire concept of shag haircuts is already a bit messy, but you can help it by adding a bit to the mess. Complete that with nice bangs and you have one of the best shag haircuts with bangs out there.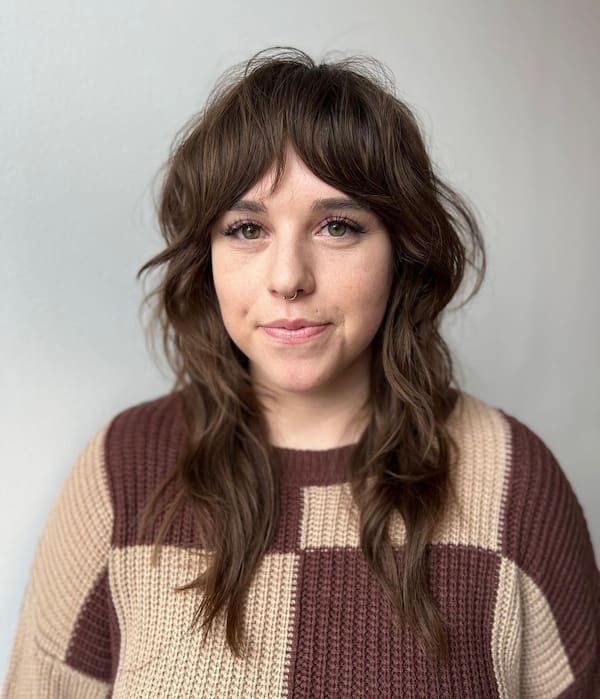 27. Mixed-tone Butterfly Shag Cut
Not everyone can wear a combination of black and brown, but if you would, you'd want to wear it in an adorable hairstyle. Speaking of adorable brown and black hairstyles, you'll struggle to find something better than this.
28. Short Textured Shaggy with Layered Bangs
Your shag haircut doesn't have to be incredibly lengthy to be pretty. With a relatively short textured shaggy hairstyle with layered bangs to match, no one can notice how short this style is.
29. Simple Black Shag Cut with Edgy Bangs
This shaggy haircut does not look smooth, but its relatively messy look looks adorable nonetheless. It's not something I'd get, but if you appreciate styles like this, be my guest.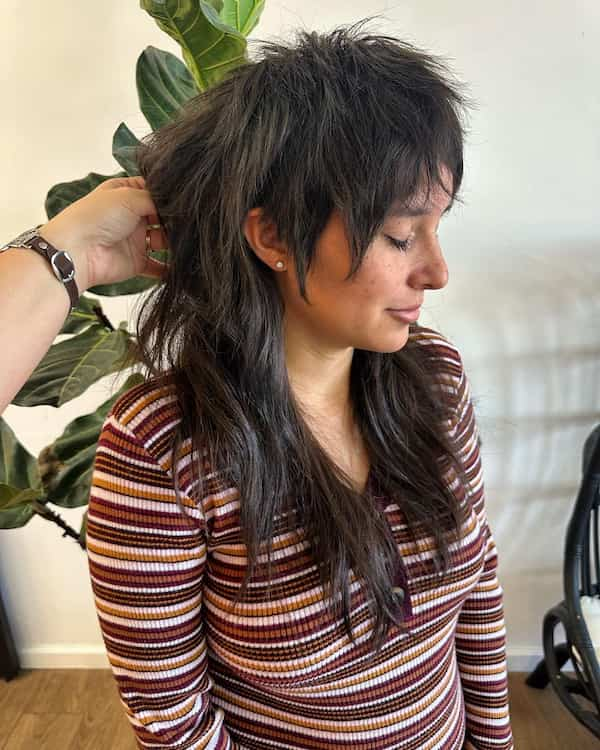 30. Hot Pink Shag with Long Curtain Bangs
If you're not against experimenting with flashy colours, this pink shag haircut is a smart way to start. Thanks to its closeness to purple, it manages to stay pretty without looking over the top.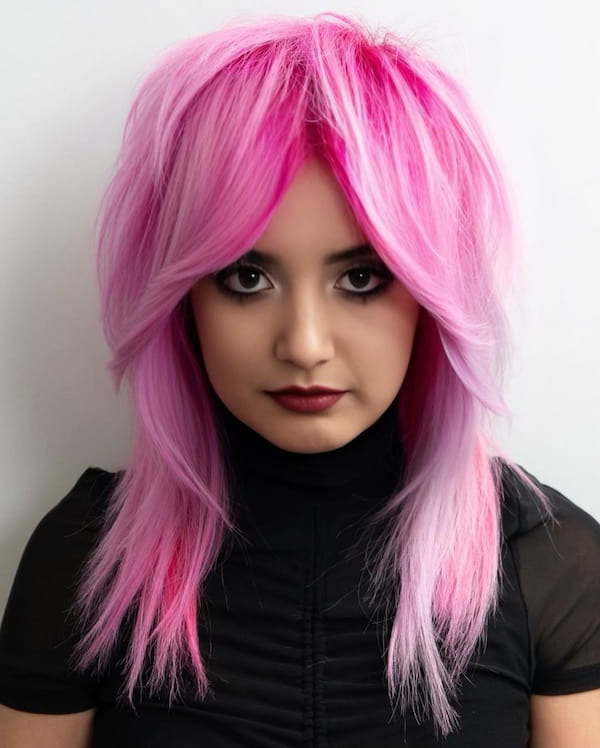 31. Spooky Black and Blonde Shag Haircut with Dhag
If that pink haircut isn't for you, black and blonde should be a more practical alternative. Both black and blonde are relatively common hair colours, but mixing them into one hairstyle is what most people don't do, and it's surprisingly cool.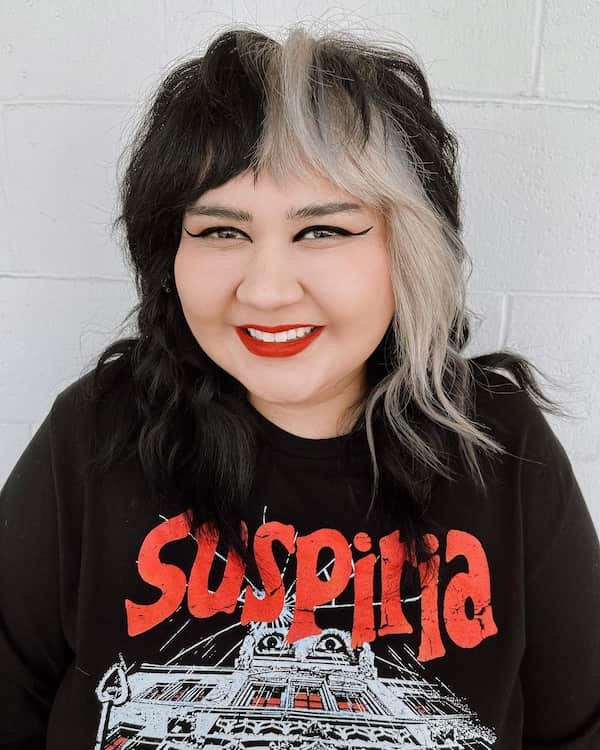 32. Wispy Shag Layered Haircut
This wispy shag haircut is an okay option for ladies with fine hair after a formal hairstyle. It has no over-the-top properties, but it's adorable enough for most events.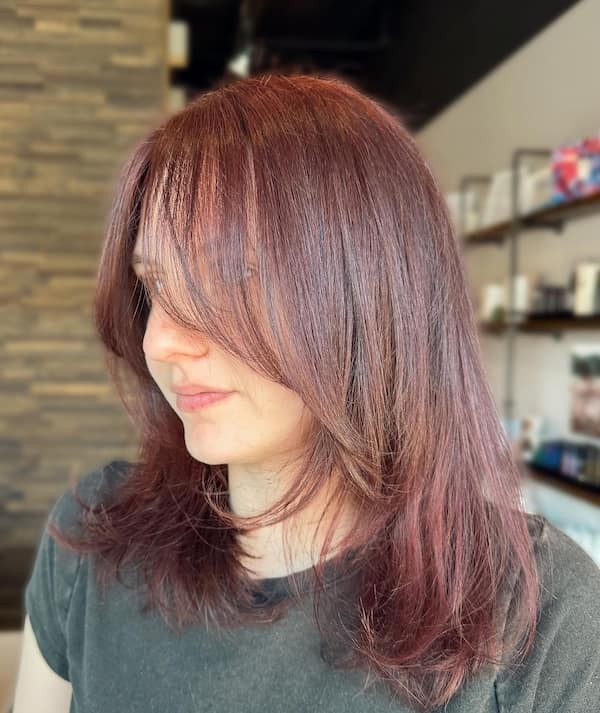 33. Effortlessly Messy Shag Haircut
Some hair types quickly get messy, and it's not necessarily a terrible trait. Here's a way to turn your effortlessly messy hair into a pretty adorable shag haircut.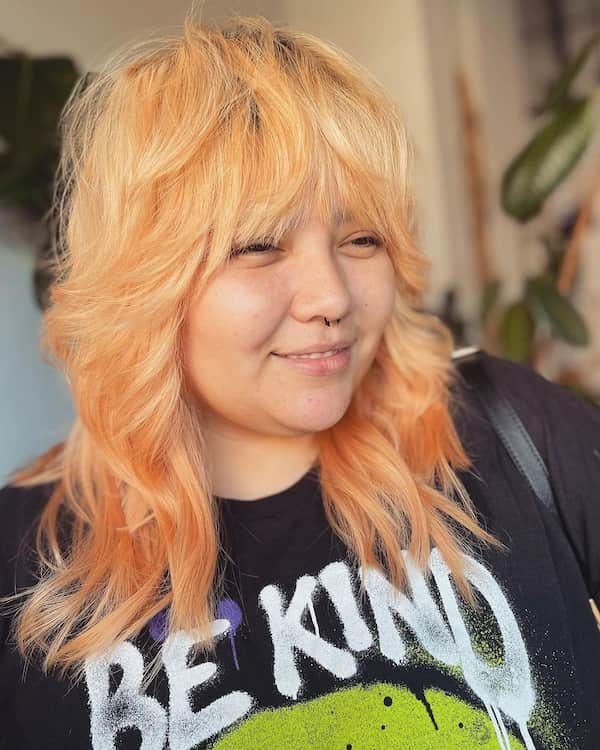 34. Ombre Super Glam Shag Haircut with Statement Bangs
I'm not sure if it's the model or the hairstyle, but this illustration oozes Hollywood actress vibes. Naturally, wearing a glam shag haircut on blonde hair with those amazing bangs can never go wrong.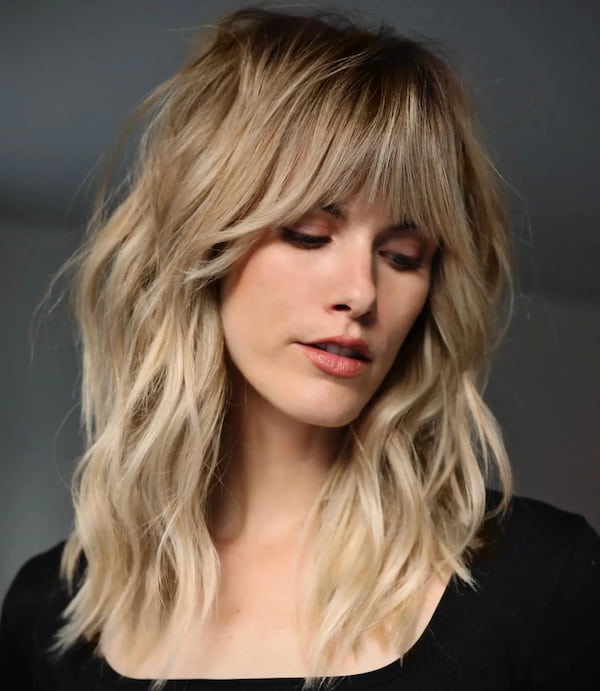 35. Statement Messy Shag Haircut with Bangs
Here's another way to style a messy shag haircut with bangs for maximum allure. If you're a brunette with naturally messy hair, getting this is a no-brainer.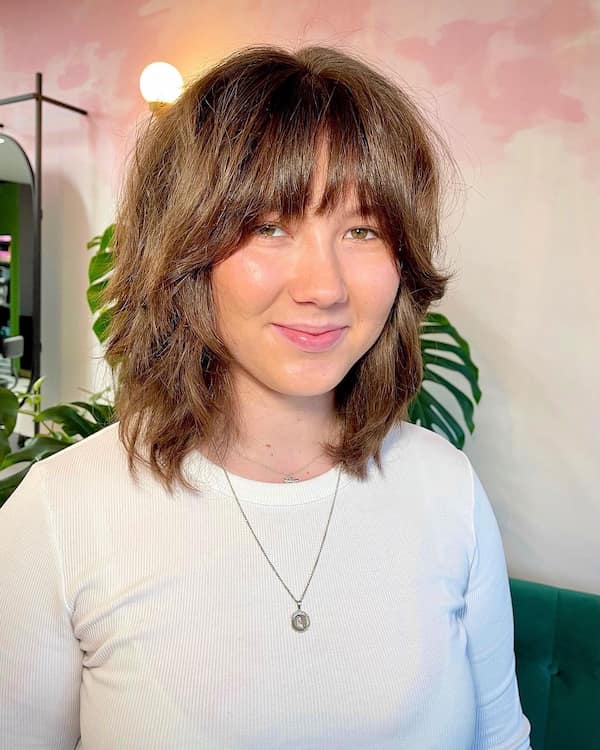 36. Simple Brown Shag Haircut
If you told me a simple shag haircut on brown hair can make you look this adorable, I'd have argued, until I saw this. I'm also a fan of the natural curtain bangs: they make the style adorable.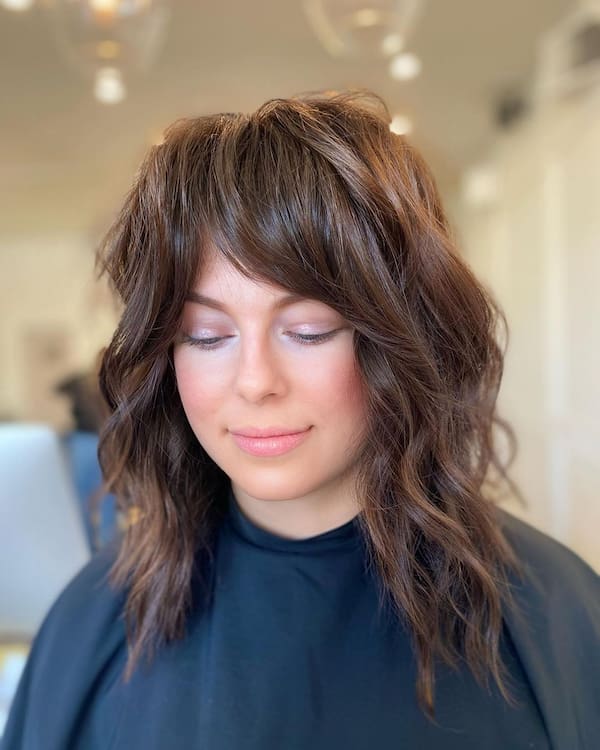 37. Layered Shag Wolf Cut with Scanty Bangs
Full bangs are great, but have you seen the allure of scanty bangs? This layered shag cut with scanty bangs is the easiest way to look hot yet professional.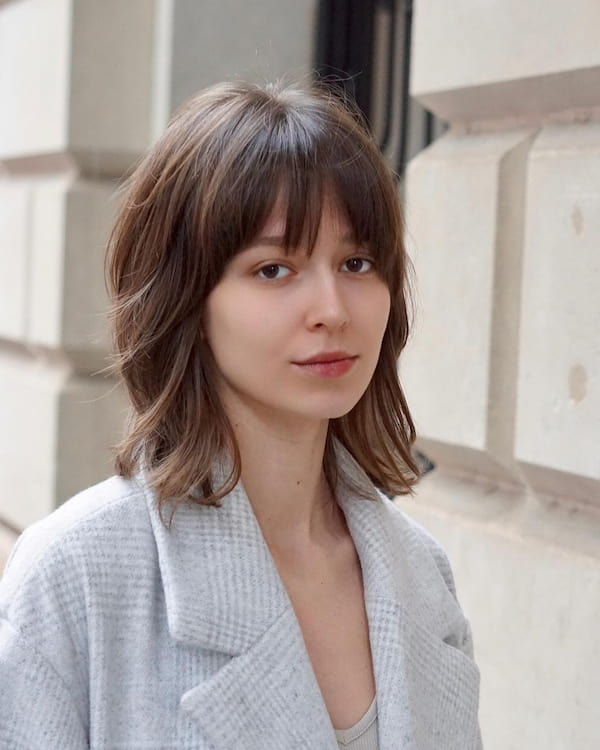 38. Face Framing Shaggy Cut with Long Curtain Bangs
Provided you have the optimal face shape for it, curving your cut at the end to form a giant oval is a pretty sleek way to style a shag haircut. Throw in long curtain bangs and you have a 10/10 hairstyle.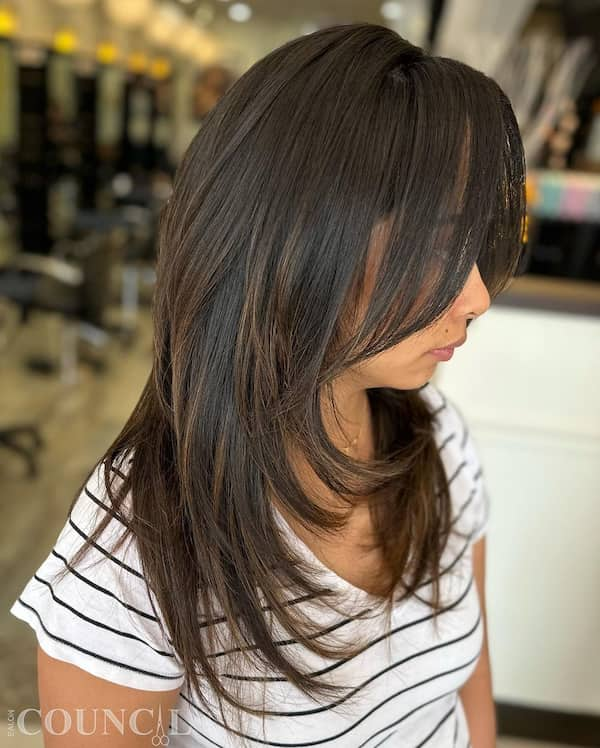 39. Super Short Bob Shag with Fringe
With the number of long shag haircuts we've seen, you may be thinking it's impossible to slay a short shag haircut but you'd be wrong. Thanks to the fun colour choice and the style's overall uniqueness, I'm choosing this over half the long hairstyles.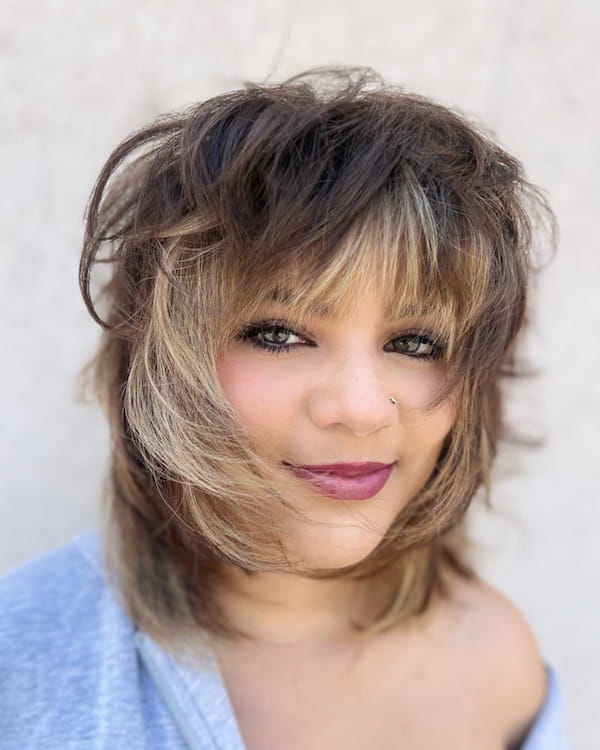 40. Textured Balayage Shag Haircut
If you're after a super-casual shag haircut, this textured balayage is a smart idea. Its spot-on colour, sleek texture, and symmetrical parting all work together to make the hairstyle pretty.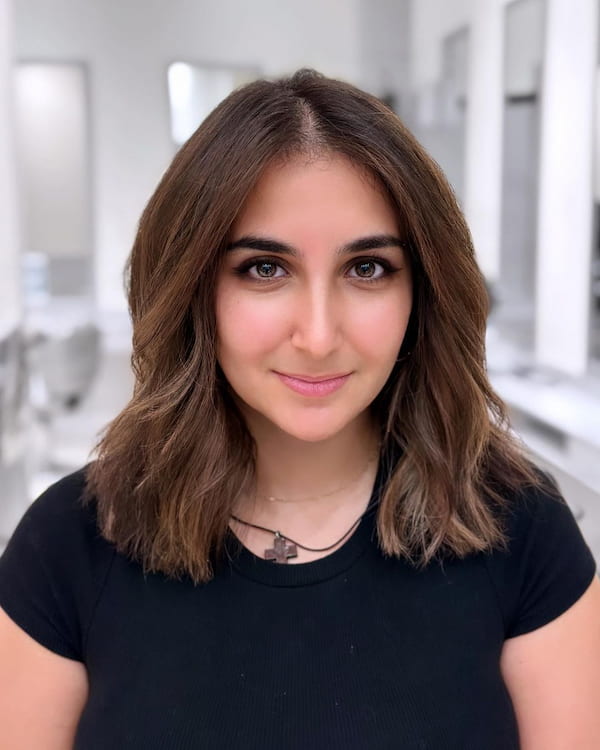 41. Pretty Purple Shag Haircut with Fringe
If you're open to experimenting with colour, you should try this purple shag haircut. While the style itself is nothing short of adorable, it's the captivating fringe that grabbed the most of my attention.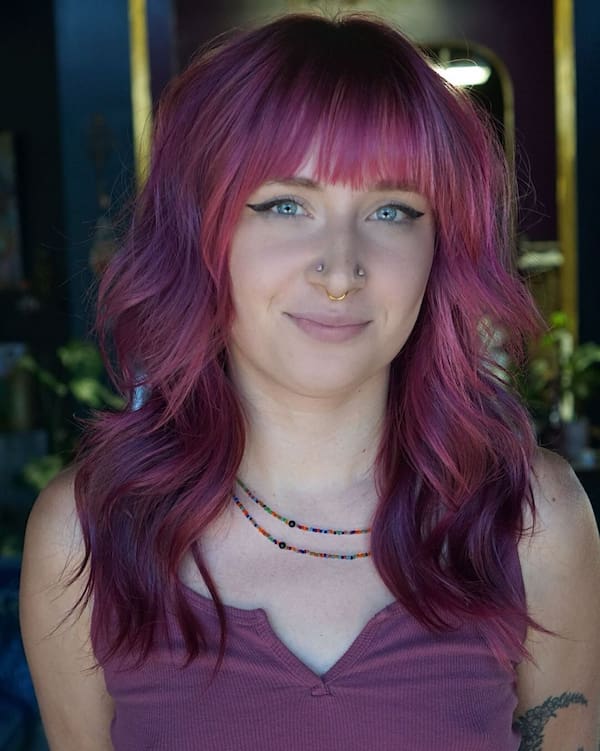 42. Thick Curly Shag Haircut with Bangs
Shag haircuts look great and all, but sometimes, you just want to stand out from the crowd. This thick curly shag cut with humongous bangs is an excellent way to do that.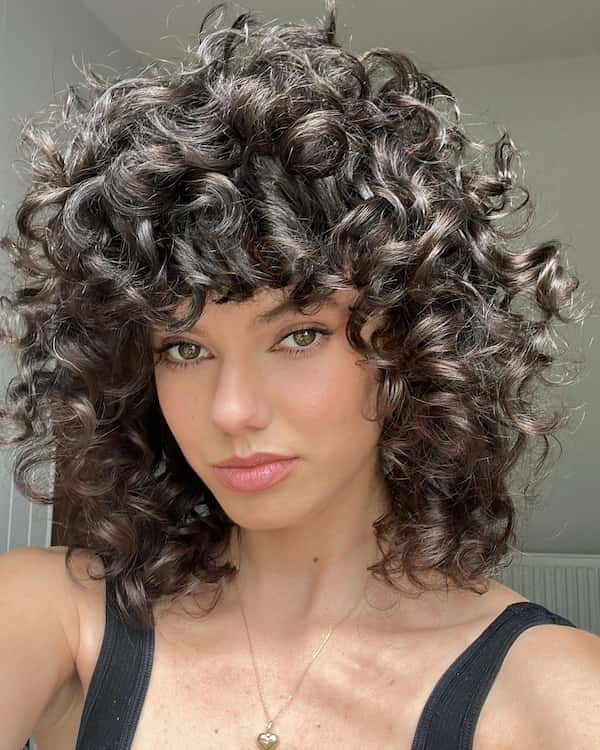 43. Soft Romantic Shag
You don't have to get something in a flashy colour or something with humongous curls to stand out from the crowd. Sometimes, a simple soft shag with a full fringe is all you need to get all the stares.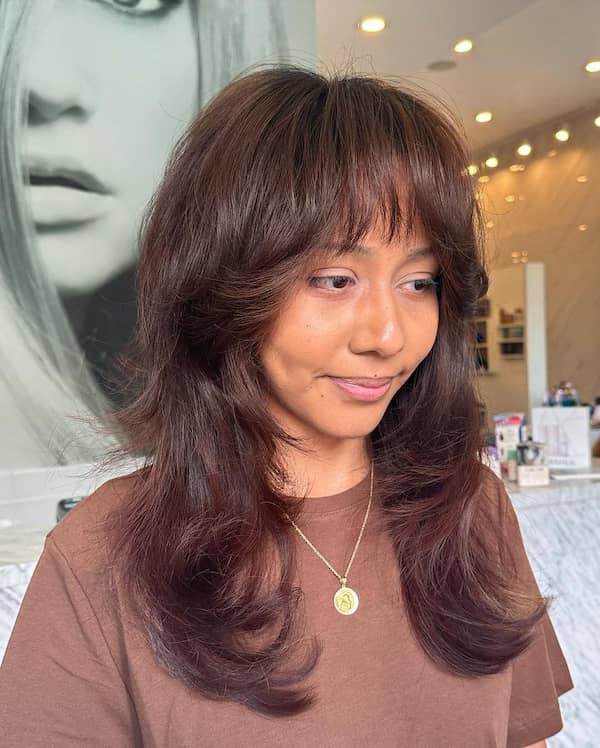 44. Brown Shag with Layers and Bangs
If you're a fan of the preceding hairstyle, you should also love this one with all its layers and bangs. Wear it with a similar smile and you just might find yourself on one of our top lists.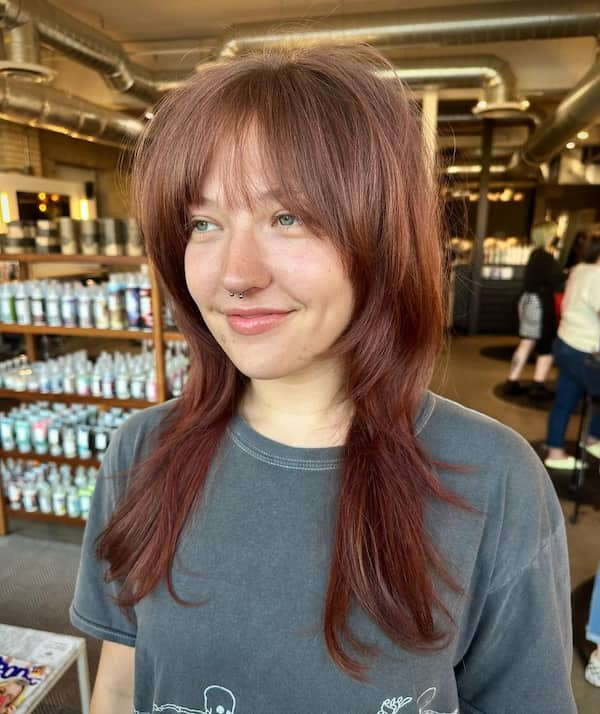 45. Soft Shag Cut with Highlights
This hairstyle is another excellent soft shag haircut with an adorable colour gradient. It's not the most obvious thing to notice, but you'll notice it if you look hard enough, and it's undoubtedly adorable.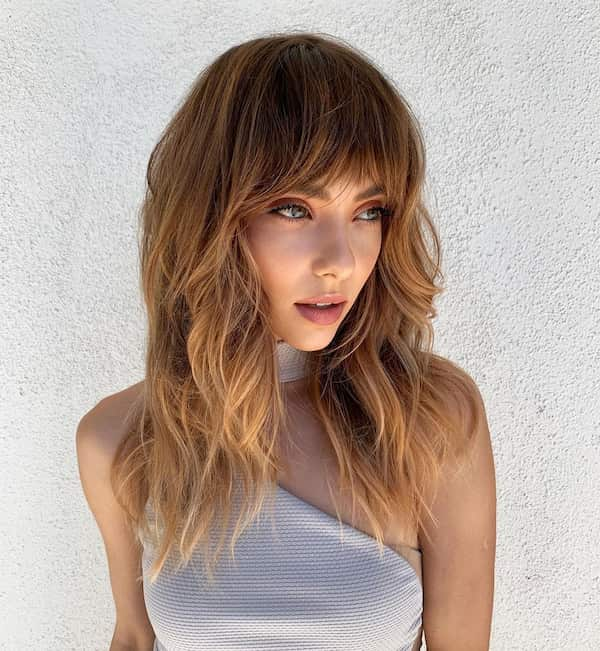 46. Soft Shag Haircut with Bangs
Soft shags are typically effortlessly beautiful, especially when you combine them with a full fringe. It's exactly what this model has done in this hairstyle idea, and I can't get enough of it.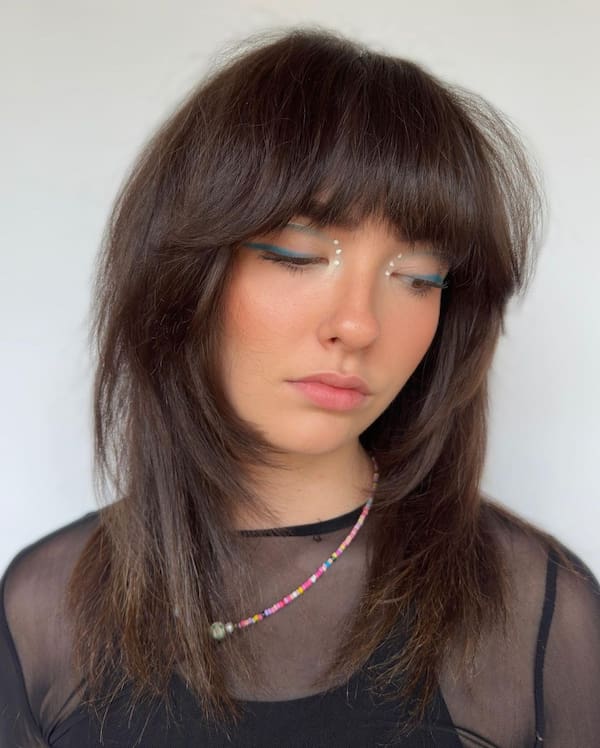 47. Goldie Shag with Full Fringe and Waves
If you already have long wavy hair, you might want to do your hair a favour by getting this pretty shag haircut. From the waves to the bangs and even the length, everything here comes together to create a truly remarkable style.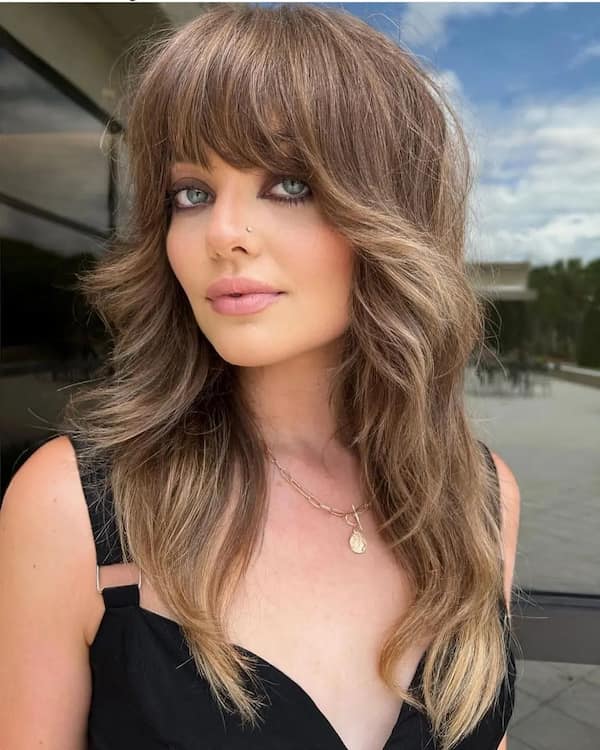 48. Blowout Layered Shag Cut
Managing to look irresistibly good while maintaining a 'messy' texture is a difficult effect for shag hairstyles. However, this model perfecting it shows it's possible, so you can shoot for it.
49. Curly Shag Haircut on Natural Hair
You can use your hair's natural curls to create a captivating look for your shag haircut like the model here. Don't forget to include the full bangs for the complete look.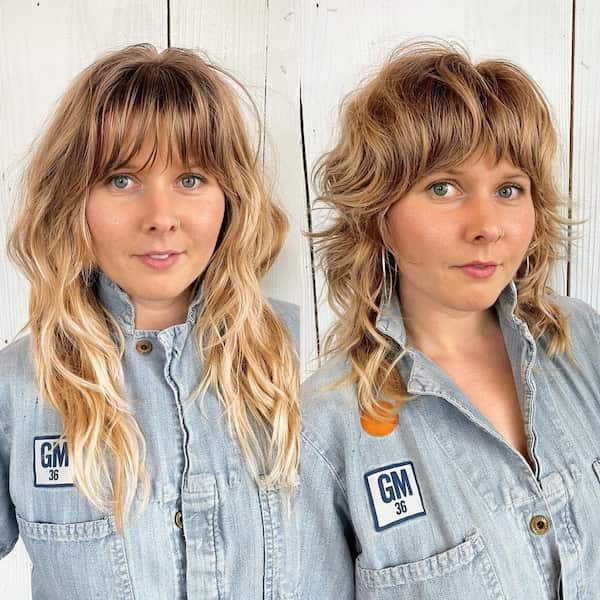 50. Curly Shaggy Wolf Cut
If the preceding curly shag cut isn't curly enough to your liking, you should appreciate this one better. Wear it with similar glasses and you just might achieve this model-esque look.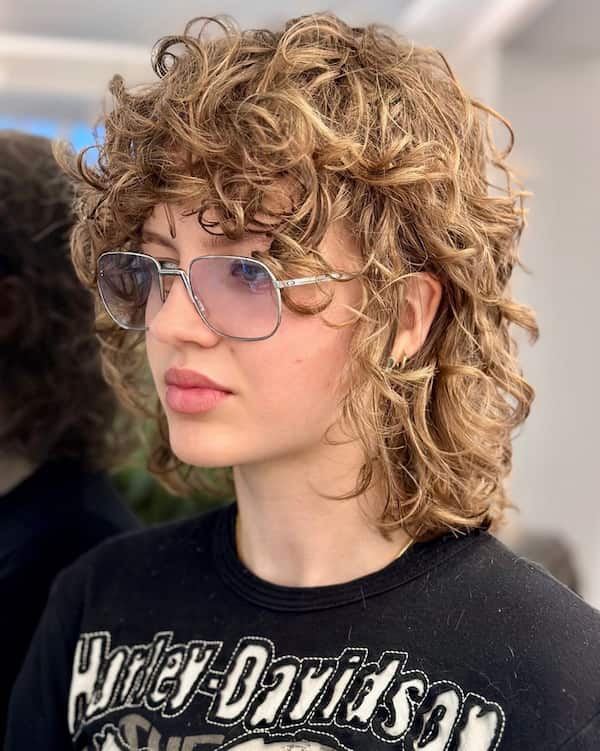 Conclusion
And that concludes our 50 recommendations of the best shag haircuts with bangs out there. Feel free to copy or modify any of them to create your unique and outstanding hairstyle.
Did you enjoy this compilation? Then you should check out our other posts.
Pin for Later.