Curls are getting increasingly common among people from all walks of life, and I'm here for it. If you're making the transition from straight to curly hair, you'll need some support, as many of the hairstyles you used to wear are incompatible with curls.
To ensure you have a smooth transition, we've compiled 50 medium length hairstyles for curly hair to inspire your hairstyles. Now, you can curl your hair with confidence, knowing you can get alluring hairstyles week in and week out.
Classy Medium Length Hairstyles for Curly Hair
50 Hairstyles is a lot, but that's how many adorable medium length hairstyles for curly hair we have in this compilation. So, brace yourself for this long and enjoyable ride.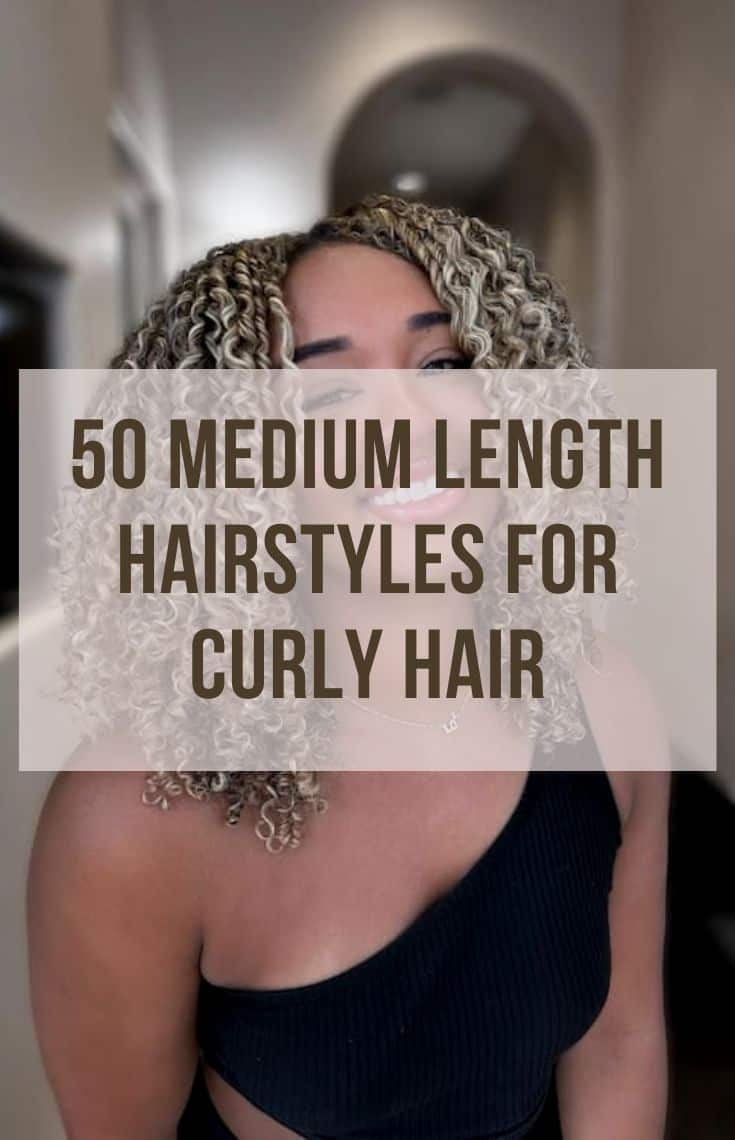 1. Neck-Length Tousled Bouncy Curls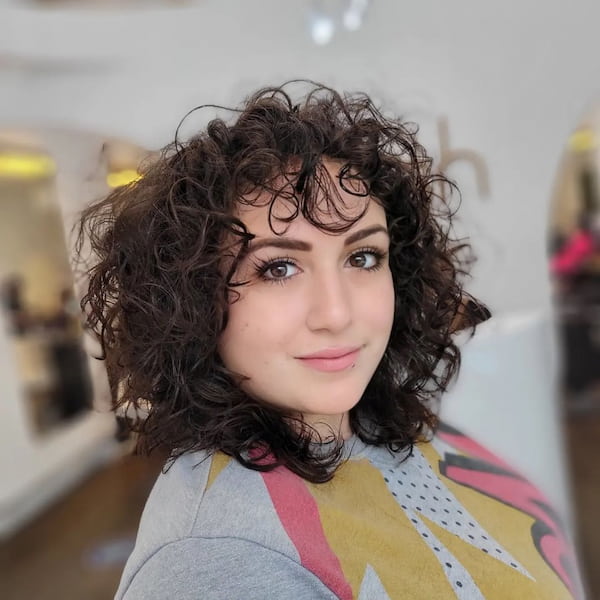 This tousled look of this bouncy, curly style aptly captures how the average casual medium length curly hair looks. Maybe it's my affinity for black hair, but this style looks drop-dead gorgeous to me!
2. Mixed-tone Curly Hair with Bangs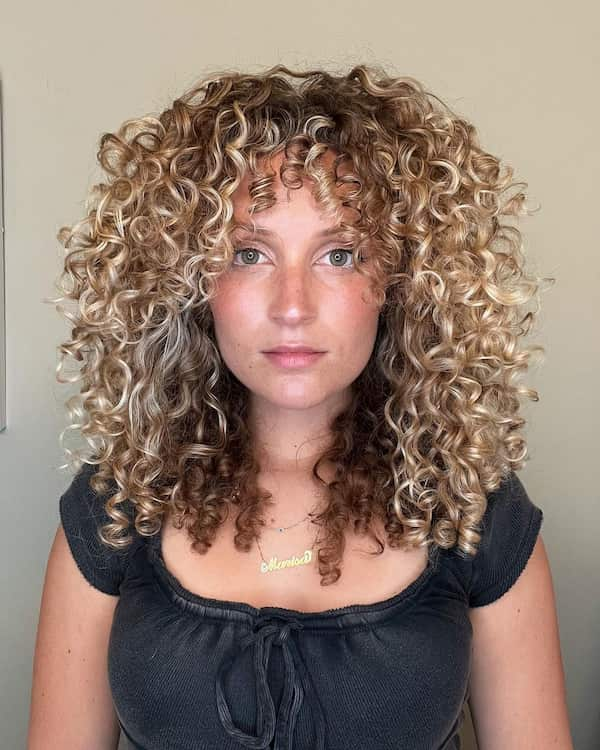 It's fair to refer to this style as dimensional, as the blonde seems to fade into the brown. Somehow, the curls appear to frame the model's face, and aren't those curly bangs lovely?
3. Medium Center-Parted Curly Hair
If you're not really after any extraordinary look to your curly hair, this center-parted medium length style should work for you. It's great for work, school, anything, and its symmetrical parting simply looks magical.
4. Bold Curly Hair with Bangs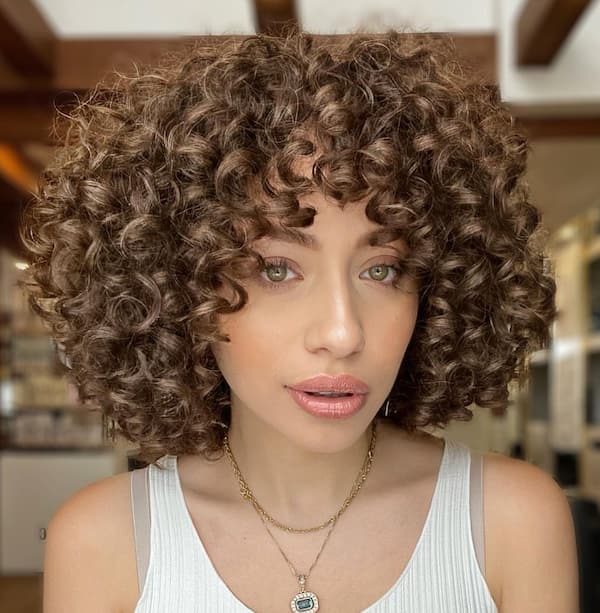 Brunettes with voluminous curls should consider this look. Not only are the curls naturally gorgeous, but those curly bangs adorn the style so elegantly that I'm not considering coloring my hair brown.
5. Statement Curly Hair for Round Face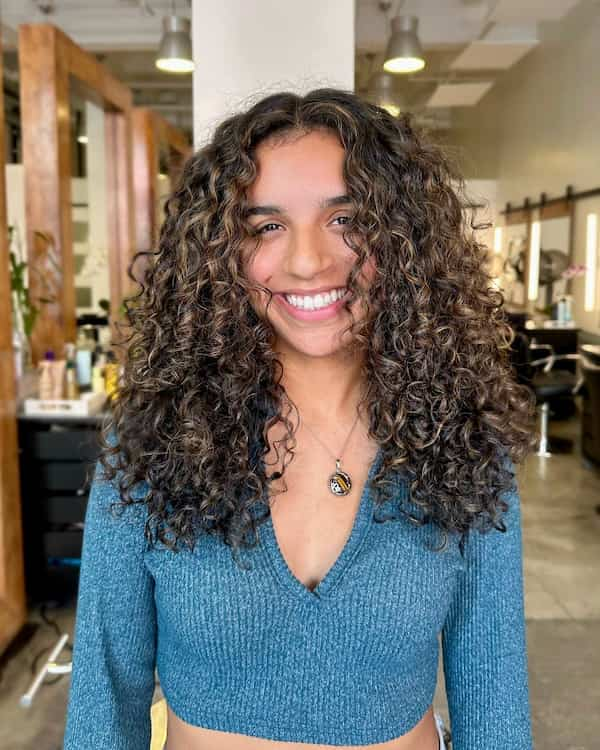 Face-framing looks are challenging with curls, but this model managed to achieve it. I'm also sold on that well-defined center parting, and her smile just makes everything so much better.
6. Classic Black Curly Hair with Framing Bangs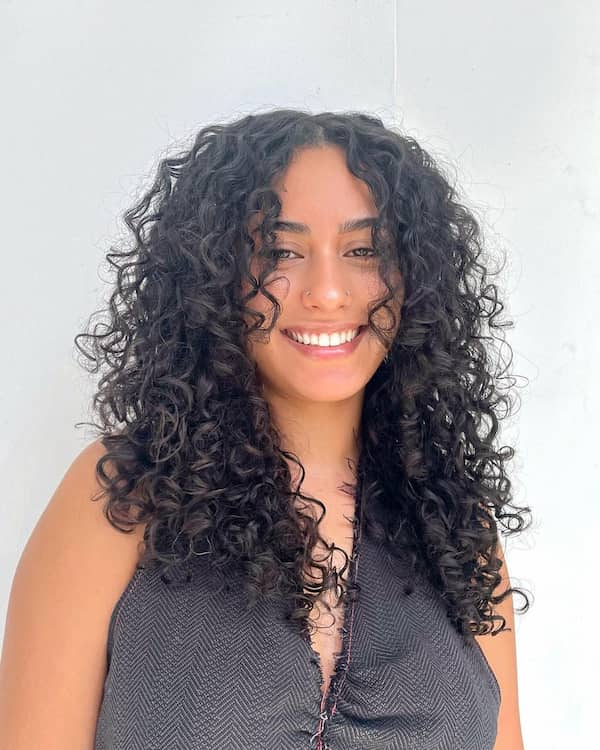 Here's another chic face-framing idea that uses a center parting to create one of the most outstanding looks we've seen. The curls aren't the most consistent on this list, but they look remarkable nonetheless.
7. Blonde Curly Hair with Blending Shelfy Layers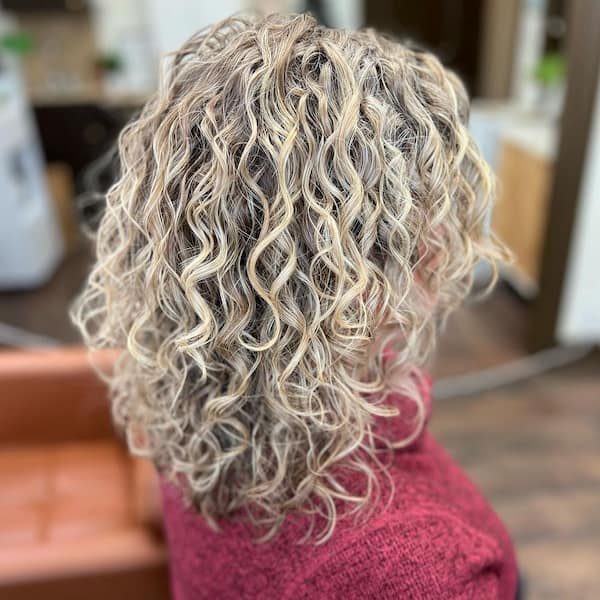 This style may be blonde, but I think it'd also work excellently on ladies with gray hair. The shelfy layers idea is a bit unique, but if you can replicate it, I believe it's worth the trouble.
8. Medium-Length Brunette Thick Hair with Curls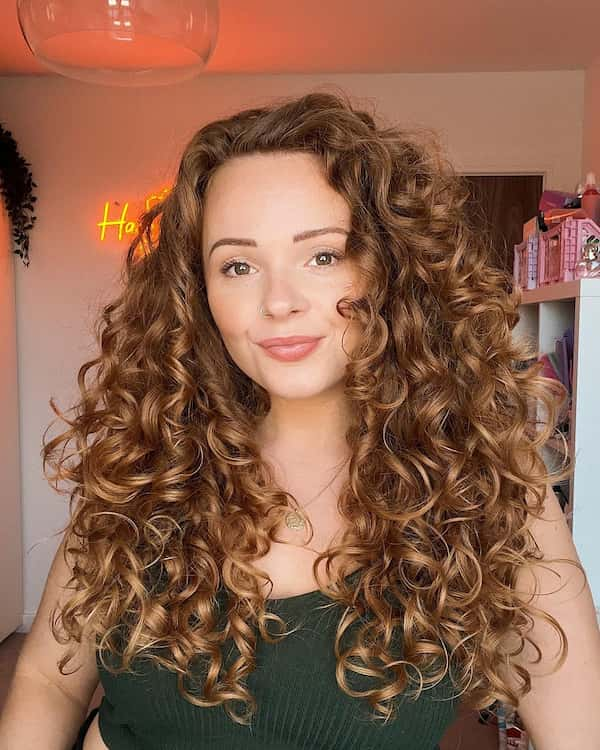 Brown curls never disappoint, and this hairstyle is an excellent proof of that theory. Everything about this style looks just right; from the color to the curl definition and even the length; so it's no surprise it's so high up on this list.
9. Chic Brown Curly Hair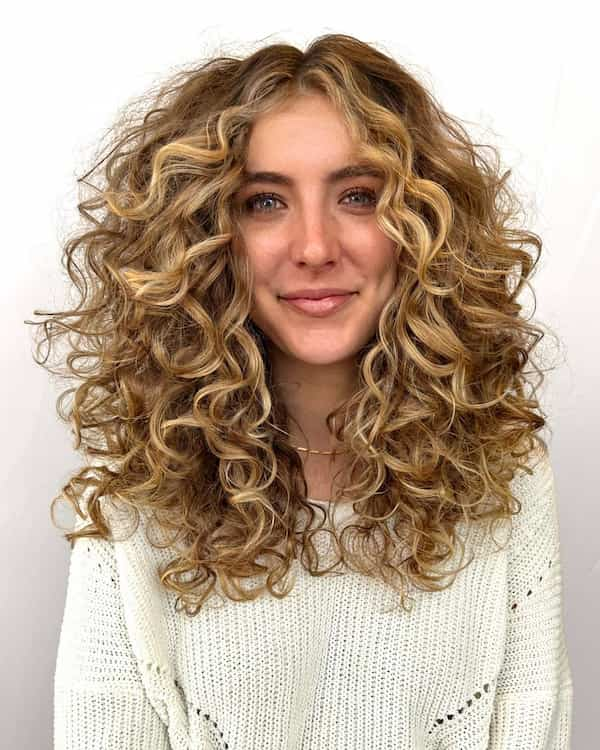 When you get a medium length curly hairstyle in brown with such a graceful center parting, it just can't go wrong. If you look closely, you'll see the texture is slightly messy; that's because she's wearing her natural texture!
10. Mid-Length Tight Curly Hair
Tight curls aren't very common because of the volume they require, but if you're blessed with that volume, you should appreciate this hairstyle. It also doesn't look excessively long or short; that's the joy of medium length hairstyles for curly hair.
11. Voluminous Hair with Bold Curls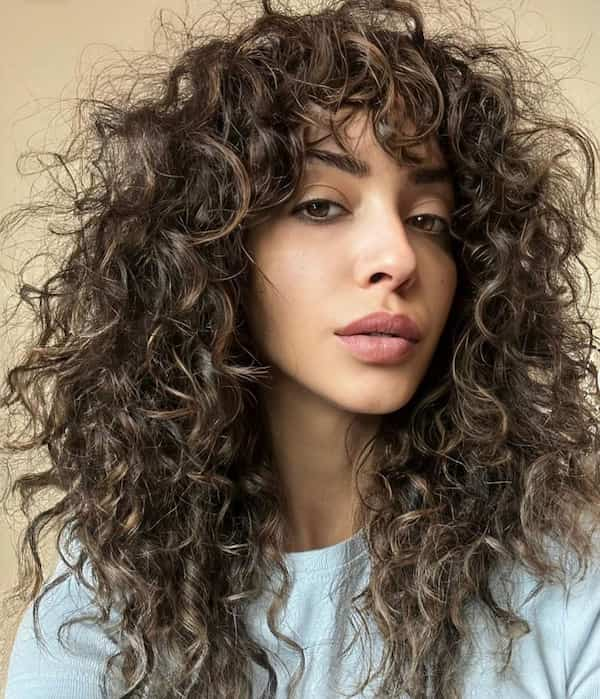 Wearing a relatively messy texture can make your hair appear voluminous, even if you don't have that much volume naturally. The curls can be more defined, but when the style is not broken, why fix it?
12. Textured Curly Shag Hair
The textured look of this curly shag just won't stop wowing me, but that's only half the charm. How she managed to mix brown and black that exquisitely is something else I'll have to think about.
13. Light Brown Curly Hair with Bangs for Round Face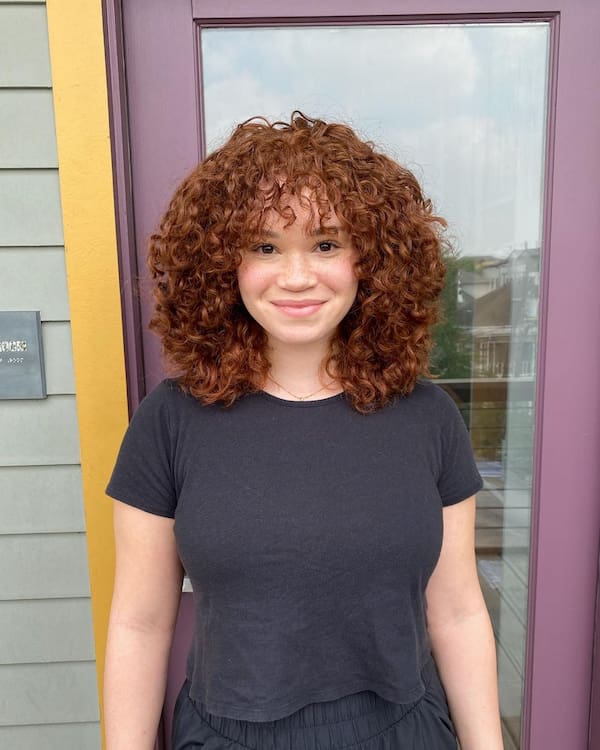 At this point, I'm convinced you can wear anything that looks curly in brown and look elegant. This model decided to take it a step further with the bangs, and it'd be dishonest to suggest it doesn't look alluring.
14. Classic Reddish Brunette Curly Hair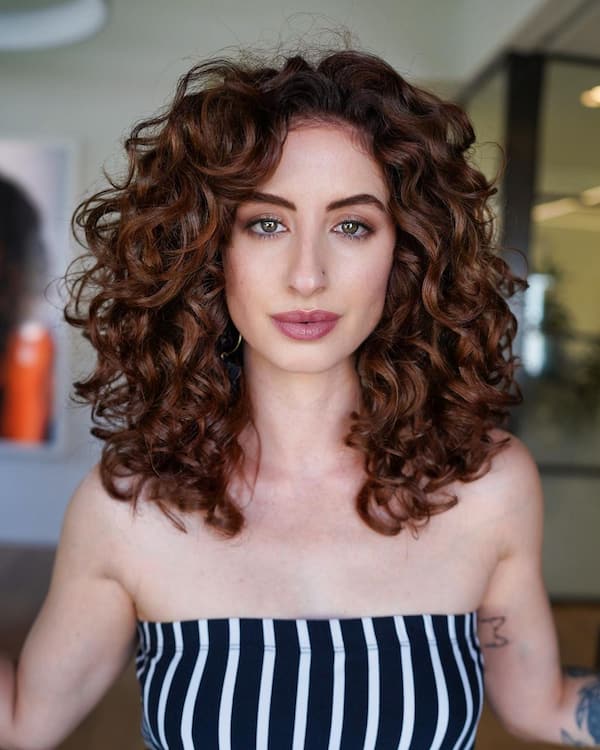 Brown hair is now recurring a bit too often in this compilation, and that only shows just how great they look with curls. While this model didn't bother with the bangs, her excellent curl definition made sure she didn't even need it.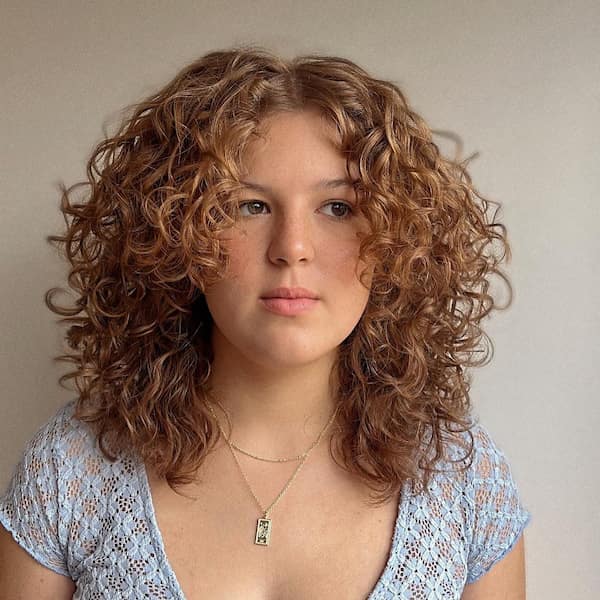 If you like curly hairstyles that much, you might as well color your hair brown. You may not be able to replicate this exact natural look, but incorporating her curtain bangs and center parting would make sure you're looking glamorous.
16. Cute Full Bouncy Curly Hair
Ladies with voluminous hair can easily recreate this full bouncy look, and it has two benefits. Firstly, it's insanely stunning, especially with that side parting, and secondly, it gives your hair the illusion of more volume.
17. Messy Loose Curls with Full Fringe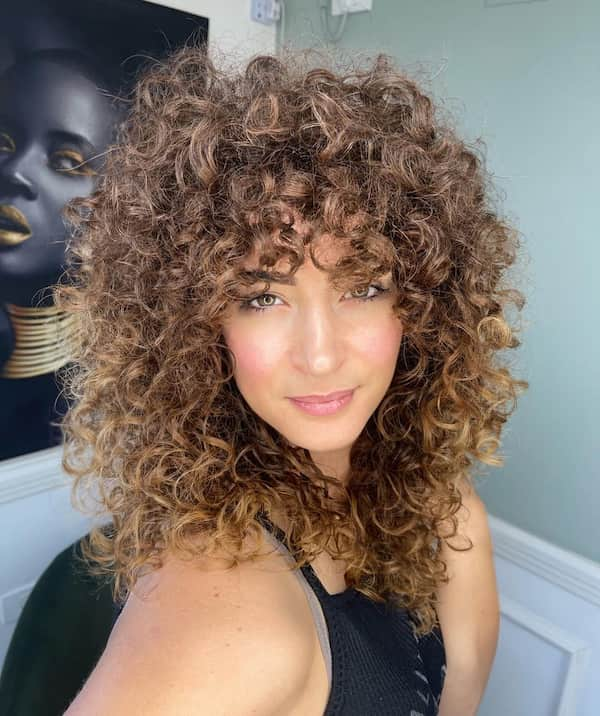 Here's another creative way to create the illusion of volume, even if your hair isn't naturally as voluminous. Apart from the glamorous loose curls and the full fringe, the messy look is exactly what many ladies are after.
18. Gray Loose Curls for Thin Hair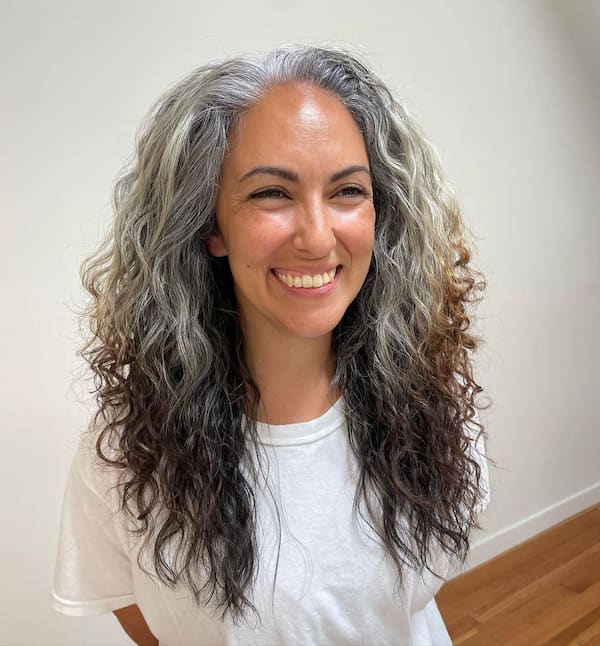 Who says you can't rock curly hair with gray hair? This lady is refuting that with these loose curls that look nothing short of adorable, despite incorporating natural gray with brown highlights.
19. Blonde Lush Messy Curly Hair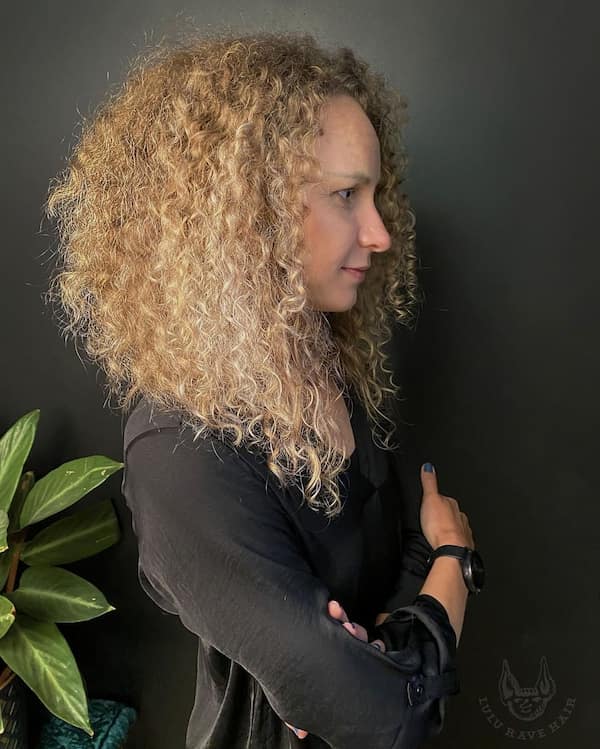 These high-definition curls create an illusion of messiness that strangely makes your hair look so much better. Looking closely, you may even notice the hair's dimensional look; you definitely shouldn't ignore that if you're replicating.
20. Classic Mid-length Purple Hair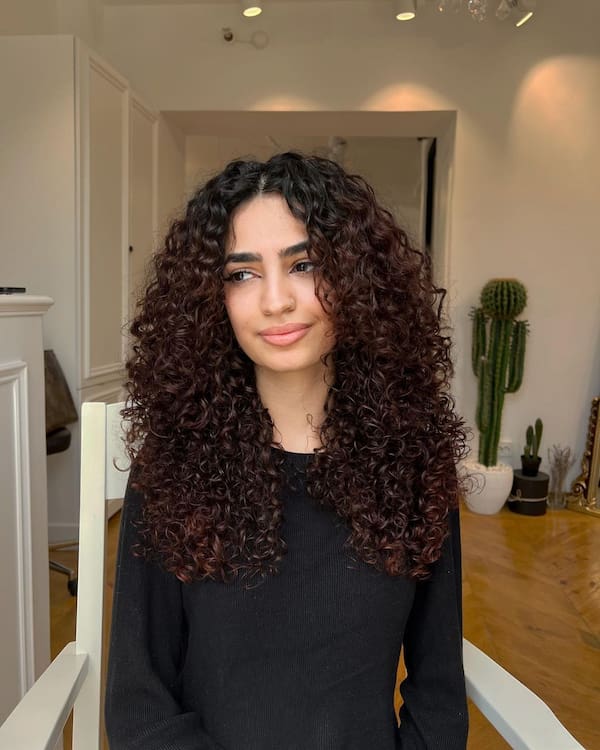 It's impossible to at this hairstyle and decide to skip, especially if you have the volume and length to replicate. You can also notice that alluring center parting; it's one of the reasons this hairstyle made it onto this list.
21. Simple Hair with Soft Curls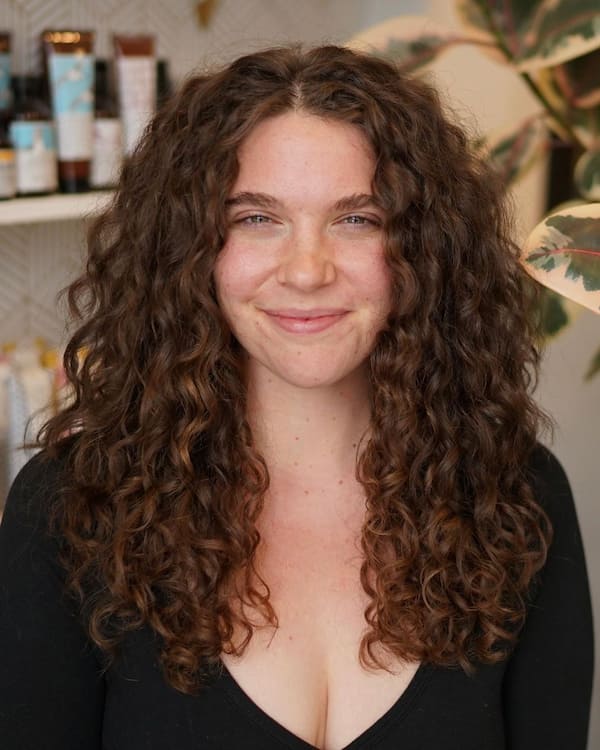 This is one of the simplest medium length hairstyles for curly hair, and that's what's so special about it. If you can wear soft curls with a simple center parting and look this gorgeous, why look for something more complex?
22. Blow Out Extra Full Curly Hair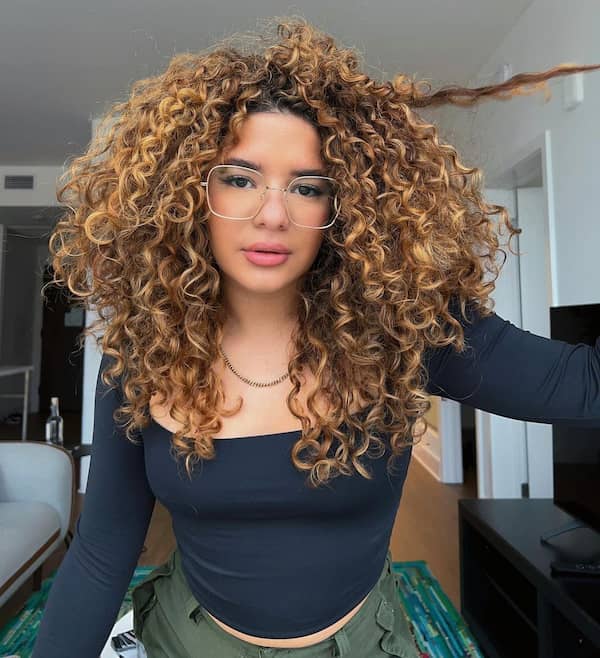 I doubt we can describe a full blowout as 'simple,' but we can describe it as adorable. The brunette look is almost a cliché at this point, but it's only so because it's so good.
23. Cute Natural Curly Hair
We've seen the brown hair version of this style, but this black one is even better. It's shorter, yes, but it uses the same symmetrical center parting and looks just as adorable; 10/10 in my opinion.
24. Light Blonde Soft Curls with Bangs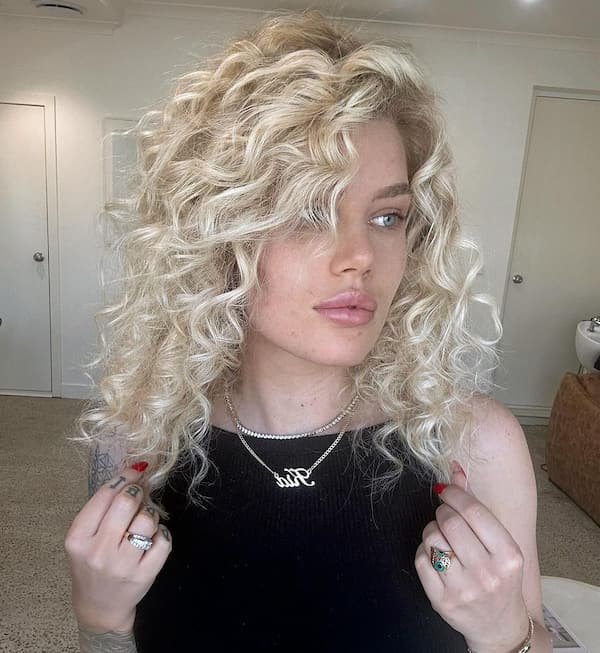 Blonde has been criminally underrepresented in this compilation, but here's an elegant idea for our blonde readers. The soft curls work for me, and it's hard not to love those beautiful bangs.
25. Bra-Length Super Large Curly Hair with Bangs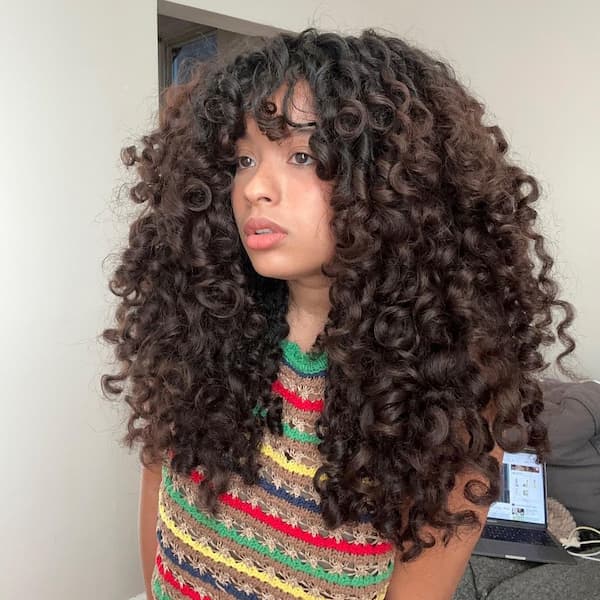 This look might have used the help of curly hair products , but I doubt products can give you that volume and length. The gigantic size of her hair almost makes the bangs look like baby hair.
26. Simple Shoulder-Length Lose Curls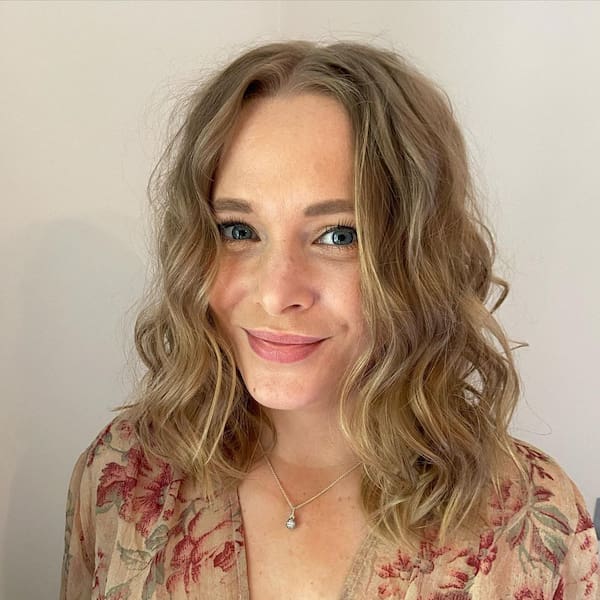 These loose curls look wavier than curly to me, but that doesn't matter as long as it looks chic. The center parting is another delightful aspect of this style, and did you notice it's in blonde?
27. Classic Mid-Parted Curly Hair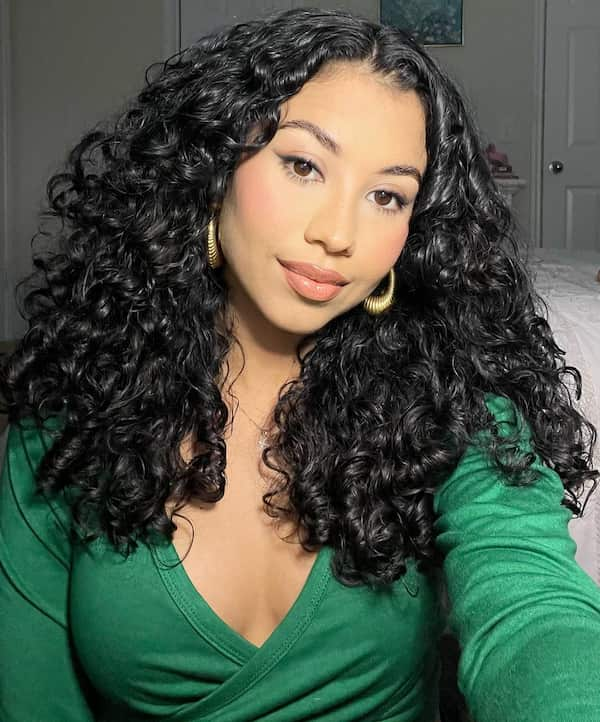 If you're team middle parting like me, this classic curly hairstyle should work for you. I also love the inconsistent look of the style, an effect some will refer to as messiness.
28. Cute Mid-Length Curly Hair with Messy Bangs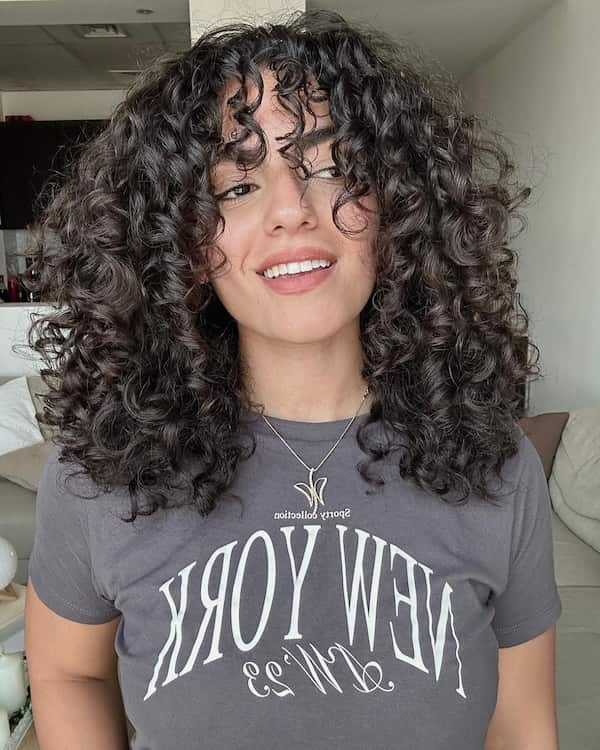 Curls with bangs naturally look alluring, but have you tried curls with messy bangs? You'll likely not be wearing this to your wedding, but it's an excellent hairstyle for work and casual wear.
29. Sexy Bouncy Thick Curly Hair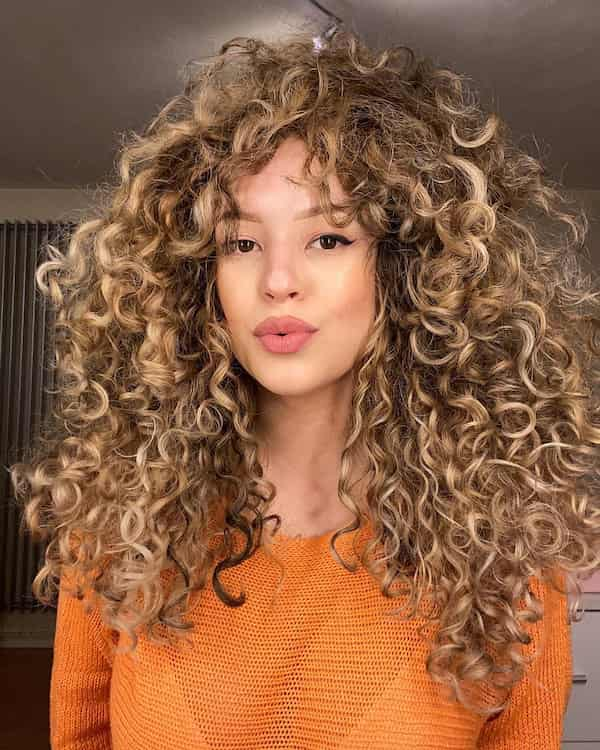 This gigantic curly style uses bounciness to enhance the hair's volume, instantly making it interesting. The slightly messy look also introduces some playfulness to the style for extra flair.
30. Dimensional Blonde Face Framing Curly Hair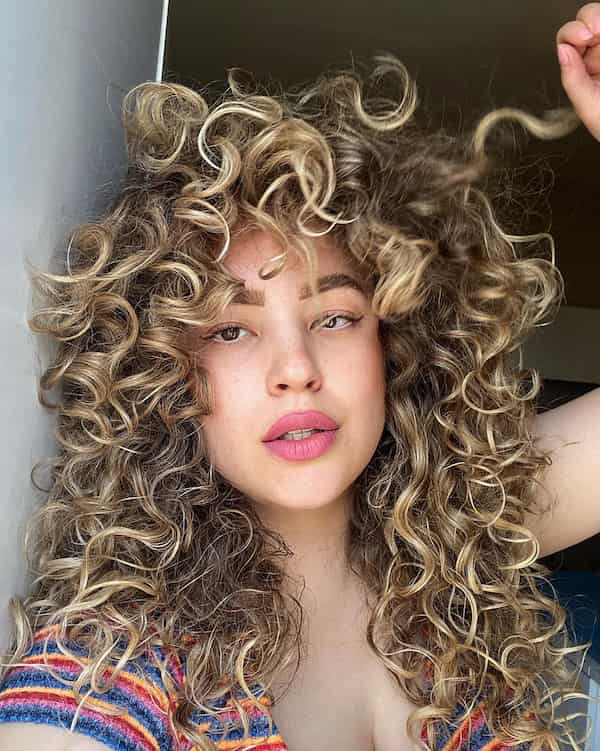 Blonde curls are unique in a way that's hard to put into words, but beautiful. These aren't the most intensive curls you'll see, but they frame her face so beautifully that I want to go blonde.
31. Pretty Natural Hair with Thick Curls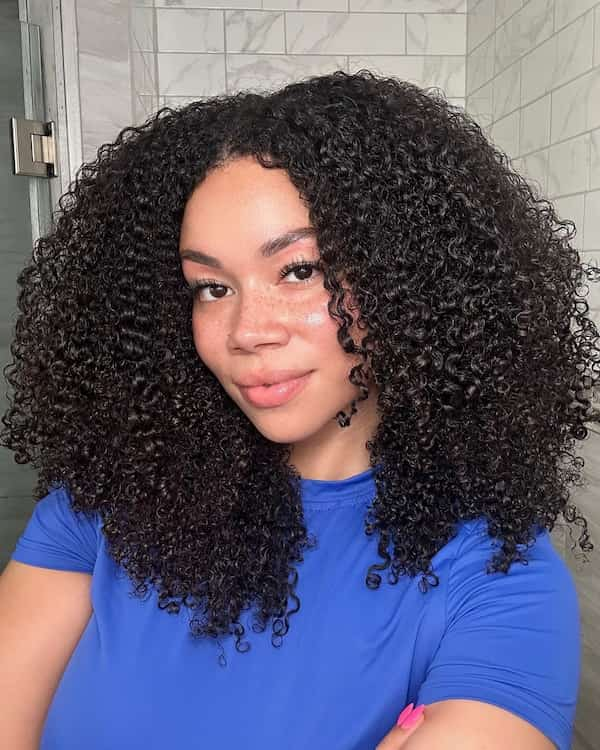 Black is beautiful, and it's very apparent in this style. Thankfully, replicating isn't very challenging, and the symmetry helps create one of my favorite medium length hairstyles for curly hair.
32. Ginger Spice Curly Hair with Bangs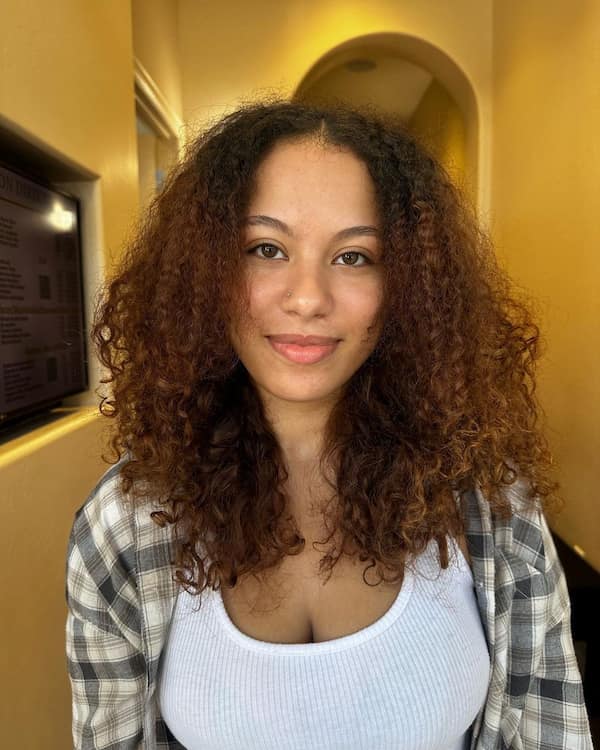 This ginger color looks close to brown, and brown curly hairstyles never go wrong. When you wear them in this high definition with a significant parting, they always seem to look just right.
33. Shoulder-Length Face Framing Curly Hair with Highlights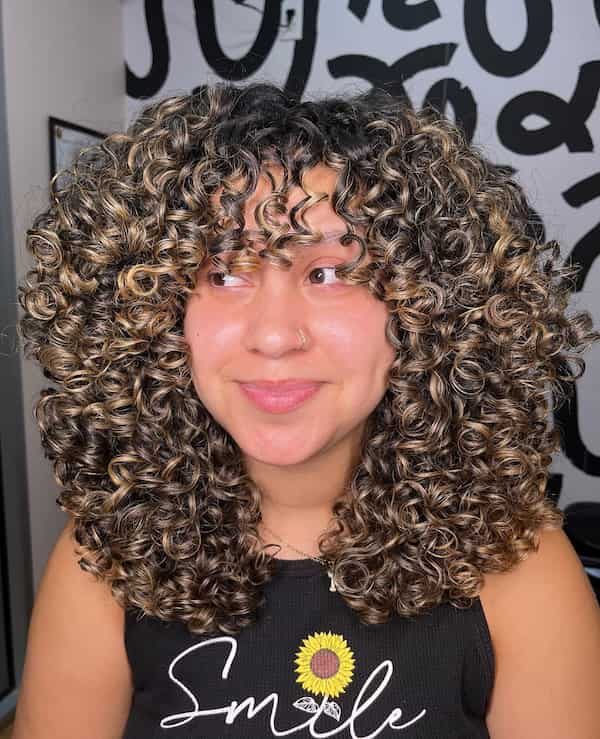 A face-framing curly look is quickly becoming a trend in this compilation, and the reason is pretty easy to see. When you combine that face-framing look with brown highlights and curly bangs, this magnificent look shouldn't be surprising.
34. Reddish Messy Curly Hair with Full Fringe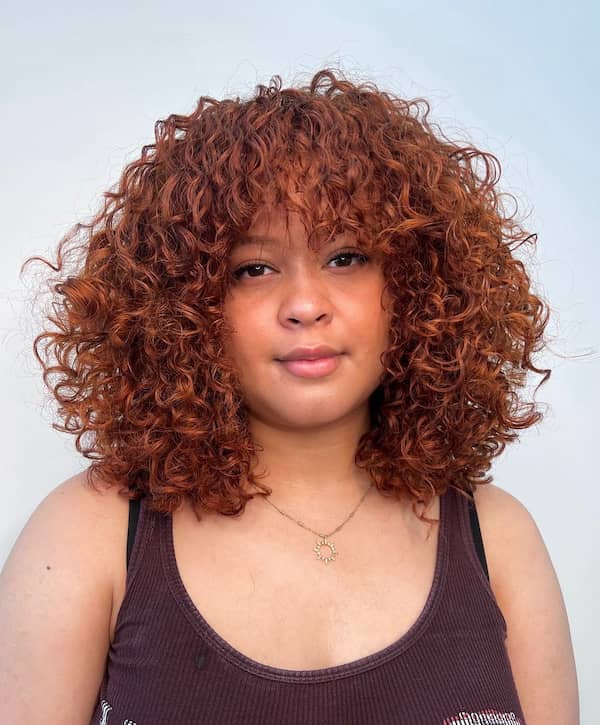 Here's another chic example of a face-framing curly hairstyle with a fringe, and it's lovable. Maybe not as exquisite as a bridal hairstyle, but wear this anywhere else and you'll get endless compliments.
35. Cute Curly Shag with Bangs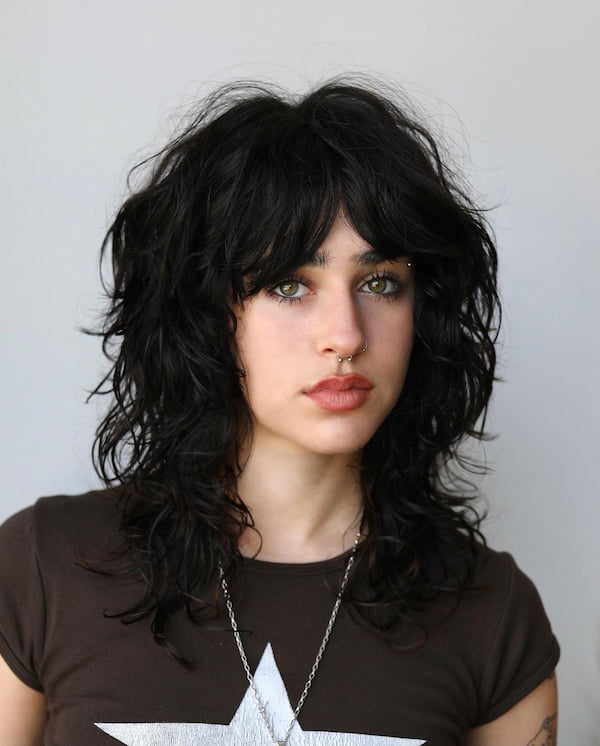 The classic shag look isn't very compatible with curls, but this model managed to pull off something close. You can call it waves if you want, but I'm not excluding this masterpiece for some irrelevant technicality.
36. Alternate Curly Hair with Smooth Underneath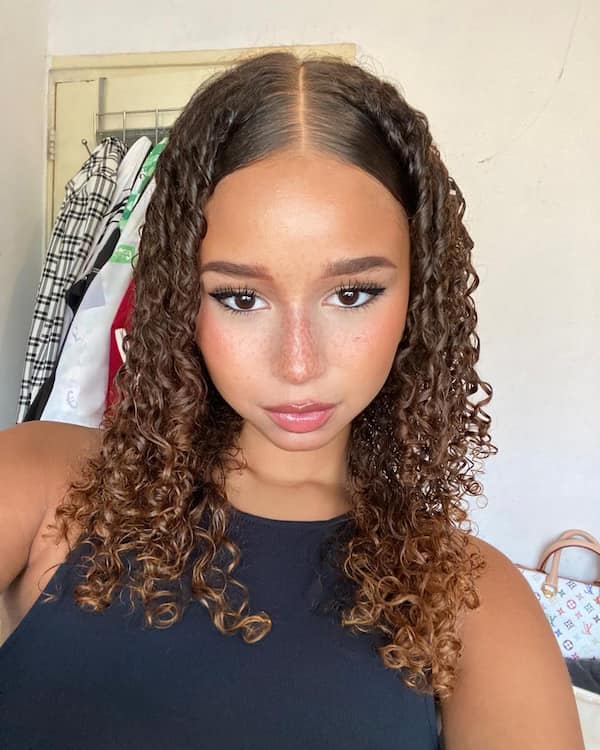 It's been a while since we've seen something unique, and this hairstyle is gracing us with one. The smooth surface creates an aesthetic background for the adorable curls, and that symmetric parting doubles the glamour; easy 10/10 hairstyle.
37. Cute Black Curly Hair with Messy Layers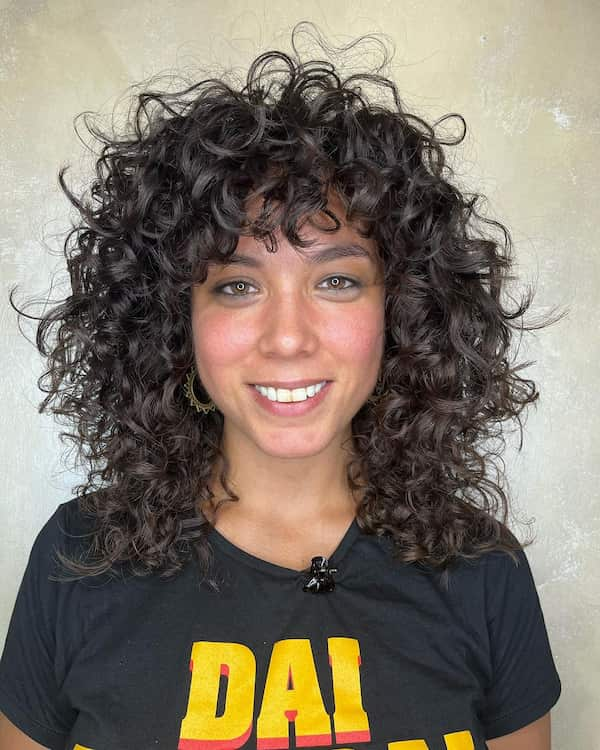 Here's what happens when you try the classic shaggy look on curly hair. It's shaggy, but not the classic kind of shaggy. However, its uniqueness takes nothing away from its charm; I may even choose this over the classic shag.
38. Mid-Parted Copper Curly Hair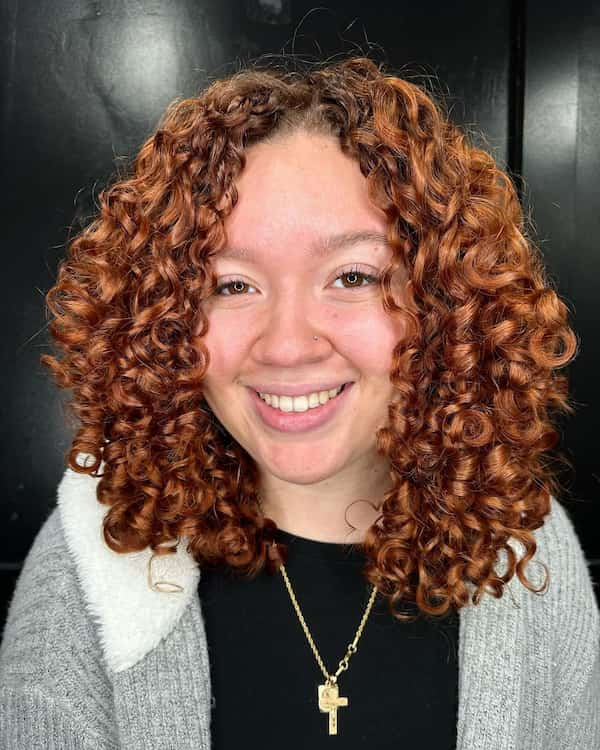 This copper color is naturally expected to do well with curly hair, but then the model added the charming mid-parting. Combine these with her simple but brilliant smile and you get this masterpiece of a style.
39. Balayage Curls with Nude Highlights
If you think the brown highlights blend too naturally with the black hair, you have the balayage pattern to thank for that. The curls are also well-defined, albeit slightly messy, but everything looks chic nonetheless.
40. Chic Bold Curly Hair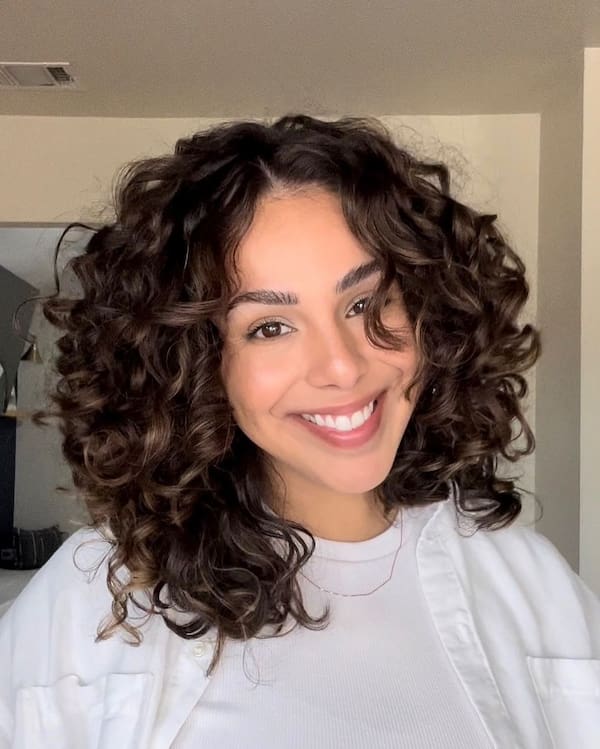 This hairstyle is a no-brainer for ladies with dark hair, as it uses the most brilliant curl definition I've seen yet. Couple that with the center parting and her captivating style, and you'll understand why this is one of the best medium length hairstyles for curly hair.
41. Curly Hair with Bangs for Older Women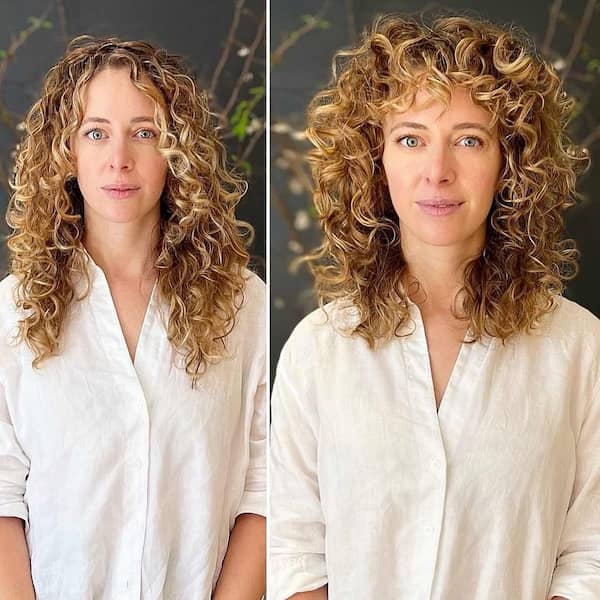 Who says older women can't get medium length hairstyles for curly hair? If you have the hair and the curls, why not? You may even go the extra mile and get charming curly bangs like our model, and doesn't it look fantastic?
42. Cute Curly Hair with Full Fringe
Getting a full fringe with this messy look seems a bit radical, but here we are. You may also notice the lack of definition on the curls; that's necessary for the classic shaggy look, which I'd say this model gets on point.
43. Blonde Barbie Curly Hair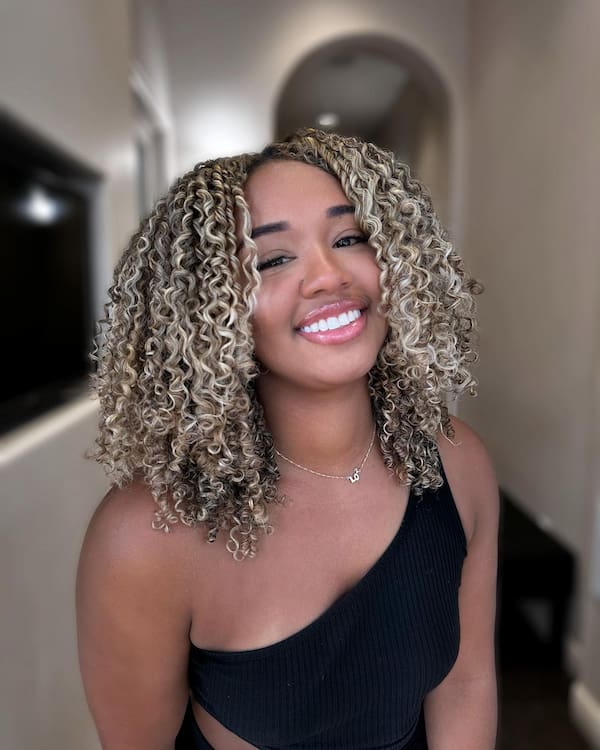 Barbie hair is of course not curly, but have you wondered how she'd look with curly hair? It seems this model has, and this is her try at replicating a hypothetical curly Barbie. I'm not sure if I'd mistake her for Barbie, but I'm pretty sure she looks chic in the style.
44. Deep Side Parted Curly Hair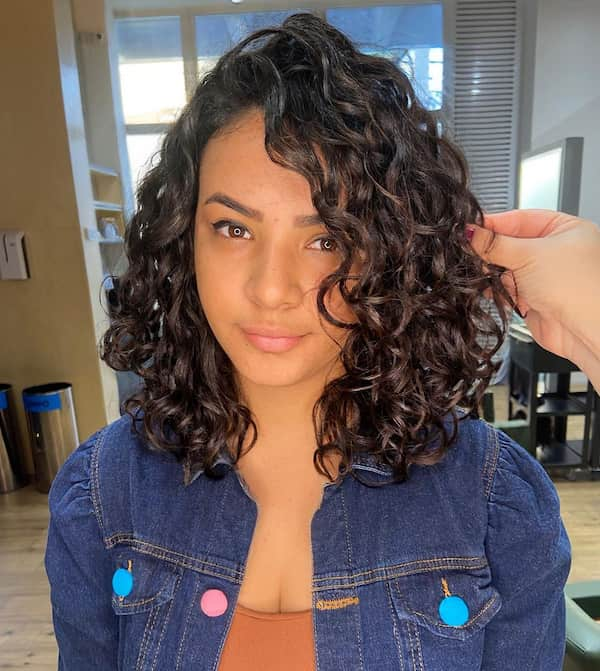 A deep side parting is hard to get right, but that's exactly what this model has done in this hairstyle. Apart from that, she also managed to achieve an excellent curl definition, which is something we don't see often.
45. Black Closely Knitted Curly Hair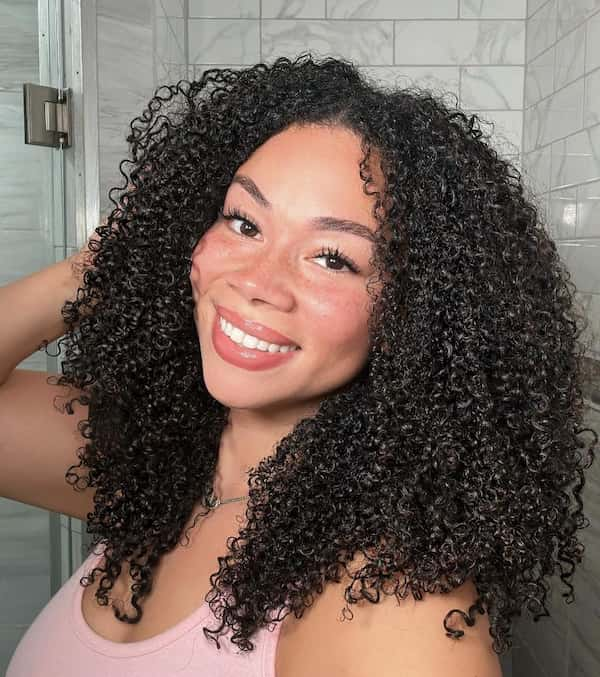 Black curly hairstyles have never disappointed, and I'm pretty sure they won't be starting here. Definitely not when you combine an intense curl definition with a center parting and a bewitching smile; classic 10/10 hairstyle.
46. Curly Shag with Curtain Bangs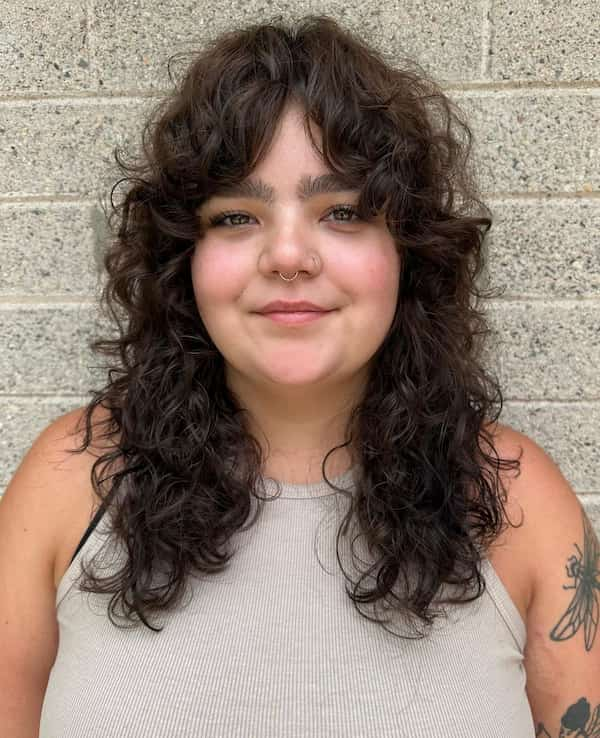 Curly shags can be divisive; on the one hand, some ladies wouldn't wear it, and on the other hand, some wouldn't wear anything else. If both groups saw this hairstyle before making their decision, I'm sure they'd all have gone with curly shags, adorned with curtain bangs.
47. Full Brown Curly Shag with Bangs
This brown curly style isn't the messiest shag we've seen, but it's one of the most adorable. It even incorporates curly bangs for an alluring face-framing look; what more could you ask for?
48. Shag Haircut with Bouncy Curls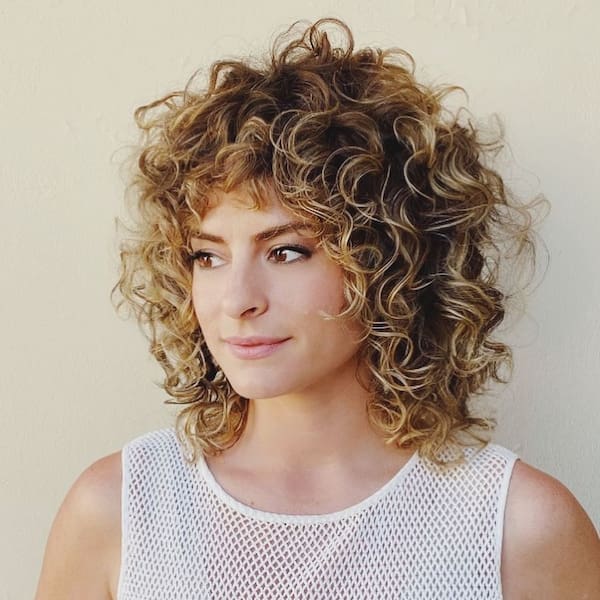 If you're a fan of bouncy hair, this hairstyle should be a no-brainer. Apart from the bouncy look and the apparent bangs, the dimensional color palette is another attention-grabbing property of this style.
49. Full Mid-Length Symmetrical Curly Hair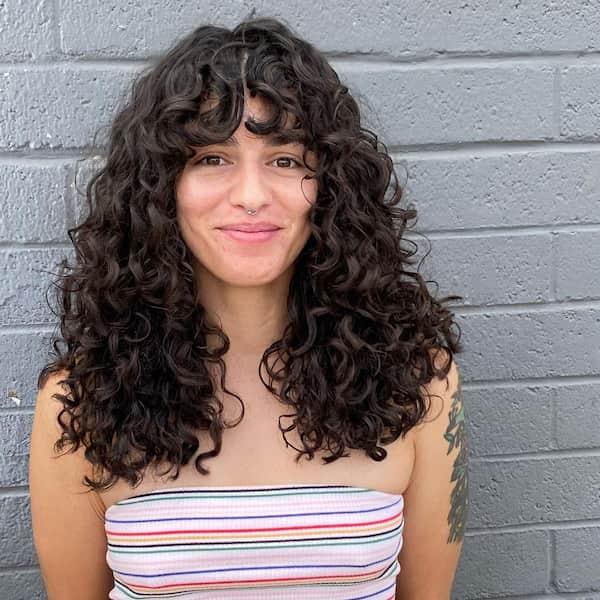 Symmetry can make a hairstyle pop, and that's exactly what's going on here. The well-defined curls would've looked good without the center parting, but including it instantly transformed the style from potentially good to excellent.
50. Gray Curls with Overlapping Layers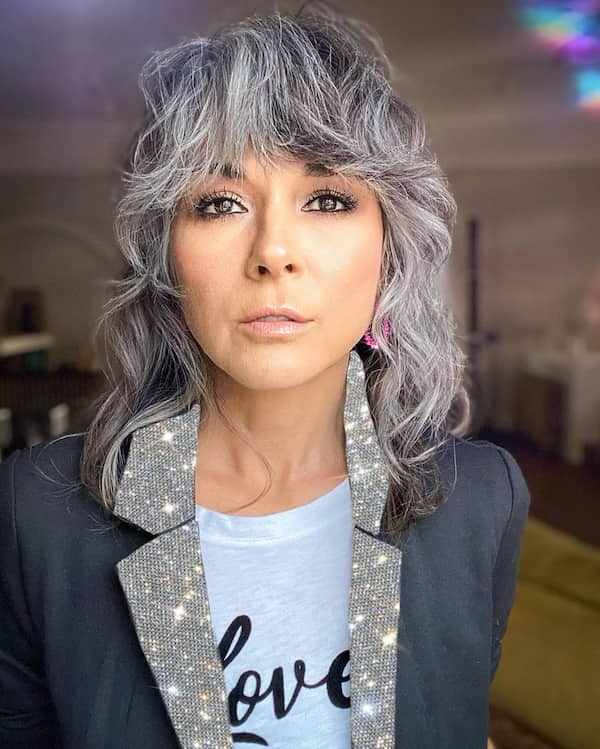 Older women looking to wear a curly style can emulate this model, rocking her natural gray with pride. With the overlapping layers and the shaggy bangs, there's no better pick for ladies over 50.
Conclusion
There are just so many ways to wear medium length hairstyles for curly hair beautifully, and these are 50 that caught our fancy. After going through this compilation, you can tick off 'lack of hairstyle ideas' from the reasons why you haven't transitioned to curly hair.
If you found this post helpful, you may want to check out some of our other posts:
Pin for Later.