Going gray is a process most people avoid early on, primarily for the fear that their favorite hairstyles won't look nearly as good when gray, and this compilation sets out to correct that misconception.
Below, you'll find 40 charming medium-length gray hairstyles that prove you can keep slaying your favorite hairstyles after going gray.
Charming Medium Length Gray Hairstyles You'll Love
Here are the 40 prettiest medium-length gray hairstyles you'll see today.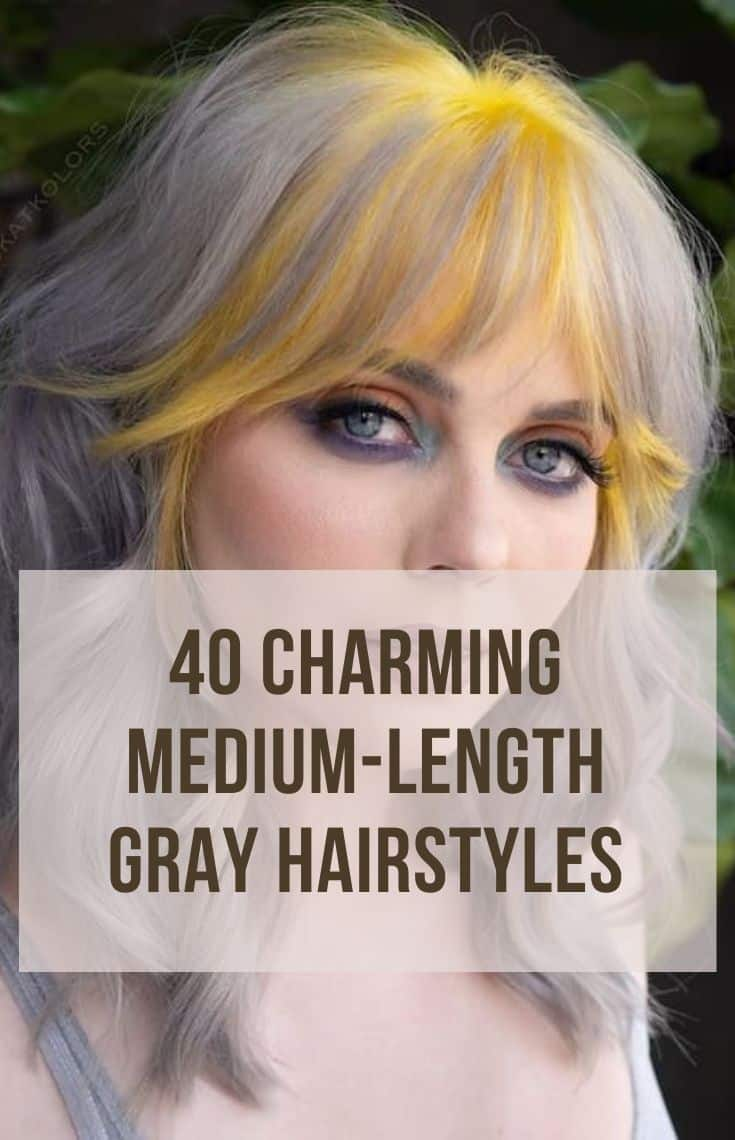 1. Double Toned Medium Length Gray Hairdo with Bangs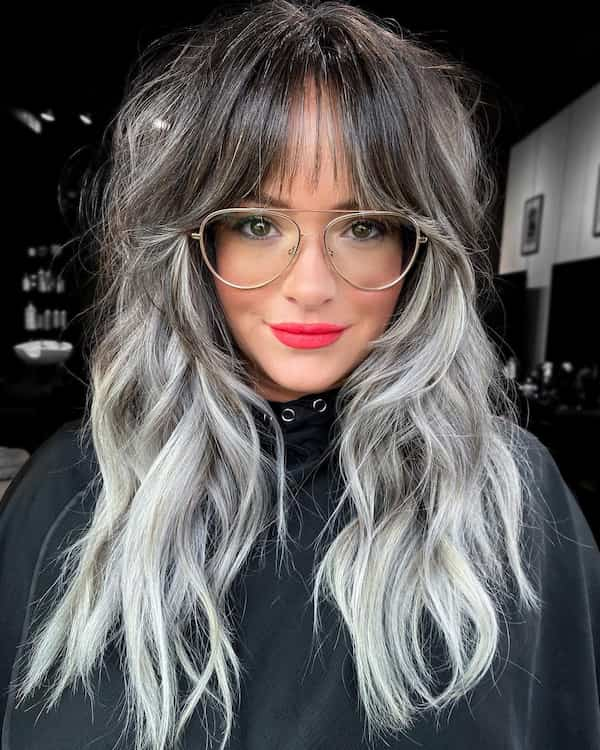 If it's your first foray into gray hairstyles, you want to make it subtle, adding a black background for a more conventional look. It makes sense then, to start this list with a style that follows those rules and adds curtain bangs for flair.
2. Gray Hair with Waves and Layers for Thick Hair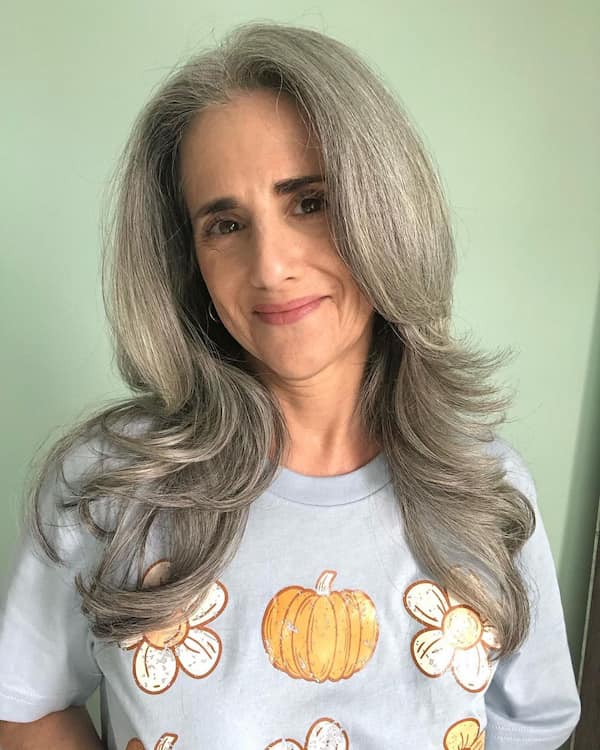 Not many people are lucky enough to have similar luscious locks at age 50. If you're part of the select few, this hairstyle is a no-brainer; the waves and the layered look are just too adorable to pass on.
3. Classic Medium-Length Gray Hairdo with Headband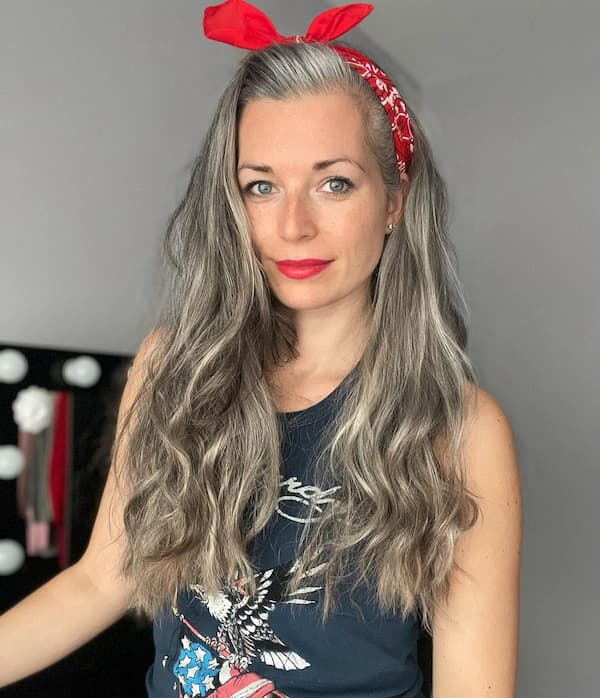 You don't need fancy bangs, layers, or partings for an alluring gray hairdo. What you'll need, however, is a fancy red headband and wavy locks; they seem to work magic here.
4. Gray Ponytail with Rubber Bands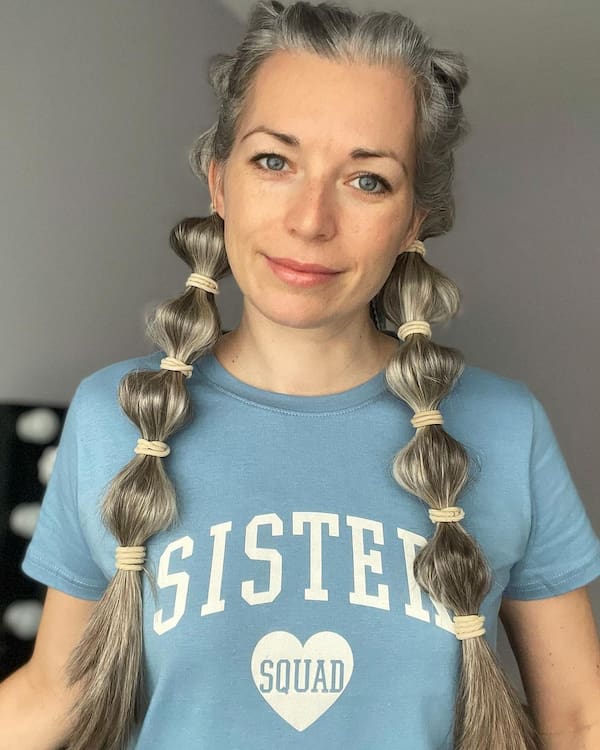 A two-way ponytail is another captivating way to get a gray hairstyle. If your ponytail's length is in her ballpark, you want to style it with rubber bands to create a similar, endearing look.
5. Centre-Parted Wavy Gray Hair for Women over 50
Here's an exciting idea if you're after the most classic yet formal gray hairstyle possible. The waves and center parting combo is a cliché at this point, but cliché or not, it looks charming.
6. Side-Parted Loose Medium Length Gray Hairdo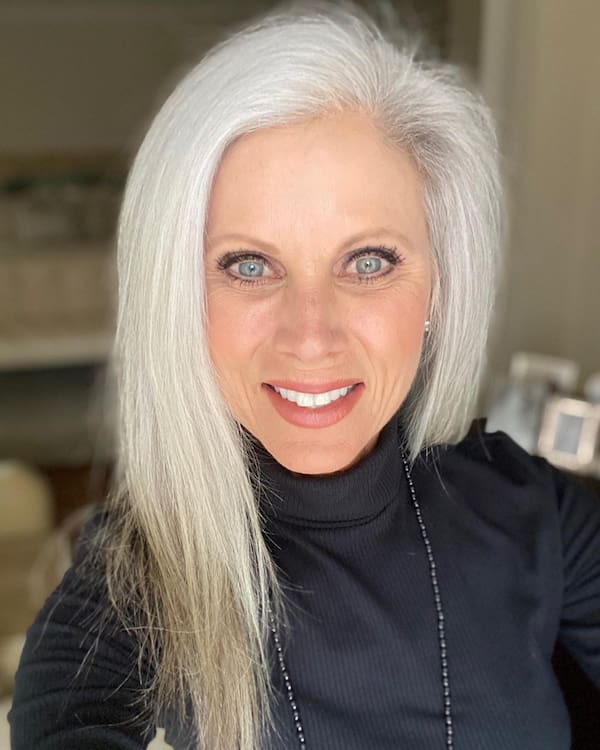 A center parting works wonders, but have you seen the allure of a side parting yet? Combine it with unevenly cropped hair on either side and discover just how endearing a gray hairdo can look on you.
7. Chic Streamlined Shoulder-Length Gray Hair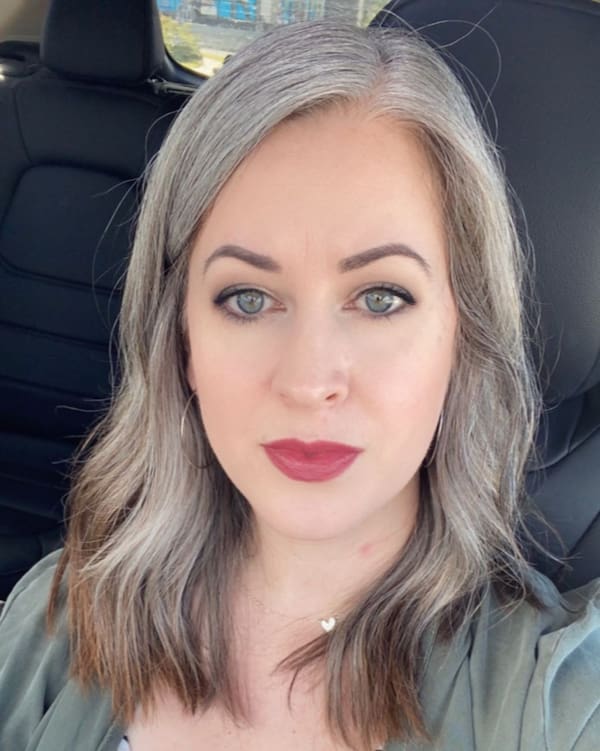 What's a better way to start going gray than by wearing a style that looks so charming that you don't even focus on the color? Even if you do decide to focus on the color, this silvery chic hairdo with brown highlights (ends) won't disappoint.
8. Neck-Length Curly Gray Bob for Round Face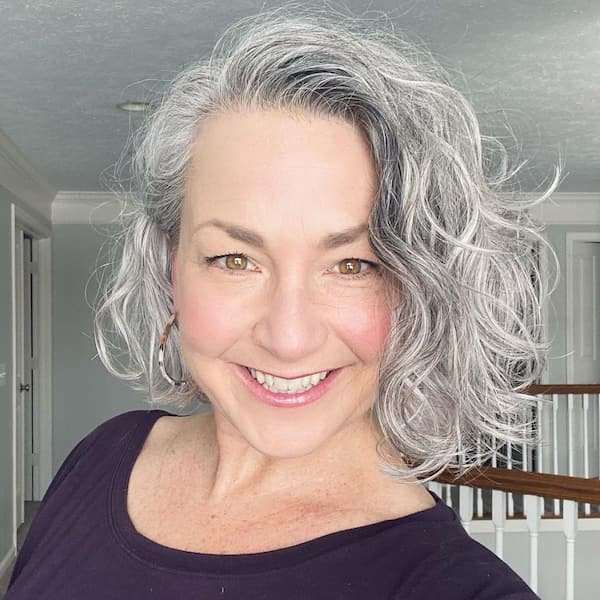 Bobs are a foolproof way to wear gray hair, but you can make the style busier by making the bob curly. Throw in a subtle side parting and a bright smile and you have a top-ten medium-length gray hairstyle.
9. Cute Gray Bob with Rough Edges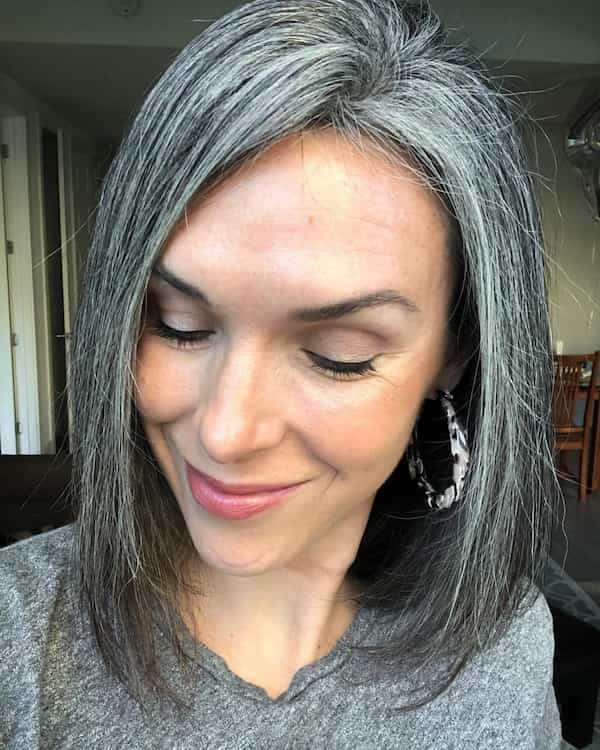 Getting an appealing hairstyle like this gray bob with rough edges does make the gray transition more enjoyable. I'm particularly into the face-framing look, but the color can be slightly less pronounced.
10. Gray Hairdo with Half Top Knot Bun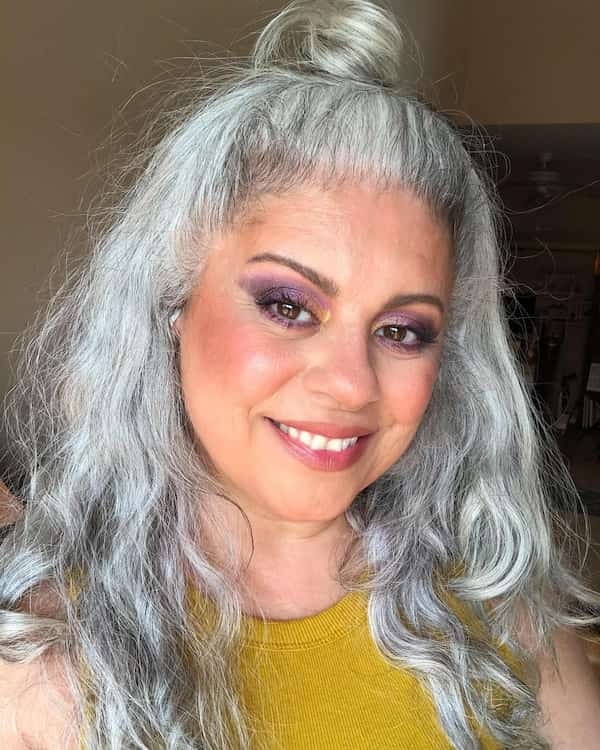 A top knot works wonders, especially when combined with an adorable style underneath. The half knot and partly wavy style combine to create a pseudo-half-up half-down look, and it's amazing to see.
11. Flowy Medium-Length Gray Hairdo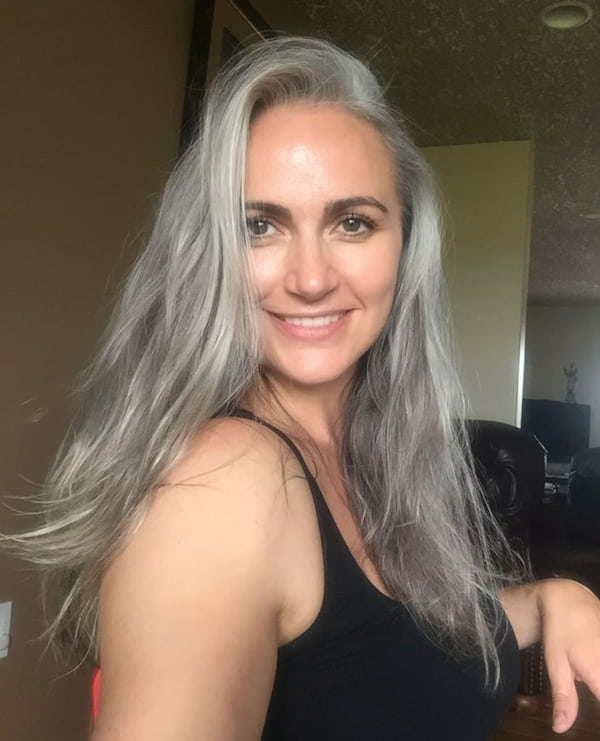 If your hair is as lengthy as hers, wearing it in a flowy way is almost a no-brainer. I love how this style looks remarkable despite having no bells and whistles, except, of course, the color.
12. Super Classic Gray Hair for Natural Hair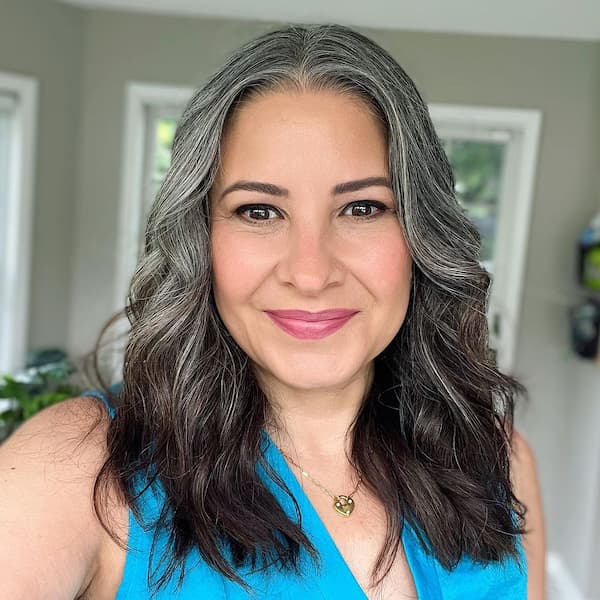 This should be about the color, but let's take a minute to appreciate this classic hair look. It's nothing but a simple wavy hairdo with a center parting and it looks amazing, but it seems like the grey color makes it even more endearing.
13. Messy Medium Length Gray Hair with Layers and Bangs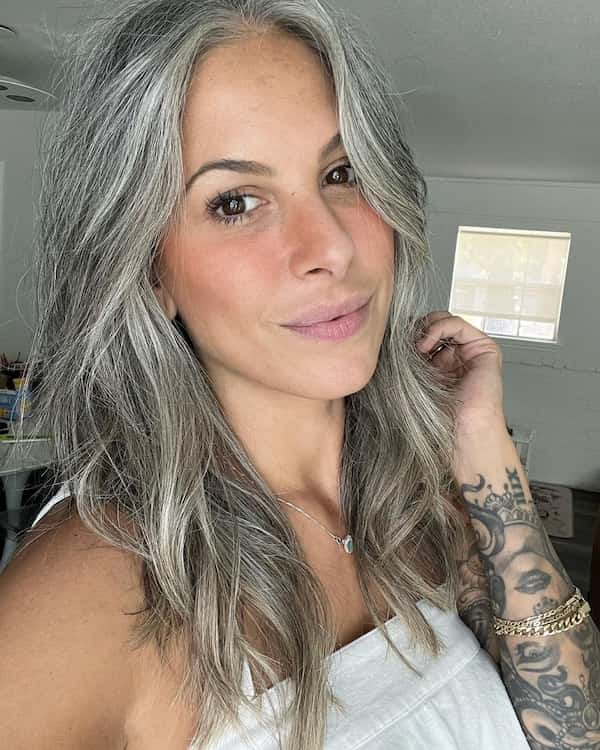 Transitioning to gray comes with several benefits, and one of them is the confidence to wear your hair messily. It turns out a messy style isn't all that bad, and in this case, it's actually pretty.
14. Bra-Length Layered Gray Hair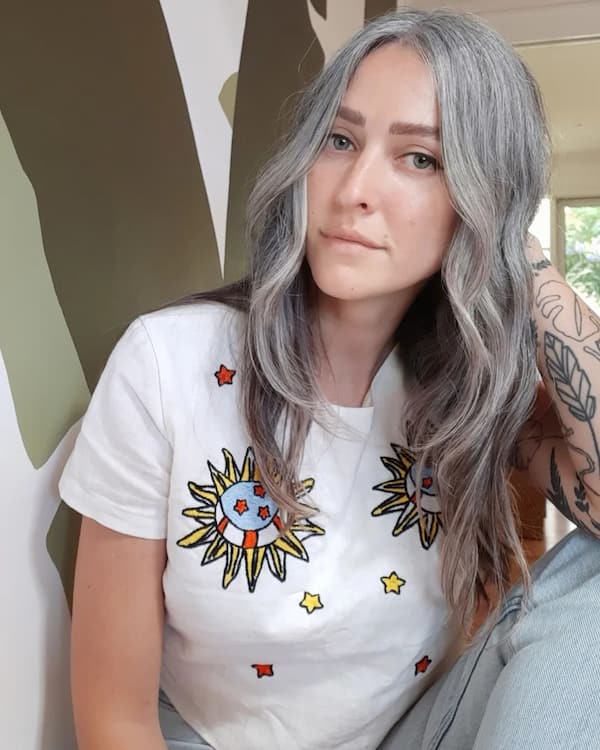 When you see how adorable some gray hairstyles look, you wonder why people avoid going gray in the first place. If my hair is guaranteed to look this charming after transitioning, I'm going gray today.
15. Medium-Length Gray Hair with Bangs and Hairband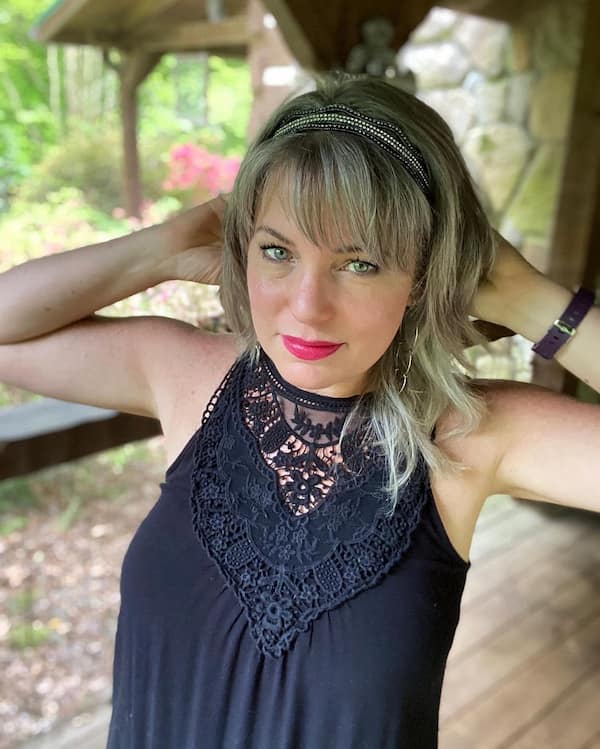 Gray styles don't have to be extremely lengthy or complicated; a medium-length crop and a headband that keeps your hair in place might be enough to create one of the best medium-length gray hairstyles out there.
16. Shoulder-Length Gray Hairdo with Rough Curly Edges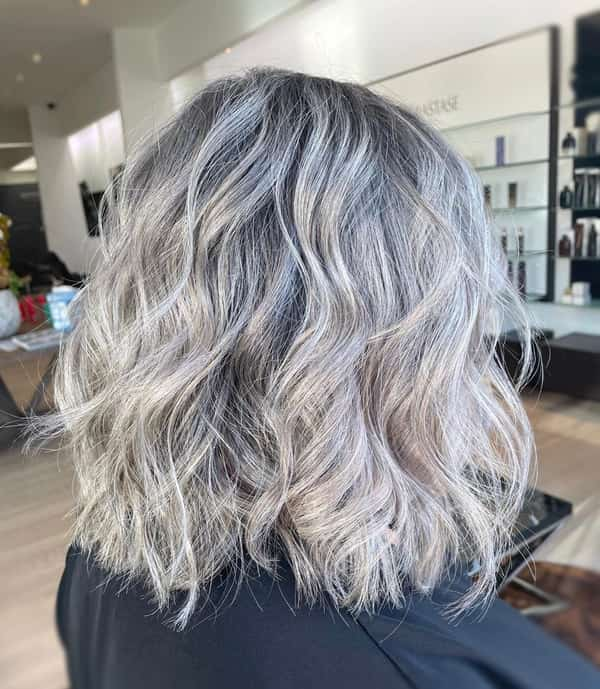 A wavy style like this is one adorable way to transition to gray without compromising on looks. I'm very much a fan of the shoulder crop; it gives the style a more 'balanced' look.
17. Old British Medium-Length Gray Hairstyle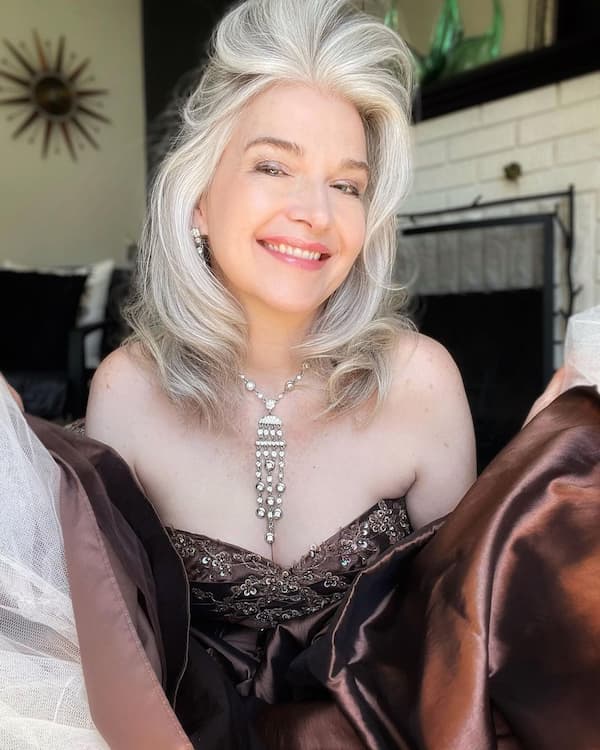 Seniors tend to keep their hairdos small and subtle, but who says you can't get something extravagant or exquisite? This British gray style sounds like the kind of style that takes hours to complete, but it's also the kind that earns you plenty of adulation.
18. Blow-Out Medium-Length Silver Hair for Women over 50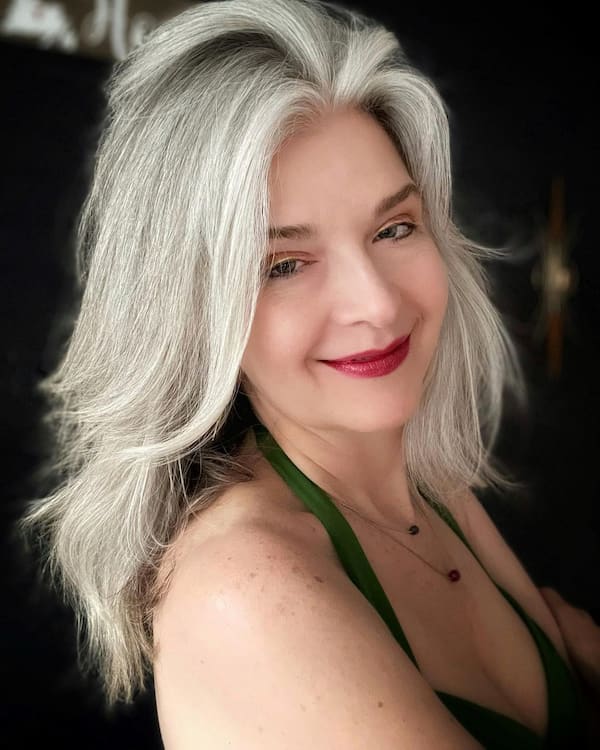 If you'd like a subtler version of the preceding hairstyle, this silver blowout should do the trick. Interestingly, it works as well on seniors as on younger ladies, so you're making no sacrifices.
19. Super Messy Blow-Out Gray Hairdo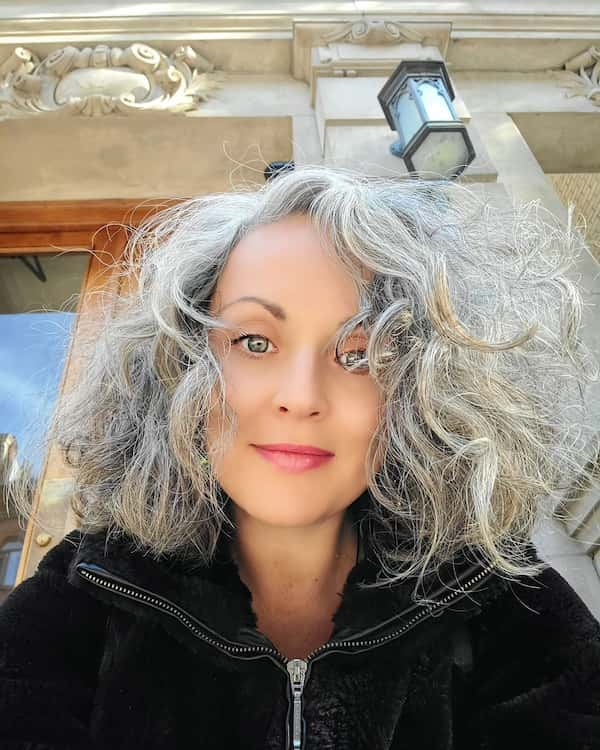 A regular silver hairdo would be unassuming, but when you throw in messy curls and a blowout, it quickly moves into captivating territory. I'm certainly not wearing it to my wedding, but it's something I'd wear to work.
20. Shoulder-Length Gray with Bold Waves Underneath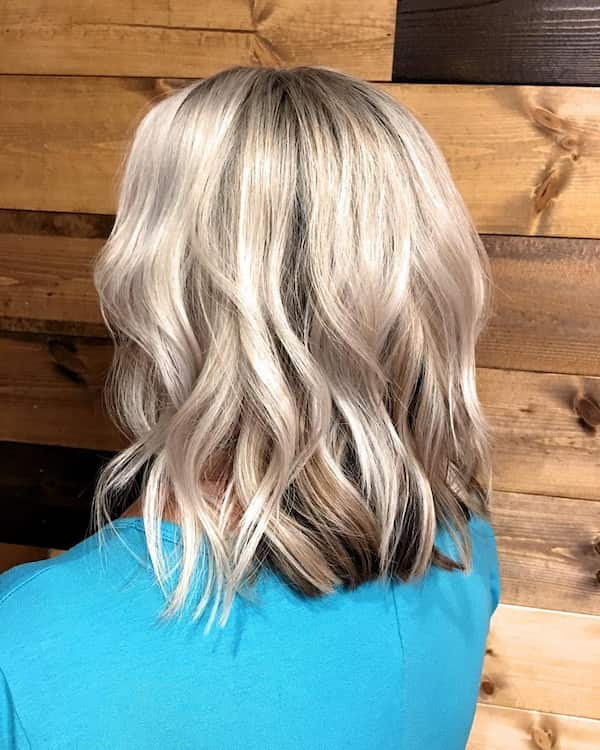 When you go silver, you can't go back. How could you go back, when you have this shoulder-length, wavy masterpiece as an option? Just imagine how alluring it would look with curtain bangs for a second.
21. Medium-Length Gray Hair with Fringe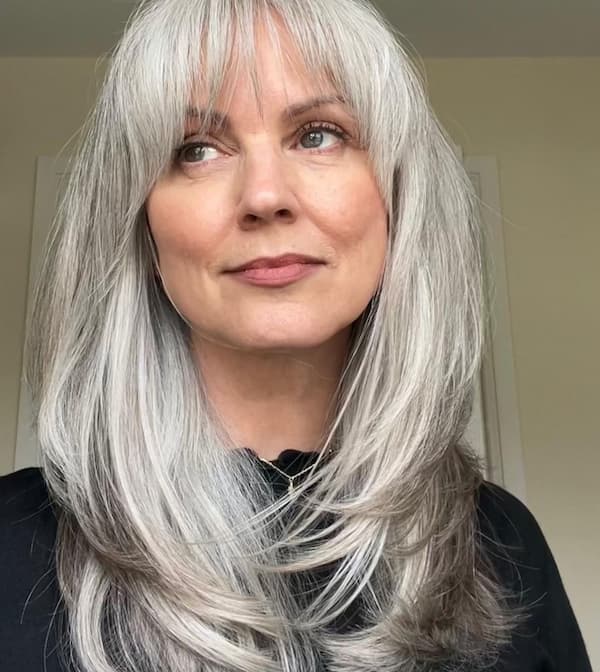 Imaginations are unnecessary here, as it has an adorable fringe baked right into it. This style's length adds a lot to the allure, and the unique white-gray color makes it simply irresistible.
22. Chic Bleached Gray Hairdo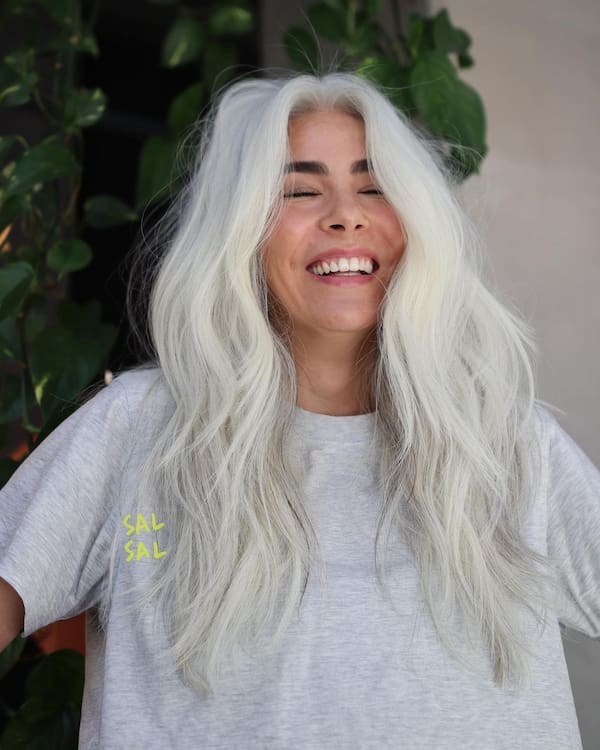 Using a fringe isn't required to make a charming hairstyle; sometimes, all you need is that wavy texture, a symmetrical parting, and a big smile to find yourself on a top 40 medium-length gray hairstyle list.
23. Mixed Tone Center-Parted Gray Hairdo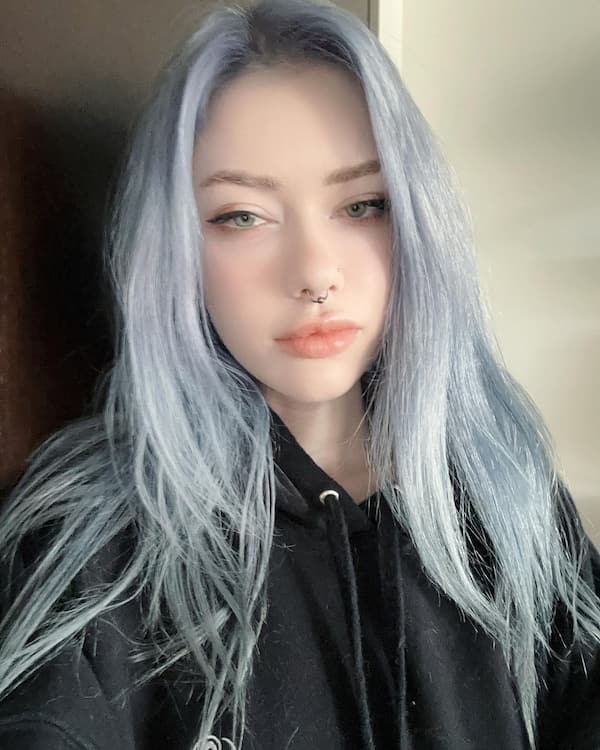 If I had to pick an artificial color for my hair, I wouldn't choose gray, but this hairstyle might have just changed my mind. I doubt if the center parting made so much difference, so it's certainly a color thing.
24. Simple and Cute Medium-Length Gray Bob Haircut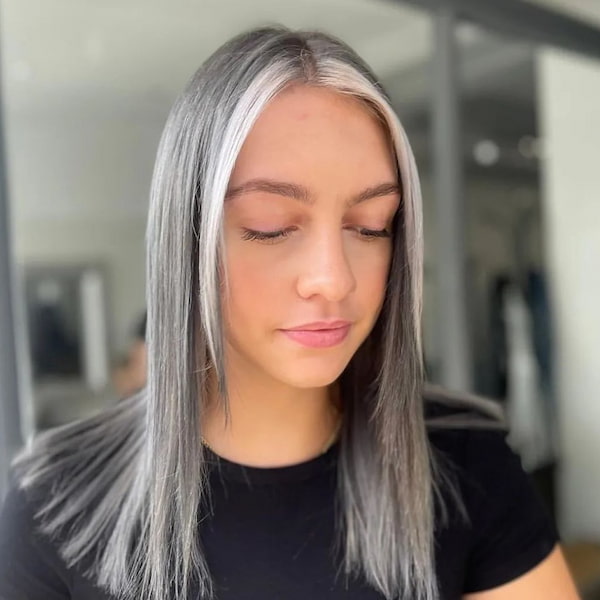 If you're after something simple yet sleek, this minimalistic medium-length gray lob is the real deal. The center parting is out of this world, and the enchanting blonde-silver color scheme is only pushing me to get similar colors too!
25. Half Up Half Down Gray Hair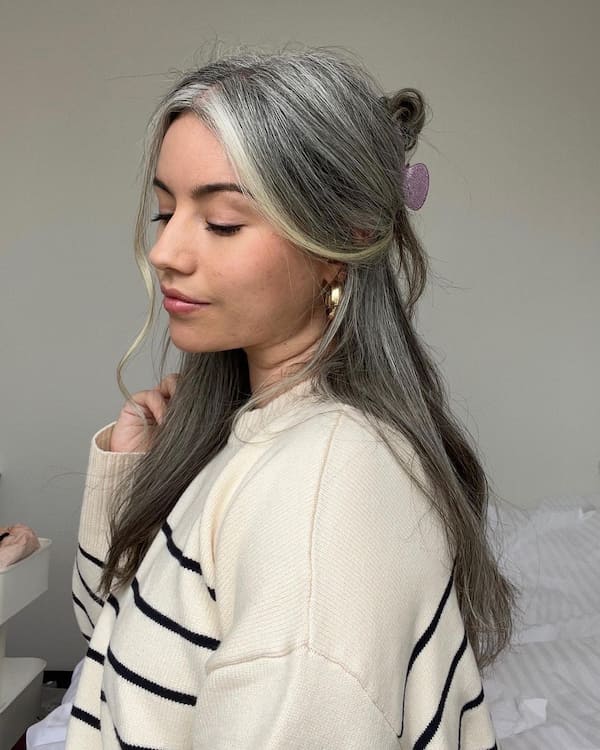 This isn't the most traditional half-up half-down hairstyle, but it follows the general template. While I'm not a fan of half-up half-downs, when you present it in this color this beautifully, what can I say?
26. Straight Gray Hair for Oval Face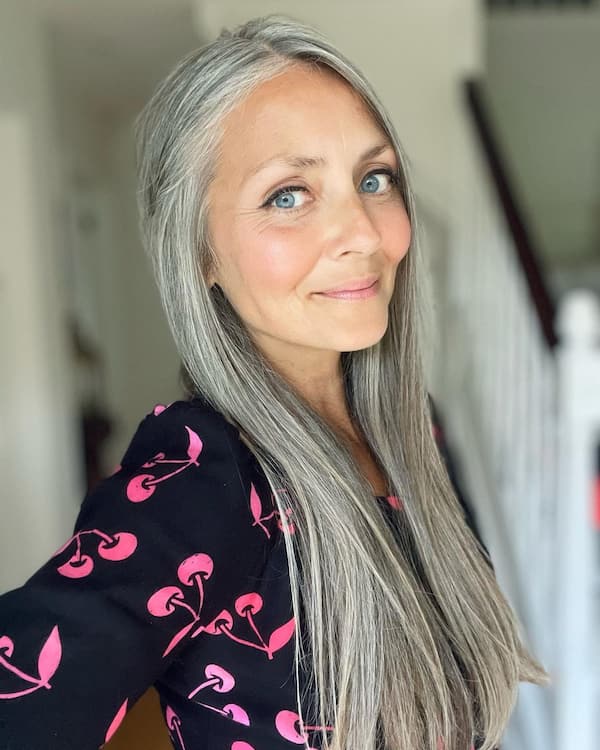 Sometimes, all you need to look your best is classic straight gray hair that accentuates your oval face beautifully. I may be wrong, but if you're anything like her, I'm surely not wrong.
27. Mixed Toned Beachy Gray Hairdo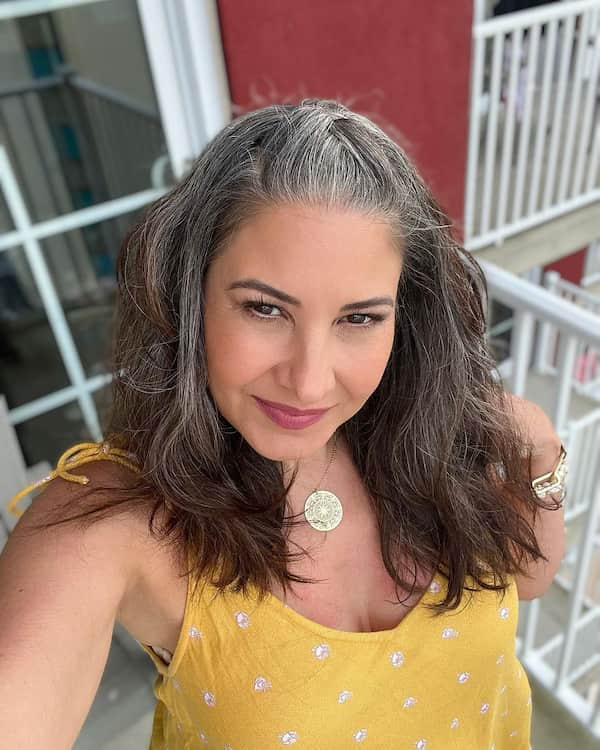 Going gray is a process, and you don't have to be at the finish line to get an alluring style. If you're on a brunette-gray transition, this beachy hairdo with gray highlights is a no-brainer.
28. Centre-Parted Wavy Gray Hairdo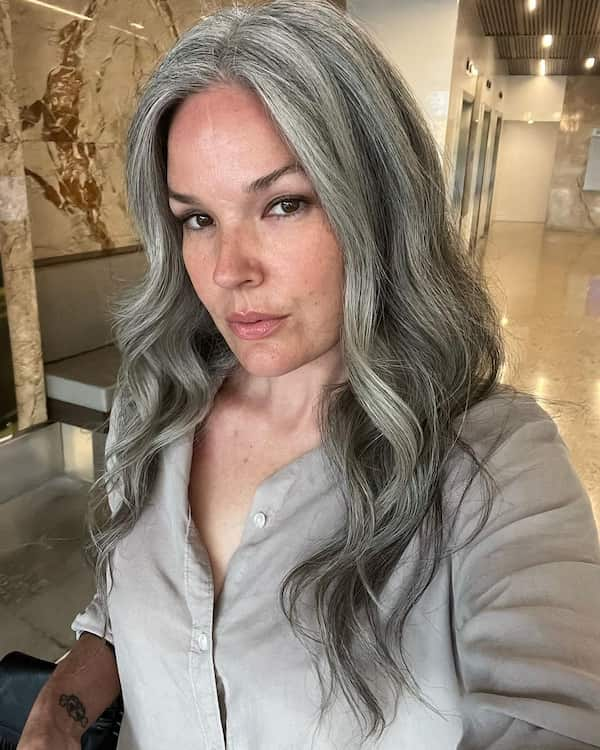 Something with wavy hairstyles is that they have a way of looking charming on their own; no layers or bangs are necessary. When you throw in a center parting, you're really going all in and leaving nothing to chance.
29. Dimensional Medium-Length Gray Hairdo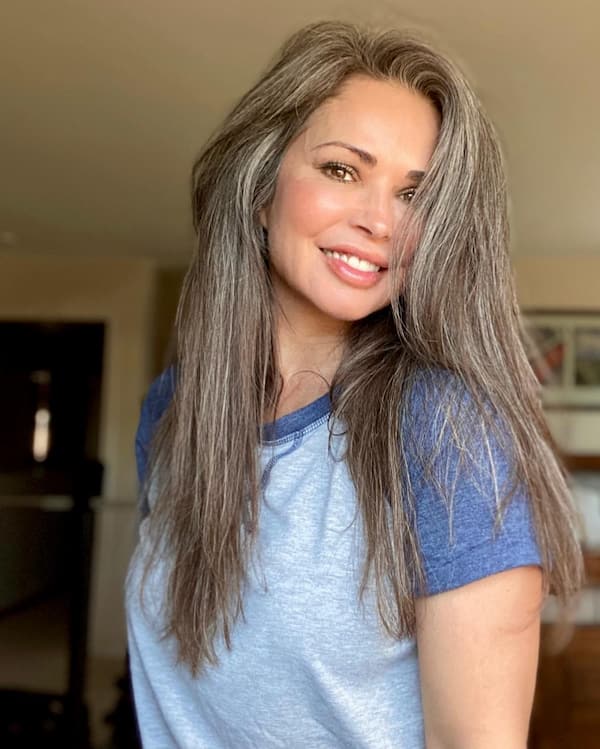 Here's another transitional gray hairdo that makes you want to get stuck midway forever. The dimensional look is another essential pro, converting it from an average hairdo to a 10/10 style.
30. Double Gray Toned Hairdo for Thin Hair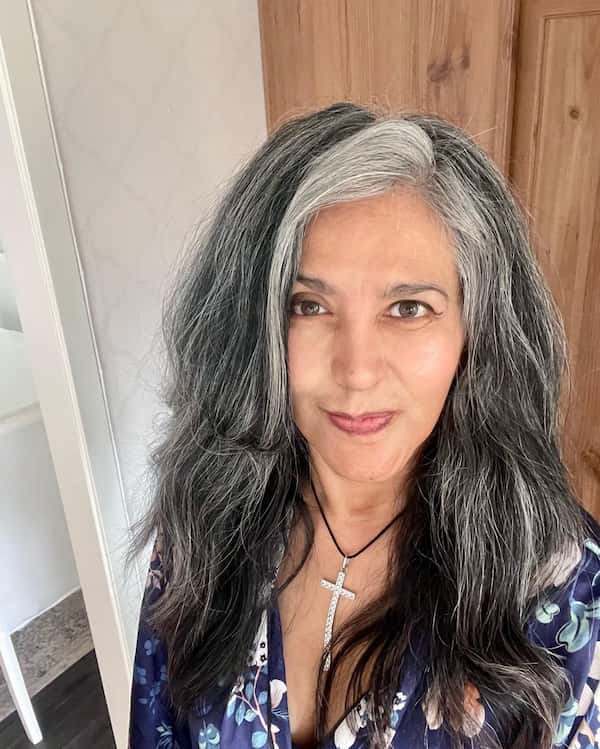 We've seen a few brown-gray hairstyles, so you may be wondering how black-gray looks, and here you go. It does make the gray a little more noticeable, but I can't help but find it somewhat more adorable; maybe I have a bias.
31. Blow Out Bleached Medium Gray Hairdo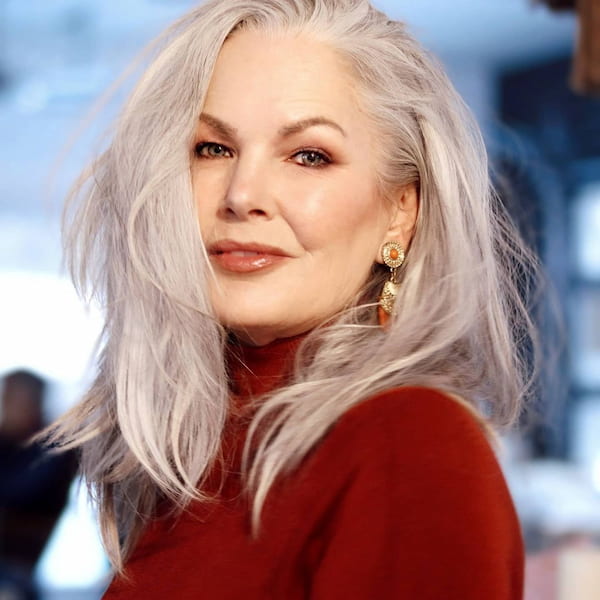 It turns out a bleached blowout looks just as well on gray as it does on blonde. This is probably due to the layers and complexity, but I don't think the color is completely unessential.
32. Shoulder-Length Gray Curls with Highlights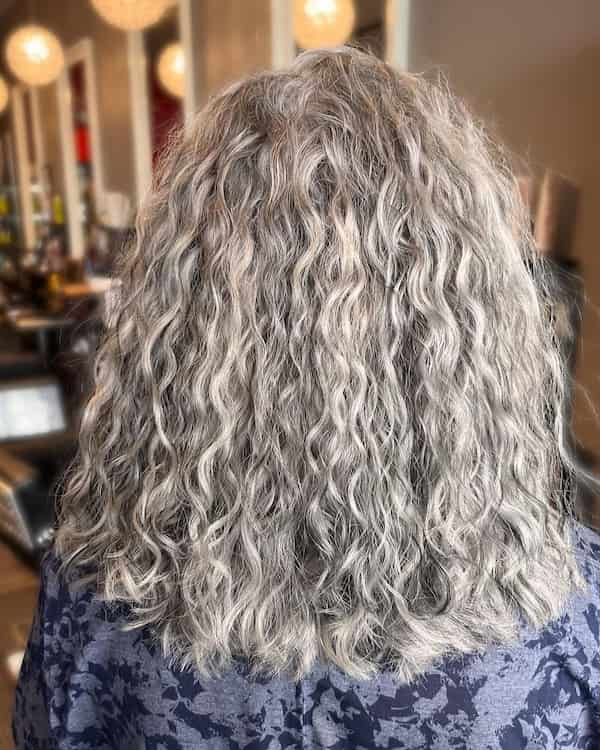 At this point, you don't want to miss out on the potential of highlights on gray hairstyles. Here's what happens when you mix gray and brown, and if you'll hear what I think, I believe it's pretty adorable.
33. Simple Medium Length Gray Hair for Older Women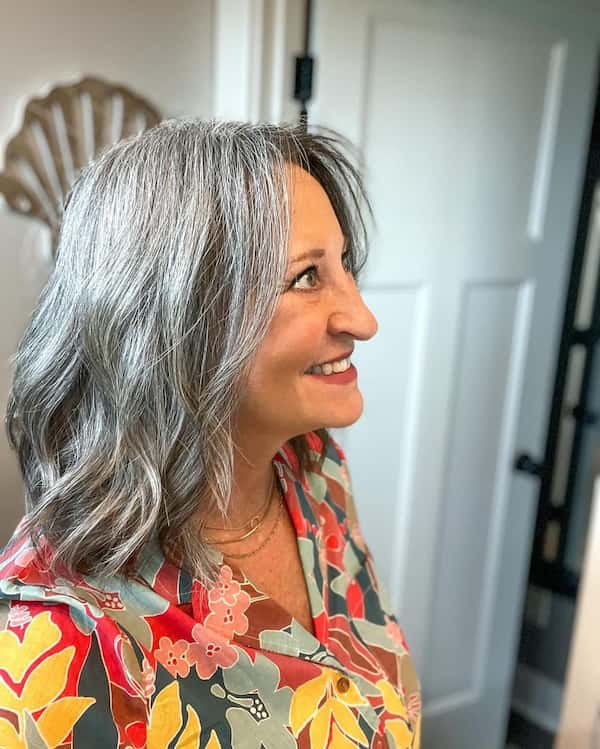 Coloring is a decision that comes naturally to most older ladies, but growing out the gray often turns out better than they expect. Heck, if my gray would look this adorable, I'd grow it out today.
34. Medium-Length Gray Hairdo with Thick Curls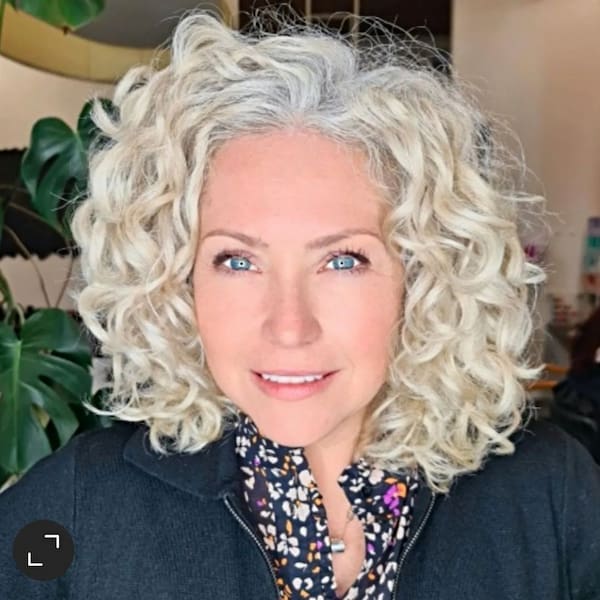 We've not seen many curly hairstyles so far, so starting with an amazing one seems like a pretty good idea. The thick curls work well to accentuate the natural color, and the entire hairstyle frames the model's face beautifully.
35. Neat Edges Shoulder-Length Gray Hairdo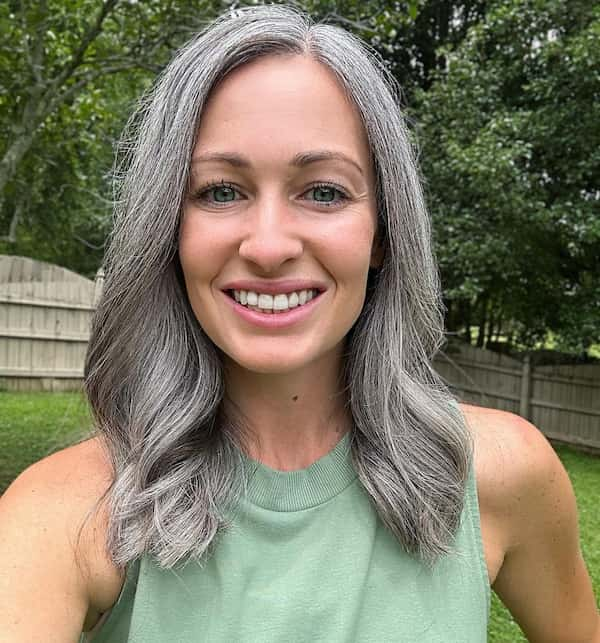 This slightly wavy side-parted shoulder-length hairdo does well to showcase just how appealing a gray hairstyle can be. If adorable styles like this go into the mainstream, I'm pretty sure more people would want to go grey.
36. Gray Hairdo with Fringe and Yellow Highlights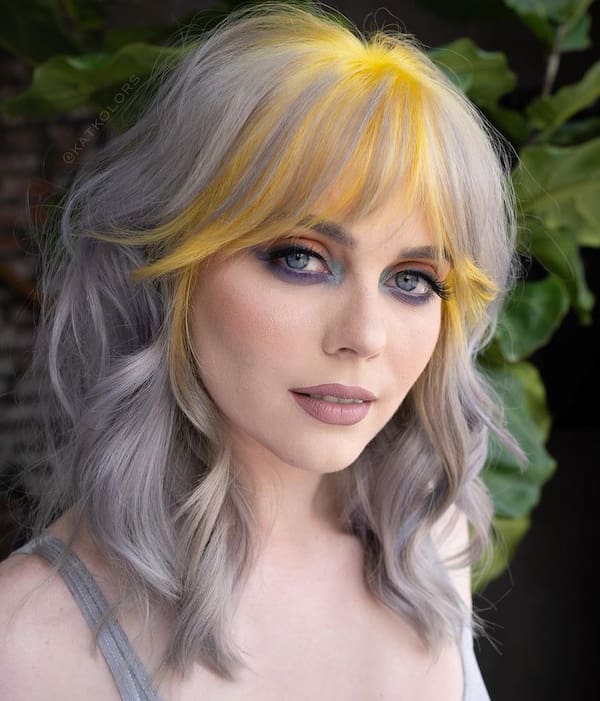 This compilation has a fair share of highlights, but even those look unconventional compared to this. If someone said I'd ever consider a yellow and gray hair color combo, I'd argue, but here I am, getting sold with bangs and waves.
37. Balayage Ash Gray Hairdo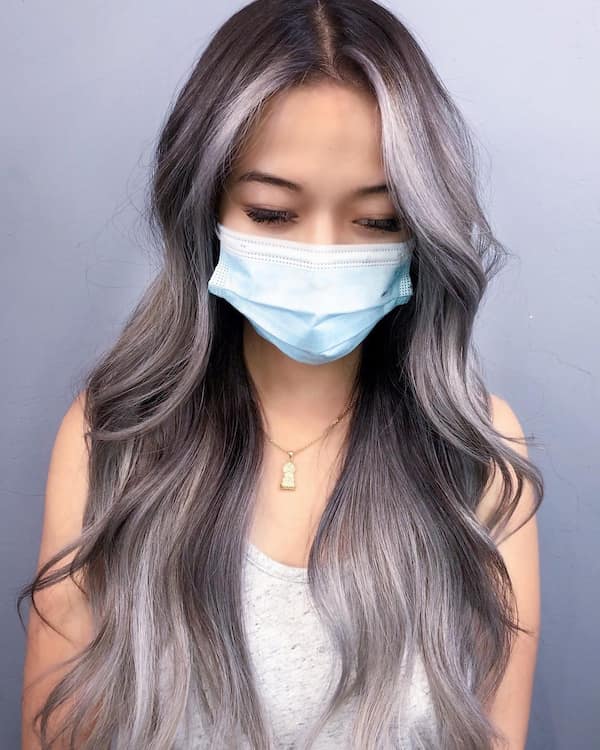 If you don't see yourself wearing that color combo, here's one that's arguably more normal. The gray highlights on black look dope and work well with the center parting and the wavy look; this is easily a 10/10 hairstyle.
38. Darkened Gray Lob Haircut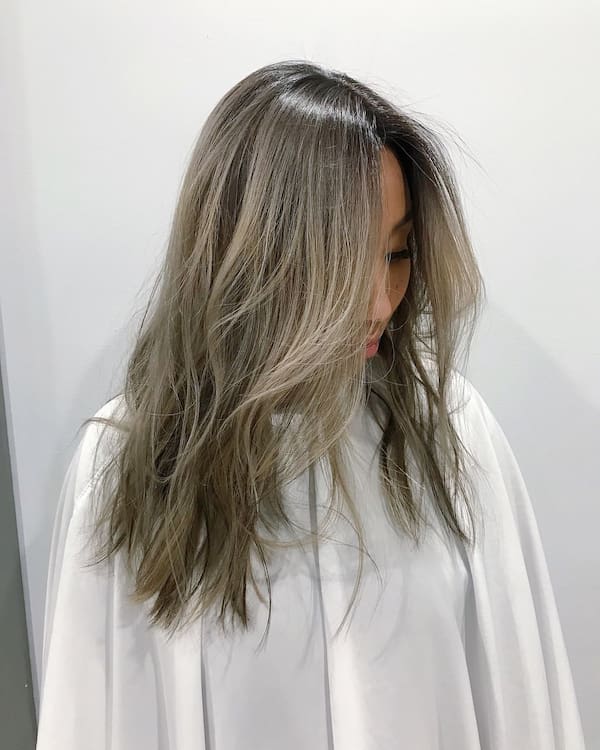 This slightly shaggy dark gray lob is the kind of transitional style that works in formal settings without too much work You can throw in a center parting for flair, or even curtain bangs if you're feeling creative.
39. Gray Long Bob with Full Fringe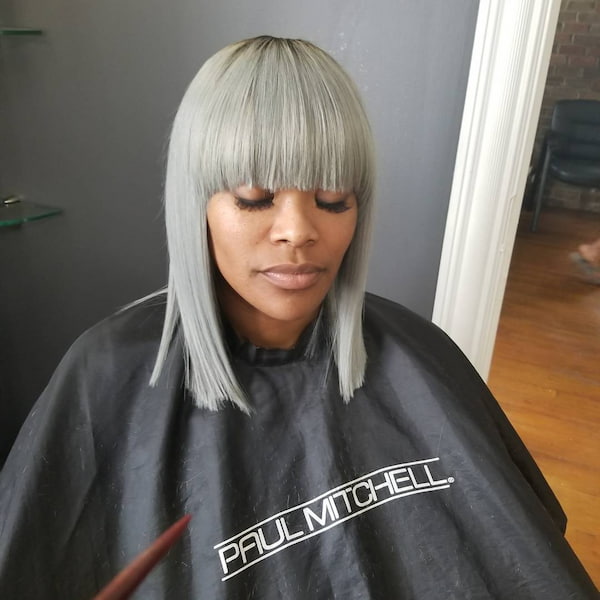 Nothing beats a sleek lob with full fringe and a perfect crop, especially when you get it in gray. This one's probably an unrealistic expectation, but you can get yours to look nearly as charming.
40. Streamlined Smooth Medium-Length Bob Haircut with Fringe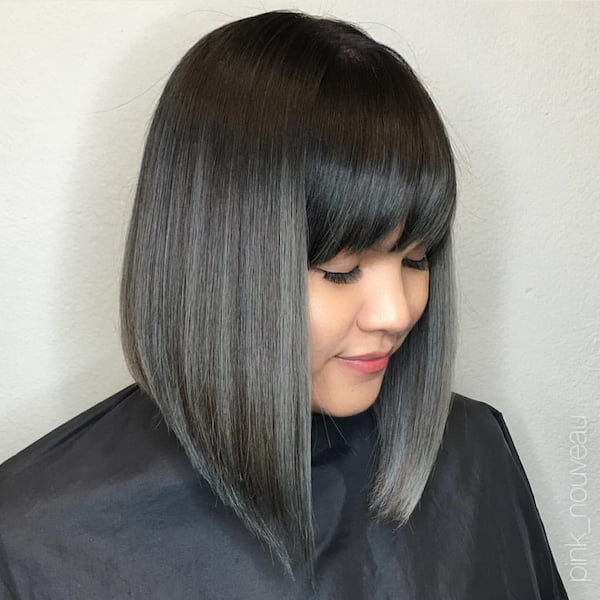 What's a better way to end such an eventful compilation than with one of the sleekest bobs I've seen yet? Unlike the foregoing, it's mostly black, with a subtle touch of gray; and with the full fringe, it's probably the best style on this list yet.
Conclusion
While I set out to find some of the prettiest gray hairstyles for this compilation, even I was surprised by just how good the hairstyles looked. If you've been putting off that decision to go gray, you literally have no reason to do that anymore.
Do you like this compilation? Then, you may want to check out some of our other posts.
Pin for Later.