In today's post, we'll be taking a look at some of the youthful pixie cuts for round faces over 50. I hope you find the picture ideas inspiring and worth-replicating.
Being 50 is hard for a fashionista, as it severely limits the number of hairstyles you can replicate. Thankfully, one hairstyle that will always remain replicable for ladies of all age groups is the pixie, and it's one of the few charming options available to a quinquagenarian.
Pixie Cuts for Round Faces Over 50
In this compilation, you'll see the best pixie hairstyle ideas for round-faced 50-year-olds. Blonde, brown, black, gray, and white; this compilation has ideas for everyone, regardless of what hair color you prefer to wear.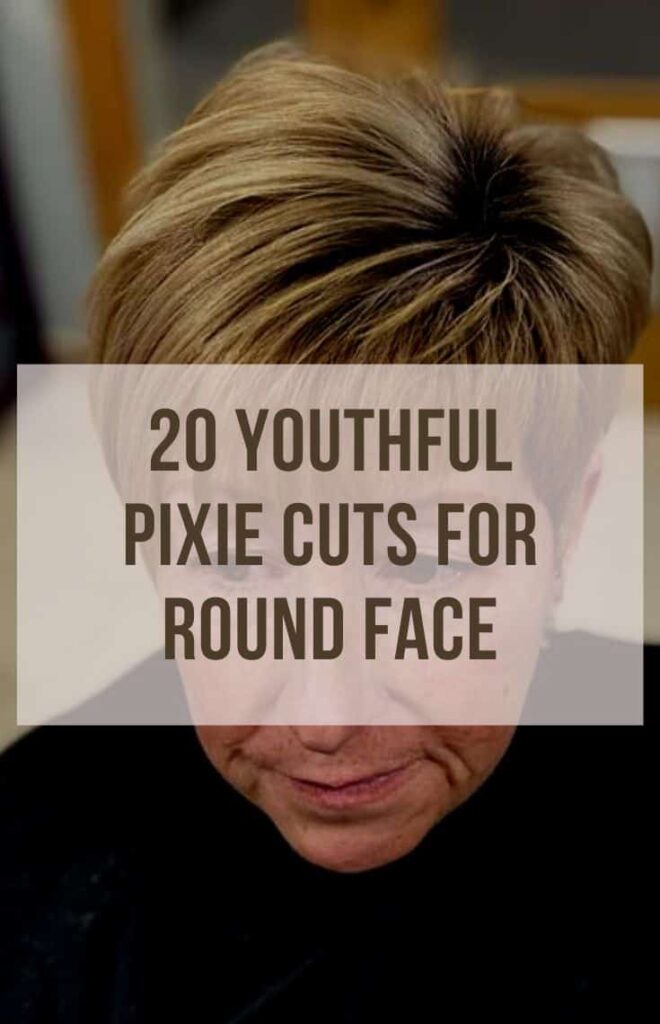 1. Gray Textured Pixie
A textured gray pixie is an adorable way to embrace your hair's age-induced grayness without losing your youthful look. The cut doesn't require your hair to be excessively long or insanely full, meeting all the requirements for a pixie haircut for a quinquagenarian.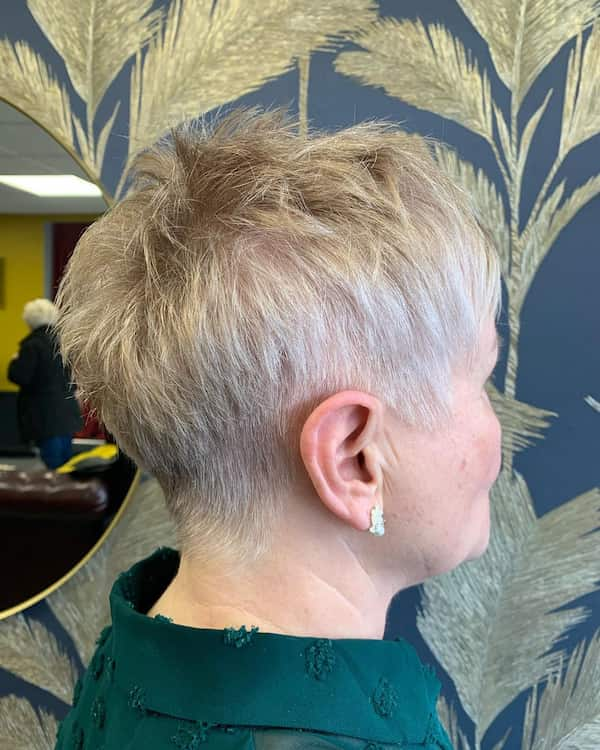 2. Blonde Pixie
If gray looks too dull for you, you may want to try a blonde pixie, as it is a bit more vibrant than the former while retaining all the qualities you want in an excellent hairstyle for the elderly. Pair the blonde pixie with a round face, and you get this beautiful result.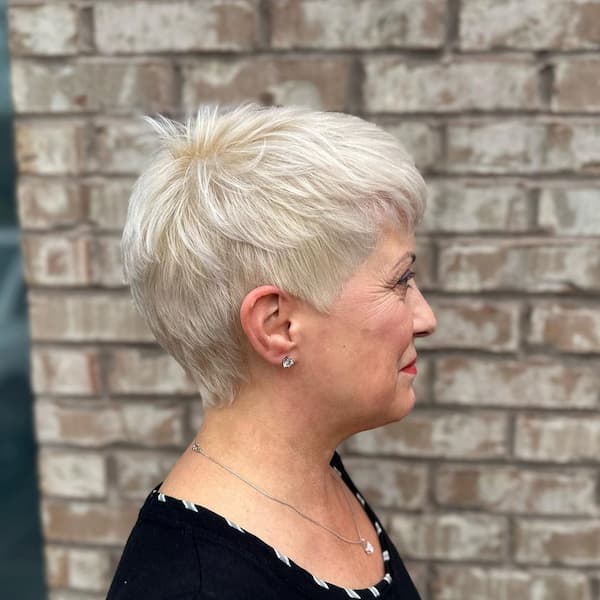 3. Short Thick and Colored Pixie Haircut
Colored hair is all the rage now, and being 50 doesn't mean you can't share in the fun. A vibrant red pixie cut that looks as neat as the picture above will complement your round face wonderfully, even if you're over 50.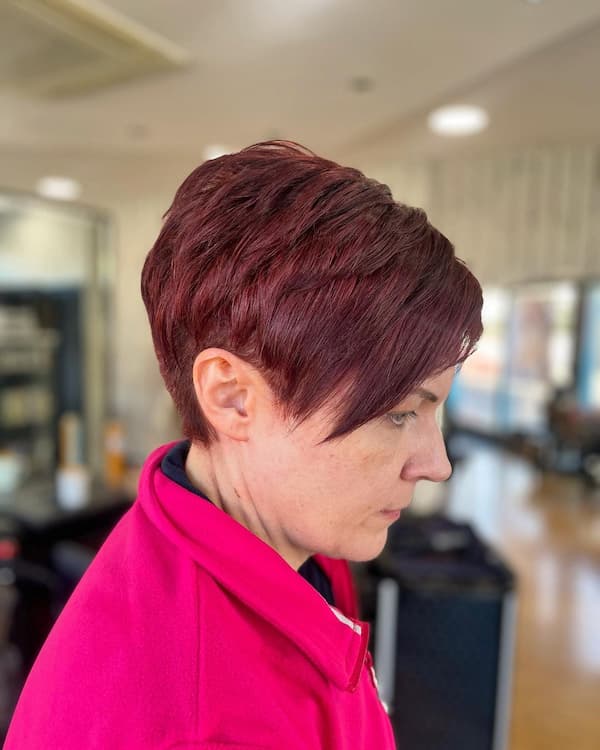 Here are some more ideas I also compiled for you:
4. Wispy Thick Pixie
Not everyone fancies the look of a thick pixie, but it doesn't look half bad. If you have full hair you're unwilling to sacrifice to get something like the preceding hairstyle, this thick pixie should work for you.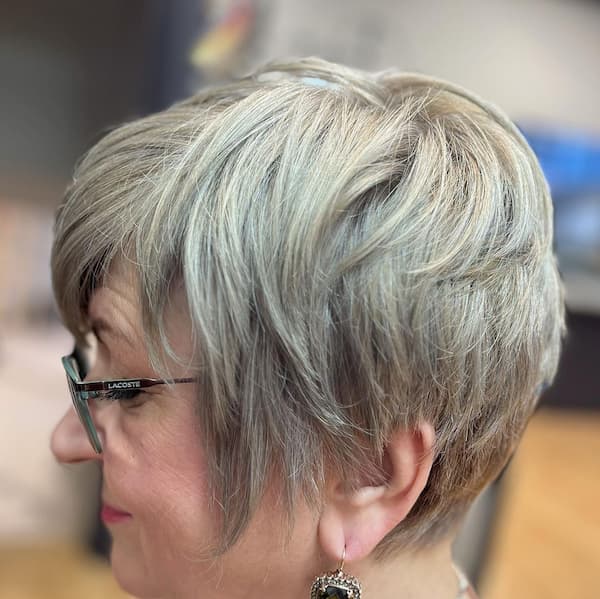 5. Short Graduated Pixie
Old ladies generally don't fancy having to deal with too much hair; so, it's not a 'you' thing. To combat that, here's a short graduated pixie that manages to look adorable without being extremely long. With her smile, the hairstyle looks ten times better.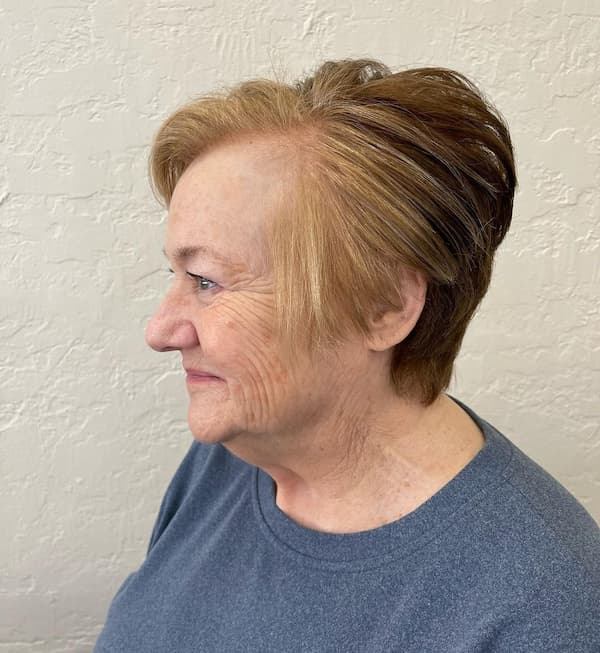 6. Thinning Hair Pixie
Hair thinning is not unusual for 50-year-olds, and the best way to deal with it at this age is to embrace it. This thinning-hair pixie turns what most people consider a hair defect into something you'll love, making it one of the best pixie cuts for round-faced ladies over 50.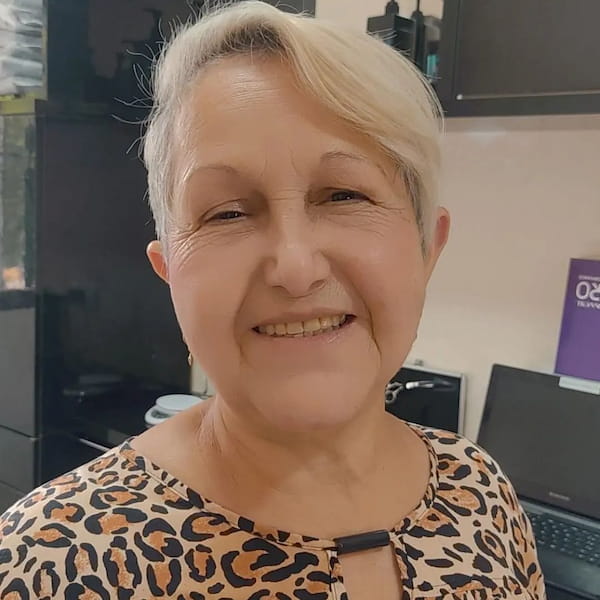 7. Thick Pixie for Gray Hair
A thick pixie remains your best bet if you're unwilling to do away with a significant portion of your hair, and here's an excellent way to wear it with gray hair. Add her beautiful smile to the mix, and you get a hairstyle I'd copy myself.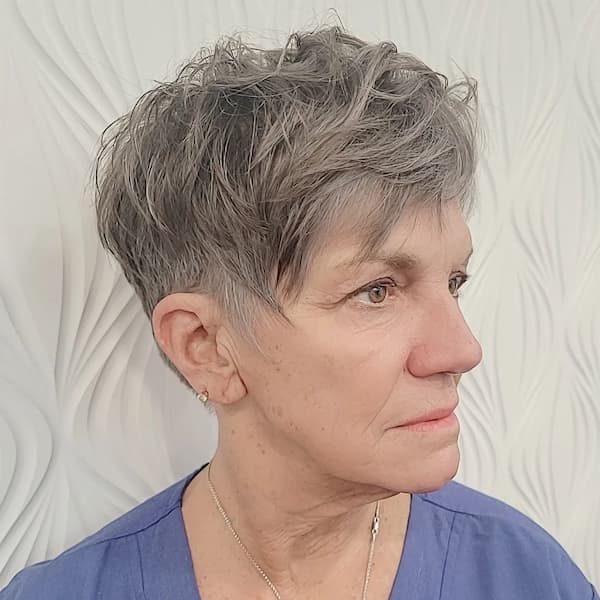 8. White Hair Pixie Haircut
Your hair color can make or break your hairstyle, but the white color did the former in this case. Since almost every 50-year-old has already gone gray, coating your hairstyles in white paint will do more good than harm, as the image above demonstrates.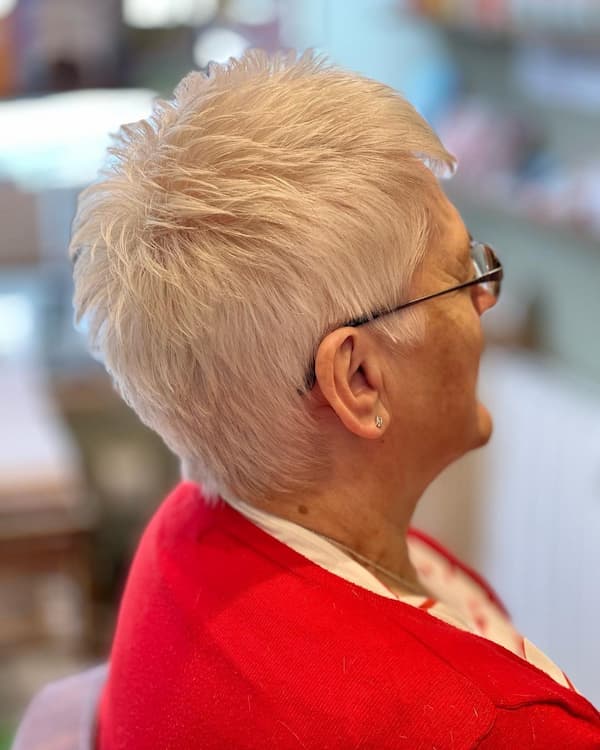 9. Pixie with Fringe
Adding a fringe to your pixie is something most 50-year-olds won't care for, but this hairstyle idea should change their mind. Not only is it easy to install, but it also makes the style several times better without preventing you from trying any other styling techniques you fancy.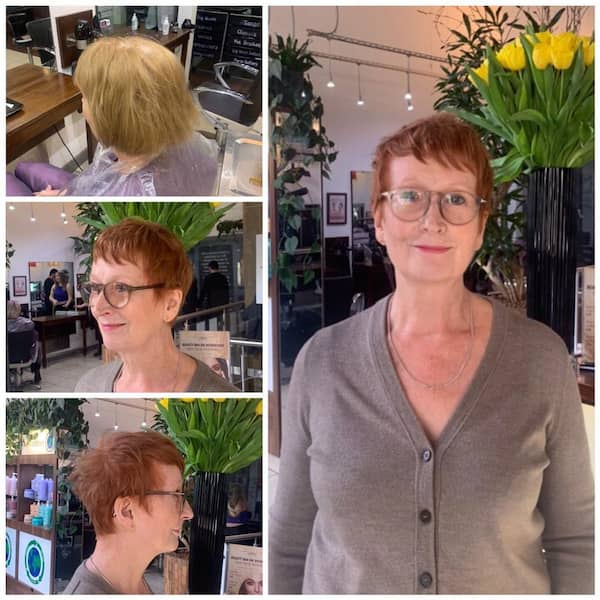 10. Undercut Pixie
Undercut pixies usually denote youthfulness and glamor, but who says a quinquagenarian can't enjoy a glamorous hairstyle? If your hair isn't gray or white, an undercut pixie will always be an excellent way to make a fashion statement in your fifties.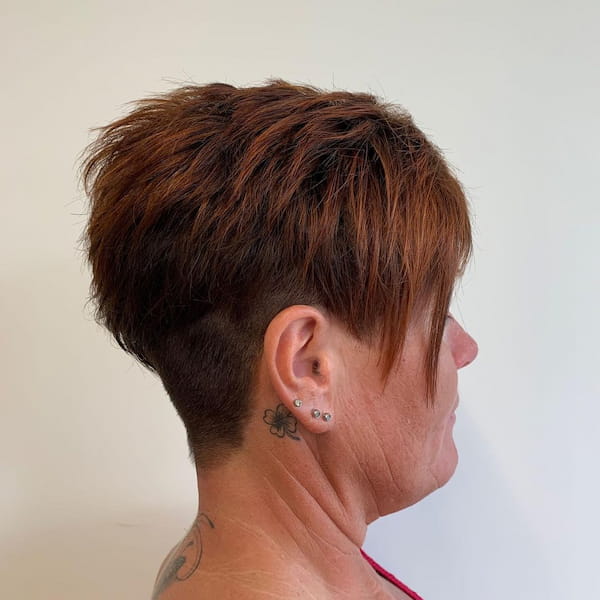 11. Pixie for Round Face
What's a better idea for a pixie cuts for round faces over 50 than a 'pixie for round face?' I'm not sure what name to call this, but I think it remains the best fit I've seen for anyone after a pixie cut that works excellently for ladies in their fifties with a round face.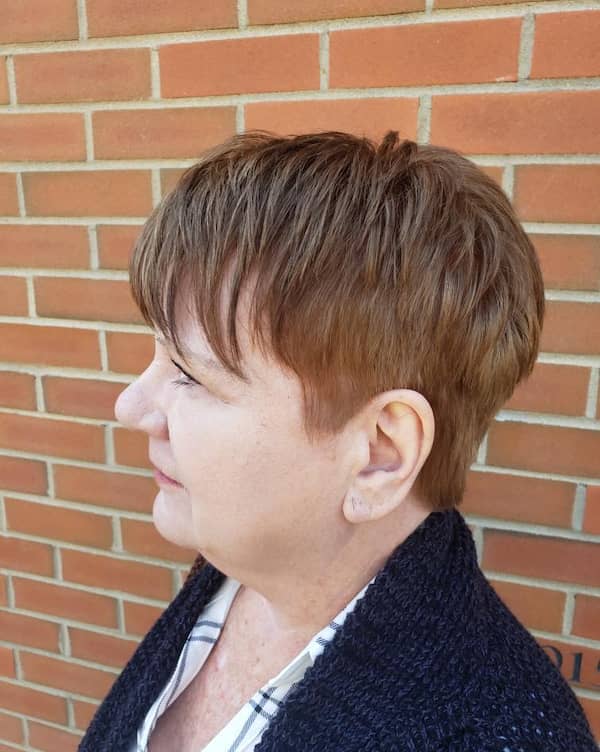 12. Messy Pixie Cut for Curly Hair
If you're a fan of curly hair, you can get a curly pixie cut, even if you have a round face. The hairstyle will look somewhat messy but don't worry: messy doesn't always mean ugly; in this case, it means adorable.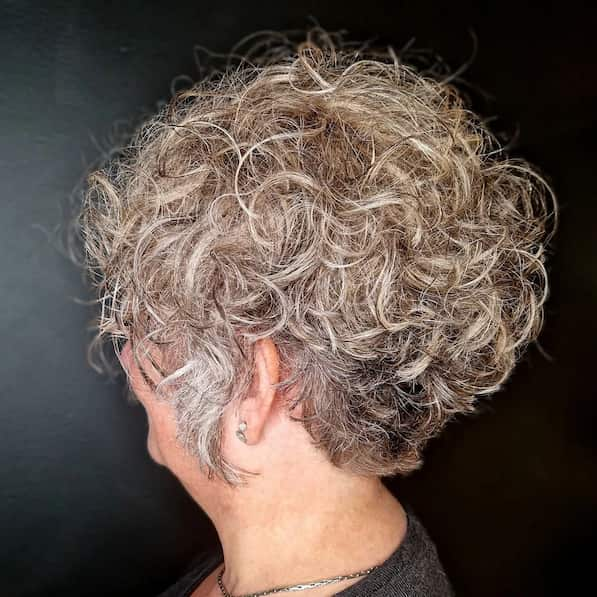 13. Short Pixie with Undercut
We saw a red undercut pixie earlier, and I made the mistake of thinking the same style wouldn't be as good on white or gray hair; how wrong was I? As if to prove me wrong, here's a short pixie with an undercut on gray hair that looks even better than the one from earlier.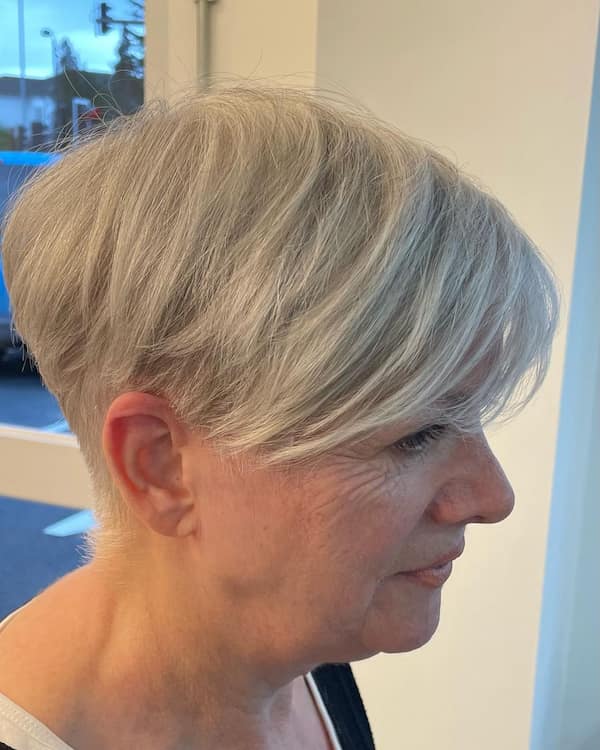 14. Short Blonde Pixie Cut for Women with Glasses
Women tend to look different in glasses, and a different look warrants a different hairstyle. The ones in this picture look flush with the hairstyle, creating a look that quinquagenarians would want to replicate.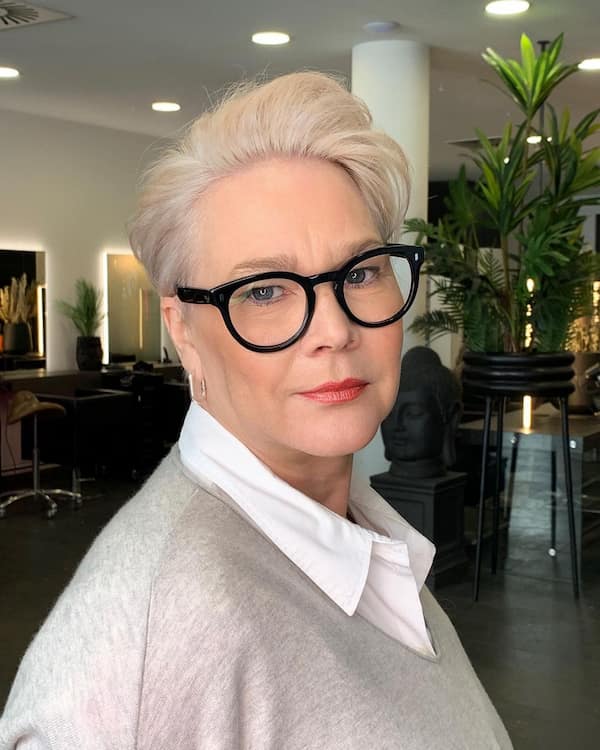 15. Thick Undercut Pixie Haircut
We've seen two pixie undercuts, but neither has enough volume to qualify as a thick undercut. If you prefer thick pixies, here's an adorable example of a thick pixie with an undercut that you should consider trying.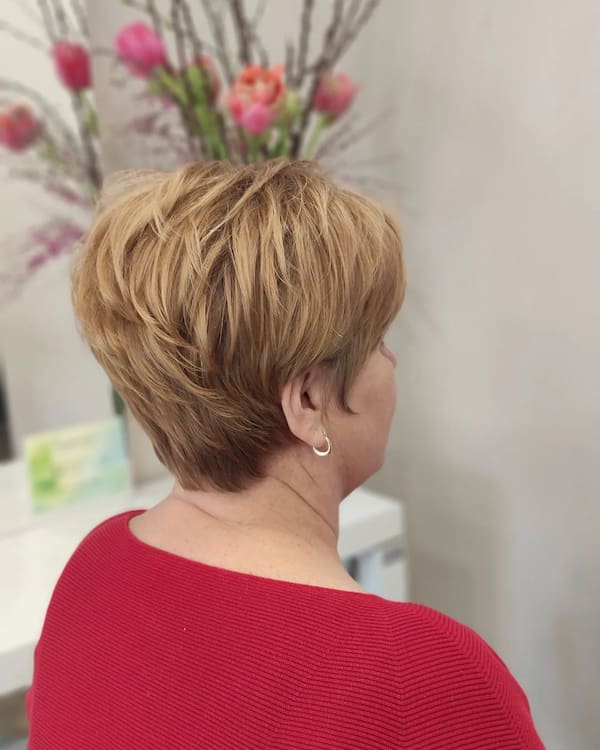 16. Pixie Cut
I'm unsure if it's right to qualify this hairstyle with any fancy adjectives, so let's leave it at 'pixie cut.' Anyway, I love the adorable fringe on the hairstyle and its off-center focal point that gives it a characteristic look, making it excellent for round faces.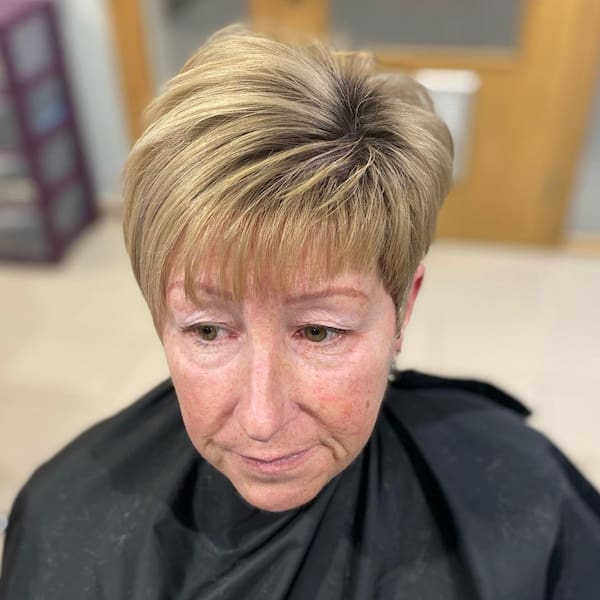 17. Highlighted Pixie Cut
You can create a highlighted pixie by coloring some parts, and you don't even have to use fancy colors, a gradient of white to gray works. The hairstyle may look somewhat youthful, but it's also adorable, and it's not illegal to wear it as a quinquagenarian.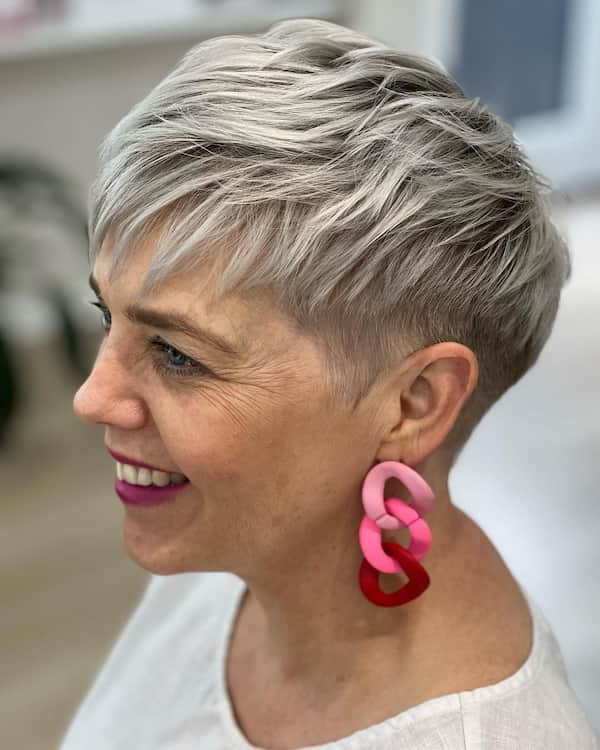 18. Pixie Haircut for Gray Hair
We've seen tons of gray-haired pixies in this compilation, but I think this idea best denotes what a perfect pixie for gray hair would look like. The statement brown glasses make an excellent addition to the overall look, creating drama on our model's face.
19. Short Pixie Haircut for Salt and Pepper Hair
A "short" pixie sounds weird, given that pixies are already short compared to other hairstyles. Taking a single look at the hairstyle above will help you understand why it carries that tag, and while it's barely longer than bald hair, it's several times more beautiful.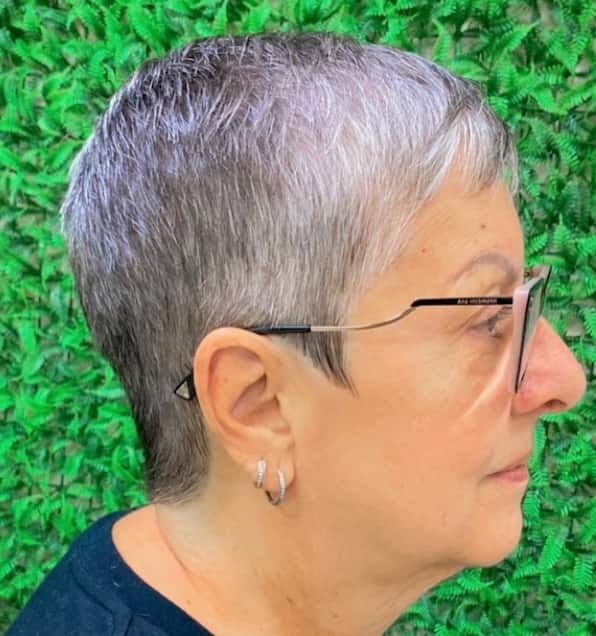 20. Permed Pixie
If you love the permed pixies you see in the movies, being over 50 years isn't a barrier to getting one. Here's an example of how a permed pixie looks on a round-faced quinquagenarian if they can manage to squeeze out a beautiful smile.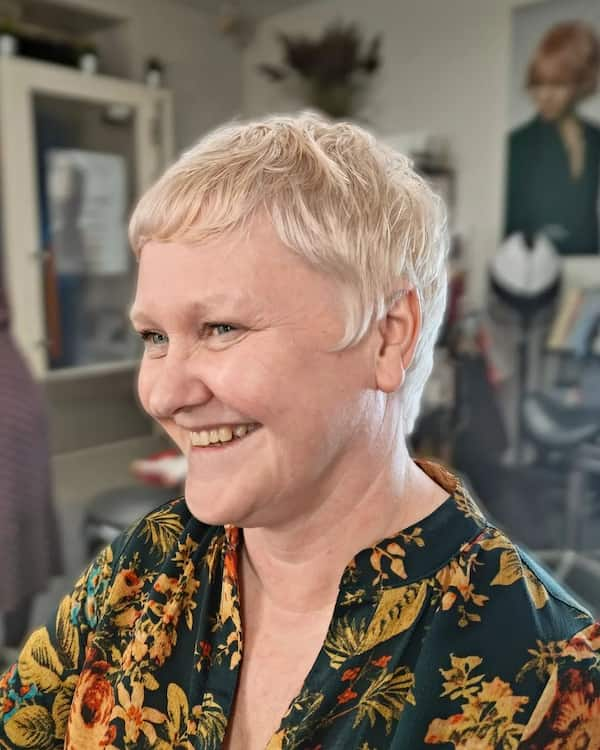 Conclusion
With these 20 picture ideas on pixie cuts for round faces, older women can barely go wrong with this hairstyle. This list takes the guesswork out of wearing a pixie; instead of trying random styles to see what works, choose anything from this list and replicate it for yourself.
Want some more ideas? Don't worry I got you covered.
Pin for Later.