Bobs can come in different shapes and colors, but one variation that seems to have taken the whole world by storm are gray bob hairstyles, which is exactly what the name sounds like. If you've seen (and admired) the style on others, you may be after beautiful gray bobs.
In this compilation, we'll show you no less than 50 gray bob hairstyles to help guide you in the process of getting one for yourself. Without more ado, let's jump in.
Gray Bob Hairstyles
Your gray bob hairstyles doesn't have to look like a grandma's hairstyle. These ideas will show you the best gray bob hairstyles to inspire yours.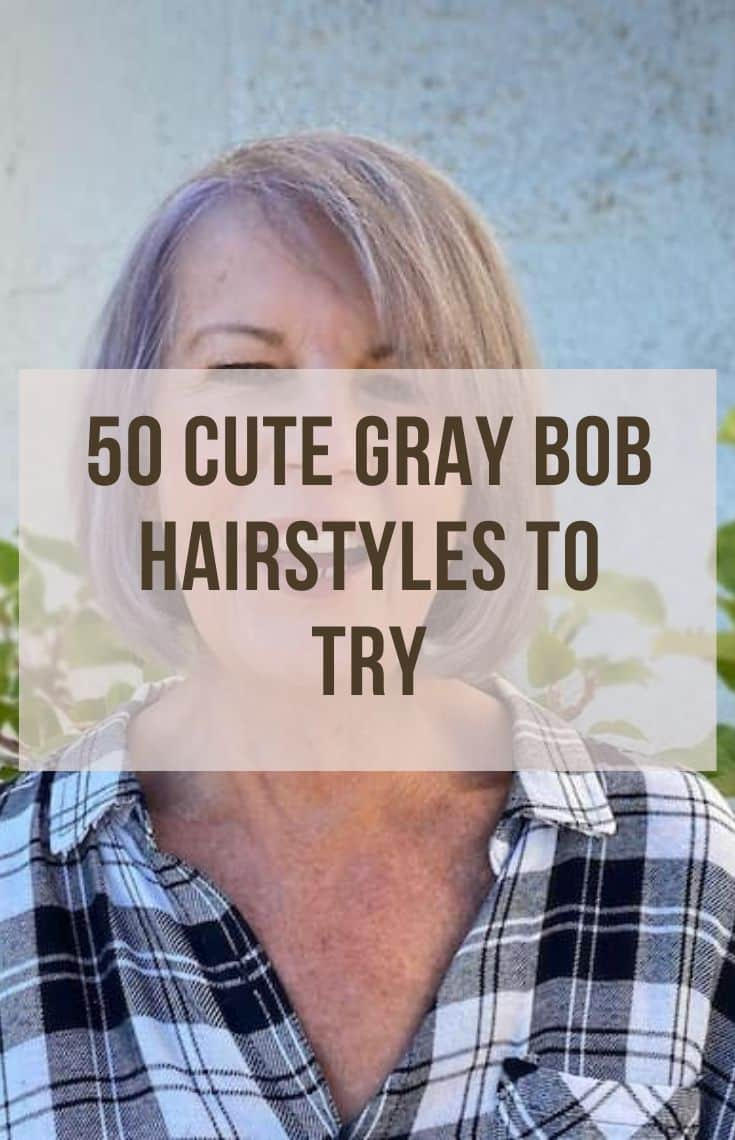 1. Classic Gray Long Bob Haircut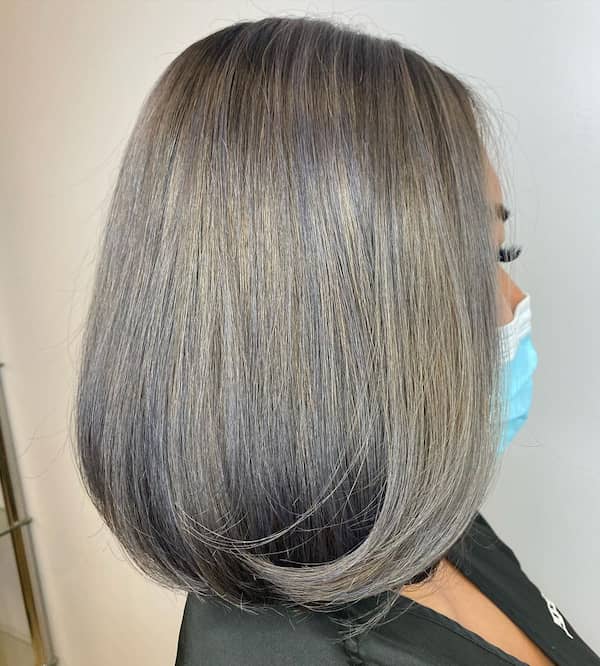 Young admirers of gray bobs would want their hairstyles to have elements that show their young age. Seniors replicating this volume and length are few and far between, making this classic gray lob an impressive one for younger ladies.
2. Gray Chin Length Bob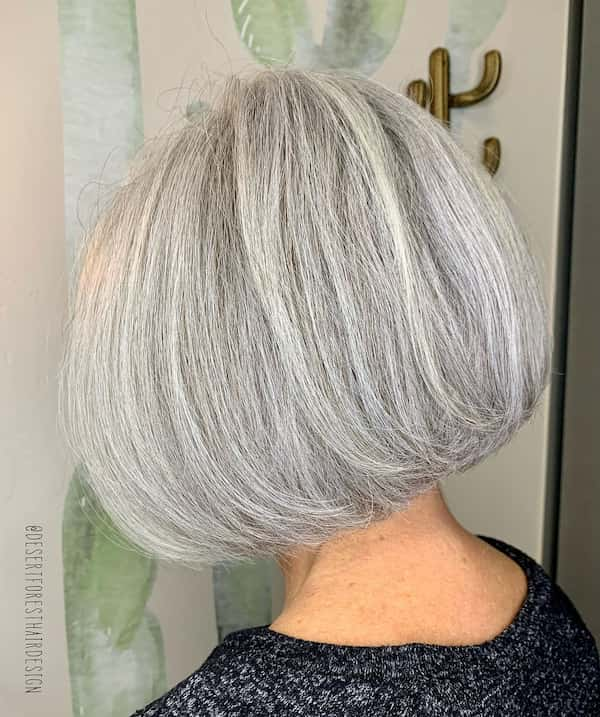 If you're a senior, however, this chin-length bob should hit home for you. For one, it requires no unnecessary coloring or stretching, and the chin length shouldn't require any attachments. No doubt, it's one impressive gray bob hairstyle idea for seniors.
3. Gray Bob with Bangs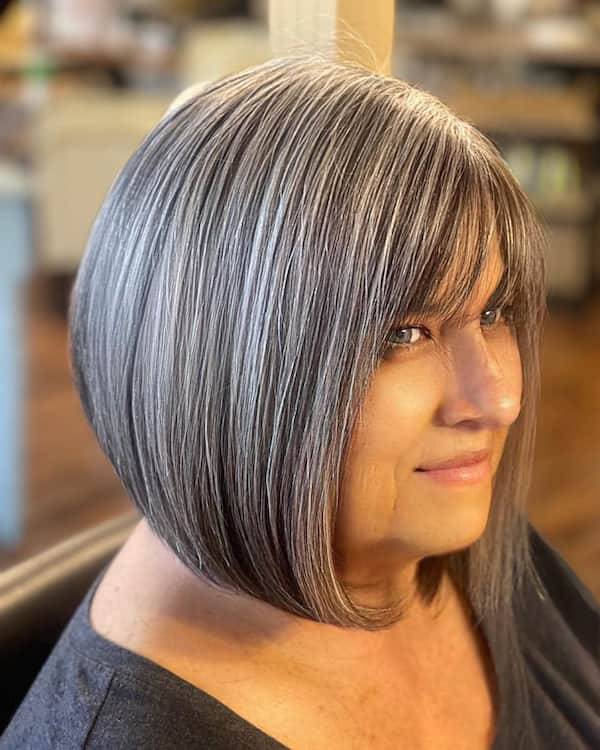 This dark gray bob uses organic coloring, in case you're into that type of thing. Looking away from the color, however, the amazing curved look for the oval shape is pretty impressive, and the scanty bangs completely blow my mind away.
4. Simple Gray Bob for Women over 70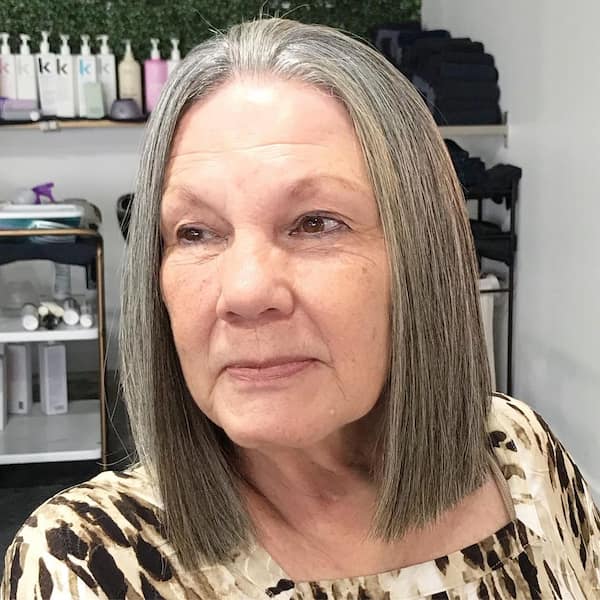 This silvery gray bob is another adorable way for older women to wear lobs, and I love it for that. The bob itself is simple with no bells and whistles, but compared to most hairstyles on seniors, it's pretty top-tier.
5. Short Textured Gray Bob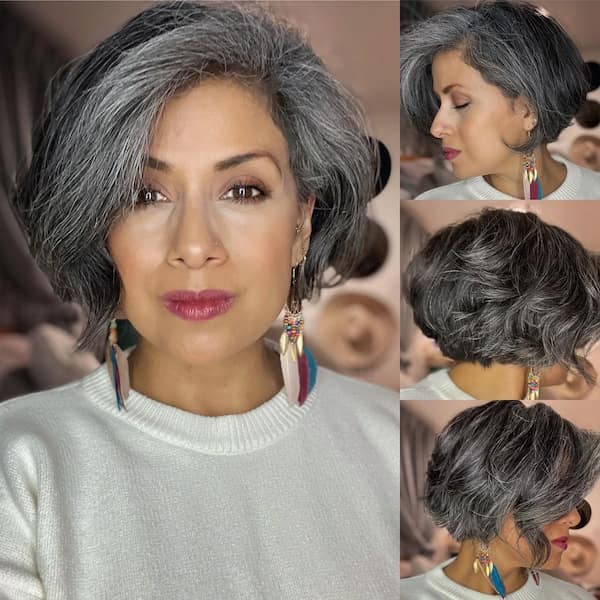 You don't need to have gone completely gray to get an adorable gray hairstyle; this short textured gray bob features black highlights that add to the allure. Throw in the hair's waviness, and you have one of the best textured styles in this collection.
6. Side-Parted Gray Bob Cut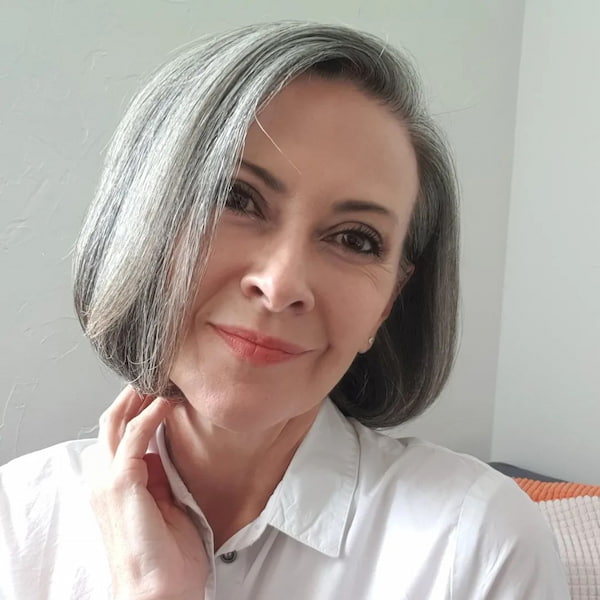 While I prefer symmetrical center-parted hairstyles, this adorable gray bob cut only shows that you don't have to get that. A sleek side-parted bob cut will always look adorable, especially when gotten in gray.
7. Ash Gray Textured Bob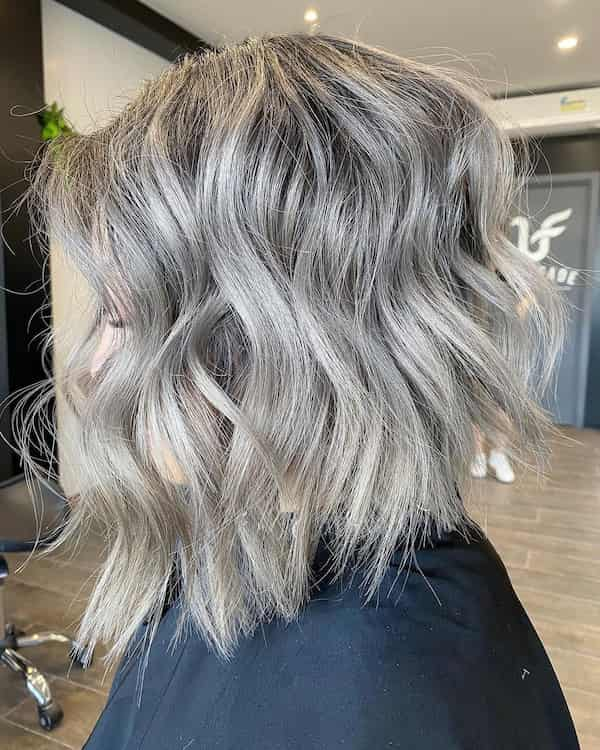 If you're a fan of gray bob hairstyles but haven't grown old enough to get the color naturally, you can score an artificial gray textured bob like this model's. I especially like the wavy look and the length; just seems like the best of both worlds coming together.
8. Short Blunt Gray Bob Haircut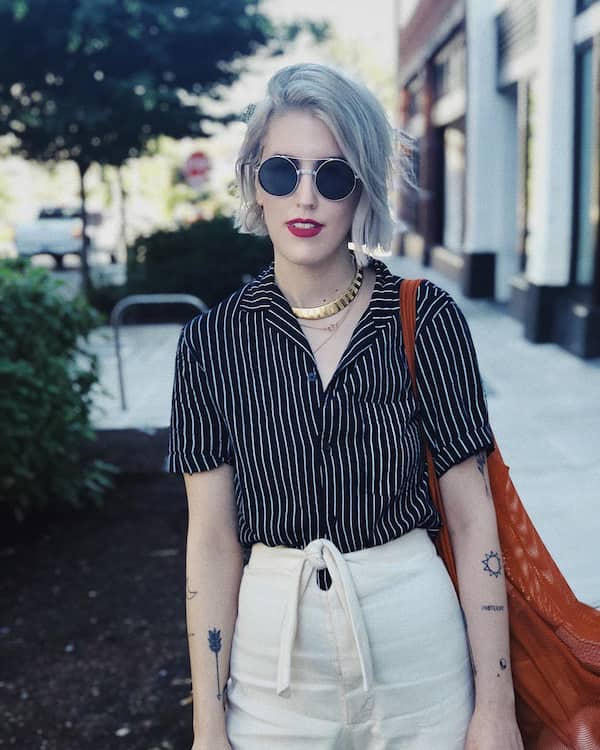 Long bobs are good, but not necessary for an alluring look, as you can see here. This short gray bob with a side parting does enough to put itself on this list and my 'hairstyles to-do' list.
9. Charcoal Slate Gray Textured Bob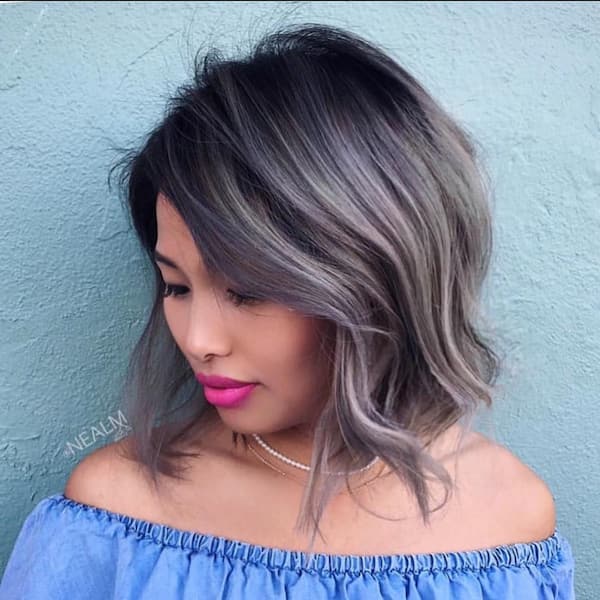 Here's another alluring artificial gray textured bob hairstyle, but this time, with a bit blacker highlights. Even if you're not a fan of artificial gray, you just have to admit this hairstyle looks dope.
10. Super Sexy Gray Bob with Dimensional Tones and Undercut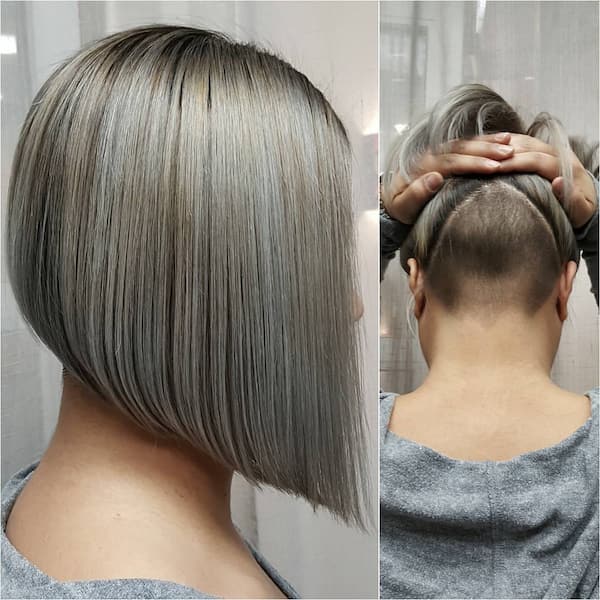 If you have a couple of hours to spend at a hairstylist, this smoky gray bob with dimensional tones and an undercut sounds like the perfect hairstyle for you. I don't imagine many people would be getting this as a casual hairstyle, and if you aren't, it's perfectly worthwhile.
11. Messy Gray Bob Haircut for Older Women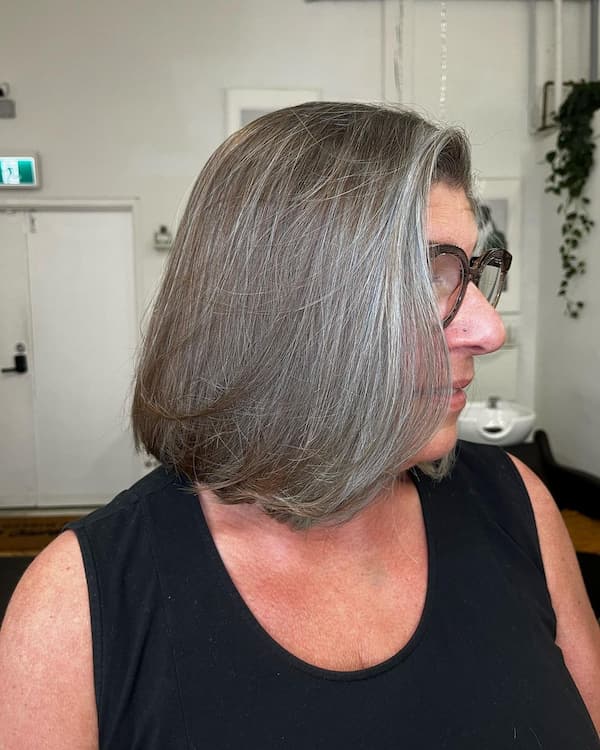 Messy bobs are an emerging new trend, and you can combine them with the gray color to create a unique and adorable blend. It's not the prettiest hairstyle for older women in this compilation, but that's not what you're looking for in an everyday style.
12. Flawless Chic Gray Bob Haircut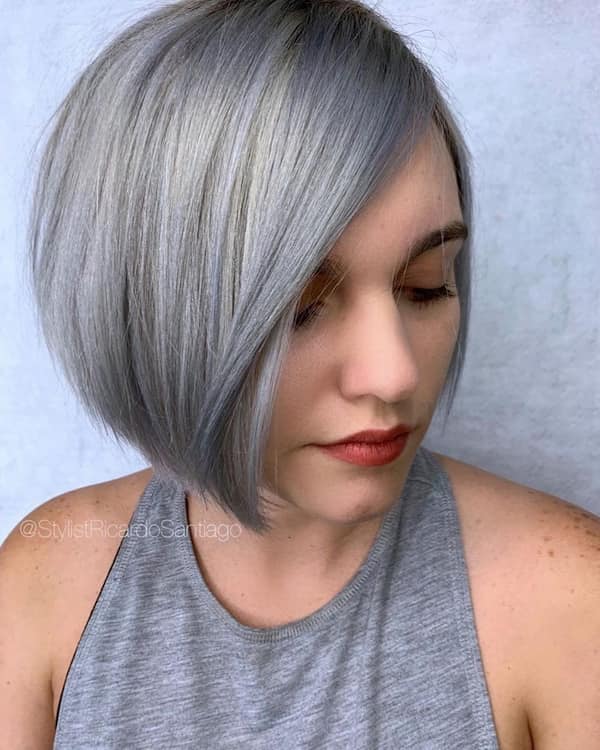 Styles like this have a function in the compilation, as they prove that gray bobs aren't only for seniors. While I wouldn't exactly describe it as flawless, I think it looks good enough to be perfect; easily a 10/10 from me.
13. Cropped Gray Haircut with Layers and Bangs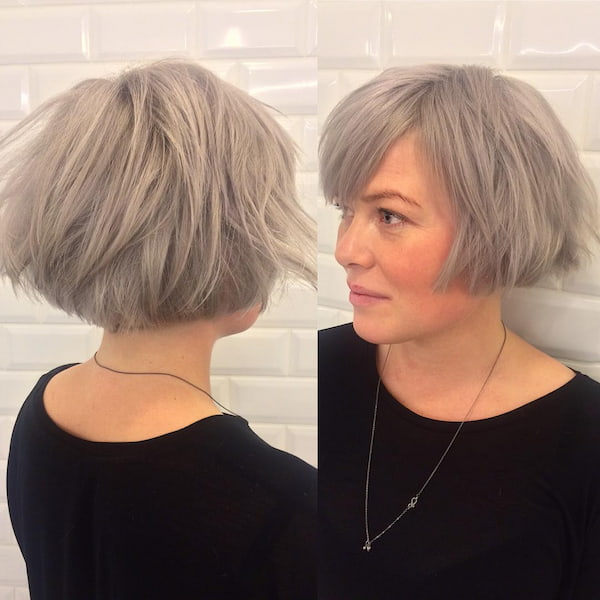 One amazing thing about bobs is that they work at almost any length, as this cropped gray haircut proves. The model even manages to throw in layers and a chic bang, creating the perfect all-in-one short bob package.
14. Half Up and Half Down Bob with Fringe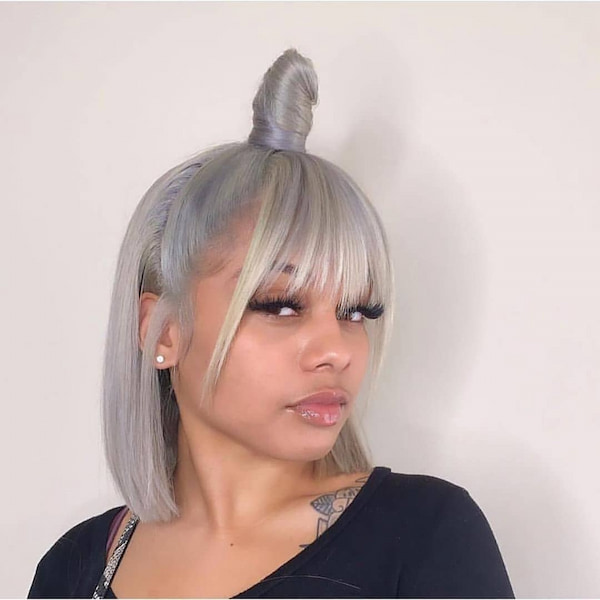 Can you imagine combining a half-up half-down with a bob and getting it all in gray? That's exactly what this model did, and I'm still surprised about how adorable it turned out, especially with those curtain bangs.
15. Light Gray Layered Bob Haircut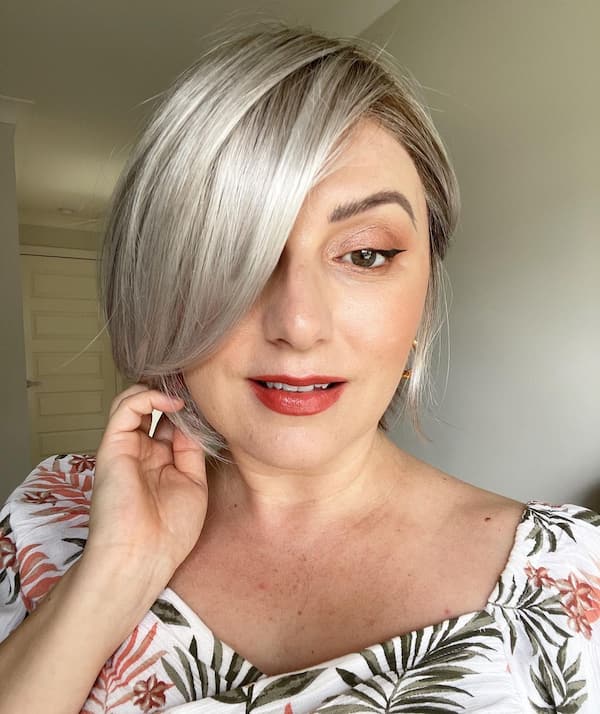 Most of the grays we've seen so far are dark, but how do light grays look on bobs? It seems they don't look bad, or let's say they look pretty good. The one eye covering is another aspect of the hairstyle I admire, but wouldn't necessarily get.
16. Fringy Shaggy Gray Bob for Old Women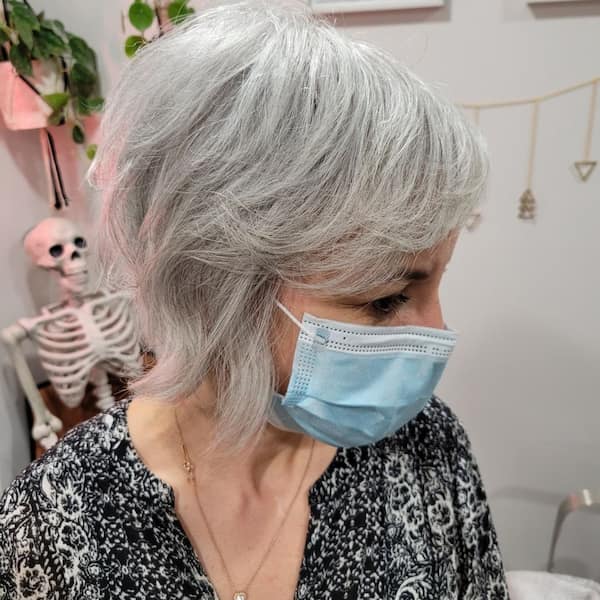 Getting a shaggy bob from a senior's hair is like getting omelets; it's pretty effortless. Despite the low effort, the shaggy gray bob looks naturally adorable on the model, as it only accentuates her natural texture.
17. Mixed Tone Chin Length Bob Cut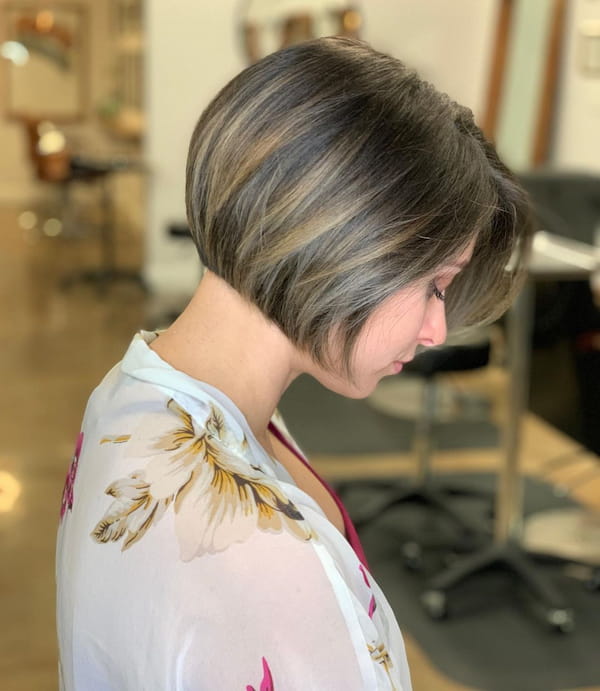 We've seen the allure of gray-only bob hairstyles, but why limit yourself to gray when you can have it with other alluring colors? This mixed-tone bob cut has gray, brown, and black so seamlessly integrated that I'm a fan.
18. Modern Gray Bob for Women over 50
Most people are already going gray at age 50, and you don't have to hide it. This modern gray bob with a side parting isn't only adorable, it's one of the best I've seen so far.
19. Medium-Length Gray Bob with Fringe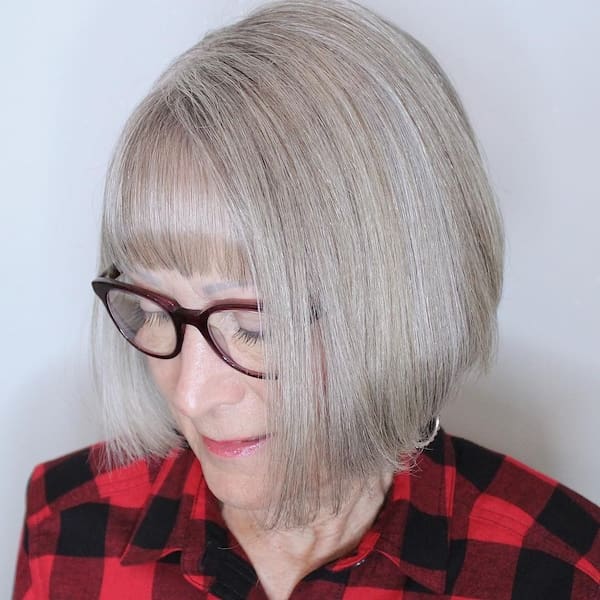 Not everyone wants their hair cut short like the preceding model, and that's why this medium-length gray bob exists. The undercut look and the flawless fringe add extra allure to the style, making it the closest thing to perfect.
20. Timeless Perfectly Shaped Gray Bob Haircut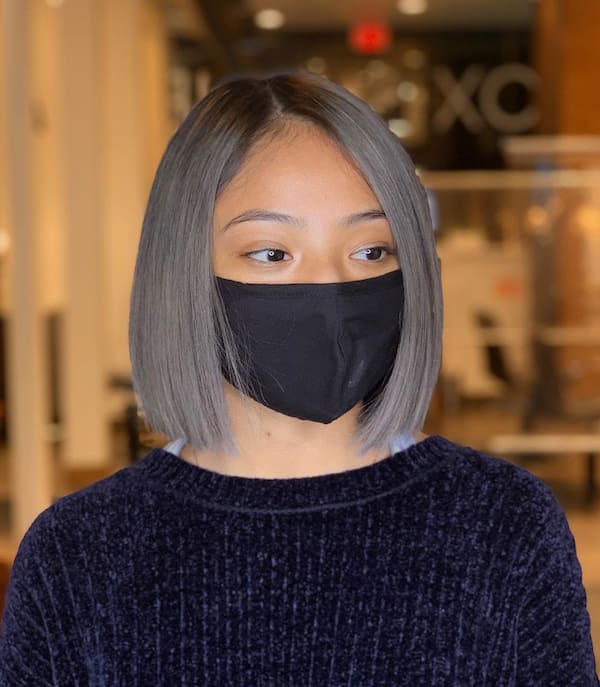 This perfectly cropped gray bob cut is the cutest way to transition from black to grey. The asymmetrical parting looks as adorable as I expected, and it's so sleek it's a no-brainer.
21. Cute Gray Bob with Bangs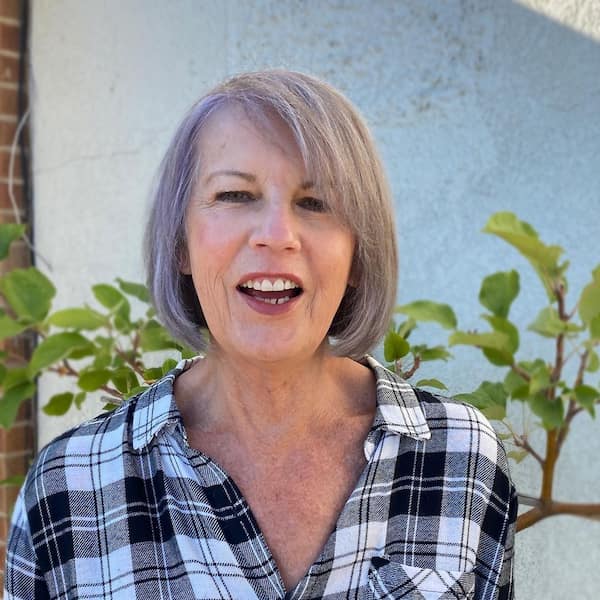 Back to gray bob styles for older women, here's another idea you may love. It uses half-curtain bangs and the signature bob curve to create a style everyone wants to wear.
22. Graduated Gray Bob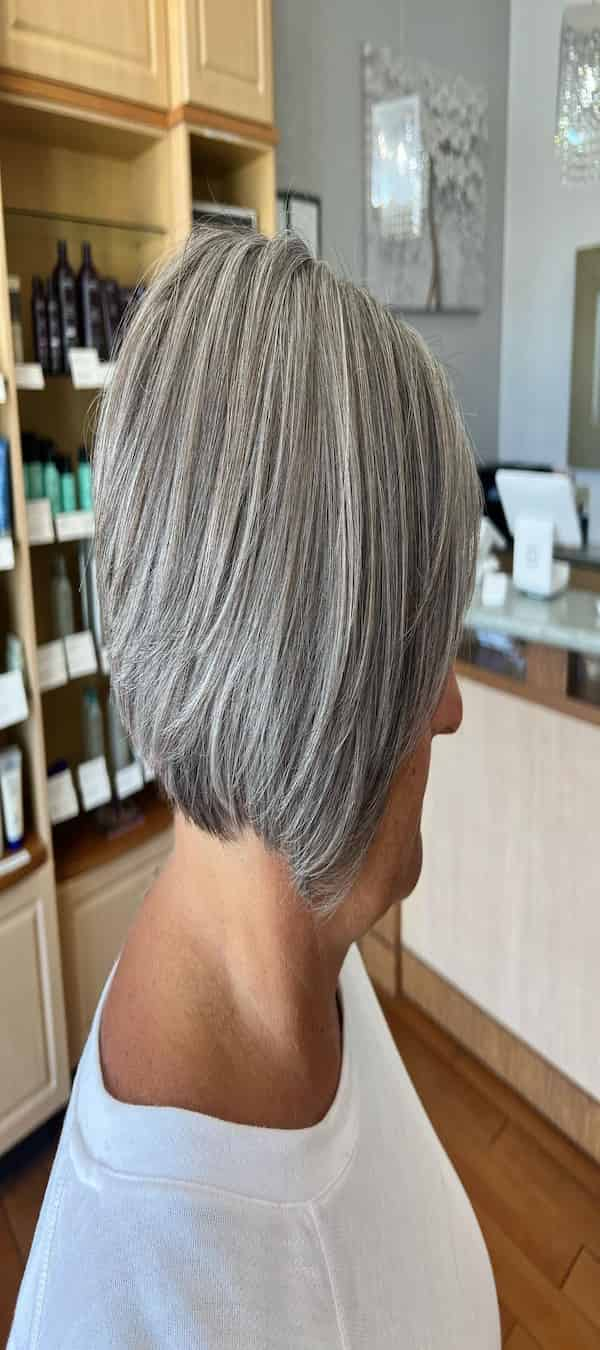 If you can live with a pretty short bob, this one is one of the few I can easily recommend. Coming in just below the chin, it's the ideal length for a bob, making it a pretty adorable style.
23. Gray Angled Bob Haircut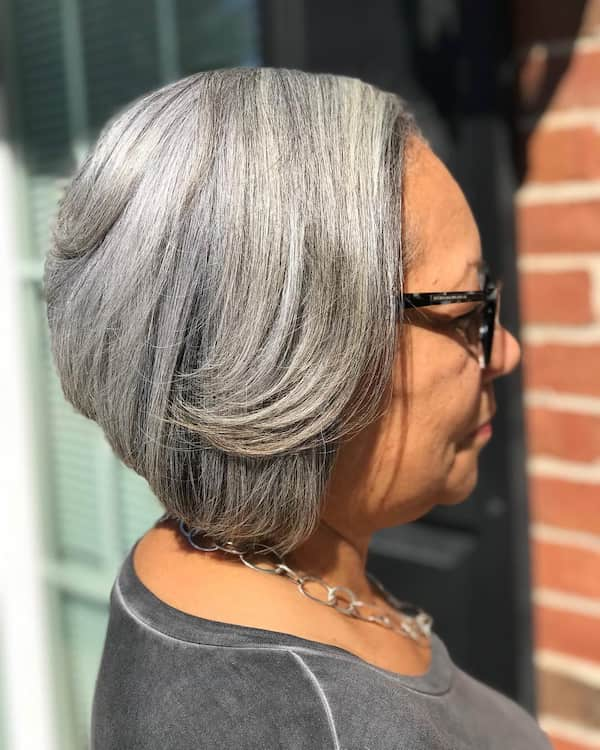 Lobs are good, but they look even better with layers. Throw in layers into any angled bob haircut and you'll have one of the most adorable gray bob hairstyles I've seen so far.
24. Layered Gray Bob with Precise Cutting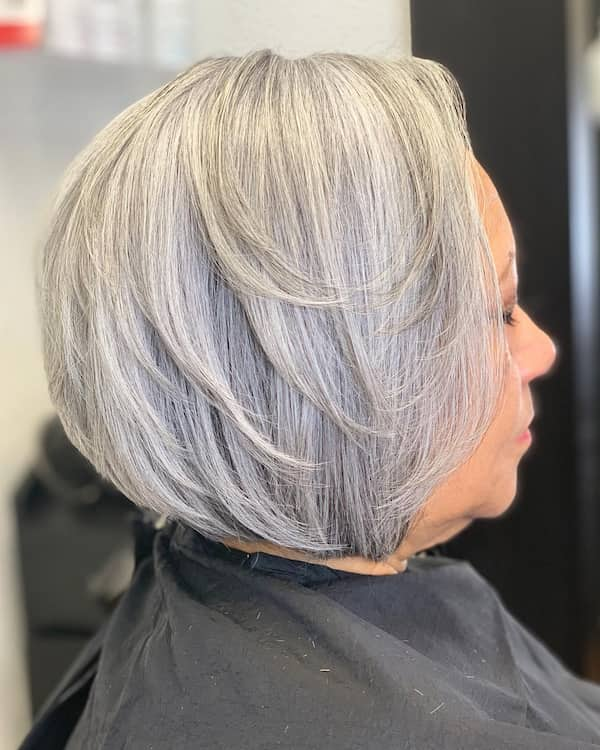 Being 70 doesn't mean you can't get something admirable; this precisely cut layered gray bob shows how attention to detail can make your hairstyle several times better. I can even imagine it looking several times better by adding simple curtain bangs!
25. Gray Sassy Bob with Bangs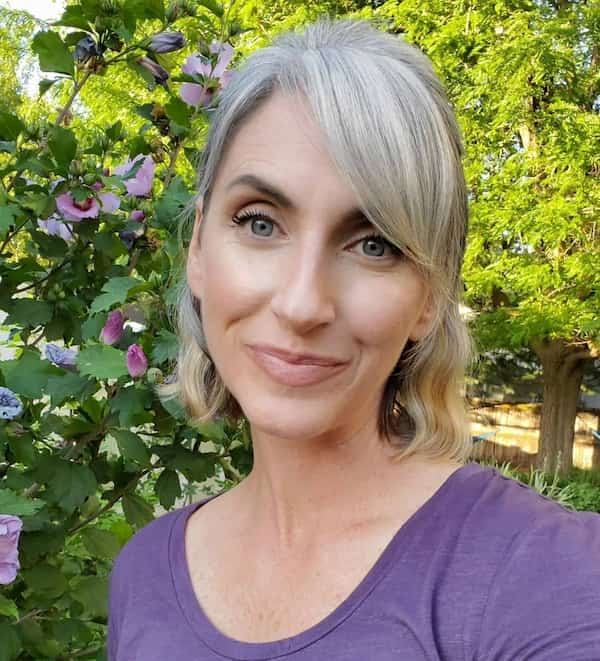 You can have many opinions about this hairstyle, but you can't deny it's both adorable and sassy. The massive bangs over one-half of the model's face only accentuate the existing allure.
26. Gray Short Bob for Women with Sunglasses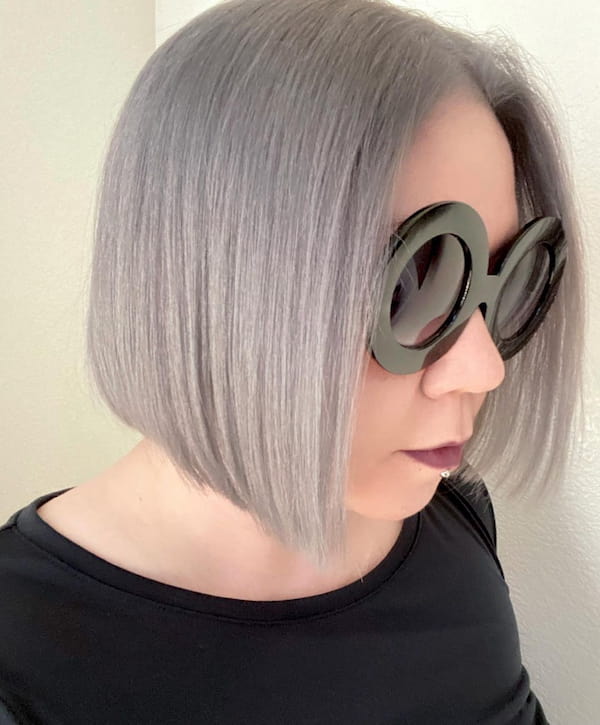 People would have you believe gray bobs are for seniors, but nothing could be further from the truth. This model's sleek straight bob shows you don't have to be 70 to get a gray bob, and the sunglasses pretty much complete her alluring appearance.
27. Gray Bob with Blonde Highlights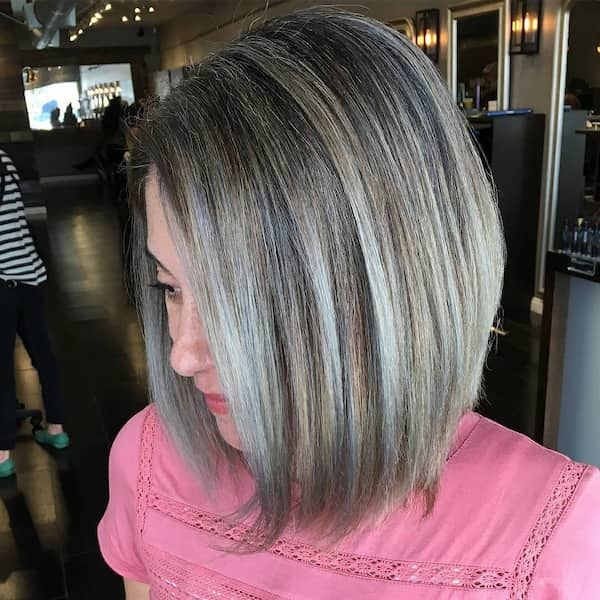 Gray is good, but sometimes, it's not sufficient in isolation. You may want to consider adding blonde highlights for some flair, and with this model's chic hairstyle, you should have no second thoughts.
28. Cropped Gray Bob Haircut for Thin Hair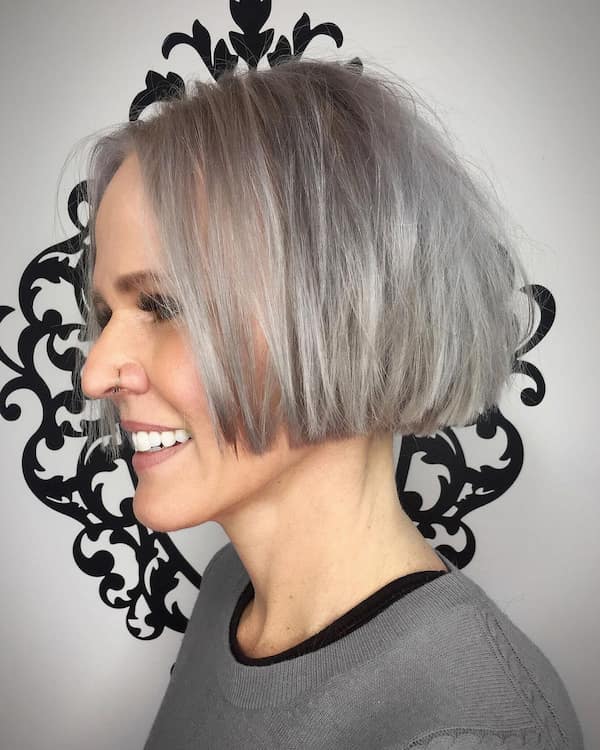 I'm a big fan of a good crop, and that's what I'm seeing here. Despite not having plenty of hair to work with, this model uses the smooth crop and the silvery gray color to create an undoubtedly admirable style.
29. Short Gray Hair for Women with Round Face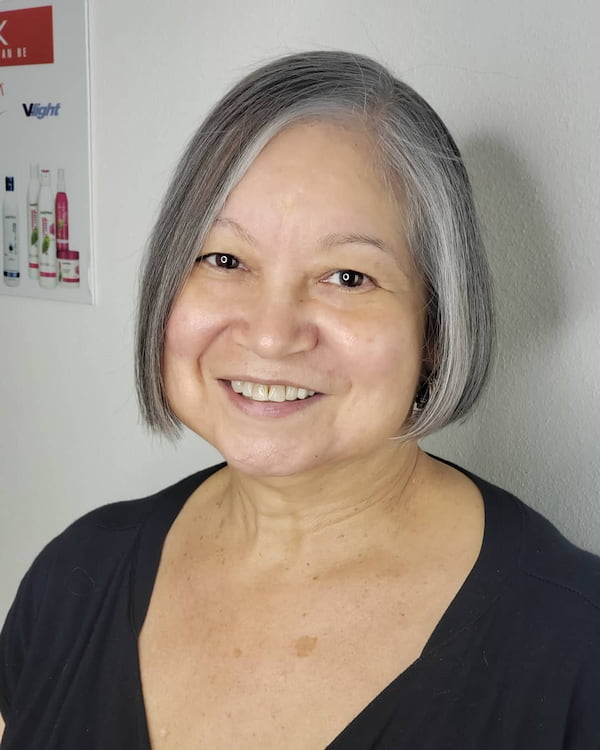 I'm surely not the only person noticing how the gray in this style slowly fades into a silvery hue, creating an adorable short bob that prettily wraps around the model's face. Factor in the amazing side parting and her bright smile and you'll understand why it made this list.
30. Chic Trendy Gray Lob
Who says you can't stand out in a gray-colored hairstyle? This long bob already makes me want a gray style, and with that alluring side parting, it seems that's what I'm getting right after completing this compilation.
31. Chic Short Bob for Natural Hair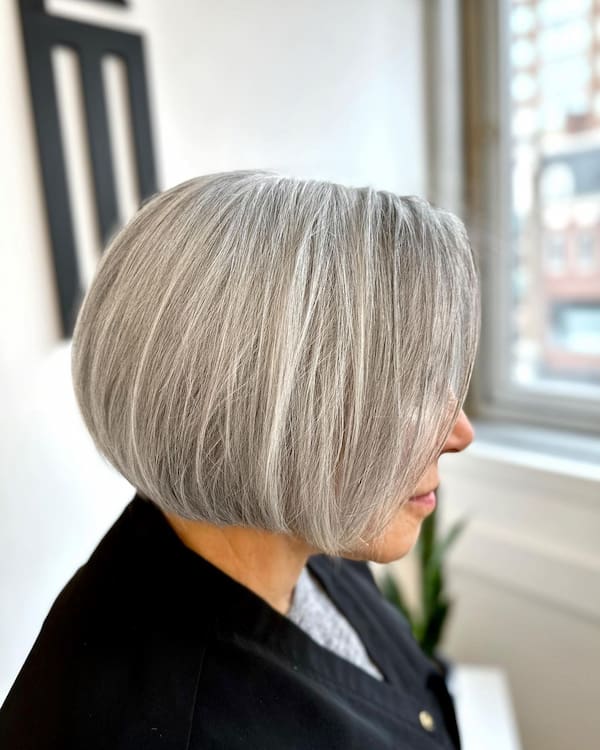 Regardless of the negative press against gray bobs, hairstyles like this prove how good they are when done right. I'd wear this chic short bob any day, whether I'm 15 or 50; that's how adorable it is.
32. Beachy Gray Bob with Fringe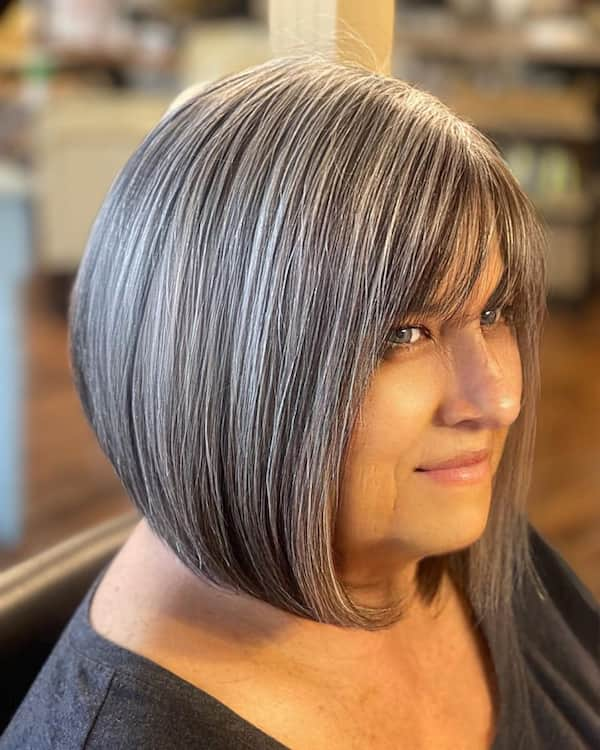 You can't wear a beachy bob with such perfect little bangs without looking adorable; it doesn't matter if you're getting it in red, brown, or gray! However, I think the gray may have added some allure here.
33. Long Gray Bob with Layers and Bangs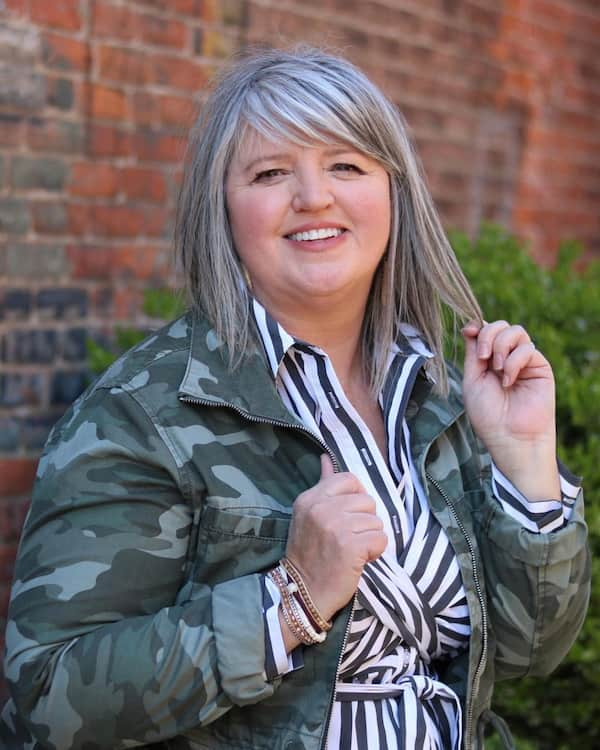 Growing out your natural gray color is empowering, especially when you're getting a layered bob with adorable bangs. I doubt you can manage to make this style look this adorable in an alternate color.
34. Old Hollywood-Styled Gray Bob Haircut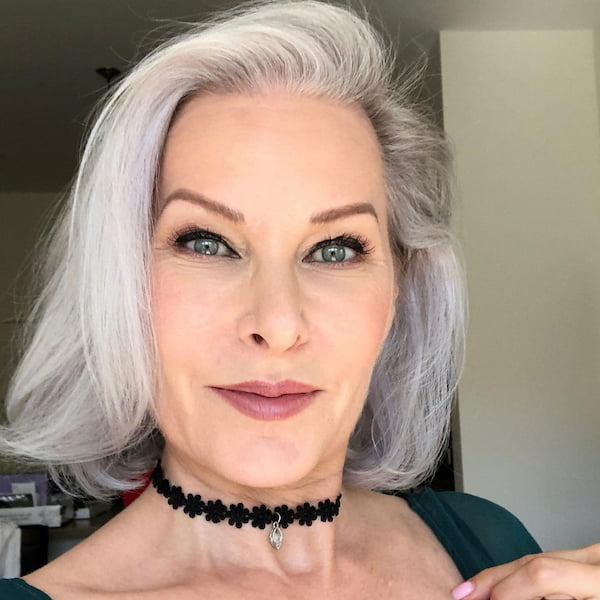 A sidhttps://www.instagram.com/p/CWl3aQ9tusg/?igshid=NTc4MTIwNjQ2YQ==e parting on this 90s gray lob is one of the easiest ways to an adorable hairstyle. If you're over 50 and have gone gray, getting this hairstyle is a no-brainer.
35. Pretty Center-Parted Gray Lob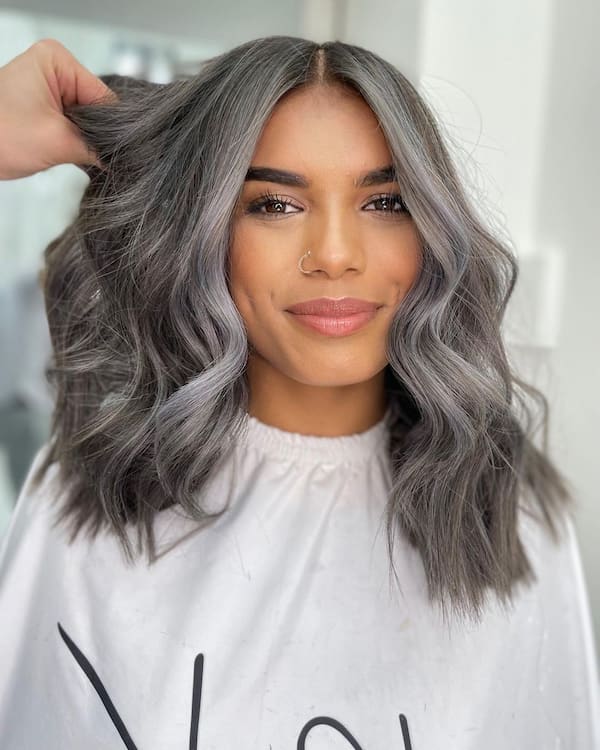 This dark silvery hue is a recurring theme in this compilation, and it's only because it looks so good. Combine the alluring color with a center parting, and you get one of the best gray bob hairstyles out there.
36. Simple Full Gray Bob for Round Face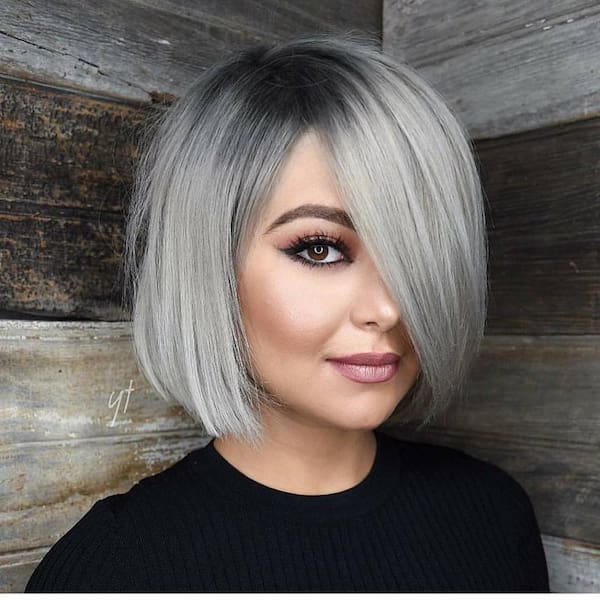 Hairstyles like this is why you don't want to discriminate against gray hair. The fullness, sleekness, alluring silver bleed, helpful black highlights, and impeccable side parting; what more could you ask for?
37. Cute Gray Layered Bob Haircut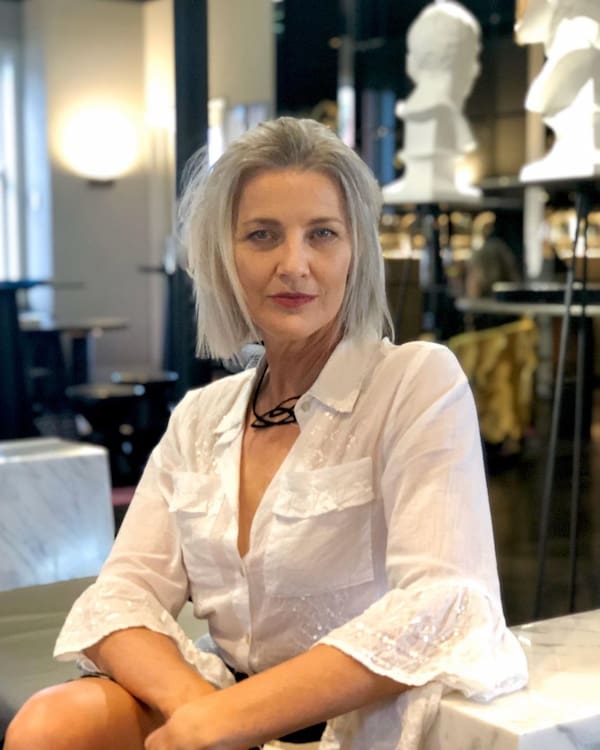 This layered gray bob is the kind you get when you're not trying too hard to impress, but it's effortlessly beautiful anyway. It showcases the potential beauties of going gray while making our elusive list in the process.
38. Simple Gray Bob Cut with Rough Edges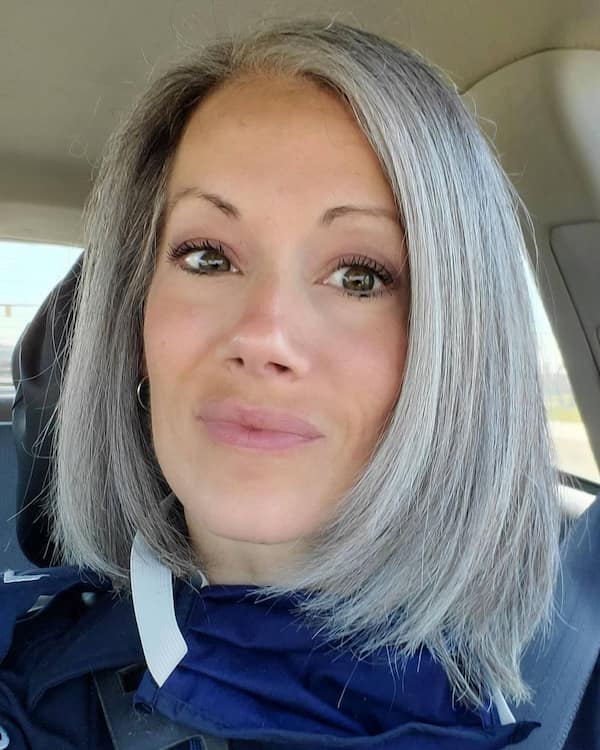 Here's another adorable gray bob that looks amazing without tons of effort. I'm a fan of the side parting, but the nearly perfect length and face-framing look are probably better aspects of the style.
39. Light Gray Bob with Full Fringe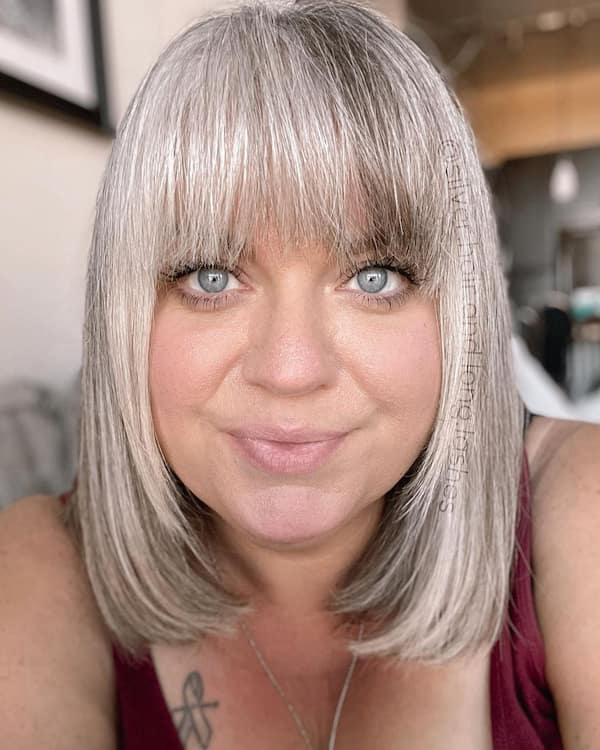 Nothing ever seems to go wrong with bobs as long as you add a fringe. I've always known this would work theoretically, but seeing a light gray bob with a full fringe in person sparks new interest in this alluring style.
40. Cute Summer Gray Bob Haircut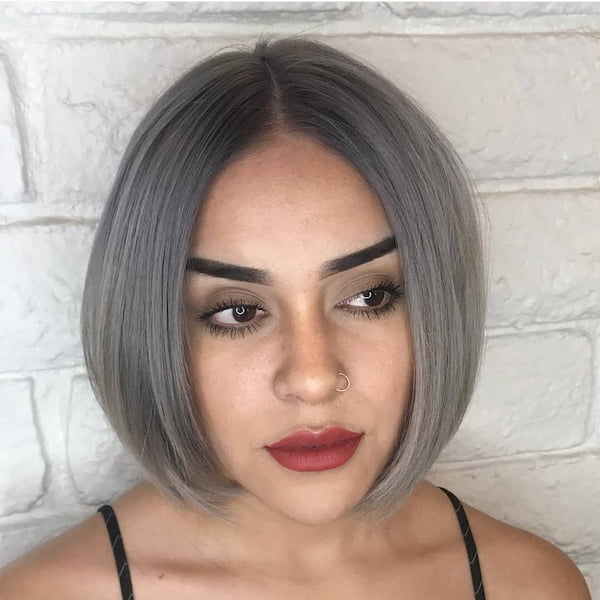 The round, face-framing shape of this hairstyle is nothing short of adorable, and I don't even have to point that out. What I'd like to point out, however, is the center parting; it just makes the style pop!
41. Neck-Length Gray Bob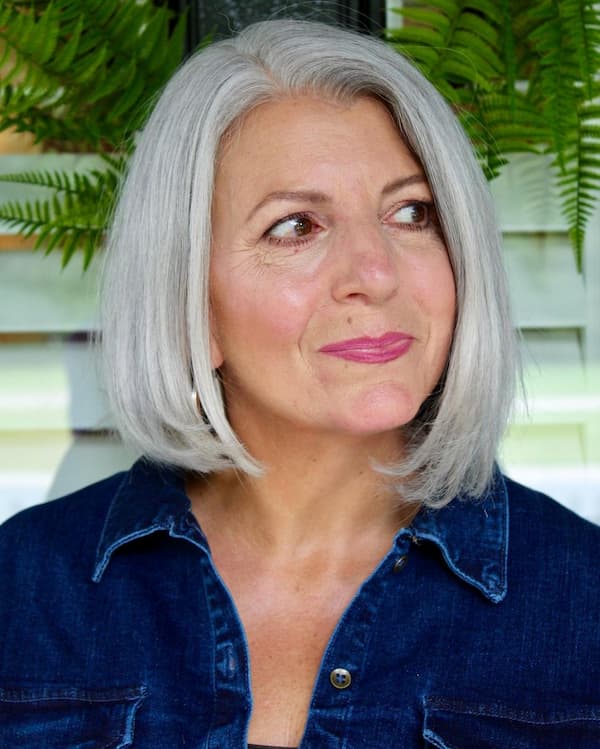 There's no better way to advocate age positivity than embracing your gray and making an impeccable bob out of it. With a side parting and this 'perfect' length, everyone would want to become 50.
42. Short Gray Bob with Natural Waves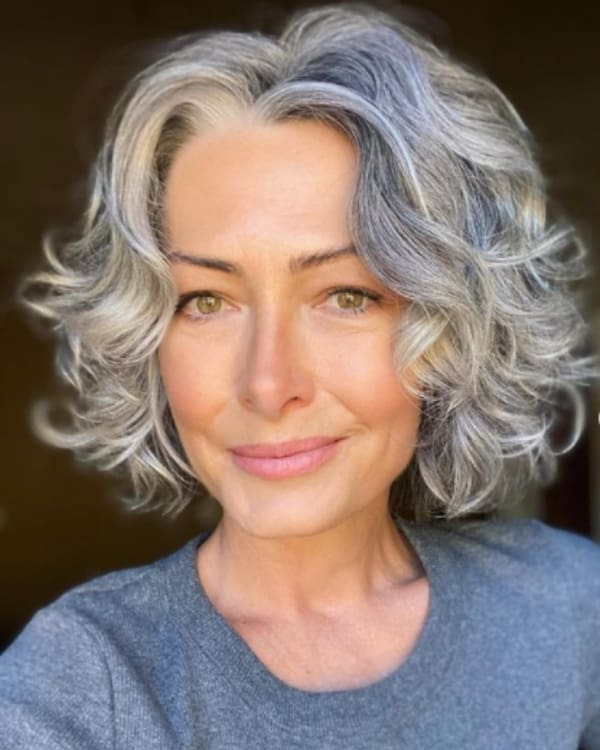 A clever way to add a twist to a gray bob is adding waves, but you wouldn't have to do that if your hair is naturally wavy. One thing you'd have to add, however, is the center parting for an impeccable look.
43. Fresh and Super Neat Gray Bob Haircut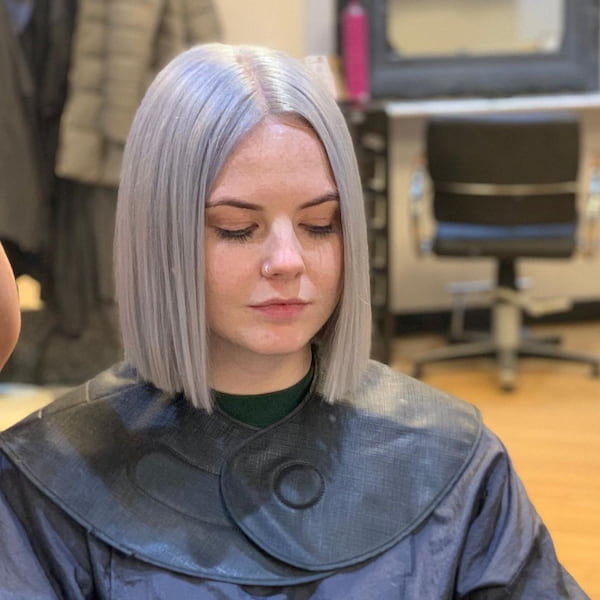 If you're not a fan of waves, you can achieve a similar level of allure by getting a straight bob with an under-chin crop. The cherry on the top is that this style also lets you wear the center parting, maintaining the prettiness.
44. Gray Bob with Blue Silver Base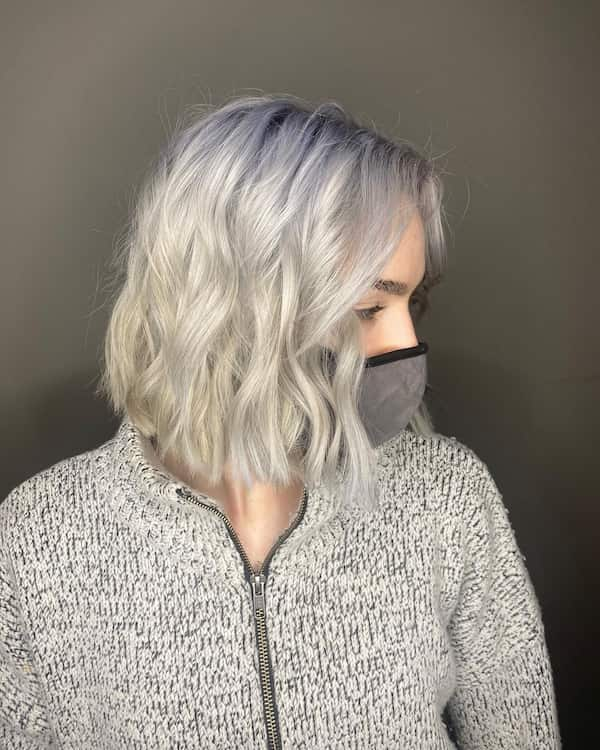 Straight is good, but wavy works better for certain ladies. If you're one of those ladies, here's a wavy alternative to the preceding hairstyle that balances the shagginess of waves with the formalness of a straight bob.
45. High Layered Gray Bob Haircut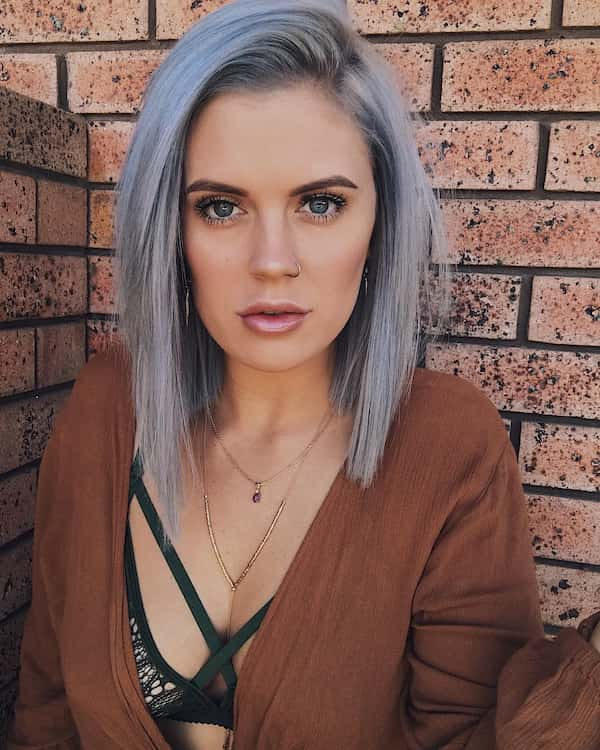 Away from the wavy and straight bob debate, here's an alluring layered gray bob you'd want to get on gray hair. It uses the tested and trusted side parting method to create one of the prettiest gray bobs online.
46. Straight Platinum Gray Bob Haircut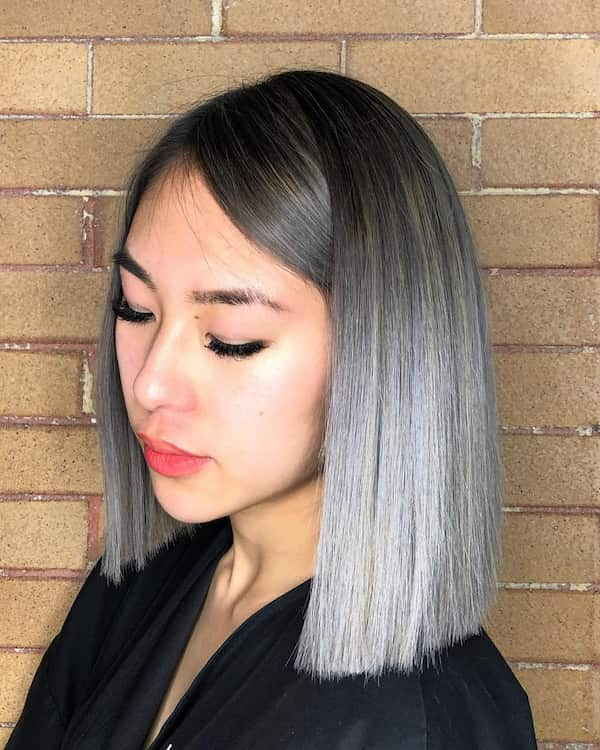 This unique black-to-gray gradient is an amazing feature of this hairstyle, but it's not even my favorite. The perfect crop, sleekness, and the style itself look so amazing that I want to get it twice.
47. Textured Gray-Blonde Bob Cut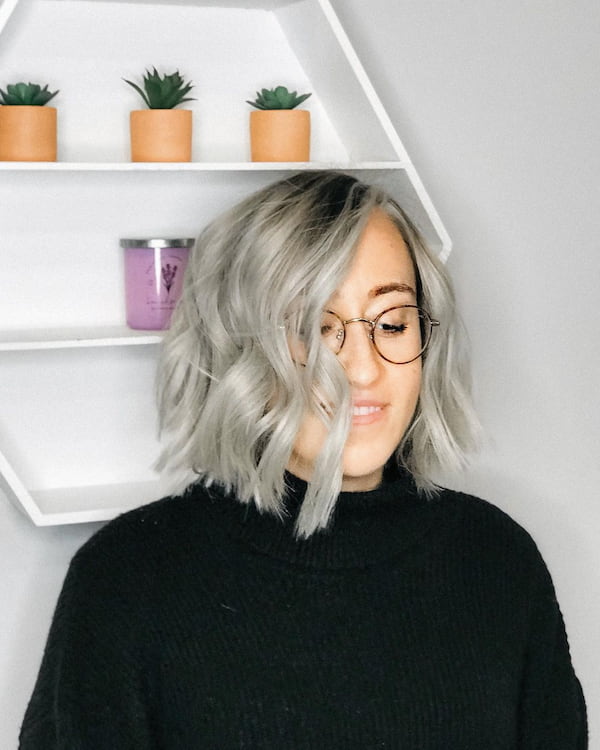 Proponents of the trendy 'gray-blonde' movement will appreciate this cut, as it portrays the silvery hue in a very 'blonde' way. I'm personally a fan of the waves and the model's smile; they're both adorable.
48. Gray Bold Bob Haircut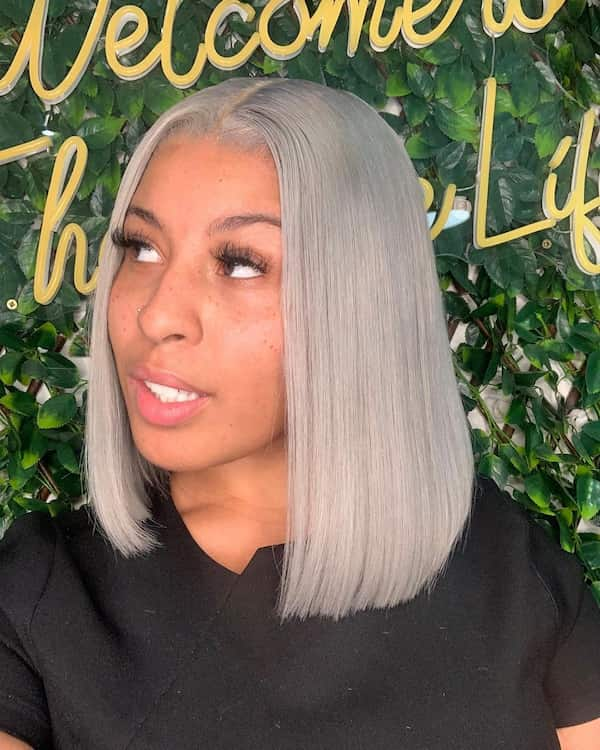 Graying artificially is something you don't see often, but here it is. If you're bold enough to go gray in your 20s', here's an alluring hairstyle to get you started.
49. Messy Gray Bob for Thinner Hair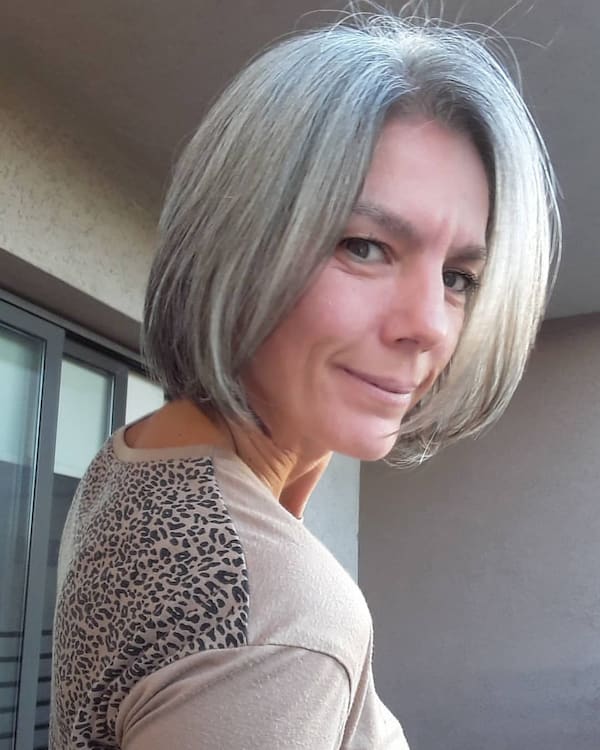 Adding a bit of shagginess and volume makes your hair's fineness less noticeable, which is this model's secret ingredient. I wouldn't wear this to a wedding, but if I'm after a casual style, why not?
50. Very Short Gray Bob with Precision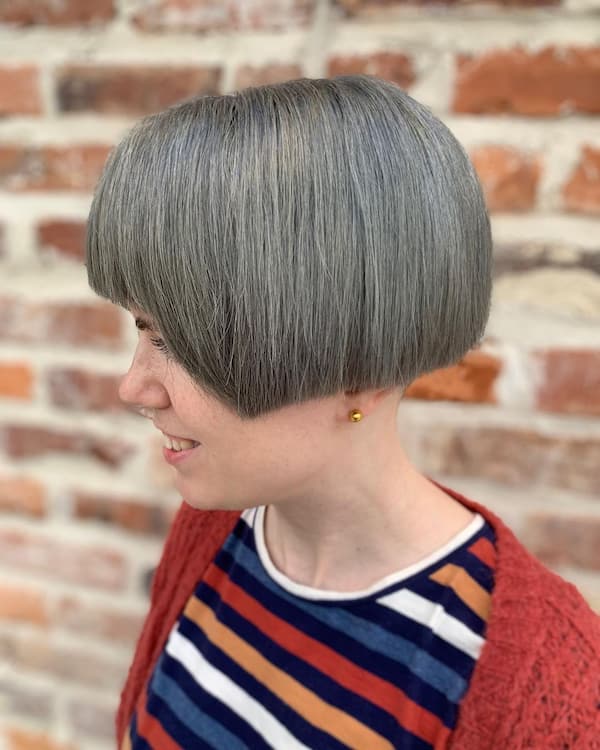 I don't find myself advocating for super-short hairstyles very often, but this is probably one of those rare cases. Despite not reaching below her ears, this bob manages to look impeccable, thanks to the full fringe and the unique dark gray color; I rate it 9/10.
Conclusion
If you've seen 50 gray bob hairstyles, you should've established yourself as 'kind of an expert' in the field of gray bobs. Even if you still aren't one, you can simply choose one of the recommendations and copy it to a T; it's the easiest shortcut to looking adorable!
If you love these gray bob ideas, you may want to check out our other compilations.
Pin for Later.