You can't stress it enough; the beauty that comes with having a great hairdo. However, picking the best hairstyle that suits you can be just as challenging as picking the best outfit for a dinner night. In this post, we have come up with a compilation of some of the best layered bob hairstyles for over 50.
Luckily we're here with some bob hairstyles that ladies of all ages can rock. Age is just a number in the fashion and hair care world, and there's always a perfect fit for somebody searching.
Just before then, I got some articles you might find very helpful;
And that's all for now, feel free to check out other related posts at the bottom of the page.
So without further ado, let me quickly show you what I have in here for you.
Youthful Layered Bob Hairstyles for Over 50
It took a little time to pick and compile these Layered Bob haircut ideas, I really hope you find them inspiring.
1. Creamy Blonde Layered Bob
This bob starts just below the chin and extends over to the back of the head. It does look a lot rough like the Pixie Bob, but not with the same thick layers. It's a perfect choice if you need something light that's not a long hair either.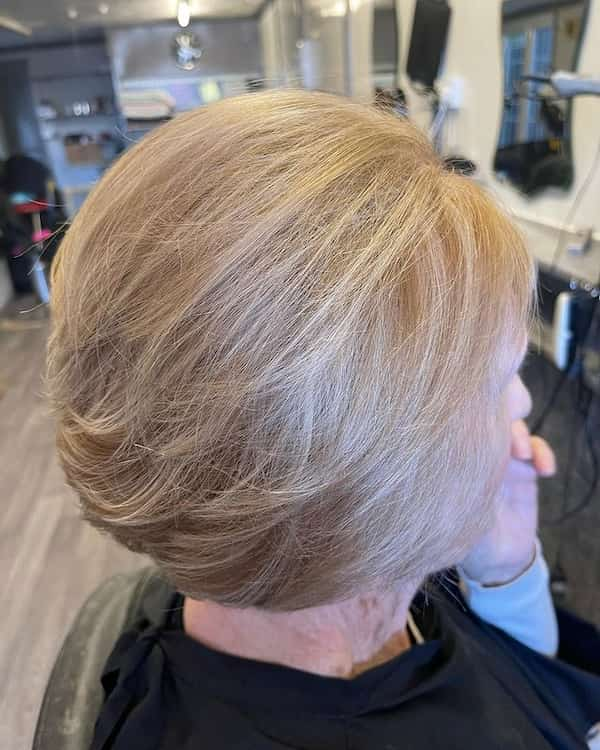 2. Summer Blonde Layered Bob
This bob looks a lot like the former, only that this time, the hair length at the back is a little longer than the front, which stops at the chin. It's an amazing style for women above 50 who fancy thicker bob styles. Suppose you're more interested in long hairstyle, then feel free to check out my post on long hairstyles for older women.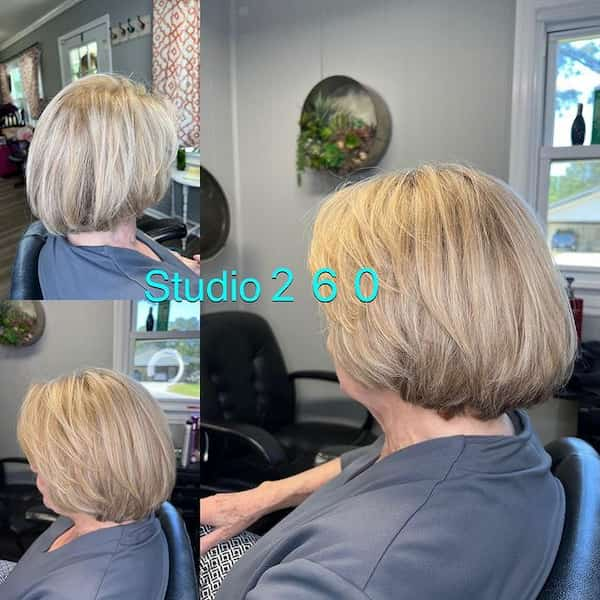 3. Bright Blonde Layered Bob
There's not much going on with this blonde bob, making it a nice choice for ladies who want their outfits to be seen first before the hair. The edges at the nape are short and follow through to the front, ending just below the chin.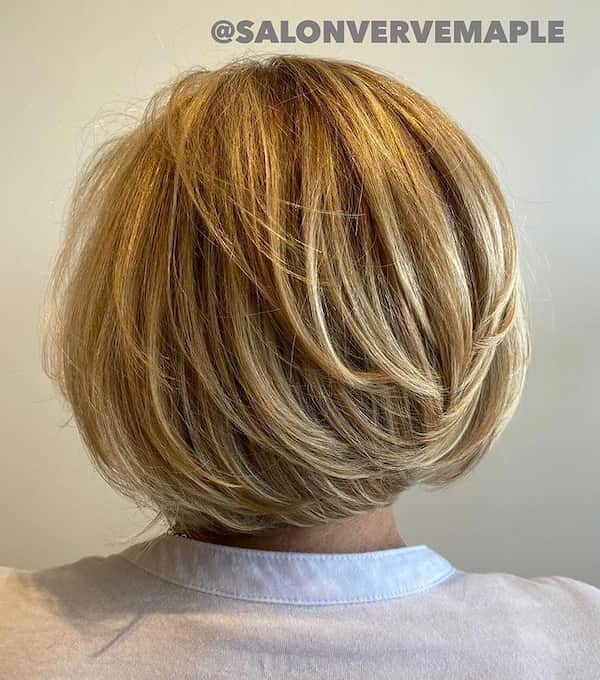 4. Layered Bob with Highlight
Here's something different; a blonde bob for ladies looking for something that's a little longer. Its bronzey hair color is an elegant choice for ladies in the 50s that love to rock bob hairstyles. Also, it's a Bang Bob with some parts covering the forehead.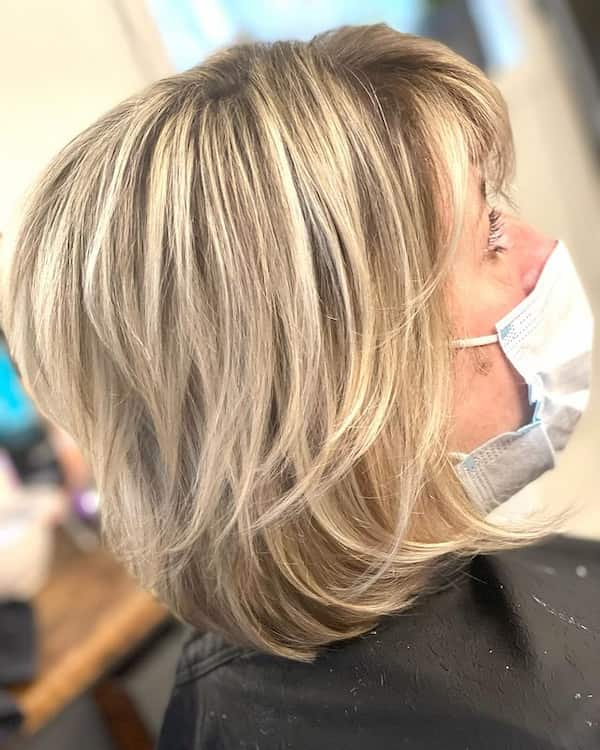 5. Dark Hair Layered Bob
Now here's something different with the hair color. However, this haircut is perfect for ladies with any skin tone, The edges stretch to just below the chin and curve their way in a sporty manner at the cape.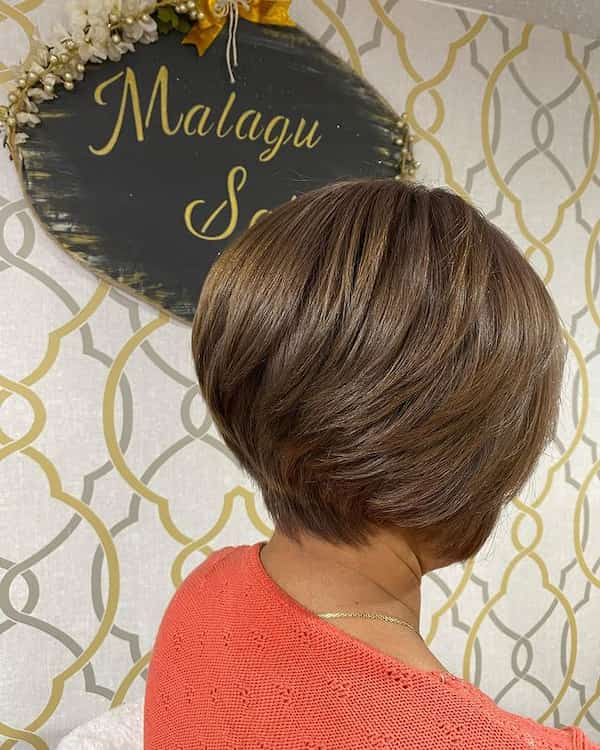 6. Gray Layered Bob Haircut
A layered grey bob isn't a bad option if you want your hair to give some granny vibes. This hairstyle is a great choice for lively ladies who still don't want to lose their appearance of maturity. It's got a little parting at the font, which leaves the front edges hanging just above the chin even though the back completely covers the nape.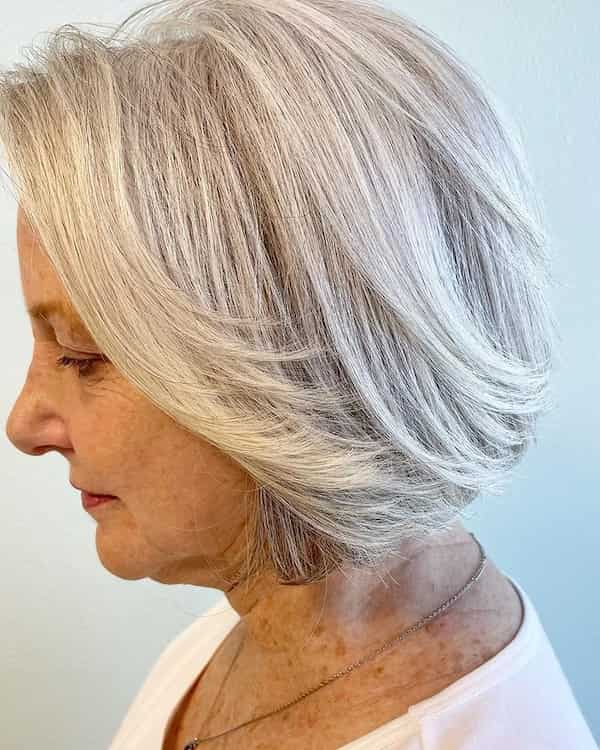 7. Neck-Length Layered Bob
Here's a bob hairdo if you like hairstyles that extend to touch the shoulder. This grey bob hairstyle elegantly stops at the chin while extending the back to the shoulders. In this gallery of layered bob hairstyles for over 50, this is one of mty favorites.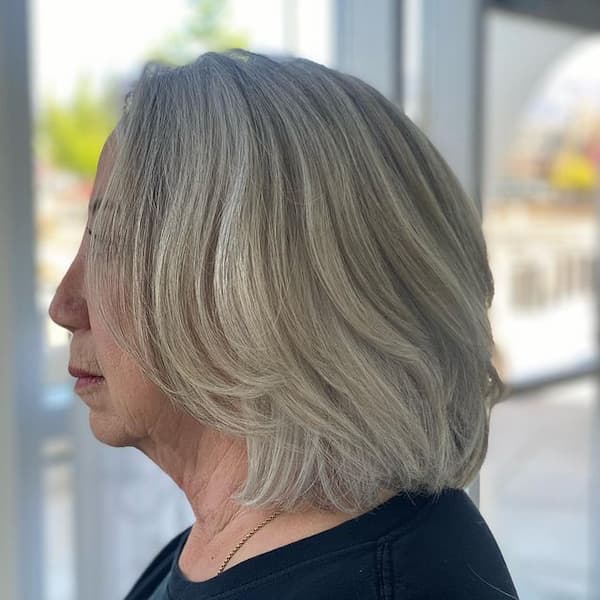 8. Face Framed Layered Bob Haircut
Back to darker hair color. This hairdo is a great pick for ladies with chubby chins. Its edges curl inwards, allowing the overall still to fit in that face perfectly. At the back, the edges look trimmed, even though they curl towards the front, giving that desired bob style.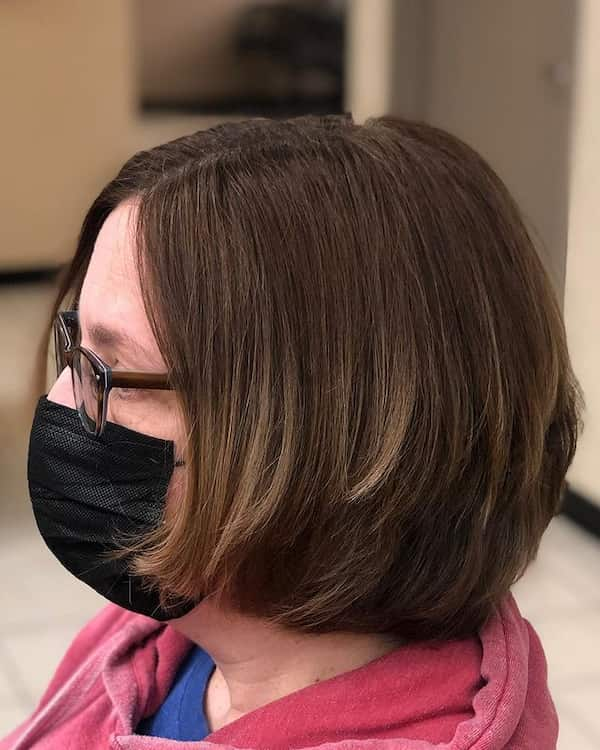 9. Inverted Layered Bob
This inverted bob is great! What's more awesome is that you don't need to be a rockstar to rock this hairstyle. If you're ever thinking of a hairdo that'll capture the room's attention, this should be one of your top candidates to consider. The wavy side of the bob ends just below the chin, with the other end extending to the shoulders.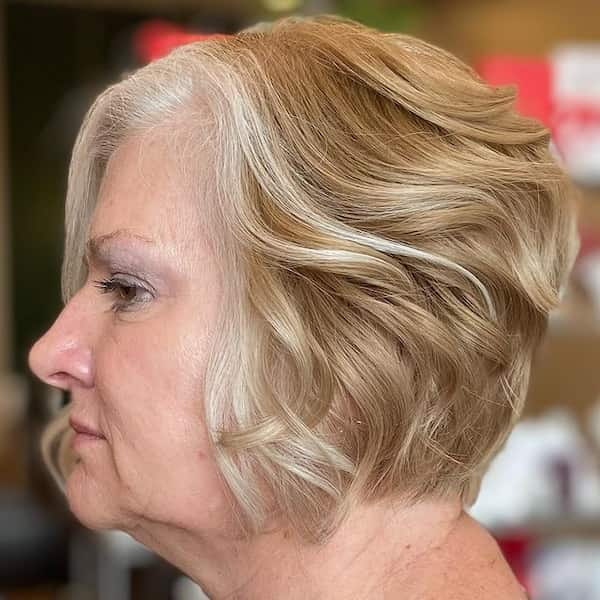 10. Short Layered Textured
Having short hair usually limits you to a few possible hairdos, but that doesn't mean you can't pick something that will look good on you. This hairstyle is great for ladies needing something simple to handle and, at the same time, maintains their beauty. Unlike most bobs, your cheek gets some breathing room, and there's no issue with hair from the forehead dropping to cover your eyes.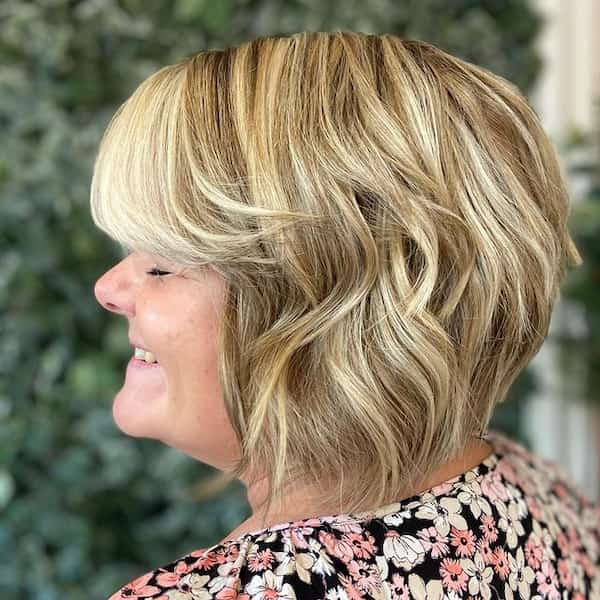 This hairstyle is perfect for oldies who love to maintain some swag from contemporary culture. The bob ends just above the nape at the back and smoothly goes shorter as it gets to the chin, again leaving the chin with some breathing room.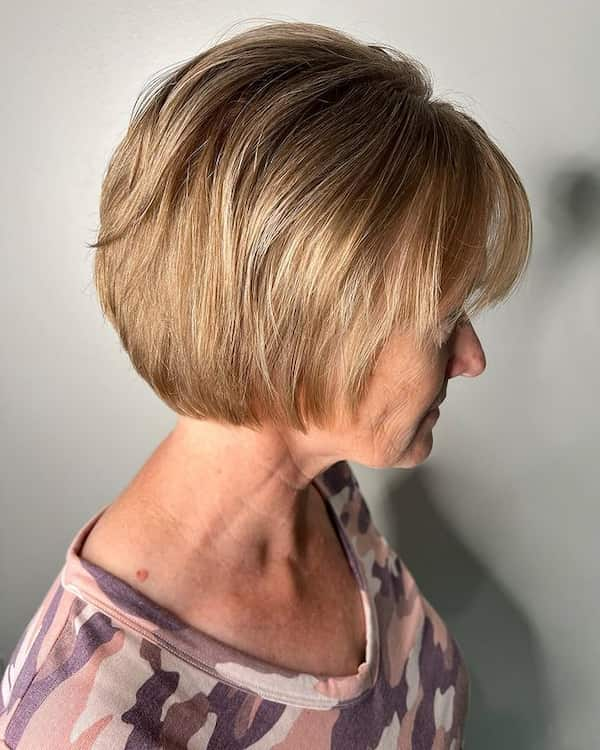 12. Beveled Edge Layered Bob Haircut
This layered bob is all-around fitting for any lady irrespective of age. Not too thick, just a simplistic texture with curved edges. The length on the front stops just below the chin, and the consistency follows through to the nape.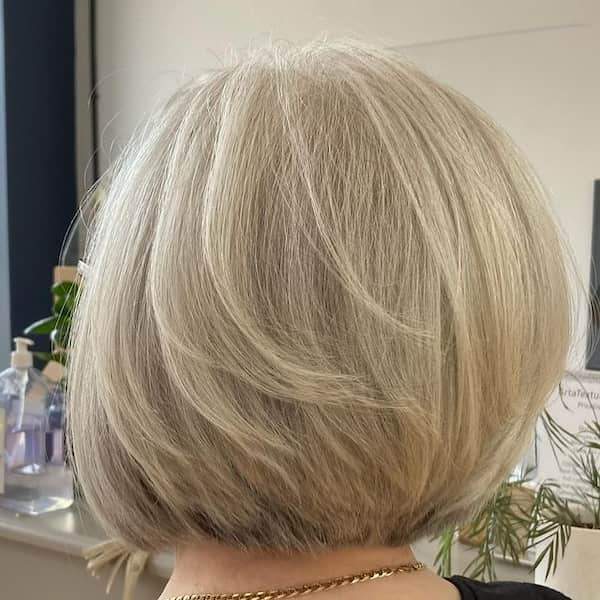 13. Layered Bob Thin Gray Hair
This bob brings a new vibe to hairstyles for 50+ ladies with gray hair hairstyles. Like the previous one, it's best for ladies who don't want hairstyles with a lot going on their heads. Although it's not exactly a medium-length bob hairstyle, the edges do rest around the middle of the neck.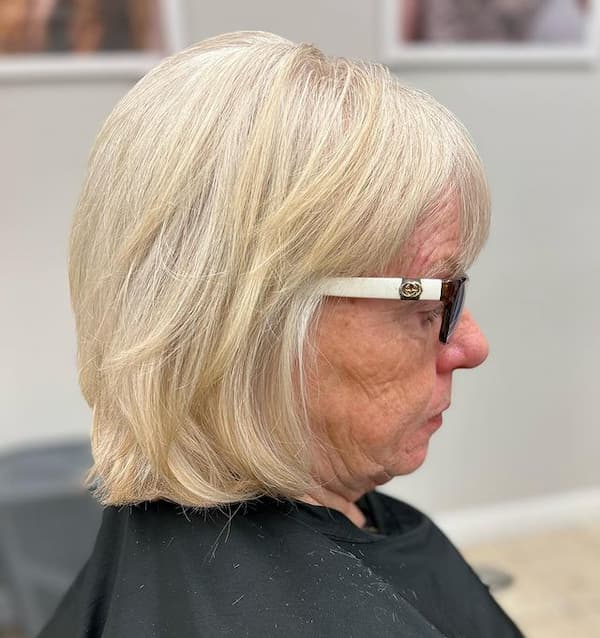 14. Fresh Layered Bob Haircut
Any woman can flex any type of bob, but every lady wants to rock a hairstyle that edifies their appearance; this fresh layered bob does just that. The partially blunt bob covers part of the forehead and drops down just below the chin in a curvy manner. It's a perfect hairstyle for oldies who prefer to look smart while maintaining their beauty.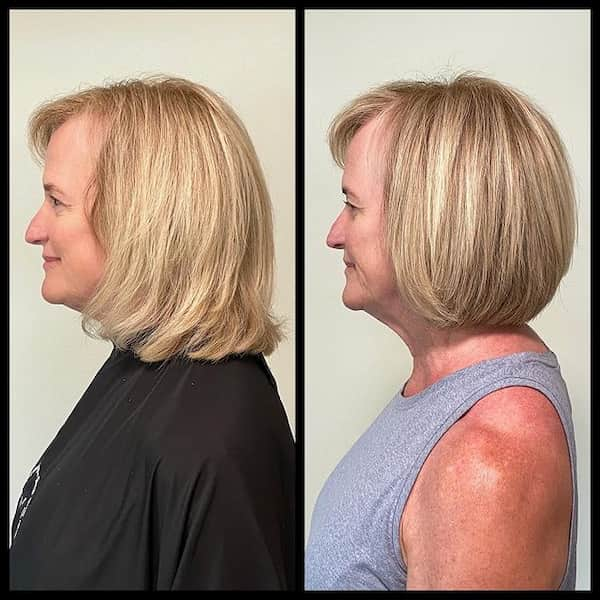 15. Colored Layered Bob
If you're looking for a colored bob to brighten your appearance, this style might as well be your pick. The golden blonde can give a whole new look with its unique style. The back is long and curvy enough to touch the nape, and the front curves inwardly to give your cheek enough space to glow as well.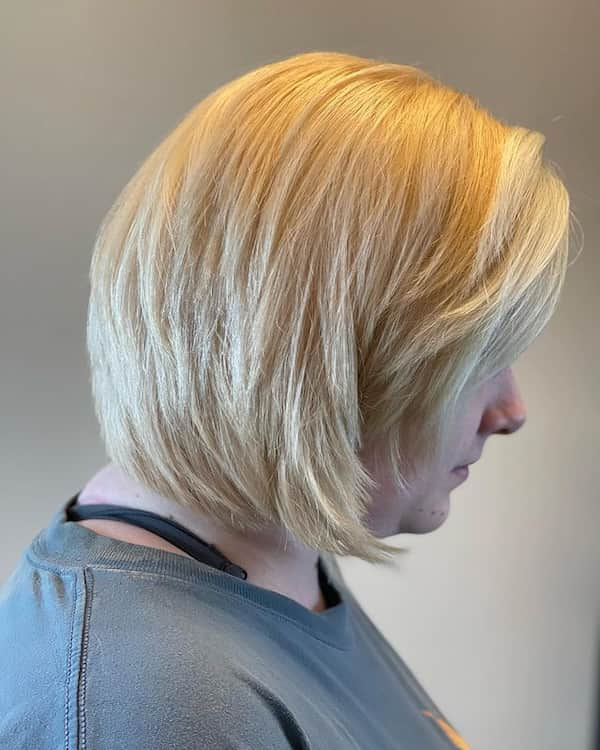 16. Graduated/Layered Bob
There's hardly any gray-colored bob that beats this; they're the best, especially when rocked by the oldies. It's very short, with graduated thin layers ensuring enough hair gets to the scalp without shaking your head all the time. Quite the perfect choice for grannies who love to remain in the fashion mix.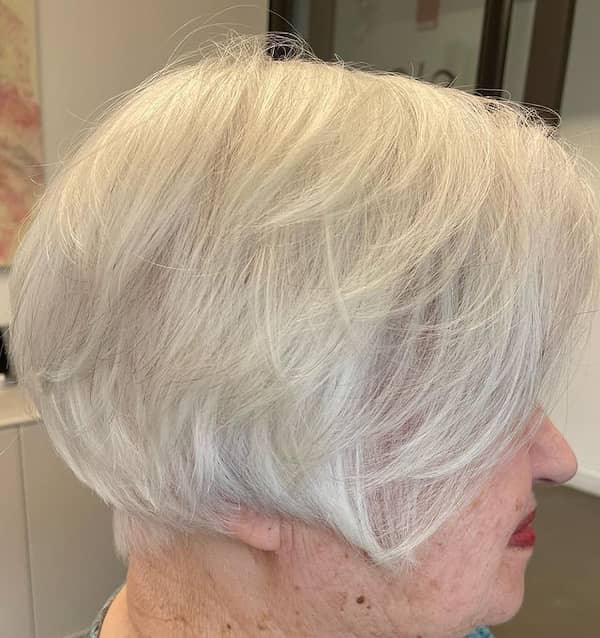 17. Fresh Textured Layered Bob Haircut
Thickly layered bobs can also look good, especially if they match your outfit. This blonde multi-layered bob rests just at the nape and, like most great bobs, doesn't block the cheeks – which is what you need if you're in the summer.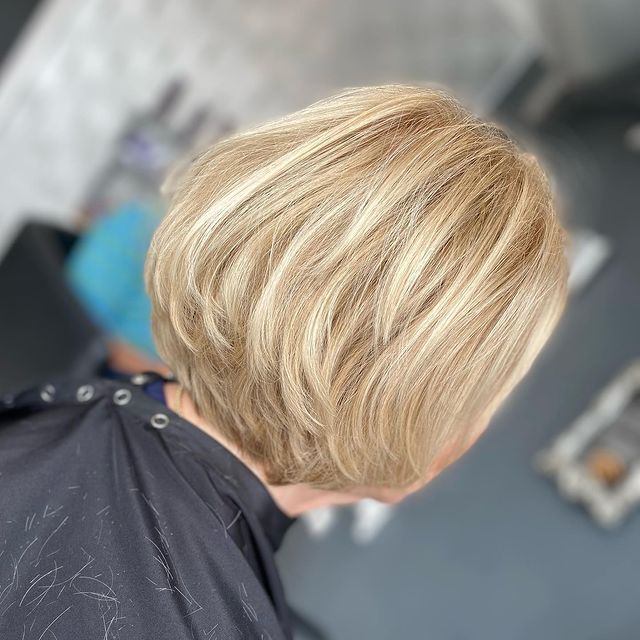 18. Layered Bob for Curly-Wavy Hair
From texture to color, a lot is going on with this bob. Here's a thick curly bob that can leave everyone in the room staring. The color is a gray and brunette comb which is a perfect fit for any lady.
19. Layered Bob with Bangs
This Hybrid blonde is amazing! A blunt bob that sticks to the head; perfect for women who don't like to feel their hairdo, even though they know they've got a great one. It's an all-around short bob with the ends at the back just below the nape and the sides well fitted to match any face type.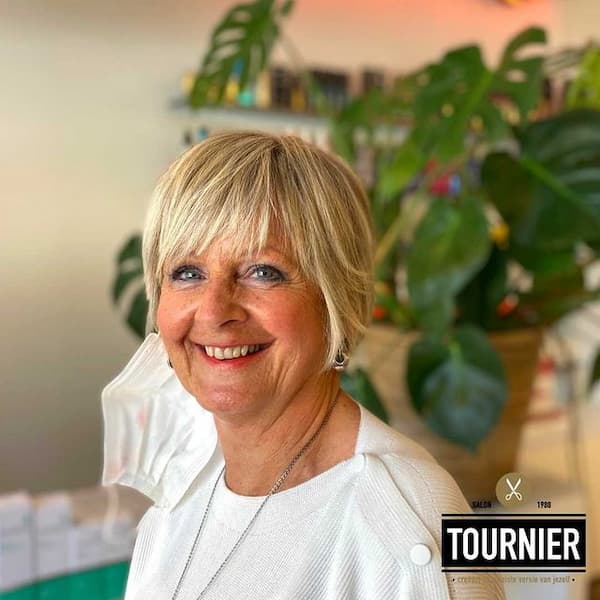 20. Layered Bob
To round things up, check out this multi-layered golden-blonde bob. Although it looks like a straight bob, the edges are well curled to fit each other. At the back, the hair stops just before the nape, then extends forward to send just below the chin on the sides. It's quite the hot pick for 50+ ladies with style and elegance.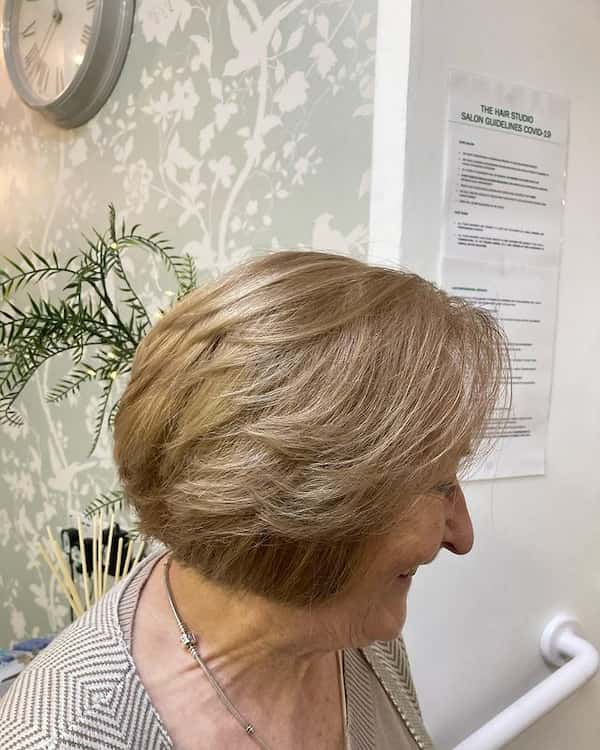 And that's the end of the gallery, you want some more haircuts inspiration? Then you might be interested in some of these posts.
I hope you find this compilation of the nice-looking layered bob hairstyles for over 50 inspiring.
Lastly, if you got questions or feedback, do not hesitate to let me know by leaving a comment below right now.
PIN FOR LATER.