A pixie and a bob cut share many similarities, and that's probably why there's such a thing as a pixie bob haircut. Pixie bob cuts aren't all that different from a regular pixie or a bob, thanks to the natural similarity between the two hairstyles. However, it becomes slightly harder to get either hairstyle when you have thin hair- which is why I came up with these compilations on pixie bob haircuts for fine hair.
Pixie Bob Haircut for Fine Hair
There are a couple of ways to style a pixie bob haircut beautifully with thin hair, and you can find some examples around the web. To help you simplify the process, however, we've collected the 18 most adorable pixie bob haircuts for fine hair we think you'll love.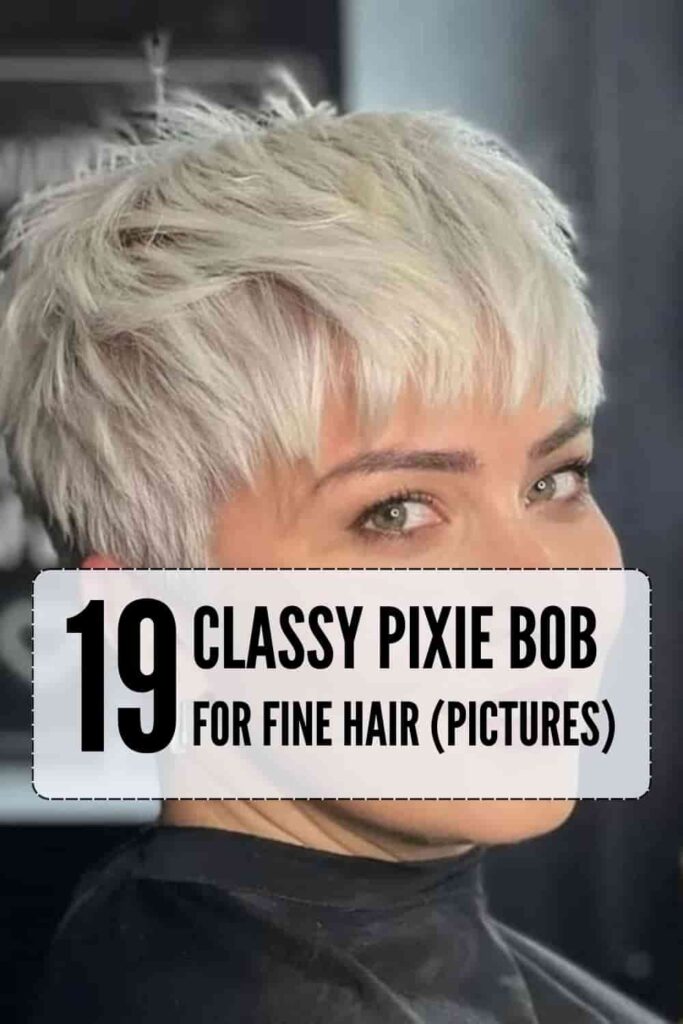 1. Curly Pixie Bob Haircut
One of the most natural ways to wear curls on your hair is through a pixie, and it becomes even more adorable when you throw in a little bob haircut. You can allow for a more naturally charming look by allowing the bangs to rest on the upper part of your face, emulating the model's look precisely.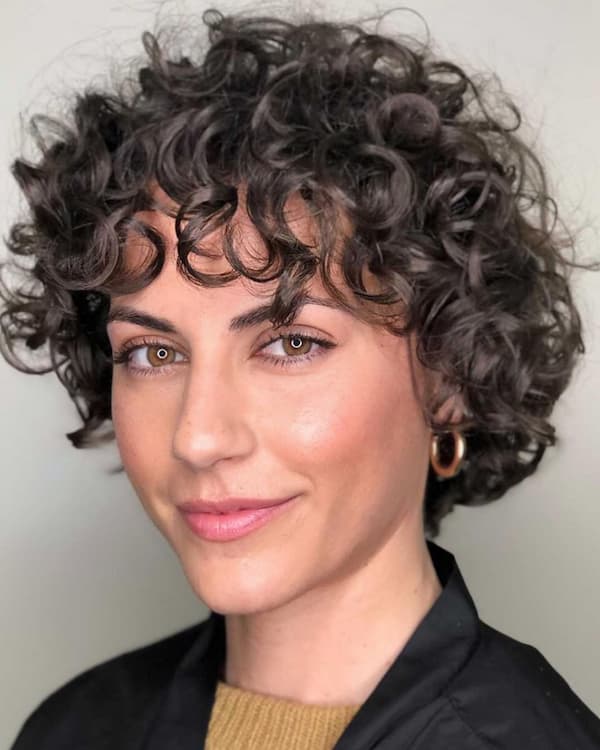 It's pretty difficult to avoid bangs when combining a pixie with a bob haircut, and that's not necessarily a bad thing. If you can style the fringes correctly, it might actually turn out to be an adorable touch, as it looks for the model in this hairstyle inspiration. You may also want to try adopting her hair color to emulate her even better.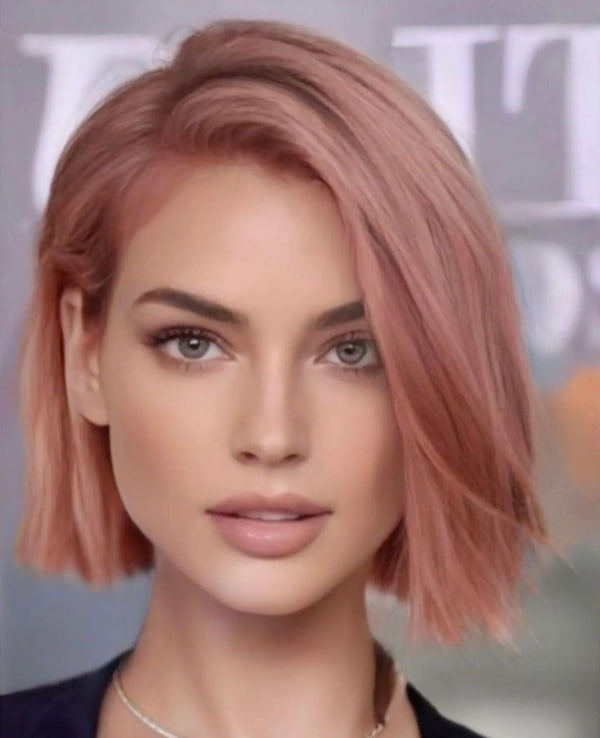 3. Textured Pixie Bob Haircut
While texture typically signifies messy hair, especially with bobs, it doesn't have to. You can add some texture to a bob-and-pixie combination without making it seem like you're having the worst hair day ever. Once you get a textured pixie bob haircut right, your fine hair won't be able to get much worse.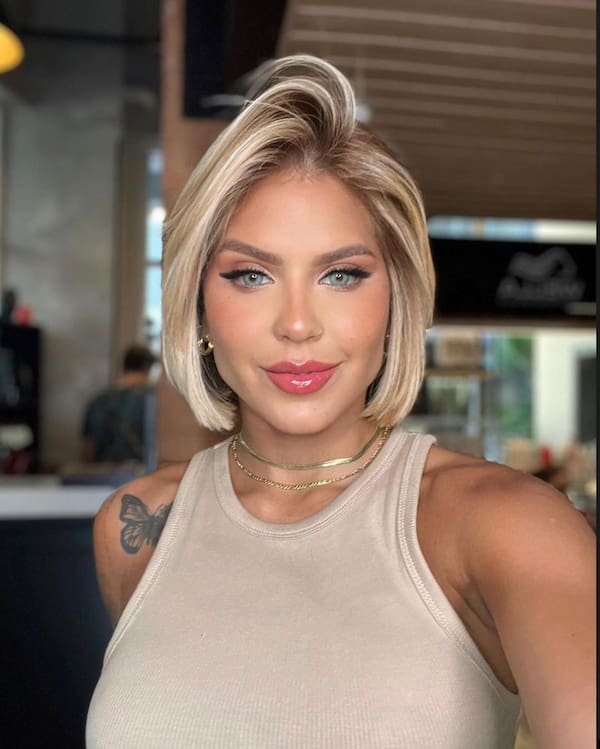 4. Simple Pixie Bob Haircut
Texture, curls, and bangs may look adorable, but they invariably add some extra complexity to your fine pixie bob, which isn't what everyone wants. If you aren't a fan of having to worry about an extra addition to your hairstyle, you can simply get a simple pixie bob haircut—no bells and whistles necessary. As you can see from the attached image, it's actually pretty adorable.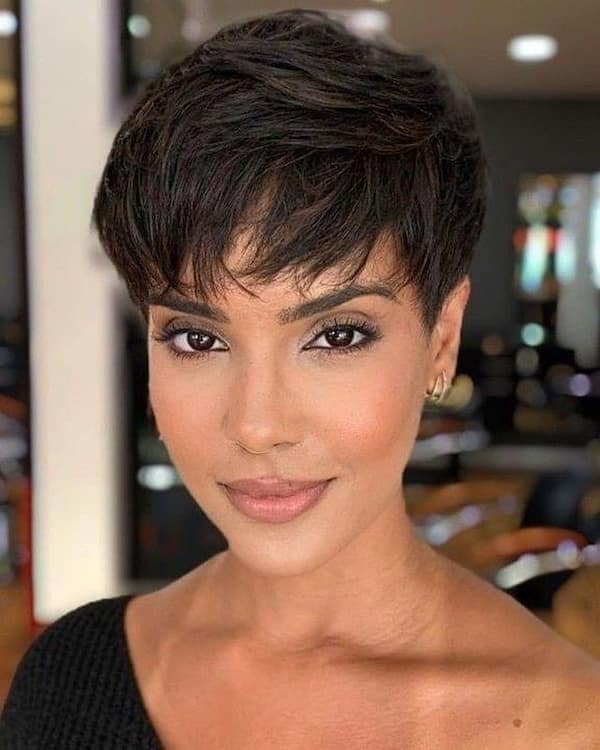 5. Gray Pixie Bob Haircut
You've seen a pixie bob haircut with no bells and whistles earlier, but you can't help but wonder: how would that hairstyle look on fine gray hair? Well, you don't have to keep wondering, as this model is a living demo of your imagination. My thoughts? It doesn't look any worse than the black version, and with those adorable bangs, you can even argue that it looks better.
6. Blonde Symmetrical Pixie Bob Haircut
You don't need symmetry for a pretty pixie bob, but symmetry makes any hairstyle prettier, and this haircut idea is enough proof of that. The smooth trim makes it easier to balance the cut on both sides, and the blonde color adds a certain level of beauty that I'm finding difficult to put into words. Long story short, a symmetrical pixie bob is one of the best haircuts you can get for fine hair.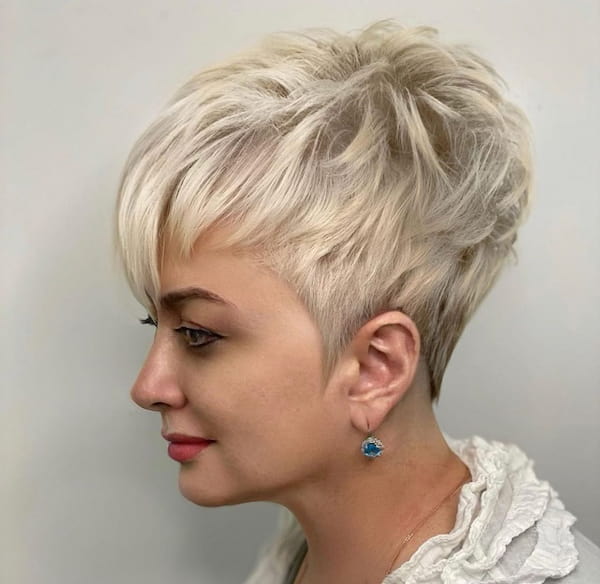 7. Short Pixie Bob Haircut
Pixies and bobs are naturally short hairstyles, which is why this haircut looks naturally glamorous. You can even decide to add some texture to it like the model did in the second frame, and coloring it blue isn't half bad, as you can see. If you're not sure how something this short would look in a color other than blue, we have something else in stock for you.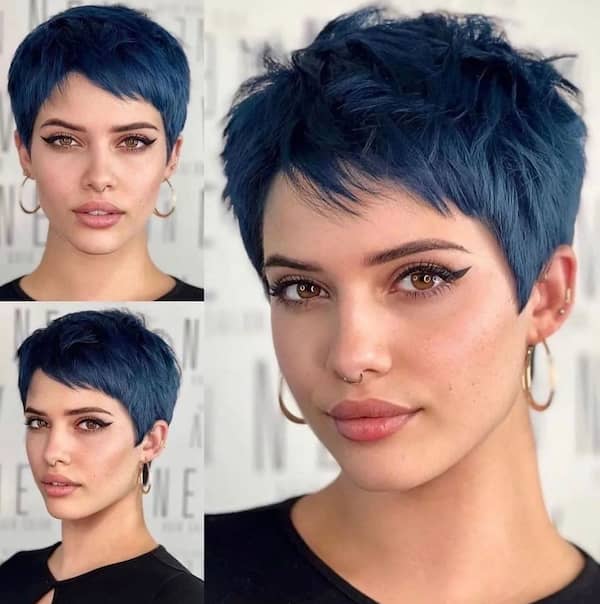 8. Thick Frontal Pixie Bob Haircut
This hairstyle is the same kind of short pixie bob cut as the preceding style, only that it makes your fine hair look somewhat thick, an effect most ladies with thin hair love. Replicating that effect requires styling your hair in a very specific way, but if you can take the time and effort to do that, the result should be just as pretty as this pixie bob looks—no blue coloring required.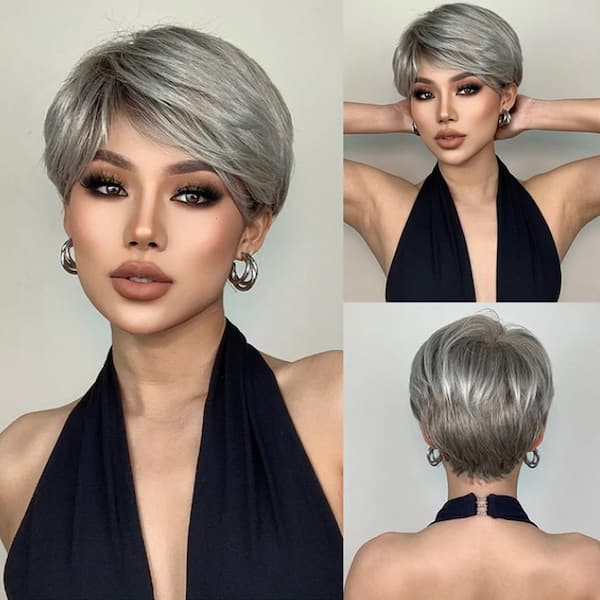 9. Messy Textured Pixie Bob Haircut
Anyone who has struggled with fine hair knows how easy it is to get it messy. While most of the hairstyles we've seen so far try to hide that characteristic messy look in some way, you don't have to go that route. This messy, textured pixie bob uses the messy look as a special quality, making a simple, natural haircut look like a masterpiece.
10. Short Pixie Bob Haircut
I love symmetrical haircuts, but symmetry isn't the only way to add a special touch to your hairstyle. An example of another genius special touch is this side-swept pixie bob that sweeps a significant portion of your hair to one side. You may also want to adopt the gray color for a more precise copy of the charming look.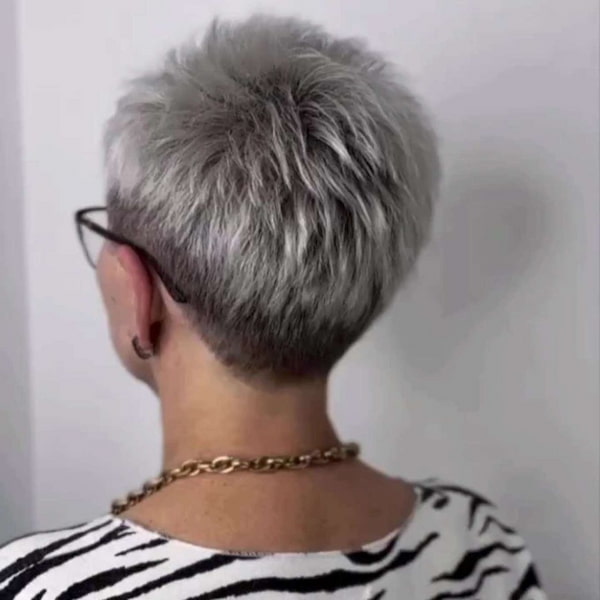 11. Pixie Bob Haircut with Fringe
Full-fringe hairstyles don't appeal very well to me, but this one specifically is making me consider a rethink. The beautifully crafted thick bangs hide the hair's thinness and blend perfectly into the smooth pixie bob that stays pretty consistent all the way to the back. If you're planning to copy this hairstyle, you want to consider the smooth brows, as I believe they contribute a lot to the alluring look of the fringed pixie bob.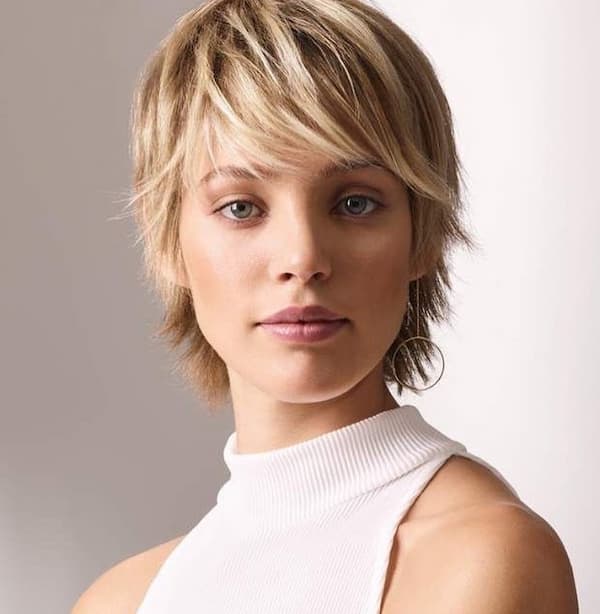 12. Blonde Pixie Bob Haircut with Loosen Fringe
If you don't have the time or resources to make your hair's fringe as consistently smooth as the preceding haircut idea, here's a similar style to inspire you. It's nowhere near as smooth as the last hairstyle, and it doesn't do as good a job at hiding the fineness, but it's undoubtedly adorable. Also, if you already have white hair, why should you get anything else?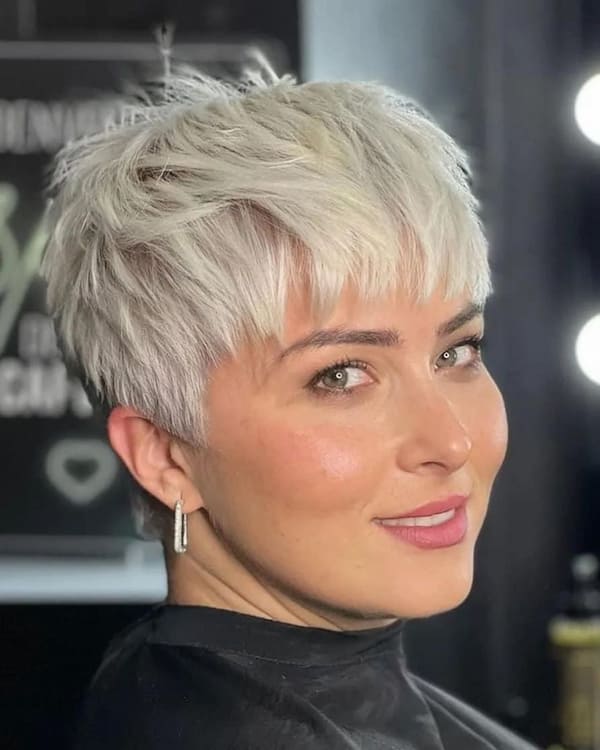 13. Brunette Pixie Bob Haircut
Having brown hair makes your hair look twice as good, especially when that hair is done into an adorable layered pixie bob haircut like in the attached picture. You may also notice the deliberate lack of symmetry that sweeps the style to one side, adding another touch that makes it ever so slightly prettier. Combine all those with the model's eye color, and you'll easily see why this made our list of the best pixie bob haircuts for fine hair.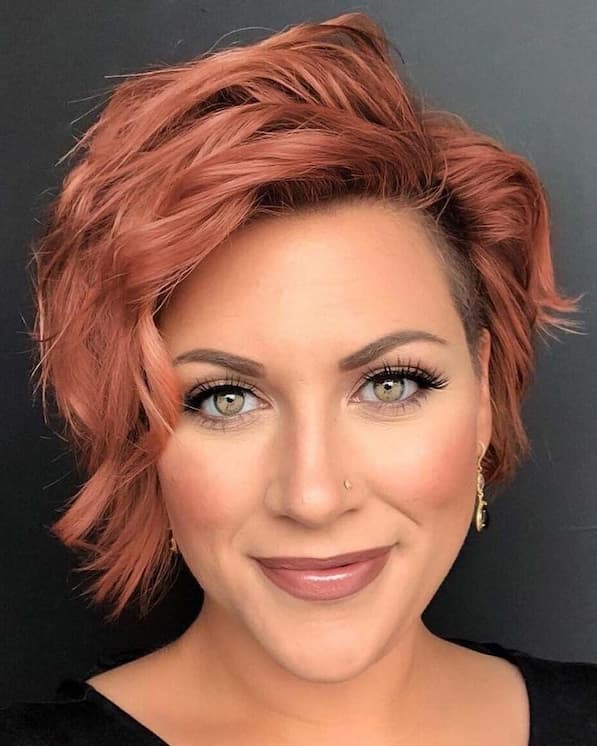 14. Classic Pixie Bob Haircut
Your pixie bob haircut doesn't need to have all the bells and whistles of modern hairstyles to be beautiful; wearing a simple haircut works, even on fine hair. This model manages to wear a normal-looking pixie bob beautifully, despite the visible fineness. If you're a natural blonde, this is a recommended way to wear a pixie bob without unnecessary trouble.
15. Pixie Bob Haircut with Side Fringe
If you're already going gray, why not do that in a fashionable way by wearing a pixie bob like the model in this hairstyle inspiration? Thanks to the side fringes, you completely forget about the fact that her hair is fine, and the side-swept style is another excellent touch worth mentioning. While it's not the smoothest haircut out there, it still manages to look adorable, earning it a place on this list.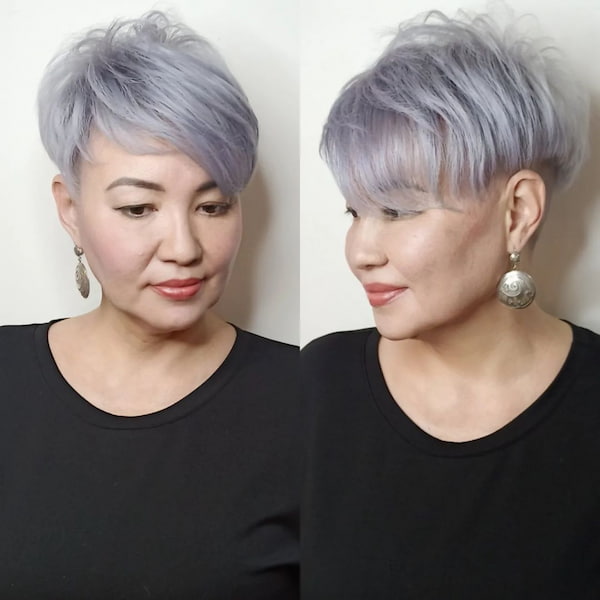 16. Short-Length Textured Pixie Bob Haircut
If your hair has some usable length, you don't have to get rid of the extra hair for a "classic" or short look. With fine hair, every strand matters, and you can create a true masterpiece by letting your hair fall down the sides of your cheeks in a short-length pixie bob cut. You can make it even more like the model's illustration by adding some texture, but that's somewhat hit-or-miss.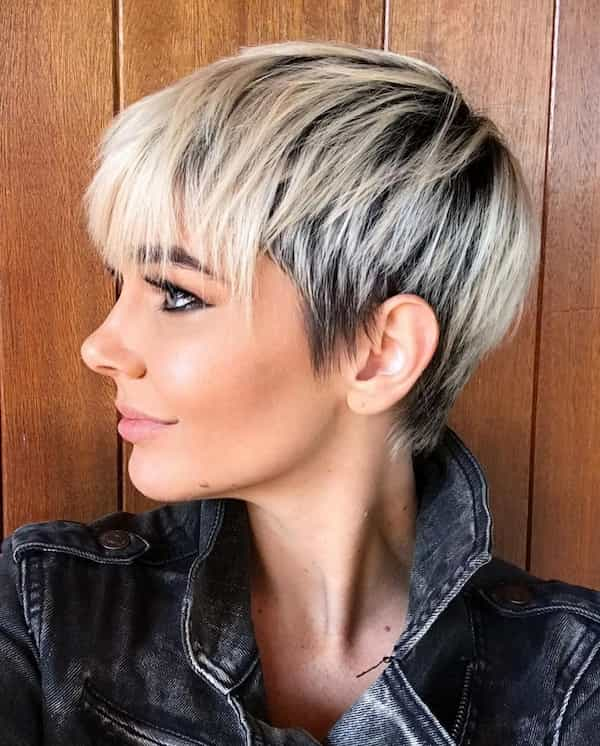 17. Super Curly Pixie Bob Haircut
One significant benefit of a pixie bob haircut on this hair is that you can get the best of both worlds, adopting the curly look of certain pixies while retaining the attractive shape of a bob. That's exactly what the model in this hairstyle idea did, and if it looks attractive to you, you should definitely consider replicating it.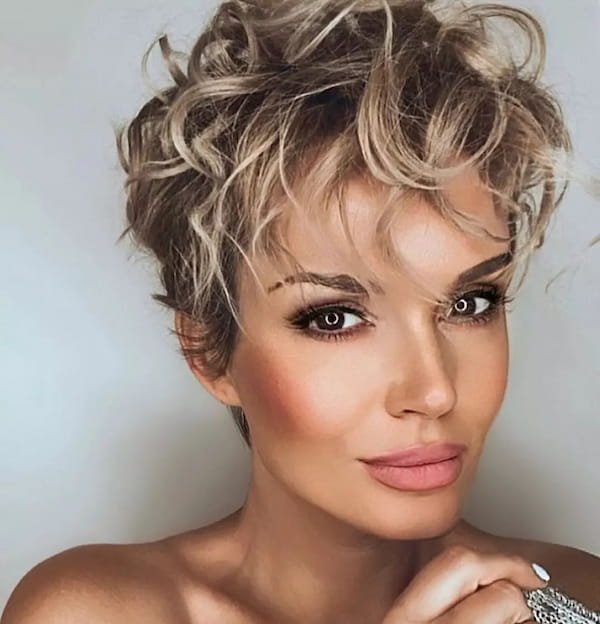 18. Full Pixie Bob Haircut
It's difficult to get the 'full' look of a pixie bob with thin hair, but it's certainly not impossible. We're rounding up this collection by showcasing how to get a full pixie bob without making your hair look scant. If you can wear this hairstyle with the model's alluring smile, you wouldn't want to change your hairstyle anymore.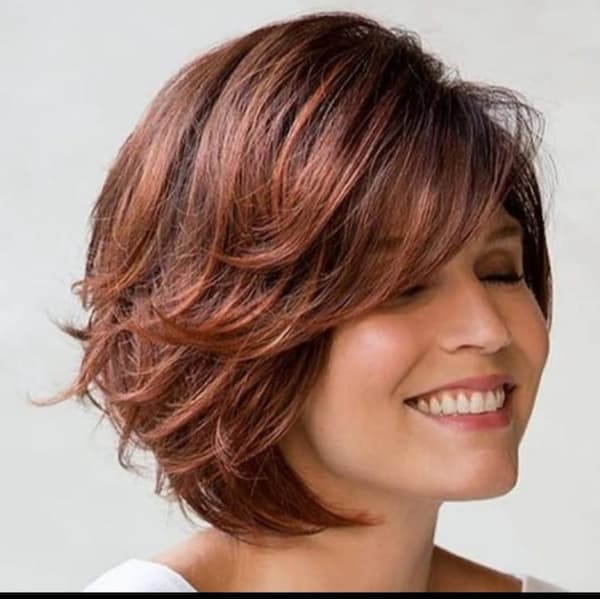 And that's all on my compilation of pixie bob haircuts for fine hair. I hope you find the ideas inspiring.
Conclusion
A pixie bob haircut doesn't sound like the perfect idea for ladies with fine hair, but this compilation has all but proven the hairstyle is exclusive to no one. With a few modifications here and there, you can get a pixie bob to work for your hair, regardless of its fineness.
Pin for Later