Hey! In today's post, I'll be sharing with you some of the best long hairstyles for women over 50- I hope you find the ideas inspiring and worth recreating.
As you age, you'll realize how nature limits what hairstyles you can wear and how you can wear them, thanks to a variety of factors including your hair's length, color, and texture.
However, those changes don't mean you can't wear your hair beautifully once you clock 50; many women are doing it, and so can you.
Long Hairstyles for Women Over 50
To help you with that, I've collected the best hairstyles for older women that you can replicate to create breathtaking styles yourself. With that said, here are 18 adorable ideas of long hairstyles for women over 50 to help you decide how to style your hair too.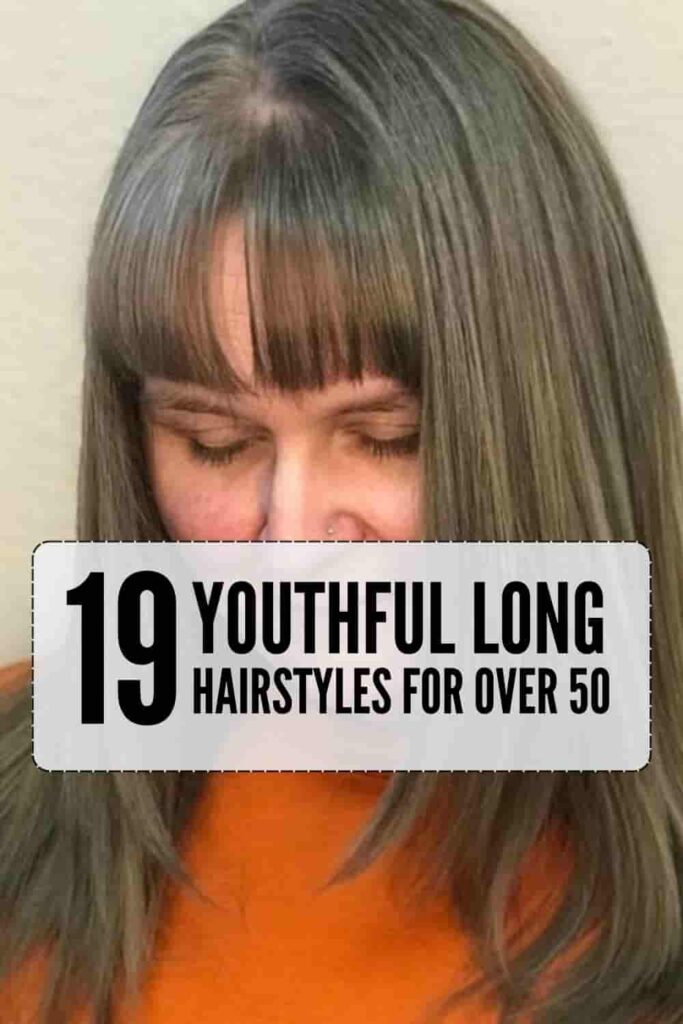 1. Curly Long Hairstyle with Fringe
Curls tend to go a long way in beautifying older blondes, as this hairstyle idea demonstrates. It's an even better idea when you have fine hair, as the curls tend to hide the hair's sparsity, creating a glamorous look out of hair that would otherwise be bland.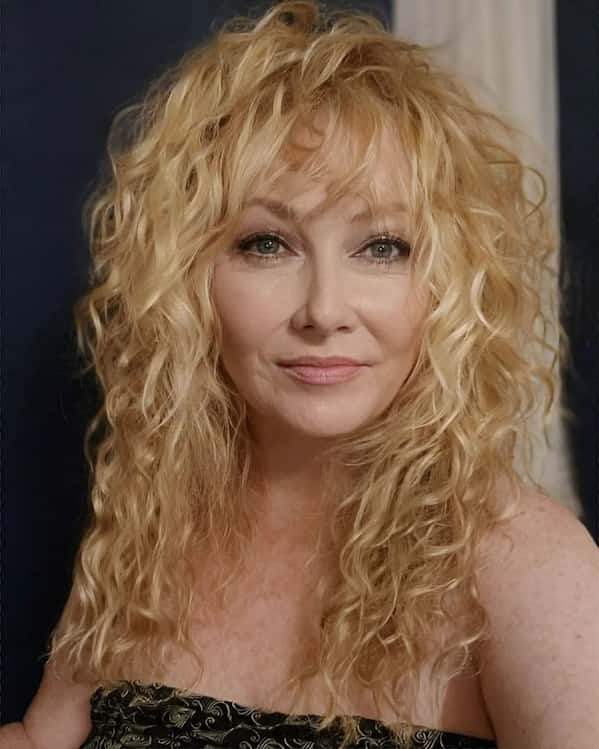 2. Gray Long Straight Lob Hairstyle
At age 50, the vast majority of women would've started going gray, and this hairstyle idea shows an excellent way to use your gray hair for something adorable. It's nothing complex, just simple, straight, but asymmetrical hair that looks insanely adorable with the model's matching eyes.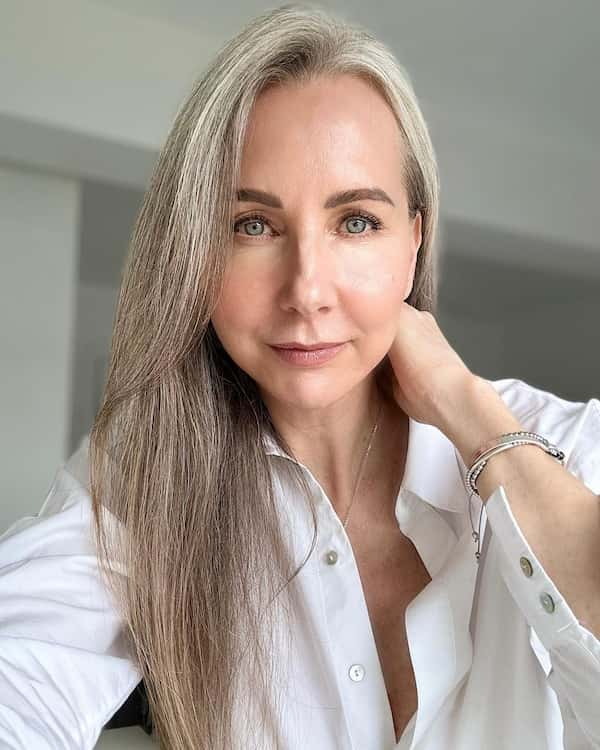 3. Brunette Layered Hairstyle
If you're a big fan of brunette hair, this layered weave should make it onto your to-do list, especially if you also want to create the illusion of fullness with your hair. With the symmetrical parting, the hairstyle looks safe, not sacrificing too much of its natural prettiness.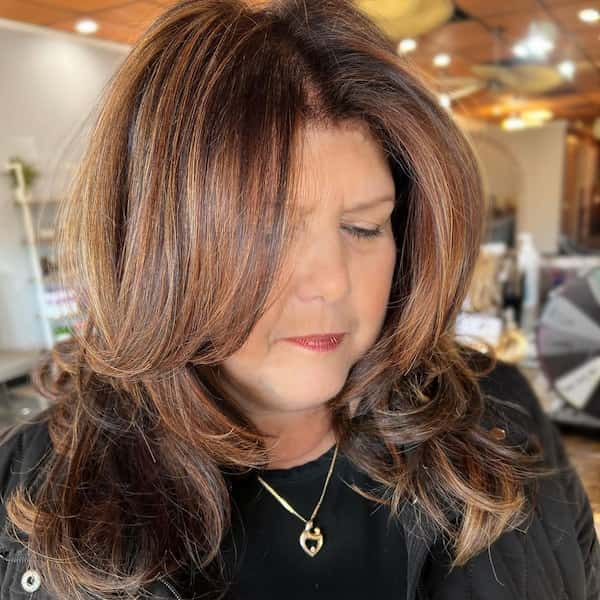 4. Long Wavy Gray Hair with Fringe
How about wearing a super-long weave that accentuates the natural gray of your aging hair beautifully, like the model in this hairstyle idea? The fringes certainly contribute to the hairstyle's flair, earning it a place on this list of long hairstyles for women over 50.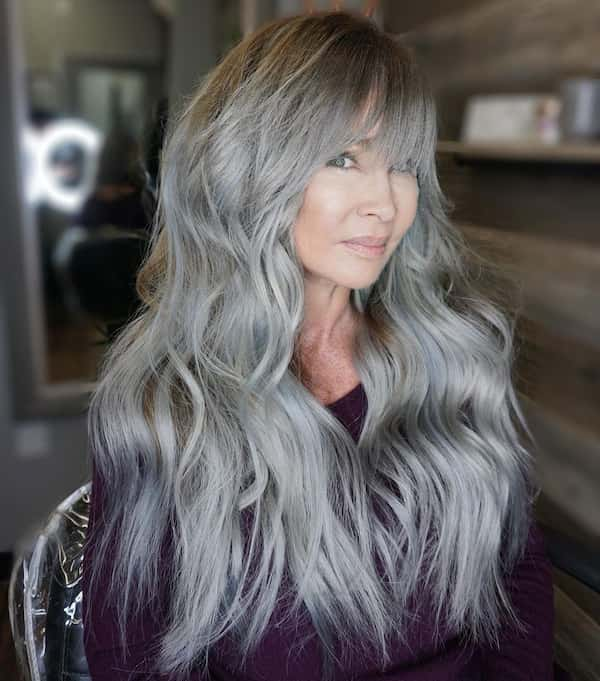 5. Long Gray Thin Hairstyle
Still on hairstyles that accentuate the natural gray color of aging hair, this textured thin weave proves that grannies can get adorable hairstyles too. The symmetrical parting can be better, but only a few hairstyles can beat the allure of this textured weave for older women.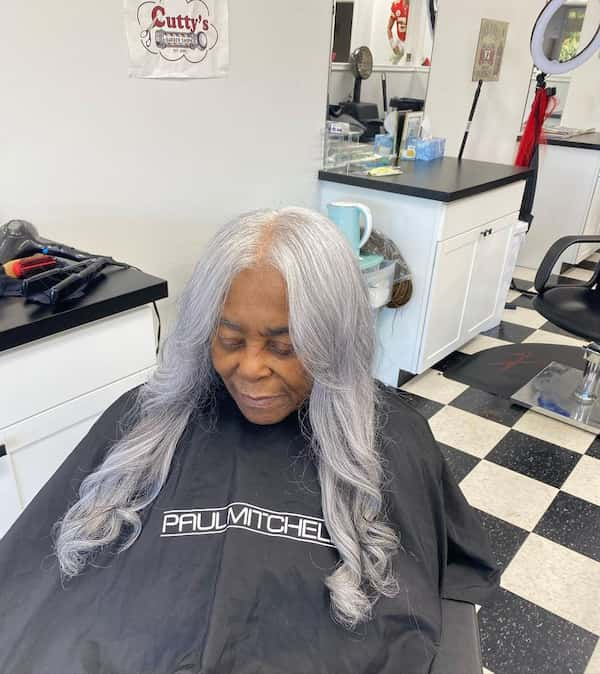 6. Classy Long Hairdo with Beachy Weaves
If I still haven't gone gray at 50, this weave with beachy waves is one hairstyle I'd certainly get, for obvious reasons. Apart from the fact that it looks insanely adorable, the blonde to brunette gradient is something you don't usually see, plus the beachy waves are simply impeccable; easily a 10/10 hairstyle in my book.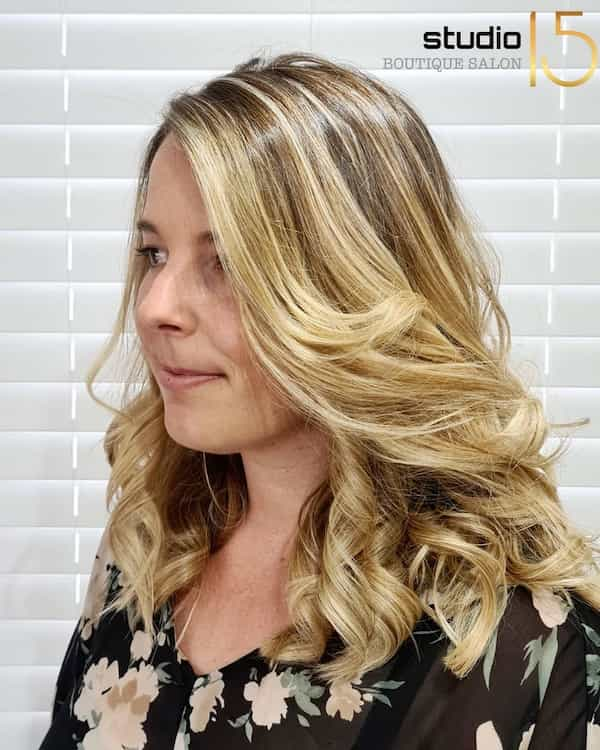 7. Curly Brunette Long Hairstyle
If you loved the color of the preceding hairstyle, you should consider trying this simple brunette hairstyle. Unlike the previous one, it uses a simple one-color palette with no bells, whistles, or beach waves. Thanks to the symmetrical parting, however, it still manages to look adorable, and that's really all that matters.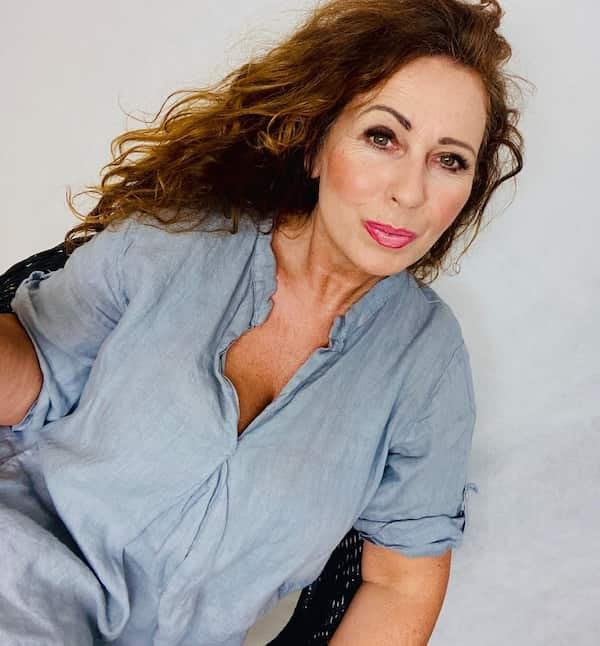 8. Textured Salt and Pepper Layered Hairstyle
Blending is a clever way to show less of your gray hair and more of an alternative color, like gray or silver in this case. While it's not for everyone, it's a viable alternative for older women who don't like showing too much of their aging gray hair, and as you can clearly see in the attached image, the silver-blended weave doesn't look half bad.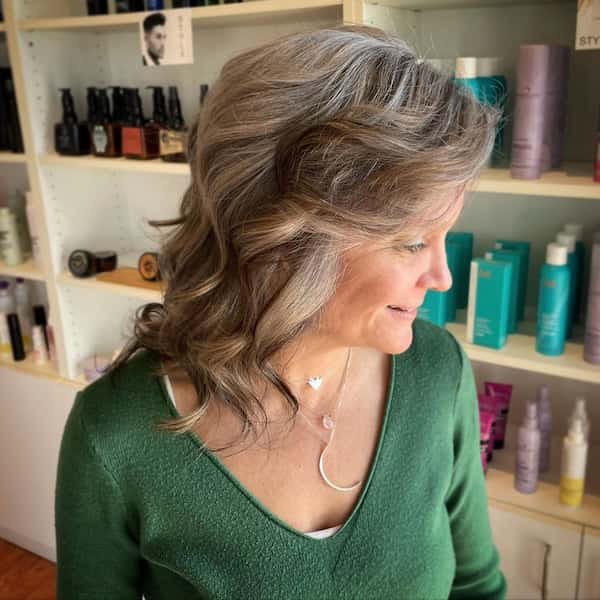 9. Gray Long Curly Hairstyle
We've only looked at natural colors so far, but there's nothing stopping a 50-year-old grandma from rocking some artificial beauty, or is there? This purple-red long wavy weave demonstrates how quinquagenarians can rock artificially colored hairstyles without looking weird. Since the waves also seem like a crucial part of the hairstyle, you should consider not leaving them out too.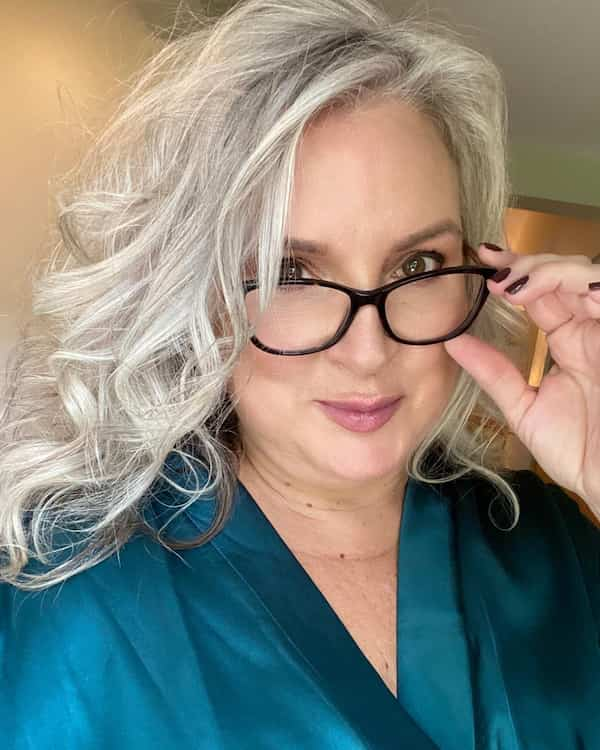 Before we proceed further here are some more hairstyle ideas just for you:
10. Soft Thin Hair Long Hairstyle
It's only natural to lose some hair as you age, but not looking adorable for that reason is definitely not natural. This hairstyle is an adorable idea for ladies looking for ways to style their scant brunette hair into a masterpiece. The asymmetrical parting makes the hairstyle look somewhat busy and, at the same time, adorable.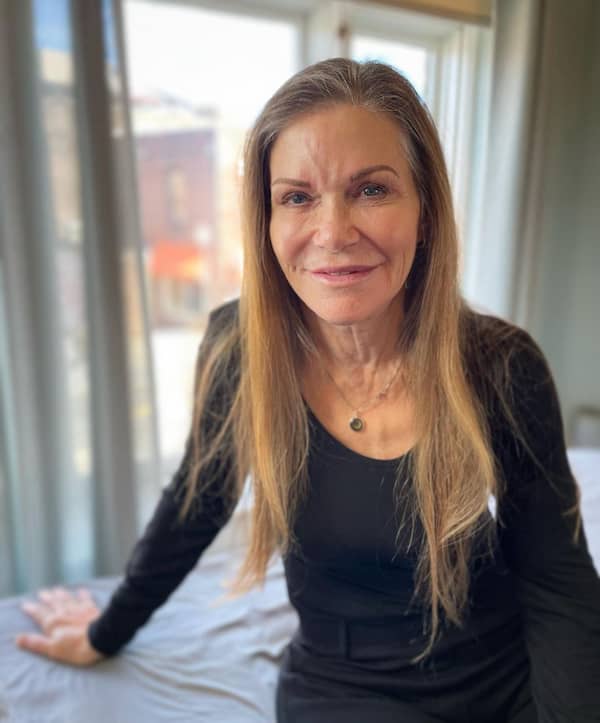 11. Simple Shoulder-Length Hairstyle for Thin Hair
If you have this much hair to spare at age 50, this layered weave with full blonde highlights should make it to your to-do list. It's not the most complex hairstyle in this collection, but it manages to look beautiful in spite of its simple look and feel.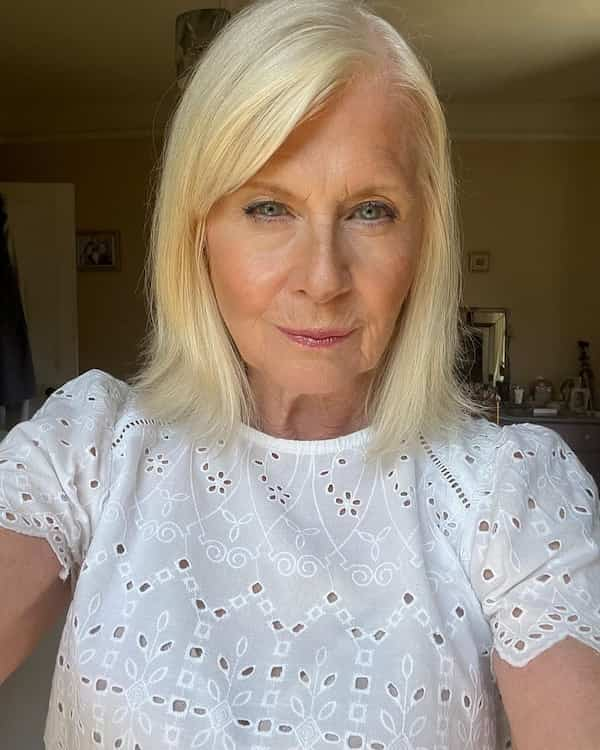 12. Simple Shoulder Length Wavy Hairstyle
Growing your hair to shoulder-length is a safe way to wear it beautifully, especially when you want a hairstyle with no bells and whistles. You can also consider throwing in a symmetrical parting in the middle and some waves down the length of the hair for extra flair; you get extra points if you're blonde like the model.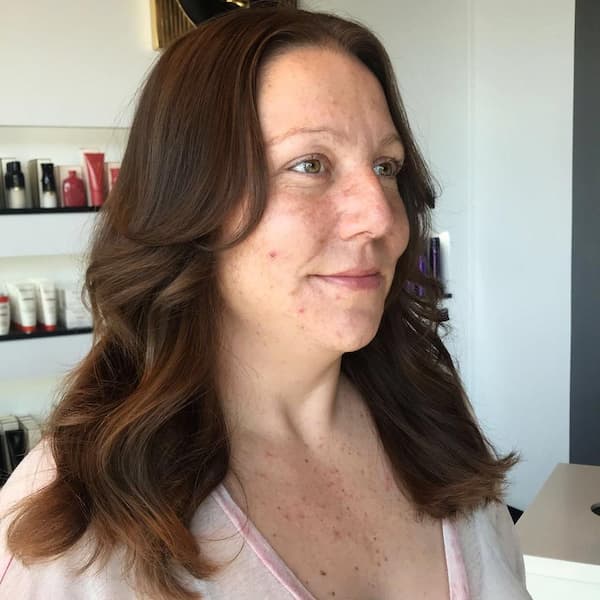 13. Side Parted Layered Hairstyle
Symmetrical middle partings aren't the only kind that make your hairstyle pop; a side parting works almost equally well, especially when you're wearing a layered weave. It's not the easiest hairstyle to replicate if you don't have excessive hair, but with a little help, nothing should be impossible.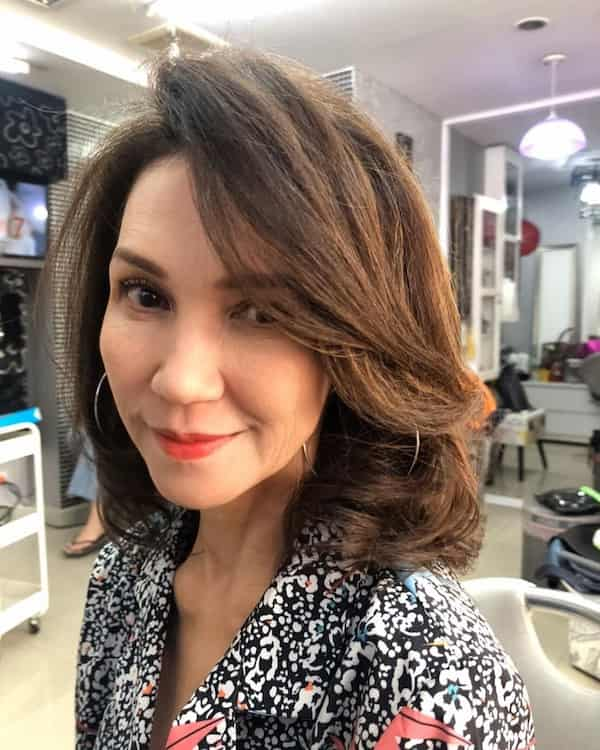 14. Dimensional Blonde Long Hairstyle
This dimensional weave shows you really don't need any bells and whistles to make a glamorous hairstyle; simply straightening your hair can earn you a place on this list, like the model here. Her asymmetrical parting also looks dope, and with the hairstyle's length, you'll struggle to find something that looks nearly as adorable on a 50-year-old.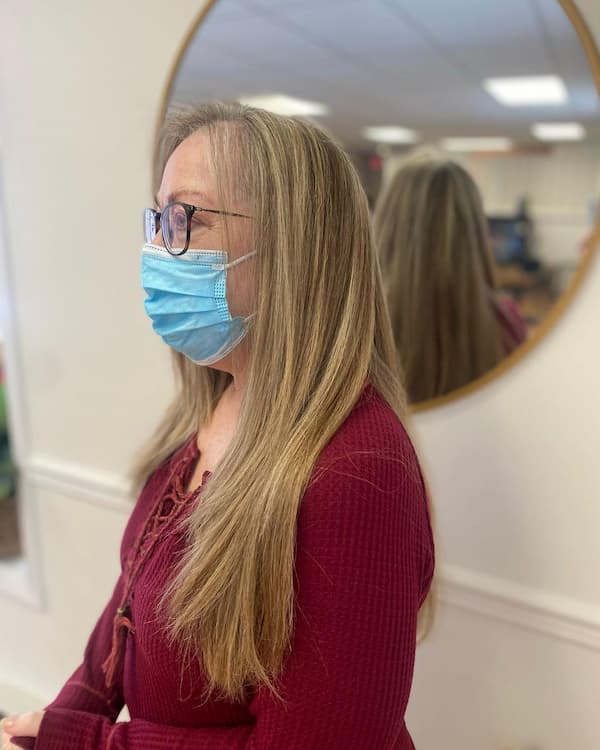 15. Long Curly Hairstyle for Plus Size Women
Adding curls to your hair could make the difference between regular gray straight hair and chic shoulder-length curly waves, as you can see in the hairstyle idea above. The synergy in the colors is one-of-a-kind, and the parting looks pleasant without distracting from the hairstyle's inherent allure; certainly another 10/10 style for me.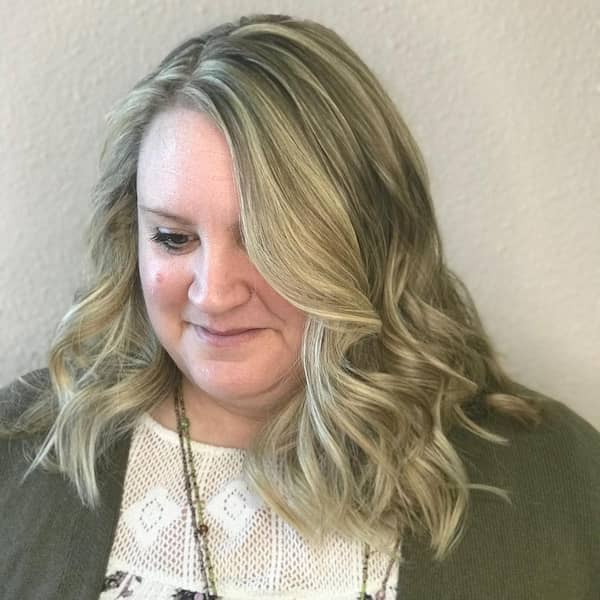 16. Long Wavy Salt and Pepper Hair with Bangs
If shoulder-length doesn't appear long enough, you can grow your hair even longer, making it bra-length while retaining the mixed tone from the preceding hairstyle, like our model here. I'm a fan of the mild curls and the color combination, and the parting should also strike your attention for its glamor.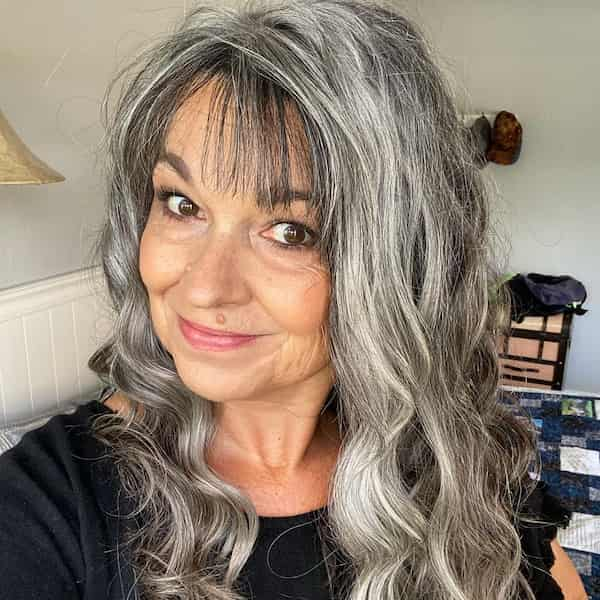 17. Long Hairstyle for Women Over 50 with Glasses
With age, the charm associated with bangs slowly fades away for most ladies, but that isn't to say you still can't wear them. If you love to rock yours, this shoulder-length weave provides a safe way to do that with a sided fringe that offers the allure of bangs without making them the center of the style. Throw in that smile and the waves, and you have the perfect hairstyle for any 50-year-old.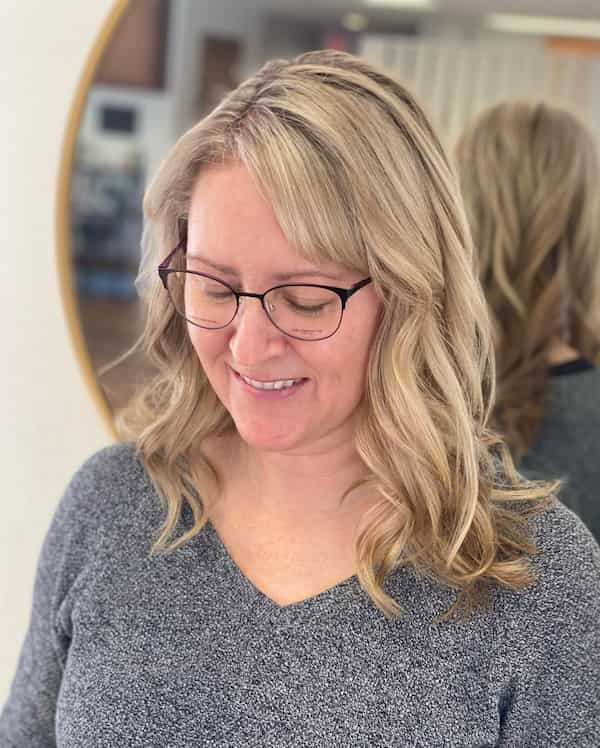 18. Long Haircut with Bangs
If you really love the look of the fringe from the preceding hairstyle, why not go all in with a long bob haircut with bangs? With this style, you're not compromising on anything, and it works on all hair lengths and colors, easily making it one of my favorite hairstyles in this compilation.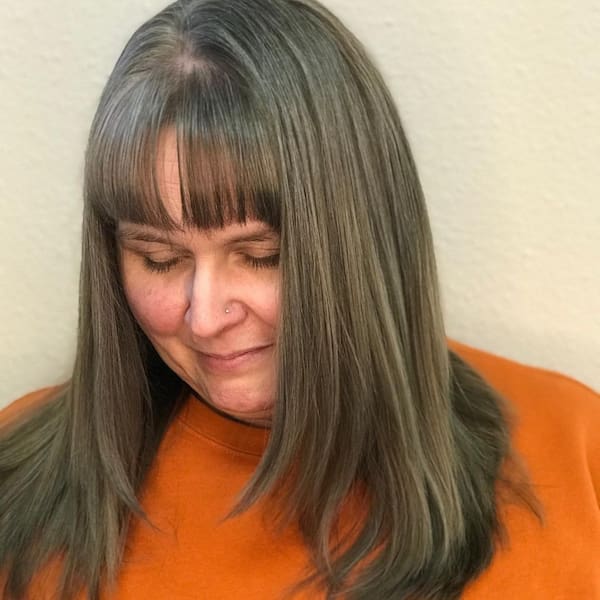 Want some more haircut ideas for older women? Don't worry I got you covered with some cool ideas that you'll love.
Conclusion
And that wraps up our list of the best long hairstyles for women over 50. You don't exactly have to be over 50 to wear any of these styles. If you find something that grabs your attention, feel free to copy away, even if you're nowhere near 50.