In today's post, I'll be sharing with you some of the best trendy short haircuts for women over 40.
However, if this is the first you ever thought of transitioning from long to short hair. You might be caught between the fear of what you would look like after going short and people's opinions on your new haircut.
Naturally, you'll find it a bit difficult to decide if the transition is the best thing for you.
I understand that feeling, and that's why I have written a post on the psychology of cutting hair short and why you shouldn't be scared to cut your hair short.
Now speaking of the trendy short haircuts for over 40, let's get down to the inspirations I have for you.
Trendy Short Haircuts for Women Over 40
Here's my gallery of trendy haircuts for over 40 women, I hope you find these haircuts inspiring.
1. Salt and Pepper Gray Hair Pixie
A classy hairdo for your gracefully aging gray hair and gorgeous women!! For the bossy and elite women, this hair is cool for women with triangles or long faces. Suppose you have a round face, then feel free to check out my post on low-maintenance short haircuts for women with round faces.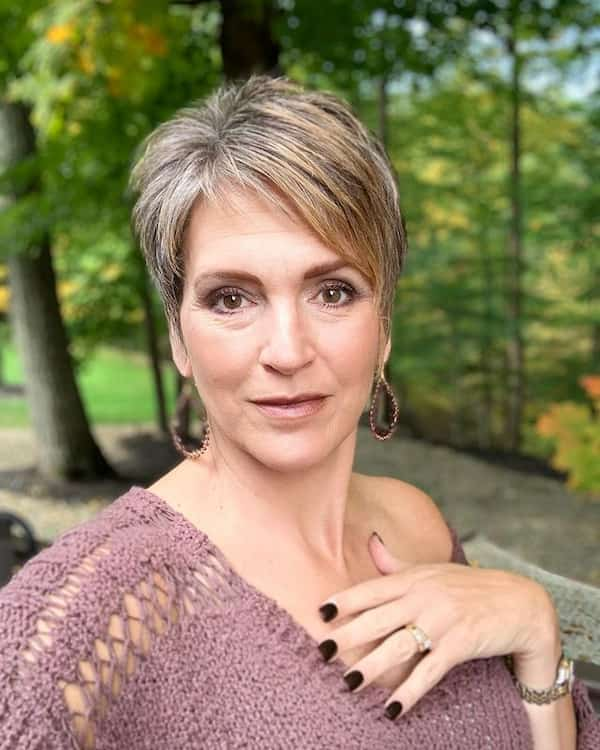 2. Wolf Pixie Haircut
Looking for the perfect hairdo for that dinner or ball, this sassy wolf haircut gets you covered. You can easily flaunt your diamond earrings without your hair covering them up.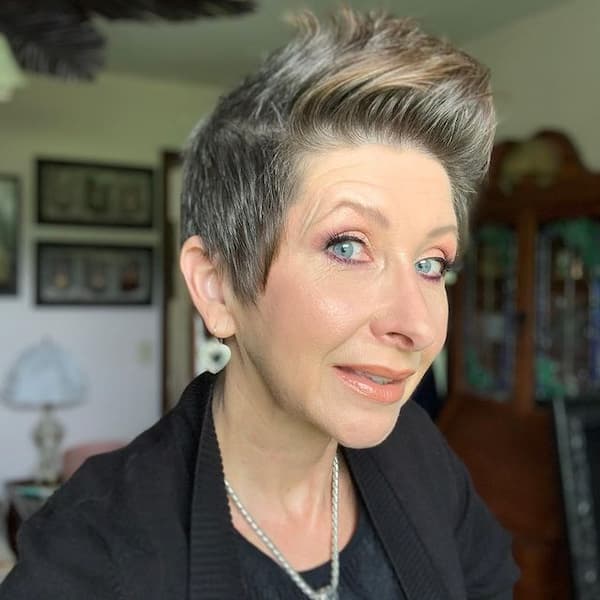 Do you have an occasion to attend, and you want your hair to resonate with your age and give you that matured feminine look? this Alexa pixie short hairdo is your perfect choice.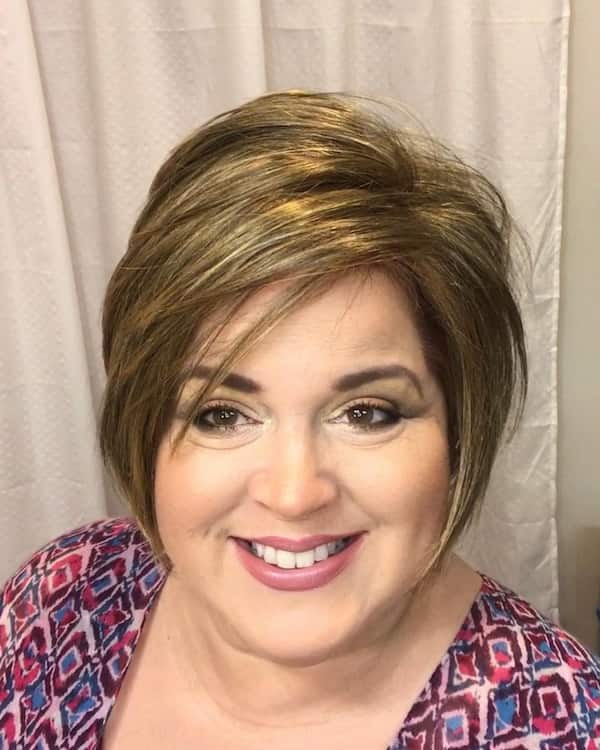 4. Gray Hair Undercut Pixie Hairdo
You can be above 40 and still look like a youngster with the perfect hair on. The blonde undercut hairdo is for the ladies who want to maintain their youthful look and vibe. One thing to keep in mind is that you need to get your hair trimmed every 4-6 weeks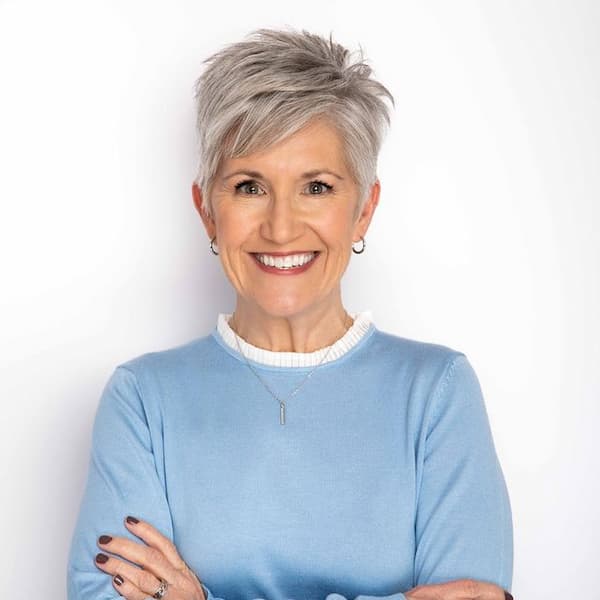 5. Short Bob with Bangs
If you looking for hair that gives you that perfect formal aura and appearance. and that radiant happiness and gratitude, you can start by recreating this hairdo.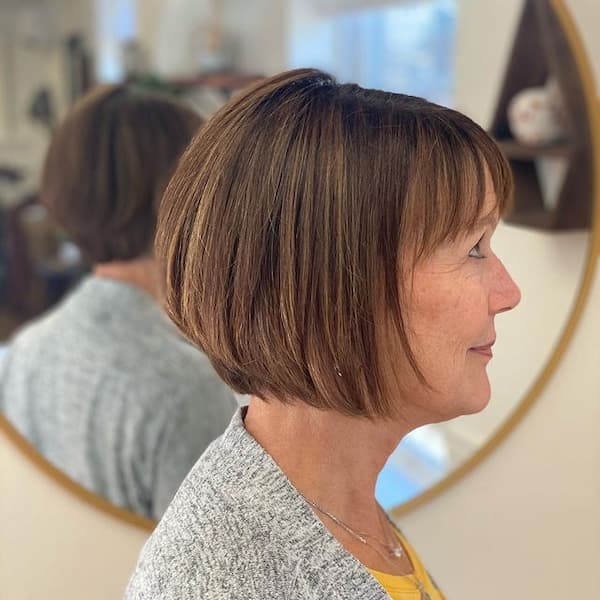 A fanatics' hairdo-like bangs do not only go with the young ladies but, also for the over 40 women who want to also resonate crazy happy vibe wherever they go. Here's the front view of the haircut.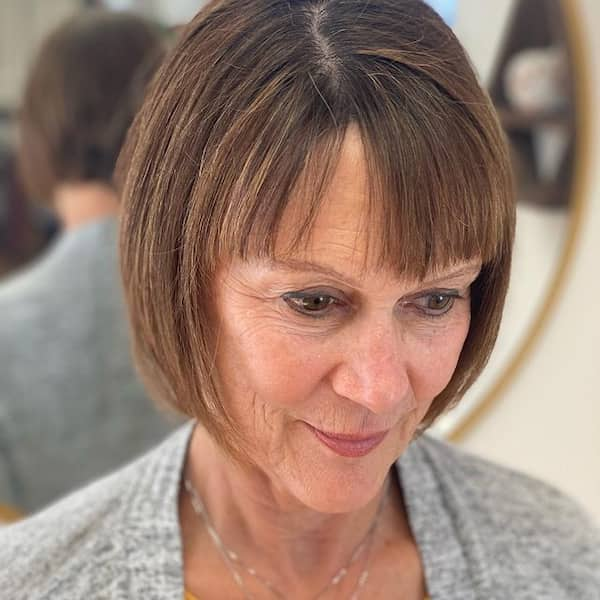 Menopause isn't most women's friends. For women suffering from hair loss, this is the simplest and sweetest hairdo to cover up and still make you look beautiful.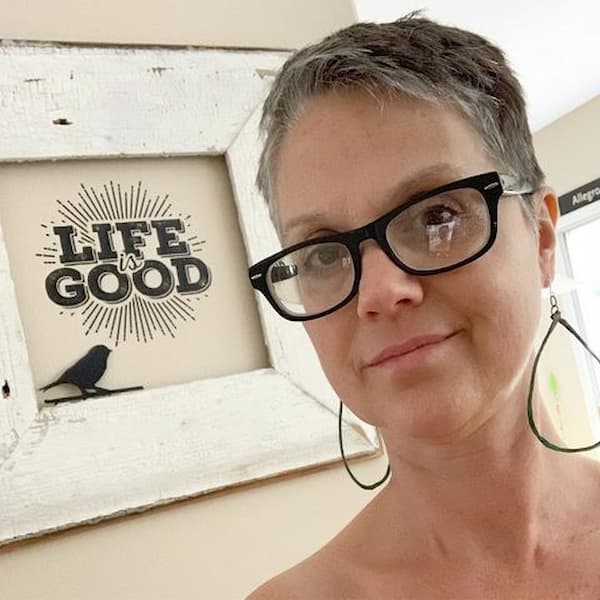 7. Spiky Pixie Hairdo for Thin Hair
This is what is referred to as both sassy and classic. It suits every occasion and can go with any kind of outfit. It doesn't take much to maintain.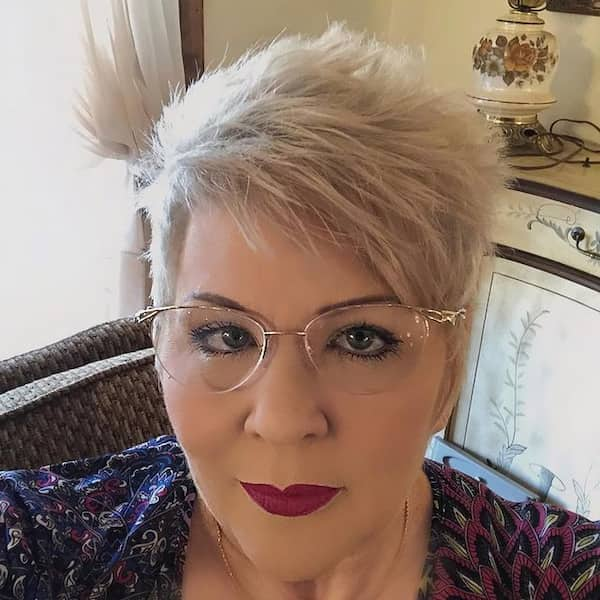 8. Short Blonde Bob Hairdo
Exploring is an essential part of human life and aging. Keeping a short hairdo is a nice way of exploring the wild part of you. And I believe this haircut is worth recreating. You can as well check my gallery of low-maintenance haircuts for women over 50.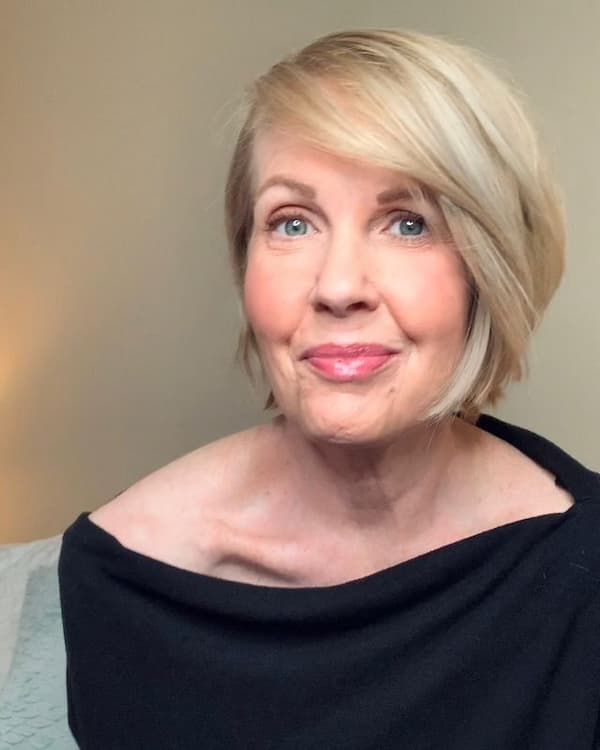 9. Silver Pixie Cut
A well-colored Silver Pixie haircut should have you covered for a classy and gorgeous look. For additional confidence in that workplace, you need some good styling products that'll help keep your hair at bay all day long.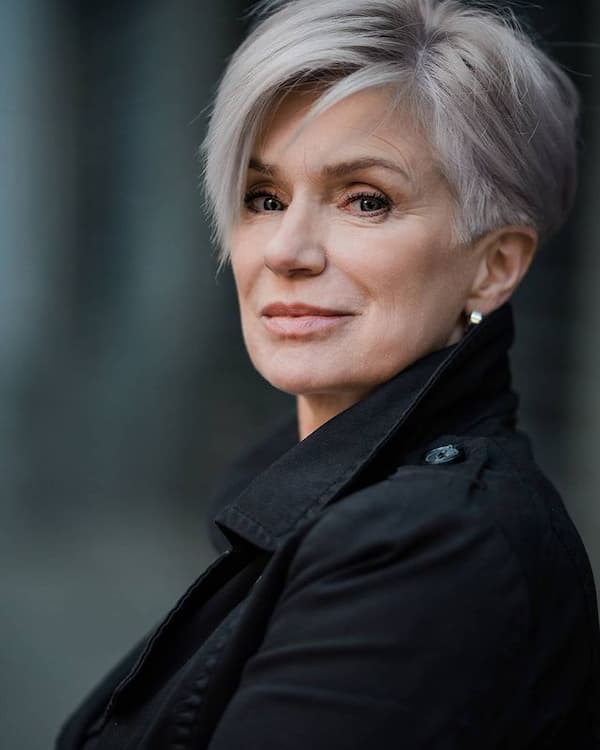 10. Short & Sassy Burgundy Hairdo
You can style up a sassy burgundy hairdo with neutral colors of clothes for a family summer party. This hairdo stands you out from the crowd.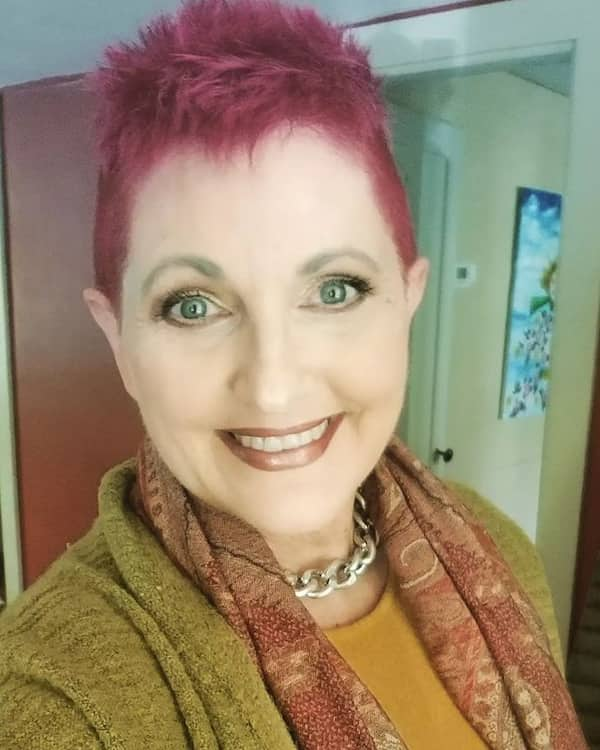 11. Blonde Sassy All Round Messy Pixie Cut
For a shorter and sassy hairstyle, you can try out this. The best part is that it doesn't take much to maintain. And you can comb it to suit the shape of your face.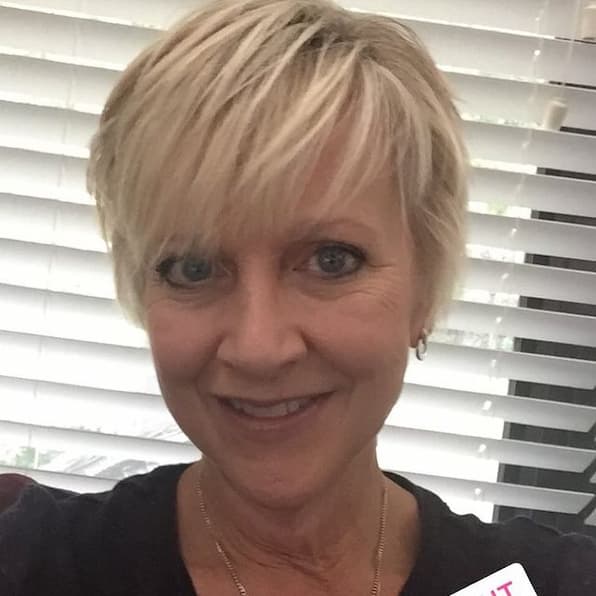 12. Asymmetrical Curls Pixie Cut
A short and asymmetrical hair for a happy woman!! You can easily style it anyhow you want and it does not take much to maintain like the full curls.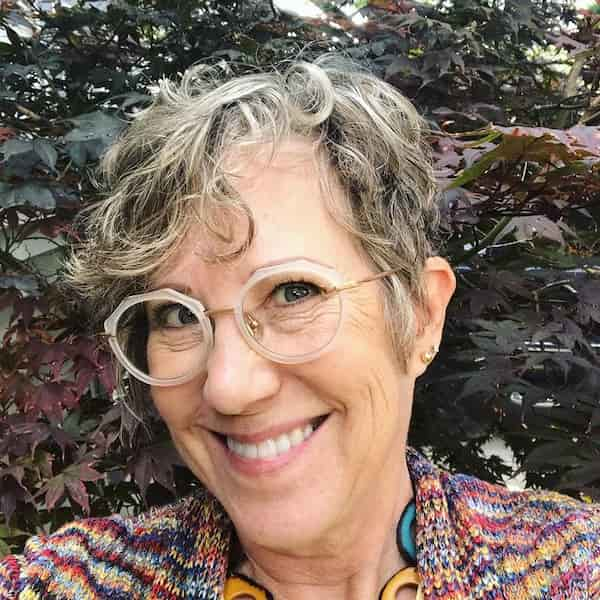 13. Blunt Cut Bob
Short bobs are here to give you a gorgeous look. For a unique and cute hairdo, you can try this blunt-cut short bob. It is perfect to wear on for casual and informal events. And, it doesn't take much to maintain.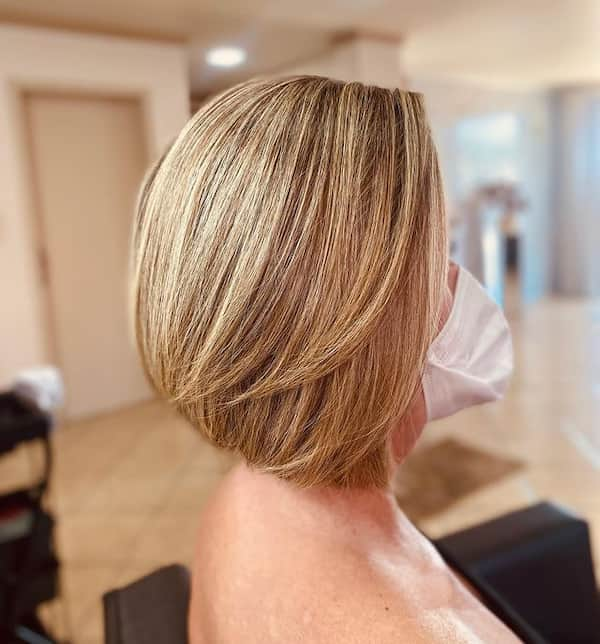 14. Short Curly Pixel Side Parted Hairdo
You can style up in this short curly pixel hairdo to look good in nice formal wear. It goes with all kinds of face shapes- oval, long, and round. However, it requires a lot to maintain and keep the curls in a perfect look.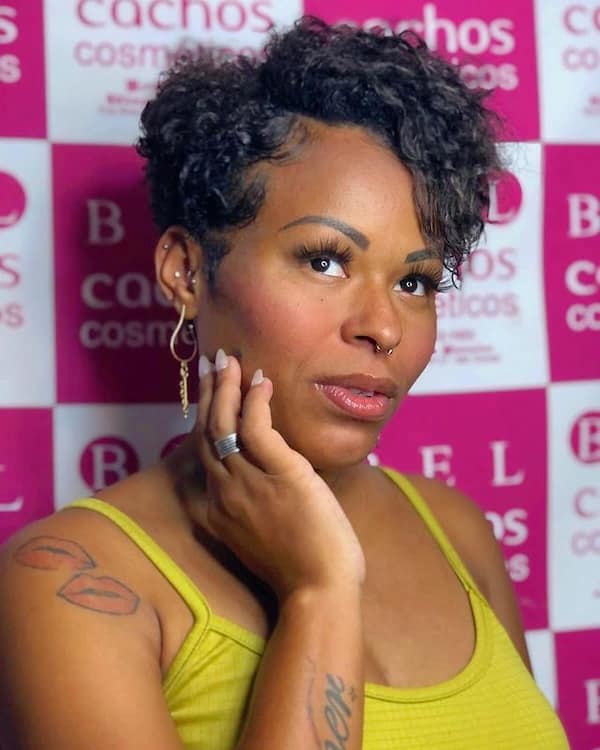 15. Undercut Short Haircut
For that classy mama look, you can try to recreate this haircut. This hairdo is cut basically to style itself, but just like other hairdos, you need a few products to keep it fresh and nice.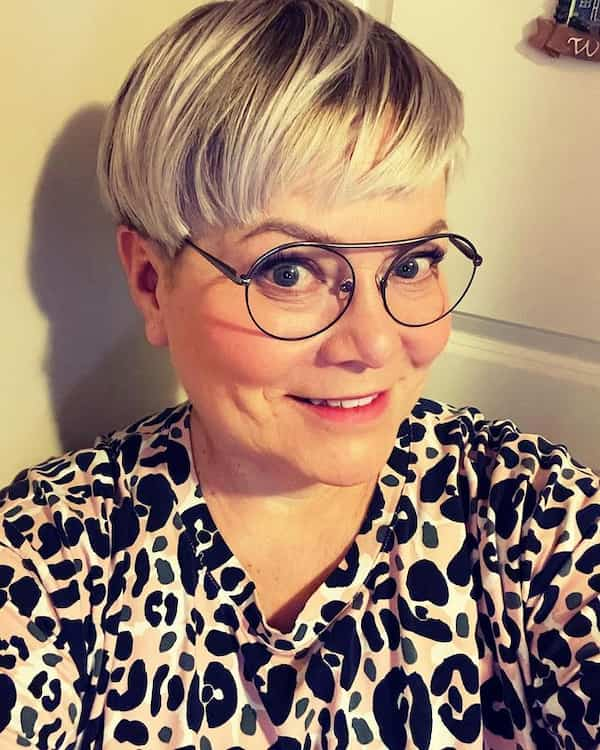 And that's the end of the gallery, you want some more haircuts inspiration? Then you might be interested in some of these posts.
And finally, I hope you find this compilation of the best trendy haircuts for women over 40 inspiring.
And if you got questions or feedback, do not hesitate to let me know by leaving a comment below right now.
Pin for Later.