I don't need to assume anymore that you're looking for the best Pixie haircuts for fine thin hair and women over 50.
If I am correct, then you're in the right place, because this post got you covered with over 15 adorable pixie haircuts you need for inspiration.
Getting a pixie haircut requires a lot of courage, especially if you're already a bit insecure about your increasingly thinning hair. With most hairstylists opining that medium-length haircuts are best for fine hair, it's clear why you should be a bit reluctant towards getting a pixie cut.
However, there's no one-size-fits-all regarding haircuts for thin hair. When you start getting older, you may want to try bolder and shorter styles to see how much beauty it adds to your appearance.
Here, I'll show you a compilation of some of the best pixie haircuts for fine hair when you're past the quinquagenarian age. Without further ado, let's look at some of the boldest pixie haircuts from fashionistas over 50.
Pixie Haircuts for Fine Thin Hair Over 50
1. Gray Pixie Haircut
If you're over 50, there's a very good chance that you've started going gray at some point; getting a gray pixie haircut is a great way to utilize that grayness. Combining that with a little lipstick and mascara will make you replicate her excellent look perfectly.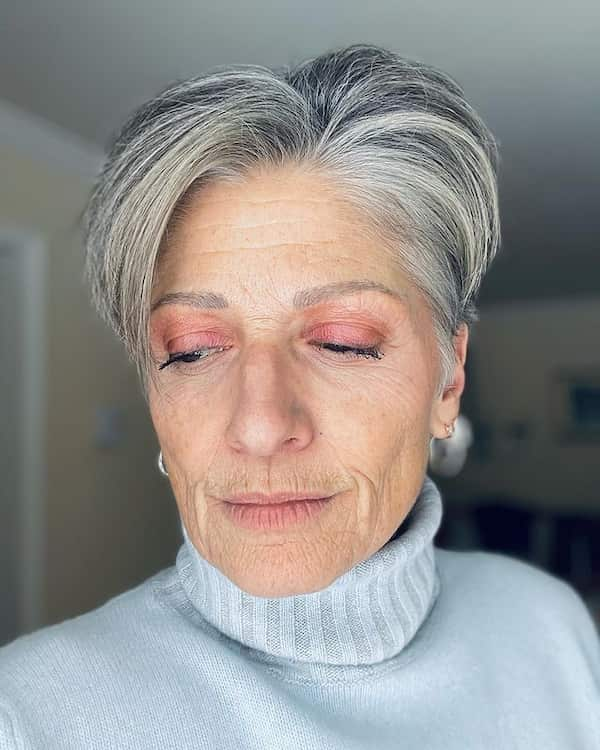 2. Short White Hair Pixie
This pixie looks greyer than it is white, and it looks perfect on her. It doesn't do a very decent job of masking the thinness, but it doesn't make it super obvious either. If you're willing to switch from medium-length hair to a short pixie, here's a decent suggestion for you.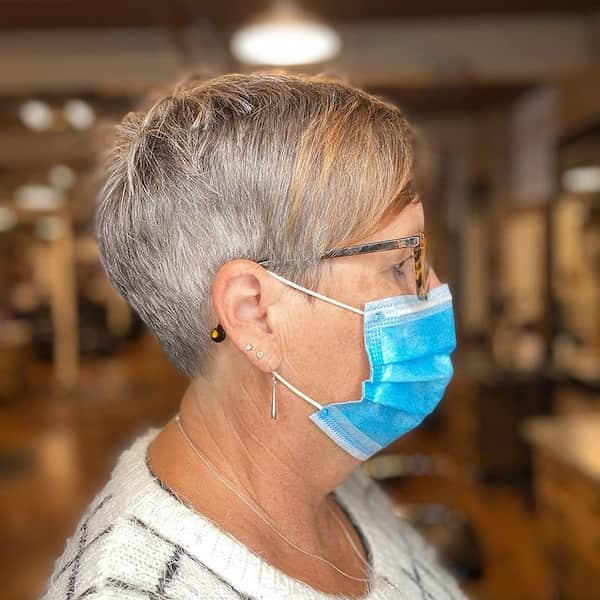 3. Layered Grey Blending Pixie
This kind of cut will make you wonder if the wearer is a quinquagenarian. The grey blending effect also seemed to work perfectly, since the haircut doesn't have the distinct effect that makes people look older. If you're willing to spend some time caring for your hair, the layered pixie is an option to consider.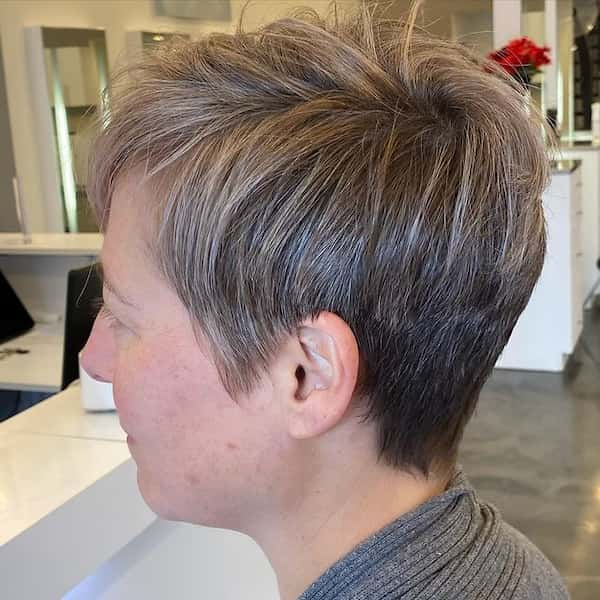 If your hair isn't grey, you can go this route by getting a simple pixie cut after making your hair a bit wavier. The hair could use a bit more greyness in my opinion, since the darkness doesn't align with her aging face. However, if you don't look that old, there's no problem with replicating her look precisely.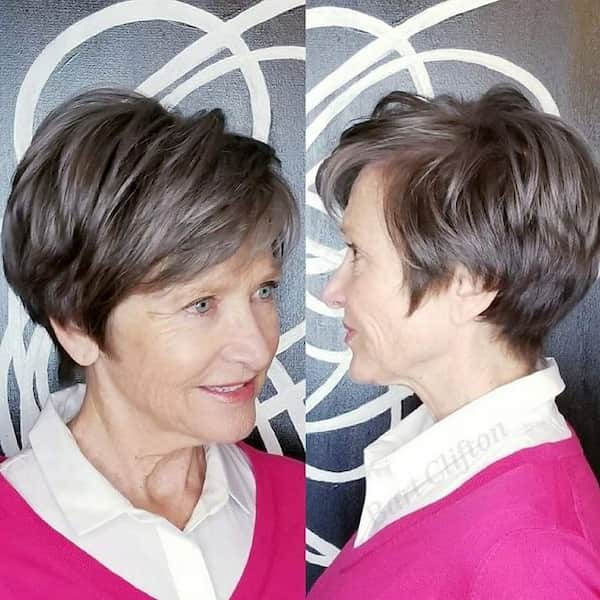 5. Pixie Cut Gray Hair
Going completely grey is a very bold choice that the wearer here has prepared to make. Arriving at this involves removing all artificial colors on your hair, leaving it to be a natural grey color before cutting it short into an amazing pixie.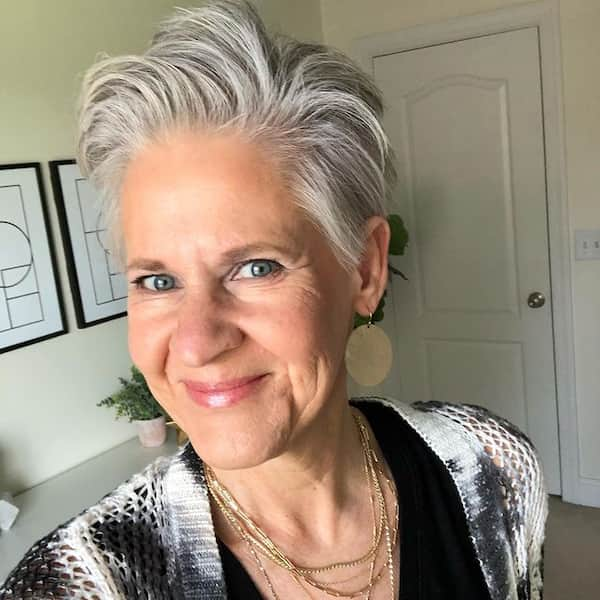 Just a quick pause here.
If you're looking for instant ways to make your thin or fine hair look fuller and thicker, I know some hair products that'll help you greatly.
Hair Product to Make Your Fine or Thin Hair Instantly Thicker and Fuller
1. Best Hair Building Fibres
2. Best Shampoo for Thinning Hair
6. The 760 Pixie Haircut
This unique pixie looks just perfect for Belinda, making it worth trying for every 50-year-old out there. From the front, the hair looks scanty, doing little to make the hair look thicker than it is. However, it's a different story when you view it from behind and the sides. I love how alluring the transitions between white and grey on the hair looked.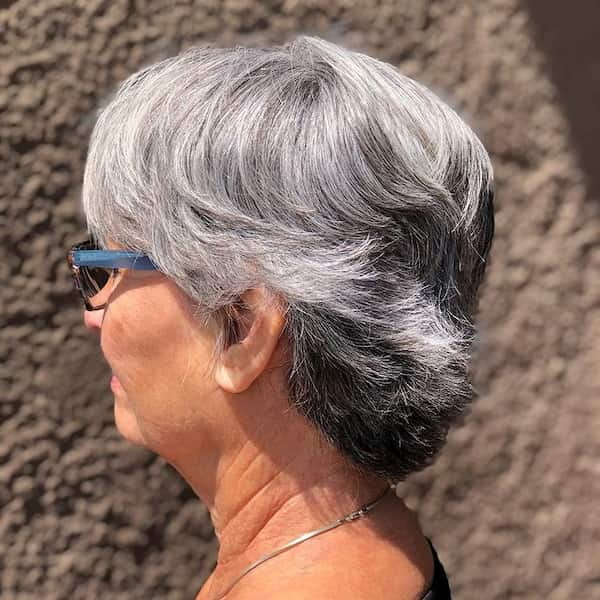 7. Short White Hair Pixie Haircut
For pixies, calling this short and white are both only partly correct. It's a brave choice when transitioning from colored hair to an all-natural look, which could either be grey or white, depending on how you look at it.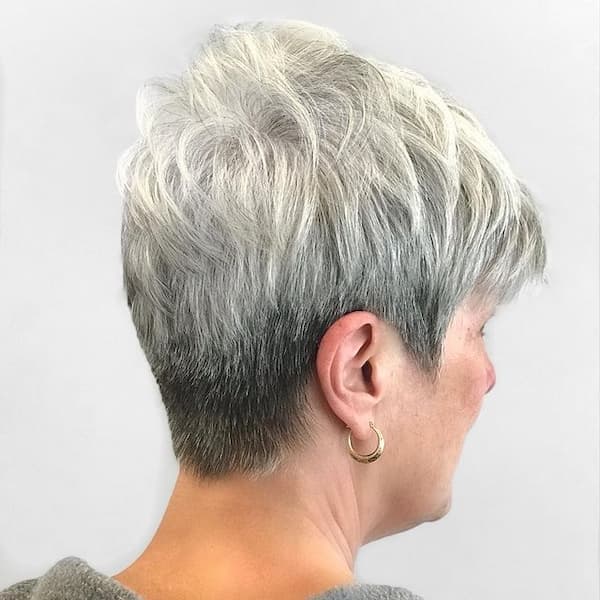 8. Gray Perm Pixie
When you successfully grow your pixie to the size of a little bob, you can always style it to become a perm pixie. Throw an all-grey look into the mix and you'll have a grey perm pixie that looks gorgeous on older women. This haircut is ideal for older quinquagenarians; it's not really what you'd want if you're going for a younger look.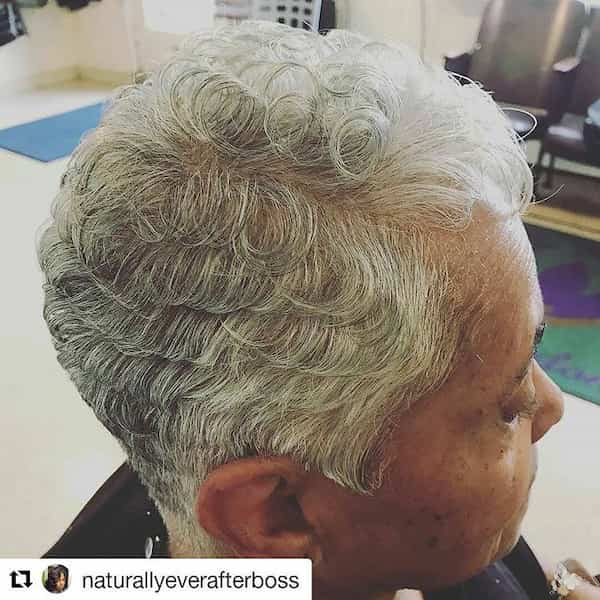 9. Smooth Tapered Pixie
Scissoring your hair might be a tough decision, but letting it grow too long might be even riskier, especially if the hair is too thin. It seems Gabriella wasn't hesitant about putting scissors to her hair, and that turned out to be excellent. Maybe it's time for you to consider putting a pair of scissors to your hair too.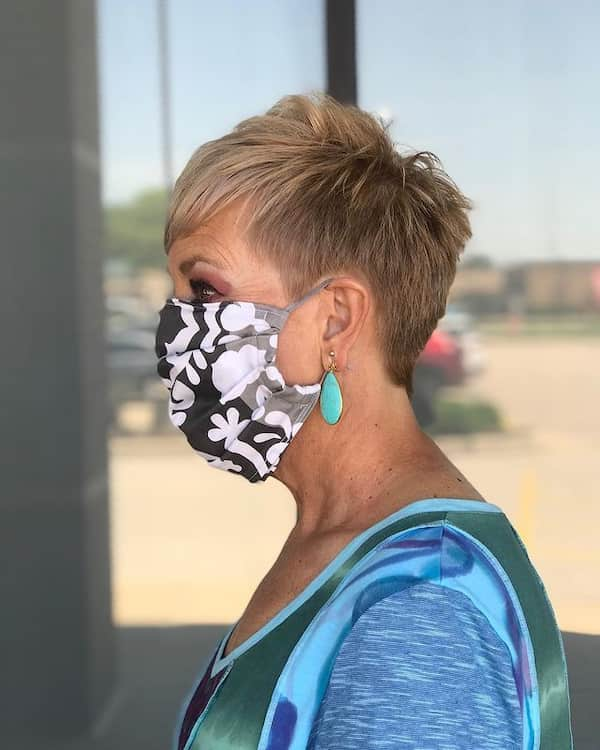 10. Short Cap Pixie
Pixies weren't originally meant to be a long haircut; in fact, they were meant to be short. Adding "short" to the pixie makes it sound somewhat redundant, but it doesn't seem too farfetched. Considering the shape of her face, the cut does look short, but it's excellent regardless.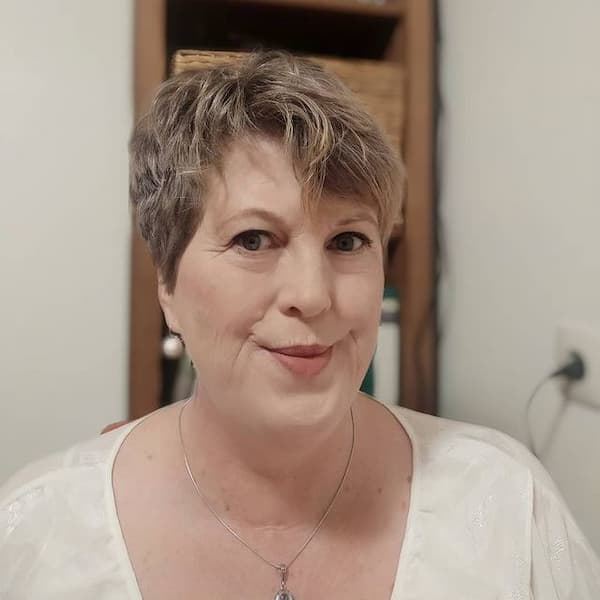 11. Platinum Pixie Cut
Why refer to it as grey when it's closer to platinum? The platinum pixie cut is the perfect way to go some years back into the past to look more 26 than 50. It also gives the impression of thicker hair and depending on how brightly you smile, you could look many times more beautiful by wearing this haircut.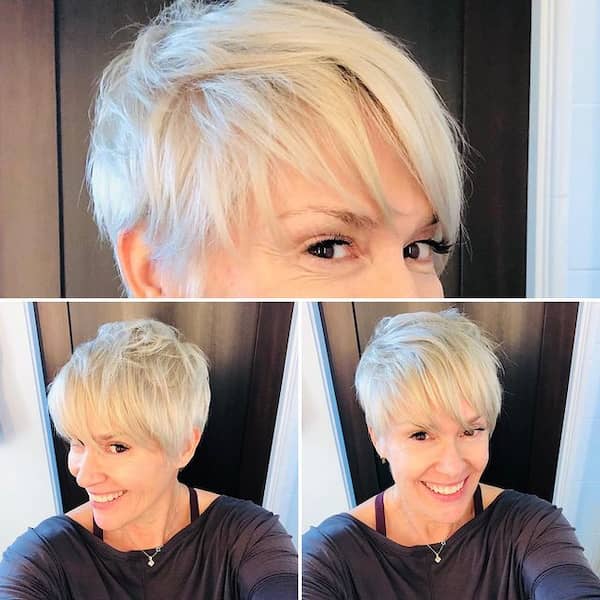 13. Blunt Cut Pixie
You don't have to resign to boring haircuts because you turned 50. If you're willing to get a pixie, it's a good indication that you're trying to make your hair look nicer. Getting a platinum pixie with blunt cut ticks all the boxes, just as the alluring picture of the wearer demonstrates.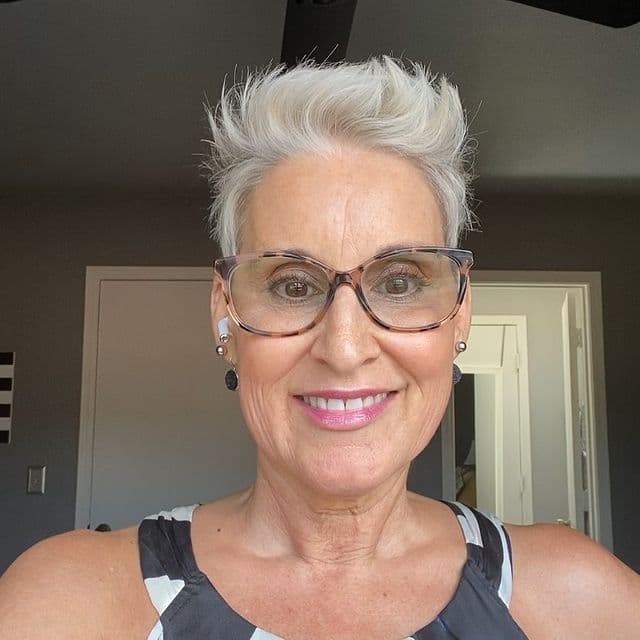 13. Pixie Cut for women with Square Face
If you have a square-shaped face, most of the haircuts on this list may not appear as you intend when you wear them. What if you can get a pixie cut that's customized to match the square shape of your face without making you look less fashionable? Here's an excellent cut that makes your hair look thicker than it is.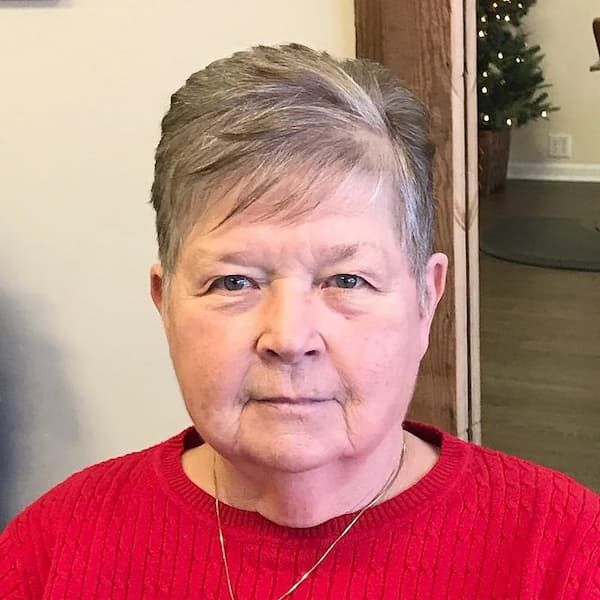 14. Pixie with Soft Fringe
If your goal is to make your hair look thicker due to its thinness, this cut might not be the best for you. While it looks awesome on her, it's not difficult to understand that she has fine hair, making it unideal for someone who's getting a haircut specifically to hide that fact.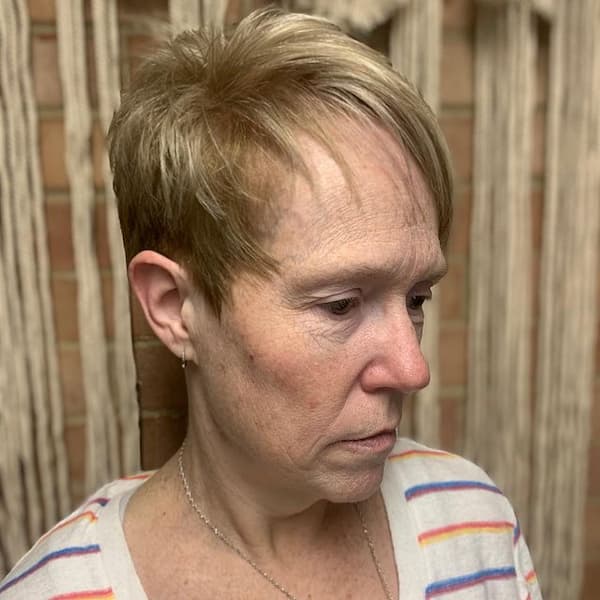 15. Super-Cute Pixie
Making your pixie into a bob cut has to be my favorite thin hair hack of the year. It certainly is a super cute pixie, and the fact that the hair color complements her skin only works to confirm that. Even with no hair extensions installed, it would take a touch to detect that she has fine thin hair.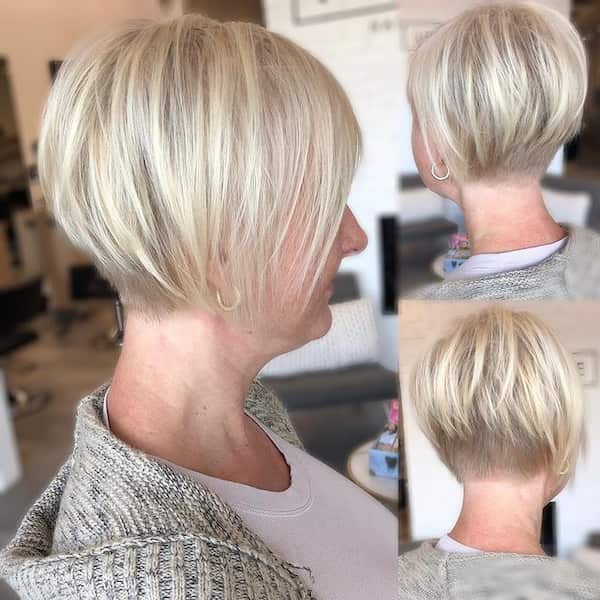 16. Short Fine Thin Hair Pixie Haircut
This cut looks more like an overlap between a pixie and a mullet, which may be why it looks dope on her. The sheer volume of the hair presents the idea that the hair is sufficiently thick when it is thin. Doing that perfectly without installing hair toppers is an art, and that's exactly what it is.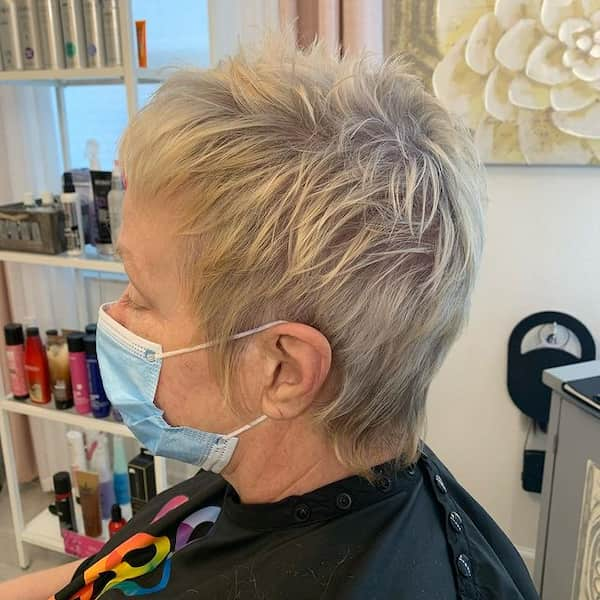 And that's the end of the gallery, you want some more haircuts inspiration? Then you might be interested in some of these posts.
I hope you find this compilation of the best Pixie haircuts for fine thin hair and over 50 inspiring.
Lastly, if you got questions or feedback, do not hesitate to let me know by leaving a comment below right now.
Pin for Later.