I am sure finding the best low maintenance thick hair pixie cuts is hard enough. So I figured out it would be great to ease the hunt for good haircuts for my readers. And I am sure you're one of them.
Pixie cuts are one of the best short low maintenance haircuts for women you can ever find on the internet.
But the honest truth is that – It doesn't suit everyone, especially when it's styled wrongly. In this post, I will share some cool and inspiring pixie cuts that are considered low maintenance.
But before we proceed, I need to address these four important frequently asked questions that are troubling some ladies out there.
Low Maintenance Thick Hair Pixie Cuts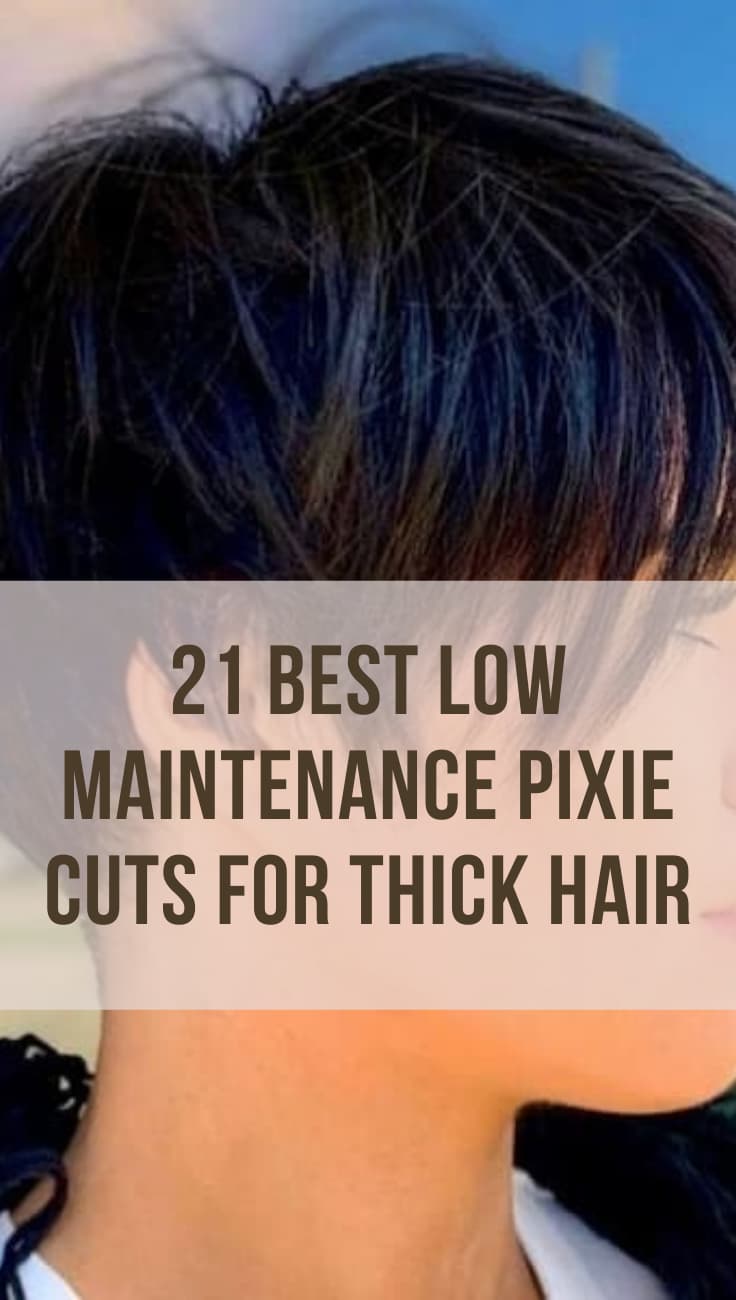 What is considered a pixie cut?
A pixie cut is generally a short haircut that is shorter at the lower sides, starting from the back. The interesting fact about pixie cuts is that stylists can cut in many different forms and shapes.
Is a pixie cut low maintenance?
Generally, short haircuts like pixie are pretty low-maintenance haircuts, but your hair type has some role to play before a style is considered low maintenance.
Does a pixie cut age you?
The real truth is No; pixie cuts do not age you; instead, it does otherwise or bring out your real full face if you have been wearing long hair for a long time.
How do you know if a pixie cut will suit you?
Well, your stylist is the person to decide if it would suit you or not, depending on your face shape and hair type.
Now it's time to share what I have for you.
1. Blonde Pixie for Round Face
The first idea on this ideas gallery first appeared on my post on best low-maintenance haircuts for round faces. What does that tell you? For me, I think it's ringing and screaming loud to "try and recreate me."
If this is something you would want to try, then go for it.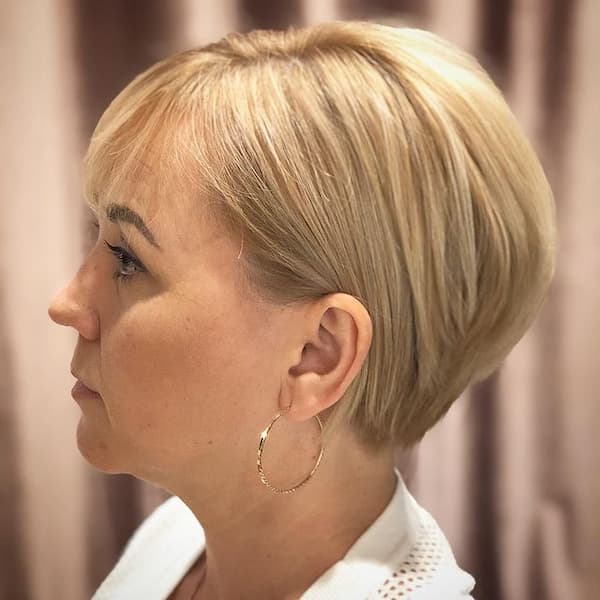 2. Frontal Pixie Cut
This style is just like the one above in terms of color, but you can clearly see that it is styled towards the face. I think this would work best for women under 30 or 40.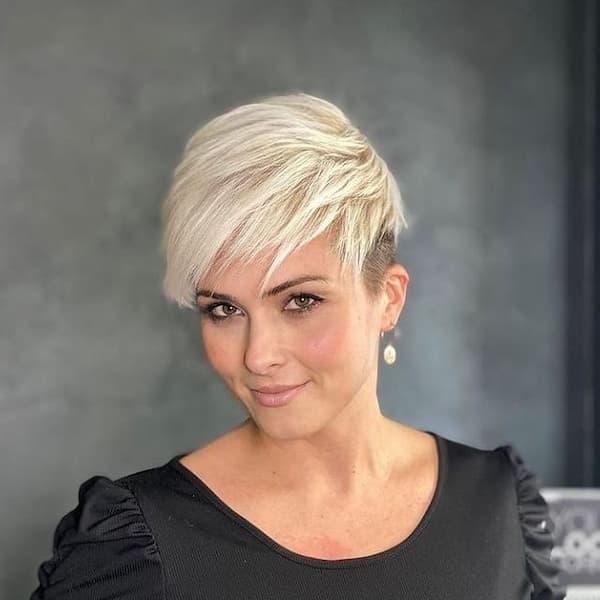 3. Thick Pixie
This is one of the best thick pixie haircuts you can find on the internet. The lady's hair is so thick that it makes the haircut look more stunning and smart.
This is something you might want to recreate if you have thick hair and young as well. Also, feel free to check out my gallery of the best low-maintenance haircuts for thick hair.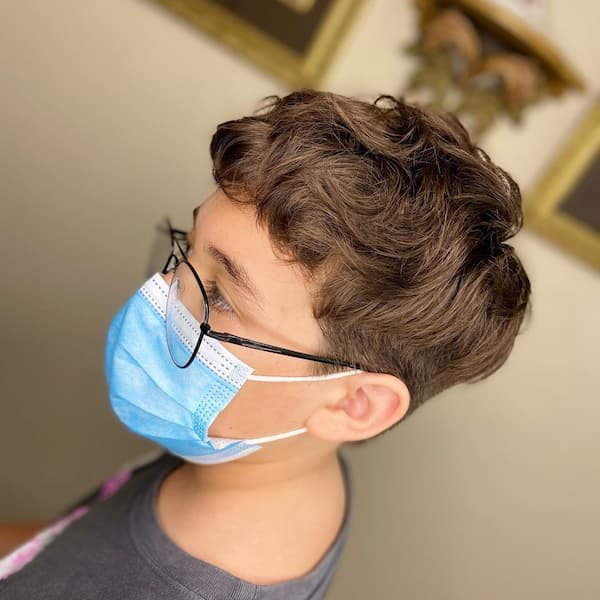 4. Stylish Pixie for Round Face
If you remember, I did mention that your stylist can style the pixie in different shapes; this is a cool and typical example. And the nature of this ladies' hair made it so.
You can clearly see that the hair is wavy, thick and replicates Bob's haircut.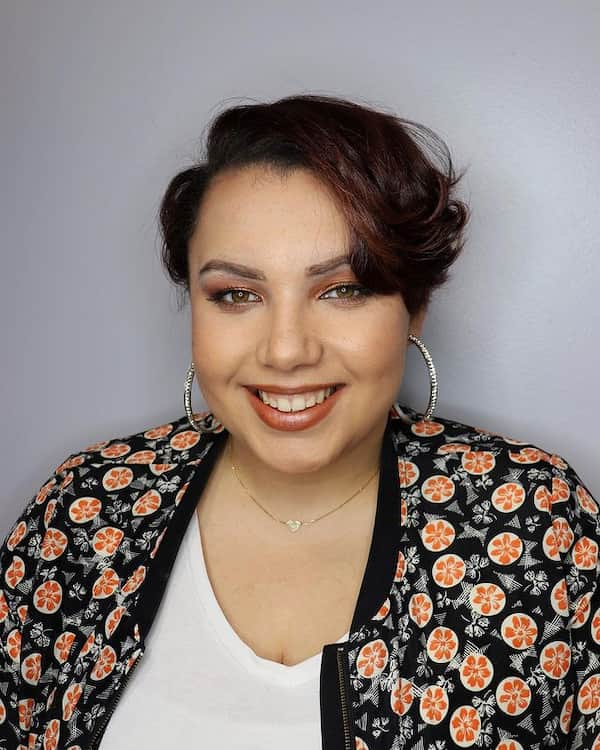 5. Tapered Pixie
The sweet nature of this pixie haircut is that it is styled in different forms. Sometimes it takes asymmetrical form, sides swept, or any shape you and the stylist have in mind.
If your hair is frizzy most times, you might need to check out this post on the best low-maintenance haircuts for frizzy hair.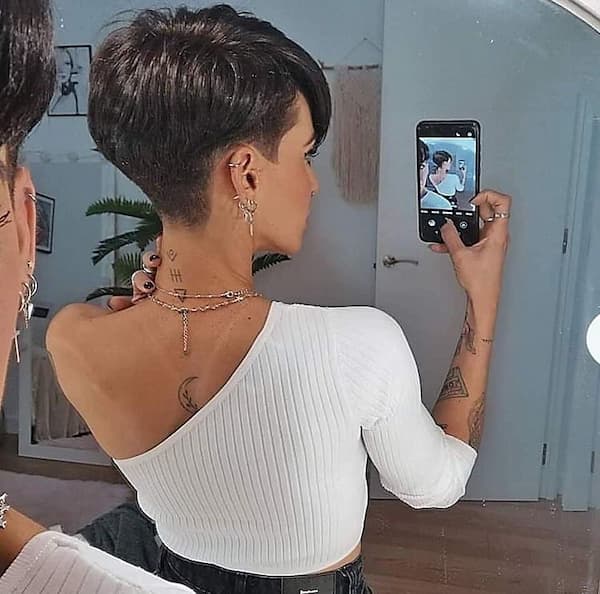 6. Bob Pixie
Do you know you can wear Bob and Pixie cut together? Well, you really got a lot to see here. The lady on the picture captioned the cut as Bob + Pixie haircut.
Imagine the surprise it would be to people who don't know that this kind of combo exists.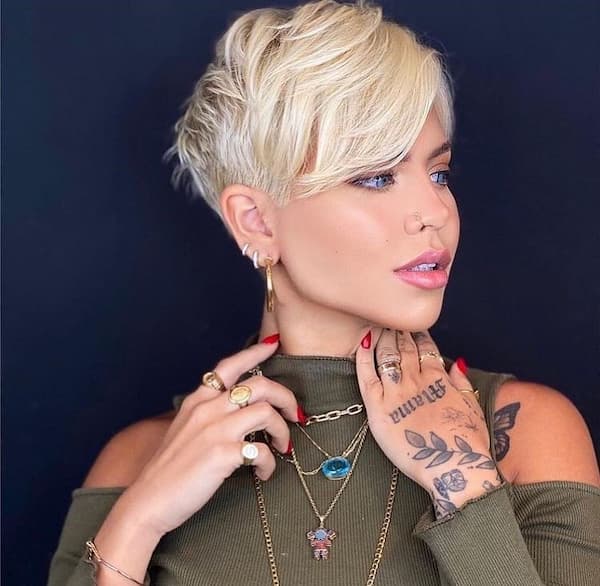 7. Cover Cap Pixie
This haircut shouldn't come as a surprise to you. Like I said before now. A pro stylist can style pixie haircuts in any creative way you can ever imagine.
If you're not satisfied calling it cover cap pixie, another alternative name is Bob pixie.
Besides, I wrote a post on the best low maintenance medium-length haircut – I believe you're going to find some useful ideas in there.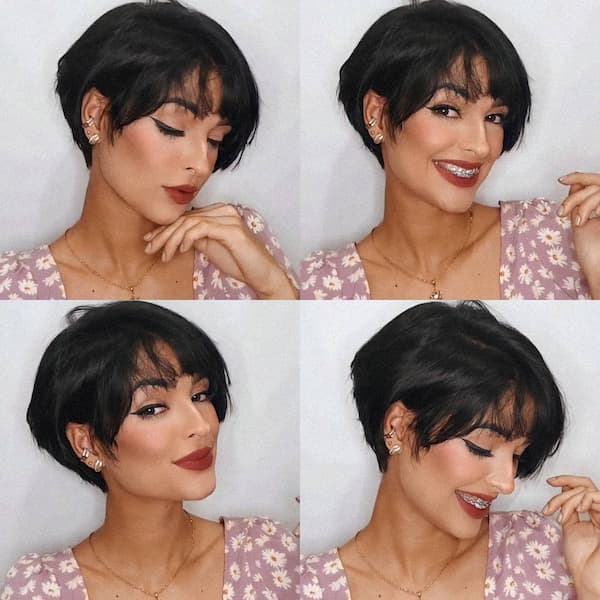 8. Textured Pixie
Remember, we are helping you find the best low maintenance thick hair pixie cuts. Well, I think this might be something you would love to recreate.
Trust me; the maintenance routine is relatively low, so you got no issues with timing and products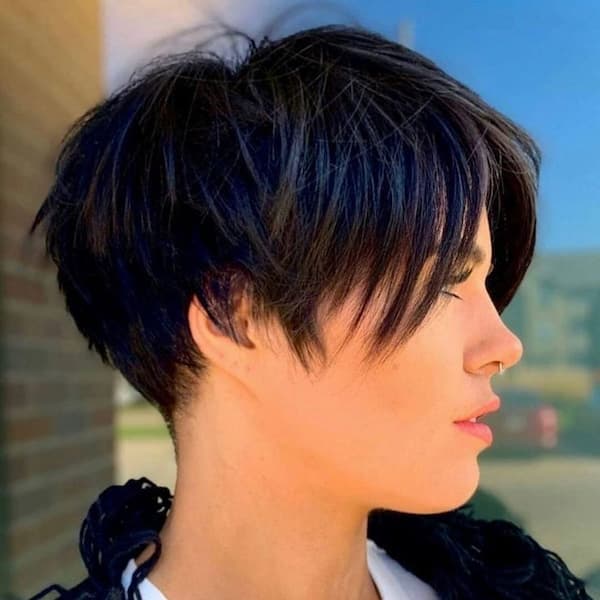 9. Colorful Pixie
Coloring makes hair styling more interesting and fun. I bet you're already in love with this idea.
The only thing that would make people like me not try out some creative work like this one above are work, face shape, school, and environment.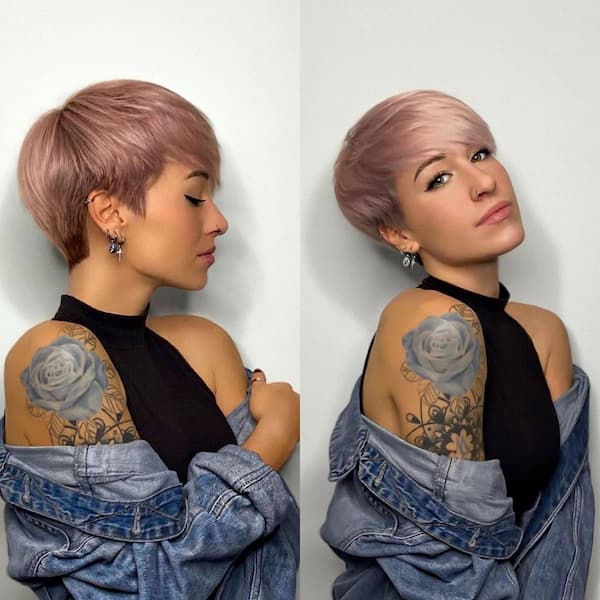 10. Pompadour Pixie haircut
This haircut got the name "pompadour" from the famous men/boys haircuts. At first look, you should tell that there's a strong effect of Gel on the hair.
You can style your hair this way without Gel, but if you want it to be exactly like this, you need a good holding Hair Gel.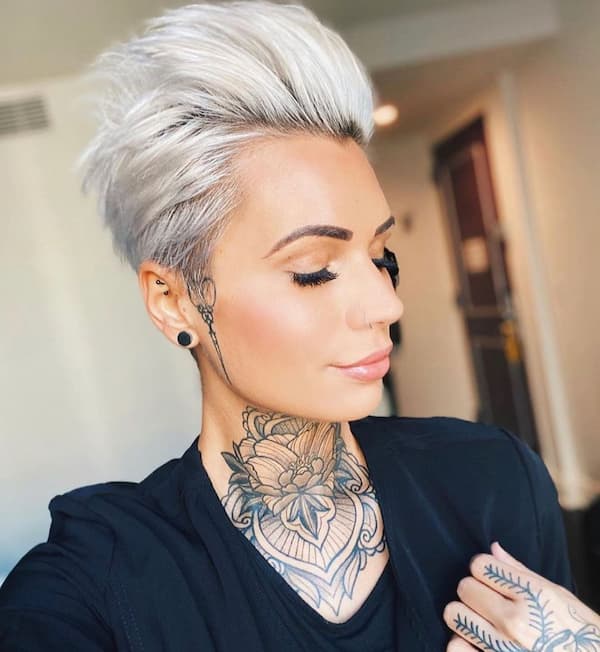 11. Older Women Pixie
Now we have arrived at the older women's version. You might as well consider checking out these ideas on short gray hairstyles for women.
So what do you think about this haircut? You and I know that this style is worth giving a try. You can see how it is neatly maintained.
All credit for this creativity goes to Salon Reborn; I must confess that they did a wonderful job on this lady. Matured ladies can still look good, you can see that the haircut added some young-looking appearance to her.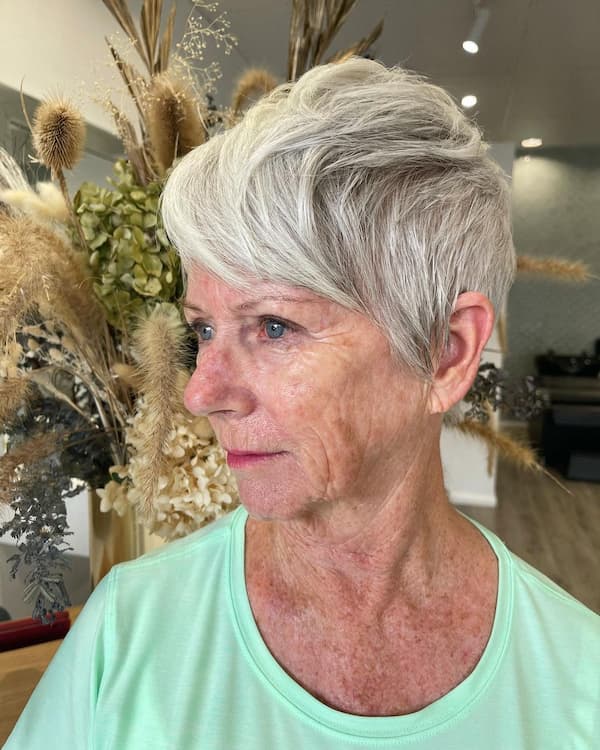 13. Short Pixie Cut
Do you like it when it's short? Well, there's something for you here. The seasons of the year sometimes play some role, like the haircut we choose.
So you must know when to go long and when to go short.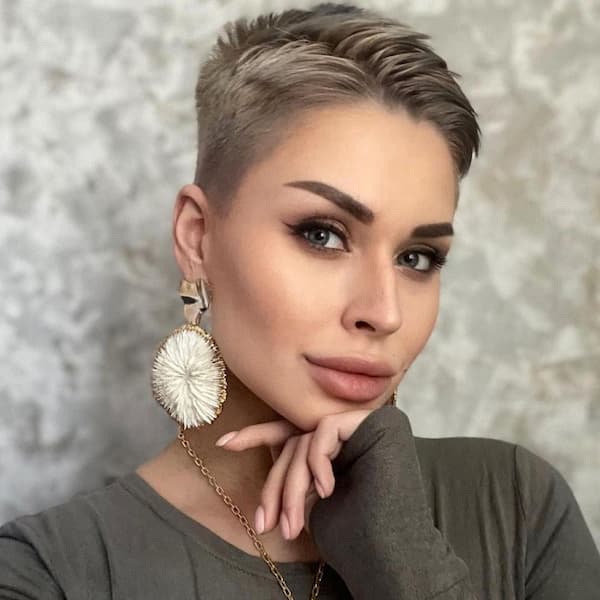 14. Undercut Pixie
If you don't want it all shorts, I have a cool but crazy alternative idea; You have to tell your stylist to leave the top hair partially long and shave the lower sides.
Please don't try this at home if you have little or no experience with hair styling.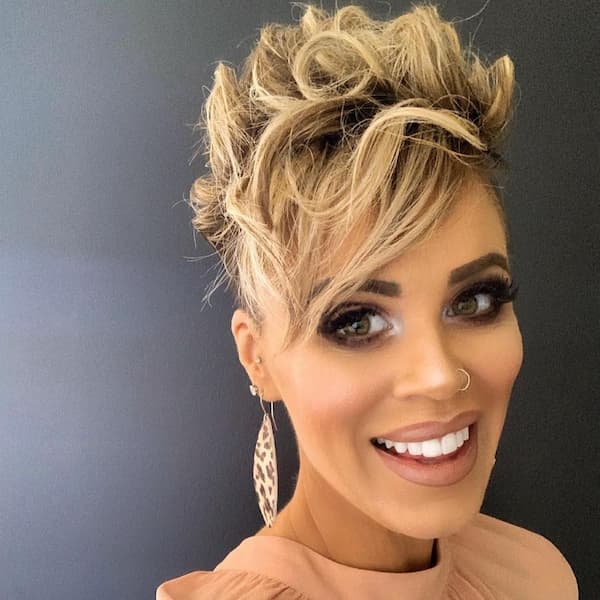 15. Thick and Textured Pixie Cut
This style is for people who want a short and thick pixie would want to recreate. Remember that everyone has his or her own taste of style.
You might think this is ugly and old-fashioned, but there are people out there dying to recreate something similar to this idea.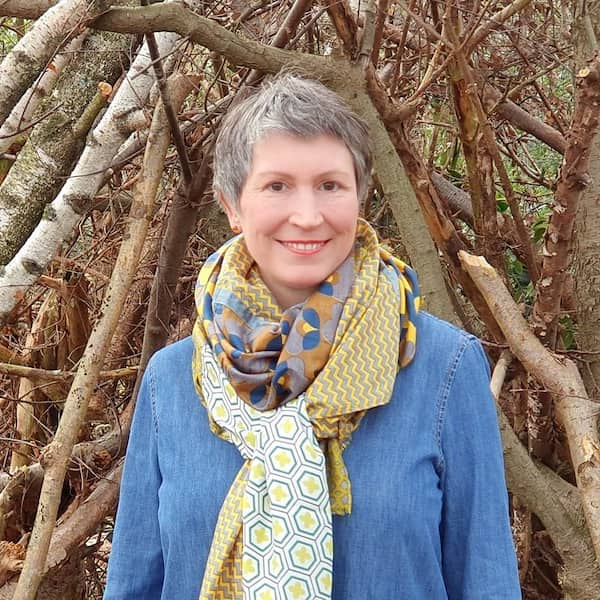 16. Pixie Cut for Wavy Hair
The salon behind this work captioned it "short and sassy," which is enough to describe this haircut's exclusive feature and nature.
The main issue with this style now is that it's not going to be the low maintenance one you're expecting. The wavy or curly would require some serious maintenance routine, such as the curly method.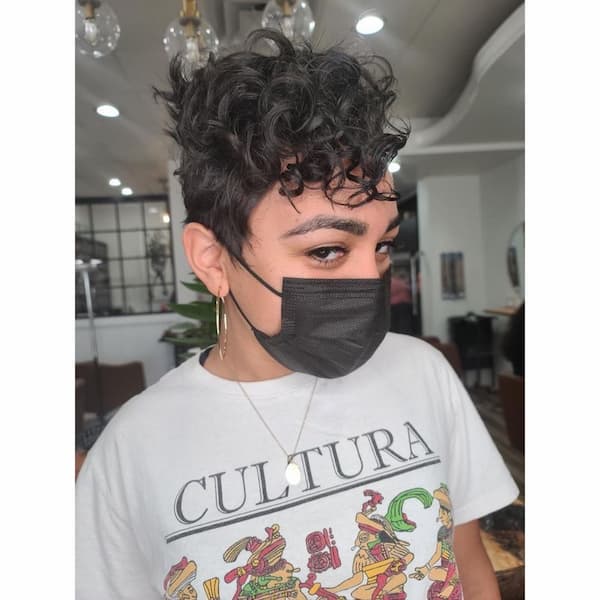 17. Textured Pixie Haircut
This style is something you can recreate if you have textured and thick hair. And most importantly, the haircut is low maintenance.
The stylist behind this style is located somewhere around Moscow, Russia. But you can get it anywhere with the help of a pro stylist.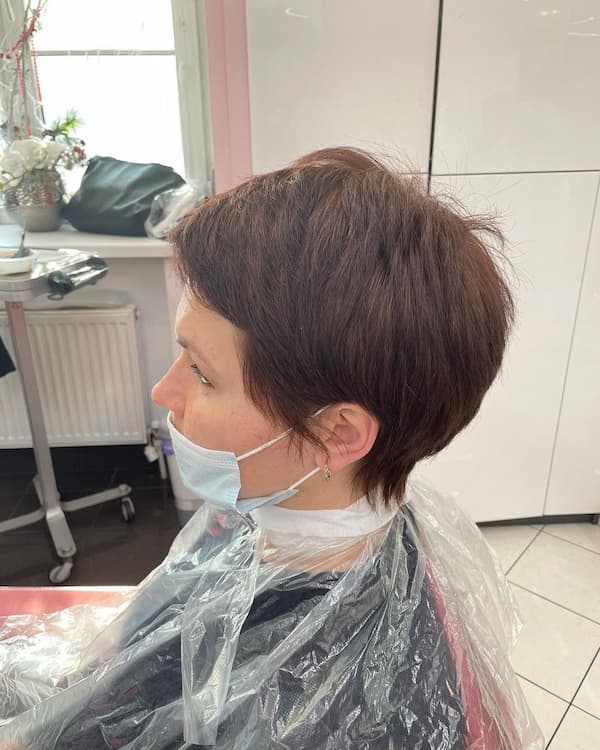 Here's another low-maintenance thick hair pixie cut that you can add to your to-do hairstyle gallery. And I was hoping you would love these low-maintenance haircuts for busy moms.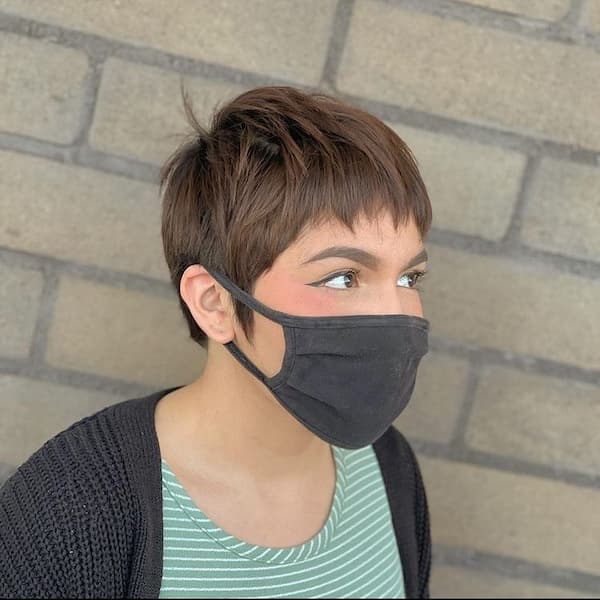 18. Salt and Pepper Pixie
If you're wondering what salt and pepper mean, it's simple, just gray hair that still has some obvious black hair.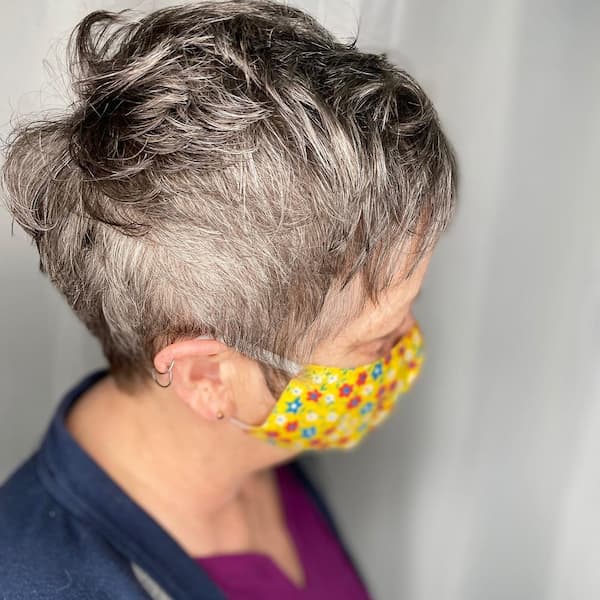 19. Thick Low Maintenance Pixie
This haircut looks like Sin's in the Movie "Arrow," Although this one is thicker. But the easier to describe the Sin was "the girl wearing guy's haircut."
The style looks masculine, but let's say it's unisex.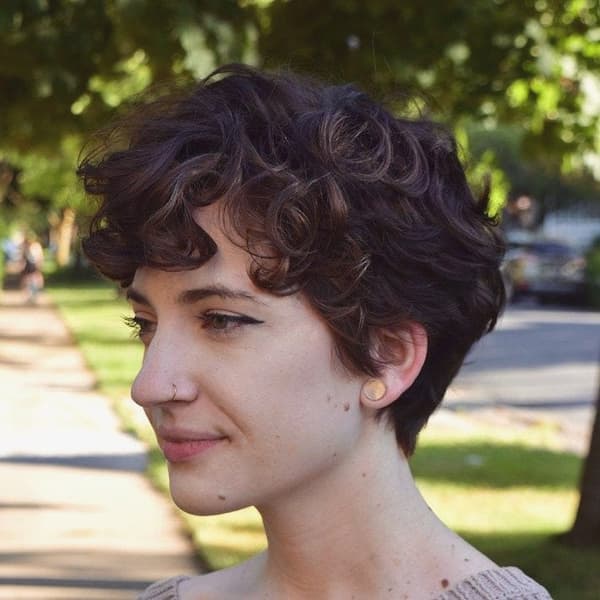 20. Thick Bob Pixie
The last idea on my list is something you might want to recreate if you're already wearing a bob haircut. Your stylist needs to do a little touch, and you're good to go.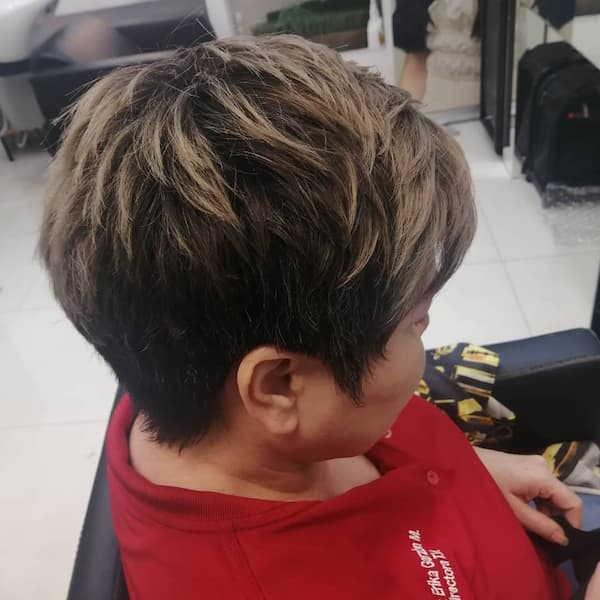 So that's it for my gallery of the best low maintenance thick hair pixie cuts.
Now, which style do you think is worth your time and would fit in perfectly on you.
Or maybe you got some questions; feel free to leave a comment below right now.
And most importantly, do not forget to share with friends that are interested in pixie cuts.
PIN FOR LATER