Two styling techniques rarely go wrong, regardless of your hair's length or color: layers and bangs. You can get pretty much any hairstyle and slap bangs on it without looking weird, and the same goes for layers.
However, if your goal is always to appear as your best self, you don't want to go around slapping layers and bangs on every hairstyle. Instead, you should consider using our medium-length haircuts with layers and bangs that ensure you look your best at any point in time.
Best Medium-Length Haircuts with Layers and Bangs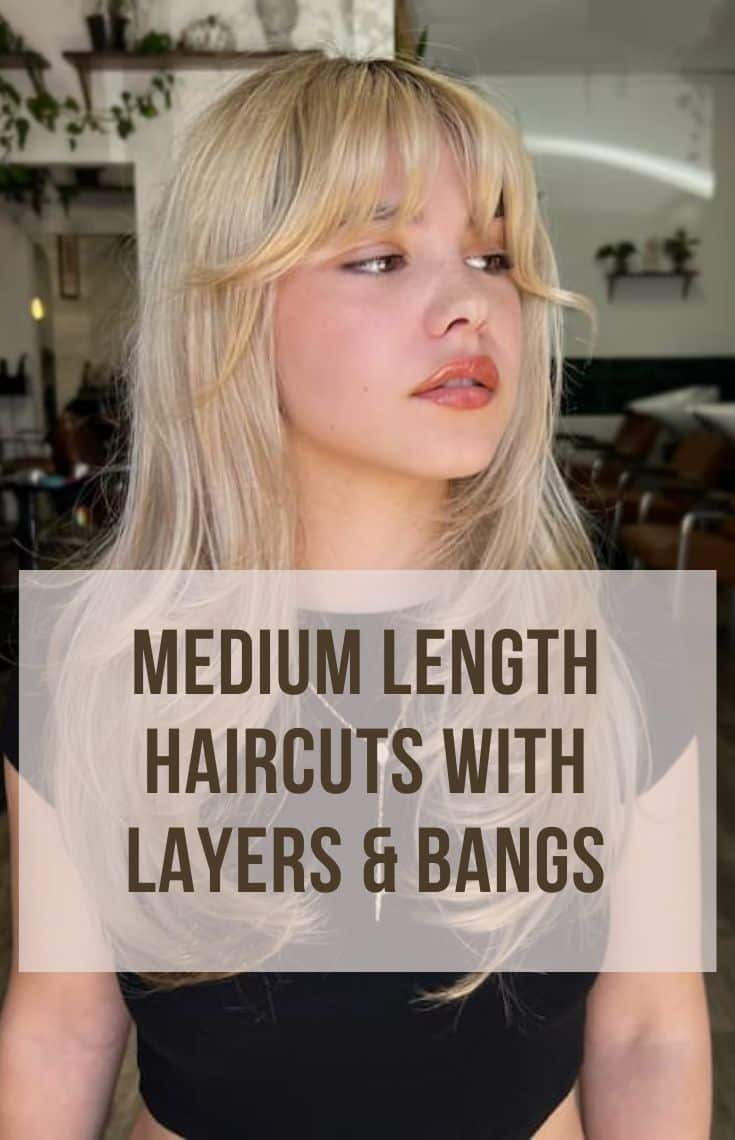 Want to be your most adorable self with layers and bangs? Then try the medium-length haircuts with layers and bangs below:
1. Layered Brown Mid-Length Haircut with Bottlenecks Bangs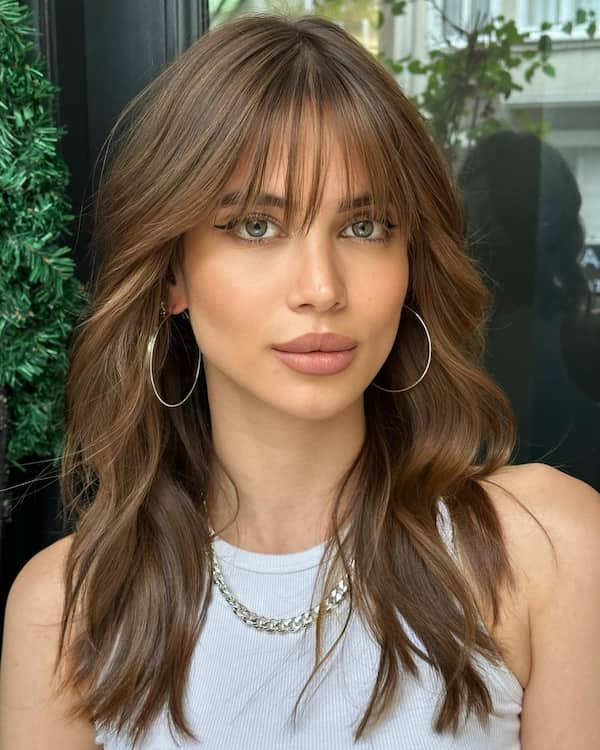 I think going for something this simple as the first item on the compilation is genius, as most people can get it due to its relative simplicity, and it also doesn't compromise on allure. Easily one of the best medium-length layered cuts out there.
2. Dimensional Layered Bob with Bangs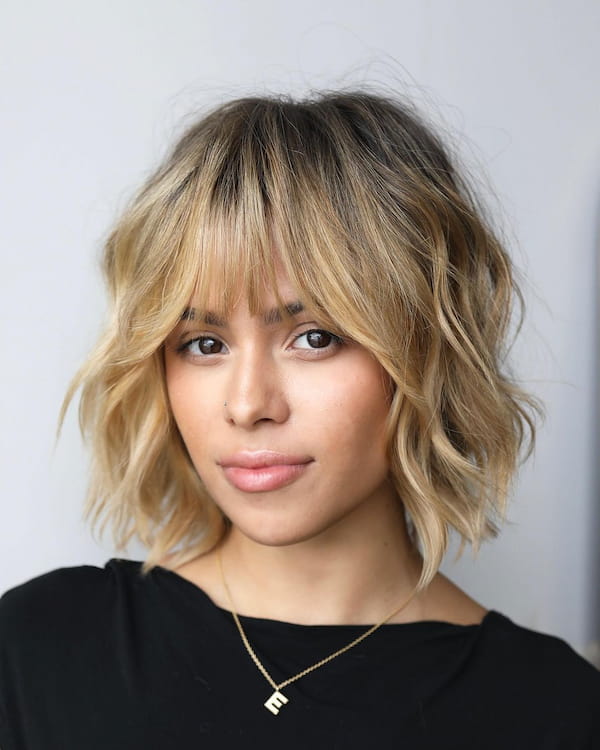 This bob puts on an alluring dimensional look with those black highlights, leaving the layers and bangs to do only secondary beautifying work. With the subtly wavy look, it's one of my favorite medium-length haircuts with layers and bangs.
3. Blowout Mid-Length Haircut with Layers and Bangs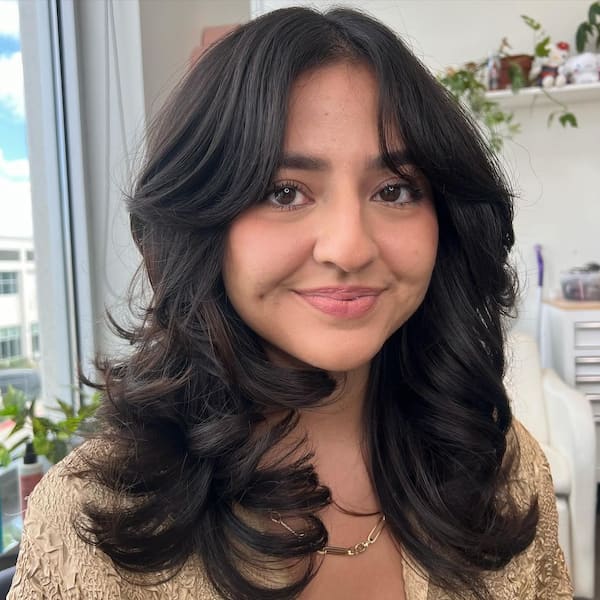 A wavy blowout makes it possible to wear layers, bangs, and a center parting in the same hairstyle without looking out of place. With hair this bouncy, it's hard for anything on the model to look out of place in the first place.
4. Classic Haircut with Internal Layers and Curtain Bangs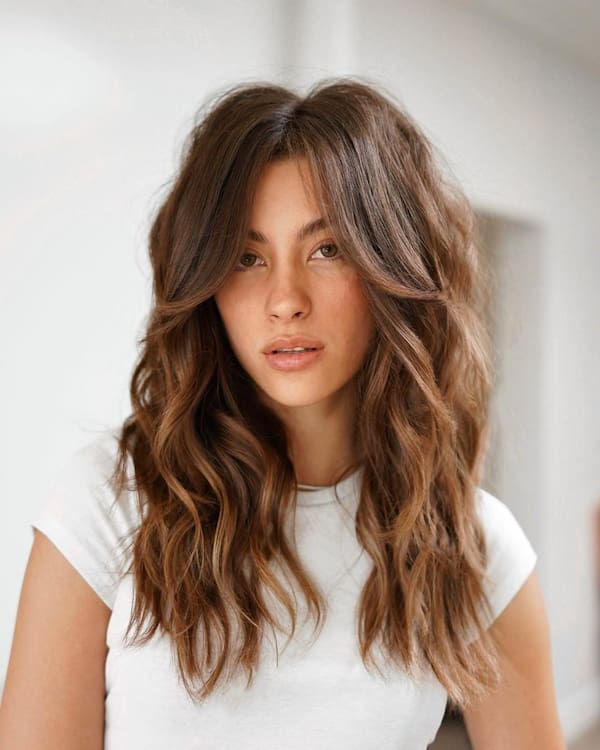 Brunettes can also enjoy the excellence of combining layers with bangs and a center parting through this amazing layered classic haircut. This style should score extra points in your book if you adore shag hairstyles.
5. Long-stepped Layered Haircut with Fringe
These long-stepped layers form a look that's hard to match in any other style, and the deep purple color also ticks a lot of boxes for me. If I was into colored hairstyles, replicating this style would be a no-brainer for me.
6. Chic Blonde Wavy Haircut with Layers and Bangs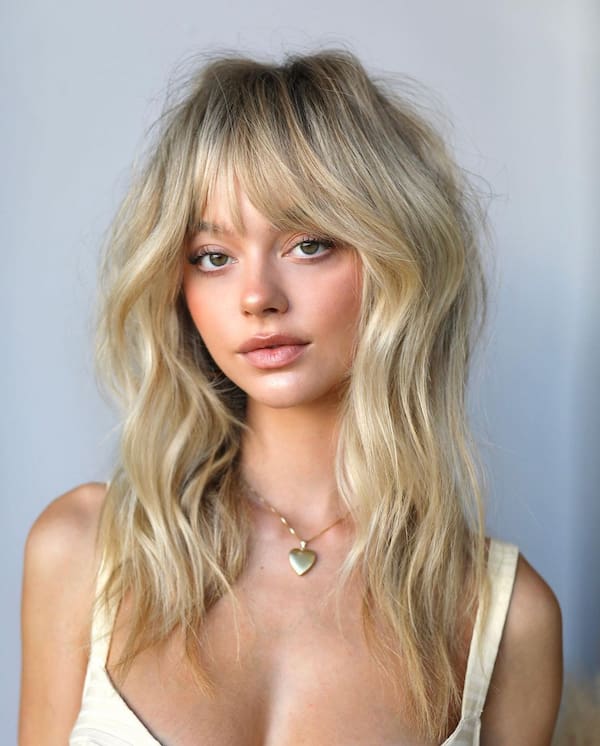 This dimensional blonde wavy cut accentuates all the benefits of wearing your medium-length haircut with layers and bangs. In addition to beautifully framing the model's face, it also adds extra charm to her look, making it one of my favorite haircuts.
7. Simple Layered Haircut with Long Curtain Bangs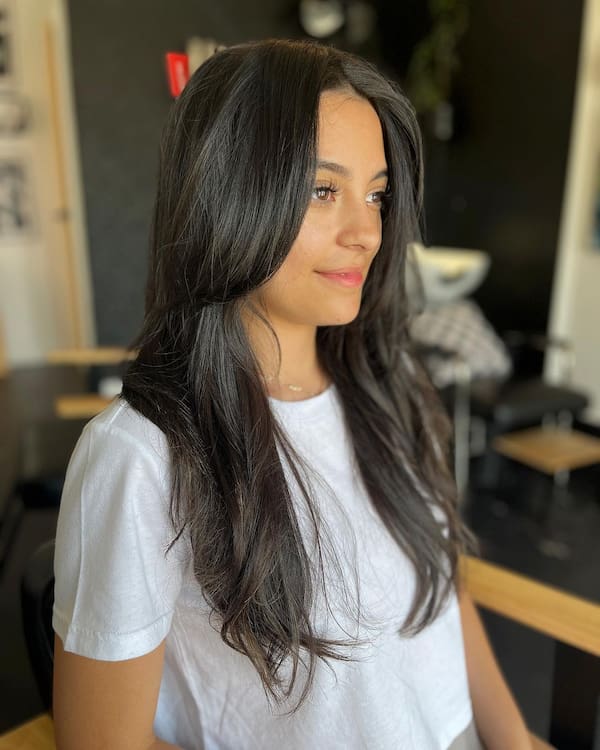 You don't need something complicated to look stunning with layers and bangs. This simple black layered haircut with curtain bangs already does it for me, and if you're into black hair, chances are that you love it too.
8. Shaggy Lob with Bangs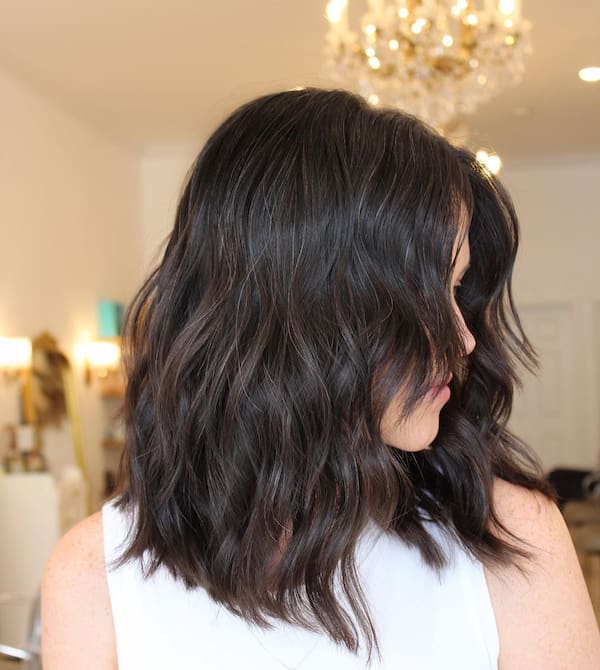 Here's another amazing wavy black hairstyle idea for ladies into layers and bangs. The layers here aren't the most pronounced, but they get the job done, plus the shaggy look of the wavy lob adds some extra flair.
9. Bomb Shell Blowout Haircut with Layers and Bangs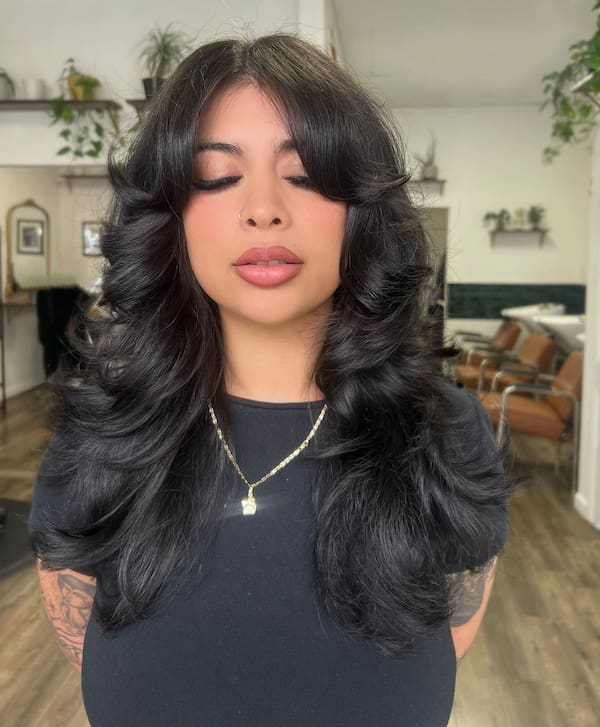 A bombshell blowout lets you rock your bangs and layers in a uniquely adorable bouncy look, like our model here. You can also take it a step further and add that symmetrical parting for an unmatchable look!
10. Barbie Blonde Haircut with Bangs and Wispy Layers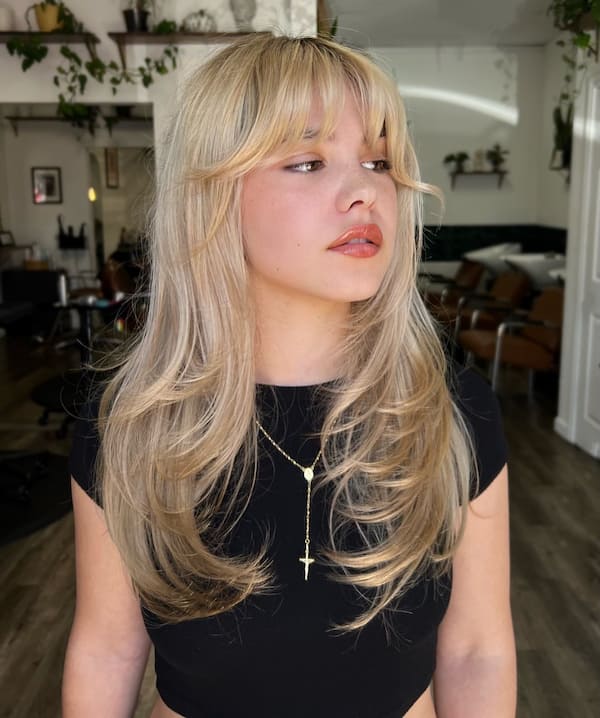 I find myself admiring the excellence of certain Barbie haircuts a lot, and if you also do, this Barbie blonde cut is your style. Its perfect blonde and alluring layers make it one of the best styles I've seen, ever, not just among medium-length haircuts with layers and bangs.
11. Spread Out Layered Haircut with Full Curtain Bangs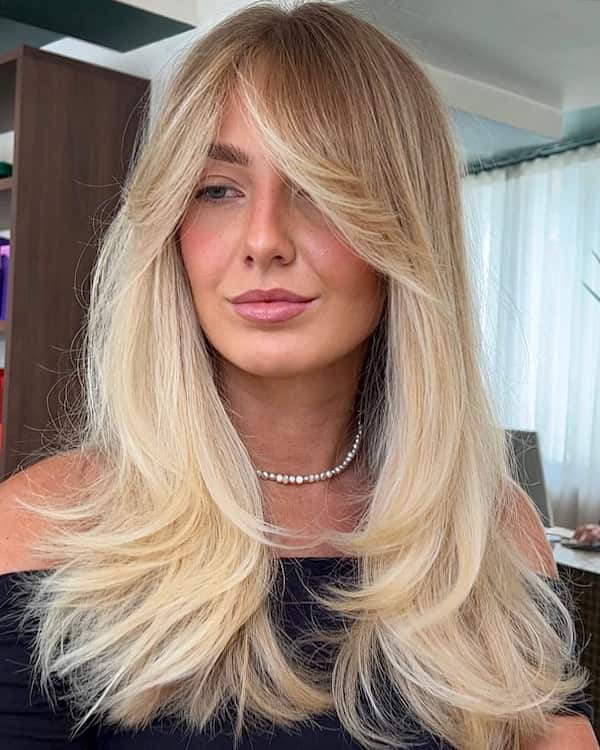 Older ladies can also rock medium-length haircuts with layers and bangs, and here's an amazing dimensional spread-out cut that illustrates it well. You may also want to pay attention to the center parting, as it makes the style pop.
12. Classic Butterfly Haircut with Bangs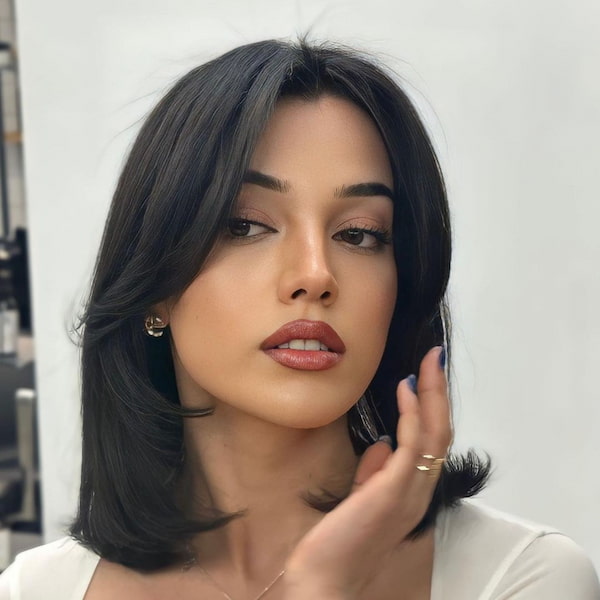 Butterfly haircuts naturally have layers, so styling them with bangs naturally qualifies them for this list. When the result of the combination looks as adorable as this model's, try contacting me for your spot on this coveted list.
13. Brunette Layered Haircut with Curtain Bangs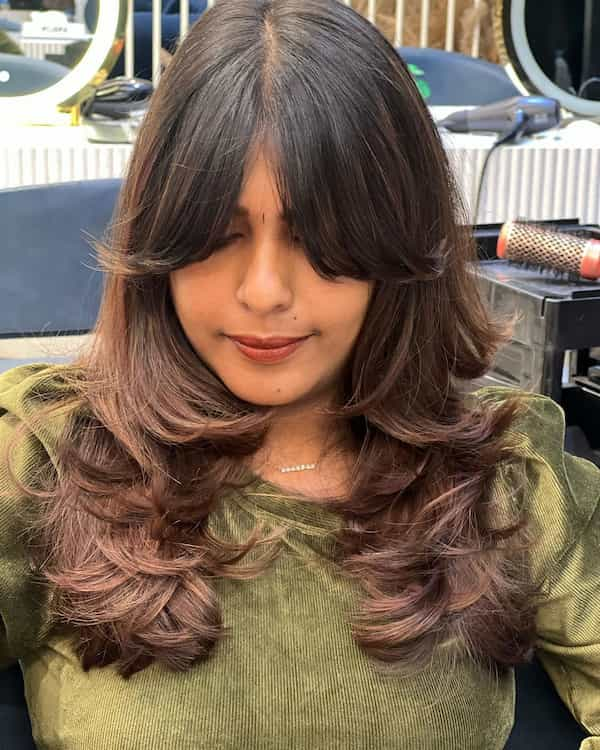 If you love incorporating brown color into your black hairstyles, this layered haircut is for you. With the huge curtain bangs and the alluring center parting, it's one of the very best hairstyles you'll come across on this list.
14. Soft Butterfly Layered Hair with Bangs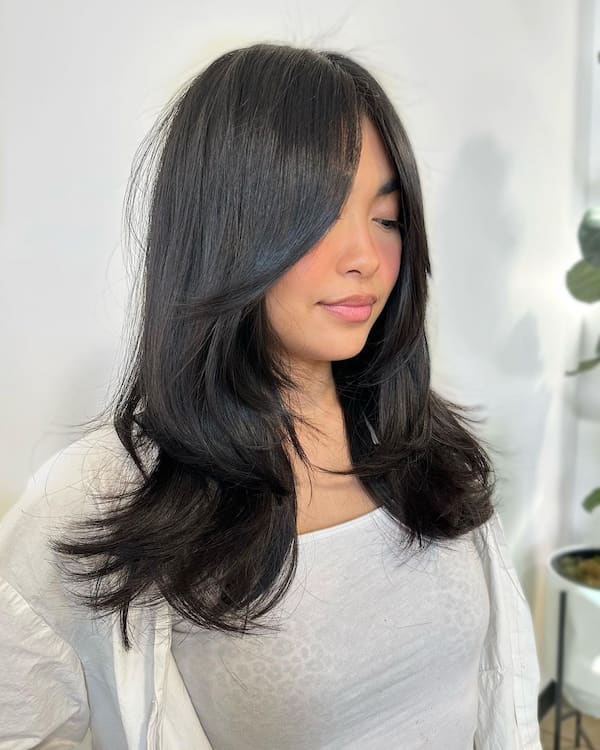 We've looked at a butterfly haircut with bangs earlier, and here's another I think should interest you. It's the same black as the preceding idea and looks just as sleek; for now, I'm unsure whether to go with this or that for my next hairstyle.
15. Modern Medium-Length Haircut with Layers and Curtain Bangs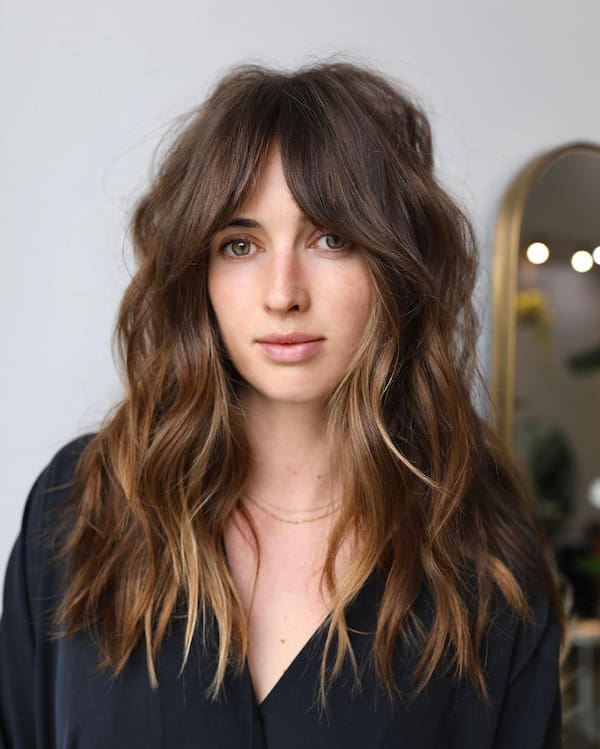 Most medium-length haircuts with layers and bangs can use a little bit of shag, and that's this style's best quality. It also seems to have a parting at the center, and with that adorable brown color, it's a no-brainer idea for brunettes.
16. Face Framing Stepped Layered Haircut with Bangs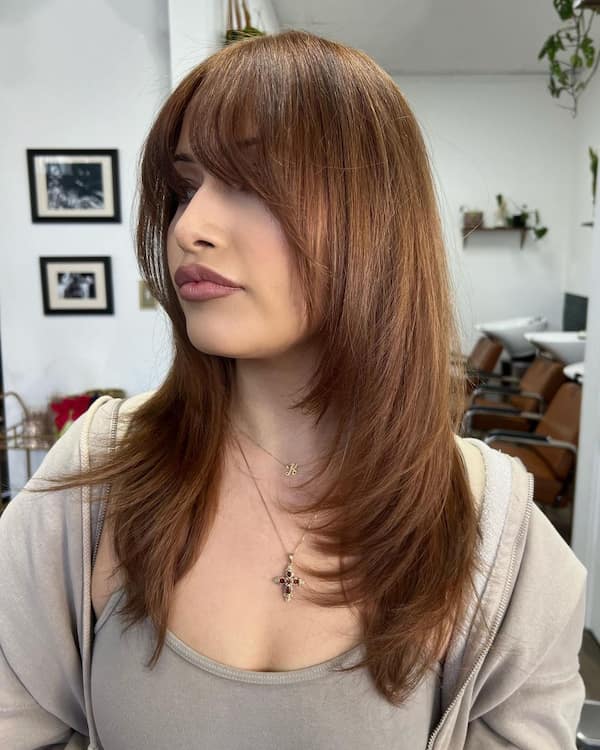 I've never seen bangs frame someone's face this beautifully, and trust me, I've seen many bangs. Combine that with the superlative beauty of this style's layers and you'll realize why it's the best brunette haircut on this list.
17. Textured Soft Shag
We've seen many hairstyles with a subtle shag so far, and here's another excellent one worthy of a recommendation. With its simple bangs and wavy but shaggy texture, this hairstyle is the epitome of 'effortlessly beautiful.'
18. Mid-length framing Layered Haircut with Bangs for Oval Face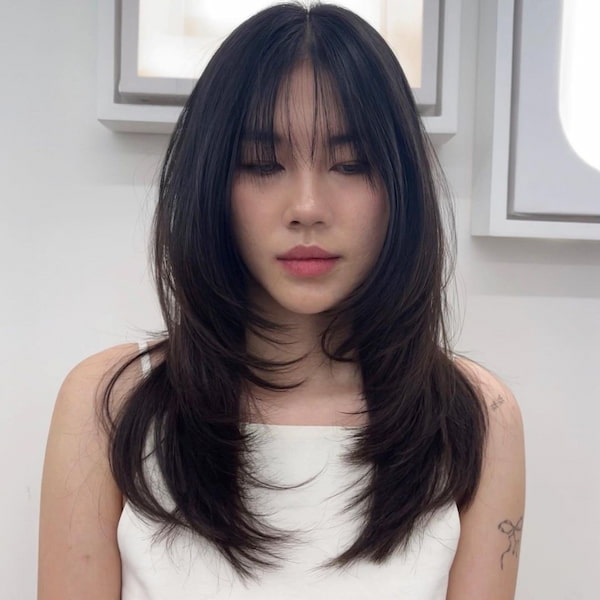 This is unarguably one of the best medium-length haircuts with layers and bangs for ladies with an oval-shaped face. The way everything curves subtly to form this face-framing oval shape is beyond adorable, and the center parting only makes everything ever so slightly better.
19. Highlighted Shag with Curtain Bangs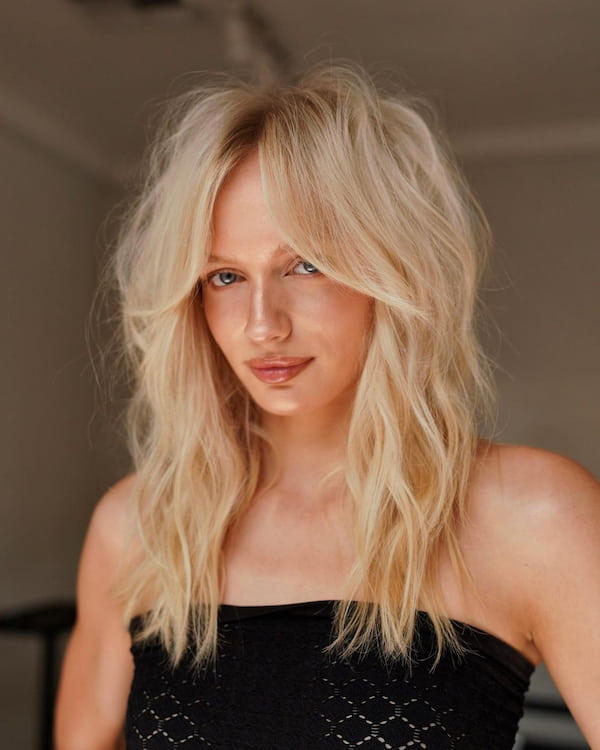 Wearing a blonde cut with a shag has this satisfactory feel that makes them keep recurring in this compilation. I love the aggressive layers and curtain bangs on this hairstyle, and for a medium-length layered style, it's hard to beat.
20. French Balayage with Layers and Bangs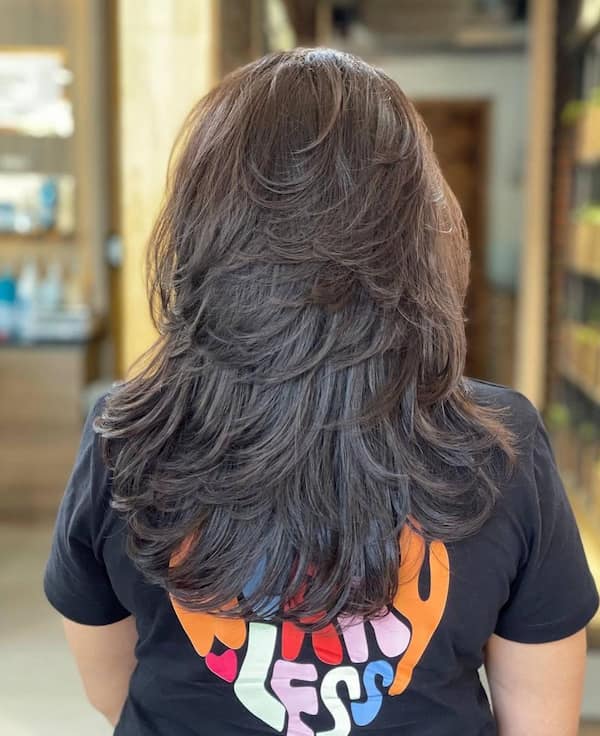 This French Balayage looks like something I'd wear to work while managing to showcase its aggressive layers. With the side-swept bangs and the bouncy look, I might just make this my next hairstyle, who knows?
21. Textured Haircut with Long Framing Bangs and Wispy Layers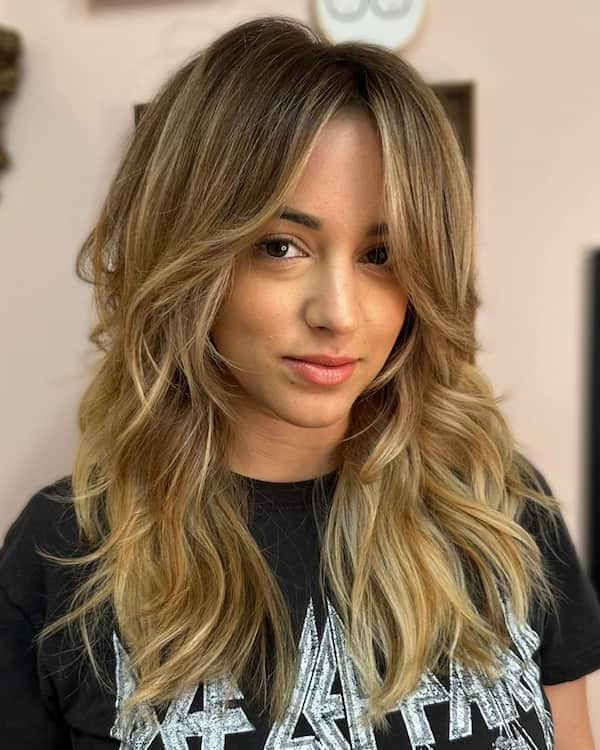 This dimensional textured cut would've looked great as it is, but the model went ahead to implement those long face-framing bangs with the wispy layers. Now, what would've been great is perfect, thanks to bangs and layers.
22. Chic Butterfly Haircut with Curtain Bangs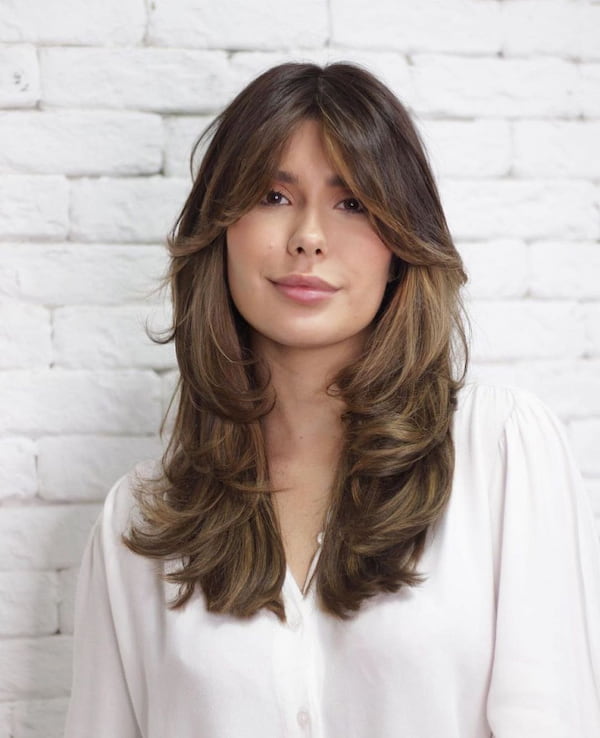 Butterfly haircuts work seamlessly with curtain bangs, and they've stolen the show in this compilation. If you already have brown hair, I don't see how you'd look at this style and won't want to get it, especially with those excellent layers and the center parting.
23. Blowout Butterfly Haircut for Older Women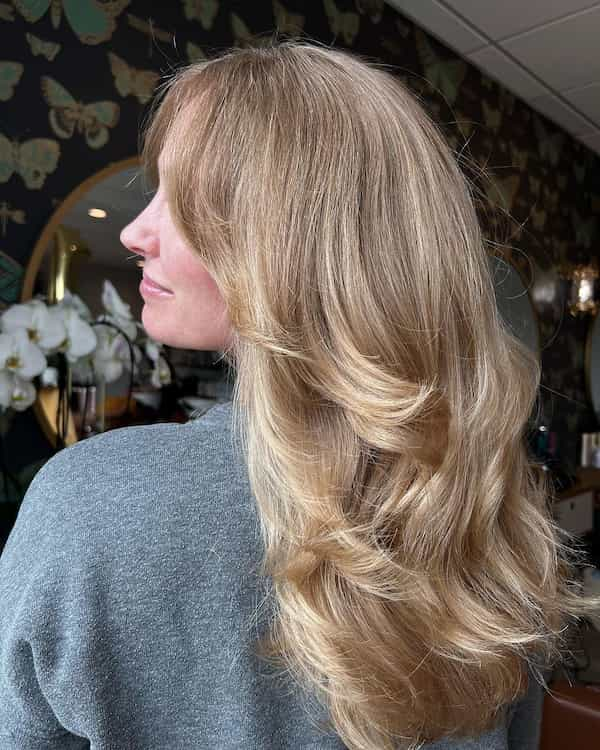 This style is similar enough to a blonde version of the preceding one, especially with those amazing curtain bangs. The bounciness of this idea makes this hairstyle even more adorable, and the layers are just right.
24. Summer Butterfly Haircut with Long Curtain Bangs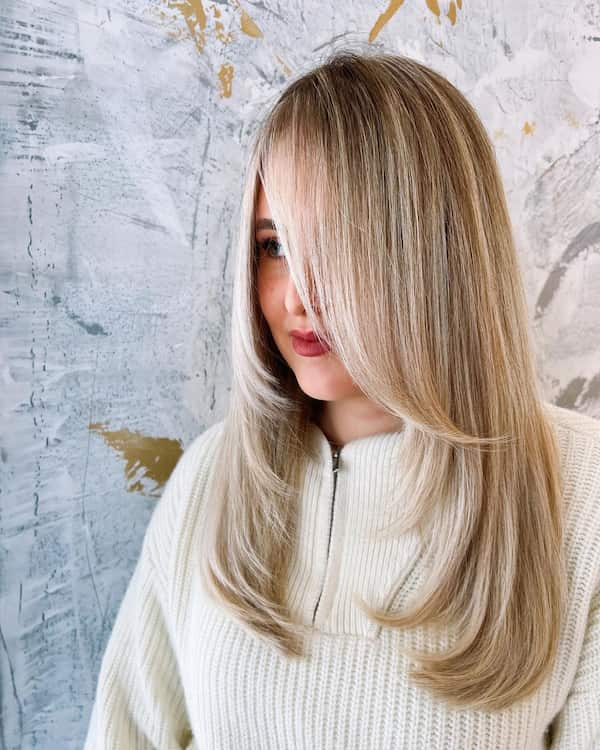 I'm probably not getting such lengthy curtain bangs until my wedding day, but if you can, why not? The sleek layered look is also hard to ignore, and the inward curves make for minimal face framing that makes the style one of the best.
25. Super Wavy Layered Haircut with Bangs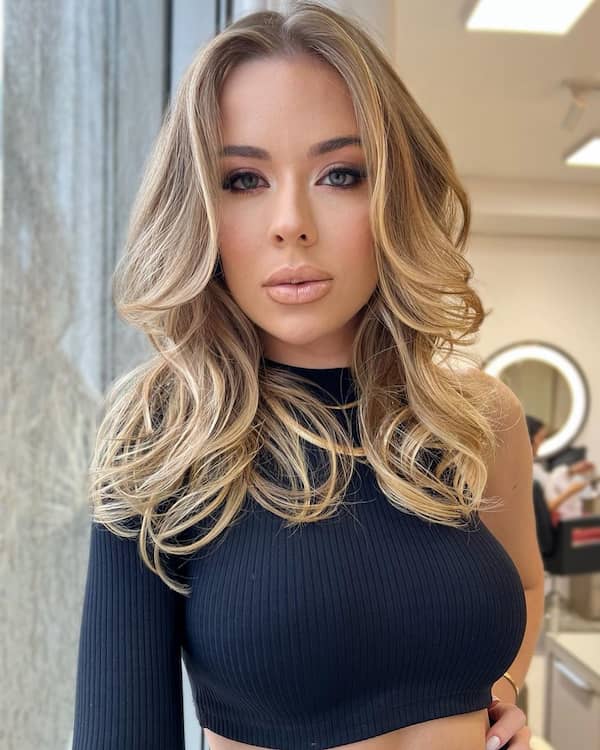 Sleek haircuts don't have to be straight; extreme waves can also look insanely adorable, especially when they have alluring layers and are adorned with bangs. The symmetrical center parting is also worth some attention, so you may want to look at that too.
26. Double-stepped layered Haircut with Curtain Bangs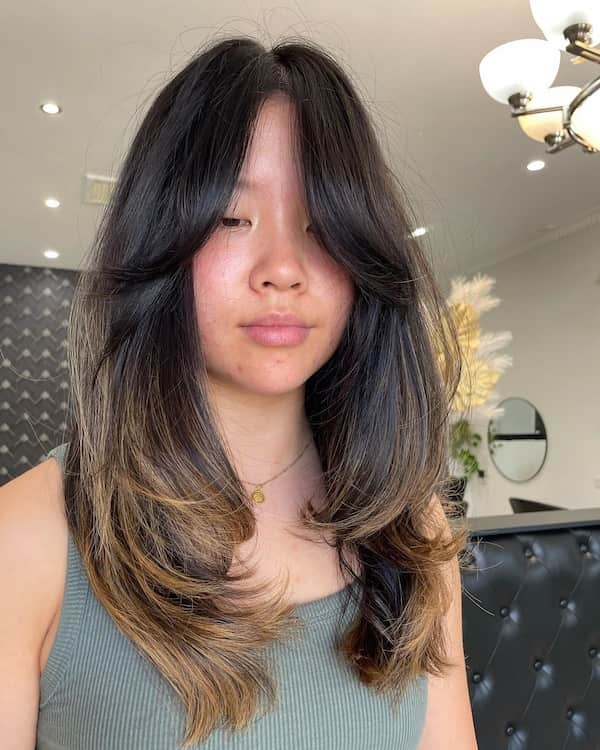 This thick double-stepped layered cut uses dimensions excellently, combining the natural awesomeness of black hair with the allure of brown highlights. For ladies with oval faces and black hair, getting this hairstyle is a no-brainer.
27. Gray Statement Shoulder-Length Haircut with Bangs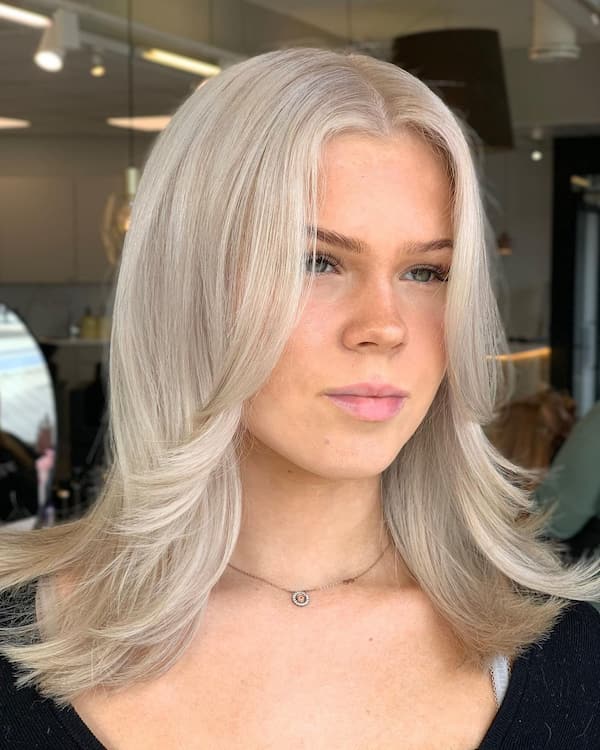 Who says you can't rock medium-length haircuts with layers and bangs on gray hair? This hairstyle idea begs to differ, managing to look adorable in the oft-dreaded gray color. I'm also in love with the center parting and the curtain bangs, as they add extra flair to the style.
28. Textural Bob Haircut with Curtain Bangs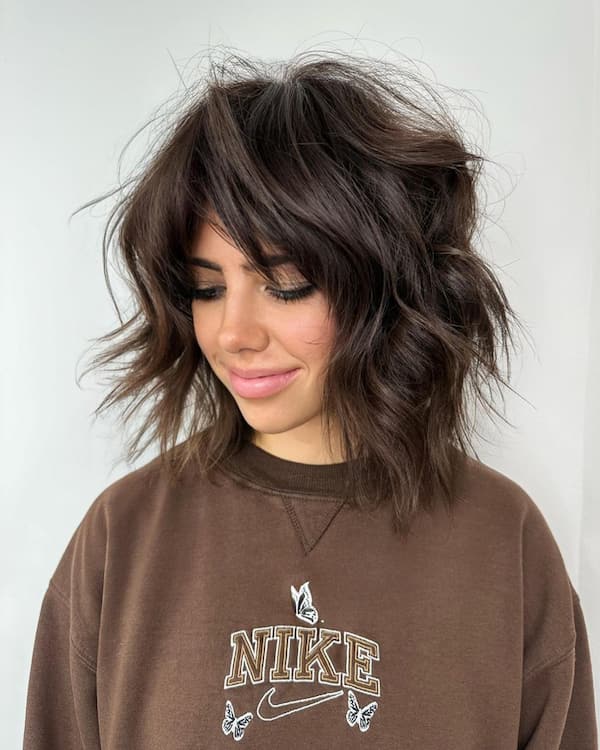 Trying to get a textured bob with bangs will always result in some shag, but how shaggy you want it to be is up to you. This idea is suggesting ultimate shagginess, which is so cute that I want to get it for some reason.
29. Neck-Length Bob with Fringe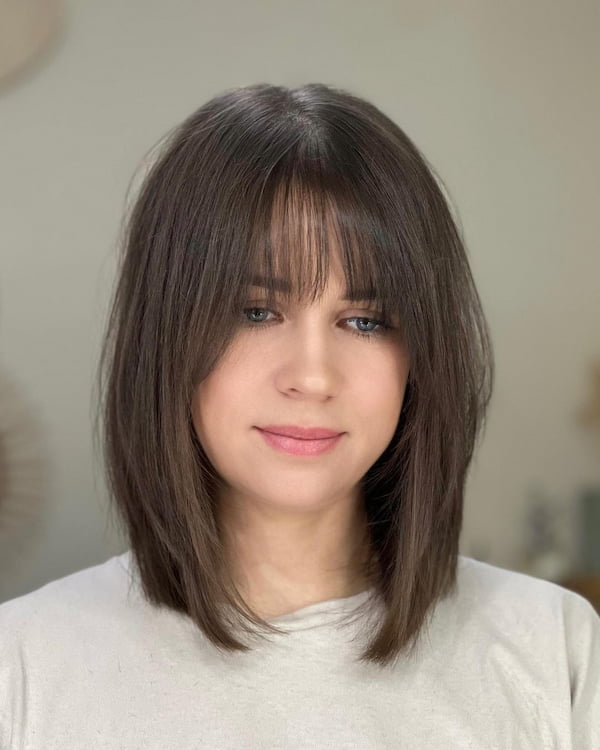 This neck-length lob is a simple yet adorable medium-length haircut that uses layers and bangs excellently for allure. Despite its extremely simple look, it manages to frame the model's face beautifully, creating one of the best looks so far.
30. Cute Curly Hair with Layers and Bangs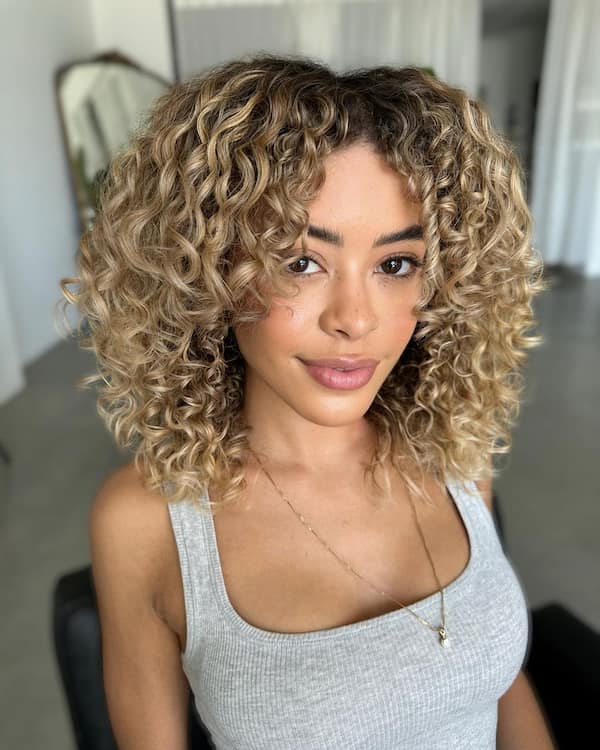 Who says the haircuts in this compilation all have to be straight? Sometimes, the best way to rock layers and bangs is by wearing curly hair that gives you natural layers and stunning bangs: an easy 10/10 brunette hairstyle.
31. Medium-Length Soft Shag with Bangs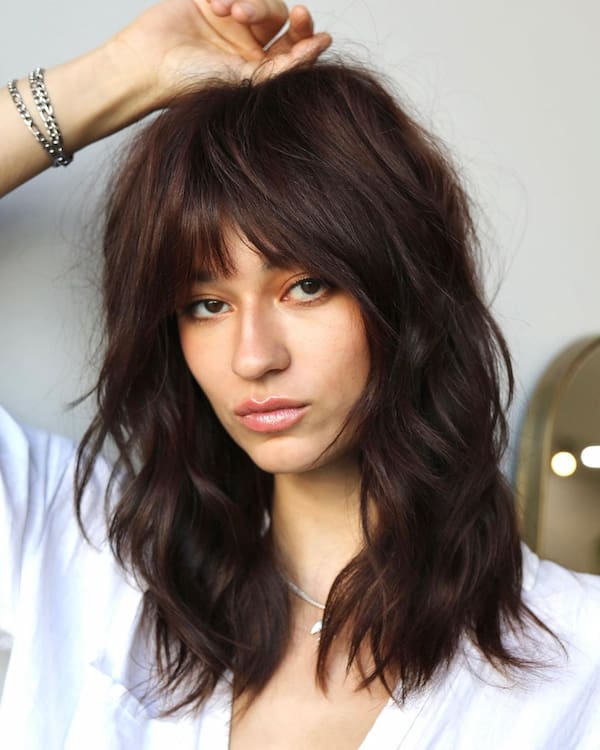 This soft shag isn't shaggy enough to be inappropriate for professional settings, but it also gives you some of that unique shag allure. I'm also a fan of the curtain bangs, as they make the hairstyle pop.
32. Cutting Layered Haircut with Curtain Bangs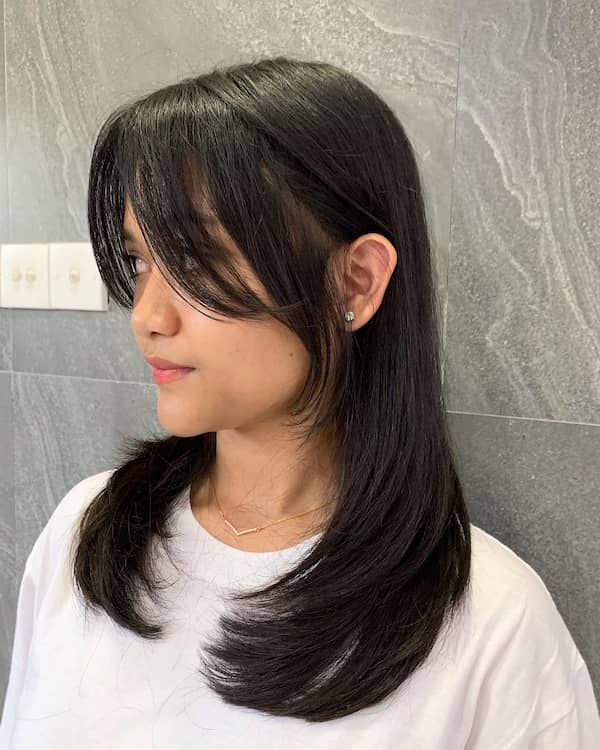 The curtain bangs here frame her face beautifully, allowing for the layered haircut to shine with all of its charm. The natural oval shape from the bouncy bangs is also impressively beautiful, explaining why this style made this list.
33. Wispy Layered Bob with Curtain Bangs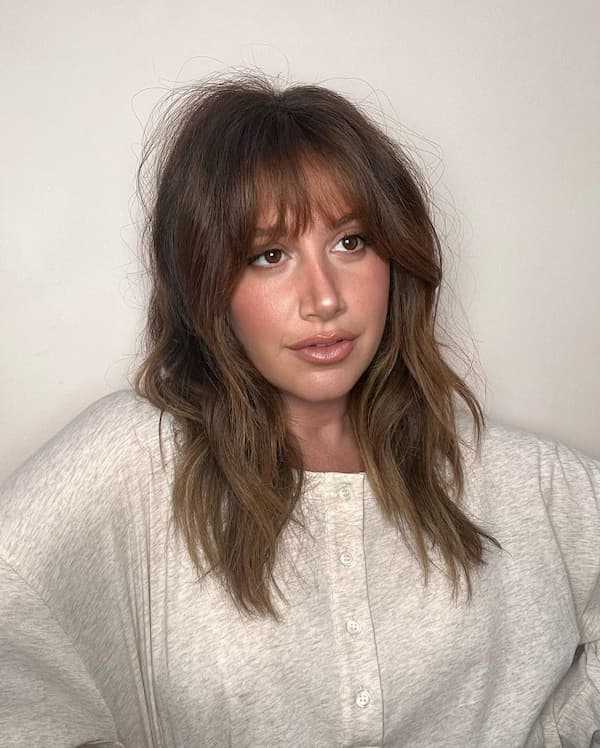 This relatively wispy bob with layers uses scanty curtain bangs to command some allure, completely winning me over. You can also notice a soft shag if you look very closely, and all of these brilliant properties are in natural hair!
34. Textured Wolf Haircut with Bangs
This textured wolf haircut takes face-framing to the next level with adorable wavy layers and bangs that outline the shape of the model's face. For ladies into dark brown styles, it's a no-brainer haircut.
35. Sun-kissed Shag Haircut with Curtain Bangs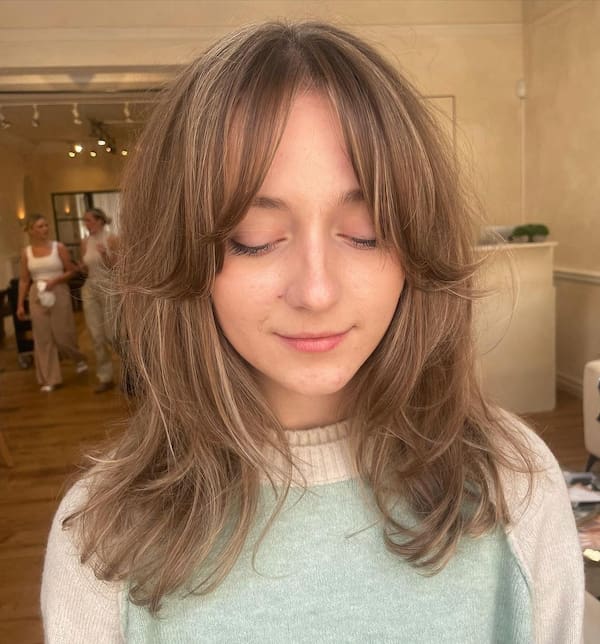 Is it brown hair day today? It has to be for all these alluring medium-length haircuts with layers and bangs to keep showing up in brown. If you're a brunette, there's no reason to consider anything other than this adorable mid-length cut.
36. Classic Full Mid-Length Haircut with Layers and Bangs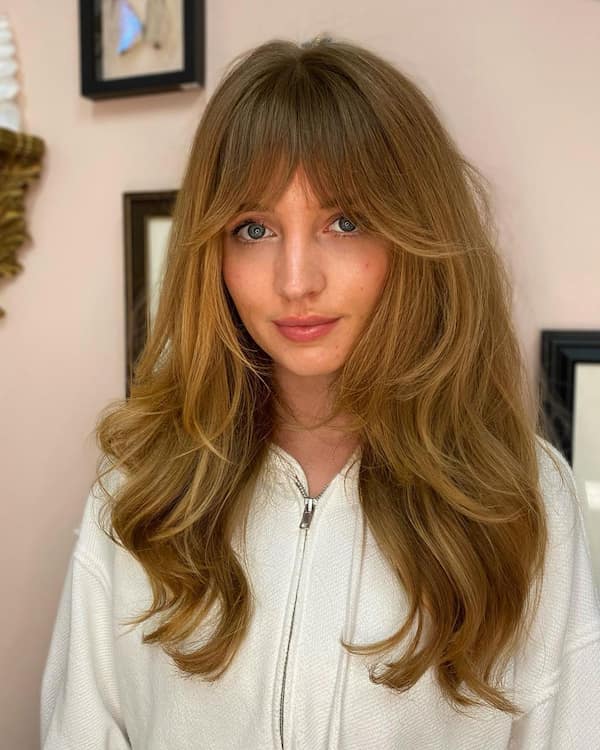 This haircut has a bit more length than most other cuts in this compilation, but that's one of the main tricks to its allure. Some other tricks you may want to replicate include the pretty layers and the full curtain bangs.
37. Shaggy Layered Bob with Fringe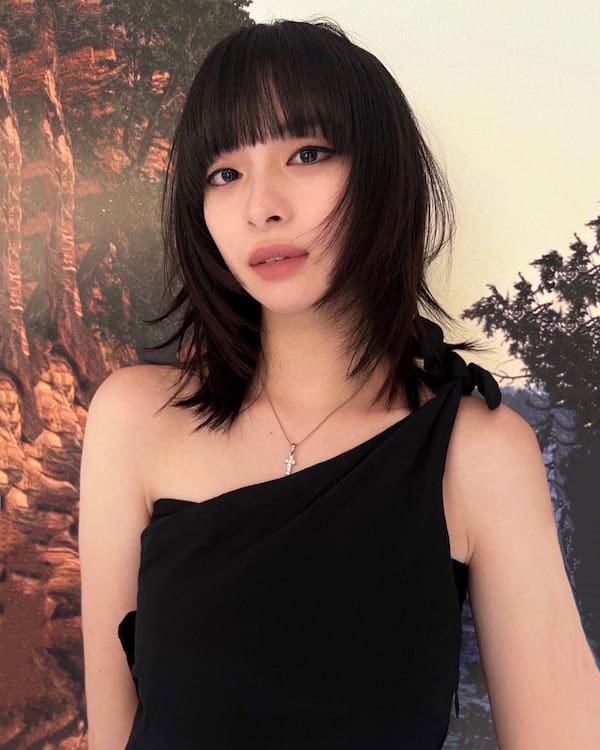 I'm struggling to make out the shag here, but I think that's irrelevant; what's relevant and agreeable is that this style is one of the best medium-length haircuts with layers and bangs I've seen. The bangs look perfect and the layers are just right, making it perfect for Asians with black hair.
38. Shoulder-Length Haircut with Thinning Curtain Bangs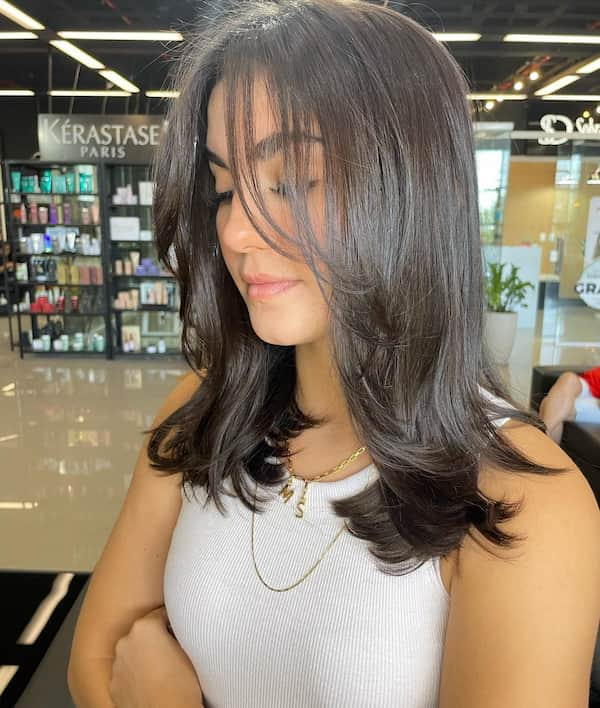 If you're not Asian but have black hair, this shoulder-length cut is an excellent medium-length idea. The thin curtain bangs only make the style more alluring, and the layers look indispensable for the style. For a style of this length, you can hardly come up with something more alluring.
39. Wolf Framing Haircut with Curtain Bangs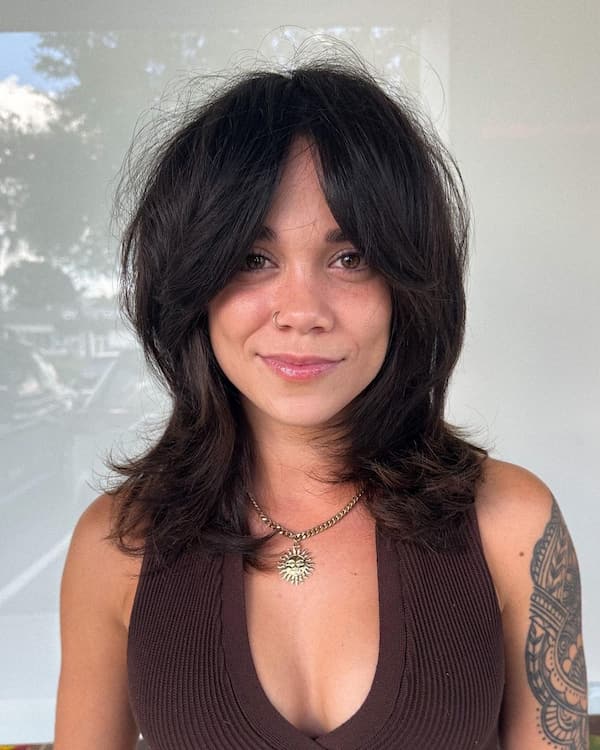 This layered wolf cut looks regular at first glance, but then you notice the layers as well as the unmistakably alluring curtain bangs. The layers make the hairstyles pop, but the model's bright smile also helps a lot.
40. Loose Wavy Haircut with Fringe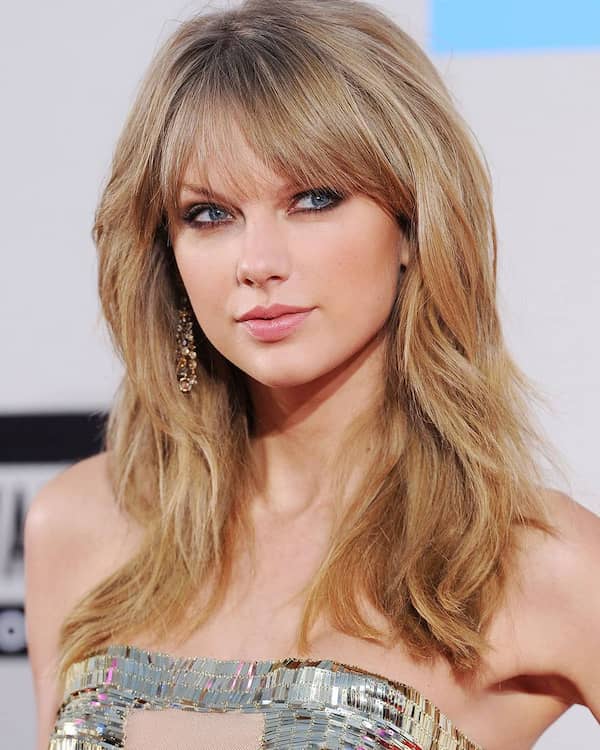 Sometimes, all you need to make your layered haircut stand out are some waves, and this model implemented it beautifully. The bangs here are also amazing, and you can't hate the hairstyle's dimensional look: easily a 10/10 hairstyle.
41. Gray Layered Bob with Fringe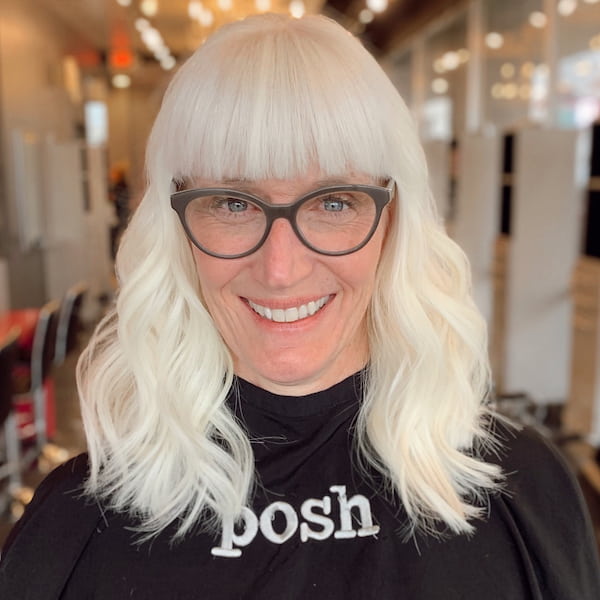 Older women with grey or white hair can also rock a medium-length bob with layers and bangs, and as you can see, it's not half bad. The full fringe, coupled with the hair's wavy look combine to form a hairstyle that can only be described as outstanding.
42. Brown Shaggy Bob with Full Fringe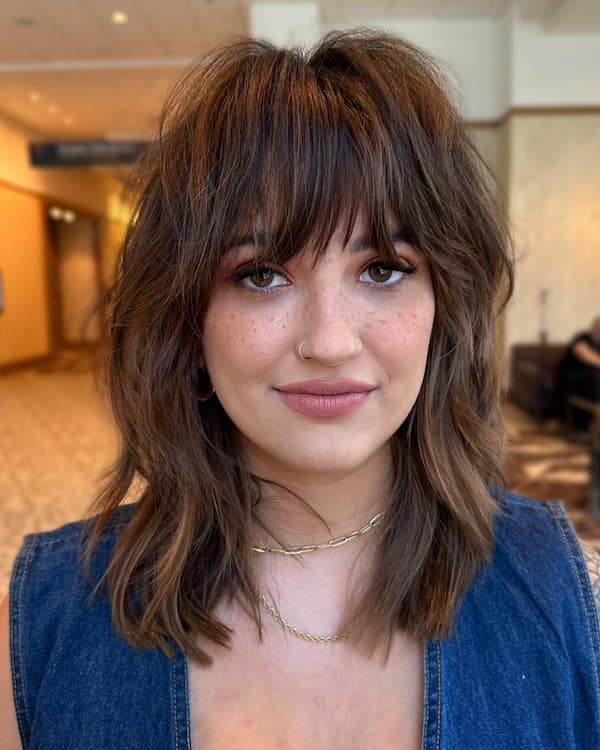 This brown shaggy lob is shockingly sleek for a style that should be messy, and the full fringe is nothing short of adorable. While it doesn't have the face-framing look of some styles in this collection, it does a good job of beautifying the model.
43. Dimensional Mid-Length Wolf Cut with Fringe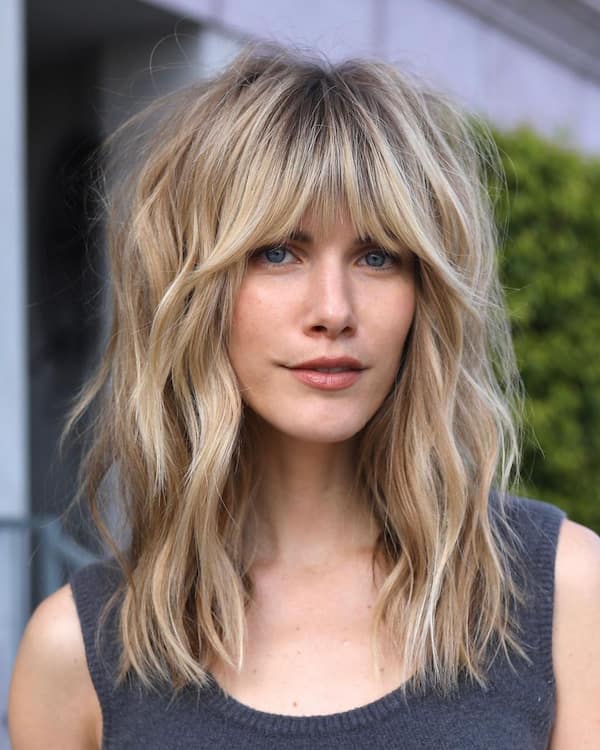 A dimensional style creates the kind of color diversity that elevates a hairstyle from good to great, and that's what's happening in this mid-length wolf cut. I'd be remiss if I didn't identify the impact of the layers and bangs, but you have to give it to the colors too.
44. Long Layered Haircut with Curtain Bangs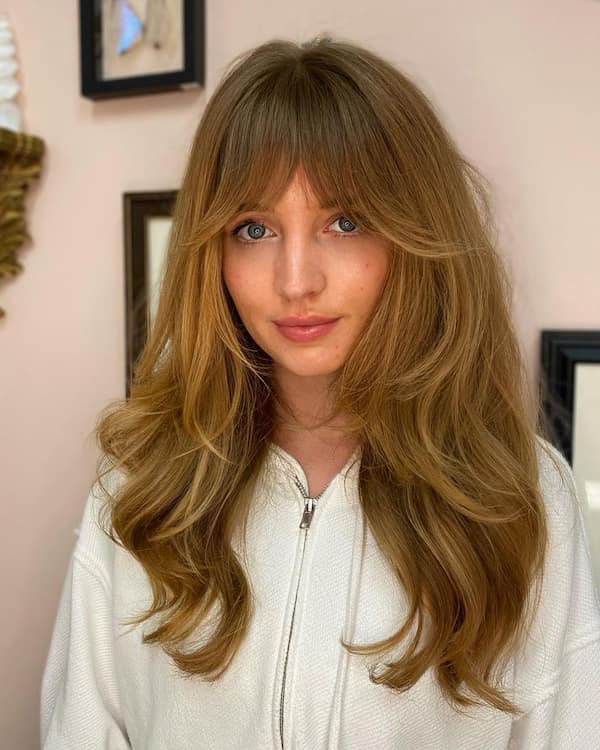 These long layers might be the most aesthetic part of this hairstyle, but their awesomeness shouldn't distract from the excellence of the curtain bangs.
45. Mixed-Colored Shoulder-Length Haircut with Barely Bangs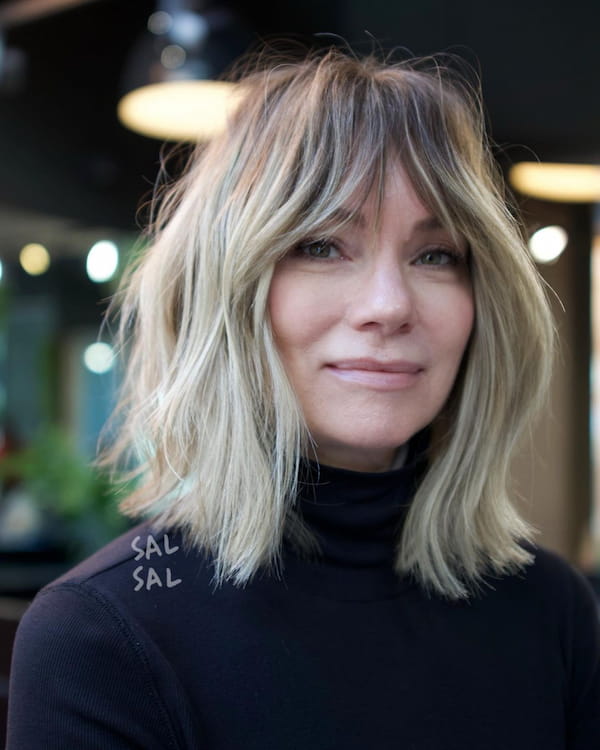 The 'barely bangs' style refers to the subtle bangs, but that's not even one of the most aesthetic parts of this hairstyle. The style also has a face-framing structure that makes it worthy of inclusion in this list.
46. Messy Wavy Hair with Shaved Sides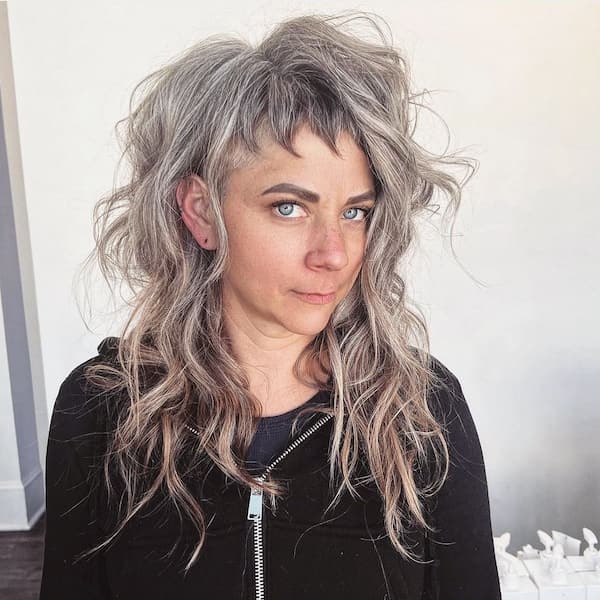 This is one of the sleekest messy styles I've seen in a long while. It may sound contradictory, but it's true. It may be the shaved sides or the unique color, but I know there's something unique about this style that makes it so good.
47. Reddish Shag Lob with Bangs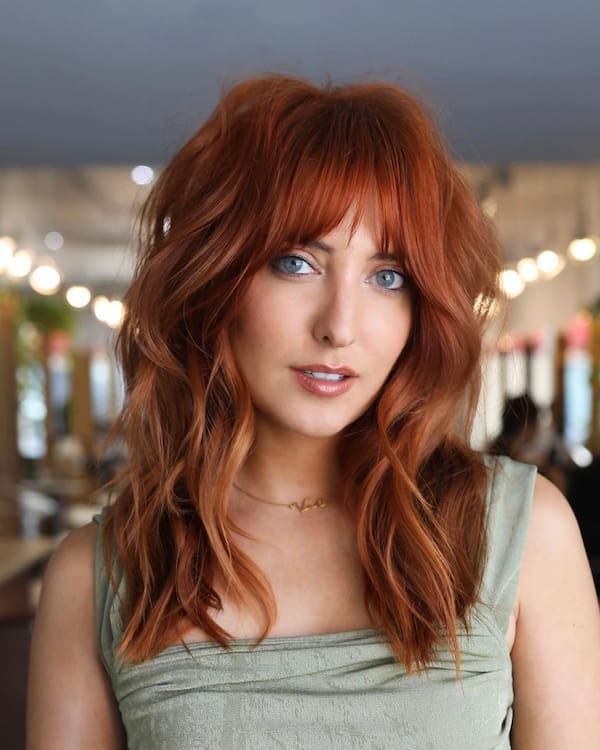 Brunette ladies will find this reddish shag lob adorable, if not for the textured waves, then for the adorable baby bangs on her forehead. It's not the shaggiest hairstyle on this list, but it qualifies as shaggy.
48. Layered Bob with Soft Swept Bangs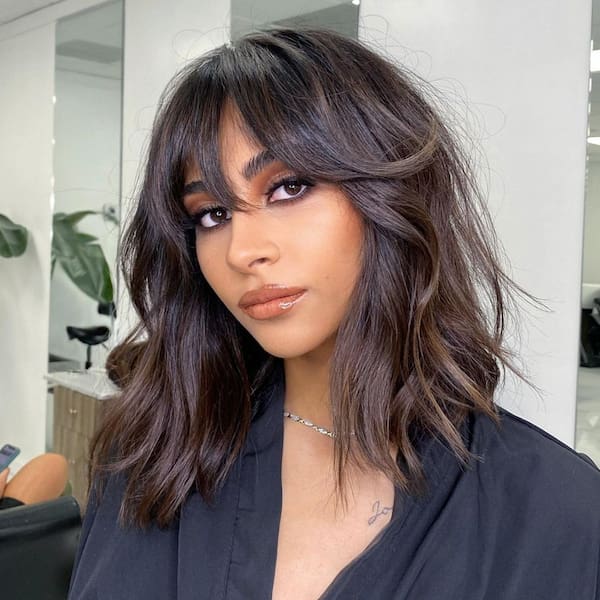 Adorable hairstyles aren't only for brunettes; you can get excellent side-swept bangs on a layered black bob and still have it look insanely adorable. I'm also a fan of the wavy texture; it makes the style pop.
49. Double-Toned Blue Haircut with Layers and Bangs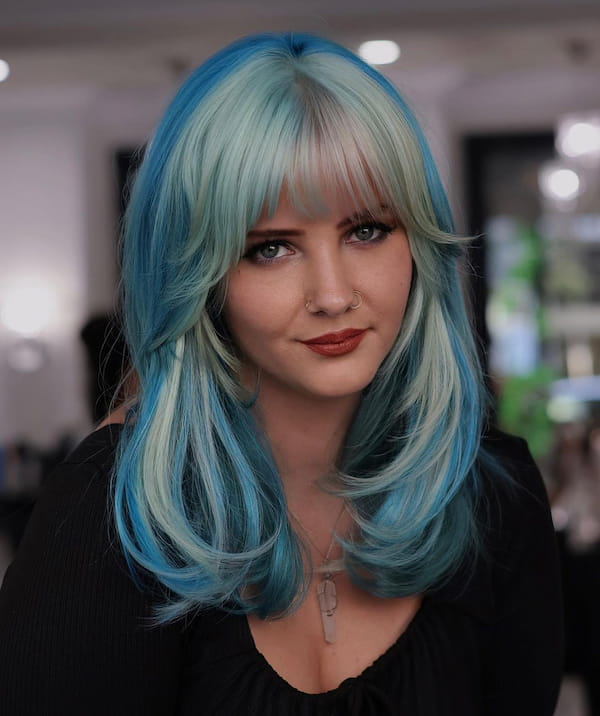 I'm not the biggest fan of flashy colors, but it's simply impossible not to love this minty blue haircut. Its seamless integration with blonde creates a dimensional look that makes it an extremely adorable style.
50. Messy French Bob with Bangs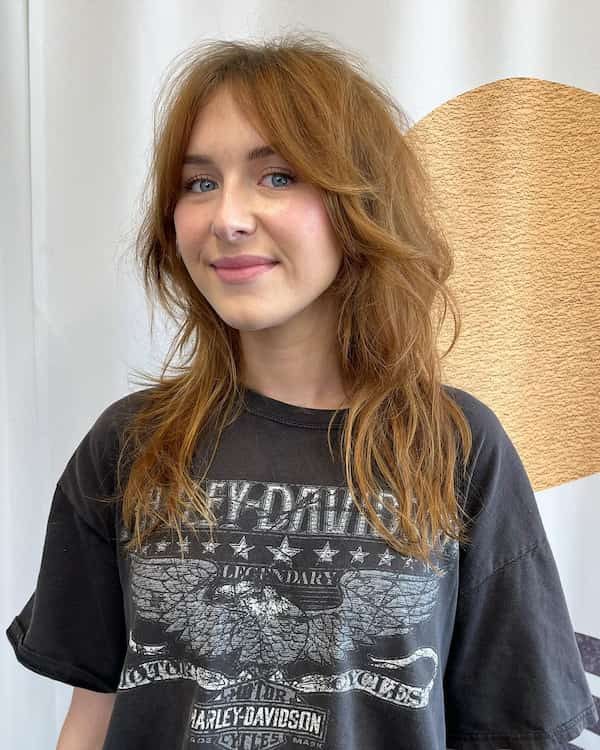 This simple French bob is an excellent way to end this compilation, as it captures the spirit of this compilation in general. The layers are simple but chic; the bang is subtle but adorable; and the texture is messy but chic.
Conclusion
Layers and bangs are both adorable ways to style most haircuts, as the 50 hairstyles in this compilation have illustrated. If you're after medium-length haircuts with layers and bangs, you need not look further than these ideas.
Pin for Later.