There's almost an endless list of hairstyles you can get with long hair, but since you're reading this, I can safely assume you've already settled for a bun.
Interestingly, there's also almost an endless list of bun hairstyles for long hair, but only a tiny subset of that list qualifies as pretty. Here are the 50 prettiest bun hairstyles for long hair we could find to help you look your best.
50 No-Fail Bun Hairstyles for Long Hair
Here are our top 50 bun hairstyles for long hair picks, ranked by their allure.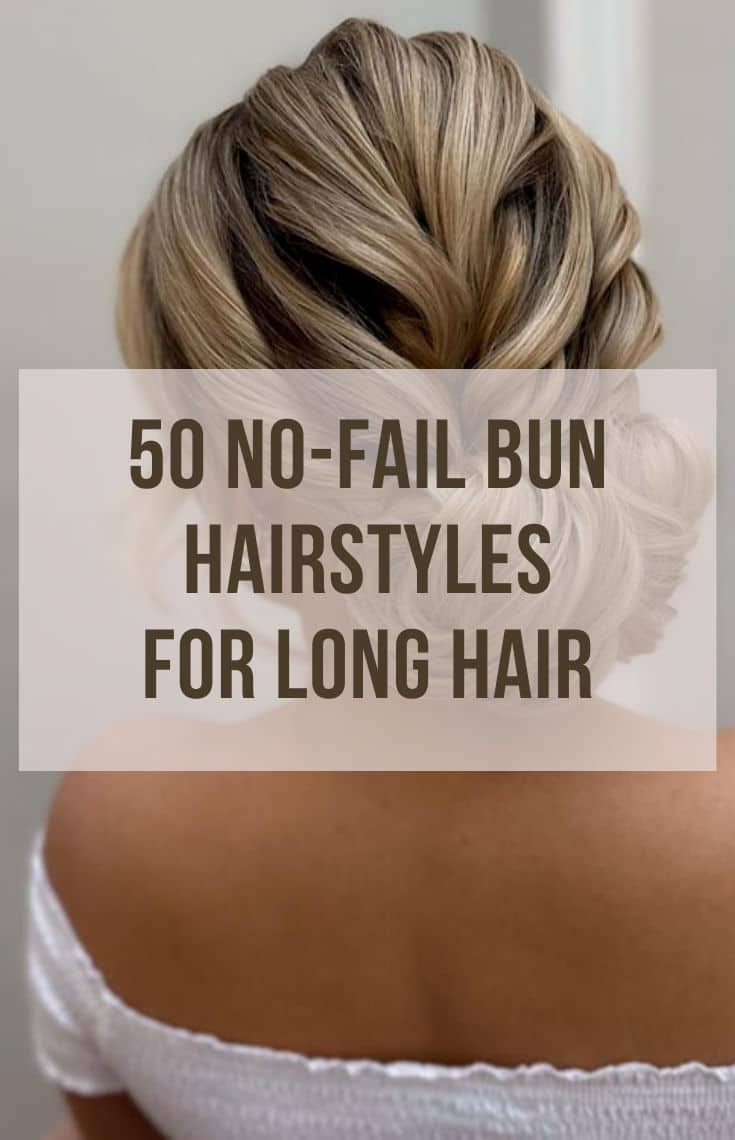 1. Classic Timeless Bun
Regardless of your hair's colour, texture, or volume, you can never go wrong with this slightly textured interwoven bun look. If this compilation had a poster style, this would be it.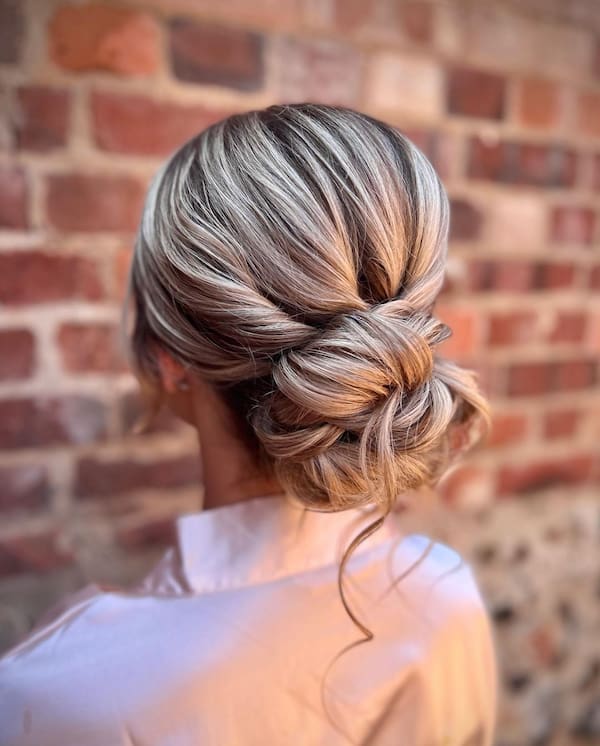 2. Voluminous Smooth Bun
If you're planning to put your hair's entire volume to good use, this voluminous smooth bun is an excellent hairstyle idea. The required volume could be an obstacle, but the end justifies the means.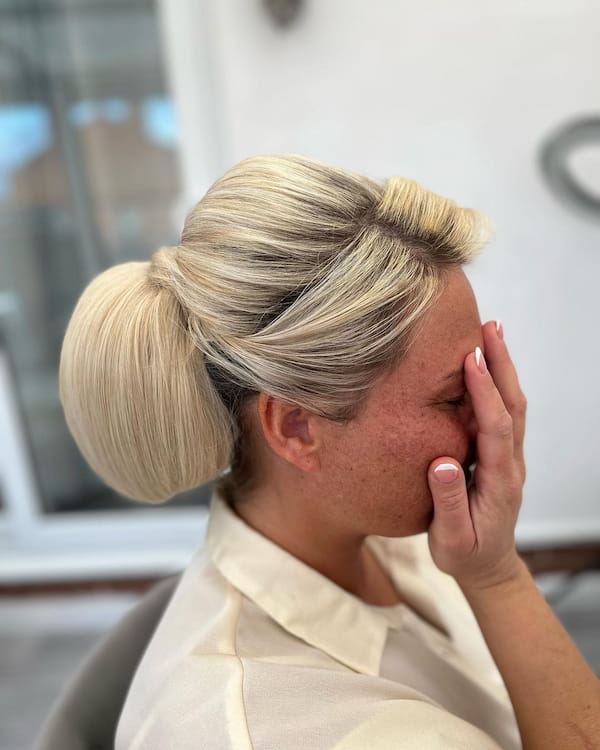 3. Bridal Low Bun
If you want something equally chic without such volume, this low bridal bun is your best bet. It doesn't look quite as exquisite, but it's not half bad either.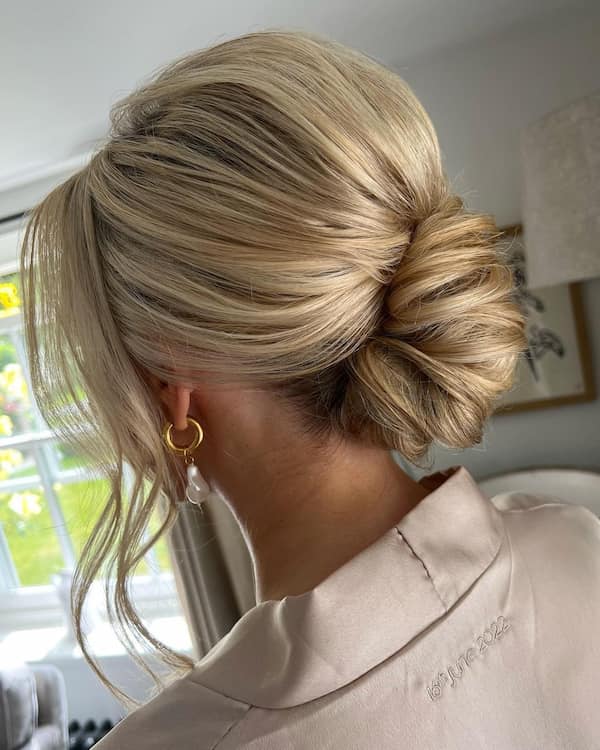 4. Romantically Chic Bun
This bun works excellently for wedding guests and is a prime recommendation for ladies with long brown hair. It's simple and easy to make, which is what you want in a bridal bun.
5. Knotted Low Bun
You don't need to be a brunette to rock a low bun, as the hairstyle works equally as well on black hair. The knotted finish makes it more durable, making it a perfect everyday hairstyle.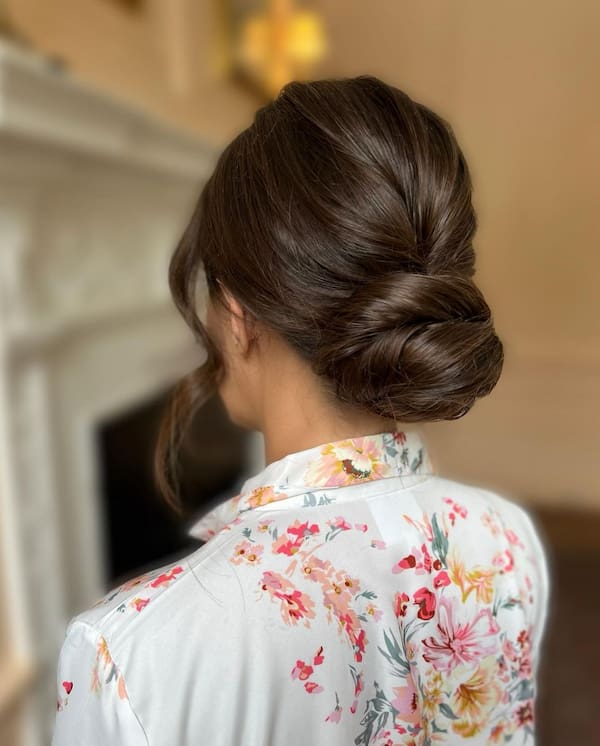 6. Textured Bun for Brides
If you're the star of the show at a wedding, you want to wear something with a bit more complexity and elegance than the average bridal bun. This textured bun accurately depicts that, embodying the exquisiteness you want in a bridal style.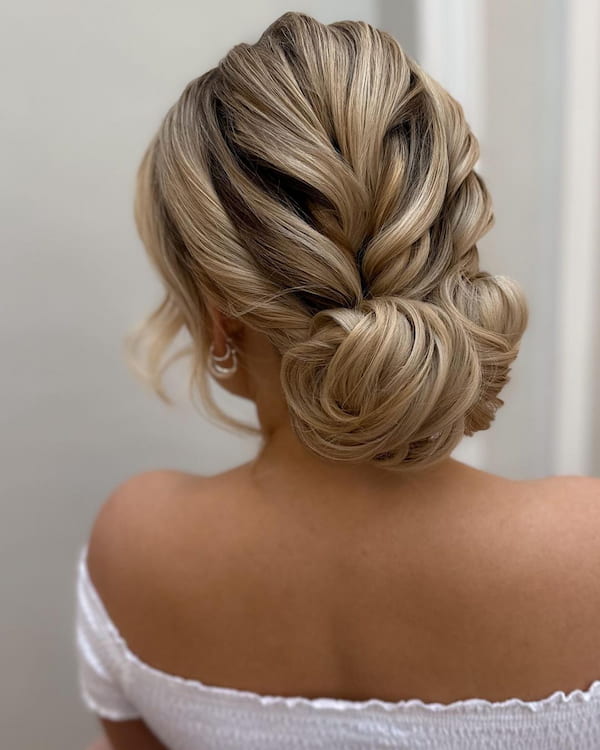 7. Smooth Bun Updo
You can add a little texture to your hairstyle without necessarily making it as complex as the preceding one, as this hairstyle inspiration demonstrates. The smooth look makes it slightly more appealing, making it one of the best bun hairstyles for long hair.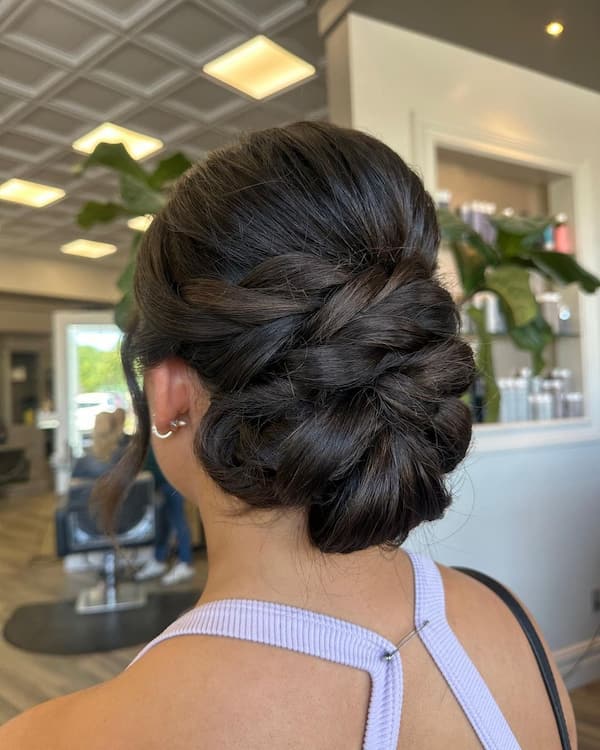 8. Messy Low Bun Updo
While most smooth buns look pretty, your bun doesn't have to be smooth to be pretty. Even with the messy-like texture, this low bun updo manages to look alluring.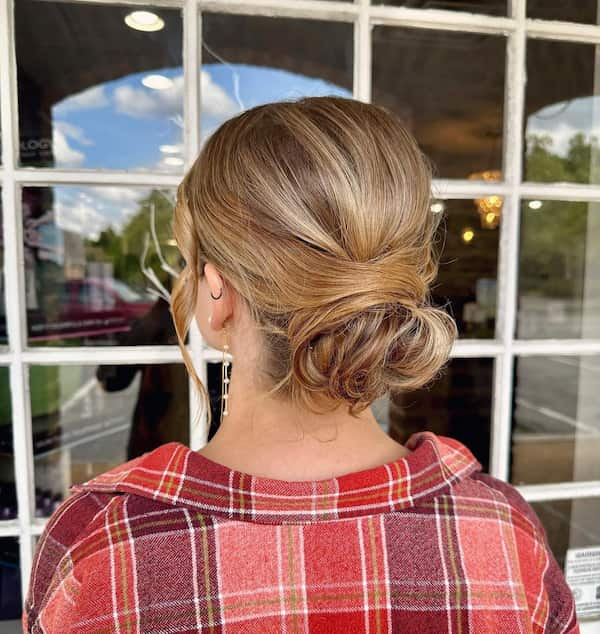 9. Sleek Open Bun
The sleekness that comes from smooth hairstyles usually comes in handy for bridal buns, and this style illustrates why that's the case. Even if the open bun doesn't entice you, the smoothness is enough to make you want this style.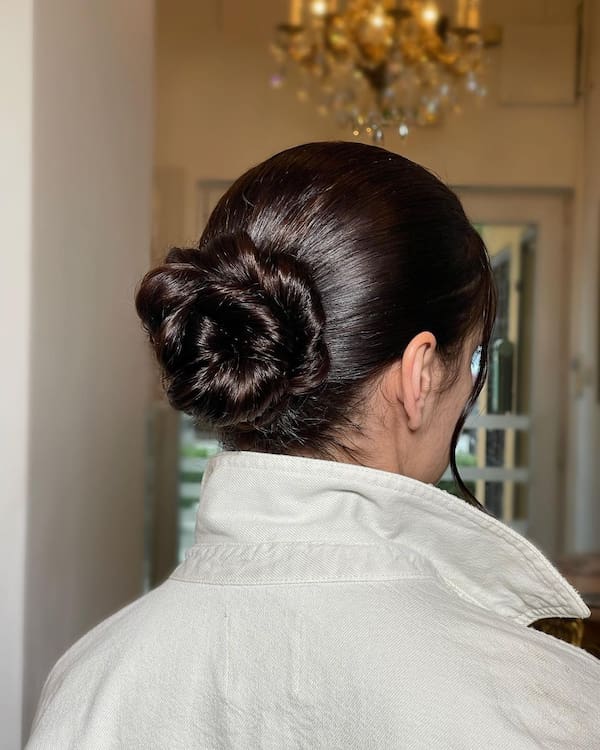 10. Textured Bun with Flower
Sleekness, texture, and volume all make buns better, but the list shouldn't end there. Flowers and pins also add elegance to buns, and if you're wearing the style for a wedding, you just don't want to ignore them.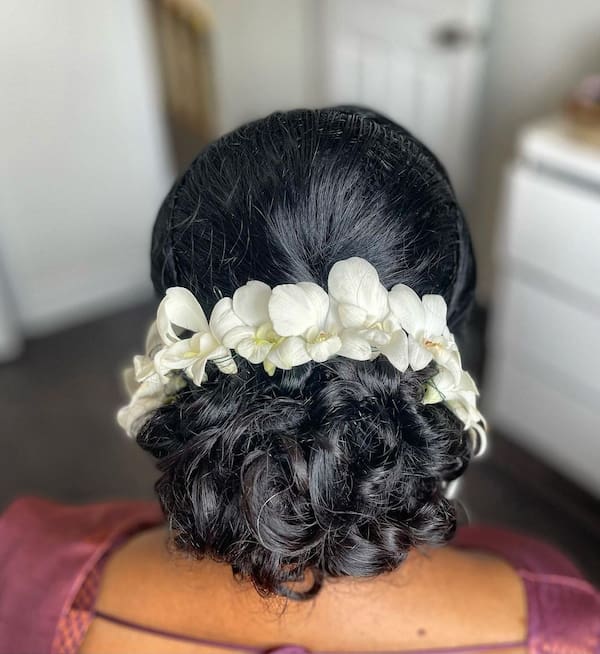 11. High Bun with Bangs
This high bun already looks unbeatable with those bangs, but the leaf pattern hairpin only makes things much better. If you have black hair with this volume, you don't get a better way to wear a bun.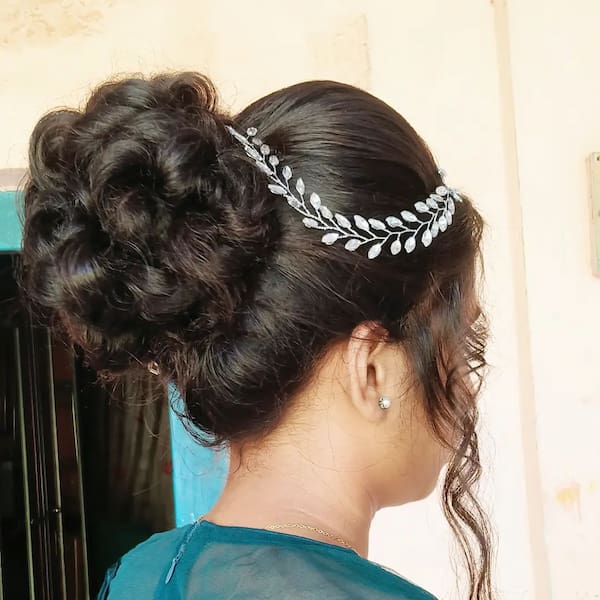 12. Statement Bun
If you'd rather not have random items in your hair, this plain statement bun looks nice enough for most events. It's not the most elegant thing in the world, but I'd wear this to an engagement.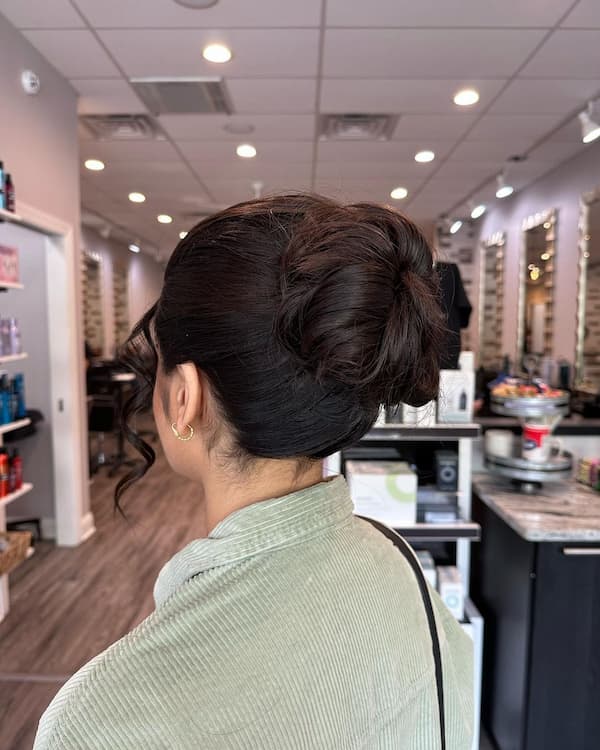 13. Low Bun with Flowers
Sometimes, those random items carry all your hair's beauty, so you don't want to leave them out. In this hairstyle, the flowers accentuate the low bun, making it one of the best bun hairstyles for long hair.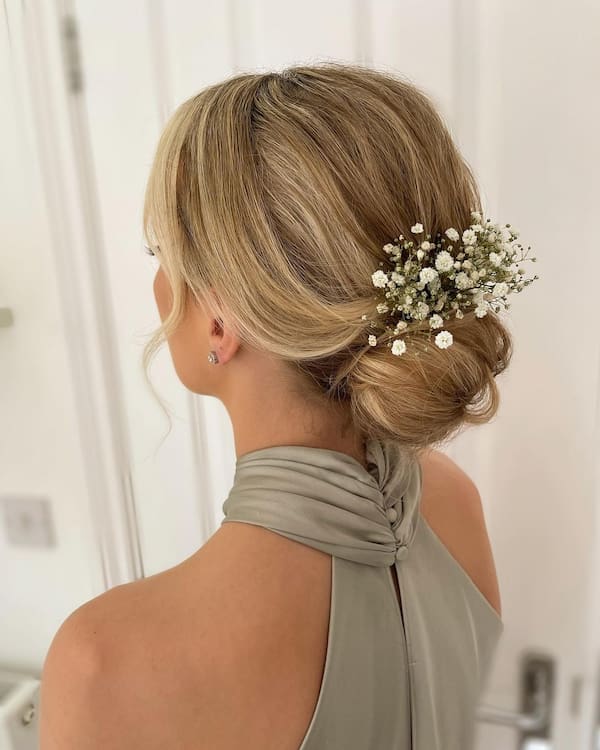 14. Freestyles Hair Bun
Sometimes, trusting your creative mind by freestyling will yield the best results. With a healthy mix of texture and ornamental items, this style is undoubtedly one of the best in this collection.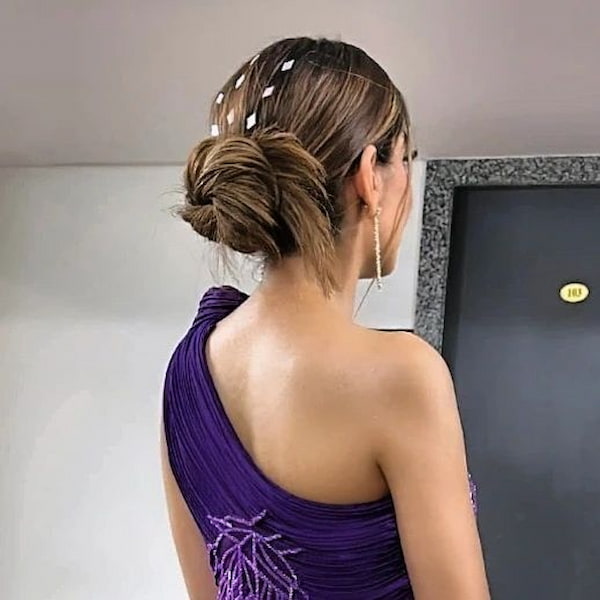 15. Flawless Simple Low Bun
If you don't trust your freestyle efforts, you should consider going with something more generic, but beautiful. Making your hairstyle as smooth as can be is a smart means to that end.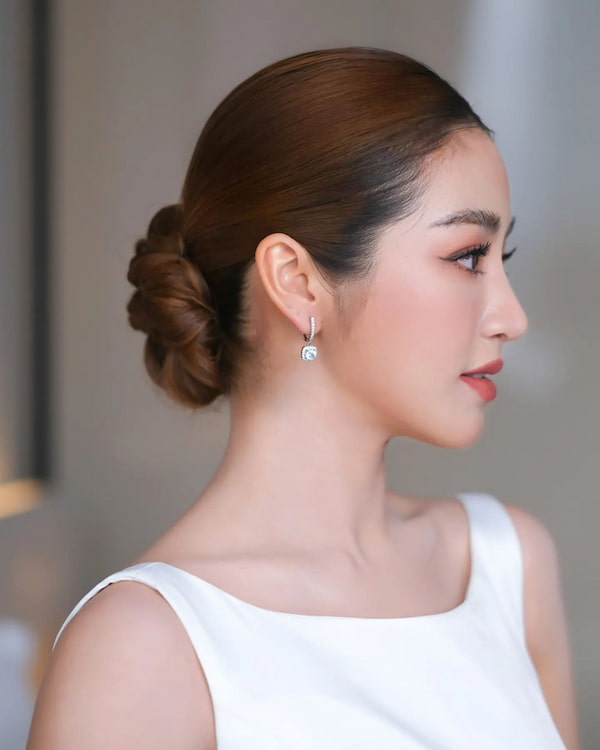 16. Knotted Stepped Bun
It's hard to find a middle ground between extreme simplicity and elegant complexity. This hairstyle manages to do that, with those tiny flower hairpins introducing all that's needed to make this style decent for brides.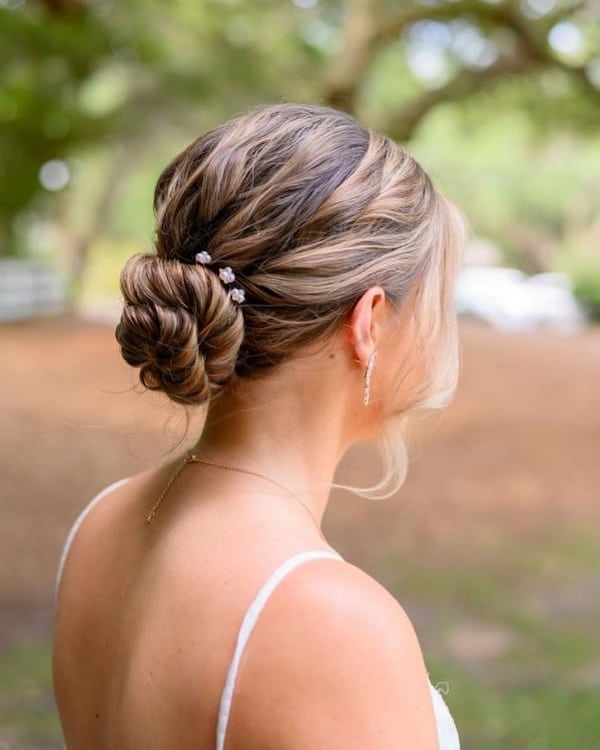 17. Statement Side Bun for Long Hair
Tying a bun to the back of the head is how everyone does it, and it's now so common that it almost looks too generic. This style tilts the bun slightly to the side to create a look that's both game-changing and adorable.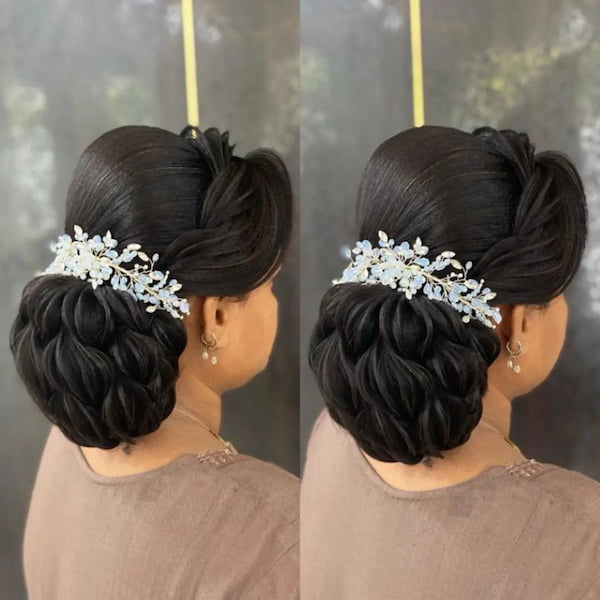 18. Smooth Ball Bun
We've seen a smooth bun earlier in this compilation, and here's another spin on the same hairstyle. Apart from the colour, the beaded pins adorning the hairstyle create an alluring look that makes it hard to beat.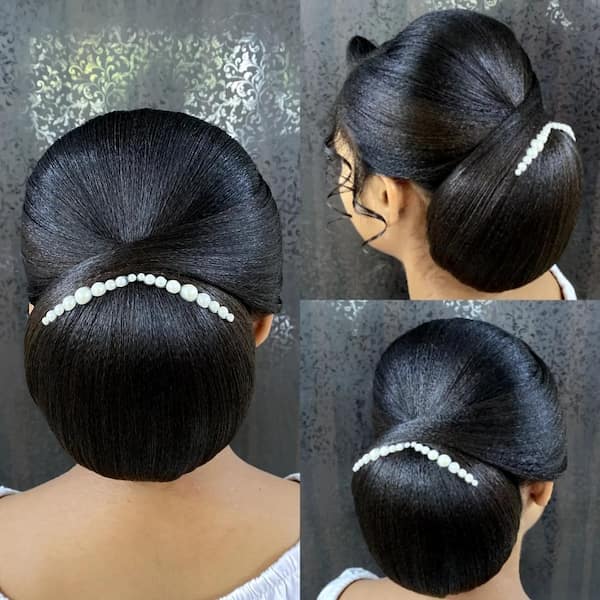 19. Simple Center Bun
Your bun can stay at the centre of your head if a back-of-the-head bun isn't your cup of tea. While this style is easy to make, it's not exactly what I'd wear to a wedding.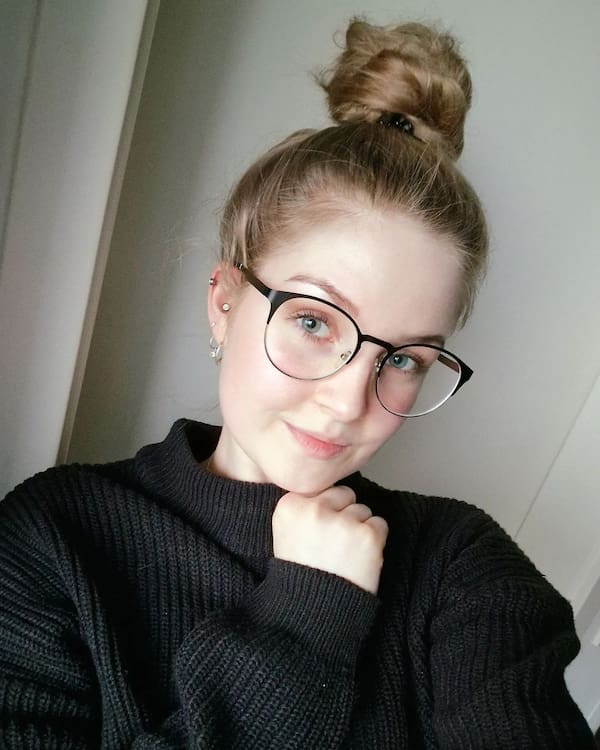 20. Double Bow Bun
If one bun isn't beautiful enough for you, why not try two? With the symmetrical parting and the model's nearly-perfect makeup, this hairstyle is as close to a perfect bun hairstyle for long hair as it gets.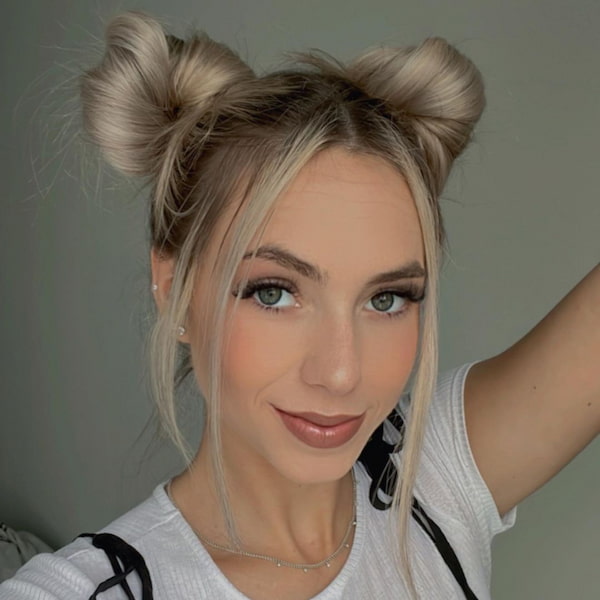 21. Low Bun for Brown Long Hair
It's difficult to achieve a terrible result when making a low bun with long hair. Thanks to the length, you can create elegant twists, making the style as charming as possible.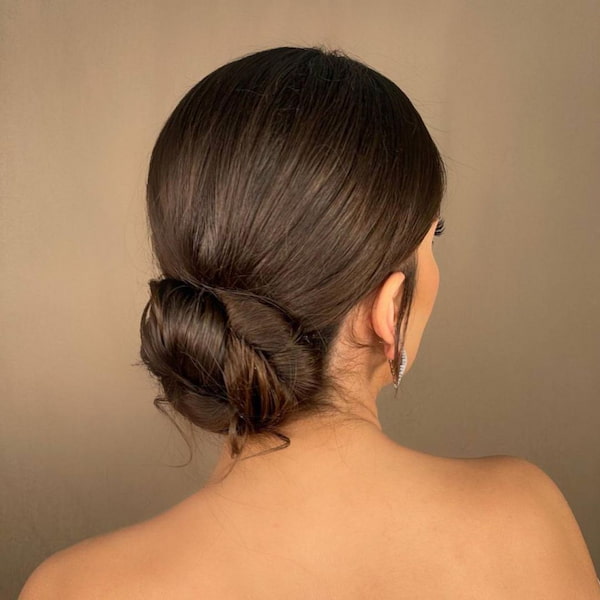 22. Red Side Twisted Messy Bun
Backing up your bun with a side twist undoubtedly adds extra allure, as you can see from this model's example. Get a messy texture and you'll have one of the best bun hairstyles for long hair you can get.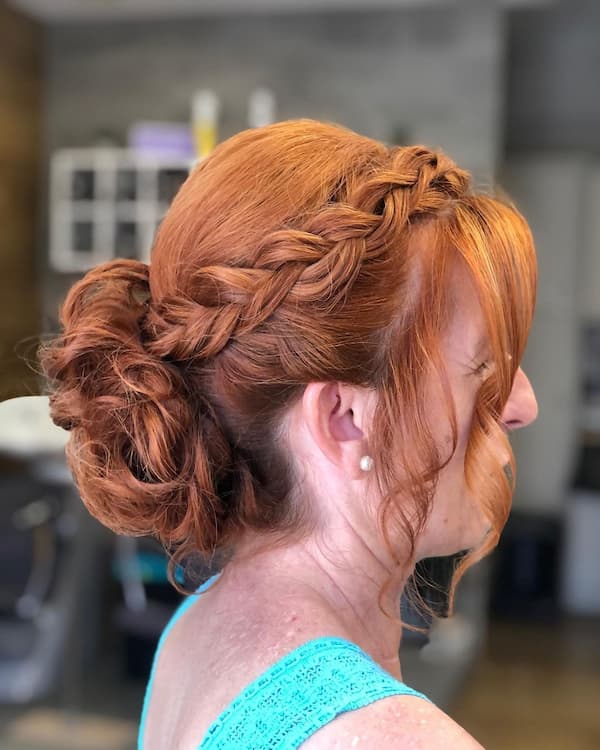 23. Bridal Textured Low Bun
If none of the buns we've seen so far meets your standards for a wedding hairstyle, this textured low bun should change your mind. It has all that's needed in a bridal style, and the adorable hairpin makes it even more alluring.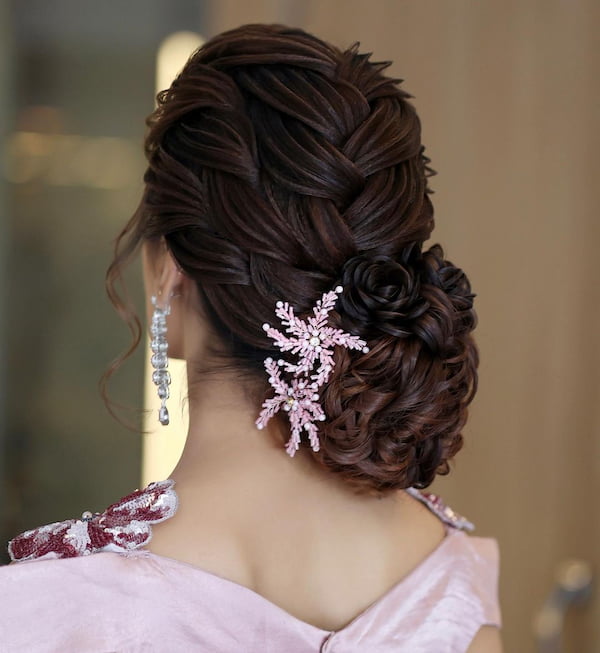 24. Advanced Twisted Hair Bun with Pins
If the preceding hairstyle idea looks great to you, you should love this even more. The bigger bun and the more complicated texture only seem to make the style more adorable.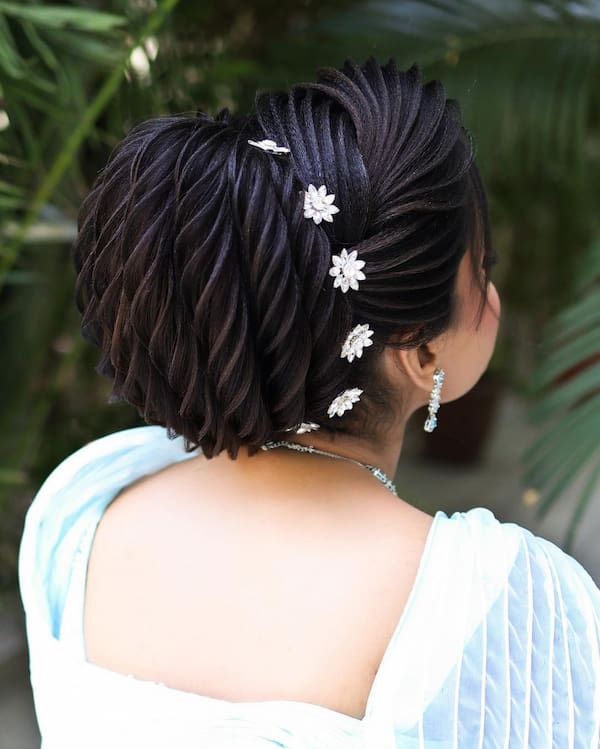 25. Upfront Simple Bun
You don't need a bun that takes three weeks to make, especially when it's not your wedding. If you're after something to wear casually, this upfront simple bun is your best bet.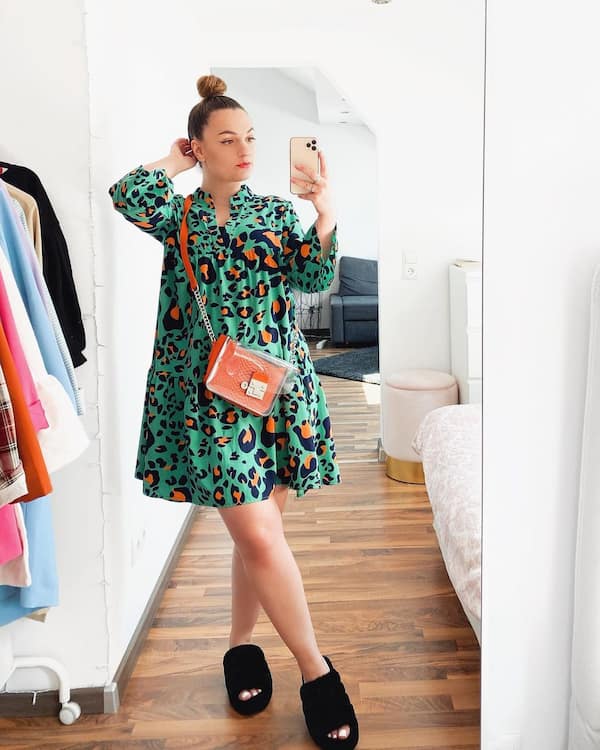 26. Curly Upfront Bun with Half Down
If you have natural afro-textured hair, you may want to make the best of it with this half-down upfront bun. It's exclusive to afro-textured hair, but if you happen to have it, you lucked out.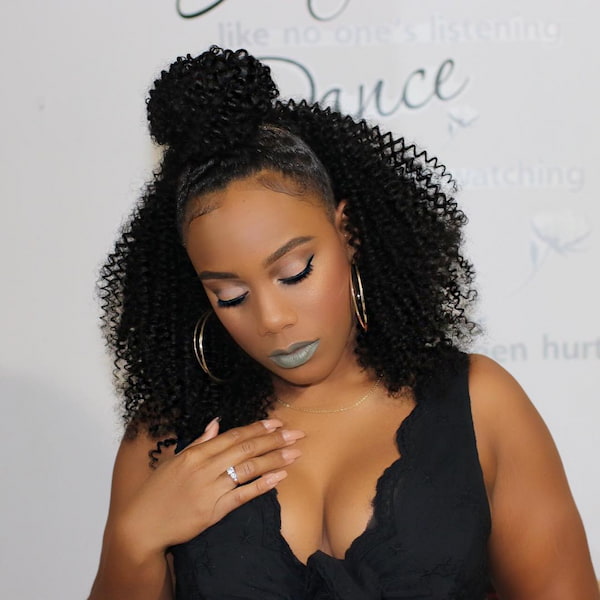 27. High Bun with Baby Face
Most of the buns we've seen are low, but you don't have to follow the crowd. You can wear your bun high and proud like this model, complementing it with makeup for the 'baby face' look.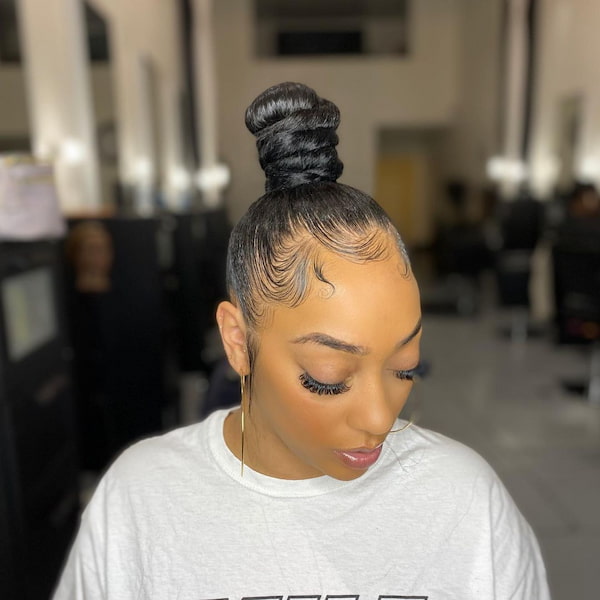 28. Clean Low Bun for Blonde Hair
If you won't wear a high bun, your low bun might as well be clean. Talking of cleanliness, you probably won't see a low bun that looks cleaner and more adorable than this hairstyle.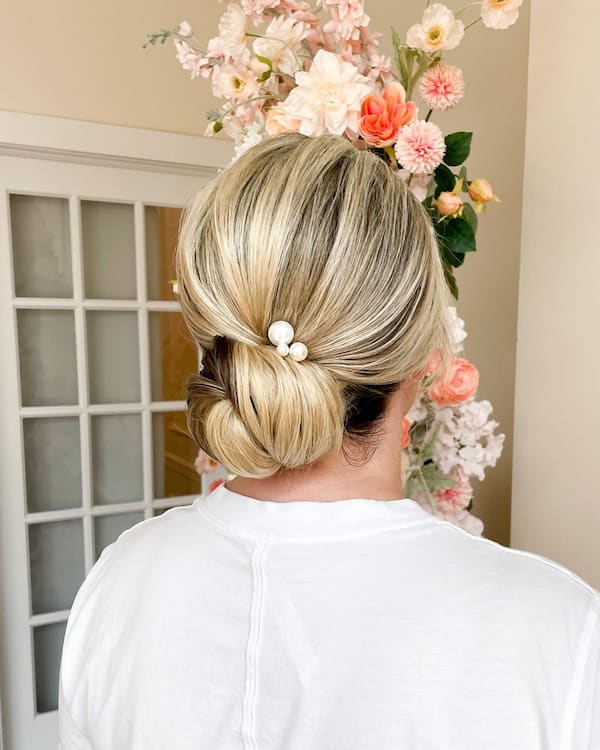 29. Twisty Flowy Loose Bun
Loose buns are hard to get right, but when you do, they look insanely adorable. This twisty loose bun proves that concept, qualifying as one of the chicest bun hairstyles for long hair.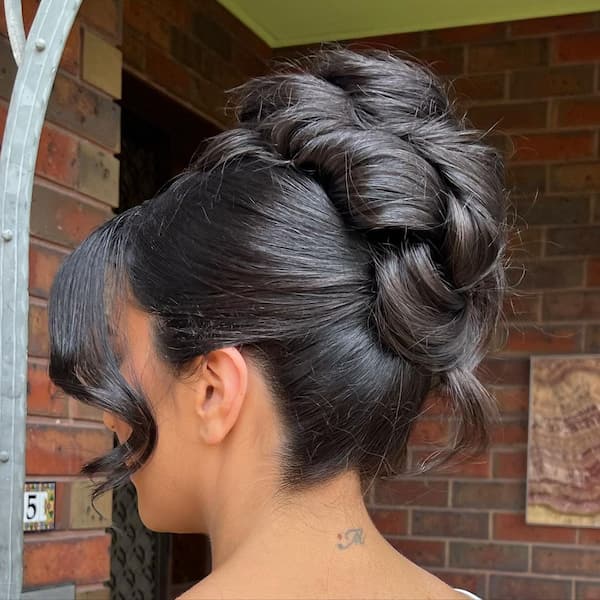 30. Curly Bun with Curtain Bangs
If you're making a bun out of curly hair, you may want to consider adding curtain bangs, as they tend to go well with curly hairstyles. If the result is anything like this model's, it might just be the best hairstyle you've worn yet.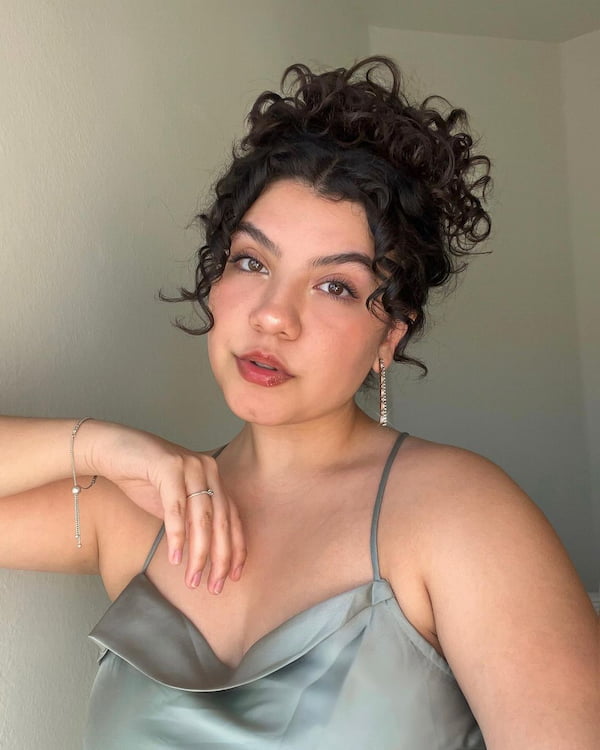 31. Minimal Knotted Bun
If you're really into minimalist hairstyles, here's an alluring bridal style idea for you. While it's not the most elegant thing in the world, it manages to balance exquisiteness with simplicity, hence the recommendation.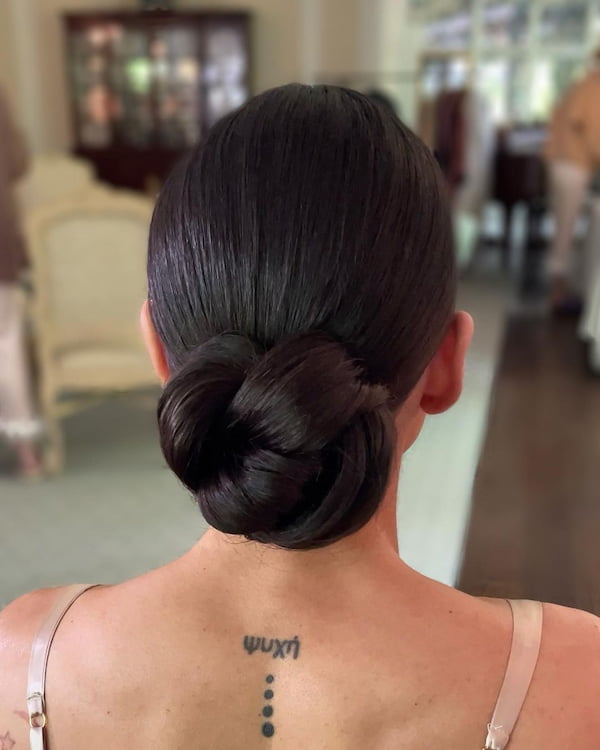 32. Sexy Braided Mid Bun
While this is neither minimalist nor perfect for weddings, it's charming in its unique way. If you're a fan of hairstyles with messy textures, you'll struggle to find something better.
33. Bun on Natural Hair
Fans of sleek minimalist hairstyles would love this hairstyle. While it doesn't have a lot going on, the smooth look gives it a charming look that's hard to explain or replicate otherwise.
34. Messy Glam Bun
I always thought it was impossible to combine messiness with organization until I saw this hairstyle. Referring to this hairstyle as messy is even somewhat controversial, as I don't believe anything this adorable should be referred to as 'messy.'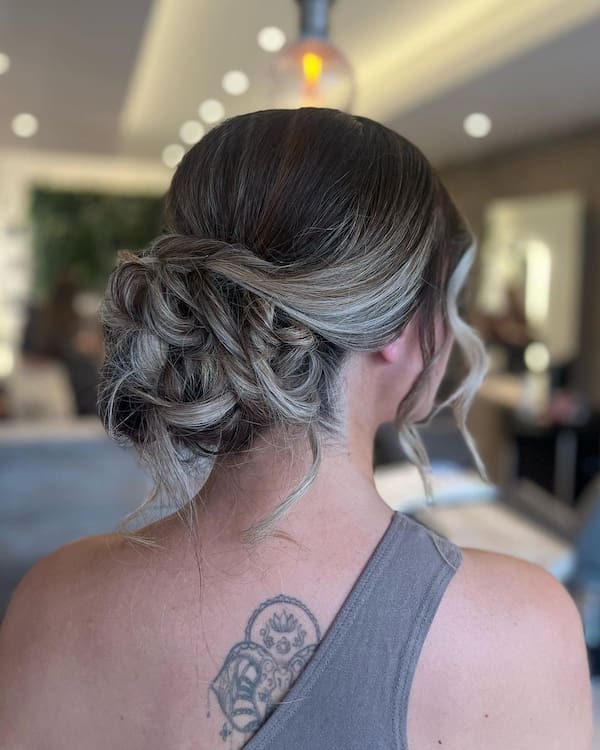 35. Fun Bun with Dropping Frontal Strands
As long as it's not your wedding, wearing a bun with dropping strands like this model's is one of the best ways to wear a bun for long hair. While the style looks somewhat rough and frizzy, it's hard to argue against its allure.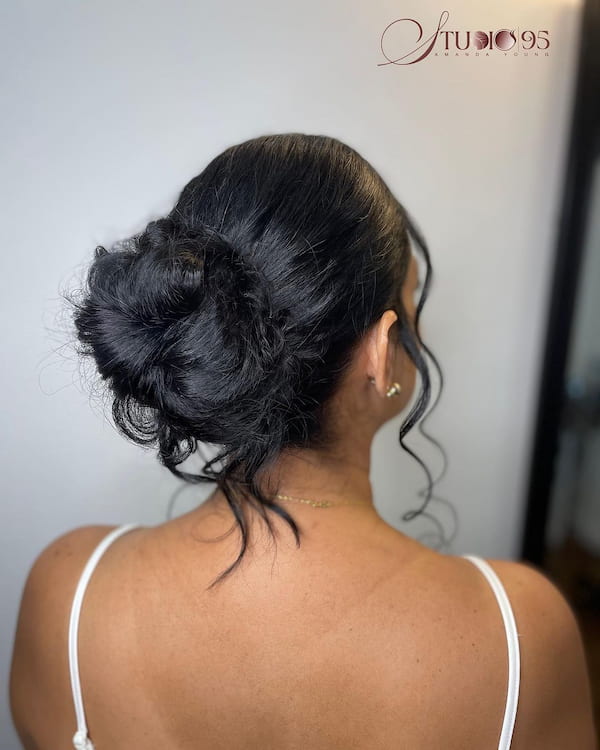 36. Messy Bun Updo
Here's another excellent wear to wear a bun hairstyle, as long as your hair is lengthy enough to afford it. The bun itself looks pretty messy, but the style as a whole looks more charming than messy.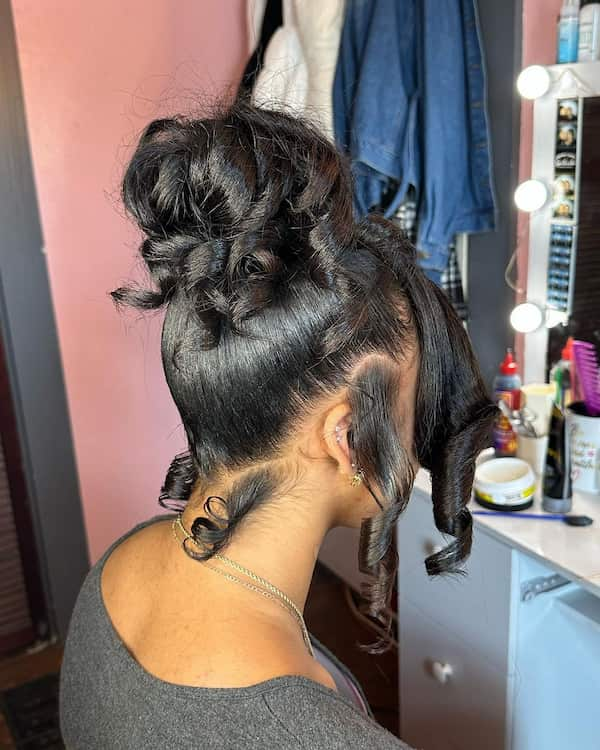 37. High Bun and Curtain Bangs
While curtain bangs look best on curly hair, you don't need curls to wear them. Here's a model rocking curtain bangs with a high bun, and what do you know, her hair is as straight as can be!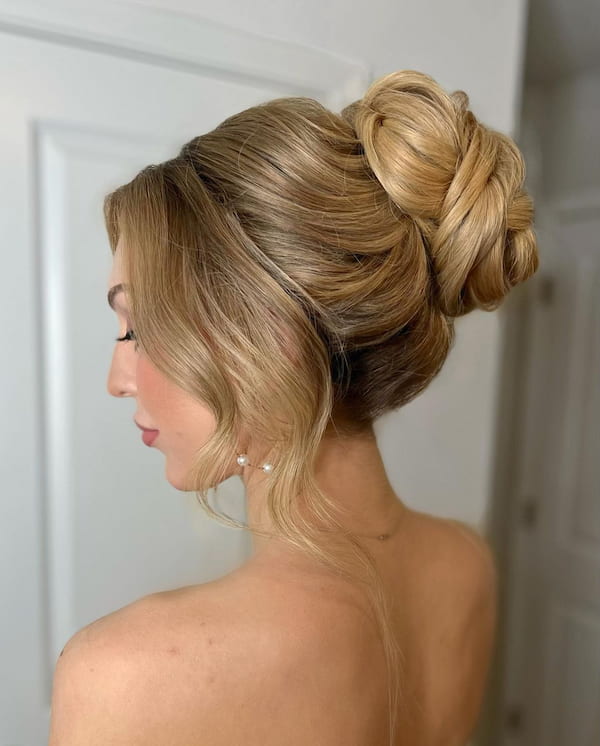 38. Formal Minimal Knotted Bun
If you're after a wedding hairstyle inspiration, it doesn't get much better than this. This hairstyle isn't exactly the most complex in this collection; just a smooth minimal bun with a knot and a pretty hairpin: 10/10 style.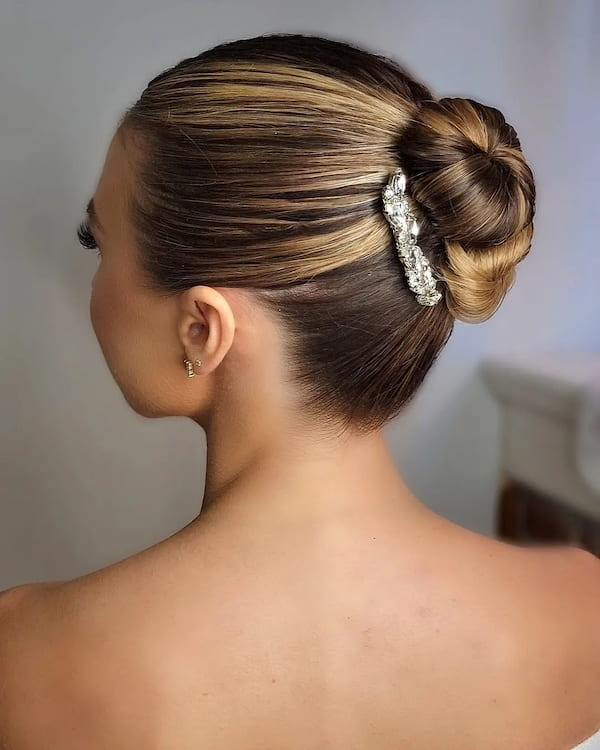 39. Glam Messy Bun with Bridal Pins
Glam hairstyles don't get any better than this, especially when you're after a messy bridal look. I'm also a fan of including the hairpin, as it instantly screams 'bridal hairstyle.'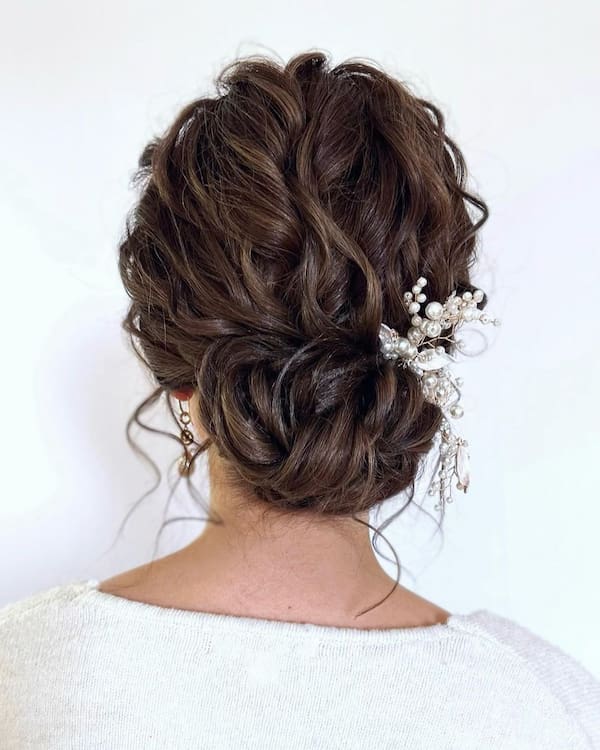 40. Sleek Low Bridesmaid Bun
If you're not necessarily trying to be the star of the show at a wedding, this low bridesmaid bun should work for you. Despite being insanely simple, it also manages to be effortlessly adorable, qualifying it for this list.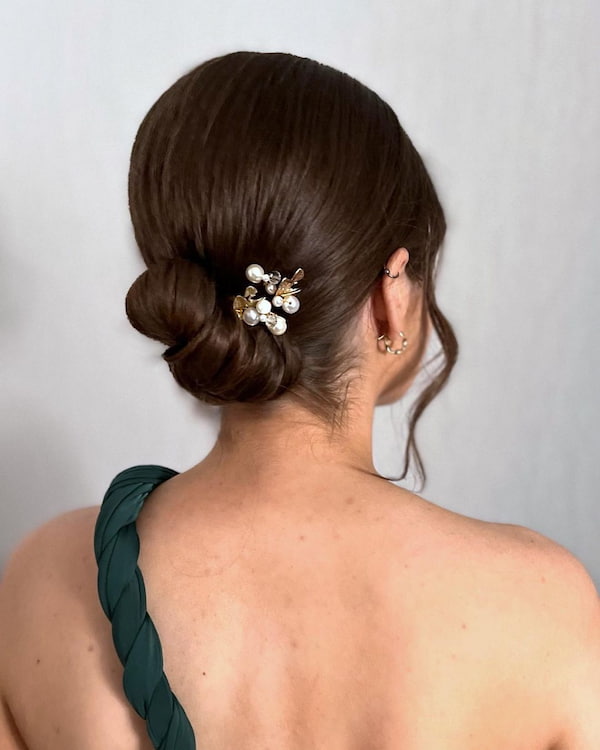 41. High Bun Variations with Frontal Variations
The preceding hairstyle idea is sleek, but this one takes sleekness to the next level. If it's your wedding, feel free to adorn it with hairpins for a truly adorable bridal style.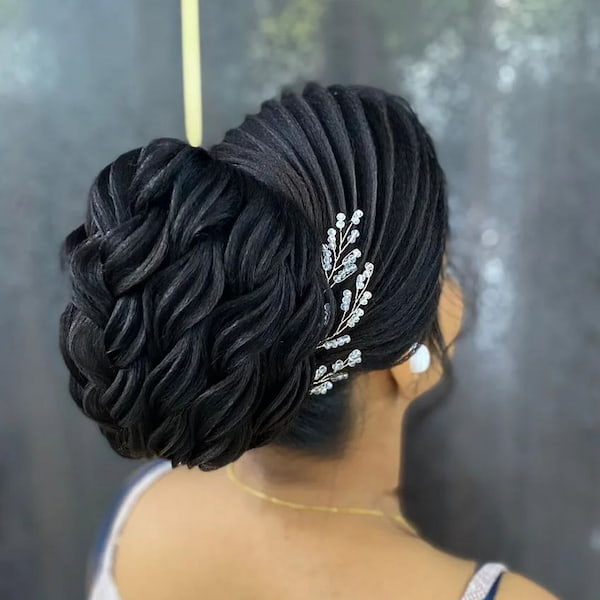 42. Flawless Side Braided Low Ball Bun
Low buns always look great with long hair, as you can always create an illusion of volume with the extra length. Here's a demonstration of just how charming you can make the already adorable hairstyle look by adding side braids.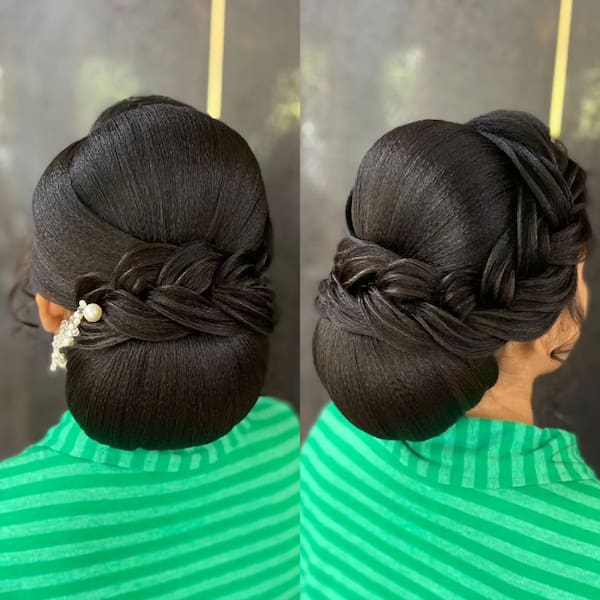 43. Party Bun with Hair Strands Droppings
If you're not after a particularly glamorous hairstyle, this minimalist party bun should do it for you. You don't have to wait for a party to wear it, however, as it also works as a casual everyday hairstyle.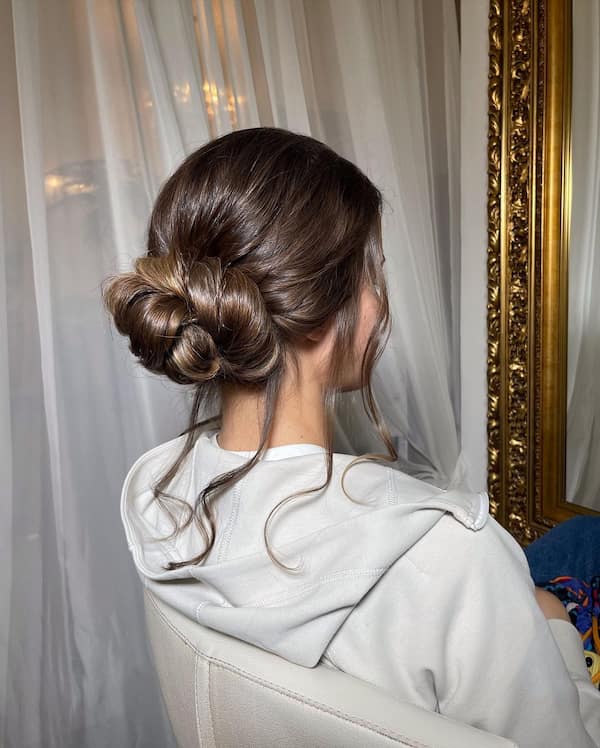 44. Christmas Love Bun
Christmas deserves the best hairstyles, and who says that can't be a bun? This simple low bun with a chignon-like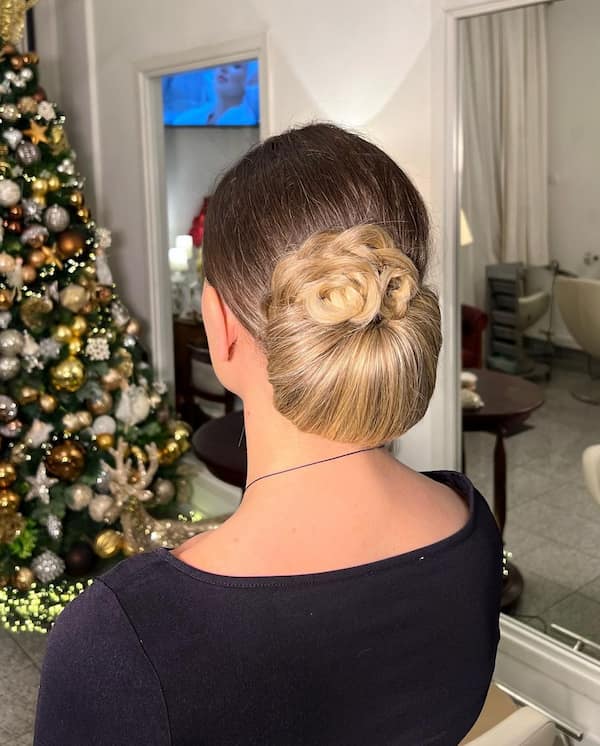 adornment oozes all the adorableness you want in the perfect Christmas hairstyle.
45. Roll-up Bun for Women over 50
If you're the type that's not a fan of sitting for long hours at a hairstylist, this adorable roll-up bun should interest you. With the model and the hair's general look, you should already know it's for older women, but who says you can't rock a roll-up bun before 50?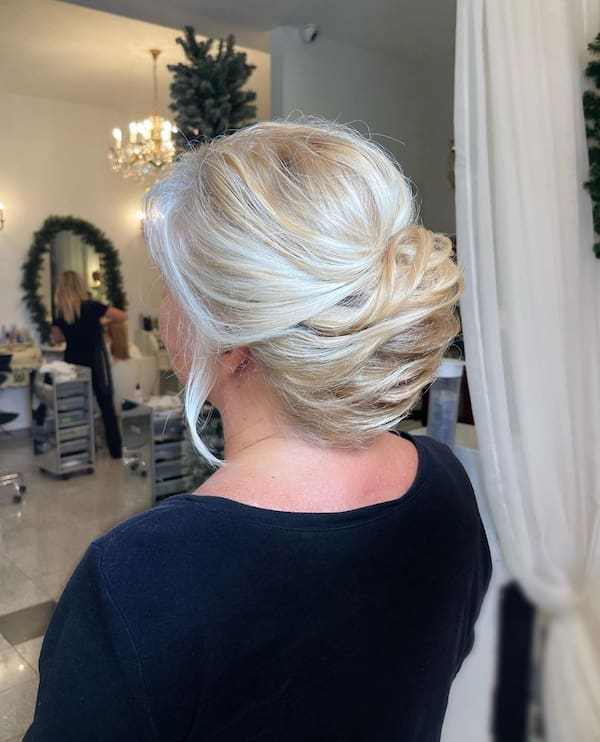 46. Curled Knotted Centered Bun
Simplicity is good, but it always doesn't give the best results. Sometimes, you just have to curl and knot until you achieve something remarkable. Here's an example of just how good you can look with that.
47. Simple French Bun
We've seen many buns on the English-speaking side of the world, so why not look at some French buns for good measure? While this hairstyle doesn't look like something that will hold up for a long time, we can all agree it's undeniably beautiful.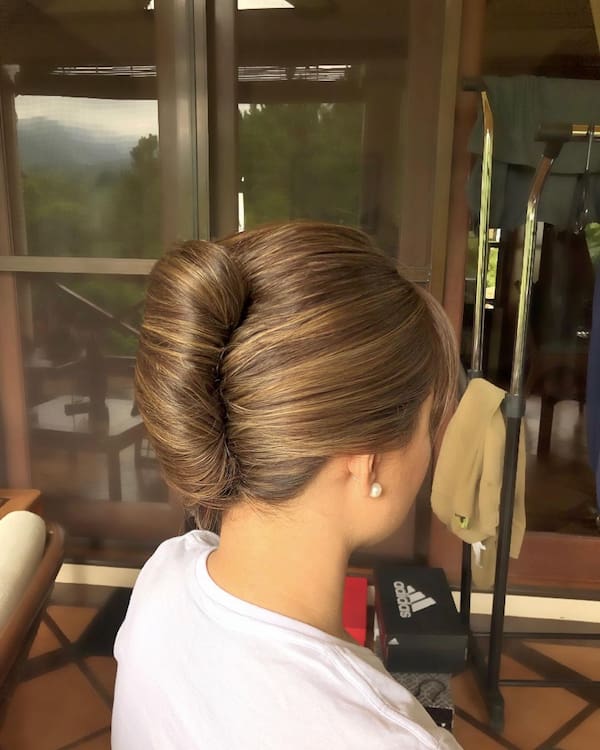 48. Twisted French Bun
If the preceding hairstyle idea looks appealing to you, you should like this one even better. It's only worth considering for ladies with curly or wavy hair, but considering how adorable it looks, I'd curl my hair for it.
49. High Messy French Bun
With how adorable this hairstyle looks, I'm inclined to believe that for French buns, it's 'the messier, the better.' Part of the allure is likely from the charming red colour, which is why I recommend replicating this hairstyle completely.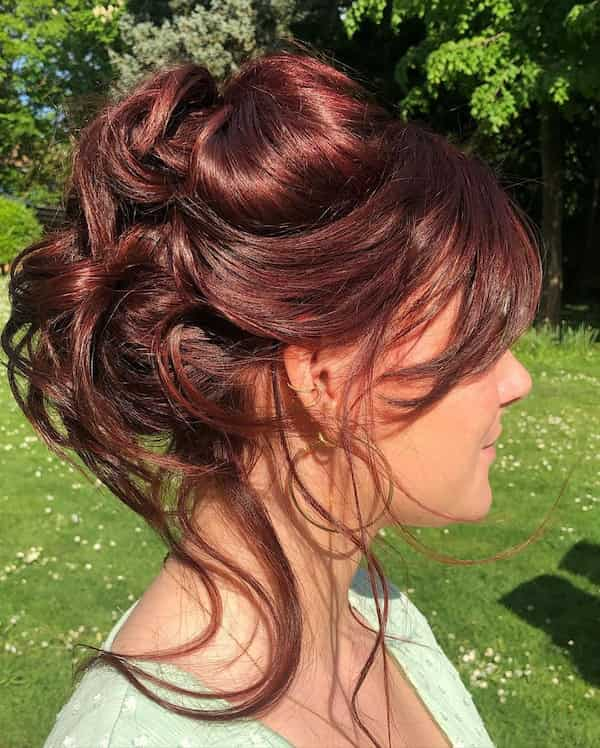 50. High Comb Bun
Low buns look great, no doubt, but high buns also never disappoint. Here's a model rocking a high comb bun with no extra adornments, and if you ask for my opinion, I'd say she's freaking adorable.
Conclusion
Long hair and bun hairstyles are a match made in heaven, which explains why they're so popular. If you're planning to go the bun way for your next hairstyle, this compilation includes 50 pretty ideas that can never go wrong.
Do you like this list? Then, you may want to check out our other compilations.
Pin for Later.