'Tis the season once again, and the time is now ripe for elegant hairstyles to showcase the awesomeness of the Christmas season. Choosing a Christmas hairstyle shouldn't be hard, but unfortunately, it's not uncommon to see ladies struggling to go with a specific hairstyle.
In this compilation, I'll try to solve that problem by showing you 40 easy Christmas hairstyles for long hair that look exquisite and are perfect for the season. Without further ado, here are our recommendations.
Easy Christmas Hairstyles for Long Hair
Looking for something quick and easy to wear during Christmas? Here are our 40 top picks.
1. Cute Hair Bun with Curtain Bangs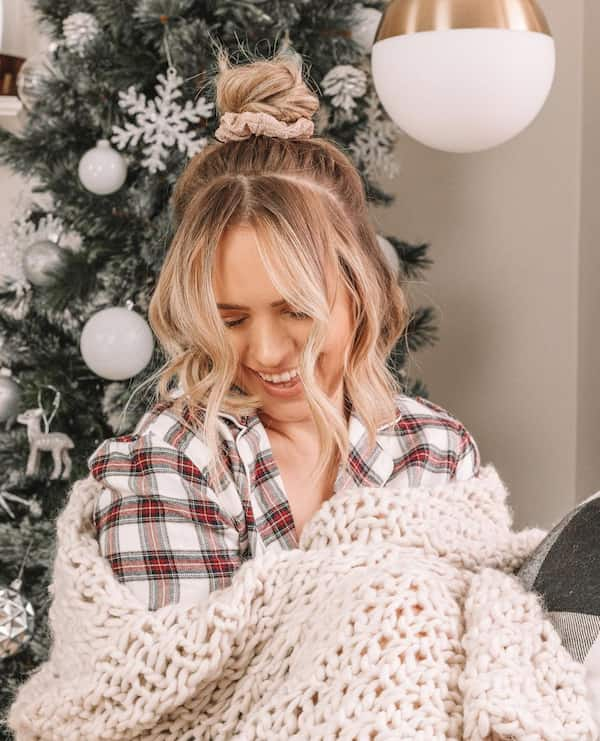 If your hair is long enough, there's no reason not to tie it into a high bun for Christmas, as it's just naturally charming. The horizontal and vertical parting is a new one for me, and the long curtain bangs are simply irresistible.
2. Brunette Chic Layered Hair with Bangs
While that hairstyle works for blonde hair, this idea is an easy one for ladies with brown hair. With chic layers and a simple center parting, you'll arrive at this style, good enough for an album cover.
3. Soft Bouncy Hair with Layers
We have a pleasant idea for black-haired ladies too, and I adore this one. Maybe it's because of my black hair, and maybe it's the alluring curved ends with the chic center parting.
4. Caramel and Butterscotch Balayage with Bangs
This dimensional balayage is an excellent Christmas hairstyle for brunettes, and it works for both medium-length and long hair. My favorite part is the side-swept bangs; what a beauty!
5. Classic Blonde Wavy Haircut
Nothing screams adorable louder than this classic blonde wave, with its chic center parting. Despite having no layers, bangs, or adornments, it manages to look exquisite, making it an excellent idea for Christmas.
6. Brunette Textured Wavy Haircut
Textured waves make one of the easiest Christmas hairstyles for long hair that looks charming; all the proof you need is in the picture. It looks exceptionally dope on brown hair, but black hair should depict it excellently too.
7. Cute Christmas Glam Haircut for Long Hair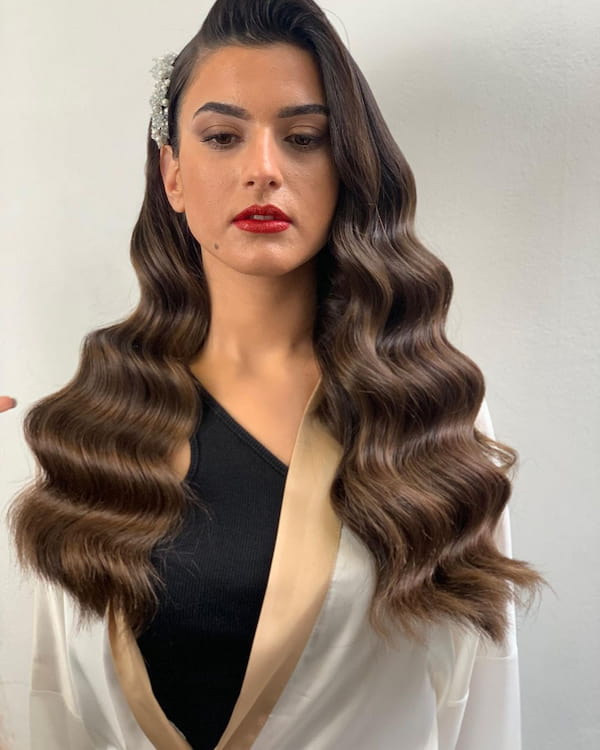 If you have some time on your hands, this cute Christmas glam isn't exactly a bad idea. You'll need extraordinary length to replicate this exact look, and with that hairpin and the side-parting, I doubt there are many better Christmas hairstyles for long hair.
8. Blonde Wavy Haircut with Face Framing Layers
We've seen blonde waves earlier, and they're nothing short of amazing, but what happens when you make them dimensional? You get this amazing result, which the model decided to make even better with the face-framing layers and the center parting.
9. Long Straight Blonde Haircut
Blonde hair doesn't have to be wavy to look good for Christmas; this blonde cut oozes a similar level of allure as the preceding idea, despite being as straight as a ruler. The dimensional look helps, and so does her chic center parting.
10. Elegant Hair Updo with Bangs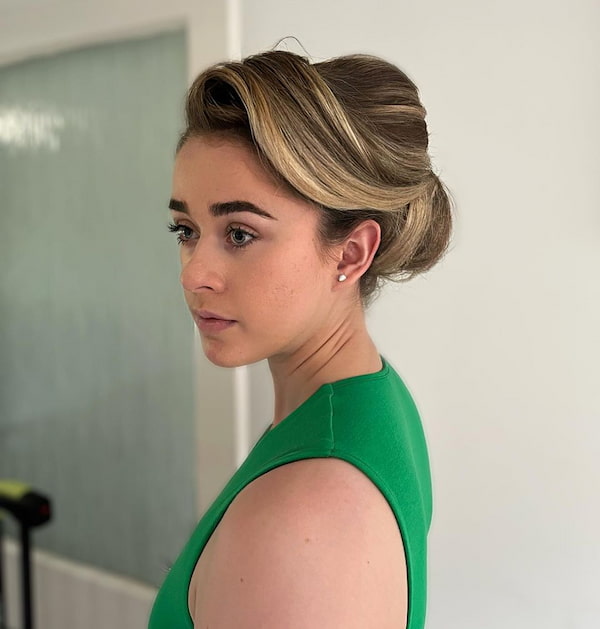 This amazing updo would work for several occasions, and Christmas happens to be one of them. The intricate tying may look complicated, but they're rather easy, and adding bangs would instantly double its adorableness!
11. Natural Smooth Balayage
This smooth balayage is proof that you don't need to spend an arm and a leg to look elegant for Christmas. It's completely plain, with not even a fringe, and it manages to look just right.
12. Half Up Half Down with Red Ribbon
Half-up half-down styles generally look remarkable, but you can make them even prettier with a nice little accessory. The red ribbon works wonders here, but that shouldn't stop you from experimenting.
13. Packed Up Bun
Buns and ponytails typically connote weddings, but they don't look half bad for a Christmas hairstyle either. If you're into hair clips, you can also incorporate them like this model for an easy yet adorable Christmas look.
14. Messy Bun with Natural Flowers
If the preceding bun looks alluring to you, this messy bun should also catch your fancy. Thanks to the flowers, it's chic as ever, and I'm probably wearing this hairstyle for Christmas; that's how great it looks!
15. French Fish Tail Hairstyle
If you procrastinate a lot, like me, this French fishtail is one of the most adorable Christmas hairstyles for long hair that you can get in minutes. You can add some hairpins for extra flair, but it looks alluring even without that.
16. Swoopy Modern Twist with Bangs
This swoopy modern twist should appeal to ladies with a knack for messy styles, and it looks chic too. The irregular look might be challenging to replicate, but if you can, it looks flawless.
17. Low Bun Hairstyle with Rose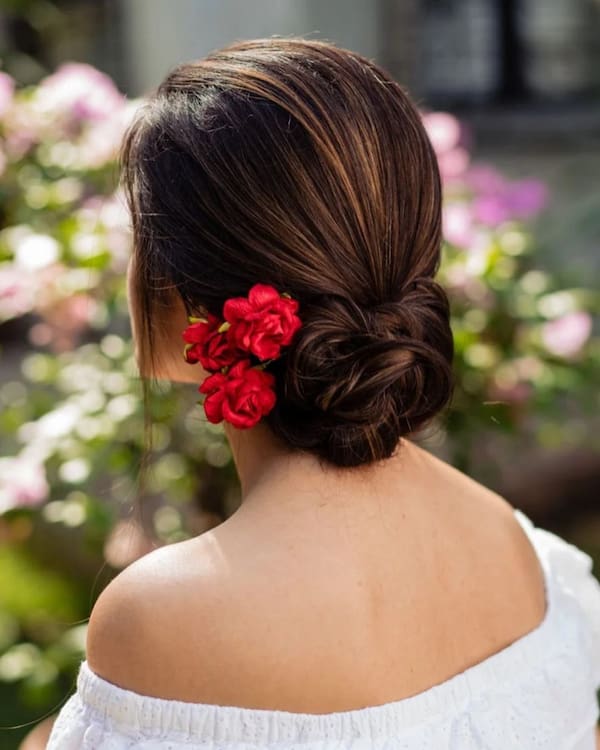 Brunette ladies will love this sophisticated low bun style, especially with the rose attachment underneath. A nice frontal should also work at the front, although it's not expressly required.
18. Brushed Up Bun with Bangs
If a low bun isn't your thing, this brush-up bun should work better, with its adorable bangs. The blue flower towards the back is another excellent touch, making for one of the chicest Christmas hairstyles for long hair.
19. Textured Ponytail with Bangs
The ponytail makes this style look very much like a wedding style, but who says it's not good enough for Christmas? With bangs and a center parting, this textured ponytail will surely turn heads.
20. Classic Wavy Ponytail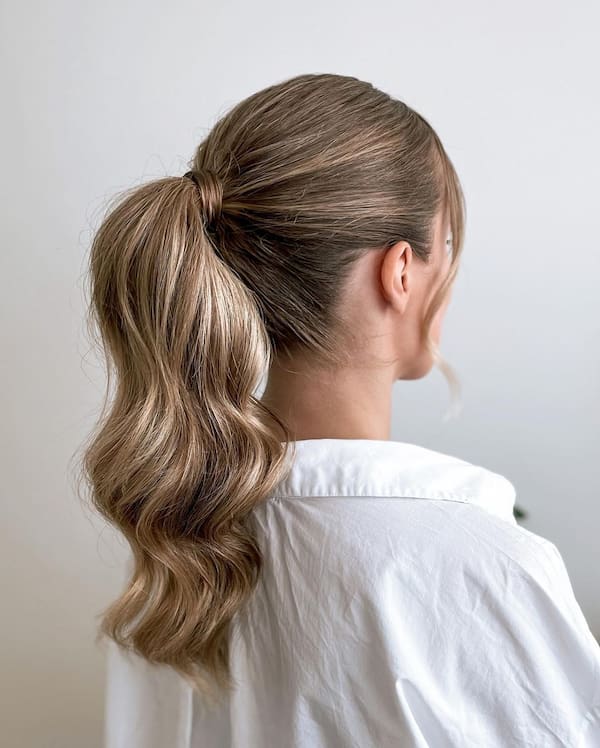 Textured ponytails work just as well as wavy ones, as you can see in this adorable hairstyle idea. I can imagine it looking much better with bangs and a center parting, but it doesn't look half bad per se.
21. Simple Cute Ponytail Hairstyle
Ponytails are the star of the show in this compilation, and for good reason. Just take a look at this ponytail; wouldn't you want something like this as your next Christmas hairstyle?
22. Sleek Ponytail Hairstyle
We've seen many blonde ponytails, so here's proof that a brunette pony can look just as adorable. The center parting looks dope to me, and her hair's length is nothing short of remarkable.
23. Textured Low Ponytail
If a low ponytail is what you're after, this is it in brown, and it looks every inch as sleek as its blonde counterpart. Gigantic side braids will likely adorn this style beautifully, and I see it looking great with frontals.
24. Blonde Laid Back Glam Ponytail
Here's another laid-back ponytail idea looking effortlessly chic with the sleek surface and wavy tail. For a Christmas hairstyle, it doesn't get much better than this, especially for ponytails.
25. High Ponytail and Side Swept Frontal
Low ponytails can sometimes look boring, but this high ponytail solves that problem. It's not remarkably more adorable than a regular ponytail, but it'll surely turn more heads.
26. Claw Clip Ponytail for Christmas Party
Away from the high and low ponytails, this claw clip ponytail has a relatively average size, but an above-average look. It's not your best bet for a wedding, but if it's a simple Christmas party, why not?
27. Side Side-swept hair with Waterfall Braid
This side-swept style with waterfall braid shows you don't need a ponytail for an excellent Christmas hairstyle, and I'm all for it. The charming braid aside, the style's dimensional look is an excellent recommendation for any Christmas party.
28. Glam Old Hollywood Curls for Long Hair
If you have plenty of time on your hands, this glam style with Hollywood curls is worth considering. This style and a couple of hairpins should give you the best Christmas look you've had in a while.
29. Cute Side Swept Braids
The side-swept look from this gigantic braid makes for an alluring Christmas hairstyle for long hair, especially for ladies with brown hair. Even if you're blonde, this idea shouldn't look out of place.
30. Ash Blonde Voluminous Curly Hair with Curtain Bangs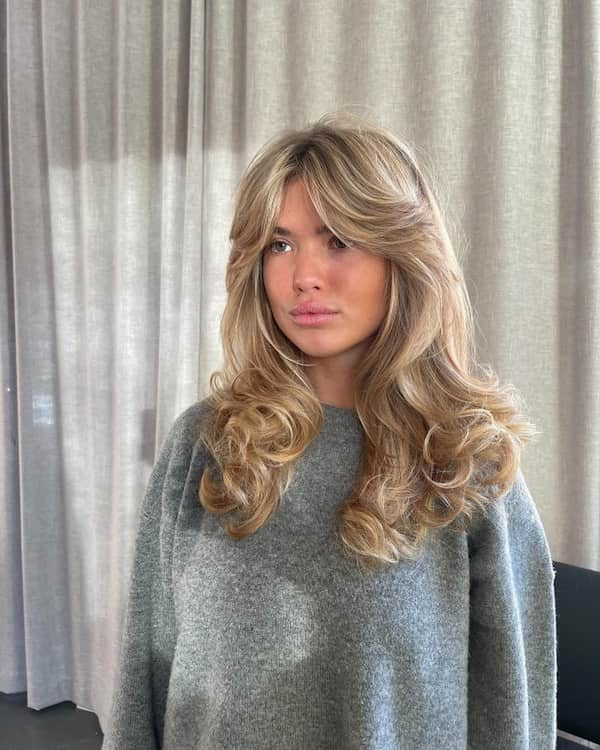 These ash-blonde curls make up one of the most glamorous Christmas hairstyles for long hair, thanks to its allure. The curtain bangs already add extra flair, but I think a dimensional look would be a nice extra touch.
31. Chic Low Ponytail with Pearls
This low ponytail would've looked drop-dead gorgeous on its own, but the model decided to adorn it with pearls, creating an almost flawless look. The bouncy ends are also endearing; an easy 10/10 hairstyle.
32. Smooth Side Swept Hair with Full Curls
A total side-swept look coupled with full curls is one of the best brunette Christmas hairstyles for long hair out there, as you can see on this model. Ensure you accompany the style with a smile for the most glamorous look.
33. Long Wavy Hair with Red Flowers
If you have this impressive length and volume, all you need to look your best is a few flowers with braids to host them. It's almost surprising that this model managed to look this good doing just that.
34. Simple French Fishtail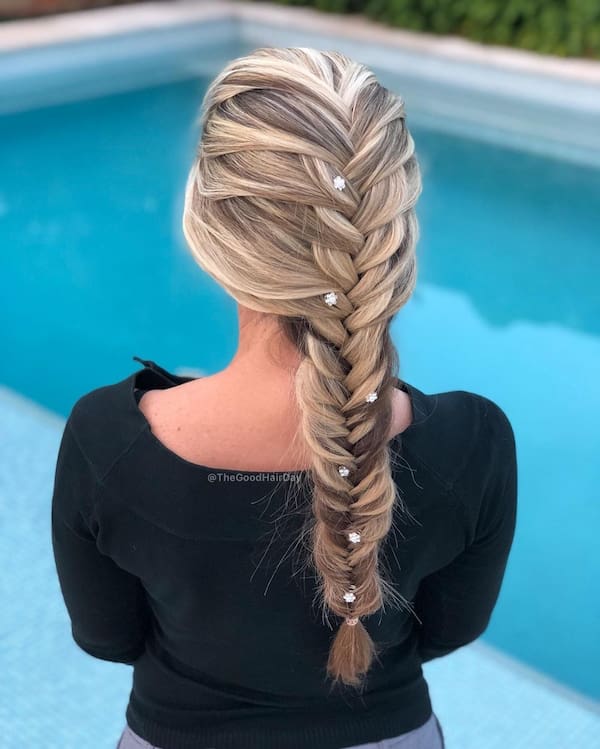 Recall our simple fishtail from earlier? Here's an easy way to make it better by simply adding tiny hairpins. This one also looks significantly sleeker than the idea from earlier, and its dimensional look is a cherry on top.
35. Messy Layered Hair with Fringe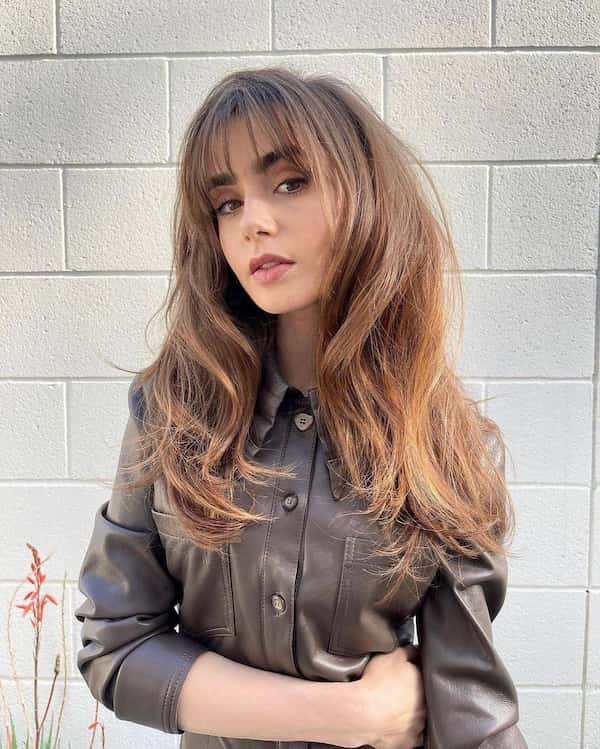 If messy looks are your thing, this messy layered hair with fringe should work wonders for you. It's a prime hairstyle for layers, and you can also notice a dimensional pattern if you look closely enough.
36. Classic Ponytail Updo
https://www.instagram.com/p/CrWDzccATI_/?igshid=NTc4MTIwNjQ2YQ
A simple, sleek ponytail might be all you need to stand out at that Christmas party, especially when it's this smooth. If you want to do extra, add the half-center parting and watch the compliments roll in.
37. Side Swept Wavy Hair with Hair Pearls
The smooth straight look of the preceding style is undoubtedly admirable, but it takes nothing away from the excellence of this wavy style. Thanks to the pearl-based hairpins, it's not deficient in allure, making it an outstanding Christmas hairstyle.
38. Half Cut Elastic Braids with Half Down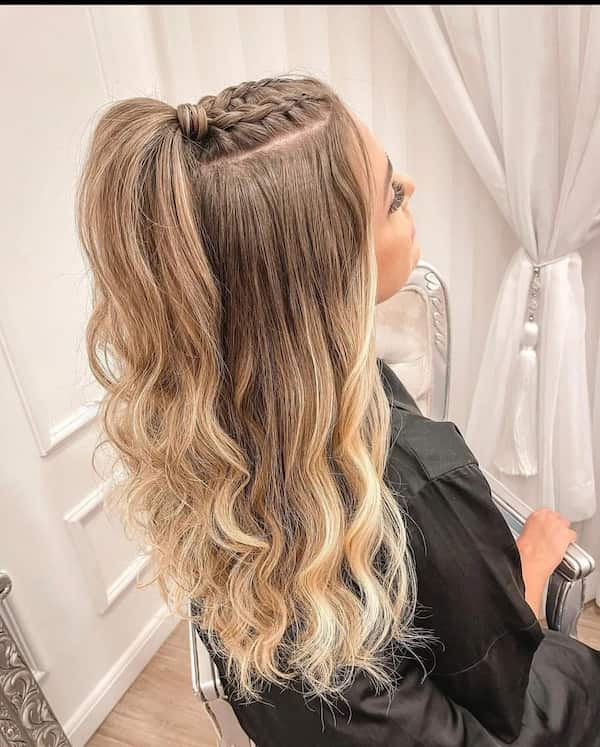 This one's one of my personal favorites, as the complicated half up half half-down braid is nothing short of remarkable. The two side partings divide the style into three sections, with each going down in a beautiful dimensional wave.
39. Twisted Side Swept Ponytail
This twisted side-ponytail is not the smoothest we've seen on this list, but it doesn't have to be. If you're after something that works for a Christmas party without too many bells and whistles, it's an excellent idea.
40. Long Hair with Christmas Lighting
Saving the best for the last, this hairstyle is easily among the best Christmas hairstyles for long hair on this list for several reasons. If the symmetrical and wavy look doesn't appeal to you, you should love the large beads that try to imitate Christmas lights.
Conclusion
Getting adorable Christmas hairstyles for long hair is relatively easy, and I believe we just proved it by providing 40 chic ideas. Since we've done it, you don't need idea-hunting anymore; just choose your favorite from the above and replicate it. Merry Christmas!
If you found this post helpful, you may want to check out some of our other posts:
Pin for Later.