Faux Locs are those casual braids that are often a part of the hairstyle. It is often associated with afros and other protective African hairstyles for women. 
But faux Locs can be a rather tiresome process to maintain, especially for those who have thin hair or no hair at all.
Brown Locs are often the goal of faux loc wearers, but it cannot be achieved with thin hair as they will fall out with too much manipulation.
The best way to deal with this is to use a wig or sew the hair on. I see a lot of my friends not having the patience to wear them, which I do not understand because Faux Locs can be quite versatile, and many people still find ways to sport them.
If you are reading this, I presume that you have been contemplating getting faux Locs. While I can't explain why you are considering this procedure, I can inform you about how long your Locs will last.
How Long Does Faux Locs Last?
The durability of Faux Locs varies depending on the person and their hair type. A person with curly hair may find that their Locs last for a few months before they need to be touched up or redone. A person with straight hair may be able to get away with Locs for 4-5 months before they start to feel the effects of wear and tear.
Suppose this is your first time,
A Faux Loc is a braid that's braided close to the scalp and then looped around itself. Braiding hair in this fashion means it can be worn up or down, styled, or worn messy. Best of all, it's also really easy to take care of.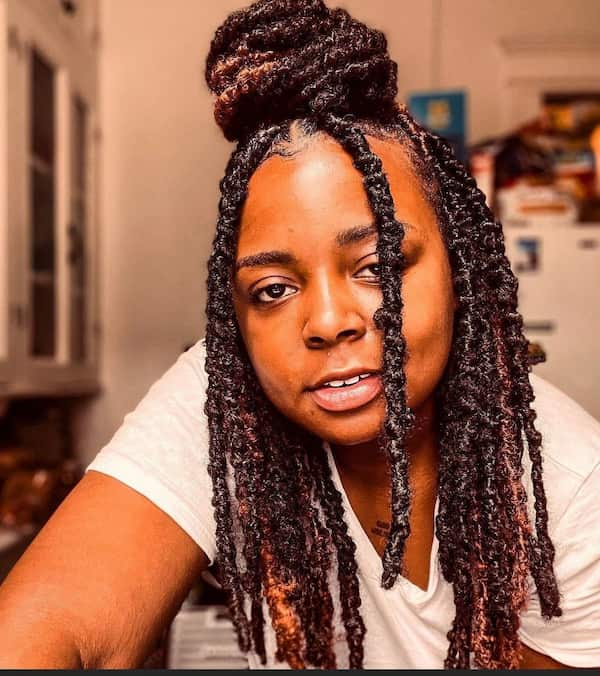 The benefits of wearing Faux Locs are that you can wear them like normal hair, so they're more secure and comfortable.
What's the Best Extension You Need for Faux Locs Hairstyles?
Although there are many different techniques and braiding styles that you can use as a base for your Faux Locs, the basic steps for creating authentic-looking braids are the same for any style: create a braid, wrap the braid around itself and then pin it down.
Now, speaking of the best extension to achieve a cool-looking Faux Loc hairstyle, almost every hairstylist recommends Marley or Kanekalon hair extension.
---
Also, Read These Blog Posts;
Faux Locs Installation General Guide
If your hair is very thick, you will need to ensure that you have enough hair strands for the application process to be successful.
Next, you will split your hair into a faux loc weave pattern and then apply the glue along your hairline. The next step is to roll your hair around the hair strands and secure them using bobby pins.
Make sure that you give your Faux Locs time to dry before you begin styling them. If you do not allow your Faux Locs to dry, you will risk having hair damage due to the glue.
You can style them into a natural pattern or ponytail, based on how comfortable you are with your hair being so long.
If you need a more clear installation tutorial, then I will attach a complete video tutorial below.
Faux Locs Quick Method Installation Video Tutorial
If you watched the video till the end, I really hope you enjoyed and learnt something.
Now let's continue.
How Much Does Faux Locs Cost?
The cost of installing Faux Locs hairstyle should average $80-$500; this includes the extension, but it totally depends on your location, how long you want it, and the quality of extension used.
At the current price of $30 for six-packs of Marley Hair, it's hard to deny that they are quite affordable; I won't say cheap. Oh, I just said it.
If you're still on the fence about whether you want to invest in Faux Locs, keep in mind that the cost is even lower if you consider that these pieces are reusable and can last from six months.
The pieces can be used over and over again during that time, so you'll more than get your money's worth in the long run.
Do Faux Locs Damage Your Hair?
Faux Locs is considered a protective style for hair, which means that the strands are not fully removed from your head. They do not have as large an impact on your locks as those styles that include full hair removal from the roots.
If you've decided to get Faux Locs, it's important to understand how they can affect your hair.
However, Faux Locs are still a hairstyle that can affect the condition of your hair.
Understanding how they affect your hair is crucial for those growing their natural hair and transitioning to faux Locs or those who prefer to wear them.
Important Hair Care Tips
1. Do not over-wash your hair
We know that washing your hair can be great for it. The scalp gets cleansed, giving you that fresh feeling.
But know that over-washing your hair and using products like heat or chemicals on it can make your ends weak and cause them to snap more easily.
You need to avoid this when you're rocking Faux Locs because the roots are not fully taken out of their tracks during installation. Due to the longer installation, the roots are still in place, and you don't want to make them more brittle.
2. Be gentle in taking them out
Taking out Faux Locs is one of the most devastating things that can happen. You're so attached to them, and then they come out, leaving your matted hair behind.
It can be a difficult experience because they seem so snug on your head that you wonder if it might hurt to take them off. It can be so tiring for your scalp too.
That said, it's important to give them a little gentle tug and then that they will come out by themselves.
3. Be prepared for the maintenance of your hair
You have to understand that not only are you growing the strands in your head, but you will also be maintaining them as well.
There's a lot to do to keep your styles looking good and last longer (whether Faux or not).
How to Maintain Faux Locs at Night
You may be wondering which type of product will work best for you and your hair.
You'll need to find a product made specifically for black hair, as there are different products on the market for various ethnicities.
There are also many ways to maintain Faux Locs at night to ensure that it doesn't get matted together while sleeping.
If you have Locs that have a heavy curl pattern, then a loose braid will allow the texture of your hair to stay intact while still looking sleek each morning too.
Conclusion
Faux Locs are an easy and convenient option for those who want to have long, beautiful hair without the time commitment of regular Locs.
I hope you enjoy and find this post on Faux Locs hairstyles.
---
Here are other posts you might like;
And if you got questions or feedback, do not hesitate to let me know by leaving a comment below right now.
Pin for Later.