Weddings require an impeccable outfit, but a glamorous hairstyle is arguably even more crucial. Getting a glamorous hairstyle becomes several times easier when your hair is long enough.
If you're after wedding hairstyles for long hair, here are 50 adorable ideas we can recommend.
Sassy Wedding Hairstyles for Long Hair
If you have the length, we have the ideas. Here are 50 pretty wedding hairstyles for long hair you should try.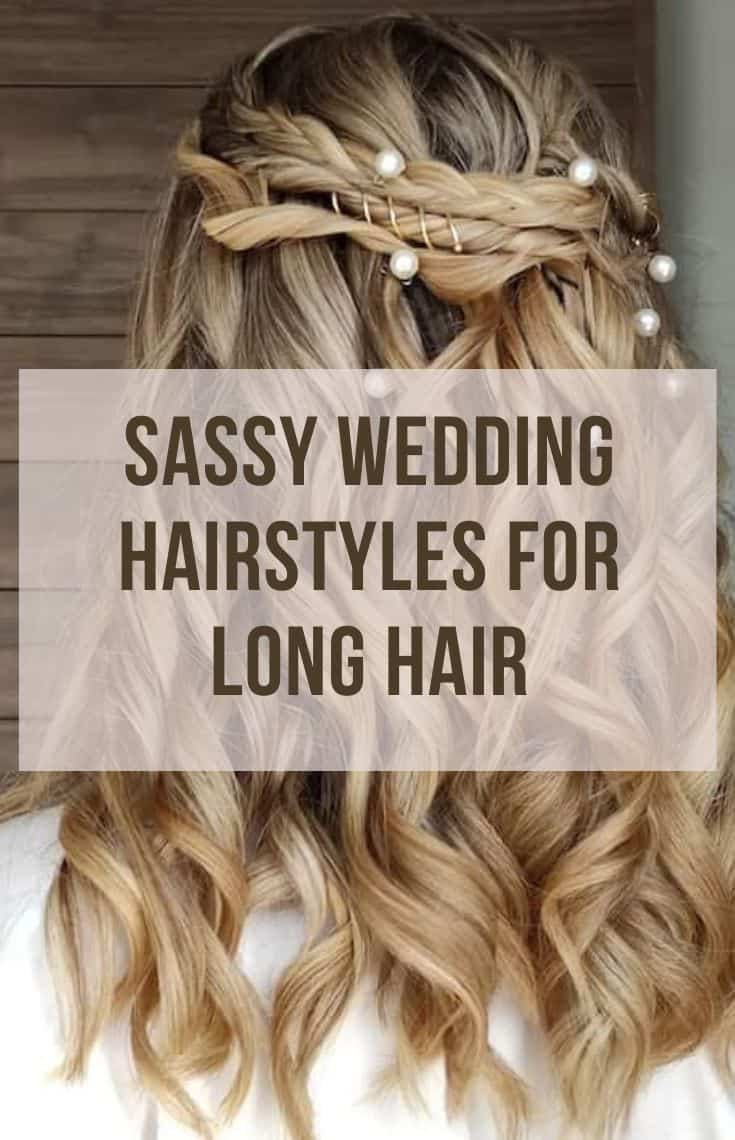 1. Bridal French Twist with Flowery Pins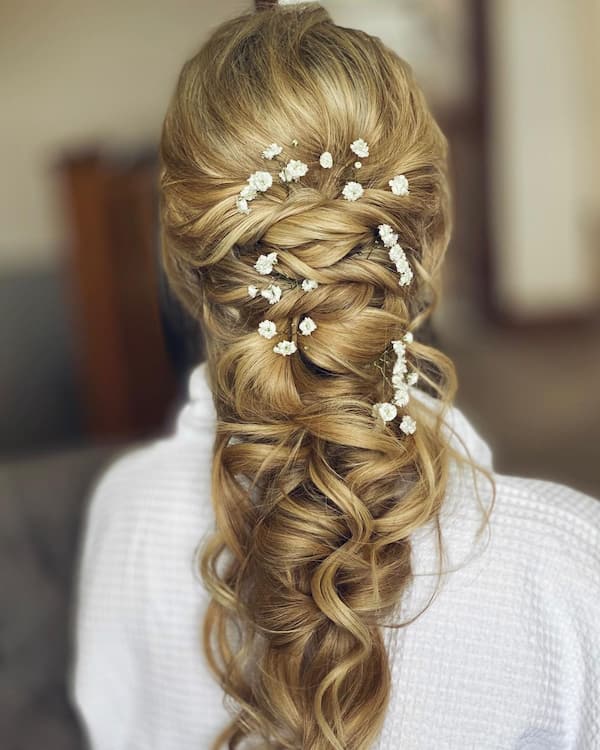 When you're after something that looks good enough for a wedding, it becomes difficult to keep it simple. If you don't mind spending a couple of hours at a stylist, this bridal French twist is almost impossible to beat.
2. Glamorous Wavy Bridal Hair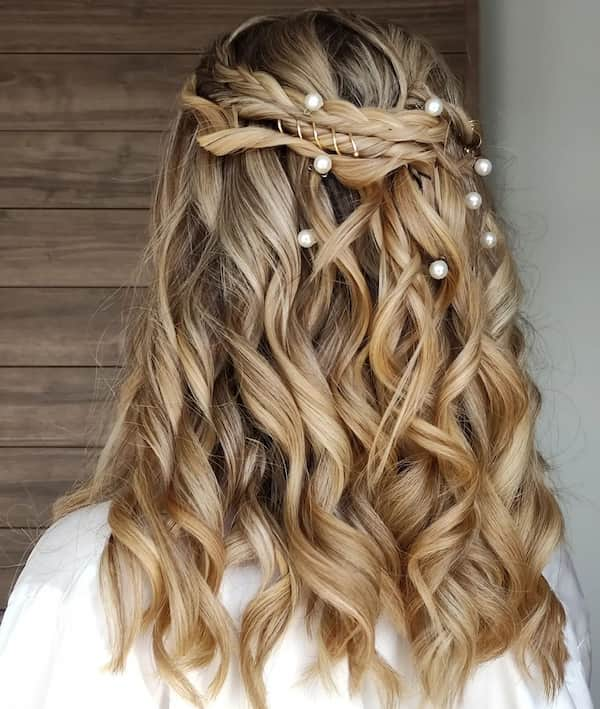 You don't need a French twist for a wedding. With waves and a few pretty pins, you can create a glamorous bridal hairstyle that works for everyone in a wedding, including the bride herself.
3. Fluffy and Loose Pony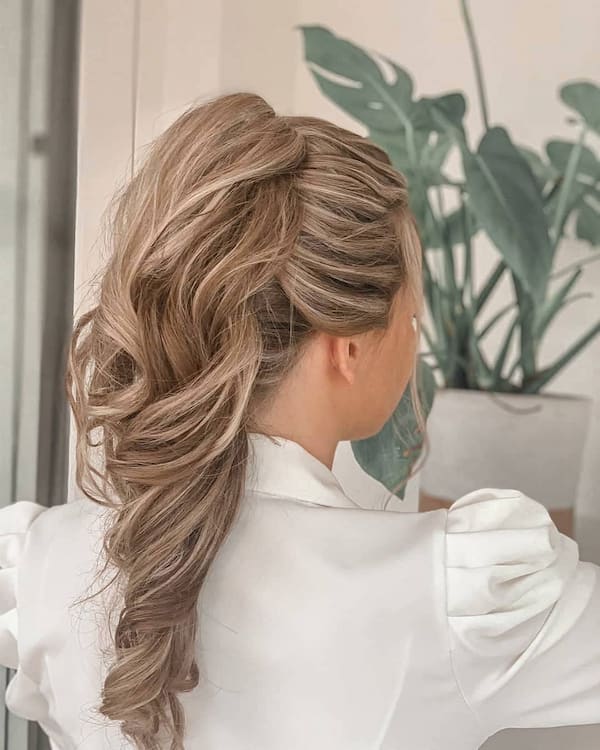 Not everyone loves those pins that characterise wedding hairstyles. Here's an example of a loose ponytail that doesn't use them at all, yet manages to look breathtakingly adorable.
4. Classic Black Layered Wavy Hair with Bridal Pin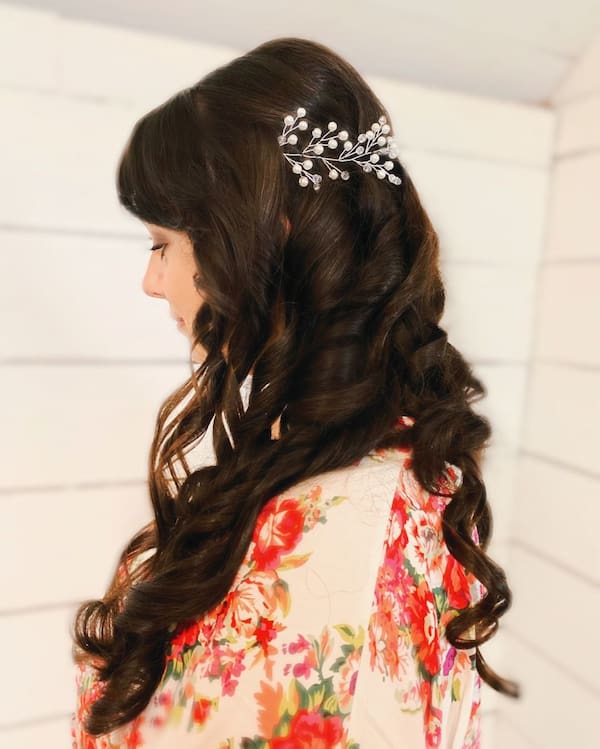 If you're already blessed with black hair, you may want to bless it with layered waves and a couple of bridal pins if you're on the bridal train. It's not the most complicated hairstyle, but it's one of the most beautiful.
5. Top Knot with Tendrils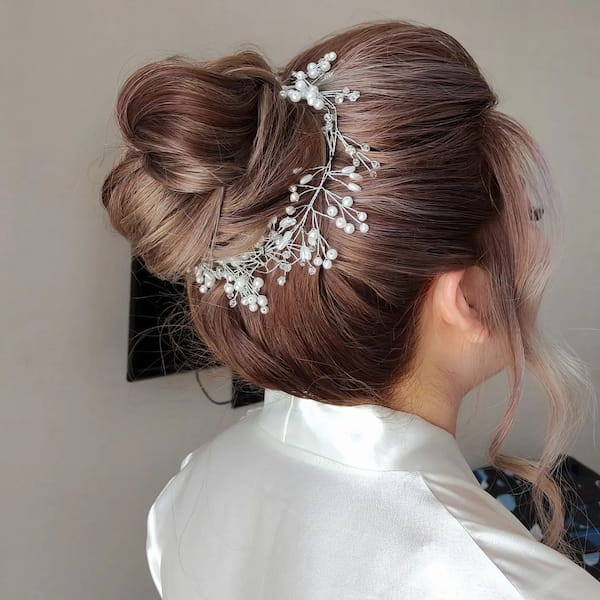 This top knot hairstyle should work for all weddings, but I'd prefer it if I was prepping for an Asian ceremony. With the tendrils and the sprinkle of beads running around the top knot, you simply can't call this hairstyle ugly.
6. Half Up with Long Curls Bridal Hair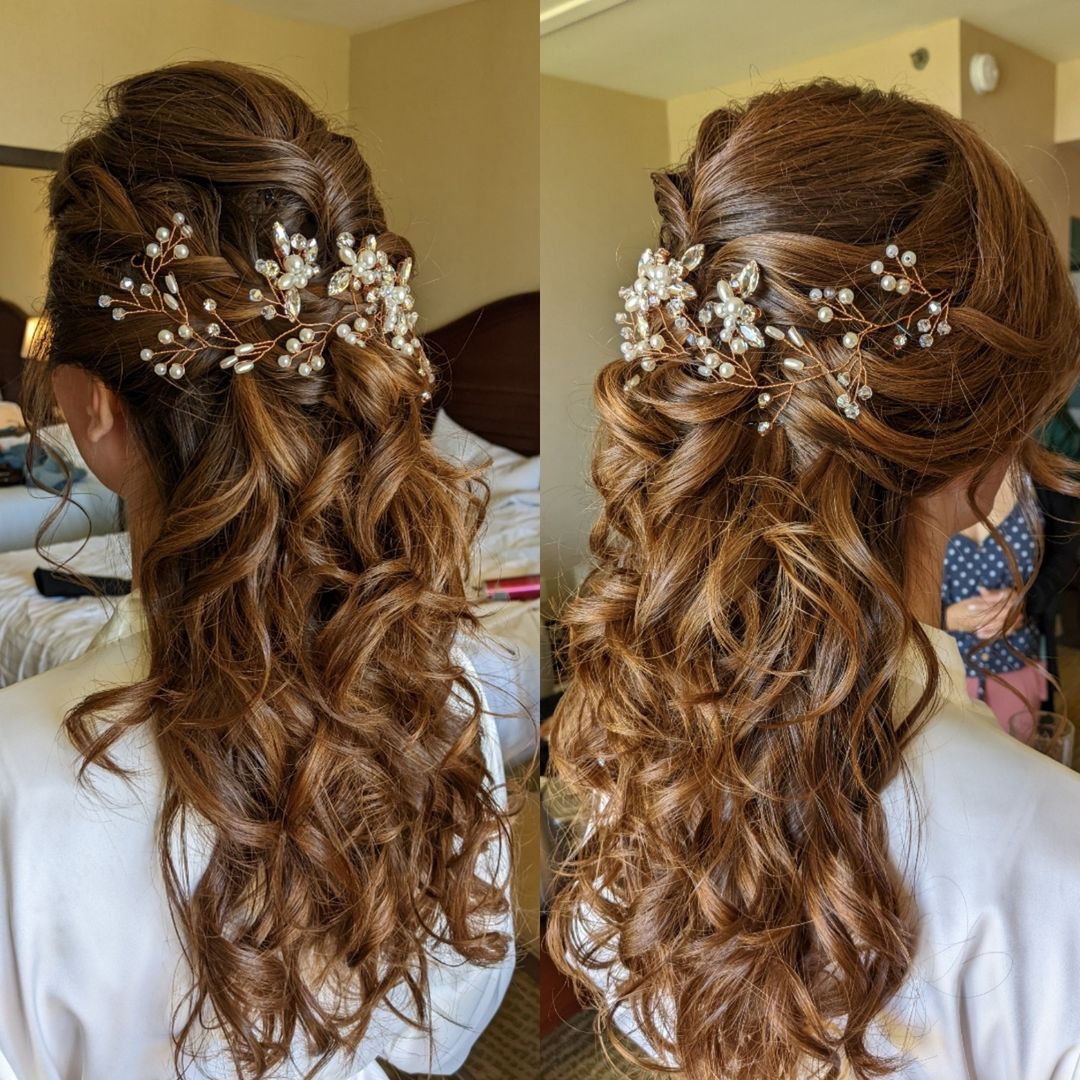 Wearing curls on long hair is an easy way to get away with the need to wear a complicated bridal hairstyle. Add a few beaded pins and you're well on your way to the wedding.
7. Messy Bridal Loose Bun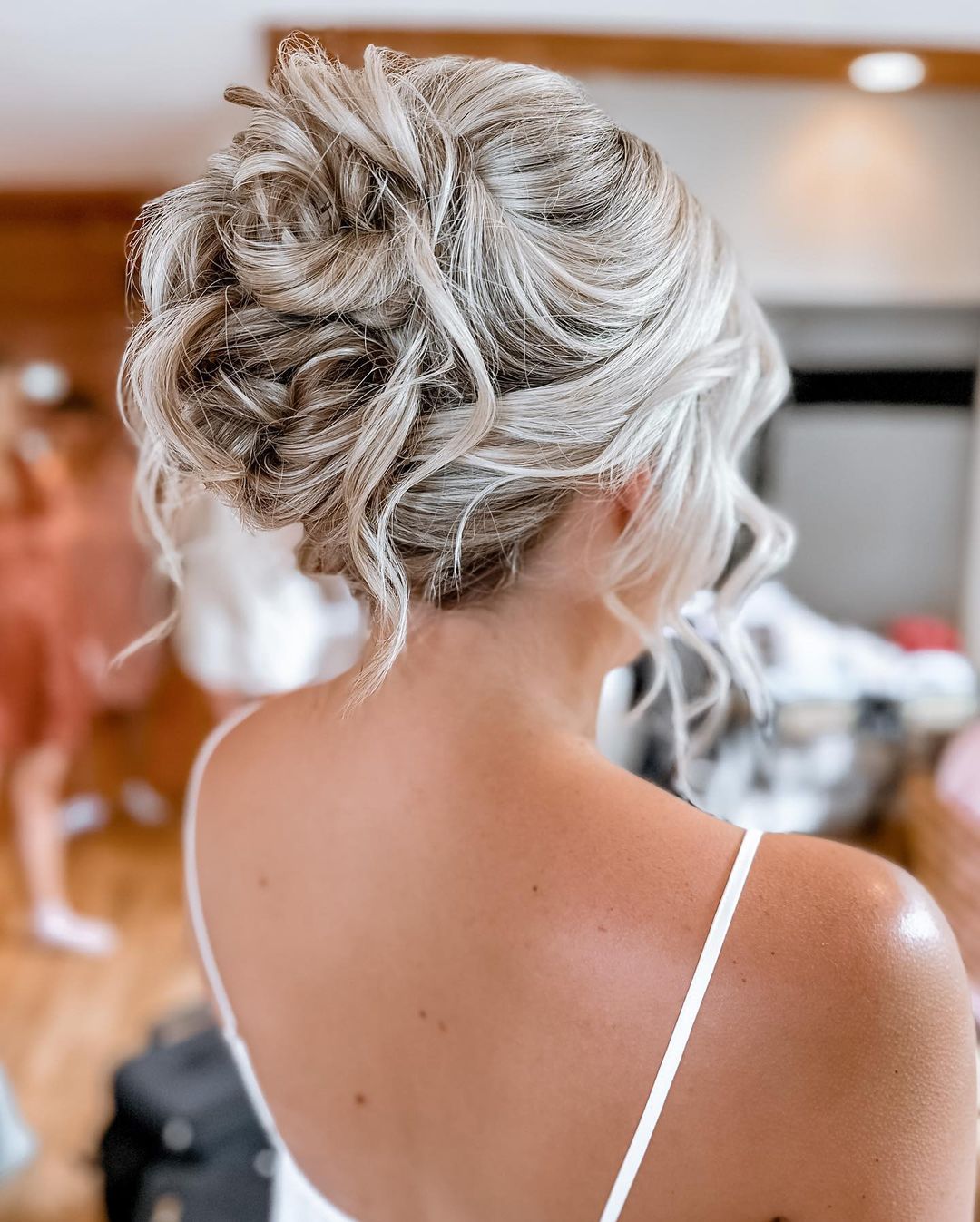 Again, here's a charming hairstyle that uses no pins or bridal beads. Thanks to the spot-on colour and the perfect loose look, it's one of the few styles that seem to have no room for improvement.
8. Long Curly Hair with Headpiece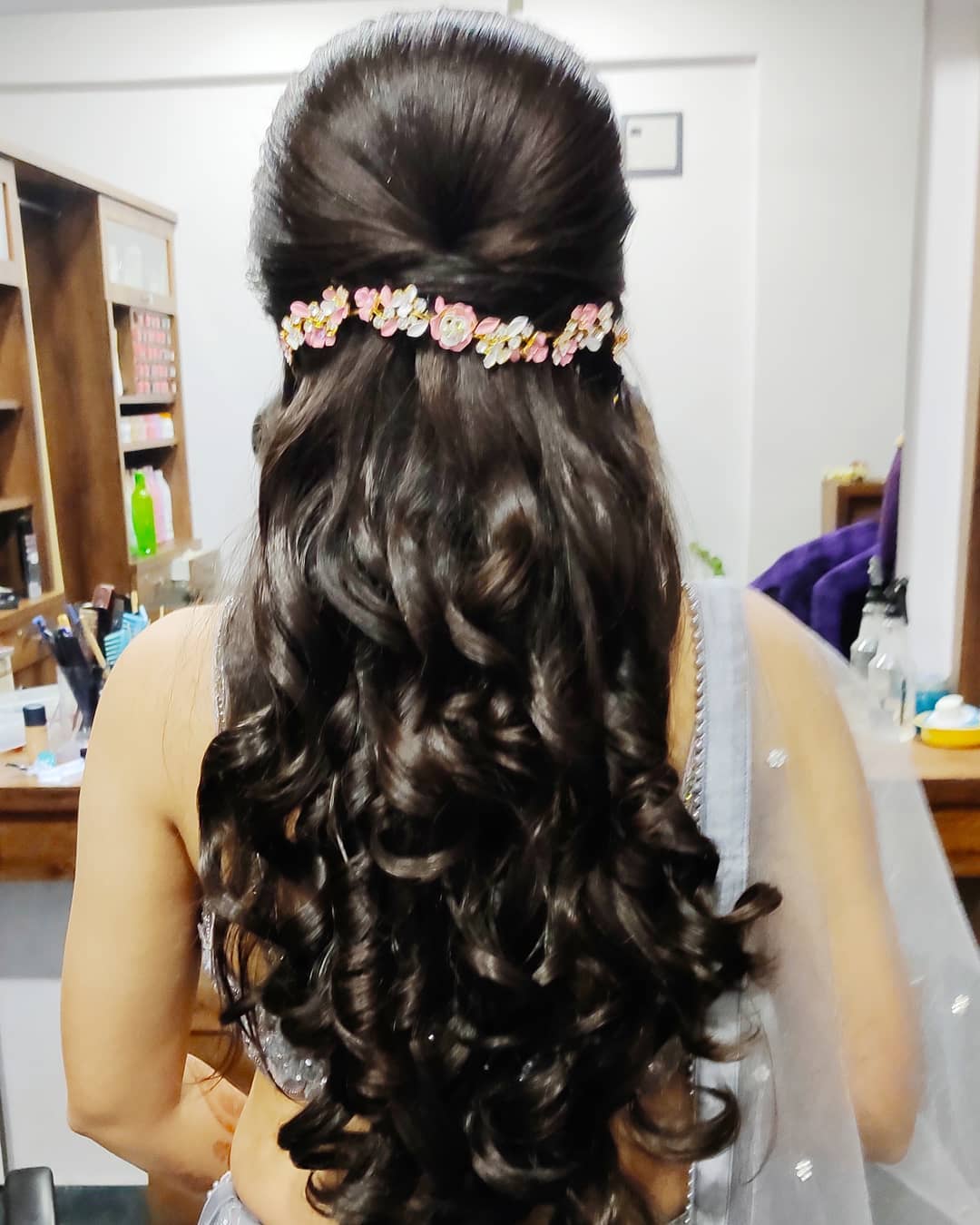 Black hair isn't exactly easy to style, but this long curly hairstyle looks like the best way to style it perfectly for a wedding, With the adorable rose headpiece, why would you want anything more?
9. Bridal Half Up Half Down Long Hair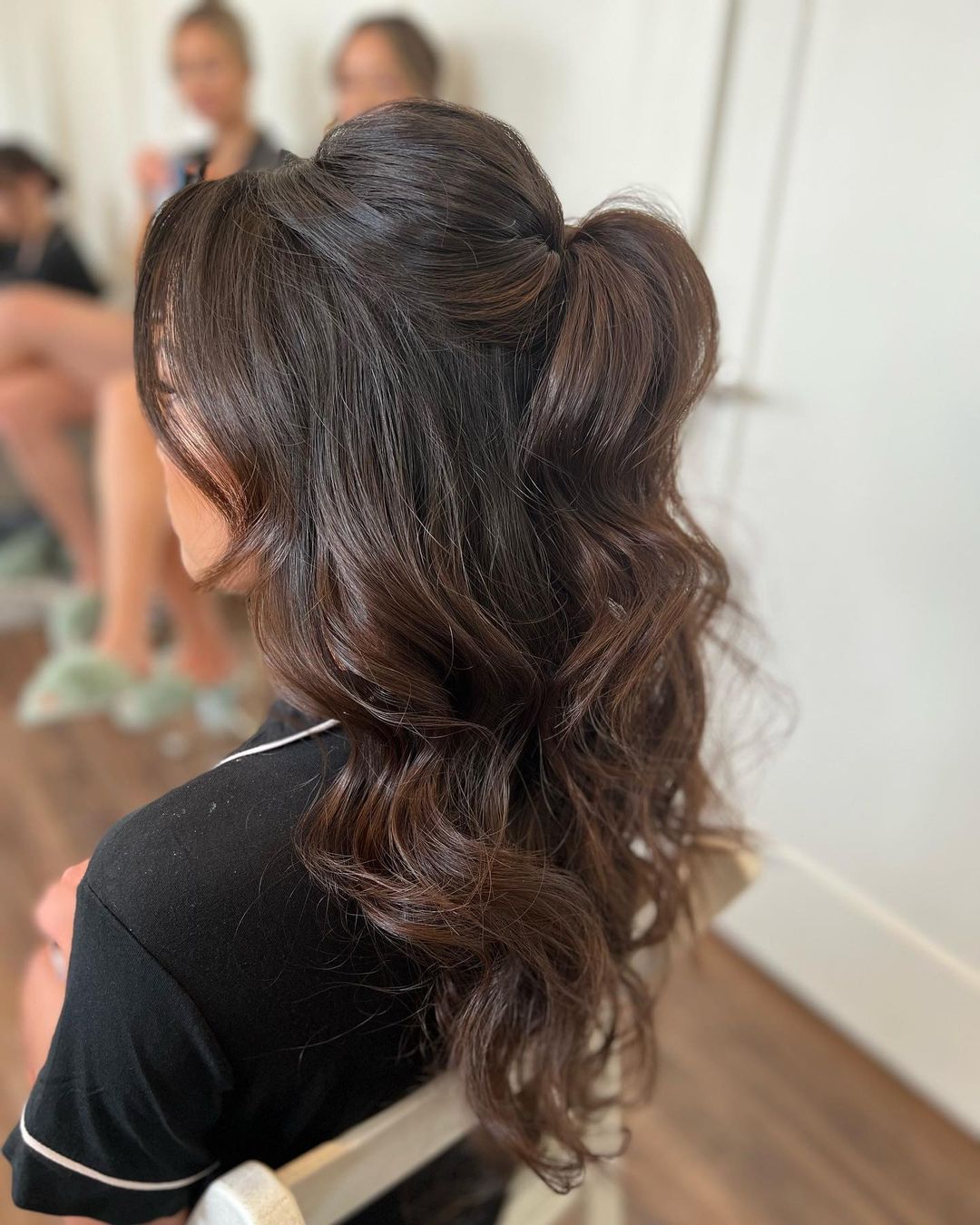 Wearing a half-up half-down bridal updo is another genius way to style your black hair for a wedding. You can choose to wear an adorable bridal pin, but this model didn't, and it looks magical nonetheless.
10. Magical Boho Updo with Bridal Pin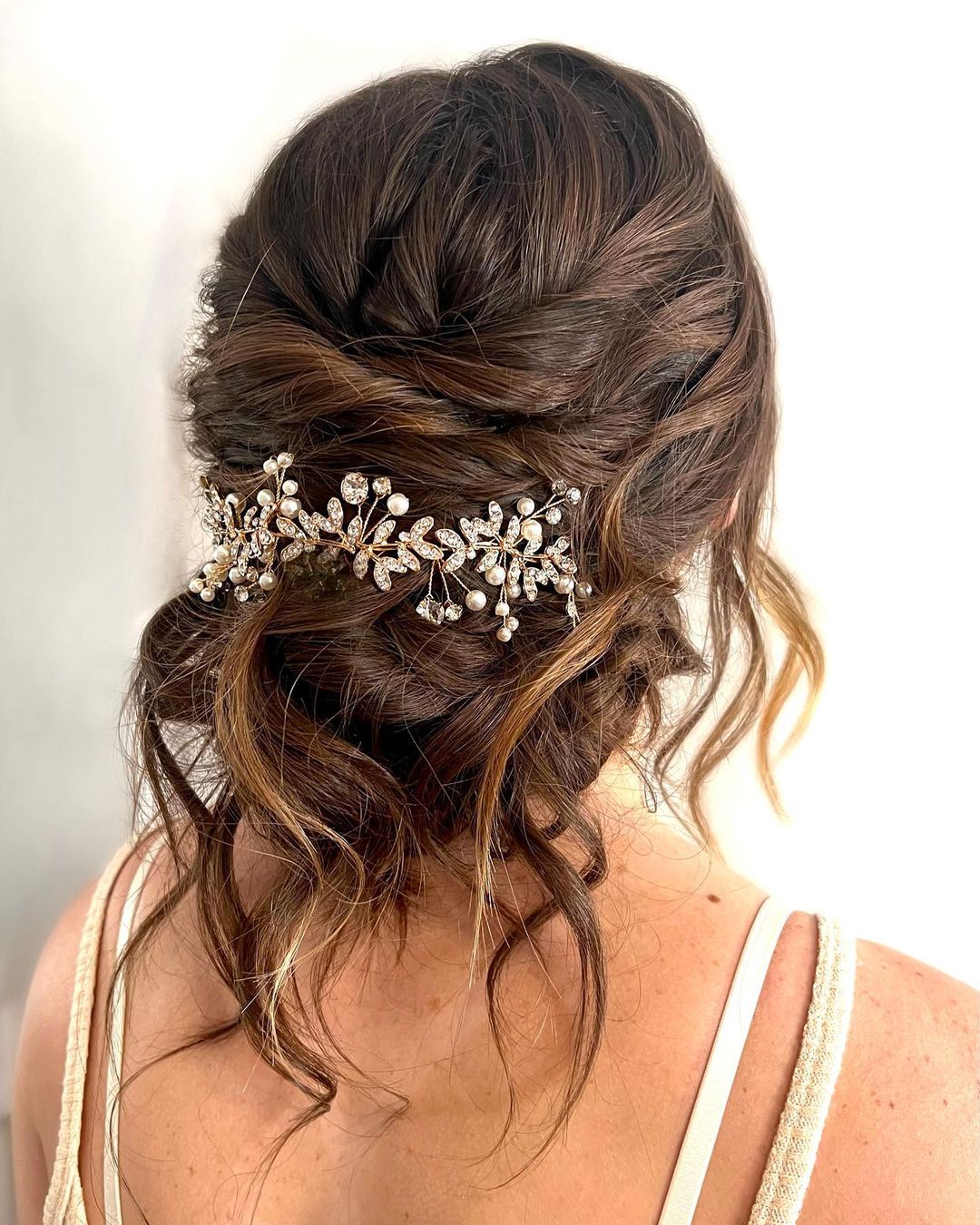 Qualifying the appeal of a boho updo with adorable bridal pins shouldn't be limited to magical; there should be a word that illustrates its appeal better. While we look for that word, let's simply call this a magical hairstyle.
11. Side Braided and Low Bun Combo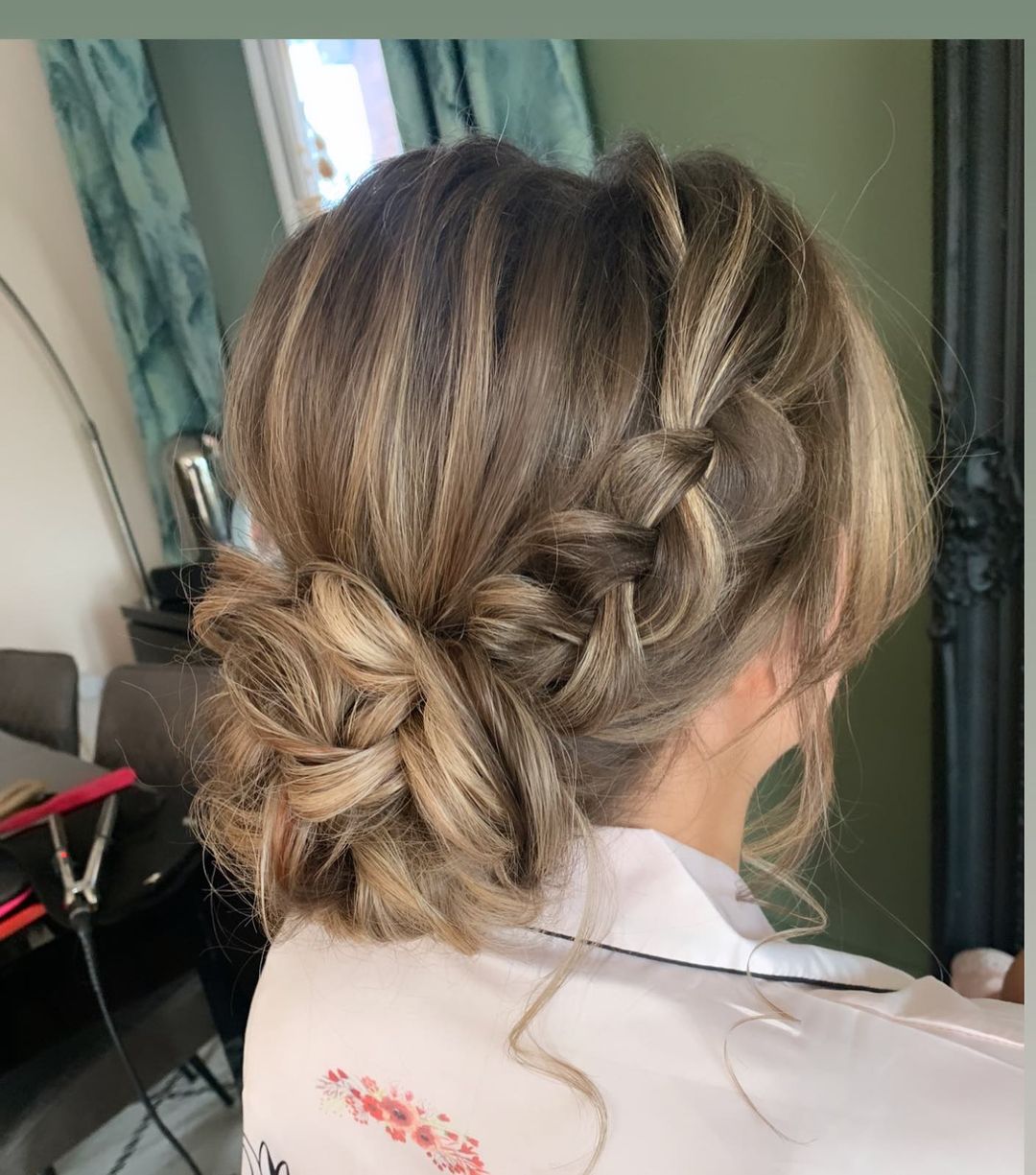 This bun with side braids isn't what you want on a bride during a wedding, but it's perfect for other members on the bridal train. You can even wear a few bridal pins to take things up a notch, beauty-wise.
12. Bridal Half Up and Dropping Long Curls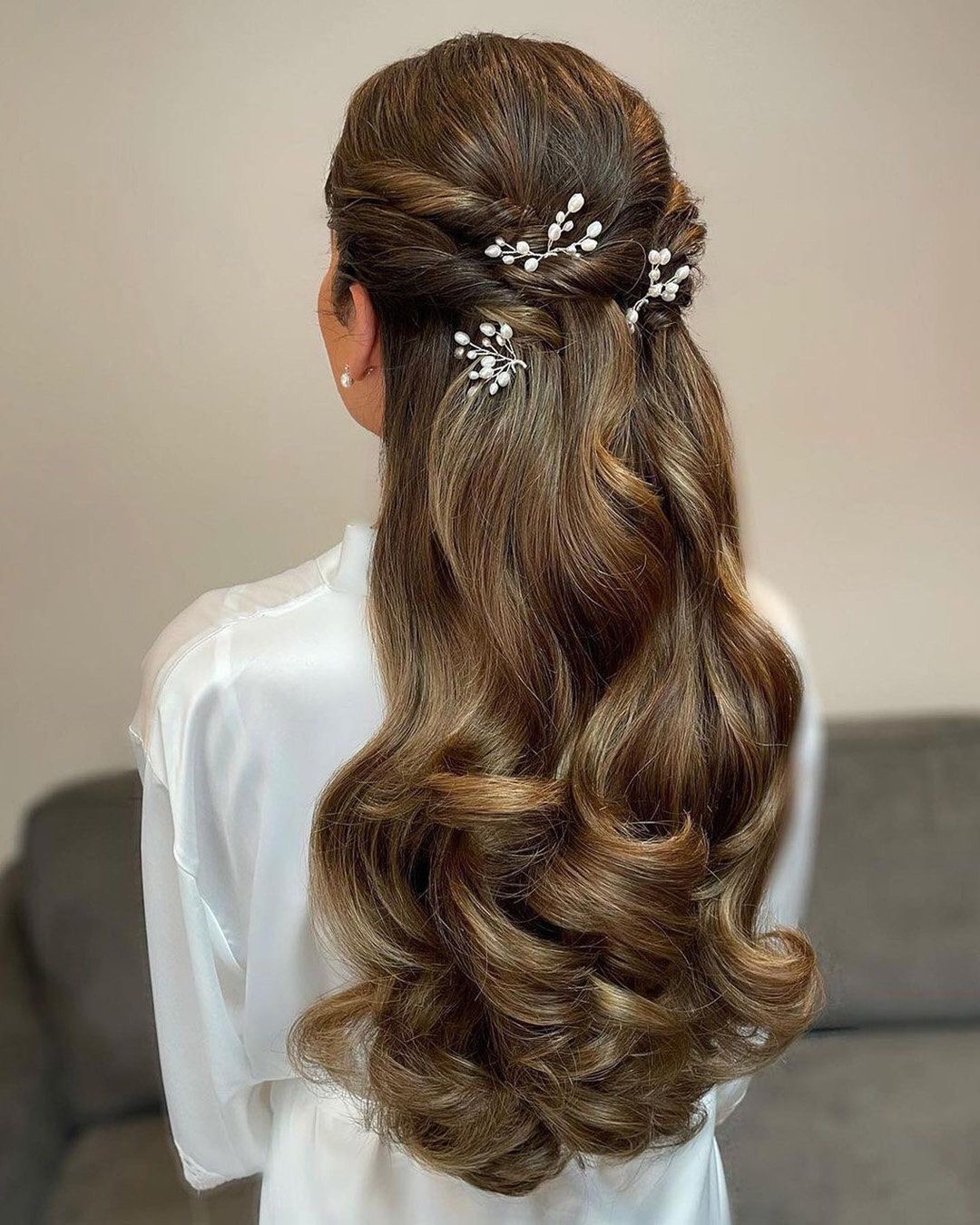 These giant curls require very long hair to work, and if you already have that, I can't imagine what style would look better. Add in those bridal pins and you're ready for the wedding ceremony.
13. Long Bridal Hair with Perfect Waves and Head Piece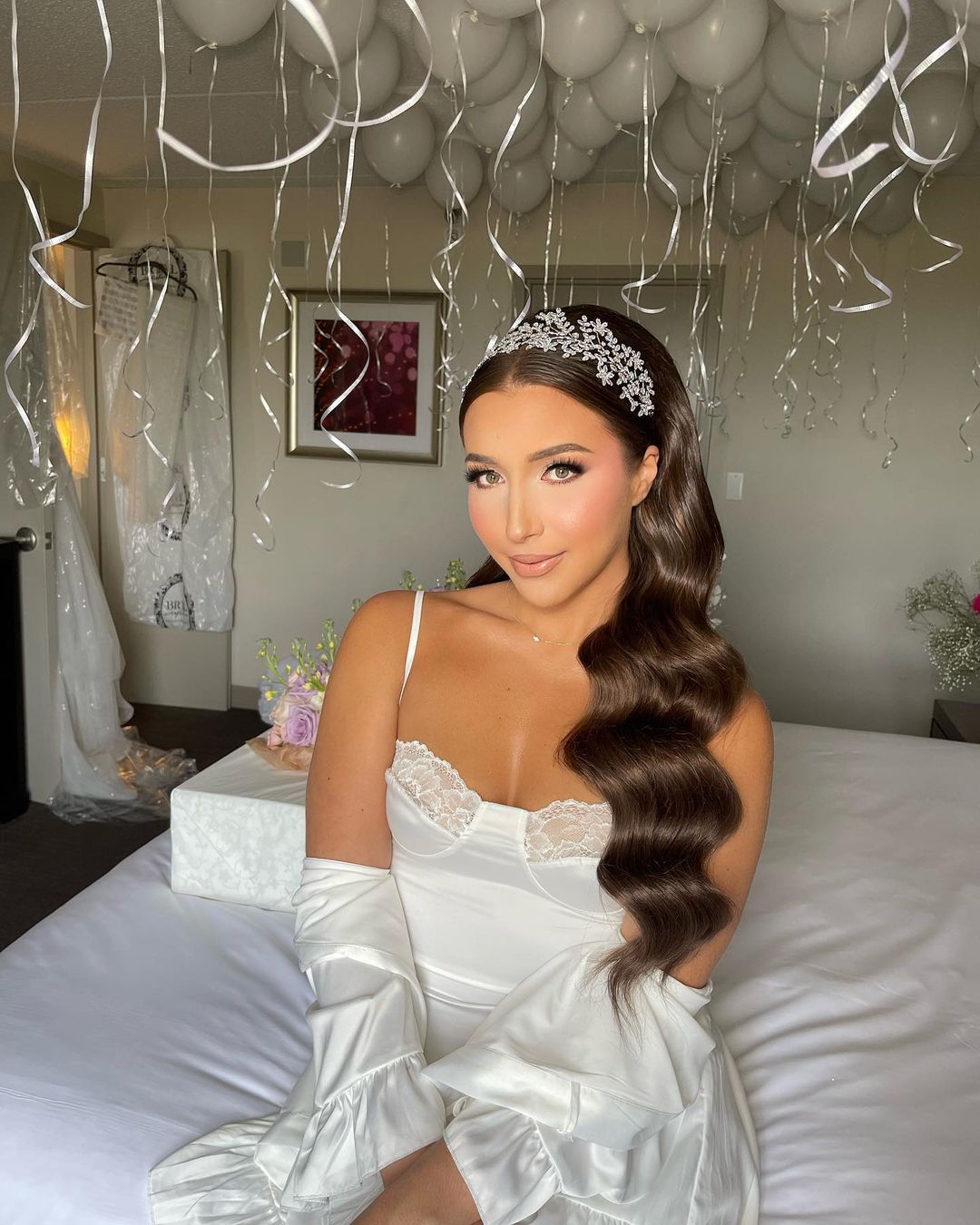 I'm saving this picture, not for this compilation, but because it's how I'm dressing on my wedding day. With those perfect waves and the adorable headpiece, what more could I ask for?
14. Simple Boho Braids Updo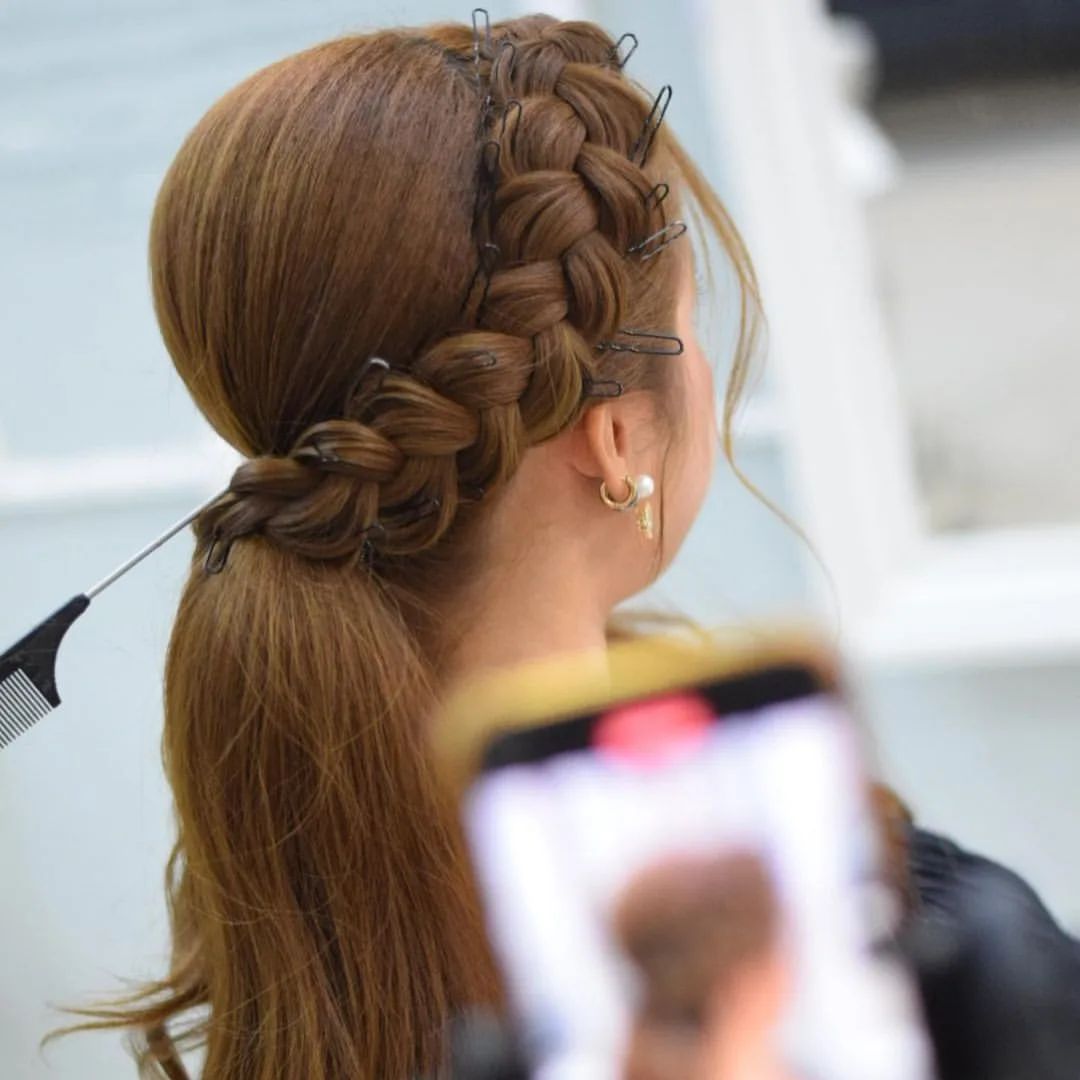 Here's another simple hairstyle that works best for bridesmaids that like to keep it simple. It has no beads, head-pieces or bridal pins, and that's the point: it should look simple but adorable.
15. Smooth Blonde Hair with Stepped Waves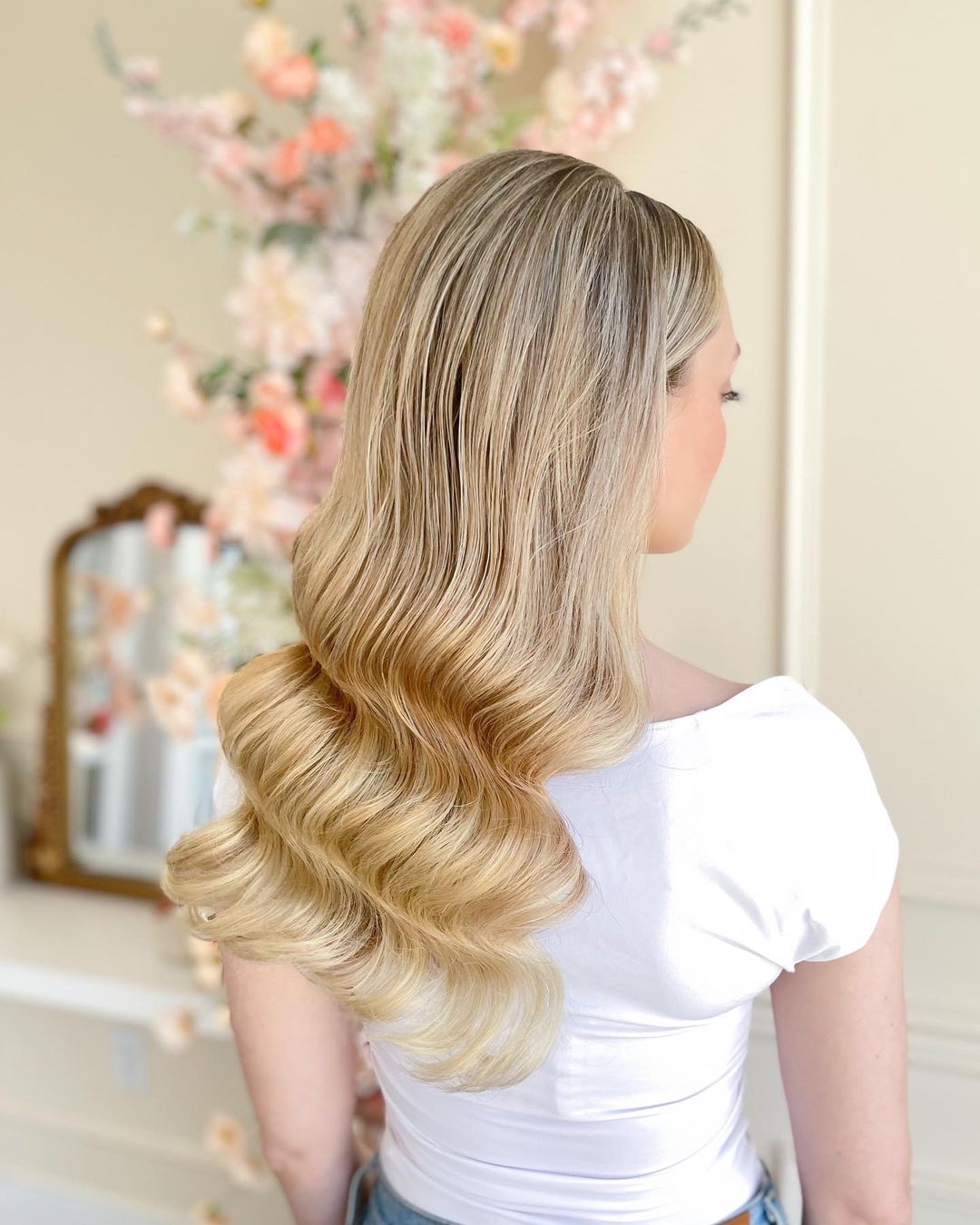 If you're after the most adorable wedding hairstyle that doesn't use beads or bridal pins, here you go. The stepped waves look perfect, and the blonde is the optimal colour; this hairstyle truly has no room for improvement.
16. Beautiful Long Bridal Wavy Hair with Middle Part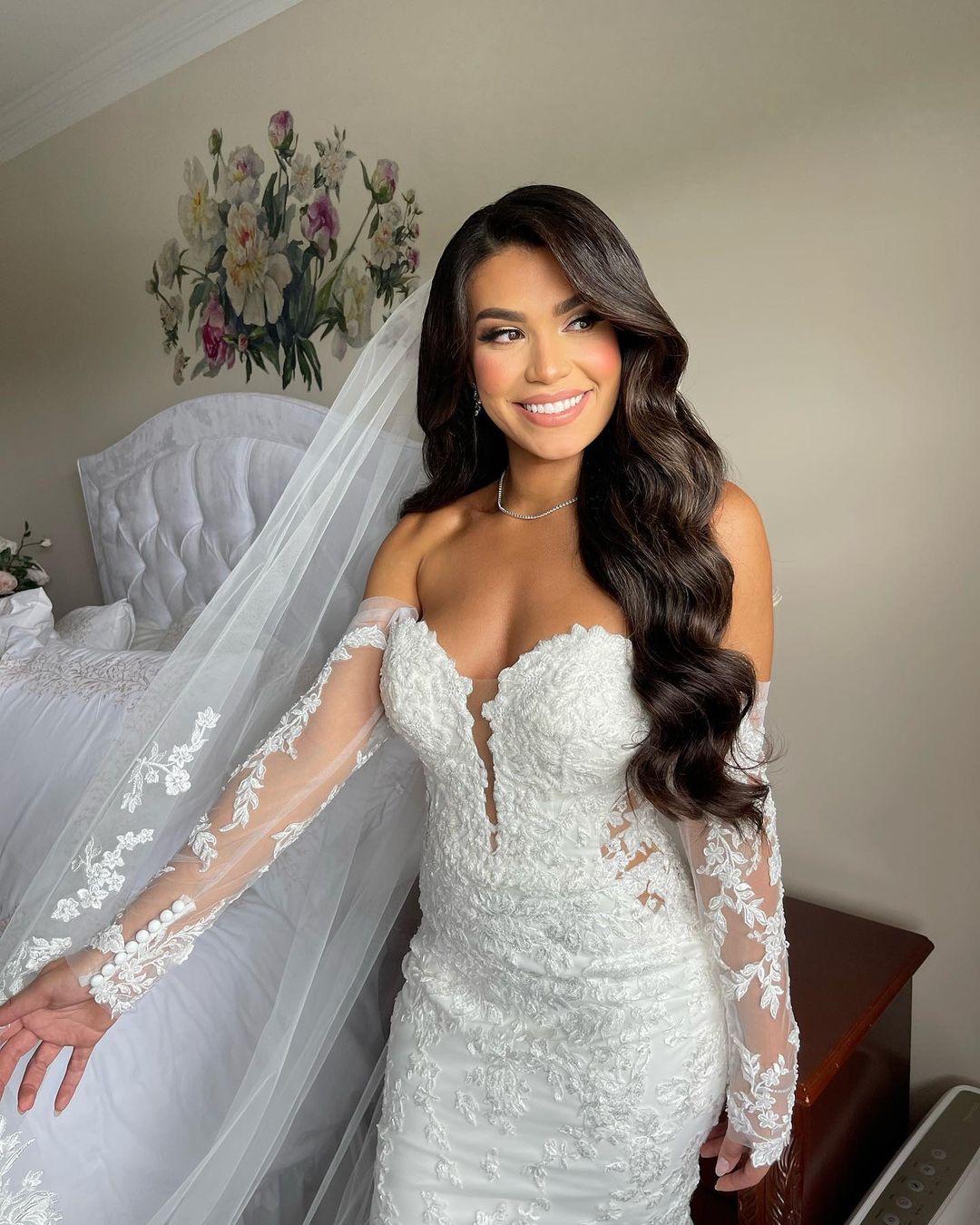 Getting waves this long already makes you a 10, but you can take that allure even further with a centre parting. Throw in the model's impeccable smile and you have one of the best wedding hairstyles for long hair.
17. Low Loose Bun with Bridal Flower
When done properly, this low loose bun is arguably chicer than the long wave, but that depends on who you ask. Including the flower is optional, but it gives it that 'bridal style' feel.
18. Soft and Minimal Tucked Waves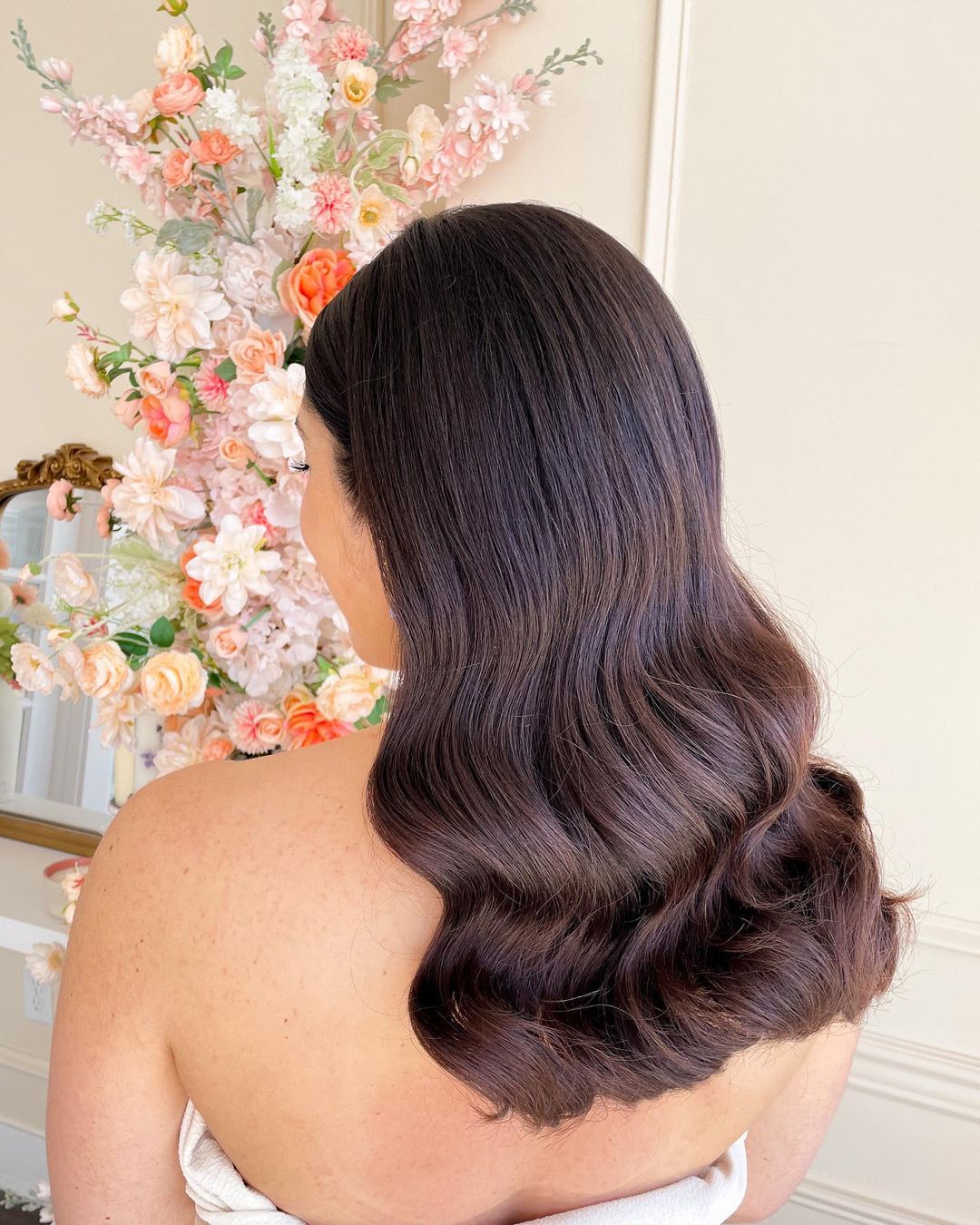 If you're after something that looks incredibly simple, these tucked waves should tick most of your boxes. It's not the most beautiful thing in the world, but it's plenty adorable for a wedding.
19. Boho Twisted Half Up Half Down Hair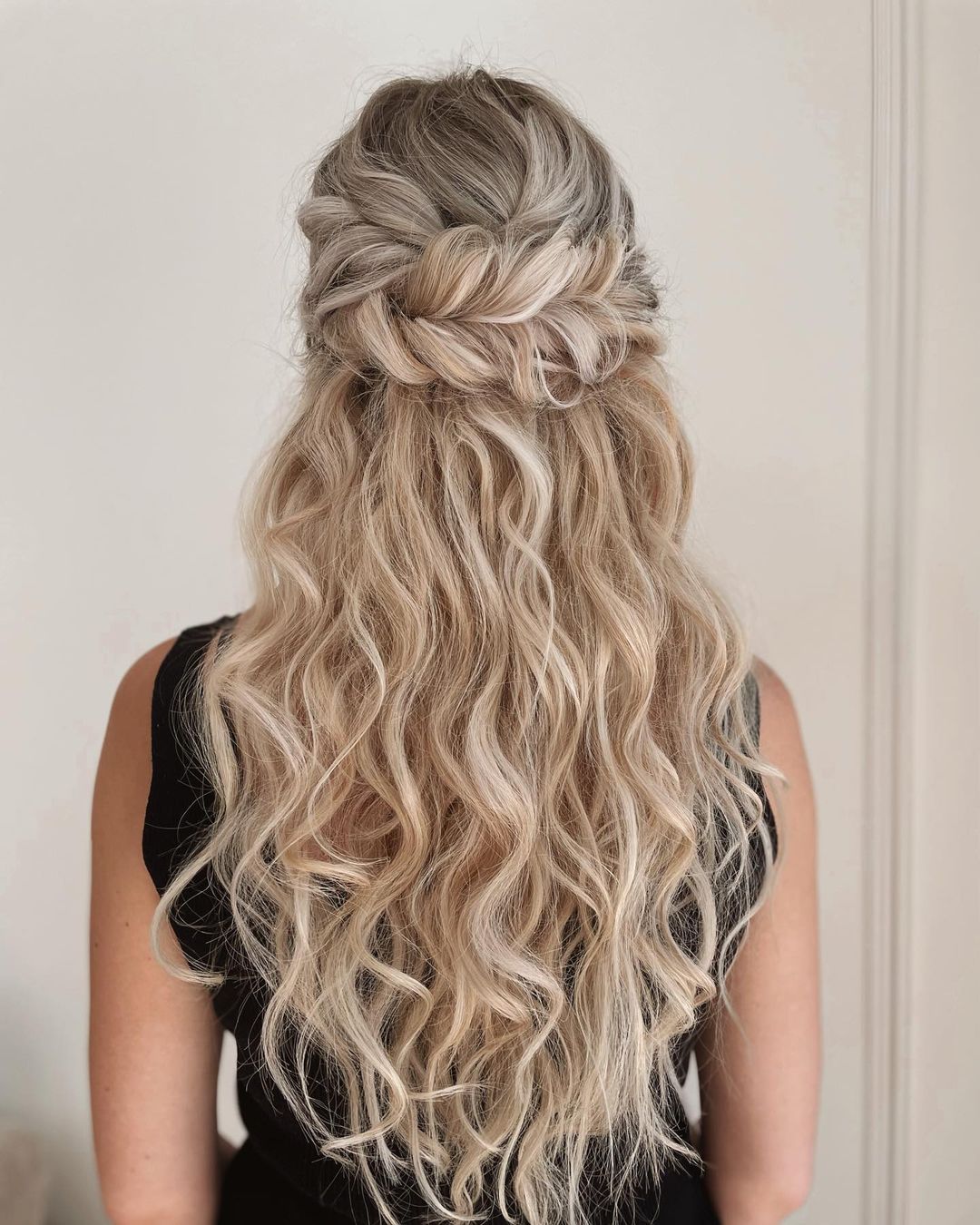 Combining bohemian twists with the half-up half-down style on curly hair gives you this: a style that looks effortlessly beautiful, despite not having any bells and whistles.
20. Low Textured Messy Bridal Bun with a Braid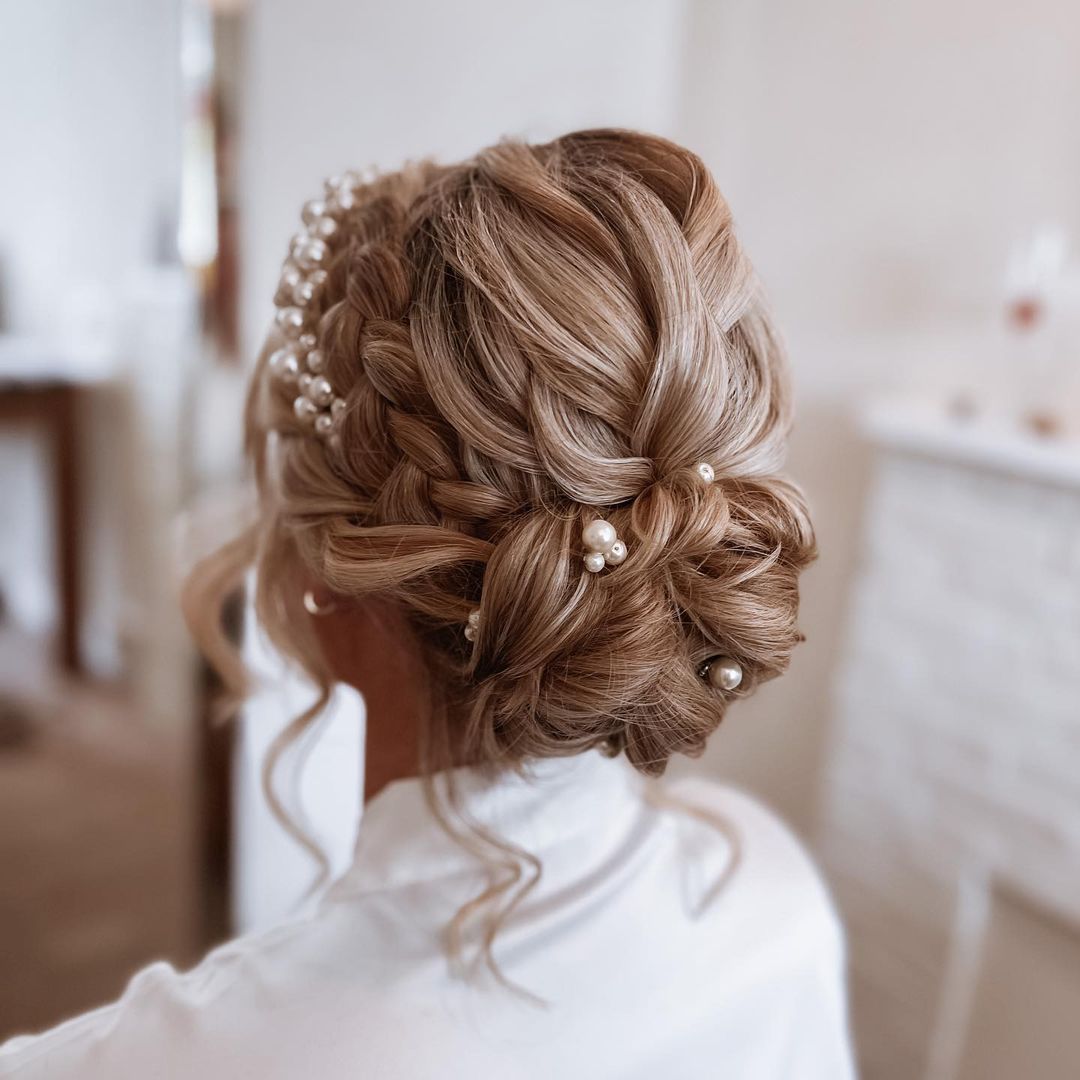 If you want something with bells and whistles, however, this textured bridal bun is your best bet. You'll be working with a lot of pins here, and thanks to the messy texture, it's a lot of work to get right. Nonetheless, it's one of the best wedding hairstyles for long hair out there.
21. Half Up Bun with Spread Out Waves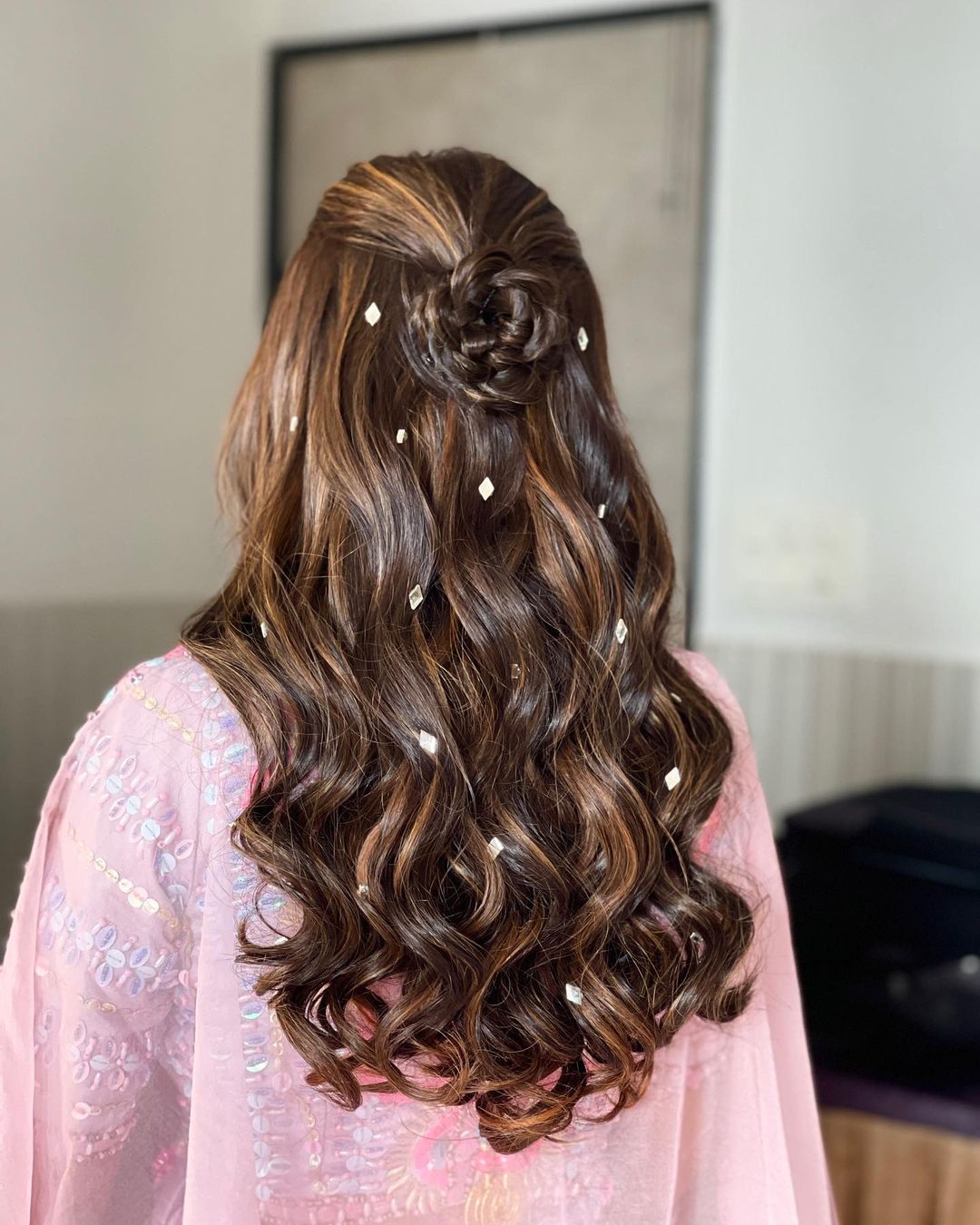 If you have tons of volume in your hair, you can make it into waves that spread out, like the model above. Adorning it with tiny beads gives it a bridal vibe, creating a charming wedding hairstyle.
22. Brunette Trendy High Bun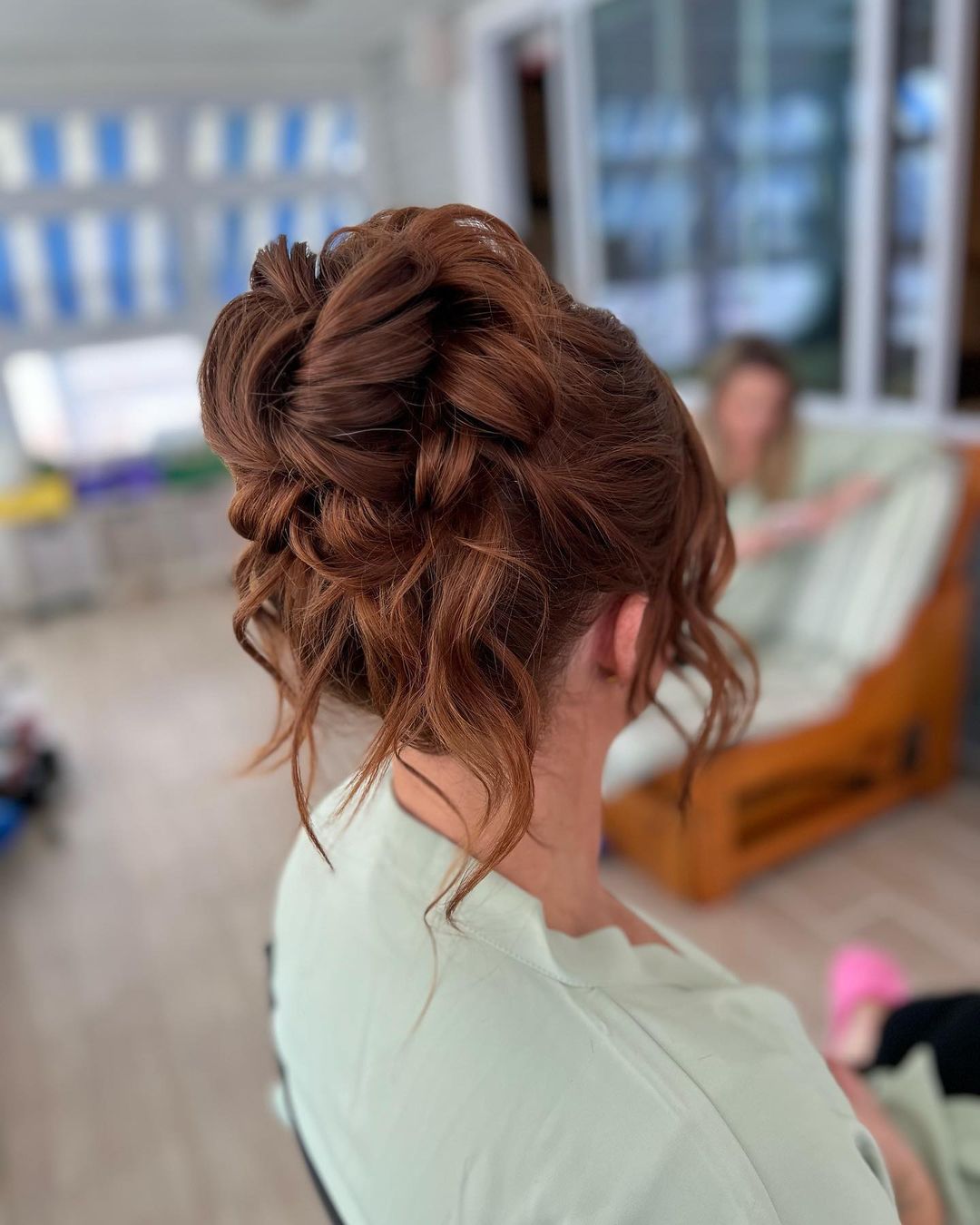 Brown hair and high buns are like a match made in heaven; you can't go wrong with that combination. If your goal is a wedding hairstyle, you want to keep it as smooth as this model's.
23. Soft Fluffy Wavy Blonde Hair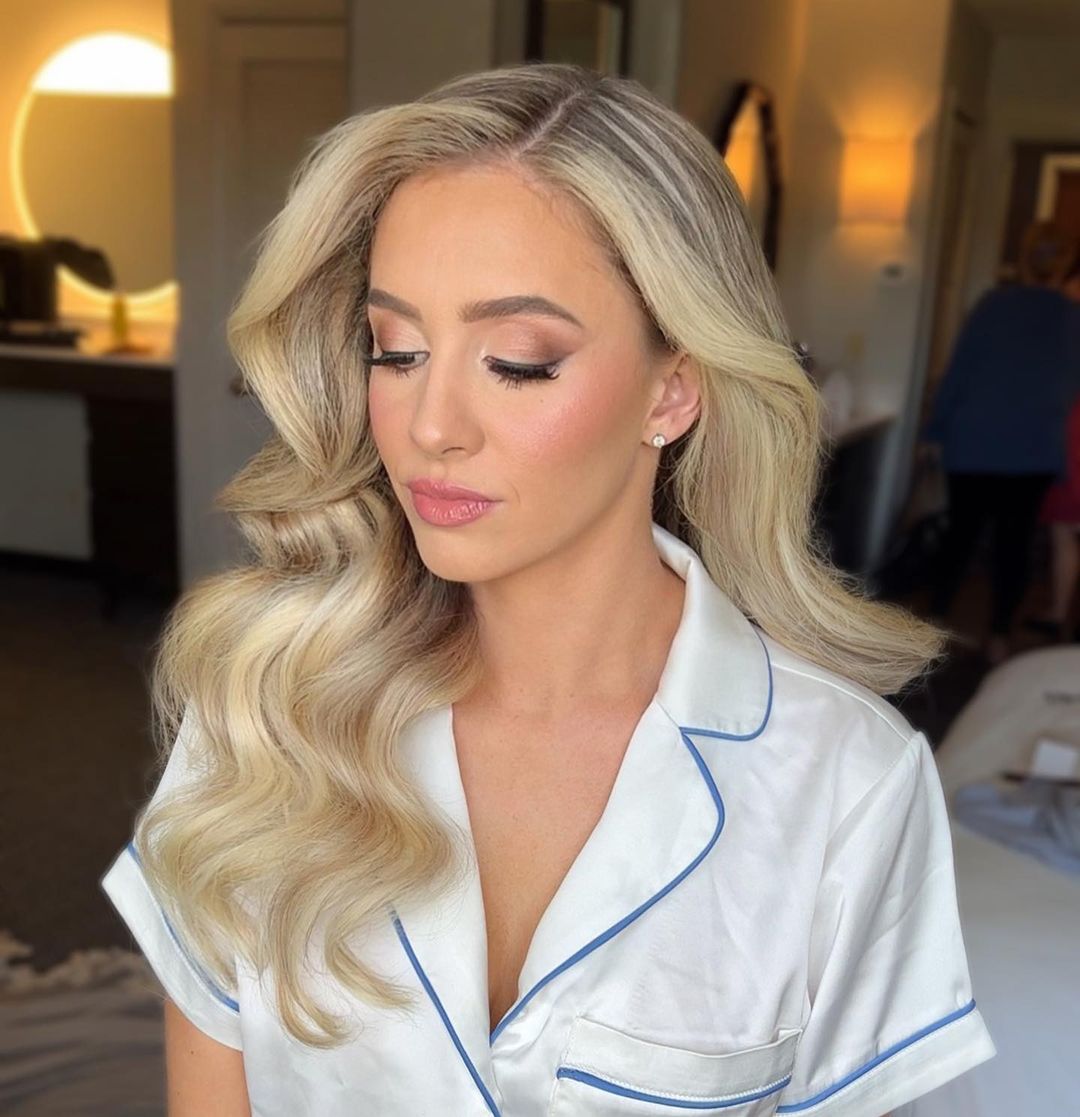 These fluffy waves embody simplicity and charm in one package. The asymmetrical parting creates an equal division that gives the hairstyle a distinct but adorable look.
24. High Chignon with Tendrls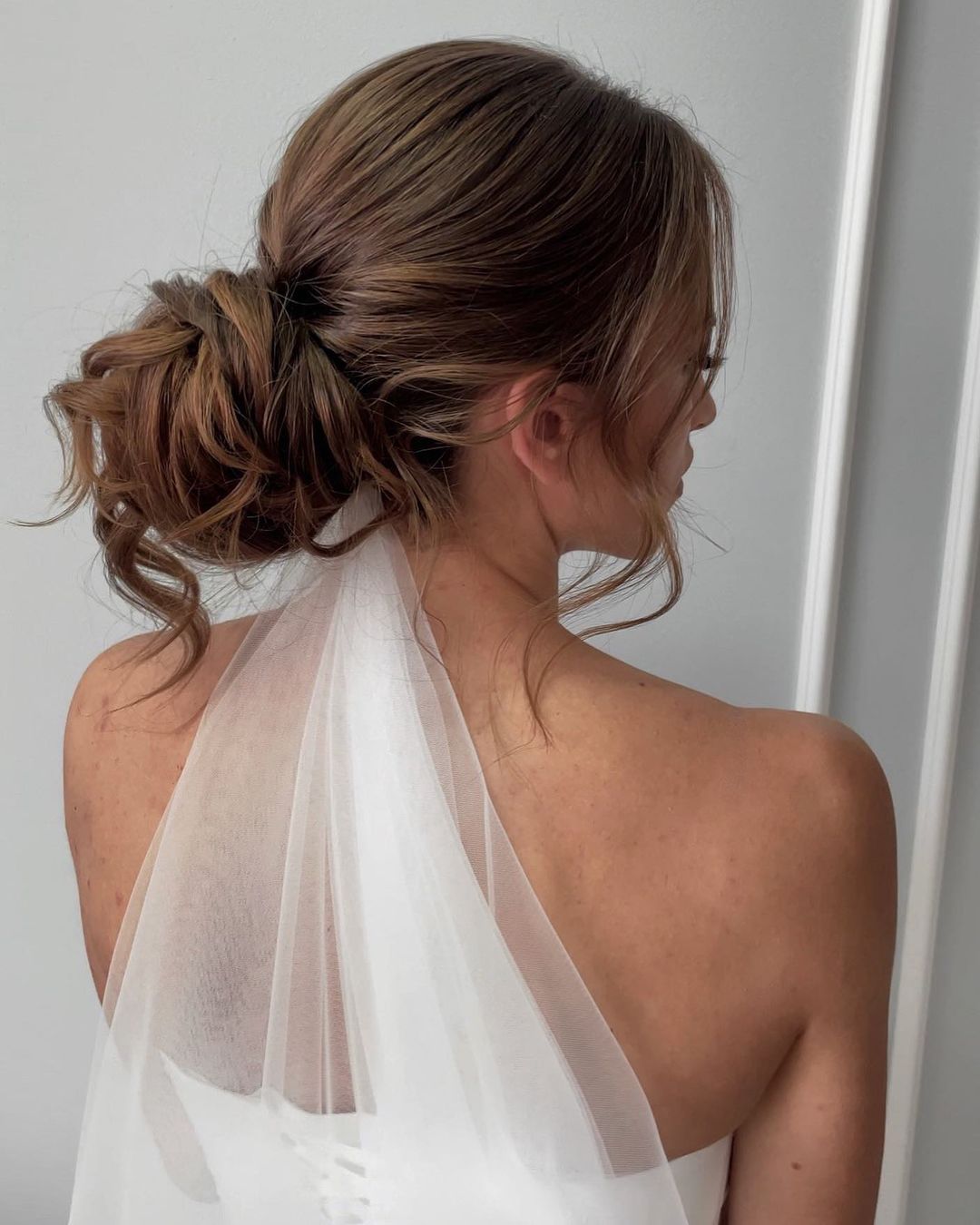 Chignons have always denoted exquisiteness and class, two qualities you need in a wedding hairstyle. No wonder this high chignon with tendrils oozes beauty all around.
25. Voluminous Side-parted Wavy Wedding Hairstyle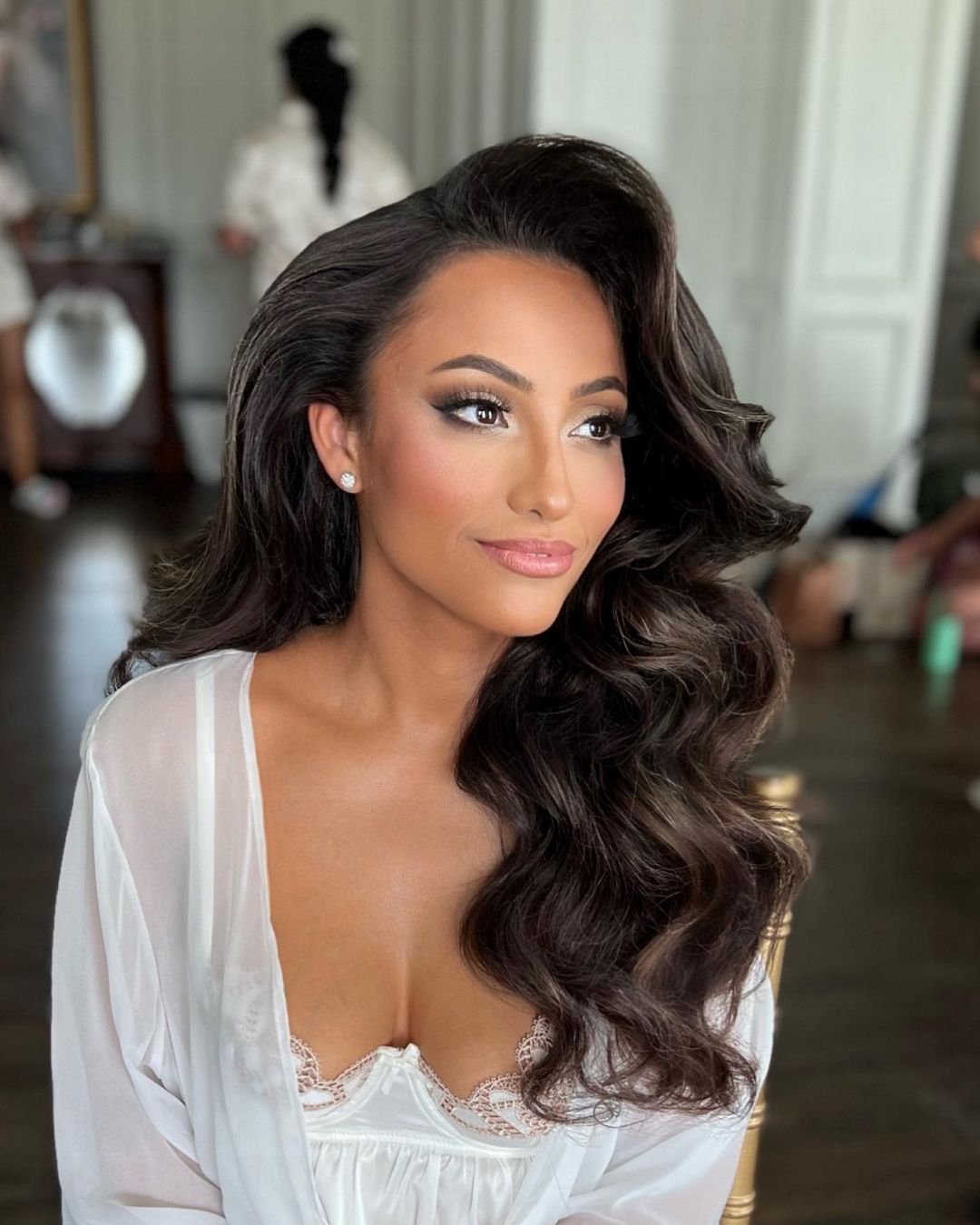 If your long hair has an above-average thickness, you should certainly try this side-parted waves hairstyle. It's not the easiest hairstyle to make, but it's a wedding; nobody is actually after easy hairstyles.
26. Beautiful Half Up and Half Down with Middle Part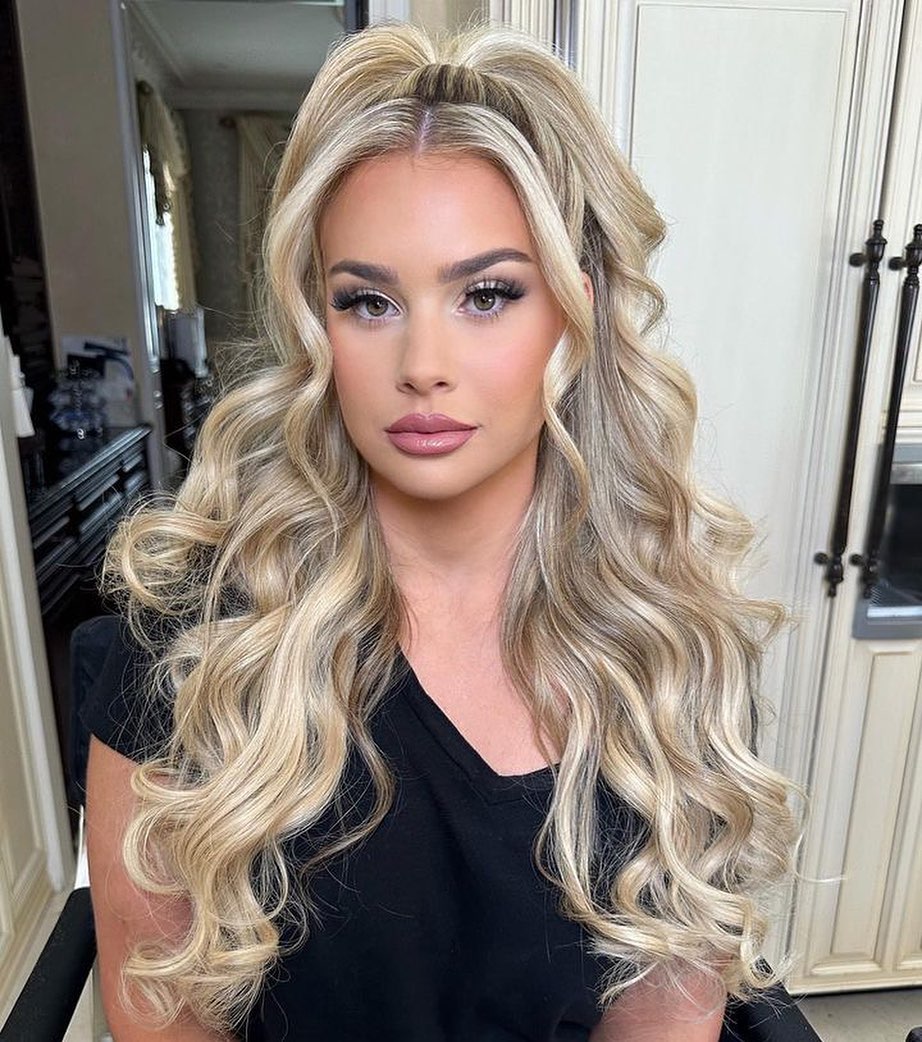 I've always thought half-up half-down styles and a centre parting are mutually exclusive, but here's a style proving me wrong. I hate to be proven wrong, but if it's a style this adorable, it can pass.
27. Classic Red Half Up Half Down with Bridal Pin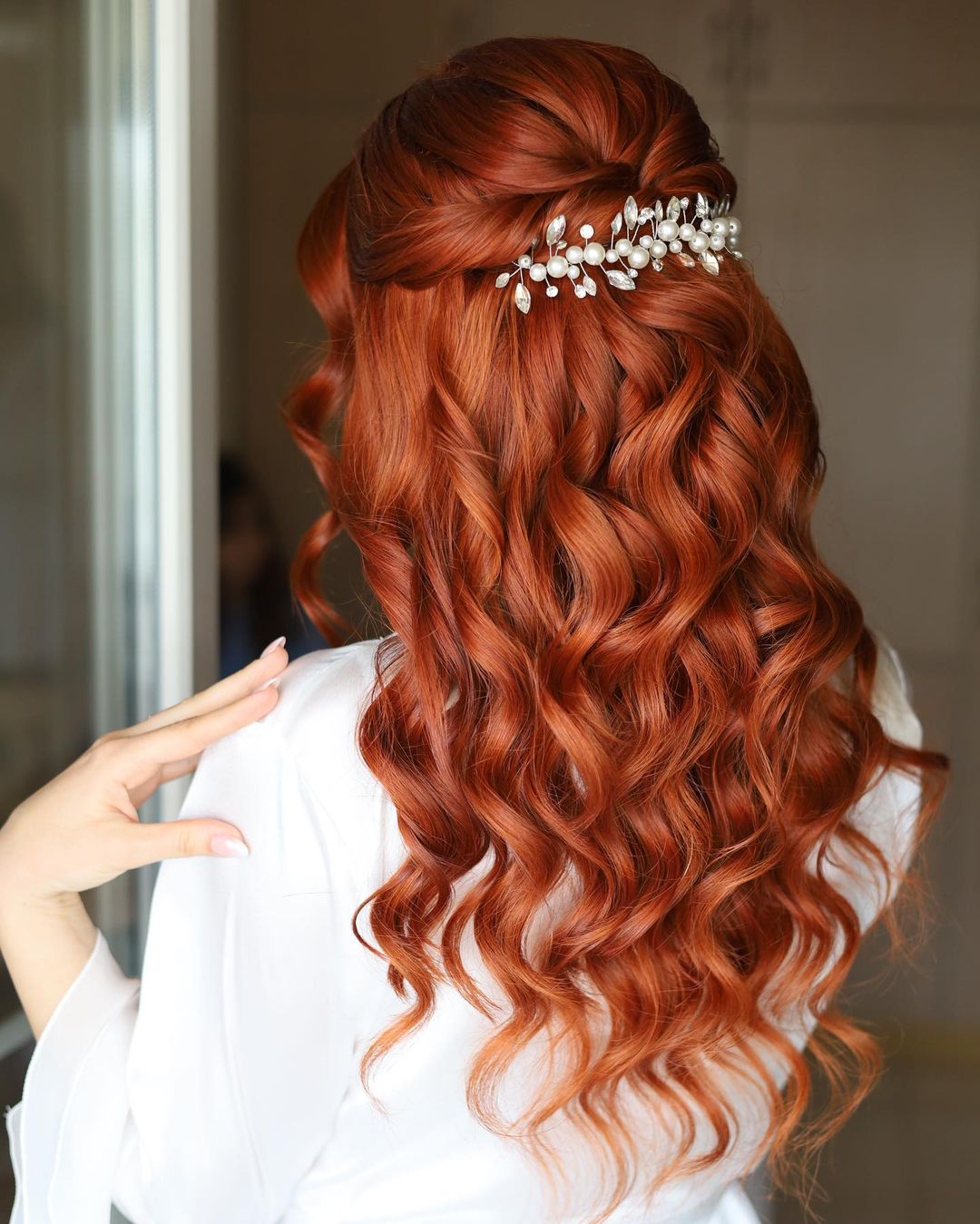 A way to adore your half-up half-down style is by adding bridal pins, and the result certainly looks adorable. This style looks a bit more wedding-like than the preceding one, which is what you want.
28. Brunette Quick Half Up and Half Down Wedding Hairstyle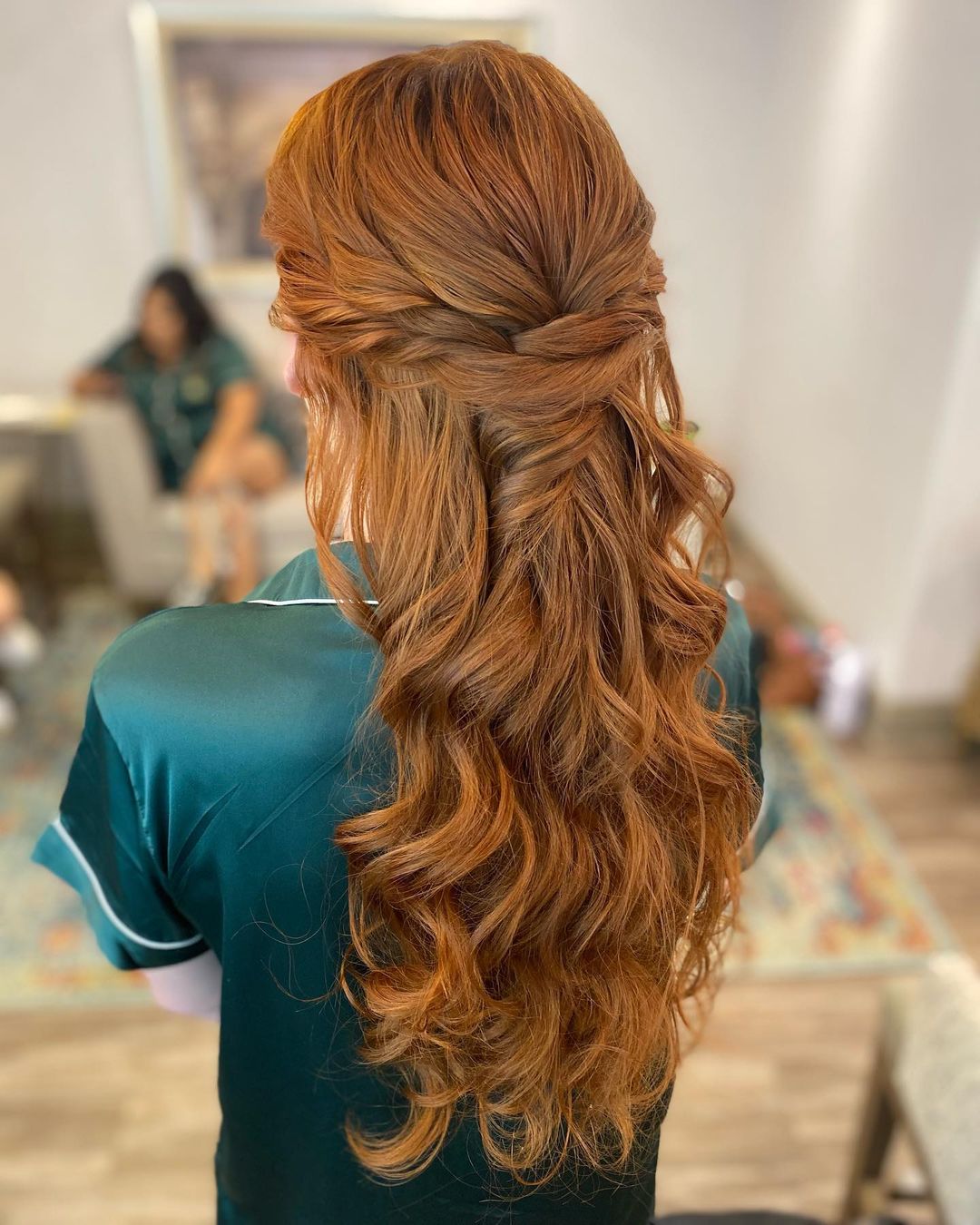 Here's another clever way to style a half-up half-down hairstyle for a wedding. You may notice it also doesn't carry any bridal pins; this one works better for the guests.
29. Bridal Sided Braided and Interwoven Bun Combo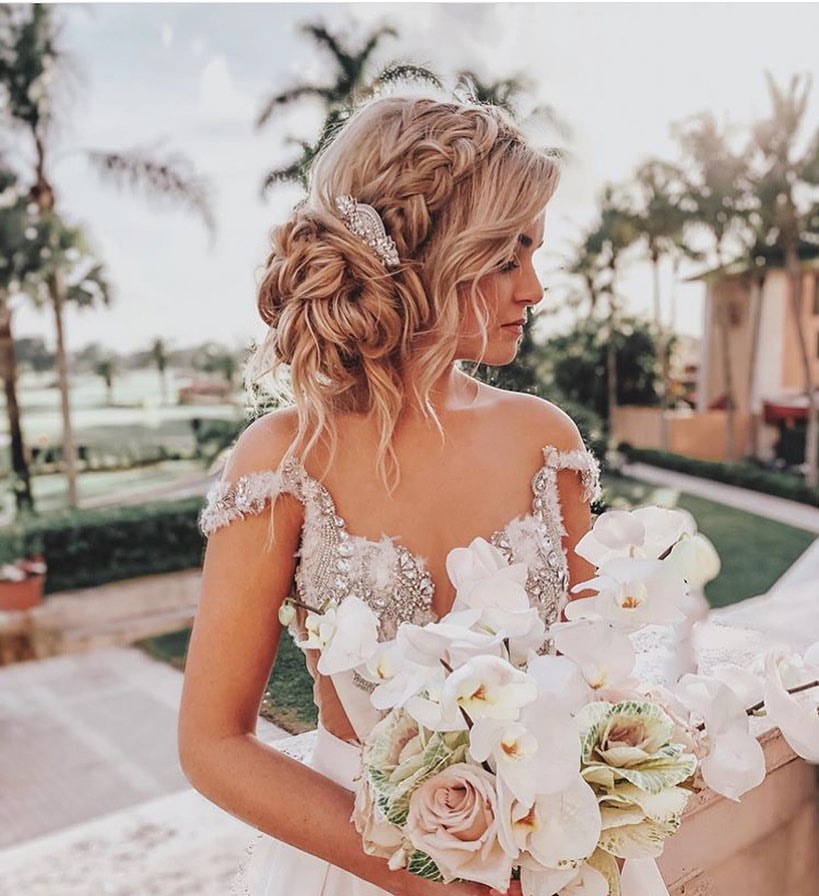 If you're after a style for the celebrant, this side-braided interwoven bun is an excellent example. It uses bridal ornaments that make the style look prettier and more wedding-appropriate.
30. Simple Bridal Tucked in Bun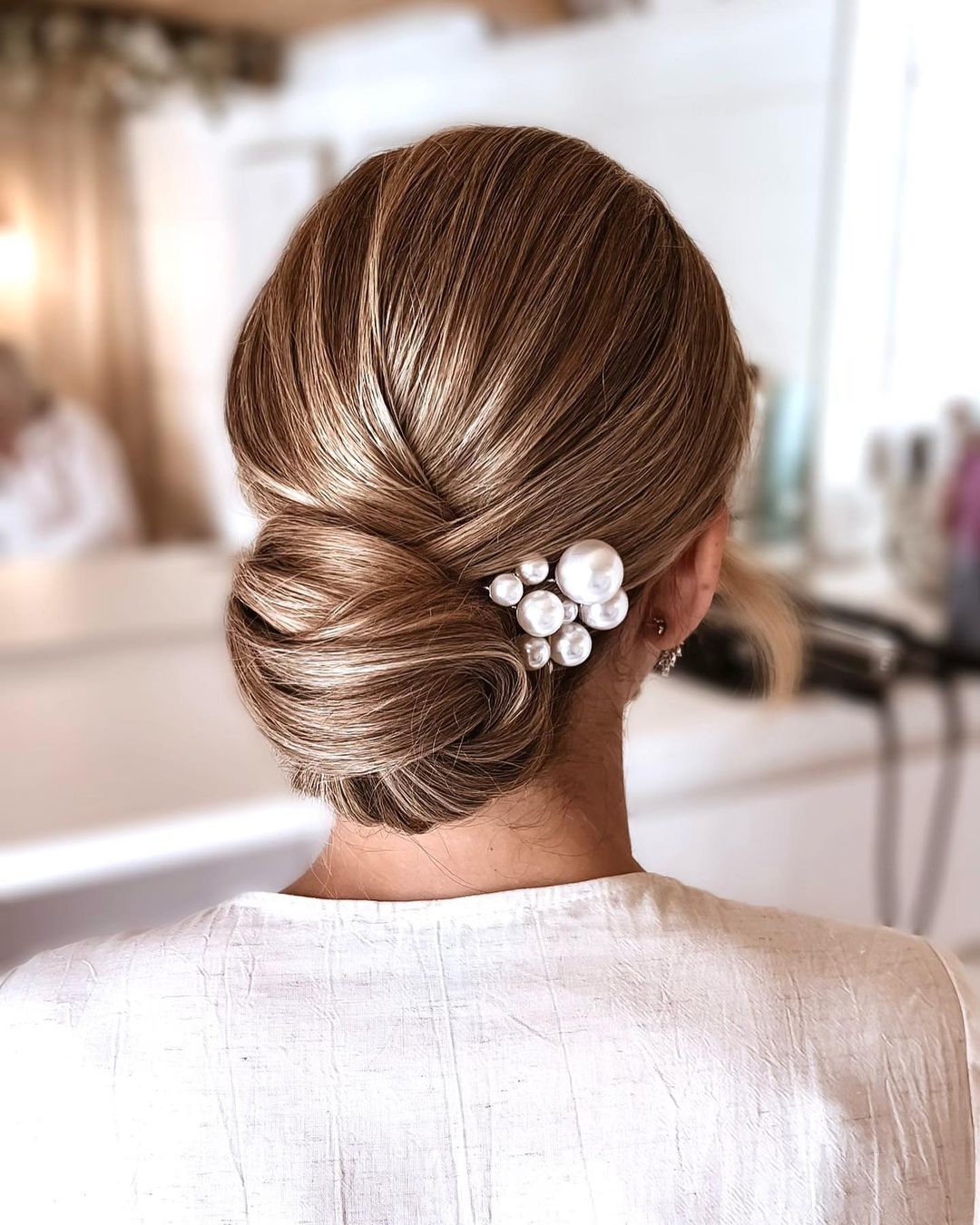 Here's something simpler if it's more of your style. While it uses bridal pins, you can't compare the complexity of a tucked-in bun with that of an interwoven bun with side braids. Despite being less complicated, it's just as adorable.
31. Blonde Old Hollywood Wavy Hair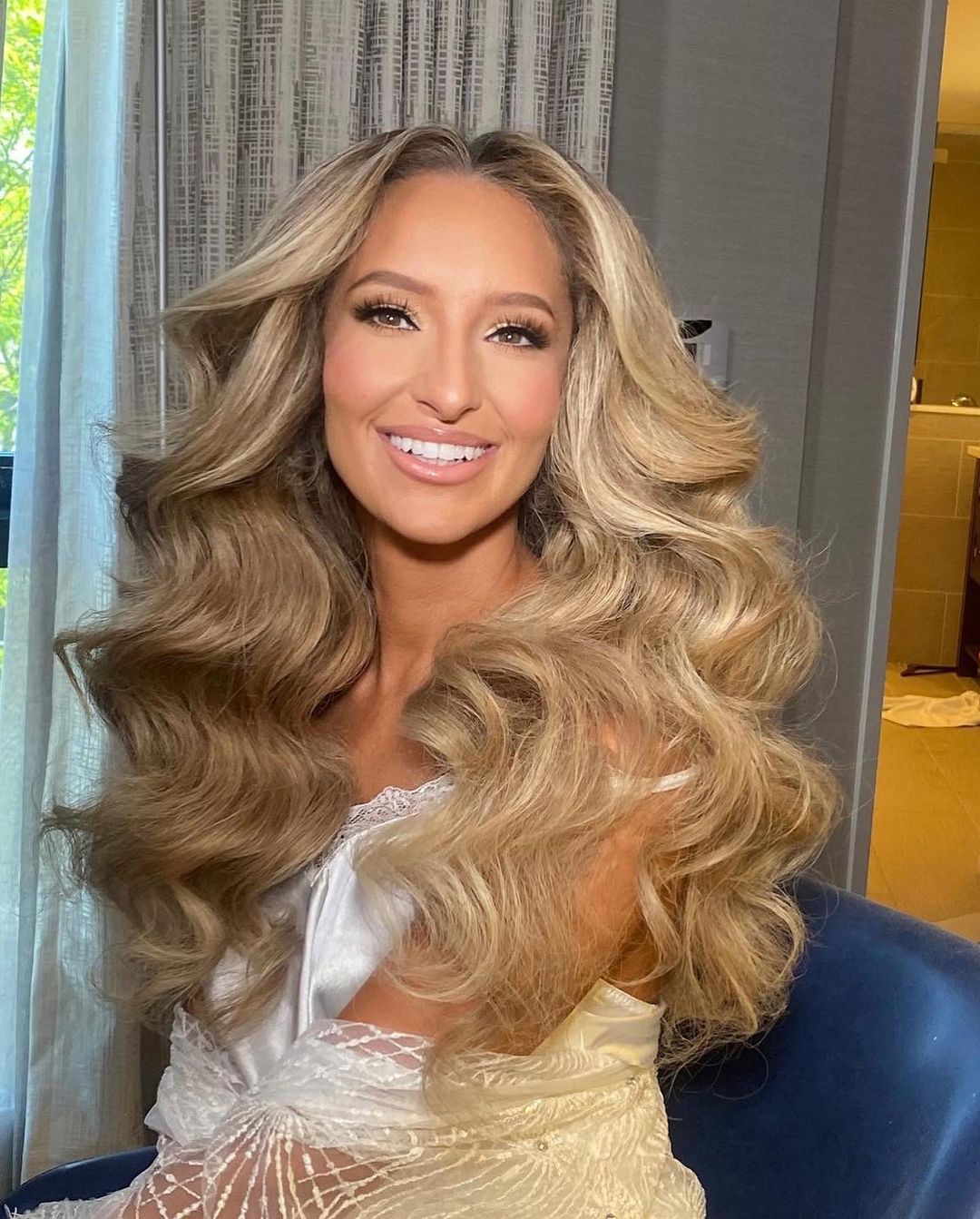 An old-school Hollywood look isn't bad for a wedding, and here's a template if you're interested. Be sure to wear a similar smile; that's half the hairstyle's allure.
32. Neat and Glam Hair with Dreamy Waves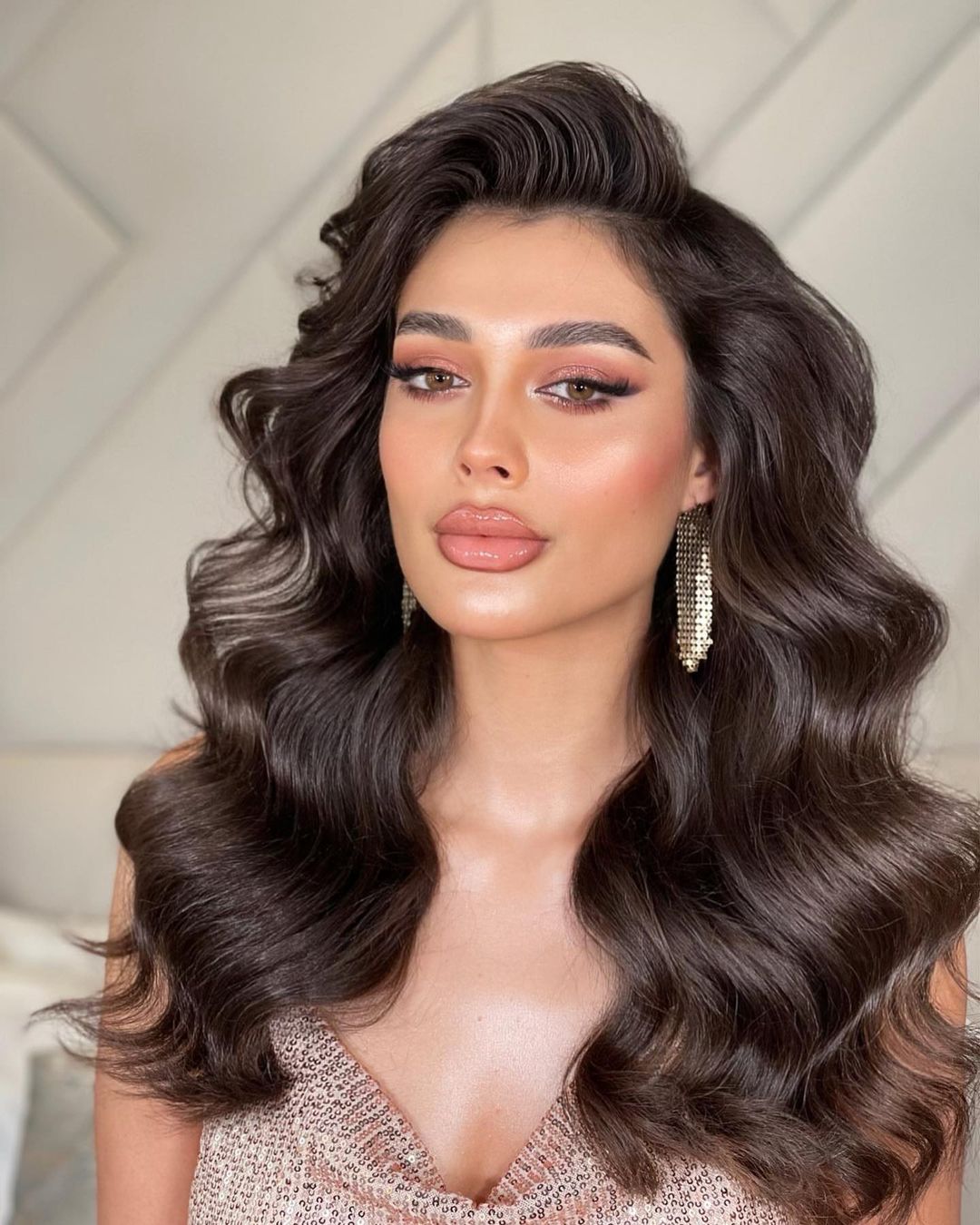 This is more or less the same hairstyle as the preceding idea but in black. To me, it's not any more or less attractive, but it doesn't exude the level of glamour I expect from my wedding hairstyle.
33. French Twist Updo with Ringlets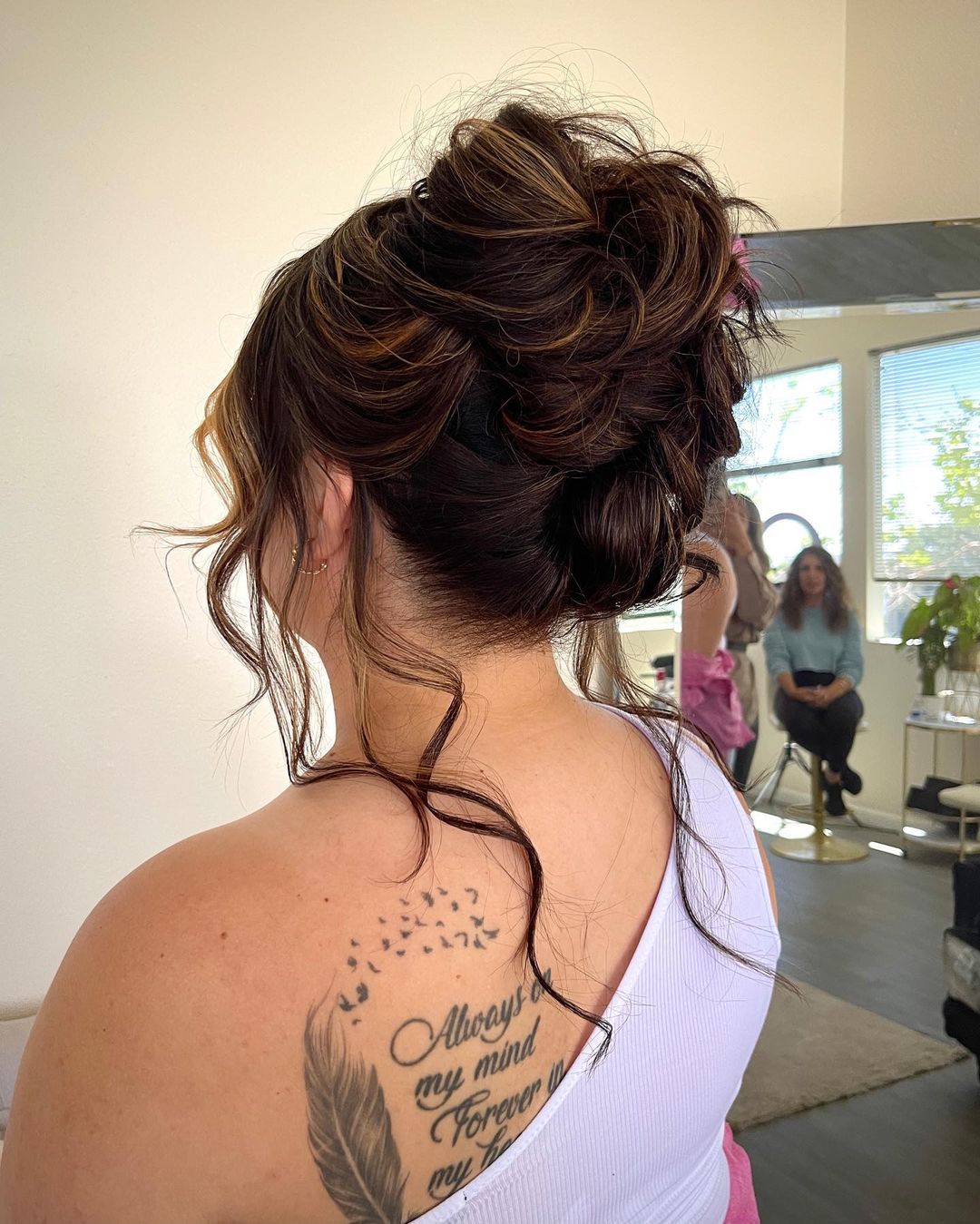 A plain French twist also isn't my idea of a perfect wedding hairstyle, but this style isn't half bad if you're only among the bridal train. You can add bridal pins or other adornments for extra flair.
34. Soft Full Wavy Updo with Curtain Bangs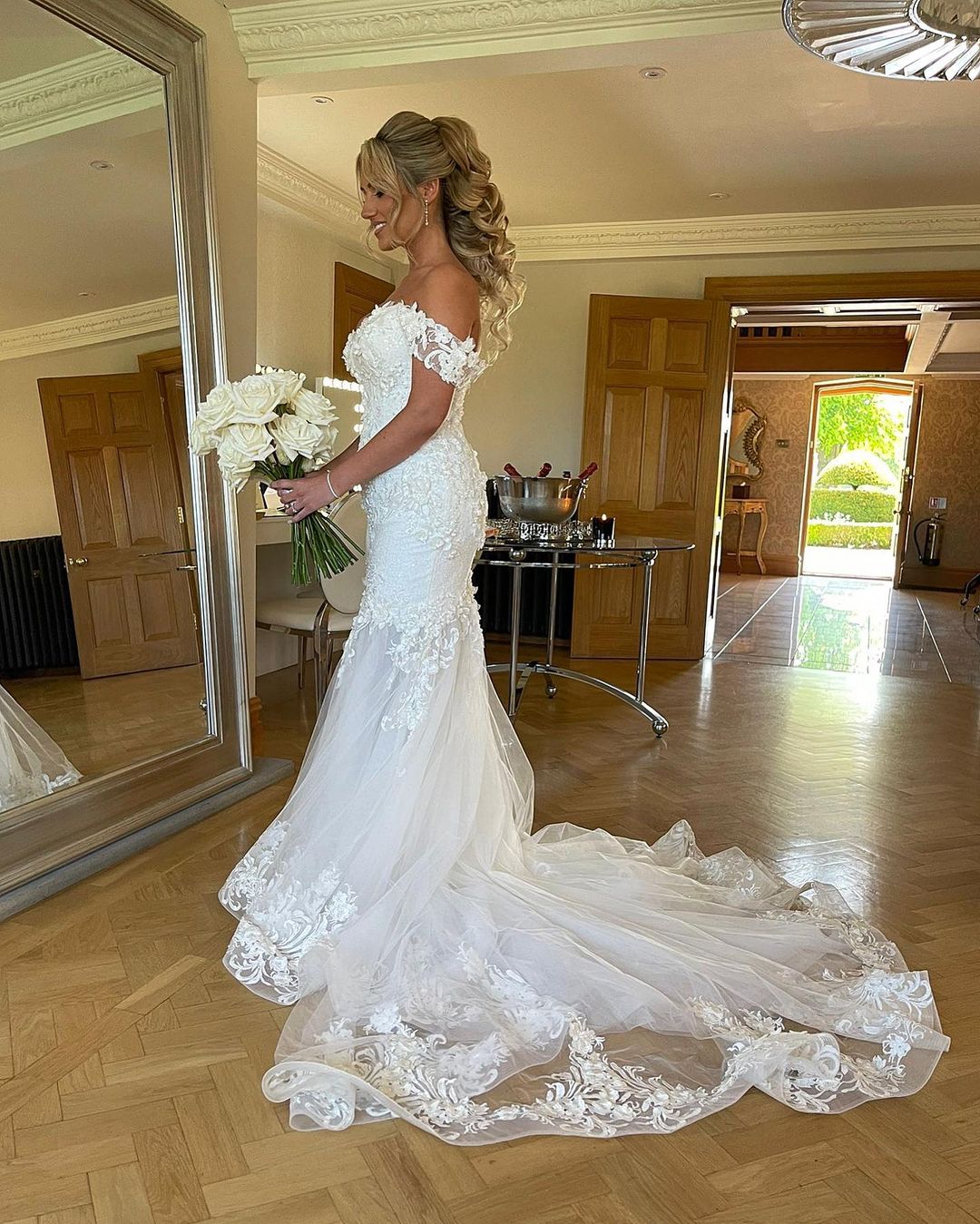 Who said you need bridal crowns and pins to make the perfect wedding hairstyle? Despite having none of those bells and whistles, this wavy updo with bangs already ticks all the boxes in my 'perfect wedding style' checklist.
35. Textured Layered Updo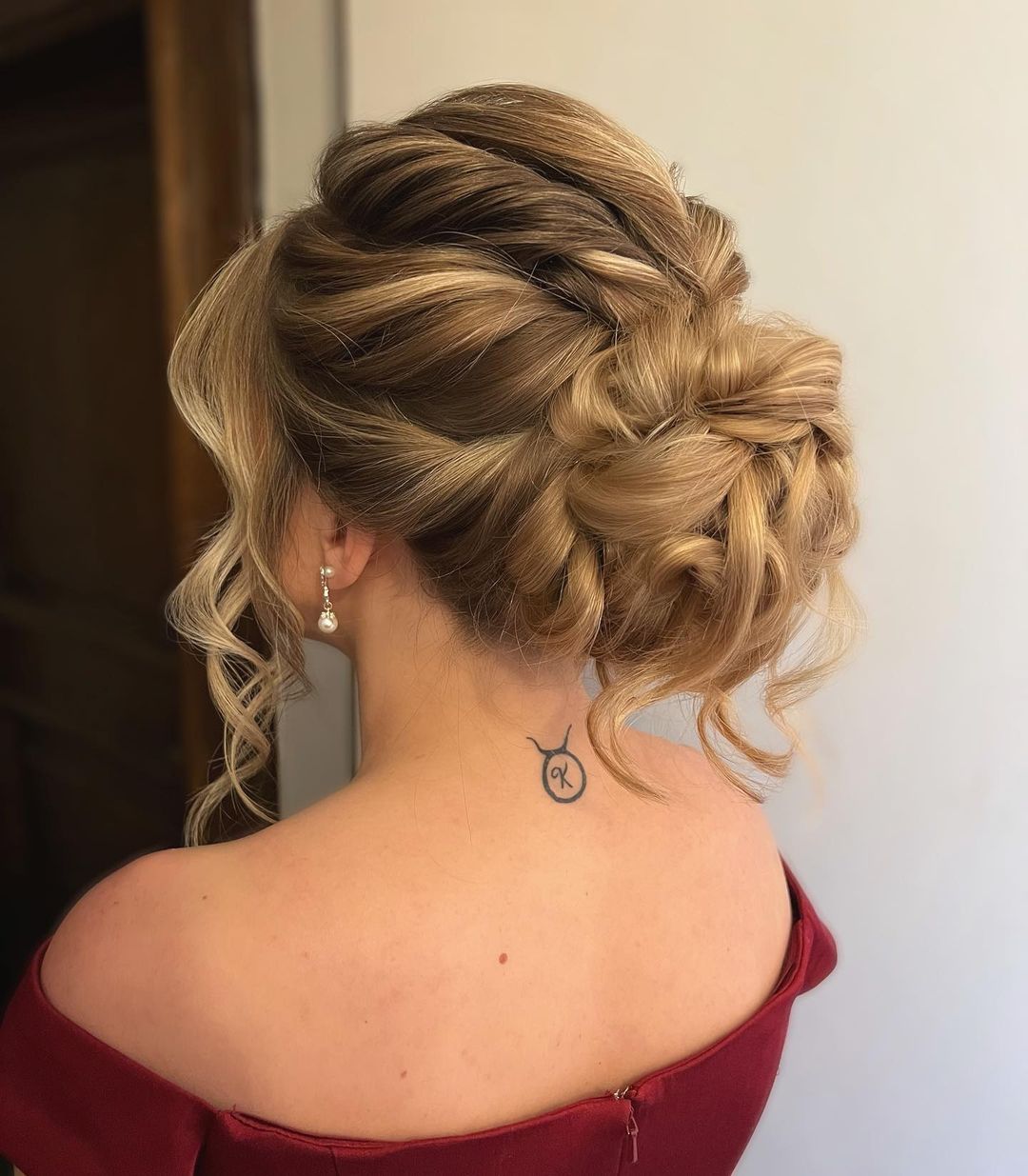 A layered updo is all you need to slay at a wedding that isn't yours. Throw in some texture and you have one of the best wedding hairstyles for long hair.
36. Perfect Mixed-Color Bun with Curtain Bangs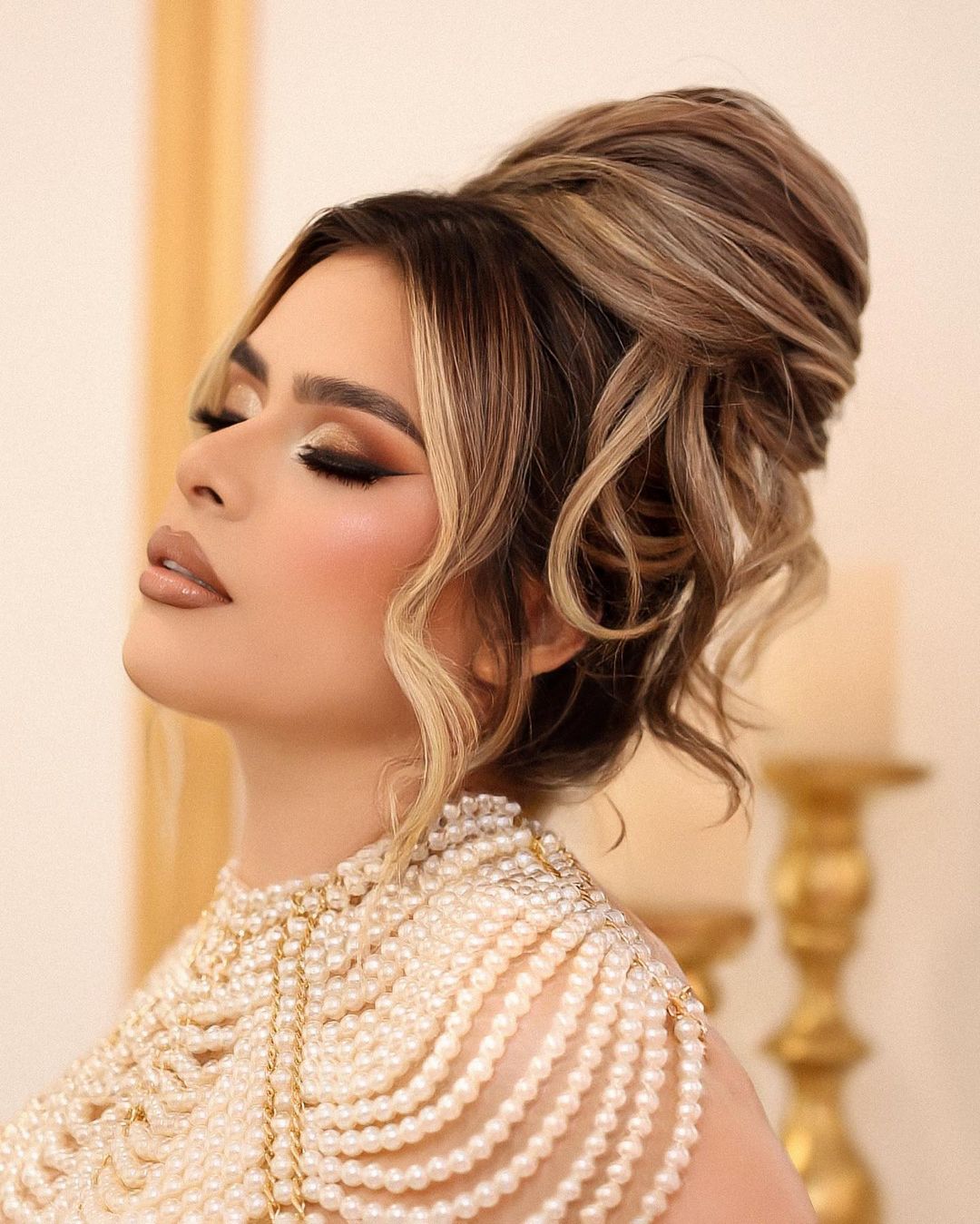 The black-to-blonde gradient on this hairstyle has to be its best quality, while those perfectly-done curtain bangs come a close second. Overall, it's a 10/10 hairstyle.
37. Bridal Knitted Updo with Bangs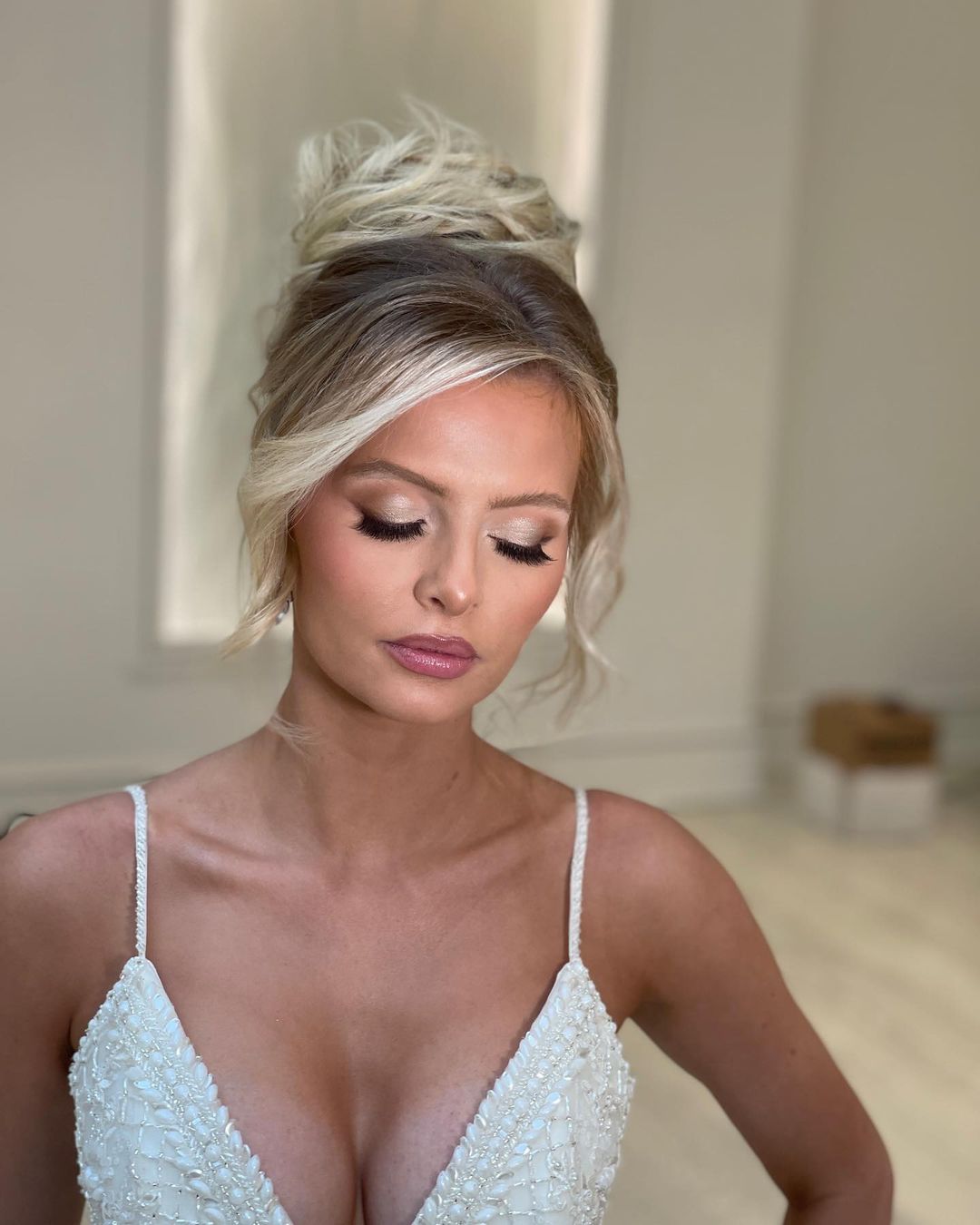 How about you replace the bun in the preceding hairstyle with a knitted updo? The colour gradient isn't quite as seamless and the style itself isn't as neat, but everything comes together in an adorable package.
38. British Royal Updo with Multiple Ringlets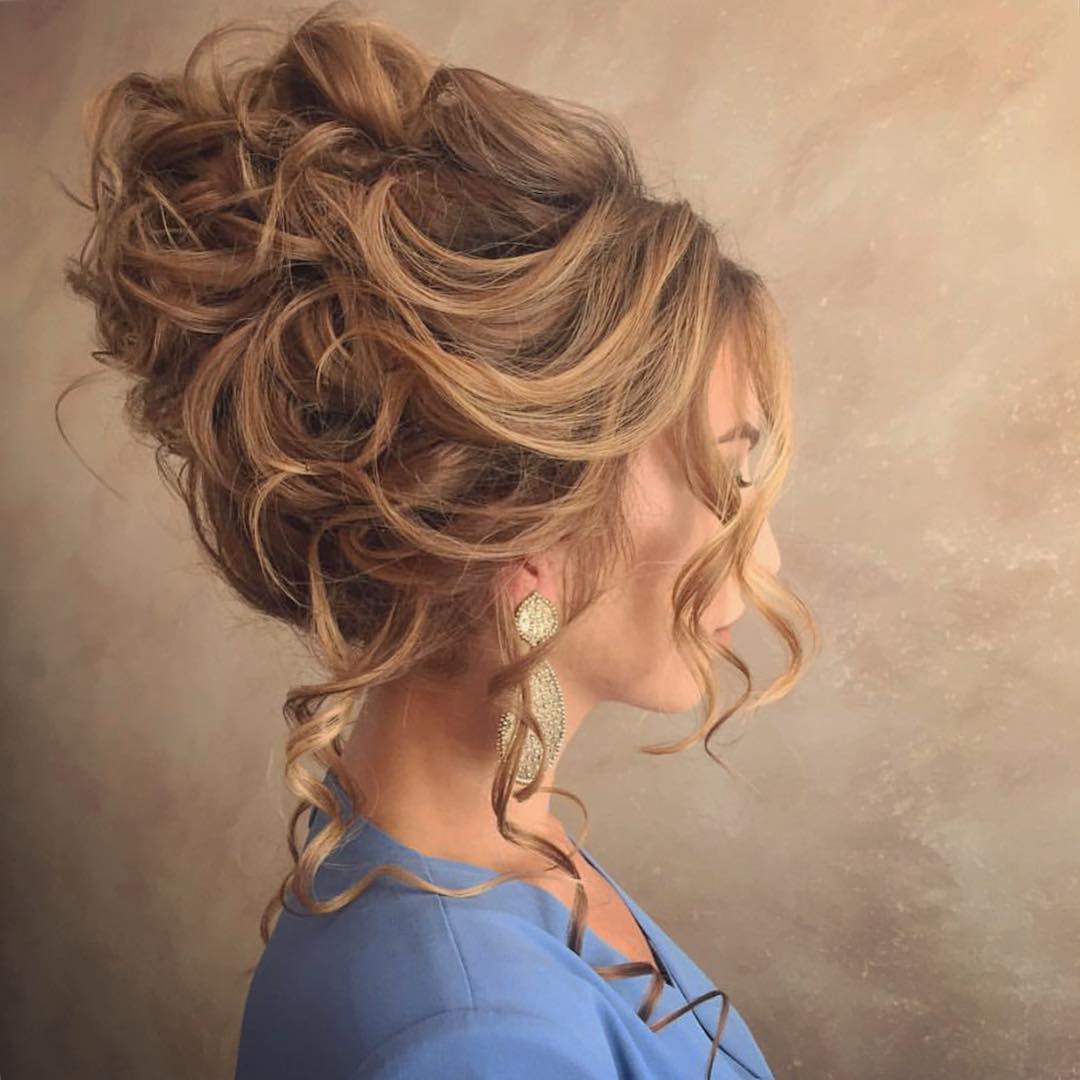 If you don't mind wearing something that looks this busy, it's a relatively pretty hairstyle. I'd add some ornaments if I were wearing this to my wedding, but it's also beautiful as is.
39. Sleek and Straight Hair with Curtain Bangs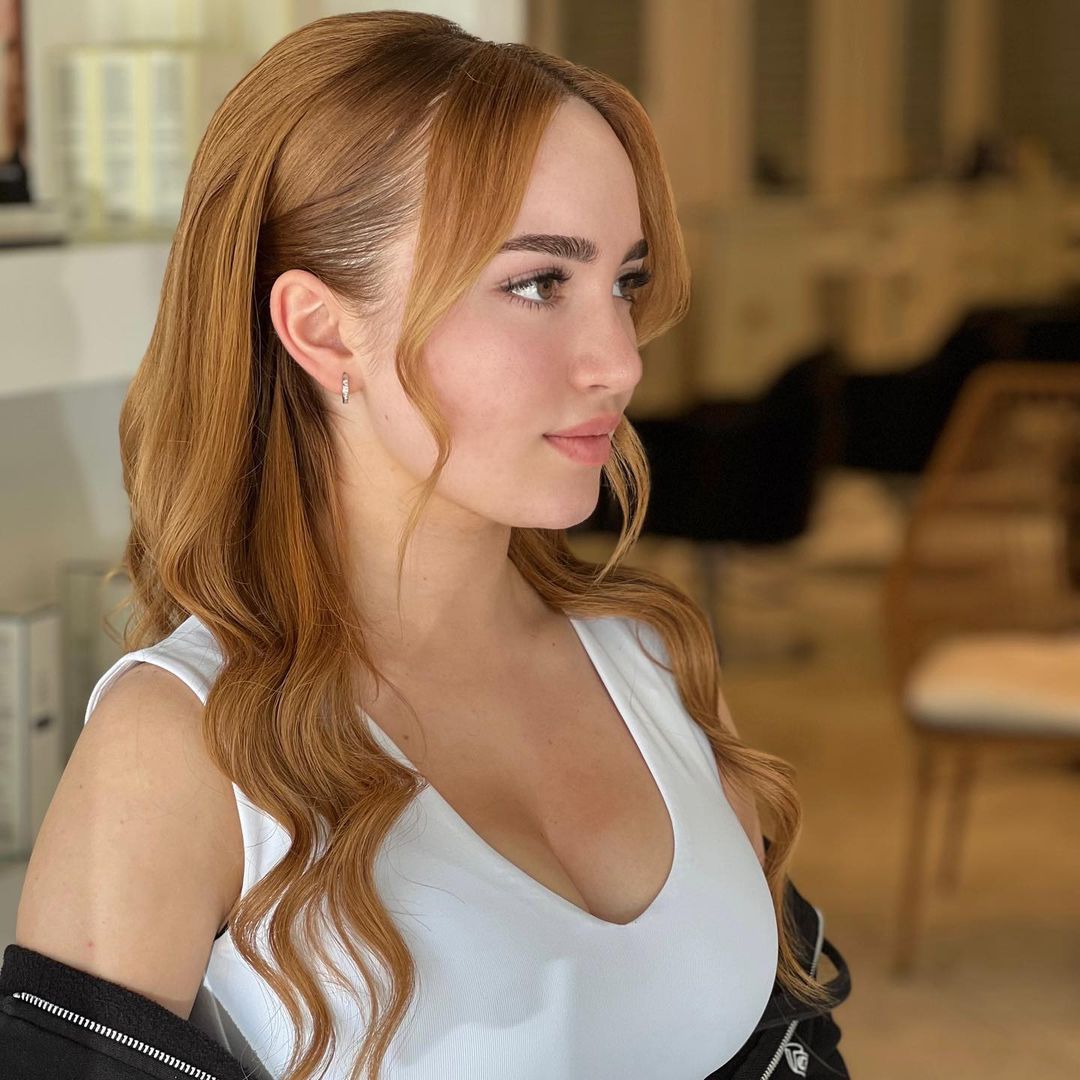 When the Englishman came p with the word 'sleek,' this hairstyle was probably what was on his mind. It looks inch-perfect, and I'd wear it on my wedding day, twice.
40. Top Twisted Knot with Spread Out Ringlets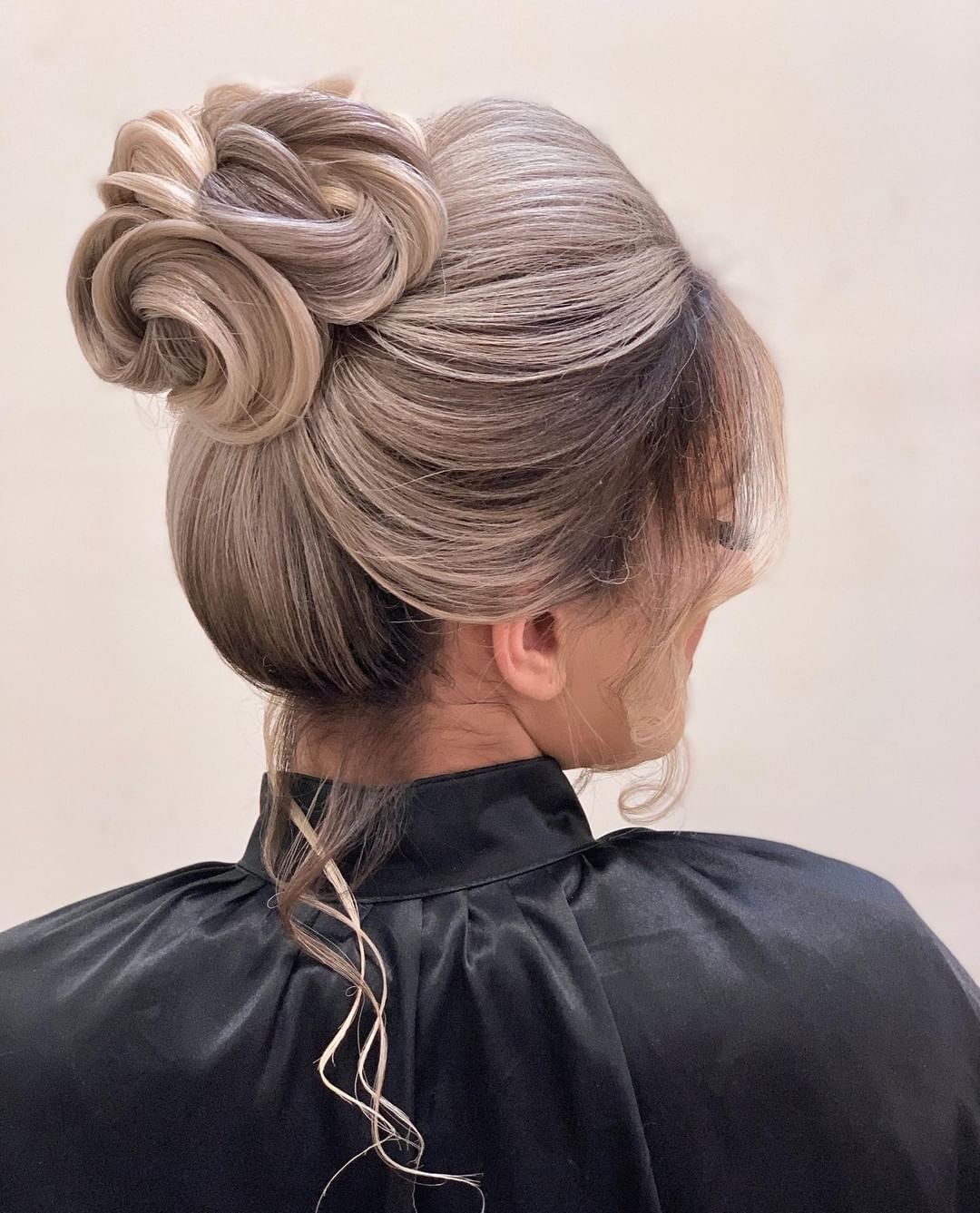 You can easily see the complexity of this hairstyle, despite its deceptively simple look. It doesn't need any bridal crowns or pins, and I'm not sure it can take it either.
41. Classic Blonde Half Down with Bangs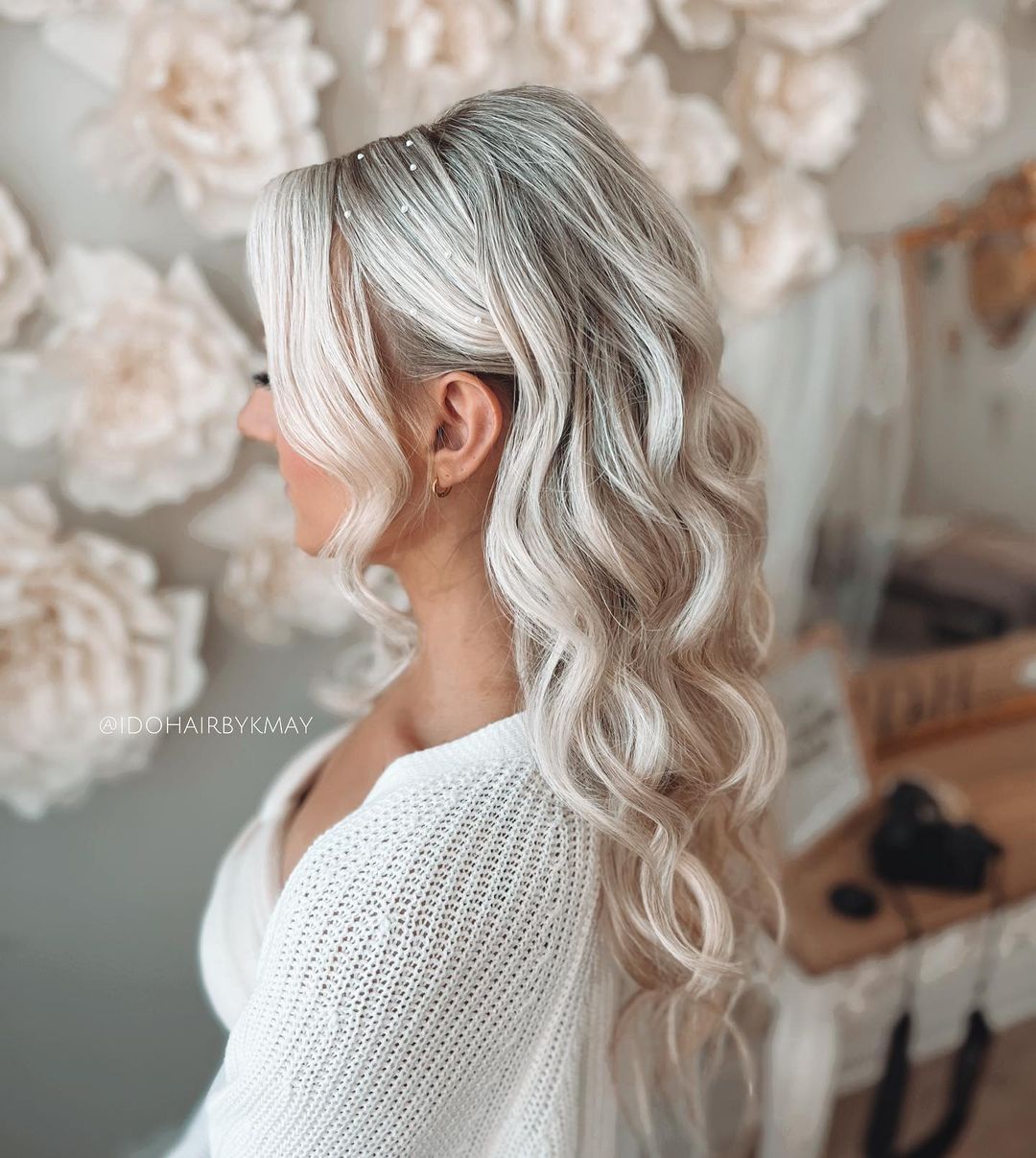 This blonde half-down isn't the most elaborate wedding hairstyle, but it's passable. Try replicating her genuine smile and you'll have one of the best wedding styles we've seen.
42. Braided Fish Tail with Flowers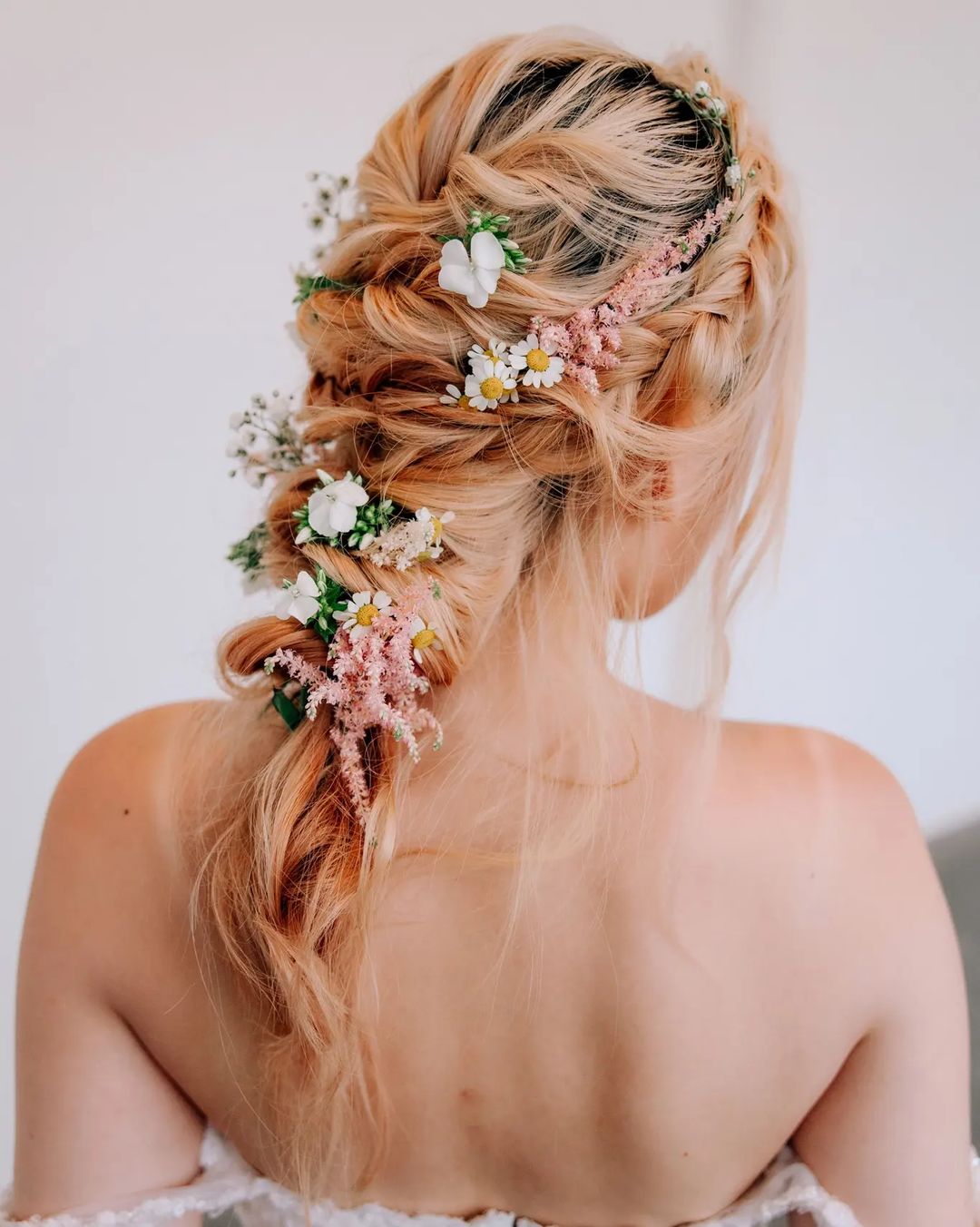 This braided fish with flowers is arguably the most exquisite thing on this list, with everything about the style being in their correct position. If this list was ordered by prettiness, this could be number one.
43. Simple Long and Smooth Bridal Hair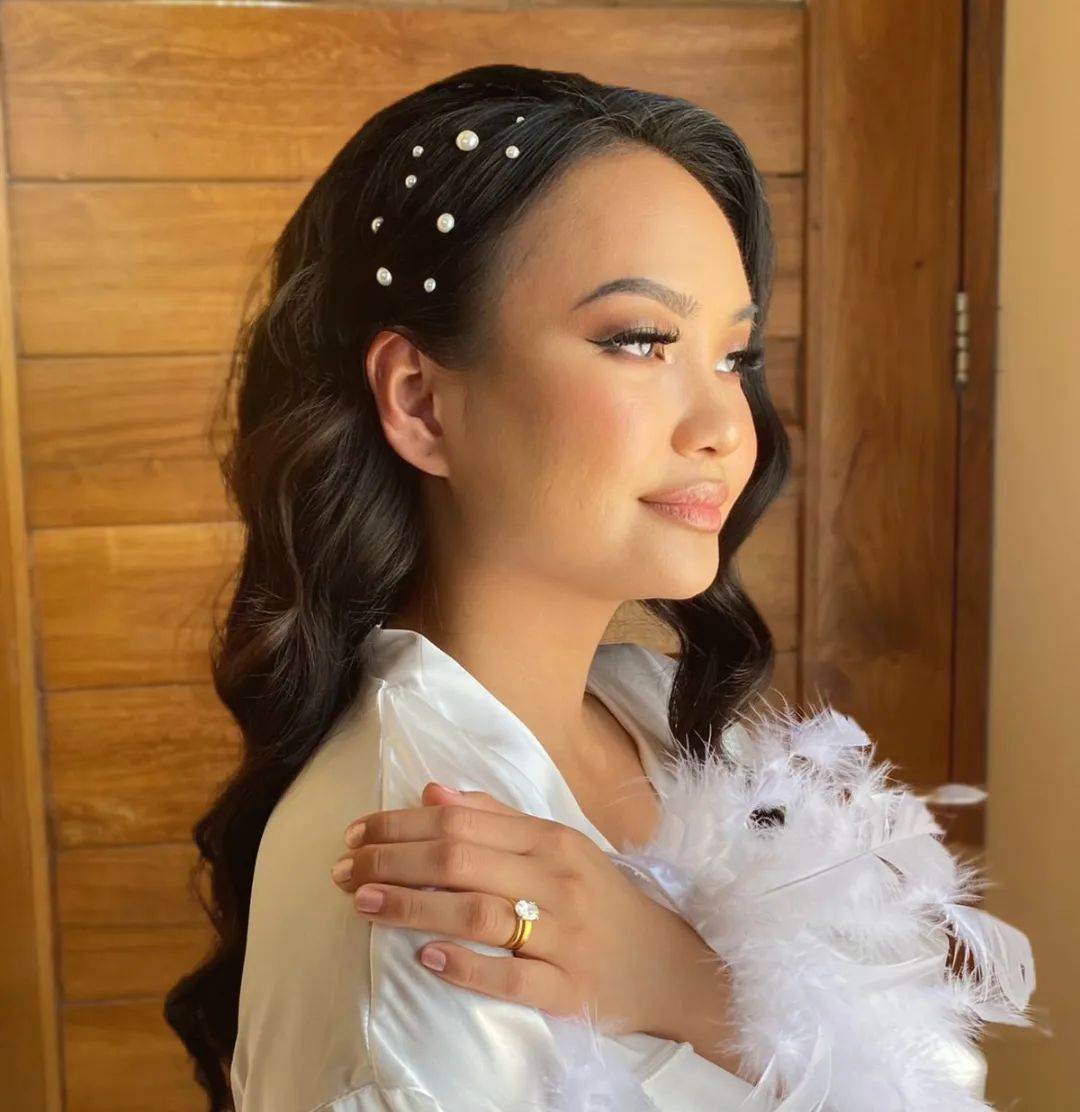 If your natural hair with waves already looks this adorable, why would you need any more complexities? I can understand, the occasional beads to adorn the style, but anything more is too much.
44. Side Swirled Hair with Glam Waves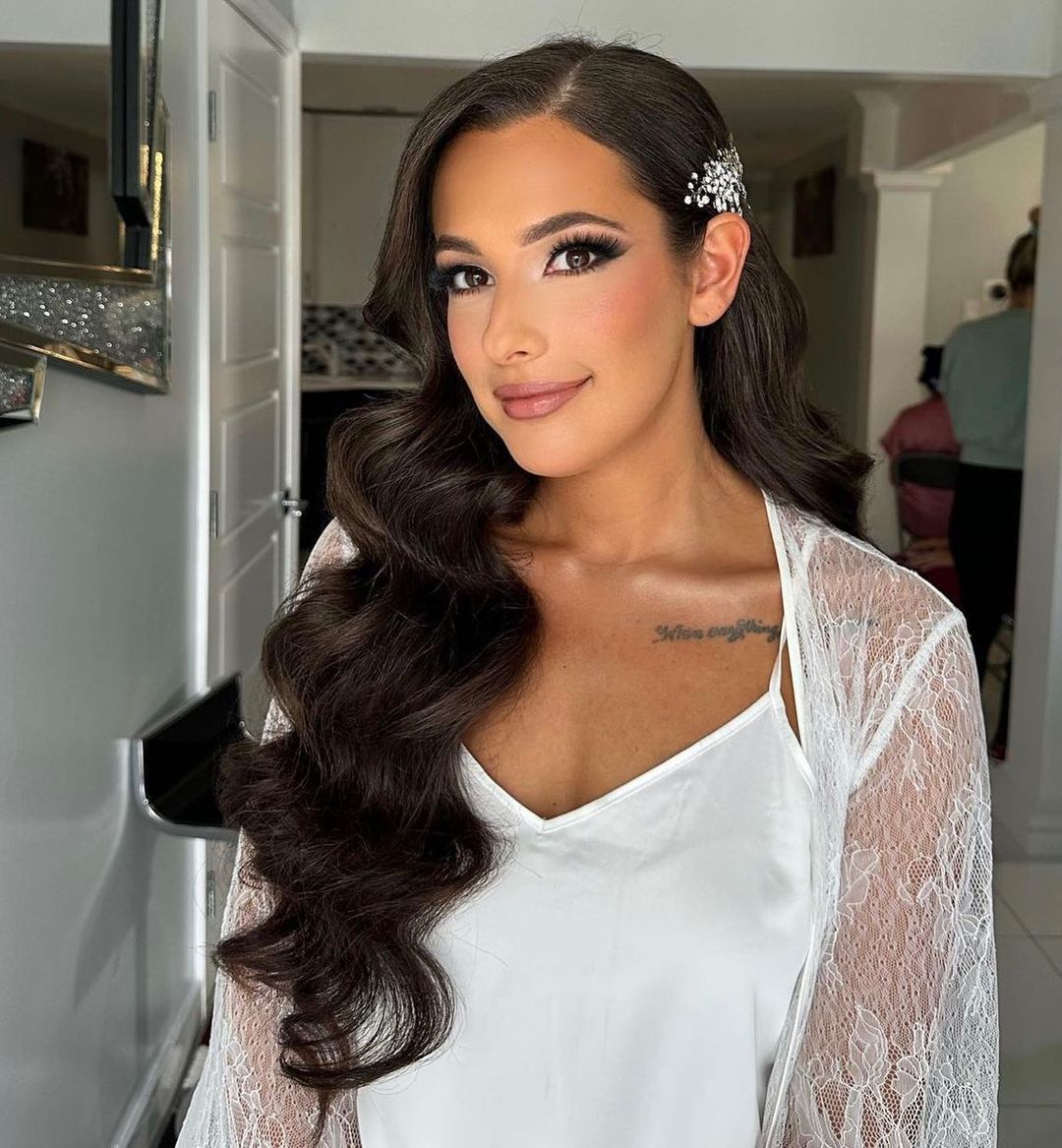 Having a significant bulk of your hair on one side seems pretty popular among brides, so here's another example for you. Consider sneaking in a bridal headpiece like the model for the perfect look.
45. Half Textured Braided French Hair with Waves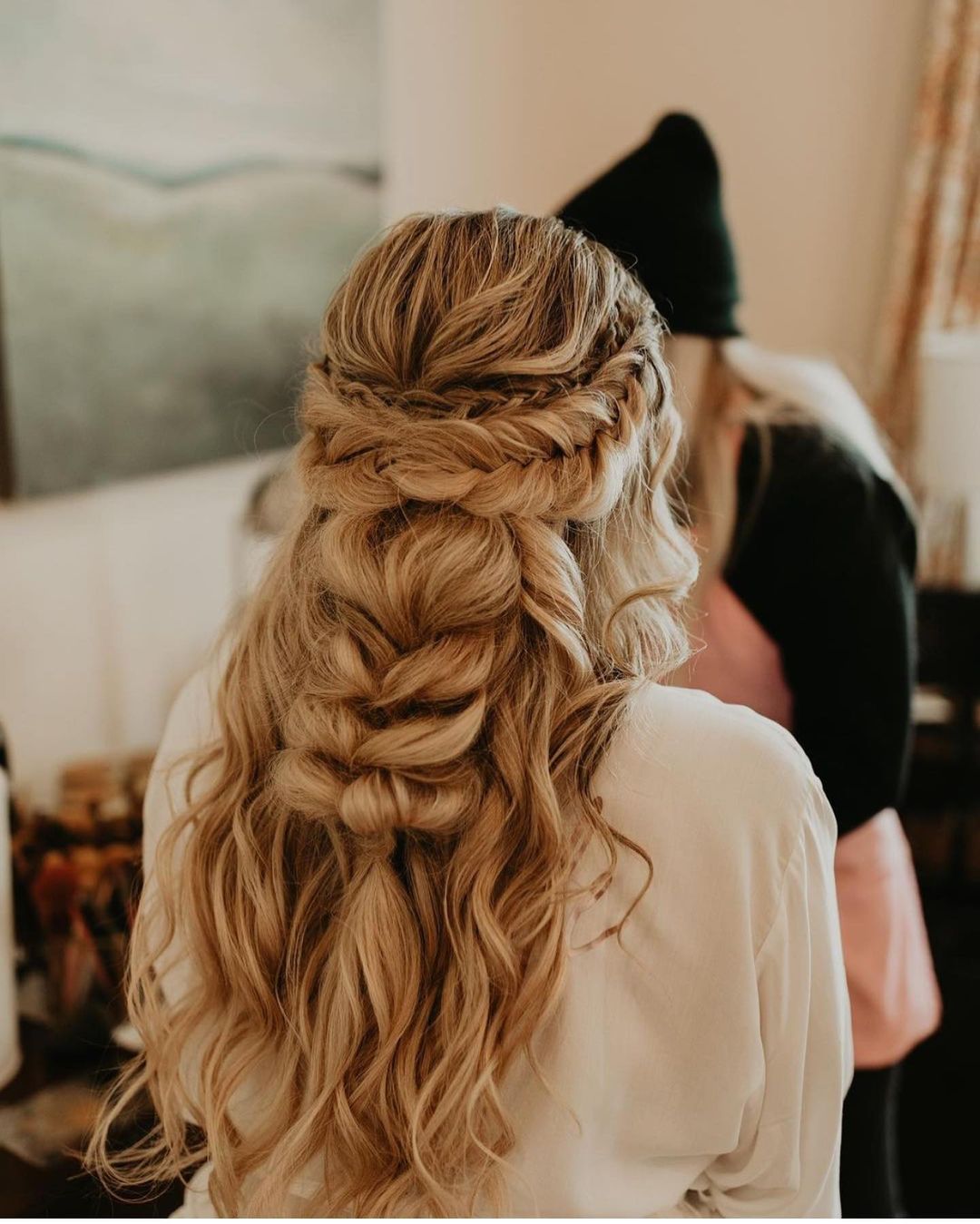 Here's yet another wedding hairstyle based on French twists, but this time with waves. Despite not having a headpiece or any other adornments, it's still a top 10 in my book of wedding hairstyles.
46. Chic Textured French Roll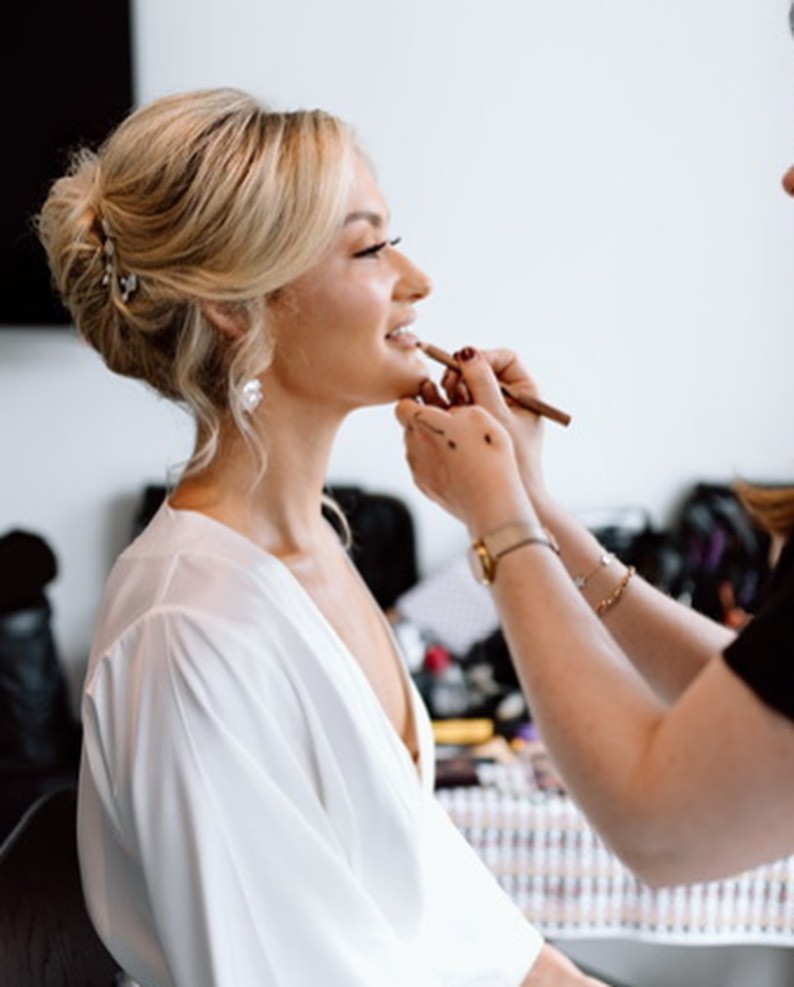 Textured styles don't move me, but this French roll is pleasantly different. Despite retaining the simplicity of the underlying hairstyle, it also manages to look chic, making it an easy 10/10 hairstyle.
47. Light Purple Braided Banquet with Smooth Half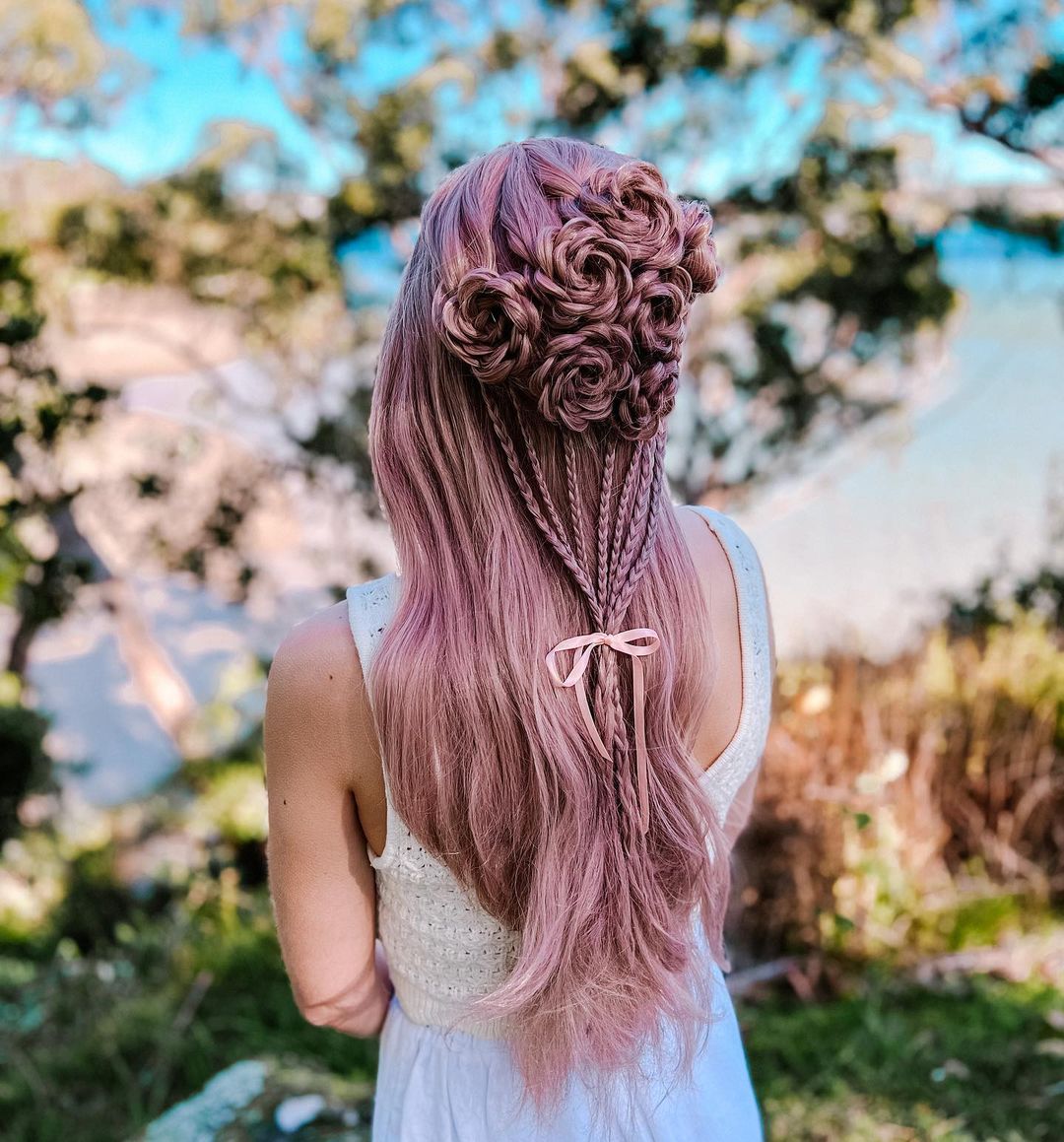 I'm not sure a lot of people would want to wear a purple hairstyle at their wedding, but if you would, it has to be this braided banquet. Since it already looks like a giant flower, it needs no colourful headpieces or anything similar.
48. Full Curly Bun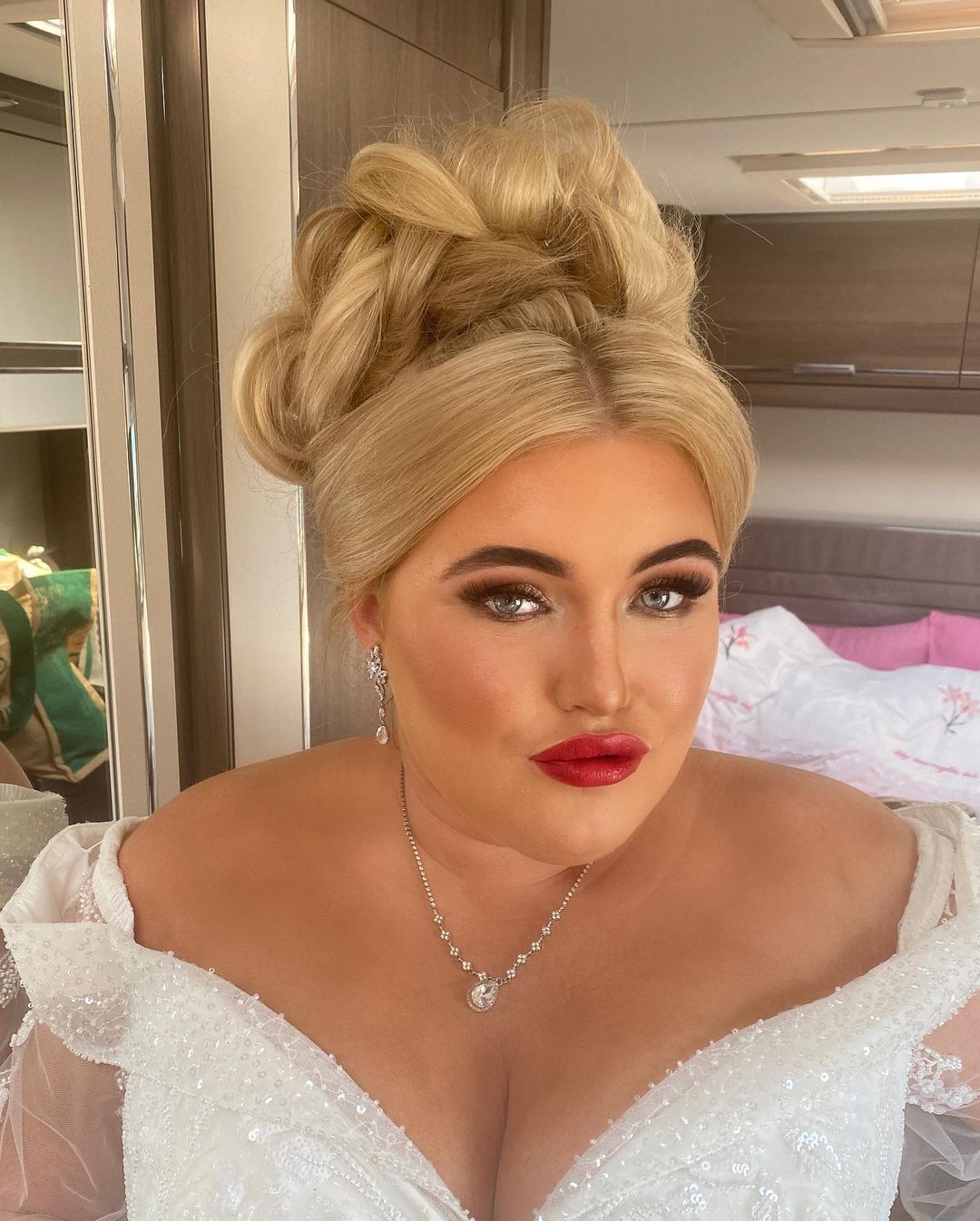 This simple curly bun seems like something I'd wear to a friend's wedding. It's not the most glamorous thing in the world, but it looks distinctively pretty enough for a bridal style.
49. Relaxed Tousled Updo with Pearl Hairpins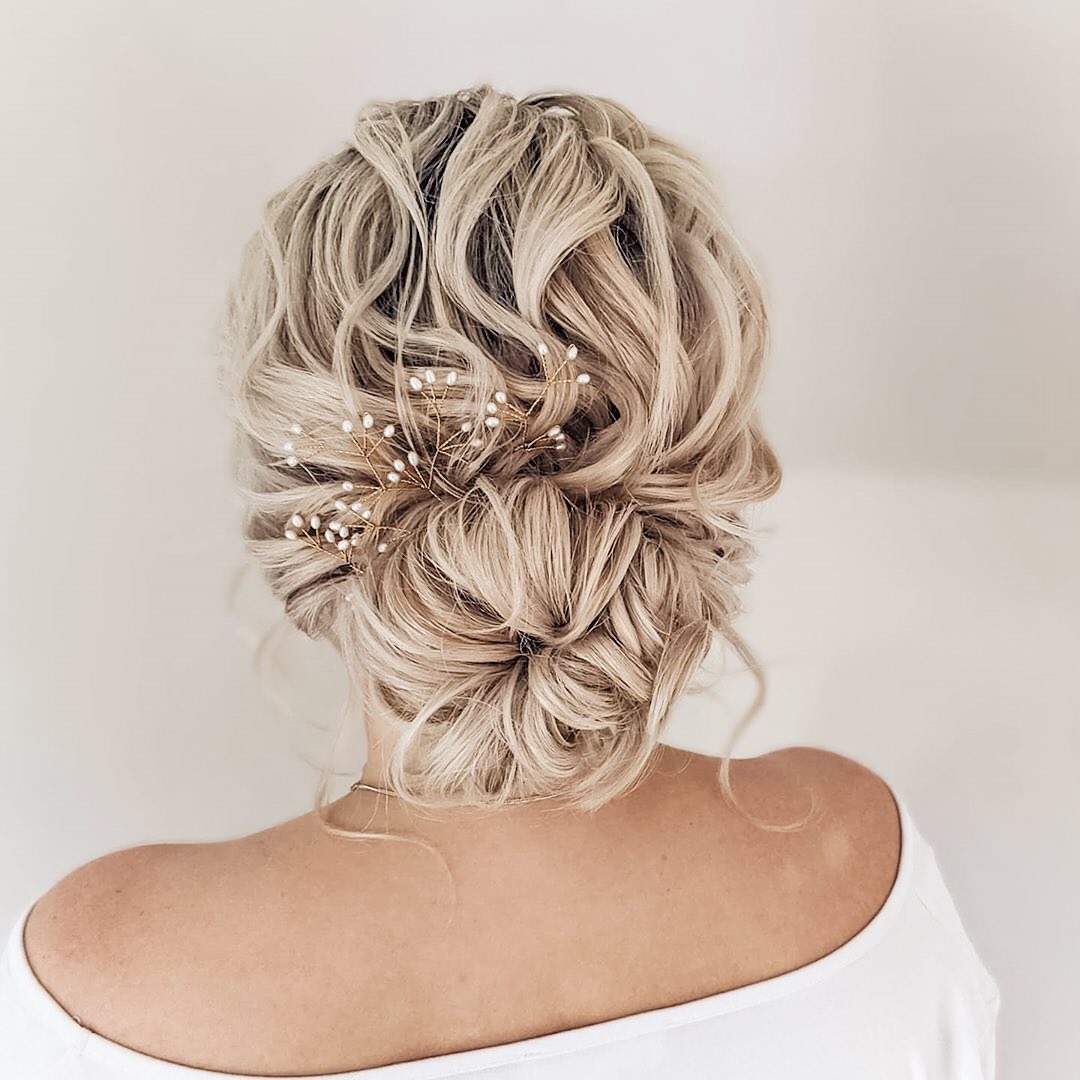 Who would've thought anyone could wear tousled hair to a wedding of all places? Apparently, they can; some relaxing and a couple of pearl hairpins are all it took in this case.
50. Sleep Ponytail with Ringlets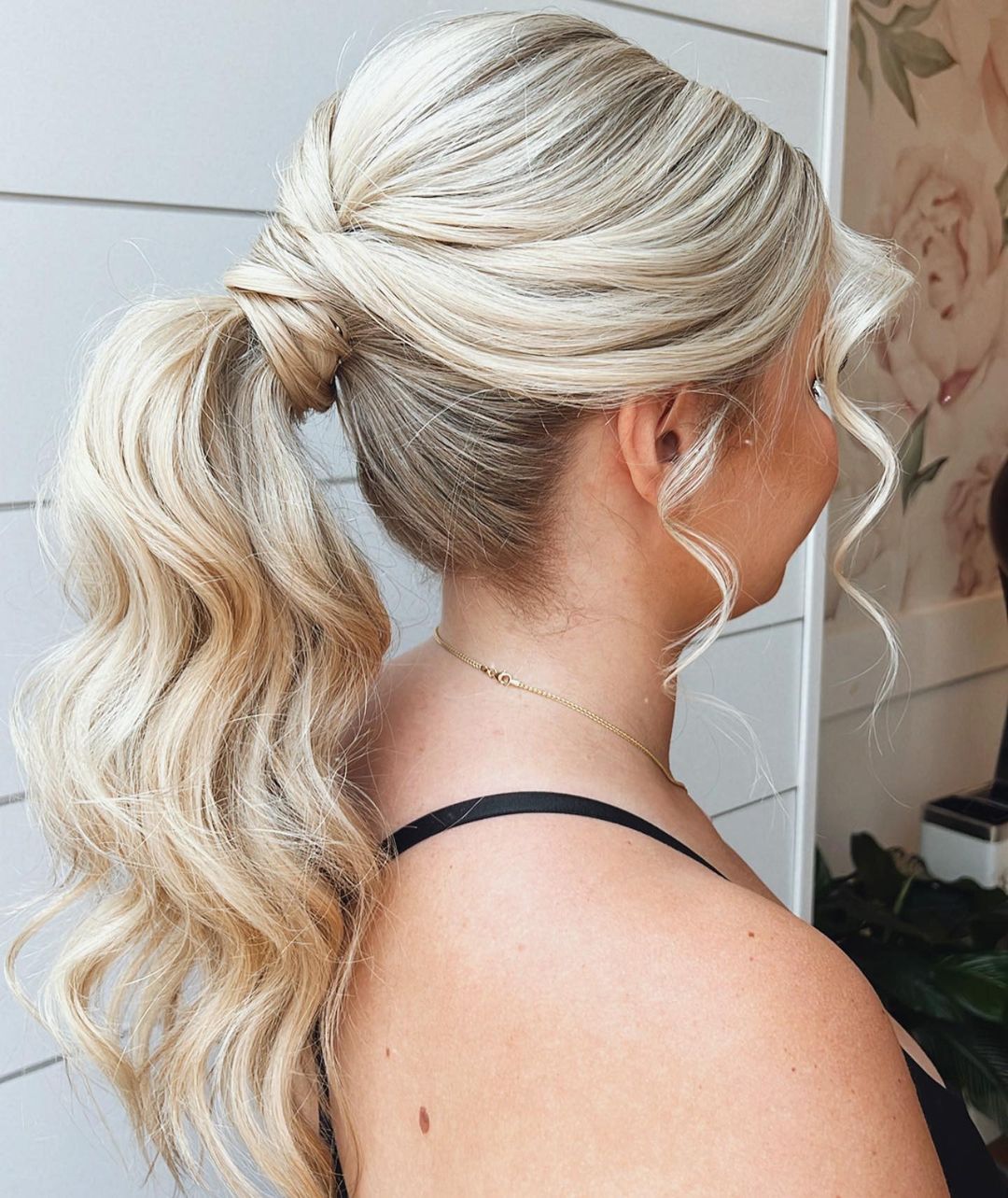 Saving the simplest for the last, this ponytail seems like an excellent idea for wedding guests. With some time and effort, you can install it yourself, and it's not significantly less adorable than anything else in this hairstyle.
Conclusion
I believe you should've decided what hairstyle to wear to the wedding from these 50 ideas. Now, it's time to hit your hairstylist and get it done quickly; the wedding is looming and you don't have all week.
If you liked this list, you should check out similar hairstyle compilations for weddings below.
Pin for Later.