Today, I'm going to share with you these hot & cute jumbo box braid hairstyles that caught my attention.
So if you're looking for a big-sized box braid hairstyle that pairs along with your face shape and stature, then you're going to love this gallery.
So without wasting much of your time, let's get to the business of today.
Jumbo Box Braid Hairstyles
If you don't know, the Jumbo braid is one of the best low-maintenance hairstyles, and it typically takes less than 2 hours to install, depending on the length you want to achieve. And it can last for as long as 6 weeks.
1. Jumbo Box Braid With Curls
This Jumbo hairdo with curls at its ends gives you an African natural look. It is one of the simplest hairstyles you can make. For a natural look, you can go with this. I bet you will thank me later.
2. Jumbo Braid + Colorful Rubber Bands
This hairdo appeals more to long hair lovers. It is adorned with colourful rubber bands starting from some inches away from the root to the end to give it a more stunning vibe.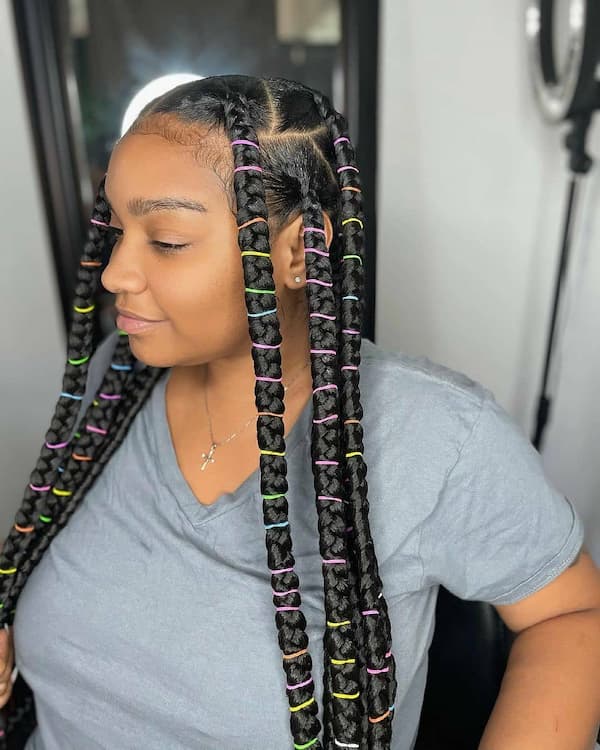 3. Medium-Sized Jumbo Bob Braid
I know this is not a Jumbo braid, but it's somewhere in between Jumbo and the small-sized braid. So adding it here isn't a bad idea. I hope so.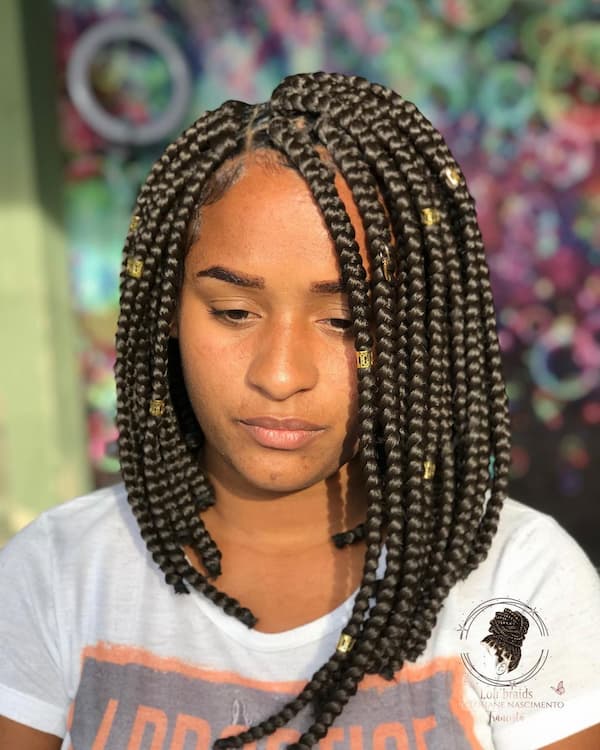 4. Jumbo Knotless Braids with Beads
For women who love long braids tweaked with beads, this jumbo style is the perfect hairdo to give your face the appearance of an elegant woman. The best part of this hair is that the hair is relatively light and places no tension on your scalp.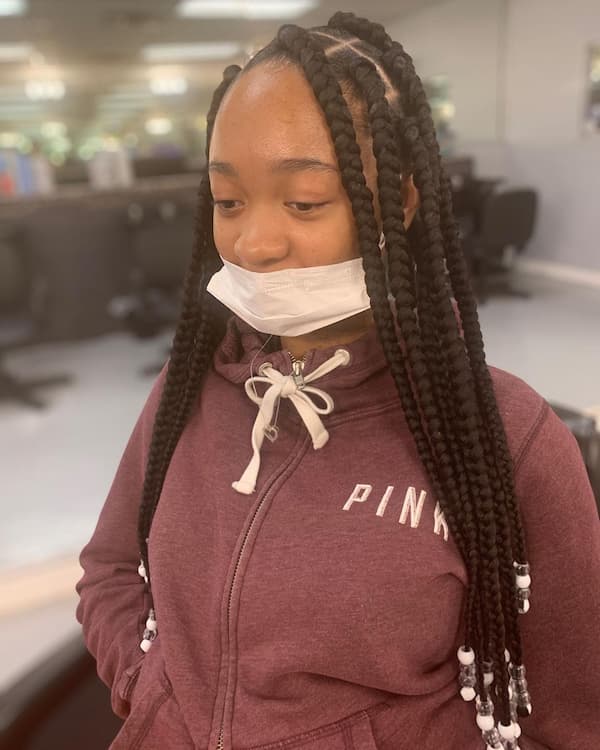 5. Long Jumbo Box Braids + Bands
Here again, I present to you another perfect simple loose braid, decorated with multi-coloured rubber bands around it to give you that Barbie look that makes people scream "I love your hair" when they see you.
6. Chest Length Braid
This stylish Jumbo hairdo with a quality human hair extension is ideal for women who want something in-between long and short. I don't know what you think, but this is a nice inspiration that's worth recreating.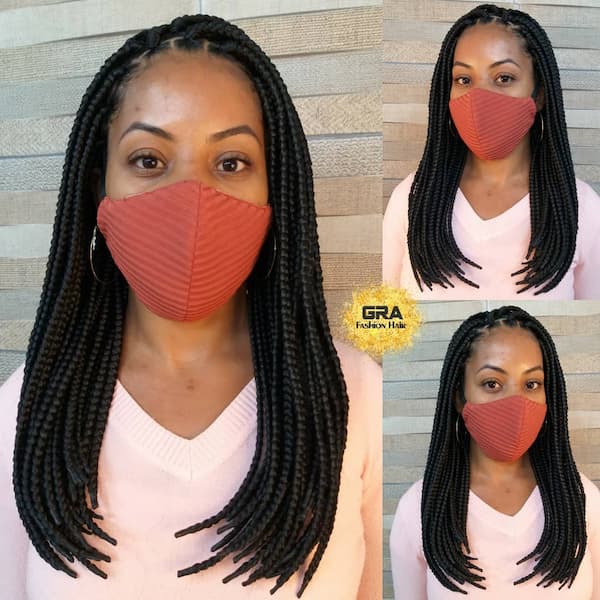 7. Shoulder Length + Medium-sized Jumbo Braid
Another perfect picture of a small to medium-sized Jumbo braid hairstyle is this hairdo you're about to see. The hairstyle gives you a gorgeous look and can be styled on any hair.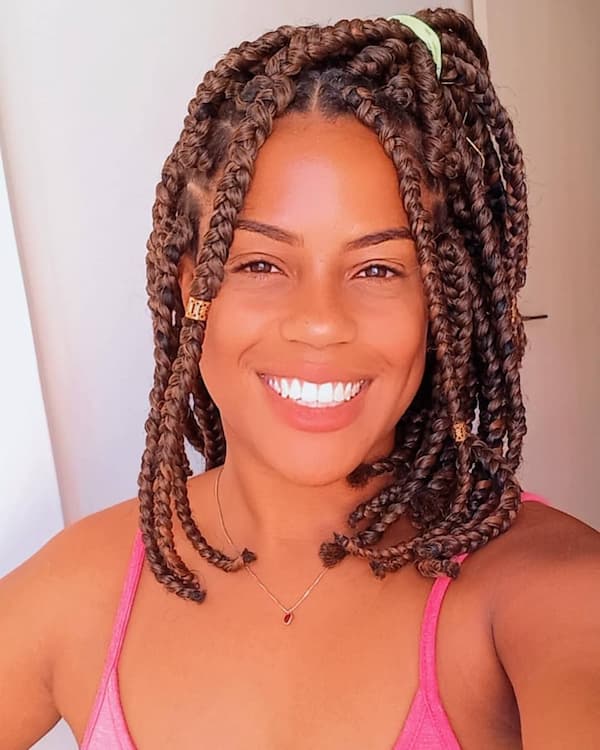 8. Four Strand Jumbo Braid
How about a four-strand braid hairstyle? Well, The super-big hairdo you're about to see is simple and cute. I am sure that creating this hairstyle is super low, but another thing to consider is the weight.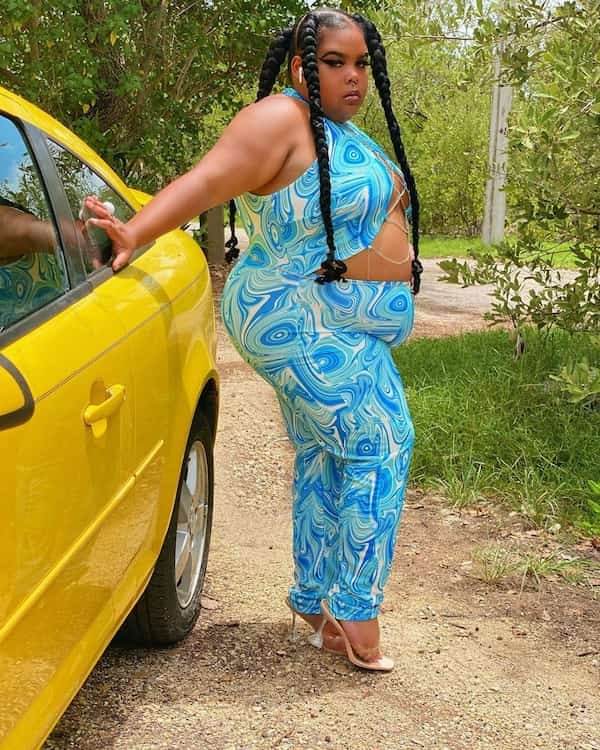 9. ButtLength Knotless Jumbo Braid + Beads
Are you looking for a classic knotless braid that is long, neat, beautiful, and stylishly adorned with beads? Recreating this style will give you that perfect look that will make you stand out among people.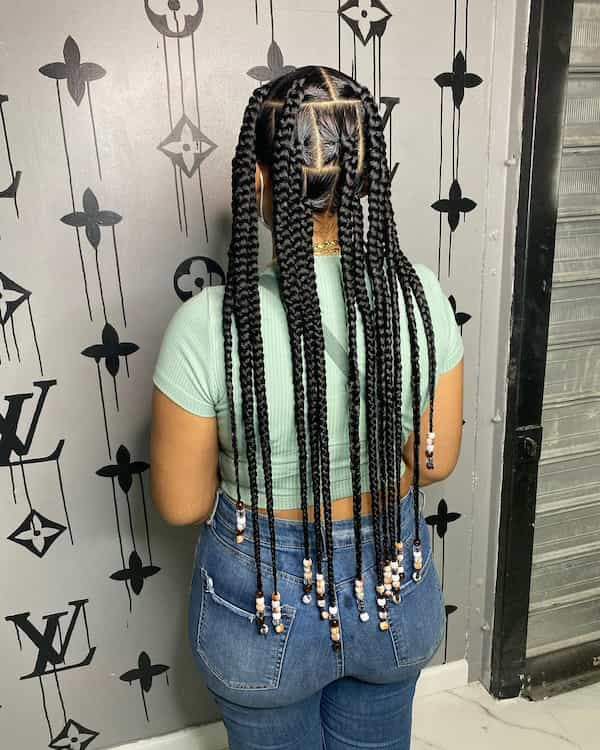 10. Ombre Jumbo Braid
The two-coloured ombre jumbo braid gives your face and overall appearance a more elegant look, and this hairstyle is ideal for young and trendy girls. The cost of recreating this look will mostly depend on the quality of the extension and the location of Braider.
This style is different from every other hairstyle displayed here, but I hope you see its uniqueness and find it inspiring.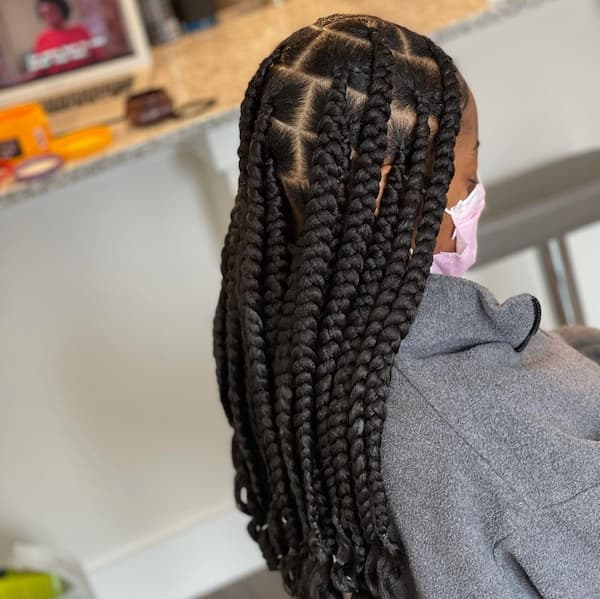 12. Long Jumbo Braid Hairstyle
Another cute style that is unique in its own way, plaited with curls at the end. The length of the braids can give you that wealthy confidence that can brighten up your day.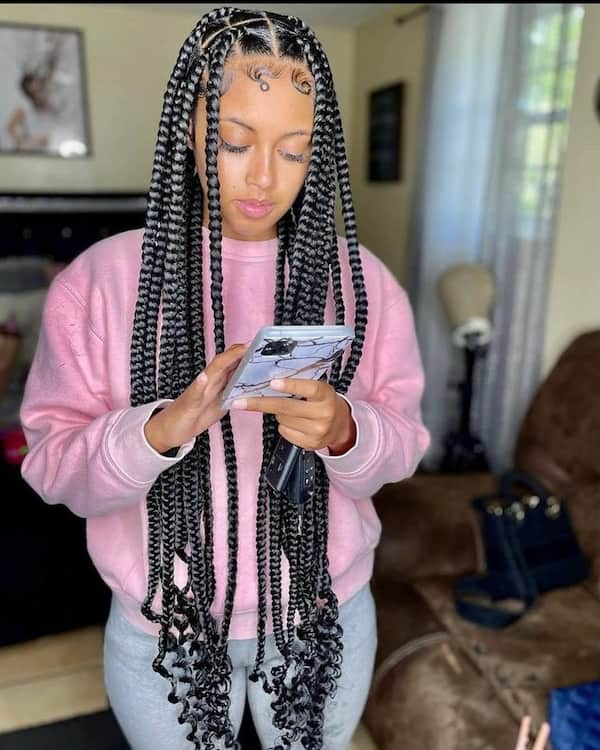 13. Multi-Sized Jumbo Box Braid
Doesn't this multi-sized strand Jumbo box braid seamlessly radiate a pleasant aura? Hairdos like this are perfect for causal hookups, dinner nights, and catching nature experiences.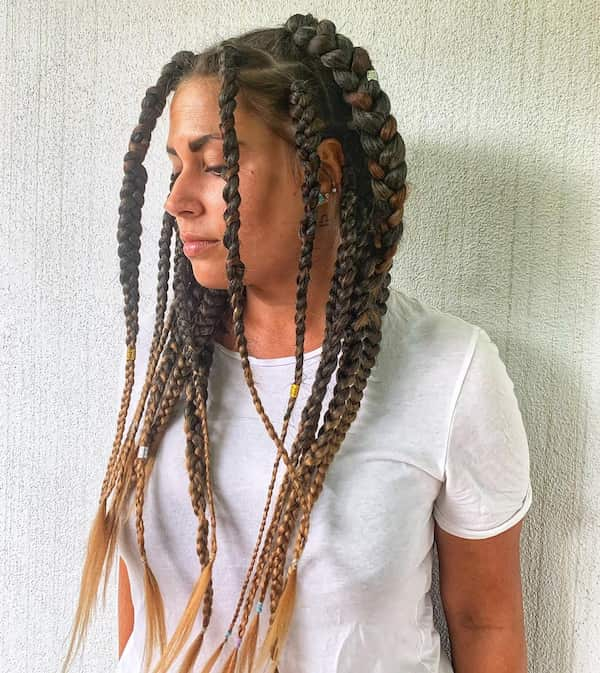 14. Bob Jumbo Braid
Suppose you want something very light and beautiful. This hairdo will help achieve your desire. Plus, the fact that it emits an elegant aura on you. If you are a lover of short and lightweight braids, this is the best choice for you.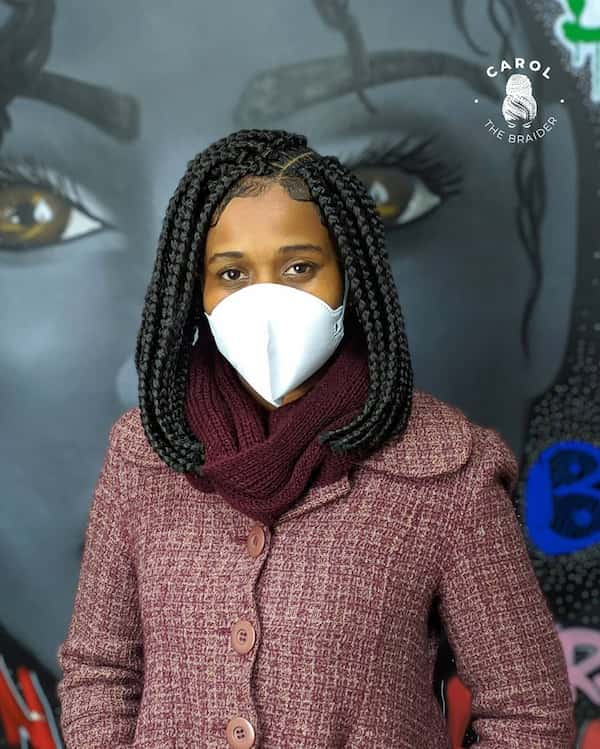 15. Short Jumbo Box Braid
What is your take on sectioned short bobs? This is one of the most elegant forms of short Bob hairstyle. Wear it anytime you like with a full pack of confidence.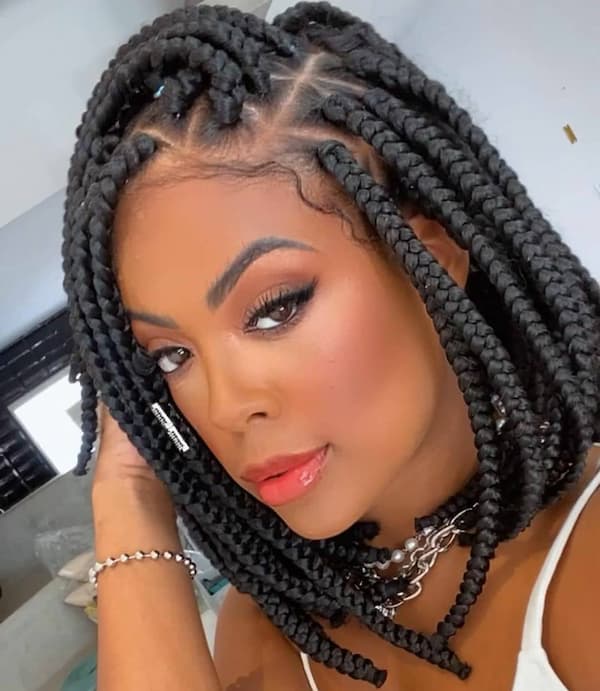 16. Kids Jumbo Box Braid
It is not only the mama that deserves to look beautiful, but the baby also does too.  Why don't you get this hair on your baby girl and make her look like a princess?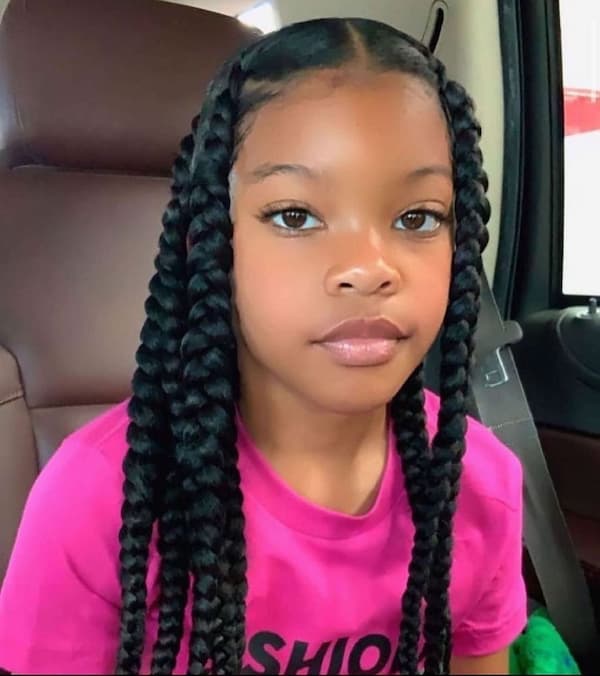 17. Cute Jumbo Braid
This cute jumbo braid is really worth the showoff. Not only is this hairstyle simple, but it's also cute. It gives you the boss lady's confidence aura. And most importantly, this style, I believe, is a super low-maintenance braid hairstyle.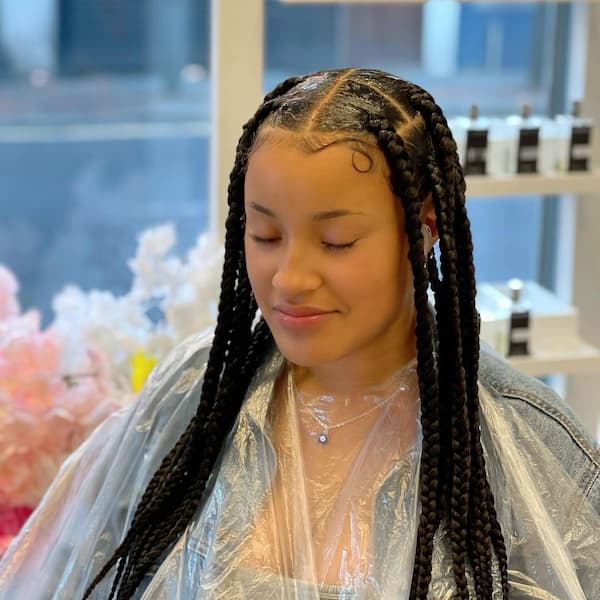 18. Jumbo High Bun Braid Hairstyle
For a corporate and official look, this secondary hairdo will suit perfectly. Jumbo is the primary hairstyle, while the bun is the secondary style that helps maintain, protect and keep the hairstyle at bay.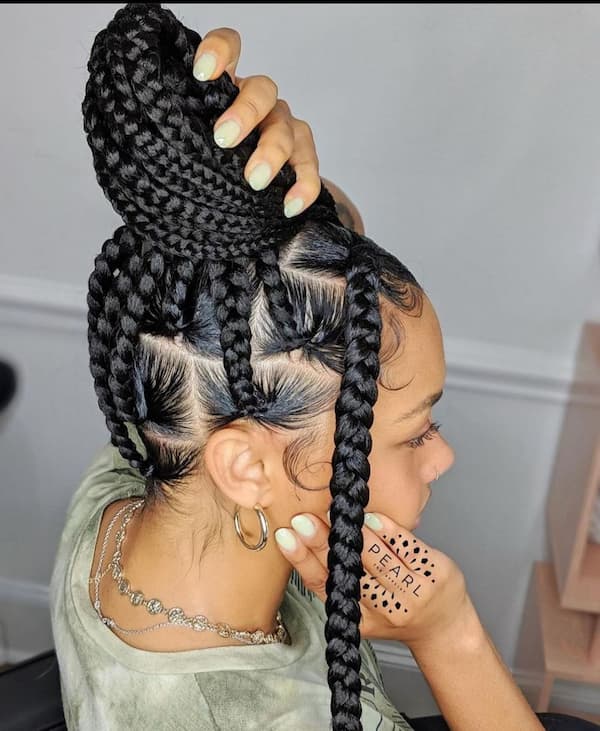 19. Simple Jumbo Box Braid Hairstyle
This hairdo will give you that simple but classic black lady's pride and appearance for a nice look.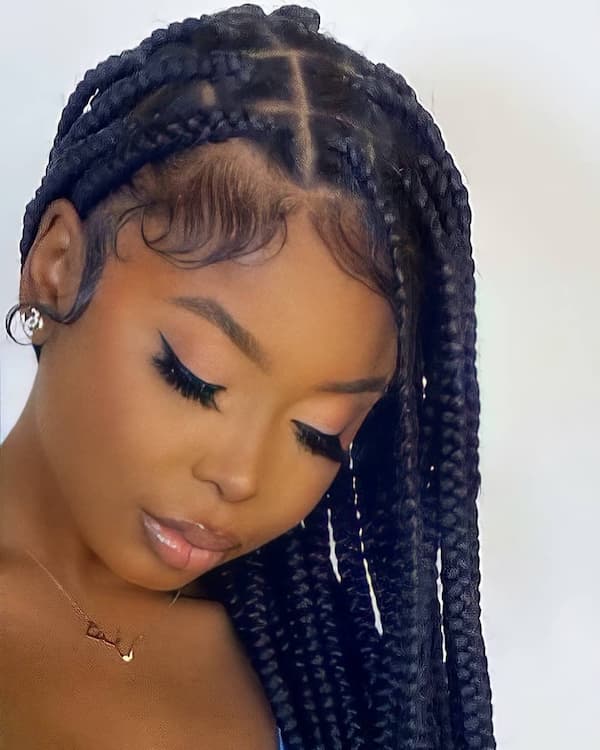 20. Long + Coloured Jumbo Braid
To get an amazon princess look, you have to go for this lovely hairdo. So chummy-like food. This hairdo is a beauty to behold. And having it on is a "gbam." A quick DIY protective style that gives you that perfect look of a beautiful lady.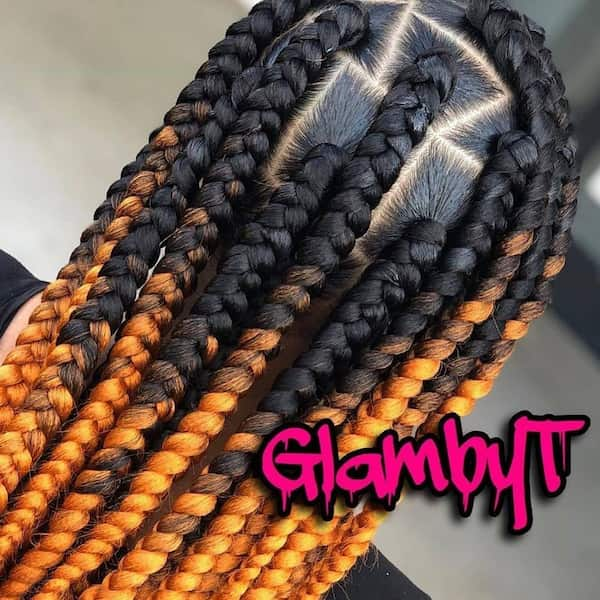 And that's all I got for you for now. If you're in love with any of these hairstyles, feel free to visit Instagram and search for the stylist location using the caption written under the idea.
---
Want some more hairstyles inspiration? Check these blog posts.
I hope you enjoyed my short and sweet gallery of the best jumbo box braid hairstyles for women that'll inspire your next look.
If you found this post helpful, please make sure to rate this post, and don't forget to share and pin to your favorite Pinterest Board.
Pin for Later