Most pixies are short, so there's an abundance of short pixie haircuts on the internet. If you're after the best ones to inspire your next hairstyle, however, we've collected the 50 most adorable in this extensive compilation of the best short pixie haircuts.
Without further ado, here you go.
Short Pixie Haircuts for Every Age
If you're not sure how to make your pixie haircuts breathtaking, here are 50 short pixie haircuts for every age to help you.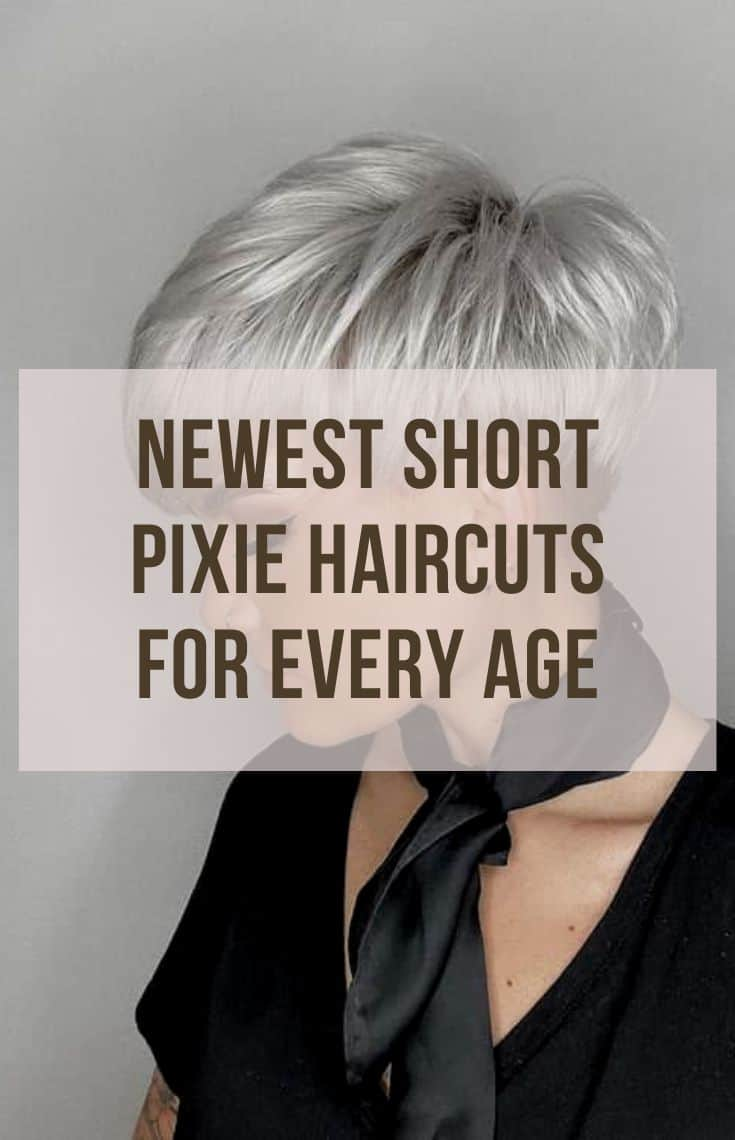 1. Red Short Choppy Pixie Haircut
This red choppy pixie makes for an excellent introduction to this compilation, especially for ladies that enjoy wearing red lipsticks. Like with the model here, the color complements other aspects of her attire for an alluring look.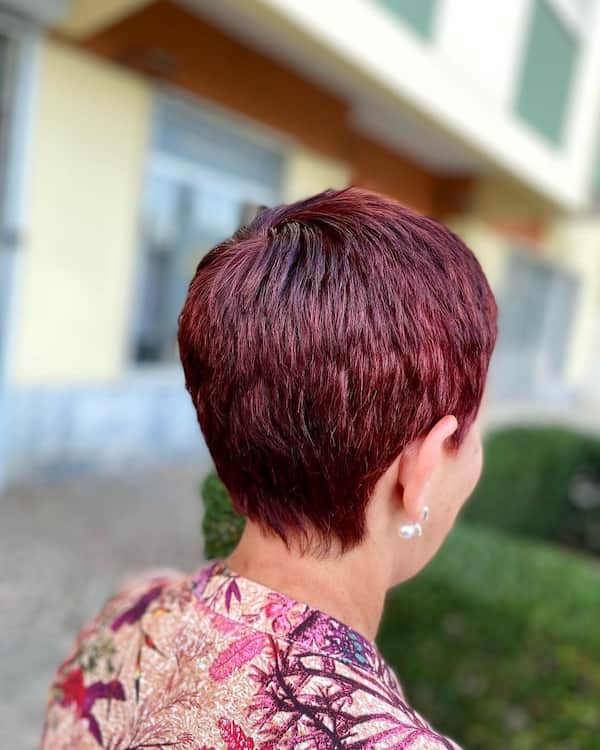 2. Short Thick Pixie Bob Haircut
A blonde pixie becomes a beauty spectacle when you adorn it with bangs. You also want to wear something that matches the hair's blonde color for a more seamless and charming look.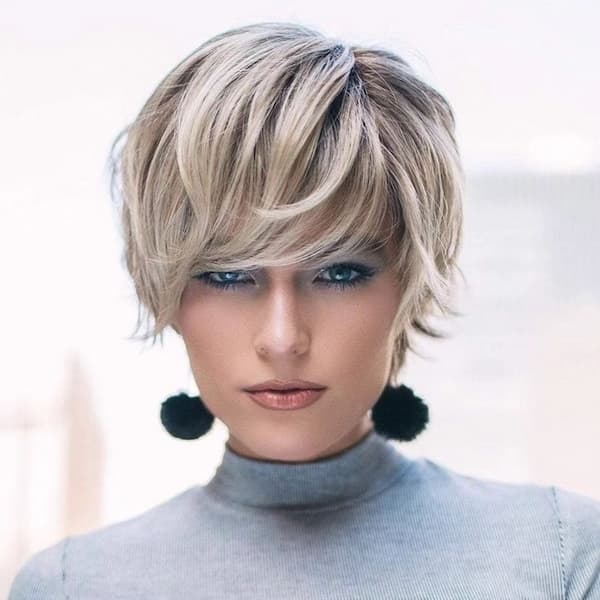 3. Short Sassy Pixie with Undercut
An undercut makes for a smooth way to shape a short pixie haircut, and this model demonstrates an excellent way to implement the style. It's not a prime hairstyle for DIY, but with an hour or so at the salon, you'll end up looking just like her—maybe a bit different.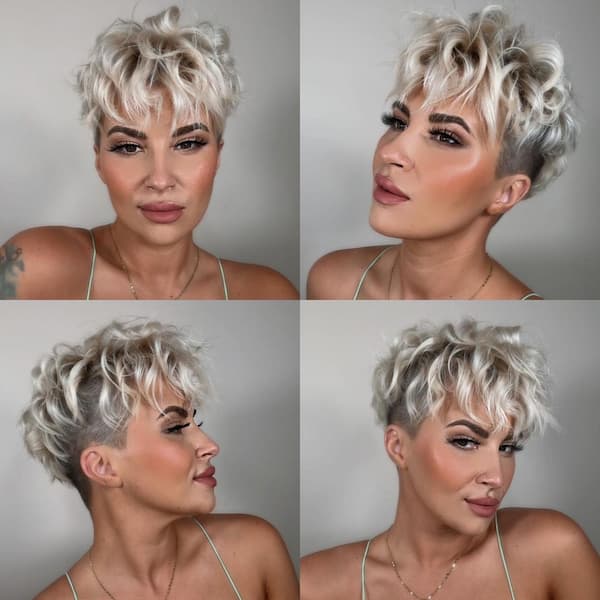 4. Pixie Haircut with Highlighted Curls
This haircut also has an undercut, but with two twists: firstly, it's black and not blonde, and secondly, the curls have an orange highlight that enhances the hairstyle's look. It's no doubt one of the most adorable haircuts in this collection for fans of colorful hairstyles.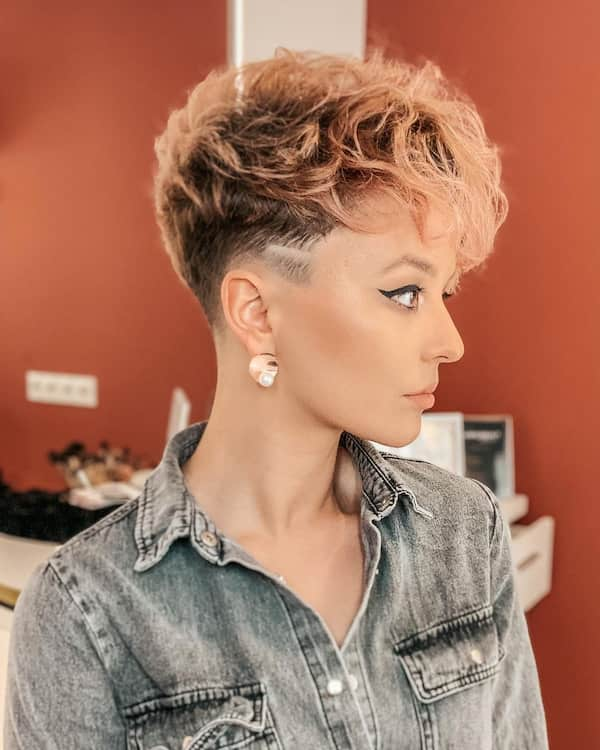 5. Gray Layered Pixie Haircut
A layered pixie cut that creates adorable bangs by default has to make our list of the best short pixie haircuts for you. It's an even better proposition if you already have white hair; you can copy her look almost instantly with little effort.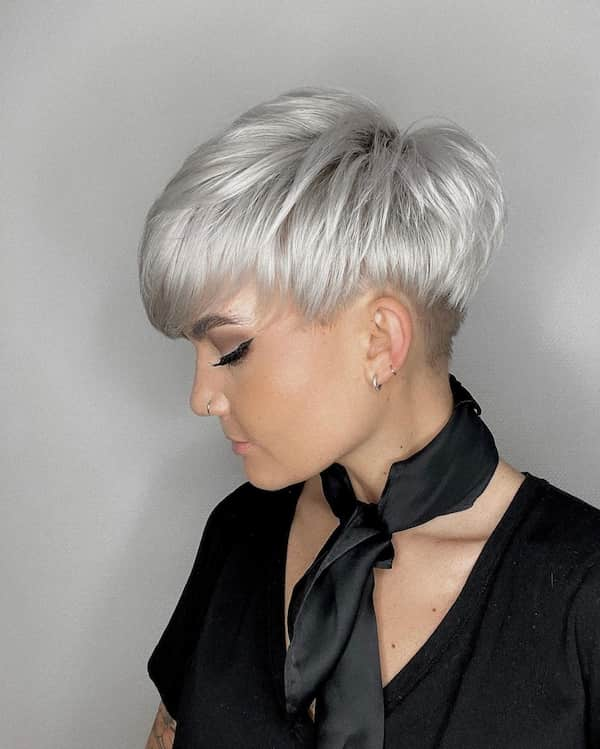 6. Textured Pixie Cut
This short pixie cut looks effortlessly adorable, and I'm not sure if it's the 'swept back' look or the brown hair. Either way, it's an excellent hairstyle idea to consider if you have brown hair due to its charming look.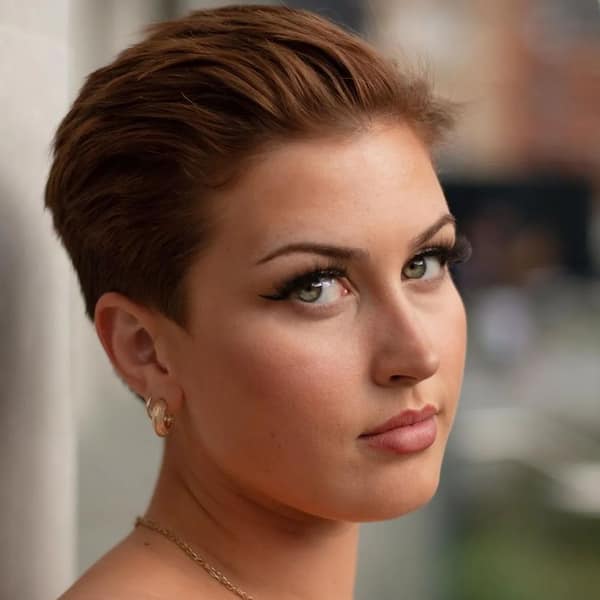 7. Simple Blonde Short Pixie Haircut
If there was to be a default look for a pixie, this would be it, as it features none of the regular beautifying bells and whistles you'll see in the average short pixie. Despite that, it still looks pretty adorable and is one of my favorite entries in this collection.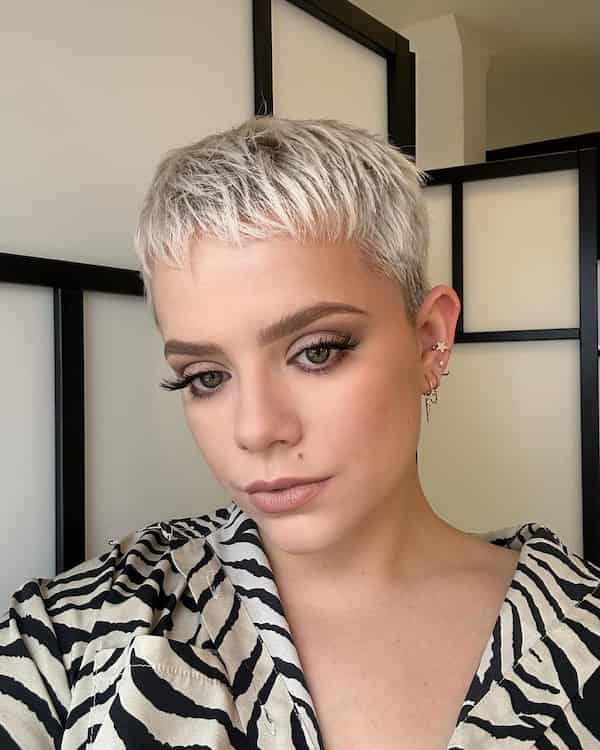 8. Short Statement Pixie Haircut
If you're not quite content with the default look, you may want to try this similar layered look. It may look messy and all, but one simply has to admit that it's also insanely adorable.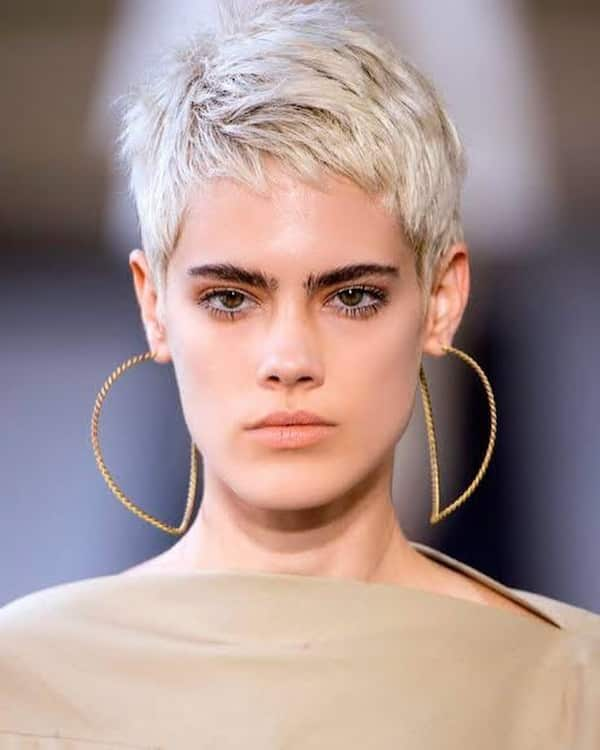 9. Pink Pixie Haircut with Shaved Side
We've seen a lot of blonde short pixies, but not everyone wants to wear blonde. Here's a side-swept pink pixie haircut if you're looking for an alternative to what you've been seeing so far. With the side-swept look and the model's smile, it's not hard to see why it looks so good.
10. Blue Short Pixie Haircut with Neat Edges
Pink looks pretty close to blonde, if we're being honest, which is why I included something very different. This blue pixie looks more beautiful than most cuts we've seen so far, despite being a radical color.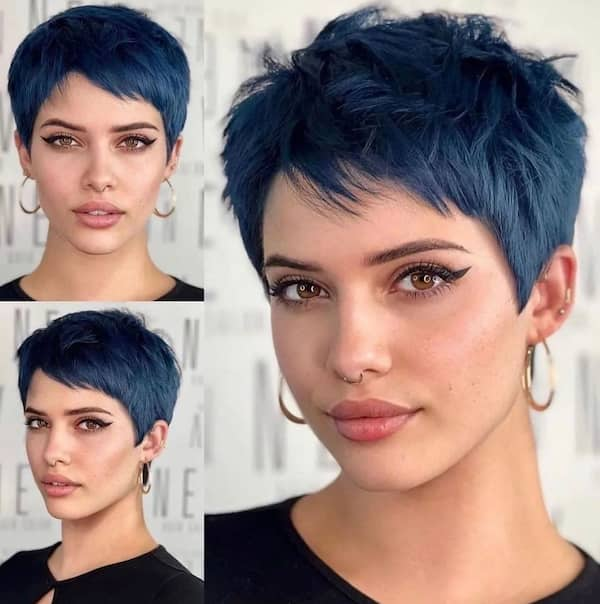 11. Classic Short Pixie Bob Cut
Still on non-blonde pixies, this cut uses a bright artificial brown that makes your hair pop in any gathering. Wear it with the model's smile and see how many compliments you'll receive at work when you next show up.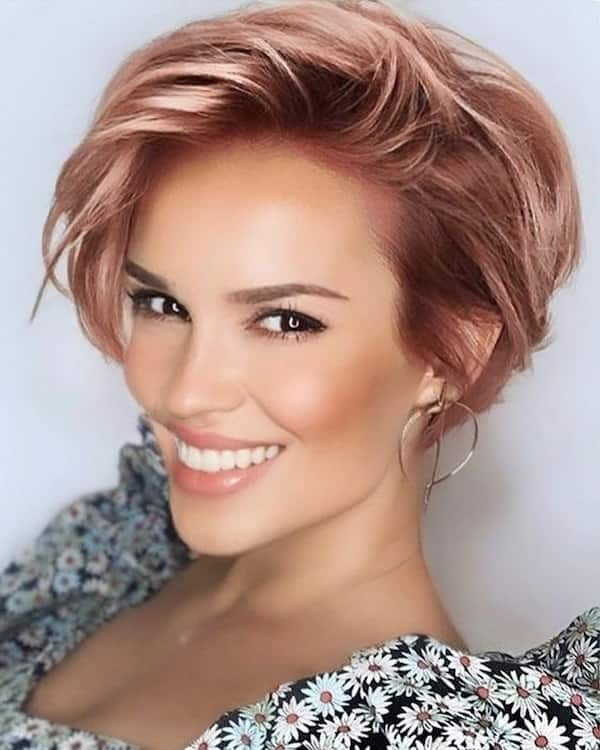 13. Textured Short Pixie Haircut
Here's another non-blonde short pixie cut that won't have you thirsting for a blonde hue. With the well-thought-out layers and the undercut, the level of effort required to have something this adorable is the only valid reason why anyone would think twice about it.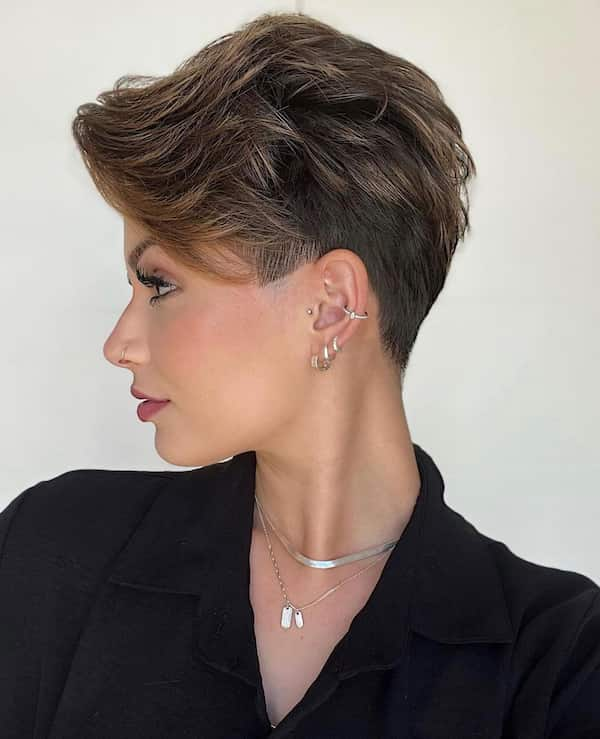 13. Blonde Side Swept Pixie Cut
Back to blonde haircuts, this side-swept cut demonstrates why they dominate this compilation with the model's simple but nonetheless adorable pixie haircut. The bangs from the hair sweeping to the side create an effect that makes it a charming style.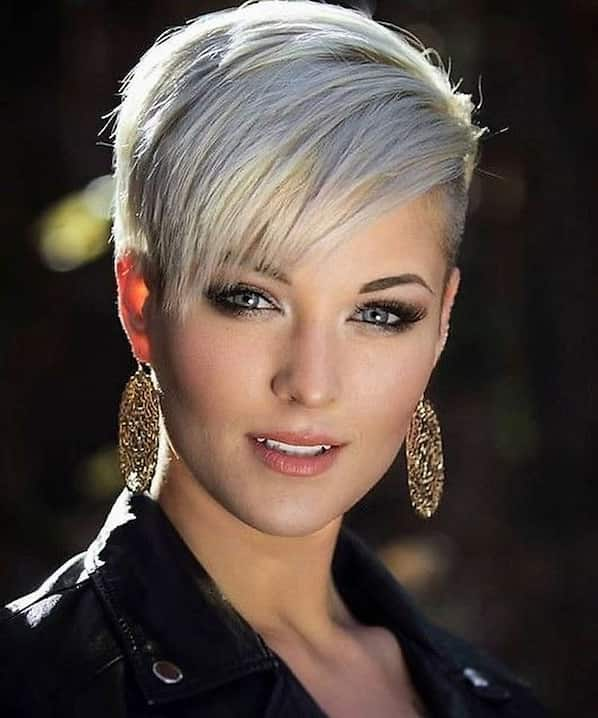 14. Chic Gray Undercut Pixie Haircut
You'll struggle to find a hairstyle that better matches a business-casual look than this short silver pixie with an undercut. If you want to take it a step further, wear those adorable sunglasses and wait for the compliments to roll in.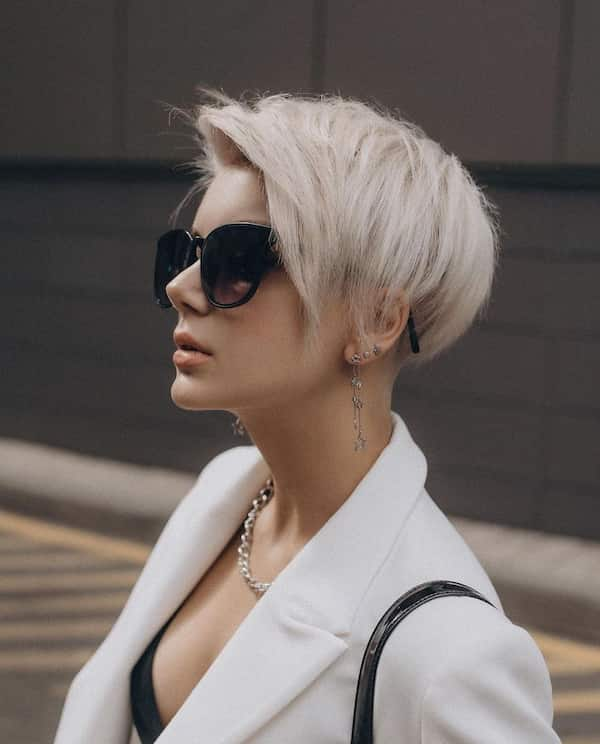 15. Short Spikey Pixie Cut
If you enjoy rocking brown hair, you might as well try this short pixie with a texture that looks like spikes poking out of the hair all over. The undercut retains the cut's organization, earning it a place in this compilation.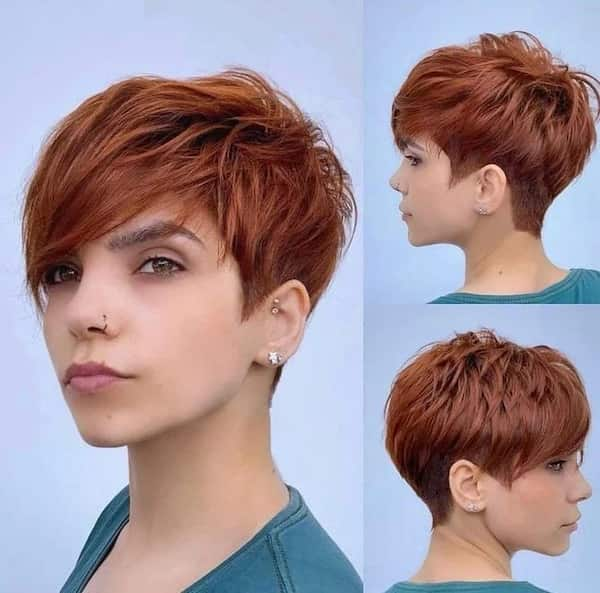 16. Grey Pixie Cut with Layered Edges
Age comes with many hair changes, including graying and shortening. You can use both changes to your advantage by getting this short gray pixie with layered edges, turning the disadvantages of old age into a charming hairstyle.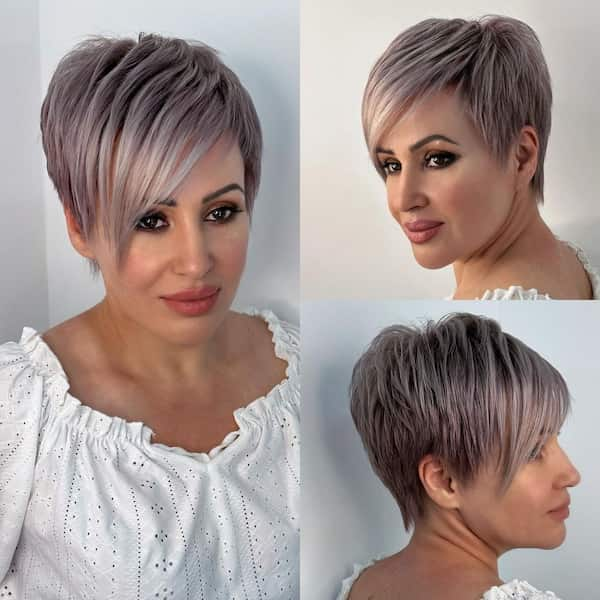 17. Bob Pixie Cut with Undercut
Instead of joining the bobs vs. pixies war, you can simply rock both in the same hairstyle, like the model in this hairstyle idea. With the undercut, the style remains razor-sharp, earning itself a place on this elusive list.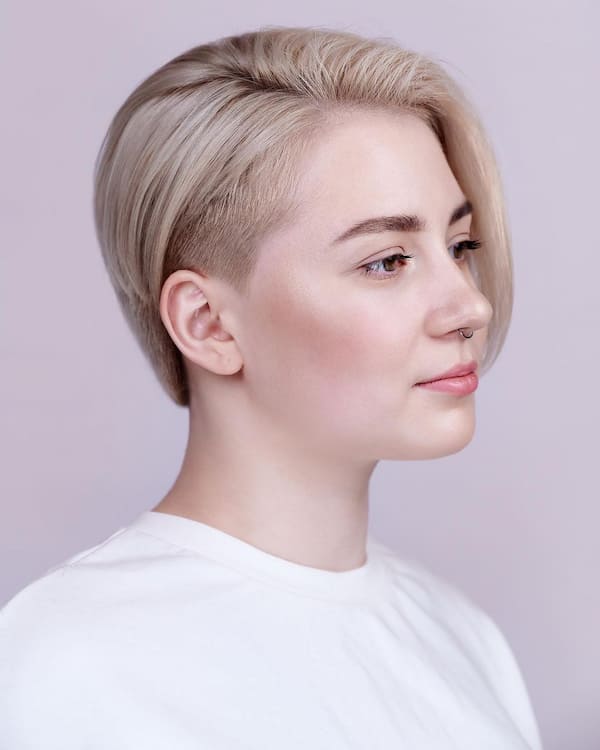 18. Razored Pixie with Side Cut
Talking about razor sharpness, this razored pixie is the embodiment of that, with each edge as sharp as a razor, giving it a smart and professional look.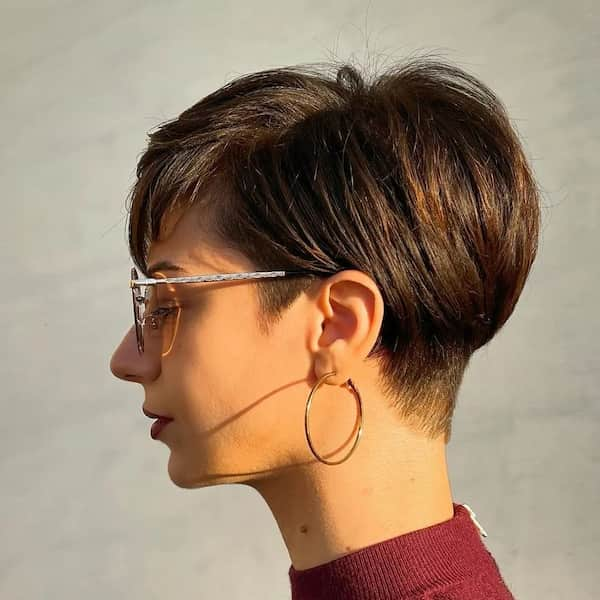 19. Side Short Fluffy Pixie Cut
Another smart way to wear a pixie is by shortening the sides and making the top fluffier, creating an adorable sporty effect that looks great on women of all ages.
20. Tapered Fade Pixie Cut
If you want your hair to look even shorter, a faded pixie cut is your next best option. While the extreme shortness makes the style look masculine, you should already know that before going for an insanely short hairstyle.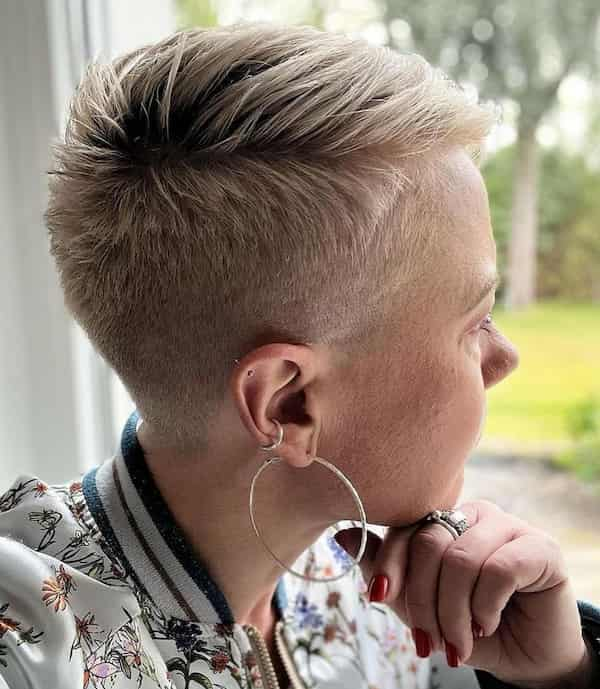 21. Short Pixie Haircut for Women Over 50
Old age shouldn't prevent you from wearing an adorable hairstyle. This side-swept blonde pixie makes a strong case for ladies clocking 50 or even older.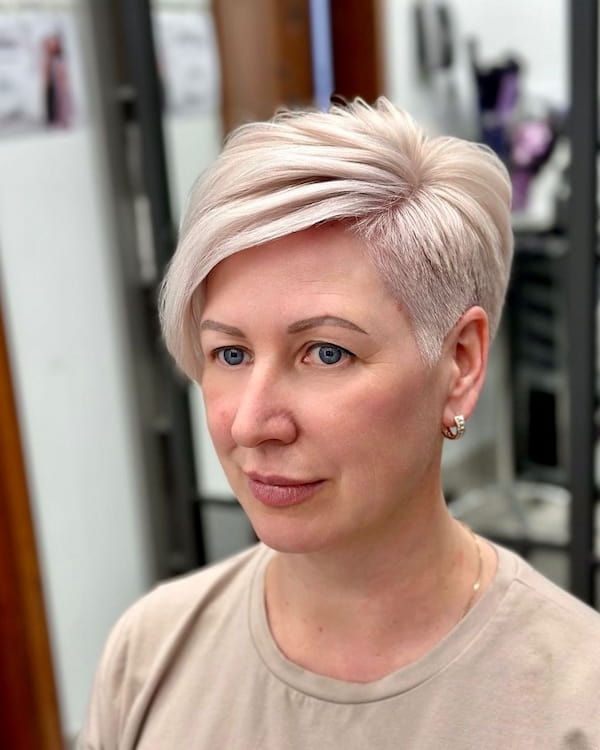 22. Very Short Curly Pixie Haircut
If you already have blonde hair, this short curly pixie should be on your to-do list. It may look a bit messy, but maybe that's why it also looks effortlessly beautiful, especially with the glasses.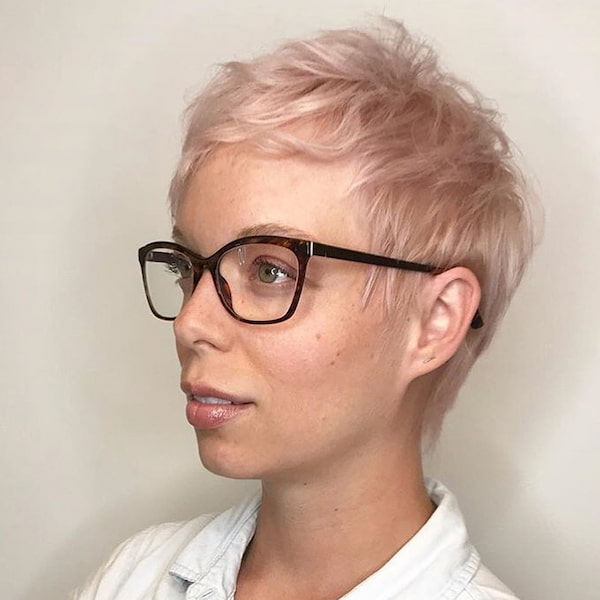 23. Round Cap Pixie Bob Haircut
The best part of this hairstyle is that your hair doesn't have to be short for you to wear it. You can simply wrap it around your head, regardless of the length, creating something short yet beautiful.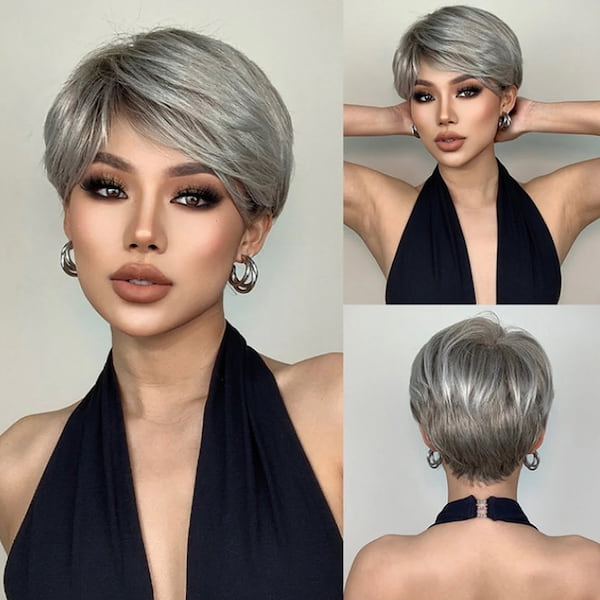 24. Spikey Pixie Cut with Shaved Sides
If you're not averse to some masculine allure, this spiky cut should appeal to you, especially with the cleanly shaved sides. The dual tone adds extra glamour to the style, making it one of the best pixies I've seen.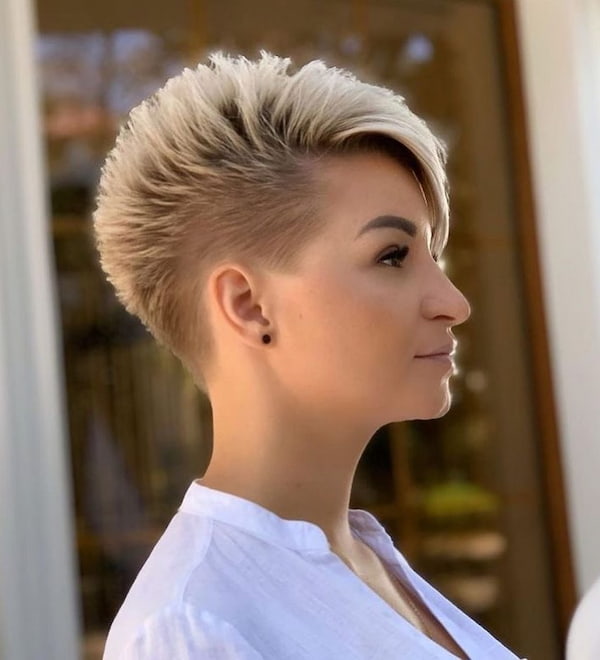 25. Blonde Loosen Layered Pixie Cut
This layered pixie cut is another blonde masterpiece for ladies with short hair. The side-swept look makes it prettier, and you want to consider putting as much effort into it as the model here did.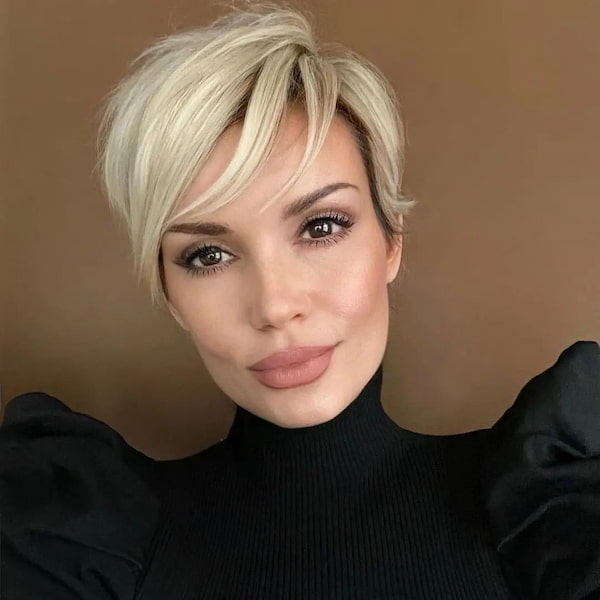 26. Platinum Blonde Pixie Haircut
What's a better way to go gray than by making it into an alluring hairstyle? With a platinum traditional pixie cut, that's exactly what's happening here, and look how pretty it turned out.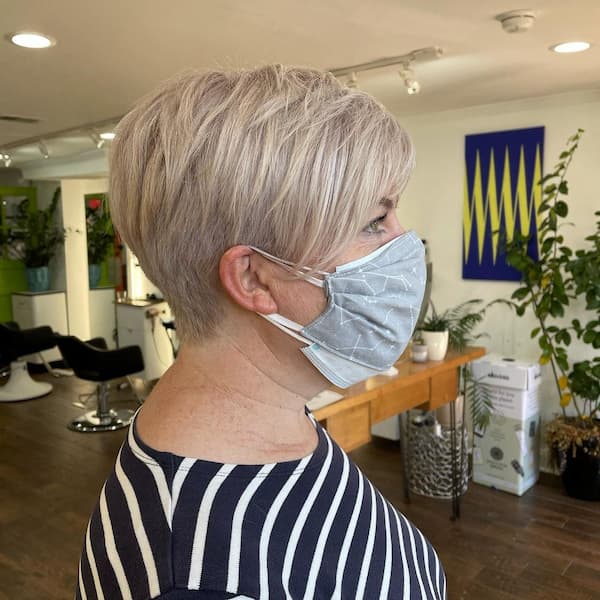 27. Cute Textured Messy Pixie Haircut
The texture on this pixie does look messy, but it's more of a beautifying touch than a mess. Copying this hairstyle with the undercut should offer a similar allure, especially for ladies with natural black hair.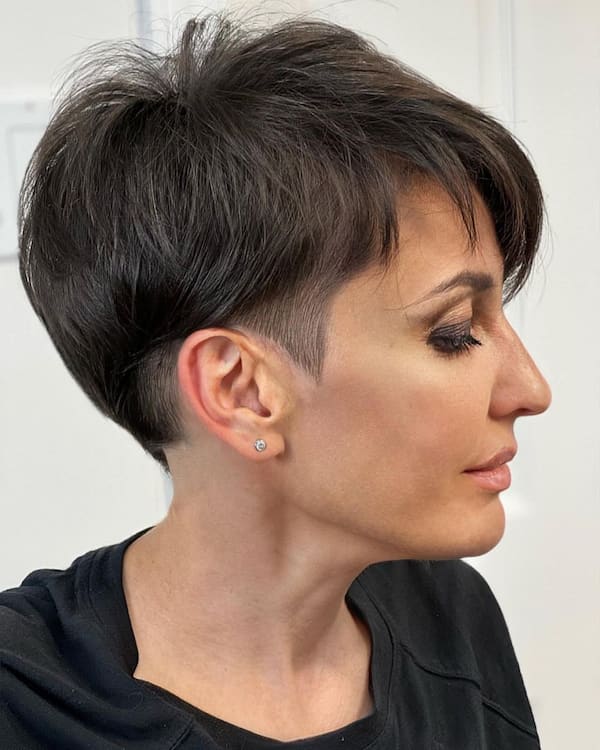 28. Cool Mohawk Pixie Cut
The mohawk is arguably not the most interesting part of this style; it's definitely the blue color. Wear any pixie cut in that hue, and you'd be sure to have something that looks adorable.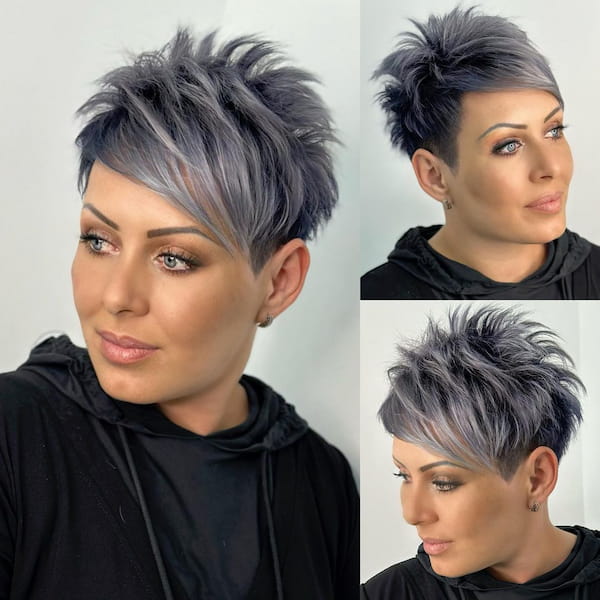 29. Brunette Face Capped Pixie Haircut
The face cap look here is unique, which is probably why this hairstyle looks so good. The clean shave might also play a role in its allure, but its effect is probably less than that of the unique look.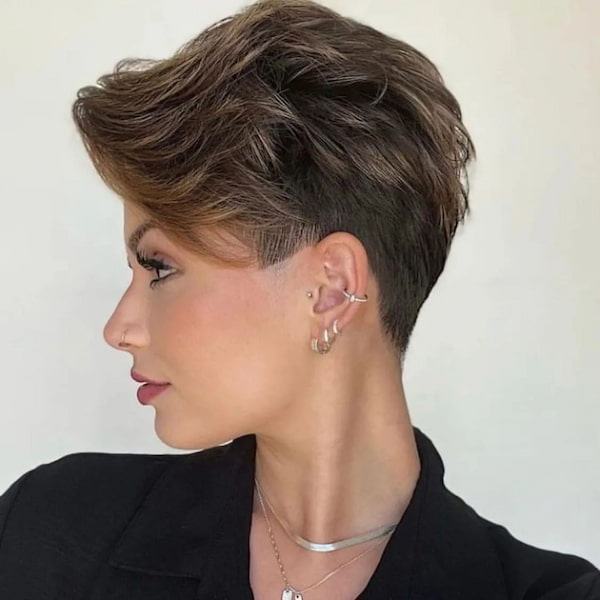 30. Half Shaved Pixie Cut
How about shaving half of your hair and making a pixie with the other half? I'm not even going to describe how good it looks; you can see for yourself!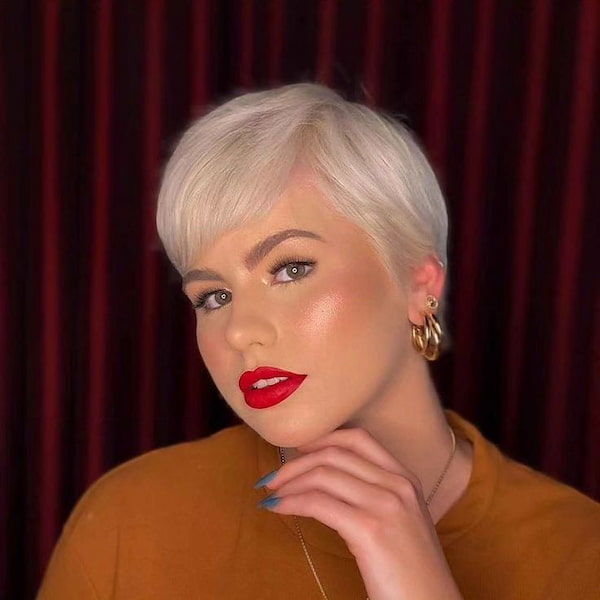 31. Blonde Short Pixie with Layered Fringe
I've always loved hairstyles with fringes, but when you add layers, it becomes even prettier. If you're like me, this hairstyle idea should work for you.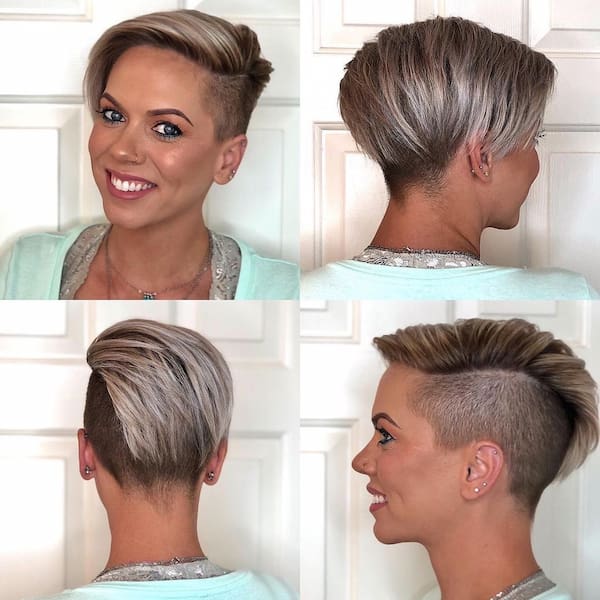 32. Full Highlighted Short Pixie Haircut
Blonde highlights contrast black hair beautifully, which is why her going for a full blonde highlight looks so adorable. Pair the hairstyle with her enchanting smile and make the next edition of this list.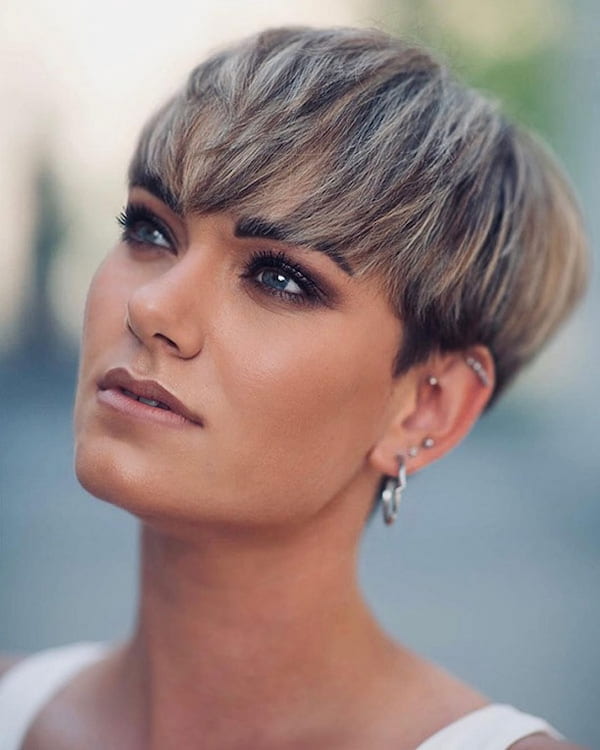 33. Silver Side-Shaved Pixie Cut
Short pixie cuts are good, but they become even better when side-shaved. Throw in silver-colored hair and see that better hairstyle become the best!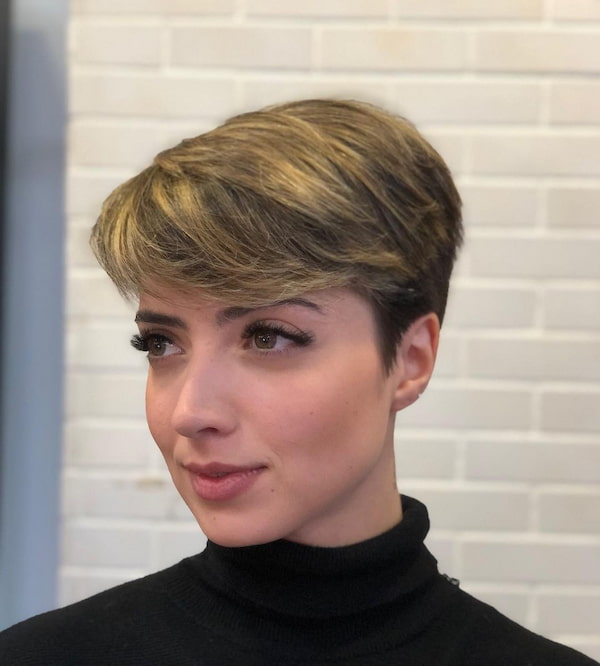 34. Chic Sided Layered Pixie with Undercut
Sided pixies don't only work on blonde or silver hair. Here's one on brunette hair that's, in my opinion, better than any blonde side-swept pixie we've seen so far.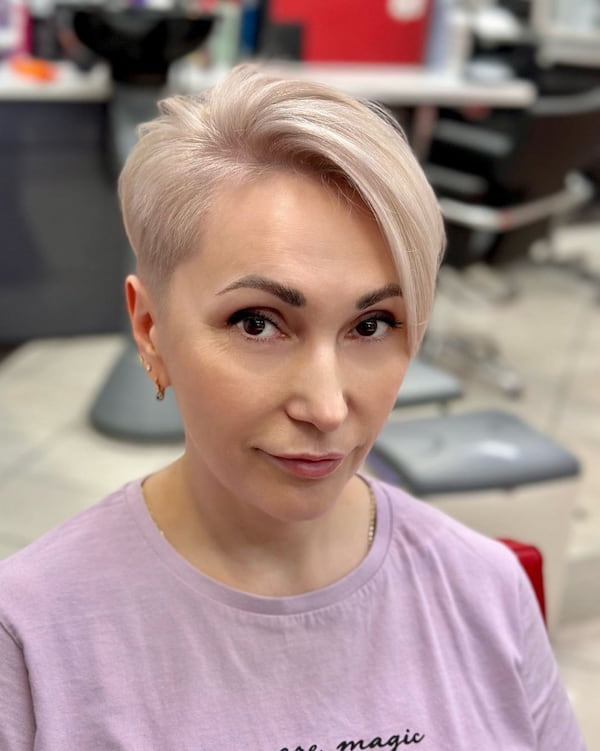 35. Asymmetrical Pixie Cut
Still on the side-swept ideas, this asymmetrical pixie doesn't sweep your entire hair to the side but also doesn't create a parting in the center. You can see a picture; you should decide if you like it.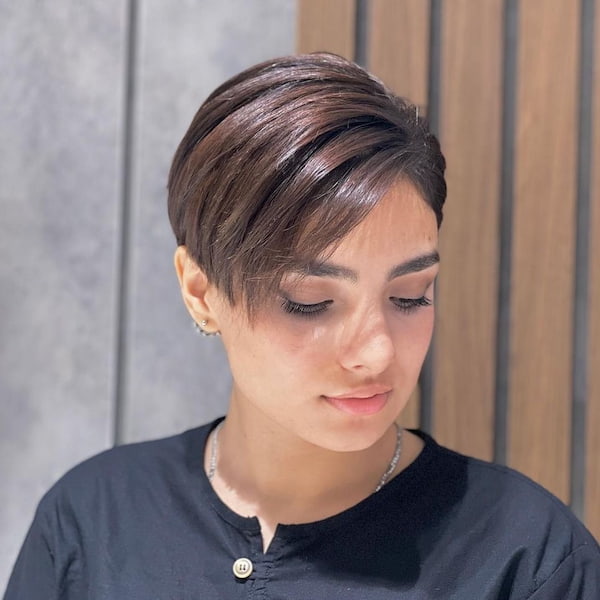 36. Fully Capped Short Bob Haircut
I'm not sure if I'm a big fan of the large arc on this haircut, but it certainly does look unique. If you love unique hairstyles, maybe you'll love this too.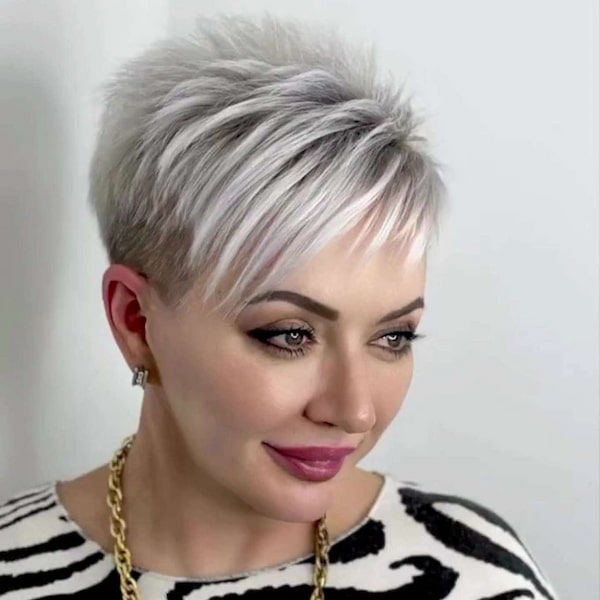 37. Pixie Bob with Spikey Center
This hairstyle's unique spiky center look can be both funny and adorable, depending on how you look at it. I choose to look through the latter angle, and I suggest you do too.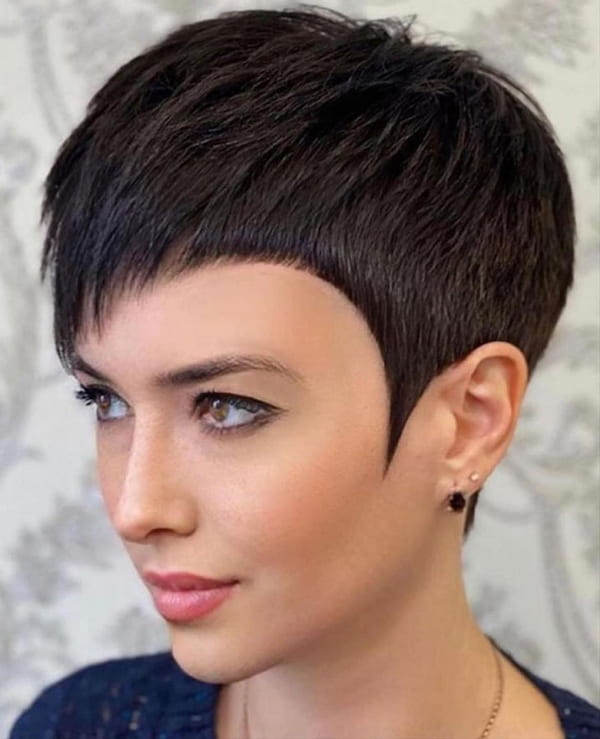 38. Pixie Cut with Bangs
Pixies naturally go with bangs, so you'd expect this hairstyle to look great. Pair that with the natural brown hair and see why it's impossible for anything to go wrong with it.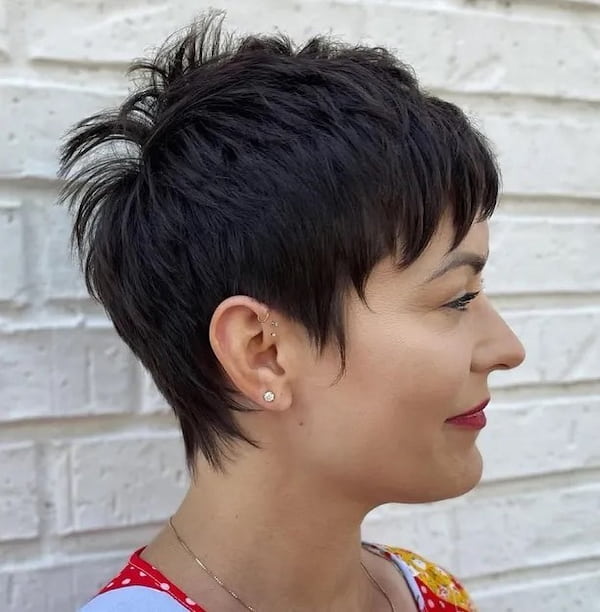 39. Light Brunette Tightly Layered Pixie Cut
It's impossible not to love this pixie cut, thanks to its color and tight layers. The sharp undercut also easily puts it in this compilation's best haircuts category.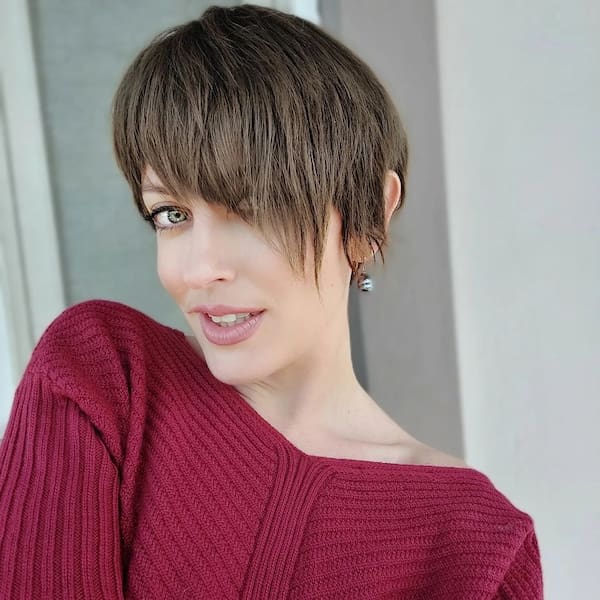 40. Platinum Pixie Cut
We've seen a platinum pixie cut earlier, but here's another for ladies with even less hair. Despite not needing as much hair, this hairstyle manages to look just as charming as any other.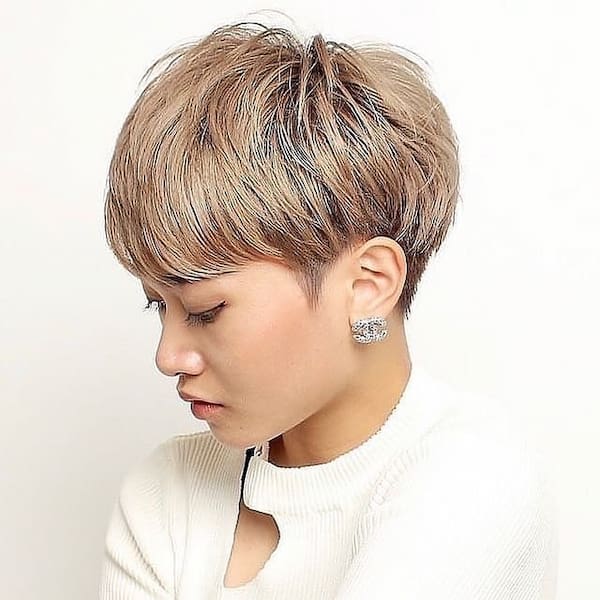 41. Colored Pixie Cut with Messy Curls
With highlights in several different colors, this pixie scores huge points for flashiness and glamour. It also manages to go on the perfect model, and if you can match her energy, it's the perfect style for you.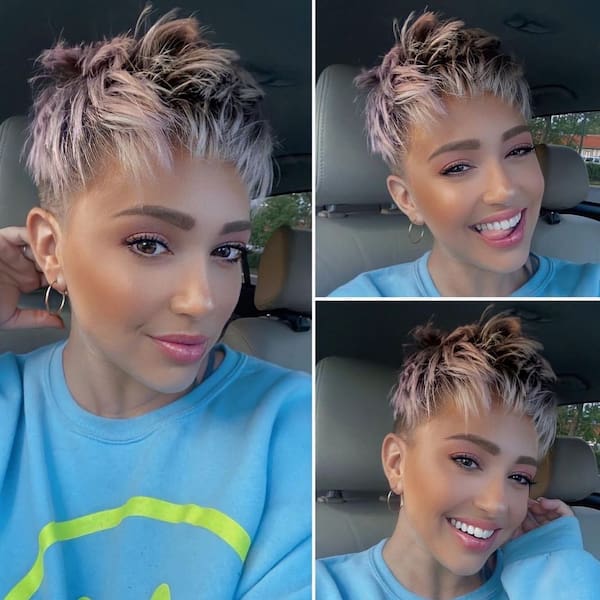 42. Blonde Fade Haircut with Undercut
A faded undercut seems like the perfect hairstyle for a summer vacation, especially for blondes. If you're naturally blonde, step one is already done for you.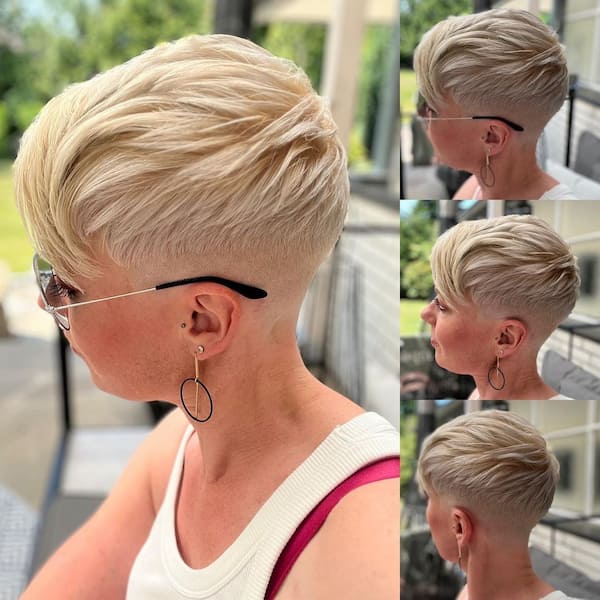 43. Classic Purple Pixie Cut
Purple is a flashy hair color that takes some level of confidence to wear. If you have what it takes, however, here's an example: knock yourself out.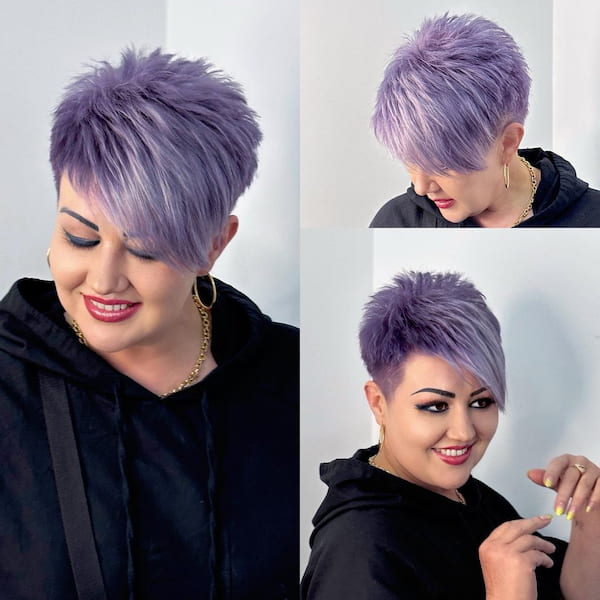 44. Blonde Pixie Haircut with Sided Mohawk
Blonde can also require confidence to wear, especially if what you're wearing is a sided Mohawk. If you love how it looks, why not go ahead and try it?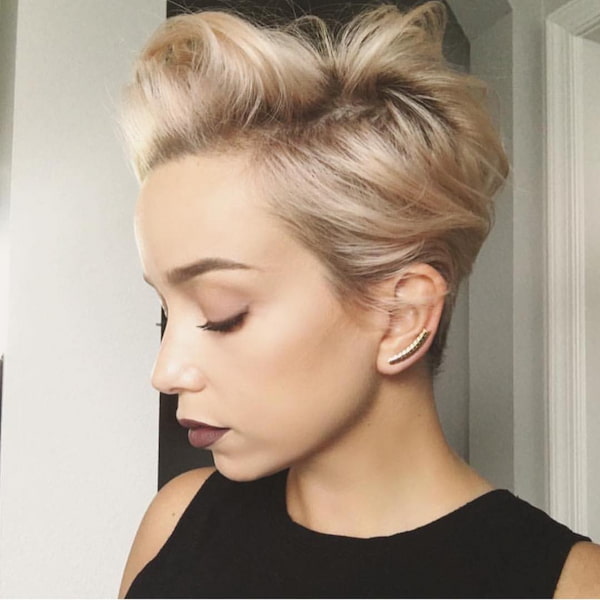 45. Simple Short Black Pixie with Edges
Since we haven't seen a black hairstyle idea since forever, here's one to show it's not banned for ladies with black hair yet. I also love the neat edges. Just saying.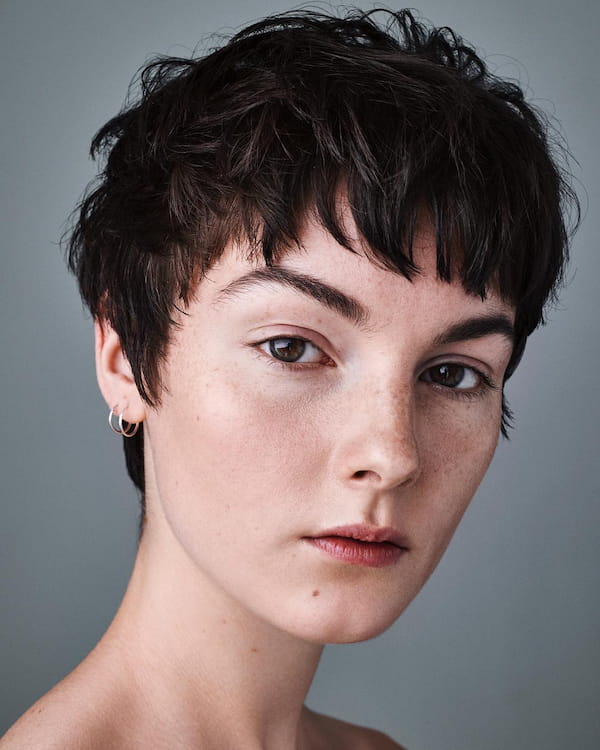 46. Chic Formalized Layered Short Pixie Haircut
This haircut looks very much like a celebrity hairstyle, but maybe it's the model's alluring smile. The bangs are also special, making the otherwise messy style look a bit more organized.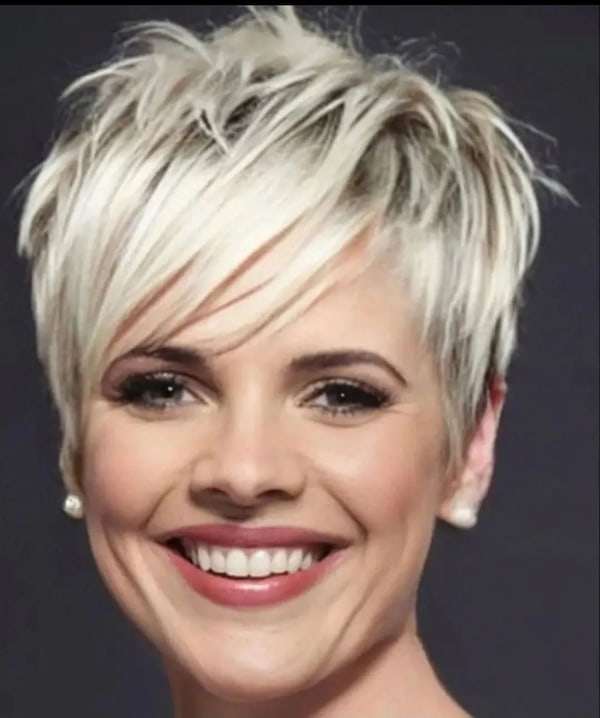 47. Short Pixie Haircut with Full Curls
Curls always add glamour to hairstyles, and this short pixie is no exception. I'm not sure if the charm is partly a result of the blonde; I'd love to see this on black hair.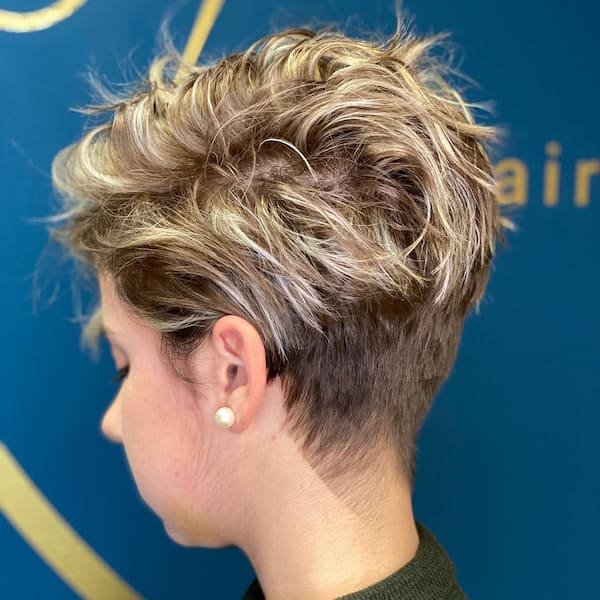 48. Beachy Inspired Pixie Cut
Asymmetrical hairstyles can be adorable too, and here's proof of that concept. You can even add an undercut to the hairstyle to make it look sharper.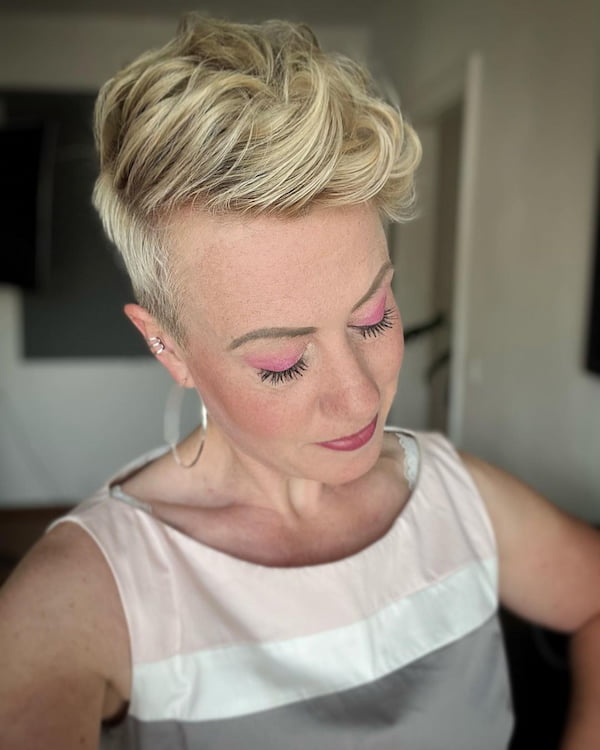 49. Very Short Swept Pixie Cut
We've seen a couple of similar pixies, where you shave half your hair and use the other half for a side-swept pixie. The common denominator among them all is their charming looks.
50. Blonde Boyish Undercut Pixie
Undercut faded pixies tend to ooze some masculine vibes, which is why we termed this hairstyle boyish. If you're fine with the look, go ahead and copy it.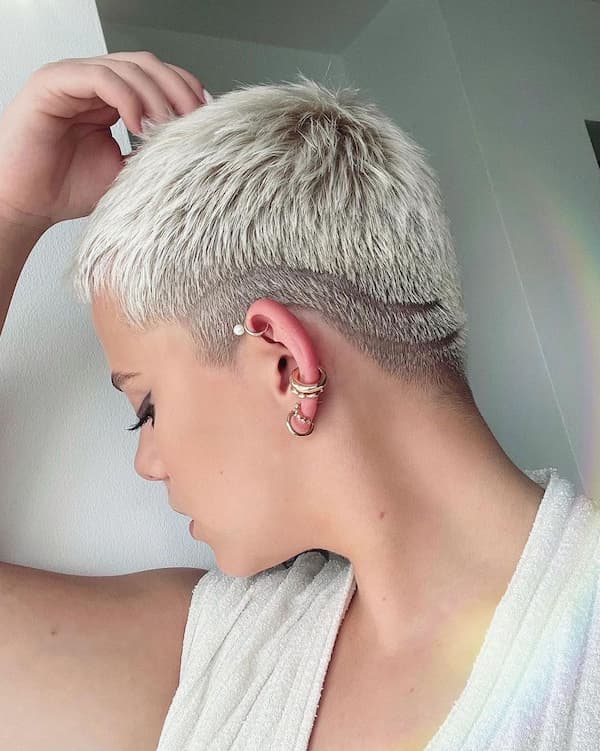 Conclusion
As evident from above, there are so many pixie hairstyle ideas that you should never wear an ugly one. This compilation lists the 50 best ones we've seen, so you can replicate them beautifully or use them as inspiration for your next hairstyle.
If you loved these pixie hairstyles, you'll also love these our other compilations.
Pin for Later.