Bobs typically have a characteristic look that makes your hair feel shorter in the front and longer towards the back, but it doesn't have to be so. In fact, angled bob haircuts reverse that arrangement, making it so that your hair is the longest in the front and gets progressively shorter towards the back, creating an angled look.
Classy Angled Bob Haircuts
Despite sounding like a unique hairstyle, angled bobs come in different styles and varieties, and you have to find what works best for you before adopting it. Doing that, however, can be tedious, which is why we've compiled adorable angled bob haircuts across different face shapes and sizes to help you find the perfect one for you.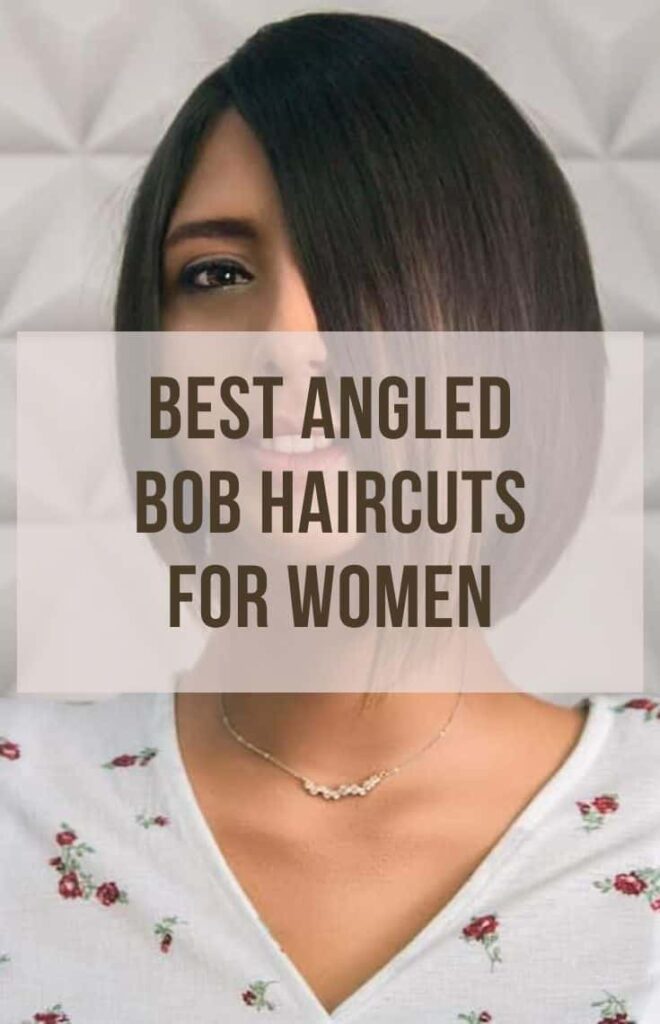 1. Short Angled Bob Haircut
A short angled bob haircut is certainly possible, as the style doesn't require your hair to be long. Making it short is even a trendy way to style the cut, creating a look that's hard to match with anything other than a short angled bob haircut.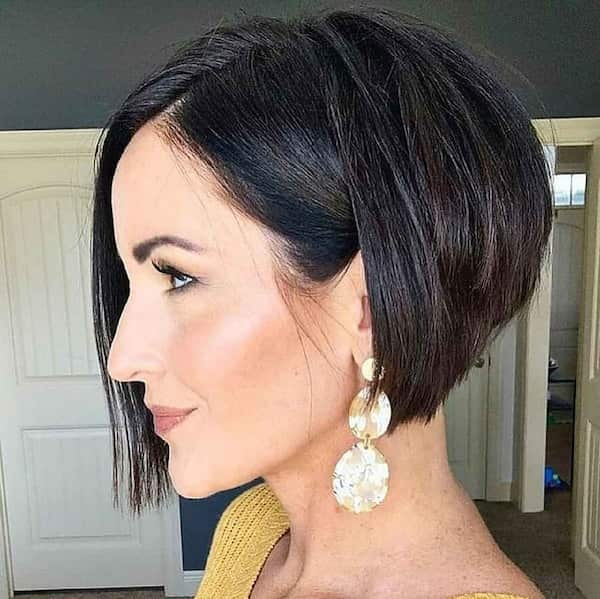 2. Short Angled Bob Haircut with Bangs
Short angled bobs look great, as the preceding hairstyle idea proves, but getting one with bangs increases the allure twofold. The fringes highlight the angled look, offering a "best of both worlds" look, balancing the excellence of a short angled bob and an angled bob with bangs. You may also want to get the hairstyle in red to match the adorable look of our featured model.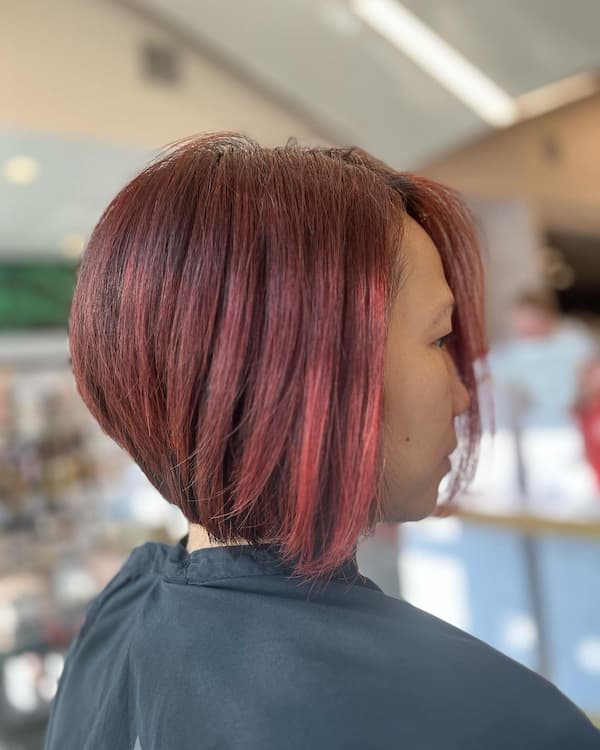 3. Long Angled Bob Haircut
A long angled bob sounds like the opposite of a short angled bob, but the looks and allure of the two hairstyles are as similar as they get. The longer one makes it seem more like a hairstyle than a cut, giving it a more traditional look. Choosing one over the other is a matter of personal preference, and if you're anything like me, it's a difficult choice.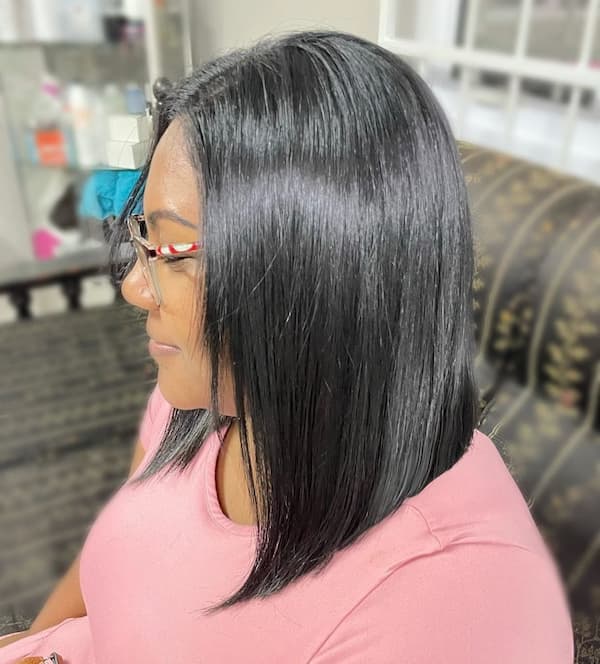 4. Mixed Colored Angled Bob Haircut
You can typically get a better hairstyle by playing with your hair color, as this angled bob demonstrates. It doesn't use flashy hues like blue or green, but you can see the subtle brown-to-black gradient that gives the hairstyle its characteristic glamour. You can also consider copying her wavy look to make your hair look more like hers.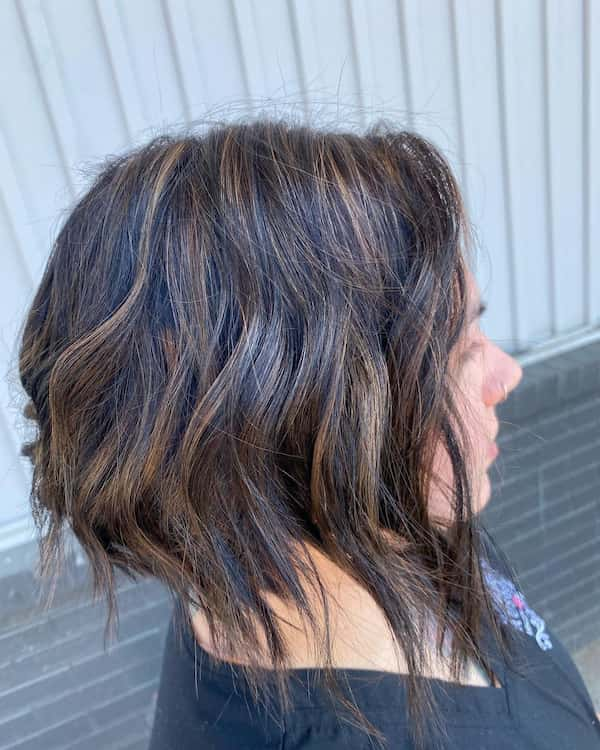 5. Sleek Angled Bob Haircut with Fringe
This hairstyle's smoothness makes it a tad more adorable than your average angled bob haircut. You can clearly see the angle created by the length gradient, and the fringe is also a bit more pronounced than similar fringed angled bobs. While it's not my favorite, this fringed hairstyle is easily one of the best angled bob cuts you can get.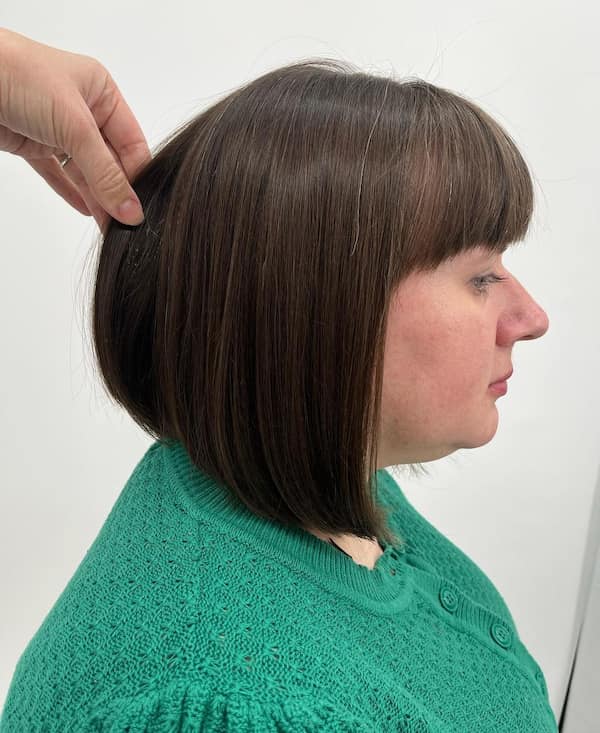 6. Short Layered Angled Bob Haircut
If you have some hours to spare, you might as well spend them perfecting your short angled bob haircut by adding modifications that give it an unbeatable look. This hairstyle played a bit with the colors, added some layers, and implemented some beach waves for extra flair. It may be slightly time-consuming, but every minute spent on the hairstyle is worthwhile.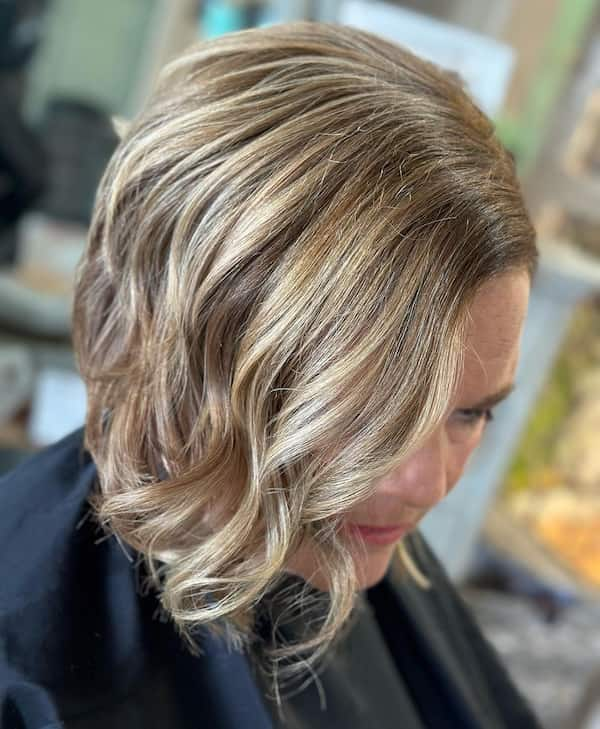 7. Smooth Edge Angled Bob Haircut
We've seen a smooth angled bob earlier, and we know how much sleekness the consistent texture adds to the bob hairstyle. Making it exactly this long and having it go fashionably over one part of your face adds extra glamour, making this cut one of the best I've seen, and I'm not just talking about angled bobs.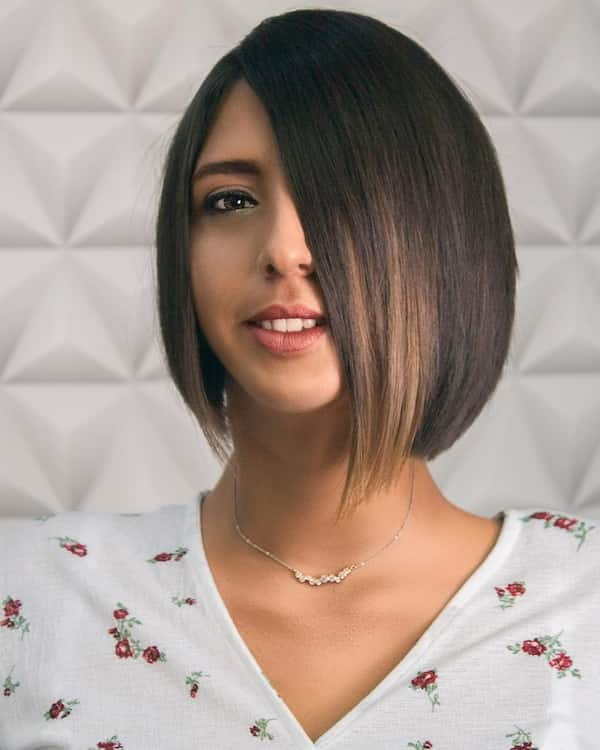 8. Shoulder-Length Angled Bob Haircut
Bobs look more natural when they're shorter, but more natural doesn't always equate to more beauty—at least, not in this case. The shoulder-length bob is on the longer side compared to most, but it looks insanely adorable nonetheless. You also want to retain the cut's smoothness for extra flair.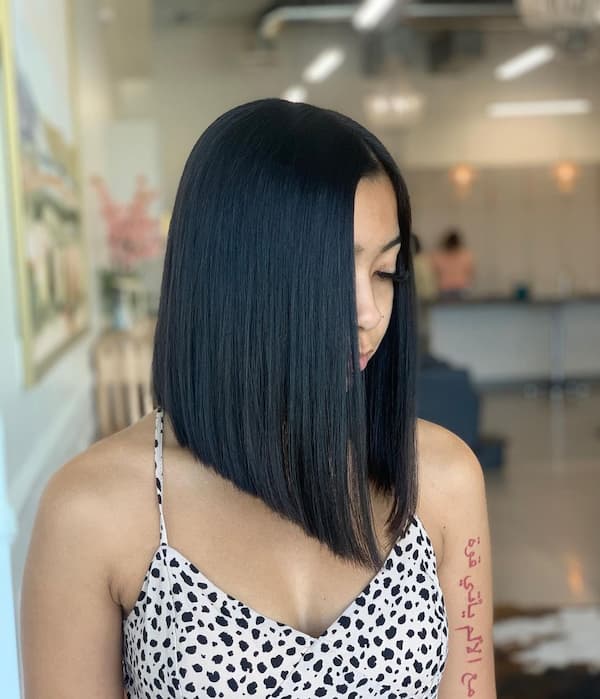 9. Angled Bob Haircut with Bundles
Adding bundles to an angled bob gives it some degree of complexity that makes the hairstyle look slightly more adorable without giving off an unpleasantly messy vibe. The angles may not be symmetrical, but who needs symmetry when you have that sleek side parting that makes you want to copy the haircut as is? In short, I speak for everyone when I say this is one of the best angled bob haircuts, right?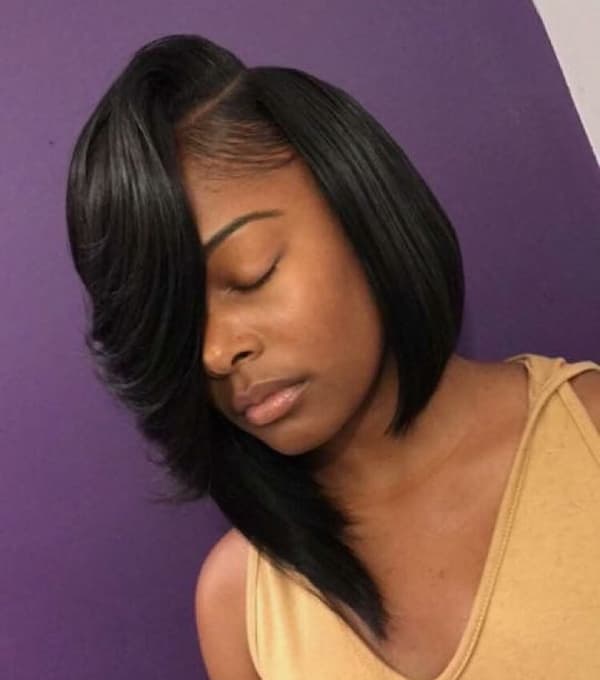 10. Chic Messy Angled Bob Haircut
Some of the best bob haircuts we've seen in this compilation are as smooth as silk, but do you really need that smoothness to get an adorable cut? With this entry, I can confidently say no, as its charm seems to be in its messy look. It's difficult to nail the look, but if you do, it's even more difficult to beat it.
Here are some more ideas that you'll find inspiring;
11. Blonde Short Angled Bob Haircut
If you already have natural blonde hair, you'd be doing yourself a favor by getting a wavy angled bob haircut like our model here. The hairstyle is short, simple, and easy to maintain, and it doesn't compromise on looks like similar simple angled bob cuts.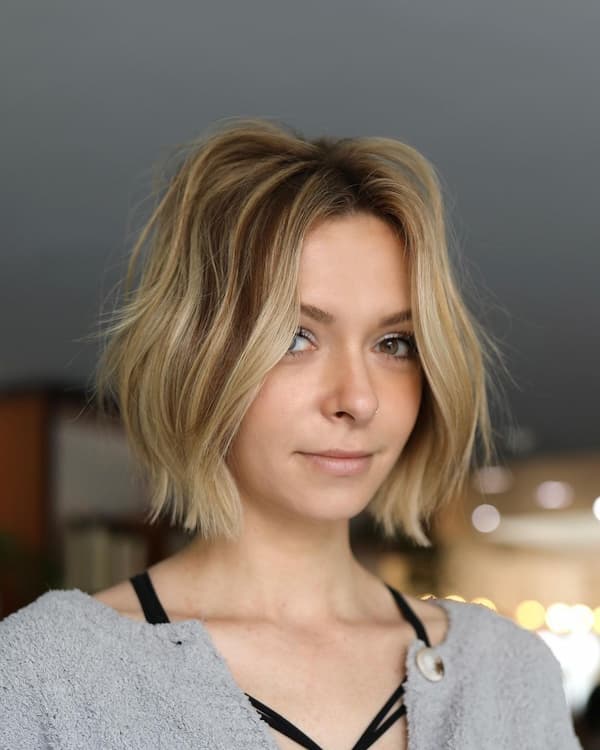 12. Red and Black Angled Bob Haircut
Colors play a huge role in how any hairstyle turns out, and with angled bob cuts, you generally want colors like red and black. This example of a red and black angled bob cut shows how pretty mixing these colors can be, especially when you angle the bob as well as the model.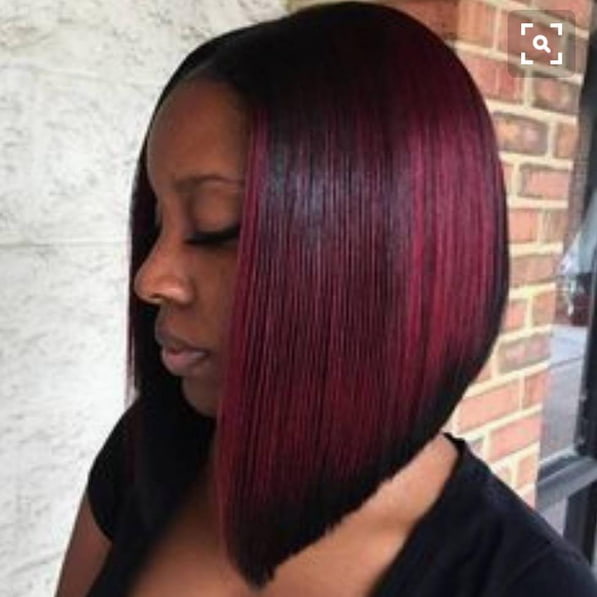 13. Textured Angled Bob Haircut
Smoothness is a good quality for bob haircuts, but adding some texture to your cut can sometimes make it better, not worse. This model demos textured angled bobs in a way that's tempting me to intentionally mess up my hair. However, I won't recommend messing up your hair yourself; a professional hairstylist will do a much better job adding adorable texture to your bob cut.
14. Angled Bob Haircut on Thin Hair
Thin hair doesn't provide the optimal conditions for an angled bob haircut, but you don't need optimal conditions to make your hairstyle look lovely. As this hairstyle idea demonstrates, wearing an angled bob with a decent side parting and a smooth texture will leave you with a hairstyle that anyone would like to copy, even with thin hair.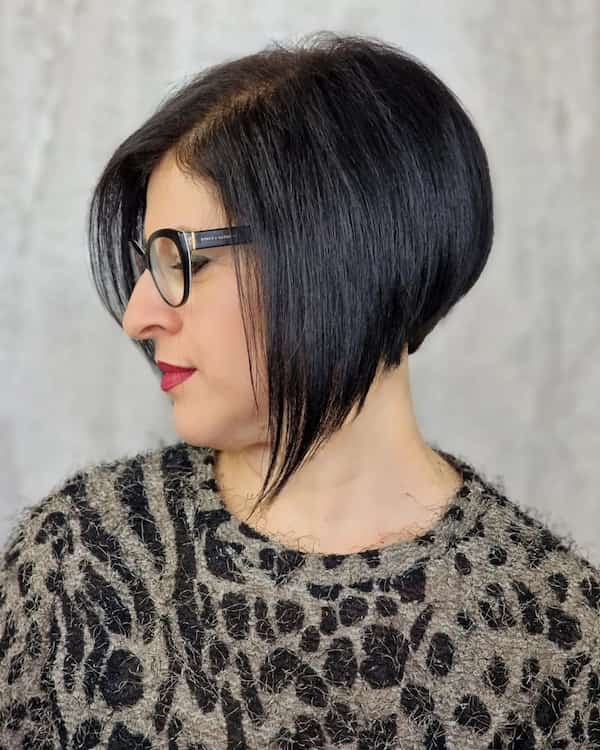 15. Long Layered Angled Lob Haircut
The average angled bob haircut is short, but what if you want to get one without necessarily cutting off a significant portion of your luscious locks? Easy; simply don't cut off your hair. This haircut essentially proves that it's possible to get an angled lob on long hair by layering the excess hair, and the result is just as charming as anything else on this list.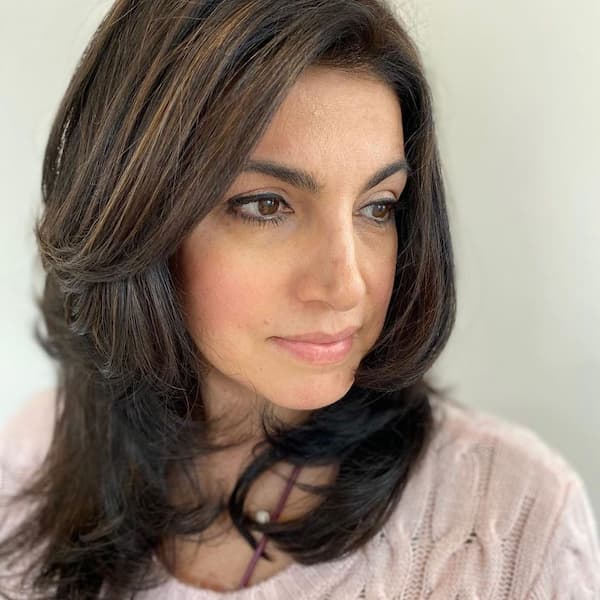 16. Blonde Medium Length Angled Bob Haircut
Since I've proven it's possible to wear angled bobs on long hair, the possibility of doing the same on blonde hair of medium length shouldn't even be a question. When done properly, like with the model, you'll be left wondering if short or medium is the optimal hair length for an angled bob haircut.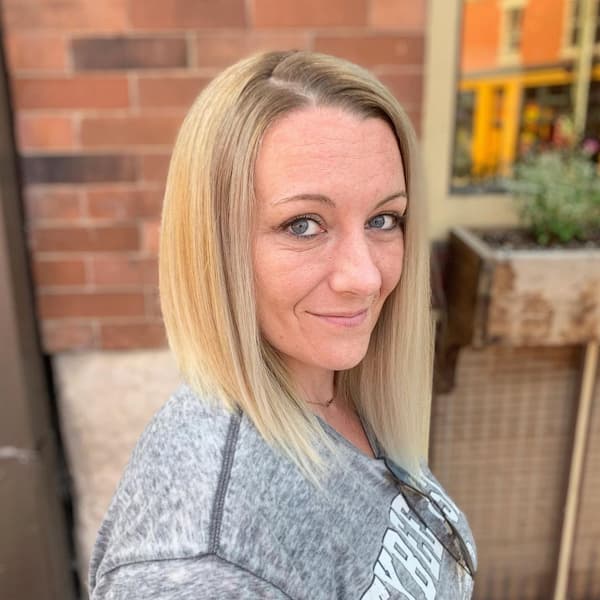 17. Dimensional Angled Bob Haircut
A dimensionally angled bob haircut is like a layered bob hairstyle, but on steroids. It may be slightly difficult to make, but it's undoubtedly pretty to wear, and the looks easily offset the challenges of making it. This cut also presents ample opportunity to mix different colors in the same cut, which is something I'd love to try.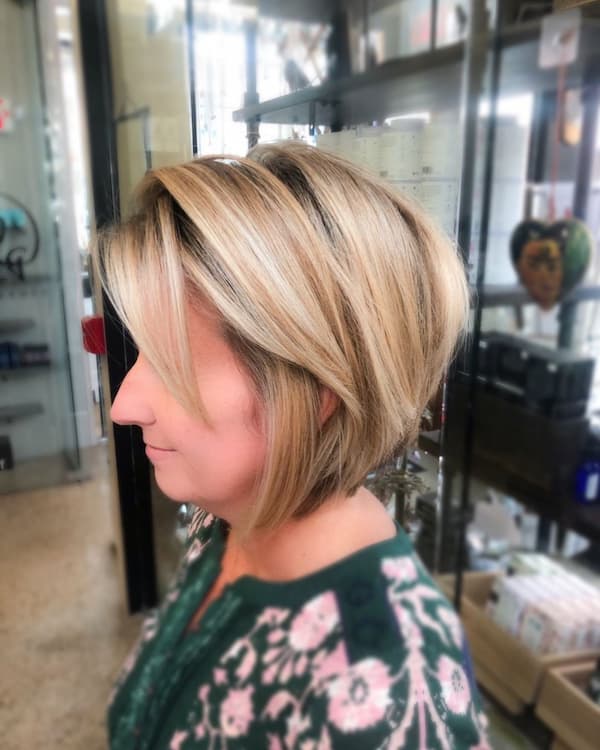 18. Classy Wavy Blonde Angled Bob Haircut
As if natural blonde angled bobs weren't adorable enough, this model adds more flair to her hairstyle by making it wavy, creating what's the closest thing to a perfect angled bob haircut. Anyone with a natural blonde should definitely consider trying this hairstyle.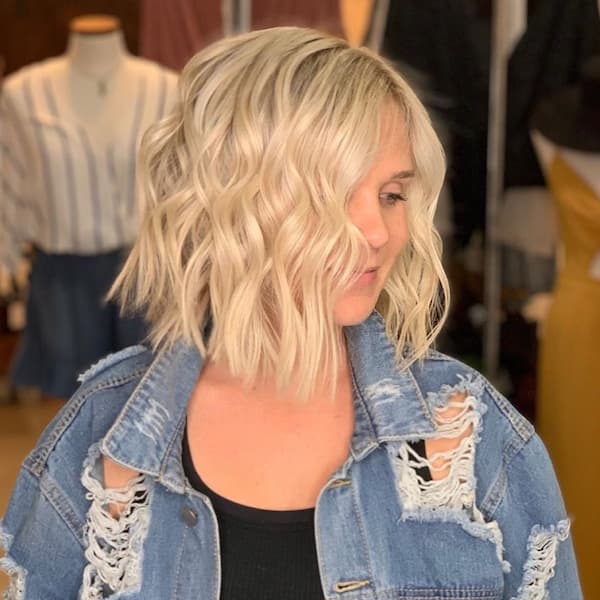 19. Medium Length Textured Wavy Bob
If you're wondering how those waves would look with a different hair color, here you go. Sure, it's a bit longer than the preceding hairstyle, making it not a perfect comparison, but if you're considering getting a wavy angled bob for brunette hair, here's the closest illustration of how you'll look after the fact. From where I stand, it's insanely adorable. I don't know about you.
20. Red Super Angled Bob
You'll surely agree with our use of the word 'super' in describing this hairstyle when you notice the disparity between the longest and shortest points of the cut. You may love or hate that, but one thing everyone should like is the haircut's red color; it's absolutely charming.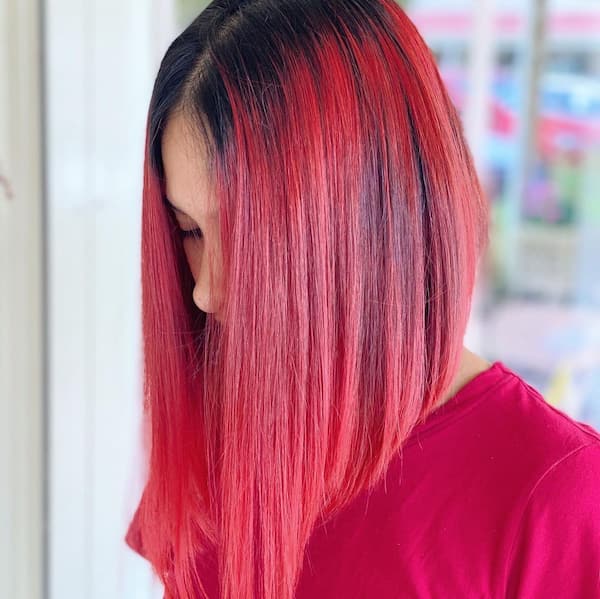 Conclusion
There are so many varieties of angled bobs out there that compiling the best 20 is a genuinely difficult task. However, here's the closest thing to an inclusive top 20 that encompasses all hair lengths, colors, and textures to help you select the very best.
Pin for Later