The only factor preventing you from getting whatever hairstyle you want is yourself, frankly. If you don't think it's weird for you to get a Mohawk, you can rock a Mohawk beautifully, and all you'll get are compliments.
However, a Mohawk isn't the only 'youthful' hairstyle that can look amazing on gray hair, there are several. Matter of fact, there are so many others that we can compile our favorite youthful gray hairstyles for over 50 ladies.
This article includes affiliate links. This implies that I may receive a small commission if you make a purchase through these links. You can find detailed disclosure information at the bottom of the page.
50 Youthful Gray Hairstyles for Over 50
If you're ready to go gray, here are youthful gray hairstyles for over 50 to consider.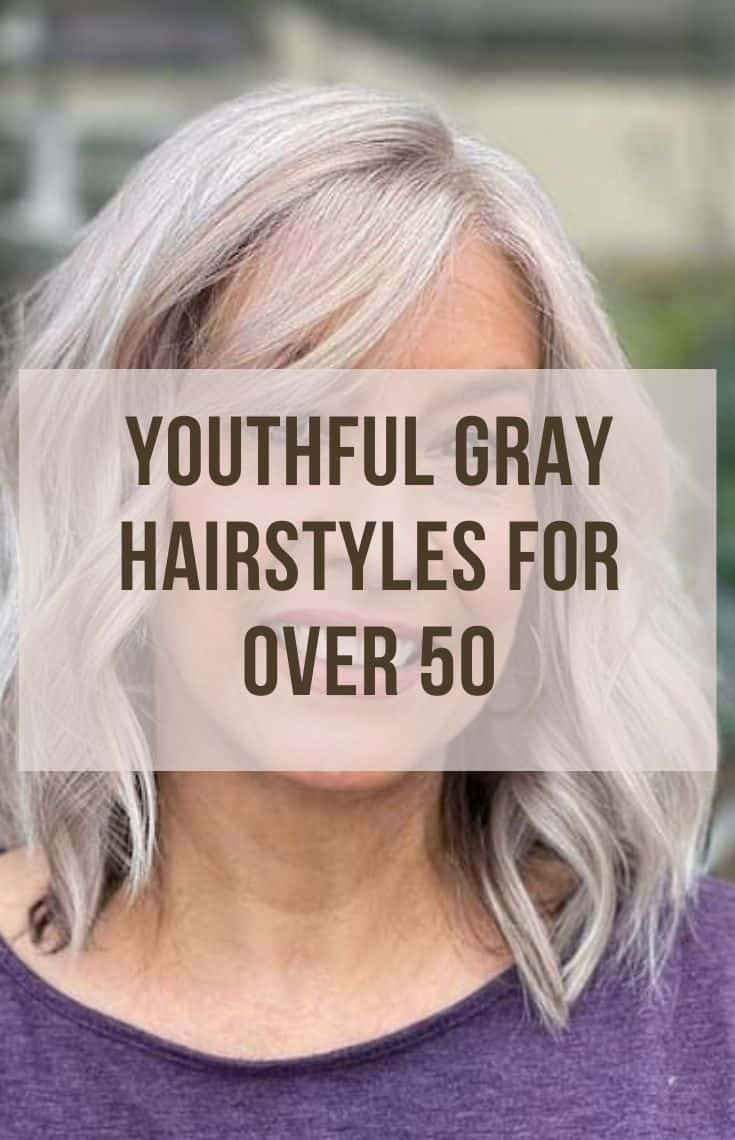 And just before we proceed, It's fairly common that hair that has turned gray tends to be prone to dryness and coarse. In this regard, here are some inexpensive products you need to keep your gray hair soft and healthy
6 Inexpensive Must-Have Products Your Gray Needs
Without further ado, Let me show your that hairstyle ideas curated just for you.
1. Gray Layered Bob Haircut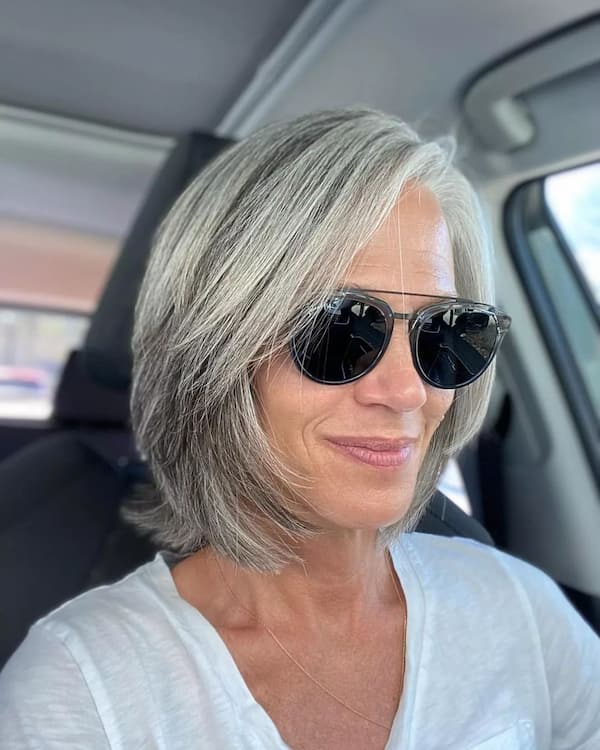 Let's start from the basics: a simply layered bob haircut is nothing too special; it's as common among young ladies as it is among seniors, and for one compelling reason: it's freaking adorable.
2. Mixed-toned Gray Medium Length Hairdo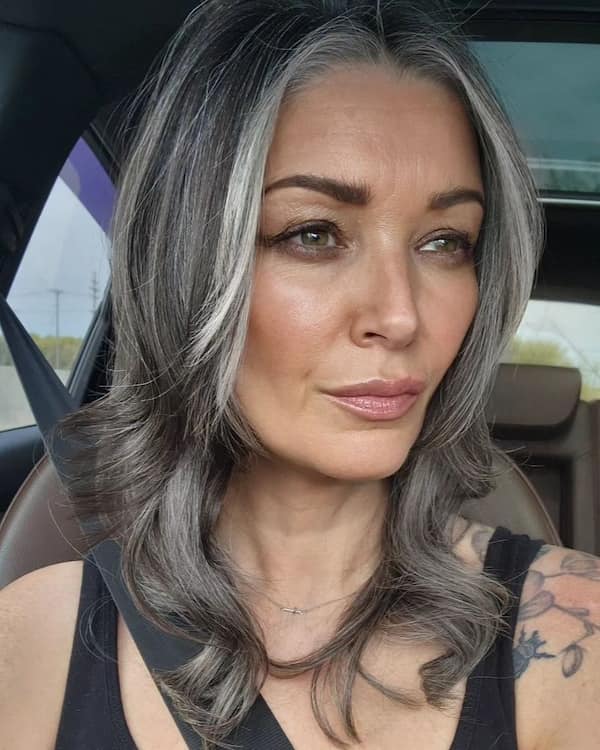 Now, mixing colors is primarily a youthful thing, but this one's a lot subtler than you'll usually find. The way she made different colors work together beautifully here is something I'd like to replicate when I turn 50.
3. Half Up Half Down Gray Hair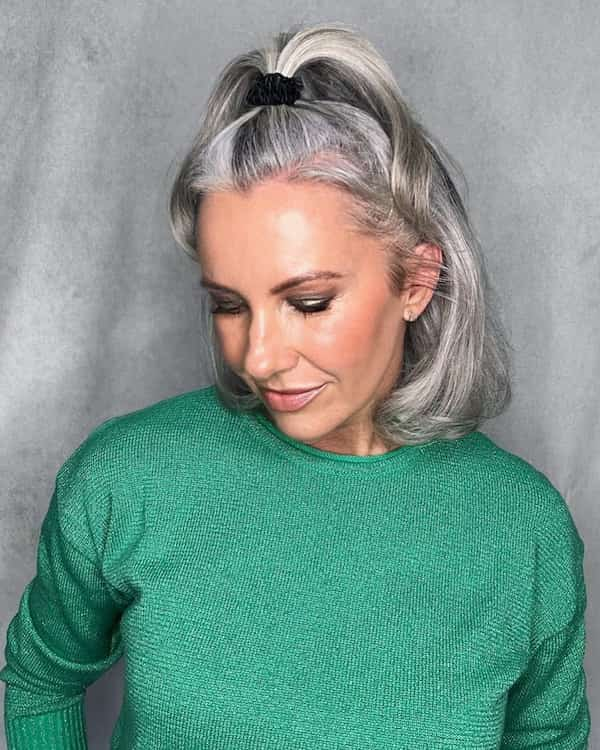 You don't randomly see seniors wearing half-up half-downs unless they're revolutionaries with a kick for unconventional styles like you. And frankly, who would've thought the style would look this good in gray?
4. Neck-Length Gray Curly Haircut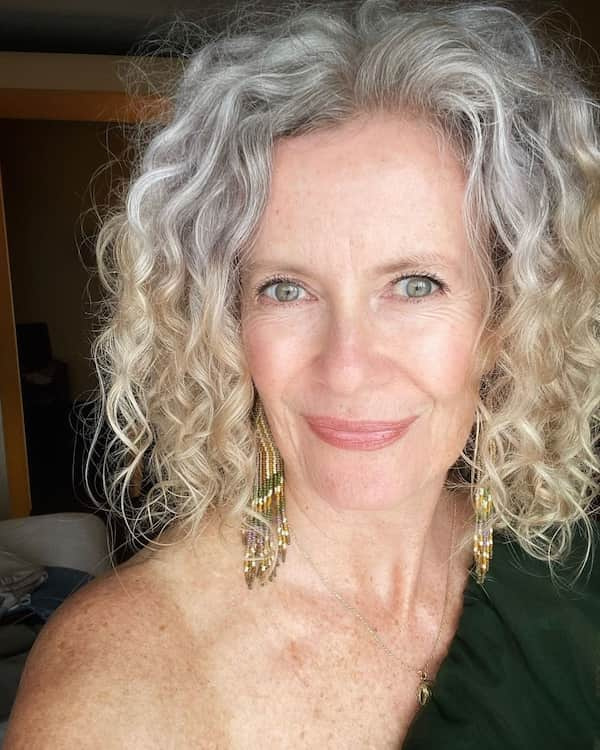 How about this gorgeous curly style with blonde highlights towards the ends? While it looks like something a grandma would get, it's so adorable that I wouldn't mind it either, even in gray.
5. Gray Ponytail with Bangs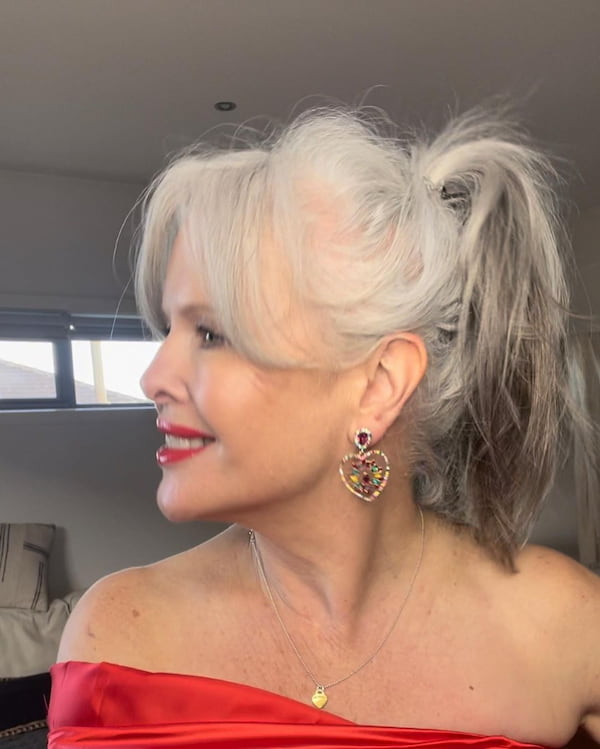 Getting a ponytail with those gigantic bangs is the absolute definition of gorgeous, and I'd argue, youthful. If going gray today meant my hairstyle would always look like this, I'd say bring it on.
6. Short Gray Curled Hair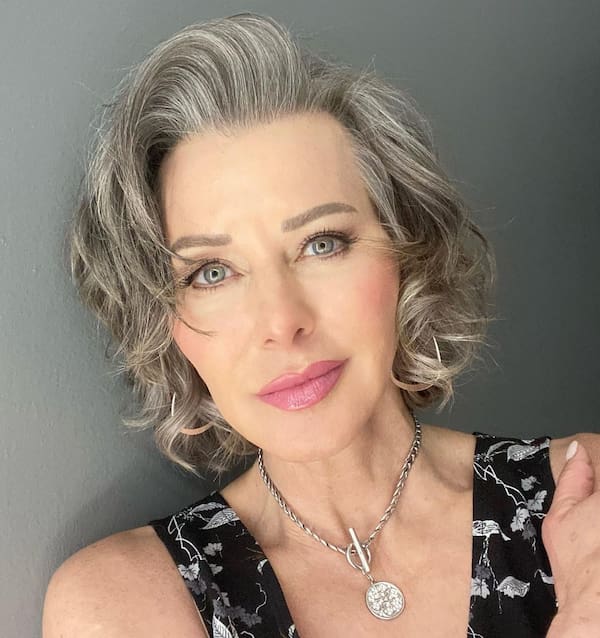 This isn't the most youthful entry on this list, but I can see my young self getting this. The well-defined curls are a beauty, and observing the style from the front makes it look like she's preparing for her wedding.
7. Full Gray Weave for Thin Hair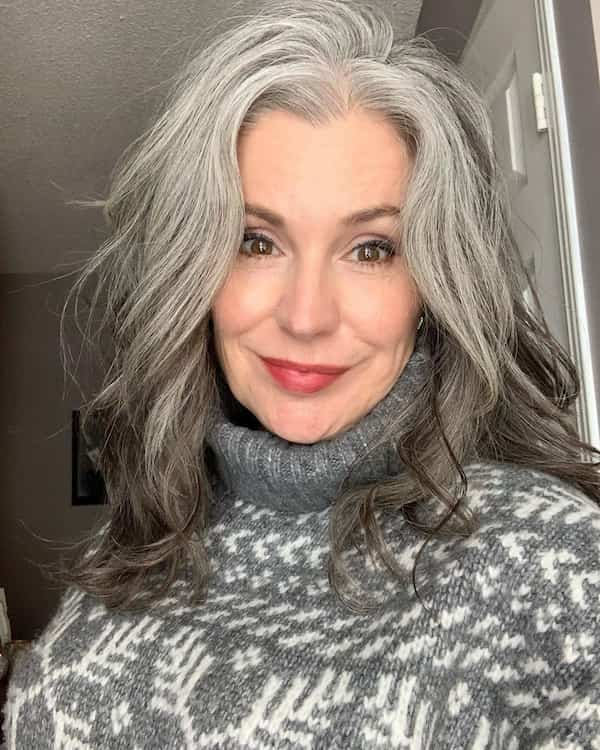 A full weave sounds like something a 28-year-old would use to hide their hair's fineness, but it's not only for the youth. If this model can look this good a full gray weave, we should start debating its youthfulness.
8. Voluminous Gray Hair for Thin Hair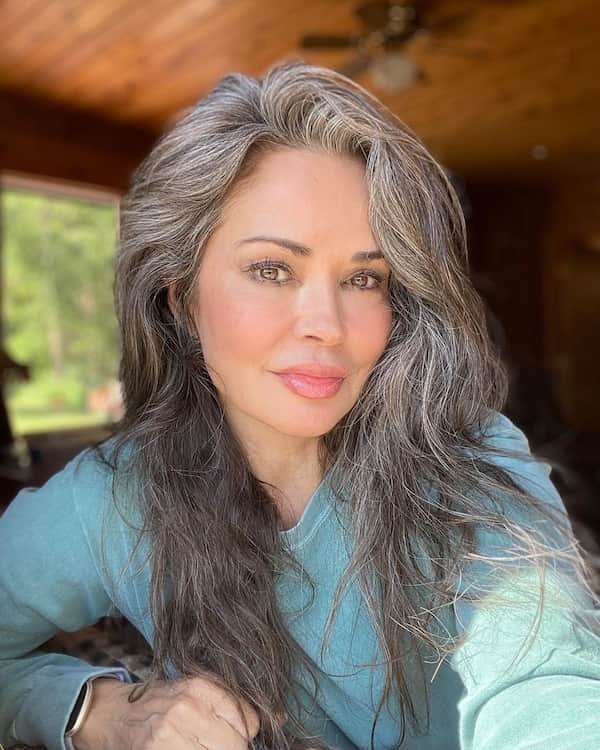 Volume is something most seniors struggle with, but it seems like this model can't relate. If you're anything like her, simply wearing your hair naturally makes you look younger, making it an adorable youthful style.
9. Simple and Scanty Gray Hairdo for Thinner Hair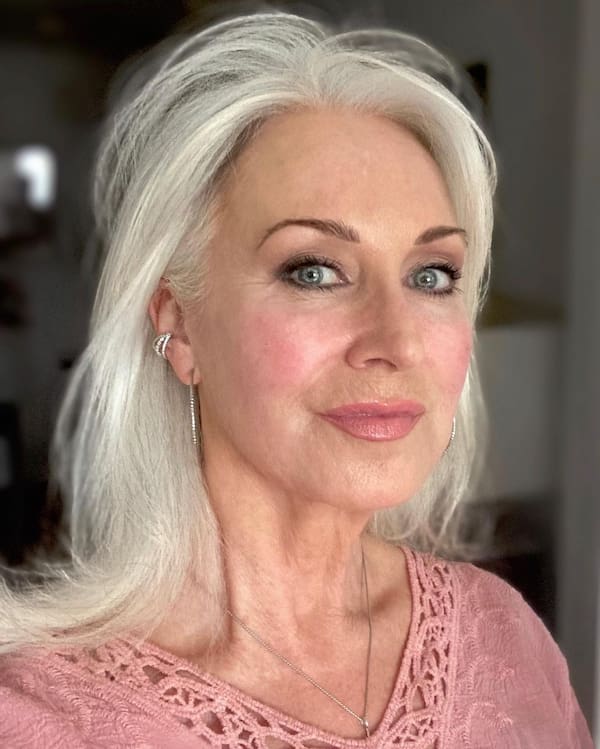 Volume is cool, but not necessary for an adorable hairstyle. Like the preceding idea, this hairstyle has no bells and whistles, and yet it looks uniquely charming in its own way.
10. Short Mohawk Gray Hair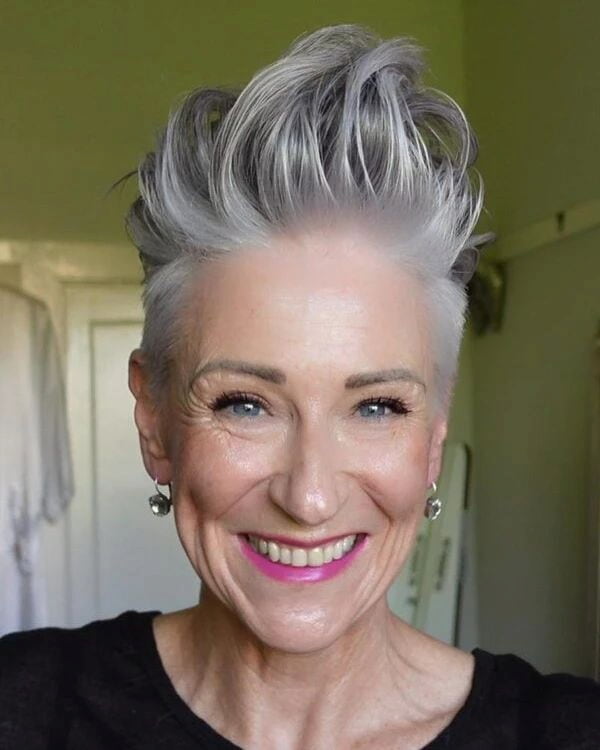 What screams 'youthful' more than this spiky gray endearing Mohawk? I'm nowhere near 50 yet, but I can confirm that the style I currently wear is not nearly as youthful or charming.
11. Center-Parted Medium Length Gray Hair with Curls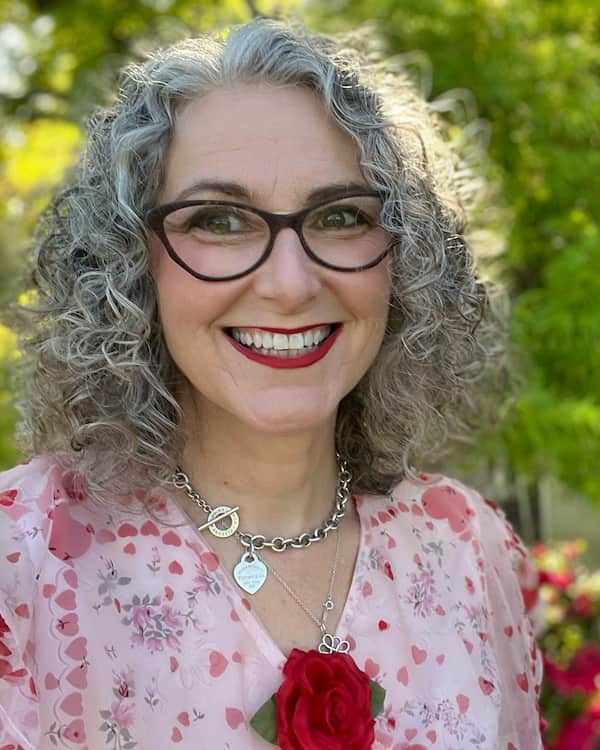 Curls are a smart way to look both adorable and youthful in gray hair, but you can even turn up their allure by adding a center parting. Throw in her wide smile and the cute sunglasses, and you just might find yourself on this list.
12. Barbie Gray Half Up Half Down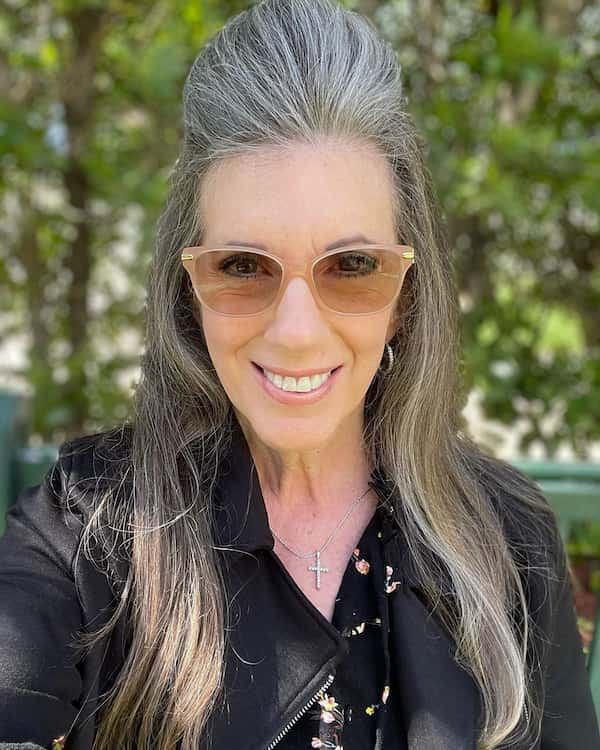 We've seen the promise of a half-up half-down hairstyle earlier, but this easily takes that to the next level. Apart from the length that makes it more youthful, the adorable color blend is another reason you may want to consider this style.
13. Side-Parted Gray Haircut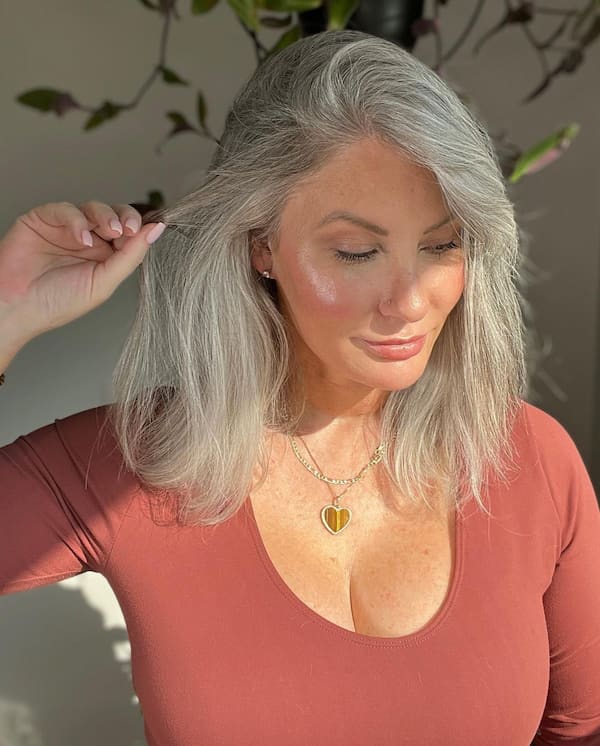 Side-parted hairstyles are crazy popular among the youth now, so it'd be a mistake to not include one in this list. Even with the relatively mature gray, the style still manages to exude plenty of youthful allure.
14. Super Long Thick Gray Haircut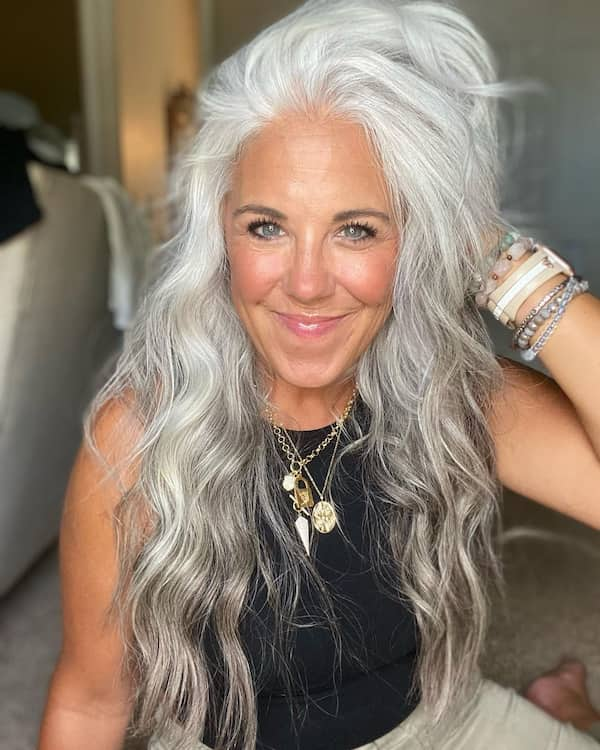 We've seen this before: when your hair is long and thick, you naturally look younger wearing it. If you want some cherries on top, make it wavy and put on a nice smile for the camera.
15. Cute Messy Blow-out Gray Haircut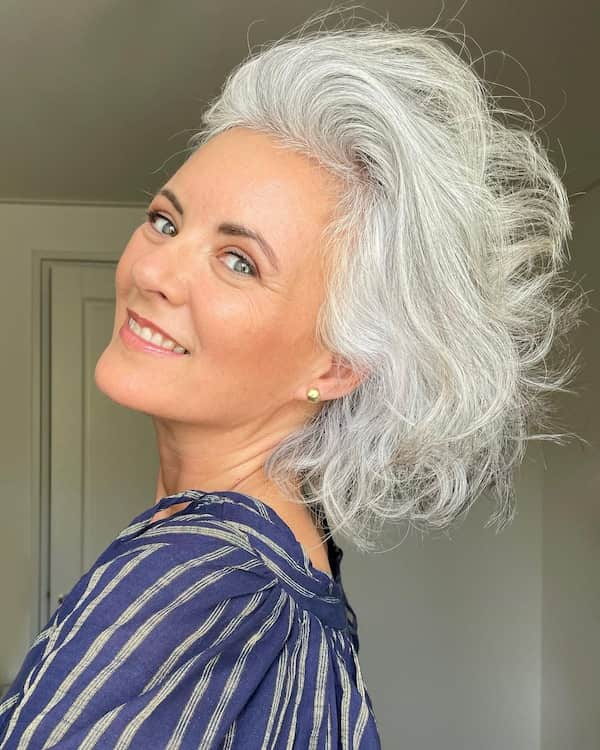 A messy blowout isn't the most common thing you see on older ladies, but it's adorable. This makes you wonder: Why aren't more seniors getting these charming styles?
16. Gray Hair with Layers and Bangs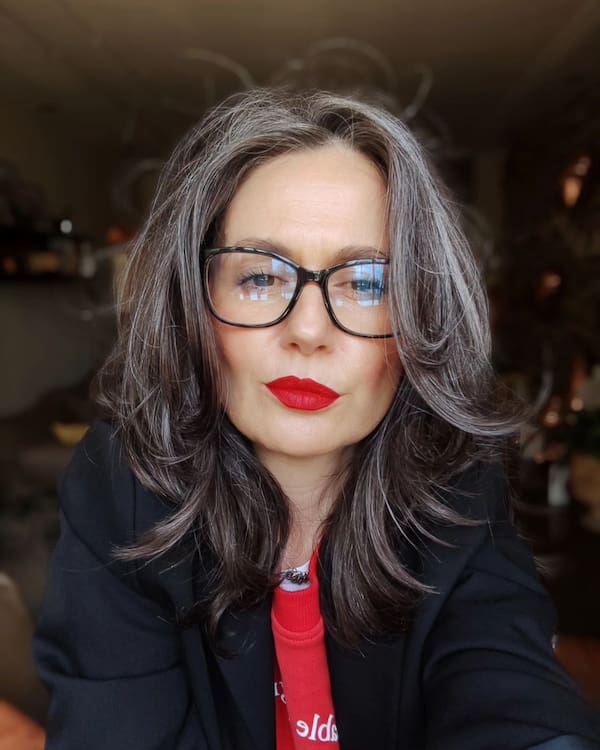 If you're a layers and bangs kind of person, why should that change when you go gray? Even if you've been considering that change, this amazing layered gray haircut with curtain bangs should discourage you.
17. Gray Wolf Cut with Curtain Bangs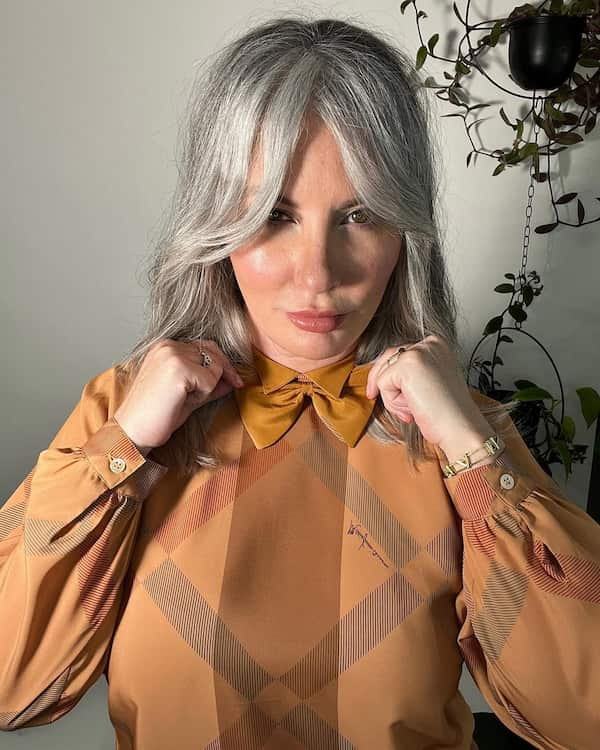 Wolf cuts are also relatively youthful, which is why you need to get the style one of these days. Make sure to add some enticing curtain bangs to make the hairstyle pop.
18. Very Short Gray Pixie Haircut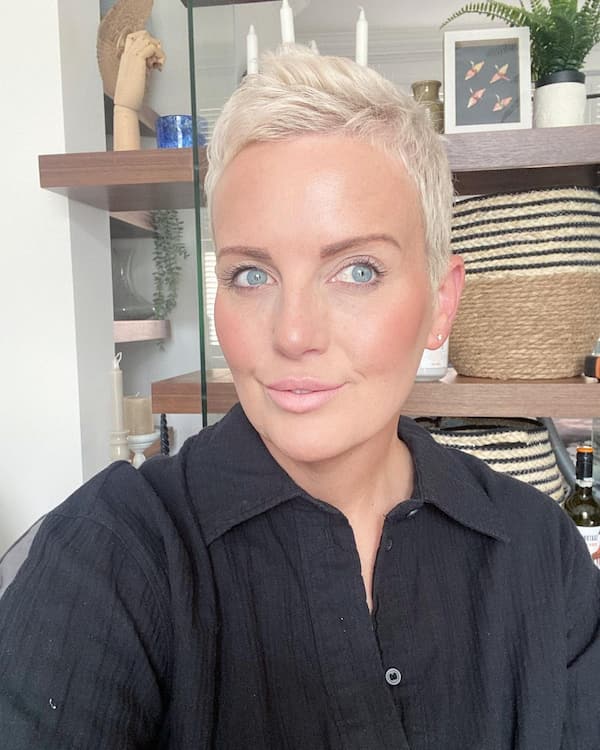 If you're the pixie type, we also have an alluring gray hairstyle idea we think you'll love. Somehow, it looks so perfect that I'm considering cutting my hair and dying it gray to get it.
19. Gray Layered Pixie Haircut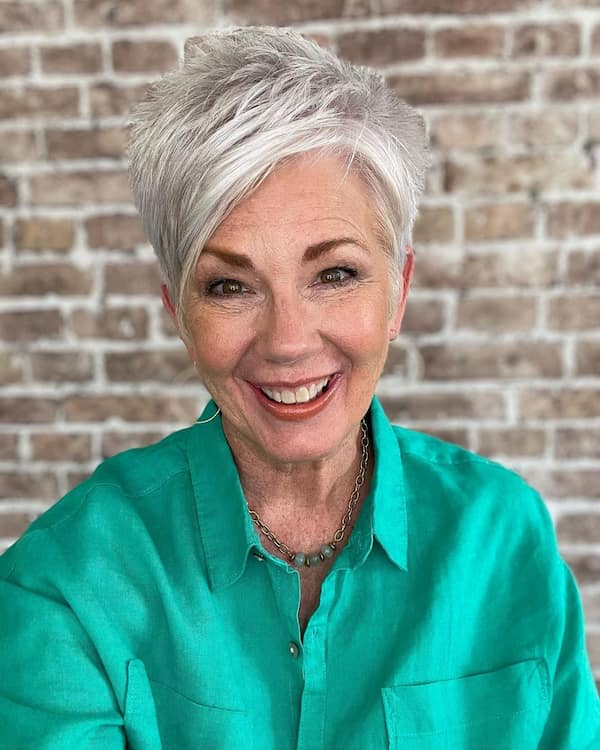 If you prefer to grow your pixies out a bit, this idea should work better for you. With the extra length, however, it would be a shame not to get layers, as that's the secret to this hairstyle's beauty.
20. Long Gray Hair with Curls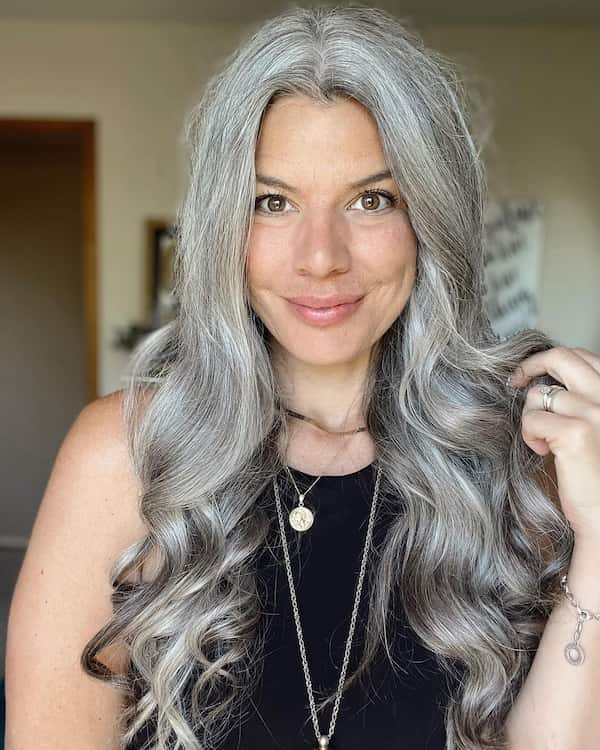 Back from pixies, this long curly hairstyle makes you want to go gray today. However, you should note that growing out your hair this long takes time, but one thing that takes no time is the amazing center parting; what a beauty.
21. Long Gray Bob Haircut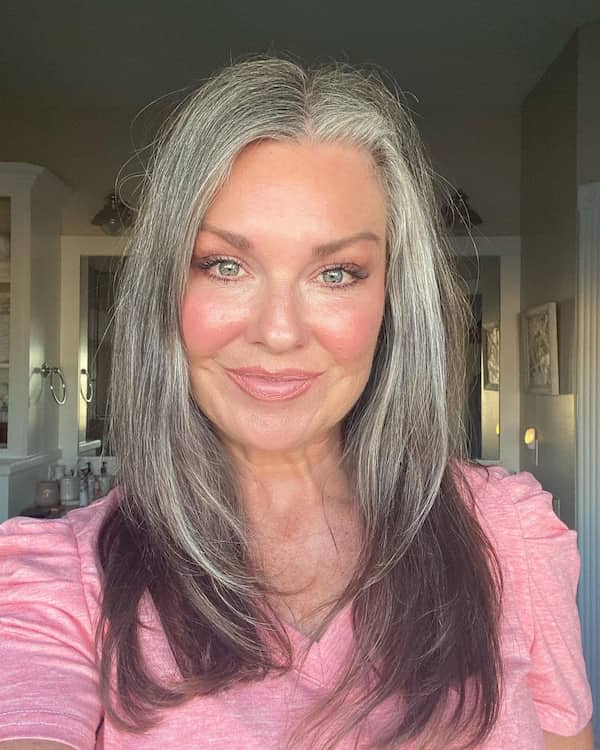 Lobs are the young lady's version of bobs, but our 50-year-old here is rocking it beautifully, and I'm jealous. With that adorable center parting, you can only expect the style to look this good.
22. Medium-Length Gray Haircut with Blow-Out Curls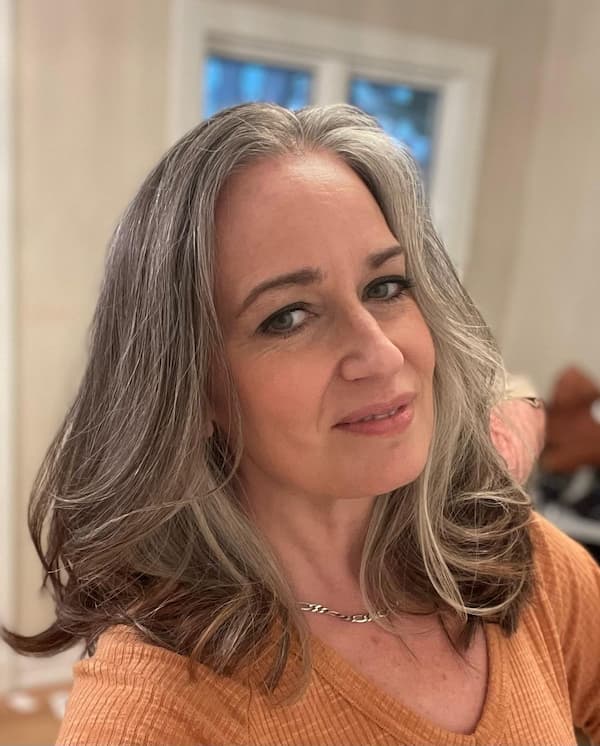 Parting and layers normally characterize youthful hairstyles, but here they are, making our 50-year-old model feel 20 again. With this prettiness, I'd gladly get a replica, even if it means I'm going gray instantly.
23. Short Bleached Curly Permed Hair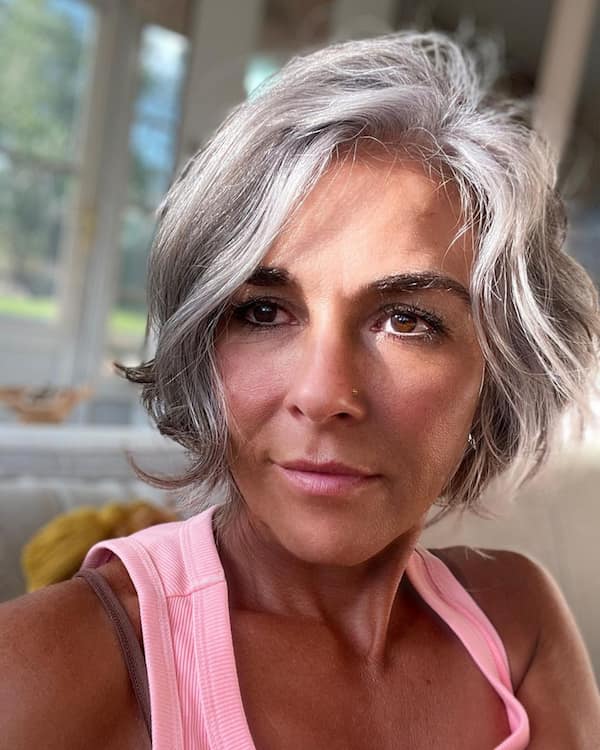 Most ladies over 50 have neither this length nor this volume, but if you're blessed enough to have both, cropping it at medium length and wearing it naturally makes you look like you're going on the cover of Vogue.
24. Chic Fluffy Gray Hair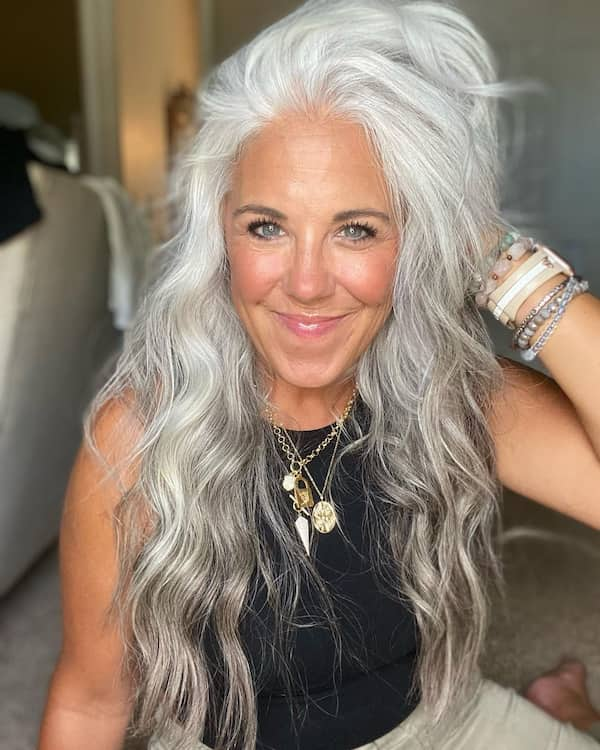 The fluffiness on this model's hair gives away her age, but you still have to respect the length and volume, at her age. Coupled with that brilliant smile, you simply don't get many gray hairstyles this good.
25. Short Gray Hair with Highlights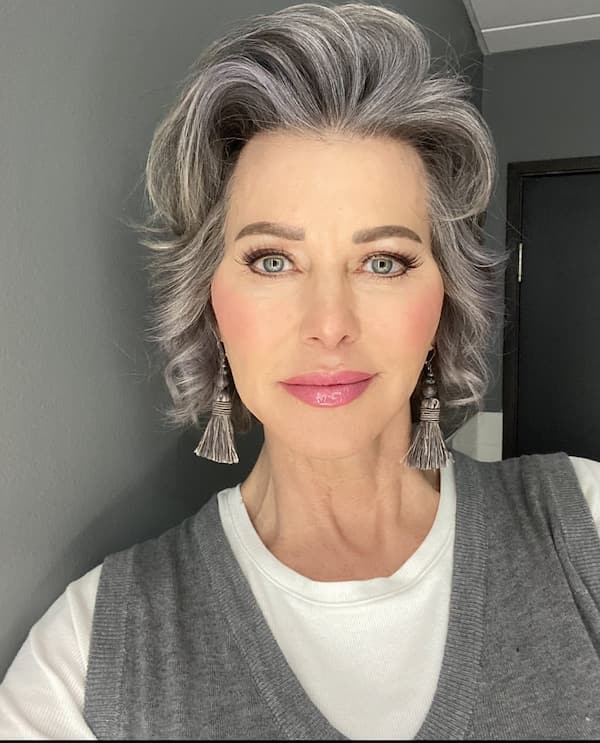 If you don't have the length from the preceding style, you can make your masterpiece from your short hair with highlights. Her budding gray hair seems to create highlights that naturally adorn her black hair, making it significantly prettier.
26. Messy Gray Hair with Dream Waves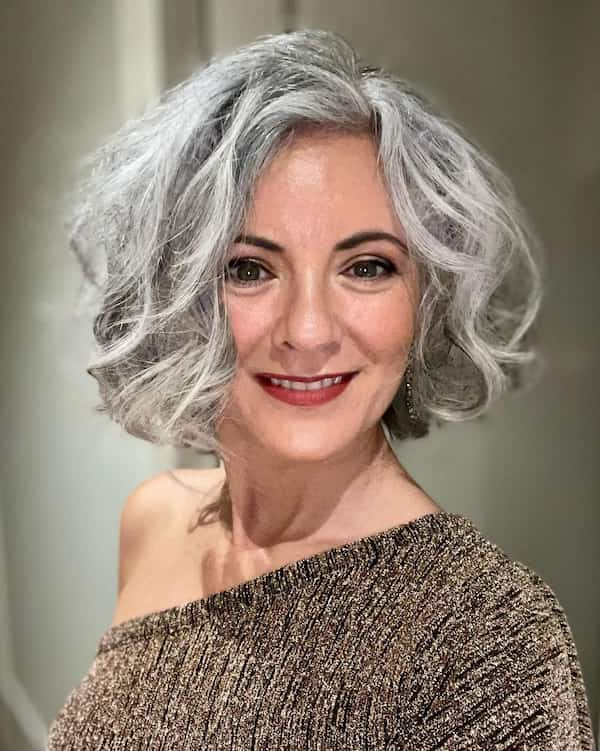 Sometimes, the best way to be 'youthful' is to be messy, and you just have to live with that. If you're getting this bob-like wavy style, there's no escaping a bit of shagginess, if you want to look youthful, that is.
27. Cute Gray and Black Haircut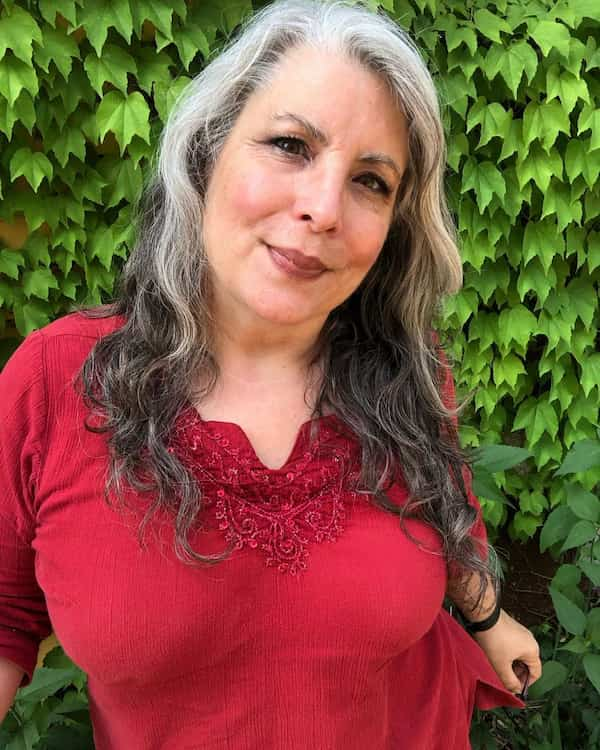 The situation here is simple: She's transitioning to gray, and her gray hair forms an alluring highlight over her younger black locs. It doesn't happen with everyone, but it can for you if you're lucky.
28. Gray French Bob with Fringe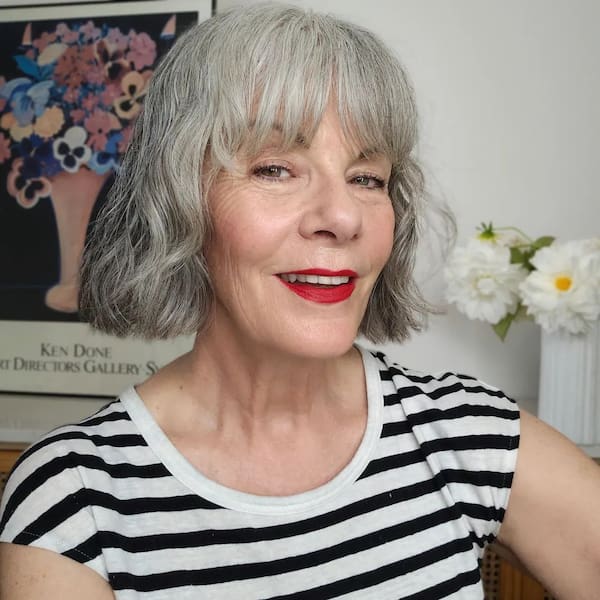 You've most likely gotten a French bob with a full fringe in your younger years; maybe you're remembering it now. The point is: you can get it again, this time on your gray hair, and surely, it'd look amazing.
29. Gray Pixie Barbie Haircut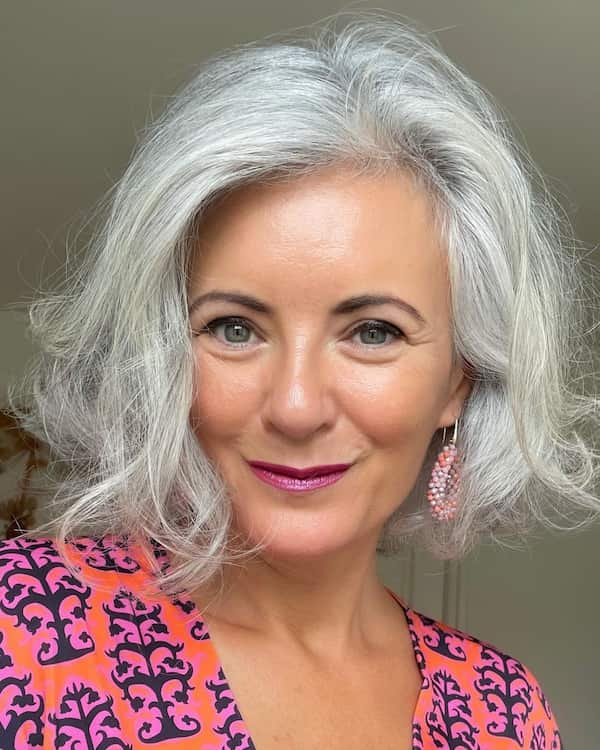 The original Barbie was supposed to be 19, but her hairstyle is timeless. If you're already 50, getting a gray pixie Barbie is a no-brainer; and yes, there are gray-haired Barbie dolls!
30. Classic Gray Hair with Layers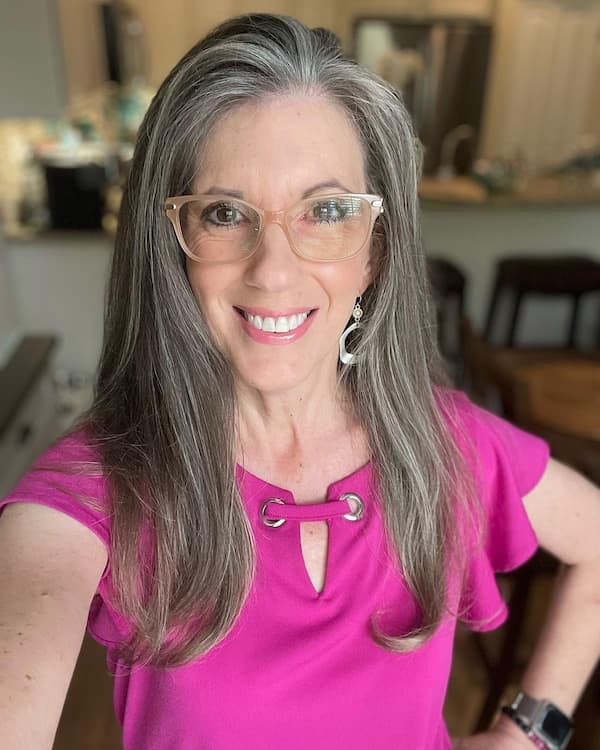 You don't have to be a Barbie for your hairstyle to look good; simple classic layered gray hair can work even more wonders than a fictional style. Just ensure you're putting on a bright smile for the camera.
31. Short Gray Permed Hair
Perming may not be common among seniors, but it surely doesn't mean it's not good for them. I'm not sure it'd look this good on every 50-year-old, but even nearly as good will do.
32. Gray Shoulder-Length Natural Haircut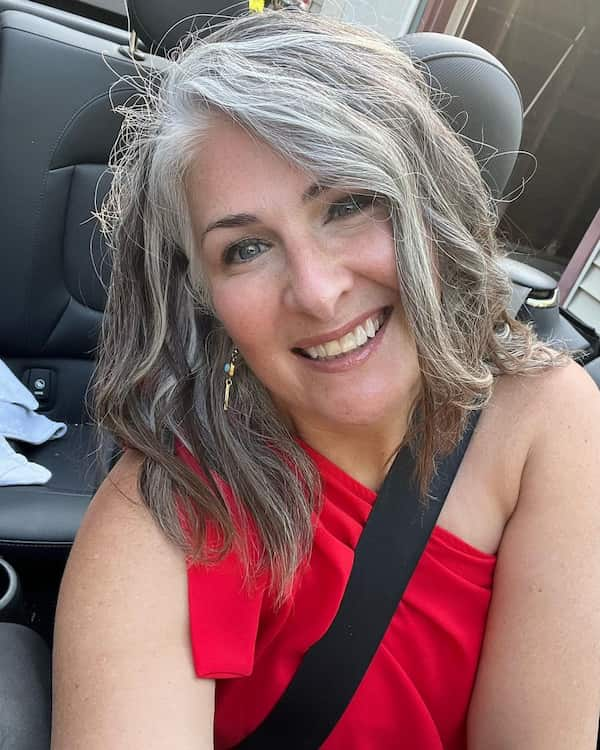 Sometimes, the most youthful way to wear your hair is just leaving it to flow. Not caring much is a young people thing, and if you're anything like this model, that might just work for you.
33. Chic Layered Gray Hair with Highlights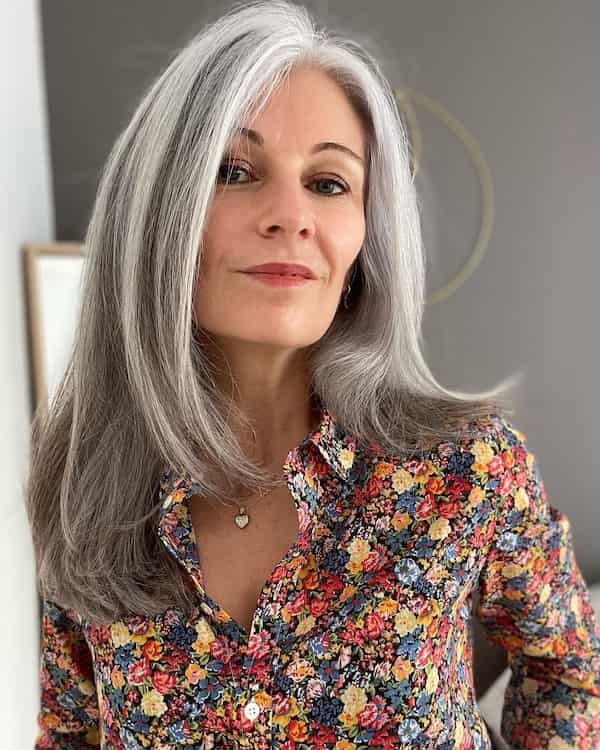 I'm not sure how she managed to pull this off, but it seems like nature is her personal hairdresser. All she had to do here was let it flow, and flow, it did.
34. Short Gray Bob with Bangs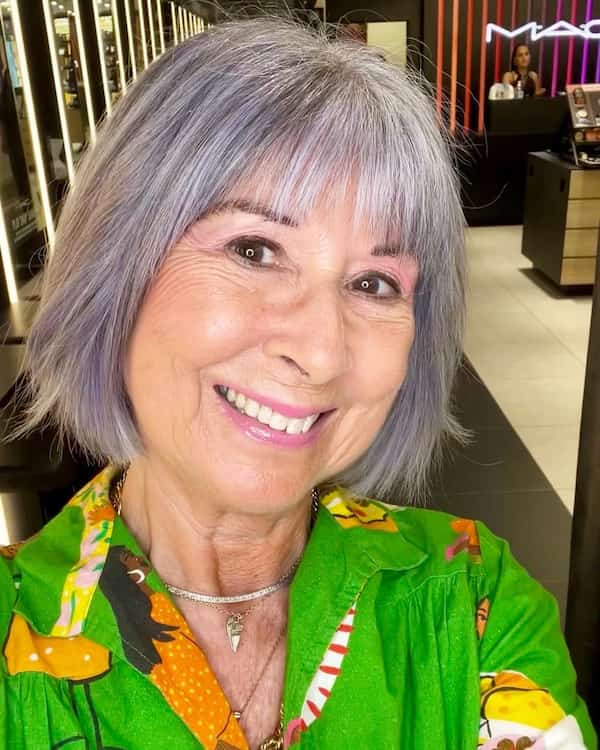 Short bobs with a full fringe is a classic that never wants to go away, and it shouldn't. Why would anyone want something this adorable to simply disappear; I mean, see how charming it looks in gray.
35. Classic Brushed Back Gray Hair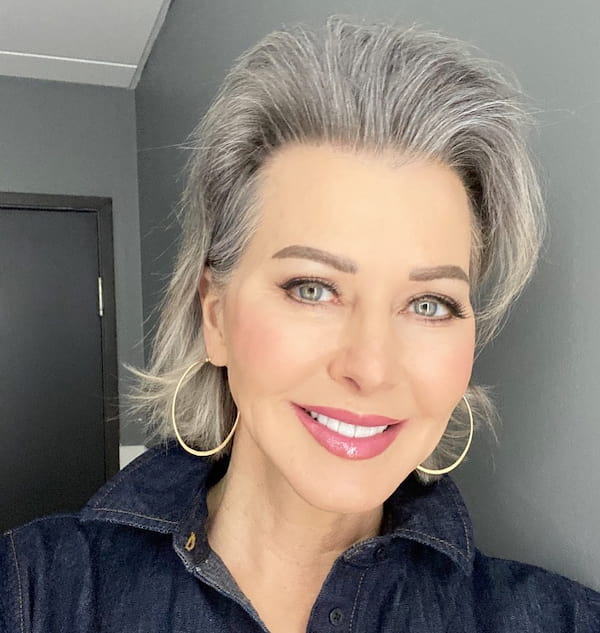 The brushed-back style is a classic for ladies of all age groups, but here's proof that it works for ladies over 50 with gray hair. It's not the most youthful style on this list, but who cares when it looks this beautiful?
36. Gray Curly Hair for Thin Hair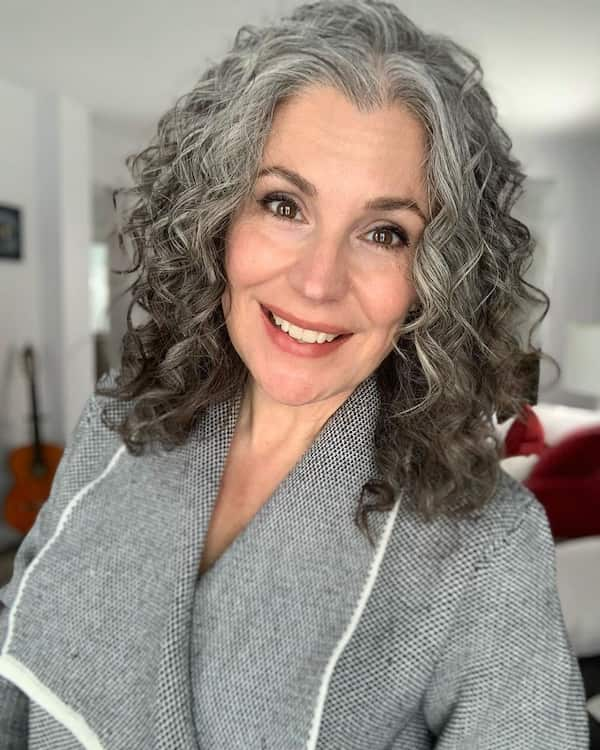 Thinning is natural as you age, but you can't afford to put it on full display if you're after a youthful look. An adorable way to hide it is by curling your hair, and as you can see here, it works.
37. Gray Cropped Pixie Haircut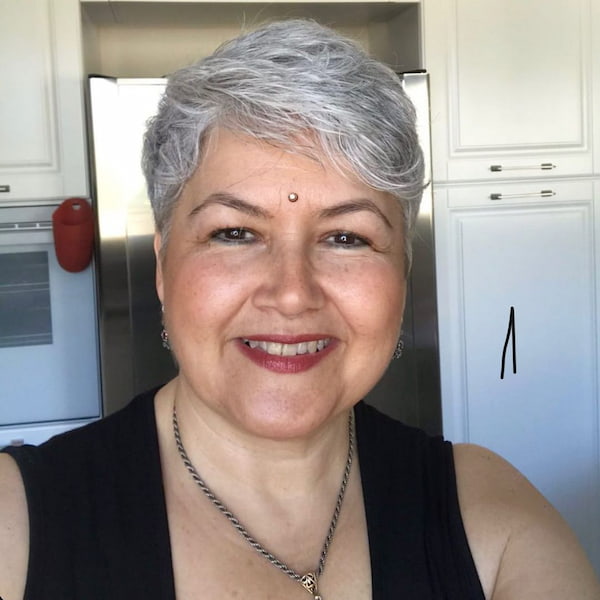 Pixies seem to work everywhere, and on everyone, regardless of age or hair color. If you're finding it hard to choose something that'll fit your peculiarities, just get this pixie.
38. Gray All Back Wolf Haircut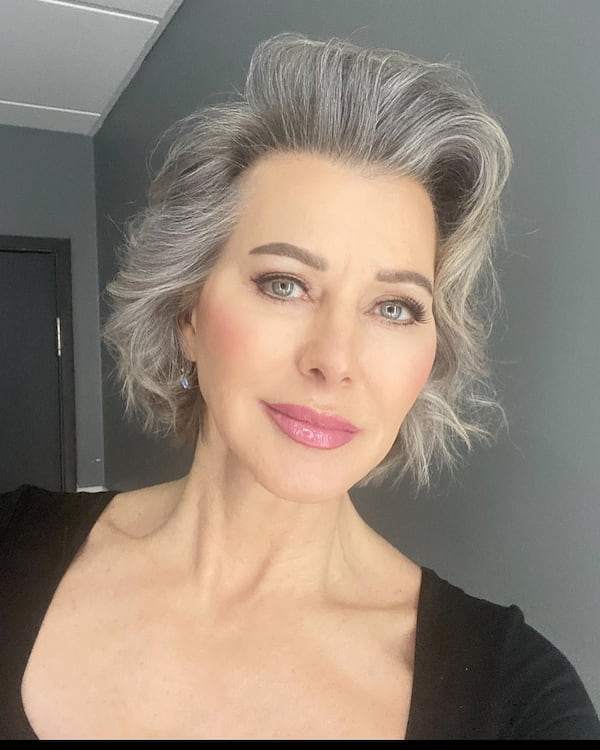 We've seen a similar hairstyle earlier, and this one looks every bit just as good. However, the wolf cut here makes it somewhat more radical, and subsequently more youthful.
39. Voluminous Long Gray Haircut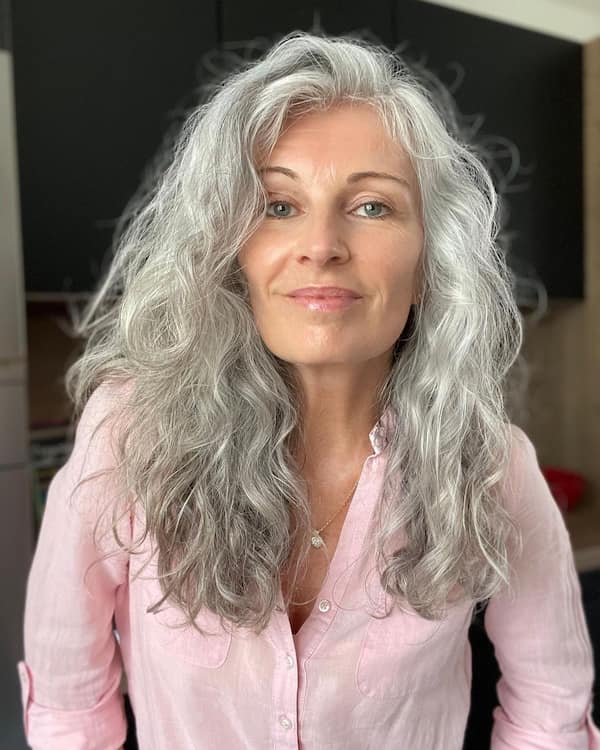 As I've hinted earlier, simply wearing a voluminous lengthy hairstyle makes you look youthful and adorable, even without any bells or whistles. Now, when you add a side parting and beachy waves, you're just looking to become a model.
40. Chic Gray Hair for Women with Glasses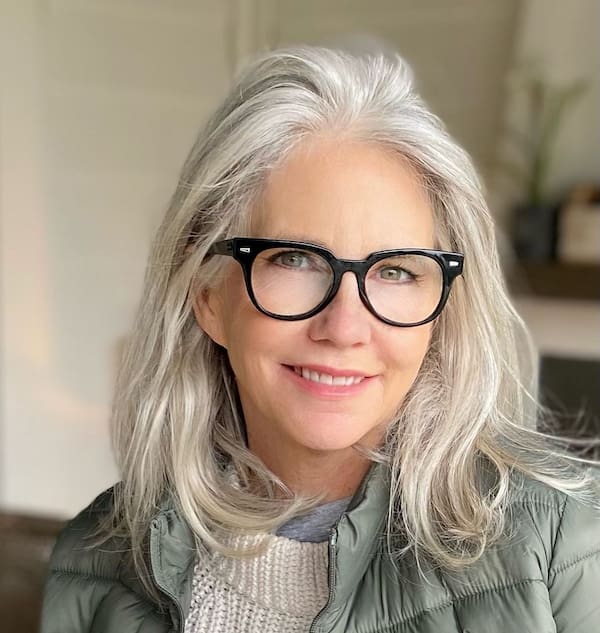 If you're after an adorable hairstyle to go with your glasses, you can never go wrong with this idea. The slightly messy texture makes it chic yet shaggy, giving it a nerdy look that works excellently with the glasses.
41. Mixed-Tone Thick Gray Hairdo
You can see the pattern I noted earlier in this style: voluminous and lengthy. Those two qualities already make it naturally elegant, but the mixed-tone look and the wavy texture only add cherries on top.
42. Short Blow Out Gray Haircut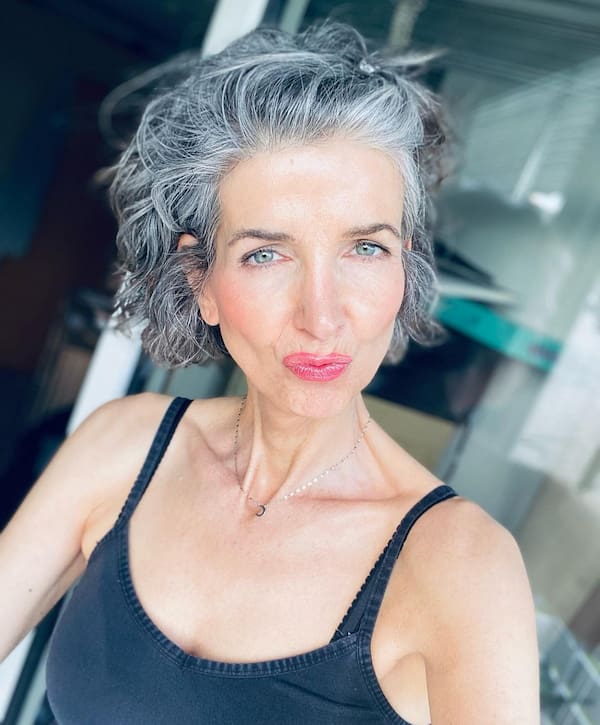 Your blowout doesn't have to be long, as you can see in this recommendation; this short one will do. While the gray does make the style look aged, its foundation clearly shows as a youthful one.
43. Cute Super Long Gray Hair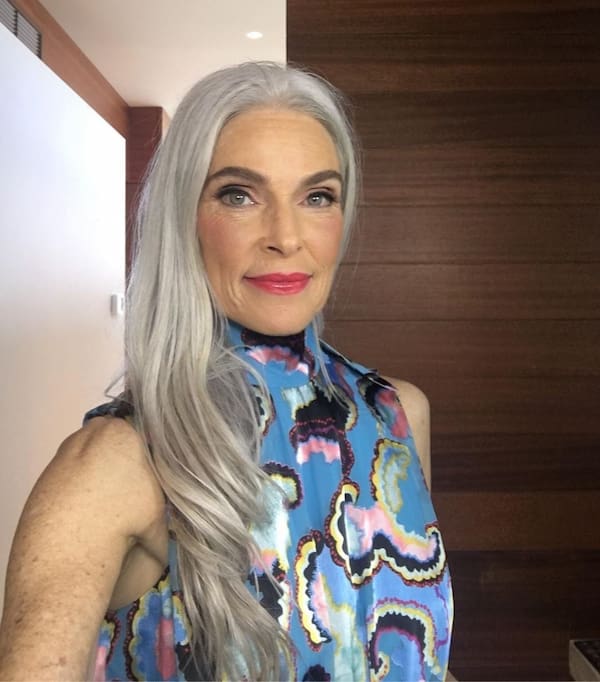 I'm wondering how people manage to retain this much length at 50 when much younger ladies struggle to do the same. However, length is only part of what makes this hairstyle great; you can also notice how sleek it looks, and that plays a role too.
44. Statement Short Curly Gray Haircut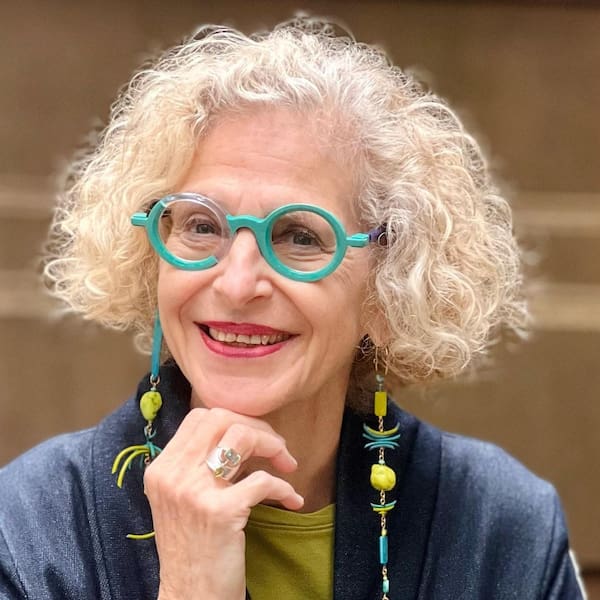 The blonde-gray color of this hairstyle is a statement on its own, not to talk of its captivating structure and the model's befitting smile. It's easily one of the most adorable youthful gray hairstyles for those over 50.
45. Short Gray Bob with Baby Bangs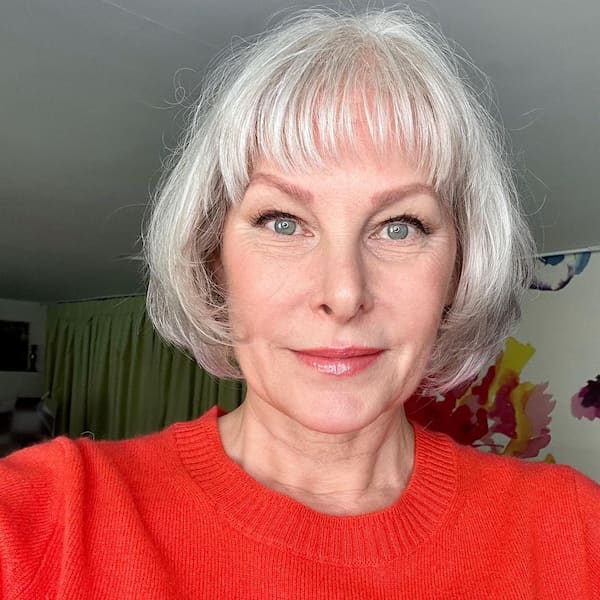 We've seen this template before, and it never fails to make heads spin. Last time, it was a French bob with curtain bangs, but now, it's a regular bob with baby bangs, but they both look adorable nonetheless.
46. Long Gray Haircut with HeadBand
The headband is a recurring fashion statement these days, and there's no better way to show you still have it in you than by adorning your style with a headband; plus, it looks adorable too.
47. Blonde and Gray Curly Hair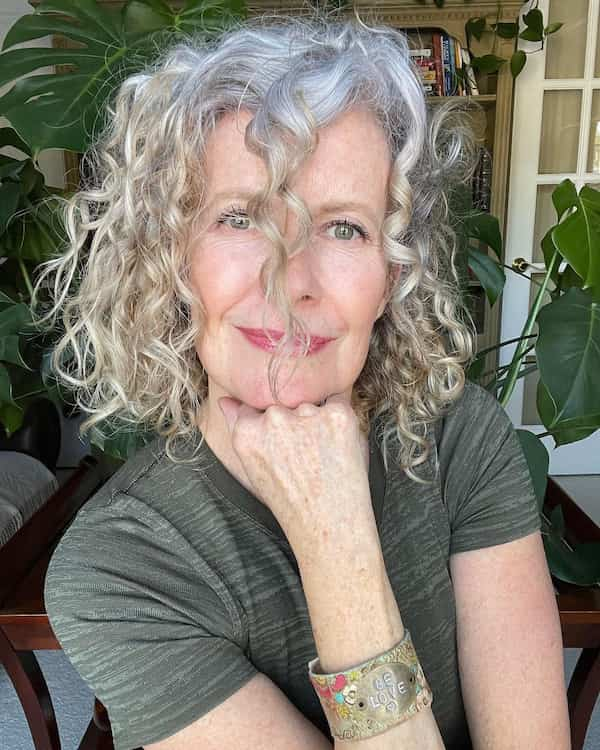 Blonde and gray is a fun color combination for blondes looking to transition to gray. With this style specifically, you get to keep a significant portion of your blonde while showing you have a gray commitment. It's beautiful.
48. Simple Neck-Line Gray Hair with Bangs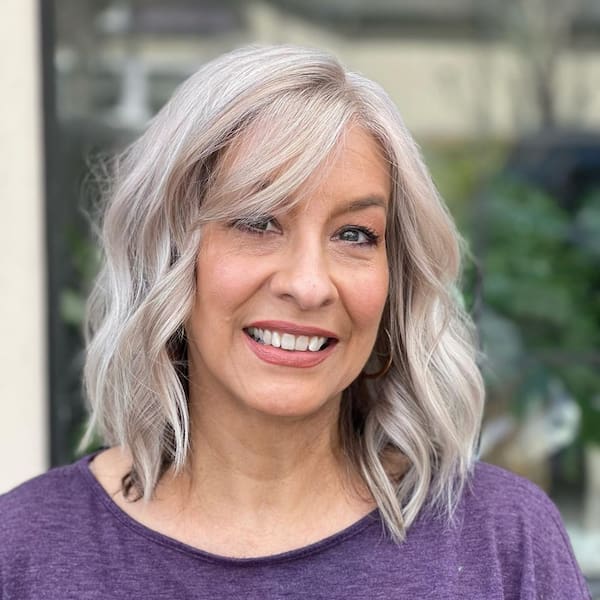 This layered hairstyle looks incredibly simple, but its simplicity is exactly its source of elegance. The half bang is an adorable cherry on top, and her subtle smile makes the entire package pop.
49. Cute Gray Lob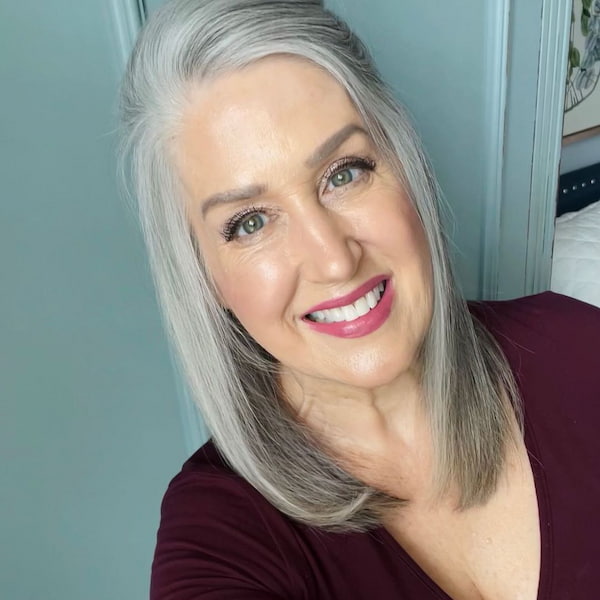 Short bobs are good, but if I had to choose between any short bob in this list and this lob, I'd definitely go for this. I'm also pretty sure I'm not the only one willing to sacrifice my hair color if it means my gray would look this great.
50. Classic Long Gray Bob Haircut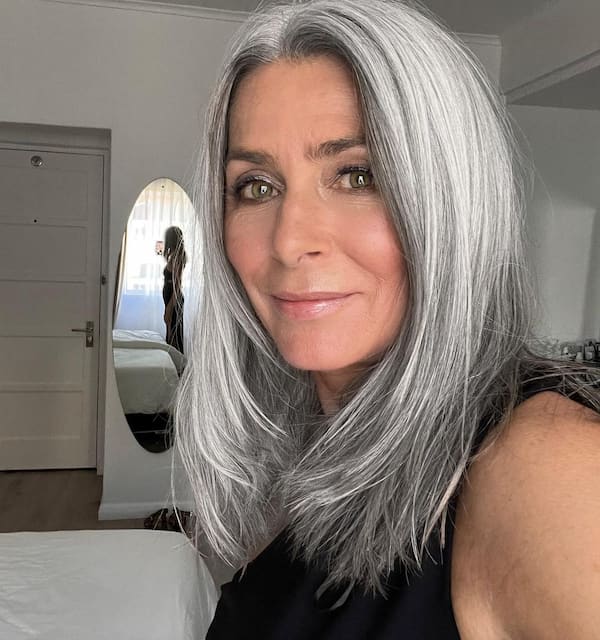 While this lob isn't as elegant as the preceding one, not every hairstyle will be 10/10. However, we can all agree it's amazing as it is, especially for a gray hairstyle.
Conclusion
Going gray shouldn't stop you from getting your favorite youthful hairstyles. This compilation walks you through 50 charming youthful gray hairstyles, all for ladies over 50. If that doesn't inspire you to get a Mohawk, I don't know what will.
If the hairstyles above seem adorable to you, then you'll also love the following recommendations.
Pin for Later.