What will you give me in return if I show you the top hair loss product for women over 40? Well, thanks I don't need anything, I am here just to help.
Aging ladies have become so used to ineffective hair loss products that most people don't seem to care anymore. And it's equally hard to ignore the natural hair loss that comes along with aging.
Unfortunately, the hair care industry is flooded with too many ineffective hair care products. That's to say that, If you're having zero improvements with the products you use on your hair, you're most likely using the wrong products or it does not work at all.
Please note that this article contains affiliate links. Please see my full disclosure at the bottom of the page.
So in this article, I'll outline some of the top hair loss products for women over the age of 40, and for sure these products work.
But first, there are a few key things I'll love you to know. However, if you're in hurry, Click here to see the products.
Now let's get started.
Why Do Women's Hair Fall Out?
When you start approaching your ruby jubilee, you start to notice some mostly detestable changes with your hair. One of these changes is accelerated hair fall until your hair loses almost all of its bounciness and sheen. While hair fall is typical for ladies, it's infuriating when you know that your inevitable age increase is the sole cause.
When your hair starts falling after you turn 40, you should know it's a natural part of growing. This response can be heightened by the genetics that determines your hair growth. If most of your close relations lose most of their hair with age, you should expect something similar.
Another notable reason why your hair might be falling out is due to the increased use of medications. Most people develop health complications that require treatment with medicine as they age. However, most of these medications have been proven to limit hair growth or even cause hair loss.
If you use medications for health conditions like blood pressure and depression, you should discuss the possible side effects with your doctor. If it includes hair fall, you may ask your doctor to recommend alternatives without this effect.
Why Is My Hair Thinning in My 40s?
Most of the changes to your hair as you age aren't positive changes. While hair loss is the most prevalent effect of aging, another effect that most people ignore is hair thinning, which is equally as important.
The primary causes of hair thinning in older women are a mix of both natural and unnatural factors. After menopause, most hormones that stimulate hair follicles to grow new hair start to retire. In addition to that, your pigment cells will stop producing enough pigment to color your hair.
In a bid to keep looking young, most women turn to unnatural dyeing methods to recolor their hair. While hair dying works, it also introduces chemicals that cause lasting effects to your already tender hair.
Your hair thinning as you age is a normal response to some natural changes to your body. While you can reverse it using specific hair care products, most hair products are ineffective for reversing the effects of aging.
To prevent you from buying products that are just an elaborate waste of money, we decided to research and pick the best according to real-life reviews.
The following section will list some of the best hair loss products for women over 40 years old.
So,
What are the Best Products for Female Hair Loss?
While you may not trust hair loss products due to negative experiences with some, they're still your best bet for getting your lost hair back. Eating well and going gentle on your hair can only do so much to help grow back your falling hair.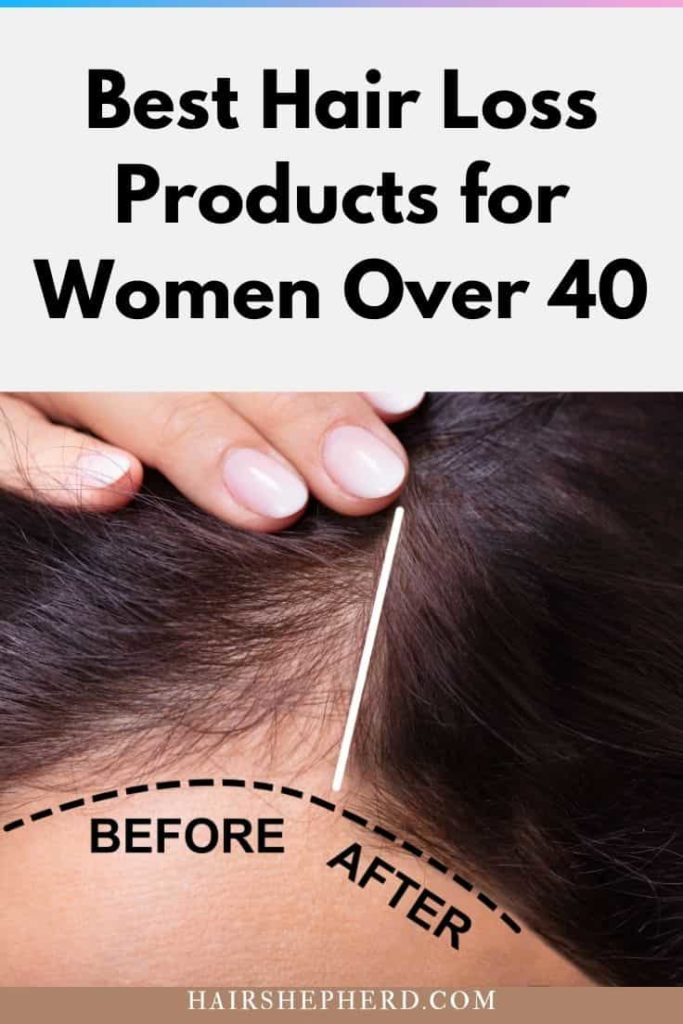 Top Hair Loss Products for Women Over 40
Since it's evident that not all hair products work, here are some of the top hair loss products for women over 40 that work.
1. Happy Head Customized Topical Finasteride + Minodixil for Hair Loss
As explained earlier in this article, there are a variety of reasons why older women experience hair loss. However, most hair loss products for women only focus on specific hair loss causes, making them ineffective for most ladies.
To combat this, Happy Head is taking a different approach to hair loss products. Instead of selling prepared hair loss products designed for everyone, why not know of the specific causes of yours and prepare a custom solution just for you?
This is exactly what kind of product Happy Head sells. Before getting the product at all, you'll get a free consultation with a dermatologist that will customize a bottle of Happy Head specifically for you. For $79 a month, you'll continue using this product every month until you have your full tresses back.
OMG! I almost forgot to tell you this. Do you know you can get a 50% discount your first month with on Happy Head Products and Services with "GOHAIR" as discount code?
Sound enticing right? Let's go!!
Made from safe constituents like minoxidil, retinoic acid, hydrocortisone, and topical finasteride, you have nothing to worry about with Happy Head. The product comes in a 60 ml bottle that lasts for a month, after which you'll need to buy another to continue using the product.
As long as you're paying the $79 monthly fee for Happy Head, you'll continue to get shipments of the product and unrestricted access to a qualified dermatologist. If you're looking for a comprehensive hair growth solution that's guaranteed to work, you should consider trying out Happy Head.
2. Women's Rogaine 5% Unscented Minodixil Foam
If Happy Head's offering doesn't sound enticing to you, this product is the only thing that comes close. While it works to cure female pattern baldness on some older women, it's not custom to every user, making its success rate a lot lower than Happy Head's.
One of the reasons why you should consider this Rogaine treatment is the confident guarantee policy. According to the manufacturer, you qualify for a full refund if you use the product consistently for 130 days without seeing satisfactory results.
Judging by the attractive guarantee, you can already tell that Rogaine includes fast-acting chemicals. In addition to restoring the original look of your hair locks, the product also helps to get longer fingernails and better eyebrow density. However, these fast-acting chemicals aren't with their numerous disadvantages.
Before using Women's Rogaine on your brittle hair, it's crucial to confirm that you don't have any allergic reactions to it. Reading through the unfavorable reviews of the product, you'll notice that the effects of allergic reactions to the product range from irritation to increased hair loss.
3. Keeps
Keeps is the closest thing to Happy Head when it comes to hair loss products for women over 40. It offers a subscription plan that gets you a customizable product that contains minoxidil and finasteride. Unlike Happy Head, however, buying a Keeps subscription doesn't give you access to a dermatologist.
When trying to get a Keeps subscription, you'll need to fill out a questionnaire detailing the specifics of your hair care journey. A doctor from Keeps will recommend your answers and suggest an appropriate treatment for you.
Keeps offer its products in many different forms, including tablets and hair foams. Your monthly subscription fee depends on what products you're using, and it's typically more expensive than you'll get at Happy Head.
Apart from claims that canceling the recurring payments for the monthly subscription can be difficult, there aren't many bad things to say about Keeps. Before using products from Keeps, you should consider having a dermatologist confirm that you can take them safely.
4. Keranique Hair Regrowth Treatment for Women
Unlike most other options on this list, Keranique is a simple hair restoration treatment that you can get over the counter easily. It comes with a sprayer that lets you distribute the minoxidil-based product to the affected areas of your hair.
Judging by buyer reviews, Keranique Hair Regrowth Treatment should be one of the best hair care treatments. Just like most other products on this list, you're only to apply it twice every day to determine if it will work for you.
5. Profollica
If you're experiencing more hair thinning than hair loss, Profollica might be the hair loss product you've been looking for. Designed to reverse hair thinning due to the presence of dihydrotestosterone, it's one of the best in what it does.
While this product primarily reverses hair loss, it's also capable of accelerating regrowth, thanks to the presence of certain ingredients. Since Profollica is a gender-neutral solution, it qualifies as one of the best hair loss products for women over 40.
Like few other products on this list, Profollica offers a hard-to-ignore guarantee. If you don't see significant improvements after using the product for 67 days, you can return it for a full refund, no questions asked.
6. Har Vokse
Har Vokse is undoubtedly one of the best hair loss products available as an oral supplement. The ingredients used in this supplement stimulate your follicles, allowing for optimal hair growth after 40.
According to the manufacturer, Har Vokse starts by strengthening and protecting the existing hair follicles before working to ensure that your hair looks its best. This product is said to work on most ladies' hair, but its non-customizability leaves that claim up for debate.
According to the manufacturer, you're eligible for a full refund if you don't notice significant hair growth after using the product consistently for two months.
7. Nutrafol
Nutrafol is another hair care product that works to reverse the damaging effects of aging on your hair. While the product has overwhelmingly positive reviews, it wouldn't be your choice if you're looking for a quick solution.
The manufacturers quoted consistent use for six months to have your hair back to its formal glory. With most other hair care products promising a refund if they don't regrow your hair in 60 days, Nutrafol's offering pales in comparison.
Even with the seemingly dull promises, Nutrafol remains one of the most popular hair care products on the market for a reason. Unlike most other products in this list, the product manufacturers prioritize health over hair growth, leading to their decision to go all-natural.
While you don't get any money-back guarantees, you can use Nutrafol, be rest assured that you won't be dealing with a worse hair issue a few months later.
Is it Possible to Regrow Hair After 40?
Depending on the specific cause for your hair loss, it's usually possible to regrow hair after falling due to age. While hair loss is a natural part of aging, not everyone fancies the idea of experiencing hair fall because of increasing age.
The best place to start with restoring your lost hair due to age is being gentler to the hair. It's already pretty clear that your hair becomes weaker as you age, and your hair starts to punish you more for being rough with it.
You can start by using wide-toothed combs when detangling your hair and never detangling your hair wet. While you should adhere to these hair care tips before 40, you'll see the effects of disobeying them more as you become older and your hair gets weaker.
Then, you may want to eat nutritional food that is also proven to help with hair growth. As unbelievable as it may sound, what you eat directly influences your hair growth, necessitating a meeting with your nutritionist to determine the best diet for your hair.
After these, every other recommendation about getting to regrow your hair after 40 will have something to do with a specific hair care product. From volume-enhancing products to moisture-rich products, the best selection of hair loss products will restore your hair to its former glory.
However, it's hard to argue against the abundance of ineffective products in the hair care market. This post will single out some hair loss products that will reverse hair loss due to age in most ladies.
Conclusion
If you're looking for a stress-free way to grow your hair to its best potential, Happy Head is your best option. Buying into the $79 monthly hair loss product gives you free access to a dermatologist to help you through the hair regrowth process.
If you've decided not to go with the best option on this list, however, the alternatives are also good options. From subscription services like Keeps to oral supplements like Har Vokse, there are just so many good hair loss products for women over 40.
I hope you enjoy and find this post on hair loss products for women over 40 hair helpful?
Here are some other posts you might find helpful;
And if you got questions or feedback, do not hesitate to let me know by leaving a comment below right now.
Pin for Later.