I came across someone who used Virgin Hair Fertilizer religiously for 454 days, and the results are mindblowing. At this point, pretty much anyone who cares about their hair knows about this hair care product, but how good is it, really?
I came across this product several years ago, but the first time I saw it was in early 2019. Since I'm used to similar hair products that turn out to be fake, Virgin Hair Fertilizer didn't initially catch my attention, until I started coming across rave reviews of this product online.
If there are so many people speaking positively of this hair care product, then it must be excellent, right? Well, in this post, we'll find out how legitimate the company's marketing claims are, and most importantly, if you should use it on your hair.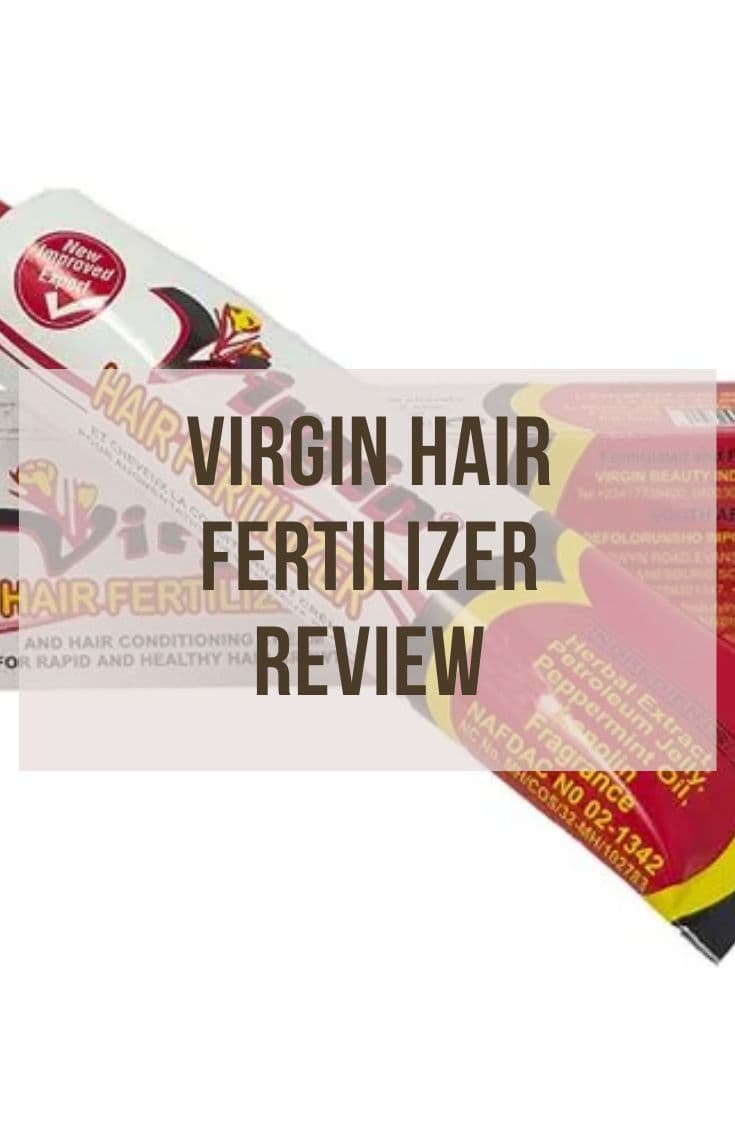 Before I continue, you should know that that this isn't a sponsored post.
I saw the results some ladies shared on a natural hair Facebook group, dashed into their inbox for proper verification, and boom; this blog post was born.
Quick Bites:
Virgin Hair Fertilizer Results On Hair Growth After 454 Days
How it all started:
I was busy scrolling through my Facebook feed and saw a post in one of the natural hair Facebook groups I joined last year. The author wrote:
My hair is a year and three months
Let me tell you a story. When I started ,I wanted growth over night and watched videos of you tubers whose hair touch their butts ,I was so impatient and tried everything without even knowing the porosity of my hair or what my hair needed or hated ….I spent a lot on natural hair products. Bottom line I don't use coconut oil cause my hair hates it or castor ,jojoba,olive ,almond ,lavender oil …..I use just virgin hair fertilizer (#ad) with 3 tbs of patience and consistency every week
Wow! Just virgin hair fertilizer? Yeah, only the cream and a regular daily and weekly hair routine. Isn't this jaw-dropping?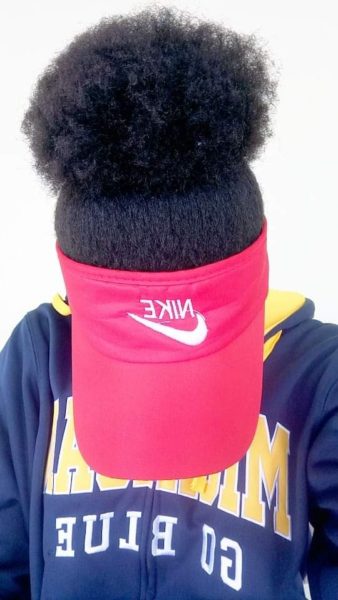 NOTE: Tbs means tablespoons.
Do you want to see more results from another lady that used it?
The second lady shared:
The secrets to hair growth is patience and good hair care ✌✌✌.My 2 years 1 month hair,am hairy from my dad so it's in my gene,I use We Naturals hemp oil set and virgin hair fertilizer (#ad), you can get them on Facebook by searching with their names,thank you ????????????.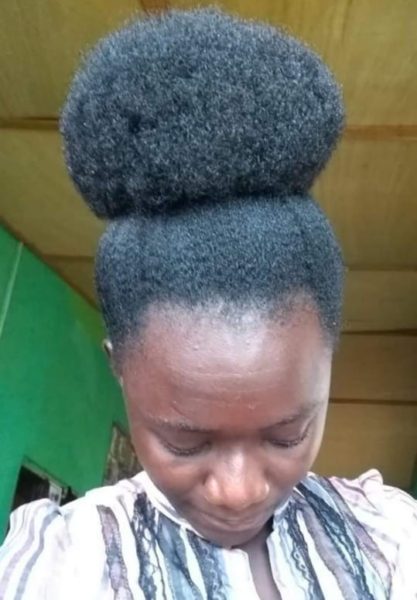 What Does Virgin Hair Fertilizer Do To Hair?
From the reviews we've seen earlier, Virgin Hair Fertilizer's tendency to stimulate hair growth is already unmistakable. Apart from that, however, the hair care product has several other benefits to your hair's health. Here are some useful benefits of the hair cream:
1. Dandruff Treatment
Many Virgin Hair Fertilizer marketing materials tout its dandruff-fighting properties, but I haven't seen any real-life review disputing or attesting to this claim. However, I also haven't seen any religious user of the product with dandruff, and that, I don't think is a coincidence.
2. Hair Strengthening
Another beneficial property of Virgin Hair Fertilizer is its tendency to strengthen your hair and make it less likely to break, minimizing hair loss. Interestingly, your hair becomes more manageable despite this extra strength, making it easier to style over time.
3. Better Looks
If you observe the testimonies posted above, you'll notice a common denominator among all the hairstyles: better looks. Consistent use of Virgin Hair Fertilizer will undoubtedly give you shinier locks that will make your hair infinitely more attractive.
However, it's not all rosy on the Virgin Hair Fertilizer side of the world. It would be unfair to only list the good properties, leaving you to find out the not-so-good ones yourself. So, the following section will show you some things I don't like about the hair care product.
I recently wrote a post on the habits of women who grow long natural hair. You'd spare some time to read that if you want your hair to grow longer.
Cons of Virgin Hair Fertilizer
Going by reviews on Amazon, this product has one primary flaw: its packaging. Many customers report receiving a deformed and unpresentable product, especially after ordering from Amazon. The product also appears to lack a safety seal, and a few buyers reported the cream busting out from the tube before even using the product.
While it doesn't seem to be a widespread problem, the few cases isn't a good look for the company. So, far, we haven't seen any quality-related issues with Virgin Hair Fertilizers from customers, so it appears all is well on that front.
Real Life Virgin Hair Fertilizer Reviews
"Just finished undoing my hair and I am surprised by the growth????????????."– the_gifts_of_joy on Instagram
"It works! I posted before and after pics. saw results within 2 weeks. I ordered the 2 pack and had to give my mother the other tube."– AG (Verified User on Amazon)
" I was so upset at this unsightly bald spot that I cut all of the hair around it and only left the top and edges to conceal wigs. I use it 3x a week and I also massage the area with a sharper image massager. Not only do I love the tingly sensation, but the smell also doesn't bother me. I do feel the cool sensation periodically throughout the day."– Walmart Verified Purchaser
Virgin Hair Fertilizer Ingredients
Virgin Hair Fertilizer's efficacy is surprising, considering that its makeup is insanely simple. Here's a full list of all Virgin Hair Fertilizer ingredients:
Herbal Extract
Petroleum Jelly
Peppermint Oil
Lanolin, and
Fragrance
Price and Where to Buy to Virgin Hair Fertilizer
Depending on where you live, Virgin Hair Fertilizer can be obtained from most local and online stores. If it's common among women around your location, it would be cheaper and more widely available.
The product comes in two sizes: a medium can and a tiny tube. In my opinion, the tiny tube is the better value, and it comes in at around $6 to $8. However, it's insanely popular here, and my prices may not be reflective of the reality of your locality.
Even if you're unable to get the product from a local store near you, it's always available on amazon(#ad) for a few bucks.
FAQs
Here are a few questions I asked some ladies in the group that has used this hair product to back up my research.
Q: How Long Did it Take to Achieve this Awesome Result?
"Today marks a year three months that I have been using the virgin hair fertilizer, though I had a moderately long hair so adding the cream makes the journey easier"- Rosemary Opara
That is to say: for you to see significant results, you must exercise patience while doing your regime religiously.
Q: What's the Porosity of Your Hair?
Low porosity, but it works on almost all hair porosity. You have to know your hair porosity and type. Doing this will save you from spending too much on products.
Q: Is it Only for Virgin Hair?
No! It can be used on relaxed hair as well.
Q: Can I use it on Kids?
Yes! But make sure you mix it with other hair products, just to avoid some unpredictable reactions.
Q: How often should I use virgin hair fertilizer?
Just like your regular hair cream, you can use virgin hair fertilizer daily and for as long as you want.
How to Use and Apply
Some people complained that the product either smells or turns out to be harsh.
To solve that problem, I found out that you should mix it with any of your hair products before using it on your hair. (I recommend Coconut oil or Shea butter)
You can still apply the cream to your hair only if you don't have other mixable products. But make sure you do it consistently, and you are good to go.
Here's how to apply virgin hair fertilizer.
First, if you have not styled your hair, wash it with shampoo.
Divide your hair into sections, then apply the cream section after section-starting from the roots.
After applying, massage the cream down your scalp and hairline.
Comb the hair, so the cream gets to every inch of your hair.
If you are on a protective hairstyle or any style that doesn't give you full access to your natural hair, then you should use it the way you use regular hair cream while on style.
You can also use it as an overnight hair mask. But make sure your hair agrees with the product. Also, see my post on how often you should use hair mask treatments.
Here's how to use virgin hair fertilizer as a hair mask.
Divide your hair into four sections
Apply the cream to your hair and massage your scalp.
Comb and tie your hair in a bun style.
Cover your hair with a shower and sleep till the next day.
Rinse off the content the next day.
Beware of Fake Virgin Hair Fertilizer
The biggest threat to this hair product is fake. Nobody likes fake, but you have to accept that almost every hair product has its fake counterpart.
So, it is advised you buy from an influential and well-known store within or outside your neighborhood. This will help reduce the risk of you buying fake virgin hair fertilizer.
Most times it is very difficult to spot the difference between and original virgin hair fertilizer. Well, God will us all.
Final Thoughts
No matter your hair type, hair porosity, or family history, your hair can always grow with enough care. Individual products like Virgin hair fertilizer or Chebe and Karkar oil can't work wonders; developing a comprehensive hair care routine, however, will.
And always remember that patience is the key.
These virgin hair fertilizer results are just for motivation: Believe you can do it, Just nurture it, be patient, and watch out for results.
Now I would love to hear from you:
Did you experience anything different while using virgin hair fertilizer?
Or you have questions you would love to forward to these ladies.
Either way, do let me know by leaving a comment below right now, and don't forget to share.
Here are more posts to help in your hair growth journey:
Pin for Later.