I analyzed 17 shampoos, and these were the best and top-rated curly girl friendly shampoo(s) that you can buy without breaking the bank.
You probably know that it's tough to find curly girl approved or friendly shampoo these days since the majority of shampoos on the market contain one or more ingredients that may hurt your curls.
So here's what I did to find out the best and friendly shampoos.
Firstly, I joined 13+ Facebook groups and subreddit for curly hair lovers; I contacted each user with remarkable curl transformation that has shampoo included in their routine, asked them to share reviews on how these shampoos worked on their hair.
Lastly, I analyzed each shampoo ingredient manually and with a tool. Earnestly, they were outstanding and curl-friendly.
If you're in hurry, Here's our top 3 Picks of the best Curly Girl Method Shampoo.
Wow Apple Cider Vinegar Shampoo – Check Price
Shea Moisture Coconut Hibiscus Curly Shampoo – Check Price
Not Your Mother's Curl Defining Shampoo – Check Price
Why You Need a Curly Hair Friendly Shampoo
Naturally, curly hair tends to get dry more than other types of hair, that's why you need a shampoo that is specially designed for your type of hair.
These shampoos contain gentler cleansing agents and are free of ingredients that could pose damage to your hair like Paraben, sulfates, and a group of others.
Without wasting much of your time, let's get back to the business of the day.
Here's is our list of 7 best curly girl friendly shampoo you can buy.
1. Wow Apple Cider Vinegar Shampoo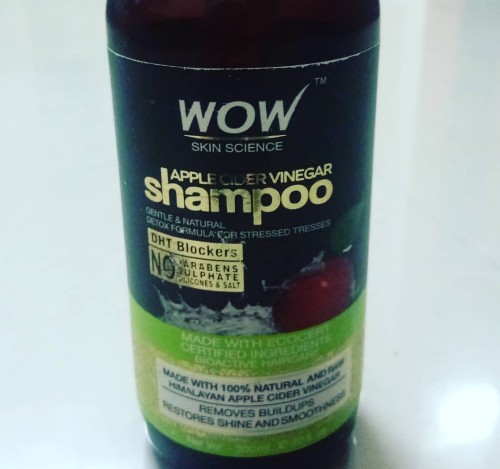 Wow, Apple Cider Vinegar Shampoo recommended by pro curly girl method practitioner is a must-have clarifying shampoo that works perfectly on curly and any other hair type/texture.
It is made with apple cider vinegar (very rich in magnesium, calcium, iron, and vitamins) that provides nourishment to the hair and neutralizes free radicals that damage the hair component.
It is one of the best shampoos on the market.
In addition to cleaning up build-up, this shampoo also treats and moisturizes thin, dull, and limping hair.
Softening and shining assistance aren't excluded. It's ideal for naturally curly hair ladies who practice the CGM (curly girl method).
Ultimately, the shampoo is pH balanced, silicone-free, cruelty-free, and paraben-free.
Without a doubt, if you're looking for one of the best curly hair shampoos, wow apple cider vinegar shampoo, in conjunction with the conditioner, will serve you well and beyond expectation.
2. Shea Moisture Coconut Hibiscus Curling Shampoo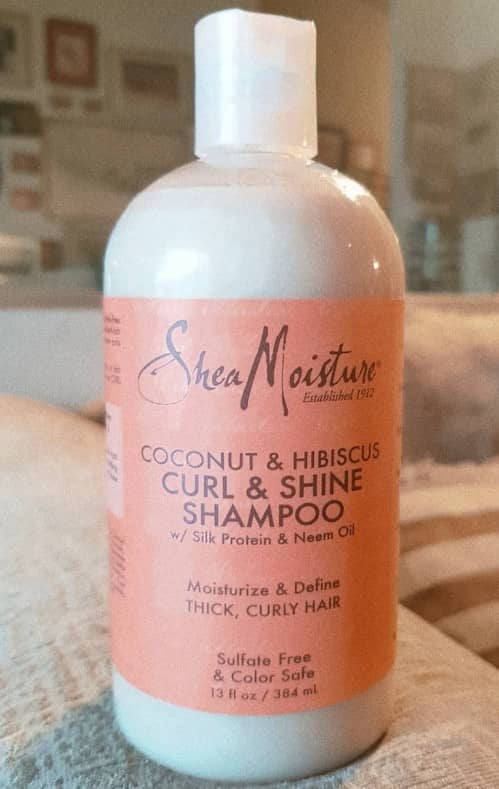 Shea Moisture Coconut Hibiscus Curling Shampoo comes with certified organic ingredients that will gently wash away impurities, making you have healthy and frizz-free hair.
In addition to restoring your natural hair shines and softness, this shampoo is very good at moisturizing. It is designed for all types of hair but works very well on curly hair.
Ultimately, It's is sulfate-free, silicone-free, and paraben-free; it also serves as a curl-enhancing agent, and it can be used on color-treated hair without fear. It scents so well.
3. Not Your Mother's Naturals Tahitian Gardenia Flower & Mango Butter Curl Defining Shampoo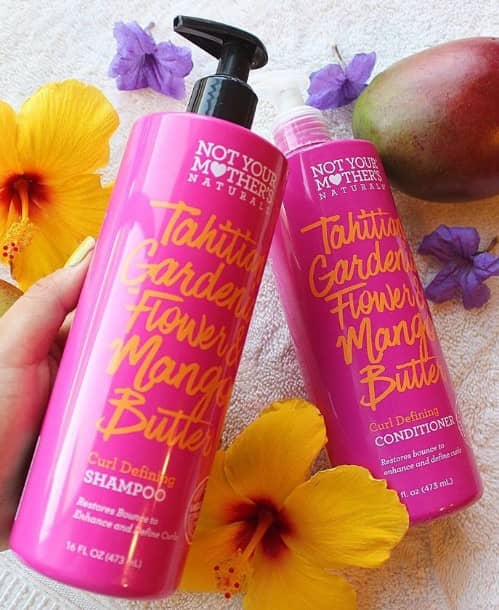 Another top-rated curly hair shampoo on the market is made by an influential and well-known brand, "Not Your Mother's." Specially designed for curly hair. This quality shampoo comes with a pump that makes it convenient and easy to use.
The shampoo helps restore bounce, doesn't weigh hair down, enhances, and defines curly hair. And from the manufacturer's table, 98% of the ingredients are organically derived.
Lastly, it's not just the shampoo; this one has curl defining hair care set comprising conditioner, shampoo, and cream. However, you can buy only the shampoo, but what's the point of getting just one, when all work together for better curls.
4. Briogeo – Don't Despair, Repair! Super Moisture Shampoo

Briogeo – Don't Despair, Repair! Super Moisture Shampoo is a must-have shampoo for ladies with dry and damaged curly hair. Made of powerful natural ingredients like Shea butter, rosehip oil, and algae extract- all working on perfecting your dry or damaged curly hair.
"Algae extract can stabilize minerals used in skin moisturization"- Randy Schueller, that's to say this shampoo is already stabilized against harsh effects on the scalp (good for people with a susceptible scalp).
In addition to repair of damaged or dry hair, this shampoo moisturizes, hydrates, and controls frizz.
Ultimately, Briogeo shampoo is free of parabens, sulfates, phthalates, DEA, or artificial dye. It is also cruelty-free, gluten-free, and vegan.
Lest not the cheapest shampoo in the market, but worths the price. It is ideal for anyone with dry, damaged, chemically treated lifeless hair.
5. Kinky Curly Come Clean Natural Moisturizing Shampoo Sulfate Free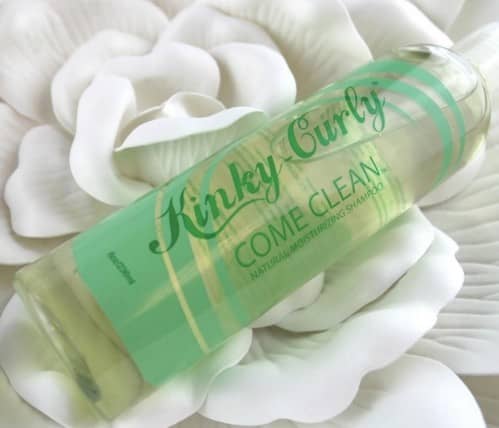 The Kinky Curly Come Clean Natural Moisturizing Shampoo is one of the best CG friendly shampoo and hairstylist's favorite.
As the shampoo name stands, so it wipes up every build-up developed in your hair and scalp, leaving your hair healthy and soft without drying out and weighing down.
The shampoo has a pleasant scent, and when it comes to best clarifying shampoo for all types of hair, this one is a going goal.
Lastly, it is sulfate-free. Though the manufacturer stated that it is gentle for everyday use. but as a CGM practitioner, I won't recommend you to use any shampoo daily (once or twice a week is enough)
6. DevaCurl Low Poo Mild Lather Cleanser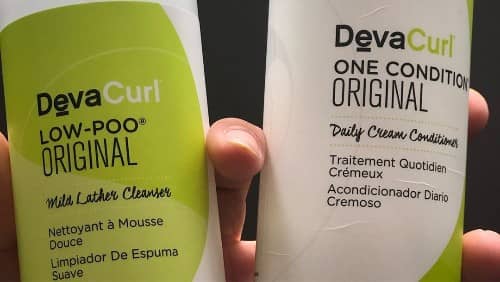 Like other shampoos mentioned above, DevaCurl Low Poo Mild Lather Cleanser is designed for all types of curly hair.
DevaCurl Low poo is made with gentle hops and soothing chamomile to cleanse and hydrate the scalp and hair without washing away the natural oils your curls need.
If you are looking for low foam shampoo for frizzy dry curly or color-treated hair, I will say this is a going goal, especially for moisturizing.
Please Note: This list is reviewed and marked green by a CGM expert with six years of experience. And she owns one of the biggest curly girl and boys method group on Facebook.
Also remember that, most ladies that practices CGM with shampoo attached will always advise you to use it as co-wash or don't use it daily (but it all depends on your curly hair care routine)
Take Away Helpful Tips
The tips below will always serve as a reminder any time you want to wash your curls with shampoo.
Before you wash your hair with shampoo, ensure you apply some oil (argan oil is a perfect one, but you can still use coconut or olive oil). Just be sure that the oil isn't heavy.
Divide your hair into sections and run underwater, then detangle with your fingers or a Denman brush,
Distribute the shampoo evenly, then proceed with the regiment. This helps clean the hair and scalp without stripping off all of the natural oils.
Now! I would like to hear from you:
Which curly girl friendly shampoo from today's post are you going to buy and start using?
Or maybe I didn't mention your favorite CG friendly shampoo.
Either way, do let me know by leaving a comment below right now, and don't forget to share with friends.