If you have been looking for good products that would help grow your hair– then I am sure you came to this page because you have heard of the good works of Chebe Powder And Karkar Oil.
Whether this is your first time to hear about Chebe and Karkar Oil or you have been using it lately, this post will steer you in the right direction.
Because in this post, I would be sharing with you some real-life verified honest reviews I gathered from ladies who have used the product.
It won't end there; I will also show you how to mix and use Chebe Powder & Karkar Oil correctly, plus every other vital detail you should know.
Interesting right?
What are we still waiting for? Let's get started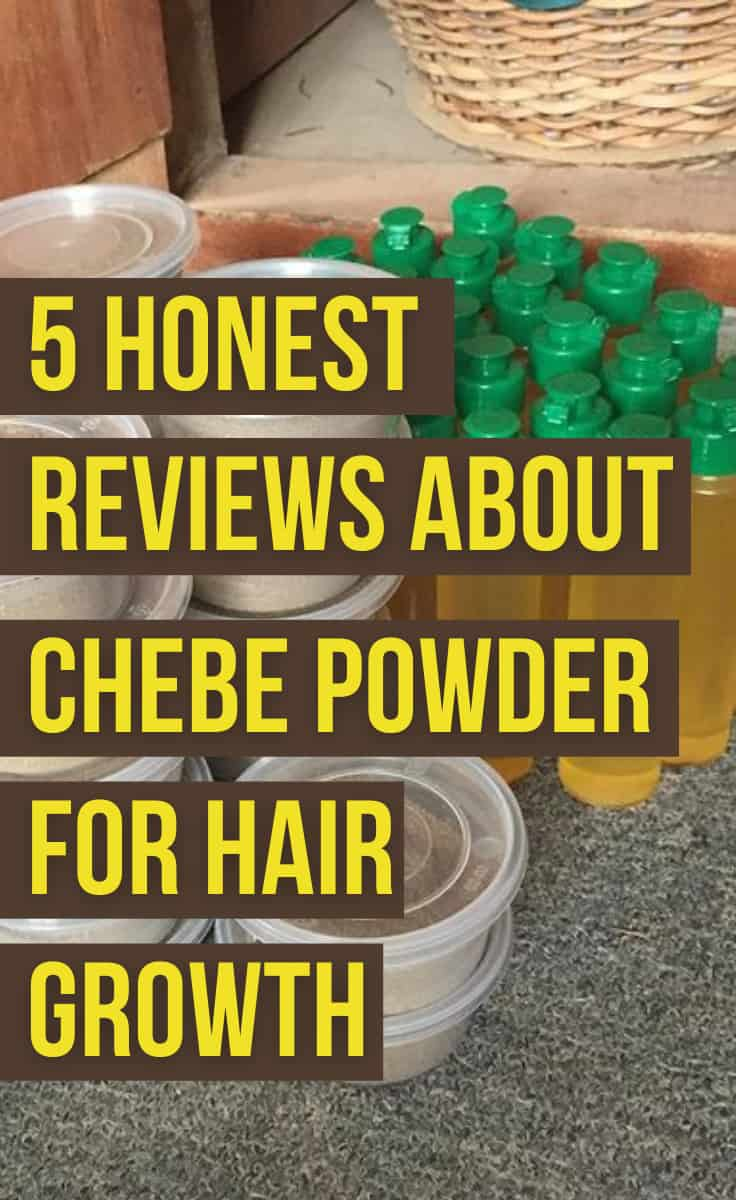 What is Chebe Powder?
Chebe powder is a blended mixture of herbs & seeds collected from trees in Africa- it's a powerful treatment for hair growth used and still used by Nomadic tribes of Chad in Africa.
The Nomadic tribes of Chad are known for having long hair, just like Yao women from Huangluo Village, in Guangxi Province, in southern China, who uses rice water to grow long natural hair.
But Chebe doesn't grow your hair fast, sorry to disappoint you!
Instead, it supplies nutrients to the hair, strengthening the hair (thereby eliminating brittle and breakage, while it is equal to length retention and length retention, which means longer hair, straightforward logic.)
We must understand that our hair grows normally, but if you lose more than you grow, what will you expect in return?
I wouldn't want to go too deep into the origin of Chebe Powder because that's not why you're here.
What is Karkar Oil?
Karkar Oil is what actually makes the Chebe Powder to be very effective.
The recipe to make KarKar Oil was first sourced from Sudan because it's a mixture of seed oils and other natural ingredients like Honey, Beef Tallow, and a host of others.
Karkar oil alone without Chebe Powder can help lock moisture into dry natural hair, thicken hair strands, eliminate dandruff, fights hair breakage and split ends.
Now, imagine how powerful it can be when combined with Chebe Powder. Of course, I don't need to tell you.
Is Chebe Powder Safe?
Even though Chebe powder and Karkar Oil won't add clearly visible growth to your hair in a week, Basara Arab women of Chad have proven that Chebe Powder And Karkar Oil is totally safe and can supply nutrients and strengthen the hair.
Aside from being safe for use, Chebe powder, as stated earlier, minimizes breakage, helps in moisture and length retention, and most importantly, strengthens the hair.
Does Chebe Powder Have Side Effects
The quick answer is Yes. Chebe powder does have side effects, especially on people with sensitive scalps. Most times, if the contents get on the scalp, it may trigger dandruff, dry scalp, irritation, and possibly serious itching scalp.
I guess this also answered questions like- why can't you put Chebe Powder on your scalp.
Yes! You're not permitted to put this product on your scalp, except you want a reason to write negative reviews about Chebe powder and Karkar Oil.
Don't be scared yet, because there's a way you will creatively apply the mixture to your hair, and you won't experience any of Chebe powder's side effects.
Do you want to know how? Then make sure you stick around till the end of this post because there's a lot to learn here.
Where to get Original Chebe Powder And Karkar Oil
During my research about this product, I have noticed that women who had a bad experience with this product either applied it on their scalp or purchased the fake one.
If you live within Nigeria, Chad, Ghana, and Niger, this product shouldn't be hard to get. But you would need to look for a verified and trusted supplier of original Chebe powder and Karkar oil.
Suppose you want to get the contact of a trusted seller within the above-mentioned places. Then make sure to reach out to me via the contact form, and I will link you up for free.
For Offshore ladies, I found a seller on Amazon seller with over 1100 five-star ratings. I think the rating and reviews are not fake.
So if you're still interested, you can buy it here on Amazon.
You might be tempted to ask what the original Chebe Powder and Karkar oil look like. Well, I don't know how to explain it, but I think a picture of it would be good enough.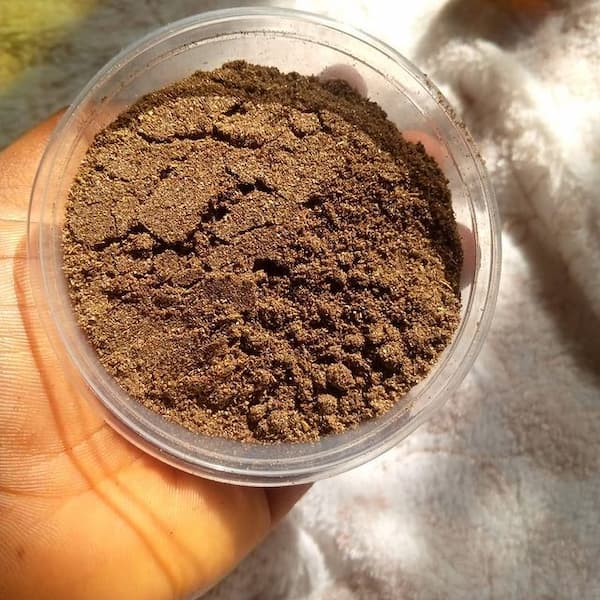 Real Life Honest Reviews
Over time, I have realized that people need a real-life review of a product before they're convinced to try things out.
Please keep in mind that I don't sell Chebe and Karkar oil, and I am not an Ambassador of any Brand.
I just felt like people like you would need more detailed information and review about this product, so I searched through the web to compile this list for you.
"Honestly, I have never seen my hair this defined before, especially my front hair; I know that curls at my back are usually always soft, that I am used to it, but the definition is wow, and I didn't even leave for an hour"– Akuebeze (Youtuber)
"Chebe and Henna have very similar benefits which are strengthening the hair, making the hair healthier, but then their difference in the sense that Chebe would tighten your curl pattern and Henna would loosen your curl pattern"– Amal Auma (Youtuber)
"I stopped using Chebe-powder bc of the mess, and I couldn't stay consistent with the application. The powder did help me retain length"– Natural Hair Khronicles (Youtube Comment)
Does Chebe Powder Really Grow Hair?
"Chebe is a miracle worker. I have been using it since July, and my hair is flourishing. My bangs have never gone past my chin, and now they are down to the middle of my chest. The rest of my hair has retained a lot of growth, too, of course. But I always use my bang as a quick measure cause it's in the front and easier to judge growth in."– ADOSGullahCreole Queen (Youtube Comment)
"I have been using Chebe for about 4 weeks; I follow the way the ladies from Chad put it in. And I love what it is doing to my hair. I have zero breakage with just a little sheading. Since February, I have not put any heat in my hair. I measured my hair at the beginning of August and then on November 22. It grew from 14 1/2 ins."– Briget Lovelace (Youtube Comment)
How to Prepare Chebe Powder And Karkar Oil
There are many ways you can use this product- for example; you can use it as a deep treatment, moisturizing mask treatment, or as a styling cream.
This section would be huge, but let's start with preparing the Chebe powder and Karkar oil.
Before doing anything, you need to get the two products and an empty-clean plastic container.
The process is straightforward.
First, you have to transfer some of the powder into the empty container and then pour some of the oil and stir.
While doing this, make sure it's not too thick, and it's not too oily – it should be somewhere in between (in the form of Paste)
You can mix the powder with your hair cream without the Karkar Oil, but as I said, this depends on how you intend to use the product and how you want it.
Video Tutorial – Fast Foward to (4:45)
My favorite Natural hair Youtuber Mercy Gono tried the Chebe Powder, and she got something sweet to share. So grab your coffee and your seat.
I am very sure this video would be helpful. So do well to watch and understand.
How to Use Properly
Now Let's get on how to apply correctly.
First, you need to wash your hair before you apply. Dirt and product build can make the content not to be effective.
After mixing the two, you need to get your water spray bottle to help with the mixture's absorption. Please make sure your hair is damp as well.
Divide your hair into four sections, so it will be easier for you to manage and work through.
Pick a section and divide it into subsections (Maybe two or three)
Spray some water into the subsection you want to work on and apply the mixture starting from the tip.
Massage the mixture thoroughly and evenly into the sub-section, be sure not to go near your root and scalp. After applying on the subsection, you should braid or twist that section.
Repeat steps 5 & 6 on every section until the whole hair is completely covered.
Cover hair with a shower cap and leave for as long as you wish (but 1-2 hours is fine, so it can be easy to rinse out)
Wash out the mixture with just water.
Lastly, you can apply some hair oil to help seal the nutrients and moisture generated in the process.
If you're using it to style your hair- I suggest you handle it like your regular hair products, but make sure you do not use too much it and, most importantly, NEVER allow the product to touch your scalp.
If you're using it as an alternative for your styling cream, be careful of the hairstyle you choose. Hairstyles that make more than 70% of your hair rest on your scalp is never a good choice.
Also, do not forget to go check this gallery of the best protective African Hairstyles for women.
How Often Should Chebe Powder Be Used?
To be precise, you can use Chebe Powder & Karkar Oil once or twice a week or 4 times a month. Remember that how often you use it depends on why you're using it and how you're using it.
However, another clear reason you should not use the mixture often is that it leaves residue on your hair, and it's never a good idea to manipulate your hair now and then.
I think these are clear and enough reasons that you need.
How Long Can You leave Chebe in hair?
You can leave Chebe on your hair for just an hour or for as long as you wish, but keep in mind that it stains, and it's a little bit difficult to wash off completely if left for long.
So if you want to sleep with it in on your hair, be sure to cover your hair properly at night.
That's it for my post on Chebe powder and Karkar oil for hair growth. I hope you found the post helpful.
Now, what's your thought?
Do you think this product can work for you? Or maybe you have some questions to ask. Please do not hesitate. Let me know by leaving a comment below right now, and most importantly, do not forget to share with friends.