Hair Care
How Long Do Passion Twists Last on Hair?
When it comes to protective styles: Braids, Locs, and twists remain the best for some ladies. No doubt questions keep flowing in on which one to go for first, but that's not why we are here. I want to talk about the age-old question: how long do passion twists last on hair?
Like most long term protective hairstyles, passion twists can last anywhere between 2-4 weeks depending on the overall hair care routine, firmness during installation, the technique, style length, and quality of hair used.
Now let's look further into what that means and what you can do about it;
Also Read:
What Determines the Durability of Passion Twists on Hair
While there are tones of factors that might affect how long passion twists last indirectly, the ones mentioned below are the most common and main factors that affect the durability.
1. Routine
A lady once said her style lasted for just one week, and I was like WTF.
Yes, she is new to the trend; that's one; she installed it herself; that's two, she handled (applied hair products and wash hair) just like other types of protective styles.
Its' a low maintenance style for sure, but you have to be conscious of every move you make because of little thing matters.
Some hair products you use can add weight to hair after a few days of repeated maintenance, that's when you wash.
2. Hairstyle Length
People say this is a very light style, but everybody's ability and resistance isn't the same.
Long passion twist styles are lovely and gorgeous, but it doesn't last long when compared to shorter ones. Too bad!!!
Long styles are relatively challenging to sleep with at night, and I guess you know what it means, you might end up making it unruly and tangled beyond fix when you wake up.
In summary, smaller or shorter twists last longer while providing both volume and fullness.
Hey wait, I recently shared the 20 best passion twists crochet hairstyles you won't regret trying out this year. If it's something you're interested in, do well to check it out.
3. Quality
Passion twists braiding extensions are soft and wavy, so they unravel very quickly.
The type of hair you choose matters a lot because passion twist extensions have different quality and varieties plus wave patterns ( Medium-sized wave is best for passion twists).
The most common quality hair used for passion twist is Freetress Water Wave Hair;  it tangles less, compared to other types.
4. Installation Practices
If you install too tight, you end up getting ropes(depending on the method used), if you install too lose it starts to slip out within 14 days.
Most ladies newly introduced to passion twists do it themselves, so on the first and second attempts, they always have an average good impression.
I would advise, if you want to see the real beauty of passion twists and how long it lasts as a newbie, visit a professional stylist for installation after then you can start installing it by yourself.
Trust me; you won't turn back because the style is so lovely.
Tips To Make Passion Twists Last Longer
The type of hair used for passion twist possesses the looser curl pattern (wave or corkscrew curl), so they easily go astray, lol.
But don't worry; I got you covered with some helpful tips that will enable you to slay this protective style to the fullest.
Crochet braid passions twists tend to last longer than all other traditional installation methods. So always opt for this method. And aside from making your hair last long, crocheted braid passions twists save your hair from pulling out and reduce the weight on the individual hair strand.
You have to be careful and watchful on wash days. In short, you should wash once a week and, most importantly, scrub gently in a way that won't temper your style, or you can book an appointment with your stylist for better professional experience as a new lady.
Mix two or more color for more beauty hacks, this won't make it last longer, but the compliment you will receive from friends will make you understand what you got on yourself.
If you feel that the style feels too bulky, feel free to trim to your desired length, but not below bob style.
Don't detangle hair every minute; do it twice or once a day. You can even remove and replace the hair that seems difficult to detangle, depending on the method of installation.
Immediately after installation, use a holding mousse to set flyaway hair at bay.
Prepping hair won't affect the durability as well, but it will save your time and that of the hairstylist. So first thing first; wash your hair, moisturize, detangle, and strengthen your hair before visiting your stylist for installation.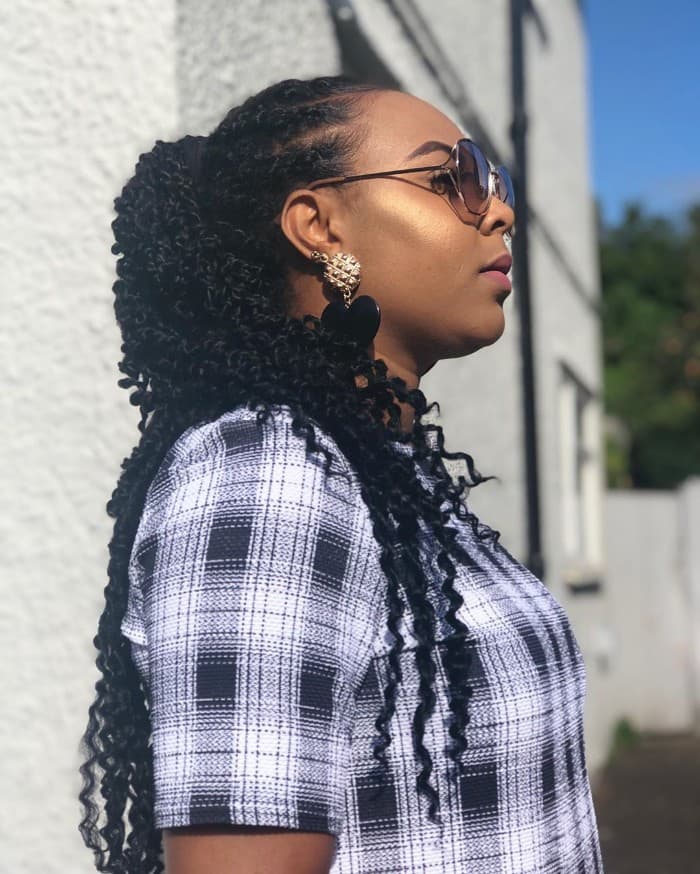 Working Maintenance Routine for Passion Twists
Like I said earlier, passion twists hairstyle is a low maintenance protective hairstyle.
So you don't need much product and time to maintain on a daily or weekly basis.
Daily Routine: Ensure you moisturize and detangle while having retention in mind and at hand.
Also, apply mousse every few days to keep the frizz at bay and maintain the shine.
Avoid heat styling as much as you can. Instead of using a blow dryer on your hair after bathing, cover it with a shower cap before entering the bathroom.
Weekly Routine: The only weekly routine I know is the washing, other care regimes must be done daily.
So be creative when washing your hair, also feel free to use the same method you would use for other protective styles.
Sleep Regime: Just like most protective hairstyles you have worn so far, you have to prepare it for before going to bed every night.
The most common method is pineapple style with satin bonnet plus or minus silk pillowcase.
Here's a detailed video tutorial on how to protect your passion twists hairstyle while before you sleep.
How Long Does it take to Install Passion Twists?
Most people are scared to go for it thinking it will take forever to install, but that's far from the truth.
Installing passion can take anywhere in between 2-5 hours, depending on how experienced you or your hairstylist is with twist styles.
Now I would love to hear from you;
Did you find my post on how long passion twists last helpful?
Or maybe you have some critical questions or experiences to share with us.
Either way, do let us know by leaving a comment below right now, and don't forget to share.