You might be one of the many considering spring twists, which has kept you wondering how long spring twists last before it loses beauty, value, and integrity.
Well, get ready because it's time you know what you need to know.
So how long do spring twists last?
A spring twist extension with any style can last for as long as 4-8 weeks. Generally, how on it lasts on your hair depends on your hair length, installation technique, length of the extension, and overall maintenance routine. 
A lot of ladies out there wear this spring twists for a much longer time than they can even remember or even imagine.
Wanna know their secrets?
Well, there is no secret. It's only getting a quality spring twist, choosing the best low maintenance style, and following a sweet favorable routine.
Have you heard of Passion Twists before? See exactly how long it lasts on hair here.
Quality is the Key
A lot of women fail to understand that quality is what speaks and matters. A quality extension is much high in price when compared to its counterpart.
However, some marketers have made the quality analysis tricky and difficult by price-tagging fake extensions at the same price as a quality extension.
It requires experience to know the difference in cases like this one.
Aside from price difference, there are some other ways you can recognize a quality spring twists extension.
Take note that spring twists are the same as a two-strand twist; the difference is the type of extension used (springy).
Also, have in mind that some tutorials out there will tell you that you need just two packs.
I won't say they are wrong, but it depends on the volume of your hair and the size of your skull.
Some head and hair need about four packs or even more, but the packets of spring twists extension you will need is at three.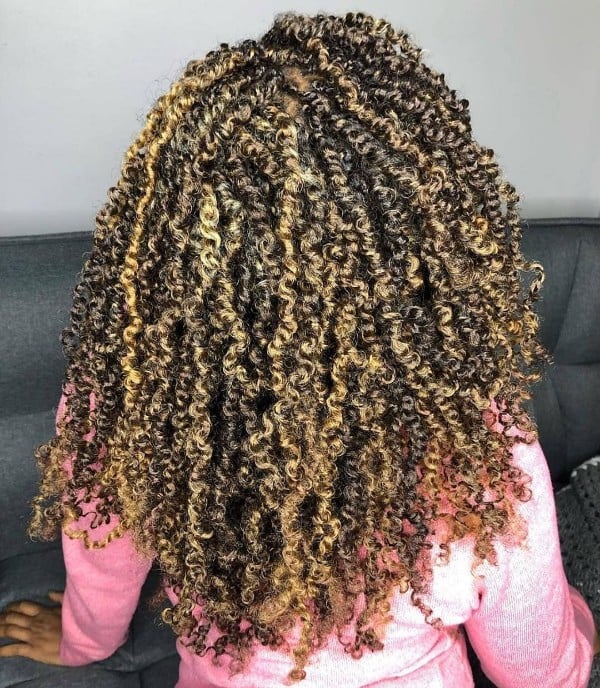 Before we proceed, I recently shared the 20 best passion twists crochet hairstyles you won't regret trying out this year. If it's something you're interested in, do well to check it out.
What's Perfect Style for Long-lasting Spring Twists?
You can rock spring twists on almost all styles with any length you desire, but because of its springing feature, you have to pick short styles, so it lasts longer for you.
However, some people actually can rock longer styles for a longer time than those short ones- everyone's a little bit different.
The point is to go for what works perfectly and fine for you.
While I was researching spring twist, I read reviews, tutorials, maintenance routine, experience.
And so far, so good; in terms of duration no matter the length or quality of extension used, the average durability on hair is three weeks at least.
Newbie? Take Note
Everyone knows this, but I think I should emphasize it over again.
Always make sure you wash your hair,  moisturize, and stretch before wearing any extension.
Prepping your hair this way will make your hair manageable, making it easier to style and, most importantly, save time.
If you want spring twists that can last for at least four weeks, then steer clear from cheap hair pack, quality differs likewise the price.
No matter your maintenance skill and products, cheap twists always end up tangling. 
Don't make your first impression a horrible one. I noticed some ladies complaining they ended up installing rope twists instead of spring.
Yes! Because they are twisting it tightly. Braiding and twisting are never the same.
You are always free to do it yourself, but I will recommend you allow hairstylists to do their job the first time.
How to Maintain Spring Twists
After installation, the next move is maintenance, and the sweet part is that it's a pretty low maintenance style: pamper it a bit, and it starts springing again.
Here's our spring twists maintenance tips or routine:
Morning: Apply moisturizer to the hair and style your hair to desired simple hairstyle; updo or down do, or even both will be okay. You can as well try side flip pinned with beautiful hair clips.
Just style it the way you want, but it must not be tight. Remember to make sure you keep your hair as moisturized as possible.
Bedtime: Before going to bed, the best way to protect against tangling, and other crazy unexpected is by making a loose Pineapple style or, wrap with Satin scarf or bonnet or both.
Weekly: You have to care for your twists while caring for your natural hair as well.
So gently wash your hair once or twice a week, redo twists that are going old at your edges.
These are a few reasons why you should try out spring twist.
Spring twists blend so well with natural, if well installed.

It's relatively affordable. Just that stylist charge a little high depending on location (though the price still worths it)

Spring twist is effortless to style and maintain.

It is lightweight and very flexible.
Now I would love to hear from you;
Do you think spring twist is worth the hype?
If you have tried wearing it, how long do spring twists last per your experience?
Or maybe you have other experiences to share with us.
Either way, do let us know by leaving a comment below right now, and don't forget to share.