Hair Care
Spring Twists vs Passion Twists: Which is Better?
I know you may have wondered the difference between the two trending protective hairstyles—spring twists and passion twists.
And I believe your wondering thought has a role to play on which style you are about to wear next—just guessing.
If that be the case, then that's why I am here.
In today's post, I am going to tell and show you the difference and similarities between the two twists.
So let's get started.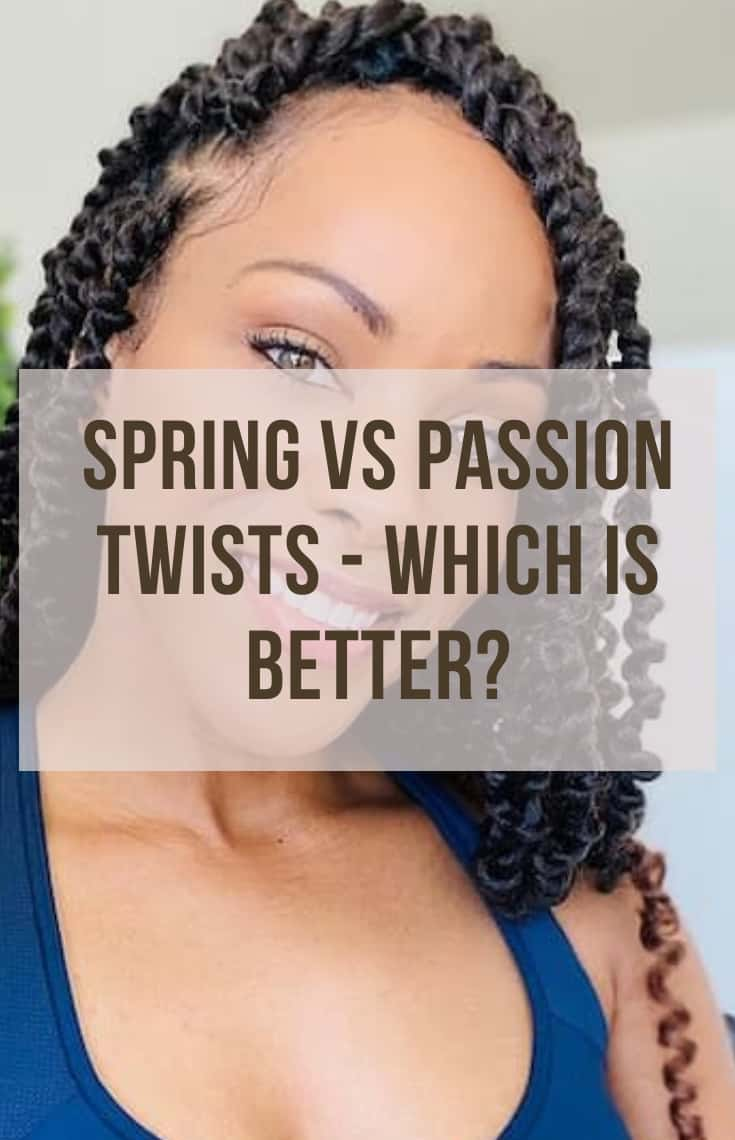 What are Passion Twists?
Passion twists are one of the trending new styles of two-strands twists, and a special wavy hair extension is what stylists use to achieve the twists' style.
I wouldn't want to go into the full history of how passion twist came to be, But let me tell you how it all started.
Rogers (Miami Based hairstylist) wanted to create a style that looks like a bohemian Lisa vibe for her client when she got the inspiration; the rest story is history.
You see will see what passion twists look like when you read down.
Before we proceed, I recently shared the 20 best passion twists crochet hairstyles you won't regret trying out this year. If it's something you're interested in, do well to check it out.
What are Spring Twists?
As the name implies, spring twist got the title based on its gorgeous springy feature, which is one of the reasons a lot of ladies go for it, even men.
Just like passion twists, there is a particular coily hair extension that you need to achieve the springy and twisty pattern.
Also, Read;
The Difference between Passion Twists and Spring Twist
Now that you know what they both are, I am very sure you are eager to know the differences as well—no need to keep you waiting.
1. Weight
No matter how much you try to manipulate the strands (in terms of length and density), passion twists will always be more cumbersome when compared to spring twists.
Forget the length of extension as the primary cause; naturally, passion twists are not that light in weight (I won't use the word "heavy" again, I think it can scare you away. lol)
2. Pricing
The type of hair extension used for each style(which is the difference), is the reason behind the price difference.
Spring twist is less expensive and economical when compared to passion.
You can even use spring twists hair extension again after removal(i.e., after removal). But I doubt if you can do that with passion twists extension.
3. Appearance, Pattern Impression & Texture
Spring twists and passion twists are both excellent, but to me, the most appealing style is the spring twists. The springy feature alone drives me crazy in love. I think I cannot decide for you.
For the area of texture, the Spring twist has a smooth and luscious texture, while passion twist has a thick texture.
4. Durability
No doubt, spring twists last longer than passion twists. Check my post on how long passion twists last vs. how long spring twists last.
One thing behind this is that passion tangles and unravel very quickly. When I mean very easily, it becomes messy and old.
The Similarities
Installation Method and Time: 
For the time spent aspect, just like I said in my previous post, the amount of time to be spent on installation depends on the technique used, how fast and experienced you or your hairstylist are with style.
Some ladies do split and stretch spring twists strand before they start installing. Doing this (which is sometimes necessary) increases the time.
That's why I said it depends on how you install.
Another similarity I shouldn't tell you is that they are both beautiful. Lol. But the individual choices and preferences have a huge role to play on which one is more beautiful.
They are both versatile. That is, you can style it to any hairstyle you can imagine (But Bangs are NO for passion twists).
Their care routines are quite similar; you just have to be creative with the way you handle them. That's all.
Long Spring Twists vs. Long Passion Twists Picture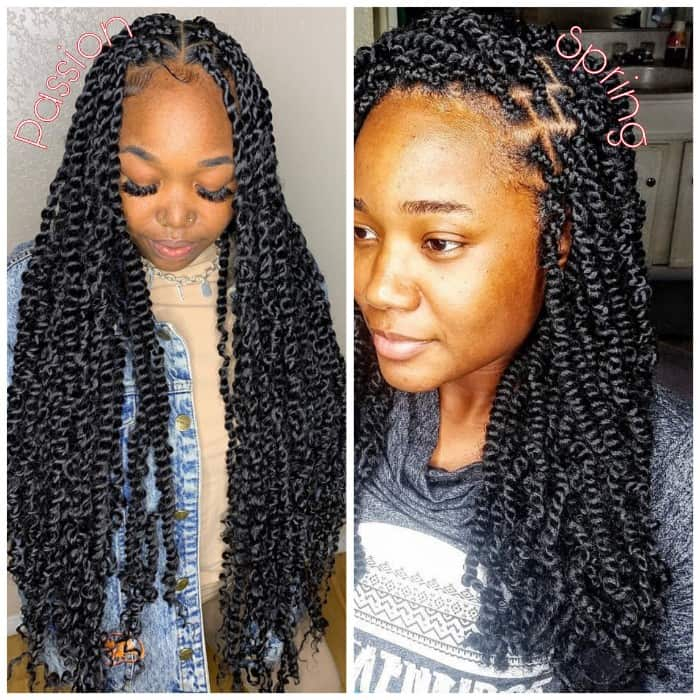 Short Spring Twist vs. Short Passion Twists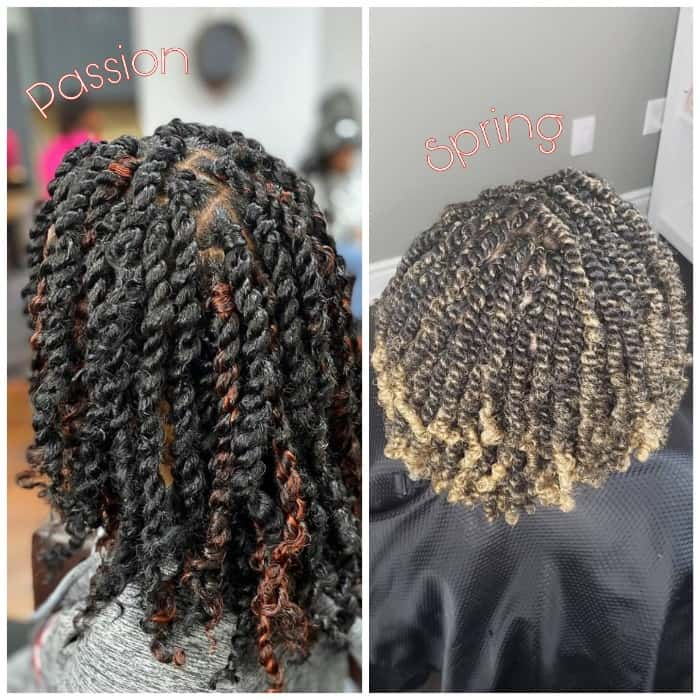 Now I would love to hear from you:
Did you find our post on the difference between passion Twists and Spring Twists helpful? And
Which style of hair do you want to wear next?
Or maybe you noticed something or experience to share with us.
Either way, do let me know by leaving a comment below right now and don't forget to share with friends.