Wedding Hair
4 Prettiest Wedding Hair Accessories for Short Hair
Cease this moment and permit me to show you the top 4 trendy and prettiest wedding hair accessories for short hair.
Styling short hair is much more challenging than styling hair of regular length. It just feels different, and without some experience and specific hair accessories, it's almost impossible to get great results.
If you're kick-starting your career in styling bridal hair, you should already have a set of essential tools you use in the task. If you plan to take on brides with shorter hair, you'll need a lot more than the conventional wedding accessories.
In this article, I'll show you some of the prettiest wedding accessories for short hair and how you can use them. Also, you'll get some tips for styling short bridal hair to achieve largely similar or even better results than you do with long hair.
Prettiest Wedding Hair Accessories for Short Hair
When making bridal styles for a short-haired bride, it's important to remember that accessories that look perfect on long hair may not necessarily be pretty on short ones.
To save you the stress of having to imagine how good an accessory will look practically, we've tried all, and here are some of the ones that look prettiest on short-haired brides.
1. Bridal Hair Comb
A bridal hair comb is a uniquely popular kind of headpiece that slides into your hair like a regular comb. It's usually metallic, with most ones coming in elegant gold or silver finishes.
Bridal hair combs come in different sizes. If you want a subtle addition to a nearly finished bridal hairstyle, you should consider using a smaller hair comb. However, you can choose a large statement hair comb to be the star of the show, beautifully adorning your hair under the bridal veil.
To make for a more interesting look, bridal hair combs also come in different pretty styles. You can choose one adorned florally, but if you're more into gems, you'll fancy one with a pearly or crystal design.
To make the most of the excellence of a bridal hair comb for short hair, you must wear it in a unique placement that best accentuates the main component of the hairstyle. They can either go in the crown of the head or to the side.
You may wear the hair comb in different positions to discover what works for you, and once you do, there's usually no going back.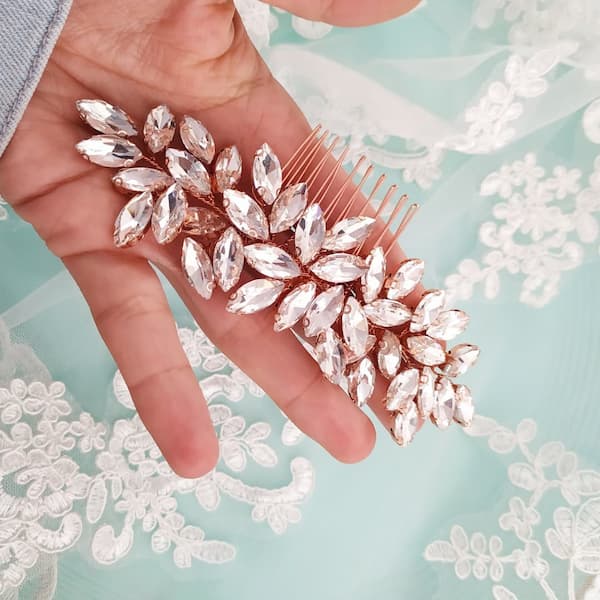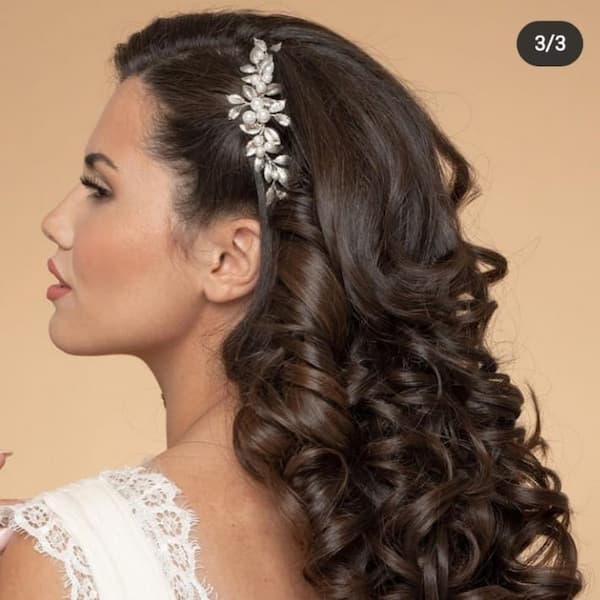 2. Bridal Hair Vine
Bridal hair vines are pretty common, and their popularity owes mainly to their flexibility. It's simply a metal string designed to make excellent hair accessories for brides with short hair.  Hair vines are usually more pronounced than bridal hair combs, and they can redefine some of your most important facial features.
While a hair vine works well alone, most brides wear it with other hair accessories to create a unique and defining pattern for one of their life's most important moments.
Just like most other wedding accessories, most bridal hair vines come in a variety of styles and designs. You can also get floral styles, as well as golden and silver finishes to your bridal hair vine to make your unique and beautiful style.
But the styles don't even matter as much as how you wear them. Since most hair vines are simply straight and flexible, you have some wiggle room on how you choose to wear yours.
Most brides wear hair vines like a crown, accentuating the accessory's design style. You can also wear it to the side of your hair like a bridal hair comb, but it's a pretty unconventional style. Depending on the shape of your head, wearing a bridal hair vine can make your face longer and more appealing.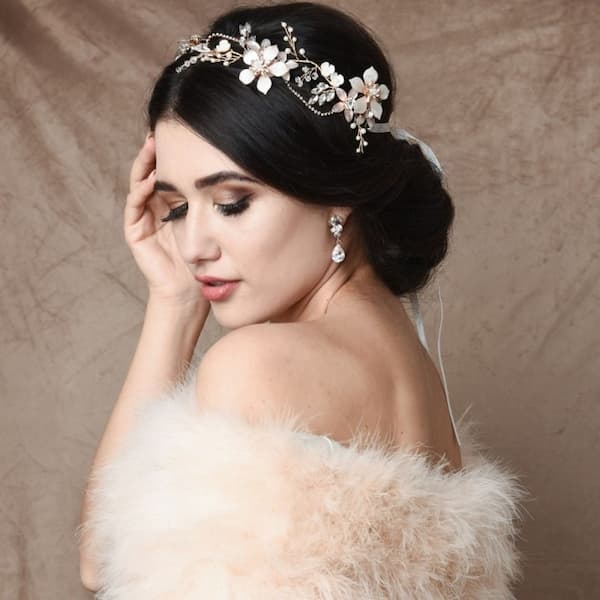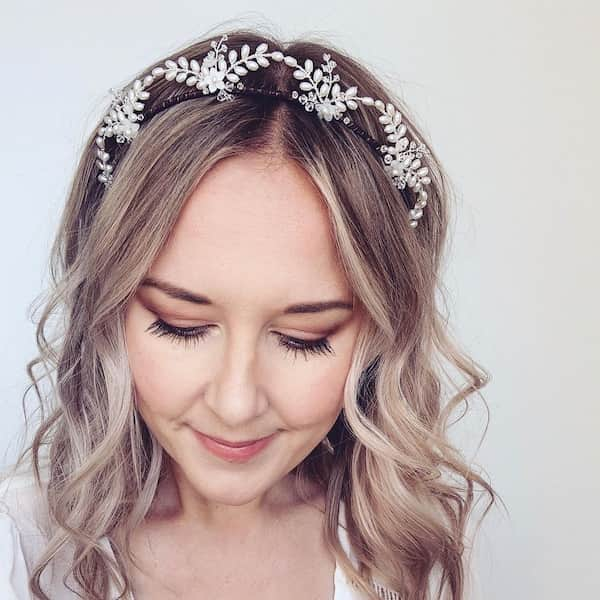 3. Mini Tiara
A full-sized tiara won't be the best bridal accessory for short-haired brides. However, this doesn't mean you can't style a bride's hair with a tiara because they have short hair.  Many smaller-sized tiaras will look pretty, even on short hair.
Depending on how much you're willing to spend on a tiara, you can get one in a variety of styles. You can get tiaras laced with gemstones or pearls, while others feature pretty patterns like what you'd typically find on a bridal hair comb.
However, a tiara limits creativity in styling hair and is only best when you're in the last-minute rush. Using a tiara relegates other hair accessories to the background, regardless of how pretty they are. If you're willing to style bridal hair more creatively, you may want to shop for some other styling accessories instead.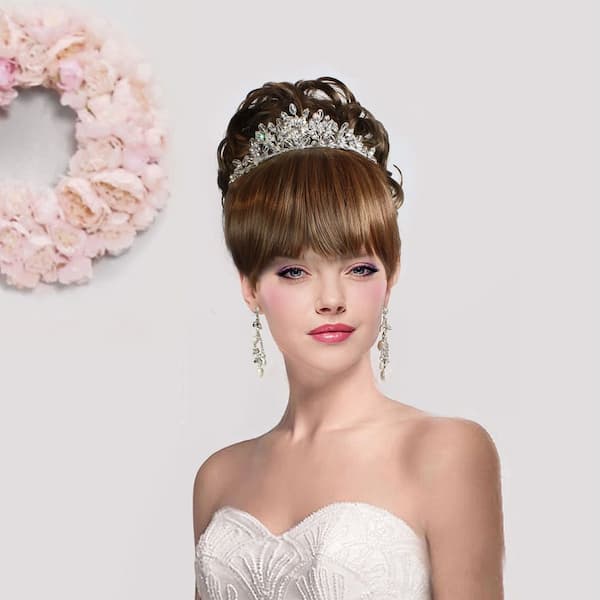 4. Crystal Hair Pins + Bridal Hair Pin
A hairpin makes for a subtle addition to your hair accessories collection, and it's great because it's always usable, regardless of the hair length. However, it's appealing on short hair, as it looks better, giving the naturally stunning addition to bridal hair that was intended with the accessory.
Crystal hair pins can have wildly different designs. Most ones on sale feature glass crystals to keep the price reasonable, but you can wear any crystal on a bridal hairpin, provided you can afford the costs. They also come in different styles, with the commonest being gold and silver finishes, just like most other bridal hair accessories.
Hairpins typically come in pairs and they're also relatively cheap if you're buying one that features make-believe glass pearls. If you're on the lookout for real crystal hairpins, you may have to shop outside Amazon for that.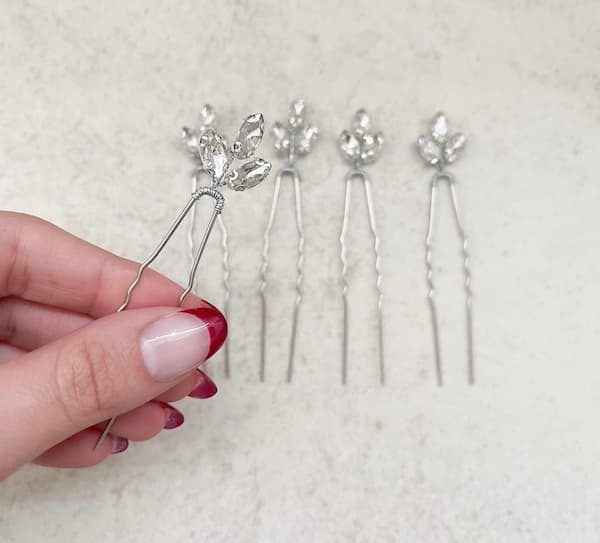 Factors to Consider when Choosing Hair Accessories for Short Hair
Before purchasing any fancy hair accessories for a short-haired bride, there are some crucial factors to consider to ensure you're not wasting your money. Here are some of the factors to keep in mind to help you choose the best hair accessories that you'll use.
1. Consider the hairstyle you prefer
Before buying any hair accessory, it's important to consider the hairstyle you'll be wearing, and how the accessory may look on it. While you may like the look of an accessory on a specific hair type or length, it's no indication that it will also look perfect on yours' or your client's.
If the only thing limiting you from wearing the hairstyle that matches your favorite wedding accessory is hair length, that's easy to circumvent.
While an experienced stylist can style short hair to look just as good, and sometimes, even better than long hair, you can also extend your hair with hair extensions to bring it to your desired length. If you've dreamed of wearing a statement tiara, your short hair doesn't have to hold you back.
2. Choose light-weight accessories
When choosing wedding hair accessories for short hair, it's important to choose light accessories as heavy accessories may need plenty of hair for support, putting them at risk of falling.
Fortunately, there are subtler versions of every statement hair accessory for brides with short hair. If you'd rather wear the statement version, just try getting some hair extensions to go with it; you don't want your hair adornment falling out halfway through your wedding.
3. Consider the color.
You shouldn't go about buying every hair accessory that looks appealing to you. If they don't match the overall design of all the other accessories you'll be wearing during your wedding.
To avoid unnecessary sophistication, you can simply go for the silver theme across your jewelry and hair accessories. It's the most prevalent jewelry for most weddings across the world, and as long as you're wearing a white gown, you can't go wrong with it.
If there's time to experiment, however, you can try different jewelry colors to see how well they look. The most common alternative is gold, but it's not the best option for a white wedding gown.
4. Try it first!
While you can search Google for sample pictures or try to imagine inside your head, the best way to know how a hair accessory will look on you is to try it on first.
Most stores with a selection of wedding accessories will let you try them on before deciding if you want to go on with the purchase. Even online stores are increasingly adopting this model; they'll ship you the items you think you'd like, and you send back the ones you don't like.
If you consider all the factors above, however, you may never have to try multiple hair accessories before making a choice. If you have any cause to do that, ensure it's not broken before sending it back.
Conclusion
If you're a soon-to-be bride or a hairstylist trying to select hair accessories for relatively short hair, this post contains some recommendations. It's crucial to know that these are simply extras you shouldn't necessarily carry in your hairstyling kit.
When choosing hair accessories, it's crucial to select light ones, as short hair isn't known for working well with heavy accessories. If you want heavier accessories for your wedding, you can use hair extensions to expand your hair's volume.
If you're not sure how well an accessory will work with your hair, you should try it on first. Just confirm the store allows it and take extra care to avoid hair damage.
Pin for Later