Kids
17 Best Haircuts For Kids With Curly Hair
We are aware that choosing unique hairstyles or haircuts that can fit in perfectly with kids can be a little bit tricky for kids with Curly can. That's why we got you covered with comprehensive haircuts ideas for kids with curly hair.
The best part? You will see the best haircuts that are easy to maintain.
In short, whether you have white, African American, or pure African kids, You will love this. Just make sure the face and head shape match with any of the ideas you pick. Also, check out for haircuts for big boys with curly hair.
If well played and styled by the barber, trust me, the outcome will be outstanding and cute.
Here's our comprehensive gallery of Haircuts for kids with curly hair.
Undercut Plus Hard Part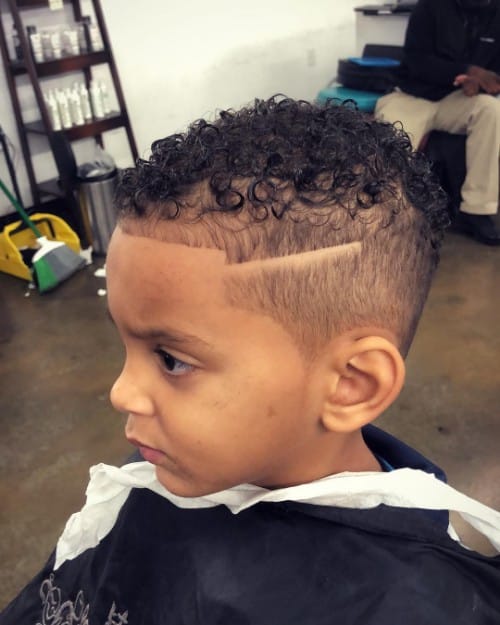 One of the most popular haircuts for black, white, and African American kids with curly hair is the Undercut. That looking short with a drop fade. It is a low maintenance cut as well. The line part can make other kids disturb their moms for a haircut.
Curly Mohawk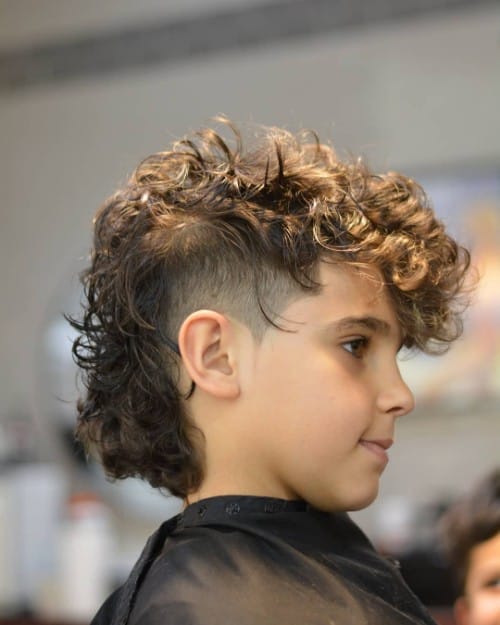 Beautiful and same time adds a sense of glamour. Although, this is not easy to maintain style because you have to perfect the curls by washing frequently and applying different curly hair techniques.
The thick hair at the top is left to grow and fall in a natural pattern.
Pencil Back Mohawk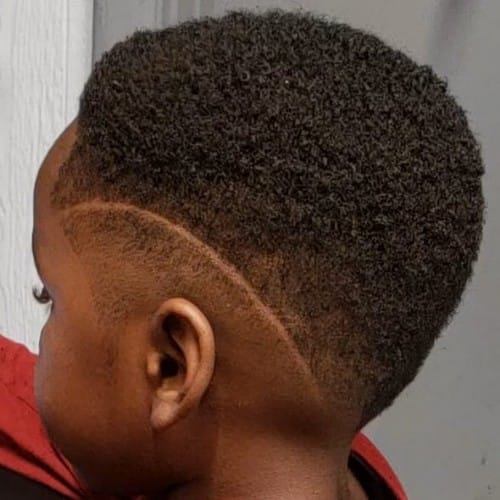 Who doesn't want cool haircuts for black kids with curly hair? One thing about the curl pattern of the majority of African kids; is that it doesn't look appealing if left too grown. The hard part attached can create a scene among kids in the neighborhood.
Buzz Fade Undercut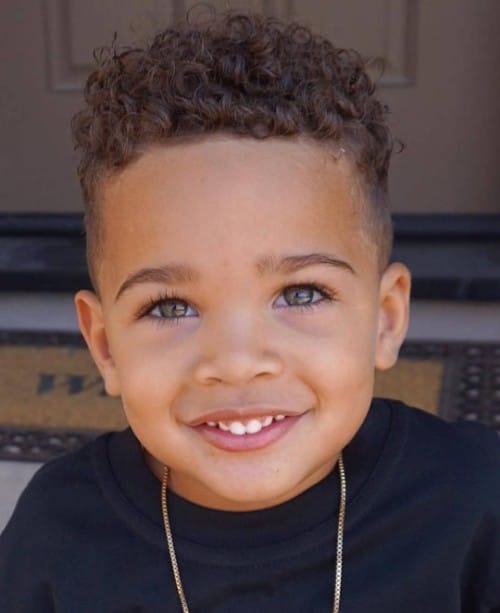 The buzz fade may be high, low, or mid fade. As long as it has little texture with curly top warmth is assured—this style as we suit older or teenage boys with curly hair.
Low Drop Fade Curly Toddler Haircut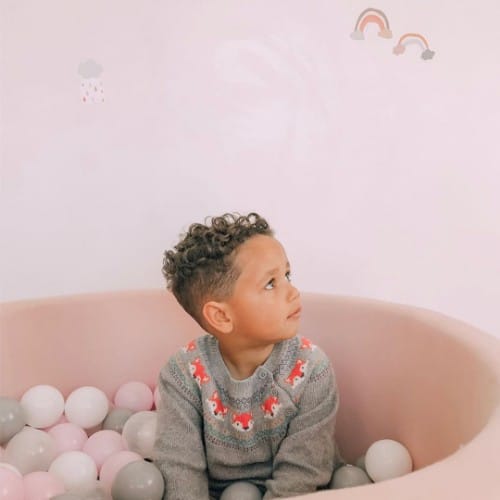 The low drop fade haircut is a classic, beautiful, and iconic toddler boy curly haircut. However, add in curly hair methods to the high top gives the kid an outstanding modern version.
Black Kid Mohawk Haircut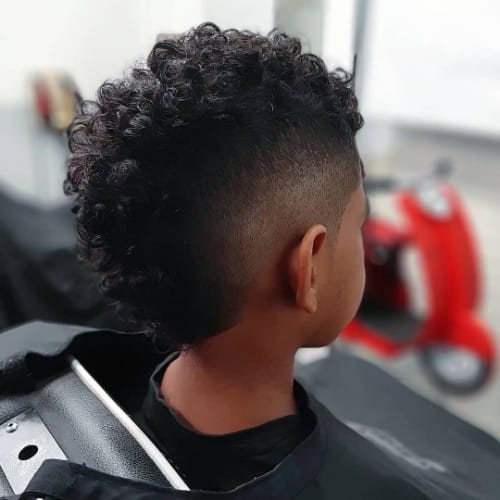 Because of the unique hair nature of black kids, Mohawk cut tends to look better when compared to the one seen above (My humble opinion).
Above all, this haircut is perfect for kids that go to school without hairstyle restriction.
Low Bald Fade Haircut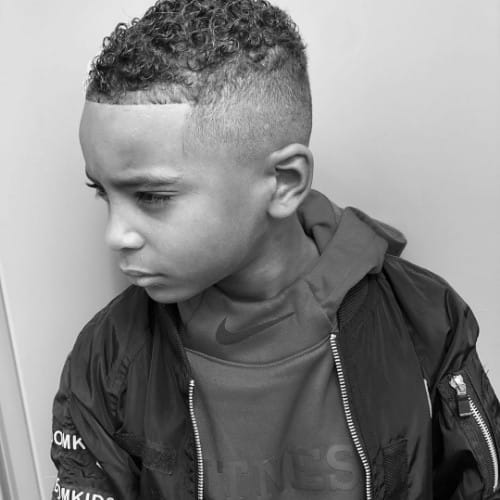 For an easy to get-haircut, Low fade, either bald or tapper, is most popular. Although a good pomade offers a beautiful shines, and texture to the hair.
But your kid can style the look naturally without hair products. We highly recommend this haircut for schoolboys.
Undercut Plus Textured Top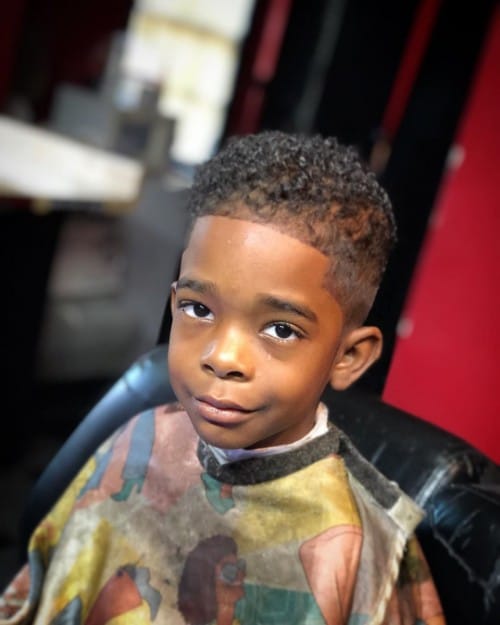 Some unique and trendy haircuts for little boys with curly hair only require short hair at the top and low fade, and this is a sure-fire. Whether you need a fresh school haircut or adorable hairstyle for next season, this style always comes together perfectly.
Mid Fade Plus High Top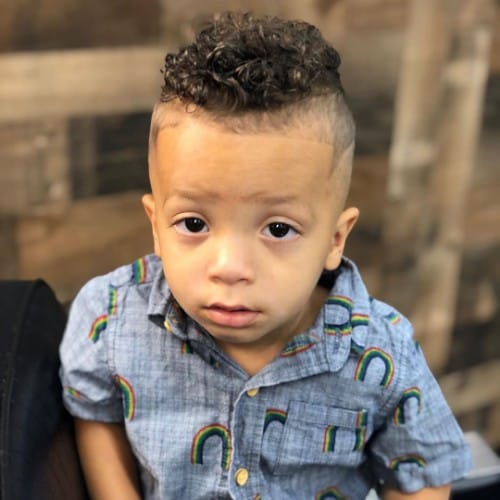 I don't know who did this, but I believe the father or the mother is rugged—no fade, just a sharp or blunt mid-cut. The tapered sides cut creates a critical focus on the face and styling at the top. This style is best for toddlers that are afraid of the hair clipper.
Temple Fade Haircut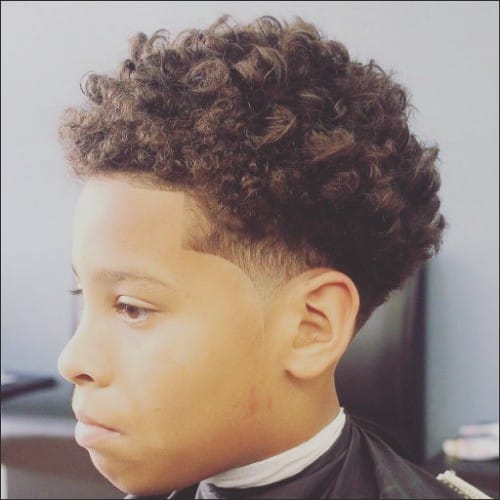 If you do not want clipper ever to touch the top of your child's hair, this kind of temp fade haircut for kids is what your child needs.
Because of the length and texture of the hair, you will have to wash and moisturize the hair regularly. So I believe this is not a low maintenance haircut.
Buzz High and Tight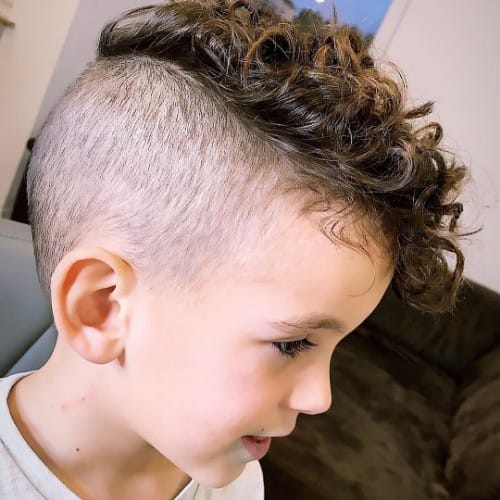 Just like high and tight, there's no room for fading here. The curly fringe now makes it look more masculine, but because it is curly, there's no room for enough styling options.
The best part of this haircut is that it is a pretty low maintenance haircut. It is either you gel up the small leftover curly, or you leave to maintain its natural state.
Fauxhawk Haircut + Wavy Fringe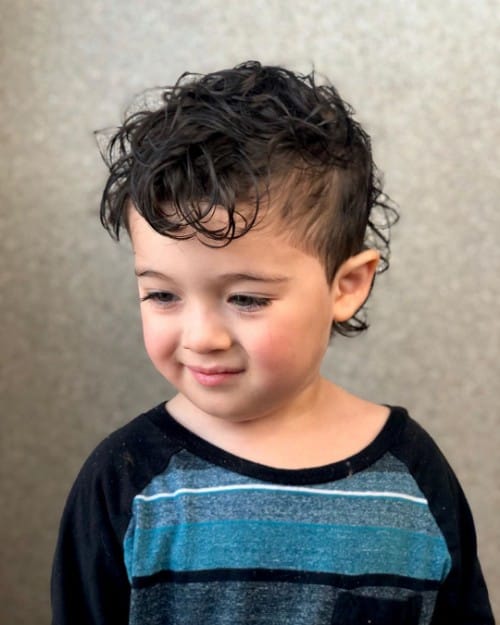 The hair type in the picture is not curly. However, kids with curly hair can pick up this haircut. And if you know how to handle your kid's curly hair in all, then this haircut is an excellent option to go for without fear.
This style is also a low maintenance haircut for kids.
Crew Cut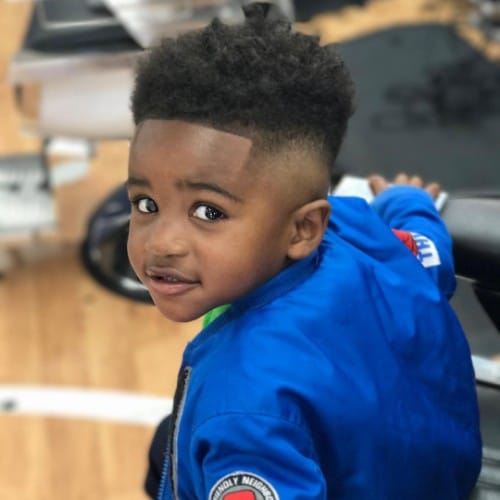 This type of crew cut for black kids with curly hair requires no or little hair product, and it creates an opportunity for different styling.
The bald sides also make the style last for a satisfying period before it demands a touchup. Keeping the top hair as natural as possible is the best way to keep it as a low maintenance haircut.
Textured Undercut + Path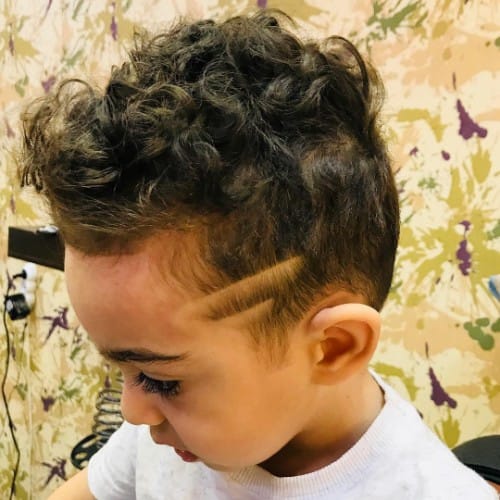 The textured Undercut is another excellent haircut for kids, especially during the cold period, as it provides warmth.
Besides, the clipper path can cause a sensation and make other kids within the neighborhood demand for a new hairstyle.
This haircut is an excellent option for kids that cry while barbing their hair because with or without shape up, the style still looks good.
Low Drop Fade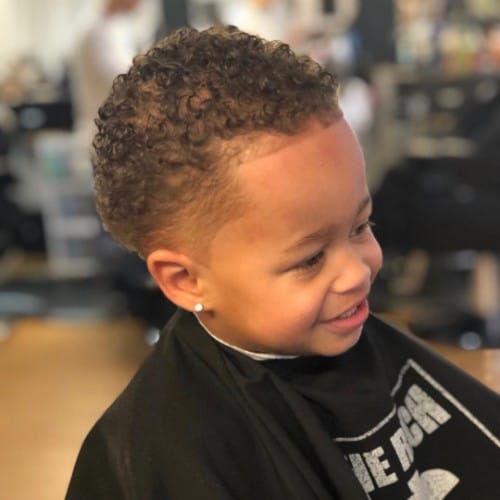 This low drop fade haircut is a super haircut for kids with lightweight curly hair. The top hair is not too long for manipulation, so wash and go is enough to get your kid's day going.
Styling this type of haircut in a salon cannot take a long time.  And the uniqueness of this haircut on this type of hair is that it is not easy to replicate.
Curly Textured Undercut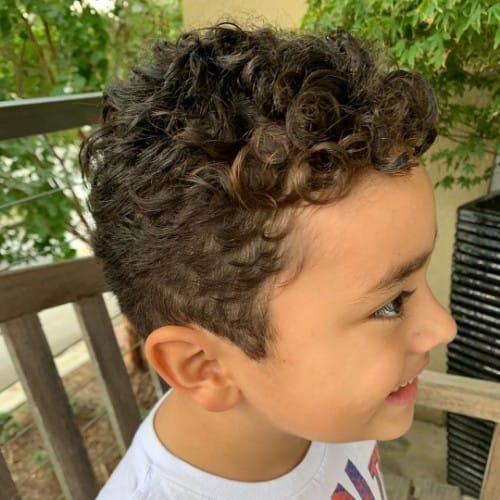 This style is very textured among its kind. Well, it is because of the hair texture. One thing about textured Undercut is regardless of the clipper blade setting and hair type, the look will still look stunning.
Naturally, the hair is in uniform; you do not need to invest much in hair products and maintenance.
Fauxhawk and Mohawk Haircuts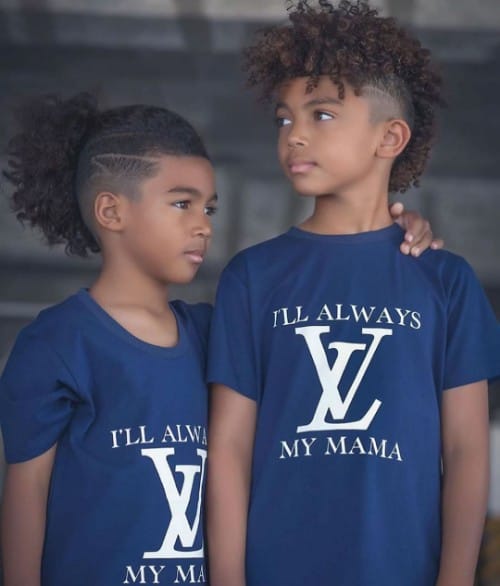 These kids' haircut shows that you do not need to cut your kid's long curly hair before you you achieve something outstanding.
In case you can not differentiate the two, the younger brother is wearing fauxhawk, while the elder and taller one is wearing a mohawk style.
The long hair at the top creates room for extra styling options like braiding, twisting, loc, and many more.
Now I would love to hear from you:
Which of the style from our gallery do you think will suit your kid?
Or maybe you want something more classical to be added to the list.
Either way, do let me know by leaving a comment below right now, and don't forget to pin and share it with friends with curls.