Kids
21 Most Beautiful Hairstyles for Toddlers with Curly Hair
If you're after adorable hairstyles for kids, this post has you covered with the best hairstyles for toddlers with curly hair.
Of course, every parent wants their children to love their hair, but handling a toddler's hair can be a chore, especially when it's curly.
To help you out, we have carefully selected over 20 simple hairstyles you can recreate on your kid's hair, so they always have adorable hair, even if you have no styling experience.
This compilation is for girls only; if you want haircut inspiration for young boys, check out our post on the best haircuts for kids with curly hair.
When it comes to styling your child's curly hair, it's always best to work with its natural pattern. If the hair is curly, make sure to stick to products designed for curly hair.
If you need help with that, I recently compiled the best affordable curly hair-friendly shampoo that works quite well. It's an excellent curly hair shampoo guide, not just for kids and toddlers, but also for adults as well.
So here's our gallery of the best hairstyles for toddlers with curly hair.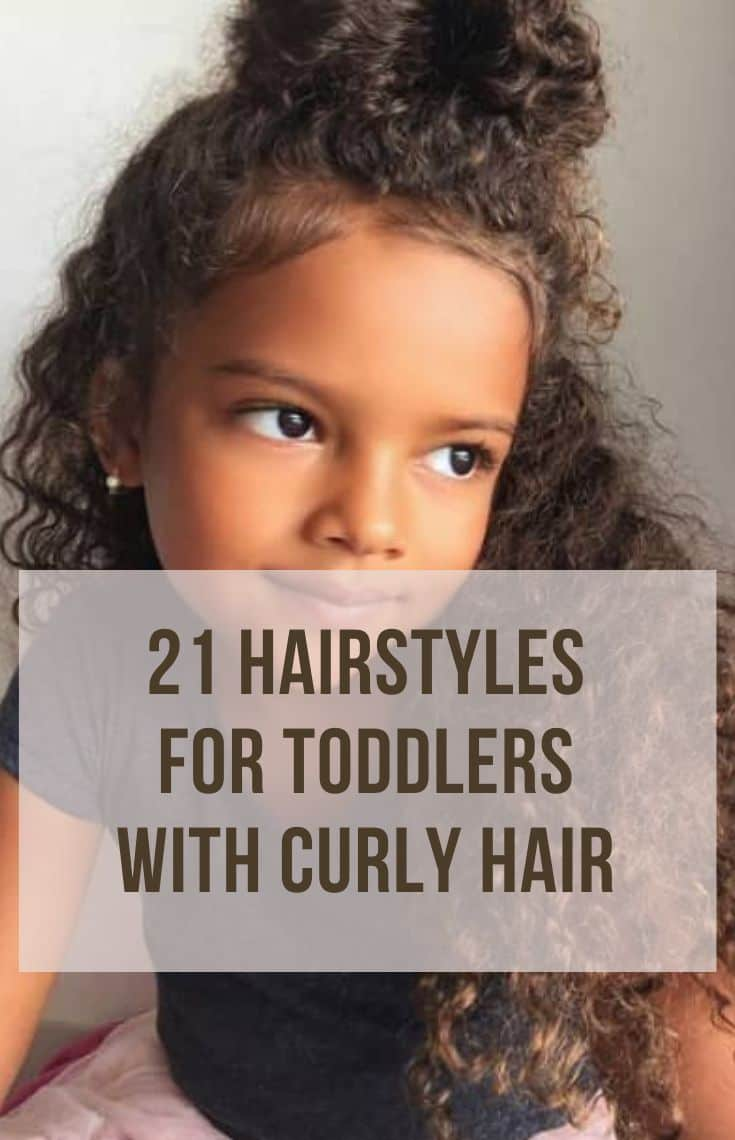 1. Best Hairstyles For Toddlers With Curly Hair
If you hate spending too much time at the salon, or maybe the hairstylist you booked fails to show up. This simple hairstyle will be your best bet. It's not just all about braids; the gorgeous colored ribbon gives the kids a sweet baby girl look.
2. Updo Braid Hairstyle
If you don't really know where to start with hairstyle, a DIY step-by-step hairstyle tutorial will go a very long way to teach you how to tackle braid, bun, ponies, and pigtail hairstyles in 10 minutes.
3. Cross Braid Downdo or Tail Hairstyle
Next, we have a cute, stylish cross-box braid hairstyle. This should be one of the simplest hairstyles you can find in this compilation. As you can see in the featured image, you'll need six to ten mini rubber bands to achieve the braid crossing.
4. Conjuring Pack + Butterfly Clip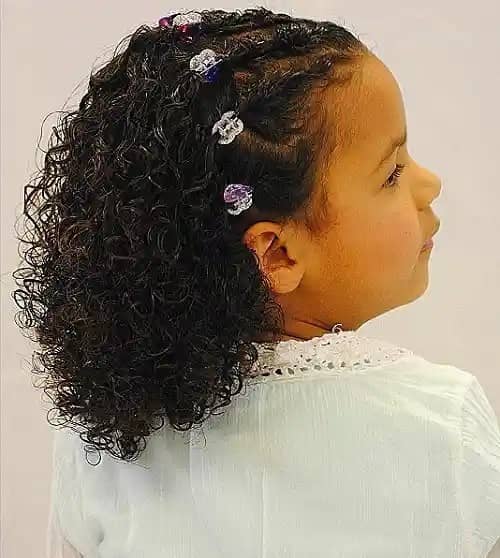 No matter how busy you are with work, sacrificing your time for your baby and this hairstyle is worth it hundred times. When I look at the featured image, all I see is a moisturized healthy hair accessorized with beautiful butterfly hair clips.
5. Braid and Bun Hairstyle
An Updo complemented with braids style is a great way to Jaz up curly hair. It's such a pretty hairstyle you can style your baby at home.
6. Crossed Protective Back Hairstyle
This hairstyle might look incomplete, Yes it actually does, but it can be considered a complete hairstyle; the back hair is packed like down do.
7. Pigtail Braid Hairstyle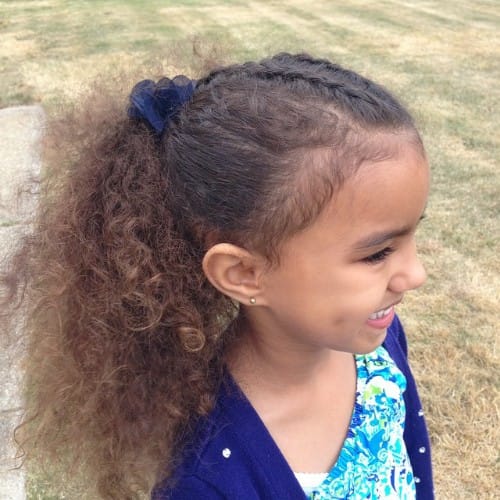 If you think this hairstyle will be difficult to achieve, then permit me to clear your thoughts. There's a step-by-step tutorial you need to check out. Just scroll to the top of the page, and you'll get the tutorial that'll teach you how to achieve this hairstyle in less than ten minutes.
8. Five Jointed Braid-Parking Hairstyle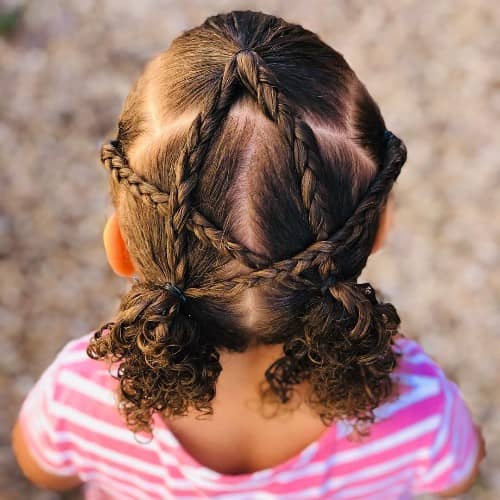 I understand that this hairstyle is somehow sophisticated, merely looking at it. But if you spare some minutes and check again, you'll see how and where it all started.
9. Frontal Half Braid + Beads Hairstyle
This hairstyle is a great idea if you want something you can recreate within ten minutes. Just micro braid the front hair, but make sure not to drag the hairline too much. You'll also need some colorful hair beads to get this exact look.
10. Stylish Cornrow Braid Hairstyle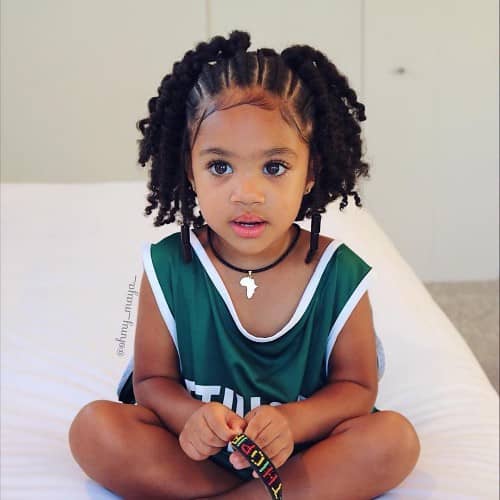 This hairstyle is ideal for black kids with curly hair. The sweet part of this hairstyle is that it can last for as long as two-six weeks, depending on the hair care maintenance routine.
11. Basket-Crossing Hairstyle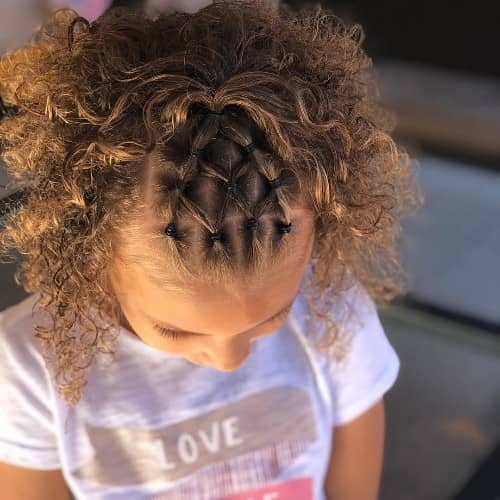 The next idea here is the spiderweb/basket crossing hairstyle. The hairstyle is stylish and very simple to achieve. But when pulling the hair strands backward, make sure not to pull too hard.
12. Front Cornrow Braid with Down do
Even though the styling on this hair isn't yet complete, what we know and would be expecting is that the same four-line braid would be styled on the other packed side hair.
13.Heart-Shape down + Updo + Sides Braid
When you want something simple yet stylish, this hairstyle will be a good fit for that need. It's an insanely simple idea that you can easily recreate at home.
14. Simple Bun Packing Hairstyle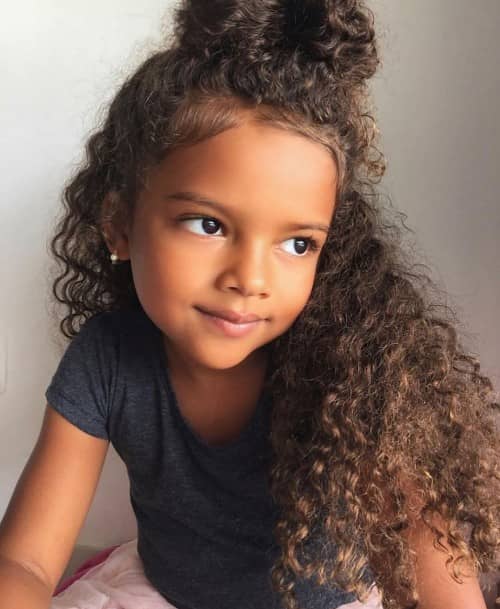 After looking I this hair, I smiled. Some kids are so blessed with long healthy hair. But what if I tell you that behind this beautiful and healthy hair, there's a caring mom. Long and healthy hair requires attention, care, and moisturization.
15. Updo Braids Hairstyle
This hairstyle is somewhere in between simple and sophisticated. I was confused at first, but it got more confusing when I settled down to know how it all started. I know for sure this is a braid updo hairstyle. But where the styling started from is what I am still deliberating on.
16. Cute Two Line Braids + Updo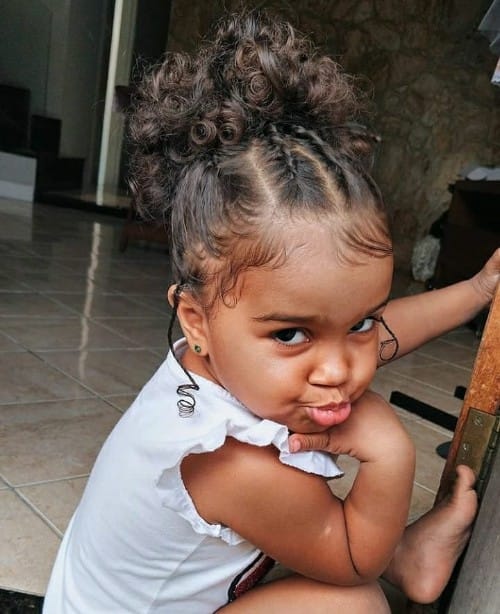 This featured hairstyle got many comments on Pinterest, and all the comments did boil down to how cute the baby looked. Truth be told, she's so adorable.
17. Stylish Chain Braid Hairstyle
The next hairstyle on our gallery of best hairstyles for girls with curly hair is this stylish cross or chain-like braid hairstyle. The hair is styled in the pattern of cross box braid that goes all the way back to form down do pack.
18. Classy Asymmetric Braid Hairstyle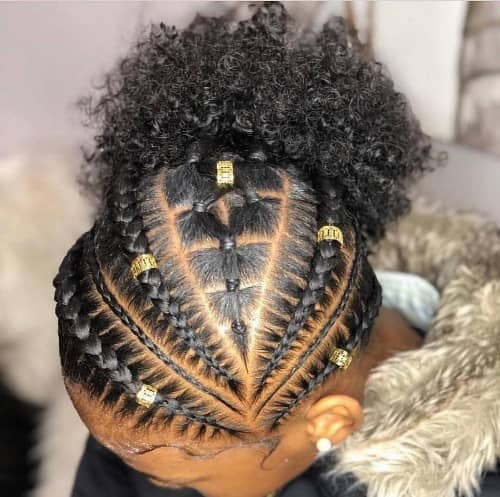 Braid hairstyles like this are big-time protective hairstyles for black kids. However, this is not something you can do yourself at home, you need the help of a pro braider, and this hairstyle will cost you anywhere between $30 and $90.
19. Rubber Band Hairstyle
Side Parked Protective Hairstyle
Protective Twists Hairstyle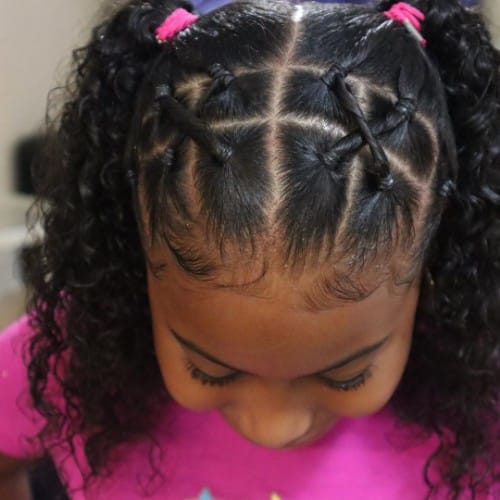 Stylish Updo Hairstyle
Braid + Mini Ruber Bands Down Do Hairstyle
Three Packers Hairstyle
Box Braid For Kids with Curls
Ouidad Hairstyle for Curly Hair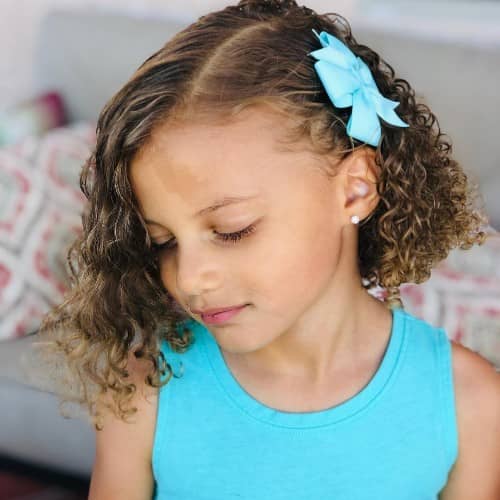 And that's all for now.
I want to use this opportunity to let you know that this post is valid for search terms like;
Toddler curly hairstyles girl, hairstyles for toddlers with short curly hair, little girl curly hairstyles, kids curly hairstyles, easy toddler hairstyles for curly hair.
I hope you love the ideas compilation on hairstyles for toddlers with curly hair.
Now I would like to hear from you:
Which hairstyle from this gallery are you going to choose for your baby girl?
Or maybe you didn't find the perfect one here.
Either way, do let me know by leaving your comment below right now.
Pin for Later.