Greying can be initially very scary; it usually doesn't give you time to prepare, and once it starts, you start to panic. But before trying those magic cures and miracle anti-greying solutions, it's essential to ask: can grey or white hair turn black again naturally?
White or gray hair due to aging (old age) cannot turn black again naturally. On the other hand, white hair that appears due to bleaching, stress, food, pollution, vitamin deficiency, and other physical influences can turn black again through certain medical or physical procedures.
In this article, I will share with you everything you need to know, starting from the possible causes of gray hair, the DIY way of making premature gray hair turn black, and a few other helpful tips.
To determine if grey or white hair can turn black again naturally, it's essential to understand why female hair could turn grey in the first place.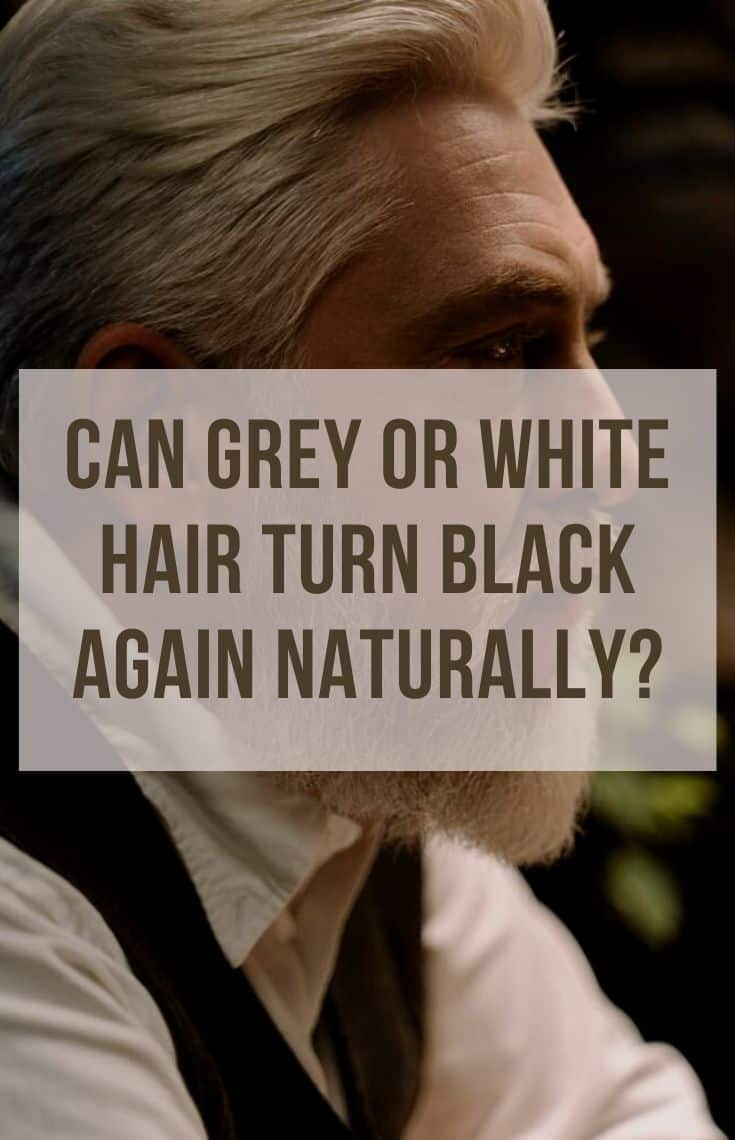 Why Did My Hair Turn Grey?
Scientific research has pointed out a couple of factors that increase the likelihood of your hair turning grey. Here are some of the most common ones.
1. Heredity
Greying is a heritable trait, like many other physical properties of women. Thus, it's no surprise that heredity is one of the most common causes of your hair quickly turning grey.
If you have a mother or aunt who went grey early, you should probably also start preparing for your turn as well. Of course, it's not always a black-and-white affair, but it's generally along this line.
At the moment, most individuals (74% of adults 45 to 60) will eventually go grey at some point in their lives, so you shouldn't blame your parents for being born with the grey gene. The best you can realistically hope for is for yours to come much earlier than usual.
2. Low Or No Melanin Production
The cells in the hair follicles called "Melanocytes" produce two pigments (pheomelanin and eumelanin). These two pigments join together to produce human natural hair color.
As one lives, the melanocytes continue to inject pigment into the hair, giving its color. However, with time, the melanocytes gradually reduce the production of pigment.
This time the hair starts changing to gray, and when the melanin production eventually stops, the hair turns to full-blown white.
3. Stress
TheConversation wrote this "There is no evidence to link the onset of greying to stress, diet or lifestyle." but how true is this?
The kind of stress one is going through, whether emotional or physical can affect the individual's physical features. For instance, If you've ever been stressed out for a long time, you may start noticing acute weight loss.
When the whole thing is affecting your body, do you think your hair will be left untouched? Just think about it. To back up this, here's what Dr. Roopal Kundu said:
"Stress won't cause you to go gray directly, but stress is implicated in a lot of skin and hair issues." During an illness, for example, people can shed hair rapidly. And hair you lose after a stressful event like getting chemotherapy may grow back a different color"– Dr. Roopal Kundu, associate professor in dermatology at Northwestern University's Feinberg School of Medicine.
4. Lack Of Nutrition And Vitamin Deficiency
Vitamin B-12 is an essential vitamin, and it is needed for nerve tissue health, brain function, and the production of red blood cells. Another name for vitamin B-12 is Cobalamin.
Recent works of research have revealed a link between premature grey hair and a Vitamin deficiency. If you're not eating enough for sustained growth and development, you may start going grey prematurely, even if you don't have the 'grey gene.'
5. Aggressive Hair Creams And Dye
If you're bleaching or dying your hair excessively, it shouldn't come as a surprise when you start noticing your hair kick back in the form of greying.
I was a victim of this hair-cream-changing hair color issue. It happened years back when I used a generic hair cream that was imported from Thailand.
After some weeks, my black hair started fading to brown. I was like, what is wrong with my hair?
I stopped using the hair cream, and boom, my black, oily, and shiny hair appeared again. The same thing can happen if you use dye or hair cream that is harsh to your hair.
This section is by no means discouraging the use of hair care products; rather, what we're warning against is aggressive or excessive use. Also, if you notice a certain hair cream having an unfavorable effect on your hair's color like mine, you may want to do away with it quickly.
6. Smoking
Apart from increasing the risk of cardiovascular diseases and cancer, smoking can also make you go grey prematurely. A small-scale study found a link between smoking and early-onset hair whitening, with some corroboration in the scientific community.
Generally, if you don't want to go grey early, don't smoke.
7. Scalp Infections
Skin conditions such as dandruff, eczema, and ringworm may also cause greying. However, grey hair resulting from scalp Infection can be reversed once the infection is treated. So, you have a lot of control over this cause.
Can Grey or White Hair Turn Black Again Naturally?
There's no point to anything if any discoloration of your hair is always permanent. So, before moving on with this article, it's essential to ask: can grey or white hair turn black again naturally?
This question has a two-pronged answer. On the one hand, natural greying is always permanent and irreversible. Even with medications and supplements, you'll always regrow white or grey hair whenever you cut your hair. On the other hand, there are artificial reasons for greying that are indeed reversible.
If you suspect that your grey hair is a result of factors like aggressive dying or scalp infections, you can correct them by fixing the underlying problem. So, the answer to this question can be either yes or no, depending on the underlying cause of the greying or whitening.
At What Age Should I Consider My Gray Hair Premature?
Most adults will only start going grey around the ages of 40 to 60 years, so anything below that can be classified as premature greying. It's crucial to note that the reality is different for individuals of different races: white people generally start going grey early, while blacks do later in life.
How To Make White Hair Turn Black Again Naturally (Home Remedies)
In many cases, there's a clear reason why you went grey. It may be a medical condition, age, nutrition deficiency, or basically anything else from the preceding section. The first step to fixing the issue is finding out the cause of your whitening or greying and fixing the cause.
If you're not sure, these home remedies might help.
1. Mix Coconut Oil And Lemon Juice
Mix coconut oil with lemon juice, apply it to your hair, comb, or brush your hair, so the mixture gets to all the grey hair. Before you do this, make sure your hair is clean.
Allow the mixture to sit on your hair for 2 hours or more before washing it off. If you want to use shampoo, use a gentle one.
Add this to your hair routine, and do this daily or 4-5 times weekly for at least two months, and watch out for the result.
The lemon juice is somewhat optional; it is just to quicken the reaction. If you are allergic to lemon, feel free to use only coconut oil.
2. Consume Iron And Biotin Supplements
Eat foods and fruits rich in iron and biotin, or take supplements recommended by an expert. The point here is to supplement your meals and hopefully cure the nutritional deficiency that caused the greying in the first place.
You can also apply unsalted buttermilk with curry leaves on your hair anytime you want to wash your hair as per your routine. Apply it to your hair and let it sit for 30 minutes before you wash your hair.
3. Avoid Stress Inducers
Eliminating stress can do wonders for your greying hair, as stress is a confirmed scientific cause of greying or whitening. Some recommended ways to de-stress include quitting a demanding job, taking time off for relaxation, meditation, and exercise, and seeing a therapist.
De-stressing won't magically make your white hair turn black again naturally, but you may start noticing its impact over time.
4. Eat healthy
You can only feel comfortable, think, and function well when your body is satisfied and balanced with adequate nutrients in its right proportion.
It's important to know that fast food is regarded as junk. I understand that sticking to a healthy diet can be hard, but now, it's a choice to make: your hair or your food.
5. Apply Onion Juice
Onion juice is highly rich in catalase enzymes; an enzyme that reportedly helps the body neutralize hydrogen peroxide. Since hydrogen peroxide is one of the most popular artificial hair-lightening chemicals, a neutralizer like orange juice can help reverse the effects of artificial whitening.
It's essential to note that this solution doesn't work for natural greying causes age and stress. However, if your hair discoloration is a result of chemicals from the aggressive use of hair products, applying onion juice could be the miracle cure you need.
Other Helpful Tips
Avoid wearing tight head covers as they can cause excessive heat and traction alopecia, a hair condition that can cause permanent or temporary hair loss. This can also cause dandruff.
Consider using colored hair dye to fix your white or grey hair. It may sound antithetical to this post's philosophy of making your white hair turn black again naturally, but it's one of the most effective methods. Regardless of what solutions you try, you'll eventually go grey with age, with the only possible fix being removing your hair permanently or using dye.
Have you heard of Just For Men? Here is how long it lasts on hair.
Does White Facial Hair Turn Black?
Many of the solutions that work for your regular hair will also work for your facial hair, but you must be ready to shave off your existing beard. Unless you can use hair dye, the only way to turn your facial hair black is by shaving and then using medications or supplements that will enhance the natural growth of black hair.
I really hope you find this post very helpful.
Now I would love to hear from you:
Did you find this article on gray hair turning black helpful?
Or maybe you have some questions or suggestions.
Feel free to let me know by leaving a comment below right now. And most importantly, do not forget to share this post with friends.
References.
Other Posts You Might Like;
Pin for Later