Beard
What Makes Beard Grow Faster?
Mid last year, I was researching to know more about the beard gang and what exactly makes the beard grow faster (if there is any).
After one too many scrolls on google and forums, I was able to find out something that will shade us a few miles away from fake beard product sellers and manufacturers.
So what makes beard to grow faster? In the absence or presence of genetics, hormones, and Testosterone, the two essential things that make beard grow faster are healthy beard routine and the amount of dihydrotestosterone you produce as a man.
Let's look into it what that means and what you can do about it.
Firstly,
What is Dihydrotestosterone?
Dihydrotestosterone is a component of Testosterone that is activated by enzymes when needed in the hair follicle's oil gland.
A trusted source showed that Testosterone works in favor of hair follicle priming, while dihydrotestosterone favors promotion linear facial hair growth.
Don't get too confused because the process is understood by experts, of which I am not one. Linear facial hair growth also means how fast the beard grows.
We don't have to go too deep under this section because there is nothing you and I can do.
We just need to leave nature to handle itself.
But we still have another option, which is: planning for a healthy beard routine.
Here is the deal.
I am going to help you organize a healthy beard routine, and you will have to pay me for that.
Lol, I was just kidding. It's always free.
However, what works for John might not work for John Bull because of body differences and many more unknown factors. I believe you can relate.
So, "Test until you find out what works for you" is our goal-go plan.
Sad? I don't think so, because you won't be left to go just like that.
I have gathered enough goodies that you MUST need down here. So keep reading!!!
These goodies have worked for hundreds of men. We know your case wouldn't be different or challenging.
However, your health affects everything about you: both negatively or positively: and the beard isn't exempted.
We all know that you can't alter genetics and hormones, but notwithstanding, just know that there are healthy lifestyle routines that can make beard grow fast.
Hey, wait!! Do you already have mid to large-sized curly beard? Why not stop straightening it and apply this method for a curly beard.
Let's ride on!
Take Away: Research has proven that a male beard hair grows ½ inch per month. But this doesn't apply to all males; you can grow longer or less than that length.
Quick Healthy Beard Routine
Well planned beard routine does not only make beard healthy, but it also saves time and gives you the confidence that you aren't doing anything crazy.
Here's the ideal routine that will help keep beard healthy, which is equivalent to beard growth.
Morning Routine
#1 Wash Beard
Beard washing doesn't just wipe off build-ups; it also makes beard smell-free. Of course, no one likes a smelly beard, not even dogs.
But how often should you wash your beard? Well, it depends on you and the environment.
Generally, wash the beard at least once a week.
But in cases where you are regularly exposed to dirt either from work, house, or street. I will advise you to wash your beard daily.
Hey! do you know you can't just use your regular bathing or washing soap to wash your beard?
Want to know why?
The truth is, the majority of wash or bathing soap can wash out your beard essential oils, leaving it dry and irritating.
So I highly recommend getting the appropriate beard wash products, which is always good for a start and long run.
However, if you are the early beard growth stage and on a low budget, you can go with soap.
But remember to use soap that does not contain alcohol, sulfate, and, most importantly, doesn't dry out skin/hair.
#2 Dry-Out Beard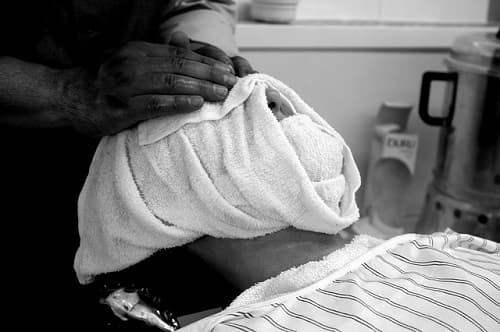 After washing or bathing, use a clean towel to dry out your beard. A dirty or old tower can promote the growth of germs and bacteria.
What about using a blow dryer?
Is it working for you? If yes, you can continue, but if it makes your beard feel dry and frizzy, stop using it immediately and go for the towel-drying.
And always remember to leave beard hair damp as it helps make beard soft and manageable for product application.
#3 Apply Beard Products
Beard oil and balm works well for standout beard health.
Beard oil acts as a moisturizer to the skin and facial hair in the absence of natural oil. These oils (original oil) are designed to prevent dryness and itchiness or flakes.
Combing or brushing in conjunction with beard balm gives beard better shape and keep it in the right direction. That's to say; beard balm is good mid to big volume beard.
#3 Brush & Comb
Last but not the least step in the morning routine is brushing or combing the beard. If you have a very bushy beard, you must have a brush and comb.
The brush helps train and shape beard in the right direction, while the comb is needed to remove all tangles and loss hair.
As for beginners, you can use any of them, provided it gives that decent look you desire.
Now it's time to step out in grand style, still keeping the next routine at mind.
I believe the whole morning routine shouldn't take more than 12 minutes.
During the Day
This routine isn't crucial, but for the sake of men whose beard hair gets dry and frizzy quickly, we choose to include it.
Unlike the morning beard routine, you don't need to spend more than 3 minutes during the day.
All you just need to do (in our humble opinion) is moisturize the beard again, then comb. That's all
Evening Before Going To Bed
Time to rest and time for bed! Just immediately after night shower, apply beard oil or balm(if necessary, use the two), these products help keep your beard hydrated and in-form while you sleep.
If you are a stubborn-sleeper rolling from one edge of the bed to another, I will advise you to apply little drops of beard oil to avoid bed early stains.
Besides, you can still do some little combing.
Trim Beard (Not Daily)
Frequent beard trimming is the best way to your beard in a perfect growth shape.
Once a week isn't compulsory, but it's essential.
But the problem now is that, if you aren't careful enough when trimming, you will end up chopping some hair off, which is a big-time bad experience.
So to reduce the risk, a pair of scissors and a standby mirror is what you need as you have more control over the movement.
What about the neckline?
The next professional barber within your neighborhood is the right person to take care of it, only if you aren't that good at carving.
Here's a video on you can trim your beard yourself at home the right way.
https://www.youtube.com/watch?v=OdvgHaqrEWc
Helpful Tips For Faster Beard Growth
You remember "there is the climax for everything"? Well,  in case you don't know, there is a length that your beard can't exceed (terminal beard).
At that stage, there is nothing you can do to make your beard grow. All you have to do is care for what you already have.
So here are my tips for you;
Make the appropriate beard grooming tools available.
You should style beard following the growth-shape, and size.
Eat and stay healthy.
Exercise patience.
Avoid synthetic or chemical-made products; they can't be of great help in this whole process. Go for all-natural or 90% natural ingredients made products.
Now I would love to hear from you:
Did you find our article on what makes the beard grow faster, helpful?
Or maybe you have experience, advice, tips, question, or something helpful to share with us.
Either way, do let me know by leaving your comment below right now and don't forget to share with friends.