Are you in search of some mind-blowing underneath hair color ideas? Then you are in the right place.
I never knew underneath, or hidden hair color will trend someday, but here is it, becoming popular like never before.
The exciting part of it is that the color trend works on all haircuts, so there is no point in isolating yourself from the latest trend if you wish to join.
I have gathered a comprehensive list of ideas and compiled it in such a way that everyone who checks in must find one to choose.
But Before then,
Do you highlight your hair? If Yes. Here's what you need to know about highlights damaging hair.
So here's our gallery of underneath hair color ideas.
Blue and Purple Underlying Hair Color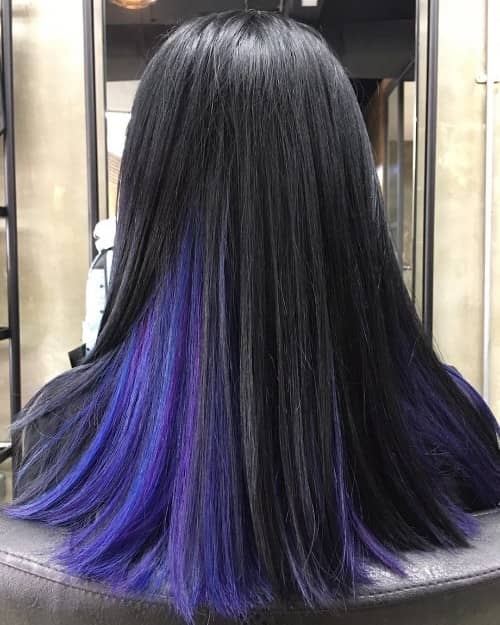 The underneath hair coloring is now one of the easy ways to incorporate color into your hair without other people noticing.
So with this method, office position and professional job are not going to stop you again from joining the hair color trend. Let's hear a sound of joy.
Gray Underneath Hair Color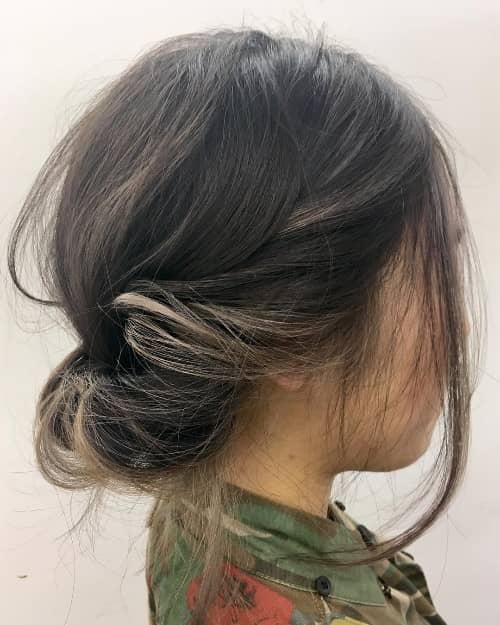 If you didn't check-in correctly, I am sure you won't notice this hair is colored. Or are you thinking that was natural? If yes! Then you are very far from the trend.
Let me clear it for it now; What you just saw is a gray-tinted hair with blending shade to the natural hair color.
Dark Purple Hidden Hair Color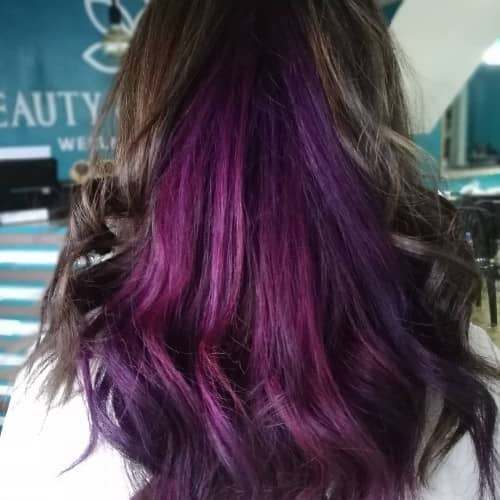 The purple color is one of the difficult to maintain hair color. Just like the silver color, it requires a specially designed shampoo.
If you still look closely again, you will see that this idea has a subtle shade of dark red, or should I say Violet Fandango?
I am very sure you don't need to break the bank to achieve this.
Dark Red and Blue Underlying Color
The shade of dark red or brown gives you some sense of doubt at first. But as you get used to it, you will find out the uniqueness.
Besides, you can see that the color is merging with little shades of deep blue.
So if you're considering this style and color for your next look, what you will need is two-color dye and little experience of braiding.
Rainbow Underneath Hair Color Idea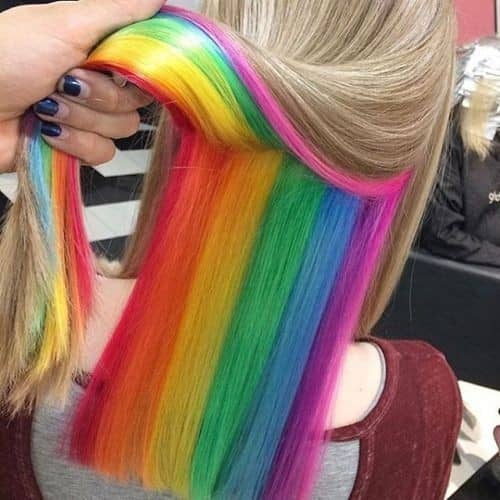 Some crazy rainbow hair colors can get you kicked out of the workplace or institution. But what about hiding the rainbow you always wished for until you need it?.
That's when the underneath color trend comes to take place. If you are searching for an outstanding rainbow new look, I bet you; this will be a perfect idea.
Four Colors Underneath Hair Color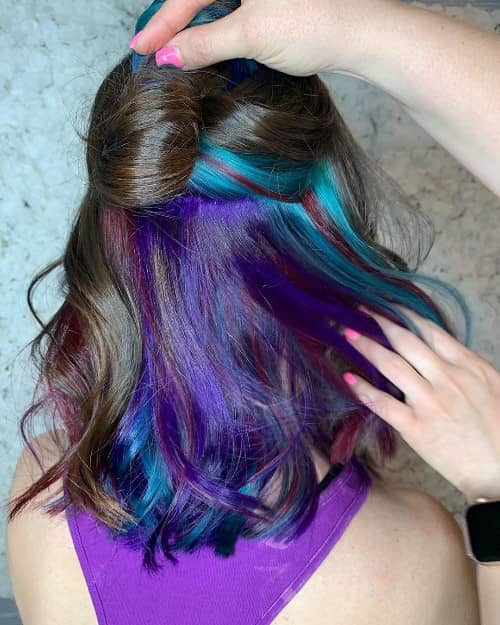 Azure blue plus the shade of wine red and teal can still be family on one head. However, it can not be easily hidden because of color contrast and hair length.
The length and the color are easy to maintain, but the shortness is what makes it difficult to hide.
So if you're a student or professional worker, this idea is not ideal for you.
Fuchsia Low-light Hair Color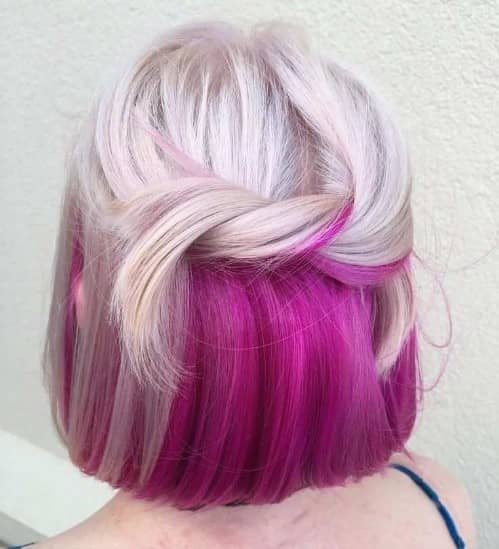 The seventh on our underneath color ideas gallery is Fuchsia (purplish red), taking the underneath position with chin-length Bob haircut. And I am sure the front has bangs.
This color idea was number one trending on Instagram late last year.
However, if you want to achieve this same level of shade, just make sure you have blonde hair or get your hair bleached.
Blue + Teal Underneath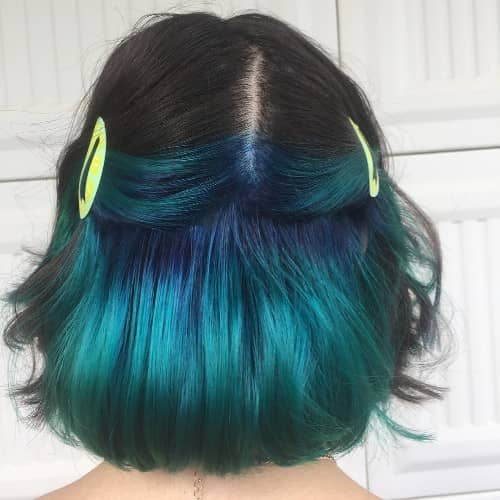 Were you wondering the name of the hair color? Well, you can see that it is two tones color, one covering about one inch from the root while the other covers the rest area.
The darker root can be seen as dark blue while the other one is a teal color. I think these color tones may require some measures or the work of a professional.
Lowlight Brown Clayey Hair Color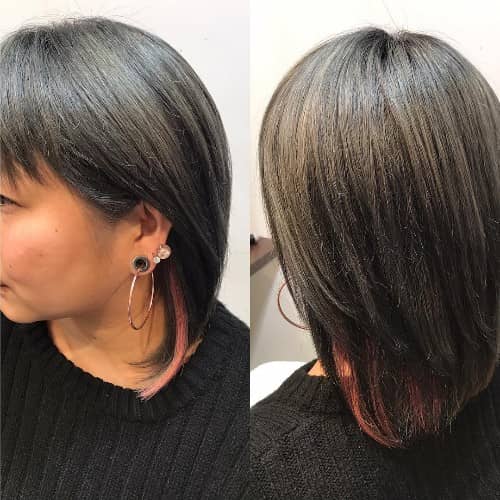 Hidden lowlight is the kind of coloring that ladies who want to play around with their hair can do. In most cases, you do not necessarily need to bleach or get pro colorist to do it for you.
It is effortlessly gorgeous, and when displayed, it can flatter anyone.
So if you are looking for hair color that does not require maintenance, give this idea a try later.
Hidden Hair Color Blonde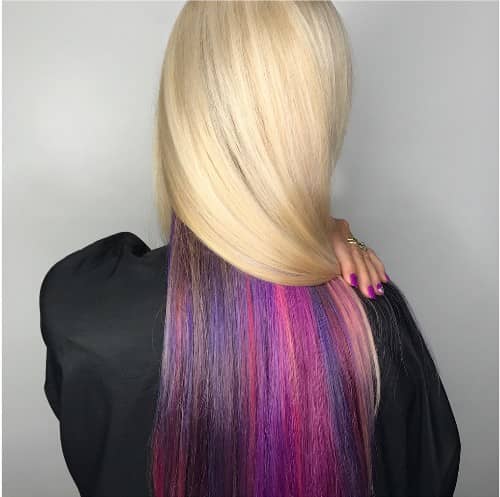 Here's another sort of rainbow in our gallery. These color ideas are a great twist on long hairstyles.
From my observation, I can see four different colors, appearing over and over again in different shades. I think this will require more technical work to achieve.
Underneath Purple Color On Black Hair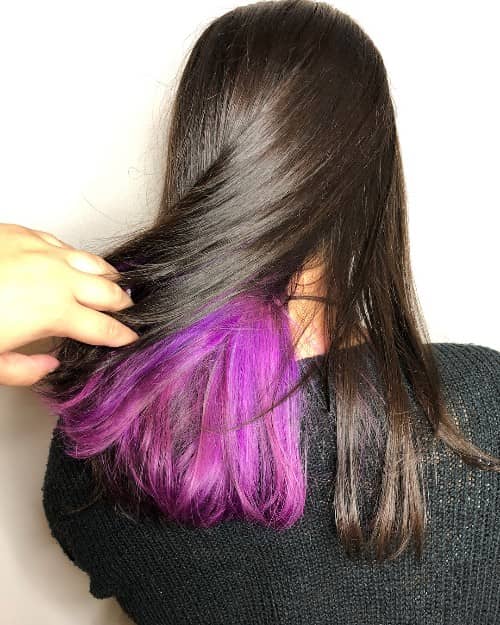 If you're a fan of medium-length haircut and bright patch color, this idea is probably a perfect choice for you.
The underneath purple complimenting with the style length creates an effortless beauty vibe. The color might seem a bit adrift because the natural hair color is black.
Ombre Underneath Hair Color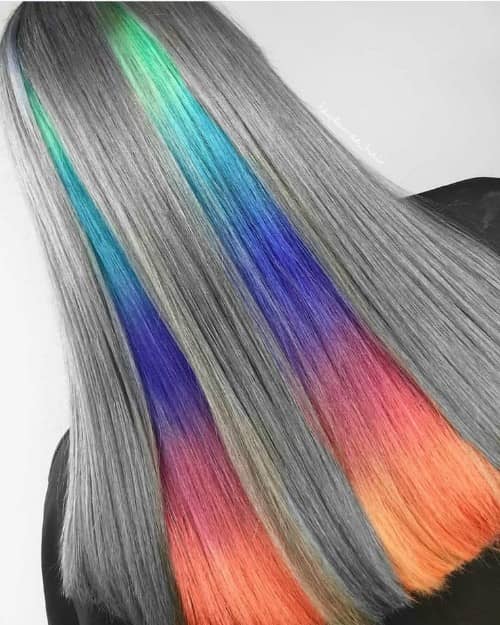 For those who prefer the ombre form of hidden underneath color, this idea might be a great and decent choice for you.
The primary silver-gray color creates room for the bright shine of these color tones; I doubt if this will work on dark hair.
It's a gorgeous idea that you might consider for your next look.
On-Going Underneath Hair Coloring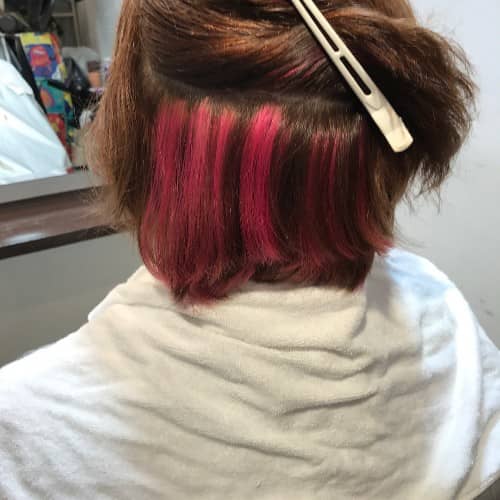 This picture shows you what the hair looks like when the color processing is going on. You might want to do it yourself at home.
All you just need is your dye, clip, pair of hand glove, old shirt or towel, clip, and maybe foil, then apply it the usual way. There's no real big deal about it.
But if you are going for more tricky and confusing shades, I recommend you request for assistance from a friend that has dye experience.
Multi-Color Peekaboo Hidden Underlight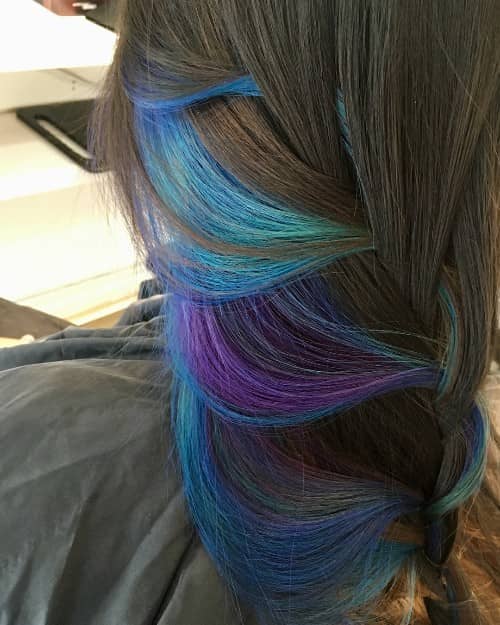 Every other underneath color ideas we have seen here has its color from the backside, but this one is far from what we want.
This idea is more fancy and stylish. Not minding that it is coming from the side, the coloring style is sophisticated and gorgeous.
Purple and Blue Underneath Hair Color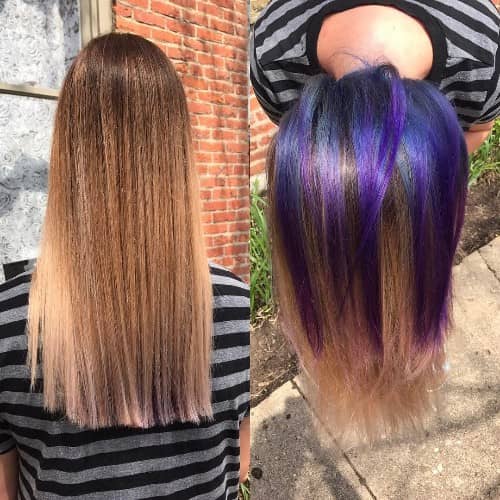 If someone wants a perfect example of hidden underneath color idea, you see this? Yes, this is what I will give to the person.
Whether you curl or straighten the hair, the color will only show up whenever you wish. And the hair length as well offers so many styling possibilities.
Rainbow Ombre Hidden Hair Color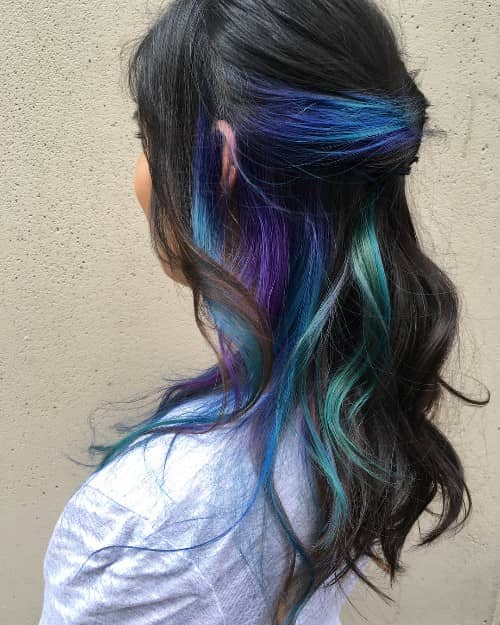 This underlying blue, purple, and green color is an easy idea to recreate at home within a short time.
There is no need for a complicated technique. It's going to be you and the hair dye.
You just need to mix your hair dye and pick out little strands of hair for coloring. You can give your hair all color the same day, or you take it to wash after a wash or maybe day after day.
Five Colors Rainbow Underneath On Black Hair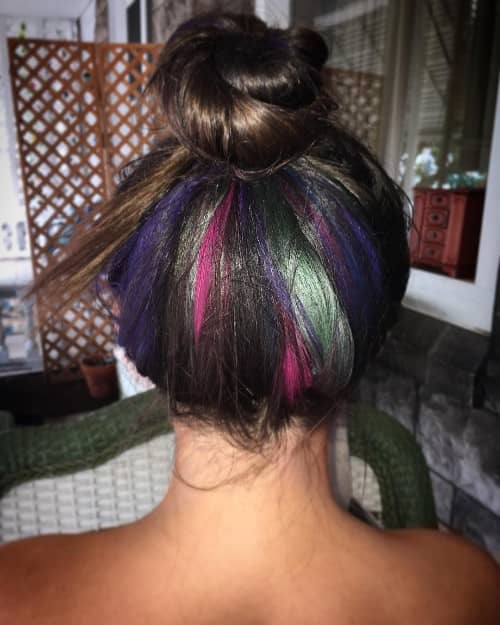 This color idea is an ideal choice if you have black colored hair and planning on any colorful event or party.
The only thing I can think of that is going to make you feel weird about this color is that it won't shine so bright because it's under cover of black hair.
However, this promising color will turn the heads of people near to you.
Rainbow Underneath Hair Color Idea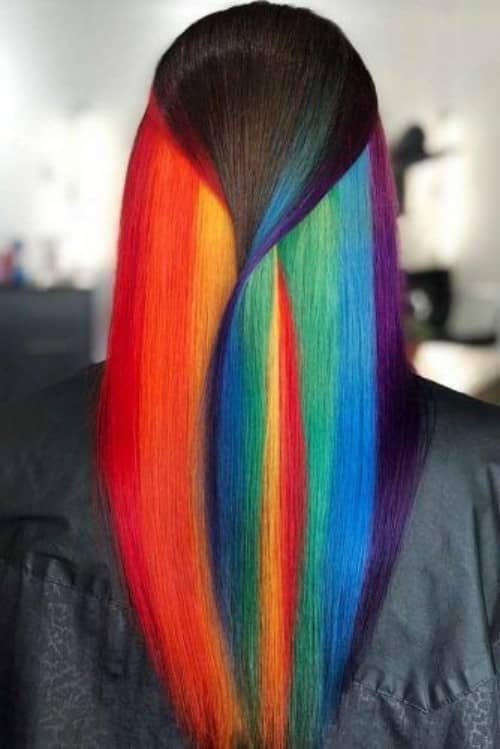 Here's another rainbow in our gallery. From the right is an orange, yellow, black, blue, green, yellow, a shade of red blue and purple.
This peacock idea is an excellent choice if you want something that will make all head turn to you and create a scene.
Red and Purple Underneath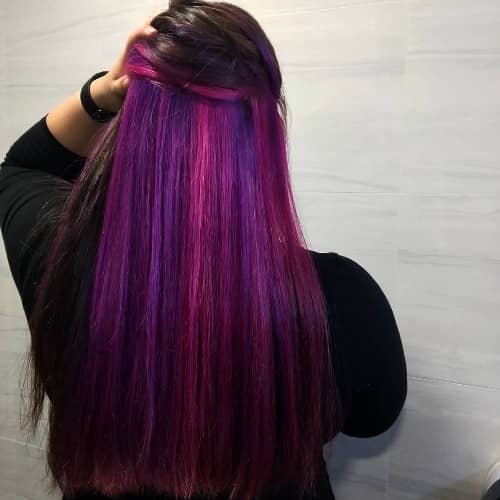 The underlying shades of red and purple create a new look on the black hair, although the main focus rest on the purple color.
These colors look gorgeous on medium to waist-length hair. I still think it's going to be effortlessly pretty on short hair like Bob and shoulder-length haircut.
Red Underlight Color on Brown
The shade of red does not have to be extremely bold if you are considering this idea.
You just have to show off your underneath color whenever it pleases you by styling your hair in a bun.
Lastly, this color levels doesn't require much maintenance. If it starts fading and you want it back, all you got to do is some touchup.
Multi-Tone Underneath Hair Color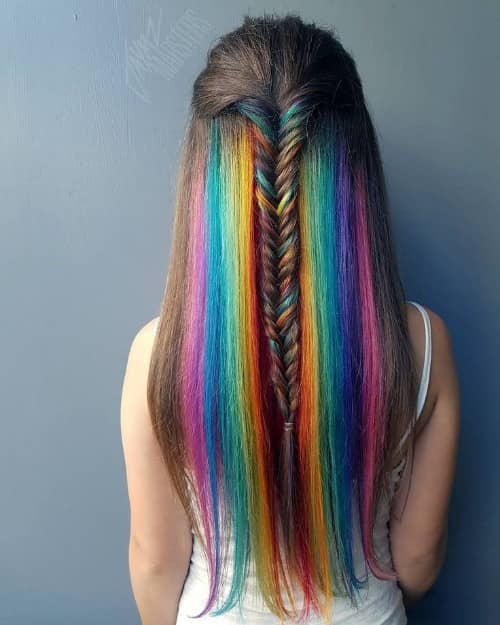 Here's another excellent choice of underneath rainbow hair color. You create a new version of two of your hair by adding a rainbow color that is reflecting sideways.
Getting this color can be a little bit tricky because it's like repeating what you have already done backward.
Two Colors Ombre Underneath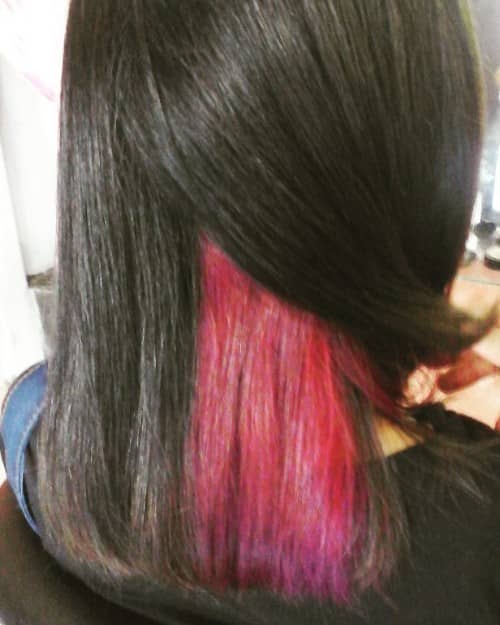 I call this extensive area strand test underneath. This idea is what it looks like to perform a strand test for the time.
And this is an excellent option for someone who wants to try out two-color ombre without committing the full hair.
Underlight Color Idea for Blonde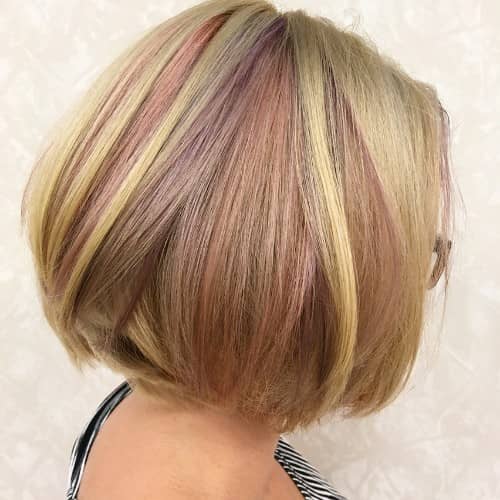 Are you in search of color that is uniquely different from the rest and suit shorter haircuts? Well, I think you have a great option.
The complex nature of this color idea demands the help of an experienced colorist.
Two Repeating Underneath Color on Black Hair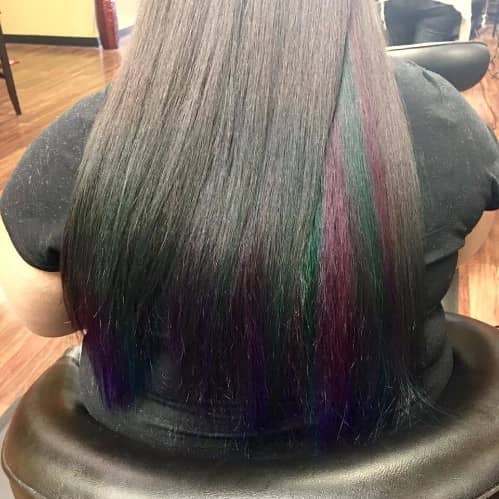 The strands were not bleached, and because of that, the two repeating colors (purple and green) lying side by side didn't shine bright.
However, as expected, it still looks good and overpowered by the black.
Underneath Color Idea for Brown Hair
A subtle, but yet brilliant color shade like this is what some ladies dream for when they reach of age.
The purple, green, blue, and red color tone creates a sensation of beauty and silent boldness.
Wine Red + Purple and Blue Underlight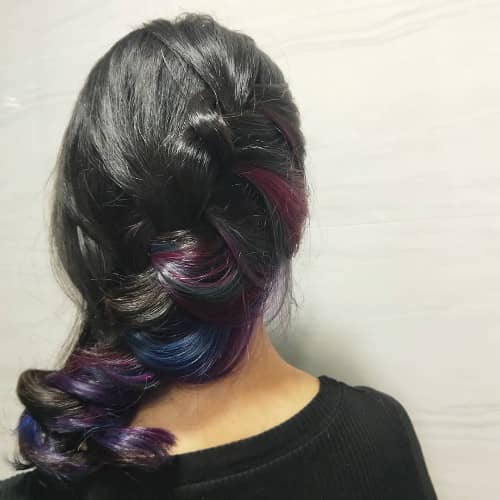 As usual, the black hair overpowered the dyed strands, but without a closer look anyone and notice it.
Consider styling the hair in a fish or ponytail hairstyle so the colored strands will counter cross for full underlying shades and beauty hack effects to show.
Light Purple + Oxblood Underneath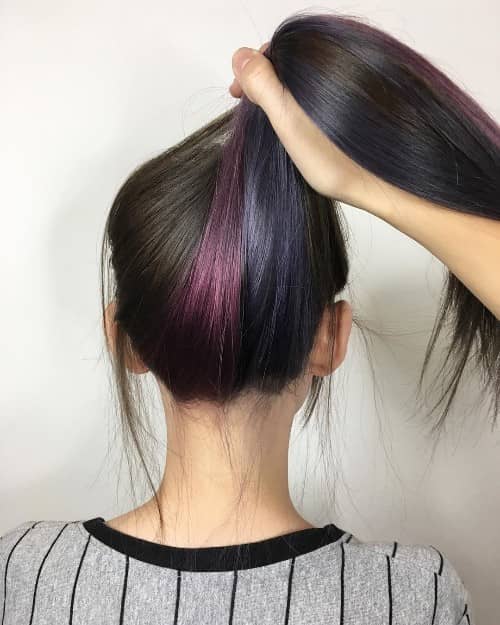 If you wish for something that can not be easily seen without your consent, then this is a fabulous option.
Depending on your natural hair color,  these color tones can shine brighter than you expect and creates room for contrast, which breaks down your expectations.
Wine + Blue and Purple Ombre Hidden-Under Hair Color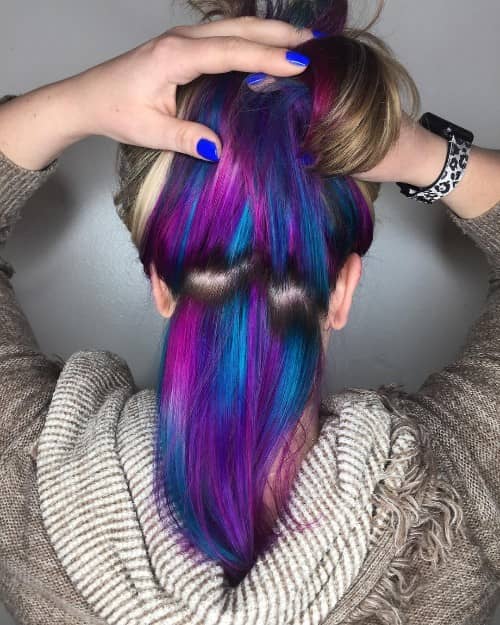 This idea is the last in our gallery. The strands crossing each other makes it look like ombre.
This idea shows that blue and purple can align together without distraction.
Now I would like to hear from you:
Which color are you going to choose from today's post?
Or maybe you find one of our underneath hair color ideas inspiring and wants some more explanation.
Either way, do let me know by leaving your comment below right now.