Hair Coloring
61 Beautiful Ombre Braiding Hair Color Ideas and Hairstyles
Looking for cute, stunning, and bright ombre braiding hair color ideas? Then you won't afford to miss what I have in here for you.
One of the stunning and cool ways to enhance your hairstyle look is by adding multi-colors or ombre hair extensions during installation.
So in this post, I curated a gallery of the best ideas that'll in one way or the other inspire your next hairstyle.
Best Ombre Braid + Hairstyle Ideas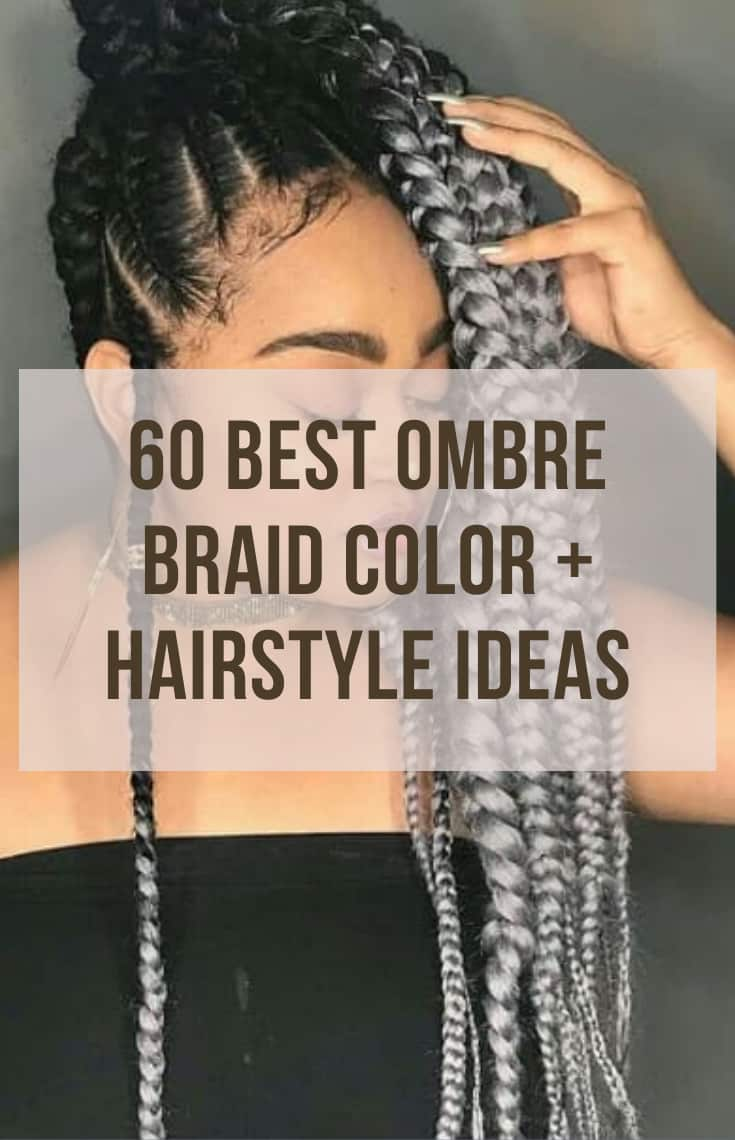 This gallery of braided hair color ideas is compiled so that any lady who visits this page  MUST see at least one inspiration that she likes. Not bragging.
So here's our list/gallery of cute ombre braiding hair color ideas.
Jumbo French Coffee Brown Ombre Braid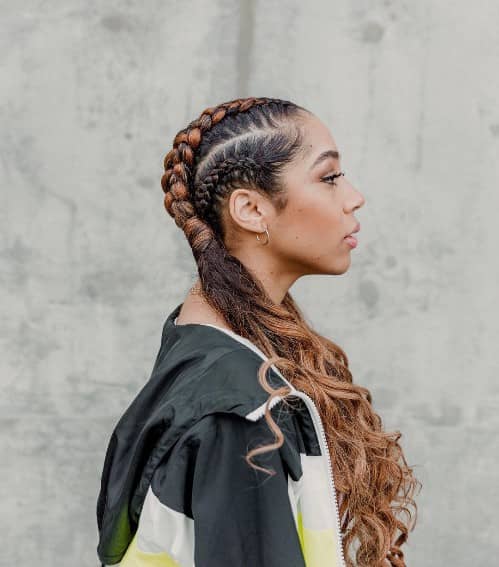 In some parts of the world, this style is called the Jumbo French braid or four-line braid. For ladies with long curly hair, this style is a good protective hairstyle.
Orange Ghana Braid Hairstyle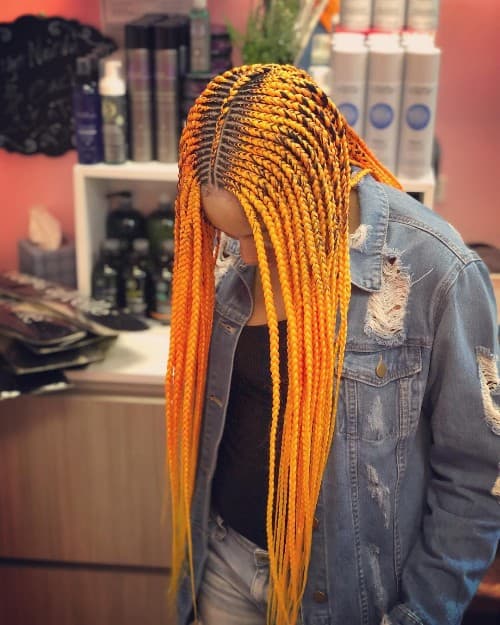 The next idea on our gallery is the cute orange hair color, as you can see in the featured image. Orange is a good color option for special occasions like birthdays, house parties, school parties, or social gatherings.
Black – Creamy Ombre Modern Ghana Weaving
Ghana Weaving is one of the most common protective hairstyles for black women living in West Africa. Now imagine getting it styled with packs of colorful hair extensions. The vibe is really hot.
Lest I forget, make sure to read my post on how to stop itchy scalp after braiding. There's a lot you'll learn from this post.
Blue and Black Ombre Feed-In Chunky French Braid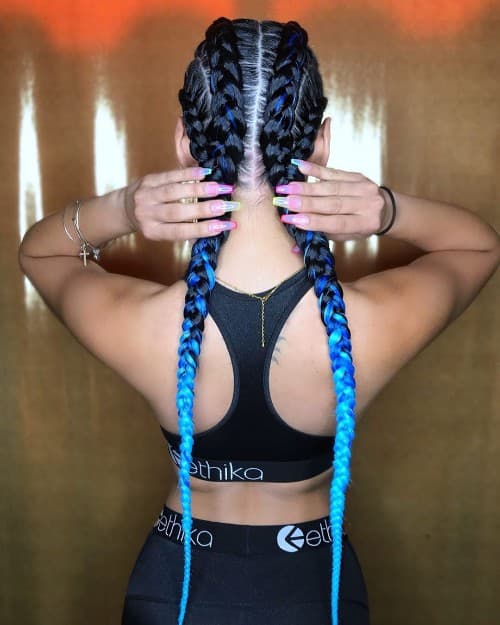 When we are taking of colorful braids,  blue and black color braids can never be ignored. The most interesting part of these colors is that they can pair with almost every style of braid.
Black – Light Purple with Blonde Cornrow Braid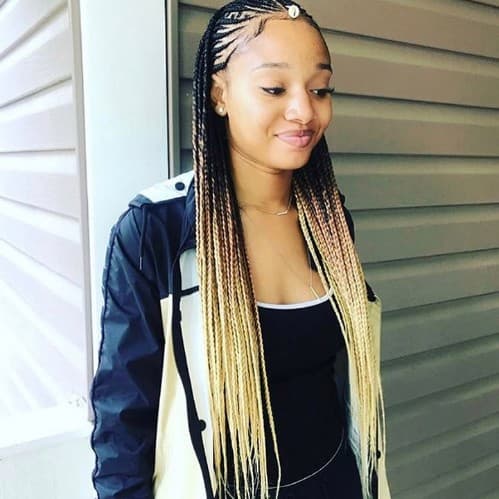 While there are many multi-color braid styles out there, you would still want to try out something unique, and this color-plus hairstyle is a sure bet for you (Three color shades ombre braid).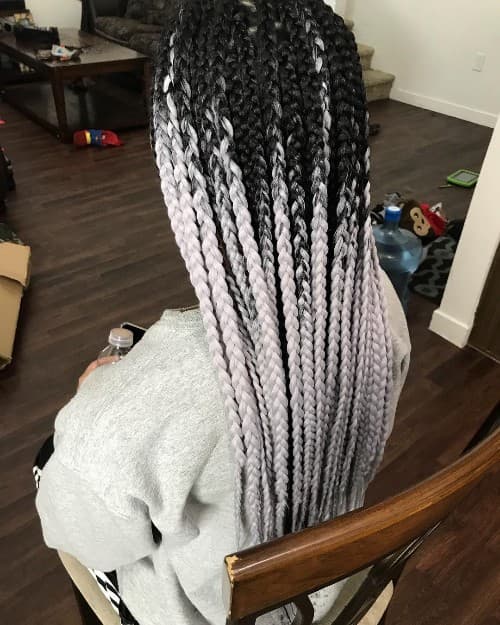 Three colors braid is becoming more and more popular among African American ladies. To achieve this hairstyle and color, all you need to do is: find and buy 3-6 packs of three-color shades hair extension (if it's not available in your hairstylist salon), then show your braider this featured image.
Dark Red Plus Black Ombre Box Braid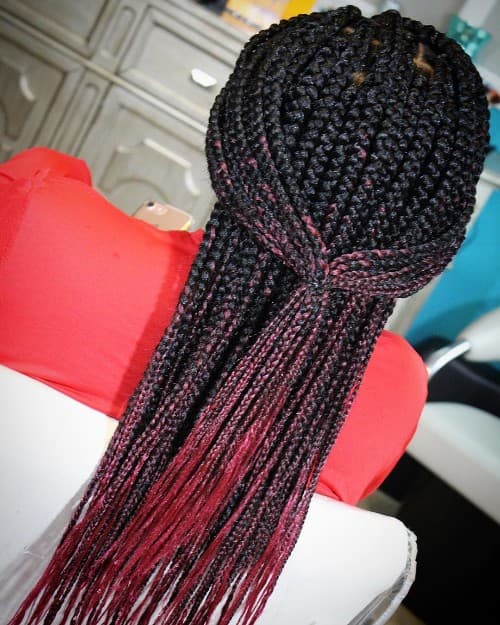 Here's another inspiring near-natural braid style and color you will love to have on your head. With a box braid hairstyle as the pillar, the dark red ombre extension makes the hairstyle look more stunning and attractive. If you are a black woman who doesn't have a big interest in shiny and bright colors, you should try this out.
Black – Dark Red Ghana Weaving Hairstyle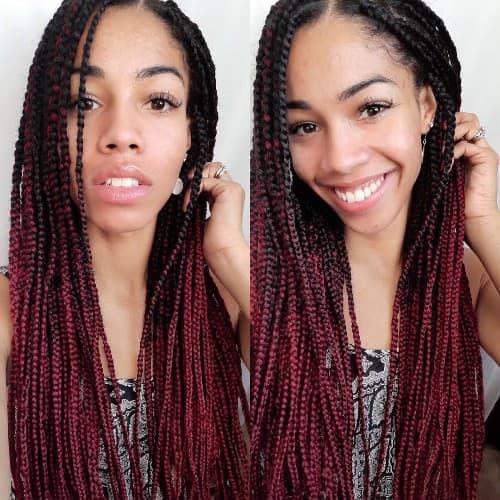 If you want something cute for any occasion- this dark wine red blending with black will be a good idea for you. The mix of these colors will make your hair look sweet and stunning. Shop this extension here if you want to recreate this style.
One Side Black – Purple Braiding Style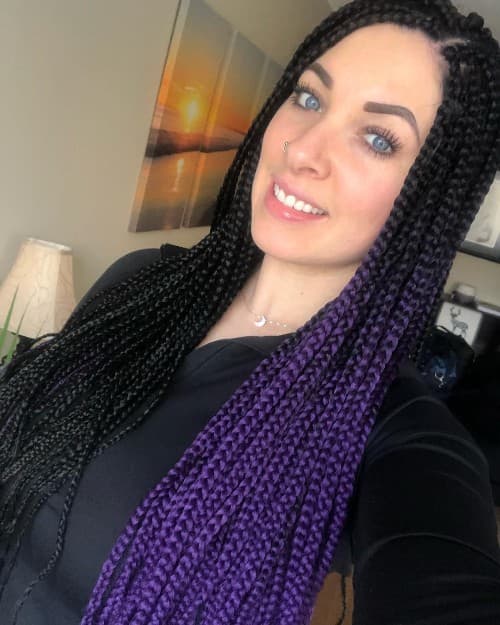 This hairstyle is a mix of purple and black. You can buy a pack of this extension here to achieve this kind of stylish colorful braid hairstyle.
Purple – Blue Ombre Triangle Box Braid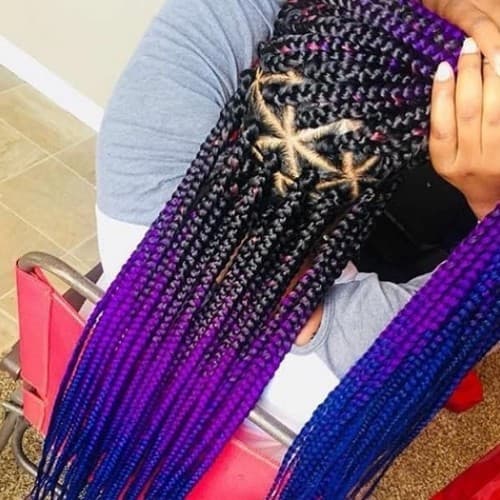 Suppose you don't want a two-colors ombre braid hairstyle. You can perfectly rock in the three colors braid (black-purple-blue); this multi-color look is a good choice when you want something insanely eye-catchy and elegant.
Black With Red Simple Braid Style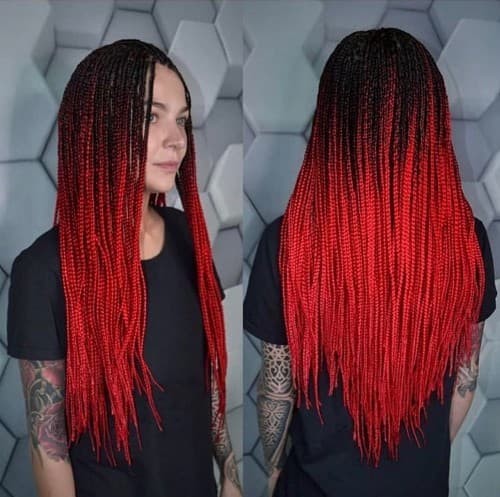 Next, we have a cute and colorful fiery red micro braid hairstyle. You can perform some magic and turn your love into reality with your cash and time by visiting any pro hairstylist within and outside your neighborhood to achieve something like this. The beauty will be more pronounced with a neat triangle, knotless, or box braid hairstyle.
Creamy – Silver Color Box Braid Style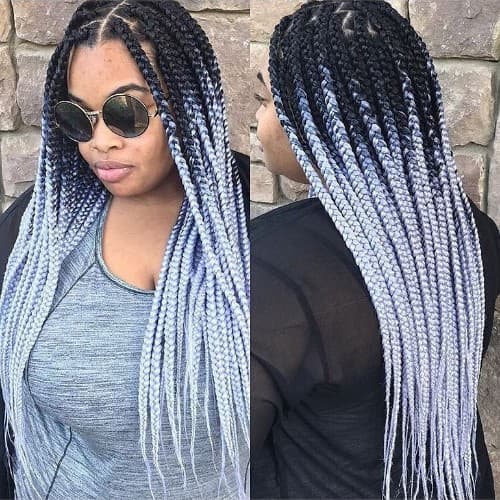 This extension color looks somehow, maybe because I am not too good with color names, but I still take this as silver.  The two-color braid hairstyle is not the type that will restrict to some dress color codes.
Black And Blonde Ombre Fulani Braiding Hairstyle
As a teenager or college student, I'll recommend this color braid and style if you want the perfect bold appearance. It's a combination of blonde and black, which gives you that stunning look you've always wanted.
Two Halves Black And Fire Red Hair Color Idea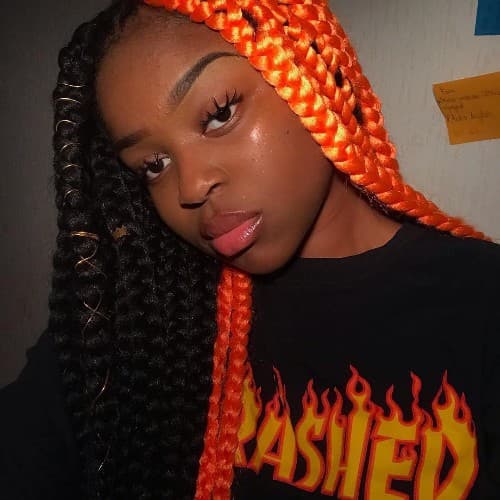 You can achieve an outstanding look like this if you have the money and a professional braid hairstylist at your disposal. This size of the hairstyle even makes the installation process easier and faster.
Blonde-Purple Ombre Hair Color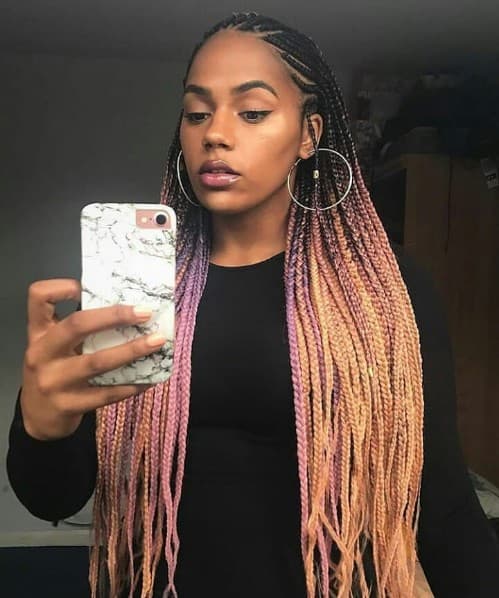 These color mixing braids will drift you to the upper ground of classic ladies with vibes. How much you're willing to spend on your hair most times defines how cute and stunning the hair will look.
Blue Ombre Feed-in Crossed Chunky Braiding Style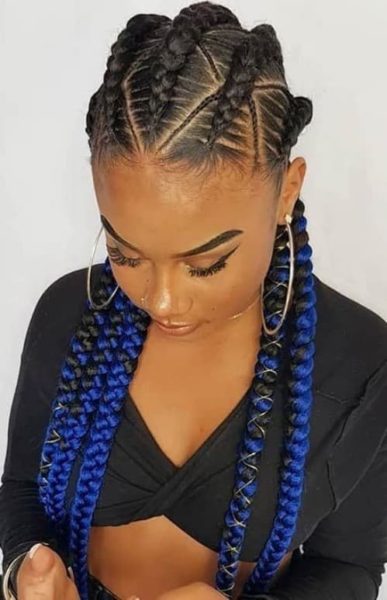 This hair color and style is a nice option for young ladies who like it big and shiny. The braid is styled in a way you can pack and get another secondary style like a fishtail. The appearance will remain cute as long as the strands are maintained.
Black and Blue Fulani Braid Styles + Bead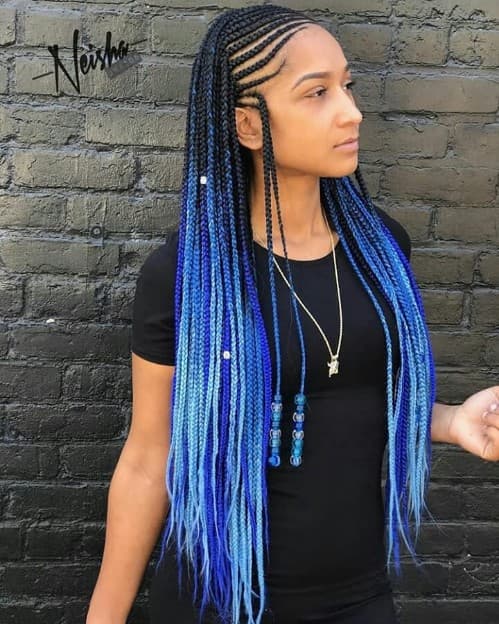 Fulani braid is another protective tribal hairstyle that you can beautify with colorful quality hair extensions and accessories like beads and rings. Also, make sure you read my post on how long Cornrows braid lasts if you're interested in trying it.
Black – Blue Ombre Lemonades Braiding Style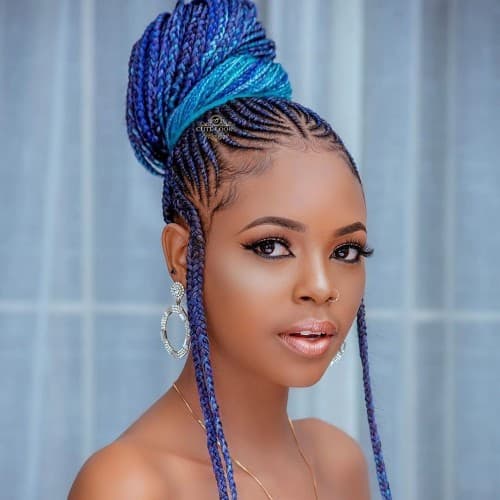 The purple hair color flowing on one side provides the person with a smart and neat appearance. This braid color style works all around, and in some cases, it can serve as the best alternative if you don't want a sharp eyeing color.
Blue – Creamy + Purple Ghanaian Weave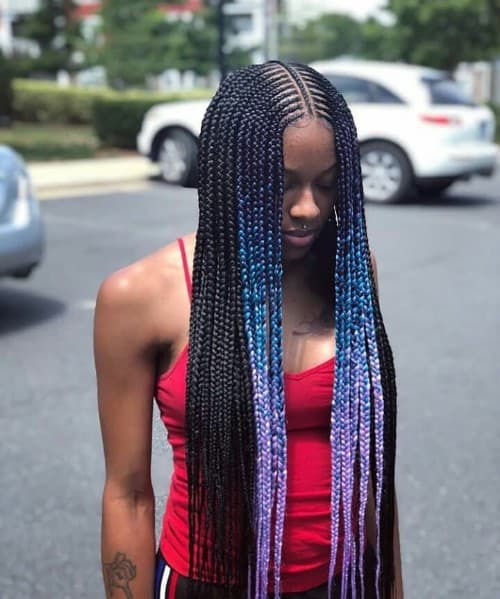 Blue – Hidden Green Stylish Sided Braiding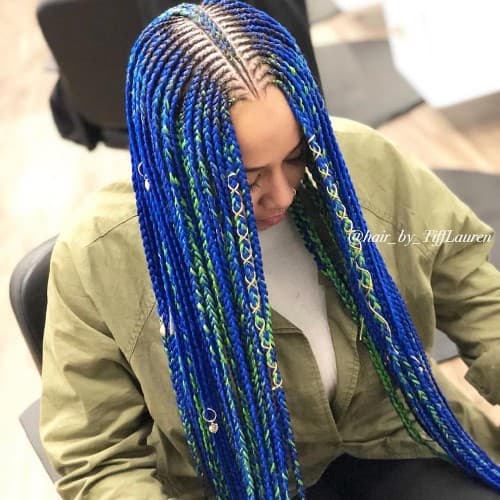 Classic Purple Ombre Hair Color Idea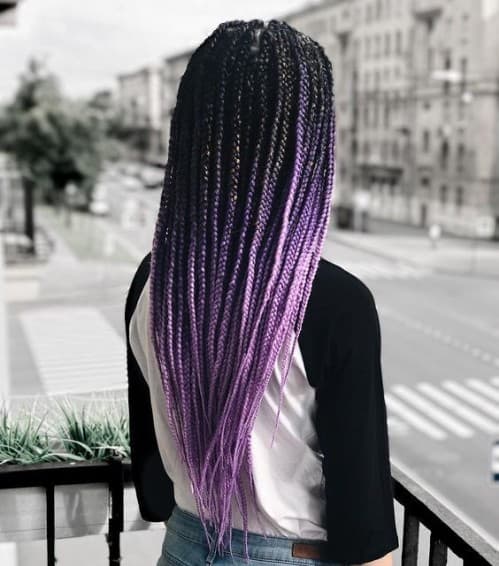 Coffee Ombre Braiding Style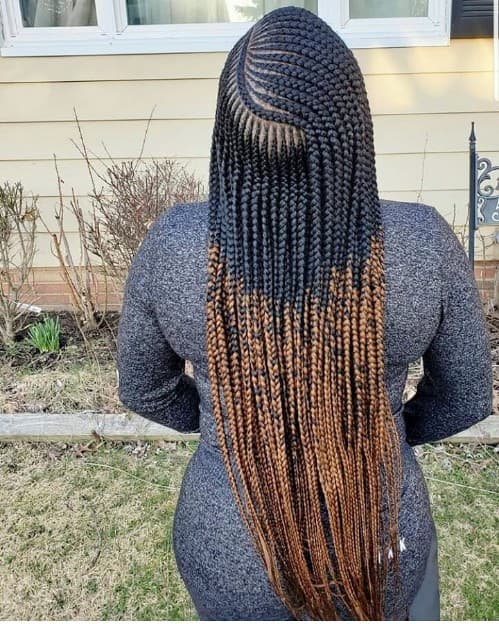 Black + Coffee – Purple Ombre Ponytails Braid Style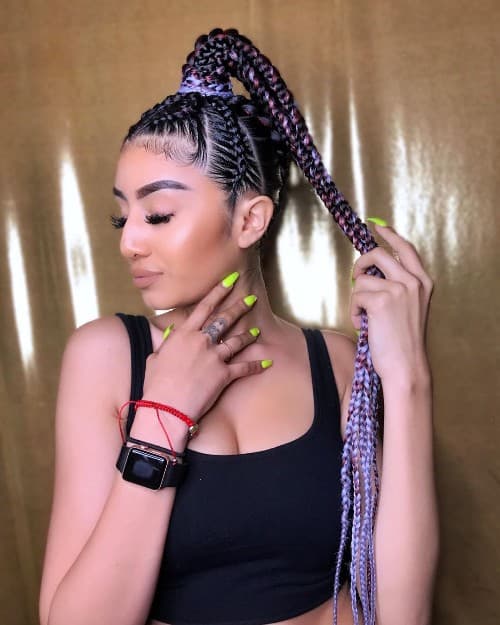 Coffee + Creamy Cocoa Fish Tail Braid Style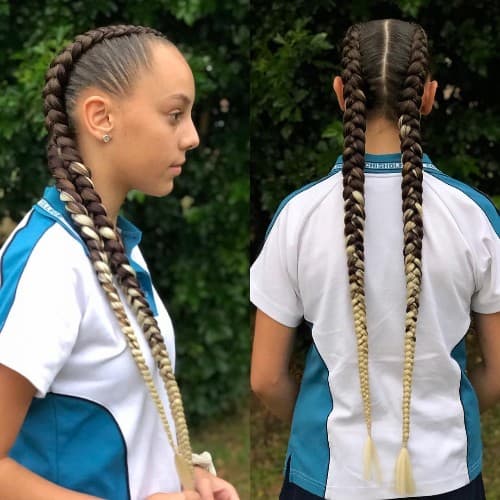 Milky Ombre Cornrows Braid Style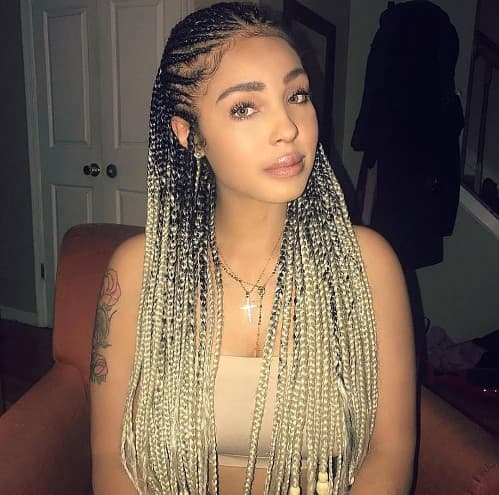 Flaming Purple Cornrows Braid Style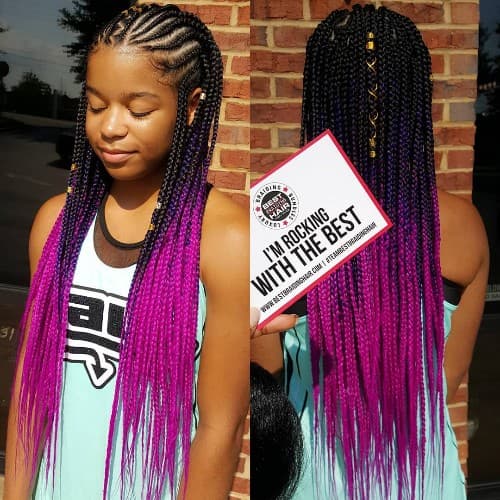 Creamy  + Cinnamon Swirl Stylish Feed-in Braid Style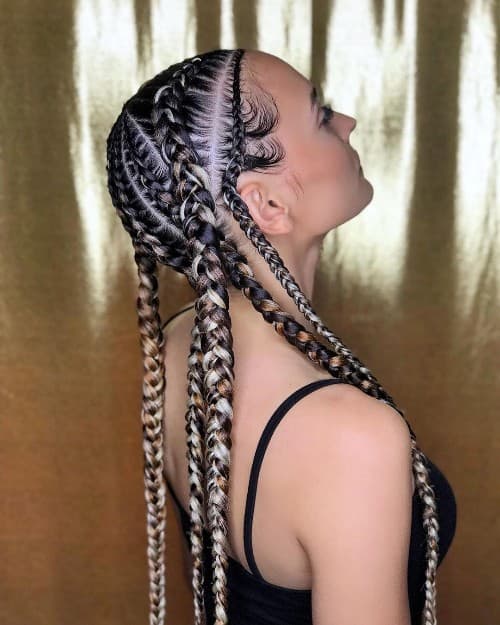 Black – Creamy Ombre Feed-In Chunky Braid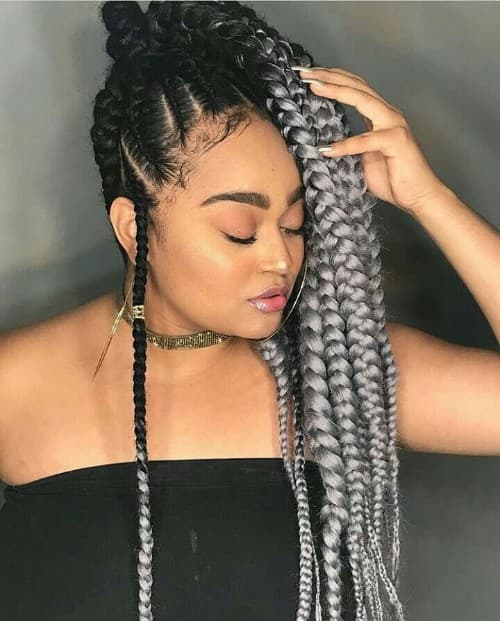 Milky – Pink Ombre Braid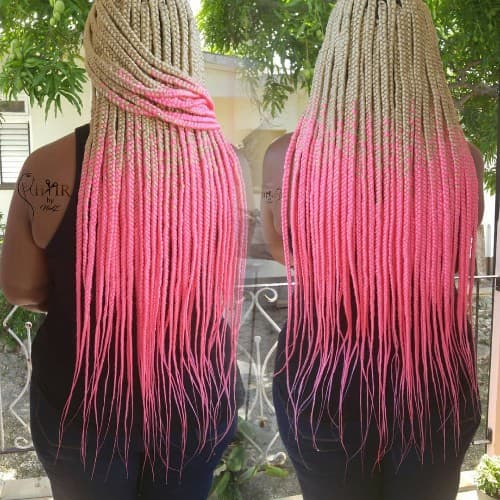 Black and Blue Feed-In Braid For Curly Kids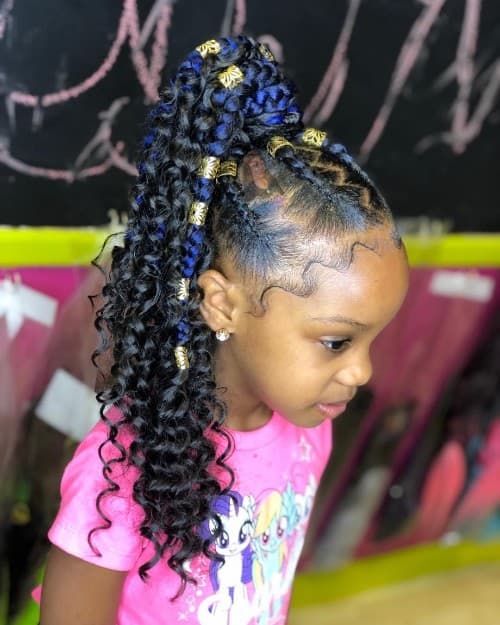 Black – Dark Brown Braid Hair Color Idea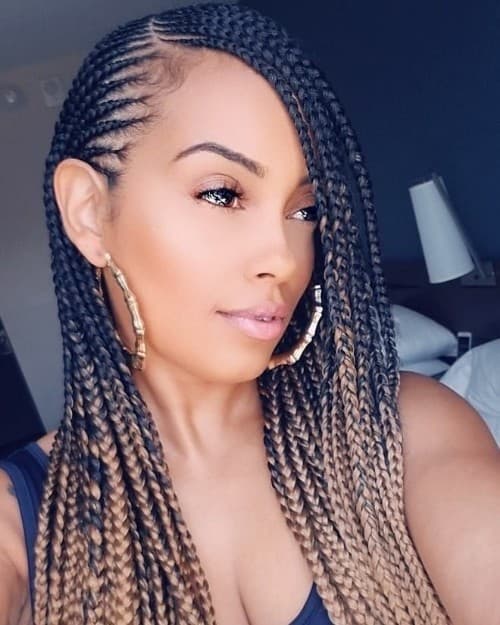 Deep Blue – Sky Blue Knotless Braid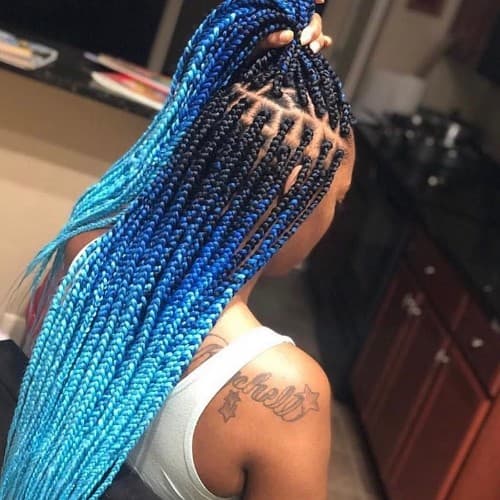 Teal Ombre Hair Color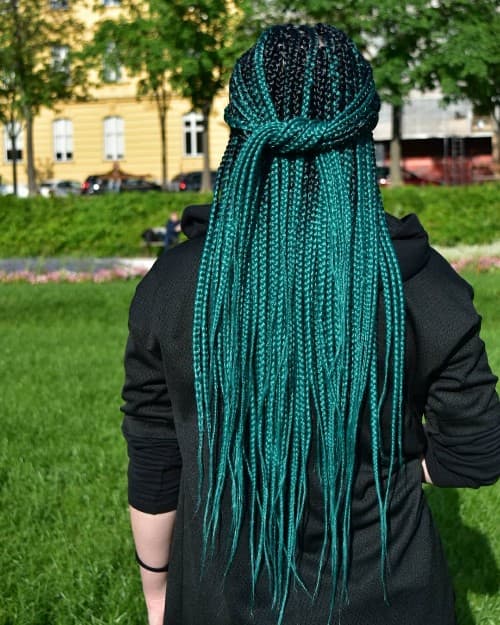 Creamy + Light Pink + Sky Blue Ombre Braiding Hair Color Idea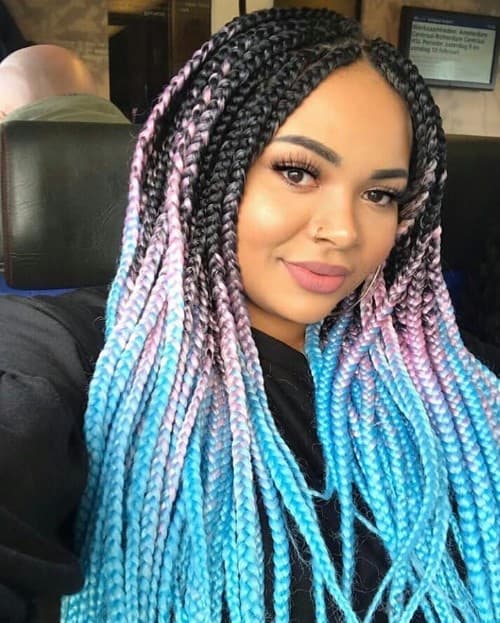 Cinnamon Swirl + Light Pink Feed-in Braid Style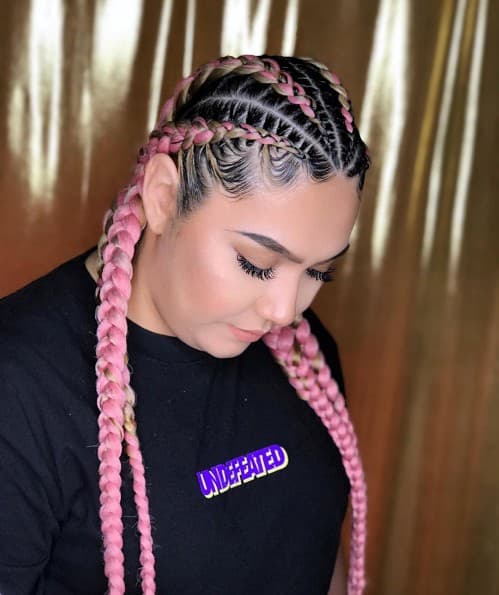 With the help availability of quality ombre hair extension and a pro braider in your area, this style is a sure-go goal.
Black + Creamy + Cesser Blue Box Braid For Men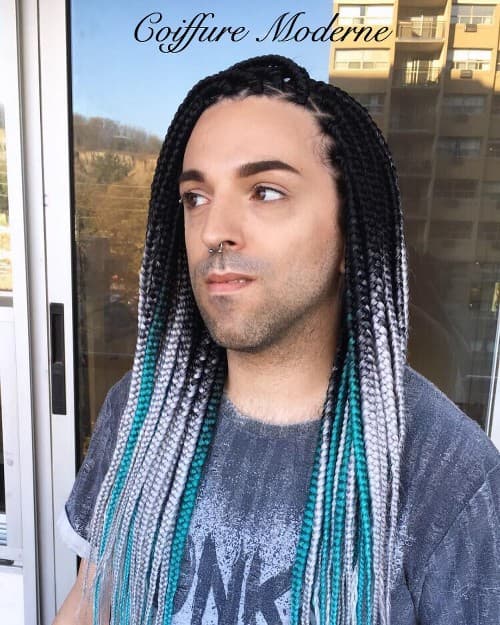 Milky – Light Pink Asymmetric Braid Style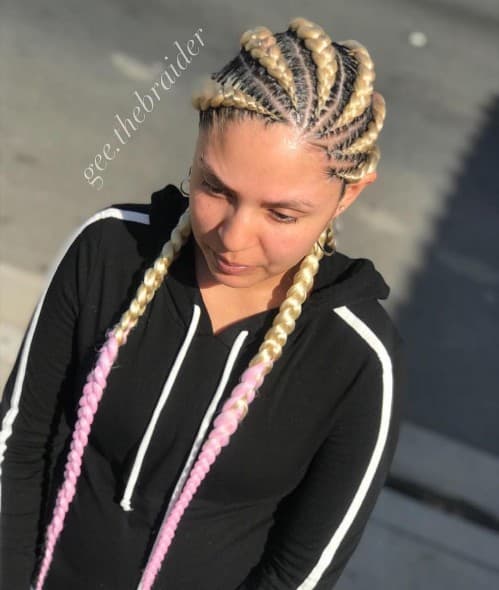 Blue + Purple and Black Ponytail Braid Style For Kids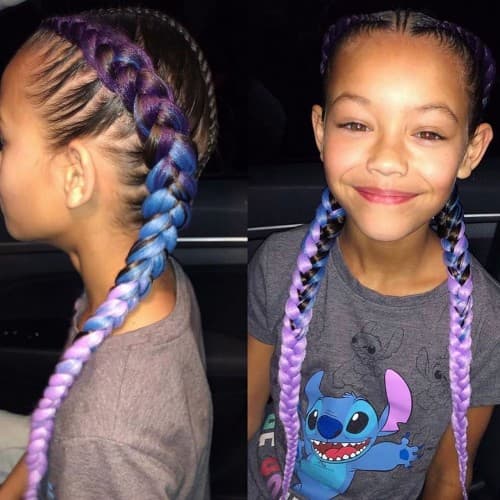 Purple – Blue + Pink Triangle Box Braid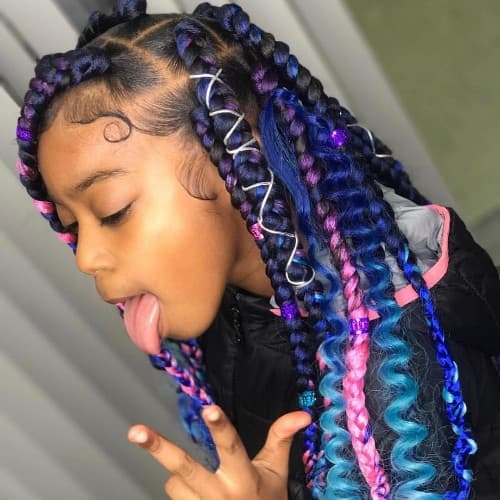 Merge Purple + Blue Stylish Sew Feed Hair Braid Color Idea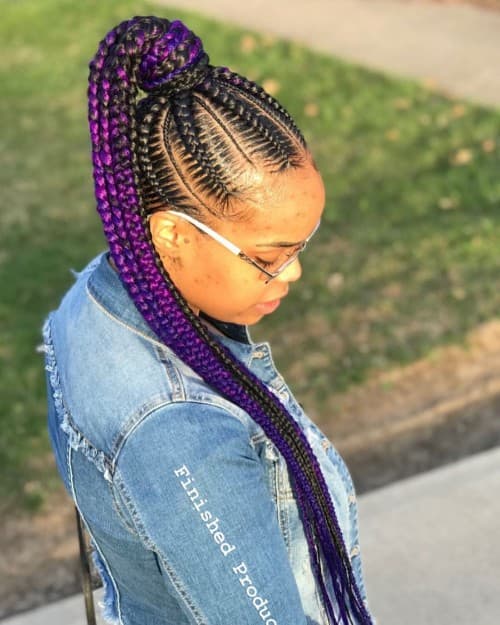 Black – Purple – Red Ghana Braiding Style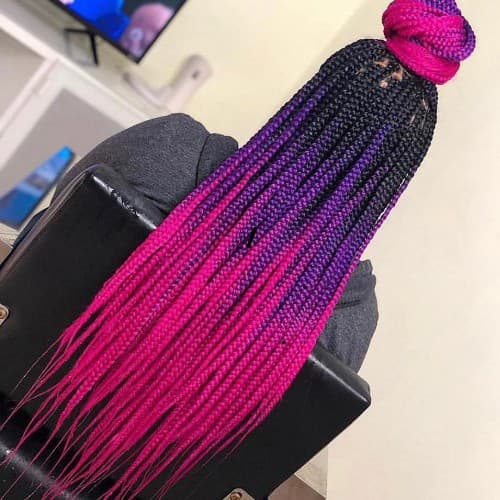 Rainbow Asymmetric Braid Style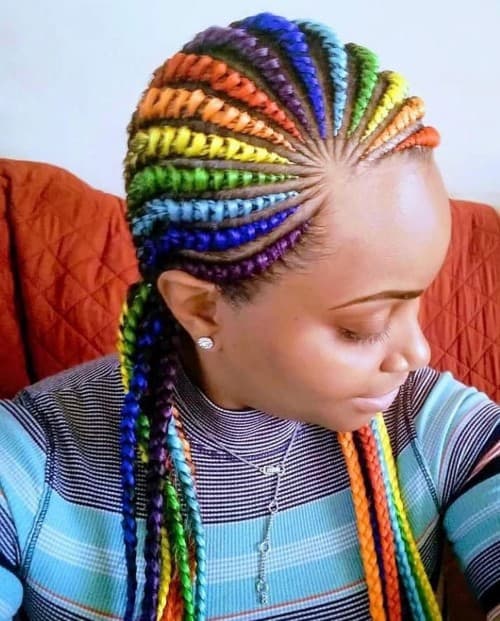 And this is the last idea here on this post; I really hope you love this compilation.
Now I would like to hear from you:
How many color tones and which colors are you going to start with from today's post?
Or maybe I didn't include your favorite ombre braiding hair color and styles.
Either way, do let me know by leaving your comment below and right now.
Pin for Later