Want some new and trendy colorful braid hairstyle ideas? Then you are in the right place. We have a gallery of 61 of the most stunning ombre braiding hair color ideas for you.
One of the stunning and cool ways to enhance your natural look is adding multi-colour braid into your hair, without dyeing or bleaching your natural hair. Sounds cool right?
Best Ombre Braid + Hairstyle Ideas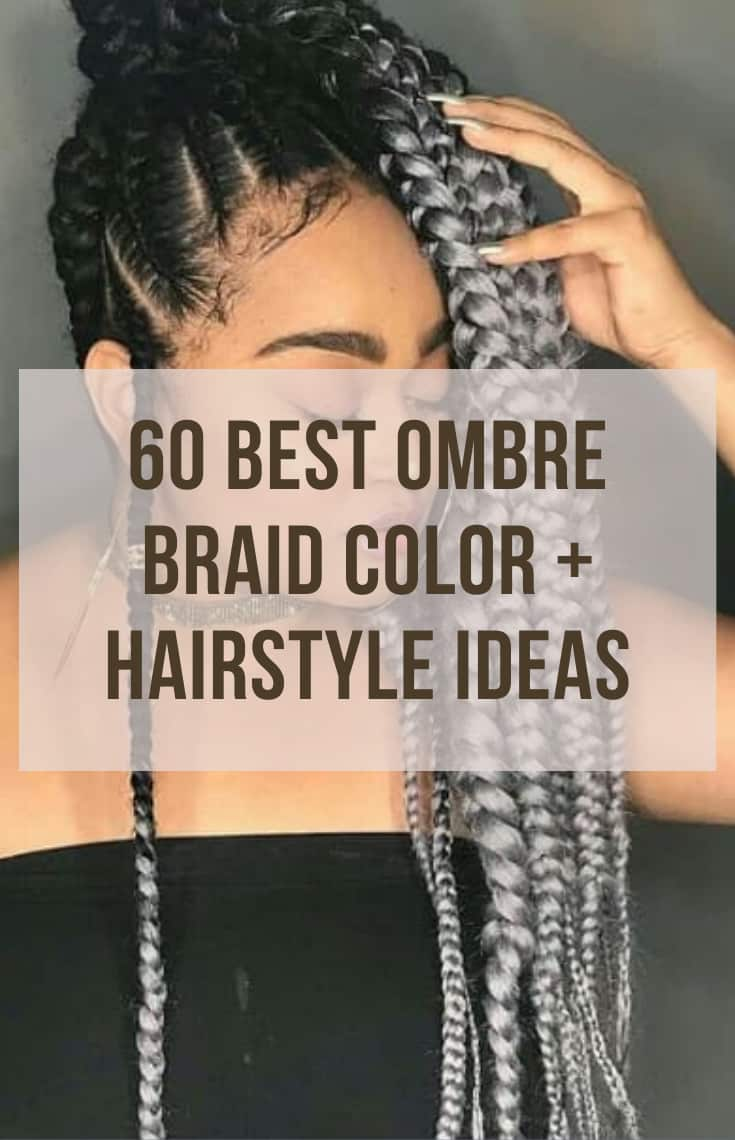 Our comprehensive gallery of braided hair color ideas is compiled in such a way that any ladies that scroll through MUST pick up at least 1 ombre colour braid style.
So here's our list of ombre braiding hair color ideas to choose from.
Chunky Feed-In Brown Ombre Braid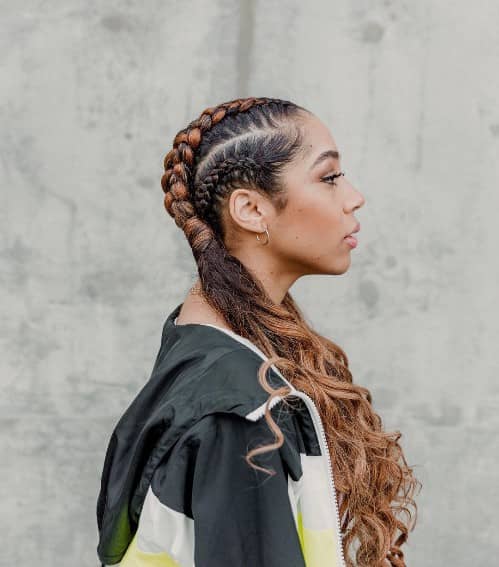 In some parts of the world, this style is called combo Feed-in French braid or four-line braid. For ladies with long curly hair, this style can also serve as a protective style, because it leaves the curls starting from the neckline down the ends.
Orange Pairing Black Ghana Braid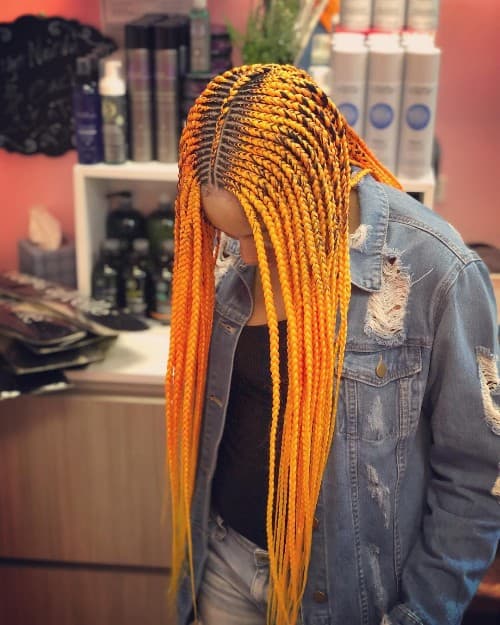 It would have been much cute if the natural black hair is changed to orange, but however still color shines and brilliant. Orange color is a good color option for special occasions like birthday, house party, school party and many more.
Black – Milky Ombre Modern Ghana Weaving
All back Ghana weaving can be cool on you. Now combine it with milky and black color ombre you will testify to the combo.
Lest I forget are experiencing itchy scalp after braiding? Here is why and how to stop it.
Blue and Black Ombre Feed-In Chunky French Braid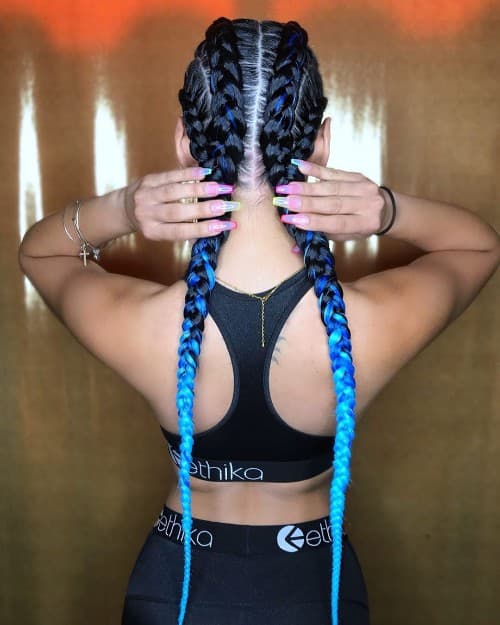 When we are taking colorful braid blue and black color braid can never be ignored. The most interesting aspect of these colors is that they can work on almost every type of braid hairstyle for black women even white ladies.
Black – Brown With Blonde Classical Braid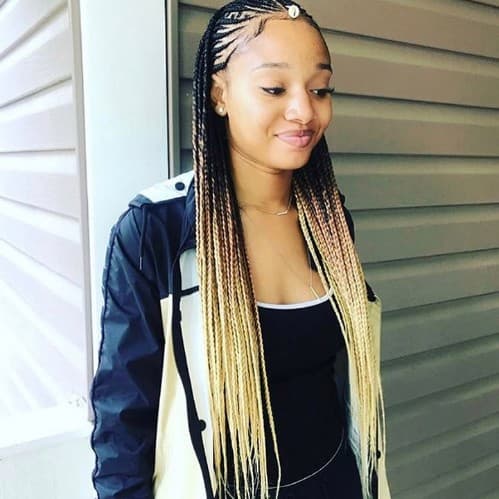 While there are many multi-color braid styles out there. You will still want to try out something unique and this color plus hairstyle is a sure sample (The Three colors ombre braid).
Black – Creamy Color Ghanaian Braid Style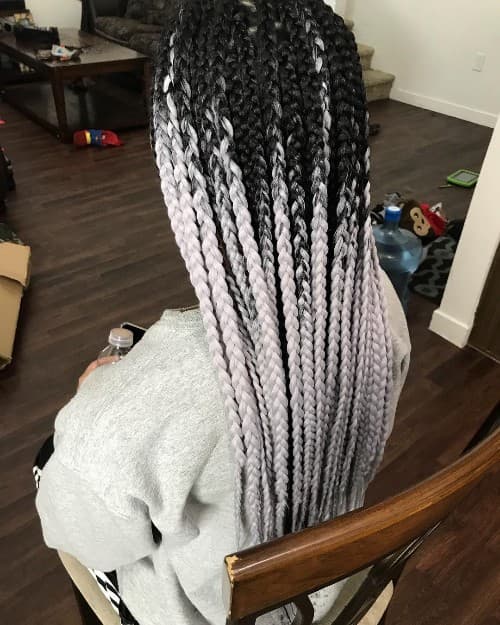 Three colors braid is becoming more and more popular among African American ladies and kids. All you need to do is: find and buy 5-10 packs of three color hair attachments (if it's not available in your hairstylist salon) then tell your stylist the style you desire.
Dark Red Plus Black Ombre Box Braid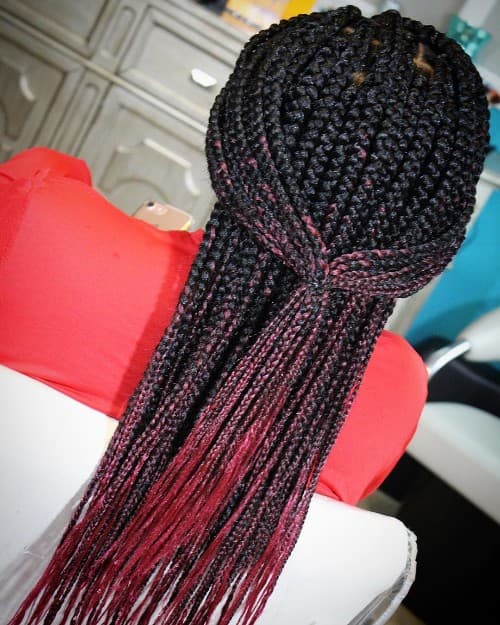 Here's another inspiring near-natural braid style and color you will love to have on your head. With box braid as the pillar, red ombre highlights make it look more complex and attractive. If you are a black woman who doesn't have a big interest in a shiny and bright color you should try this out.
Black – Dark Red Ghana Weaving Hairstyle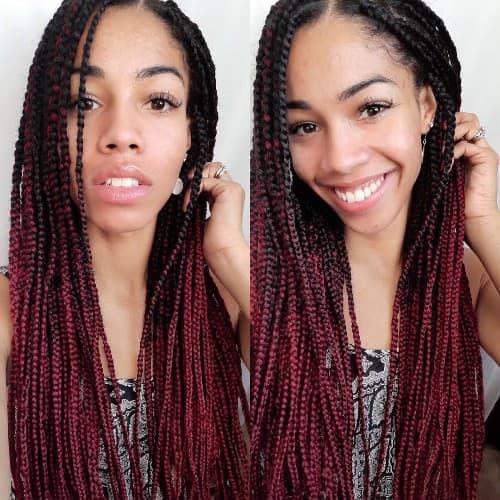 If you love a gorgeous look or something cuter for any occasion- the black or wine red blending with black will be a good option for you. The mix of these colors will make you stand out in public. Shop this extension here if you love this style.
One Side Black – Purple Braiding Style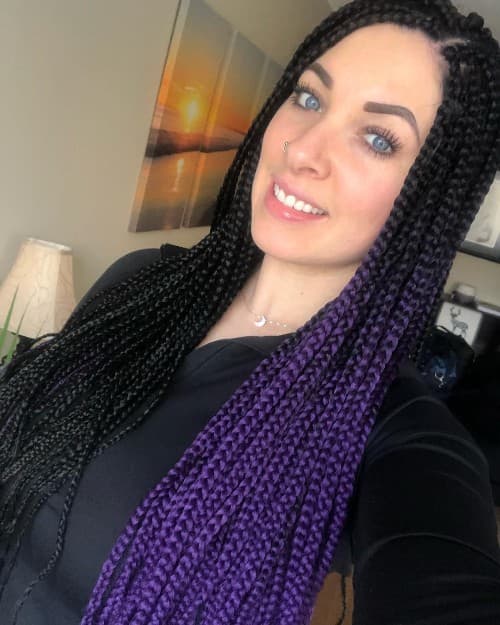 This hairstyle is a mix of purple and black. You can buy the extension here. The purple hair color flowing one side provides the person with a smart and neat appearance. This braid color style works all round and in some cases, it can serve as the best alternative if you don't want a sharp eyeing color.
Purple – Blue Ombre Triangle Box Braid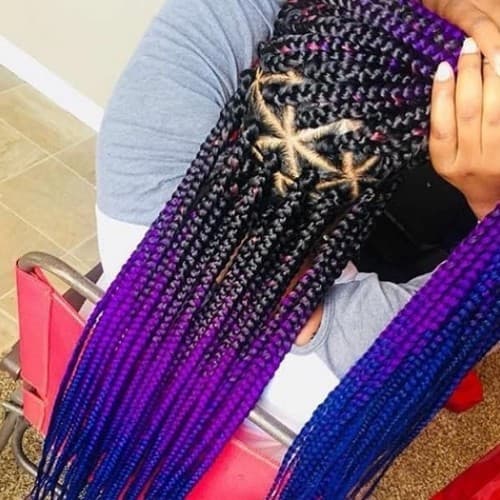 There is no issue at all if you don't want to two color ombre braid. You can perfectly rock in the three colors braid (black-purple-blue), This multi-color look is a good choice for any black lady out there.
Black With Red Simple Braid Style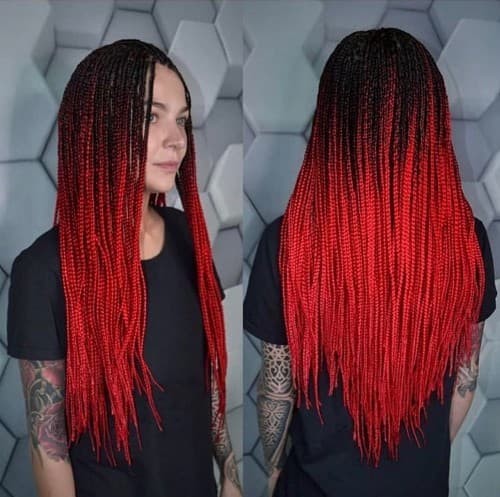 As a white lady and you love two or more color braid styles. You can perform some magic and turn your love into reality with your cash and time by visiting any pro hairstylist within and outside your neighborhood. The beauty will be more pronounced with a neat triangle, knotless or box braid.
Pairing Black – Silver Box Braid Style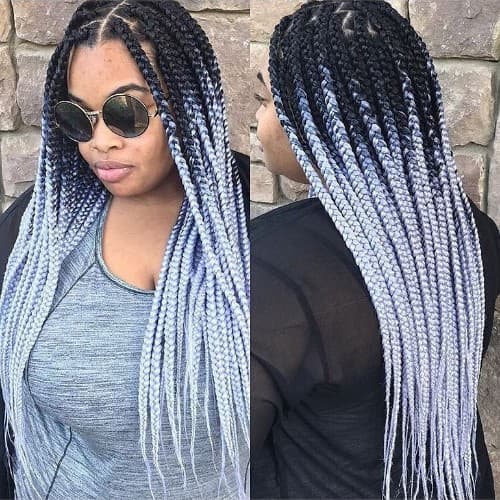 This color looks somehow maybe because am not too good with color names, but I still take this as silver.  The double color is not the type that will restrict to a particular dress color or code. You can wear clothes in a different color for different occasions.
Black And Blonde Ombre Fulani Braiding Hairstyle
As a teenager or college school student, if you want the perfect bold appearance, we recommend this color braid and style. its a combination of blonde and black which gives a jaw-dropping overall appearance.
Two Halves Black And Fire Red Hair Color Idea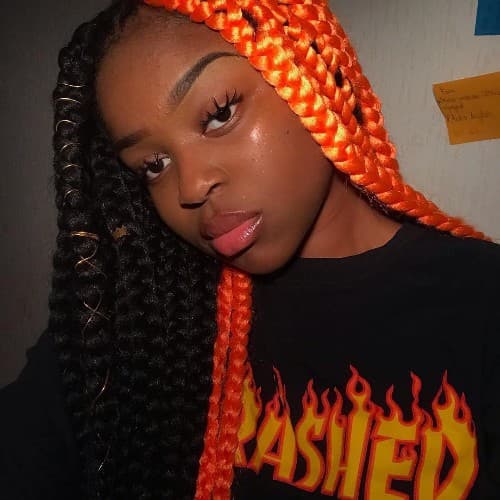 You can achieve an outstanding look like this if have the money and professional braid hairstylist at your disposal. Now, this style makes things much more simple and smarter for both you and the stylist. Wondering why  I said so? then go ask your stylist.
Blonde Cornrows Ombre Hair Color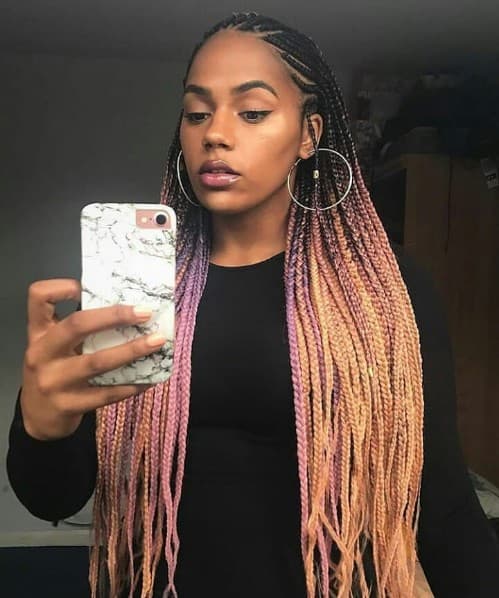 These color mixing braid will drift you to the upper ground of classic ladies in town. Its all up to you depending on how much you want to spend and how you want the style to be. As you can see this is almost five color ombre knotless Fulani braids.
Blue Ombre Feed-in Crossed Chunky Braiding Style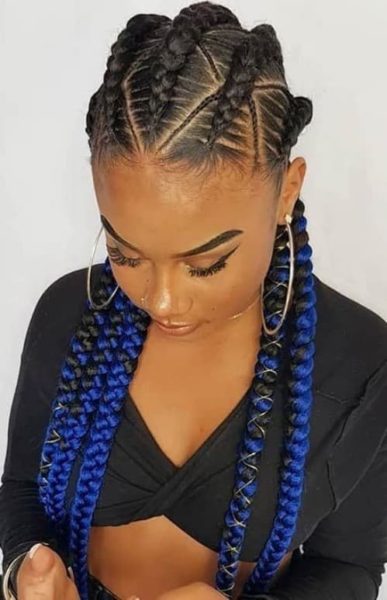 Getting it jumbo is also a fun take on braids. This color and style are great for young ladies who like it big and shiny. The braid is made in a way that you can pack and get another plus style. The appearance will remain cute as long as the strands are maintained.
Black and Blue Fulani Braid Styles + Bead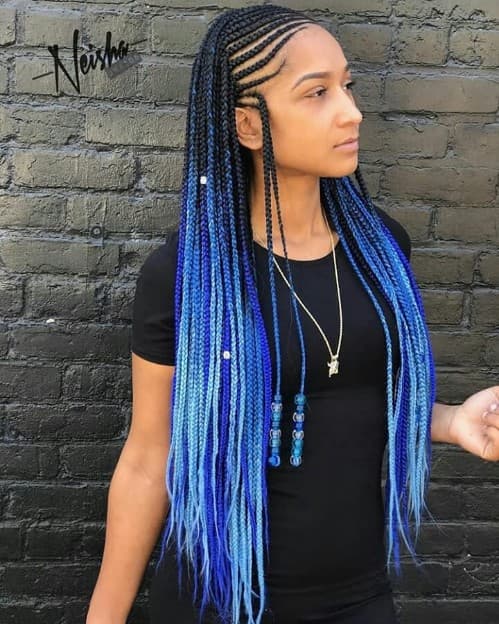 Cornrows braid hairstyle is another protective hairstyles that is common among black ladies. Here's how long Cornrows braid last in case you want to try it out.
Black – Blue Ombre Lemonades Braiding Style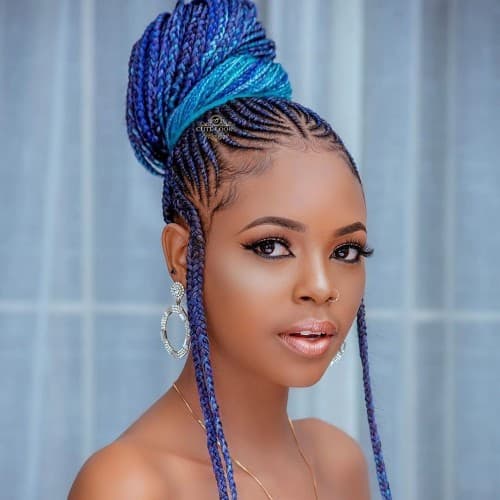 Blue – Creamy Coco + Purple Ghanaian Weave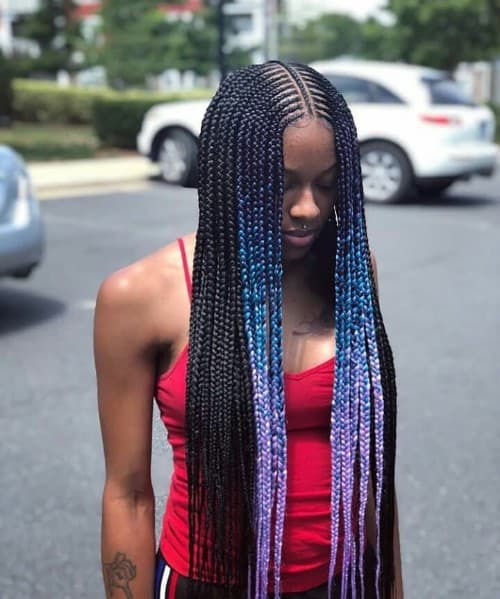 Blue – Hidden Green Stylish Sided Braiding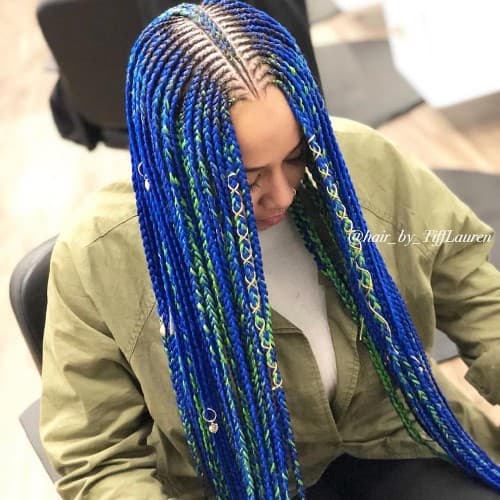 Classic Purple Ombre Hair Color Idea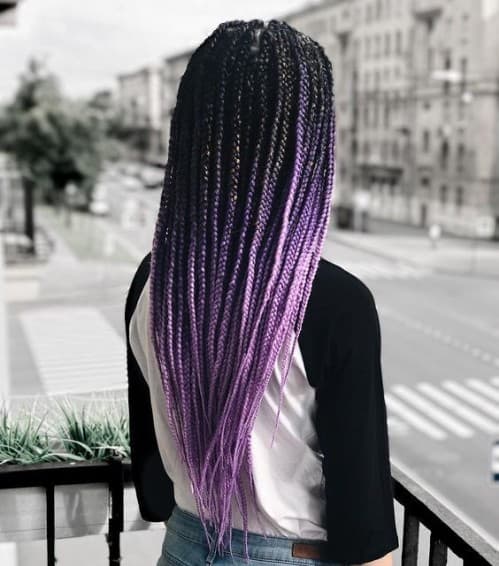 Coffee Ombre Braiding Style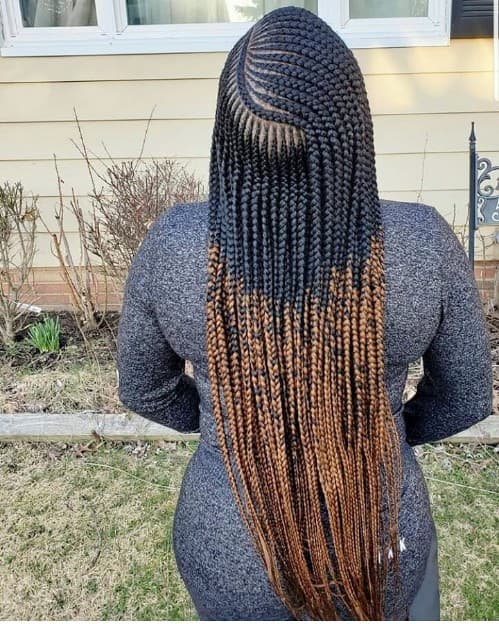 Black + Coffee – Purple Ombre Ponytails Braid Style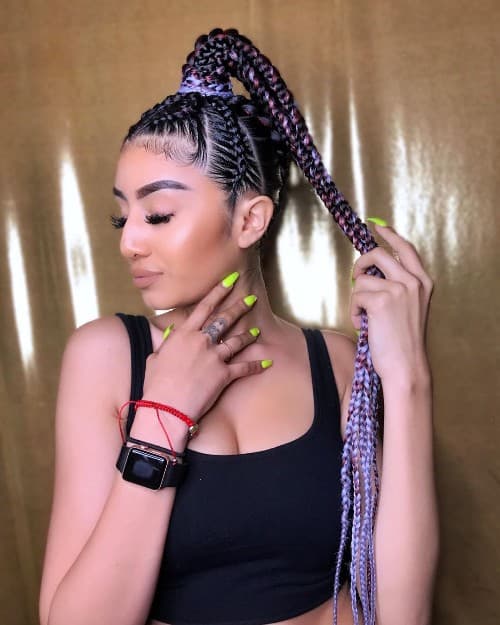 Coffee + Creamy Coco Fish Tail Braid Style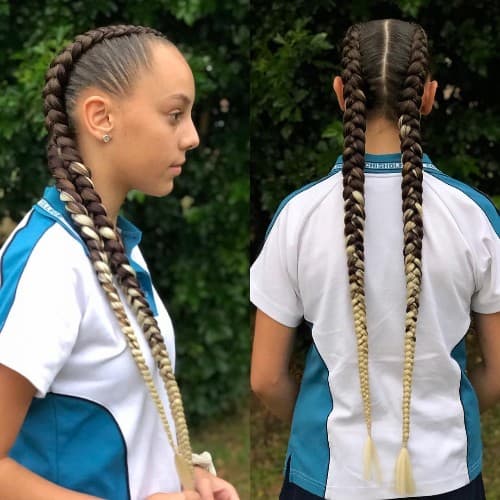 Milky Ombre Cornrows Braid Style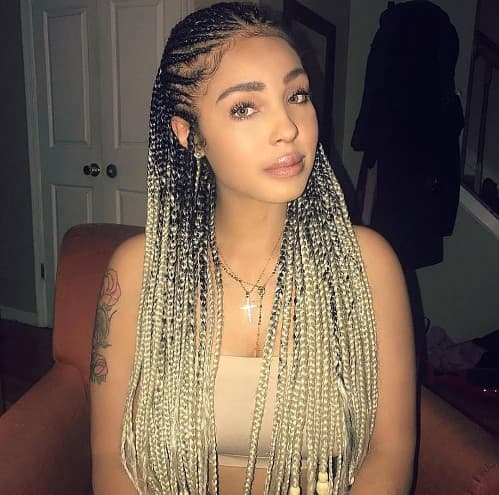 Flaming Purple Cornrows Braid Style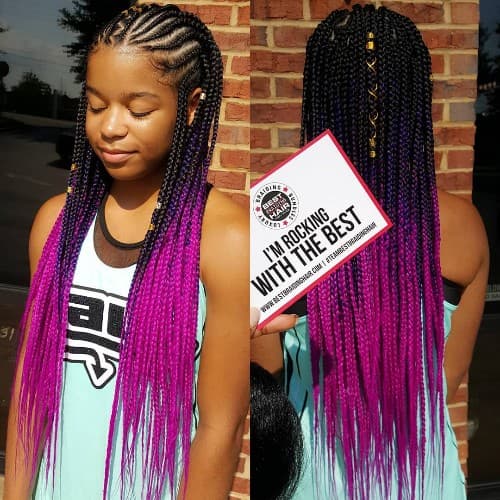 Creamy Coco + Cinnamon Swirl Stylish Feed-in Braid Style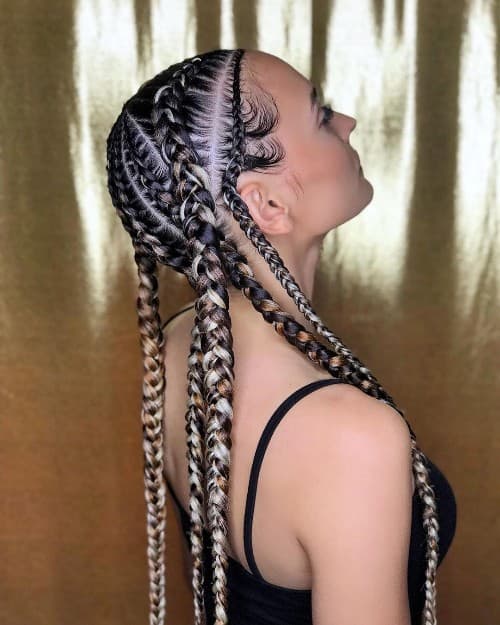 Black – Creamy Ombre Feed-In Chunky Braid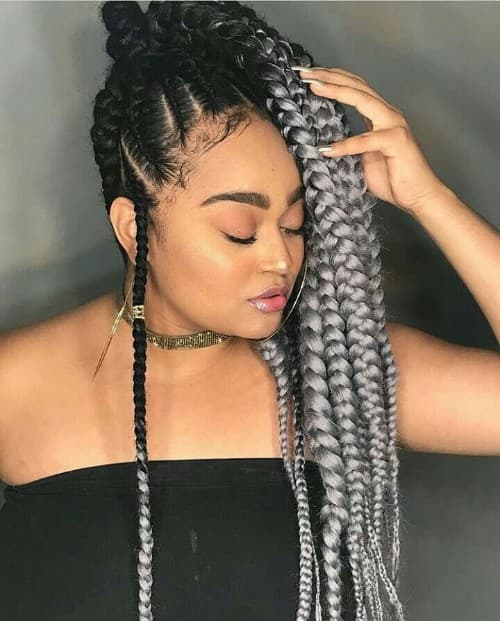 Milky – Pink Ombre Braid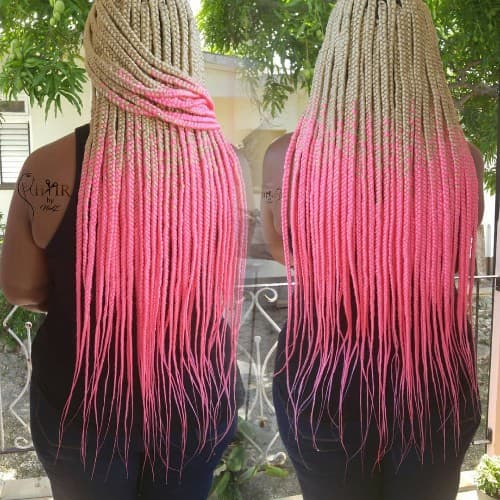 Black and Blue Feed-In Braid For Curly Kids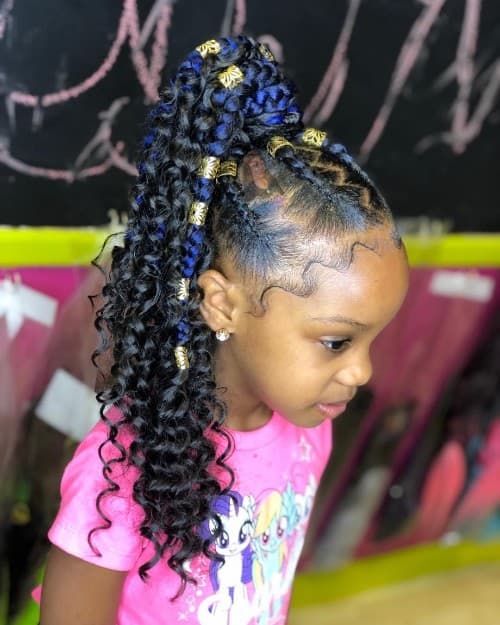 Black – Dark Brown Braid Hair Color Idea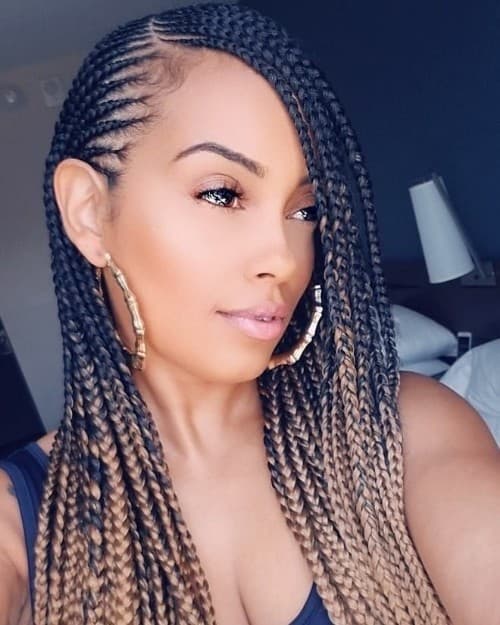 Deep Blue – Sky Blue Knotless Braid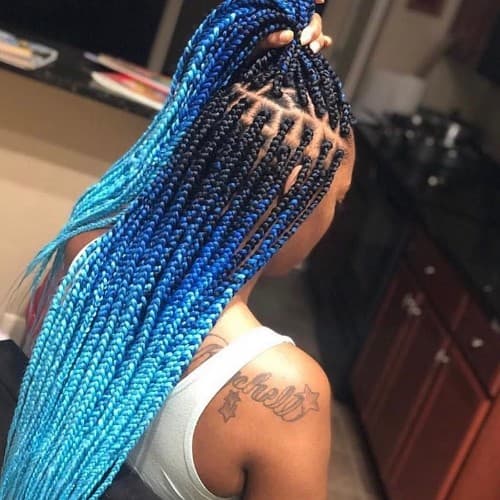 Deep Gurge Green Ombre Hair Color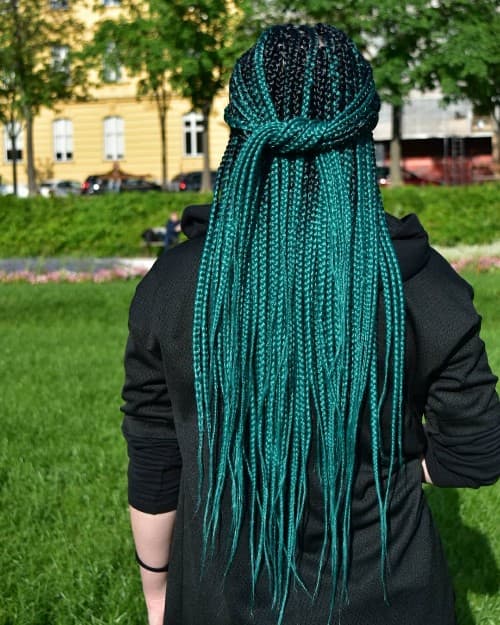 Creamy Coco + Light Pink + Sky Blue Ombre Braiding Hair Color Idea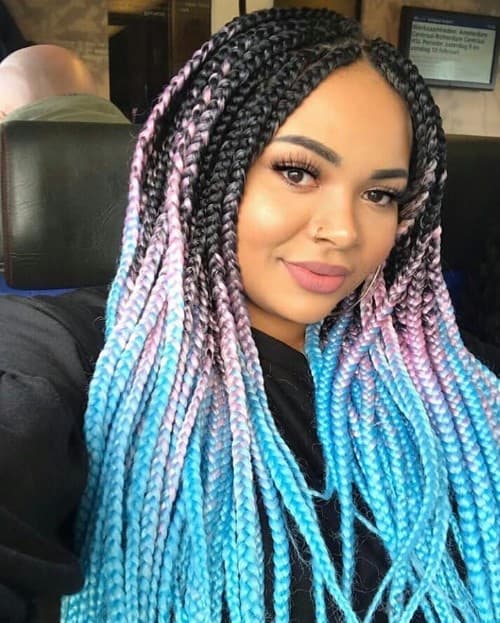 Cinnamon Swirl + Light Pink Feed-in Braid Style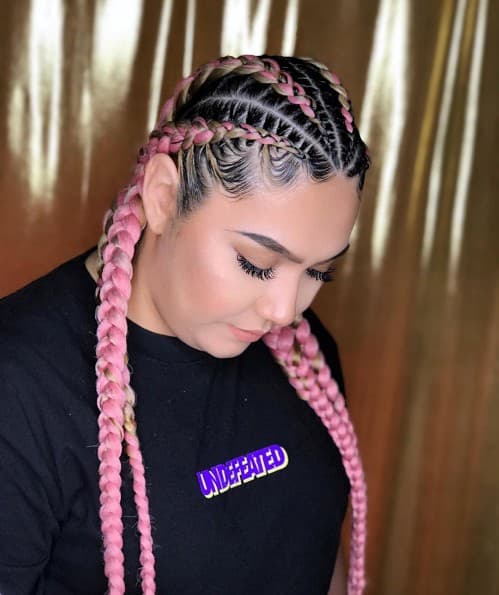 With the help Ombre synthetic jumbo braid and a pro braider in your area, this style is a sure go goal.
Black + Creamy + Cesser Blue Box Braid For Men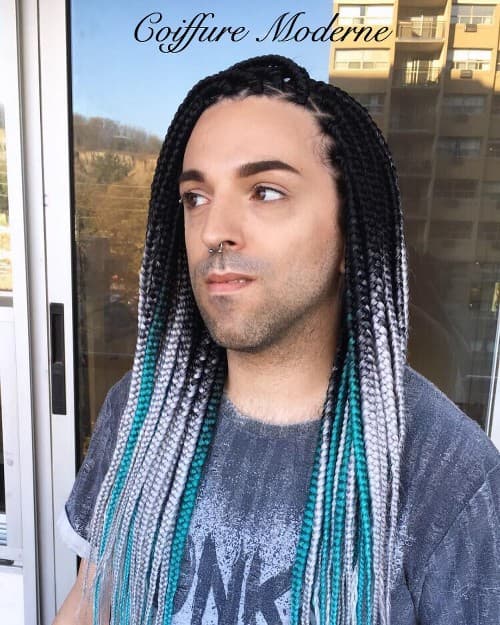 Milky – Light Pink Asymmetric Braid Style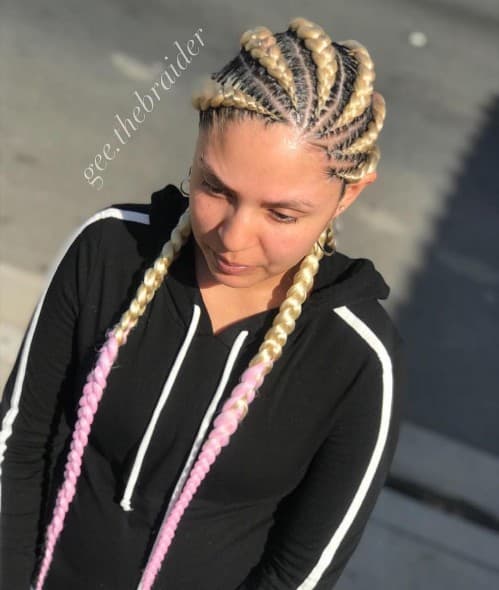 Blue + Purple and Black Ponytail Braid Style For Kids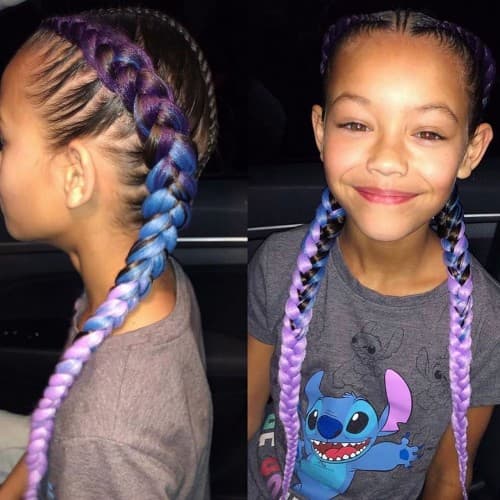 Purple – Blue + Pink Triangle Box Braid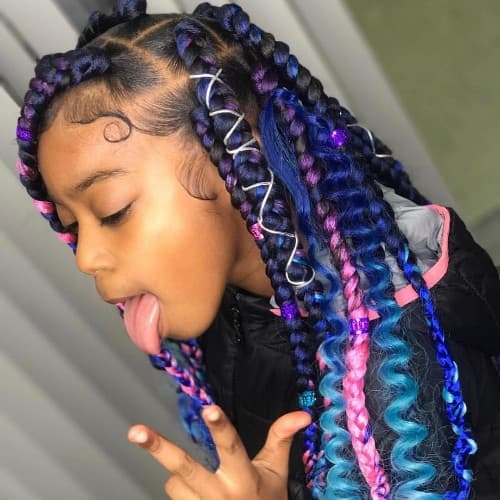 Merge Purple + Blue Stylish Sew Feed Hair Braid Color Idea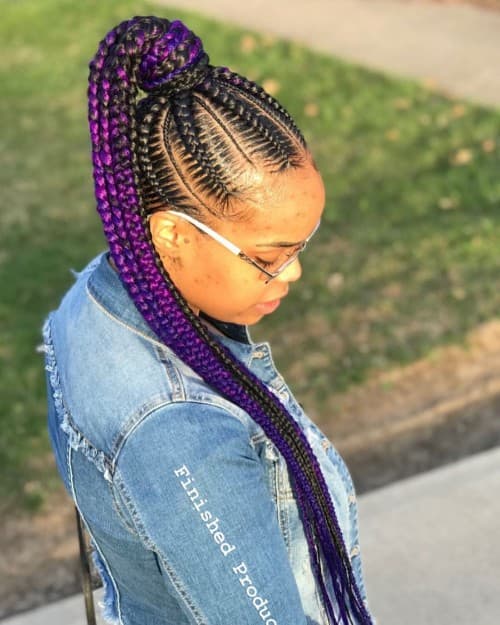 Black – Purple – Red Ghana Braiding Style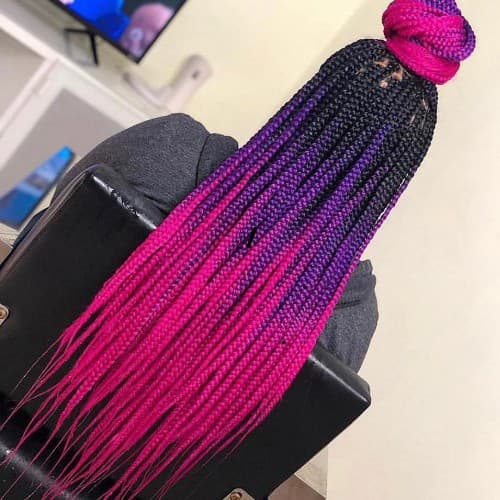 Rainbow Asymmetric Braid Style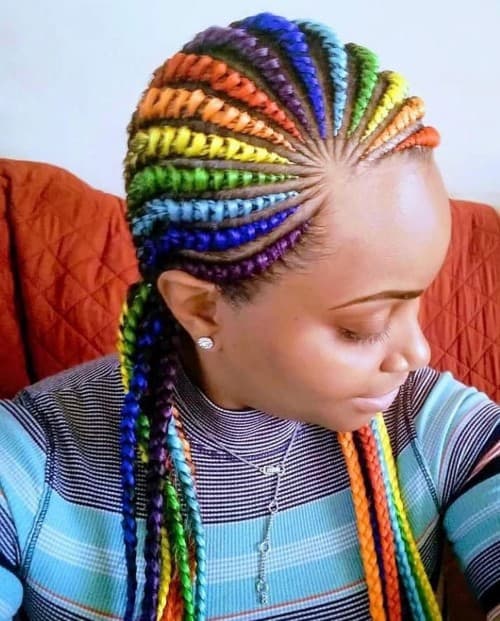 Now I would like to hear from you:
How many color tones and which colors are you going to start with from today's post?
Or maybe I didn't include your favorite ombre braiding hair color and styles.
Either way, just let me know by dropping your comment below and right now.
Pin for Later