I came across one interesting video that caught my attention. The video was about micro links hair extensions by one Instagram celebrity stylist.
Remember that lately, I have been looking out for something new to test, research, and write about. Now the perfect opportunity is at hand.
This is my in-depth review based on everything I have learned about this extension. I bet you can't afford to miss what I am about to show you.
In this post, I would be talking about the four most important details you need to know about micro link hair extensions, which would be;
How long it lasts.
Pros & Cons
Maintenance
Cost of Installation and extension
So without wasting much time, let's dive in.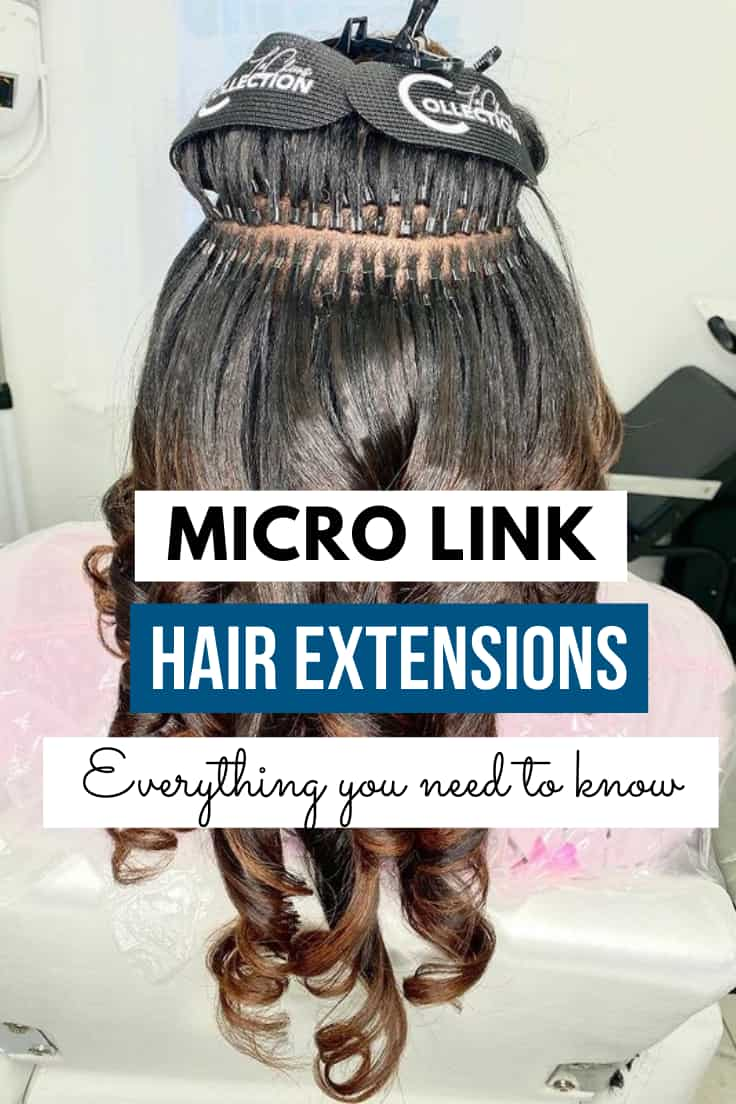 What Are Micro Links Hair Extensions?
If you're new to this kind of hair extension or this is your first time hearing this; Take a deep breath and go through what I am about to tell you.
Micro links hair extension is one of the trendy extensions installed on the hair with the help of a round-shaped silicone bead. They are straightforward to install and remove. And in most situations, it blends naturally with your hair.
It's one of the best and easiest ways of adding thickness and length to short, thin, and fine hair without causing damage and hindering hair growth.
Besides, it's one easy way to achieve your hair goals, hairstyle, length, and it can be your source of inspiration to grow long hair.
Here's what it looks like when installing a micro link hair extension.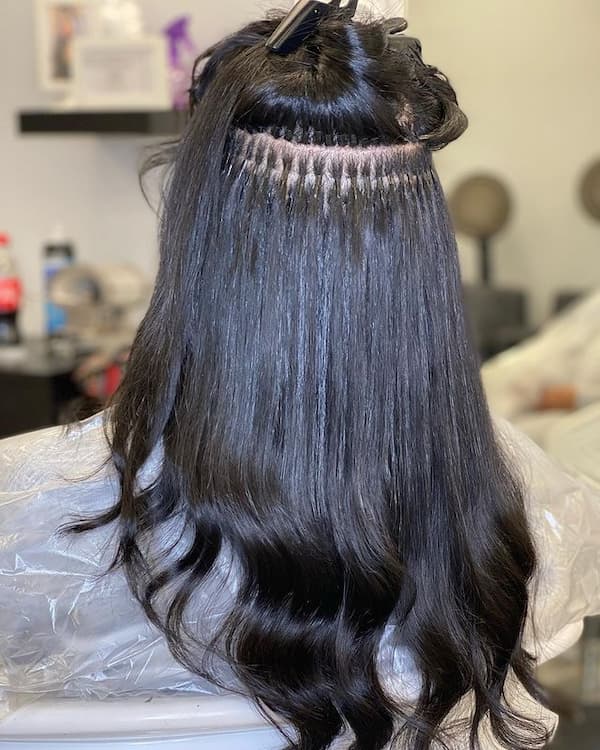 You might as well be interested in 6D hair extensions. Spare some minutes and grab some info you need.
How Long Do Micro Links Hair Extensions Last?
To a large extent, I would say the precise answer depends on how it was/is installed and the overall maintenance routine. When installed and maintained properly, micro links hair extensions would last for as long as 2-3 months.
In some cases, the extension can last for more than 3 months.
You can, however, keep it for as long as it lasts, but personally, I don't recommend you keep extensions on hair for too long.
It shouldn't be longer than 2 months because it can cause hair damage.
This would help give your hair and scalp some natural breathing space.
And if you are the type their hair grows fast, you might notice the extension start lagging, which can add unnecessary pressure to your hair strands starting from the root.
Can Micro links cause hair damage?
Micro links hair extensions are designed to add both length and volume to thin and fine hair. But if it's not installed, taken care of, and removed properly, micro links can damage your hair.
If it's your first time installing the micro links hair extension, your stylist would advise you not to pull your hair too hard when styling so you don't add pressure to the roots.
However, although this isn't common, micro links hair extensions that aren't installed properly can cause pain, itchiness, and discomfort, especially when it is clipped closer to the root.
But the main occasion when the micro link extensions possess hair damage is during removal. So if you're aren't good enough with style.
I highly recommend you go to your stylist for professional service/help.
Also, I recently wrote a post on the best low maintenance medium-length haircuts; if it's something you're interested in, do well to check it out.
How Much Does Micro Link Hair Extensions Cost?
Unless you're booking an appointment with a celebrity or high-end stylist, you should expect to spend anywhere between $100-$400 for installation and hair extension.
It may even be lesser because the location does play an important role in the cost of hairstyling. For instance, When you're in Camarillo, you shouldn't expect to pay the same price as ladies in Las Vegas.
There will always be a big difference. I hope you get the point now.
If you want to get the hair extension yourself, you can go to any hair store near you and request for quality micro link extension.
But if you aren't good at spotting the difference between fake and quality, I suggest you leave the burden for your stylist.
Also, if you're good with amazon, I would recommend you buy from them. According to length, you can find the 12 inches, 14 Inches, 16 Inches, 18 inches, and 24 Inches ( in different colors and patterns)
100+  positive reviews from real and experienced users are enough to tell you that the extension is a quality one and worth the price.
How To Remove Micro Links Hair Extensions
To safely remove micro link hair extensions at home without damaging your hair, you need tools like; Professional Linkies Microring Opener. It's effortless as you only need to reverse what your stylist did during installation.
For more clarification:
Initially, the links are always in a round shape, but to install the extensions, you or your stylist need to convert that round shape to a rectangle so it can hold the hair and extension together.
So when you want to remove, you have to turn the rectangle-pressed ring back into its initial round shape, then pull the extensions slowly out of the hair.
Here's a video tutorial that would give you a more detailed tutorial on how to go about this.
Before we move, a few months ago, some ladies told me they needed some cool and inspiring haircuts, so I compiled the best low-maintenance haircuts for thick hair for them. Have a look and tell me if you like the ideas.
Where to Buy Micro Link Hair Extensions?
Depending on the length you want to buy, there are many good online and offline stores worldwide. But the problem most of them have; is the quality of hair they supply. 
Even sometimes, shipping can take longer than expected as well. But if you live within the top-tier countries where these Stores deliver fast, then you're good to go.
The few online stores I know that give you multi-choices of micro links extension (Synthetic, human hair, Length, Color, and Hair Pattern) includes;
Amazon
eBay
Aliexpress.
Esty
If you're battling frizz and also finding it difficult to choose a haircut that suits you,  Well, I have a comprehensive gallery of the best low-maintenance haircuts for frizzy hair you can find on the internet.
Can You Reuse Micro Link Hair Extensions?
In most cases, that all depends on few factors such as the quality, type of hair extensions, the maintenance routine, and storage. Quality and well-maintained micro link extension can be reused up to three times.
There are basically two main types of micro links hair extension you can find online and offline; synthetic and human hair extension.
Why am I saying this? It's because one can be reused more than the other.
If maintained and stored properly, human hair micro link extensions can last up to 4 years, but synthetic lasts between 1-2 years or even less.
However, If you're to ask me which is best, I would say both. Synthetic and human hair are great choices depending on your budget, the season of the year, and hair goal.
If you want the most natural look and feel that requires some styling effort, then human hair micro link extensions are what you need.
But If you want something you can wear to events with little or no styling aid to make it look stunning, then synthetic hair is your go-to option.
Because the follow-come features are always permanent, and they're good resistant to change (both weather and styling heat)
Maintenance Routine
The routine is much more like your regular hair routine. It would be best if you had the right hair products and tools.
First, You need to wash your hair with water, but if you feel like you need to add shampoo, then go for it. After that;
Apply your hair conditioner. You have to be very careful & creative here because when you pull your hair while applying the shampoo, there are great chances the links would get slippery and pull down.
The next is to use a wide-tooth comb to detangle. Make sure you start from the end gently and steadily. When you are done, rinse out the conditioner.
Dry your hair and apply a leave-in conditioner.
You can use gel to hid links and keep flyaway hair at bay.
Please note that the hair care and maintenance routine is not the same for every type of hair. To save much of your time, I would be going into a full maintenance routine for every hair type. Maybe in my next blog post.
Micro links Pros and Cons
Like my mother always tells me, whatever has an advantage, also has disadvantages. Please note that this is not to scare you away, but instead, it's written to enlighten you.
So you know what you're want to get and what to expect.
Pros
The extension is straightforward to install
As long as it's protected, it does not require excessive styling and products.
It works with your hair to promote growth.
It's a pretty low-maintenance form of hairstyle.
It is versatile.
In most cases, they're easily not noticeable (i.e., they blend naturally with your hair)
Cons
They're not good on short hair and some hair.
It's neither too cheap nor expensive.
MicroLinks Hair Extensions Before and After
I know many people would love to know what it's like to have micro link extensions installed. Well, here's a before and after image to use as a source of inspiration.
Final Thought
From research and chats, I had recently with some of my hairstylist friends. If you have the money and time to try out something new and the micro links extensions come as your first bet. Go for it.
It's worth your money and time, as it saves you from styling stress in some cases.
But always remember to maintain your natural hair like you always do while you still have the extension on.
Now, was my post on micro links hair extensions helpful?
Is it something you would want to try out anytime soon, or do you already have it but wants some more info?
Anyhow it turns out to be, do let me know by leaving a comment below right now.
And most importantly, do not forget to share with friends and loved ones that need it.
Pin for Later