Hair Extensions
Considering I-Tip Hair Extensions? You Need to Read This First
Suppose you haven't tried out I-tip hair extensions, or maybe this is your first time hearing about this type of hair extension.
Then, I urge you to stick around until the end because, in this post, I will give you a well-detailed guide on everything you should know about I-tip hair extensions.
Without further ado, let's get started.
Natural hair always seems to have a growth limit. Most people never get their hair to grow past a certain point, no matter how hard they try.
But, your hair doesn't have to grow as long as you want. You can technically elongate your hair with hair extensions without using any chemicals that may potentially damage your hair.
The best thing about hair extensions is that they grow your hair instantaneously. Once you fix your hair extensions, you instantly have much longer hair that you can reverse at any time.
When people decide to use hair extensions, they're usually overwhelmed at the magnitude of options available that they will be unable to choose a method for the extension.
If you've been considering I tip extensions, you're at the right place. In this post, I'll teach you most of what I know about I-tip hair extensions, which is all you need to know about them too.
What is An I-Tip Hair Extension?
I tip hair extensions, also known as microbeads, refer to a type of extensions that attach themselves to sections of your hair using specific silicone beads known as microbeads.
The hair strands are attached to the microbeads in small groups. These hairy beads go into your hair, and the stylist uses a special plier to attach your hair to the beads.
The application method of I-tip hair extensions is uniquely natural. While you'll need some complicated machinery, heat, or glue to use other hair extension types, this one requires none of that.
It also gives a very natural look, making your extensions look a lot like your regular hair. Since no heat is required when installing the I-tip extension, it has a significantly lower failure rate, and you're a lot less likely to damage your hair.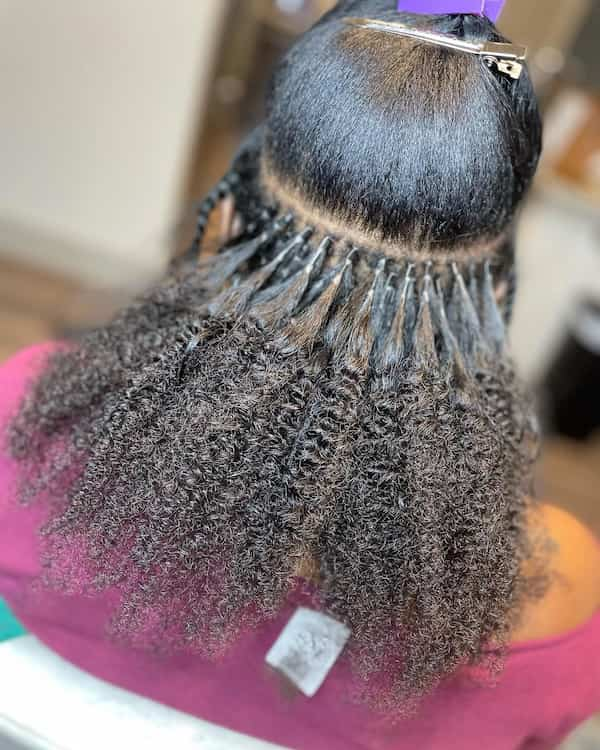 Lest I forget, another better alternative of I-tip extension is the MicroLink hair extension.
How Long Do I-Tip Hair Extensions Last?
Most hair extensions last very long under proper and regular maintenance, but I tip hair extensions last exceptionally long.
With regular maintenance, you can get your I-tip hair extension to last for up to six months on hair. However, they also require some degree of maintenance, and you'll have to be visiting the salon every two months, at least.
While I-tip hair extensions need regular maintenance, the processes are uncomplicated. During the maintenance process, the stylist tightens the microbeads that are sliding off to prevent your hair from magically falling off in the middle of a presentation.
Summarily, your microbeads extension can last for up to six months if you keep going for maintenance every six to eight weeks to keep them in place.
After six months, you may need to change the beads, as frequent washing and drying weaken them, making them not strong enough to keep holding too much hair in place.
However, the hair on the microbeads lasts much longer, with some lasting for more than a year under regular maintenance.
And hey, do not forget to check out my post on five must-have hair extension essentials that'll make styling easier.
I-Tip Hair Extensions Cost
I tip hair extensions are good in ways other than one, and they aren't cheap. The price may not sound too outrageous, but it's pretty steep compared to the cost of different hair extensions.
Of course, the prices you get depend on where you make your hair and what hair quality you use. For example, synthetic hair is lower quality and cheaper than natural hair.
The installation on its own costs about $150 to $500, but you also have to take the maintenance costs into account, driving up the expenses quite significantly.
The installation price doesn't include the cost of the beaded hair, which can set you back quite significantly.
Synthetic hair is usually much cheaper than human hair if that can help drive down costs a bit. However, you can't color or heat-style synthetic hair.
A hair bundle of human hair contains 50 pieces with about 20 strands of hair per piece. You'll need three or four bundles to apply I-tip extensions for a full head, and each bundle costs about $75 to $100.
If you're going all out, you may end up shelling out thousands of dollars for an I-tip hair extension, with monthly maintenance costing around $200.
I-Tip Hair Extensions Pros and Cons
If you've tried other types of hair extensions, you might wonder: how good are I-tip hair extensions?
Sure, they're not flawless, but they pack a punch; otherwise, no one will be paying the exorbitant price that stylists charge to fix the extension.
Here, you'll learn about the pros and cons of using the I tips hair extensions.
Pros
I tip holds its own as one of the best hair extension methods. Here are some reasons why you should consider getting microbeads when next you're getting extensions for your hair.
If you have very fine hair, you should be wary of installing heavy hair extensions as they could cause your hair to fall.
I tip hair extensions aren't one of the kinds you should be avoiding. Since I tip extensions consist of hair strands in small sections, it shouldn't exert too much force on your hair.
If you've been avoiding hair extensions because of your superfine hair that's more prone to damage, you can safely go for I tips.
They don't damage your hair
Unlike most other hair extension methods, I-tip hair extensions require no glue, heat, or external chemicals. In short, your natural hair will be left untouched, while the attachment will simply complement your hair.
Unless you use other hair care products that may damage your hair, you shouldn't notice any difference between the looks of your natural hair before and after installing the extension.
They're virtually invisible
The microbeads used in applying I tip hair extensions are so discrete that nobody else will know until you tell them, even if they were looking for it.
The beads aren't only tiny, but they also come in many different colors. You can simply choose a color to match your hair to make it impossible for onlookers to detect, even if you have colored hair.
Cons
Here are some of the reasons you may want to try out other hair extension methods instead of I tips.
After installing your I tip extensions, you need to relearn how to brush your hair. However invisible they might be, the fact remains that they're still in there.
Running your brush carelessly through your hair becomes taboo, as you can potentially brush out the I-tip hair extensions.
Also, you need regular visits to the salon to fix the extensions as your hair grows. While it can be fun to maintain your I-tip hair extensions at home, ruining your hair is usually not a lot of fun.
Compared to other semi-permanent hair extension methods, I-tip extensions can be very expensive. Fixing the hair extensions can be upwards of $1,000, and the monthly maintenance can drive up the costs even further.
I-Tip Hair Extensions Application
Applying I tip hair extensions is relatively easy but is best done by a professional. While you can easily do it yourself, you need a bird's eye view of your head for perfect application, and your mirrors are simply insufficient.
If you insist on fixing it yourself, you can. However, you'll need special equipment to loosen the microbeads and tighten them into place after putting them in the correct position.
A complete I tip kit can cost as low as $15. It's just a collection of miniature pliers with basically no mechanized equipment.
Before fixing your I-tip hair extensions yourself, you should watch some tutorials on YouTube and try it on a doll or something. There's a very low tendency that anything will go wrong, but insurance never hurts.
Are I-tip Hair Extensions Damaging?
Clip-in hair extension may be famed for being the least damaging hair extension on the market, but I-tip extensions aren't too far behind.
I-tip hair extensions don't need glue or heat, neither do they need any chemicals to make it stick; just your plier and a pack of natural or synthetic hair attached to the microbeads.
To keep the hair extensions long-lasting, you must go for routine maintenance to ensure that the beads aren't pulling too much on your natural hair, disfiguring the appearance, and causing damage.
Conclusion
There are a lot of choices you need to make before installing your hair extensions. You'll decide if you want to use human or synthetic hair, and you'll determine if you'll be doing It yourself.
However, the most crucial choice you'll need to make is the method of installation. The installation method will often be the costliest part of the entire exercise, and you don't want to get that wrong.
If you're considering I tip hair extensions, here is a handy guide for you. It explains everything you need to know about this hair extension method, how to apply it, and how much it costs.
And that's all for now.
I hope you find this post on i-tip hair extensions interesting and helpful.
And if you got questions or feedback, do not hesitate to let me know by leaving a comment below right now.
Pin for Later