It's easy to apply; it takes 10 minutes to get done and lasts for eight weeks, but how valid are these words? Let's dig in and find out the real truth from people who have used this dye for some years now.
This post contains an affiliate link, i.e I receive commission anytime you buy a product from my link.
So how long does Just For Men last?
Just For Men hair dye typically last for roughly 3 to 4 weeks, and starts fading around the second or third week after application. However, how long it lasts depends on some factors like; how long you allowed it to stay on hair before washing off and how often you wash and take care of your hair.
Here in this post am going to show you the proper step by step guide to apply Just For Men hair dye, things to watch out for, how to care for it properly, and some tips that could help you to make it last longer.
So let us get started,
but before then, those who are new to this brand of hair dye see how reputable the brand is:
---
BUY Just For Men Hair Dye on Amazon
---
About Just For Men
Just For Men is a US-based hair product brand founded over 30 years ago, with its products flowing around 17 states, including the United States and the United Kingdom. If you haven't purchased the Just For Men hair dye, you can buy from here.
They are dealers of hair dye designed to color grey hair and some other hair and beard products.
Primary Ingredients in Just For Men Hair Dye:  Water, Cetearyl Alcohol, Steareth-21, Ethanolamine, Ceteareth-20, 1,2,4-Trihydroxybenzene, p-Phenylenediamine, N, N-Bis(2-Hydroxyethyl)-p-Phenylenediamine Sulfate, Fragrance, Manganese Sulfate, Hydroxyethyl Cellulose, m-Aminophenol, p-Aminophenol, Guar Hydroxypropyltrimonium Chloride, Erythorbic Acid, 2-Methyl-5-Hydroxyethylaminophenol, Sodium Sulfite, Etidronic Acid.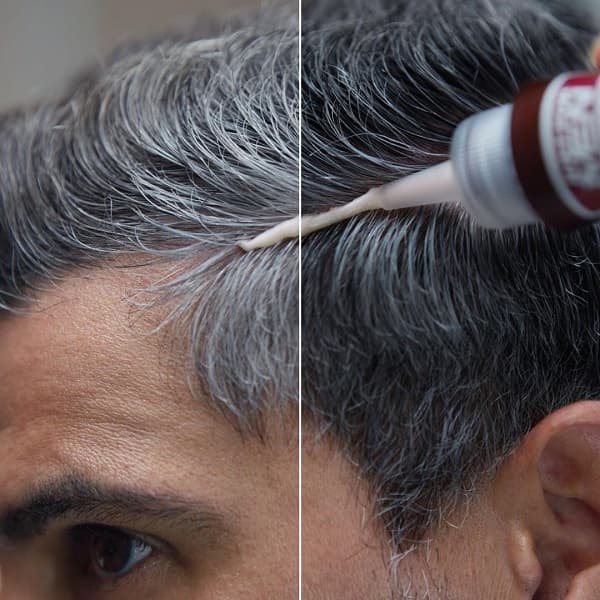 Read This:
Usage Guide and Precautions
Just like the manufacturer and reviewers said; Just for men does not damage hair.
But notwithstanding, there are things you should watch out for incase.
You can be allergic to some dye. So it is highly recommended that before you apply any hair dye, make sure you perform an allergy test 48 hours before the real or full application.
If you allow the product to stay longer on hair, you might end up getting the whole hair to darken instead of the natural-looking hair you want to achieve.
Women should not try to use Just for men on previously bleached or highlighted because the result you get may not be what you expect.
Again, have you heard about using coffee to dye hair? The post I have in this blog would teach you something you out to know about coffee hair dye.
Tips to Make Your Hair Dye Last Longer
There are no laid down tweaks that can prolong how long Just For Men lasts.
However, there are a few things you can do and avoid as well to get everything smooth and exciting.
Just like other hair dye products, the use of shampoo designed for colored hair after application can help it to last longer.
Some men love to dye hair before getting their haircut. Do you think it will not be better if we take it the other way round?
Swimming pool lovers hear me now; I know you are aware that the water you swim in now and then is full of chlorine, which is relatively bad for any colored hair. You should wear a swim cap before entering the pool (optional) or wash hair with shampoo after leaving the pool.
Do not wash your hair with warm water.
Avoid clarifying shampoo.
Best Step by Step Guide to Apply Just For Men Hair Dye
What you need to get started are made available in the pack; only bowl, small toothbrush, and old clothes for cover-up are what you need to add up.
Protect your body with an old T-shirt and workspace with an old towel or paper to avoid dye stains.
Put on your fancy hand gloves.
Apply vaseline or petroleum jelly around your hairline, ear, and neck to protect these parts from stains.
Pour the dye color into the developer and shake very well.
You can pour the mixture into the bowl, stir to mix properly, then leave it for 3-5 minutes.
Now use the small brush to distribute the paste evenly all over grey hair areas and then brush it up.
Leave it for 2 minutes before applying to other parts that are less grey.
If you want a dark color, let it sit on your hair for seven or minutes so it can cover all your hair correctly.
But if you want a more natural look, then I leave it for just 5 minutes.
After that, rinse hair until the water runs clear, then shampoo and condition your hair.
This technique is what I use on all of my clients. And it's working to date, no matter the type of dye, and they were al happy with the result.
Also, how long you allow it to sit on your hair can br=e tricky sometimes. So I suggest you keep an eye on your until it colors to the shade you desire.
In case you do not understand my method.
Here's a video tutorial on how to apply Just For Men hair dye with provided kits.
Can a Woman use Just for Men Hair Dye?
Just because it is for men doesn't mean a woman cant use it as well. I have a friend who used it on her hair without any weird effects.
However, if your hair is long, you will need more than one pack of just for men hair dye to get everywhere covered.
Now I would love to hear from you;
Did you find our post on how long just for men hair dye last helpful?
Or maybe you have questions or experiences to share with us.
Either way, do let us know by leaving a comment below right now, and don't forget to share.