"Dexe Black Hair Shampoo colors your hair black in just 5 minutes and lasts up to 4 weeks"- But how true is this? Its been a long time I wanted to write about this, but I seriously need to get something straight first.
Ever since I started my career as a professional hairstylist, I always wanted to use different brands of hair shampoo dye for my customers and also expect to see different results.
So last month, I bought the Dexe Black Hair Shampoo dye pack with ten sachets inside.
And today, I have used it on my client that has almost brown hair. He was in a hurry to attend a ceremony, so I had to wash off the dye before the recommended time.
But guess what! It was still okay, even though I washed away some of the shampoo dye.
Right here in this post, I will show you the best and quick way to apply this shampoo dye, ingredients, and, most importantly, my review with a before and after picture.
But before I continue, I would like to tell you that this isn't a sponsored post. I am only just beginning to love the black hair shampoo from Dexe, and it wouldn't be right if I keep what I noticed to myself.
Dexe Black Hair Shampoo Review
Like I said earlier, the hair shampoo dye has been inside the shelf in my salon for the past month.
And that is because my colleague convinced me that it wouldn't work fine. And every other person I asked about it said they hadn't used it before. So I embarked on the journey to test it myself.
According to the manufacturer, the shampoo dye wasn't made just to change hair color:
It also helps strengthen and nourish the hair and roots.
And it also helps gives hair a silky and shiny look.
I must confess that after the whole process, I was impressed with the black color results. I will keep updating the review as I continue to use it.
Update:
Remember the client I used the shampoo dye on his hair?
Well, he came back two weeks later, and everything was off. I asked him how many times he washes his hair; he replied, "every day."
Still used it on a lady  and it didn't last up to three weeks (For me I think two weeks is enough for shampoo dye to last)
By now, you should know that shampoo dye doesn't last long if compared to regular hair dye.
Dexe Black Hair Shampoo Ingredients
There are two agents in each Dexe hair shampoo sachet- Developer and Colourant.
Part A Ingredients: Aqua, Sodium Laureth Sulfate, cocamide DEA, Glycolstearate, sodium lauryl sulfate, propylene Glycolstearate, p-Phenylenediamine, m-Aminophenol, resorcinol, sodium erythorbate, Acrylates/Steareth-20 methacrylate copolymer, Cocamidopropyl betaine, Parfum, ethanolamine.
Part B Ingredients: Aqua, Sodium Laureth Sulfate, cocamide DEA, sodium lauryl sulfate, propylene glycol, Cocamidopropyl betaine, Parfuy, disodium phosphate, phosphoric acid, hydrogen peroxide, oxyquinoline sulfate, and etidronic acid.
Dexe Black Hair Shampoo Application Instructions
If you are using it for the first time, the first important thing you should do is a strand or patch test.
To do this, you should take a small amount of the shampoo dye content and apply it to the skin behind your ears. Or apply to some hair strands that are not easily visible.
Allow the dye content to sit on your hair or skin for 24 hours if you notice any redness, itching, swelling, or any other symptom of allergic reactions.
Discard the shampoo immediately without thinking twice if it can hurt while testing, it will burn when you apply to you completely.
Here's a step by step guide to apply shampoo dye.
Step 1: Please make sure your hair is dry and clean before applying the dye; else you won't get the results you are expecting.
Step 2: Apply any oil around your hairline, neck, and ear to avoid staining. I recommend you wear black overall or apron with a black towel around your neck if you have long hair.
Step 3: Wear your protective gloves; there are ten pieces of free nylon gloves in the full pack, and each piece of the glove has a pair (for left and right hands)
Step 3: Squeeze out the dye content into a small bowl (either stainless or plastic). Mix thoroughly and apply on your hair. Don't worry if the shampoo dye starts turning black quickly. (That's it's nature)
Step 4: For ladies, remember to divide your hair into four sections and clip each. Make sure the dye is evenly spread, section after section till your hair is completely covered. If your hair is thick and(or) long, use 2-3 sachets at a time.
Step 5: Finally, rinse hair thoroughly with water and shampoo. You can blow-dry or leave it to dry out by itself.
Note From Manufacturer: The coloring effect can be affected if the temperature is low or the hair is hard or resistant. If the black color you achieved is not perfect, increase the time you allow it to sit on your hair to an extra 15 – 20 mins. 
Price And Where To Buy
You can check out any store or salon within your neighbourhood. But if you still can't find it, you can buy it on Amazon or any other online store.
The Dexe shampoo dye I am using now was purchased from the supermarket for $20 (the price depends on location). That's to say it's relatively cheap in my part of the world.
Before And After Picture
I captured and compressed the image with my android smartphone, so it won't be too bright and clear as expected. But still, have a look.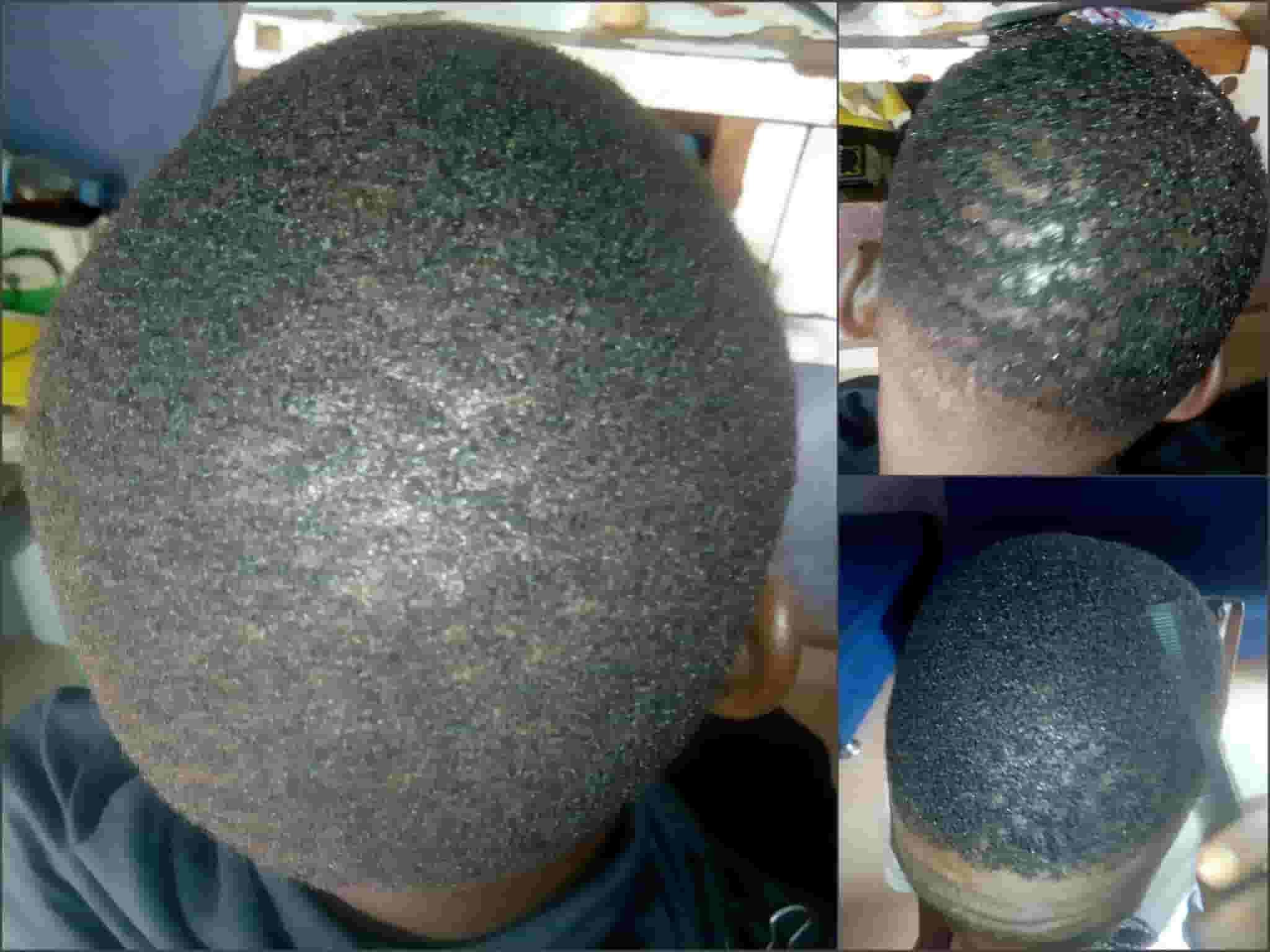 Final Thoughts
There is simply no harm in trying different brands of shampoo hair dye. I used the Dexe for my clients, and it gave us the black color we needed, though it didn't last for long.
Now I will love to hear from you:
What do you think about our Dexe Black Hair Shampoo review?
Or maybe we didn't cover everything you wanted, and you want to ask me questions.
Either way, do let me know by leaving a comment below right now and don't forget to share with friends.